Youtube Videos:
Hey, it's Fenrir.  It's Sun's Height (7th Month) 4E 216.  Only a few months since the Invasion of Summerset and Valenwood and already patrolling the Sea of Ghosts is getting boring.  I've heard rumors of some new old dwemer ruins that were uncovered by miners.  And of course, I have a huge backlog anyway.  Mom definitely focuses on bandits and Nordic ruins, so I figure I could focus on Dwemer ones.  One of the mission notes floating around the Bannered Mare in Whiterun detailed this location.  So Valiana and I took a break from our duties and rode south to the cave.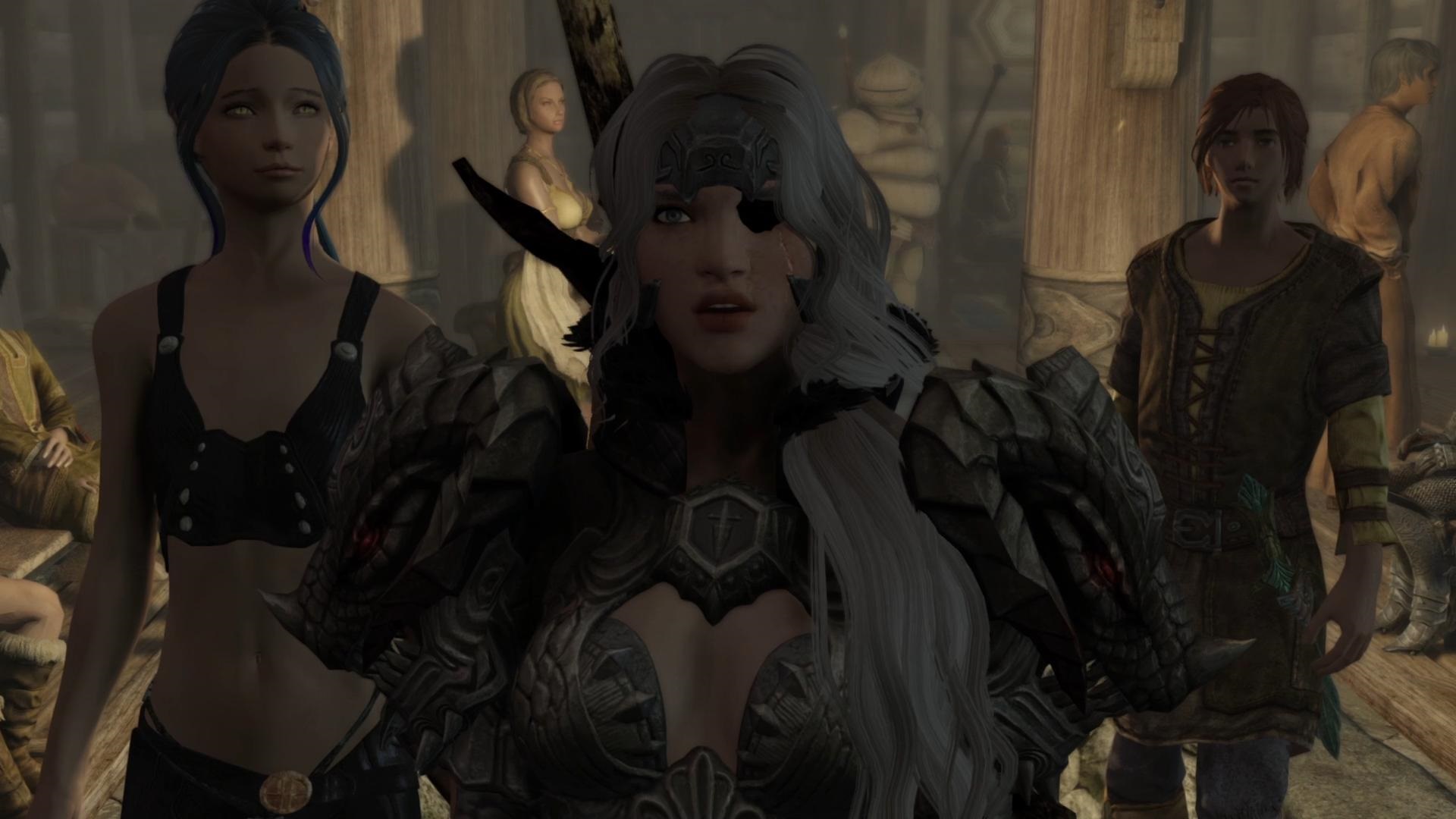 We encountered a group of bandits on the way fighting with Riften Guards right outside the extension.  We helped, and took their loot as a reward.  No guard deaths.  Anyway, the mine itself had nothing in the way of personnel.  We found an Aetherium vein, but try as I might, I couldn't mine it with a regular iron pickaxe.  After a few tries it just ended up chipping the pickaxe, so we ventured further in.
There was a straightforward carved tunnel at the back which opened up into a massive cave housing an old dwemer ruin.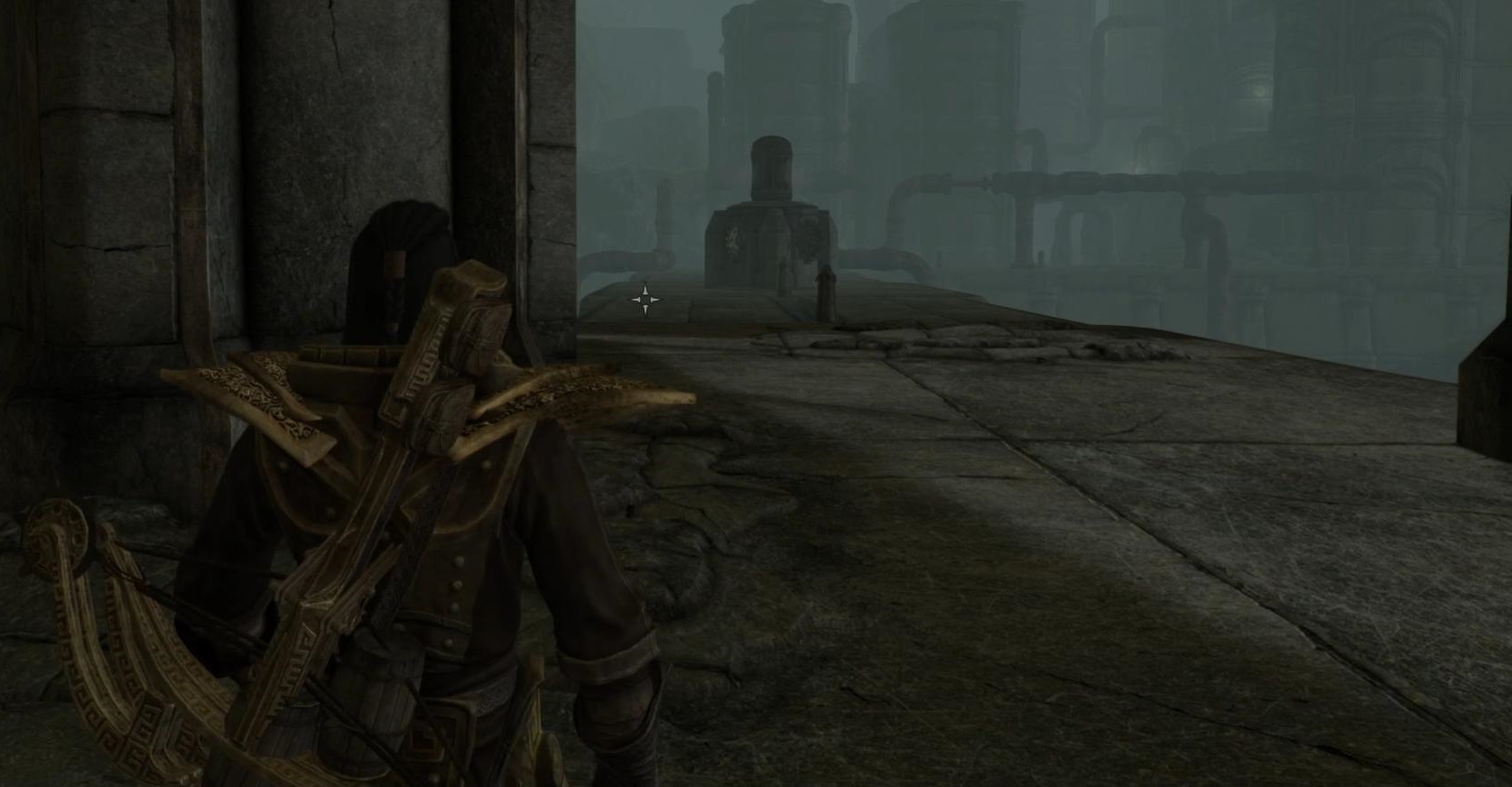 "You really love this stuff don't you?  Just like your mom," Val smiled at me, and I must've been beaming.  The huge cave had bridges over a large underground lake, waterfalls directing flow from one level to another, and several paths to take.  We were careful as we entered, but there was no danger.  I took the first door I saw, labeled Siphonasium.
We fought our way through improved dwemer spiders and spheres until we came to a room with a series of ramps and levers leading down a spiraling tower.  After finding the right configuration for the levers to get the final door open, we pushed forward through a storeroom, more spheres and spiders, then another downward shaft room.  We were attacked by a small group of Falmer, but I made quick work of them.  I say I...
"You alright?" I asked, "You've been carving up everything easily so far."
"Yeah," she sighed, "Falmer kinda gross me out."
I chuckled, "Never thought I'd hear something like that from you."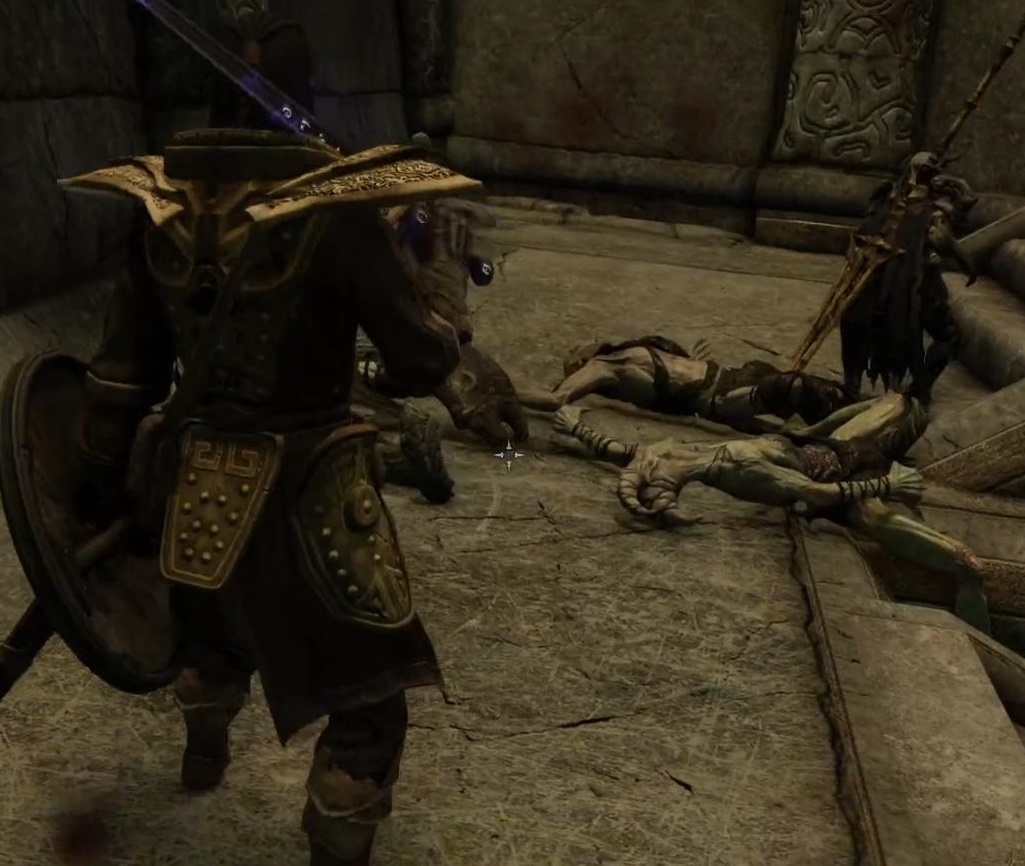 In the next room there was a platform, but what it was for I had no idea.  I grabbed the loot and continued on, plowing through spiders left and right.  When I looked back I noticed Val wasn't there.  I backtracked a little bit and found a man at her feet, diced up with her Greatspear.  She handed me a note, "Contract to kill you, I guess."
A letter from a woman named Camilla... I filed it away from later.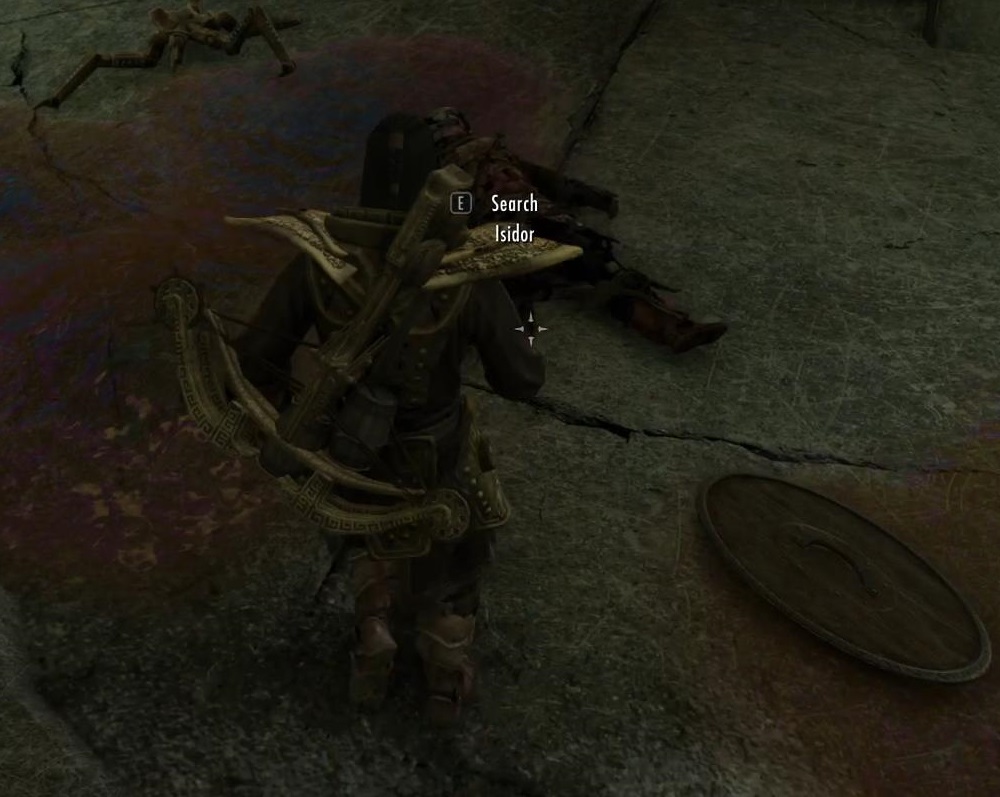 "But hey, good on him.  He really went the extra mile following us all the way down here," I chuckled.  We passed into the next chamber, and I leapt over the next set of iron spikes blocking our path.  I fought a large group of spiders, then turned to Val, still trapped behind the spikes.  She'd hit the spikes at least once to try and get through.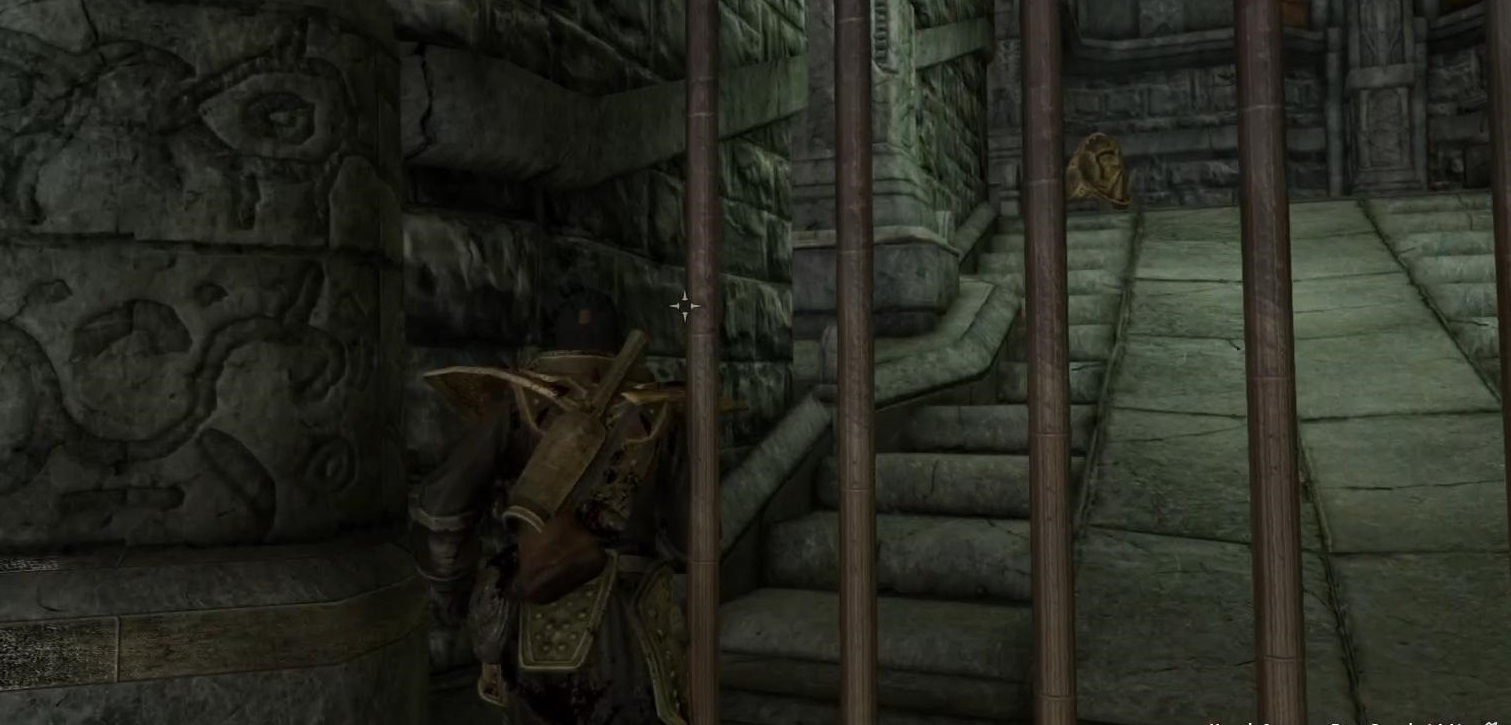 "Not doing much good from back there, Val," I smiled.
"Well don't run ahead.  How did you get over there?"
"Just squeeze to the side of them.  You can literally just walk around," I said, sidling past the spikes, then going back, "Even with your huge pauldrons, you're thin enough."
"Hang on," she squeezed through.
From there we faced a gauntlet of small rooms and groups of enemies, throwing a lever between each section to open the next one.  Between the two of us, we blasted through them.  When I threw the lever for the last section, a centurion blasted steam through the bar-spikes.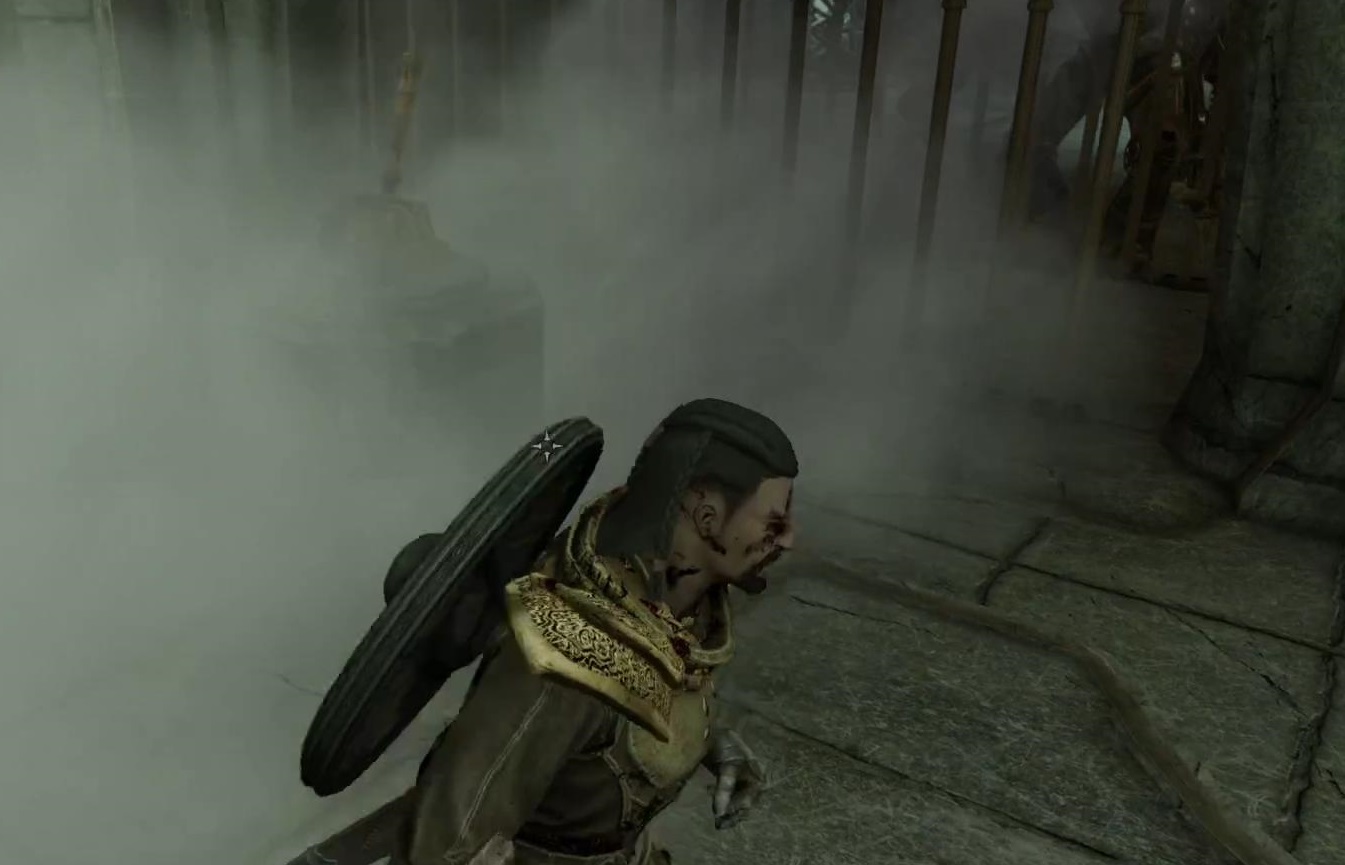 "Whoa, big guy!" I said, ducking behind the archway for cover.  I turned, pulling out my hand cannon again, but Valiana was already there, separating the thing into it's component parts.
"To shreds!  I didn't even have a chance to get out my gun!" I exclaimed.
"I'm pretty sure that's why you keep me around," Val said.
"There are... other reasons.
"Really?  Enlighten me," she smirked as we killed the last few spiders.
"You know why," I grinned back, pressing on.
We looted a small treasure room, then found an elevator back to the first big main room.  I pressed on to a large platform on the bridge and found three levers.  One that operated, two that didn't.  Probably from the mini-boss we killed.
"Looks like we gotta go to each wing and get the boss or lever at the end," I said as Valiana caught up.
"Lead the way."
We headed to a second wing: Manufactorium.  Inside, fighting our way past ore spiders and spheres, I found the original author of the note.
Author's note:  She was holding the Dwarven Pickaxe and I missed it!  But I go back for it later.
We continued on to a room full of steaming pipework and a medium centurion.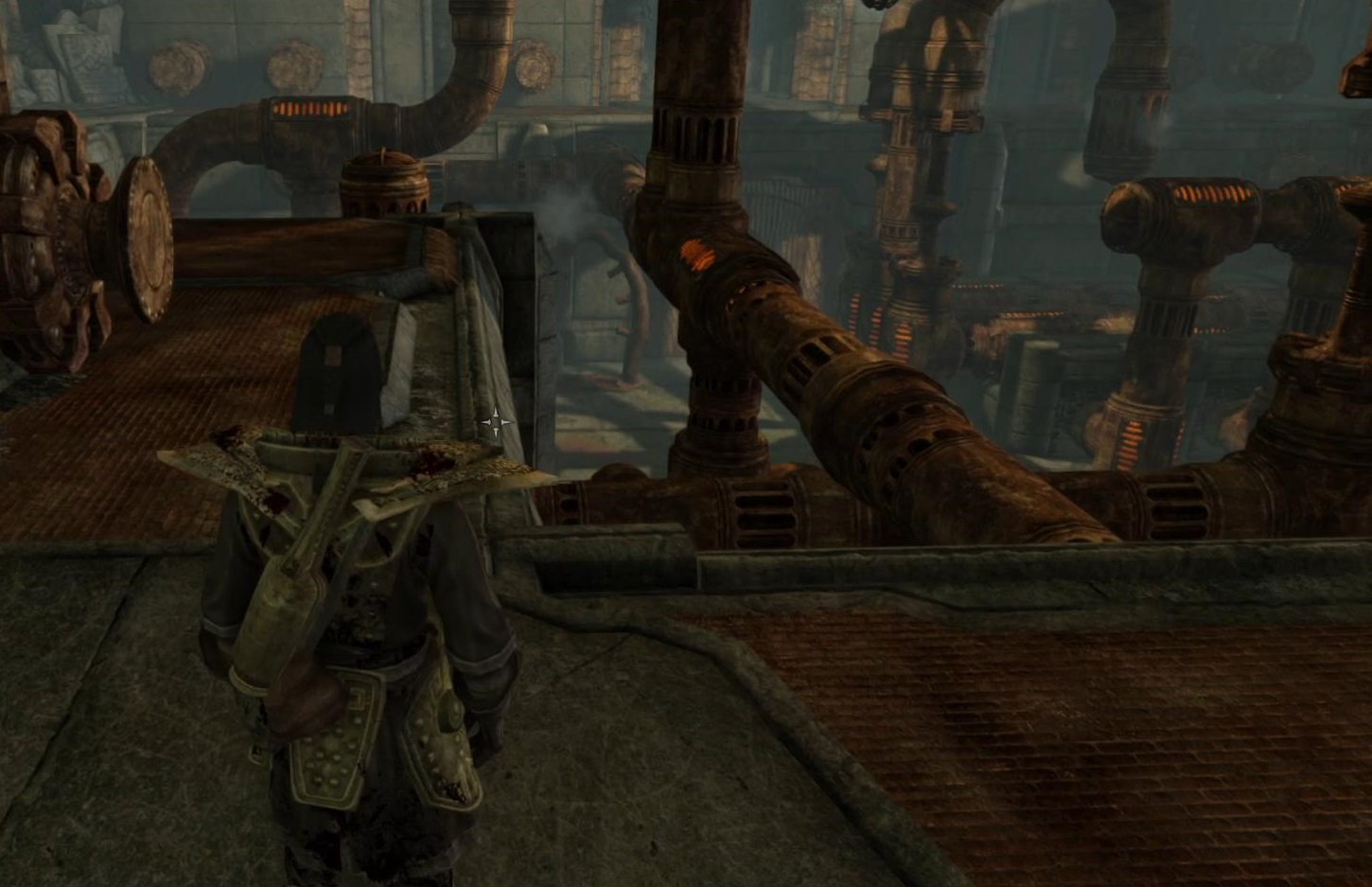 I was shooting at it from the safety of the platform when Val jumped down and started to carve away at the monster.  Before I could get down to help, she had chopped the thing up again.
"Geez, Val.  You are a monster," I chuckled.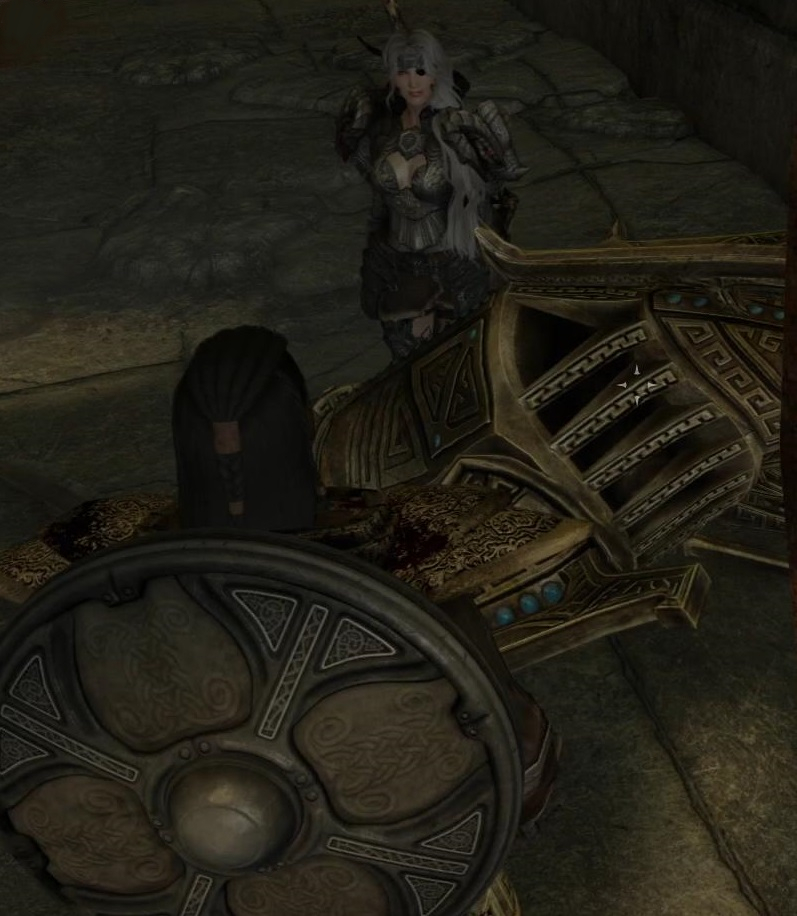 "Been doing this a long time," she replied.  I broke into some more storerooms and grabbed anything useful, then we continued through the section.  
We walked around for a while, finding more treasure rooms, having to navigate through lever swapping to get them all.  
It took us an embarrassingly long time to find the button to open bars to the actual next useful section.  We came to another pipe room with water.  
Fighting our way through more spiders and spheres, eventually I found a path to carry on into a room with a large centurion docked and asleep. 

We secured the area, and he awoke at our approach.  I opened up the fight with a handcannon blast from one of the new bombs I'd found in this dungeon: shock bomb.  We started the fight as we often do, her going head-to-head with the centurion on the stairs and he firing from the floor.  We widdled him down a while, but it seemed Val was having trouble fending off the thing's attacks.  I stepped in with sword and shield.
Of course, it immediately turned to me after I took a few slashes on it.  I backed up the stairs behind when it swung.  Then as it came after me I rolled off the ledge, coming to my feet where I'd began.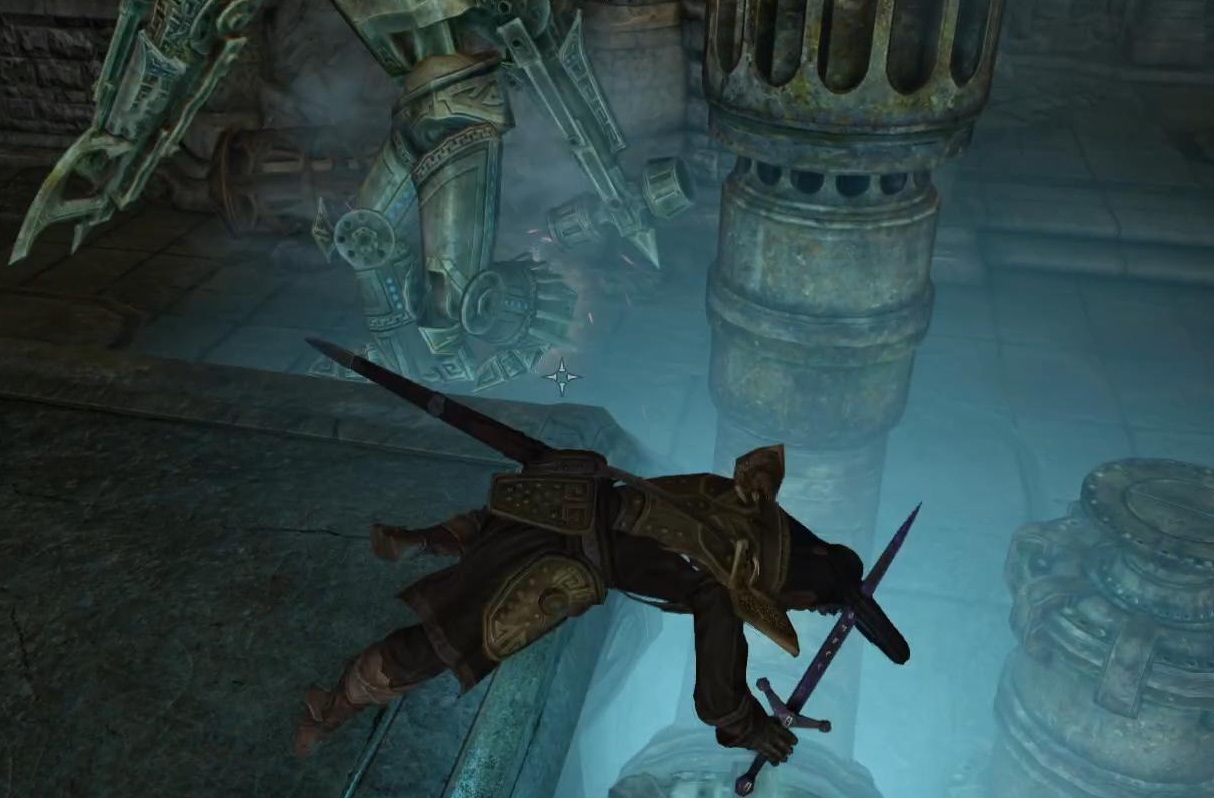 The centurion turned to her, but I circled the pipes to my right and gave it a few slashes on the ankles.  As it turned to me to retaliate, the centurion overextended itself, giving Val the opportunity to stab it through the midsection and end the battle.  Once again, we ransacked the treasures beyond and used the path provided to get back to the hub.  At this time it was about time for bed.  We'd been traveling and dungeoncrawling all day, so we threw out a couple bedrolls and slept right there on the lever puzzle platform.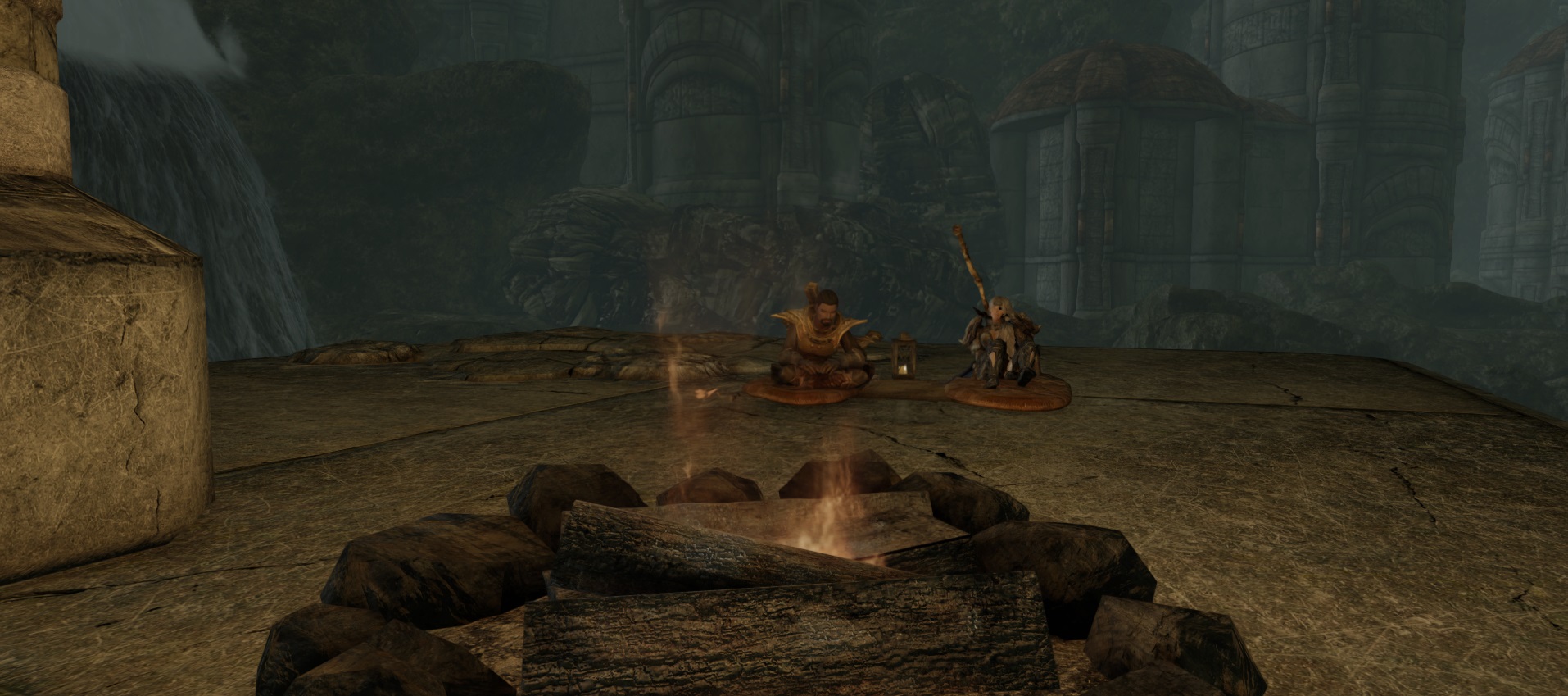 She took first watch and I took second.  I watched her a little while as I cleaned up the fire.  When she finally woke up, I could tell she was weary.
"Stone floors are not great for the back," she stood.
"Oh?  Well I did alright," I smiled.
"Maybe because I'm 42," she laid face down on her bedroll and convinced me to push on her back until it popped just right.
"Ever think about the fact that if your parents had come back with Damien you'd be two years old, like Damien's kid?"
She smirked, saying nothing for a bit as she packed up the bedrolls.  Finally she said, "I don't like to think about things like that.  All the what-ifs in the world won't change who I am, or what I've done.  Best to look forward, not back."
"Well said," I said, "Time for the last wing."
She added as we walked, "Also, if I'd lived out my life naturally I'd be over 200, dead and buried someplace, so I think this is probably one of the better outcomes."
I smiled back, "Why's that?"
"Oh, you know why," she responded. 
We stepped into the Chironasium.  More of the same.  Spiders and spheres.  We fought until we came to another drop-down with a few spheres.  I tried to snipe them, but Val jumped down and broke them in half.  I stepped in to finish off the last one.
I just gave her a smile.  She was making this easy, saving me from crafting bolts (I'd started with about 450 and was down to about 300 at this point).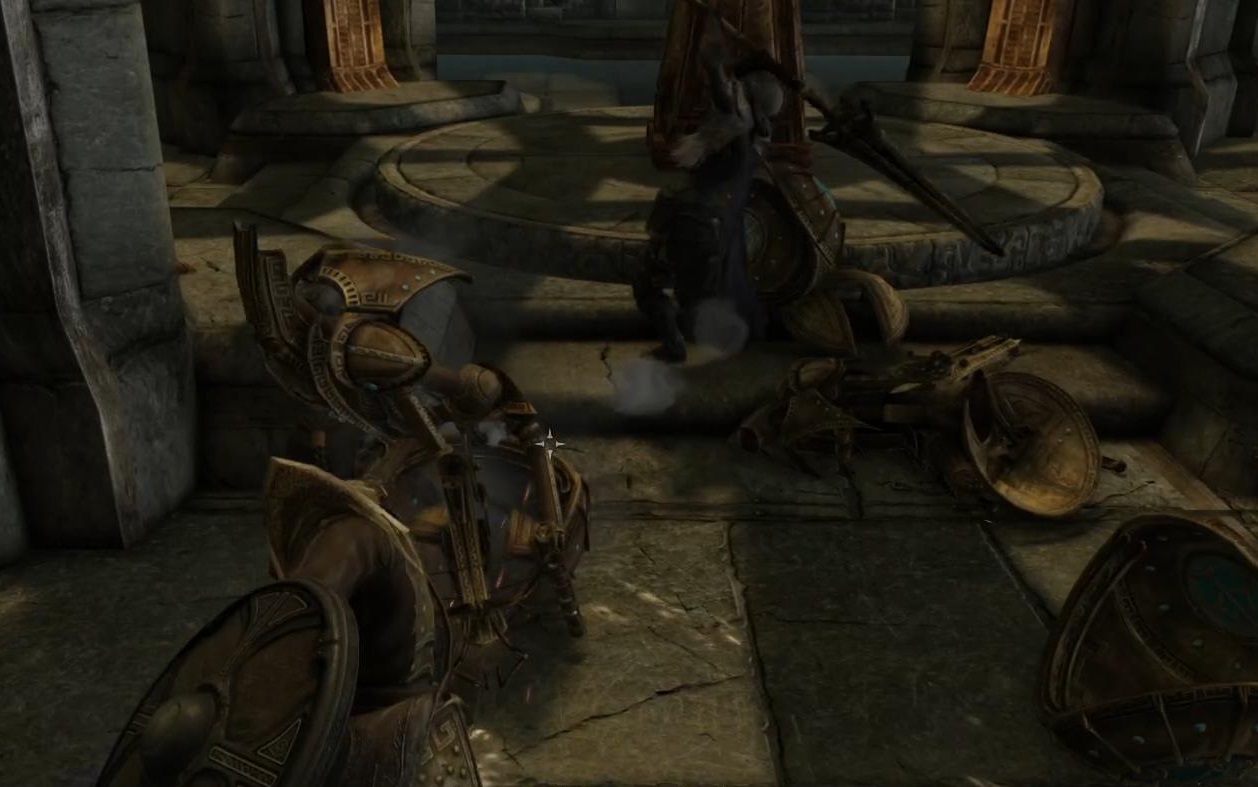 Here we found several paths radiating out from the hub.  We went down each and wouldn't you know the last one was the path to the end. 
Side mention, though, when we'd cleared out the hub room with ankle-deep water, I turned to Valiana, who'd gone up the larger ramp in the room and was in the process of taking her clothes off.
"What're you doing?" I asked.
"I got a bunch of water in my boots and I need to wring out the liner in this thing.  Mind if we take a break?  Not like you haven't seen me naked before."
I raised an eyebrow, "Of course I don't mind, but, you got my hopes up."
She smirked back at me, "What, does it make you excited to have 'naked time' in a dungeon where we could both get ambushed at any time?"
"I mean, maybe..." I trailed off. 
She smiled, keeping eye contact while she stripped the rest of her clothes off.  Then she sat down and started to rub her pussy, "Maybe, huh?"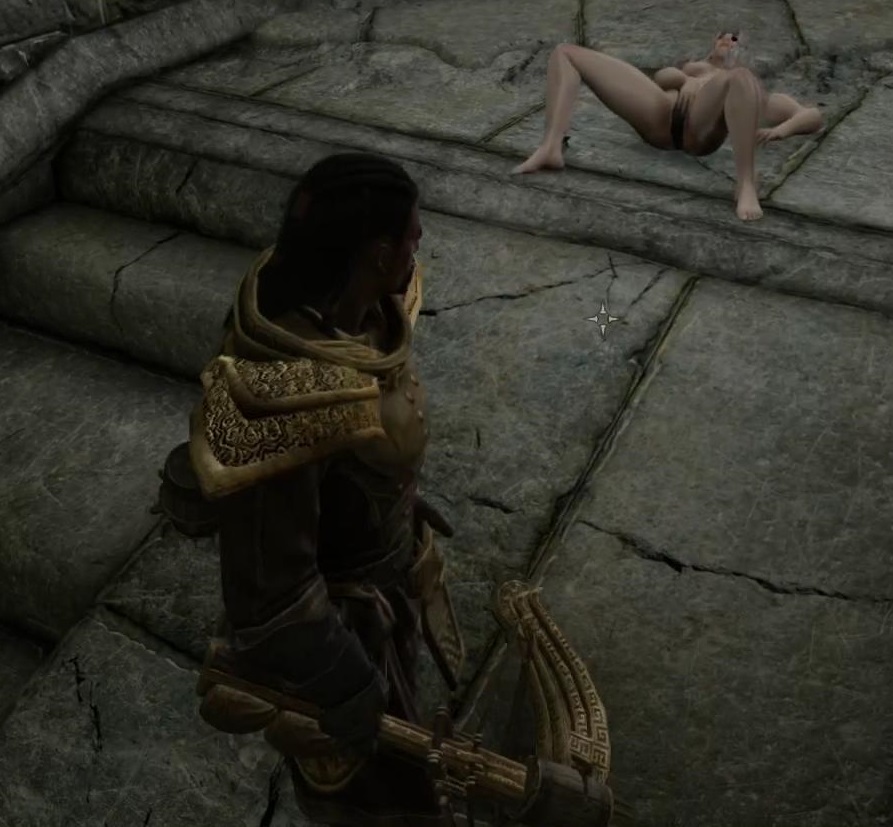 I smiled big and walked over.  First looking around to make sure no dwemer machines were nearby, then putting away my crossbow, I kneeled down.  
"Like what you see?" She asked.
"Oh yes," I said, then I grabbed her hand and pulled it away from herself.
"You're mean," she said, "Just put it in.  We could be attacked, and I'm ready."
I smiled, "As you wish."
I slid on top of her and thrusted for a few minutes, my youth carrying me to being ready at lightning speed.  Then I stood up and lifted her off the ground, thrusting into her with careless abandon.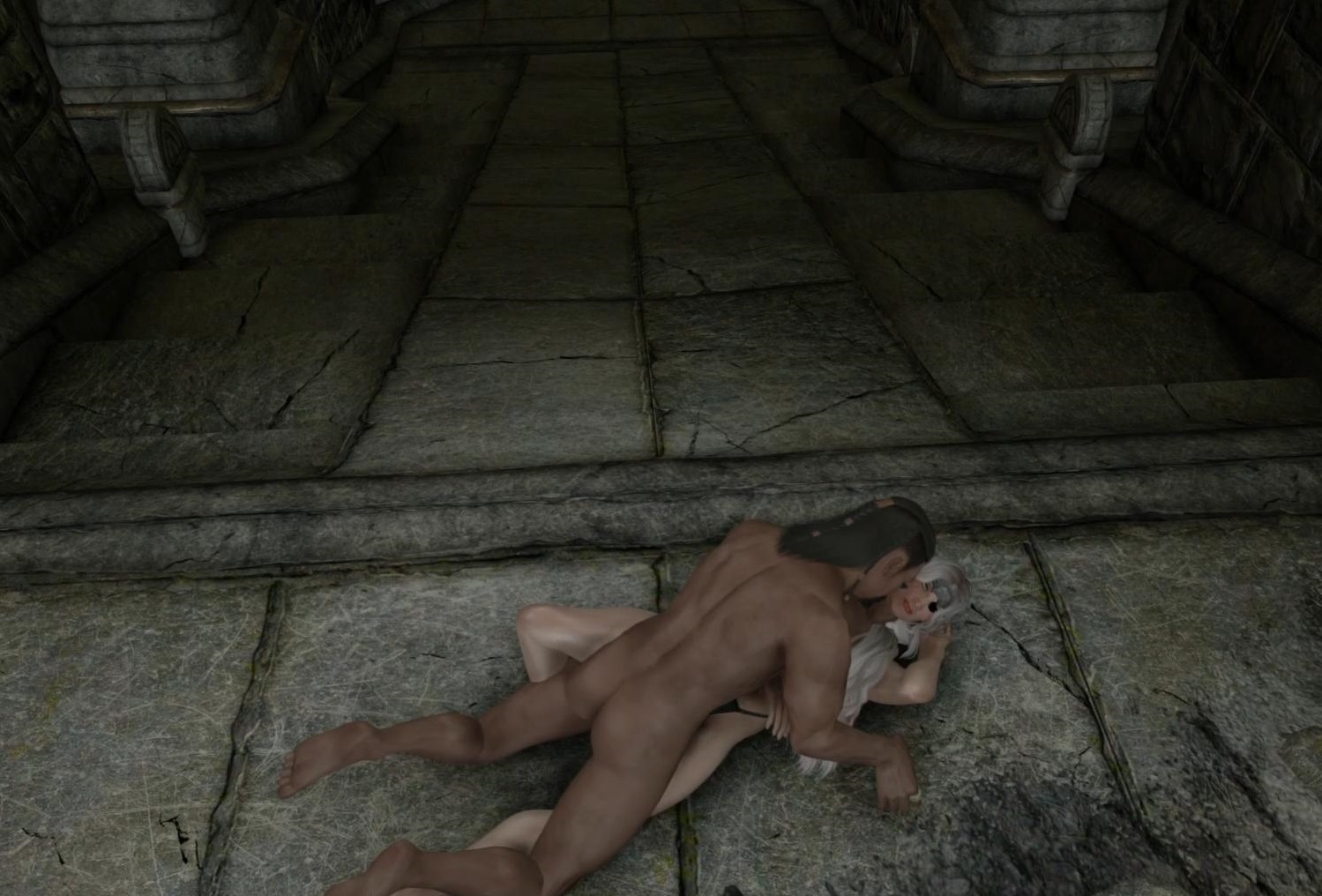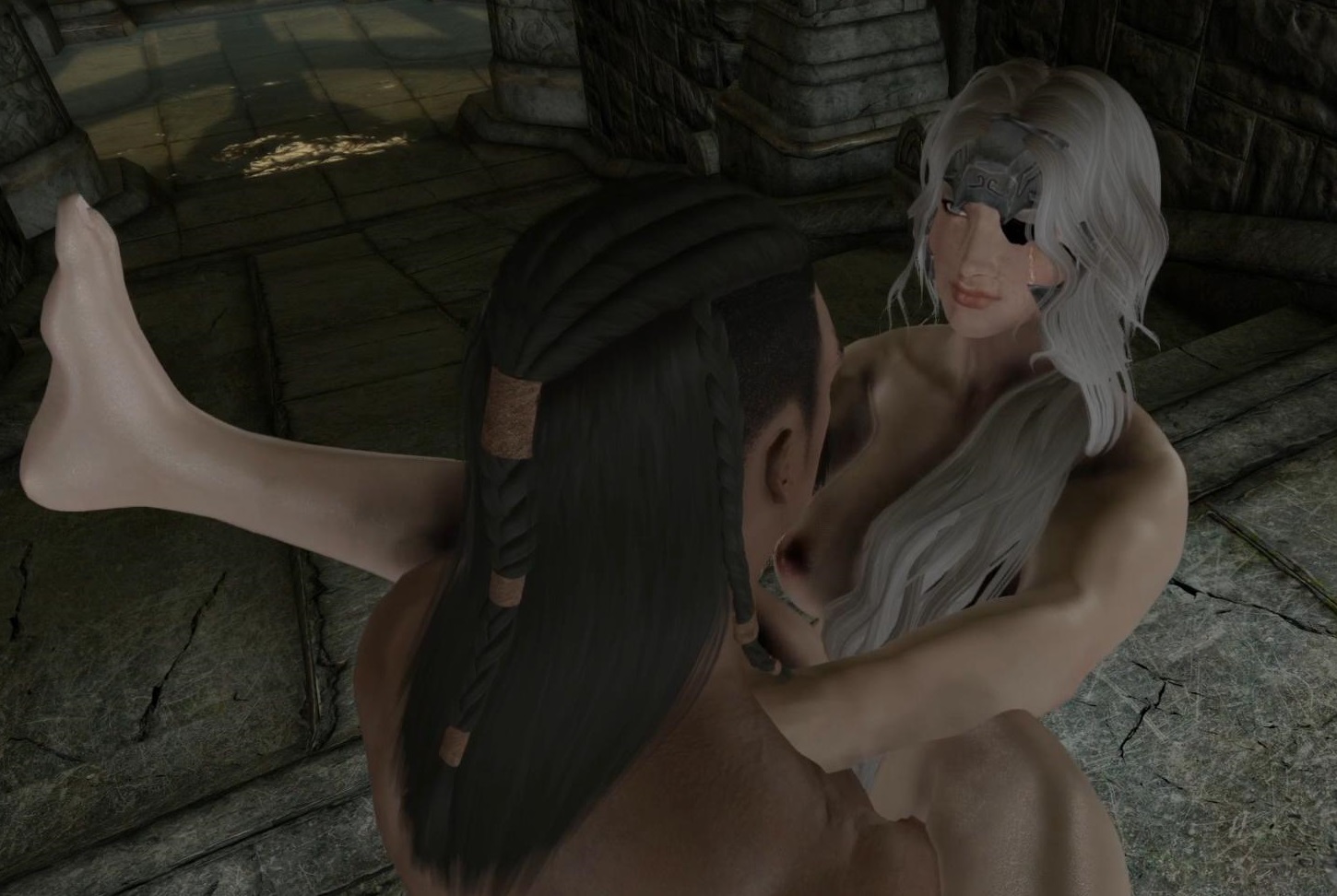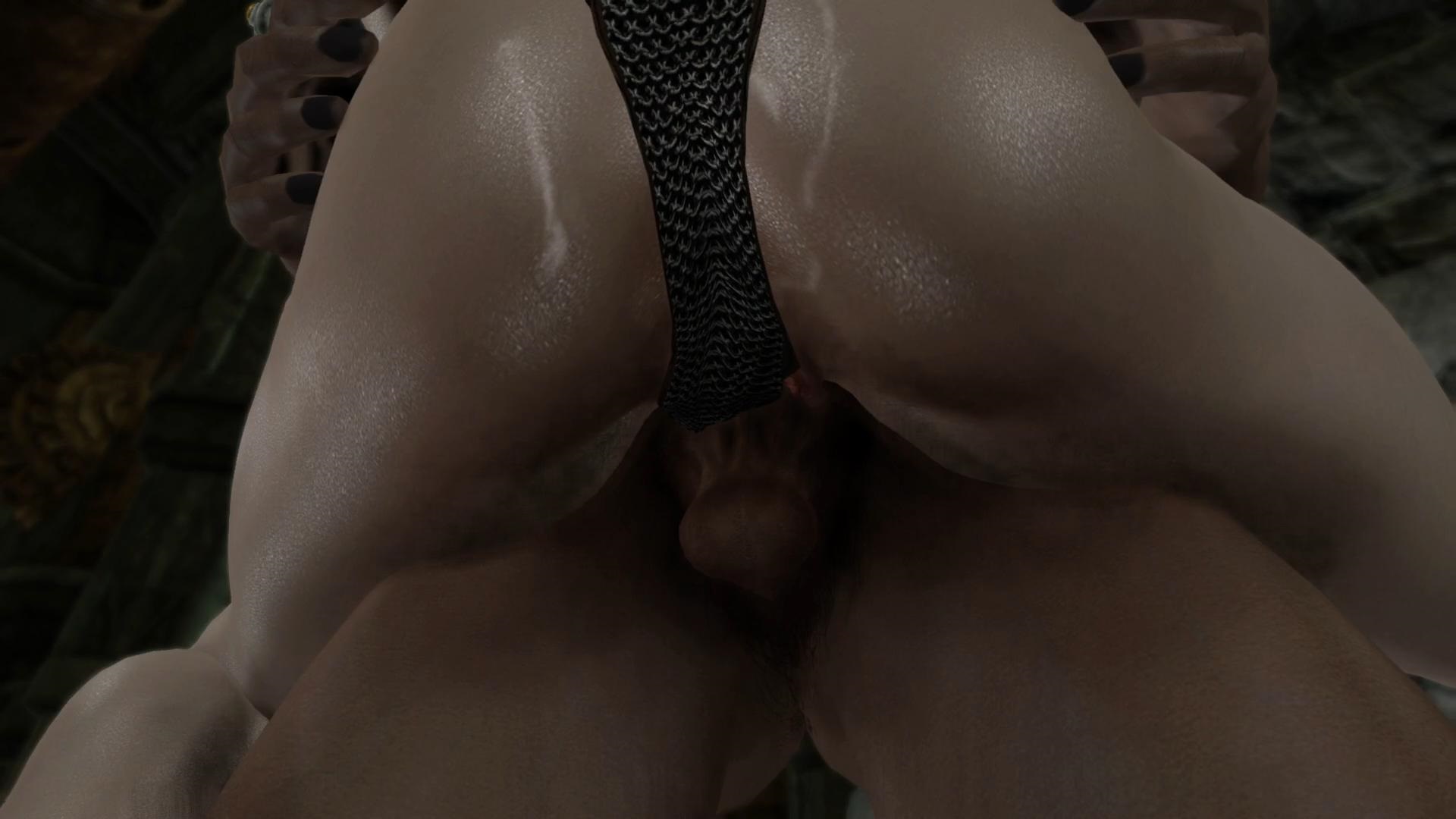 We finished quickly, and it was excellent for a quick one, then it was back to the grind, so to speak.  We soon reached the final area of the wing, a set of stairs leading to a courtyard, then another set of stairs up to a platform.  A ghostly mage was slowly walking down the stairs as we approached.  Val and I shared a glance.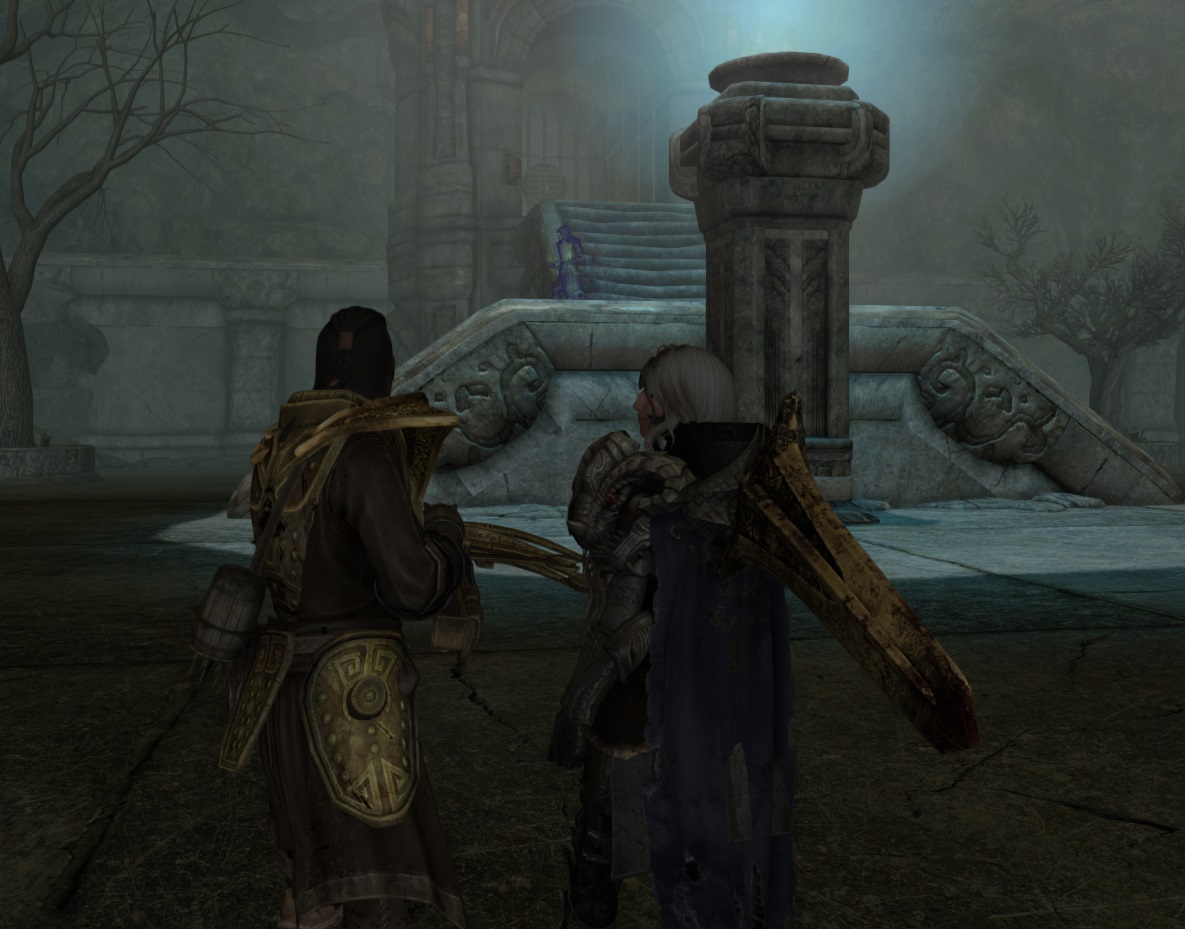 She went left to engage the ghost and I went right to use the platform's high ground.  But as she ran for him, he shot a sickly green poison cloud, then unloaded a barrage of ice bolts like my automatic crossbow.  By the time I was coming up behind him, Val'd already fallen to one knee from the strong magical barrage. 
He turned to me, but obviously this mage wasn't built for melee combat.  He flung spells, which I did my best to block with my shield.  I got a few hits in, but he ran to ranged distance.  This gave me a chance to get Val on her feet.
"You alright?" I asked.
She growled, "I'm gonna flatten that guy! Come on!"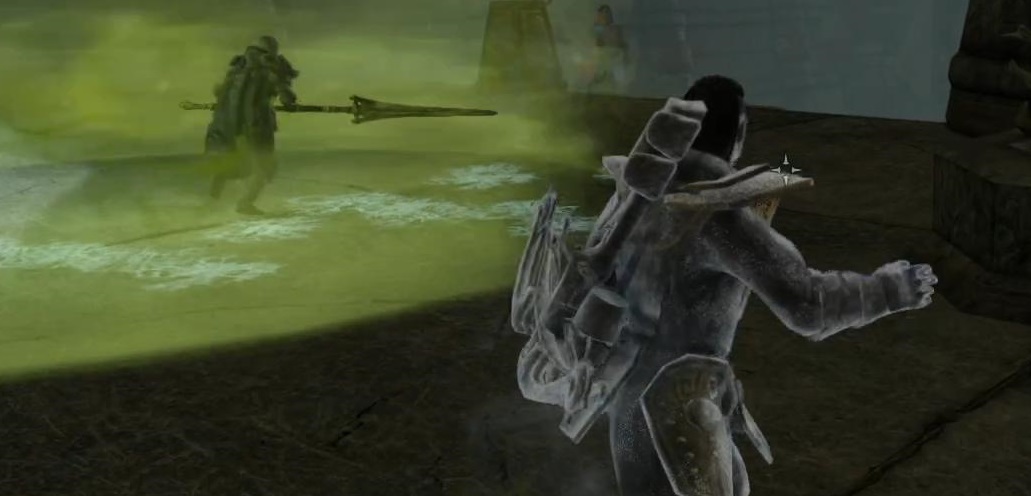 She charged, but he resorted again to poison cloud and machine-gun ice shots.  As I took out my Autocrossbow I noticed she was getting chewed up by the magic.
I unloaded bolts as she took swings at him, but her spear wasn't dealing the damage I thought it should.  Val dropped to a knee again and the ghost backed up, recasting his armored skin spell.
A bit smarter than the automatons here, I got her up again.  Really, I'd been chewing through his barrier before with my bolts and I resorted to it again.  Before Val could get to him, I'd torn down his barrier again and pincushioned him.  He was double dead.  I took a look at my lady and saw the poison was still hurting her, so I uncorked a potion and poured it down her throat.
"That's some damn strong poison," I said.
"Thanks," she said back, "See, at least one fight in here I got messed up in, and you were the one who steamrolled it."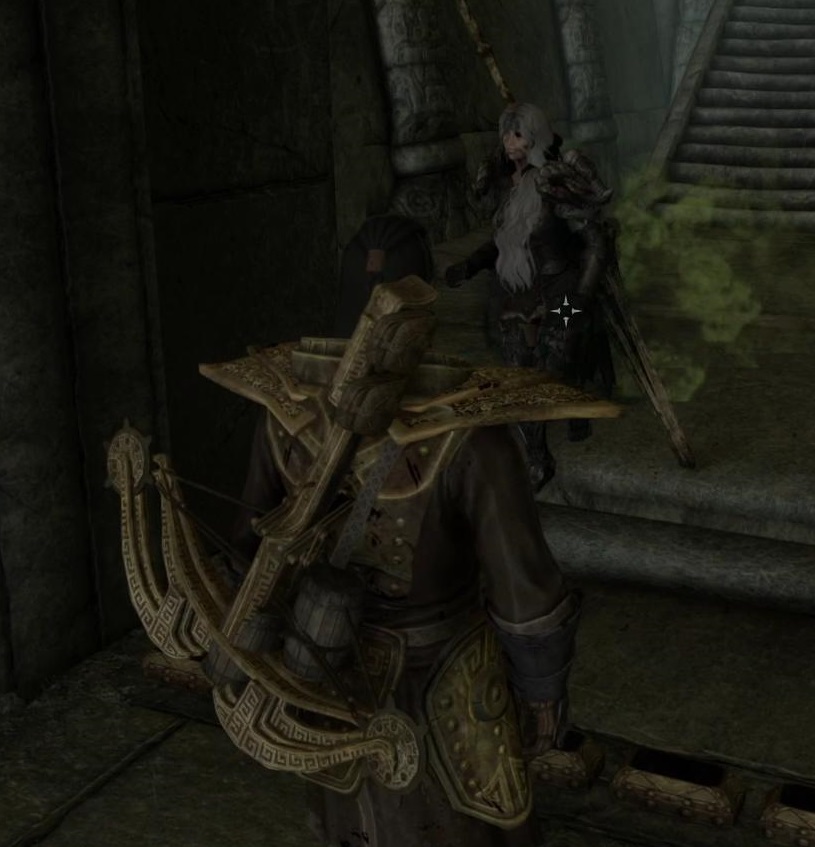 I gave her a hug and a kiss and we ransacked the treasures beyond, returning to the main hub again through a hole this time.  I threw the third lever and with a satisfying click, the gate opened up to an elevator.  I realize I could've just levitated or hook shotted up here, but half the fun was exploring everything, and all the side items I got along the way.  I haven't been describing specifically, but I already had a full complement of Aetherium-forged dwemer weapons and a ton of Aetherium bars and ore (though I wasn't sure I had the tools to work it).  And of course, thousands of septims worth of other things.
We rode the elevator and approached the 'throne' as it was labeled.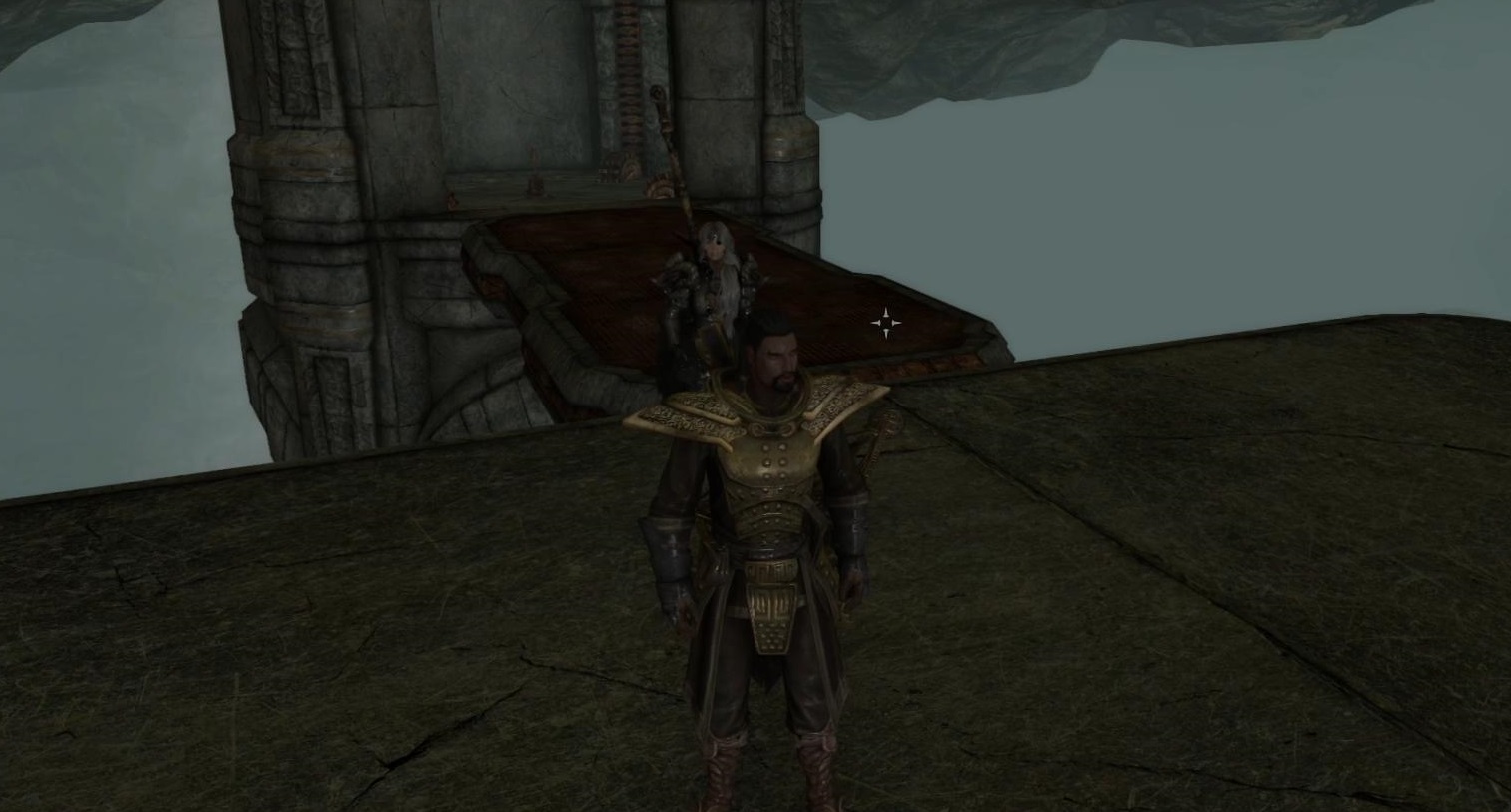 Another gate stood before us, but it opened of its own accord, inviting us in.  I tread carefully with Val behind, into a chamber flanked by pools of lava.  I turned my head to find an Aetherial Colossus, rearing back to blast me with steam.  I rolled out of the way, straight into the lava, then jumped out again, thanking my quick reflexes and enchanted armor.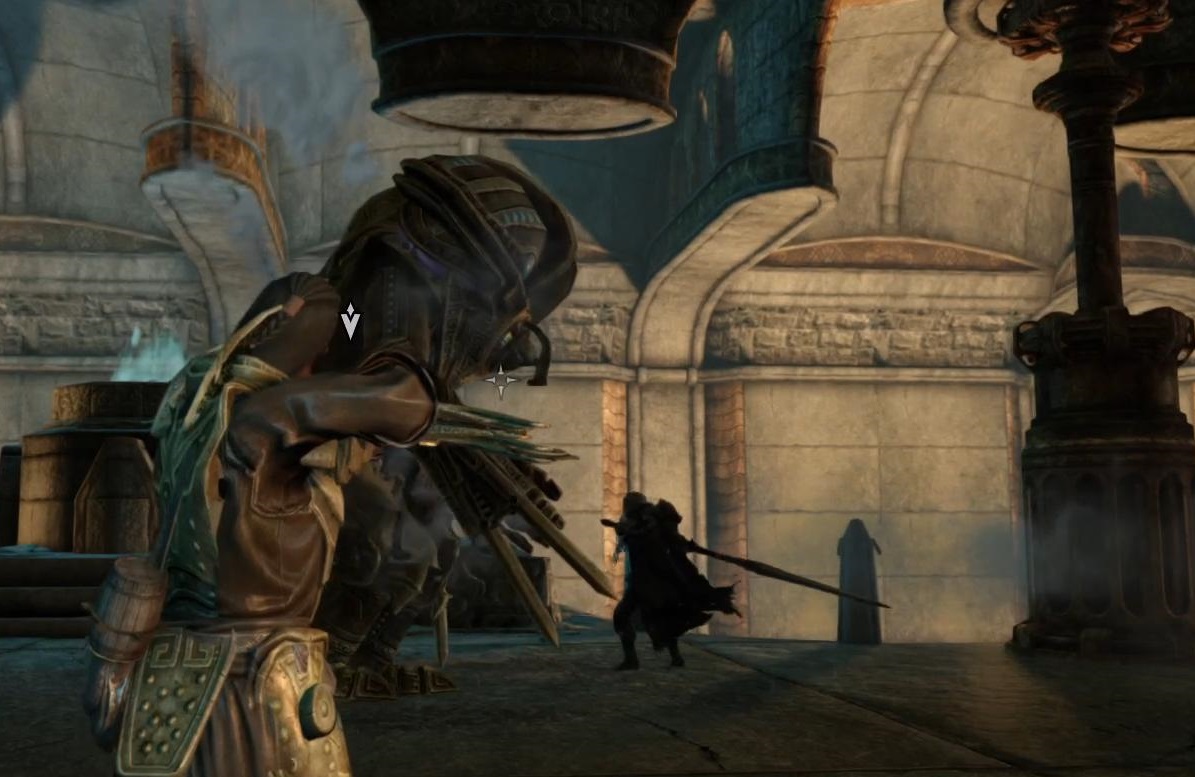 When I came up Valiana was already engaged with him.  This time was different with the ghost.  She was all fury, chewing through the thing.  I unloaded with my autocrossbow, but it was mostly her.  In a fight of pure muscle, Valiana always won.  The thing toppled and I shouted, "Nice work!"
We moved into the next room and I found a treasure trove.  A full set of Aetherium-forged Dwemer armor.
"Here we go," I said excitedly.  I quickly stripped down and put the armor on to check it out.
"Looking good," Valiana clapped, "Would you say the run was a success?"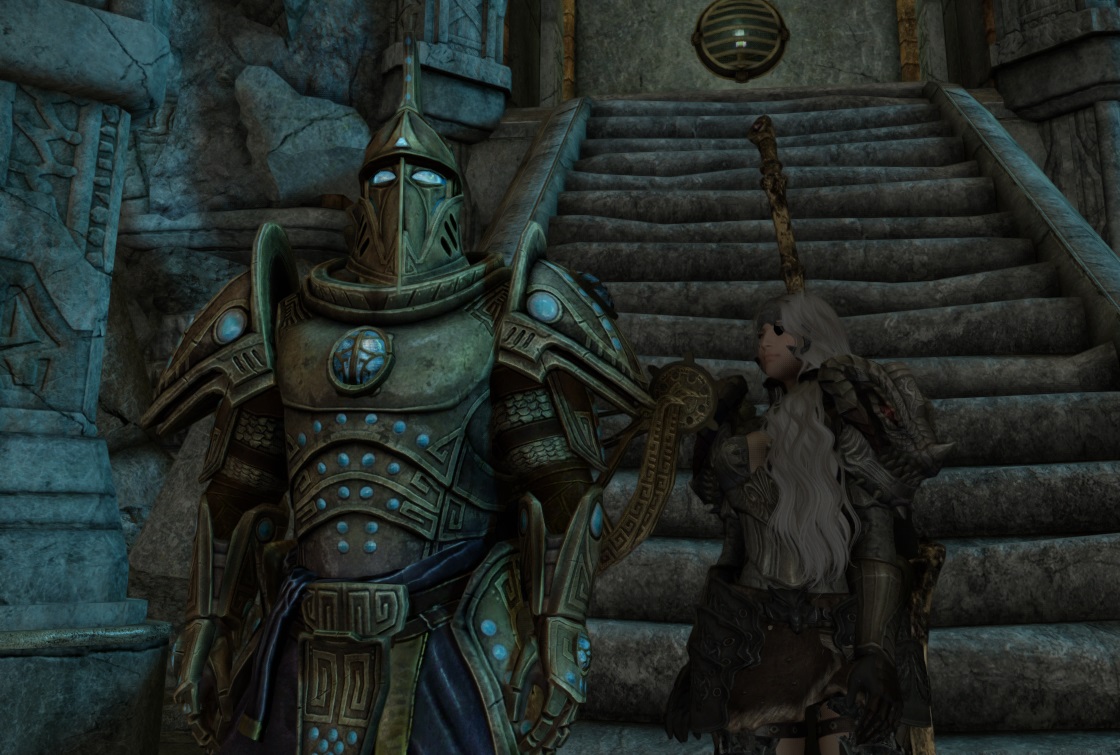 I tore the helmet back off, finding helmets in general annoying, "Definitely.  I think we need to go back for things we missed though."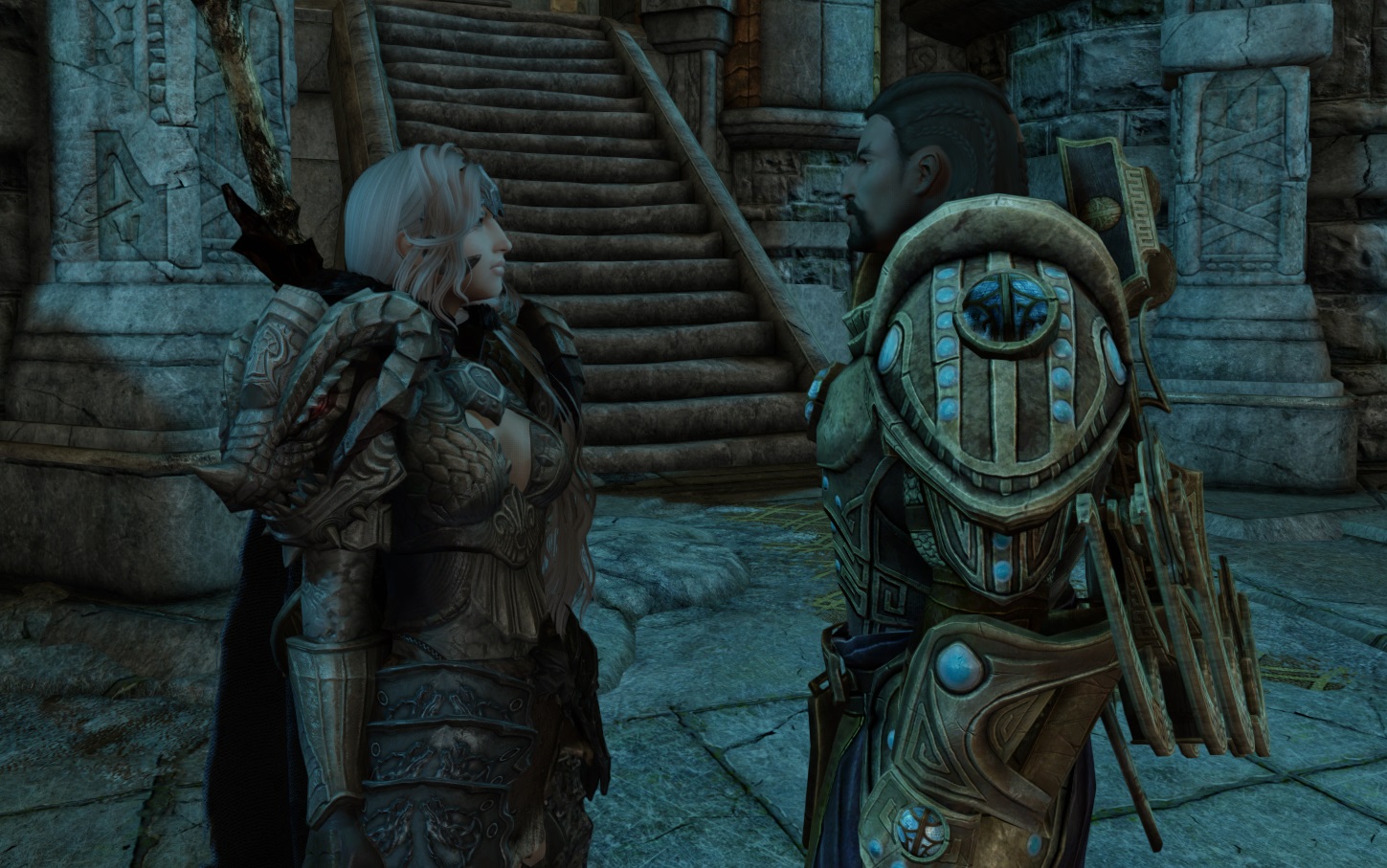 We ran back to the Manufactorium first (I knew I left the room behind the ghost unsearched), and I found another big trove.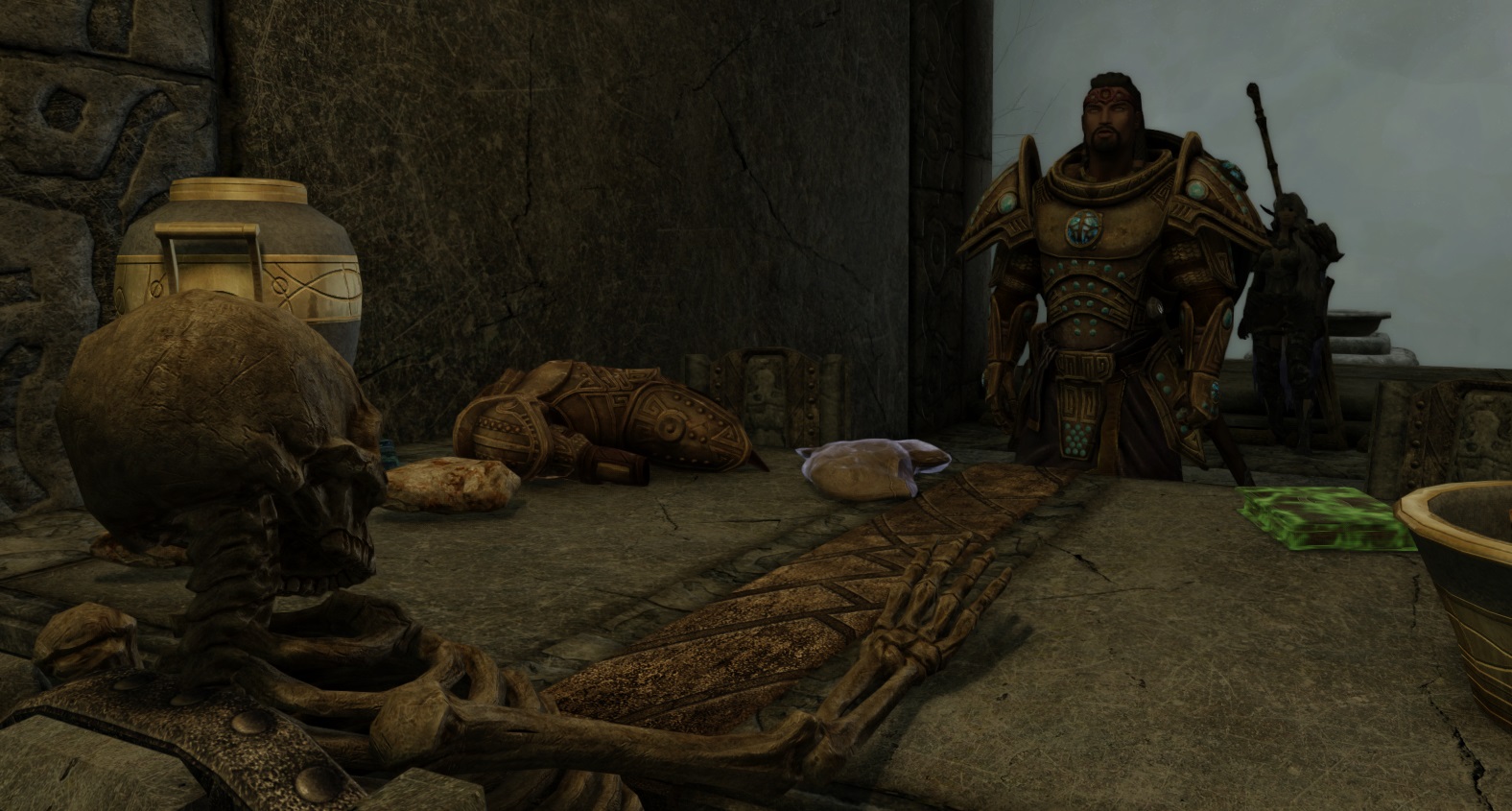 "Mage armor here.  And Damien will like these spells.  I'm not much of a conjuror," I commented.  There was one to summon an Aetherium sphere and one for a spider.  Although... I had considered dabbling in conjuration for spells such as these.  
Valiana shrugged, "Seems safe here.  I'm going to head back to town."
"Alright.  See you there.  I'm just going to find the pickaxe," I said, searching for a little while then realizing it was on the corpse I found right away!  I grabbed it, had some fun with my trusty hookshot and new pickaxe then headed to Riften (we'd already discussed spending the night at the Bee and Barb after we were done).
"Hey.  Find everything you were looking for?"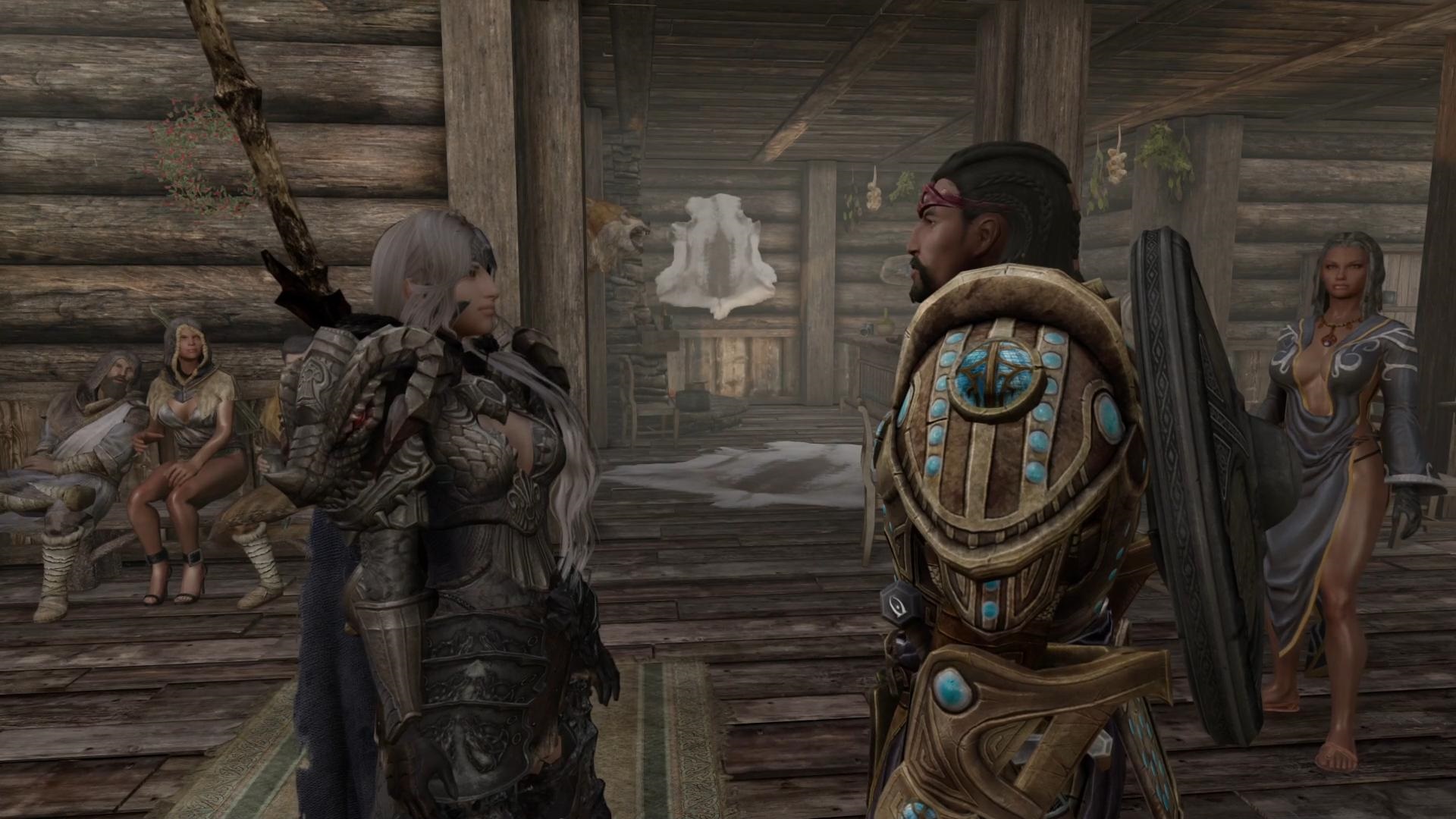 "Yeah.  But I have a whole list of Dwemer ruins I want to explore," I responded, "We should do this again soon.  Lot safer having you there."
"Yes.  It is.  It's a date," she smirked.
"Date?  I'd better put my formal armor on," I said back.
She burst out laughing and I contagiously responded with a laugh back.  That night we decided we wouldn't call the airship and would just drink and hang out with the locals until late then spoon in one of their shoddy beds.  Making memories like this is important.
The next morning Val and I were lounging with some coffee and she reminded me that, "Well, the seas aren't going to patrol themselves."
A few days of patrolling, I'd been mixing and matching armor options, and definitely couldn't part with the Cushioned effect on my old boots, but knew it was time for an upgrade.  Luckily, I happened upon my mom from a random dungeon run and she offered me 'junk from her closet in Highreach' as she put it.  For somebody so wealthy she didn't seem to ever keep track of her stuff.
The venture began with her tossing random crap out of her closet until she found a pair of Cushioned Stalhrim Boots for me.  Sidegrade to the Aetherium ones, but big upgrade from my old Cushioned Chitin boots.  
"I don't wear heavy armor, and mostly merchants can't afford to buy all the stuff I find, so I slowly sell it all off," Mom smirked, "Got a backlog of like... over a hundred items."
"Hmm..." I was browsing, "Dwemer helm of Water Breathing.  I'd use it for dives."
She shrugged, "Sure."
"What about this...?" I asked, looking at her collection of Dragon Priest Masks.
"Well... I'm definitely not a collector.  I just can't sell them, and it seems such a waste to throw them away.  Which one do you want?" She asked.
"This one could work.  Otar," I replied.
"Oh hey, have you been to Whiterun lately?" She asked.
"Just the Bannered Mare," she replied.
"You should definitely pay attention to it.  They're rebuilding the walls.  Jorrvaskr has been completely redesigned.  You already know about the outskirts, but there's also an entirely new district," Mom told me.
And a few days later I took a trip there and, "Wow, Jorrvaskr looks amazing."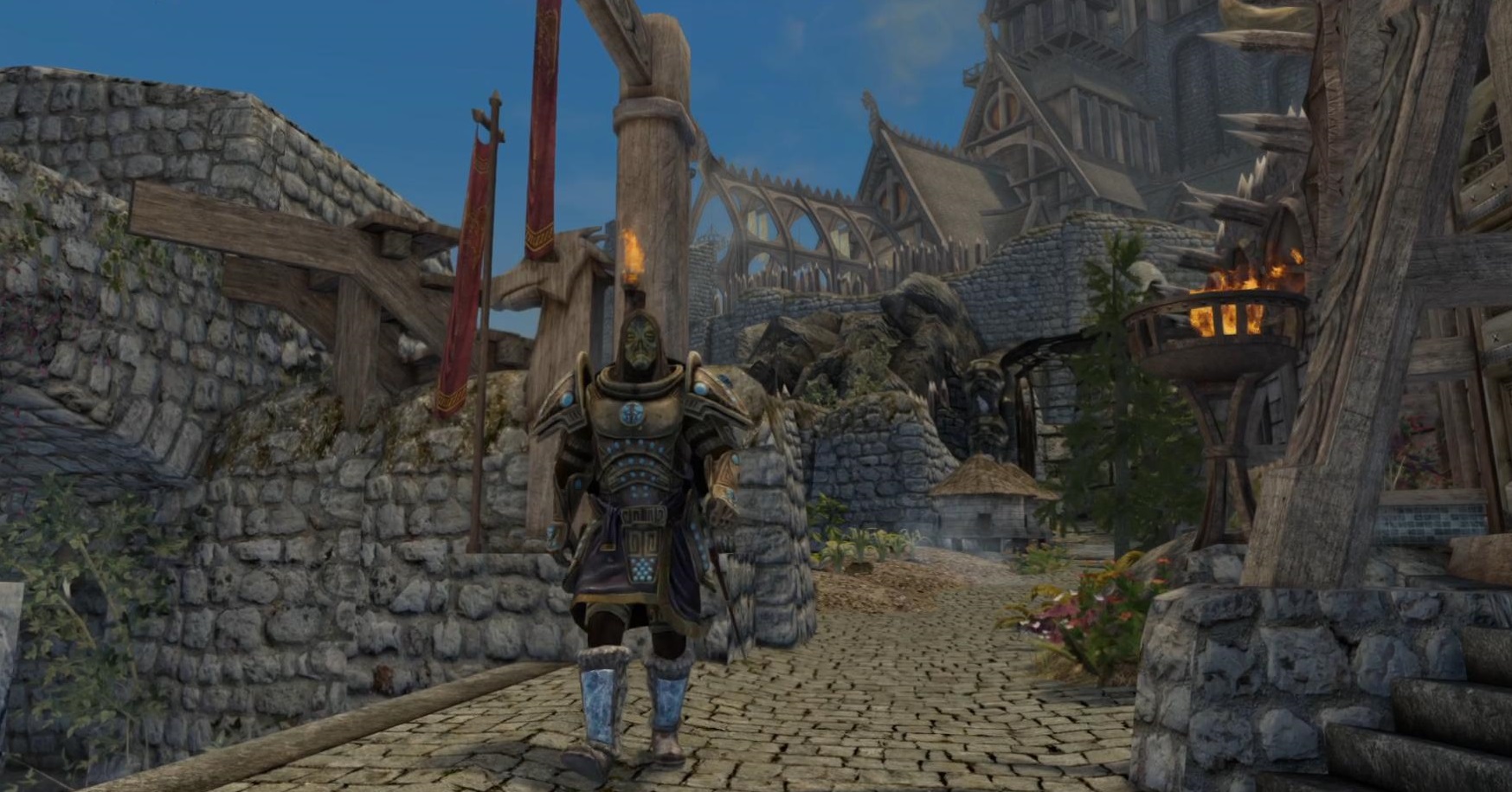 "First time in Whiterun, stranger?" A new member of the Companions asked.
I started to correct him, but then Aela said to me, "Haven't seen you around, thinking of joining the Companions?"
I didn't correct them.  I'd met Aela maybe a handful of times, always in passing and she didn't know me personally.  But then I remembered I'd been wearing the Dragon Priest Mask the whole time I'd been in Whiterun, and new armor.  And I didn't come to Whiterun all that often, usually electing to stay in Windhelm or on my airship.  Then I remembered the side-eyes the guards had been giving me the whole time.  Nothing threatening, just wary.  The Mask was a symbol of fear amongst Nords, and my mom'd defeated a dragon priest, which was essentially a dragon-made lich to get it.  
I finally responded, "I respect the honor of the Companions.  But I follow my own path.  And up until recently, they had quite a severe restriction to advancement."
Aela turned to me, squinting, "Watch yourself, stranger."
Oh, of course I knew about the werewolf thing, because my mom and sister told me all about it.  But it wasn't exactly common knowledge.
And - I'm dense - they don't know who I am.  How would a stranger know this?
I walked away casually.
Aela and the guy turned back from talking amongst themselves, and I was already gone.
"Did he vanish?" The man asked.
"We do live in a world of magic," Aela responded, "It is entirely possible."
A few days later (the 12th now) in my sifting through the town boards and ancient dwemer tomes in search of more Ruins to plunder, I was directed to a scholar at Riverwood.  Must admit, I'd only been to Riverwood as a kid, when mom and Sam would take us through here.  By my luck, I found a random chest that'd washed up in the river, but concealed by the docks.  I pocketed the contents for later - merely an old sword, a gem and some notes pointing to more treasure.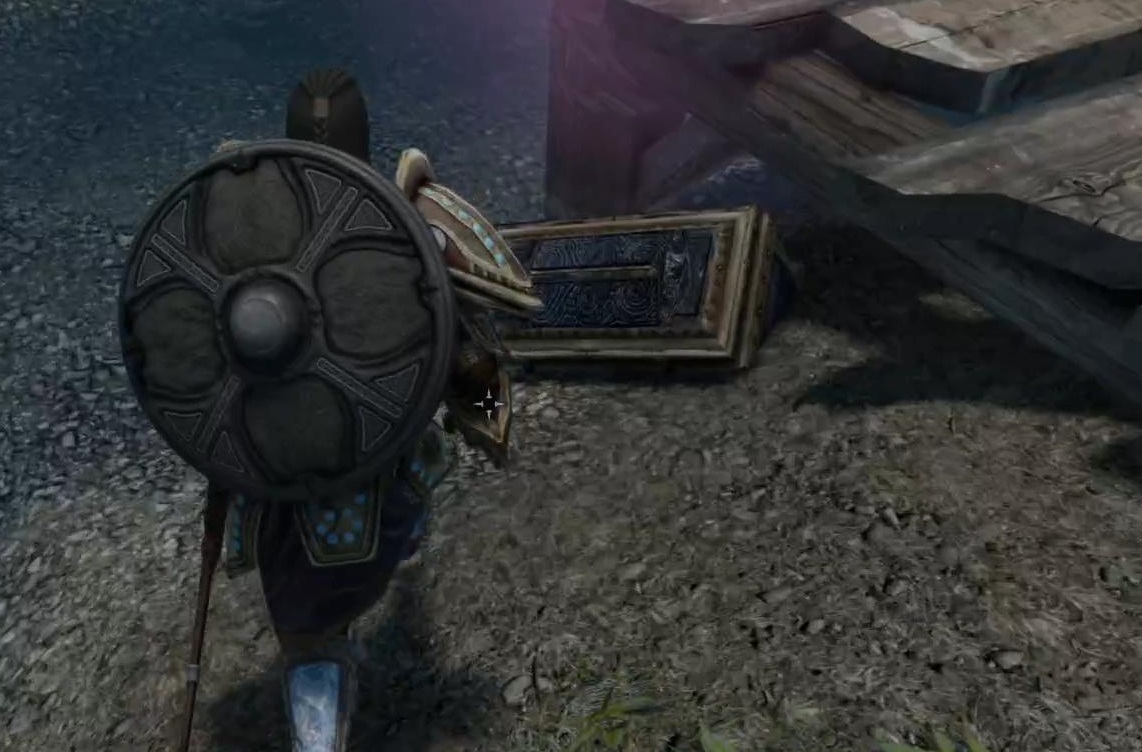 I walked into the Sleeping Giant Inn and after looking through all the new people (man, Skyrim has gotten really populated), I found the man I was looking for immediately.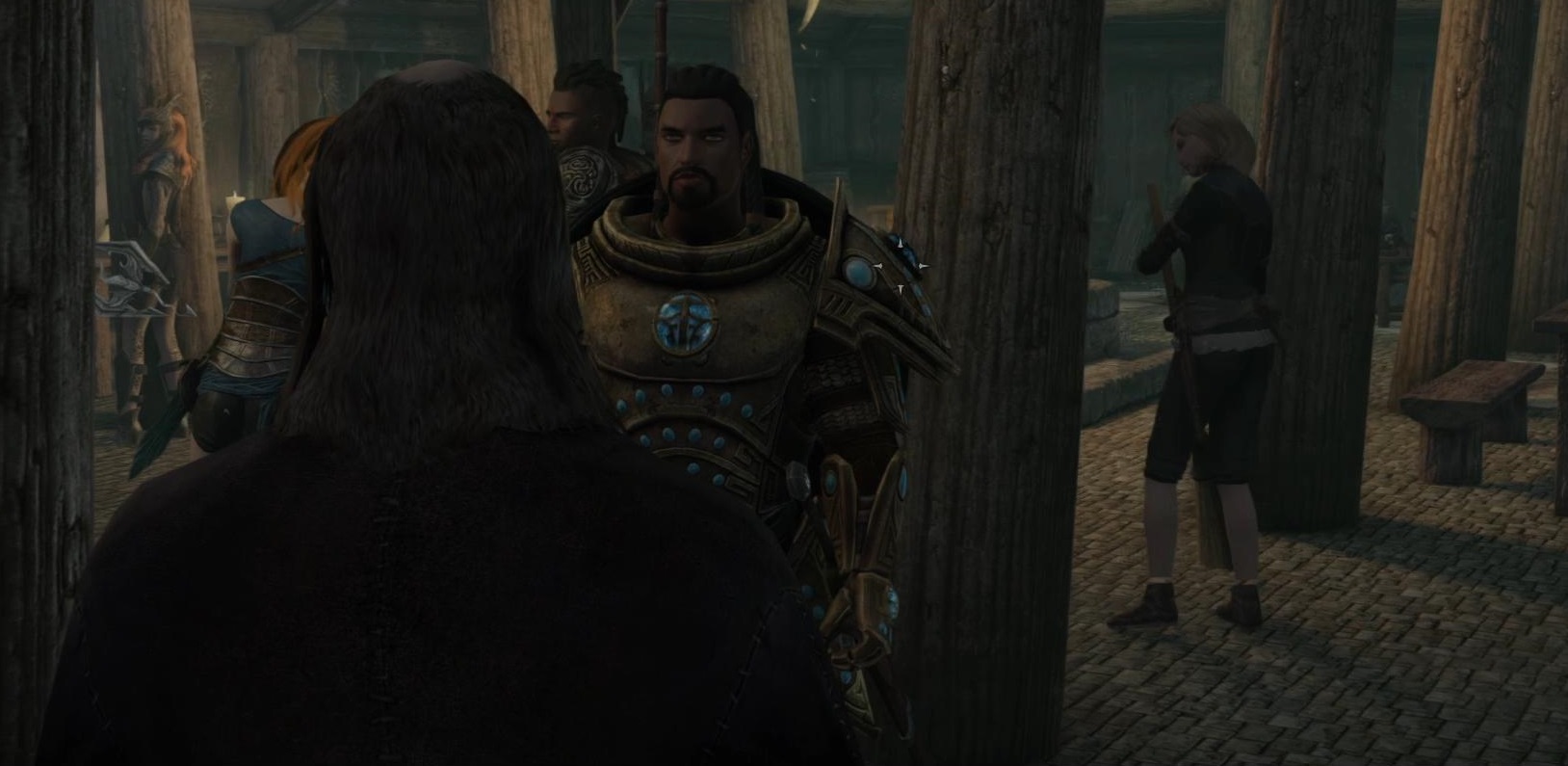 "The name is Duns Scotus.  Pleased to meet you," he said.
"Fenrir," I nodded, "I happen to be searching for ancient Dwemer knowledge, and I heard you were an authority.
"I am a philosopher and if you are interested in some books concerning philosophy, I am at your service."
I pursed my lips.  I knew there was a small but strong philosophical tradition amongst the Dwemer.  I'd never really concerned myself with such things.
I rattled off the name of a tome I'd heard of, "I'm looking for a copy of the Tractatus Logico-Philosophicus."
"I'm afraid that book is lost.  Sources indicate the Dwemer used the Tractatus to map the stars.  Curious, isn't it?" He asked.  Fearing he would start to get introspective, I started to ask another question, but he merely said, "I don't know.  There may be an original copy somewhere, maybe in a Dwemer ruin."
I shrugged, "Anything I can help you with?"
"As a matter of fact, there is.  I've prepared a scholarship fund for Dorthe and Frodnar, two kids here in Riverwood.  It'll ensure they can enjoy the knowledge of the college freely when they've come of age.  Though the funding is safe, I'd feel much better if a deed was brought to my former student Hannah in the College of Winterhold."
"Sure, easy," I said.  Often if you help people out they're more inclined to give you information they have.
"Please bring back proof of payment.  And tell Hannah her old mentor hasn't forgotten her.  She was always a bright student.  Maybe she can help you."
I nodded to him, then took my leave, walking to the airship floating just over the river.
I smiled at Valiana.
"You're smiling.  Time for another dungeon?" She asked.
"Not yet.  At the moment, I'm hunting for ancient tomes.  Going to head to the College," I replied.
"Well, if it's all the same to you, I think I'm going to go back on patrol and sit this one out.  Going to the library just sounds awful," she replied.
"Fair enough," I said.  We took a couple hours to get to Winterhold.  As I disembarked, I said, "I'll see you in a few days, maybe?"
She kissed me and pushed me off the deck.  Of course I landed on my feet a couple hundred feet down.  Cushioned is pretty dang nice.
I headed up to the library and found Hannah immediately amidst the dozen or so scholars studying quietly in Winterhold library.
A woman with rough hair, dressed in a very revealing toga didn't even look up from her scribing when I approached.
"It's nice that you want to talk to me, but I am rather busy," Hannah said, "Or maybe you want to buy a book?"
"I'm here to give you a deed from Duns Scotus," I replied, handing it to her.
"Ahh.  How's my old mentor doing?" She smiled in recognition, still not looking up from her work.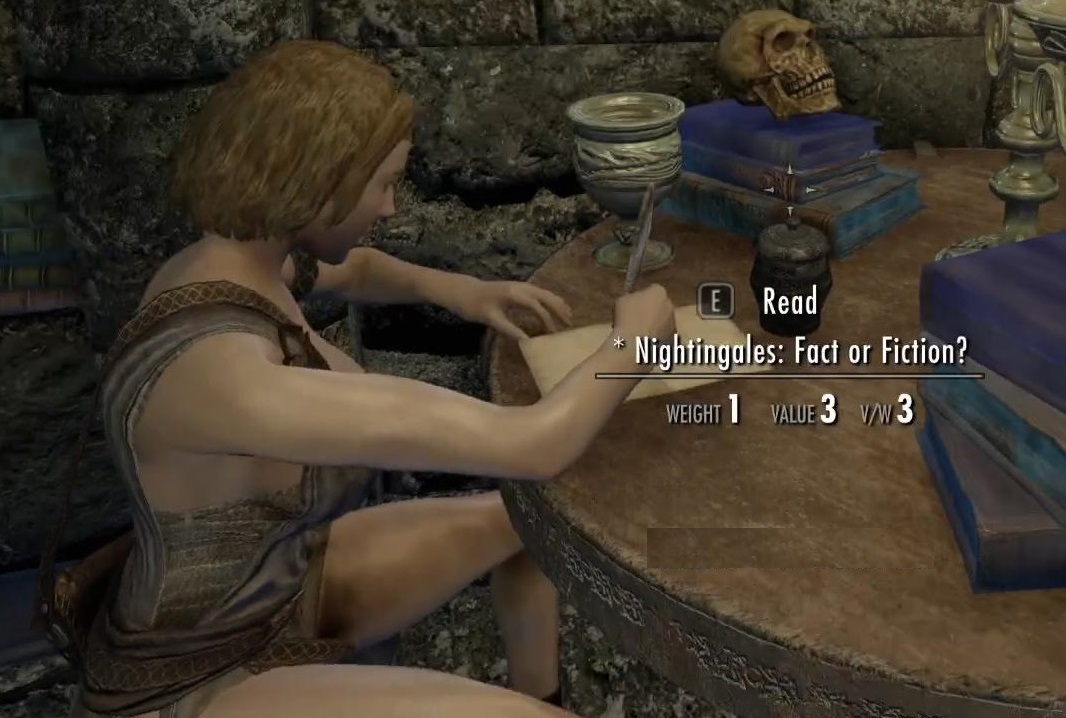 "Seems to be aging gracefully in Riverwood," I replied.
"Here's the proof of payment," she produced the document, out of what pocket I am not sure, and thrust it in my general direction, still not even casting her gaze in my direction.
"Maybe you can help me find the," I paused, figuring I'd go with the same one, "Tractatus Logico-Philosophicus."
"Why would you be interested in that book? It's nothing but a collection of tautologies.  Meaningless and useless," Hannah responded, "Probably locked up in a dwemer ruin somewhere."
"Yeah, that's what Duns said," I sighed, nobody seeming like they were going to leap to help me.  I figured I'd try and find Damien.  I walked up to the Archmage's quarters (following the clear signs) and the door was open.  I walked in.
I looked over all the treasures for a minute, then figured I probably shouldn't be here.  The current Archmage didn't know me.
"Just gonna barge right in?" 
I turned and it was Damien.  I smiled, "Well, yeah.  Thought you'd be here."
"You know I don't live up here.  Though I guess I do spend some nights up here with Mirabelle."
"Humble brag, huh?" I asked.
"That's... not what I meant.  Though I guess it's not not what I meant," Damien said.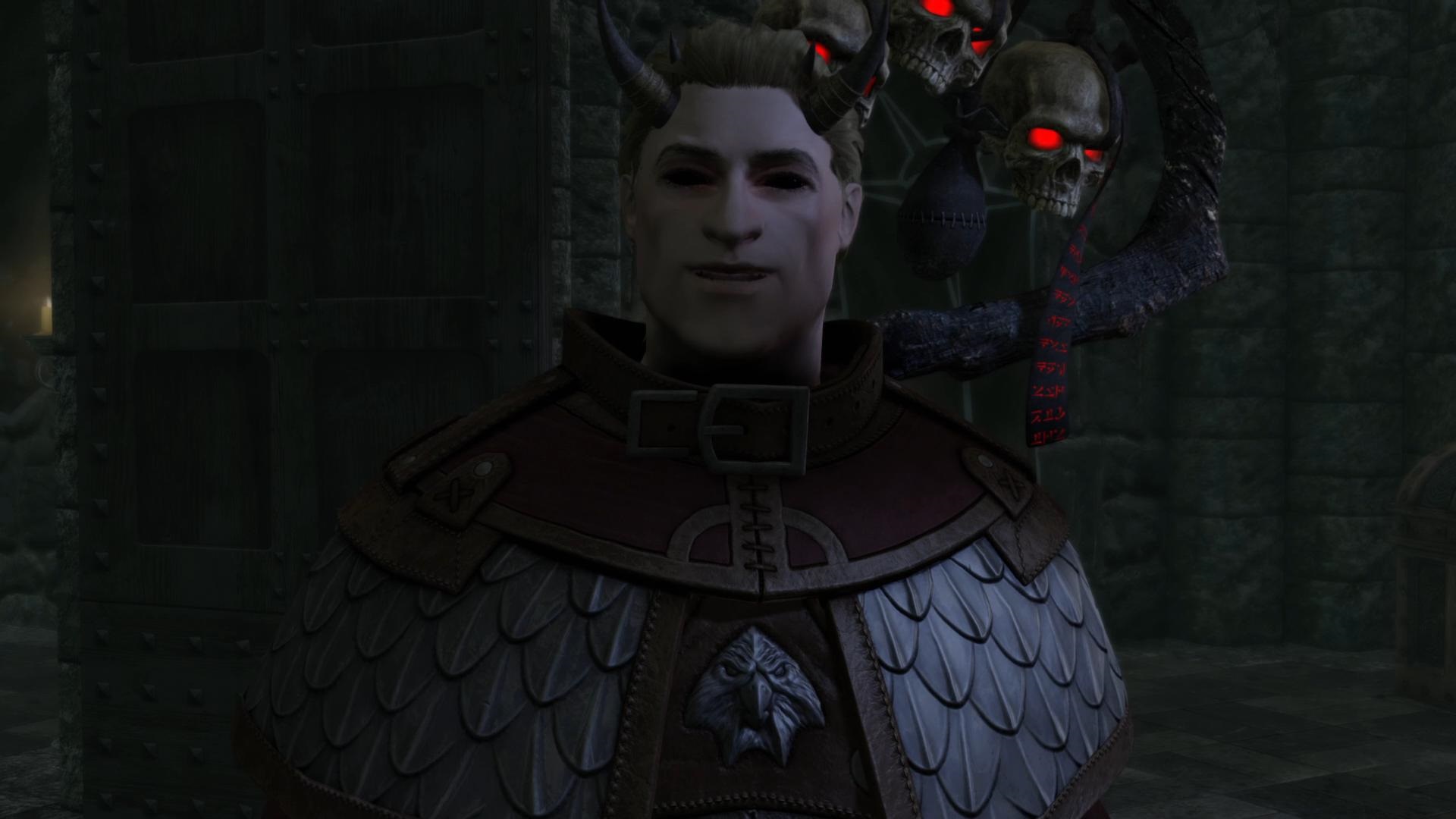 "Got some armor for you, if you want it," I showed him the Aetherium Mage armor.
"Looks nice.  But as you can see, I recently upgraded," he replied, "Is this a social call or is there something I can do for you?"
"Little of both.  I'm in the market for ancient Dwemer tomes."
"This is a good place to start."
"Nobody downstairs was very helpful."
Frankly, I'm bored.  Mirabelle does most of the job of Master Wizard even as Archmage.  I'm willing to come with.  Got any leads?" Damien asked.
"Just gonna go back to Riverwood and ask Duns Scotus.  Also, got a deed to turn in to him," I said.
"Uhh, alright, well I'll teleport you," Damien said.  He put his hand on my shoulder and we vanished.
Thanks Random Sex for that Valiana masturbating bit.  Added a little spice to the run.
Welcome to - Fenrir unintentionally becoming Batman (tm).
Please ignore my time inconsistencies.  I've shown Damien in Runa's story (in the future) but he was old-look Damien.  But I've already regenerated him and didn't want to rewind him back to his old look.
Edited by EnragedBard