Hey, it's Destana.  We're currently invading Valenwood.  Of the main cities, we hold Arenthia [Cyrodiil got it] and Woodhearth [Skyrim got it].  I keep calling it Arentina, which is unfortunate.
The morning after our planning meeting, Jura and Galachad (Sir Galahad Maynard) led a small strike force to the front gates of Falinesti while Runa, Roheisa and I snuck in the side.  It was surrounded by a creek on at least one side, which didn't provide a lot of protection against me and the girls sneaking in.  We walked through some farmland, climbed down a cliff and up another to get to the outskirts.  There were no walls to speak of.
"I tasked Damien in finding out how to breach this city without setting off the general alarm, but... there's not really anything to breach," I said to them.  I casted an invisibility spell on both.  Runa looked like she shrugged (it was hard to tell), and Roheisa said, "Wow!  I'm see through!  That's amazing!"
About this time, Jura was hiding behind a tree.
"Hold here, I'm going to draw them out," he said.  He peaked his head out and fired an arrow, center mass on one of the guards and they rushed forward, seeing their force hiding in the shade of the tree.  To be fair, it was a very large tree.
The Stormcloaks rushed forward with a handful of knights while the Imperials peppered the Thalmor bridge guards with arrows.  Jura rushed back with his seldomly-used Dragonslayer Greataxe and took care of the Bosmer archers in the meantime.
The men rallied again, looking off into the distance, and found some sort of giant Dwemer construct standing at the entrance to the city, menacing their approach.  Jura put his greataxe on his shoulder, menacing right back.
"I'm getting out of here!" One of the Imperial auxiliaries yelled.
"Leaving?" Jura walked forward, Galahad following at the head of the force.
"The battle's just started!  Follow me!" Jura yelled.
"That man..." one of the soldiers said, "Running headlong toward that terror.  I feel like we might make it out of this okay."
Galahad put his hand on the Emperor's shoulder, "You are an inspiration to these soldiers.  Perhaps the Empire could've stayed together if it had a man like you."
Jura smiled, "I have no intention of reforming it.  Destana's right.  Every nation should have self-determination.  Except maybe the High Elves.  We've seen what they've done with it."
As I led my small group into battle, a cadre of Thalmor mages were whipping up huge tornados to stifle our progress.  Or maybe as a scare tactic.  At this point, all the soldiers were concentrated around the HUGE Dwemer construct, only Jura and Galahad peeling off to deal with the Thalmor mages that'd started harrowing them with spells.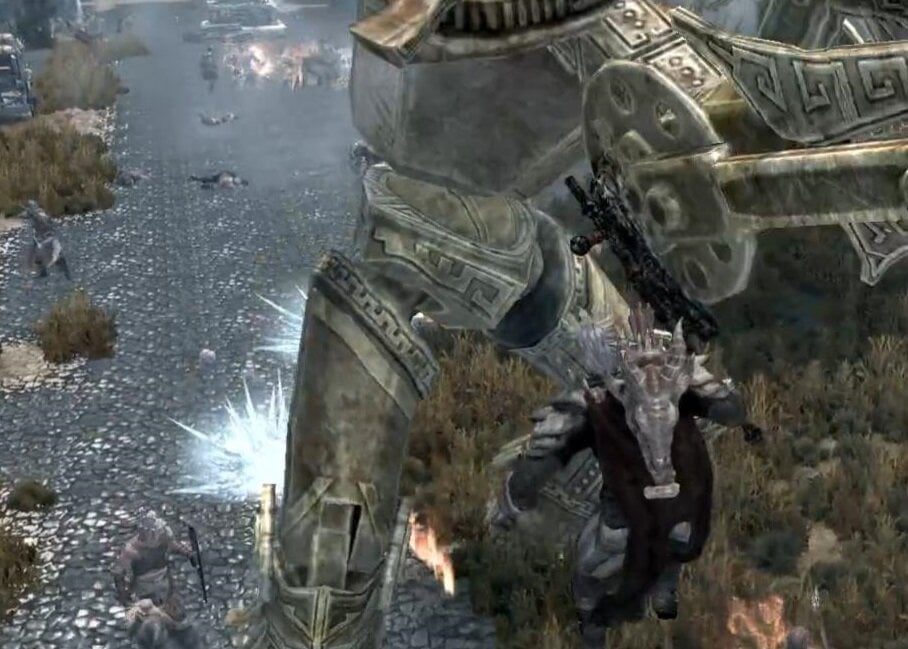 "To hell with the plan," Runa said, and rushed in to help deal with the mages.
"You do your thing, I'll see what I can find ahead!" I shouted back.
What ensued was a long battle in which a lot of the men died.  Jura and Galahad stayed together and took point against the strongest mages.
I rushed ahead and found myself flanked my several powerful mages, to which I slunk off a side road and into a field.  Of course, they followed.  At this point I was starting to feel like we underprepared for this battle.  But I also wondered what they were protecting so vehemently.
Runa rushed forward more out of bloodlust than my own strategy of scouting ahead and taking out big targets, Roheisa being pulled along for the ride.  
"You should slow down, your highness!" Roheisa yelled in her soft, nonthreatening voice.  
"Who wants to live forever?!" Runa smiled while she cleaved forward.  
Roheisa seemed like she felt an obligation to keep the Princess of Cyrodiil safe, because she stayed with Runa, using equal parts conjuration and her scythe to keep foes off the reckless blond.
I ended up kiting those mages through the fields, using stealth, dodging, shouts and trickery to take them down.  When I finally rejoined the battle, Jura, Runa, Roheisa and Galahad had all pressed forward and were fighting a roaming Thalmor patrol and losing badly.
As I rolled up, I apologized, readying Elemental Blast and Grand Healing.
"Sorry guys, I'll heal you!" I blasted the large group in melee with a double-handed EB, knocking Runa and Galahad off their feet.  Jura backed up and took a couple by himself.  The Thalmor were singed, but angry, and turned their attention to me.  They each summoned a familiar and charged at me with greatweapons (strange for elves) but I threw down a "TIID!" and threw down several elemental blasts at my feet, forming a cone on front of me that progressively melted their faces off.
Down to the last one, he beat back Jura, and I threw a heal on the group.  I readied my bow, but Runa got to her feet again and slashed him through the chest with Eternal Abyss.
She let out a deep breath, "I can't say I like your tactics.  But we won, I guess."
I smiled apologetically, healing her again.
"My, how sweet of you, mom," she said sarcastically.
"Everybody okay?" Jura asked, "We may have been out of our depth, but we're going to see what they're guarding."
"Yeah!  There were a hell of a lot of elite casters here.  Nearly killed our entire strike force," I said, "Maybe I can resurrect them when we finish."
"I will assist you, when the time comes," Galahad offered.
"Oh, you can resurrect people too?" I asked, probing for information.
"Of course I can because I'm a..." he took a long pause, perhaps to think of an explanation, "A skilled knight."
We rushed up to the main doors of what looked like a wood elven-palace, carved into a living tree.
"Right guys, we don't know what's ahead of us," I said, putting my hand on the door, "Could be a trap be on your guard."
I edged it open and slipped inside, taking point like a good burglar-type (thief, rogue, etc).  I made my way through an empty corridor carefully, creeping through another door.
Inside were a group of Thalmor, gathered around another high elf dressed in a beautiful green dress, scuffling with townspeople.
"You will tell us what you know, or die!" One of them shouted.
Then I shouted, "FUS!" 
Staggering the lot of them.  
"What was that?!" One of the thalmor shouted.
"Fools! The invaders are at our doorstep!" The she-elf in green shouted.
My companions kicked in the door about this time.  Roheisa hung back and summoned a familiar, then fired fire spells at range, while Jura and Galahad took on the main group of Thalmor.  Runa charged at the woman.
"You think you can intimidate me?" She yelled.
"FUS!" She blasted her to her backfoot, brandishing Eternal Abyss.

The woman used some kind of red-tinted spell that blanketed the area in a miasma as Runa took her first swing.  I was having none of this and added a "FUS!" of my own, moving in to flank the woman and her bodyguard.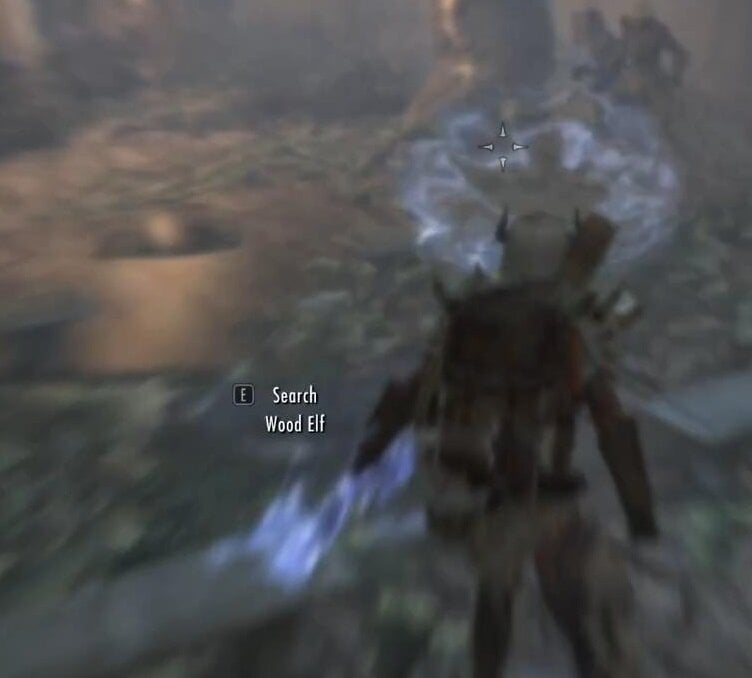 I blasted the wall behind them with an explosive arrow I'd gotten from Alik'r, killing the bodyguard.
Runa slashed the woman across the chest and I stabbed her in the side.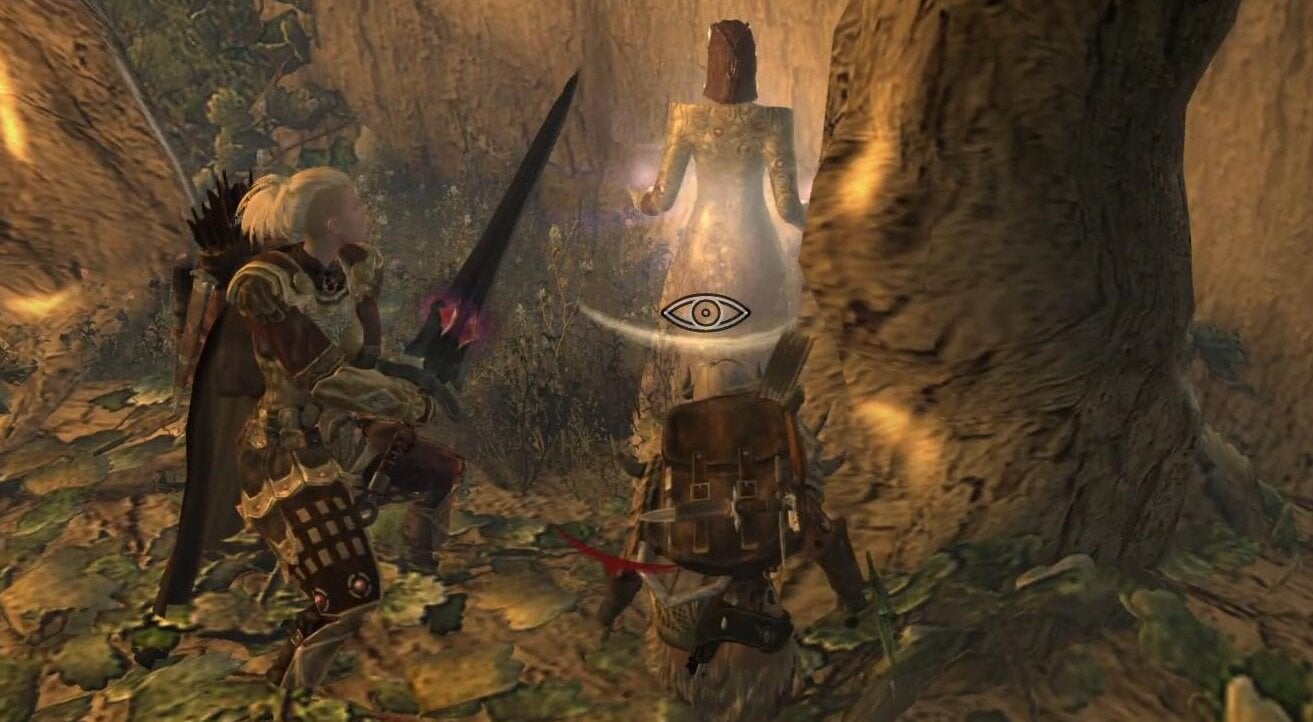 "Please!  I submit!  Don't kill me!" She shouted.
Runa growled, making a motion to put her weapon away.  Then she slashed the woman again.
"She surrendered!" Roheisa shouted.
I put my hand on Runa's shoulder, "Give me one second."
After a second, she backed off weapon still in hand.
"Who are you?"
"I am the Altmer queen.  You will release me at once," she said calmly.  I could feel she held some kind of considerable power as a mage.  Instead of saying anything or arguing, I stepped forward and stabbed her in the chest.  She fell, limp, to the ground.
"But..." Roheisa said again.
"Yeah, did you just want the kill for yourself?" Runa asked, puzzled.
"No, she was doing something magical."
"She might've been good as a prisoner, or for interrogation," Jura said.
"My thoughts as well.  But she's too dangerous.  We can restrain her and resurrect her," I said, "I'm sure somebody knows how to bind magic.  They did it to me when that bastard Orthar imprisoned me."
"That may not be an option, your majesty.  Only those who consent can be resurrected," Galahad explained.
"Huh," I said, turning to him, "Walk with me, Galahad.  We can resurrect our dead men.  I'm certain they'd like another go at this life.  And they get to share in the spoils of the victory."
"Of course," he said, leading the way out.
First, I said to Jura, "The Altmer queen was here.  Does that mean we win?"
"Not exactly.  We still have several cities to take.  And the high elf king is going to be pretty pissed," Jura replied.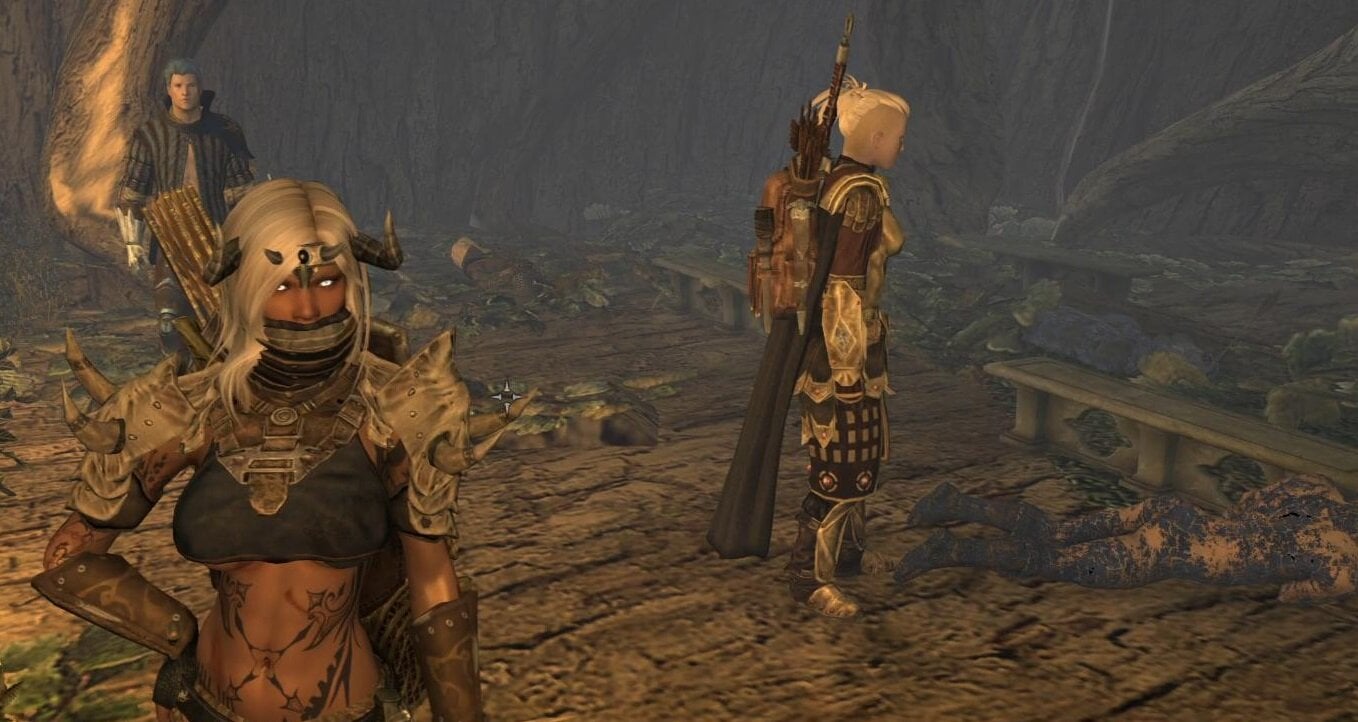 "Still, a resounding blow," I said.
Runa stepped up to me as I was walking out and whispered, "I feel like he's not telling us something.  You should watch these two knights.  I don't trust them."
"Even super sweet Roheisa?" I joked.
"Especially not super sweet Roheisa.  Nobody's that pleasant," Runa replied.
"I dunno.  You used to be pretty pleasant.  Until the brotherhood grabbed you," I chuckled.
"Please.  Gag me," Runa smirked.
"I don't trust them either, but they were helpful in the fight.  Unlike fucking Lord Malakai," I said as I joined Galahad.
We spent about half an hour walking the battlefield and finding mostly intact corpses and returning them to life.  The response was mostly positive.  Only a few decided to stay, I assume in Sovngarde.
As we were walking, I said, "How do you know so much about this anyway?  According to everything I've read, the knowledge of how to resurrect people has been lost for quite a while.  Not in common usage these days."
"It is true.  I have studied quite a few ancient texts to get to this point.  How do you know this magic?  And flight as well.  Please excuse my rudeness, but you don't really seem the type," Galahad replied.
"Yeah, well, I'm a complex of mysteries.  Having skill with magic and then a half daedra son with a ton of natural skill in magic to teach me what he discovers doesn't hurt..." I paused, noting a reaction when I said Damien was half daedra.  It wasn't disgusted, though it was on the edge of disgust.  It was more intrigue, disbelief perhaps?
I walked with him a little while longer as we finished the resurrections, then said, "Well, I'm pretty drained.  I think I'm going to raid the manor's pantry.  Care to join?"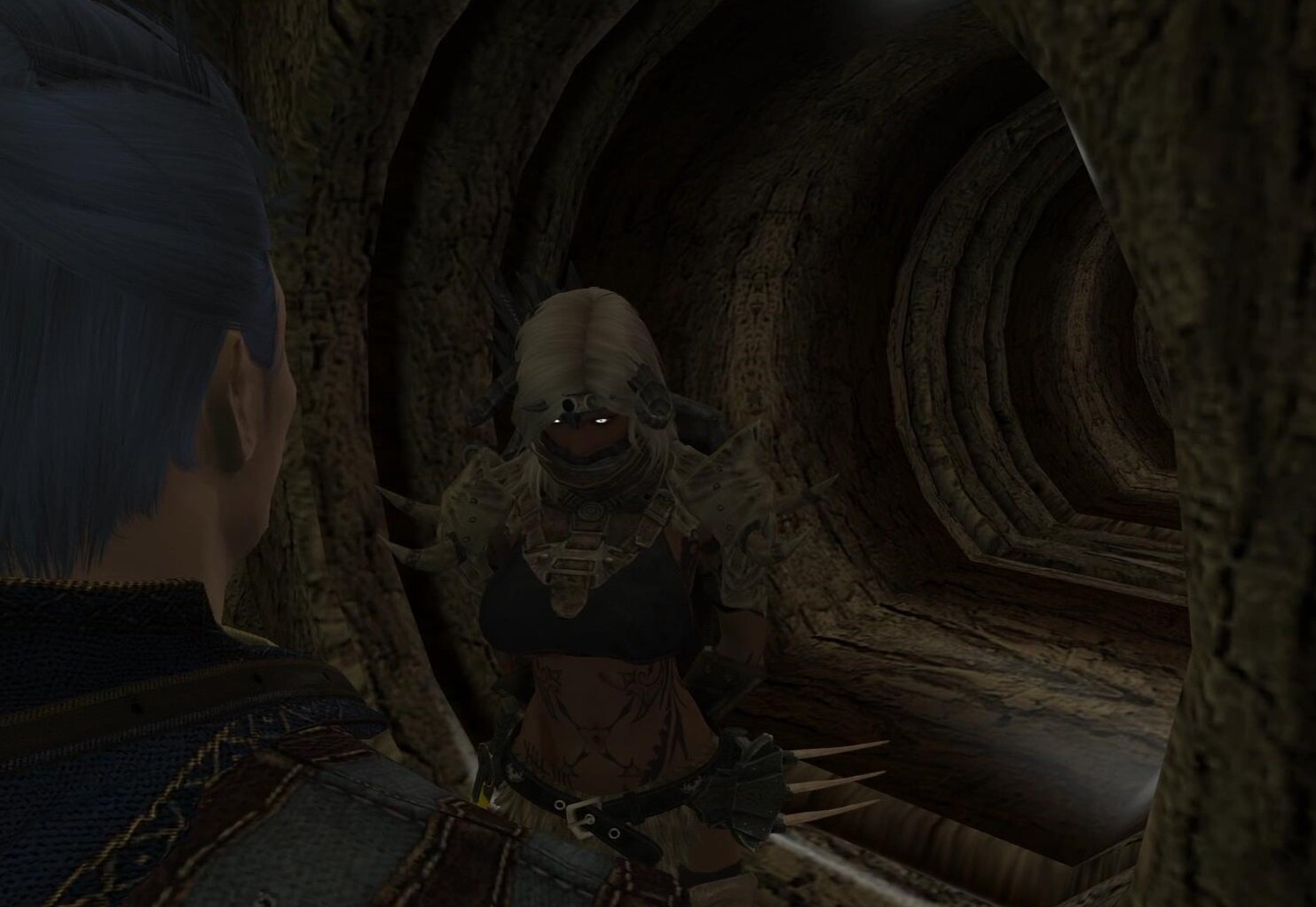 He looked at me like he wasn't sure what to think, but then, I assume out of politeness, he nodded, "After you."
We proceeded back through the throne room and into the next chamber which had plates of food prepared.  For who, I did not know.  I stared down at the plates, "Take your pick."
He bowed a little and sat in front of the chicken plate.  I sat across from him, taking the soup.
We both ate for a few minutes, silently, both eyeing each other.  As if we were both trying to figure out what the other was hiding.
He shrugged off his armor in a smooth motion, revealing a blue tunic underneath.
"Do you mind if I get more comfortable, your highness?" He asked.
"Please, go right ahead," I replied, "As long as you don't mind me doing the same."
He looked down at my clothes for a second, perhaps trying to figure out what I could modestly take off, and I kicked off my giant honking boots that went nearly up to my waist.
I took a huge drink of my soup, finishing it.
He finally concentrated on his chicken and I made my move.  I moved my foot up onto his chair with such stealth that not even Sanguine could've detected it.
"I'm going to be honest with you.  I think you guys are hiding something.  Runa doesn't trust Malakai, and I trust her judgment.  So I don't trust you."
"Everyone has secrets, m'lady," Galahad replied.
And then I touched his crotch with my foot, deftly wiggling my toes between the greave and codpiece.  It came away easily, as it'd been originally attached to the breastplate and was hanging by ties now.  I rubbed for a second, and he scooting back the bench he'd been sitting on.
"Please... this is improper.  What would your husband think?" Galahad asked nervously.
"I'm married to a man and a woman.  And maybe because I have charisma, or an infectious personality, or maybe something more ethereal, I pretty much have a free pass to do what I want in this regard."
"I um..." Galahad stammered.
"I think I noticed something, but I don't know what to make of it," I said, and without giving him time to react, I shouted, "TIID - KLO!"  Slowing time to a crawl for a full 12 seconds.
I gingerly slipped under the table, grabbing the leather codpiece and wrenching it free from his greaves. 
I slipped my thin hands behind his belt, down his pants and moved it around, "The fuck?"
"Uhh..." he said back.
"I was right.  I thought I was going crazy, but... You're all smooth!" 
Galahad stood up, "I can explain..."
I stood up, banging my head on the table, but almost not feeling it at all with my armor-like body.  The dragon horn crown is mostly for show.
"So is Roheisa really your daughter, or is that bullshit too?" I asked, folding my arms.
"Yes, she is."
"So how does one reproduce without the... proper equipment?" I asked, burning to know the answer to this question.
"I suppose I need to come clean," Galahad said, "Roheisa is my daughter and is, for the most part, normal.  I, however, am not."
"Well I can see that.  I'm not exactly normal myself," I replied, "Be more specific.  You might be from another world where the rules are different, but Solaire had the equipment that I'm familiar with.  (Very familiar with)."
"I am from Mundus."
"Dubious.  What are you, a Daedra?  I've met quite a few of those.  Some of them look human, like Sheogorath," I replied, "You can trust me, if it's a secret."
"I'm not a Daedra.  I am an Aedra, though minor.  I've lived in High Rock for the past 120 years."
I raised an eyebrow, "Tsun is a minor Aedra, but he had a dick.  A nice one, actually.  Dude was huge."
"When my kind comes to Nirn, and Daedra for that matter, our forms are somewhat changeable, though they do reflect our natures," 
"So, what?  Did you just decide you didn't need one for now?  Is this a punishment or something?"
"If you really want to know, I think I should start from the beginning," Galahad said, "About 120 years ago, a powerful conjuror in High Rock summoned a large number of daedra to Nirn and summarily died.  They scattered to the four winds.  I was sent here to slay them (which just sends them back to Oblivion)."
"I don't imagine it's taken you this long to kill them all," I said.
"No," Galahad paused, "It took me five years.  And then there was another threat, and another.  It never ends."
I smirked, "I think I can work out what happened.  After about a hundred years."
"Yes, ninety eight.  Too much time in Nirn.  I met a mortal woman.  When I became involved with Yvane, the missions stopped coming.  I believe my lords decided I should stay here as punishment... or perhaps they thought this would be my reward.  I'm not certain.  I decided I could accept my lot in High Rock and made a life there."
"Roheisa's mother," I said, "You seem like you found a good place to exist here."
"Yes.  Unfortunately, mortals do not often survive..."
"Believe me, I know.  Damien is one in a million because I'm unnaturally strong."
"Yvane may not have been a Dragonborn, but she was also strong.  She did, however, not make it," Galahad replied.
"So is there any hope of going back to Aetherius?  Don't you go back when you die?" I asked.
"No, when Aedra die, they cease to exist in their current form, because we're bound to the Earth Bones.  Note Lorkhan and the moons."
"Wow, that's even worse than when mortals die," I smiled, thinking of lighter subjects, "There's no need to worry.  Your secret is safe with me.  Except... I do have a question."
He raised an eyebrow.
"So do you like, manifest a penis when you need to pee?  Do you need to pee?"
"Mostly when Aedra are on Nirn they sustain themselves with the Sun."
"Right, since it's a hole to Aetherius," I commented.
"Being in this realm so long has it's own challenges, though.  I need to eat and drink from time to time.  And I do eat and drink for pleasure as well," Galahad explained.
"Aah," I scratched my chin, "So can you make it as big as you want?"
"...within reason," he replied.
"Do you... like sex?" I asked, testing the waters.
"With the right person," Galahad replied.
"Well obviously you feel sexual desire, or maybe love.  How often do you get the opportunity to test out your penis manifesting skills?" I smirked.
"Fairly often," he smiled back, "I've just learned not to impregnate people.  Or get too attached."
"I'm pretty good at that," I said, "Want to?"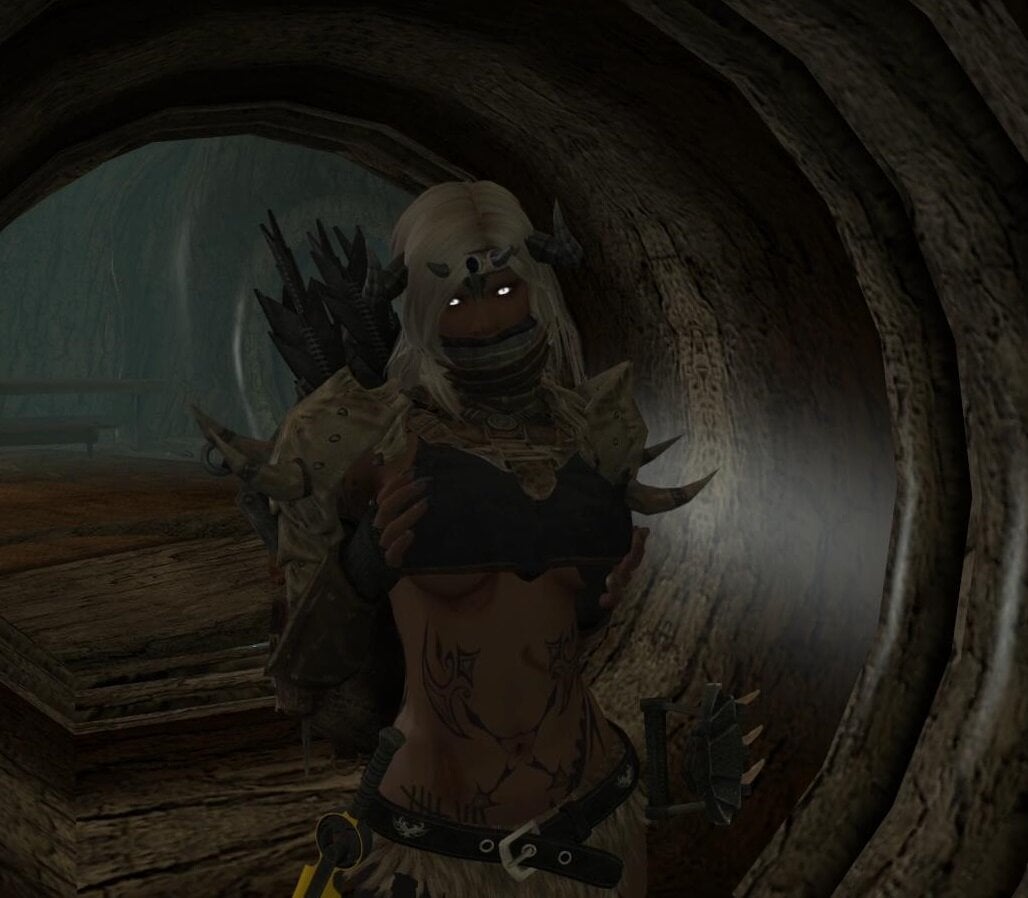 He looked me over for a few seconds, considering, then he said, "Queen Destana, you are one of the most sexually aggressive women I've ever met."
"I take that as a matter of pride.  You, my friend, are too beautiful for this world," I smiled, "I didn't hear a no."
"Fine," he returned a half-smile.
I took off my clothes in a flash, and knelt in front of him before he took his off.  I was really interested to see what his lack of dong looked like.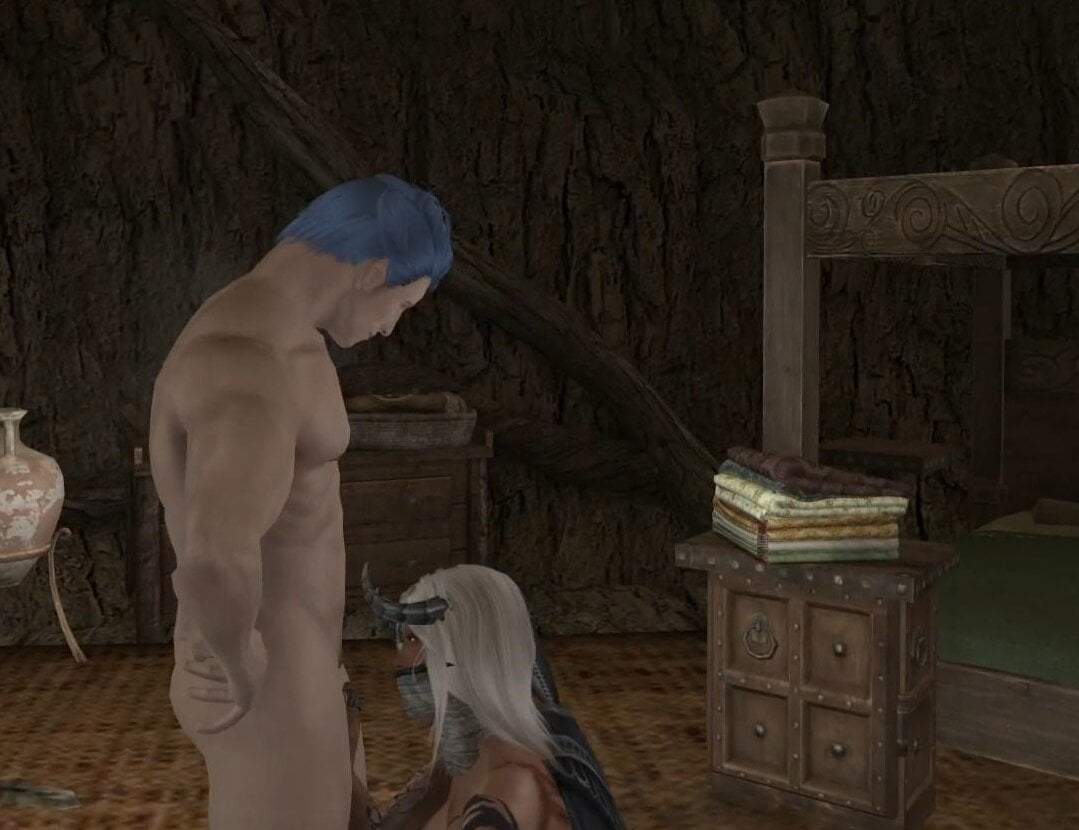 "Like a child's doll," I smiled up at him.
"No teasing," he said, though couldn't help but laugh.  He concentrated for a second, then laid down in front of me, a penis appearing.
"That's a good size," I took him into my mouth.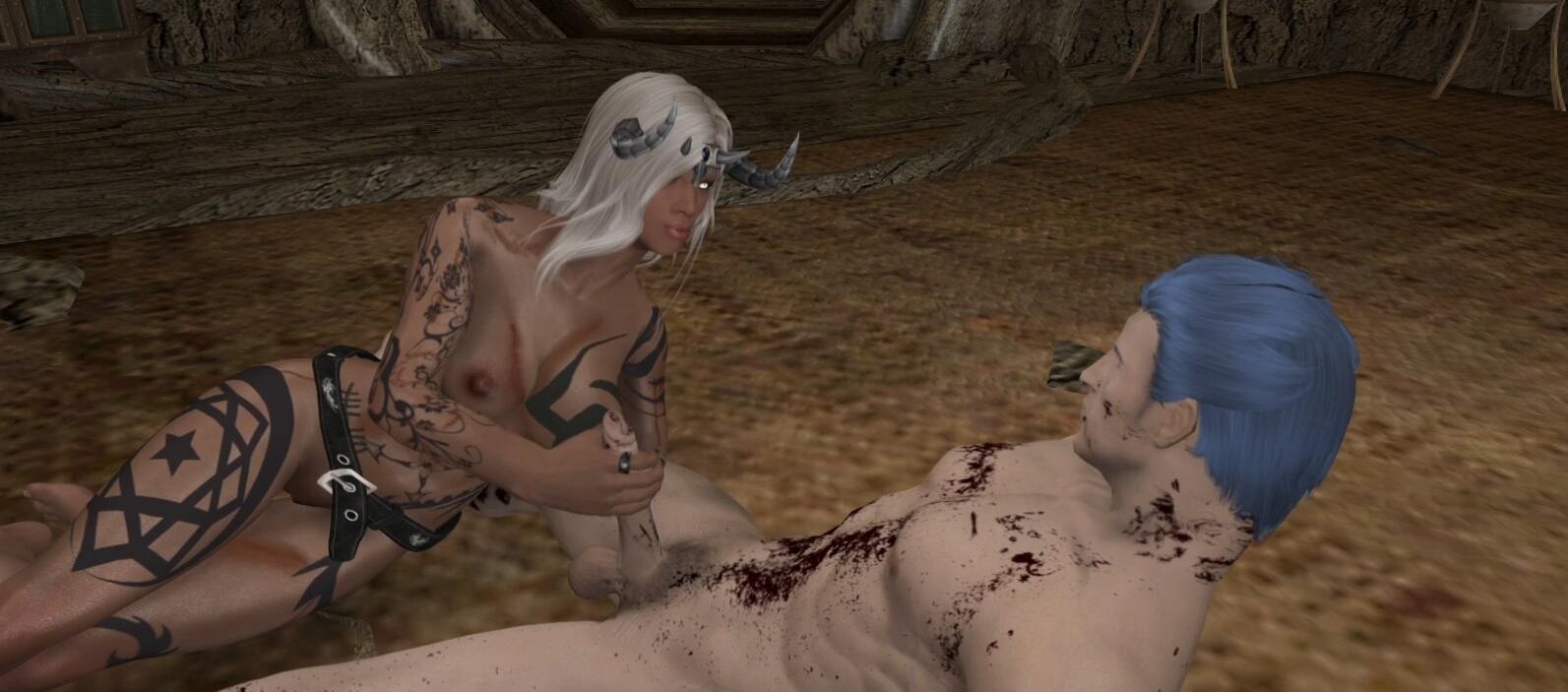 It ended up being over pretty quickly, he took me doggystyle and finished in my mouth.
"I can see why they don't want Aedra to have sex.  Your cum actually tastes good," I said, mouth still full.
Swallowing, I said, "You said I was 'one of' the most sexually aggressive women you've ever met.  Am I not the most?"
He shrugged.
"C'mon, who takes the cake?  Some ancient witch queen from High Rock?"
"I mean, there have been a few of those," he replied.  Then he was silent.
"C'moooooon!  Do I need to press you harder for information?"
"I guess it runs in the family," Galahad replied.
My eyes opened wide, "No.  You didn't!"
He shrugged again.
Half-smiling, my mouth opening, I slapped him on the chest, his perfect rippling chest.
"You sure you're not the other kind of celestial being?  She's younger than your daughter!"
"Come now, we're both immortal.  Age doesn't really mean anything."
"Beyond a certain minimum age," I shot back.
"Of course."
"So I guess you figured out I'm a vampire lord," I said.
"I'm not blind."
"Tell me how it happened."
------------------------------------------------------------------------
"Runa, why are you telling me this?" Calleius asked.
It was the midnight before the Falinesti invasion, and Calleius hadn't seen me for a couple weeks.  Not since I stormed out of the Imperial Palace once I figured out I was pregnant.  We were laying in a hammock together, naked, in the common sleeping room.  Thankfully, most the others had gone back with their units for the night.  Fenrir and Damien were in the upper area.  We were in the hold for the regular crew.  And there wasn't much of a regular crew to speak of.
"Tyroni," I said flatly.
"I like when you use my first name," Calleius smiled.
I smiled, "I'm telling you this because you seem to be the man I'm always coming back to.  I want to bear my soul to you."
"You just want to be free," Calleius said.
"Is that wrong?" I asked.
"No.  As long as you realize no matter how many men and women you bed, I'm here to stay," Calleius said.  I sometimes thought he was waiting me out until I was ready to settle down and form a family, maybe have a farm or something.  Like his parents did.  Of course he knew it'd be palace life instead.
I blew the little short hairs off my brow, "I need to tell you, once I found out I was pregnant... I found out I have this bomb percolating in my gut that will probably kill me when it's ready to pop... I kinda went off the deep end."
"Deep end?  What exactly did you do?" Calleius asked.
"I distinctly remember breaking some stain glass windows with shouts.  The ones in Bruma cathedral.  I screamed at the gods for pulling this shit.  I traveled to Anvil to see Casius Veron (who is the Count now, by the way), like I'd promised to, and secured what he needed for his ships from Jura, but I also kinda... fucked every man and woman from Bruma to the Imperial City to Anvil."
Calleius raised an eyebrow, "But why?"
"I mean, if the gods gave me this thing," I gestured to my unwanted penis, "My justification was I guess they wanted me to impregnate every woman of child-bearing age I could find.  The men were for fun, I guess."
"That's... not exactly ethical," Calleius said.
"Yeah, I know.  I'm feeling pretty messed up right now.  I feel like I've made a horrible mistake," I said, covering my face.
He hugged me in his arms, "How did we get on this subject?"
"Hmm... oh, well, we started light.  We had sex.  Good sex.  Aggressive sex."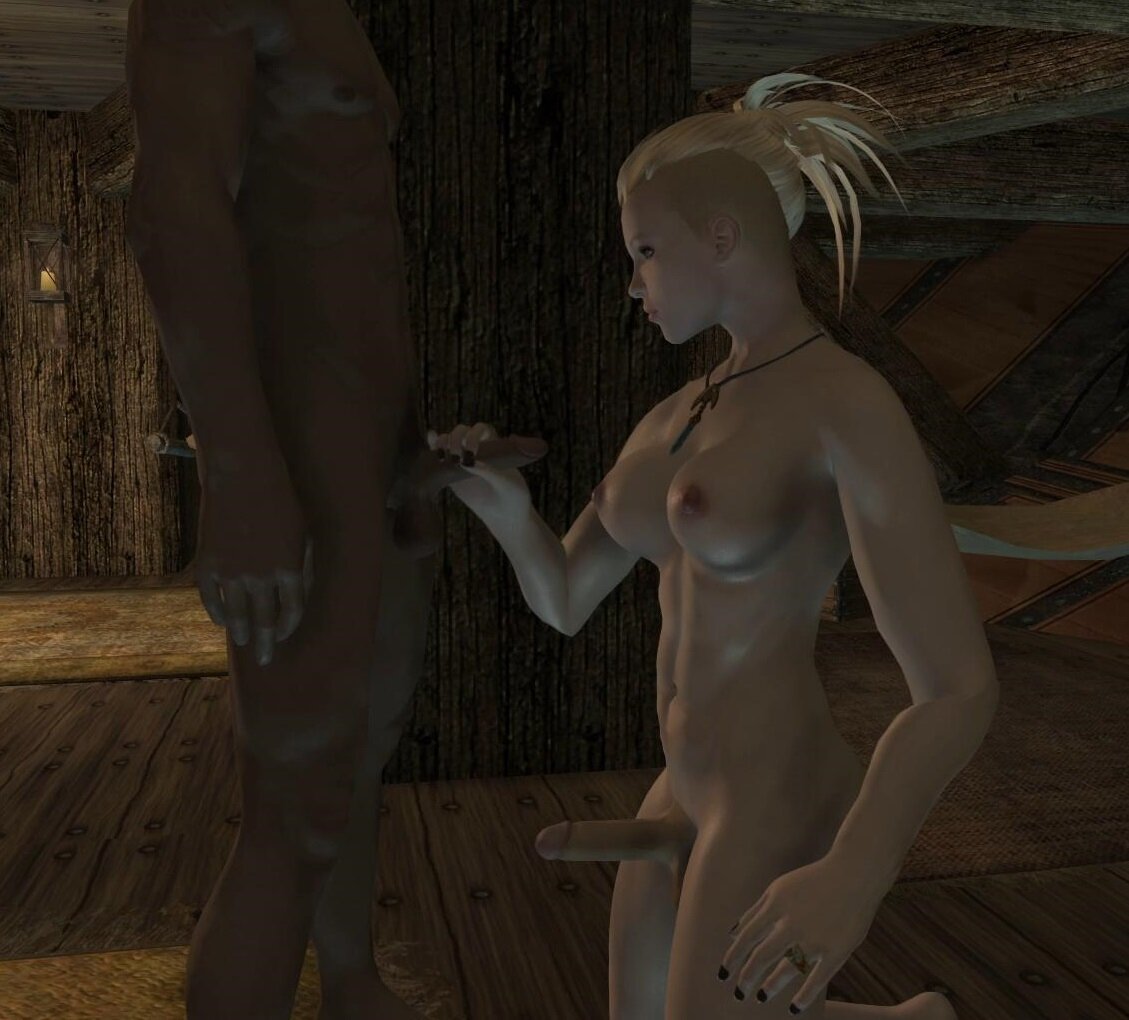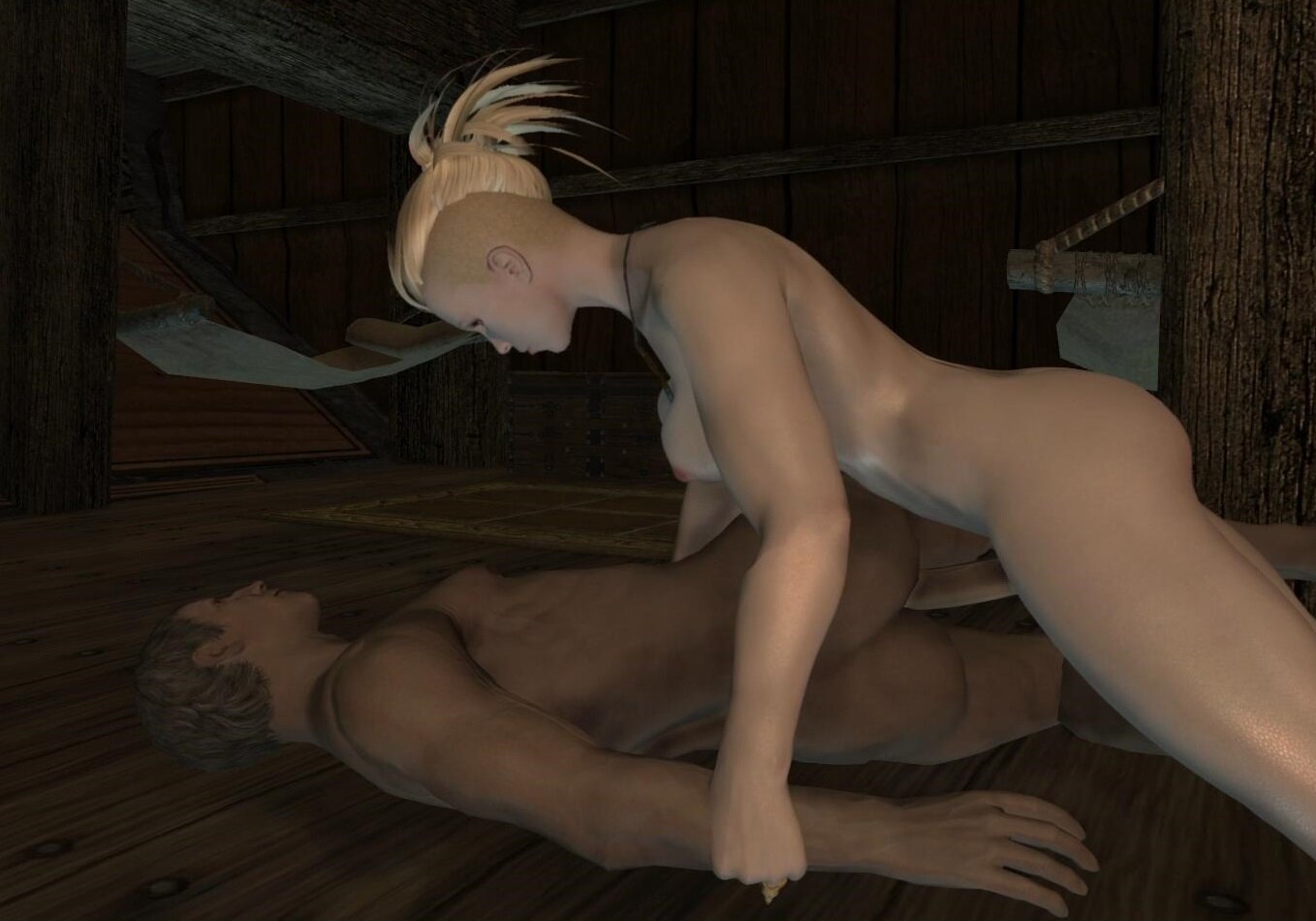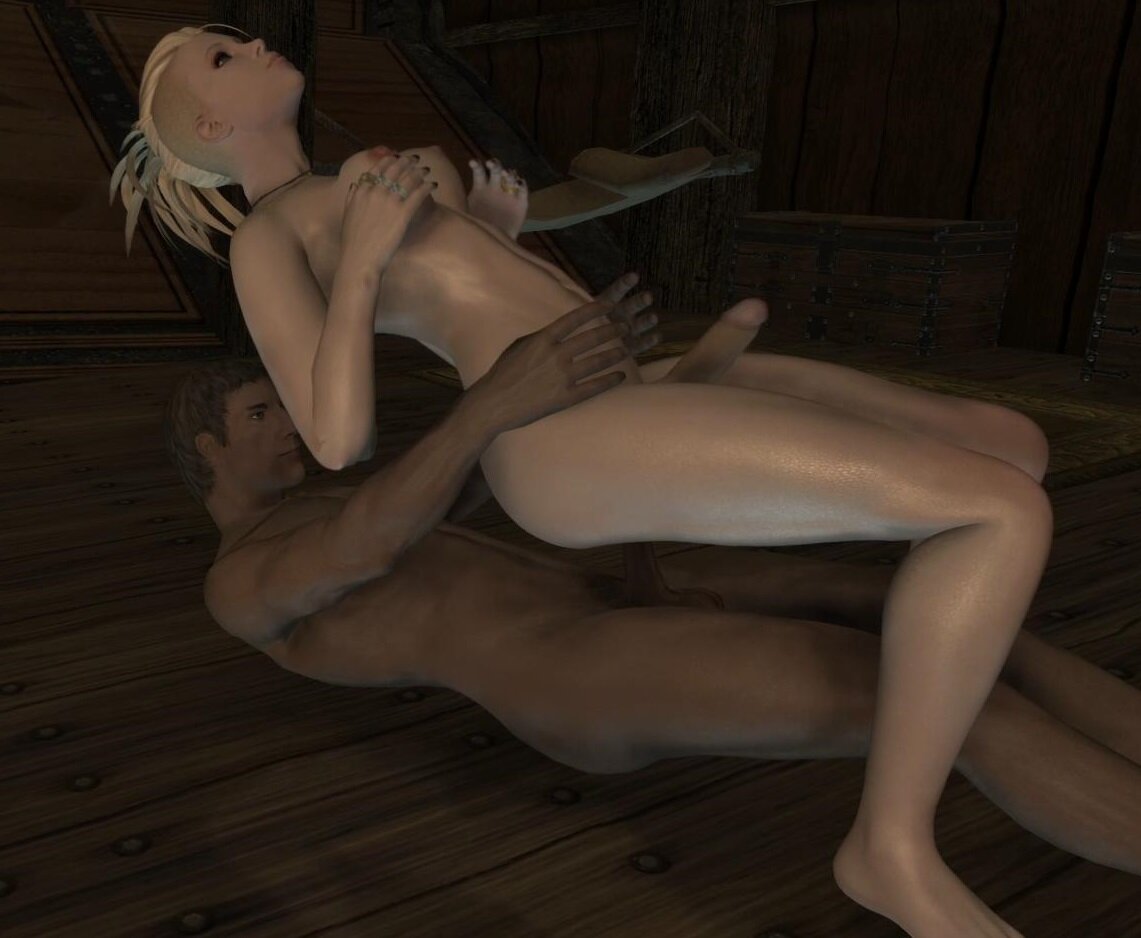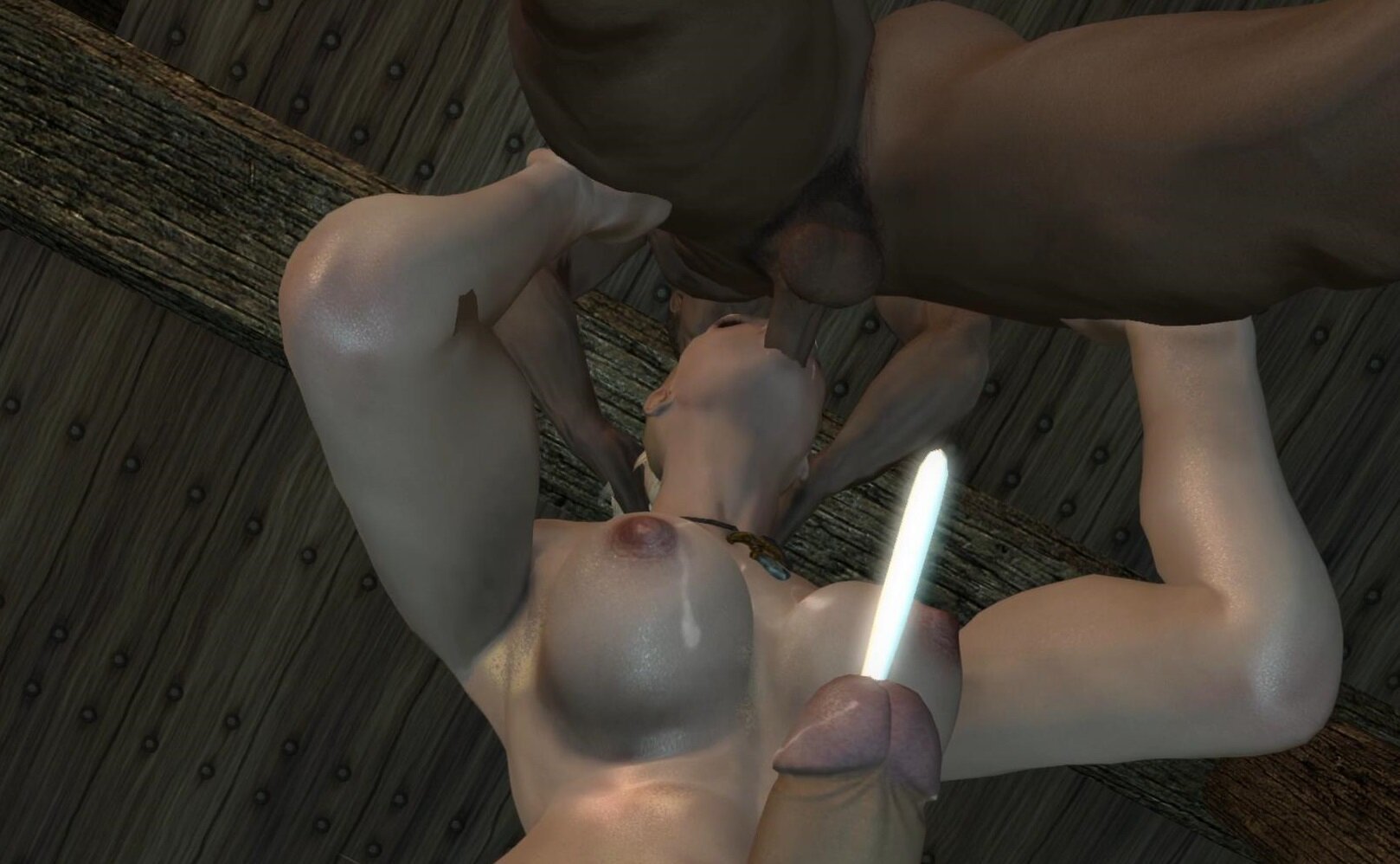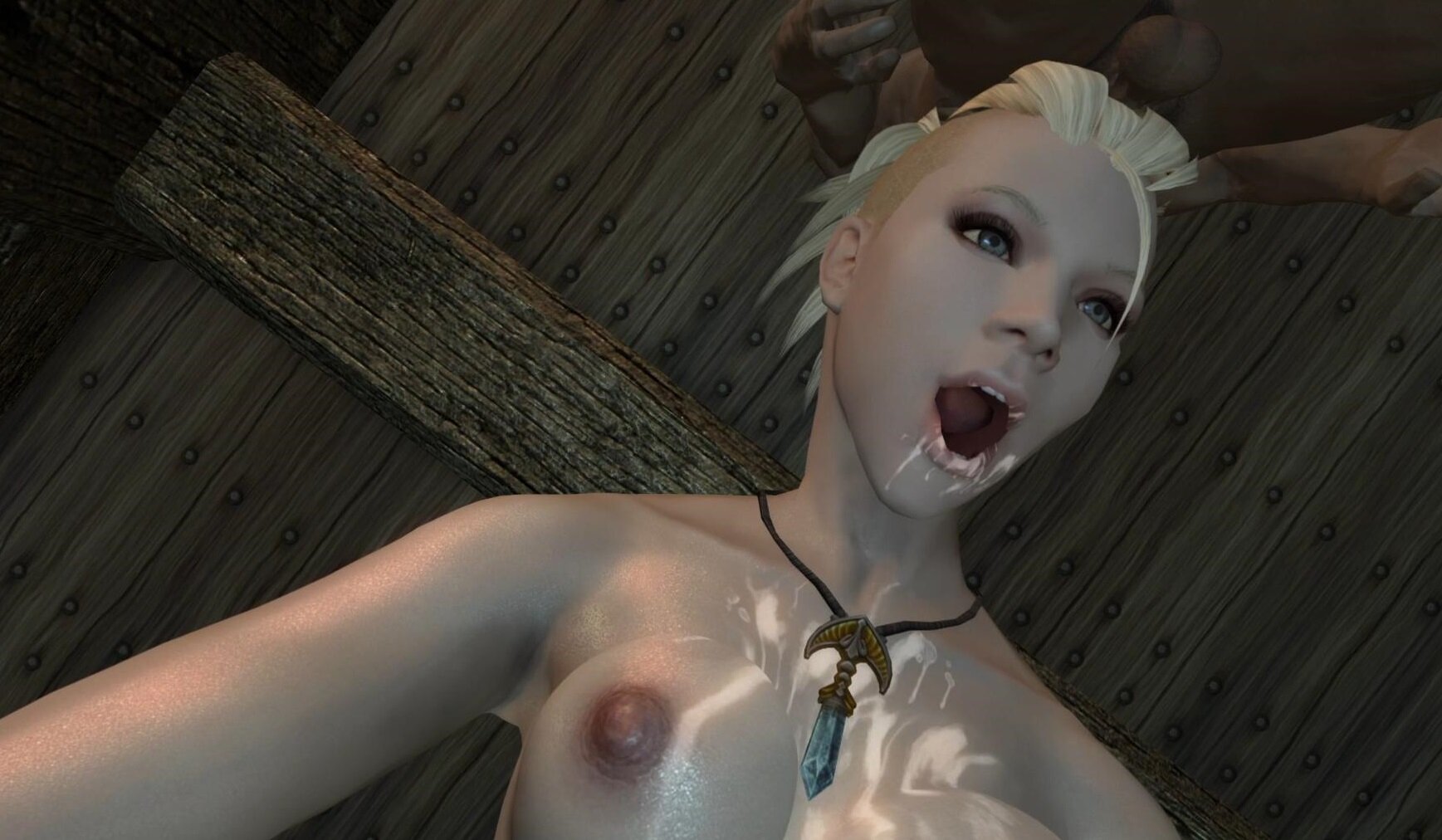 "And while we were laying here you asked me what I thought of the knights.  And I said I didn't trust them, but thought they were both really good-looking.  I believe the word bangable was used," I replied.
"Does having all the sex ease the terror of what you think is coming?" Calleius asked.
"Sometimes.  I'm starting to think I'm addicted.  I'm worse than my mom.  At least she uses sex to her advantage.  Sometimes I just can't get enough.  I'm starting to think it has something to do with the fact that I have double the normal sex organs.  Double the hormones," I replied.
"Well, c'mon then," Calleius stood up.
"C'mon where?" I asked.
"If you want to bang a knight we're going to get you a knight," Calleius said, "If it'll make you feel better."
"You totally don't have to do that," I said, sitting up and letting my legs dangle off the edge of the hammock.
"I mean, I'm going to watch," Calleius smiled, pointing to a hiding spot, "Maybe over there."
I covered my mouth, giggling furiously, "You're much more of a deviant than I'd ever have thought, Tyroni."
We climbed up the stairs, walking by Jura doing some alchemy, then we climbed out the hatch to the deck.  I looked around.
Mom smiled, looking over, "Just an update.  Valiana went south to look for Galmar, by Ulfric's request.  If you find Fenrir, could you tell him?  Can't find him anywhere."
"Hmm... I think he's..." I started, "I think he went to sleep in the captain's cabin area.  Damien too."
"Oh well, no need to bother them right now," Mom said, "Sometimes it gets boring being the only one who doesn't need to sleep.  Well, you guys enjoy your midnight stroll."
She climbed down the hatch.
I leaned over the railing, "I figured the knights had gone back to High Rocks' ships."
"They definitely didn't," Calleius said, "Ah, look.  But be silent."
He gestured over to the stern and I snuck around the corner.
"Aaaahhh..." 
It was Sir Galahad, peeing off the back of the airship.  I grinned, being completely silent.  I am a master of stealth, when I need to be (assassin, eh?)
As I crept nearer, I considered the ethical ramifications of my actions.  I didn't know if the man was married.  I started to feel a cold feeling on the back of my neck like I should not be doing this.
But then I felt myself getting an erection, pushing against the inside of my armor and the reminder gave me the mix between arousal and unyielding rage at the gods that I needed to spur me forward.  With a single motion, from behind him, I reached around grabbed his balls with my left hand, his shaft with my right.
He gasped, the last glimmers of pee dripping out, and I started stroking him gently.
"Who...?"
"It's Runa, the hot young blond.  If you turn around and say nothing, I'm going to get on my knees," I said, "...and you won't regret it."
He started to turn around and I let him go, sliding down to kneel.  He leaned back on the railing and I took him full into my mouth.  After a moment of just accepting it, I grabbed his hand and put it on the back of my head.  He took my hint and grabbed my hair, thrusting between my lips.  
When it felt like he was on the brink, I slapped his hand away, pulled him out of my mouth and stood.  I got up on my toes and gave him a soft kiss on the mouth.  Not passionate, just teasing.  Then I smiled up at him, "Meet me in the crew quarters."
I walked away seductively, then as soon as I was out of his sight I ran down to the quarters as fast as I could.  
Galahad walked through the archway a few minutes later, my back to him.
"Listen, Princess Runa... I don't think this is..." Galahad started.  Then I turned.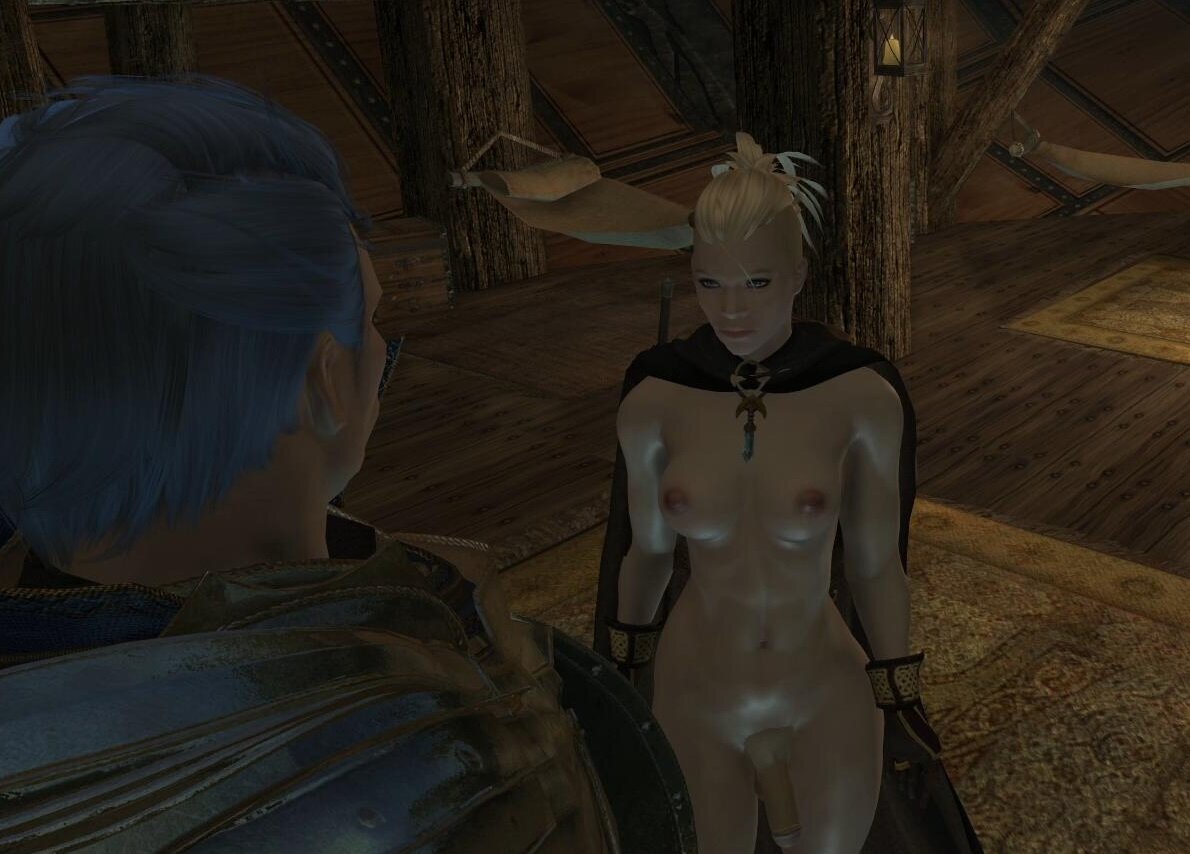 I'd only been wearing my black cape, which I then dropped to the ground.  Not sure what reaction he would have to my equipment, I made sure to sell what I did have, turning back around, getting on hands and knees and putting my hands on my asscheeks to open myself up.
"I think you want in here.  It's very tight," I said.  Partly, I knew I was putting on a show for Calleius, but I was having fun.
He stepped up and slid a finger into me to test it.  
Quickly getting an idea I said, "Here, let me show you how to get it ready.  Stand up."
He did so, and I got under him and swirled my tongue across his ass for a few seconds.  He moaned.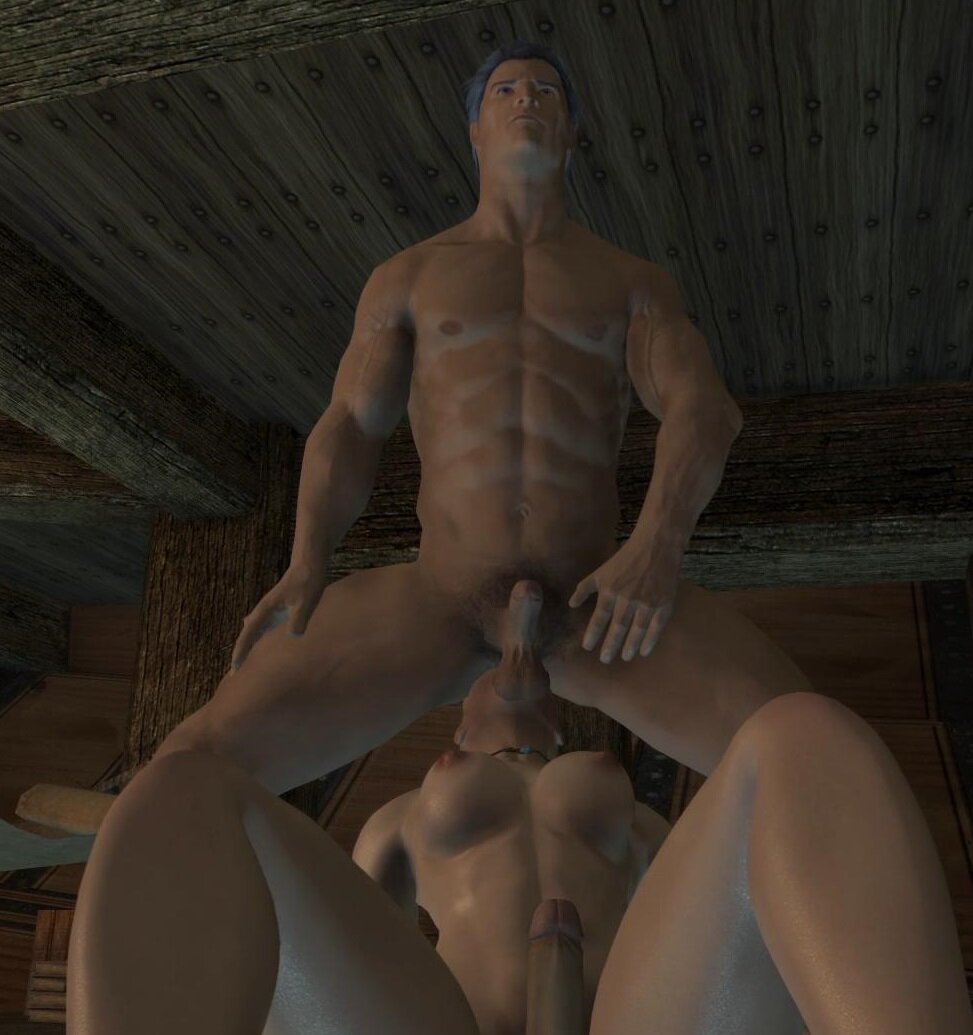 When I pulled back, I think I'd awakened something wild in him, because he definitely didn't do that.  He spat on his dick and thrust it inside me, piledriving me until he unloaded into my ass.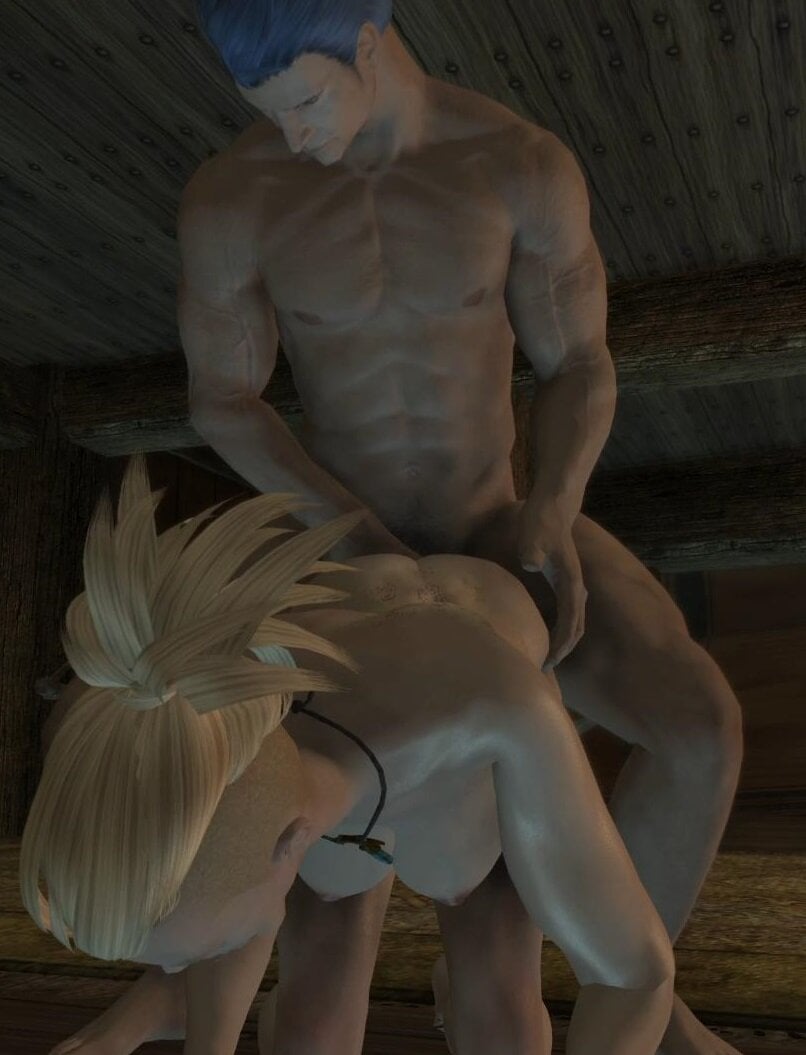 "Wow," I exhaled, "I'll remember that one."
I kissed him for real this time, and then laid out on the same hammock from earlier on the pretense of immediately going to sleep, though after he left I jerked it until I came.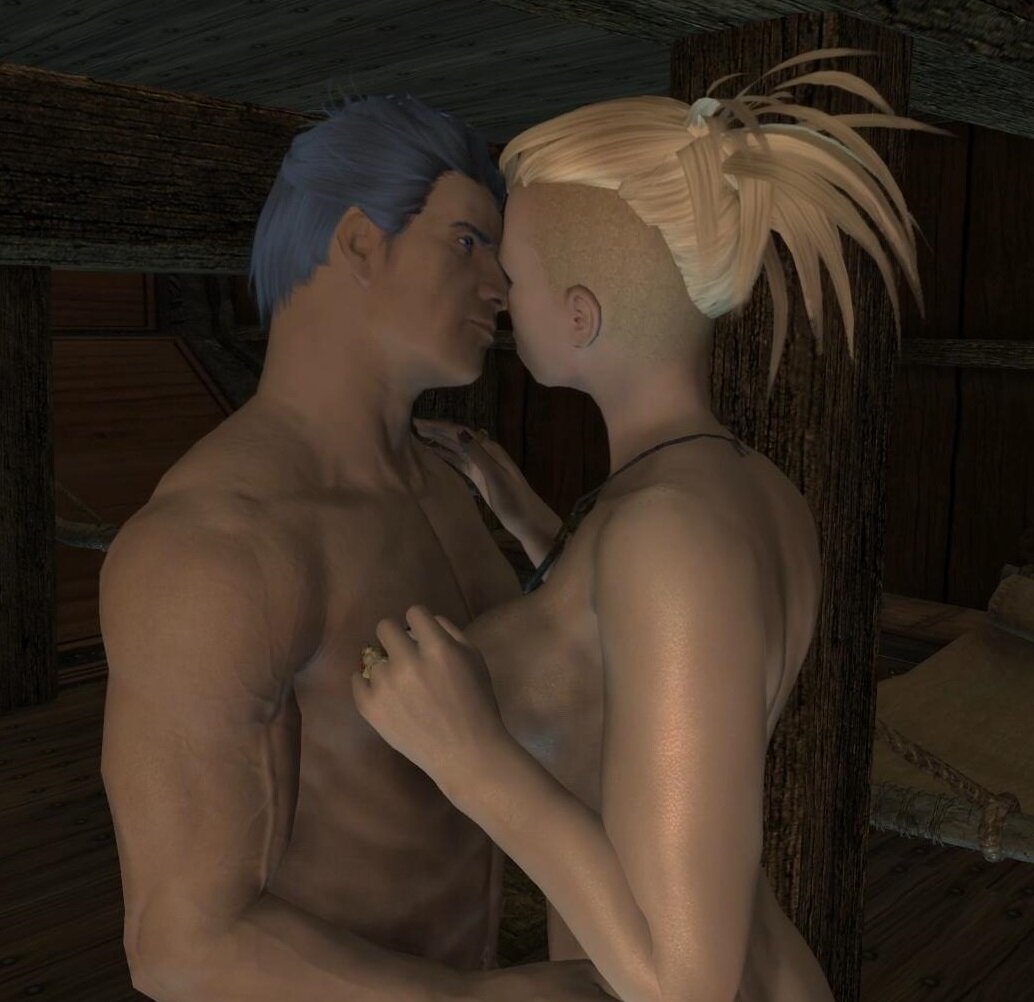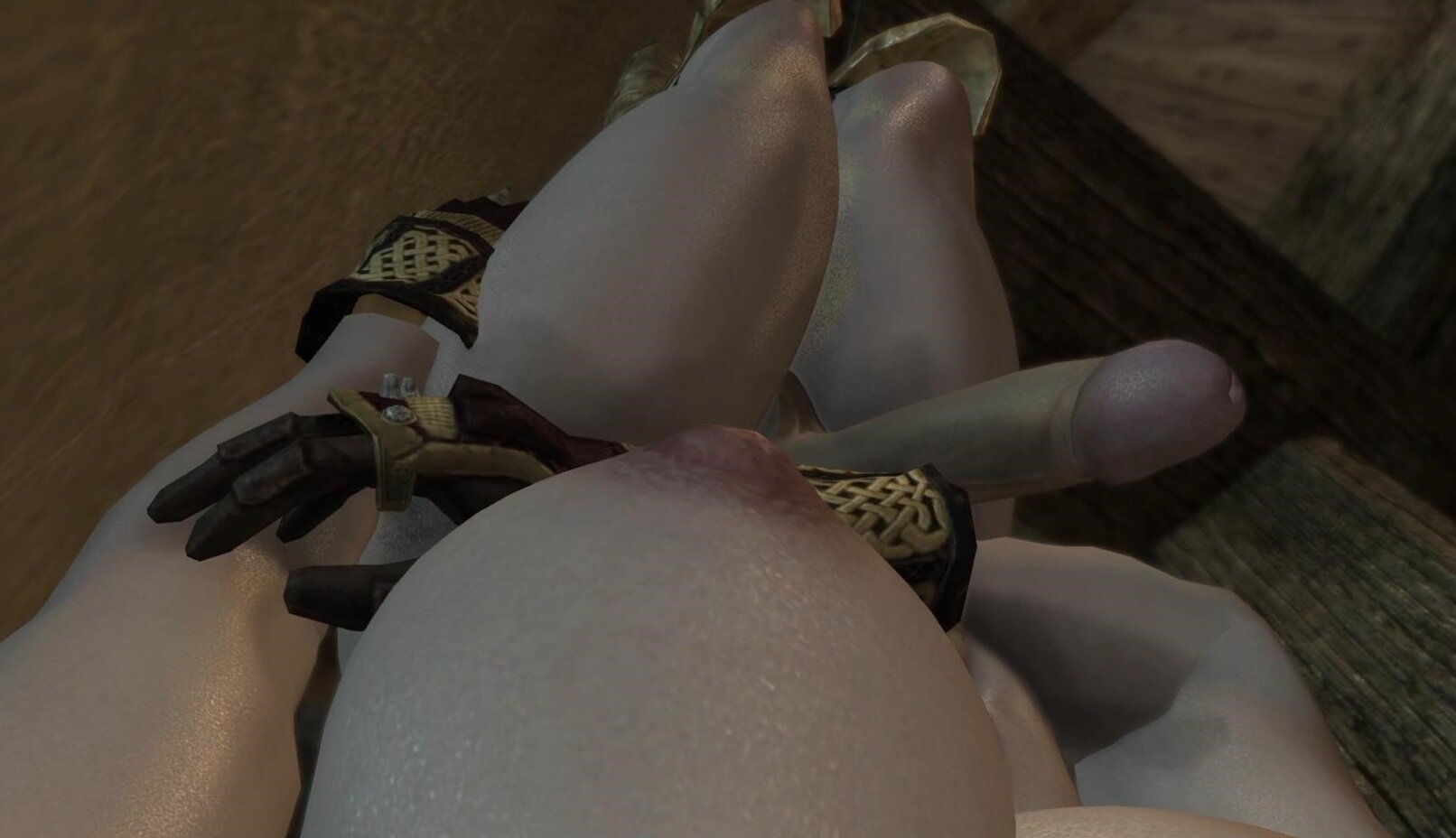 Calleius was there a couple minutes later, "How was that?"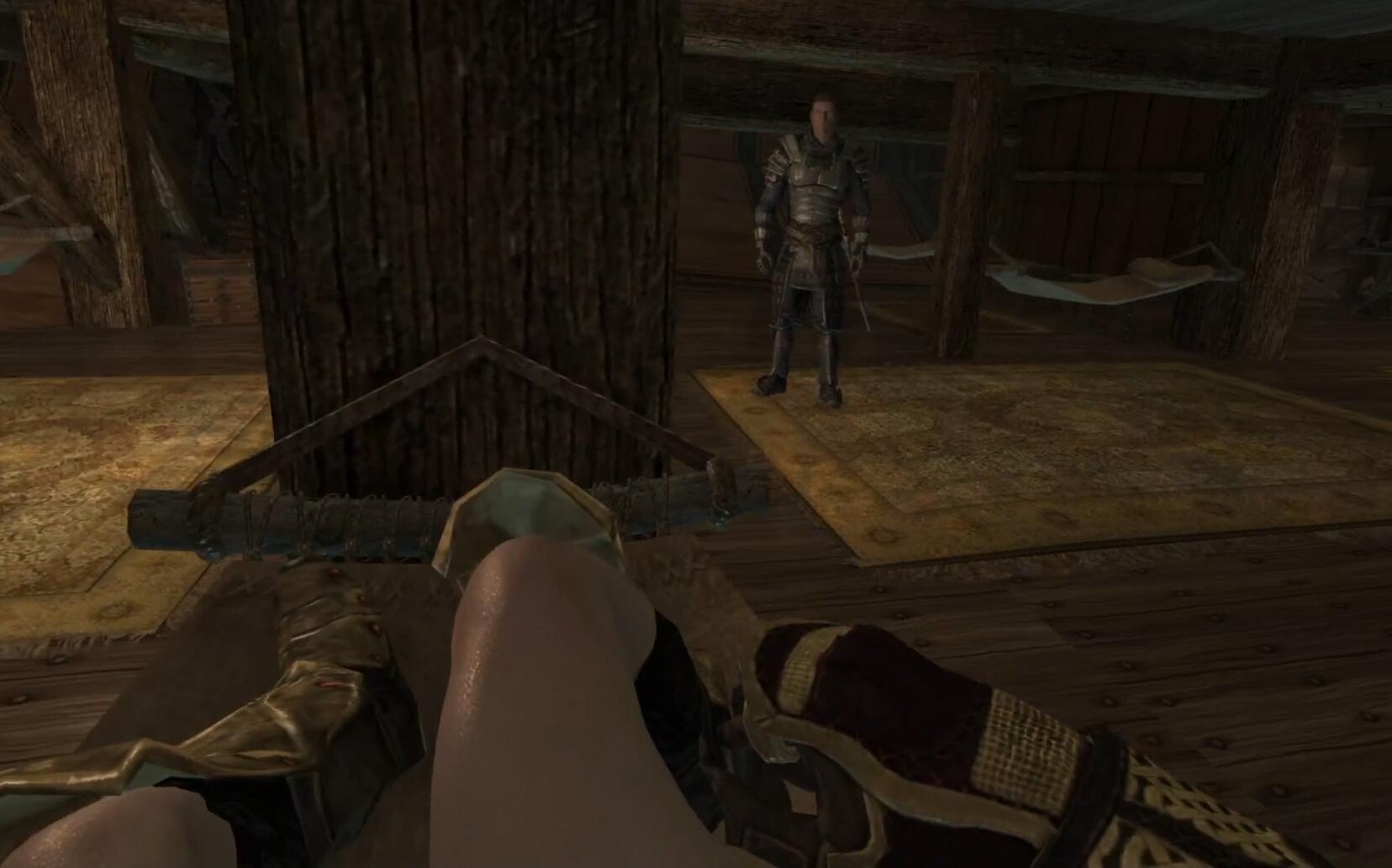 "Great.  But again, can't get enough," I said, then paused, "Ah gods, look at me.  I'm already starting to show.  And... the terror returns."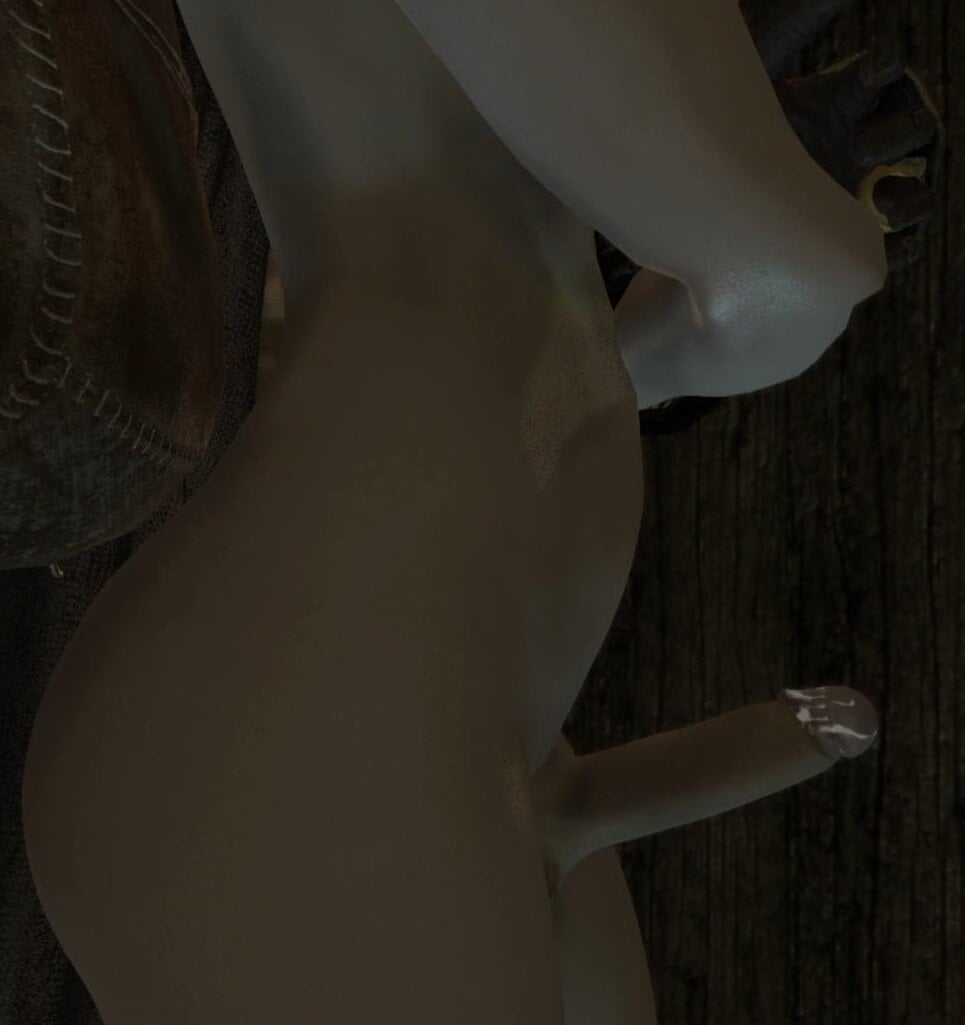 "Let me see if I can help you," Calleius said.
-----------------------------------------------------
"Oh hey, a missive from Damien."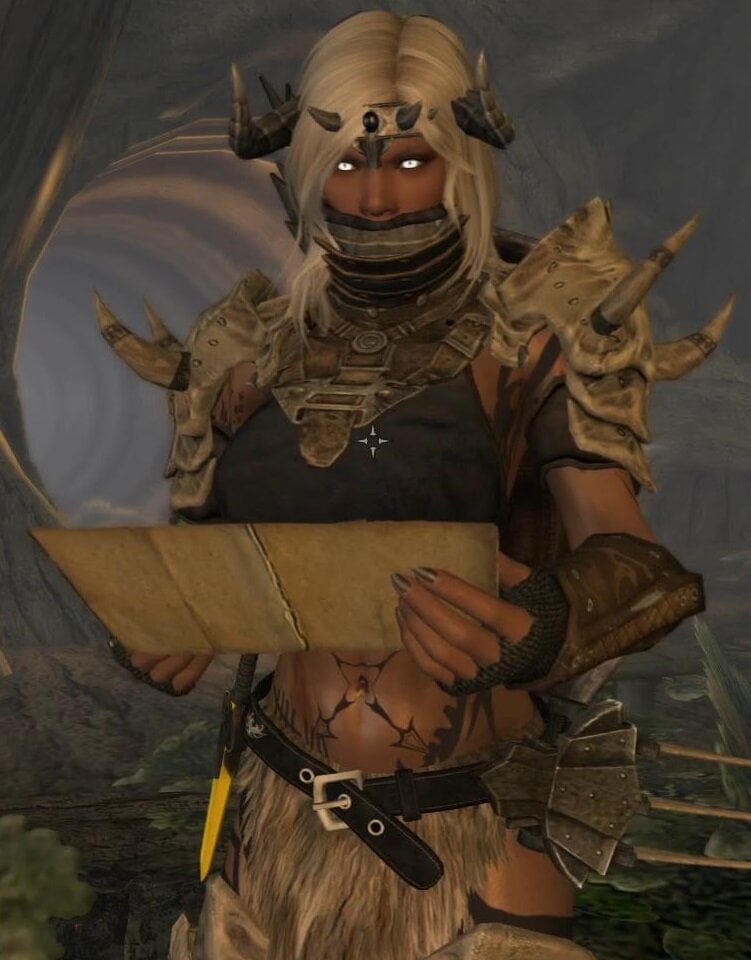 It was about 4:30 on the 24th.  I floated above the command group, though they were paying attention to Fenrir handing down the plan of action.  
"Sylvanaar is open, but there are lots of hiding places.  We're going with a frontal assault.  Damien can secure the high ground and support with spells, got it, bro?"
"Yeah, I got it," I said.  Of course I got it.
Tusselle looked up at me and smiled, "You going to lord it over us all day that you can fly and we can't?"
I shrugged, "I mean, I could teach you if you have any skill with magic."
"We can make it a private session later," Tusselle said.
Ignoring our friendly banter, Fenrir said, "All right guys.  The soldiers are already on the ground.  Mind giving us a lift, Damien?"
"What do you mean?" Tusselle asked.
"Yeah, just watch," I pointed my hand at Balfhe Hard-Heart and blasted him with a little bolt of power, then Hrolf Witch-Slayer.  Then I turned to General Tusselle, "Ever wanted to soar through the air?"
Both the men hovered and moved to my side, snapping to my movements.
"Holy shit," Tusselle shook her head, "This whole family is unbelievable."
"You get used to it," Balfhe chuckled.
I blasted Tusselle and she joined my side.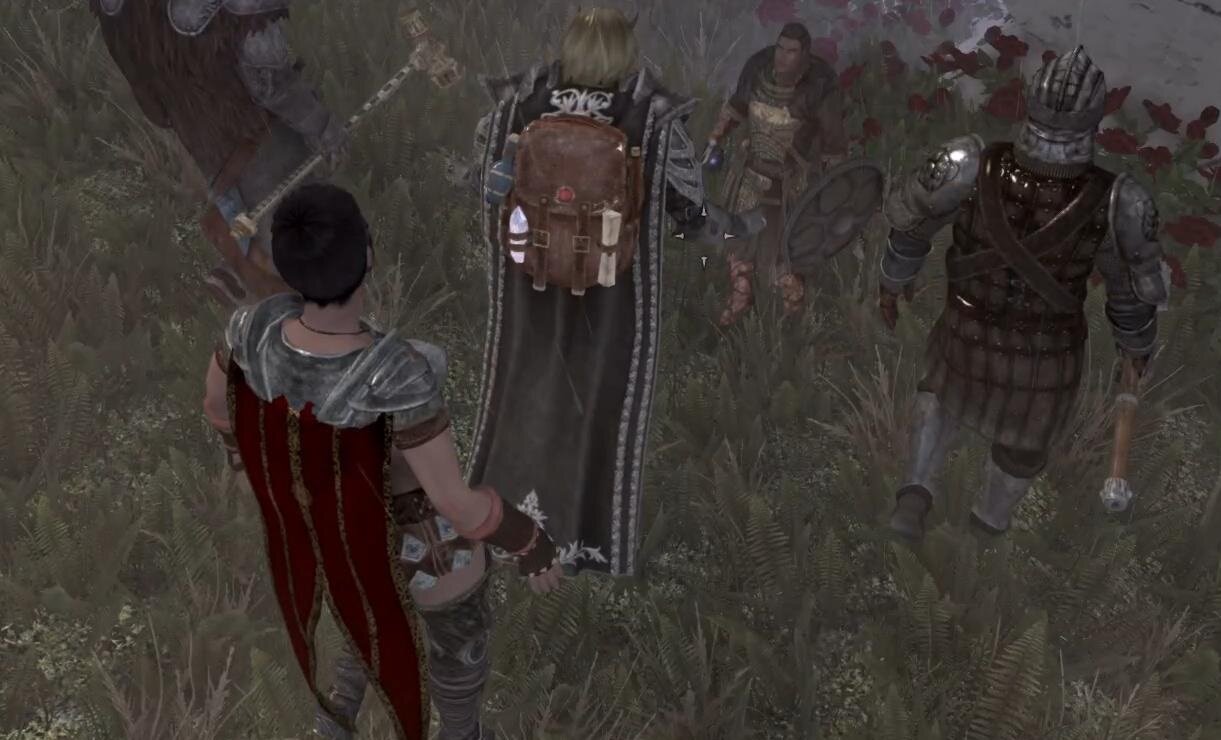 Then I turned to my brother, "Hey Fenrir, would it be a dick move if I just left you here?"
He smiled, "I'd just call my airship and kick your ass later."
I blinked, taken by surprise, bursting out in laughter.  Despite being a blowhard sometimes, he was pretty funny.  I blasted him.
Fenrir laughed back and I took off, carrying the four of them on my flight like they had tethers strapped to them.  
I imagined as I was flying I sounded like a boastful son of a bitch too a lot of the time.  But it's hard not to be when you're this talented.
On the ground, it was a flash.  

Balfhe and Hrolf ventured forward each with their own groups of Stormcloaks and Tusselle stayed with the Imperials.  Fenrir and I backed her up, since we'd allocated way more Stormcloaks to this attack and she seemed like she would need the backup.  I stayed at mid-range, firing spells, while Fenrir stayed close with Umbra and shield.  
Of course, she was a lot tougher than the two of us anticipated.  She hadn't carried any weapons into battle so I assumed she was a spellcaster.  I'm not sure what Fenrir thought, but the first time he got trapped between two Thalmor mages barraging fireballs, Tusselle sprinted over to him.  With her fists she slugged the one in the face, then the stomach, then sent him to the ground with a kick to the side of his head.  Fenrir stabbed the man in the chest, finishing him. 
When the second mage turned to Fenrir, Tusselle growled, "Don't turn your back on me, bastard!"
She grabbed him about the waist and suplexed him, probably breaking his spine in the process.
Fen looked back at me, stunned, and I'm certain I had the same look on my face.  As the battle continued, I got boxed in to the melee group, fighting side-by-side with Fenrir.
"Dude, did you see that shit?" Fen asked, and I knew exactly what he meant.  He clashed with elven soldiers while we talked.
"Yeah!  Tusselle is amazing!" I said back, absorbing a fireball headed for Fenrir with a ward.  Then I sent a double-handed Elemental Blast back at the guy.
"Beautiful too," Fenrir said, clashing with more soldiers.
"I wasn't going to say it, but yeah.  Think I have a crush," I said.
Fenrir turned to me, "Aren't you married?"
"No.  Bris and I aren't married.  And we're seeing other people.  But you and Valiana act like you are sometimes," I said back.
"Be serious.  She won't even let me kiss her.  She's too pent up from years of being treated like garbage.  I don't think she wants anything to do with me, as much as I wish otherwise," Fenrir said.
We finished off the group we were with and heard the sound of a woman shouting.
We both turned our heads to find Tusselle tangling with a half-dozen Thalmor soldiers and mages.  When she finished off two of the soldiers, one of the mages had an idea and blasted her with cold. 
She started to walk forward slowly, "Asshole!  Get over here and fight me!"
Tusselle stood her ground, as there were several wounded Imperial soldiers behind her.
Fenrir and I both readied our ranged attacks, but then Tusselle grinned, "Just kidding."
She opened both palms and blasted the mage with an advanced Flames spell as she walked forward.
"Talos bones, this woman," Fenrir said.  At the same time, I said, "She's a mage too.  Hot."
We met eyes, both returning the same dubious look.  Both slightly annoyed at the other.
We simultaneously opened up on the group surrounding her and blasted them down.
A bit of fighting later, the battle was over.  We had minimal casualties.  I resurrected who I could (including Bosmer caught in the crossfire).
Tusselle finished gathering her men up and gave a small motivational speech that ended with, "Never been to Skyrim, but what I learned today is you Skyrim boys know how to fight.  Glad to have you watching my back.  This shit only took an hour."
"I'm going to go have a look around," I said, taking to the air.  Now about 6:30, I figured the Battle for Falinesti was still going on, so I refrained from missive-ing anyone there.
Eventually I found a door that had strong conjuration vibes to it.  I opened it and found a tunnel that was bigger on the inside.  Stepping through, I found myself between two waterfalls on a path that led to several similar houses.  I checked my map and realized I was near the middle of the country.  Flying around a bit, I found a door to the north, pointed toward Falinesti.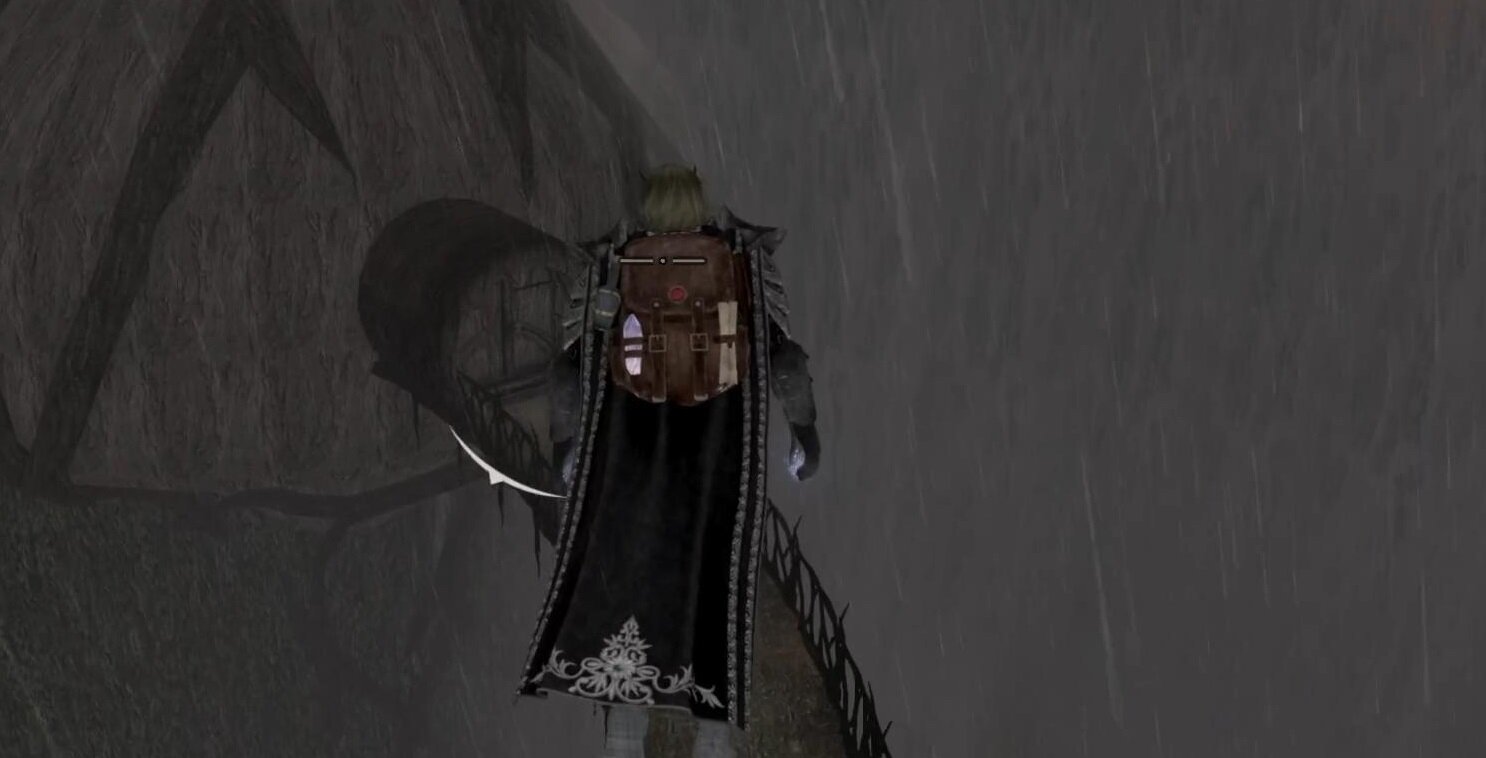 It was getting dark and I figured they either won or lost by now.  I took out a sheet of parchment and cast my spell.
"We took Sylvanaar.  We had a large force, so it actually wasn't that much trouble."
Then I described the events in a little more detail.  To punctuate it, I wrote, "Come out the back door of the lord's manor."  Then I sent it to mom.  
I perched on a cliff that overlooked a few of the exit doors.  I waited for a while, almost to the point I started to get worried if they'd actually won or not.  Around 9:30, mom came out of Falinesti's door.  She ran around for a minute, not actually seeing me perched up there.  And of course waterfalls are LOUD, so she didn't hear me yelling.
"Why am I out here?" She asked.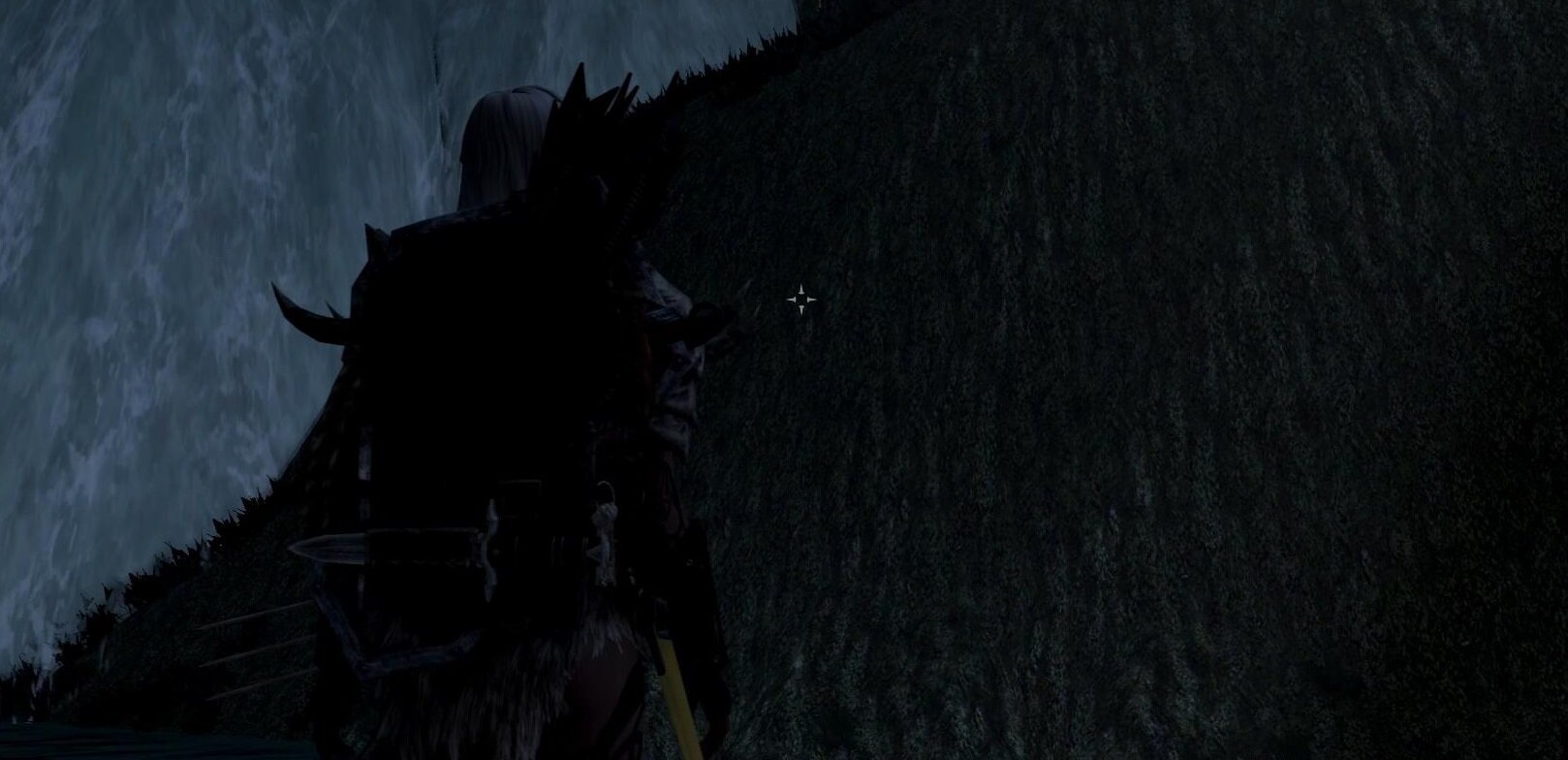 I shouted one more time, "Mom!  The cities connect along this path!"
"Damien!  Cool!" She shouted up, "Everything going well?"
"Yeah, we're fine.  We talked about going east to scout tonight," I yelled back.
"Well, later.  Good luck!" She shouted up.
Knowing her, she definitely went exploring to see if she could find any more covert attack points from this waterfall path.
I returned to Sylvanaar and found our army's camp.
Everybody'd already eaten dinner and were starting to set the night watches.
I found the command group's tents.
"Hey," Hrolf said, "Saved you a leaf... wrap thing.  Damned elven food."
I chuckled, "How you holding up?"
"Can't complain.  I miss Elisif.  And my warm bed back in Solitude.  But it's a soldier's life," he replied.
"Oh yeah.  So you going to be living it up in the Blue Palace soon?" I asked.
"Seems so.  Thinking I might retire if this all goes well," Hrolf replied.
I took a big bite out of the leaf and it was sweet.
Balfhe smirked at me, "Wondering where your brother and the General are?"
"Why would I be wondering that?" I folded my arms, trying to play it cool.
"Well they went off together quite a while ago.  Just figured you'd be worried about their safety," Balfhe said, taking a bite of his own leaf thing, "That a-way."
"Thanks," I said, and walked off.
"Balfhe, you're terrible," Hrolf said.
"Kid's gotta learn.  Not everything in life is easy and straightforward," Balfhe replied, "Also, I'm getting a kick out of the drama."
"You drama queen," Hrolf chuckled.
I floated over in the direction, using my flight to get a good vantage point.  Over the hills and alone, I found Tusselle.  I floated above.  
She turned, seeming unperturbed, "Where have you been, fly boy?"
"I found something cool and wanted to explore.  Missed dinner too," I smiled, "Wanna see?"
She folded her arms, studying me for a second, then she smirked and said, "Okay, sure."
I took her to the waterfall path, now glowing in the moonlight and she folded her arms again, "Well, it's certainly pretty."
"Not only that, this connects to Falinesti.  They won, by the way.  And I'm thinking it'll connect to other places too."
"Ah, beauty and tactical advantage.  This is an excellent find.  Good job, Damien," Tusselle replied.
I floated around a bit, "So what are your plans for the night?"
She raised an eyebrow, "Gods.  I see what you're doing here."
"What?" Now I raised an eyebrow.
"You're trying to sweet talk me," Tusselle smirked, though I was starting to think she always did that even when she was angry or annoyed.
"I mean, I'm not not trying to do that.  But I wasn't going to make any moves or anything.  You seem like if you wanted anything to happen, you'd be making the moves.  Was just aiming to hang out with a cool person."
She smiled sincerely this time, "Your brother could learn a thing or two from you.  He tried to make a pass at me earlier, and I think he wanted to say the things you just said, but he fumbled right over his words when I pushed back."
I laughed a little, "Yeah, well.  He's a straight arrow.  He's like a white knight, always trying to save the girl.  That's gotten him into more trouble than it's worth.  Me, well, you may have noticed these stylish adornments on my head."
"Seems like not a straight arrow type of thing to wear.  What are they, some kind of novelty piece?  I took you for a joker when we talked.  Every missive had something funny attached to it," Tusselle replied.
"Well I'm glad I'm good for entertainment," I shook my head, "But they're real."
"Well, here's something else you could be good for.  You said you'd teach me how to fly," Tusselle said.
I shrugged, "Alright.  Do you know telekinesis?  I saw you were using a couple spells in the battle."
"Yeah," she replied.
"It's pretty simple.  I'm surprised the spell was lost for so long.  And also, surprised it took me so long to figure it out," I said, "Basically, just use telekinesis on yourself.  All you have to do is practice it to a point that you can do it without concentrating."
"But what about the frame of reference?  I was taught to do it with my feet on the ground so you can visualize pushing against something," Tusselle said.
"That's how they teach TK in Cyrodiil?" I shrugged, "Just give it a shot.  It takes practice."
Tusselle concentrated for a second, then she lifted off the ground.  She smiled triumphantly.
"Okay, now try and move forward," I said.
She waved her hand, moving forward awkwardly.  She gave a little cheer, but then threw herself off balance, lost her concentration and plummeted into the water below.
I was hovering near the water when she surfaced.
"Why didn't you catch me?" She asked.
"When my dad taught me to swim he just threw me in the lake," I chuckled.
Tusselle narrowed her eyes, characteristic grin appearing on her face.  She grabbed a nearby branch, then grabbed my foot.
"What are you~" I started, but she pulled me under the water.
We surfaced together.
"You're the worst, Tusselle," I said, laughing, "Say, what's your first name?"
"Dotella," she replied.
"Dot," I said back.
"I hate it.  Don't ever call me that," Tusselle said flatly.
"Kay, Dot," I said, levitating back out of the water.  
"I'm gonna drown you!" Tusselle shouted, giving chase.
"Gotta catch me first!" I shouted back as I flew away.
When we finally got back to camp, Fenrir'd summoned the airship and was working on one of the exterior lights.
Tusselle went to her tent and shut the flap.
"Where'd youall go?" He asked, not looking up from his work, "Pretty late."
"I found a path between the major cities.  You discussed scouting.  Where do you think we should head?" I asked.
"There's a Khajiit camp near the border.  I want to make contact with the resistance.  Maybe they can help us.  I do think we're going to wait until morning though," Fenrir replied.  Smiling, he screwed the cap on what he'd been working on, "Done."
I nodded, "You're in a good mood."
Fenrir moved the goggles off his face, "Yeah, why wouldn't I be?"
I curled my lip up, "I mean, getting rejected, I guess.  I'd say it makes me feel bad, but I don't really ever try that hard."
Fenrir turned to go into the airship, "What makes you think I got rejected?"
I blinked, tilted my head.  Then the hatch slammed shut.  
Wait... Tusselle never actually said she hadn't banged him.
May have been feeling sex deprived when I wrote this.
I feel like this was a very meaty entry, and it gives the thing that writing promises:  way more detail than video.
Here is the map so far: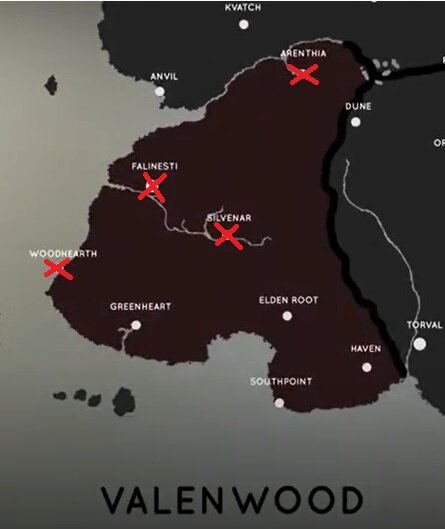 This entry covers part of the youtube video below, though there is more.
Edited by EnragedBard