Hey, Destana again.  The dreams are continuing.  Is the mundanity is enough to call them nightmares?  Probably not.  Last time a bunch of mystery fluid and 'life' waters got spilled on a bunch of children.  I informed Runa and Damien.  They weren't sure how to take it.  Both knowing no bad had come from the waters so far, Runa shrugged it off and Damien just said he'd monitor.
Also, the raid on the Dawnguard went well.  Their members are gone or on the run.  
So here I am, wondering why my half brother, known as the Ebony Warrior, wants to die so badly. 
"Did you wait long?" I asked.
He shook his head silently.  I could tell he was sizing me up.  Probably wondering why my entire torso is exposed.  Or maybe he did his research.
"Buddy, I gotta tell you, this seems pointless."
"I want to reach Sovngarde.  That is the point.  I thought I told you I didn't want to talk.  Just fight," he said.
"Well, I'll talk then.  You listen," I responded, "I did go talk to Jura, and I found out, you're my half brother.  For a long time I didn't really have anybody.  As I was wandering the world I had to make my own family.  I know how it can be to feel alone.  Family means something.  If you kill me, there'll be a lot of people who miss me.  And if I kill you, I'll feel like I should've pushed harder."
"They never said you were so sentimental," EW replied.
"Sentimental my ass.  I've been to Sovngarde.  It might be fun for a week, banging and drinking and fighting, but that gets old pretty quick."
He turned to me, "You make a valid point."
"Besides, have you ever been to Roscrea?  Elswyer?  Akavir?  Oblivion?"
He folded his arms, "I haven't.  Not all of them anyway."
"There are still more challenges to face, my friend.  EW.  What's your real name anyway?"
"Gods," he sat down on a rock, "I haven't used my real name in twenty years."
I raised an eyebrow, "Well since you're my brother, I can safely rule out the possibility that your name is Rehman Ebonarm and you're the avatar or reincarnation of a Yokudan god."
"Heh," he scoffed, "Is that what they're saying about me?"
I stood in front of him, nearly the same height with him sitting, "Yeah, I mean why are you so tall?"
"I'm... just tall.  I'm an outlier.  Nothing magic about it," he replied, then he laughed, "Why the hell not, though.  Just call me Rehman.  Maybe my legend can grow as large as yours."
"So we're... not going to fight then?" I asked.
"Well," he stood, "I have a couple requests.  First:  do you now how to get back to Sovngarde?  The reason I want to get there is personal."
I tilted my head, "I might be able to figure something out.  No promises.  Tsun shouted me back to Nirn when I was done there.  I might be able to figure out how to do that.  Failing that option, I have some of the greatest mages on Nirn as friends.  May I ask why?"
He sighed, "Godsdamnit.  They told me you were persuasive.  In my youth, my best friend, a warrior named Estrid... we fought a thousand battles together.  In the years after the great war, I fought with Hammerfell."
"Should've called you for our war with the Thalmor, I guess," I said.
"For me it was less ideological.  I was drawn in by friends.  I was only a boy at the time, but I learned fast.  I was a natural at battle.  Later we fought as mercenaries in High Rock against the seldom Akaviri incursions.  Estrid was originally of Morthal, and she died in battle like a good Nord.  I resolved to do everything I could to ensure I got into Sovngarde, thus, I did everything there was to do as a warrior."
"Speaking of which, don't only Nords make it to Sovngarde the normal way?" I asked.
"I'm half Nord.  Jura told me about my mother, but I've never searched for her," he replied
"Okay, well I should be able to make the Sovngarde thing happen," I said, "You mentioned a second request."
The EW drew his ebony sword, "I still want to fight you."
"Not to the death, though?" I asked.  Who was I kidding.  I was grinning already, pulling out my melee weapons.
"We're both professionals.  Don't pull your punches," he said, "Show me you are the hero they say you are."

I licked my lips, "FUS!"
"FUS!" He shouted back, our voices cancelling each other out. 
He quickly summoned a Xivelai Lord and I drew my bow.  I charged an arrow once and fired, but EW slapped it away with his shield.  
In the intervening time, his summon had summoned another combatant (a zombie) and was throwing fireballs at me.  I dodged the first.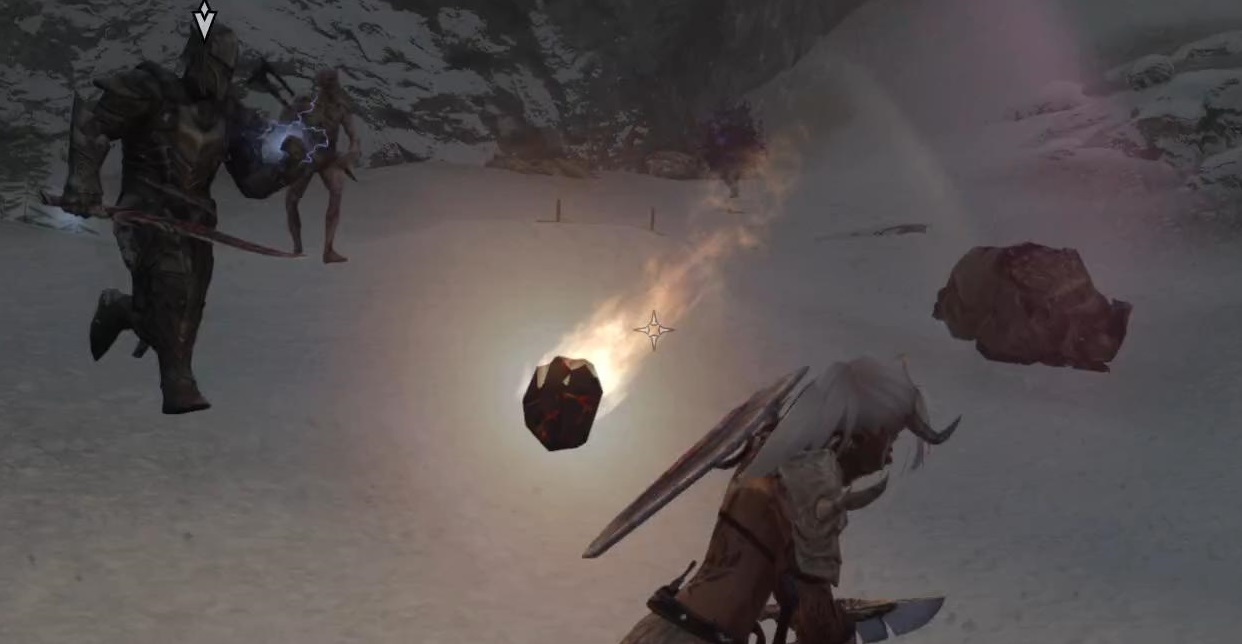 The EW lunged for me but I evaded him, charging forward and slicing through the zombie with ease.  I sprinted over to the Xivelai, dodging another fireball and diced him up with a well-placed combo.  While I was busy, the EW had drawn his bow and took a shot at me, sticking me once.
"WULD!" I shouted, closing the distance.  He drew his ebony sword and shield and we clashed.  Every slash of a dagger was met with a sword, a shield, a well-timed dodge.  
I grinned, "You live up to your reputation!"
He went on the offensive and was met with parry, parry, dodge, parry.  He slashed downward and I trapped his sword under my boot.  Then he chuckled, "FUS-RO-DAH!"
I flew backward, sliding across the snow.  
He charged at me, using a hands-free summon of a ghost casting ice shards before he got to me.
I rolled out of his reach, charged past him and immediately bisected the ghost.
When he got to me again, we started our quick-as-lightning standoff again.  Weapons clashed at blinding speed.  An onlooker would likely have trouble following the intricate movements between us.  I finally... finally found an opening.  I left myself open, he did another downward thrust, I clipped his wrist with my off-hand dagger, changed direction and slashed both weapons across his stomach.  He spun around, getting me across the chest with his sword.  Of course, my skin is hard.  Harder than Ebony, I guess.  
I backed up so he couldn't get another blow.  He used this opportunity to do another quick summon spell - Dark Seducer.  Unfortunately, she was right in front of me and I slashed through her in seconds.  
"FUS-RO-DAH!" EW shouted, blowing me back again.  Only got a few tricks huh?  I have a lot of tricks.
"WULD!" I closed the distance again.
"YES!  FIGHT ON!" The EW yelled.
I turned to him and shouted, "FUS-RO-DAH!" 
He lifted off the ground and followed up with, "TIID-KLO-UL!"
His body sailed off at a snail's pace and I closed the distance.  
I slashed him, again and again as he hovered in the air.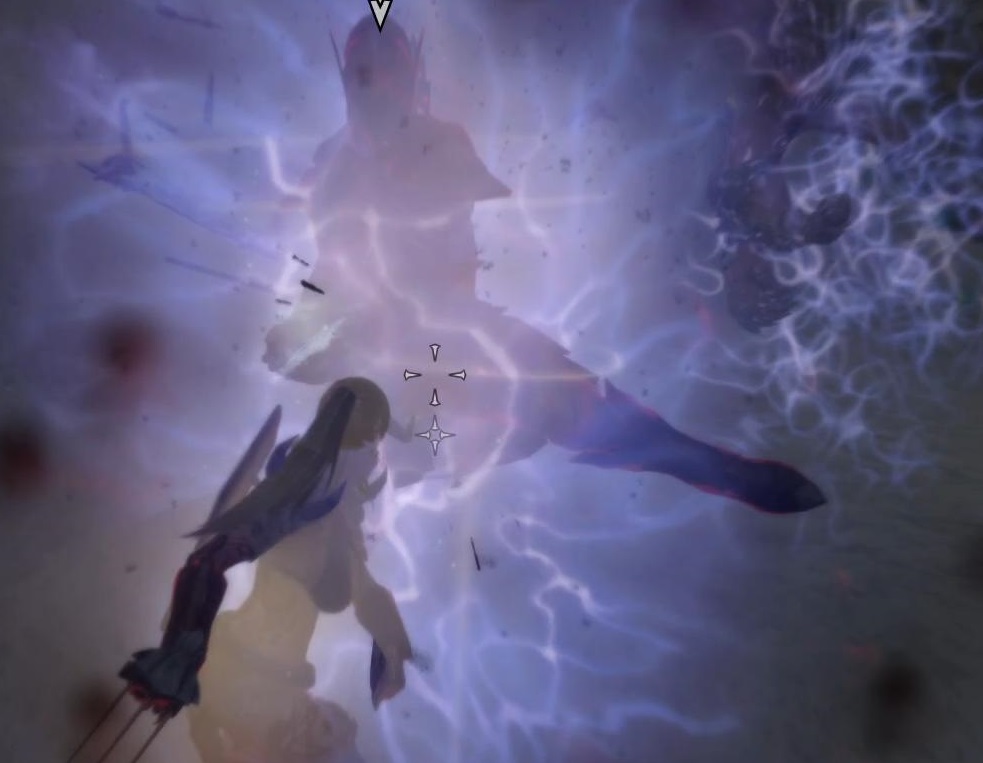 By the time he hit the ground, I could tell he was nearly on death's door.
As time righted itself, the low rumble I'd been hearing became clear: Rehman was laughing.  He was on his back, bleeding, hacked up and exposed.
"What the hell do you call that, Dragonborn?" He kept laughing.
"I dunno," I smiled, "I just thought of it.  You're fast as hell in that armor with a much larger set of weapons."
"We all have our strengths."
"Satisfied?" I asked, offering my hand.
"Not until you take me to Sovngarde," he got up on his own, "No offense, but I weigh like 400 pounds with this armor on."
"400?  Geez," I said.  I sheathed my weapons.
"Yeah, I'm about 300.  Plate mail weighs 50 lbs, ebony is about twice as heavy as steel."
Sorry, I'm American.  KGs mean nothing to me.  300 lbs = 136 kg, 400 lbs = 181 kg.
"Anyway, give me a few minutes," I said, pulling out one of my rarer journals labeled, 'Dovazul for Beginners by Queen Destana.' 
"Tsun shouted me back to Nirn when I was done in Sovngarde.  I've winged it before when I summoned the spirit of Skjor from Hircine's Hunting Grounds."
I flipped for a few minutes.
"Okay, I think I can go about it like this," I said finally.  I would shout 'move mortal Sovngarde.'  Dragons don't have their own word for Sovngarde.  
"Hold on to me," I said.  He did, then I shouted, "BO - JOOR - SOVNGARDE!"
Hmm... nothing.
"Well guess they can't all be winners," I said, "But I do have an alternate idea."
"OD - AH - VIING!" I shouted.  Within moments the dragon appeared in the sky.
"Dragon buddy!" I yelled as he landed.
"What can I do for you....?  ...Human buddy..." Odahviing asked, growling to make sure I knew he was annoyed.
The Ebony Warrior stood stoically next to me.
"How you been?" I asked.
Odahviing sighed, "Just tell me what you want, Dovahkiin.  I was enjoying a nice cow."
"Well what I'm going to ask will take you away from your cow," I said, "Might take a while.  I need you take me to Skuldafn again.  Or wait, honestly, I could fly myself.  Could you give me directions?"
Odavviing sounded completely done with this, but amicable to talking for a few minutes rather than being my dragon mount for a couple hours.  
"Well, it's in the Velothi Mountains," he started, and gave me precise directions.  
I smiled, "Thanks." And Odavviing flew off.
"See you at the next Greyscales/Greybeards meeting!" I yelled as he soared away.  I could hear him groan from the ground.
"What's at Skuldafn?  And how am I getting there?" The EW asked.
"Of course I have a plan," I smirked at him, "You may have noticed I'm very good at telekinesis.  Well my TK skills got much better when I learned how to fly.  It involves learning to concentrate on TK for long periods of time without thinking about it, autonomically.  I can tether you to me while I fly."
His face behind the helm was of course, inscrutable, but I imagine he was casually impressed.
"Ready?" I grabbed his shoulder, "I hope you're not afraid of heights."
"I fear nothing," he said stoically.  Then we blasted off into the night sky.  We travelled for a couple hours, (it actually took me most the night to find it) eventually finding it amongst the peaks. 
I looked over the scene below.
"Hmm... well the draugr came back," I groaned, "Up for some violence?"
"Always," he said, "What's at the end of this?"
"There's a portal to Sovngarde.  Alduin was using it to go there and wreak havoc on the hero's souls.  Of course, I killed him, so that mess is cleared up," I explained, then I reconsidered where to set us down, "Wait, I could literally put us at the end.  After the dungeon."
"Well, they are shooting at us," he said. 
"There it is," I pointed, "The altar.  Looks like the Dragon Priest is back.  Guess I need to crush his phylactery this time."
I dropped him down first and he started going to town on the draugr.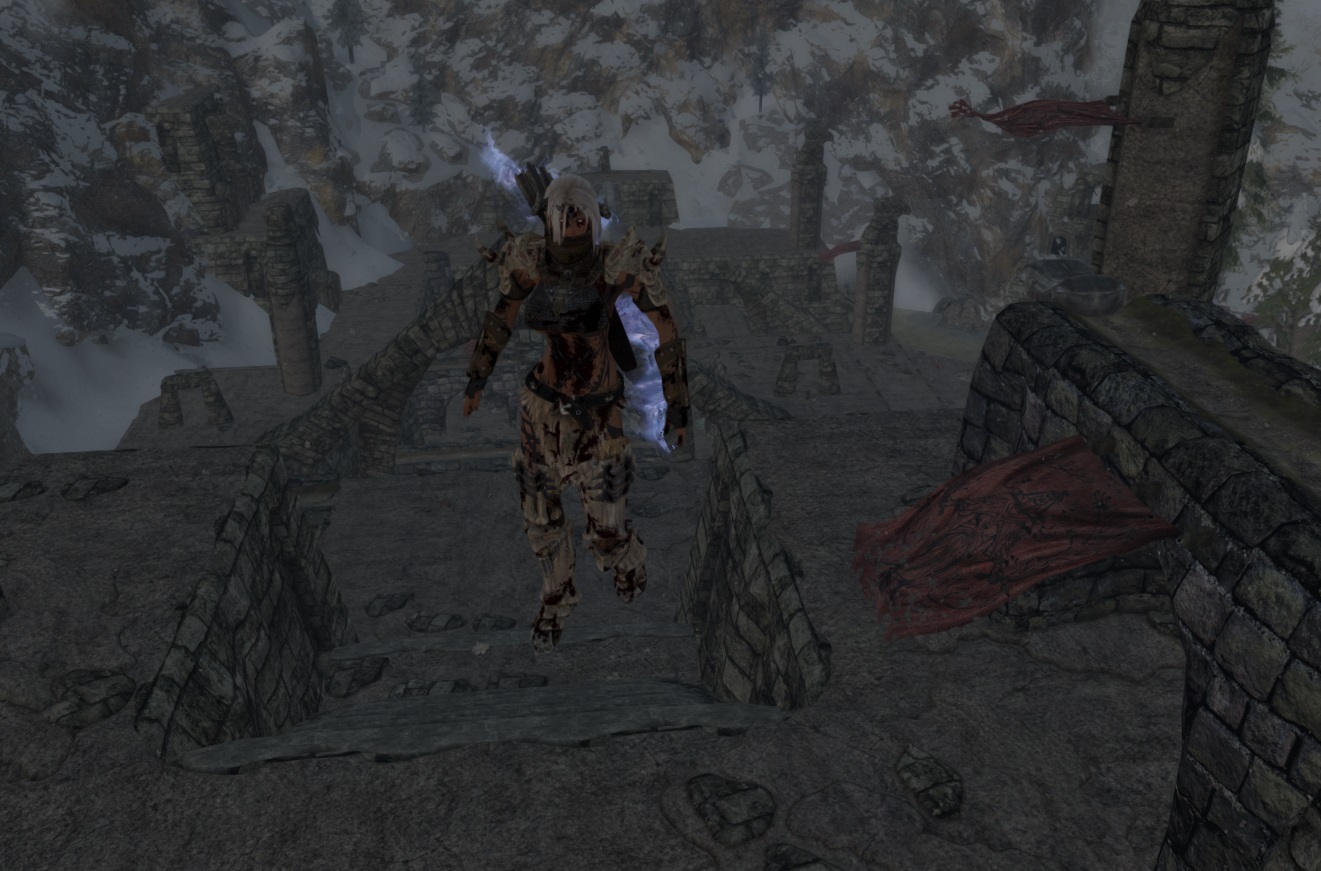 I dropped down next and pincered the draugr until they were no more. 
"One last one," I said as I blasted him with a charged bowshot.
Then I turned to Rehman, "I'm going to sneak up on the dragon priest."
He shrugged, "There're some draugr left on the other side.  I'll dispose of them.  Call me when the portal is ready."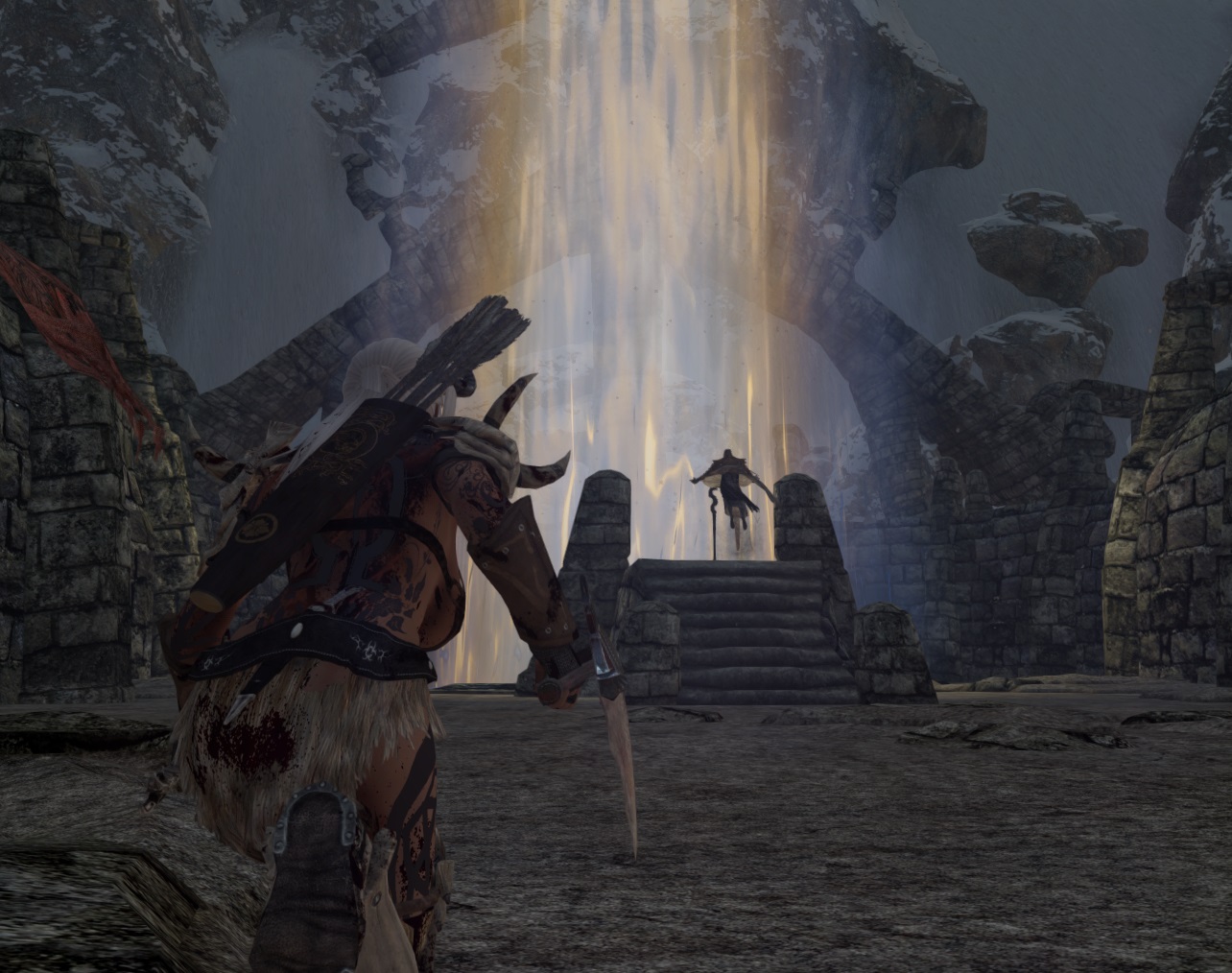 I got the drop on him.  He phased in and out of invisibility a few times, but I iced him the same as I did the first time.  I took his staff and jammed it in the hole to reactivate the portal.
"Anyway," I shouted, "You done over there?  Portal's open!"
The EW appeared within a couple minutes.
"Time to trip the rift," I said.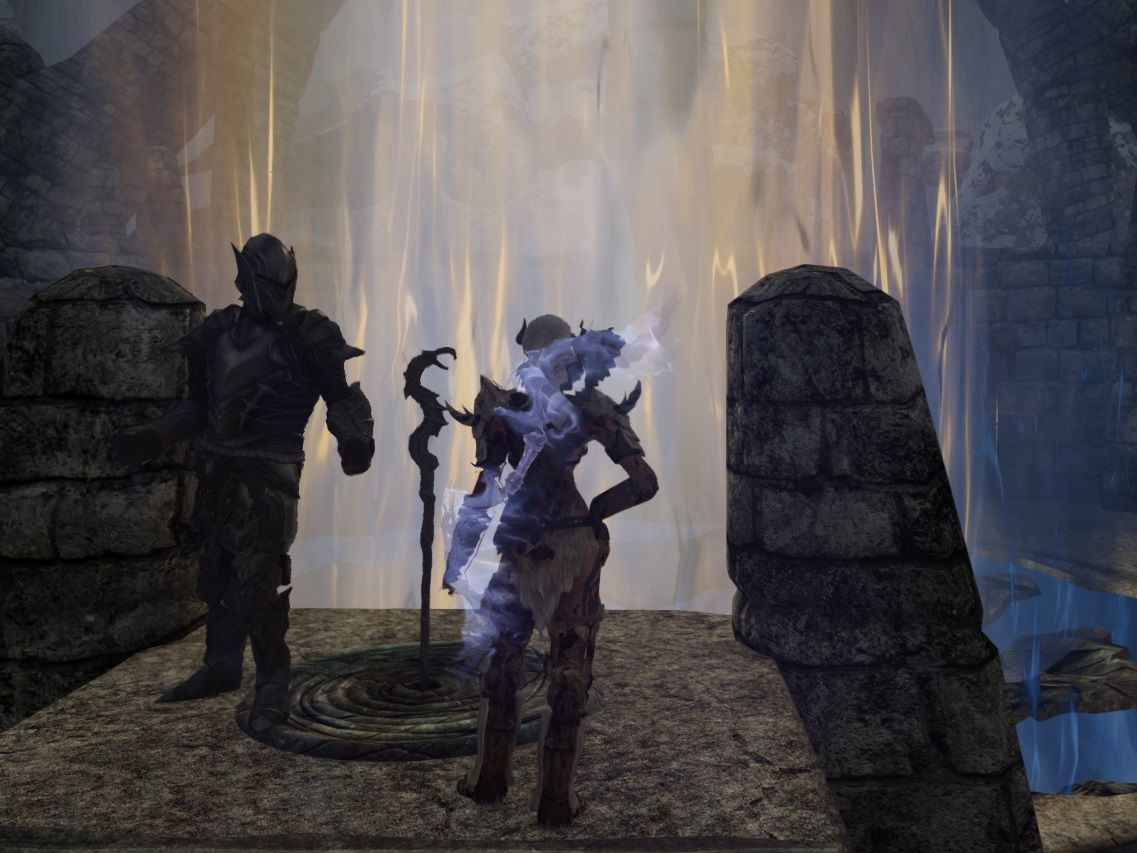 We were sucked into the portal, appearing in the fields of Sovngarde.  
"Nice.  Just as good," I said.  We followed the path for a while until we came to the spine bridge.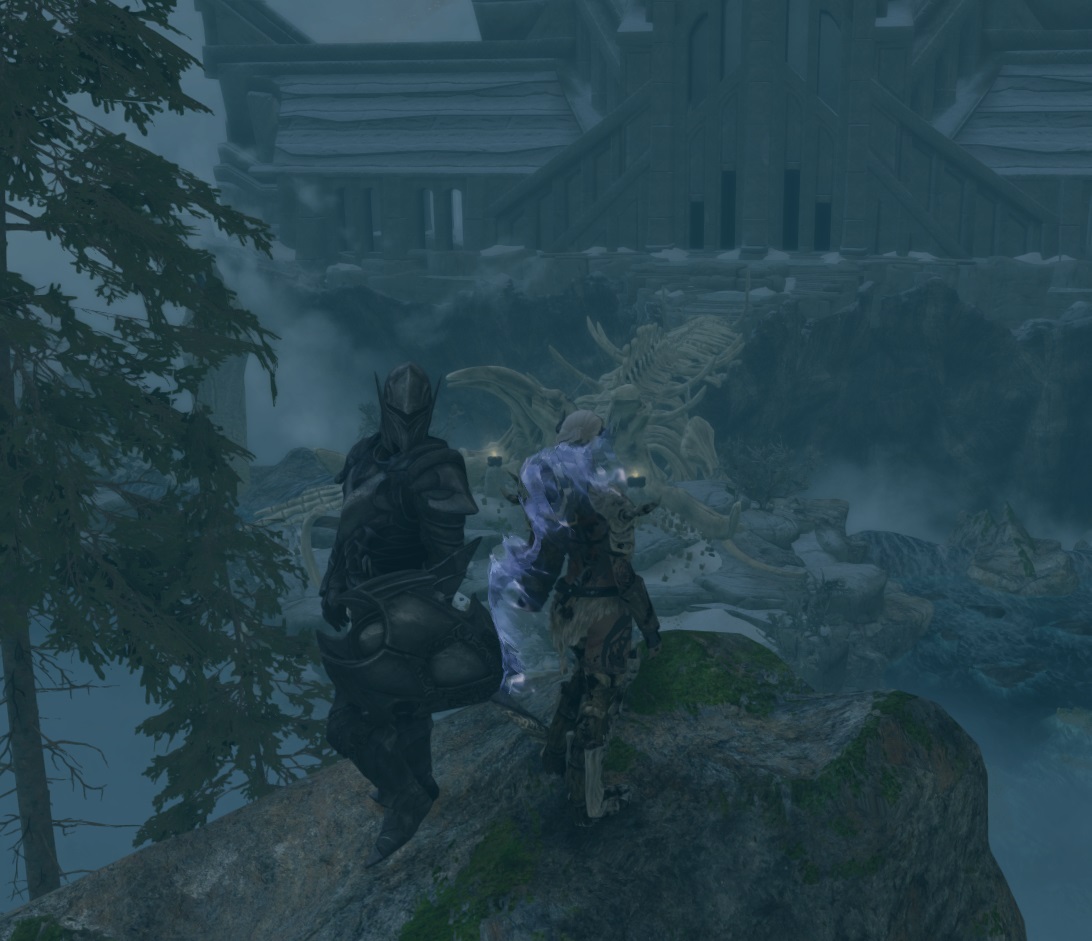 I may have had an ulterior motive for making the trip here.
"Tsun!" I shouted.
The Aedra looked up from his vigil, like he'd been thinking about something.  And to my surprise, the stone-faced man's eyes lit up, "If it isn't the queen of Skyrim."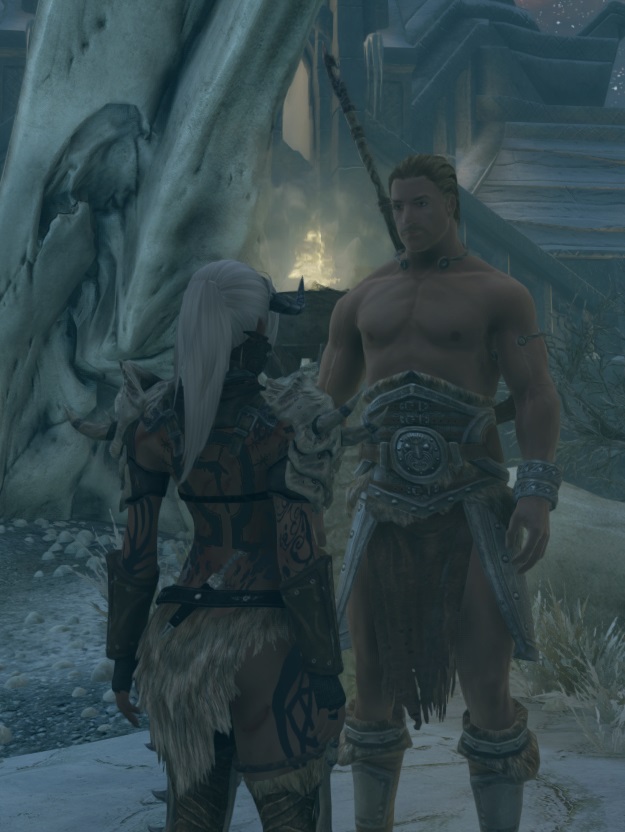 "Oh, have you been watching me?"
"My vigil gets boring at times," he said.
"Well I'll be sure to bathe outside sometimes, then," I snickered.
He laughed loudly, "Who is your friend?"
"This is my brother, who claims the name Rehman," I said.
They stood across from each other, Tsun only slightly taller than the EW.
"I know.  Really, any chance to keep you here a few minutes longer is a win.  I was watching you guys fight.  I know why you're here."
I raised an eyebrow, "I get how you could see us, but how could you hear us talking?"
"I've become very good at reading lips over the millennia I've been stationed here," Tsun said.
"So if I stood toe-to-toe with you a couple years ago, and now I'm quite a bit stronger, and he performed well against me, can he just pass on through?"
Tsun shook his head, "Never has a soul passed through here without facing me in battle."
"I will fight," the EW said.
"Of course, I know fighting's your favorite.  But I wanted to discuss a theory I've been hearing around Nirn with Tsun here.  He's been in these halls longer than anyone."
"What's that, Dragonborn?" He asked.
"Well, it's that I'm the Last Shezarrine," I replied.
"That's quite a claim," Tsun said.
"I've been reading books on the subject for years now, and I'm just not sure how to prove it.  I mean, when did Tiber Septim know he was Talos?  When did any of those guys know?  Say, Shor's throne... what was it you guys said when I was here a couple years ago?"
"Shor's high seat stands empty; his mien is too bright for mortal eyes."
"Can other people sit in his throne?"
"No.  That much is certain," Tsun replied.
"So if I put my big dark ass in that throne and don't get violently disintegrated or whatever, I'm either Shor in mortal form, which is the Nordic aspect of Lorkhan, or I'm some kind of avatar.  Or maybe I'm like Alduin is to Akatosh.  Food for thought.  You boys have your spar, I'm gonna go sit down and have a drink.  We walked a long way," I said, casually walking toward the hall.
The EW and Tsun looked at each other, then look at me as I slowly walked away.
"Do you want to watch this, or?" The EW asked.
"I was ordered to keep watch by Shor himself," Tsun said, "Short bout.  I'm certain you'll do fine."
"Dragonborn!" A few of the men called to me as I entered the hall.
"Been a couple years!" I walked over toward Shor's throne and found Olaf One-Eye, Ysgramor and a couple people I didn't recognize.  Jurgen Windcaller approached from the other side of the platform.  
"You die for real this time?" Olaf asked.
"Of course not.  I don't plan to ever die," I chuckled, "But hey, Ysgramor, I did that thing you asked.  A good man is Harbinger and the Companions are no longer cursed by Lycanthropy, unless they want to be, of course.  Also, nice haircut.  Gotta keep it fresh."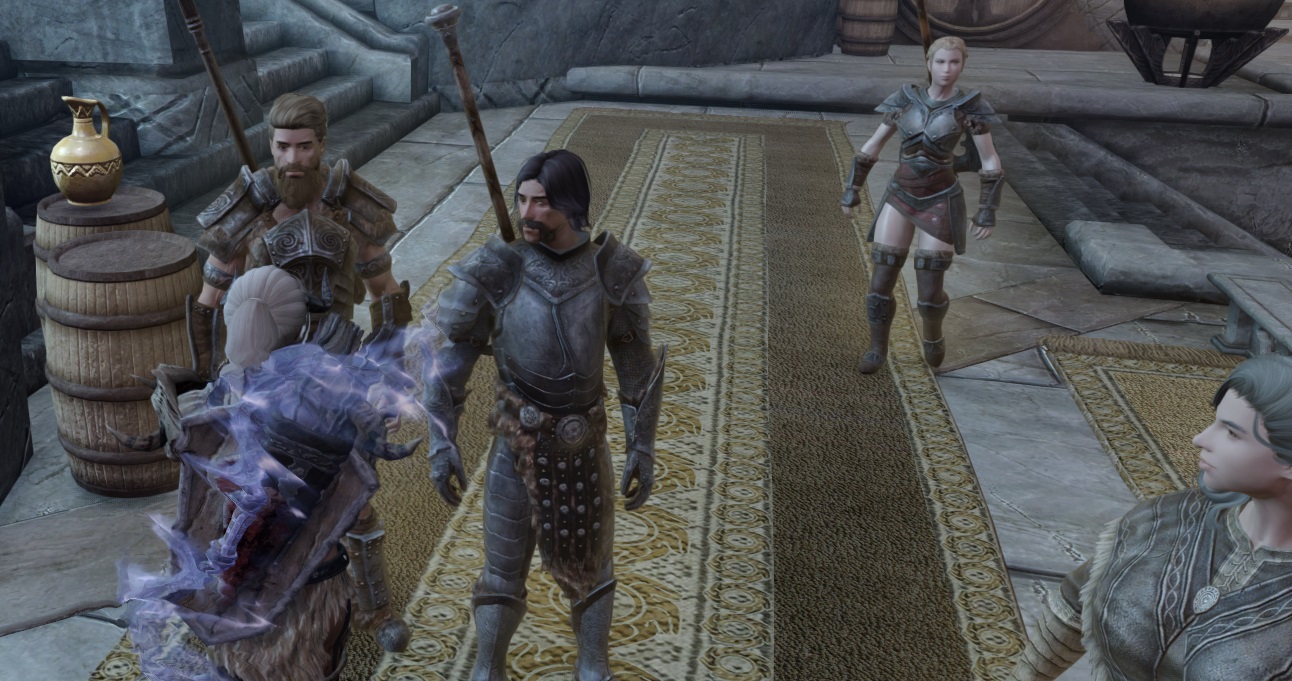 "Of course.  Kodlak told me.  I thank you.  Please, eat and drink.  Enjoy some reveling."
"Oh, I intend to," I smirked.
Olaf smiled back, "What did you have in mind?"
"I imagine some of these men would enjoy my company," I said, "But also, I do wonder, why are there so few people here?  Over ages there should be more, right?  Even if Alduin did devour a lot of them."
"Many warriors move on," Jurgen explained, "When we tire of this place, there's the option to move on to the Dreamsleeve like any other mortal, and be reincarnated."
While we'd been talking, I'd grabbed a tankard of mead and had been moving towards Shor's throne.  I must admit, my heart was pumping a little fast.  Without warning, and to everyone's surprise, I just sat down.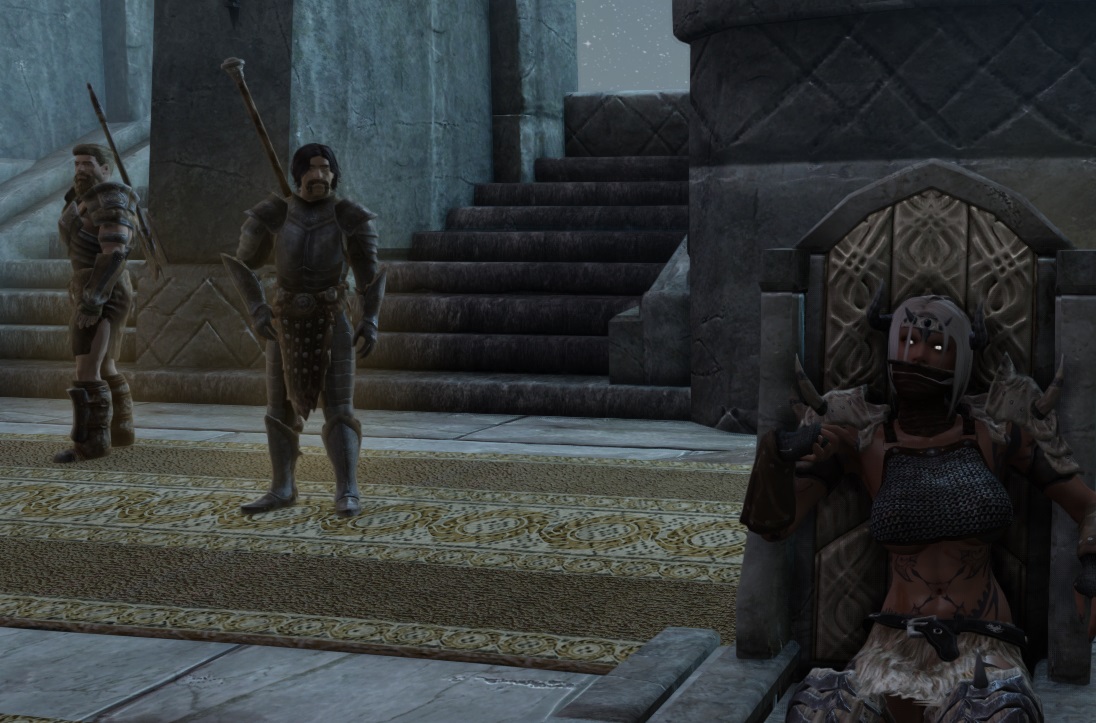 "What the...!" Ysgramor shouted.  The hall grew silent, and all eyes were on me.
"What?" I said loudly, "I just flew in from Skyrim and my arms are tired, or whatever."
Olaf and Ysgramor blinked at each other, then they laughed.
I drained my stein, then I said, "So I guess my theory is right, or there's nothing special about this chair."
People went back to their reveling, taking little notice of me.  
The EW approached.
"So we're in the Hall of Heroes.  Go find your lady-friend," I said.  He didn't need to be told twice.  
I decided I would sit there at least for the amount of time it took me to eat a solid meal and get a little tipsy.  It didn't take much to beckon me from the throne.  Seeing a couple of the men and a woman enjoying each other's company by the throne, I decided I would find a couple men to satisfy other hungers.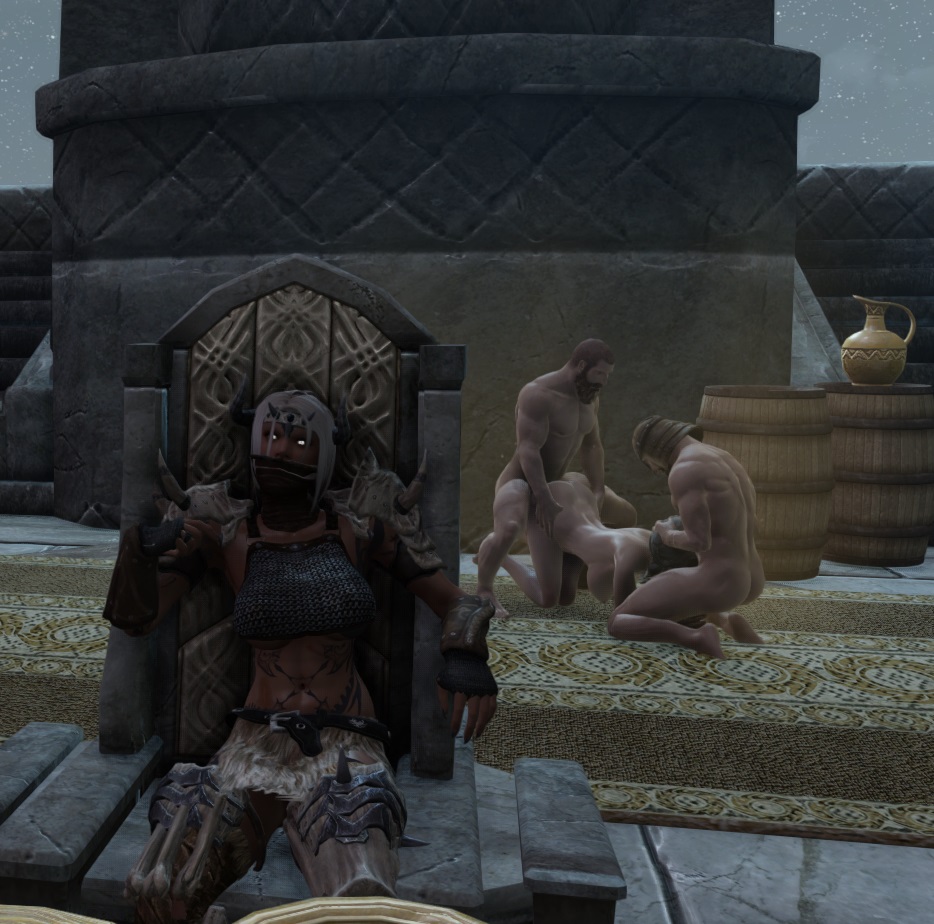 I got up, downing another stein.  I'd had enough of the dudes fawning over my ability to put my ass on a chair.  So I put my ass in the air.  It was easy to find takers, because, I mean, when you're dead you don't really have many inhibitions anymore, I guess.  I swept the food off the table in front of me and just let them fuck me.
Then another pair down by the pit.
Finally I went and found my old buddy Tsun, seeking to scratch an itch.  Honestly, he'd hit me deeper than any other man than I'd been with (except maybe Sanguine).  Without words as I approached him, he stripped off his loincloth.
I exclaimed, "Did you get bigger?!"
"I doubt it.  Absence makes the heart grow fonder, perhaps," the stoic statuesque god smiled, "Is it strange that now I know you're my old commanding officer - or perhaps some embodiment of him somehow, I'm even more interested?"
"Strange?  No, not really.  A lot of people are attracted to me for my power, I think," I replied.  He slid gently but firmly inside me.  And gods, it was fucking huge, just like I remembered.  He managed to hit back with only about half his length.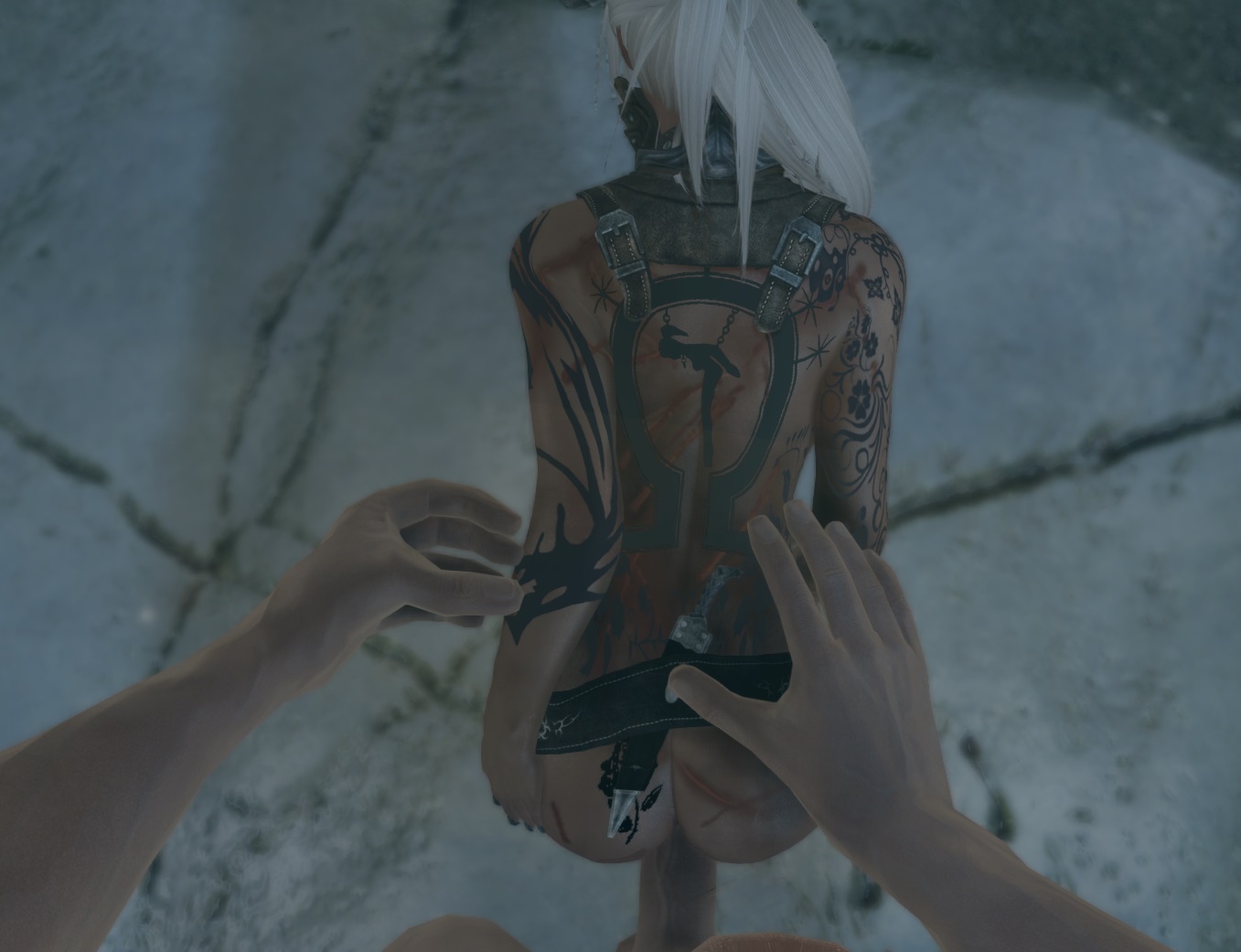 "Oh... my gods... would you look at that... sky... fuck... do you ever get... tired of... Talos fucking fuck!"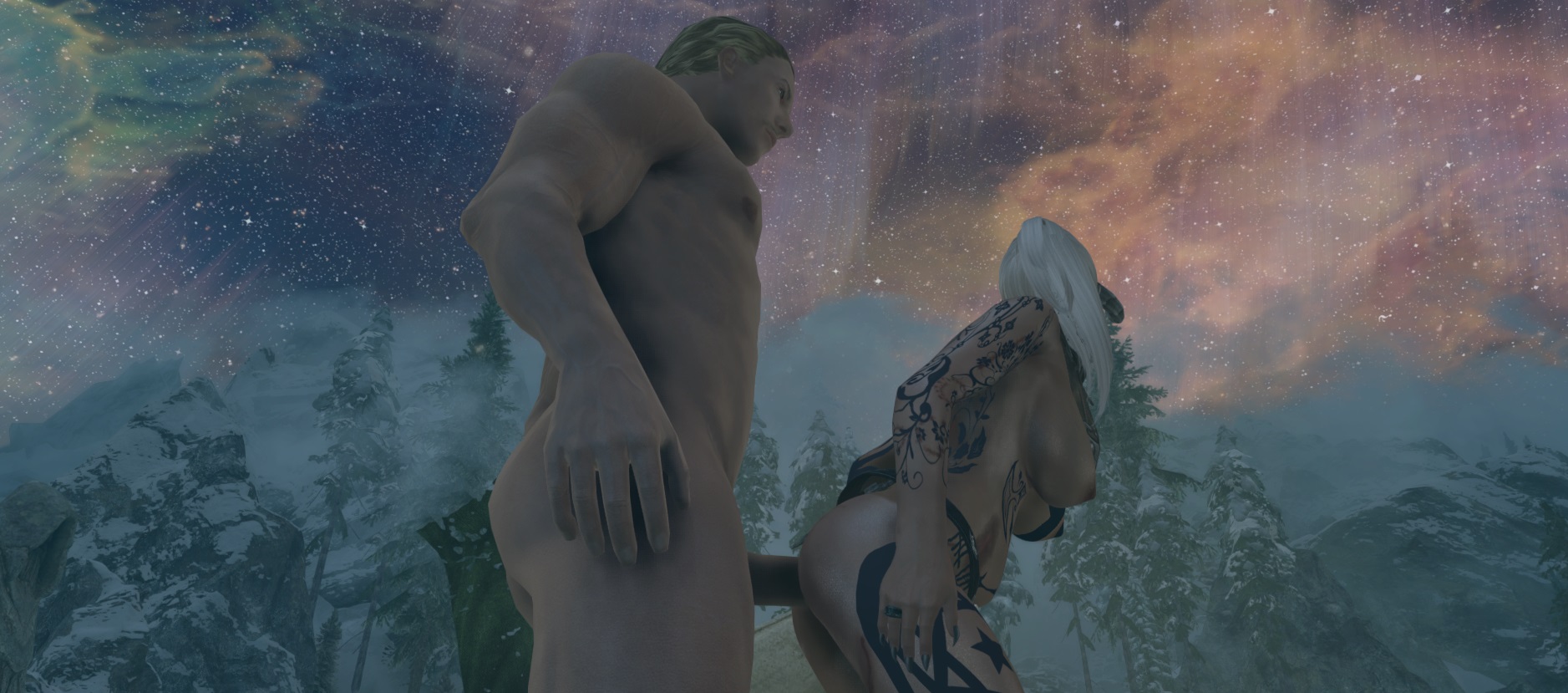 "Beautiful as the first day I walked into Sovngarde," he said.
That went on for a while.  Don't think I was up for a whole week of this at this point in my life.
When I finally decided I would find Rehman, he was watching two women spar.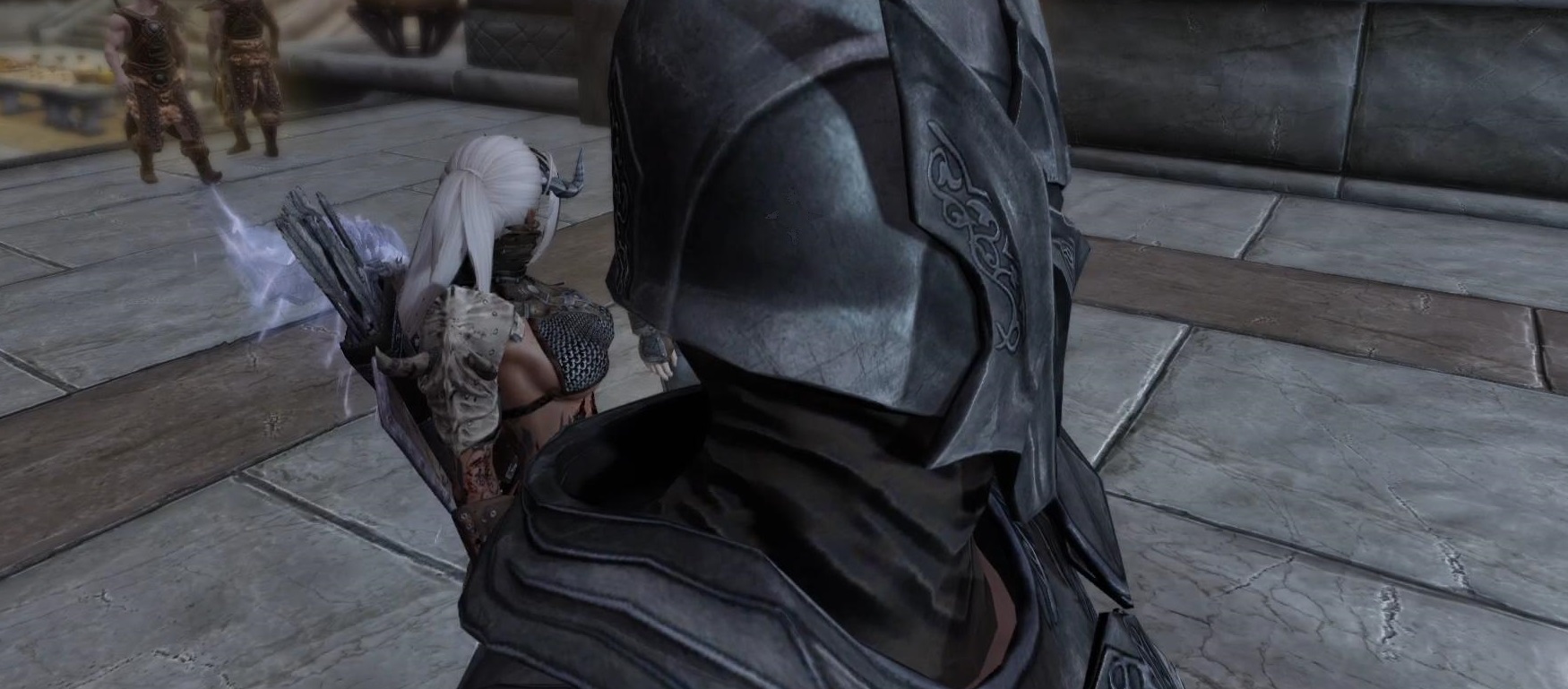 He sighed as he watched the women trade blows, "I met with everyone in the halls.  She's not here."
"I guess, they move on to the Dreamsleeve from here and are reincarnated.  Only the truly stubborn stay here forever," I explained.
He shook his head, "Damn.  I waited too long.  If I'd just went and died like a real warrior, I'd have ended up here and I could see her again."
I put my hand on his shoulder, "Sorry."
"No, don't be sorry.  If you'd killed me, I would've ended up here on my own for no reason.  Now I can go back to Nirn.  I owe you, Dragonborn," Rehman replied.
"You can call me Destana, you know.  Also, I'll take you back, but you should relax here for a few hours.  I think I'm going to rest and go another round with Tsun," I smiled wide.
"Oh, you fought him too?  It was definitely a thrilling combat," the EW said.
"Uhh... yeah.  Quite the struggle," I smirked.
After eating and drinking enough to burst several times over, and getting my brains fucked out half a dozen times, I decided it was about time to head home.
"Did you enjoy the local culture at all?" I asked.
He shrugged, "I did find a strong woman.  One of the older ones.  To be honest, it started with us speaking of Estrid.  She was kind to me, showed me attention.  It's been a while.  I followed your lead, though not to the same level as you, and enjoyed myself.  But she'll be moving on soon as well.  I think it's time to go back to Nirn."
I nodded, putting his hand on my shoulder again.  Then I cast Teleport: Imperial City, putting us directly in the Imperial Palace.  Jura was there, sitting on the throne, signing papers again.  Feels like all he ever does anymore.
"You know you could have a little fun with it.  Being Emperor isn't all work you know," I said.
He smiled, not looking up yet, "Girl, I've been on enough benders for ten lifetimes."
When he looked up he said, "Look who it is.  Finally decided to come see your dad, huh?"
The EW sighed, "This one is very persuasive, and I had no choice in the matter."
"Persuasive?" He asked.  Then I proceeded to tell him the whole story.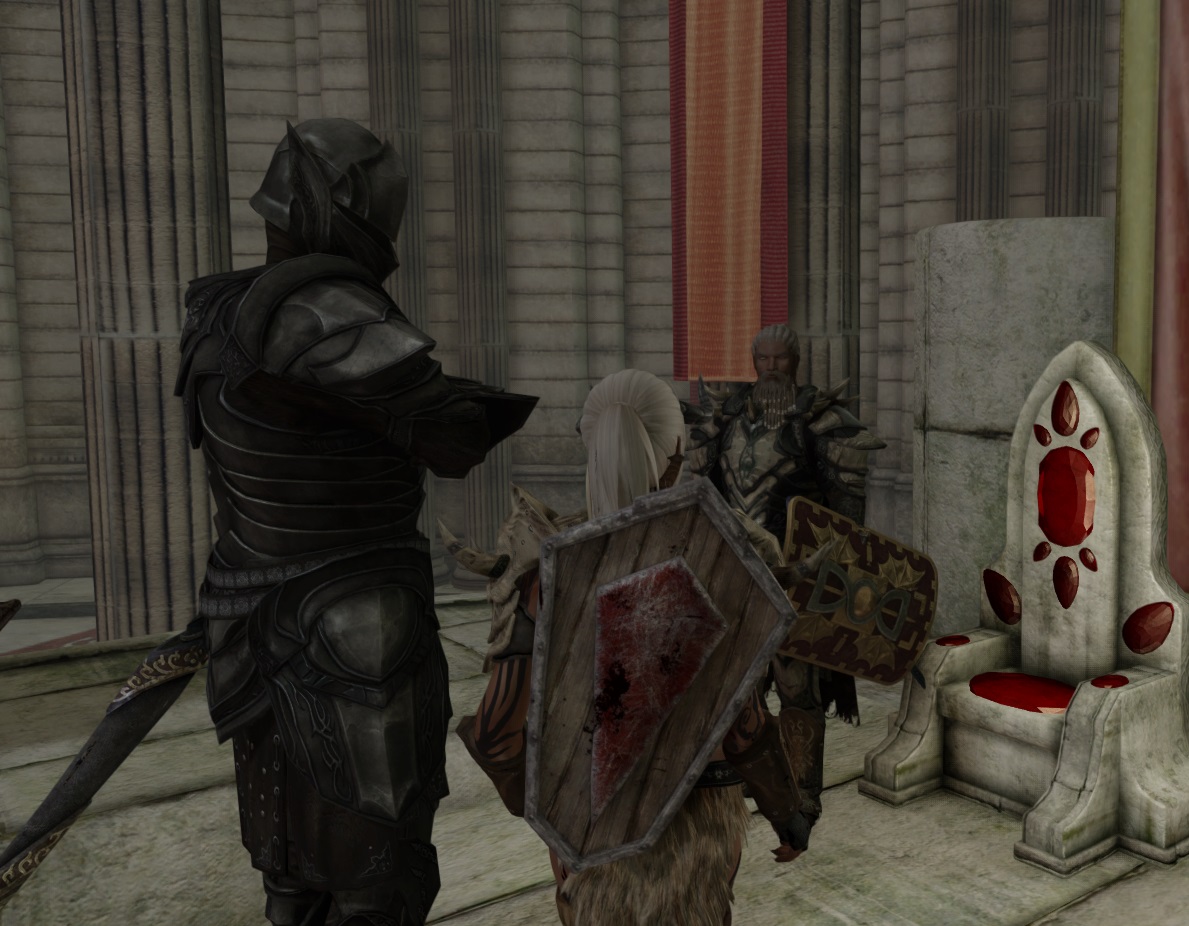 "Two Redguards in Sovngarde?  Hoonding's spongy backside," he chuckled as he cursed.  Then he said, "Well, what did you have in mind for fun, anyway?"
"I'm pretty funned out, actually," I said.  Probably be walking with a limp for a while, "I did have a proposition for you, though.  How often do people make attempts on your life?"
"Not as often as you'd think, but it happens," Jura replied.
"Well, you don't have Calleius as a bodyguard anymore either," I added.
"What are you suggesting?" The EW asked.
"Maybe this could be your temporary gig, until we go to war again with... I dunno, whoever.  I'm sure it'll happen eventually.  There's not a lot of foes and bullshit to conquer in these peaceful times."
"That sounds like an idea for now.  Although..." Jura started, "High Rock's pretty dangerous.  I've actually been meaning to send someone to the Western Reach to put Mynisera's mind at ease."
"I've got a rapport with the Forsworn of the Eastern Reach," I commented.
"These dudes are far far more zealous and brutal than their Eastern cousins."
"I might be able to find you someone," I replied.  I turned to the EW, "For now, how about it?"
He shrugged, "Alright.  But if you do go on any adventures that you think are dangerous, call on me.  For now, I'll languish here."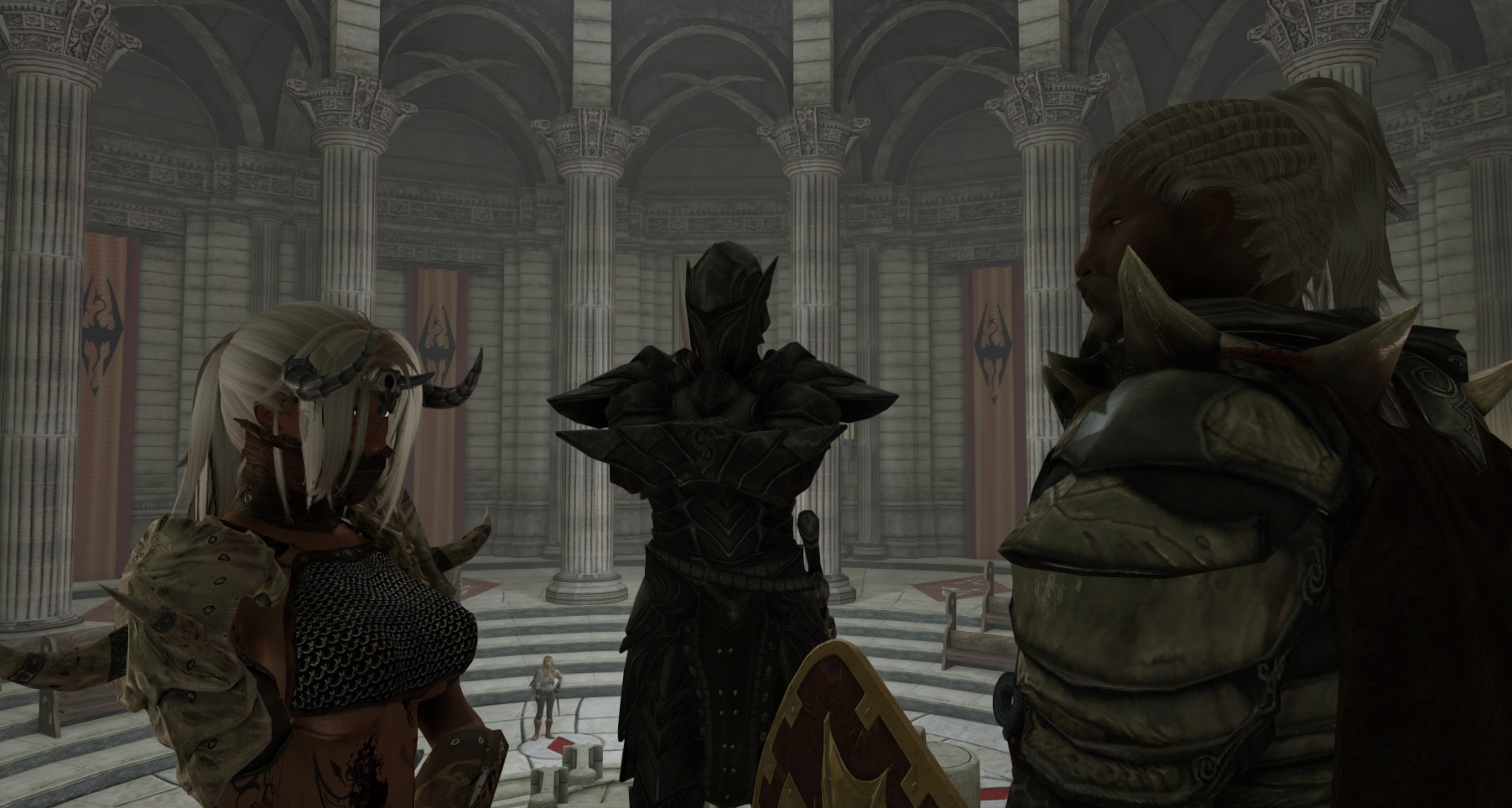 "And maybe you should think about searching out some of your other sons and daughters," I said to Jura.
He looked at me flatly, "You're probably right."
"Hey um, mom..."
I turned to Runa, holding a BIG baby.
"Think I figured out what the life waters do to kids," she said.
"Kintyra grew a lot," I grimaced, then turned to Jura, "Hey, how long ago did I ask you about this guy?"
"It was like, 5 weeks?" He replied.
The EW commented, "We fought like two days ago, right?  Dunno how long you reveled.  No day/night cycle in Sovngarde."
"Well time is weird in Sovngarde.  Sorry if you missed any appointments or whatever," I explained, "But that baby grew to a year old in a few weeks."
Sorry about the UI bits in the Ebony Warrior fight.  I actually did pull that maneuver, and I wanted to show it.  It was like a friggin Anime fight.
Bit of a shorter entry, but I honestly ran out of things to talk about on the subject.  I feel like going to Solstheim is too big of a subject to have half an episode on.  I think the next entry is going to be about Fenrir and possibly also Valiana, but I haven't decided yet.  Thinking Fenrir x Valiana ep, then Destana x Solaire x ??? ep doing Darkend, then Destana x EW in Soletheim.
I'm planning on doing a video about Compacting, but I haven't had time to record lately.
Edited by EnragedBard