Disclaimer:  This might be a little boring to some.  This is nearly 100% conversation and world-building.
Hey, it's Destana.  My friends and I are in Sky Haven Temple to find Alduin's Wall, and I learned that the Greybeards might know about a shout that can help me fight Alduin.  I must confess, I had an ulterior motive to coming here.  I wasn't sure if it'd be suitable for this purpose, but I wagered it would be, and it is.
When we left Riften about a day and a half ago, I wrote a letter.  More accurately, many many letters.  I found the courier in the square in Riften.  
I said, "Hey, so, this is kind of a big ask.  But it's pretty important."
"You're sending a Letter to Elisif the Fair… Skald… Laila Lawgiver.  You're sending a letter to all the Jarls?  Including some of the deposed ones?" 
He thumbed through the stack without so much as asking for more money, "I'll get these out.  Get my courier friends on it."
"I knew you were the right man for the job.  A real professional," I paused for emphasis, "Courier who delivers the inheritance letters.  You remember that time you found me when I was in the middle of the wilderness after my slave master had been slain?"
"Yeah.  Never forget a delivery," he nodded, and he was on his way. 
Who was invited?
Jarl Elisif of Solitude, of course.
Jarl Ulfric Stormcloak of Windhelm.  Also, of course.
Jarl Skald of Dawnstar.
Jarl Dengeir and Siddgeir of Falkreath.
Jarl Thongvor Silver-Blood of Markarth.
Jarl Sorli the Builder of Morthal.
Jarl Laila-Lawgiver and Maven Black-Briar of Riften.
Jarl Vignar Graymane and Balgruuf of Whiterun.
Jarl Korir of Winterhold (who... I don't think I'd ever met).
Archmage Savos Aren of the College.
Brynjolf, Guildmaster of the Thieves' Guild.  I'd given him the letter myself a couple days ago after I initiated the vote to remove myself from office.
Kodlak of the Companions in Whiterun.
Runa Fair-Shield, Listener of the Dark Brotherhood.  Not given a letter, but she'd come with me.
Serana of the Volkihar.  Also not given a letter, but came with me.
And Delphine to represent the Blades, but she was also already here.
Of course, I wasn't necessarily going to tell the Jarls who the last few were.  They were invited for their expertise.
"Wait.. what is your last name?" I asked Serana.
"I don't have one," Serana replied.
The letters read as follows, with slight variation, based on who they were:
Quote

 

Dear Jarl, Archmage, Guildmaster (or whatever title, based on the person).

This is a letter from Destana Stormblade.  Most of you know me.  If not by my deeds done on your behalf, you know me by my reputation.  I've driven the Empire out of our lands.  I've killed over fifty dragons in my nine years in Skyrim.  The dragon attacks have grown more frequent, more powerful and more disruptive.  I am not a Jarl, though I am a Thane in more than one hold, but I strongly request that you heed my call.  I've attached a map that details the location of a secret lost temple, Sky Haven Temple, that houses a thread of knowledge on how to defeat the world eater, Alduin.  

 

I officially accept the title of Dragonborn, and will accept everything that comes with it.  But I have a list of needs.  And so, with whatever authority I have, I am calling the moot.  As most of you know, I would not request this lightly.  But it is imperative that you trust me.  Please, bring whatever thanes and guards you feel is necessary.  Skyrim is in dire peril.  We're out of time.  We meet on the 15th of First Seed.

 

-Destana Stormblade

 
Many of the letters added a paragraph that reminded the given person what I'd done for them specifically over the past few years, or some detail about our relationship.
I waited until the 15th of First Seed, which was three days after I arrived at Sky Haven Temple.  The letters got sent from Riften, which was the farthest away hold, so I figured if they all came, they'd be getting here at about the same time.  I was sitting on a rock outcropping overlooking the great stone head (which I'd opened) when they started to arrive.
"Ulfric!" I shouted down.
"Stormblade!" He shouted, "What is this all about?"  He was flanked by Galmar and a blond woman, adventurer-turned-thane Skjorta.  
"It was explained in the letter!" I shouted, "We'll get into it when everyone's here."
"Ulfric!" A voice shouted as it emerged into the cave area.  I casted Slow Fall and jumped down.
"Balgruuf!" I shouted, "If you came then there's hope."
"Well the contents of your letter gave me some reassurance," he said.  He was accompanied by Irileth and Hrongar (his brother).  Behind them followed Elisif and her retinue: Falk Firebeard, Bolgeir Bearclaw and Erikur (gods, why did they bring him?!).  
"Dragonborn," she nodded.  I could see a smile on the edge of her lips.  She knew how much I didn't agree with this Dragonborn business and now I was apparently embracing it wholeheartedly.  Erikur eyed me warily as they entered.
A few minutes later, Dengeir and Siddgeir arrived with Thadgeir and Tekla.
"You're Destana?" Jarl Siddgeir asked.
"Greetings, Jarl," I said, "Curious that you'd arrive together."
"I moved back to Falkreath," Siddgeir said, "It's been a while since the civil war."
"Good," I replied.
I waited a while, then switched places with Shirley, who'd taken to greeting the Jarls while I went inside to wait as they gathered.  Sofia, Inigo and Serana had been handing out food and drinks, because Jarls are nobility.  They need refreshments.  None of my group had left when I told them who was coming - they all wanted to meet the Jarls.  I was worried for a while that not everyone would come.  That this was not going to be effective.  Then Skald and his group showed up.  Then Thongvor Silver-Blood and his.  Sorli and her son.  Laila and her housecarl with Maven, Maul and Brynjolf.  Finally, Korir, his entourage and the Archmage showed up.  After some milling about and light conversation, it seemed like we had everyone we were going to have.  Everyone had come.  Except...
"Where's Jarl Vignar Graymane?" I asked, "I find it hard to believe he was the only one who didn't show up."
"Vignar has fallen ill.  Brill is taking care of him," a woman said.  It was Olfina Gray-mane.  She continued, "I am to take the news back to the Jarl."
"Well, I guess he is in his 80's," I said.  
I cleared my throat, stepped up onto the huge stone slab in the middle of the room, and started, "All right.  I've never done one of these before, so bear with me.  I call this meeting of Skyrim's Moot in 210 of the fourth age to order.  I've called you all here to inform, to request and to take requests."
1. The dragons
I paused again, "First point, Alduin the Time-Devourer has returned.  I've seen him.  He's the one who's bringing dragons back to life.  Sometimes, I think, more than once.  Because were there really hundreds of dragons here?  In my letter, I said I've killed over 50 dragons, and many of your men have killed many more.  Fifty dragons in the last 9 or so years.  Fifteen dragons in the last year.  Five dragons in the last week.  They're getting stronger and more numerous."
"Alright," Baalgruf said, "You're the dragonborn right?"
"Yes.  And I'm offering to deal with this," I said, "But not for free."
2. The vampires
"Second point.  My friend here, Serana," I grabbed Serana's hand and pulled her over to me, holding her hand as I talked, "Is a member of an ancient and elite family of vampires."
"Vampire?!" Pactur shouted, putting his hand on his sword.
"Listen," I said, "Even worse, her father, Lord Harkon is currently working on an... idiotic plan.... using Elder Scrolls and Auriel's Bow, for the sake of all vampires, to blot out the sun."
"Shor's bones!" Maul yelled, and there was a general clamor and ruckus.
"Listen!" I shouted, "I am the one who is working on this."
"How is this good news?  We know what you're capable of," Ulfric chimed in.
"Ulfric.  Listen," I said a third time, "Of course I'm not going to do this.  The sun is how our plants grow.  No plants means no animals, which means no humans, which means no vampires.  He's an idiot.  But, he is powerful.  I'm also offering to deal with this.  I plan to kill Lord Harkon when the time comes, and if I need to I'll hand over the bow to the Dawnguard.  But when I do, I expect no great moves to be made against the non-feral vampires, like Serana.  She will be the heir to the dynasty, and thus, will be able to actually control the movements and actions of rogue vampires.  Think of it as similar to the Thieves' Guild and Dark Brotherhood in stopping random vampire attacks and spread of the disease."
"Neither of which any person here wishes existed," Balgruuf said, but then he sighed, "But are a necessary evil, and like a rat's nest besides, impossible to be rid of forever."
"Control is good," Elisif said. 
3. The Empire
"Third point.  The Emperor of Cyrodiil is dead.  And a man calling himself the Bandit King, Ariel Sethius had laid siege to the Imperial City.  From what I've heard, the Thalmor are disrupting Imperial Troops' supply lines.  If they take the Imperial City, they'll turn north.  And we'll be next.  With dragons on our backs, I don't imagine we stand a chance."
"You... haven't heard?" Elisif asked.
"Heard what?" 
"Cyrodiil has fallen," Ulfric said, "We haven't told the people yet.  I imagine that's part of why a lot of us showed up here."
"We thought, for once, we would have a unifying force, in you," Elisif said.
"At this point the outcome is unclear.  The war continues, but they lost the Imperial City," Galmar said.
"Well, that's bad," I said, "But I am also bringing quite a lot to this discussion.  With the crises out of the way, we'll be free to unify and become as strong as I know us to be.  I plan to travel and find out the damage.  Then I plan to intercede with foreign nations on our behalf.  Hammerfell, Solstheim, Morrowind, Elswyer.  None of them want Thalmor rule.  Also, I'm pretty damn good in a fight if it comes down to it."
"That's for sure!" Balgruuf chuckled.
"I've never been party to one of these.... moots, either," Maven Black-Briar said, in her usual 'you're wasting my time' tone, "You're taking a lot of time elaborating on our problems.  The businesswoman in me wants to know, what do you want from us?  What do you 'need' to help you?"
4. Strengthening Skyrim
"The short answer is, a lot," I took another breath, "Fourth point.  If we're going to be able to fight practically the rest of the world, we need to be unified.  We need to be strong.  Even stronger than you can imagine.  And to get there, a lot of things need to change in Skyrim."
"And you think you're the one to dictate to all of us how Skyrim should be?"
I turned, "Of all people, of all the Jarls in the room who had a legitimate right to ask such a question, it's you who asks?  Erikur?"
"I think you're just a vagabond who has no right to make any decisions for this land," Erikur said.
"Here's what I think," I said, standing.  I walked over to him, "Hey Elisif, would you mind moving over a little.  My aim is pretty good, but it's still kinda wild."
Erikur blinked, "Are you threatening me?"
"No, I think you're here to offer guidance to your Jarl.  She seems to be able to think for herself," I said, and noticed Elisif had been inching out of my way.  "Also... FUS!"  Erikur fell backwards out of his chair.
"Sorry," I said, "But I hate Erikur."
He got up, hand on his sword and Falk Firebeard put his hand on the man's shoulder, "Sit down, Erikur.  This is serious.  Not somebody you can push around."
Erikur grumbled and sat.
"This is what I propose as the first step - Skyrim needs a High King."
"Of course it would come to this.  And of course you want your friend Ulfric to be the next High King," Baalgruf said.
"Yes.  He did invoke the right of combat," I paused, "Also, I would propose a marriage for Ulfric.  He has no heirs, which would put us in the same situation as Torygg's death.  He should have a queen that can be a foil for him."
"Who would be Ulfric's wife?" Elisif asked, possibly wondering if I was suggesting she get married to him. 
"I propose that after Alduin is dead, I be Ulfric's wife," I replied.
"You?" Was said by half a dozen people.
Galmar was elbowing Ulfric, who was smiling, though he didn't know I noticed.  At the same time, Serana was pulling away, looking at me fiercely.  Her eyes a mix of angry and surprise.  I shook my head, and she seemed to get the message that we'd talk about it later.  But I held onto her hand and she continued to stand by me.
"A vote, then?" Elisif asked.  She seemed relieved that I wasn't trying to blackmail her into marrying Ulfric.  I met eyes with her and smiled.  Of course I wouldn't do that, I was beaming the thoughts through my looks.  I expect Elisif to only marry if she wants to.
"All in favor say aye," Ulfric said, and a unanimous aye from the actual ruling Jarls.
"All opposed," Ulfric said.  Only one, Balgruuf.
"It passes," Elisif said, "By order of the Jarls of the Nine holds, I declare you Ulfric Stormcloak, High King of Skyrim.  Destana Stormblade, High Queen of Skyrim.  Of course, this won't be in effect until the official ceremony."
"And that won't be until after I've killed Alduin and saved the world.  I know I'm asking a lot, but I have some large task ahead of me," I said.
5. Boons
"Fifth Point.  Something I'd like to call a boon for a boon.  I'm going to ask something of each hold and guild here, and they can in turn ask something of me.  I will use my powers as the dragonborn to perform every task asked of me," I said.
"And this - is in return for you saving the world, and Skyrim, and the sun?" The Archmage asked.
"Yep," I smiled, "I feel like my requests are going to be reasonable, given the monumental tasks I'm undertaking."
Windhelm
I turned to Ulfric for Windhelm, "You first.  I want you to allow all races of people to live anywhere in Windhelm, and give grants to the Gray Quarter to make it better.  I know there is little room for new houses in the holds, but I ask that you lift the restrictions placed on Windhelm.  Skyrim might belong to the Nords, but there are a lot of other people living here too.  And I know not a single one of them wants to be ruled over by the Thalmor."
"Done," he grinned.
I smiled back, "Why are you grinning so much?"
Galmar chuckled with him, "Seems you've already captured the Jarl's heart.  He's already done this."
"Dang," I said, "Well I guess I used up my request.  What is your counter?"
"I'll hold my request for later," Ulfric smirked.
"Probably in the bedroom," Galmar chuckled, and a few of the men laughed.
"Alright.  Alright," Maven said, "Who is next?"
Riften
I turned to Laila and Maven, "Okay, this is more of a request than a need.  You know how little real estate there is available here in Skyrim.  I had a hell of a time buying my first house here.  I think as a businesswoman, you could definitely get onboard with some development.  And south of Riften is a good place to do it."
Laila Law-giver said, "I would consent to more buildings being built there."
"Sounds like an excellent idea," Maven folded her arms, smirking slyly, "I'll keep my favor for later too."
Whiterun
I turned to Balgruuf, "For Whiterun, Balgruuf the Greater is part of a line of Jarls that extends back over a thousand years.  Here's what I want.  Vidnar Greymane holds the position of Jarl for two more years (bringing it to a full ten), at which time the position reverts to Jarl Balgruuf.  Unless Vidnar adbicates or dies, in which case it passes immediately.  Vidnar and his family get a large gold payment to vacate.  For the time being, Dragonreach is big enough to house both families."
Balgruuf shrugged, "Sounds good to me.  But I don't think I can just oust him."
"If we take a vote, then it becomes a decree, I think?" Elisif asked.
"All in favor," Balgruuf said.  Mostly ayes.  
"All opposed," he said.  Only a couple nays.
"It passes!" Balgruuf was all smiles.  He'd never dreamt that was what he would achieve when he came here.  No more living in the Blue Palace basement!
"I don't have anything to ask of you!" Balgruuf said to me.
"I'm not sure what Vidnar will say about this," Olafina Graymane said, "But I'll pass it along."
Falkreath
Then I turned to Jarl Dengeir, "I think, for Falkreath, you may have turned over Jarldom too early."
"Agreed," Dengeir said, "Here's what I am thinking, dragonborn.  I retain Jarldom until Siddgeir is ready, then I pass it on naturally, once the boy has some more work under his belt."
"That's what I was going to say," I said, "How does ten years sound?"
"Sounds fine.  Or, if I feel it is time sooner, then we can revisit this at a later moot.  I will also hold my request for the dragonborn."
"Can I make a separate request?" Siddgeir asked.
"Um... sure." 
"I'll talk to you later," Siddgeir said.
"Well, okay then," I said.
Winterhold, Morthal, Dawnstar
"I don't really have anything to say to Winterhold, Morthal or Dawnstar.  We could definitely afford to build up the smaller holds," I said.
"Agreed," Jarl Korir said.
"But for the Archmage, we should figure out what the Eye of Magnus is and how to use it.  If we face the Thalmor, it could be a weapon for all we know," I explained.
"Do you think that's wise?" Savo Aren asked, "The Psijics warned against it."
"Eh, well.  Got anything for me?" I asked.
"I would ask you to come convince the Psijics to assist," Savos Aren replied.
"Alright."
Markarth
"To Markarth, and really, this is to the whole moot.  You might think this is controversial, but I think the Forsworn should have a seat on this council."
"The Forsworn?  Are you mad?" Someone shouted.  There was a general angry clamor.
"Do you really think those savages should be a part of our community?"  Jarl Thongvor Silver-Blood asked.
"I think the Forsworn are savages, yes.  But the rest of the world thinks nords are savages.  What I'm floating to this group is maybe if we made peace with them and reserved some land for them, perhaps beyond the Reach, they would lend us some of their giants and mammoths to fight the Thalmor."
"Hmm... you bring up a good point," Thongvor said, "Well, then, my request is that you be the one to negotiate with them.  Find me a representative that can speak for the tribes.  We may be able to come to an ... arrangement, given enough time."
"Bloodthirsty savages, all of them," Reburrus Quintillus (his steward) said.  My eyebrow raised.  This guy supported the Stormcloaks and has a rich imperial steward. 
"That may be the case," Serana said beside me (supporting me even though she was mad), "But there are many of them and you've not had much luck eradicating them so far.  Perhaps they're a dangerous instrument you can point at your enemy."
Thongvor nodded, "Let me know what comes of this, Dragonborn."
I nodded.  That was something to file in my quest log for much later.

Solitude
"That leaves Elisif," I said, "I don't have much more to say to you, other than thank you for supporting me."
"Even if you don't make a request for me, do I get one?" Elisif asked.
"...Sure, I guess."
"Come visit me.  I might have more jobs for you," she said, then she stepped up to the stone slab we'd been standing on, whispering, "I don't have many friends, really."
I stood back up, "Well, okay then.  If that's all, I'm going to take my leave now.  I need to go visit the greybeards."
I jumped down from the slab, pulling Serana with me.
"But wait, who are those people?" Ulfric pointed to those he didn't recognize that'd been here when they walked in, "Some of them were standing with us during the moot.  Why'd you invite them?  Your entourage maybe?"
"Oh, those are the Guildmaster of the Thieves Guild, the Listener of the Dark Brotherhood, and of course, you've already met Serana."
"Dragonborn!  You've got a lot of nerve inviting people such as these into the midst of a sacred gathering such as this!" Jarl Skald of Dawnstar said, "We should consider making this whole moot void for these heinous acts."
"Now, now," Jarl Laila rebuffed, "Sometimes it's not all just honorable warriors that win a war."
"Yep," I said, "I figure if we're going to be fighting a war against everyone, we're going to need everything: assassins, underhanded thieves, vampires, forsworn."
"Kodlak Whitemane, can I rely on your support in fighting this war?"
"The Companions are ready to support," he replied.
"Delphine," I turned to her, standing near the mural in the back, "Can we count on the Blades?"
"Of course, Dragonborn.  Though, if you could help us recruit a little, that'd be great.  There are only two of us," Delphine chuckled.
"Guildmaster," I said to Brynjolf, him wearing his Nightingale mask to conceal his identity, "I request your aid in disrupting the Thalmor and Imperials when the time comes."
"Of course, lass," he replied, "I have no requests.  If anything, I owe you."
"Listener," I said to Runa, "I ask that you help assassinate key members of the Thalmor when the time comes."  Several head scratches, as she didn't seem like an assassin.  And Ulfric knew she was my daughter.  I think he was the only one who put two-and-two together.
"You have our full support... my Queen!" Runa smirked when she said that.
"Not yet!" Somebody said from the crowd.  
And with that, the moot was over.
As people were leaving, I let Serana go, and she walked up to the balcony.  I followed.
"Could you... could you leave me alone?"  She asked, about to cry.
"I'm sorry.  It doesn't mean I don't love you," I said, "But this has been my plan for a long time."
"Could you have given me some warning first?" She asked, "What does this mean for us?"
"Listen," I took her hands, "I am already married and separated from my first husband.  I'm about to get married again.  And I don't intend on settling down anytime soon.  Did you hear all the things I promised those people in here?  Even if I do marry Ulfric, you're the one I'm going to be out there spending all my time with.  This... this act was a bid for authority.  A bid to actually have the ability to make this land strong.  I may or may not ever go back to Hammerfell.  Skyrim is my home now, and I intend on keeping it alive, and making it stronger."
"But to do that you feel you need to be queen?" Serana looked up at me.
"Yes," I said, "Please, understand."
She sighed, "I can't say I will.  But for now... I'm going to stay."
"And don't forget," I pulled down my lower eyelid, emphasizing my vampire eyes, "If we both stay this way, there's going to be a lot of time."
"That's right, I guess," Serana nodded, "Wait... you said you were going to give him heirs.  Were you lying to the Jarls?"
"No, he already has an heir now.  We have a son together."
"You have another son, with Ulfric Stormcloak?" Serana nearly shouted.
"Yeah!  Remember, we've only known each other a month," I said, "And if we get married - BOOM - Fenrir Stormcloak is the legitimate heir to High King of Skyrim."
"Oh wow, a half-Redguard High King.  You think they'd ever accept that?"
"I dunno.  Maybe someday."
This was not done with mods.  This was a lot of console commands.  A LOT.  Basically, the equivalent of me playing with my action figures.
This served several purposes.
In my headcanon, this is how Destana finally convinced herself to take on the mantle and save the world.  She knew it might be the end for Skyrim soon and needed to do everything in her power to prevent that.  And she felt like she'd played a hand in the coming danger.  And it is a way to declare Ulfric HK finally, suggest changes in the holds, a reason to go deal with the Forsworn amicably, and to travel to other lands and try to be a diplomat.
I hope this was enjoyable to people reading.  Next time, back to regularly scheduled murderhobo-ing.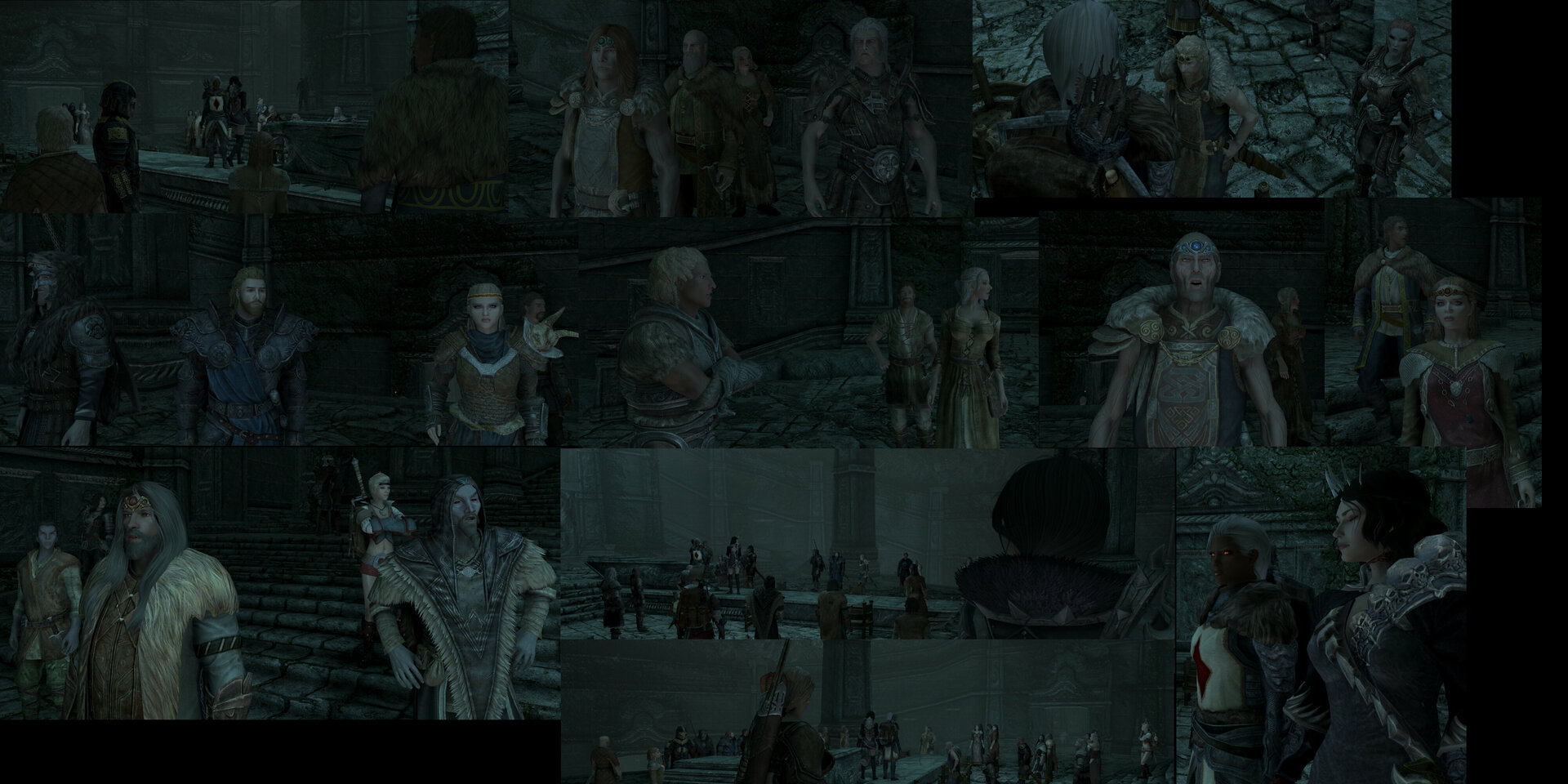 Edited by EnragedBard