Entry 27: Runa's Better Brotherhood of Old Resurrection Forever!
---
Hi!  This is Runa!  I'm the Listener of the Dark Brotherhood, and we're trying to recruit.  A job I'm super-excited to do my best at!  My mom asked me to talk about what has been going on for the past few weeks with the Dark Brotherhood while she gathered the moot and looked for Elder Scrolls.
While Nazir worked on gathering new recruits, I spoke with the Night Mother.  She spoke a little while about the Dark Brotherhood being as strong as it ever was, to which I listened intently.  Then she said, "Another child prays to their mother.  Speak with the Laborer at the Frostfruit Inn in Rorikstead and slay the target."
Figured I would go do that job and come back.  As I exited...
"Listener!" Cicero said, "You were a fool to spare me.  Now I shall take my revenge....."
She giggled, "Just kidding.  If it's okay with you, I'd like to return to my duties as keeper."
"See, I had a good feeling about letting you live.  My mom didn't want me to."
"Thanks, Listener," she beamed, going inside the Dawnstar Sanctuary.
Strangely, Shadowmere was waiting for me.  He looked a little lost, but had figured out where I was.  I later found out this was when my mom traveled to the Soul Cairn.
I rode and talked to the Laborer and he pointed me toward a Fishwife (whatever that means) in Riften.  I emptied out the mailbox at Honeyside (the stuff that was ours).  I took care of her stealthily, swam over to Aringlow Estate (or wait... is the owner named Aringlow?)  Goldenglow Estate, then traveled back to Dawnstar, stopping at Windstad Manor to get the mail there too (and kill some pests that'd taken up residence).  Let me tell you, it's hard to kill bugs with a greatsword.
I looked over the mail.  Most of it was for my mom and I tossed it on the table.  But a couple letters were addressed for me specifically, and I guess some of those meant for my mom were brotherhood related.
One from a man named Kodrir, that thanked me for killing Ennodius Papius and inviting me for something.  That's a trap, I believe.
Another asking me to come to the Inn of Lost Souls because they 'knew what we'd done'.   OooooOOoooOOoo spooky.  I figured I could spare a few hours.  I rode Shadowmere to the inn, and found a large group of skeletons and a couple witches fighting with Vigilants of Stendarr.  Thinking the Vigilants died out, I helped kill the skeletons (of course, Shadowmere helped because he likes killing).  They were steely, so I continued to the Inn.  Inside it was dark and not very homey.  Everybody inside looked like they wanted to kill me.  Penitus Oculatus agents were standing in several places (including blocking the stairs to the cellar).  So I walked up to the Innkeeper.  I was starting to think this was a setup to 'take care' of me after having a hand in killing the Emperor.
"Is someone here expecting me?"
"Yes, it's all here in this note," he said.
I took the note, but it didn't seem to be readable.  Playing along, I handed it to the agent in front of the stairs like a pass.  
He seemed to be able to read it, and said, "This note doesn't prove anything.  Step aside citizen.  I raised an eyebrow.  Worst setup ever.  I took a step to the side, and the agent didn't stop me.  When I stepped into the cellar, there was an Imperial noble standing across the room, looking at a large document.  As I approached, he turned around.
"Did you send the note?" I asked.
"Are you going to kill me now?"
I waited for him to continue.
"Figures.  That nord fool starts a Civil War and one of your members kills my cousin.  And now you could finish the Mede line.  I am Allian Mede," he explained, "The Empire has been thrown into chaos and it probably won't last long.  But do you want to know what's really funny?  Your lot won't survive much longer either.  The Dark Brotherhood is a thing of the past.  I heard there's only one sanctuary in all Tamriel and it was burned to the ground.  Betrayed by one of your own!  How many of you are left anyway?  Three?   Four?  How formidable.  You killed my cousin for a few septims?"
He raised his fists at me.
"Oh, honey.  That's funny.  You didn't even bring a weapon to fight an assassin who specializes in the unsubtle art of greatweapons?  And no guards?" I pulled out my greatsword.
Two Oculatus agents stepped through the door with swords drawn, to which I said, "Ah.  So better setup than I thought."  I swung at Mede, but the first guard interposed his shield between us.
I did an elaborate dance, slashing and backing away.  And even though I was wielding a greatsword my armor was far lighter than that of the agents, and they got in each other's way.
"This is your best?" I yelled as I cut down the first and left the second with a mortal wound.  I stepped forward and stabbed the second in the chest.  Allian was now cowering in the corner of the adjoining room, with no way out.  
"Guards?  Where are you?" He shouted.
"When a fifteen year old girl can kill your guards and kill you, maybe your empire deserves a fresh coat of paint.  Why shouldn't I kill you now?" I asked as I approached, not keen on killing for no reason.  He just sat there, cowering so I made it quick and chopped him over the head, cleaving his skull.
I walked out and said to the Innkeeper, "Sorry for the mess."
He smirked, "Don't worry.  Happens all the time.  I'll take the cost out of their loot."
I walked out, sighing as this was a deadend.  I headed to Angi's Mill to follow up on Kodrir's note.  Astonishingly, this was not a setup and he gave me a little gold.  So I headed back to Windstad Manor to sleep.  It was conveniently located near the Dawnstar Sanctuary, but I wanted to have a little privacy today.  I bathed, had some sleep, and went back to the sanctuary.  When I arrived, the Night Mother called to me.  
"Good work, Listener.  Every day, more and more children are praying to their mother.  The death of the Emperor has made our named feared throughout the lands.  But we are too few to answer so many prayers," she said in her whispering, foreboding tones.  She continued, "Our Dread Father has reached out for you, to help these children in their time of need.  We must cure our family of its ills.  Tell Babette, 'dreamstride.'  She'll know.  In the meantime, we must rebuild our numbers.  This is the job for a speaker.  But for now, we must be more flexible."
I decided I would saddle Nazir with the official job of recruiting, since he'd expressed an interest in it already.  
"We need initiates," I said to Nazir, "The couple you got are great, but they don't have... you know, staying power."
"What do you propose we do, Listener?" He asked.
"A little kidnapping, just like you guys did with me?" I asked.
"I can have some recruits at the shack, given a little time, just like the old days," Nazir said.
"Got any people in mind?" I asked.
"J'Zakar and M'Jirra.  Ruthless.  They'll be perfect," he smirked.
"Any more?"
"Agnar Hollowleg.  I heard he crushed a man's skull with his bare hands," Nazir continued.
"Alright.  Let's get to it," I said, and found where Babette was hanging out.  I also noted that the improvements ordered by my mom with the Thieves' Guild were finished.
"So, Listener," she said, "Cicero is back and we're friends again?  I can hardly keep up."
"Yep.  She'll serve her purpose.  I mean, I don't want to clean out the old lady's folds," I said, "Hey, how did Astrid knock people out to kidnap them?"
"I have a poison I can apply to daggers for you."
"Perfect.  Could you do this for Nazir as well?  And the Night Mother told me you'd know what 'dreamstride,' means," I said.
"I do.  It shall be done," she said.
"Also, we're recruiting.  Got any ideas?"
"Well, since both our mages are dead or ... gone," Babette said, "Ever heard of Undil the Warlock?  He's an Altmer and very powerful.  But not exactly, 'balanced."
"Sounds pretty much on brand for us.  Oh, and have you seen Arnbjorn?" I asked.
"Not sure where he got off to," Babette said.
I waited a while and then traveled to the shack.  I slipped on my Shrouded Cowl, just in case, then I headed in.  Two Khajit were tied there, with three hooded people tied up in the back, just like I remembered.  Nazir set this up perfectly. 
"Who are you?  Where have you taken us?" J'Zakar asked.
"Be calm.  Worry about what's going to happen," I said.  I thought about it for a minute and realized this might not have been the best idea.  I was strong for my age, but I didn't know if I could take two recruits if things went awry.  I might need to rethink this in the future.  
"Do with Khajit what you will.  Let my sister go," he said.
"Ever heard of the Dark Brotherhood?" I asked.
"We're no myth.  I've heard the two of you are killers.  Out of the three behind you, one of them has been contracted.  Figure out which one," I explained, then I cut their bonds.  
"If we kill them, what then?" The female khajit asked.
"You will have proven your worth to the brotherhood and will have a new family," I replied.
They turned and cut down all three, without even questioning them.  
"I guess they were all probably guilty," I said, "Okay.  Go north of Dawnstar.  There's a black door there.  Answer, 'Innocence my brother."
I looted the bodies and also headed to the sanctuary.  I took a trip around the Sanctuary to make sure the pair got there and look for Arnbjorn.  And... a new face greeted me!
"You're the Listener, right?" He was dressed in Nightingale armor, with bright green glass boots and a chef's hat.
"Yes.  Who are you?" I asked.
"Where the hell are my manners, I'm Stabby.  I've been in Cyrodiil for a few years.  Starting to get the feeling that Astrid didn't get my particular sense of humor.  She sent me far away and her correspondence was through letters.  I kept doing jobs this whole time.  You know, until the monthly letters stopped.  I heard about everything that happened.  Maybe if she hadn't sent me away, she would've lived.  Anyway," he trailed off, "Anyway... where was I going with this.  Oh yeah, the Empire found the sanctum (and my backup in Bruma, you know, the place where the Night Mother's coffin was being kept) and I grabbed all the contracts on the way out.  Here you go, Listener.  These are already paid for, the targets are incredibly wealthy.  We could make a lot of money for the new sanctuary."
He took a breath finally, "I'm... not sure, do we still do regular contracts or are they all Night Mother approved?"
"We do both.  I don't limit our contracts.  We're hurting right now," I said.
"My thoughts exactly, Listener!" He said.
"Any of the contracts in Skyrim?"
"Oh yeah, for sure.  You just tell me when you're ready.  We can go together.  I can do some of them alone (though I do need some help).  Your call!" Stabby said.
Stabby opened up a contract, "First one:  Captain Shadowscale.  Lake Illinalta. They thought when his ship sank he drowned.  But they forgot he was Argonian.  It's been a few months since a rival pirate captain gave me this, but I'd bet it's still valid.  He has a MOUNTAIN of treasure he was trying to hide in Skyrim.  And if he's as greedy as they say, he probably is carrying it out of his sunken ship, by himself, a sack at a time."
"Okay.  We'll leave in the morning," I said.
I walked over to Babette, sitting in the common area, "Hey, is this guy legit?"
"Stabby?  He's a little eccentric.  But yeah.  And Averna.  She's asleep in the hallway over there," Babette replied.
I walked into the hallway to find her.  A forsworn woman sitting up on a bedroll.  When she stood up her full height, she was tall.
"Hi.  How do you know Babette and Nazir?" I asked.
"I used to work with Astrid.  Her and I were very close.  I left when she chose that beast instead of me," Averna replied, "Truth be told I didn't have a home out there anyway."
"How did a Forsworn get mixed up in an outfit like this?" I asked.
"I'm powerful.  That's it.  I left the Forsworn when I realized I had become more powerful than a Hagraven without submitting myself to such a horrifying transformation," she explained.
"Well, welcome," I replied.
"Sithis came to me in a dream and told me it was finally time for me to perform 'the ritual.'  I am a Void Crawler, and to reach my true potential I must draw from the void and transform.  He came to me a long time ago, but never told me who would help me until now.  He said you could help me, so I returned.  I'm ready to do whatever needs to be done in return," she said.
"I can help," I said, "What is the ritual?"
"It is written in an ancient grimoire.  I believe an old copy is owned by an old friend of mine who lives in a coven of Hagravens."
"I'll help you," I said, and she nodded to me.
"Let me know when you're ready," she said, going back to sleep.
I decided in the morning that I'd go with Stabby first.  First come, first served.  And while I was out maybe I'd find that nord recruit.  We made it to the lake without incident.  I dived into the water and found an Argonian there, carrying a sack of treasure off.  I got out my sword and stabbed him through the chest.  Easy.  I came up and got some air, then ransacked the remaining treasure.  Stabby and I took turns carrying the sacks of treasure up and threw them on the shore of an island.  He sifted through the items.  Mostly gold and art items.  I grabbed the Lady Stone while I was there. 
"This," he picked up a goblet, "This is probably the most valuable item here.  I can easily fence this for ten thousand gold.  We're off to a great start, Listener!"
"What's the next one?" I asked, ready to earn some more coin.
"A soul gem merchant named Tharsten.  The notes here say we're to plant forsworn weapons on him to implicate them."
"Well, that seems pretty shitty.  Don't we have a Forsworn among us now?" I asked.
"Meh, she has no love for those guys.  I don't know why," he said, then handed me a forsworn axe.
"I guess," I said.  We traveled across Skyrim to near Winterhold, taking about a day.  We spent until the afternoon finding him.  We passed some wolves, some more Vigilants (guess they're rebuilding) a pack of ghost skeletons (which... hat on a hat)... and then we tracked him to the Winterhold Inn, which he was just leaving when we arrived.  I waited on Shadowmere until he walked out of town, then snuck up on him  and backstabbed, then planted the weapon. 
With his dying breath, he did a shout!  I'm not exactly an expert in these things, but I do know seconds later it summoned a Dragon Priest. 
I can tell you that I'm not strong enough to kill a dragon priest.  
Instead, I shouted, "RUN!" 
We ran into Winterhold and the guards ran out to engage the lich-like creature as it followed us into town.  I snuck up on the thing and gave it a few blows while the guards and Stabby took the thing down.
Stabby sighed, putting his daggers away, "What kind of religion worships a giant lizard?  Anyway, ask Averna if you want to know more about Dragon Cults.  I think we should rest a bit before the next contract."
"First I'm going to go kidnap somebody."
"Do they need stabbing?" Stabby asked.
"Yeah, but nonfatally, I guess," I replied.
"Aww.. you're no fun," he said.
We went south to Riften, spending another day, and early in the morning we spotted Agnar Hollowleg standing on a bridge by himself.  Either he was expecting me, or he was expecting someone.  I took out the dagger.
"Wait," Stabby said, "I'm an expert on stabs.  I don't think a man of that size is going to be affected my that little poison."
"Hmmm," I sheathed it, "Maybe I should talk to him?"
I approached, not-stealthily.
"Who are you?" The man was jumpy, already putting his hand on his warhammer.
I stayed silent.
"If you don't tell me right now, I'll crush your skull."
"I represent the Dark Brotherhood," I replied.
"The Brotherhood?!  Do you realize how much civil unrest your actions have caused?  The Empire is falling apart!" He drew his warhammer, "There have been riots in the Imperial City!  My brother died in one of those riots!  I'll kill you!" 
At that moment, Stabby, who'd been hanging back, jumped out of the brush and rushed the man from behind.  Agnar swung his warhammer and clocked me in the chin, but I recovered, taking out my greatsword.  Stabby stabbed both daggers into his back, taking him down.  
"Hmm... well, you win some, you lose some," I said, rubbing my chin.  
When we showed up to Markarth, the Lost Valley Forsworn were attacking the front gates again, but it was only a couple forsworn and a Mammoth.  As soon as I jumped off Shadowmere, he started tanking the Mammoth.  I guess being a magical horse has its benefits.  The guards were mopping up the last couple forsworn (they only suffered a single casualty) while my team fought the Mammoth.  I butchered the meat and skinned the pelt when we were done.  Though mom didn't really take the time to do this very often, she'd taught me HOW to do it.  It took me about an hour, but yielded a ton of meat.  I figured I'd take it back to the sanctuary when this was over.  Then I noticed Undil the Warlock was watching me, scratching his chin.
"Hey, were you sent here to kidnap me?" He asked. 
I froze, "What...?"
"You were, weren't you?  Well, I'm game.  Markarth is boring, where we headed?" He asked.
Well, that was easy.  I told Stabby to take the meat back tot he sanctuary and took Undil to the shack.  I stepped inside and figured there was no need to put on my cowl.
"What we doing?" Undil asked, paying no attention to the tied-up people in the corner.
"So, Undil, have you ever heard of the Dark -" I started, then he cast a Fireball, which killed all three.
"Did I pass?" He asked.
"Wow," I said, not sure what to think, "Travel to the north to Dawnstar -"
"Silence, my brother," he said, walking out the door.
I blinked.  What the hell?  Could he read my mind?  
"Oh and I'm sorry I keep interrupting you," he said, running off in the distance.
Well, that was easy.  Powerful he was.
-- MOOT BREAK --
When I got back to the Sanctuary, I waited several days and rested, telling the others of the goings-on.  That was when my mom showed up and invited me to the Moot.  AND I got to meet Serana, a delight of a woman.  I stayed at Sky Haven Temple for about a week in total, then returned to the Sanctuary.  Mom gave me Shadowmere full time, as she now had a skeletal horse.
-- END MOOT --
My mom may not have noticed, but after the moot I stopped in Whiterun and went to the Bannered Mare.  I noticed... there are a LOT of foreigners here.  Refugees maybe?  Now I knew for sure that the Empire was breaking under the strain of our assassination, and I brought all the news back to the sanctuary.  Babette had something for me as well.
"Have you ever heard of Vaermina's Torpor?  It allows you to go into a dreamless sleep in which you can view another person's memories," Babette said.  She handed me a potion.  
I walked to my master bedroom and drank it, laying down in the bed as I did.
I awoke in another place - a Sanctuary far from where I was.  Two ghosts stood in front of me.
"Arquen, you're arrived.  We're confused," the one on the right looked at me.
"What is your last memory?" Arquen asked, as if playing out a set of lines that had already happened.  But I was living out Arquen's memory.  I was Arquen!
"We killed the traitor Lachance, and entered the Night Mother's crypt, then blackness."
"Brother, he was no traitor.  It was Mathieu Bellamont who betrayed us.  We were manipulated into killing our own," Arquen said.
"What?  Arquen, what are you saying?"  
Banus (the spirit on the left) said, "If Bellamont was the traitor, then Lachance and the family at Cheydinhal were innocent.  We have broken...."
"DO NOT MOVE, WORMS!" A voice said.
I looked up and saw a lich, two bound bodies, and the great spirit of a woman.  This is the first time I'd seen the Night Mother for real, maybe because I was in the form of a spirit.
The Night Mother said, "This is Diamzel.  For 2000 years, he has served our cause.  I have raised him many times.  He owes us many favors."
Banus asked, "Mother, may I ask what you are doing with our family members?"
He was referring to the bound men on the altar.
"We are your family," she replied, "But that is a fair question.  You murdered my children at Cheydinhal.  These things a mother grieves.  You must face punishment.  But not in the traditional sense."
Belisaurius said, "Lachance was as guilty as us for Cheydinhal."
"In the eight years since he has paid his debt a thousand times," the Night Mother said, "To answer your question, your family members will be the vessels for your souls.  You will be given new life.  Lachance was sloppy with one of his contracts.  He had a child.  Within his blood boils the power of death.  Speakers Arquen, Arius and Alor.  You are stripped of your rank for breaking the five tenets.  And you will find the child of Lucien Lachance.  Only once you have the child will you know the peace of the void.  Go with the dread father, children."
"It is done," the lich said, having transported their souls into the bodies.
Once she vanished, Banus said, "This is ... impossible.  How will we three search an entire continent?"  With many sighs, they all left. 
I felt a weight leave me, and I was in my own body, in the Winterhold Sanctuary.  I approached the altar and found Arquen's journal, and first clue.
I proceeded to search the Winterhold Sanctuary for anything else.  I fought a few ghosts, some skeevers, and found some old books.  One of them held a note that pointed out the location of a Markarth Sanctuary.  So I traveled there.  But it was completely covered over with hard clay.  I walked into the Warrens and found a man having sex with a woman in the butt. And the woman also had a penis.  Not something I really wanted to see.  So I read the clue again, and it also gave information about an abandoned shack.  I traveled there, and found the next clue and a hidden message in a fireplace entitled, 'Dead Drop.'  Another source of assassination jobs, it pointed me to kill a nobleman in the Blue Palace that I'd never heard of, then gave me the location of another dead drop and I presume, payment.  I looked up, and there was the ghost of Arquen.
"It is an honor to finally meet you, Listener," she said.
"Did you find the heir of Lachance?" I asked.
"I was in Skyrim for seventy years.  My hope dwindled.  I maintained contact with Banus and Belisaurius.  I eliminated the southern part of Skyrim.  Bellisaurius died.  Fifteen years later, I heard Banus had defected and joined the Morag Tong!  Only three active sanctuaries left at this point, and my hope lost, I stopped looking for twenty years.  But one day I was shopping in Solitude, and I saw familiar eyes.  They were the same as his, but it was his descendant.  I met with the man and explained, but he became enraged and stabbed me!  I hadn't handled a blade in almost a hundred years.  You will find the man's house just outside of Solitude.  Name:  Amatius.  Go with Sithis."
I figured now was a good time to do that first dead drop.  I found my target sitting in a hallway with nobody around in the Blue Palace and I cleaved him in two.  I guess I made a lot of noise because the guards rushed over, but I was long gone.  I ran over to Amatius Manor.  I knocked on the door.  No answer.
"Vala Amatius?  My name's Runa Fair-Shield.  I'm here to speak with you about something.  May I come in?" I asked.
I knocked harder and found, the door swung open.  Immediately there was screaming coming from the basement so I drew my greatsword and charged in.  I found a dark-haired woman standing between three men's corpses.
"Stay back! Are you with them?" She yelled.
"No.  I heard screaming.  What happened here?" I asked, sheathing my sword.
"They broke into my house.  They said they would rob me, rape me and kill me..." she said, her voice shaking.
"You took on all three by yourself?" I asked, rubbing my chin.
"I don't know what came over me," she replied.
"Are you Vala?" I asked.
"Who are you?  How do you know my name?"
"I'm from the Dark Brotherhood."
"So you're here to kill me?" Vala asked, "I took on these three, I can fight you too!"
"No," I replied.
"You still haven't answered my question.  Do... do you have some way of disposing of bodies?" She asked, "Do you guys have cleaners?"
"You haven't thought this through have you?" I asked.
"What do you mean?"
"Your life in Solitude is over.  Seems like you're pretty well off here," I said.
"I'll just explain to the Jarl..."
"Do you think it's going to make it to that point?" I asked.
"What do you mean?"
"I mean these guys are guards.  The other guards are probably going to come looking for them.  You know, their friends.  And they won't bring just three.  And they won't be taking prisoners."
"Damn.  I guess if there are guards that would rob an innocent woman's house, there are probably more.  What should I do?" She asked.
"You could run."
"Where?"
I was thinking about the fact that the holds don't share bounty data, but instead I said, "I could offer you amnesty."
"You want me to join you?" She asked.  
"What do you know about us?"
"Well, when I was a kid, my mother told me about you, but she said you were fairy tales.  But then Vittoria Vici was killed at her own wedding!  Nobody believed it, and the Emperor's bodyguards said they'd killed you all.  But then the Emperor himself!  But it couldn't have possible been true, could it?"
"No myths.  All true.  I'm offering you a place in our family," I said.
"You're not some crazy religious cult, are you?" She was starting to calm down now.
"Well, kinda.  But atleast I'm aware of it!" I giggled, "Come to the Sanctuary.  We'll take it from there." 
She nodded.
When we got there I opened the door for her, telling her there was a bedroll for her to sleep on.  I walked over to the Night Mother.
"So, you have found the Child of Lachance.  You will need to train and shape her.  I can see her hatred, just like her ancestor.  Under your guidance, she can become powerful.  Enlist your mother in this.  While Lachance rests, take some of the initiates out on their first missions.  They grow restless.  Take Undil to Windhelm and the Twins to Morthal."
I wrote down the missions in my journal.  For now I still had a lot of work to do.
The title is referencing the fact that I've mixed two mods, an improvement mod and the radiant repeatable together.  Basically, fully realized DB2+ as big as the original quest.
The first few initiates you get for the DB are just "DB Initiate," unnamed.
Not sure why the Markarth Sanc was covered, though it would make sense after so many years of being RIGHT IN THE MIDDLE OF A HIGH TRAFFIC AREA.  But in real life I would be able to dig.  Parts of BoO were kind of a mess, though I managed to power through most of it.  Not a huge deal.  
Oh also I know Runa said she would prefer Destana be there if they do the shack kidnapping, but I was thinking that was in response to her thinking she donked up almost every recruitment she tried. 
Let me know what you think of this alternate perspective from Runa.  This, I would say, about catches us up with where Destana is.
New mods added
To simulate a ton of refugees coming across the border from Cyrodiil, I added several NPC mods:
3D NPCs 
Interesting Generic NPCs
Veronica
Abigail
Lucien
Ogres (which are native to Cyrodiil)
(I didn't add it yet, but this is all adding up to Rigmor also being added to the story, much later)
New weapons and armors being imported from Cyrodiil:
Expanded Weaponry
Animated Armory
Immersive Armors
These are just for fun: 
Use Telekinesis on Traps
Mimics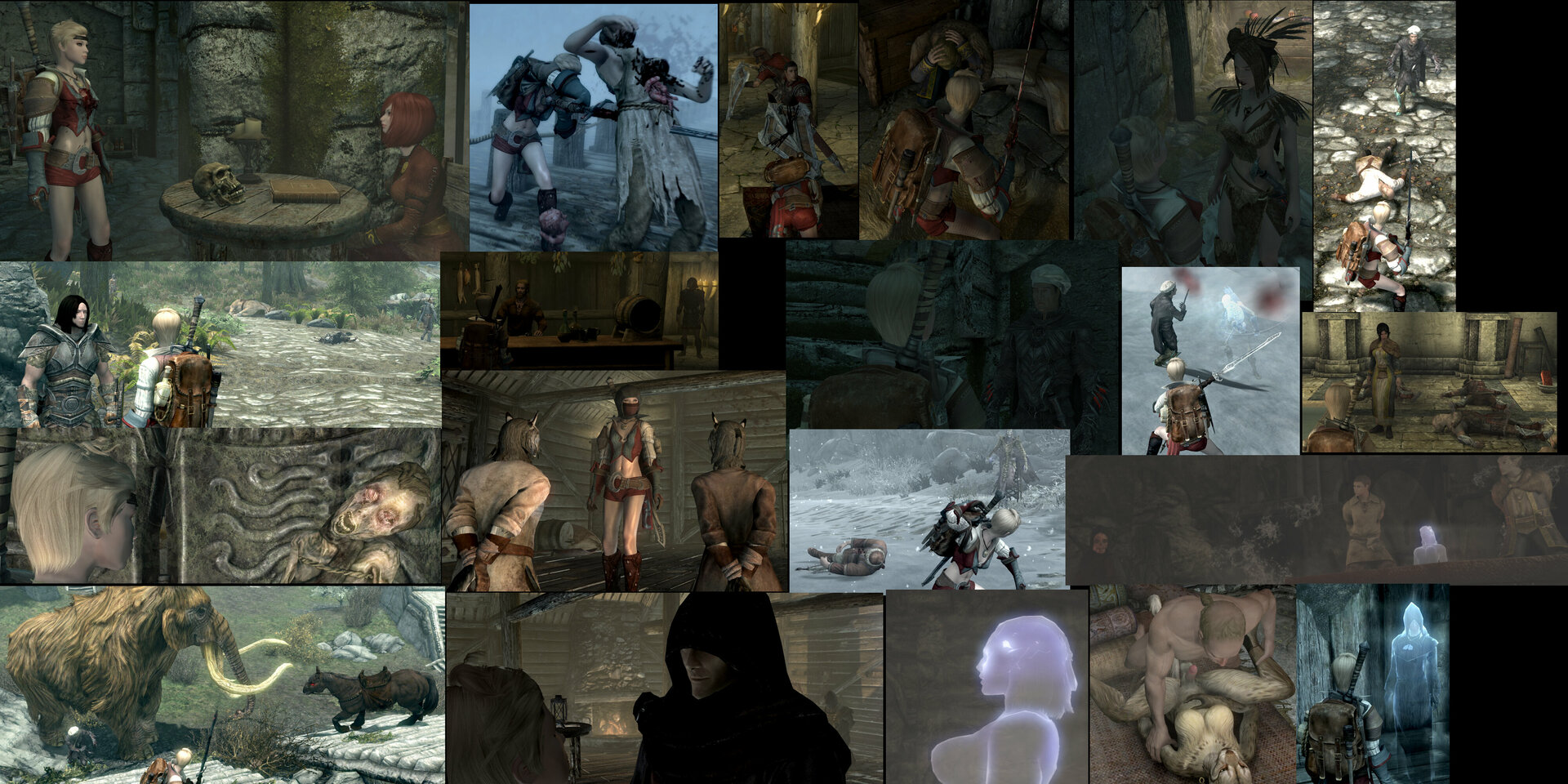 Edited by EnragedBard