About This File
What is This Mod?
An Extension for my Prison Mod "Prison Alternative" which adds new Execution - themed events to the Experience.
Events take Place in Riften (duh...) and will add new ways to get your Butt-hole widened, and/or your lifespan shortened.
Features
-Adds two new events with multiple variations and outcomes, depending on the presence of a follower and the Survival-chance slider in PA´s MCM.
-Guillotine Event Features Rape before and during Execution. Its possible for you and your follower to survive this Event.
-Hanging Event Features support for NPC-only Executions. As well as persistent Bodies. You can therefore get yourself a nice permanent decoration if you decide to settle into Honeyside. The Event is currently not survivable, but this feature is planned.
About NPC Executions
-This Feature should be considered as an Encore, rather than an meaningful Gameplay Element. NPC executions require manual activation via the chain on the Left side of the Gallows.
Any NPC can be "marked" as follower by selecting them in the console and typing "setplayerteammate 1". This will make them visible to the Device and a valid candidate for execution. They Also have to be somewhere in Windhelm in order to be detected by the script.
Requirements
-Prison Alternative (see above), and its requirements.
-Sexlab
-FNIS
-powerOfThrees papyrus extender (LE / SSE/AE)
-Pama´s Deadly Furniture Scripts
Installation
-Install with Mod manager of your choice and rum FNIS/Nemesis
-Run FNIS
-Its recommended to use a new Save.
-If you use this mod on an existing save, follow these steps:
-After installing, go to Prison ALternatives MCM, and to the "Events" Tab
-Clear the Registry and re-register Events.
-Repeat this procedure until all events are properly displayed in the List Below (it should usually work first try)
-make sure no Events are displayed twice!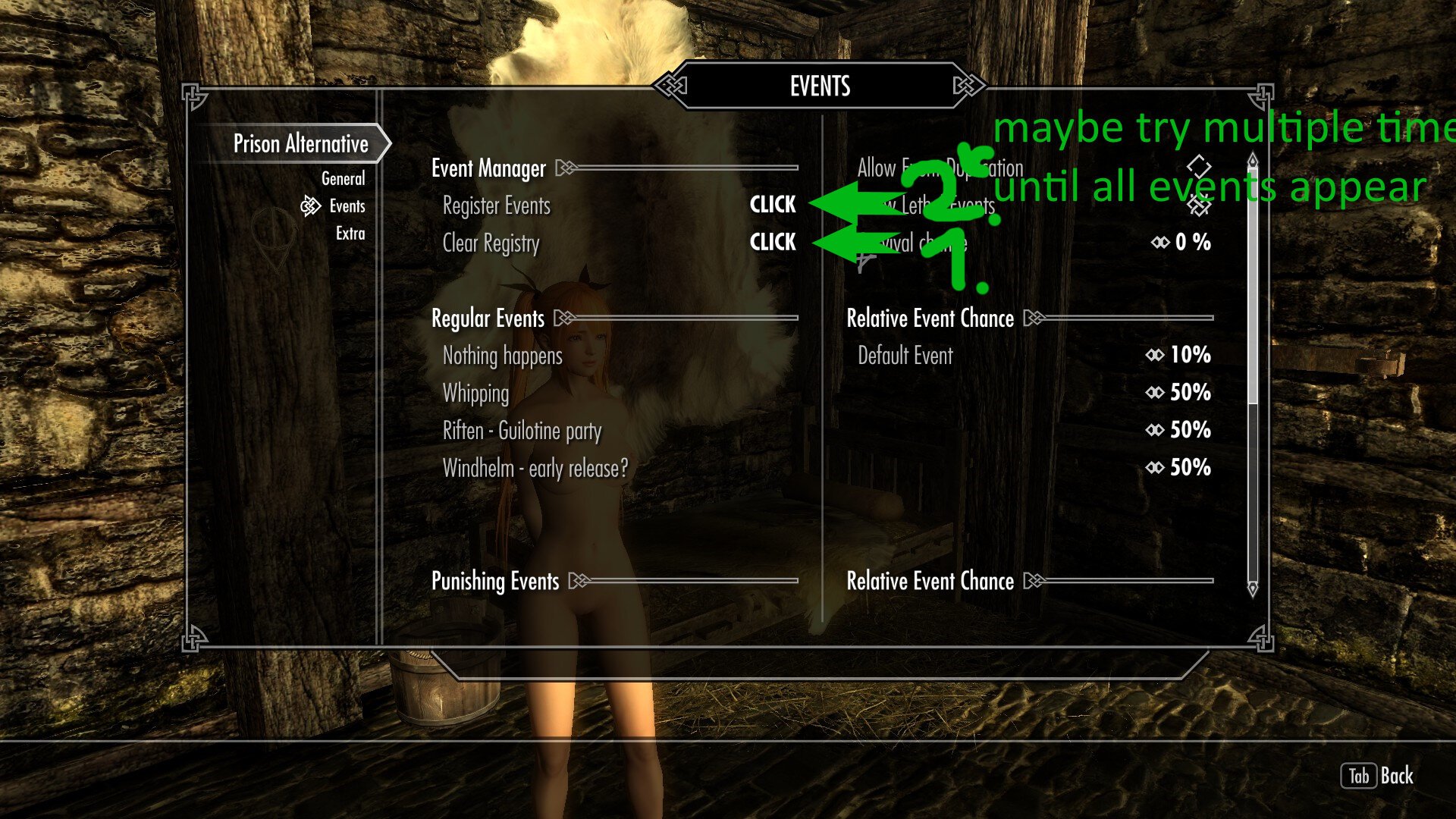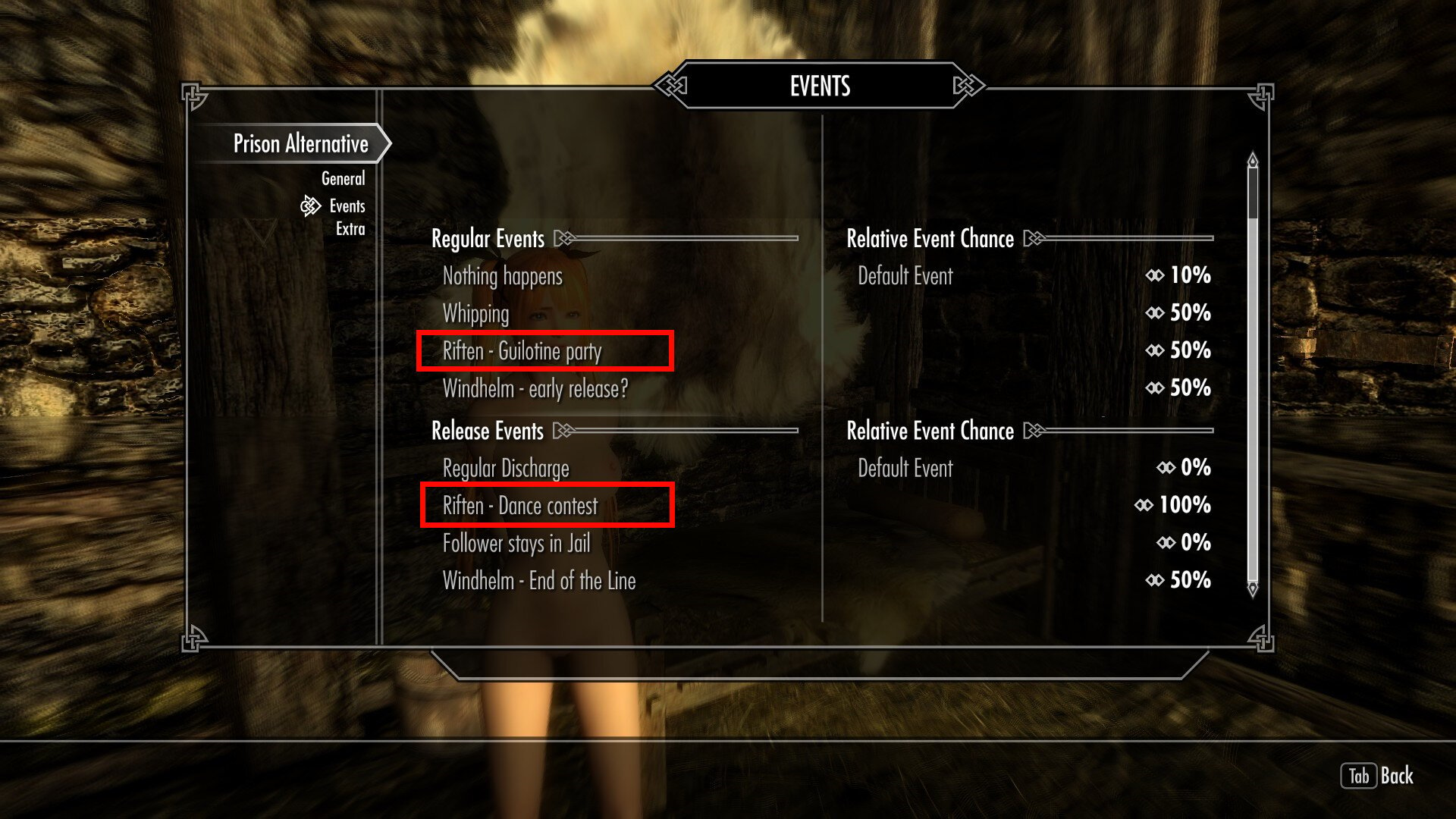 Failing to follow these steps might result in Blackscreens while in Prison.
Incompatibilities
-Devious Devices (soft incompatibility. If you know what you are doing, you can use this alongside DD, but it requires caution)
-Devious Cursed Loot (No, just no...)
-The Original "Bad Ends" by Torm
-City overhauls for Riften (Can cause Navmesh conflicts. Placing "PrisonAlternative_Executions_Riften" low in the loadorder might Resolve the issue)
-Random Sex mods can potentially break scenes (my own mod YARM, is fully save to use, however)
Future Plans
Covering the remaining cities
Special Thanks
-to t.ara for providing the Guillotines
-to Kalmah for allowing me to use his Hanging Animations
-to PsycheHHH for allowing me to use his Guillotine-Rape Animations (check out his SL-AnimationPacks, easily one of the Best on this site)
If you want some sway on the next extension, Want exclusive early access to new Stuff, or Just like my work, consider supporting me:

https://www.patreon.com/Pamatronic
---
What's New in Version
1.1
Released
-Added facial expressions to hanged victims.
-when launching an NPC-only execution with the Gallows, victims will now die properly.