About This File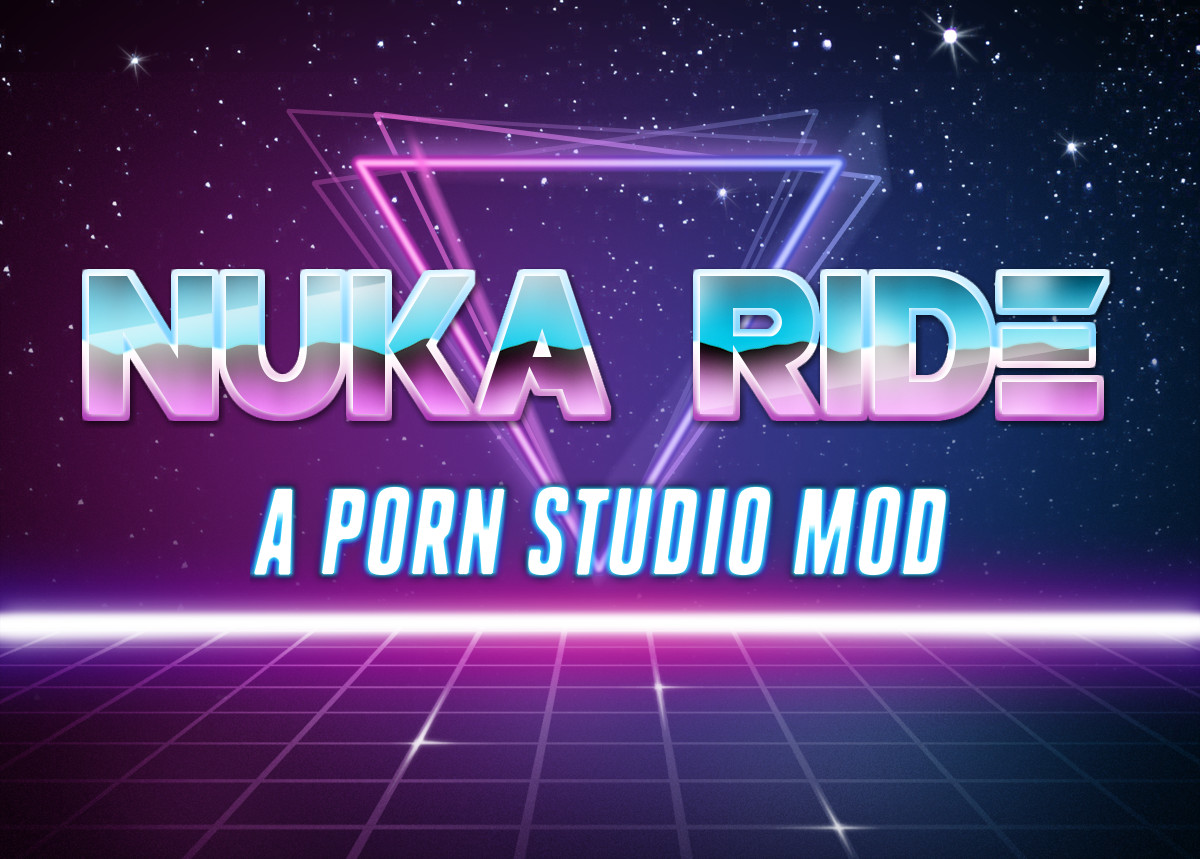 A mysterious eyebot travels the Commonwealth handing out fliers to every girl he meets, in his never-ending search for the next Golden Globes Studio porn star.
But while there are many pretty girls in the wasteland, the real problem is finding the one who is up to the task.
Nuka Ride is intended as an alternate start mod and is written with a woman as the protagonist.
Content
*Quest mod.
*Broken english - I don't speak English.
*Very focused on dialogue, not gunfights.
*Domination content. Transformation. Bimbofication. 
*Pretty hardcore content too, I do not recommend it for sensitive people.
*Bestiality (totally optional)
How do I start? 
Duke, a yellow eyebot, will interact with you. If you are near Vault 111 you will find him immediately as he is looking for you. If you're not around, you can fast travel anywhere or sit and wait, and Duke will come to you.
Hard & Soft Requirements
Workshop DLC
Nuka World DLC
Far Harbor DLC
Fully functional AAF:

F4z Roh Doh 
RealHandcuffs -thanks to @naaitsab
Torture Devices
Fusion Girl Or CBBE
HN66's Easy Girl - I only use textures & materials. You can disable the plugins if you want.
HN66 TRS - same, just textures & materials.
Captive Tattoos (soft)
Sex Attributes (soft)
MCM (soft)
High Heel System (soft)
Family Planning Enhanced (Original or Redux) (soft)
OverQueen Armor (soft)
HBD DressBox (soft)
Plugs of the Commonwealth (soft, I suggest use the slot 56 one)
Commonwealth Moisturizer (soft)
HN66 nails (Fusion Girl Version) (soft)
Black Male Raiders - (soft, optional. It will make all raiders in Nuka Town black and therefore comment as if your protagonist were the only white girl in the place. ) 
NUKA RIDE 6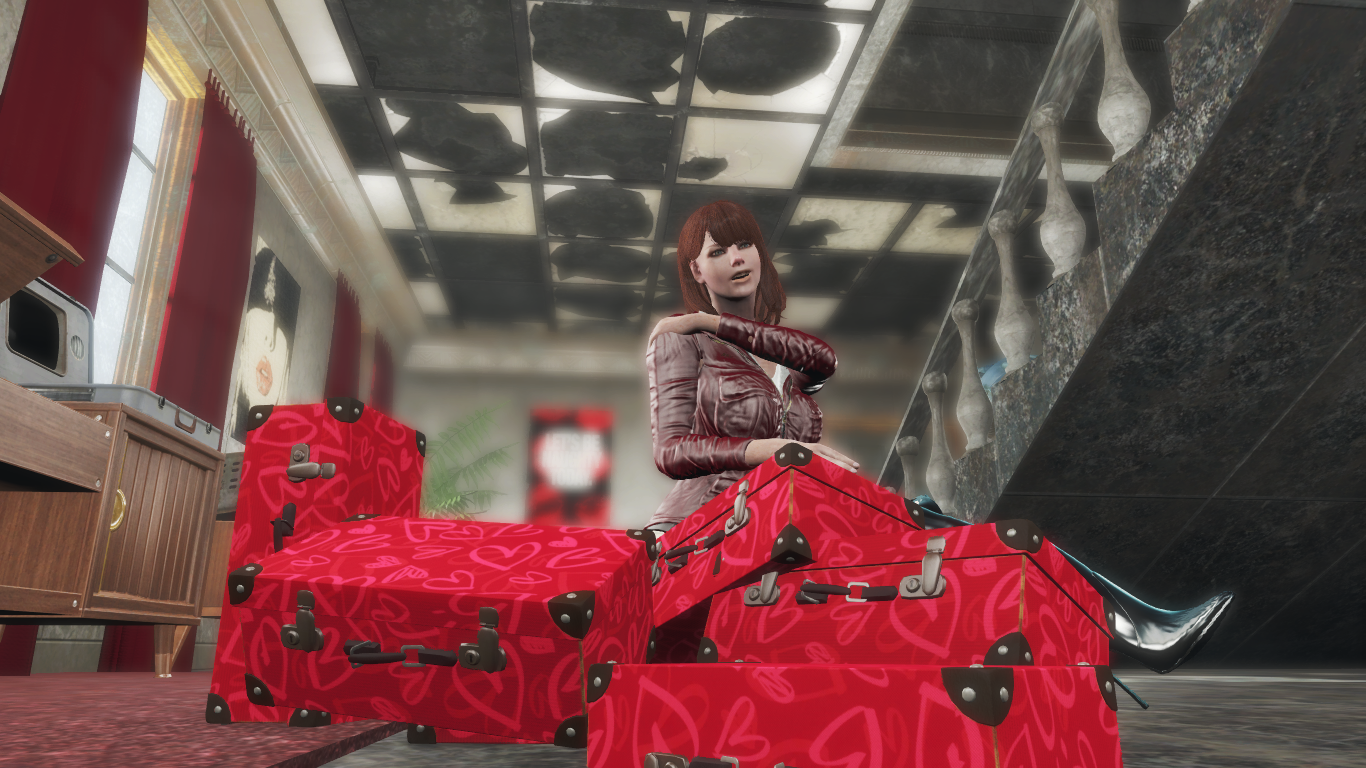 The current version has the following quests, some of them are used to unlock new furniture in the Porn Studio, and to be able to film new scenes.
The Audition
Becoming a Porn Star (Main Quest, repeatable)
The Motorcycle
Apollo
The Flagpole 
Visiting Mason (repeatable)
Next set of missions start once you win "Becoming a Porn Star" -you can talk to Shank or any Nuka World raider will let you know that Shank wants to talk to you-
A New Name 
A New Ride 
Tattoo Shop - Repeatable
VIP Party - Repeatable
Rising Porn Star 
Posters
Golden Globes Radio
Visiting Vadim - Repeatable
Lucy in the Sky 
A Date with the Boss
Made In Heaven
Lost in the Jungle
Being a Mule – Repeatable
The Dog Walker – Repeatable
The Special Girls
Propagandistic Porn - Repeatable
Kill Me Softly
The Studio - Repeatable
The Mirelurk King - Repeatable
Night Fever 
Fans - When you win Night Fever, the mod will enable fans to come up to you (Diamond City and Settlements).
The Nuka Club - Repeatable
The Rescue - Repeatable
Heart of Steel 
❗  The next set of missions (Nuka Ride 6) starts here. After filming at least once the movie "The Rescue", talk to Charlotte and ask her if there is anything to do.
The Way You Say My Name
Dolled Up
Head for Business
Night Movie
Fly Me To The Moon
The Student
War Rig
Semper Sexy
Scooter Refill Quest - Repeatable
Porn Movie: Golden Girls - Repeatable
A Place called Home - Talk to the new tattoo shop pet after you get back from Far Harbor to start this.

General recommendations
This mod is programmed to stop and auto turn off if you enter the Nuka Train Station (since this is where the quest to kill the Overboss starts). The Overboss is a mayor character in this mod and we need him alive.
If you are new to AAF, I recommend the Official Guide by Saya.

This is an alternative start mod. I need many living Npc that in a late game could be dead, so I strongly recommend using it in a new game.

Activate the subtitles. You can also download the synthetic voice file made by Axary and Kalistara. 

This mod will take you throughout many parts of the Commonwealth and Nuka World, and so it is incompatible with many mods that change the locations and interiors of places it takes part in.

 To avoid conflicts, put Nuka Ride among the last of your load order. 

I do NOT recommend playing it together with other story mods. They can be very invasive. Otherwise very bizarre things are going to happen and take you out of the immersion.

I recommend

XDI

for a better experience, but it is not required.

If you have a problem with AAF loading at 68%, reinstall Savage Cabbage version 1.2.9 or superior, and check all animation boxes. Don't worry, non-human animations are completely optional in my mod. But you need to have them installed.

I would advise you to use a character without tattoos, since in this mod there are characters who put tattoos on you as the story progresses and obviously I don't know if your character normally have tattoos that could overlap with mine. Nuka Ride is going to doll you up a little: NPCs put you clothes, piercings and jewelry too. To advance or start some missions, you must wear any of the clothes they give you or else they will simply ignore you. 

Don't clean your Nuka Ride save with ReSaver. I did it once and never again. Everything, absolutely everything, was upside down. Packages, aliases, dialogs. Don't do it. 
I suggest you disable the Bokeh Effect if you have BethIni, because it conflicts with my special cameras. Here is an example of what I am saying.
With Bokeh: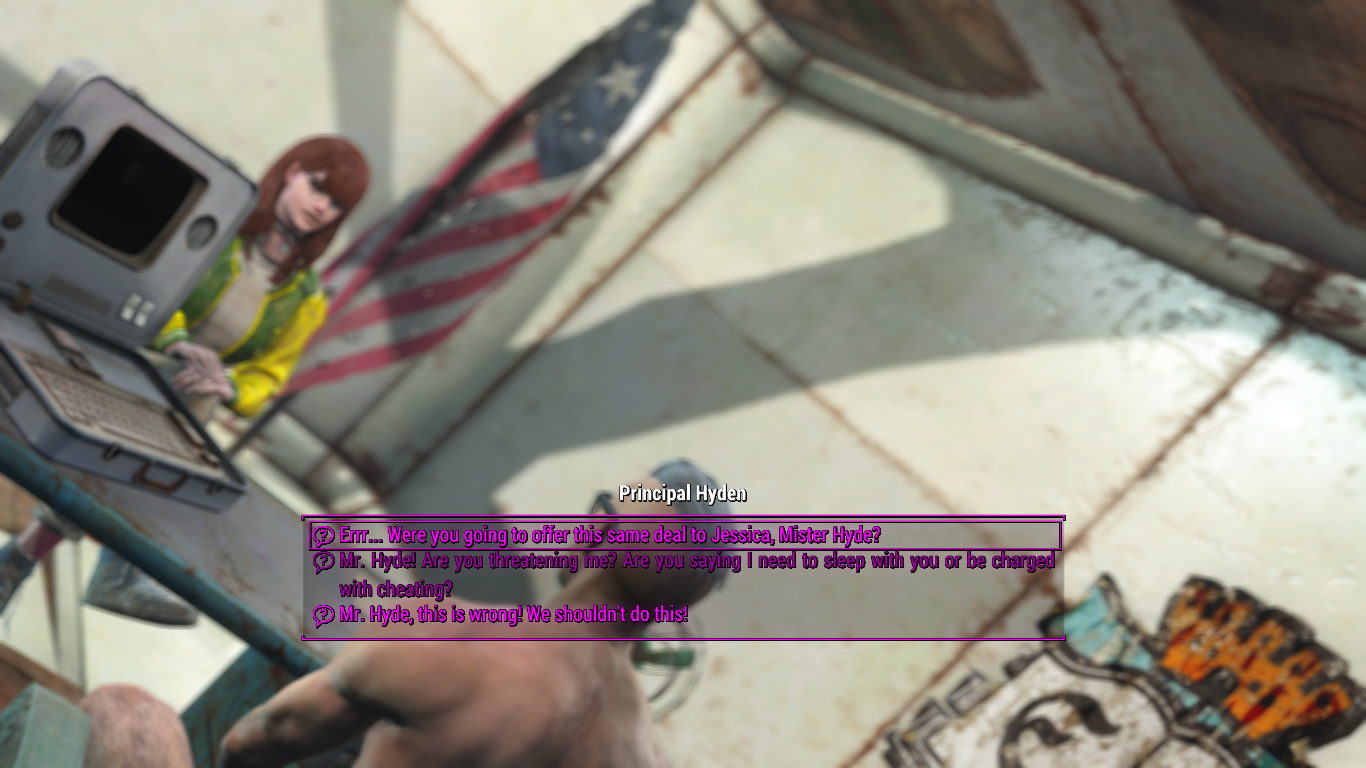 With Bokeh disabled: 
Why are objects and textures in Nuka Town flickering and disappearing?
Pre-culling issue. To resolve it, place Nuka Ride.esp in the bottom of your load order

Songs 
Made a Playlist in Youtube with all songs.
Nuka Ride Spotify Playlist thanks to @neeceerae ! 
Golden Globes Radio
Thanks to Katy Webb and @steelpanther24 for the publicity for Golden Globes Radio!
Abernathy Farm commercial Voiced by Wyatt Henry
Atom Cats voiced by TheEmpireStrikes1st
Drumline Diner voiced by fluxmarsh
Myrna commercial voiced by QueenJamJam
Animations
 SQr17 (Sneaking Idle) from his New Idles mod!
Langnao (Bimbo-like walking animation)
@RohZima For the new poses!

Meshes
KonataInoue (The PickUp and the Scooter!)
FlashyJoer (Poop mesh)
Annarietta (The fancy purse and Nuka Ride boxes!)
FeatherDer ( for the backpacks!)  
Sebbo and Kinggath's Mod School Resources for the dancing idles.
@Axaryfor creating a tall flagpole for me so poledance would look good in heels.
Icestorm for the mirror mesh!
Laptop – Pra (Laptop Terminal)
Oil Rig World – Otellino (America Rising)
Kali Preset – Astraea Preset by csxx520 
Bubbles and petals - keungkeung
Outfits
Thank you very much for allowing free use with acknowledgment of authorship.

You can recognize them by the prefixes in Bodyslide!
@Axary (Overboss Piercing, Overboss Clit Piercing & Queen of Spades Choker)
@hwybee4996 for the belts in Bubblegum & Primadonna outfits! Fallout Demon Hunter II
Hell Kitty Outfit (shorts & top) – Delyte & Charm
HN66 (Human Nature 66)
GamoHolic (You will see it as GH in Bodyslide)
Maibatsu Heels! (Corsican and Maxson Heels)
Kharnet and En Masse Entertainment and BlueHole Studios for TERA POLICE
Snakel101 (Patreon) - Belt in Adolf Outfit
Icestorm Heels! (
Patreon) - Adolf Heels & Gage Heels-
Newermind - Nisha Outfit!
Vanvid - Dancer Heels
Recommended Mods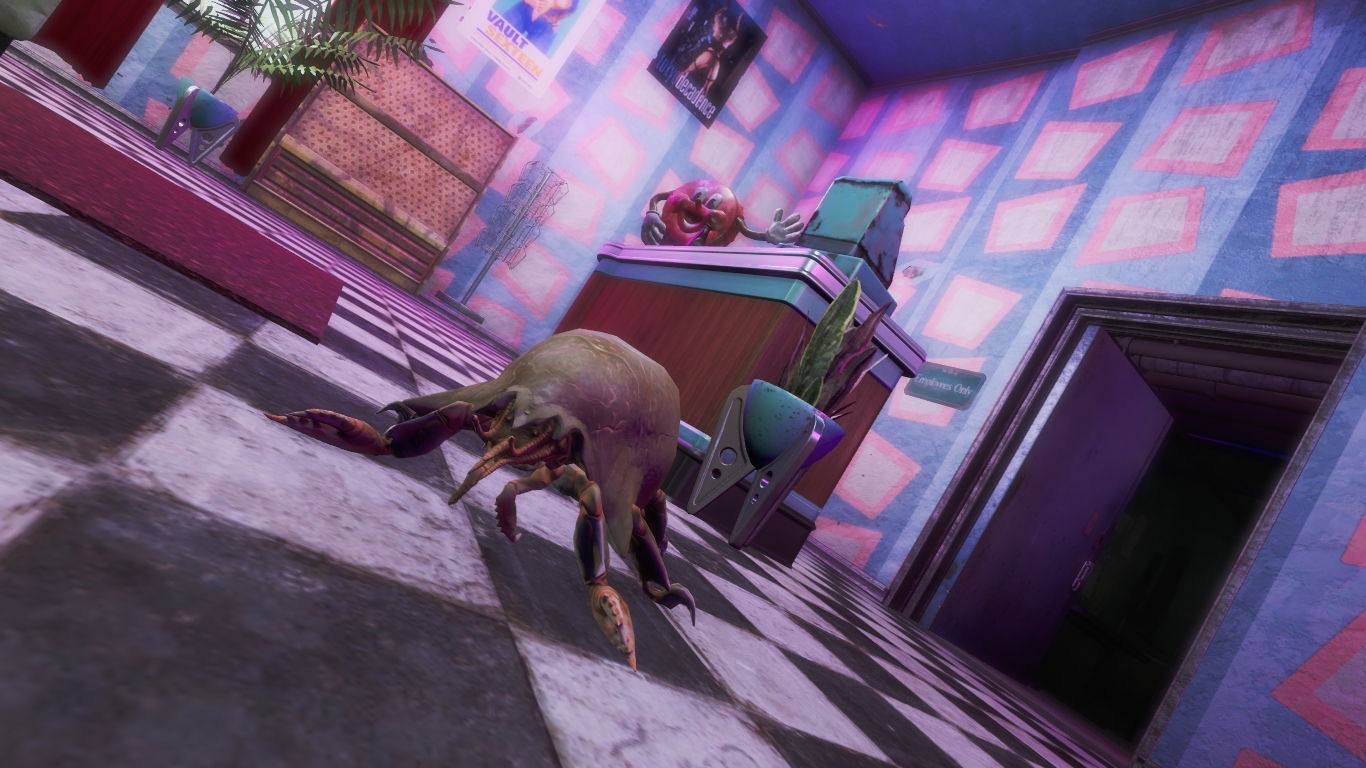 Collection of Textures and Preset for the girls - My characters are based on the facial textures you will find in this collection. Vanilla textures are fine, but young characters will look mature or not very similar to my pics. 

 

I advise you to remove/deactivate the plugins that come with that mod. You only need the textures.  
Brawl Bug Fix by ErshinPL - Necessary for those who have many mods in order to have a clean and bug free brawl. You can install the loose version, it has no plugins. You don't need it if you use Fallout 4 Unofficial Patch.
FallSoul, with this mod you will be able to see your character make different idles when using the Nuka Ride mirror. Note that this mod does not work very well with other mods such as Devious Devices and who knows what else. 
Nuka Ride: The Previous Girl by @tissemann- Alternative tattoos and a fantastic menu related to Nuka Ride.
Dynamic Cinematic Face Lights by @Reginald_001 - I can't play without this mod. Natural lighting during dialogues when it's dark.
Rusty Face Fix - by Seb263 - Install it and brown faces will be a thing of the past. 
Nuka Ride: Easy Girl Patch  by @Reese if you use Easy Girl outfits. Not compatible with Commonwealth Slavers. 

❗

Nuka Ride: Pornstar Outfit Patch  by @belegost- if you use outfits from the Pornstar Outfit.
Nuka Ride: FFO Patch by @poblivion - Furry patch for those who like the theme.

Uninstall
This mod disables a lot of triggerboxes in Nuka World, as the ultimate goal is to replace the DLC. All unlockables will be unlocked little by little with Nuka Ride. So basically don't uninstall the mod. If you want to play the classic DLC, start a new game without Nuka Ride installed.

Thanks to! 
@EgoBallistic, @dagobaking, @Operand, @fish00, @requiredname, @Tentacus, @lee3310, @vaultbait and @Invictusblade for the invaluable help with the scripts.
@Saya Scarlett for the AAF guide!
@spicydoritos for random comments from NPCs!

@Gamaramdi, @RileyAP, @cosworth, @Splithorse @osculim @MrNicoras @kaxat @orcking12 @Rangerguy @kazeha9 @caveman74 for patiently testing the mod! 🙏
@ecobotstar for the posters!
kirkieballox by White Dog Meat!
@Snapdragon_ for the idles for photo shoots!
Vexenonifi por the tattoos resources!

Seddon4494 for his Creation Kit tutorials!
Bethesda for CK and Fallout 4. It's an amazing tool for doing amazing things.
Stuck on a Quest?

Guide with all the quests and stages 💥
Edited by JB.
---
What's New in Version
6.4.3
Released
6.4.3
Maintenance update with some adjustments and fixes thanks to user reports. 
Probably the most outstanding ones: 
If you had the High Heel Sounds patch, some heels caused invisible body. 
Fixed a problem with the previs of a Nuka Galaxy sector. 
Music didn't stay at Bunker Hill looking her tattoo kit during "Made In Heaven".
Modified the script when the main character returns from Far Harbor, so that she doesn't fall into the void when she gets to her apartment. 
The mod increased in weight because I'm including assets for NR7. 

Uploaded to Mega a selection of 4 menus for Nuka Ride, you need random Main Menu. Each time you enter the Main Menu a random Menu will be set. Don't expect professional work here.

 

I added "FallSoul" as a recommended mod, so you can see the idles when your character changes clothes. 
Video with Fallsouls and the mirror: 
6.4.0
A maintenance update to make Nuka Ride fully compatible with AAF 171 and its future versions. Since this caught me while I was starting to prepare assets for NR7, I included some things that were planned for NR7.
I removed NativeSync from the list of recommended mods because it conflicts with the latest version of AAF.
"A Place Called Home" should start now when you win "Rising Porn Star". 
During "A Placed Called Home", when you unlock the Red Rocket settlement, you will also unlock almost all the items in the Nuka World Workshop DLC. If you already claimed the settlement you will already have them unlocked. 
In "The Special Girls", if you refuse to obey Gage inside the Nuka Cade, he will proceed with the whipping, but there will be no subsequent sex scene (threesome with Fritsch). The threesome will only happen if you agree to obey Gage. 
During the "Fusion Core Refill", I redid the pre-combines the Atom Garage, but this time without including the pool table. This way, the pool table will properly disappear when Hal and Earl must walk to a more private place to discuss the sexy discount.
I also adjusted the navmeshes in the Atom Cat Garage so they don't get stuck when they start walking when it's time to discuss the sexy discount.  
I included the Scooter hotfix, so if you have "Scooter Hotfix" installed remove it. 

❗

I included a "Recover Scooter" option in the MCM. This will make your scooter appear in front of the apartment, if you have lost it somewhere else.
In "Made In Heaven", I fixed the infamous bug that made Maxson appear over the water fountain.
During the repeatable quest to visit the Overboss -where you walk his dog among other things-, now you must choose what sexual activity you will do with him, and not let him choose randomly. There are 8 options. 
In that same quest, I removed the dancing option and replaced it by doing a lapdance. 
During "The Mule", when you do a delivery to the Codman couple, Ann Codman always had this bug where she would give two whipping strokes and then get stuck. Thanks to my experience with Slavers, I introduced a cheat so that she can finally give a lot of whips. 
During "Night Movie", the Overboss did not walk correctly to the Nuka Theater. 
During "Dolled Up", the Overboss will not force the protagonist to suck off the doctor if she is his bitch. Only will force if she is not her bitch. It doesn't really make sense for him to order that when he's clearly showing himself to be more possessive during the course of the mod. 
Nuka Club customers will now tip you

 

after you perform a service for them, in case you want to do extra outside of your missions. Adjustable in the MCM, Payment section. Note that they are rich customers and therefore should give more caps than other NPCs. 
Removed the "Golden Facial Piercing" earrings. 
Added 4 new versions of "Golden Facial Piercing", with different septum piercings. Just go to the tattoo store and Music will give them to you for free, but will keep the ones you don't use, meaning you can only have in your inventory one at a time. Remember that Music gives them to you for free so that you can be a kind of walking advertisement. 
In the MCM, miscellaneous section, you can set a new option for "Attitude Adjustment".

 

You can activate it and the quest will be much shorter and softcore. It will start with the walk and after the conversation with the OB in the middle of the Nuka Town, it will end at the pillory in front of the fountain. 
These 4 new piercing versions do not have earrings. I plan to add new Earrings that will be given to you by the Overboss during future NR7 dates.
The four piercins septums have beautiful anti ESP-Explorer measures. Only Music will be able to put them on for you. 
The second fire mark on the Overboss is one of my favorites, located on the lower back. But aesthetically annoying with other sets of tattoos. So, from now on, this mark will be optional. Every time Music puts a new tattoo set on you, you will have the option to keep the mark or not include it in the set. 
It is an aesthetic change. The OB and all the others will continue to act as if you are wearing that second mark. 
A user wrote to me privately and was extremely uncomfortable with the fact that there are a handful of black npc's in my mod, and took exception to the fact that my Overboss is black and not white, like the original. 
Motivated by his message, I modified the Overboss to be slightly more black. 
Also, I you have installed Wanderlust

 

Black Male Raiders -a mod to make all Nuka Town NPCs black-, Nuka Ride will detect it and make all the characters in Nuka Town change their comments towards you, considering that now they are all black and your character is the only white character for miles.
I also had doubts as to what race Cassius, the Overboss's friend, would be. After that private message I finally decided that Cassius will be black. 
Nuka Ride Spotify Playlist thanks to

 

@neeceerae !