Skyrim Modding Diary - 30 January 2022: Part 2
---
Well it turns out that after some shoveling (I foolishly forgot to put my snowblower's battery on the charger yesterday night

) and a little nap, my energy returned and I decided to do some more work on this. The first thing I did was install a bunch of texture improvement mods that I've had backlogged for a while. I won't bother documenting these, since they are pretty much "fire and forget" deals where I just have to make sure the asset load order is correct.
Nocturnal's New Clothes
Nocturnal's unique outfit is really popular with modders. I constantly see variations of it used in the modded content. I can't blame folks for that - it looks great. However, this leaves Nocturnal herself looking less unique when you meet her. Also, the hood on that outfit does weird stuff to the hair of actors that wear it. So I've been casting about for a while for an outfit that would be a suitable replacement for it. Eventually I came across this mod, which looks promising. It's unique looking, it's purple, and it doesn't screw with the actor's hair. Sounds ideal for this use, though I may need to mess around with it a little for SLaVE and Toy Story purposes.
Before building this in Bodyslide, I went and checked the extra parts to make sure they were in the right slots. Fortunately, they conform to the body locations used by Devious Devices and most other mods, so no editing was neccessary. The plugin was also already compacted and didn't have any technical problems, which let me move right on to integration.
First, we need to do a couple tweaks. Specifically, the body piece needs to get the SOS Revealing keyword.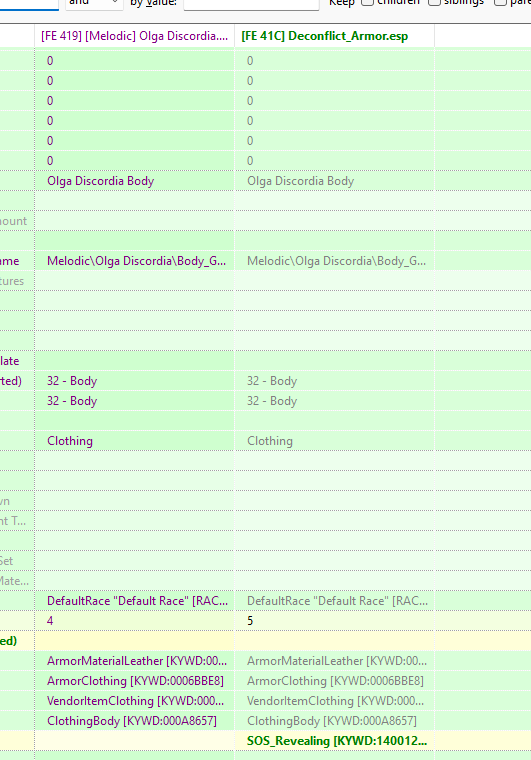 Next, we need to update Nocturnal's outfit. One thing we can see right away is that other actors use the main Nocturnal outfit. We don't want to give them this one, so instead we'll copy Nocturnal's outfit as a new record to my conflict resolution patch and build it there.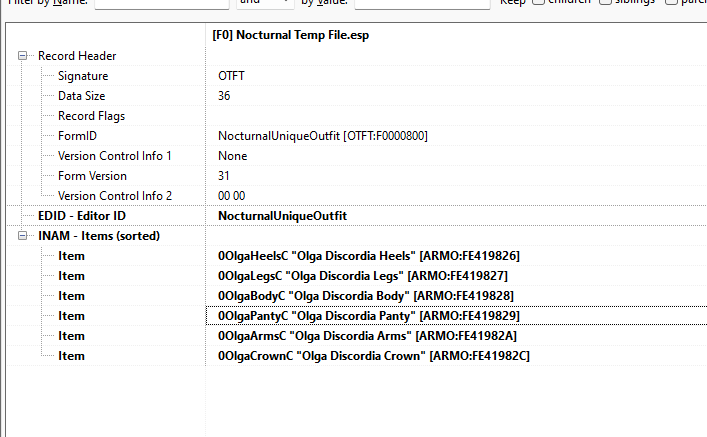 With that done, we'll assign this new outfit to Nocturnal and her two Troubles of Heroine clones.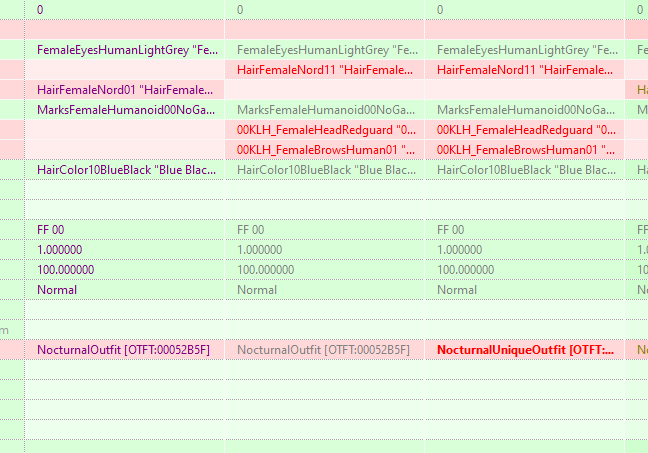 Nocturnal also features prominently in SLaVE and one of her minions uses parts of her costume in Toy Story (at least, she did in the demo version I played ages ago). Based on a review of these items, we have just one piece of gear we need to look at: the virgin nocturnal robe. This is actually a piece of gear given to the player, which has some special transparency and emissive qualities. I'm actually going to leave this one as-is for now and just redirect SLaVE's instance of Nocturnal to her unique outfit. I did notice that SLaVE Nocturnal doesn't have the "use traits" template flag, which would prevent her from inheriting character customization from the main record, so I added that.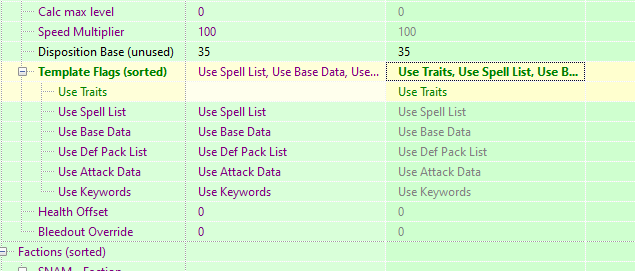 I also noticed that Nocturnal has glass daggers. Since I'm limiting those to Thalmor actors I'm going to change that. Currently the glass tanto from Immersive Weapons Integration is not used in the game world, so we'll use that and of course switch over the costume.
Nocturnal's hench-woman, Nightly, doesn't actually have any costume (though she does get toys put on her in the quest). Since I didn't use the custom ears and hair from this mod yet, I'll create a custom outfit for Nightly that just includes those. Let's see how they look in-game.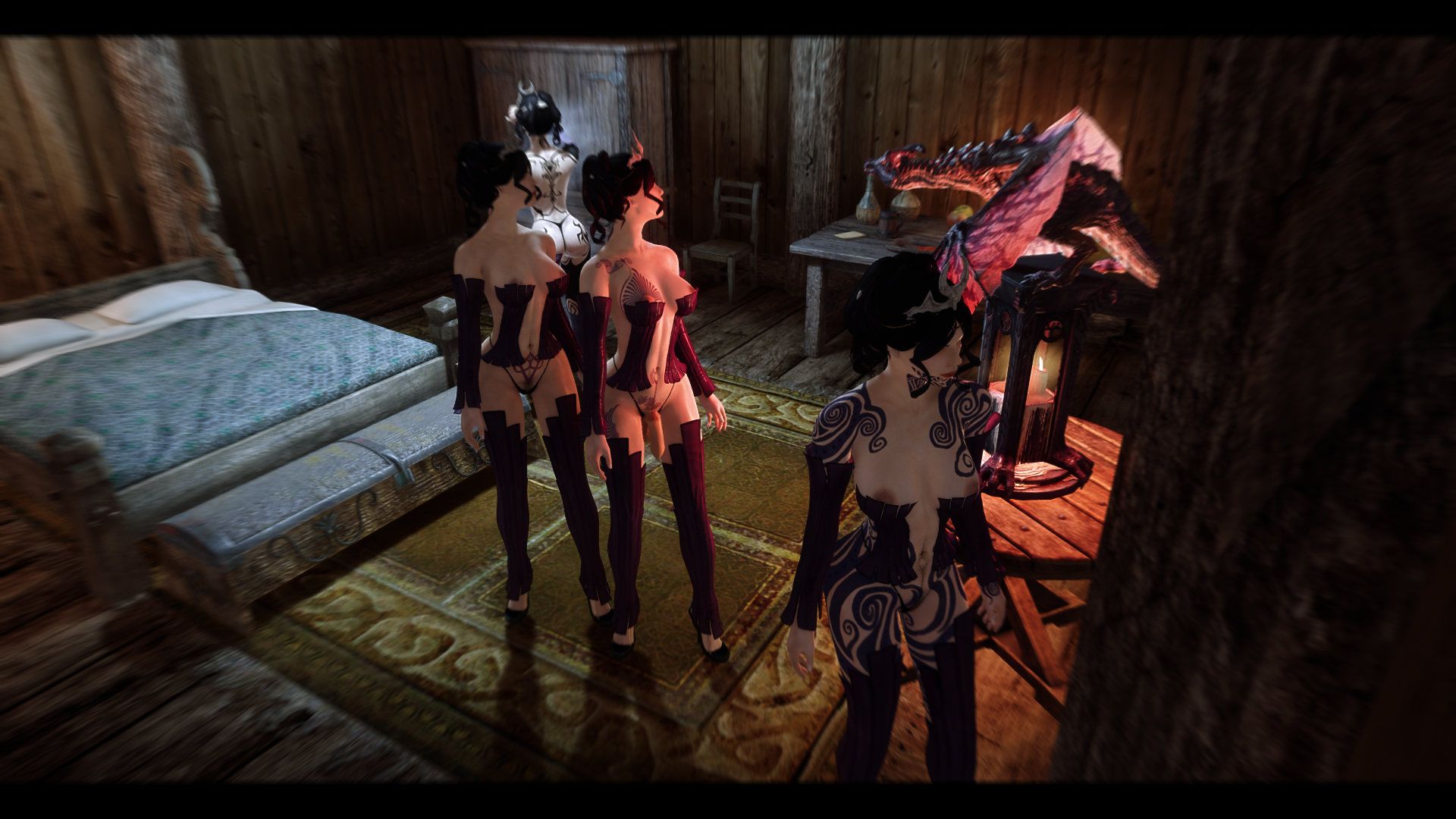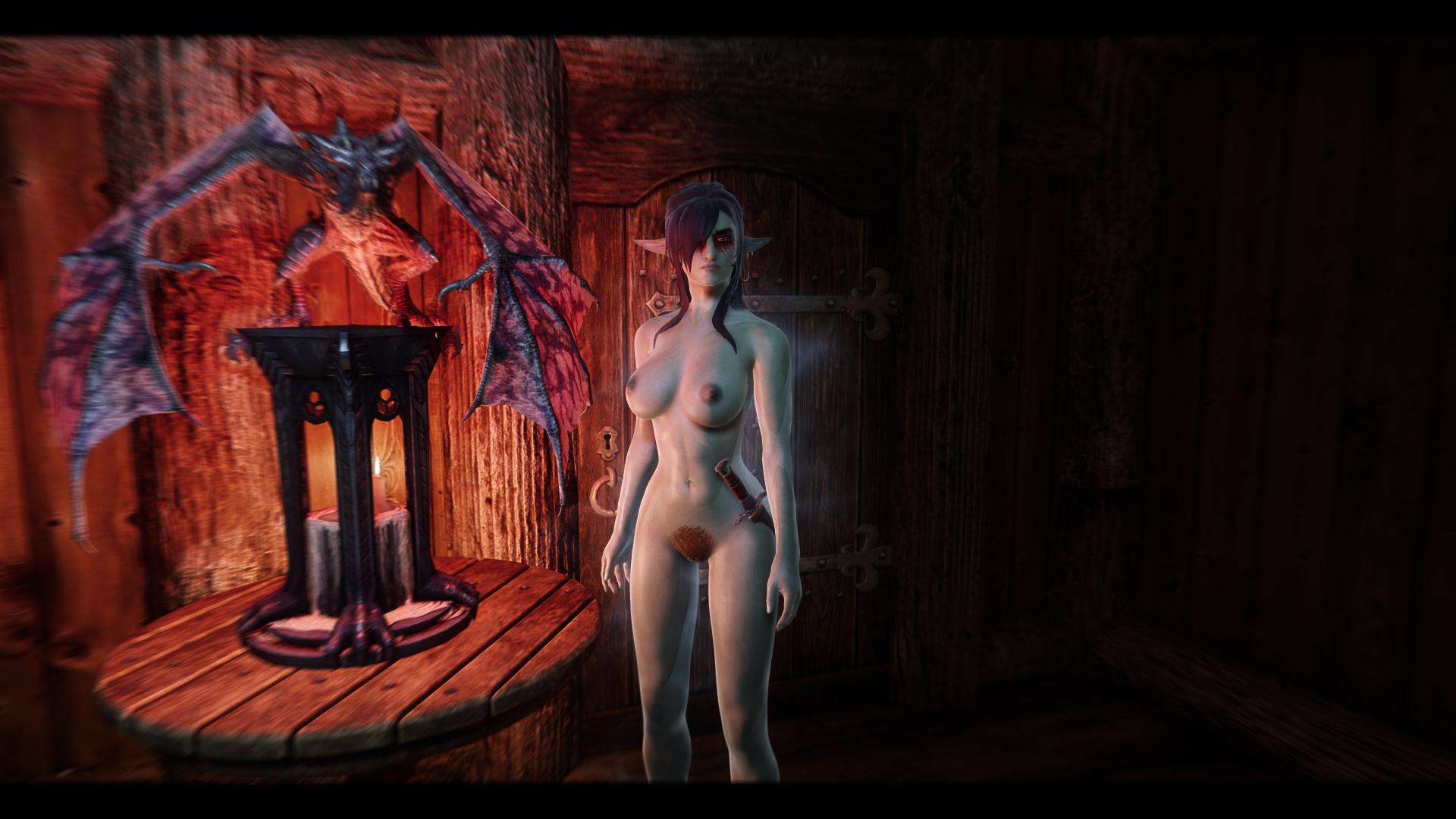 As you can see, the outfits are working properly, including respecting SLaVE Nocturnal's ghost effect. Nightly is looking good as well!
Fine Tuning Skyrim at War
I was very fortunate to obtain the modular patches for Skyrim at War before its author chose to remove the mod from circulation. As you may recall from Kirstia's Adventure, I ran into some issues with the number of actors spawning for SAW, especially in the Reach. We are going to take the three patrol size reduction patches that come with the modular version of SAW and go through them to tailor the spawns to my liking. As a rule of thumb...
Only the Empire and the Stormcloaks will have large patrols, and they will all be the campaign armies, not the exterior patrols
Medium patrols will only be Empire and Stormcloak campaign armies, as well as exterior patrols for the capital regions
The Forsworn will only have small patrols, and they will be reduced 50%. Empire/Stormcloak will keep all their small patrols
One thing we can see right away is that all these patches are full of dirty edits, so we'll begin by cleaning them. This repaired 5377 deletions by changing them to disabled references. In addition to hardening the game against CTD scenarios, this restored editor ID tags to the xEdit GUI which will be helpful in differentiating actors. The Medium Patrols file has some additional issues, with a number of persistent records hard-coded into a non-persistent cell structure. Adding insult to injury, attempting to fix this with a batch process caused xEdit to crash and forced me to redo all my previous work. 
Ultimately, I couldn't bulk-remove those persistent flags to let me save the medium patrols file, and I don't have the time or patience to remove them (or move the record manually to D74) so I threw in the towel and just decided to live without the medium patrols. I restored the large capital patrols instead and called it a day. While I don't like leaving the medium file uncleaned and with deletions in it, I don't expect anything will modify those records and therefore they shouldn't cause CTD.
This tailoring is difficult to test without starting a proper playthrough, so we'll have to wait on evaluating it until I begin my next adventure.
Footnote - Skyrim at War and Grass Caching
Several months ago, when I was first setting up Skyrim at War, I observed that it got stuck on certain cells during grass caching. I noticed in passing that the navmesh info map (NAVI) record for that mod contains entries for the problematic cells. On further investigation I found a very small number of corrupted edge links; I cleaned those and then regenerated the NAVI record with the Creation Kit. I don't have time to regenerate the grass cache tonight, but I'll attempt it before my next playthrough. Hopefully the SAW related issues will no longer impact it.
Amber Guard
On the topic of making the Reach playable again, another thing I wanted to do was to give the settlements there better defenses. Karthwasten itself will require a bit of work as I am stitching together two different mods to get the results I want, but meanwhile I'll install Amber Guard, which puts a small border post and settlement at the bridge on the way to Broken Tower Redoubt.
The mod is an uncompacted BSA with 2,357 records, of which 2,331 are unique. This means we will need to split some records into an overflow file. It also has facegen, which we'll need to reindex. 
I created the overflow file using the same basic technique that we went over in our coverage of Dunpar wall - temporary, terminal object references got moved to an overflow plugin until the main file was below the 2,048 limit. This means we need to move about 300 records into the overflow file.
As I do this, one thing I'm noticing are lots of edits to peripheral navmeshes (with nothing else changed in the cell). This smells like corrupted edge links, though its possible these are legitimate linkage changes to connect to new navmesh records added for the town. It'll be interesting to see what the cleaning reports say after the compacting is done.

So, about that cleaning report. We did indeed get pages and pages of edge links when ran the cleaning script. While it didn't unmask any ITMs, hopefully this will reduce the risk of NPC pathfinding confusion. 
Conflict checking revealed relatively little of concern - there were some top-level cell editor IDs that needed to be forwarded into my conflict resolution patch. There were also a lot of landscape conflicts with Update.esm, but these are generally benign unless it results in something like a DLC door getting hidden. We'll keep an eye out for this but it's another area where I don't expect trouble. Now let's visit Amber Guard and see how it looks.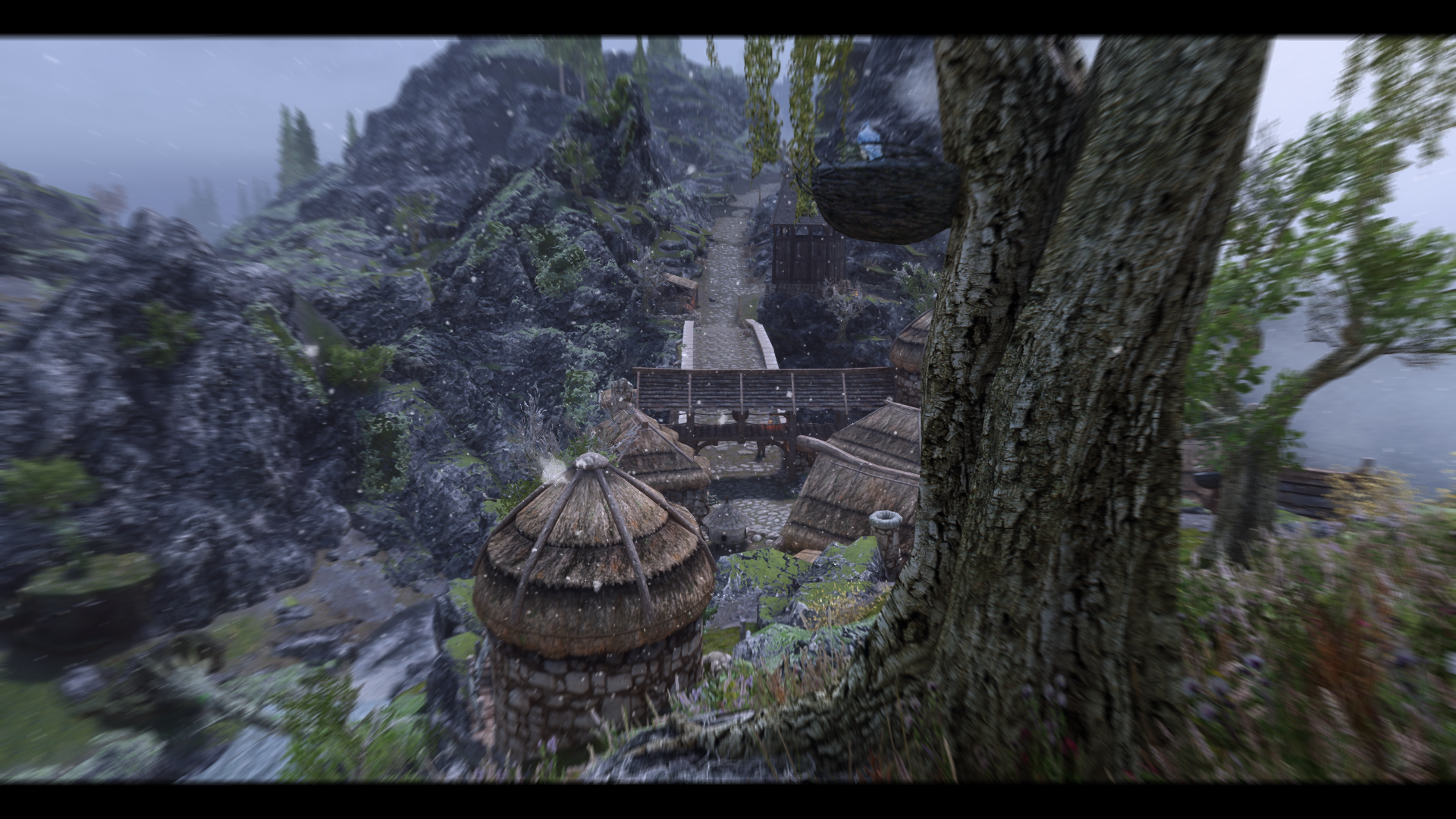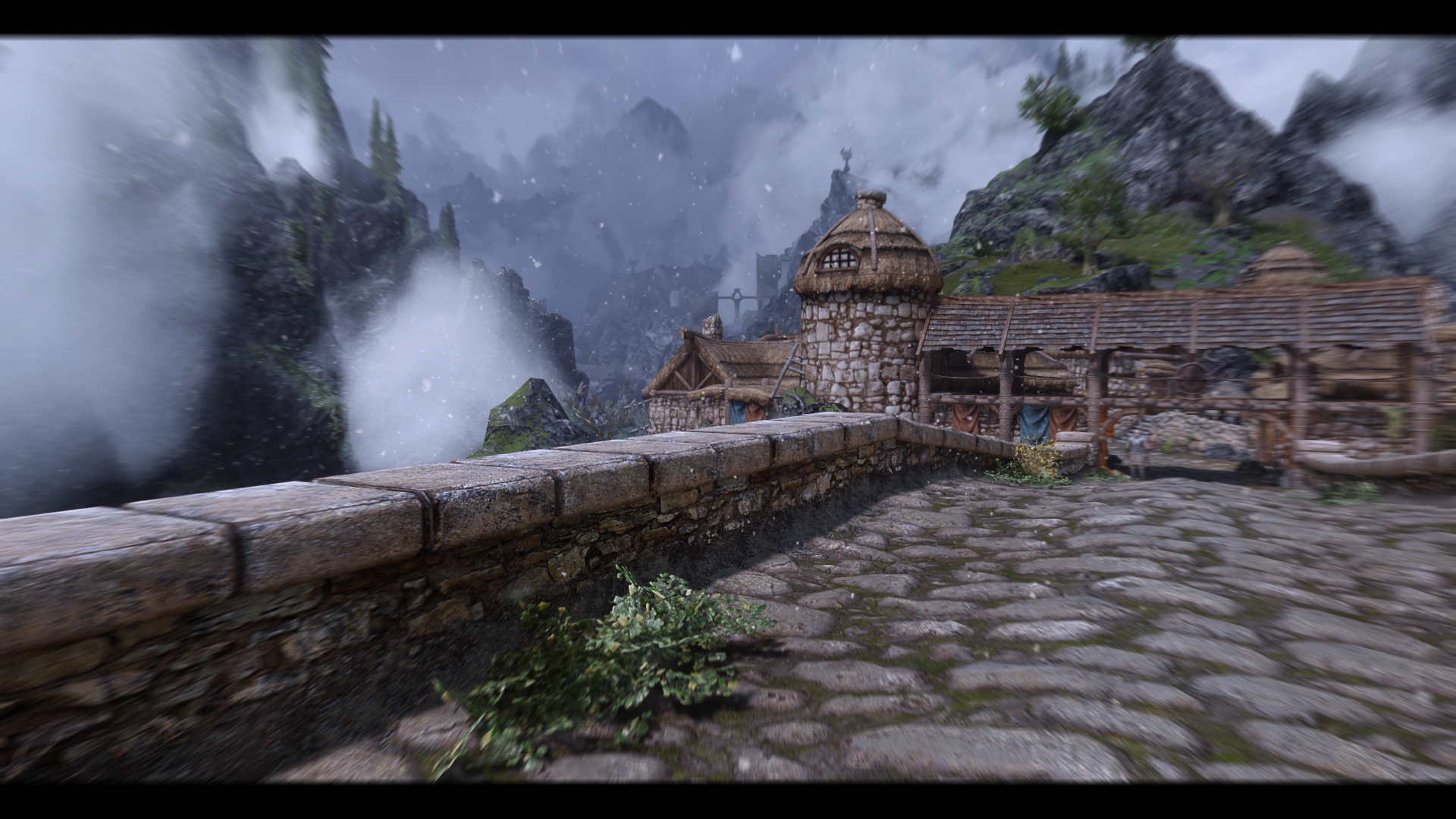 Looks like its all working as intended. While I was checking it out, a Skyrim at War patrol passed through town and navigated it fine, which is always good.
So that session was a little more productive than my earlier one. We made a lot of progress, including adding a big tranche of visual stuff that I glossed over here. More importantly, we got our SAW tailoring in the game, which I suspect will be essential to maintaining performance and stability.
We ended the day with 1,256 mods installed, 1,311 plugins active, and a final index of EF.