Vacation Time (Charley's Story, Chapter 44)
---
"You need a vacation, Charley."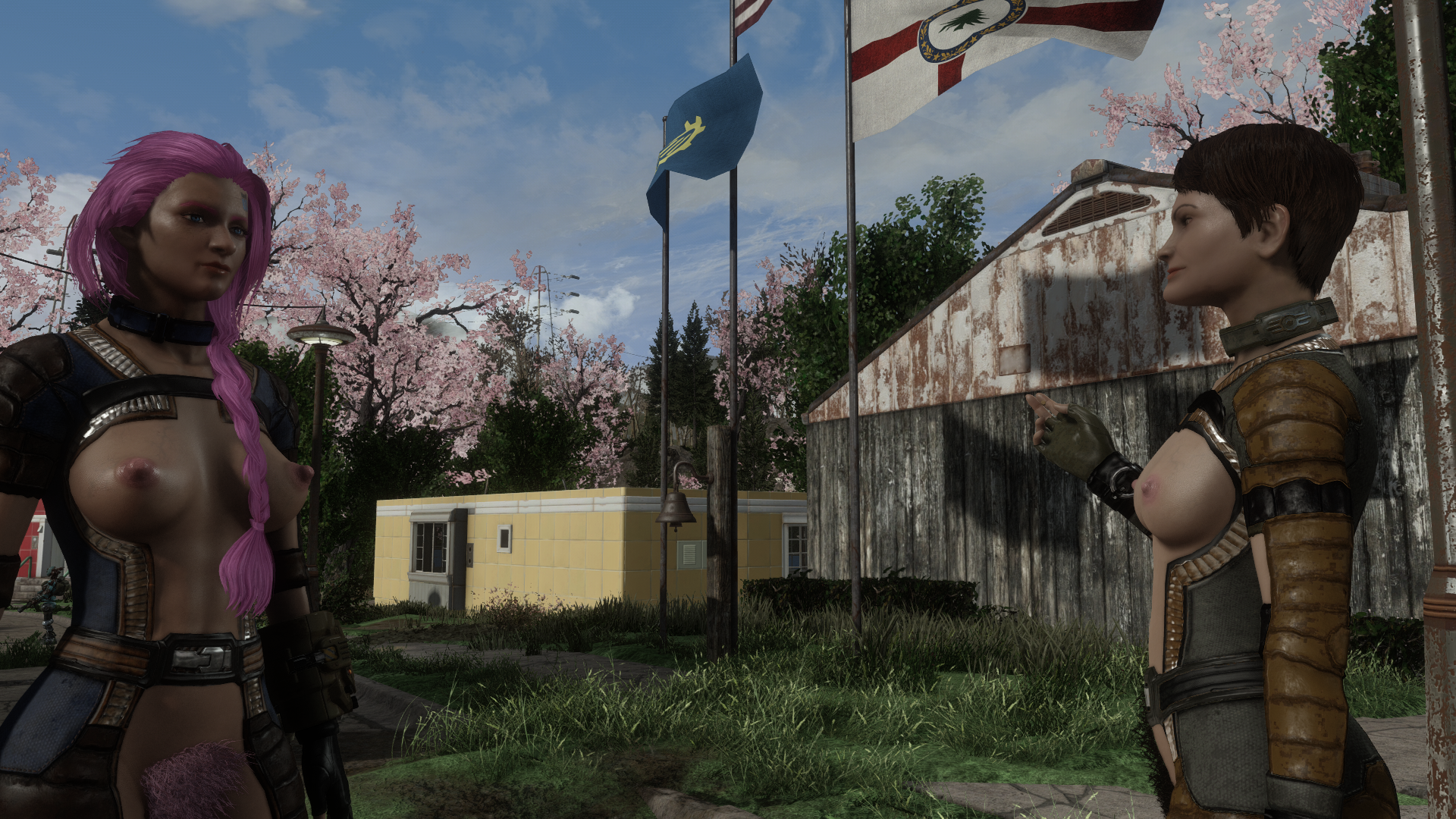 Leave it to Trashcan Carla to state the obvious when I wasn't ready to admit it. I'd come back to Sanctuary after leaving things in Preston's hands back at Concord. I wanted to supervise finishing the buildings in town that we'd left incomplete after all the focus shifted to encircling Concord. Certainly we had the materials to do it now, since the ruins of Concord were a literal treasure trove of every sort of rare salvage you could imagine. 
After an awkward pause, I admitted, "yeah, I know. But there's so much to do, and so little time."
"Kid, listen. You've done more in the last six months than most folks do in ten years. Hell, in their whole lives. You've earned a break. Trudi, Preston, Bart, Blake and Connie, you've got good people who can take charge for a while. Kick back, relax, get some of that stress out."
That earned a rueful laugh from me. "Yeah, good luck with that. Stress is one thing I won't be running out of any time soon."
She took a long drag on her cigarette. "So I hear. Well, if you won't take a break, at least take some 'you time.' Rumor," she chuckled, "legend has it you're looking for your missing kid. That true? If it is, maybe you owe yourself a visit to Nick Valentine. There's nobody better in the Commonwealth for sniffing out a missing person."
I felt a momentary surge of excitement, but then I clamped it down. Frowning, I said, "I don't know, Carla. It's been... too long. What if... Shaun's gone? What if I waited too long? I don't know if I can deal with that right now."
The trader frowned at me. "Charley, he's gone from you now. If you keep doing nothing, he's going to stay gone. I can't promise you're going to find your kid, but if you don't look I can promise you that you won't." 
I know it was irrational, hell, I knew right then and there that Carla was completely right. But as much as I desperately missed Shaun, I really struggled to start on a path that might lead to me learning he was gone forever. I didn't want closure, after all. I wanted my son back. Hell, I wanted my husband back. Right at that moment, I just wanted my old life back. I wanted to just sit there in my living room, damn the bombs, and just draw out every last second of the old world."
Then I shook myself, evidently violently enough to get a start of surprise out of Carla. I didn't want the old world. I didn't want to go back to how things were before. Sure, I wanted to be back with Nate. I wanted to be back with Shaun. I wanted my old body, not this chemically-dyed, conditioned and experimented shell that Vault-Tec inflicted on me. But I wanted my old life in this new world. I didn't want to go back to that hateful, fearful, slowly dying America whose inevitable demise the bombs just hastened.
"Thanks for the advice, Carla. I mean it. But I need to think." 
And I did. I went back to that weird little fort I'd turned my home into before I really got the hang of the Workshop. I unbraided my hair, took a long shower, then sat back and just let the whole afternoon pass me by. No building, no wrangling settlers, no fighting raiders, no haggling for supplies. I just sat back and tried to rest.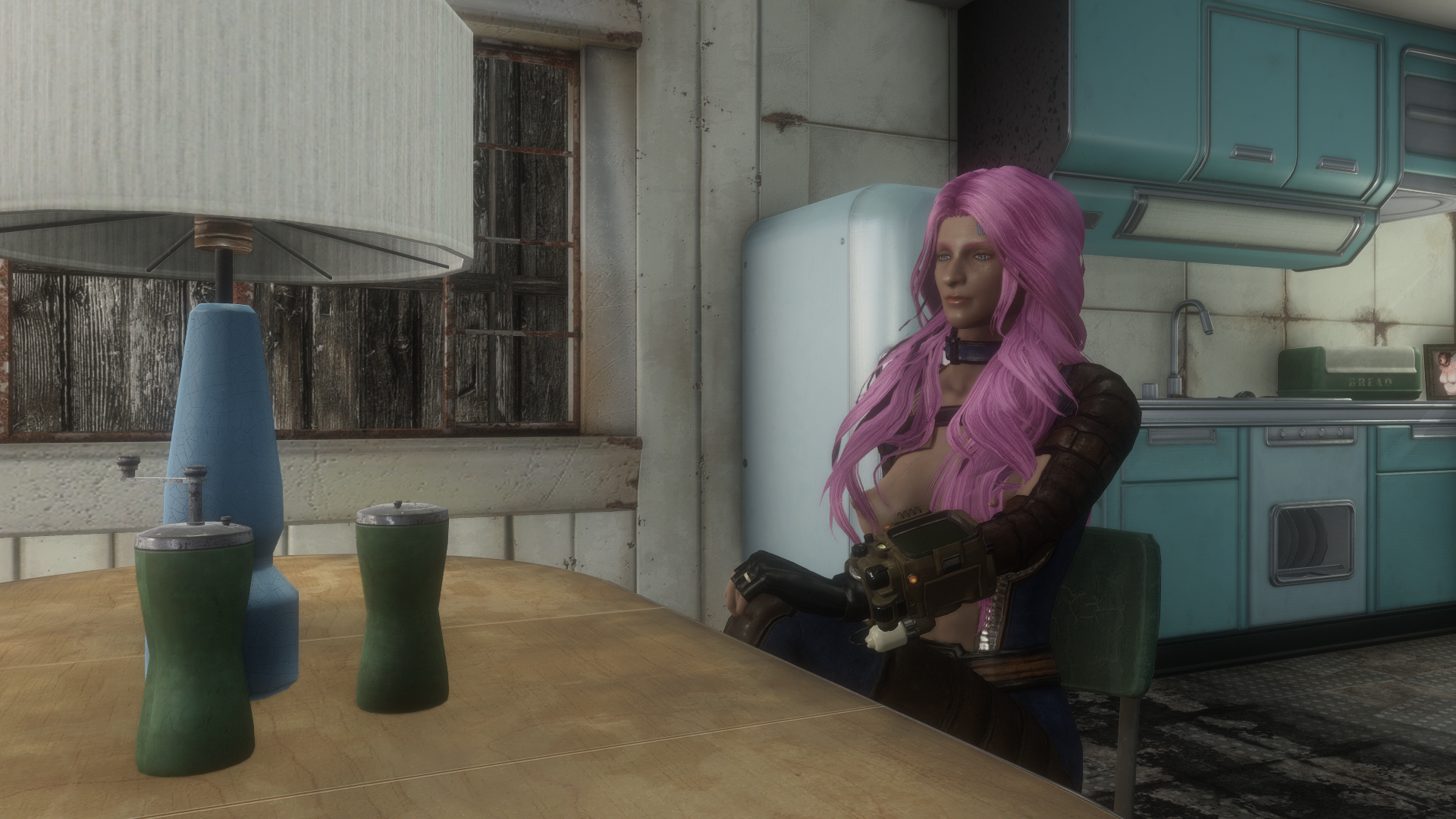 What a waste. By the time the sunlight stared to fade, I felt more tired and weighed down than at the start of my 'vacation day.' Maybe Carla was right, I conceded. Maybe I did need to lift some of the weight of my personal problems off my shoulders so I could concentrate on the big goal. And with the rising threats in the distance, I might not get another chance like this for a long time. 
I lay in bed for a long time, sleepless, as the night crept by, finally falling, fitfully, into sleep some time after midnight. And I dreamt of Shaun. Of Shaun in the hands of strangers. Of Shaun in danger. Of Shaun... waiting for me. 
I was still exhausted when I woke up, but I somehow dragged myself out of bed and set about making some breakfast. To my surprise, Mama Murphy was there, evidently waiting for me.
"Rough night, kid?"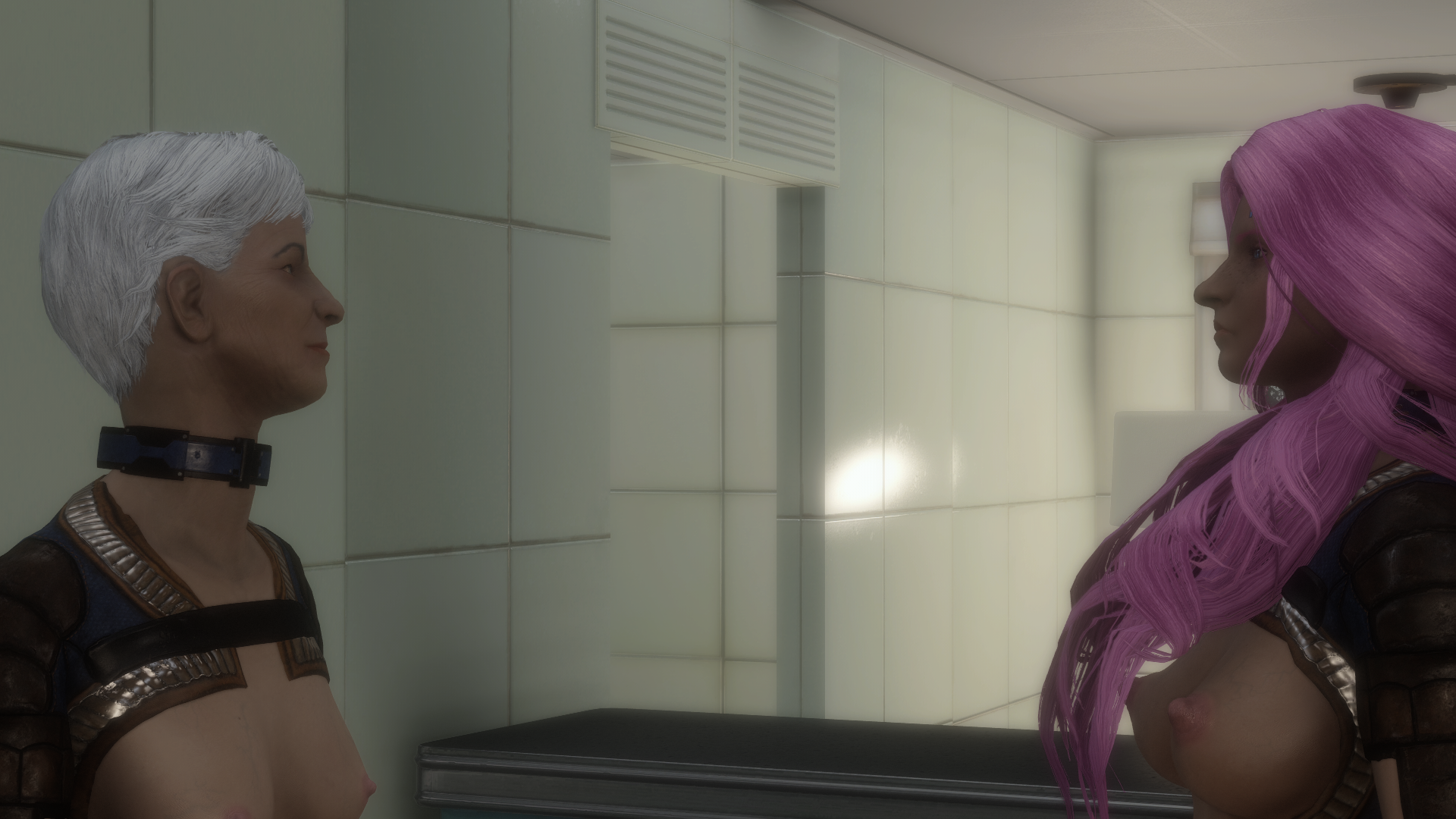 "You could say that," I groaned. "Just... ugh, you know. I had dreams. Dreams about the distant past."
She crooked a bit of a grin at me. "The distant past isn't so distant for you though, is it? This whole world is like some bad dream you can't wake up from, isn't it?"
"Maybe," I admitted, "but if so, my waking world wasn't much better. They just hid the bomb damage better. But... my world was already exploding, already falling apart, before the first bomb came down."
"But your heart is still crying out for that world, isn't it?"
I paused a moment to think, then I shook my head. "Not for that world, no. Just for the people I shared it with."
"The sight can help you, kid. If you'll listen to what it's got to say."
"You mentioned the sight before. Preston didn't seem too excited about it."
"Yeah, well, Preston is Preston. Preston is also in Concord now, so I don't think he's got much to say here, does he?"
"His issue seemed to be with you doing drugs. That can't be healthy."
"Let me worry about my health, kid. Maybe you didn't notice because I've got such a firm tummy at my age, but I've been around for a while. The rads have been a little less kind to my nose after all. Come on, have a seat with me and let me see you."
We scooched onto the couch together and Murphy retrieved what looked like a home-made asthma inhaler. Two puffs and I could see her eyes glazing over a little.
"God, that stinks," I gasped as a foul odor whiffed off the inhaler, "what is that?"
"The Jet?" she asked, "you don't want to know. But hush. Let me ride the high and see where the sight takes me."
Mama Murphy was in her own world for a while, but soon she murmured, "Diamond City... it has your answers, but they're locked up tight. Locked up in hearts, and locked up behind doors. There's... so much distrust. So many lies. But there's a heart there still, a good heart. It's just hidden. Hidden in the dark, in the back alleys. Not hidden so well though... when you see it, you'll know, because it's glowing bright. Glowing... bright in the dark. That's what you need to do, kid. Follow the signs and find the heart."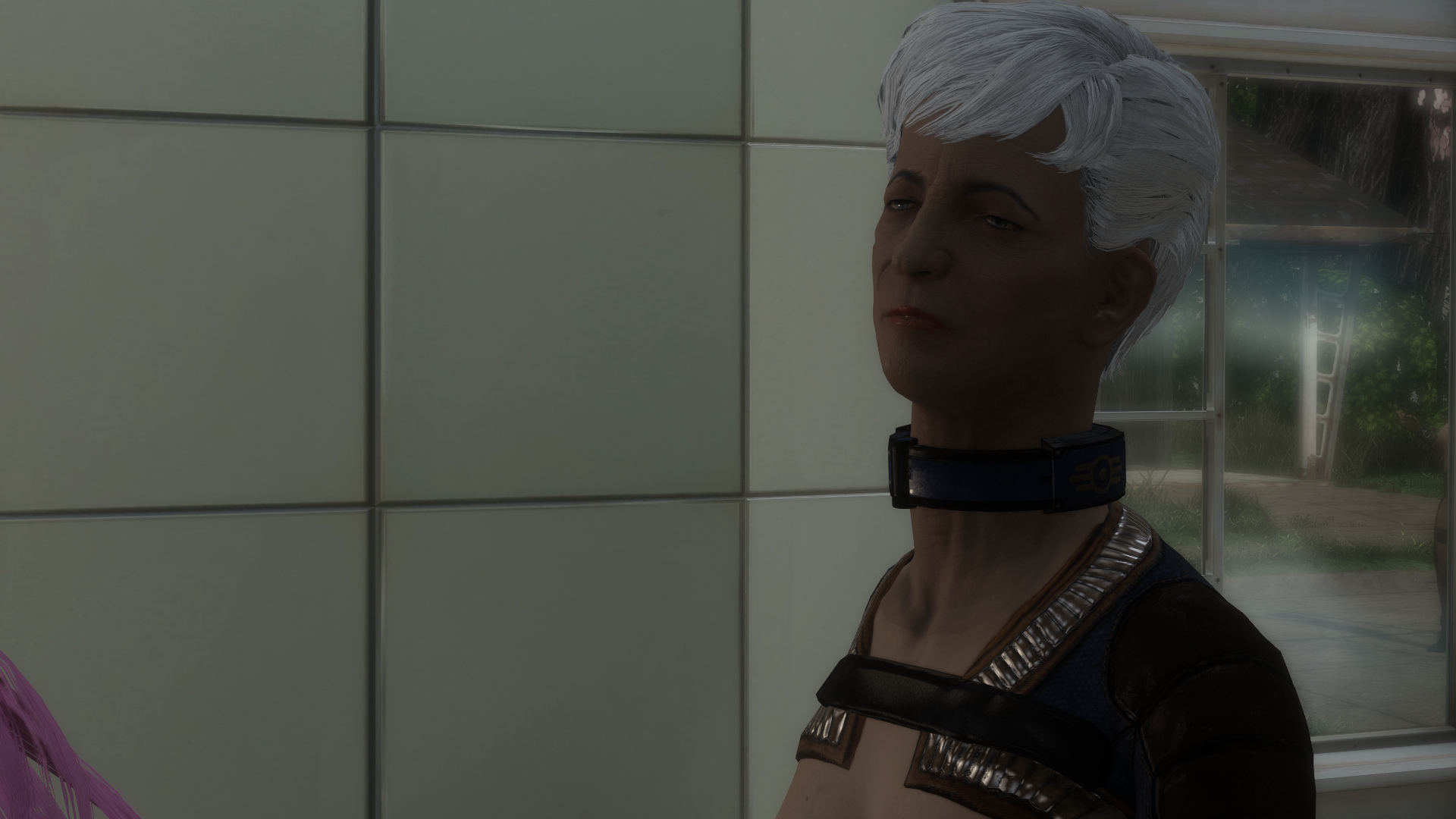 She slumped for a bit, before rousing. "Whew, that too more out of me than usual. I think... I think I need a rest."
I let Mama Murphy crash on the couch while I considered her words. Between her and Carla, now I had two different people telling me to go to Diamond City. Maybe, I supposed, I should just take the hint. Grudgingly, I found myself coming around to the idea of a trip to Diamond City, and I spent the rest of the day meeting with the crew and making sure everything was in good hands while I was out of town. Just as well, as there were one or two conflicts I hadn't fully appreciated - but we hammered everything out and when I finally hit the road everyone was on the same page about who was doing what. 
The road to Diamond City took me back through Concord, and out in front of the museum I found Jan locked up in the same pillory where we'd kept her before he trial.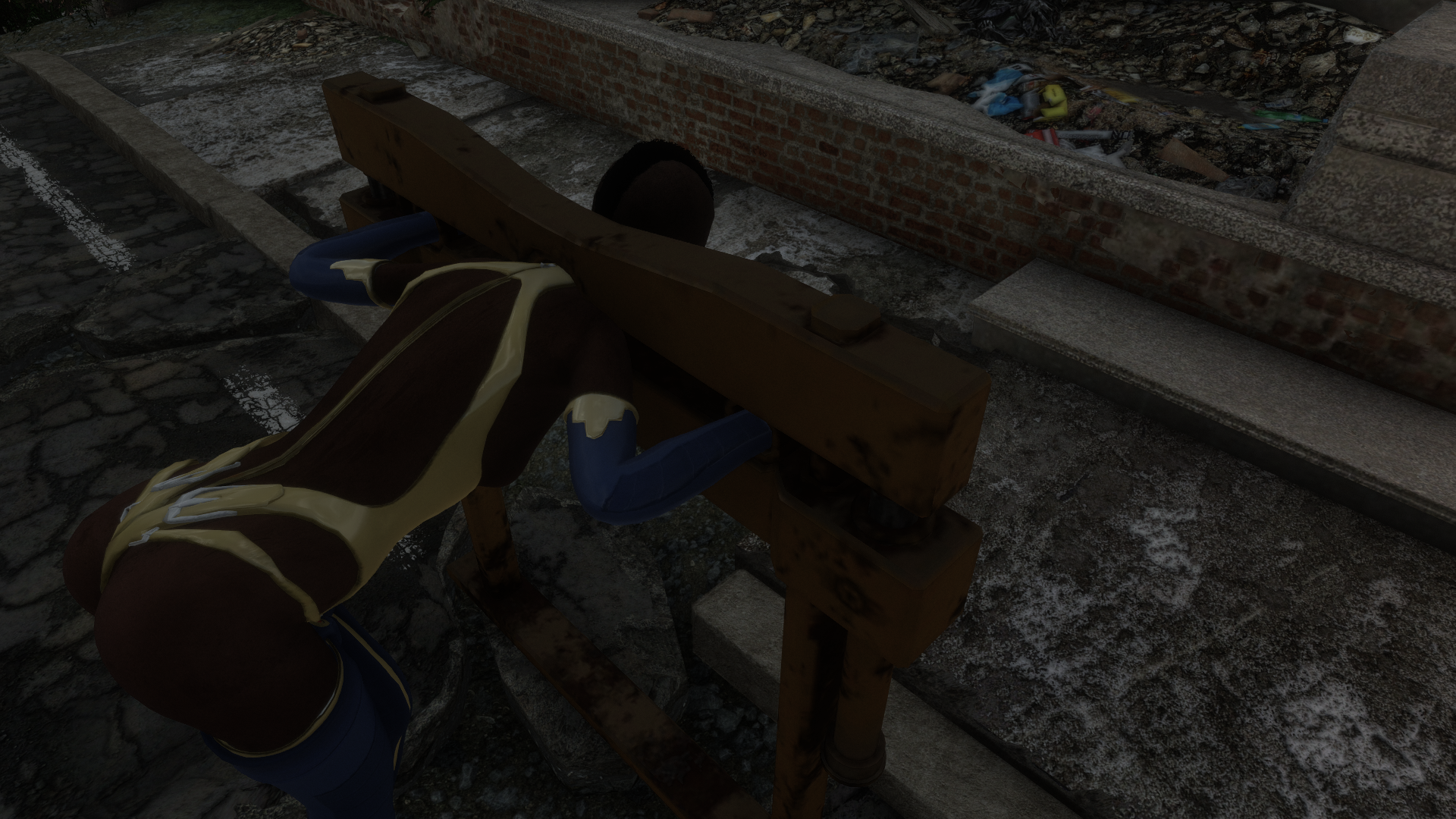 I let out a bit of a sigh at the sight. "Don't tell me you managed to get in trouble already," I said.
Jan tried to crane her head towards me, though the pillory limited how far she could shift. "No," she grumbled. "just, um, taking a break."
"Doesn't look like the most comfortable arrangements."
Behind me, I heard Lily's voice, cheerfully interjecting, "don't tease her, Charley, she did really well today."
"Oh?" I asked, turning to look at the petite woman. She was hauling a bucket of soapy water in one hand and a rubber hose in the other. 
"Yeah, she helped out a lot with the garden on the roof over your office. No complaints."
"Then why do you have her locked up."
"Oh, that," she laughed. "It's time for her bathroom break. Turns out, the pillory keeps her in just the right position." As she talked, she turned one of those little circular mailbox keys on a slot at the back of the ex-raider's harness, revealing a small aperture at the rear. After attaching the hose, she started gently pumping a bulb, drawing the soapy water up out of her bucket.
Jan shifted and groaned, and I could had sworn her belly started to swell a little. No, I realized, it wasn't a 'could have sworn' type thing. The harness was shaped in a way that as the sudsy water filled up Jan's guts, her belly was free to expand. Soon enough, Jan was panting and wriggling, struggling to keep a comfortable posture. Lily pulled out the hose with a snap and replaced the cover over the 'filling port.'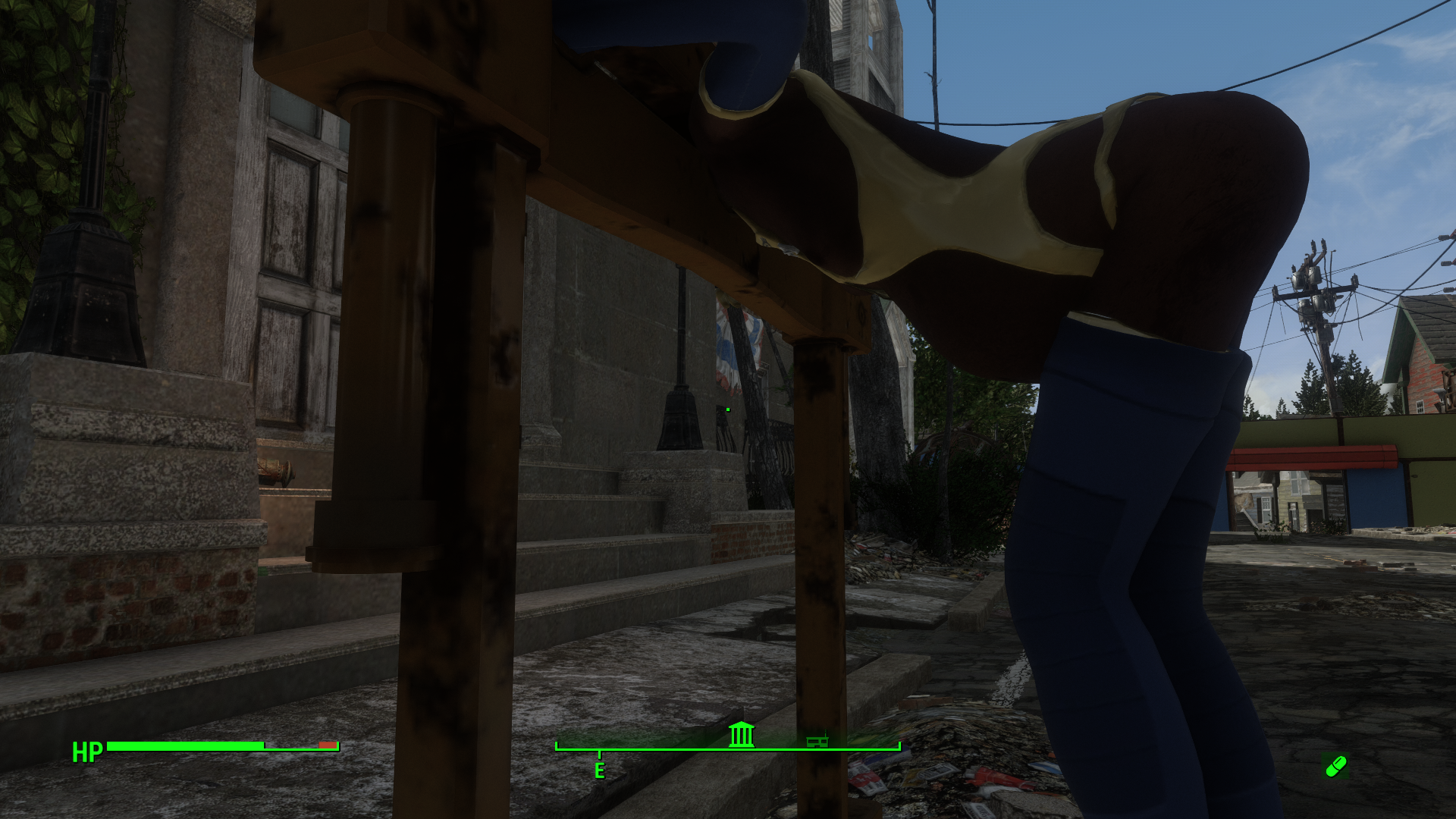 "OK, Jan, you just let the soapy water do its thing. I'll be back in half an hour to empty you out."
I looked to do her with a crooked eyebrow. "Care to explain what this is all about?"
"Well, you saw the big plug that goes with the suit. Jan, and anyone else in her situation, is totally depended on us for, um, relief. She gets one flush in the morning, one mid-day, and one right before dinner. The instructions said that we should dissolve any chems we have her on into the fluid, but right now she's just getting soap and water to keep her from getting backed up."
I slowly shook my head. "Typical Vault-Tec."
"Yeah, they were weirdos, weren't they? But I guess we're Vault-Tec now, right? We've got our vault suits and our vault flags and our vault Workshops. And we're kind of weirdos too," she chuckled at that last part, "so who am I to judge?"
"Alright," I conceded. "Well, keep good care of her. Consider Jan to be your personal project."
"Got it, boss," she agreed.
I left her to her own devices then, albeit under Preston's watchful eye, and continued south and east. After taking a late lunch at the Drumlin Diner, I moved out of my people's territory and into raider country. From there, I took a slower, more careful pace, gradually working my way past Lexington, then down into Cambridge, and finally across the Charles River on what I knew from talking to Carla was the safest route into Diamond City. Still, I almost didn't make it, having managed to walk right into a crossfire between the Diamond City security force and a gang of super mutants. I did what I could to help out, taking pot shots at the Supers from behind some rubble, but after I avoided an ugly shoulder wound thanks only to the bulletproof fabric of my vault suit, I took advantage of the better part of valor and scurried past the intersection on the last leg to Diamond City.
You know this already of course, but Diamond City is, in fact, Fenway Park, the ballpark. Well, not a ballpark anymore. Successive generations of defenders had gradually transmuted the park into a fortress. A fortress which, I quickly came to realize, I didn't have a good way to get into. Watchful to avoid more risks, I carefully circled the edifice until at last I came a small plaza. Before I could completely take in the sights, a voice caught my attention.
"What do you mean you can't open the gate?! Stop playing around, Danny! I'm standing out in the open here!"