You Are Exactly What I Was Looking For! (Monilee's Adventure, Part 14)
---
The bear's roars and the fleeing men's screams faded into the distance, but the dog remained, carefully considering Monilee and her party. Then he spoke.
Monilee had seen her fair share of strange sights, but a talking dog was a new one. Maybe she was still a little stunned from the ambush, but the best she could manage was an incredulous, "Did you just talk?"
The dog cocked his head in something that seemed half way between pity and scorn.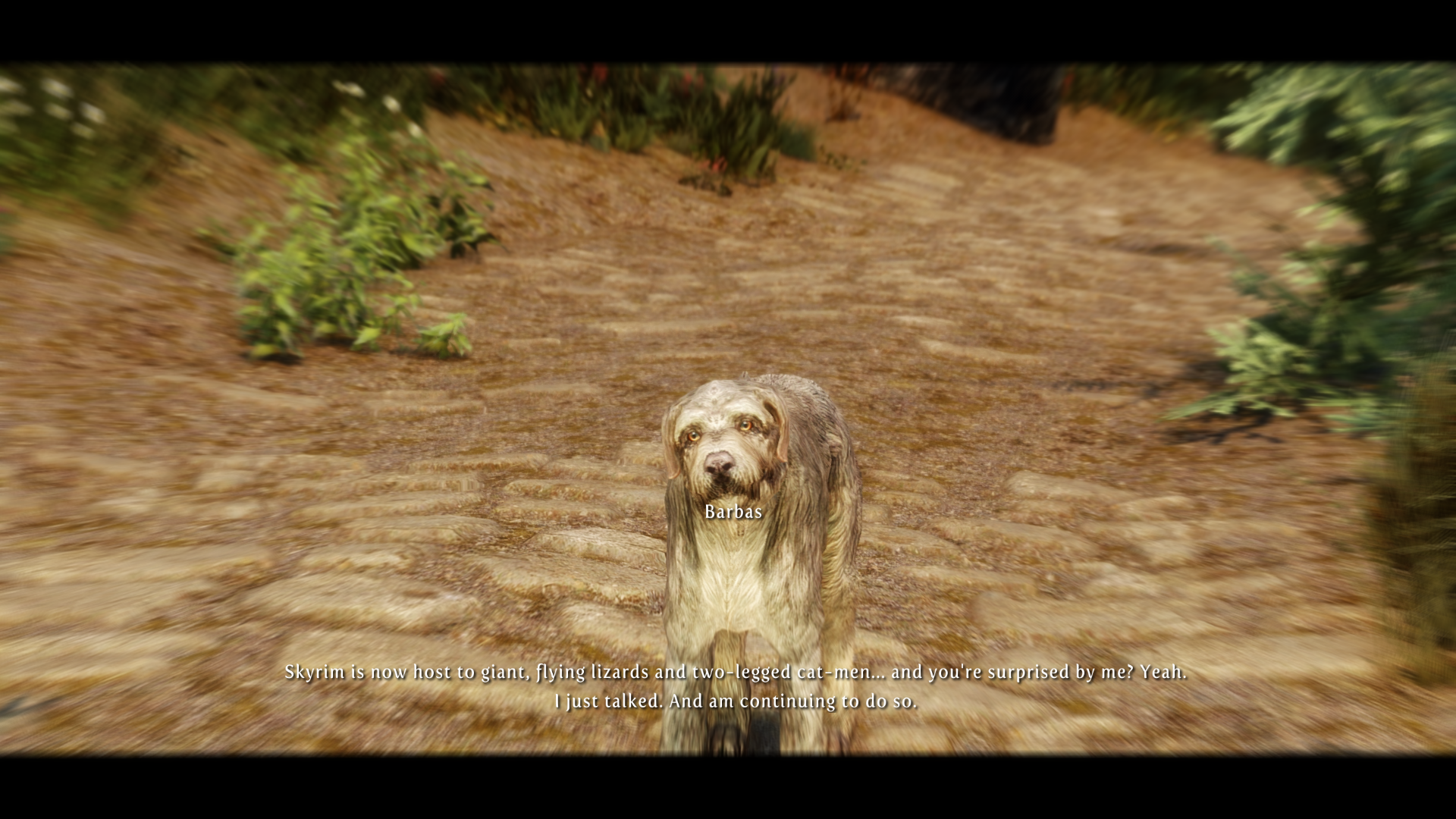 "Barbas?" Shayna asked, "Oh, it is Barbas! This is good."
"Waitta minute," the dog said, backing up just a bit, "You're not a... Yah know what, I'll find someone else to help me."
"Oh no," Shayna insisted, "The Shadow Queen sent us to find you. Or rather, to find your master."
Barbas hung his head a little. 
"Ah, fine. But you should know that my master and I had a bittava falling out. We got into an argument and it gotta bit... heated."
The dog explained at greater length - he'd been exiled by Clavicus Vile until he could find a champion to settle their disagreement.
Monilee considered that, "Sounds like just the right way to earn your master's trust." 
Edippa glowered, "Careful, there's no such thing as winning the trust of the Master of Trickery." 
Lydia's eyes flicked from one woman to another with shades of concern and distrust. "I still don't have a good feeling about this. Better we focus on the Horn." 
Barbas seemed to agree with Edippa. The dog promised to reward the party, but warned them not to trust any offer from his master. They discussed the matter a bit further, and over Lydia's objections Monilee agreed to follow Barbas to a hidden shrine of Clavicus Vile's worshippers. 
Hours later, the party was turning the last switchback on the mountain path leading to Haemar's Shame. Monilee was about to lament her growling stomach and her failure to bring more rations for this hike when her hunger disappeared, replaced with an icy chill.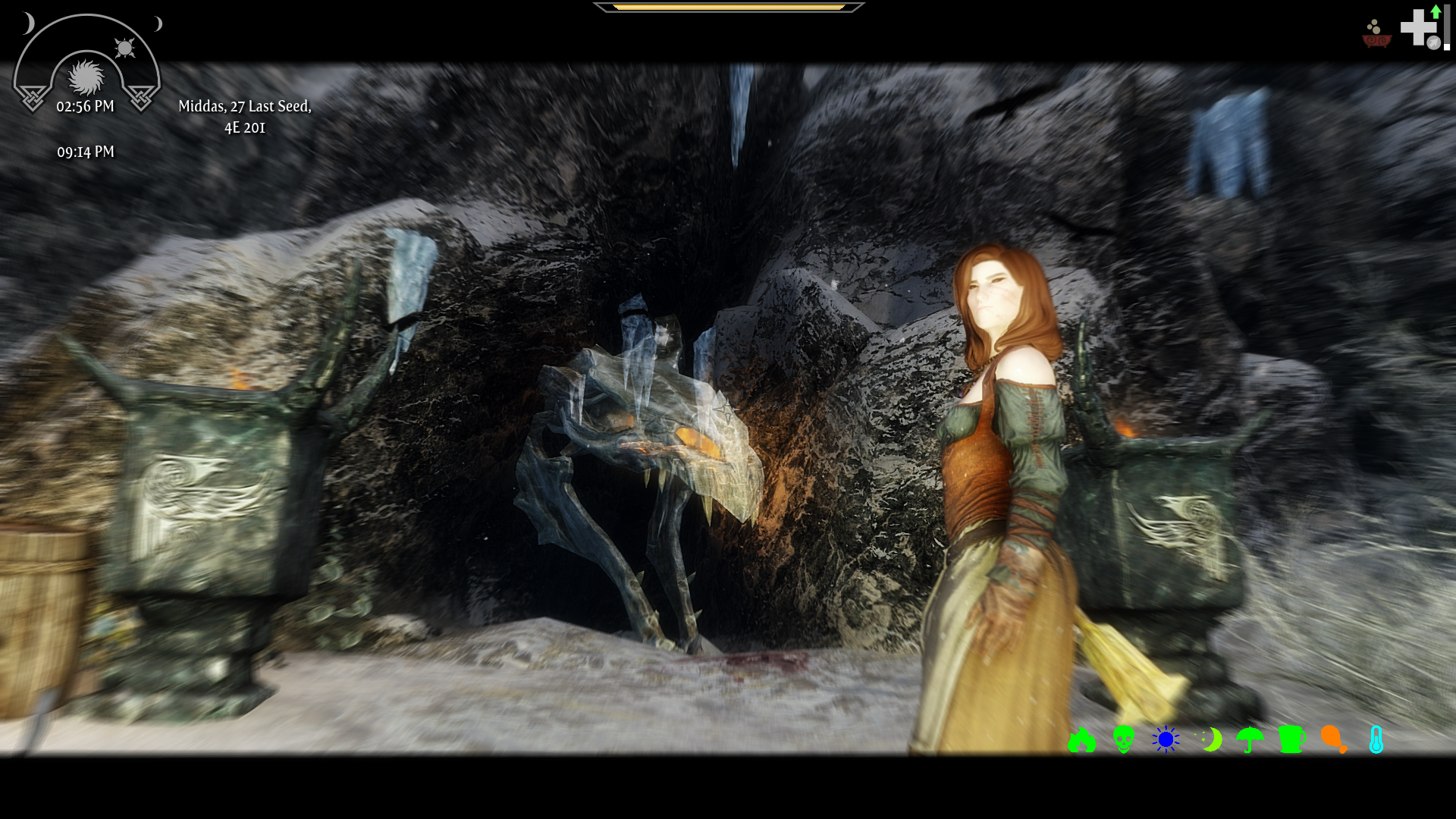 A ghostly dragon skull hung suspended before the entrance to the cave, flanked by a pair of black stone braziers. Ravens swirled high overhead, and Monilee's mind briefly returned to the bard's song all those days ago in Solitude.
Pointing, she asked, "Do you all see that?"
Lydia and Edippa followed Monilee's finger but a moment later shook their heads in negation. Shayna smiled thinly, "Only we can see that. Be careful within, I don't think these worshippers are just common rabble."
"Lydia," Monilee almost addressed Edippa by name but paused in remembrance of her preferences, "mother, be careful in there. Shayna and I can see signs of magical influence. I think we should expect trouble." 
And trouble they found. Guards set upon them almost as soon as they entered the cave's mouth. The four quickly dispatched them, but Edippa looked on them with caution. 
"Something's not right here. Let me look at them for a moment."
She checked the bodies with the efficient hands of a healer, seemingly knowing exactly where she wanted to look. Quickly she returned to her feed, face set.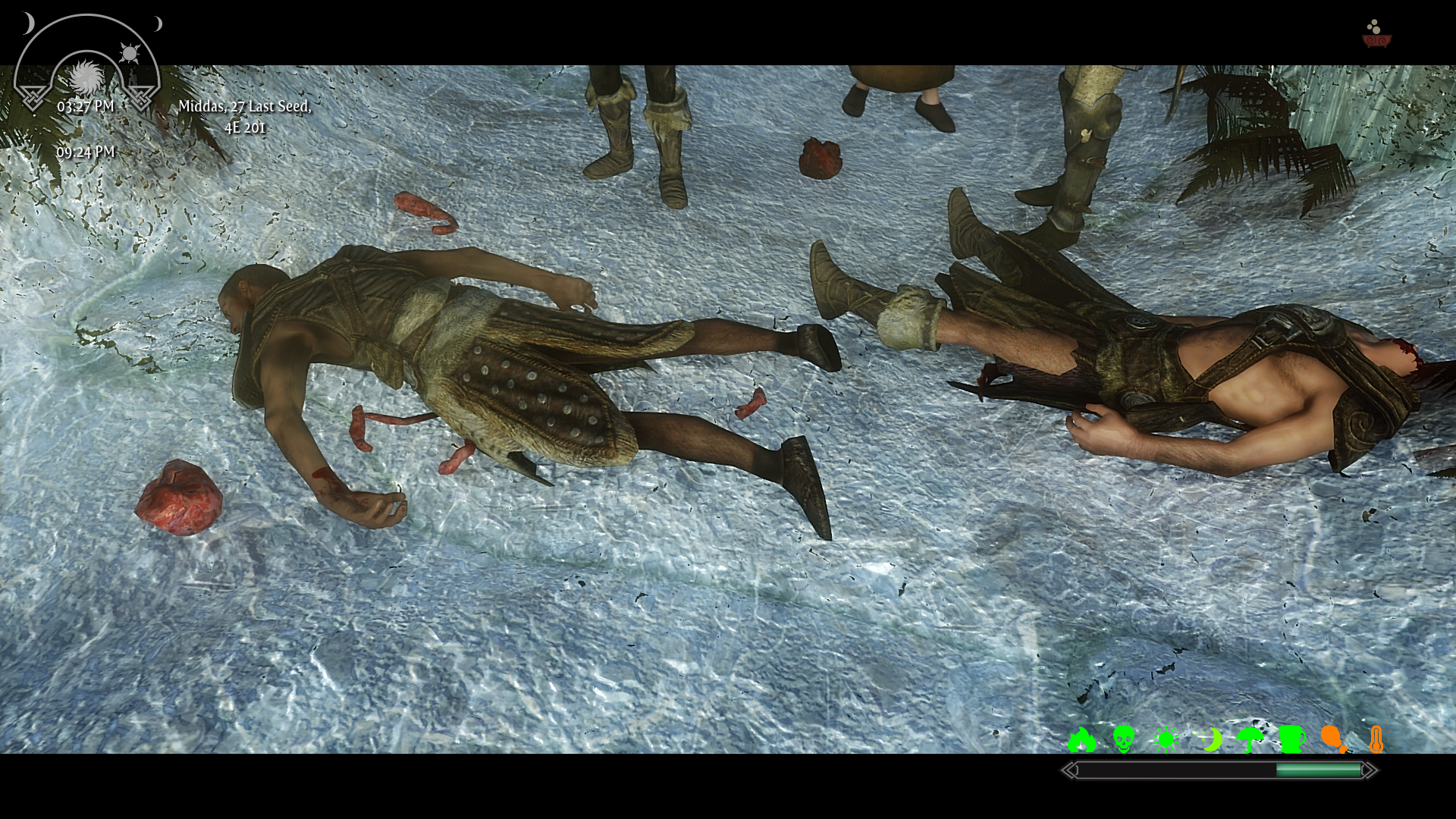 "You're right about the worshippers. See these scars?" She pointed to some barely noticeable blemishes on the guards' necks, wrists, and thighs. "These men were the thralls of vampires. We must proceed with great care - let none of them bite or scratch you, and if they do you must tell me so I can try to heal you before their disease infects you." 
They all nodded assent and proceeded with newfound deliberation. Another thrall fell to a bowshot before she could spot the group, but then Lydia raised her hand, gesturing for the group to stop.
"Hold up," she whispered, "look above."
They glanced upwards, spotting the heavy spiked grate suspended from the ceiling. 
"Traps," Monilee confirmed, "Watch your steps for pressure plates or tripwires."
Shayna ammended, "And be careful what you put your little hands on. Vampires frequently command powerful magic. Expect curses and other manners of surprises."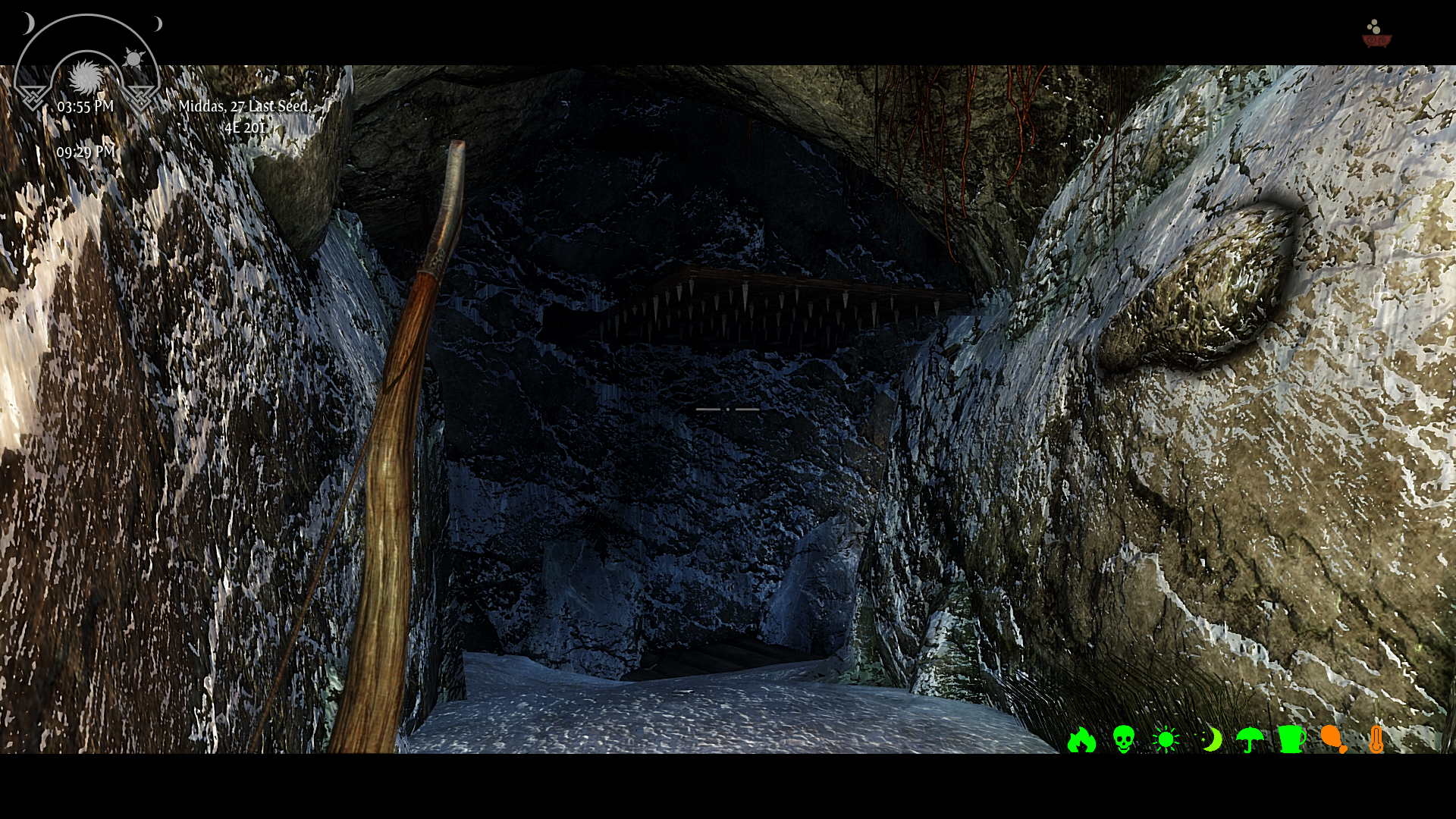 So focused were they on avoiding the trap, that they didn't instantly notice the presence of another until a hissed, "What's that?!" caught their attention. Monilee drew her bow, but couldn't draw a bead before the woman fled deeper into the cavern. 
"Damn," she whispered. "Now they'll be expecting us." 
The party gave chase, and it didn't take long for them to catch up. The woman fell to her knees, piteously shielding her head with both hands. As Monilee approached, she rose and seemingly tried to regain a measure of dignity.
"What do you want, meat?" she spat. So this was one of the vampires. Monilee could see Edippa's knuckles grow white around the handle of her mace. 
They interrogated her briefly. The vampire elders, she claimed, lamented their curse and had come here to beg Clavicus Vile to save them from Molag Bal's embrace. She scoffed at the notion, but admitted she was powerless to deny them their foolish quest for mortality. Defiantly she asked, now that she had answered their questions, if she was free to leave.
Monilee felt a twinge of pity for the woman. For all her haughty attitude and disdain for the living, the fear that lurked just beneath was plain to see. But Skyrim wasn't a place for pity - and she knew if she didn't strike, Edippa would. As Thane of Whiterun, it was in her remit to deal out justice, and so she ordered the vampire to her knees. Monilee ended the creature's existence with a single stroke of her sword.
They proceeded deeper, finding stiller resistance from the more seasoned vampires they encountered within. Still, each time the vampires fell, their thralls were quick to flee or surrender. One pair pleaded for their lives most convincingly, and Monilee almost let them go until she took a double-take at the 'meat' roasting on a spit by their dinner table. The thralls pleaded that this was one of there own number who had volunteered to be skewered as a sign of devotion to the masters, and to feed the other thralls. Again, Monilee had to tell herself that Skyrim was not a place for pity. These two had tasted human flesh, and she put them to the sword without regret.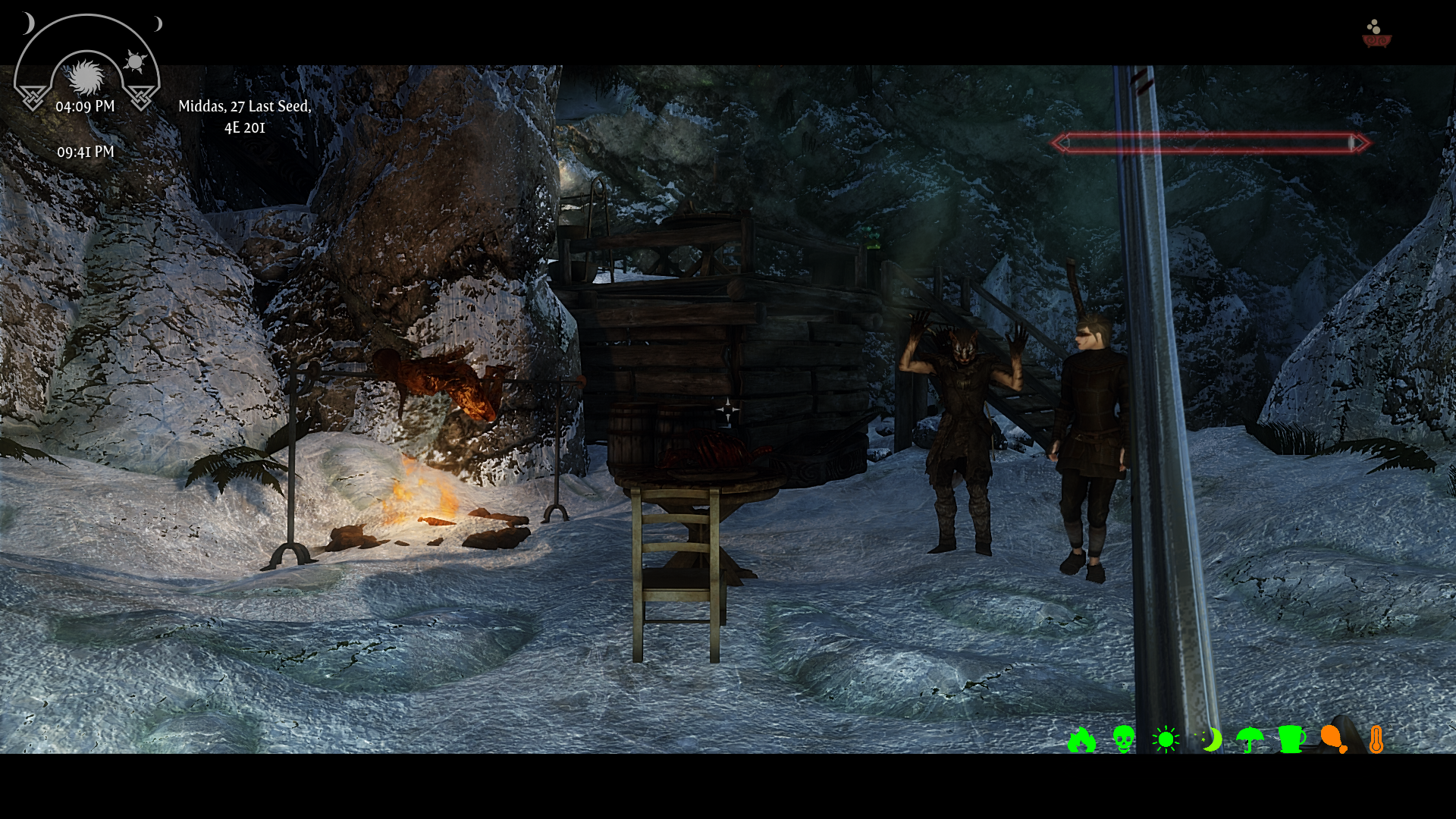 As the rush of battle wore off, Monilee found herself pausing to catch her breath. The harness Nocturnal had saddled her with felt tight against her ribs, as if it was squeezing the breath out of her, and her hunger had returned with a vengeance. A search of the pantry revealed little - perhaps a sign of the truthfulness of the cannibal thralls' story - but they did scrounge up some carrots and a recently caught pheasant. The party paused for a time to cook these up and enjoy a small meal. 
Afterwards, Edippa looked at Monilee with concern. "Daughter, you look flushed. I think the excitement of the day hasn't quite worn off, has it? Come here and let me give you some relief."
Lydia coughed and announced that she was going to stand watch and make sure nothing emerged from deeper in the cave, but Shayna cooed, "Oh, mother, may I help as well?"
Edippa shooed her away. "Scram," she said, "Don't be jealous of your sister. Now, Monilee, come here," she finished as she drew Monilee into an embrace.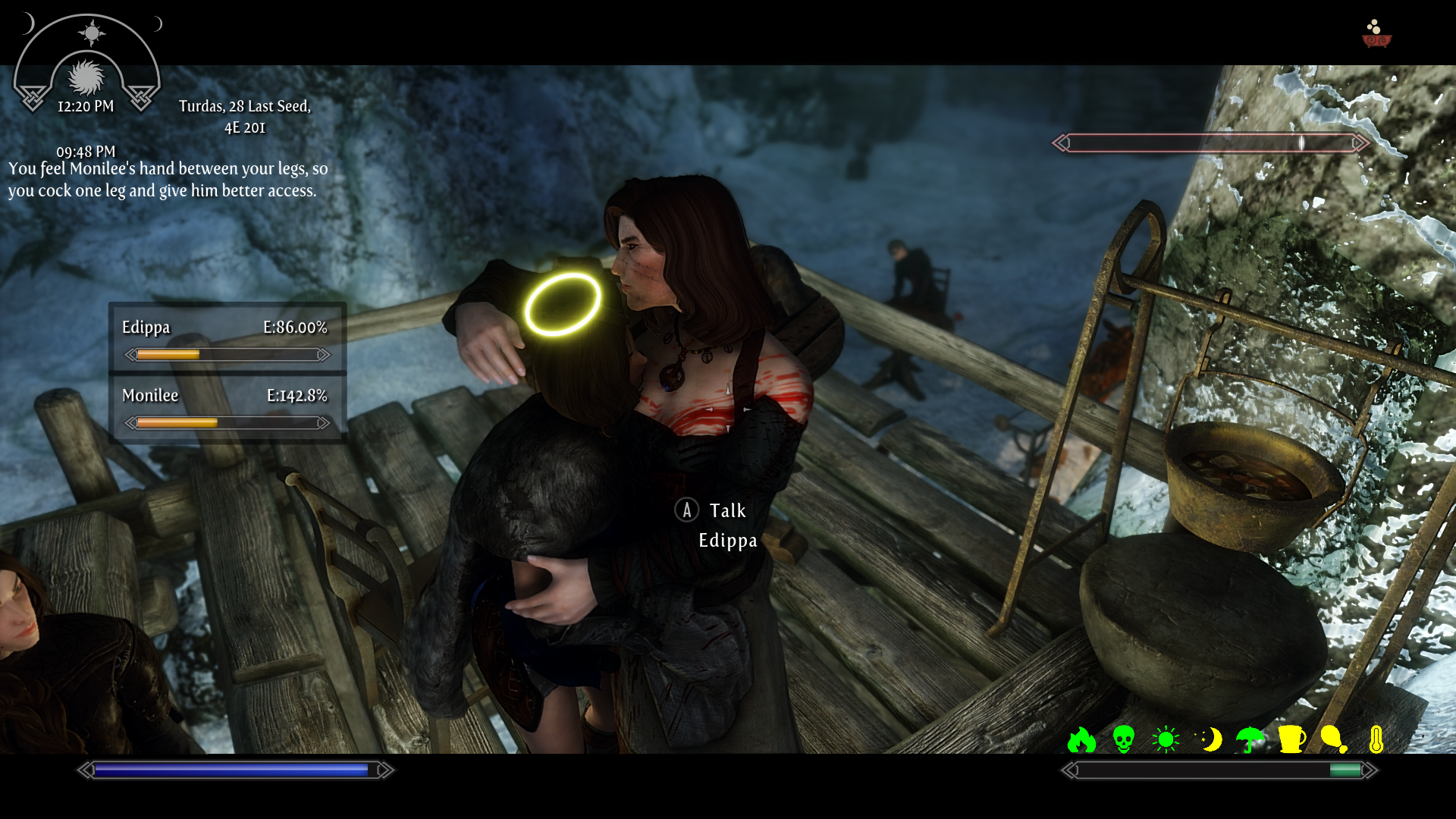 They were both filthy, caked in sweat and the blood of their enemies, but somehow - a testament to Edippa's skill in the Dibellan arts - she was still able to quickly bring Monilee to climax. When her gasps slowed, so did her heartbeat and her breathing. Monilee snuggled a little closer to Edippa and traced the line of the woman's earlobe with her tongue. 
"Thank you, mother," Monilee whispered, "I needed that." 
Focused again on their task, the party pressed deeper into the cave. For a ways, they found no opposition, but then Lydia whispered, "Get ready, trouble ahead," as the passage opened into another large cavern. Everyone drew their weapons, except Monilee who suddenly found her wrists locked together. Nocturnal! she silently cursed. 
You called? A voice whispered back. And before Monilee could digest that, the vampires were upon them. First came a wave of Thralls. One broke through their fighting line towards Monilee, ready to strike her with his axe.
"FUS... RO!" 
The thrall, a powerfully build man with bulging muscles, staggered but didn't fall. The pause was enough, however, and Monilee rushed him, striking him in the belly with her shoulder and rolling him over her back before spinning and driving her heel into his throat. She felt a satisfying crunch and kicked his weapon away from him as his struggled futilely against his crushed airway.
Steel sang in the distance, as did the unearthly roar of magic. Three vampires had now joined the fight, clearly stronger and more dangerous than the fledglings they had faced before. But the party wasn't fighting alone. A ghostly figure - Nocturnal! - had joined the melee, her incorporeal dagger effortlessly passing through the vampires' armor with devastating results. After maybe a minute more, it was all over. 
Nocturnal considered Monilee carefully for a moment, showing her a beatific smile full of menace. Remember, Dragonborn, Monilee heard in her mind, I am watching. And then the apparition was gone. 
The party took a moment to examine the fallen vampires, then descended a wooden scaffold to the lower portion of the cavern. Clearly they were now descending into the desmesne of the vampires. Where above, likely for the benefit of the thralls, torches and braziers burned at regular intervals, the lower levels were shrouded in darkness. Monilee heart Shayna whisper, "I feel it. We're close. Nycot awaits." 
But other things awaited as well. Spiders, huge crablike things akin to the monstrous specimen Monilee had fought at Bleak Falls Barrow, rushed at them from deeper in the cavern. It was a tough battle, and Monilee thought she was doomed when a gob of the gelatinous spittle struck her high in the chest. But the poison barely slowed her - it simply wicked away from her armor, despite it being mostly cloth and leathers. This was the armor Monilee had found by the final statue of Dibella on High Hrothgar, and it had protected it well. She gave her thanks to Dibella as the party pressed their attack. 
At last they approached the inner sanctum. They expected to face the strongest of the vampires, but as they approached all they could hear were moans and screams and the occasional clash of swords. A final thrall sentinel fell to their blades, with a few others fleeting without a fight, vanishing into the murky dark.  Monilee followed, her friends close behind her, and they burst into the shrine itself. Their leader died in an instant on Monilee's sword, and the rest, shocked by the sudden assault, did not last much longer.
And then, all was silent. Flush with excitement, the party exchanged cheers and embraces, then set about checking the bodies of the fallen vampires to ensure there were no survivors. The master vampire had some truly exquisite leather armor. Monilee stripped it from his corpse, which seemed to already be crumbling to dust, with a mind to have an armorer refit it as a gift for Shayna. The other vampires, however, had nothing of value, and the party advanced to the lay eyes on the shrine. Barbas awaited below, and, on an overhanging ledge, a gagged and chained woman watched them in silence.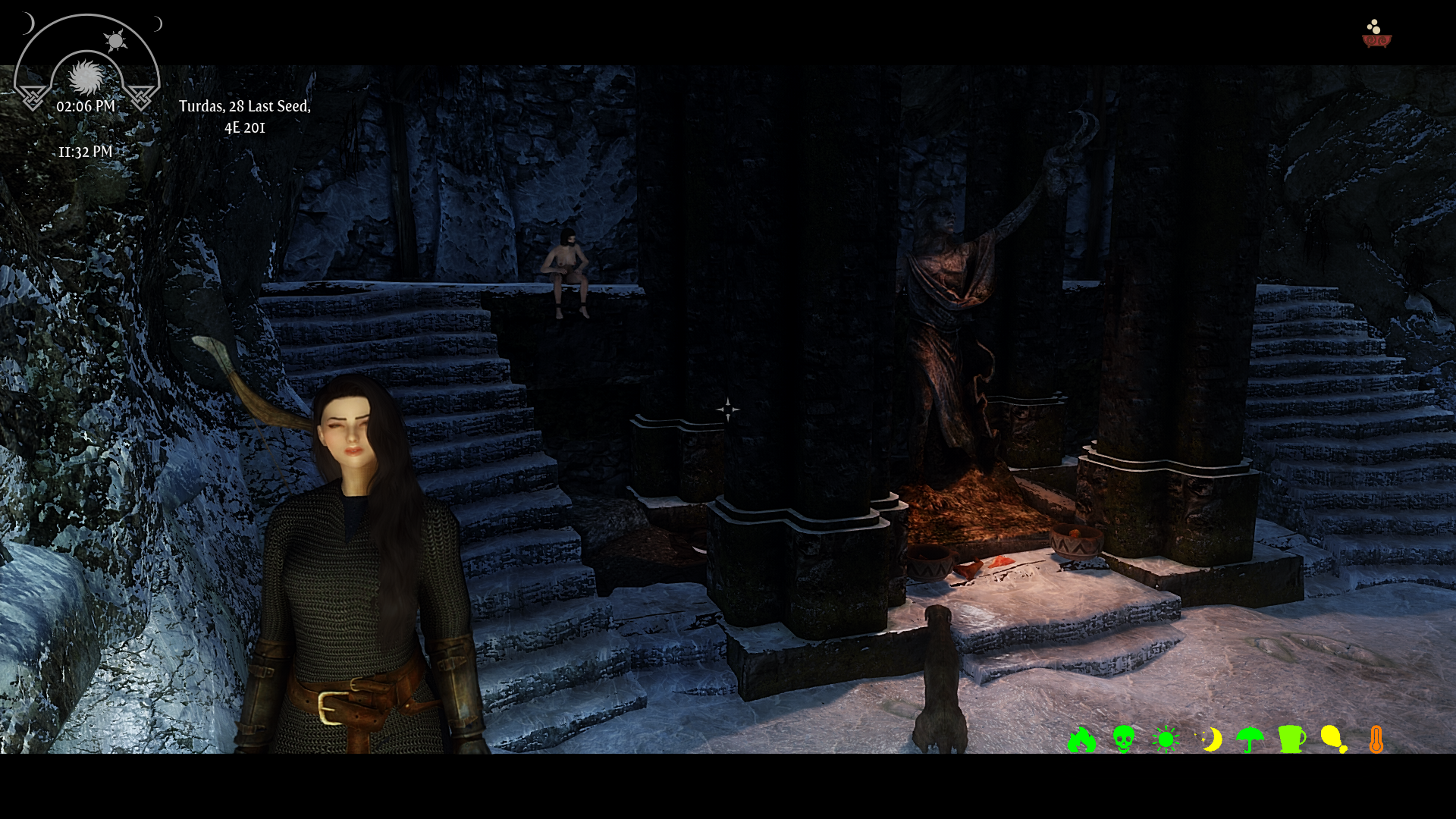 Briskly approaching the bound woman, Monilee loosened her gag and tried to speak with her, but she was incoherent. It was as if the woman was asleep on her feet. 
"What do we do with you?" Monilee thought out loud, "If we turn you out from this place, you'll freeze before you get off the mountain." 
"Leave her be for now," Edippa said. "The vampires have clouded her mind, but she will recover. There's ample warm clothes and supplies in the thralls' quarters. We can leave some for her to give her a fighting chance at least."
"I'm of half a mind to just carry her down with us when we leave," Monilee said.
"If she'll let you, then by all means, but I fear that the compulsion on her will cause her to become violent if you force her to leave before it's completely worn off. What she needs now is rest and time."
"Hey! Are you kids done arready?" Barbas asked petulently.
With nothing remaining to be done for the vampires' slave, Monilee returned to the shrine and immediately felt a presence. This must be Clavicus Vile, Child-god of the Morning Star. 
"Lord Vile," Monilee said, "I have a request for you."
"By all means, let's hear it!" the voice echoed throughout the cavern, "It's the least I can do since you granted the final wish of my worshippers!"
The vampire fledgling had spoken the truth; the cult here was seeking a cure from the curse that afflicted them. Evidently to Clavicus Vile, cold steel was as good a cure as any other. 
Monilee was tempted to ask for something of immediate value to herself - freedom from Nocturnal's influence, or at least the power to win her freedom by her own hand - but she remembered Barbas' warning about accepting bargainst from Vile. So she kept it simple.
"My lord, I desire only to reunite you with Barbas here." 
"Ugh, that insufferable pup? Forget it, request denied! No deal!" 
Continuing to speak out loud, perhaps not intentionally, Vile proceeded to engage in an extended, and increasingly petulant discourse with himself as to the nature of his imprisonment in the shrine and his general dissatisfaction with his existence on Nirn.
"Well, maaaaybe," he conceded. "But no promises." 
At length, he offered a deal: retrieve a powerful weapon for him, and he would grant Monilee a boon - even accepting Barbas back. He even promised no nasty surprises. 
Somehow, the fact that Vile felt he needed to specify that didn't exactly set Monilee at ease.
Test Results
Successfully triggered several variations on the "Nocturnal leaps from the shadows" event when shouting
Continued progressing SLaVE main quest. Completed first phase of Clavicus Vile quest
Some good news - hardcore armbinder mode does not touch equipped shouts. Still need to further assess why shouts were getting unreadied during earlier testing, but may be a 3rd party mod interaction.
Some observations/suggestions for future enhancements about Toys effects
Toys Arm Bindings: Seem to be working well on a system level and in third person mode. However, the lack of any kind of first person queue in hardcore mode confused me and made me think my game was bugging out or suffering from heavy script lag as my character unequipped her sword unexpectedly and, in first person, animated like she had her hands free and fists raised. There are a few technical approaches that could be done to address this; personally, I think forcing third person camera in combat when hardcore mode is engaged would be the most immersive, but I know there's a desire to find less intrusive approaches for Toys content.
Toys Crawling Effect: Similar to the above, when the asphyxia collar was making me crawl there wasn't any obvious 1st person feedback. A camera height adjustment would be really nice as a future enhancement for better immersion in first person.
Some mod compatibility notes:
Deviously Cursed Loot: During the recording of session 13,

observed significantly degraded performance, starting roughly when Monilee entered Ivarstead (high suspended script count leading to script fragmentation and severe lag, as well as increased incidence of CPU race condition). Increasingly suspected that DCL rape event was part of the problem as it seemed to be a common factor during degraded play. Reverted to Session 12 end save and disabled DCL rape. After several hours of testing, the suspended stack issue did not reoccur, though some residual script lag was obse

rved at times. Recommend disabling DCL Rape when playing SLaVE, especially if playing with more than one follower. Still assessing for other potentially high risk mods. 
Sexlab Separate Orgasm: Toys caught and Virgin chastity gear protected against a virginity-threatening orgasm from SLSO compatibility mode. Continuing to monitor, need to verify successful virginity loss and shout effects still.
Dripping When Aroused: Its audiovisual effects synergize well with Toys arousal effects as an additional indicator of rising arousal. Users should consider raising the threshold for the DWA audiovisual effects however to be closer in line with Toys event trigger lines (for maximum synergy).
Dirt and Blood: This mod's dirt effects "fight" with SLaVE's butt tattoo, as expected. Assuming we don't switch from spell effect to body overlay in a later release, end users may find themselves needing to use the MCM to disable the tattoo if they want to see dirt effects. Obviously, Dirt and Blood is just as much to blame here for using a persistent spell effect the way it does, but documenting for completeness. Too bad Skyrim can't blend these effects together rather than just having them flicker back and forth at intervals.
Edited by gregaaz