Behold, Solitude (Monilee's adventure, part 2)
---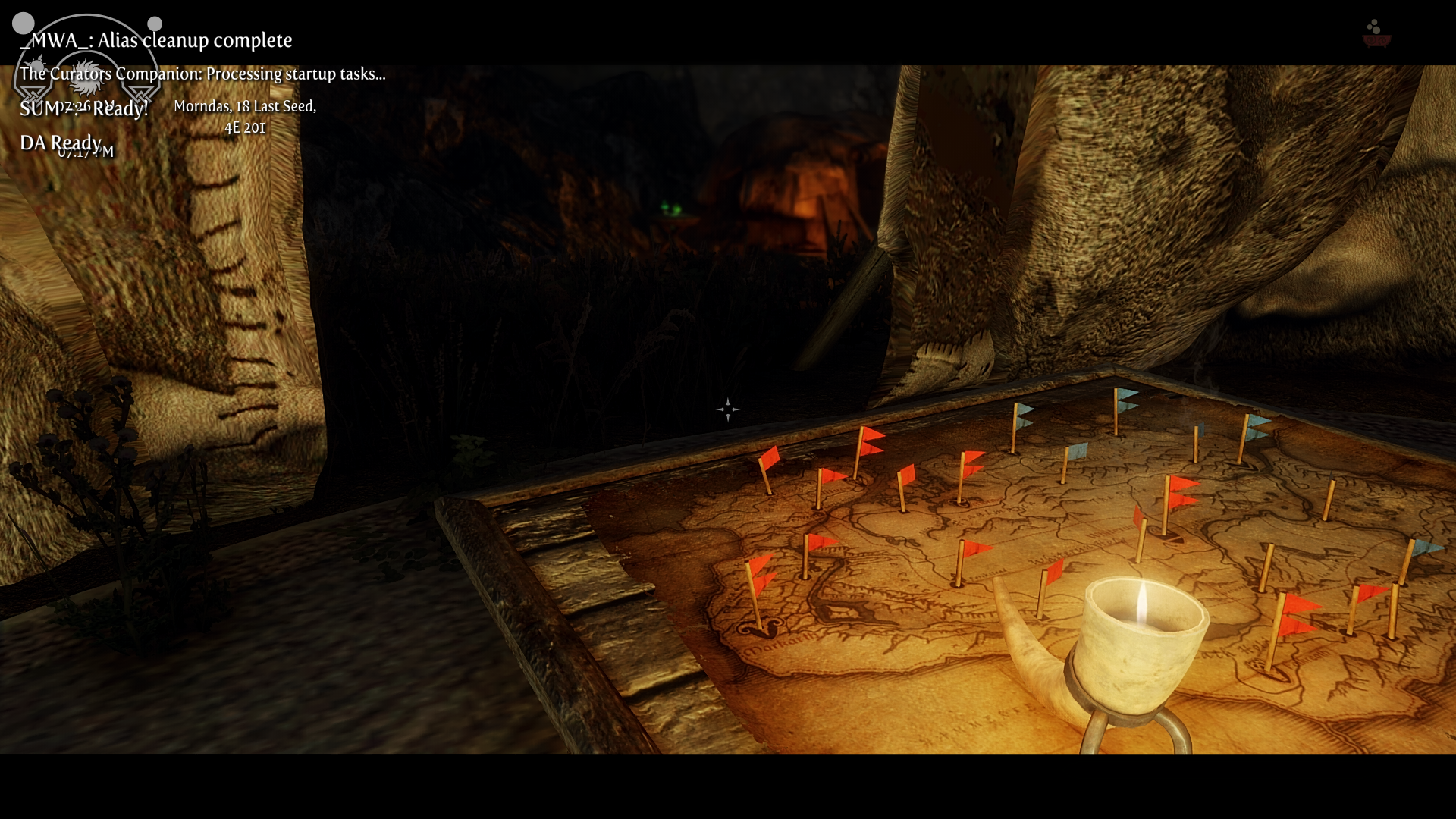 Monilee grimaced as she did her best to keep the "choke" out of choking down the contents of a rock warbler egg. The morning sunlight was a welcome sign of the coming day, but between the cold earth and the infuriatingly permanent halo above her head, she'd found it difficult to sleep the night before. Now, as she studied the camp's map one more time, she redoubled her resolve to journey northeast to Solitude, nominal capital of Skyrim. Kottir had offered her food and time, all that she needed to recover from her ordeal, but she had politely rebuffed him. In happier days, she had visited her father's men at arms in the field, and she knew the difference between a well stocked camp and one on the verge of starvation. The Stormcloaks were proud and stoic, but they were already hungry without another mouth to further divide their resources. Better she move on quickly, before she became a burden.
"Are you sure you aren't a Nord, girl?" he asked, half chuckling, "I've never met a Breton as stubborn as you before. You should go to Windhelm instead, join the Stormcloaks. You'd fit right in."
Monilee politely rebuffed him a final time, before checking the straps on her bag and laying a light hand on his forearm. "Perhaps we'll meet again some day, but until then, may the divines," she paused for a moment before uttering a small heresy, "may the nine divines watch over you." 
That seemed to placate Kottir, and Monilee left with a brief wave. Northeast, out of the camp opposite the way she'd come, then to Dragonbridge, and finally to Solitude. Divines willing, it would be an uneventful journey.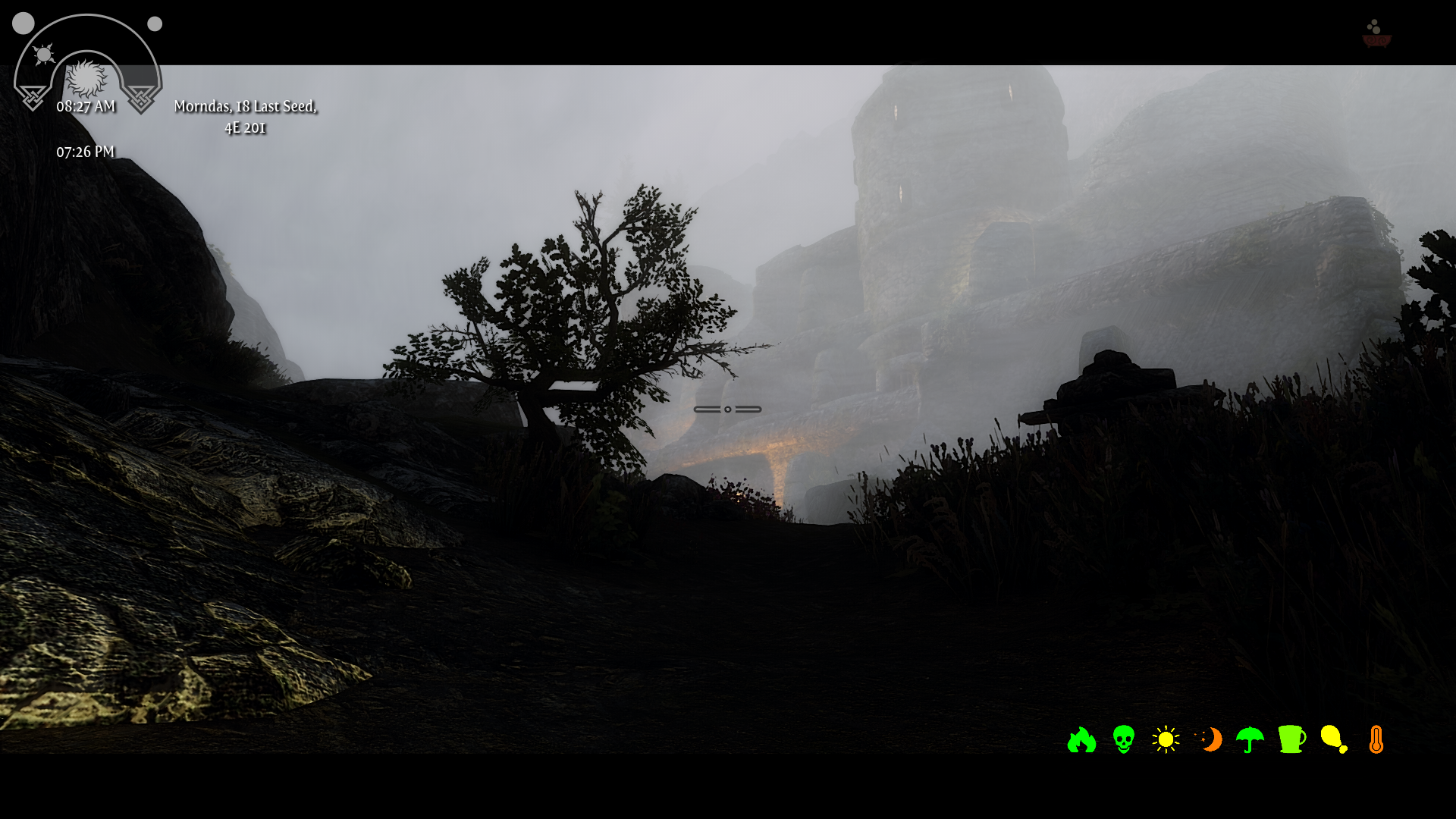 Uneventful, sure. Maybe a mile from the camp, Monilee found herself starting at an eerie, mist-shrouded fortress. Perhaps a long abandoned Imperial outpost, now home to who knows what. Again cursing the loss of her trusty dagger - to say nothing of the generations-old mithril shirt she left behind in High Rock when she went on "pilgrimage" - Monilee once again crouched low and did her best to sneak past without attracting attention. Funny thing is, sneaking with a bright light floating over your head is... challenging, and soon Monilee was running for her life as arrows whizzed by left and right. Reachmen, again! As if bandits weren't bad enough!
---
Herein we must interrupt Monilee's adventure for some test results. During her efforts to run past Broken Tower Redoubt, she was staggered from damage. The game promptly crashed to desktop at this point. Some time ago, I had asked @VirginMarie exactly what happens when you ignore the compatibility notes and leave virgin death alternative turned on when you are running a different death alternative mod. She told me that she wasn't sure, but it wasn't anything good. 
Now I have an answer: for Death Alternative: Your Money or Your Life, at least, you will CTD immediately when DAYMOYL begins to run its script, even if you have not started the SLaVE main quest yet. Setting virgin death alternative change to zero fixed this problem. 
---
They finally gave up their pursuit as a rain squall rolled in from the east. No longer peppered by arrows, Monilee was instead peppered by fat rain drops that quickly soaked her coarse garments. Still, at least she was out of danger for the moment - though the burst of activity had left her hungry, and her last apple had gone down her gullet some time before. She would have to keep an eye out for something edible.
Absolution came in an unexpected form. At a crossroads some way down the path, Monilee had met a group of Thalmor soldiers, led by a justiciar. Before she could even think of asking if they could share some food and drink with her, they coldly rebuffed her and ordered her to walk away... just as they all wandered into an ambush by waiting bandits! The Thalmor incinerated them in seconds with fire and lightning before casually continuing on their way. Once they were gone, Monilee put aside her pride and checked the bandits for anything useful.
No food or drink, to the dismay of Monilee's stomach, but she found a hooded cloak to guard against the rain and a good quality bow - as well as a sturdy looking sword. Between those useful items and the coins she'd found on the bandits, she left the crossroads feeling a lot more confident about her hopes for immediate survival. Things were looking even better a few miles down the road, when Monilee met a travelling alchemist who was more than eager to trade. Just as traded him the sprig of nirnroot for a juicy red apple, Monilee was violently knocked to the ground by what felt like a lightning bolt. Shuddering, she forced herself back to her feed and discovered that it was, in fact, a lightning bolt, and that a spellcaster was hurling magic at her and the merchant. 
Her honor compelled to stand and fight, but a desire to see the next day and the realization that she was in no condition to fight forced her to choose a different approach - headlong retreat. She almost made it, too, and then she was flat on her backside, rapidly spinning into unconsciousness.
Monilee woke in a warm bed. A tavern? Yes. And the innkeeper brought her some clarity. She was in Morthal, the capital - if you can really call it that - of the Hjaalmarch. A ways east of where she'd been headed, but closer than she started the day. Apparently she'd been found wandering, stunned senseless, in the wilds by a hunter and brought back here to recover. She wished the hunter had stayed so she could thank him properly, but under the circumstances she was just happy to be safe. Half a loaf of bread, a bottle of mead, and that red apple - which she'd apparently clutched in a death grip the whole while - later, her thirst and hunger were sated, though the rest of her felt like she'd been run over by a carriage.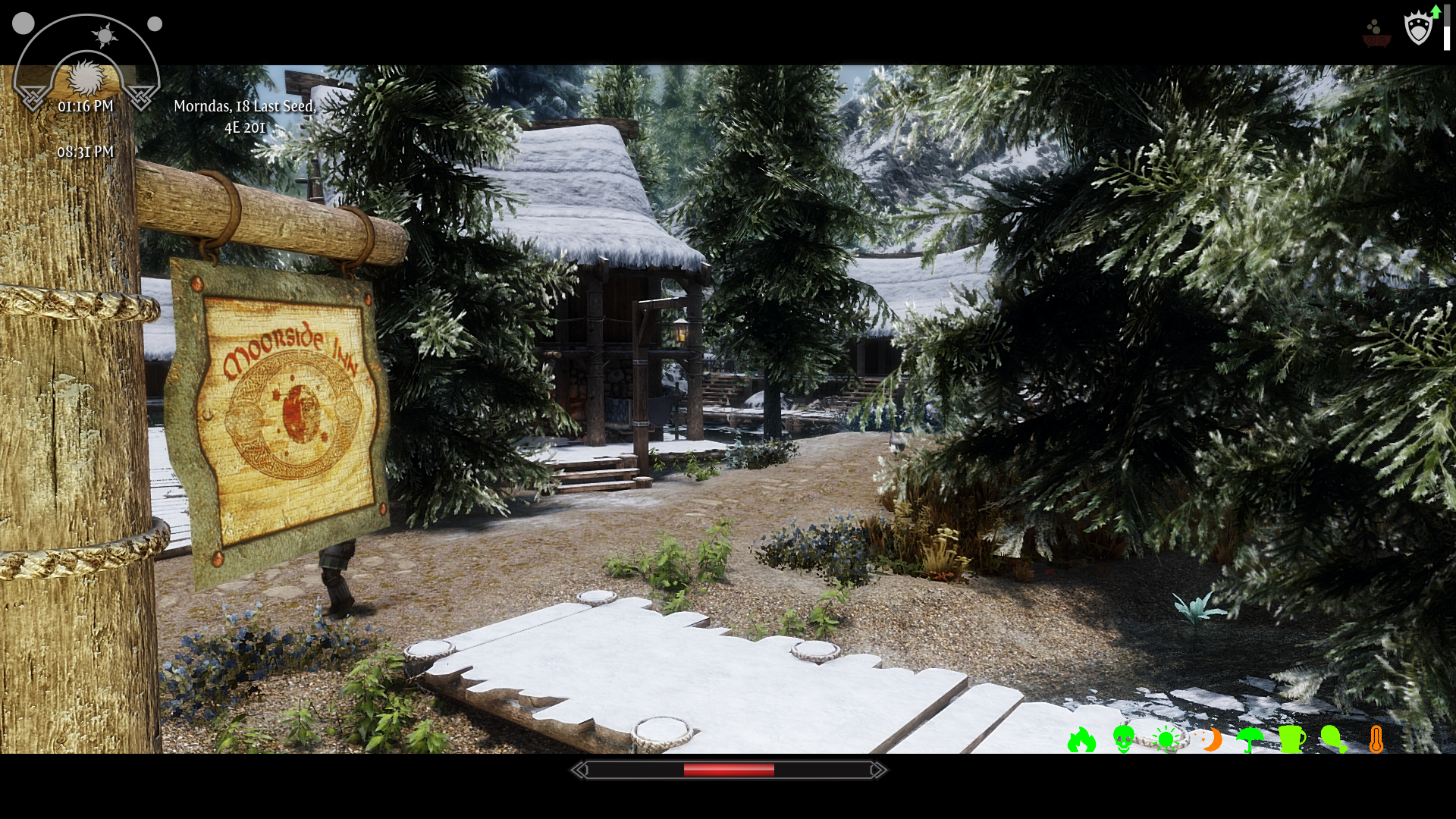 Stepping out for a breath of fresh air, Monilee discovered that there was ample time in the day. How long had she been been in her stupor? Had a whole day passed? She didn't want to dwell on it. Monilee set herself two tasks: first, see if there was a blacksmith she could sell some of the goods she had taken off the bandits to, and second, see if this town had a carriage or boat to Solitude. She accomplished her first goal readily enough - as she suspected, the hide armor she had stripped off the bandit leader was enchanted, and despite its torn and burnt condition it doubled the weight in her coinpurse. That accomplished, she spent some time asking around the docks and soon found a boatsman willing to take her to Solitude. 
Such it was that a few hours later, Monilee at last found herself standing on the Solitude docks, looking up at the Blue Palace. She still had many challenges ahead of her, but at least she had reached real civilization at last. Now it was just a matter of time before she could start rebuilding her fortunes and forging a new destiny here in Skyrim.
Test Results: Session 2
Tested death alternative handling. Unfortunately, SLaVE will CTD if its death alternative handling is running concurrently with the handling in DAYMOYL. Remember to set up your MCM accordingly before starting a new game!
After setting virgin death alternative to zero, verified that Death Alternative: Your Money or Your Life and Sexlab Defeat are both functioning correctly.
Edited by gregaaz