About This File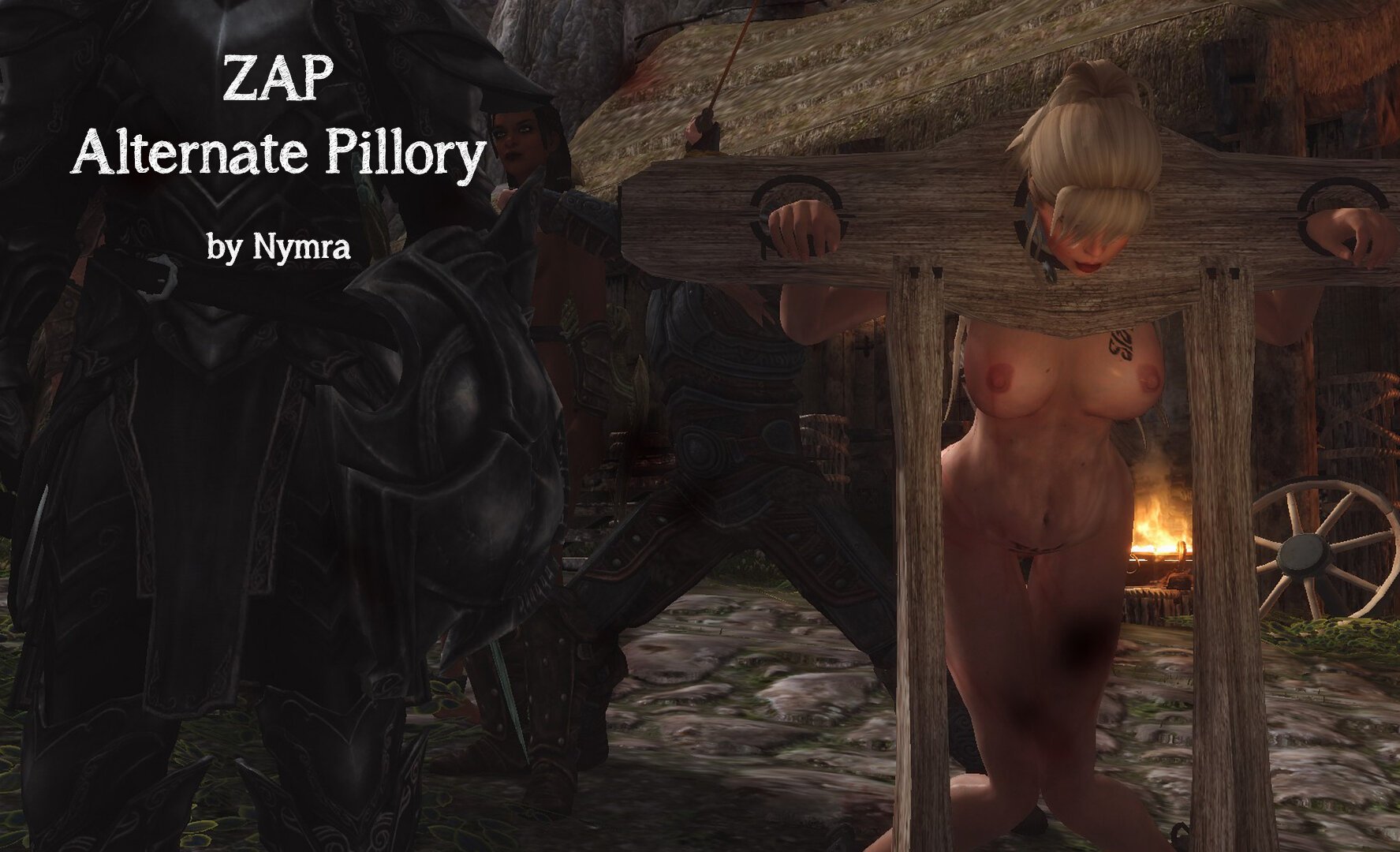 Uploaded alternate Version with DARK WOOD textures (more classy :D)
This is a replacement for ALL basic Pillories in the game. 
Why? Because they are ugly

No, joke, its because I want to see the boobs!
I cannot see the cute body of my PCs with the other Pillories. So I used this one for a better view of the fun. 
I use it primarily with Defeat mods and Prison Overhaul, but it should affect all mods that use the basic ZAP Pillory.
Affects ZAP Framework (all versions should be covered) and the following SLAL packs:
- Nibbles
- Leito
- Anubs
- FunnyBizness (my Rape Redux version and the normal version should both work, only tested the former)
- Billyy
It replaces all the meshes that are used by the original ZAP and the original SLAL AnimObjects. 
Installation:
Choose your Version
Normal Version has the bright wood.
DARK WOOD Version has... dark wood (surprise) 
(Metal Version still WIP sorry) 
With Mod Organizers:
Just put the file in downloads, install as usual and see that it overwrites as written below.
Manually:
All Stuff goes into Data Folder, overwriting all... 
In General:
The mod has to overwrite both ZAP Framework and all the SLAL packs mentioned above.
You dont need FNIS, register in SLAL or anything else, just install and play. 
IMPORANT: Sexlab, Zaz Animation Pack, SLAL and SLAL packs are re
Requirements:
Sexlab 1.62
Zaz Animation Pack
SLAL packs to your liking 
SL Animation Loader 
(without these it makes no sense to use this mod :D) 
Future Plans:
- Metal Pillory Version
- Different Textures (darker ones maybe) 
 
SE Compatibility: no idea. Feel free to test and report back to me. 
NOTE:
All I did was copying existing material and renaming it. 
I also had to adjust the position and height of the pillory for the AnimObjects.
Credit goe to makers of ZAP Framework and the creators of the SLAL packs.
---
What's New in Version
1.2
Released
Version 1.2 (DARK)
Same as 1.2 but with Dark Wood Texture.
Version 1.2
Updated for my SLAL Pack Version 0.9 (Pillory Objects new path) 
Added SE Version
Version 1.0
SE Version of 1.0 online. Thx alot @Herowynne
Reupload of V1.1. with correct filename... sorry
Updated for my own SLAL pack which now also contains Pillories