An Exchange of Favors (Kirstia's Adventure, Chapter 13)
---
The sun was just cresting the city walls as we entered the Silver Blood Inn. I'd expected the inn to be quieter at this early hour, but many travelers were already rousing and filtering in to the common room to sate their hunger. It was clear right away that the barkeeper and his wife both were too busy for me to question them right now, but I saw their daughter, Sharli, who'd served us when we visited before. She was sweeping up near one of the halls, and I approached her with a smile.
"Greetings," I said, "it's good to see you again."
She smiled, though didn't stop with her sweeping, "and you as well, reverend sister."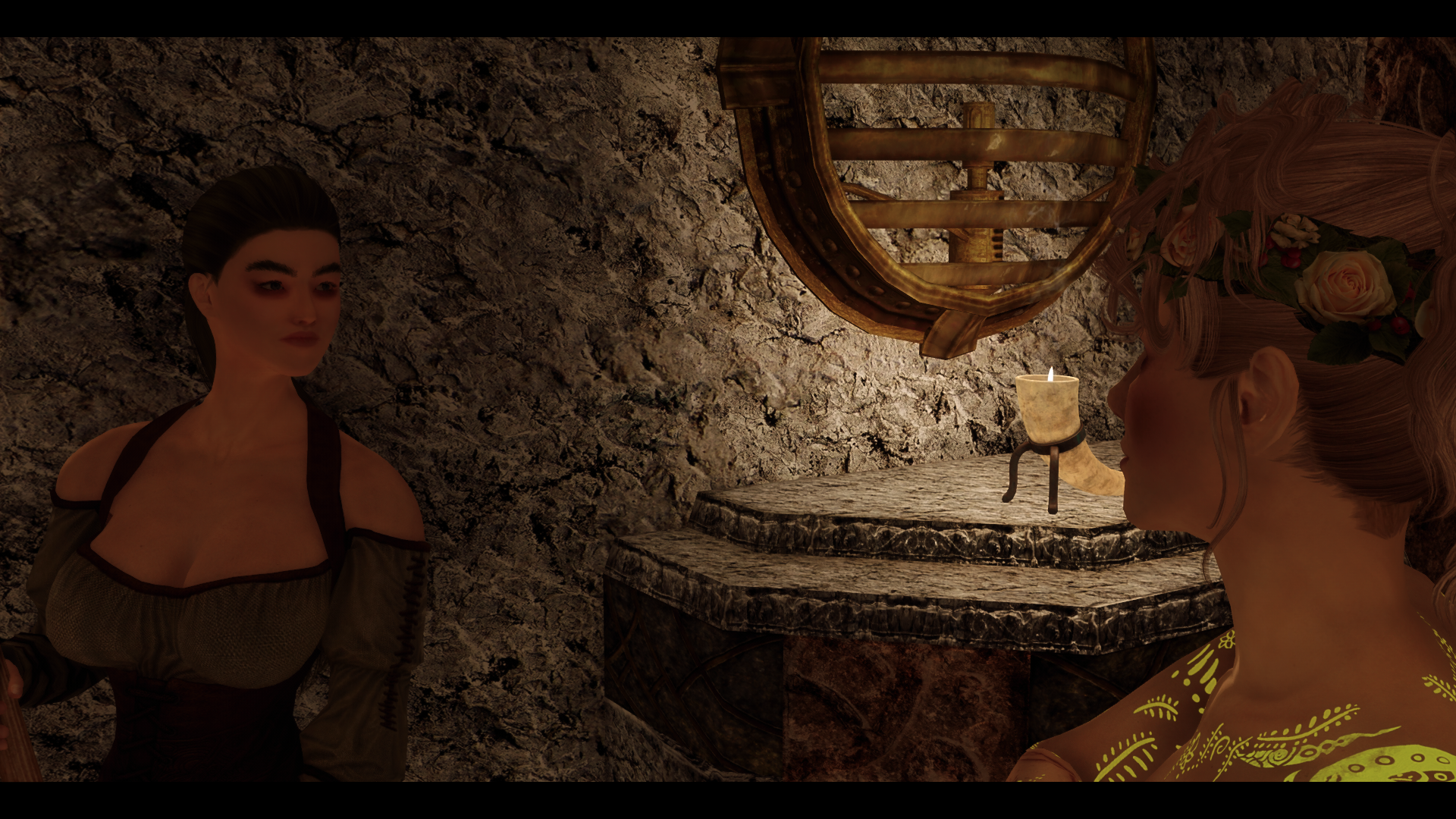 "It's just Kirtia, no need to be formal. Anything interesting happening?"
She shrugged. "You know, the usual. The elves up in a palace making a ruckus about who worships who; Arnleif's store is having trouble staying stocked with all the trouble on the roads. That sort of thing."
"I heard one of your guests got murdered a few days ago, a traveler from Cyrodiil?"
Sharli looked left and right quickly before speaking in a hushed tone. "The guards don't like anyone talking about it. Officially they say it was just a random attack by a madman, but from the way they're sniffing around, I think they suspect something more. They asked us to lock up her room until they say otherwise… father was furious. Good Septims going to waste every day he can't rent it, he said."
"I can understand his concern," I said, "after all, a business can't run without customers. Though… I have to admit I'm curious about what happened with that poor woman. These are strange times."
"Indeed they are, rever-, ah, Kirstia. I need to get back to my chores though. Thank you for taking the time to talk to me."
We parted then, and I took in the room. Kleppr, the barkeeper, was still hard at work juggling orders, and his wife had retreated to the kitchen, perhaps helping the cook. Bit by bit the volume in the common room was rising as more customers woke. In a sense, this was the perfect time for some snooping – everyone was either distracted working or focused on eating. But I didn't think that the 'kick in the door' approach would work here, either.
Then my eyes settled on a woman. It was the slave, the one Kleppr had called 'Fat Ass.' Quite contrary to the nickname, the Redguard had a trim, healthy figure. As was frequently the case with slaves, Kleppr kept her naked, but she was adorned with subtle body paint in a dark green pattern that almost blended into her skin tone. She'd been straightening up beer steins on a shelf, but stopped when I approached.
"Excuse me, ah, Fat Ass, but I have some questions."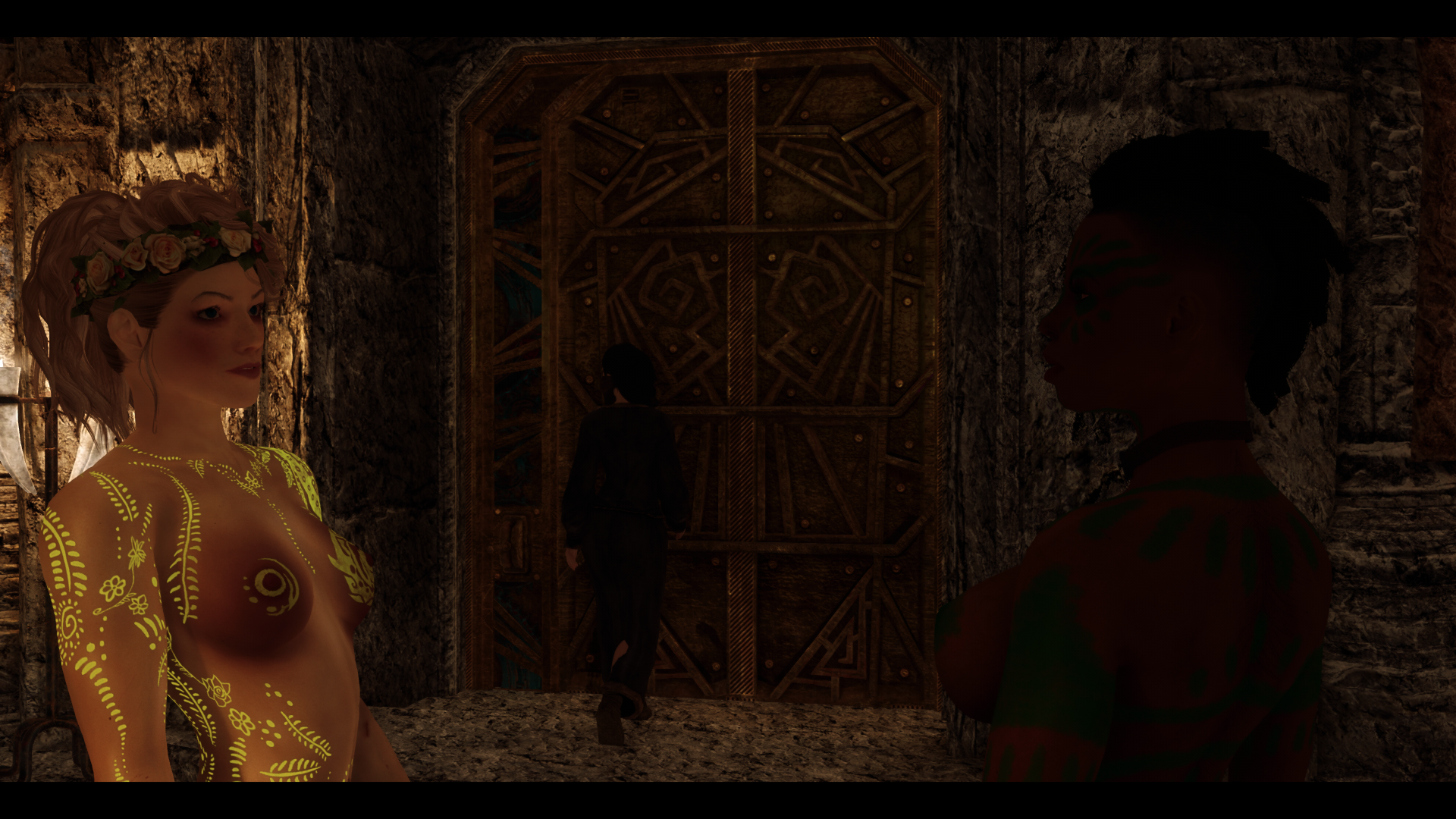 "Sure," she said, "I have a few minutes before I have to start cleaning the guest rooms."
"Why does Kleppr call you that?"
Momentary irritation flashed over her face, her eyes darting towards the barkeeper, before she reigned in her expression.
"The guards called me that, when they captured me. They'd make me dance for them, and they said they liked the way my rear end swayed. As for Kleppr? Just a lack of imagination, I think."
"You said the guards captured you. How did you come to be here?"
"Bad luck mostly. Or good luck, depending on how you look at it. Last year, I was drunk and cocky, and Ondolemar," she hissed the name, "that Thalmor pig who 'advises' our Jarl, came into the tavern. The drink gave me courage to say some words I should have kept to myself, and the elf decided to prove his superiority by hurling magic fire at me. I dove behind the bar, and one whole side of it got charred black. I realized I'd made a big mistake and I tried to run, but the guards caught me before I made it a block."
She continued, "Ondolemar wanted me put in Cidhna Mine. No one ever escapes from there. But Kleppr was also demanding restitution for the damage to his bar, and in the end the Jarl gave me to him as a slave, as payment for the damages."
"So you traded one prison for another?" I asked.
She nodded slowly, lowering her tone, "Divines, I don't know why I'm saying this, but I feel like I can trust you, sister. No one escapes Cidhna Mine. Nobody. But the Silver Blood Inn? With patience and good planning, someone can escape from here."
"Thank you for trusting me," I said. "I know the Lady is watching over you. You mentioned you cleaned the rooms. Even the one the guards had closed up?"
"Not that one, not yet. I have a key to the guest rooms, but Kleppr's told me to leave that one alone."
"Hmm," I said, "the truth is, I'm looking for somewhere to get some… privacy, and I think that's the only room that doesn't have a guest right now."
"It's true," Fat Ass conceded, "we've been full up for the last two days. Kleppr was really upset that he couldn't rent out that room – he had to turn away travelers three times."
"Damn, and I really need to use a bed, if you know what I mean."
That provoked a quick little smile from the slave. "Both of us, I think. Tell you what… I'll let you get at that bed as long as I get to use it with you before whoever you planned on meeting there. Fair?"
I nodded in assent, and we slipped from the common room. Kleppr, still foundering in a sea of hungry guests, was none the wiser. Edippa followed not long behind, glancing backwards to confirm we weren't being observed or followed. Fat Ass produced a key from within a cloth cuff on her left wrist and quietly opened the door, gently closing it behind us once we were within. Then she gestured towards the bed.
"If you don't mind, sister, I'd like for you to get on your hands and knees. I haven't been on top in a long time."
I agreed, but asked, "how do you want to do it? Hands? Mouth? Let me know so I can line up my rear for you."
Edippa cut in before Fat Ass could answer. Fishing in her pack, she drew out the smooth black godemiche she'd worn back in Whiterun. "Here, if you want to be on top, you should penetrate her with this. Let me help you put it on.
Mother helped Fat Ass step into the harness and then adjusted it to fit her comfortably. While this happened, I got comfortable on the bed, gently rubbing myself to get my juices flowing. Working carefully with inexperienced hands, the Redguard woman maneuvered her tip into place before gently pushing into me.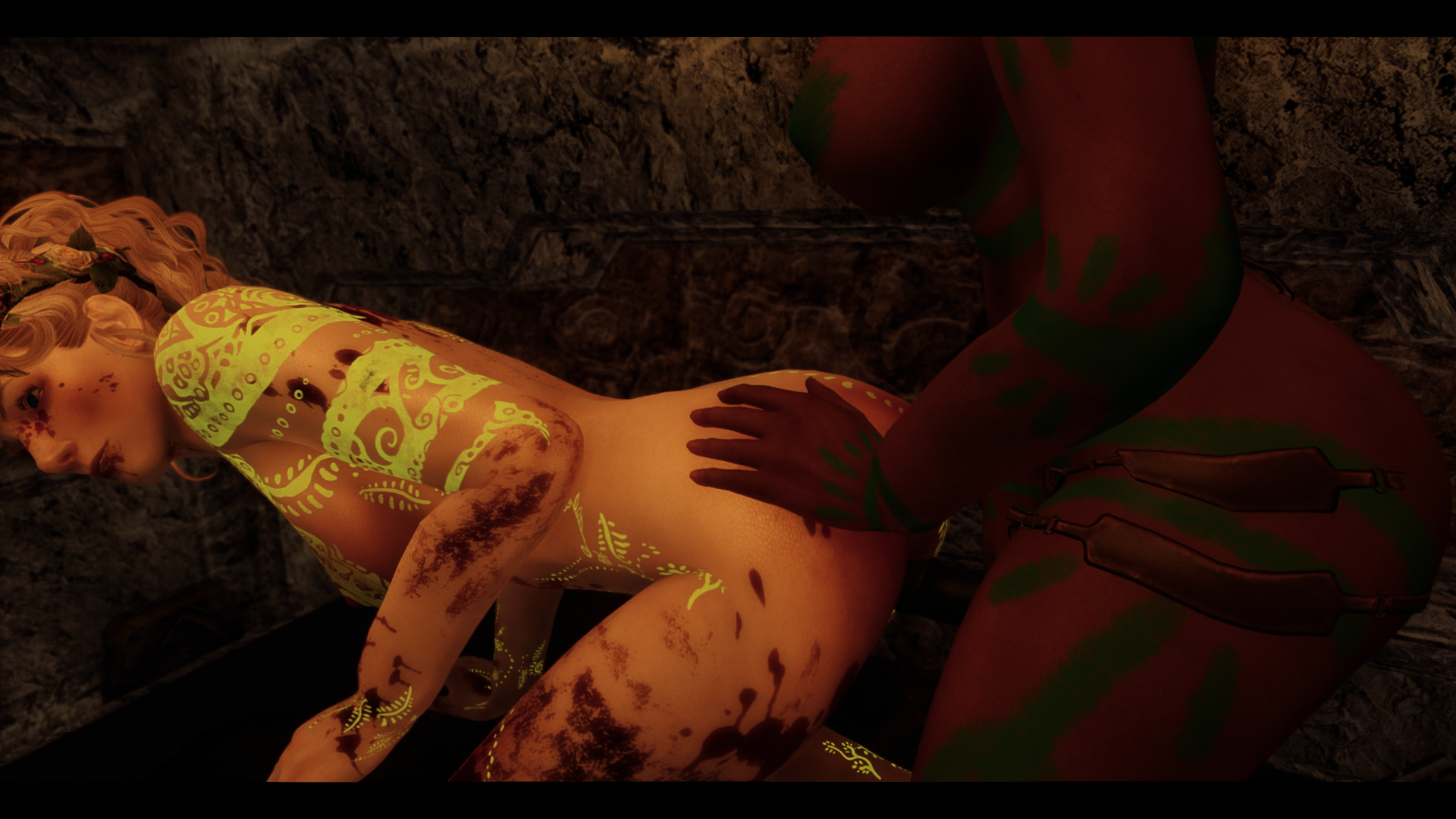 I groaned as she stretched me, then experimentally pushed harder just at the end of the thrust, clapping her hips against my cheeks. I gasped a little, and I heard Fat Ass… laugh?
"How was that?" she asked.
"Good, but you can go faster, harder. As long as we are on this bed, you are the master. Enjoy it."
Fat Ass started to speed up, building up a rhythm and putting more strength into her thrusts. As she settled into a comfortable motion, I started pressing back, pushing myself back so I met her thrusts with greater force and intensity.
Mother had sunk into a chair in the corner of the room, and she asked Fat Ass, "are you enjoying this? Do you like having the power?" I heard rustling, and I saw that mother was removing her vestments and shifting in the chair so her legs were open.
"Yes," she said, her breathing becoming a little heavier with her exertion, "yes, I've wanted this for so long. I'm so sick of smelly Nords bending me over the bar and fucking me. I really, really needed to be the one doing the fucking for once. Thank you sisters, thank you both." Each 'thank you' corresponded with a particularly vigorous thrust of the godemiche.
"Oh," mother said breathily, "you're welcome. But the pleasure belongs to all of us, so please don't feel you owe us anything."
I glanced over, to see that mother had closed her eyes and was rubbing her clitoris in time with Fat Ass's motions.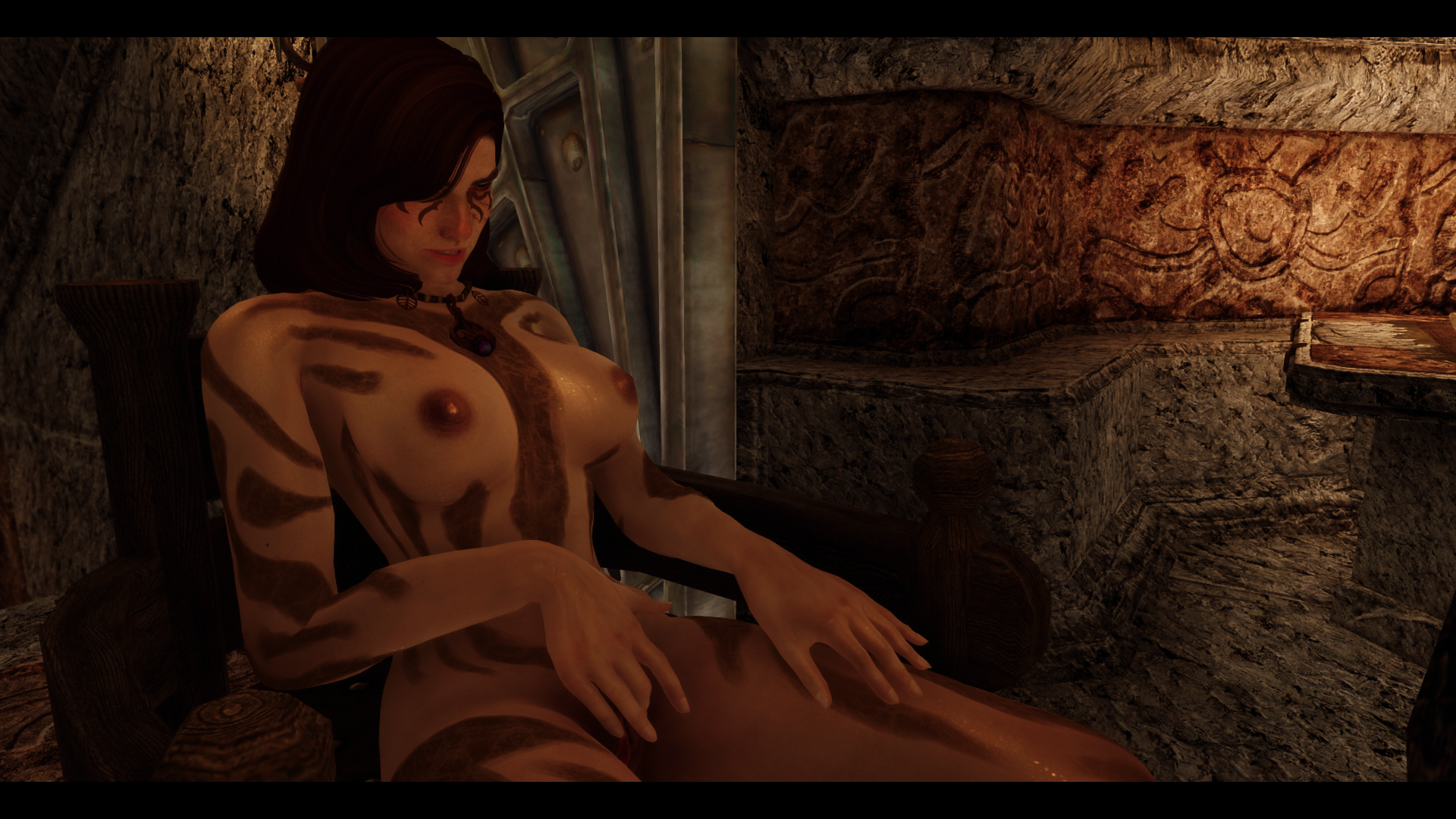 Fat Ass continued, and I could feel my own enjoyment growing, but slowly. The slave was earnest but inexperienced, and the lovemaking felt impersonal. She was getting off much more on the feeling of power than on any actual sensual touch. I pushed my head down against the pillow, arching my back a bit and trying to maneuver so the godemiche had to run along the wall of my vagina instead of pressing straight in. That felt better, but it still wasn't… quite… what I needed.
I whispered to Fat Ass, "would you like to look in my eyes while you take me?"
The slave groaned breathily at the suggestion. "Yes… yes, I'd like that."
With her assent, I started to turn, and we adjusted so I was on my back, facing her. The godemiche slid back in, and I wrapped my arms around Fat Ass in an embrace, drawing her close.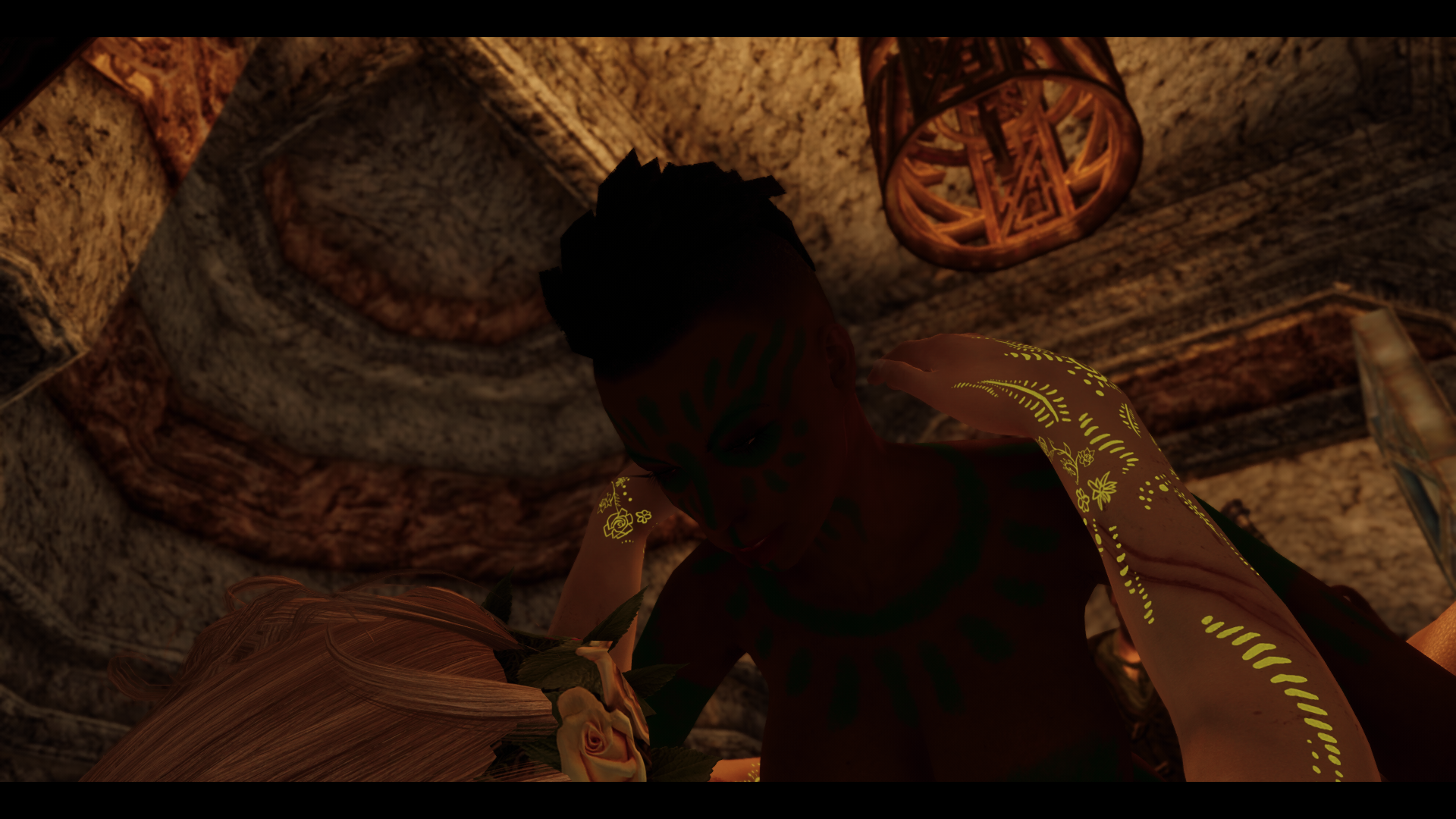 Finally, her pumping action slowed, and then stopped. I pulled Fat Ass closer, drawing her whole body against mine, and whispered in her ear, "you don't have to stop if you want more."
The slave kissed me full on my lips, then pulled back just a little bit. "No, thank you, you've been so kind to me, but I have to get back. If we play much longer, Kleppr will notice I'm gone. Please close the door behind you when you're done. And Lady bless you."
I don't think either of us achieved an orgasm on that bed. I know I didn't. But Fat Ass got an even greater pleasure: a momentary reprieve from her slavery, a chance to have power and to be the master for once. Thinking about it brought warmth to my face, though I wished I could have done more for her – after all, the young woman had taken something of a risk letting us in here.
As I contemplated that, I felt a different, stronger warmth run over my body. It was eerily like the warmth of the blacksmith's forge that night in Northpoint. And then I heard a whisper in my ear.
"You have done well, child. Though the path you walk is challenging, you have sought to bring my love wherever you tread. Know that if you call to me, I will intercede on your behalf. I will disarm your foes and sharpen your mind. Stay true to the path, and usher my Sybil into my temple."
And then, as fast as it had come, the presence was gone. I looked to mother, and she nodded. "Yes," she said, "I heard it too. I'm very proud of you, daughter. But we should be quick. Let's see if we can find any clues about this woman."
It didn't take us long to find what we were looking for. The end table, next to the bed, contained a journal bound in black leather. Unfortunately, it also contained a magical trap. As soon as the drawer was half open, something leapt from it like a snake and struck my neck. I raised my hands instinctively and felt it coiling there as well. Coughing, choking, I pulled at the mysterious object but could barely move it.
"Ah! Mother! Help!" I hissed, controlling myself just enough to not shout out and give away our location.
"Stop struggling," Edippa said, "you're making it coil tighter. Let go of it and slow your breathing."
With some effort I did what she had said. Looking at my wrists, I saw they were coiled with what looked like ordinary cords of hempen rope. Feeling at my neck, I found the same on my throat. "What?" I asked, looking to mother.
"Magical bindings," she said. "Can you move your arms freely?"
I swung my arms side to side and up and down, testing my range of motion.
"Yes," I said, "In fact, they feel rather loose, more like bracelets and a necklace than tight bonds."
Edippa nodded. "I suspected as much. On anyone else, you'd be held fast, probably secured by the wrist to the nearest piece of furniture, barely able to breath, only able to wait for the guards to collect you. But you… you're made of sterner stuff. I don't think we can remove these without specialized tools, but as long as they stay dormant, you should be fine."
I wasn't completely satisfied with that answer, but I couldn't think of an alternative. So at length, I slid the drawer the rest of the way open and carefully extracted the journal.
Opening it, I learned of Margret. Of her meetings with the Silver Blood clan, of her contempt for their arrogance, and most interestingly that Margret was spy sent by General Tullius, commander of the Imperial legions in Skyrim. Her mission had been to steal the deed to Cidhna Mine, securing the prison in Imperial hands because Tullius feared that the Silver-Blood family was in league with Ulfric Stormcloak.
I snapped the journal closed and returned it to its place. Turning to mother, I said, "more and more interesting. I'll tell you everything later, but for now let's see if that Nepos fellow is here at the inn."
Edippa nodded, "agreed, we're past our time to leave this room. I asked Jenassa to try and find the Nose, so hopefully this will be quick."
When we emerged, Jenassa was waiting. She shook her head decisively. "No sign of him. I asked around and he's been holed up in his mansion for the last few days. Looks like we'll need to come to him if we want answers."
"Then shall we go?" I asked.
Mother shook her head, "no, let's take our time. No need to raise suspicion. Let's collect some more donations for the temple and have some breakfast. Besides, I don't know about you but I'm getting hungry."
I agreed and we returned to the common room. The breakfast rush seemed to be slowing a bit, and we took a moment to speak to some of the guests and ask if they would donate to the temple. A number did, most taking their customary gropes, but apparently too full from their morning meal to go for anything rougher. Even Kleppr, from whom I was expecting a more intrusive experience, settled for peeling off his apron for skin-on-skin hugging and some surprisingly gentle kissing. I wondered if this was why his wife put up with his abrasive attitude.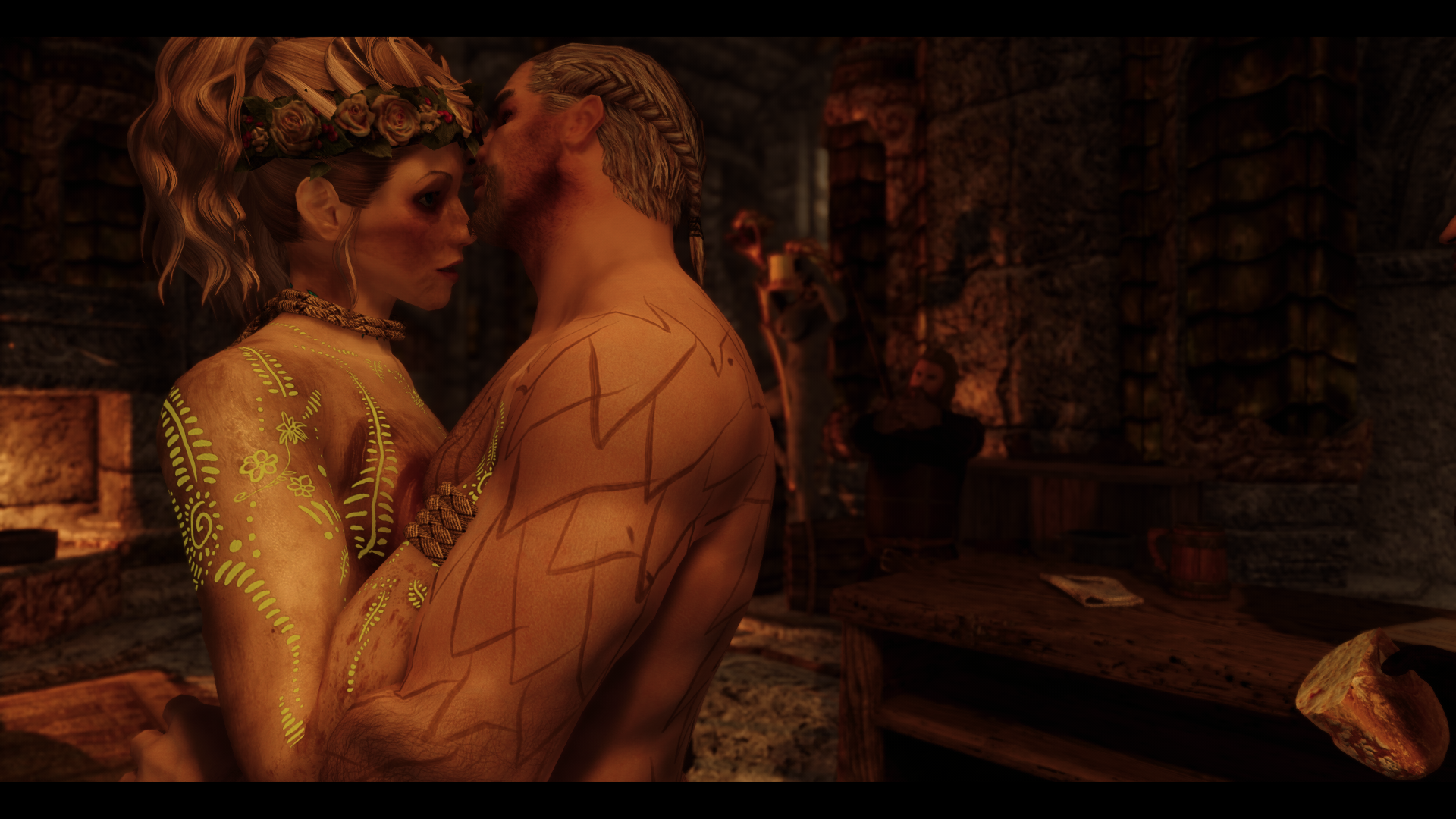 By the time I'd made my rounds, I had quite a good haul for the temple, but I was also filthy, covered with all kinds of food residue from the hungry guests who'd decided to paw at me. While mother and Jenassa ordered breakfast, I asked a maid for a washbasin and sat by the fire to sponge myself down. Fortunately, my enchanted paint seems to have fully dried by now, and stayed as bright as ever in spite of my scrubbing.
I returned, clean and fresh, to find Jenassa preparing a plate for me. Her and mother had claimed a table and were preparing fresh bread with a liver pate spread along with some cute little snowberry tarts. The last night's adventures were starting to catch up with me, and I tore into my share of the meal with abandon. Liberally chasing my breakfast with a hot, mild tea, I felt much recovered.
We decided not to discuss what we'd learned in public, so after finishing our breakfast we returned to the Temple of Dibella. I handed in the contents of my donation bag to a very pleased Senna, and then mother, Jenassa, and I reviewed everything we'd learned. Much like the city's troubles more broadly, the Silver-Bloods seemed involved on more than one level – and on a more personal level it struck me that they may be my enemies. Ulfric Stormcloak was the man who led to my father's exile, and if they were in league with him, then they were no friends to me. There was also this Nepos the Nose, who was either in league with the Forsworn, or going to great lengths to pretend to be. The Forsworn were the sad remains of my father's shield-brothers, and I wondered if perhaps Nepos might turn out to be an ally.
Troubleshooting and Conflict Resolution
No major issues to report - though the difficulty in keeping Kirsti clean (as seen is some of the screenshots) reiterates the importance of me finishing my patchup job to merge Bathing in Skyrim with Dirt & Blood for my next playthrough.
Edited by gregaaz