Apocrypha's shelf — The Misadventures of Mai
---
Hi everyone ! During her last trip to Apocrypha, Malicia found another story-blog, kept deep within the daedric prince's realm. Though only partially deleted, and probably containing lots of forbidden knowledge, she still retrieved what she could (for purely encyclopedic purposes of course).
Allow me to present her last rediscovery :
THE MISADVENTURES OF MAI
I - SYNOPSIS
— Hello, now.
— Greetings, travell...
As he turns around, the pupils of the brave Nord dilate, while his mouth remains unshut. Before him is one of the most beautiful women he's ever seen, her delicate features and raven hair only better highlighted by tribal warpaints and ornaments. But most of all, she's completely naked ! 
Lost in a tempest of forgotten emotions, the warrior stands agape, failing to notice the silence ensuing his prolonged thought process. The feathers-capped brunette eyes' wrinkle : 
— Is everything alright ?
Just another day in Mai's life.
II - DESCRIPTION
A - Summary
The Misadventures of Mai (M-H)
Writing genres & others : humor, comedy - erotism - adventure.
By : Hellonow.
Status : mostly unavailable - Dormant.
Mai is a hunter who always struck as out of the ordinary ; her complete lack of clothes being the most immediate trait to her siblings. Which necessarily leads her to quantities of misunderstandings and funny situations ! Through the misadventures of her atypical way of life, discover a deliciously directed story, featuring omnipresent humor, on point dialogues, vivid screens, and a highly colored protagonist. Let us just hope that the author will keep on restoring them, as they are a a must read for lighthearted story-lovers !    
Recommended start : Welcome to my blog.
While the blog isn't completely out of order, only the three first entries are available. With those this Apocrypha comes with, this total raises to six. And who knows if the author won't find back the time and motivation to restore the others, one day ? 
B - Critic
Qualities                                                           |                                                           Drawbacks
+ Lots of humor all along, for a quite lighthearted result
+ Fluid writing style and staging
+ Good overall visual quality, with quite lively poses and expressions
+ Spirited protagonist and characters
+ Steady with content types
                                      - Non integrated subtitles
                                      - Though always enjoyable, it's not too varied in content types at the moment
                                      - While the ENB creates warm and crispy indoors and skin tones, it tends to burn the whites
                                         outdoors, and the DoF can get to be excessively strong
                                      - We're currently missing most of the original entries !
 
Malicia : « Mai's a gal who's very pretty and strong too. But she forgot her clothes at the reindeer guy's tribe, and didn't remember to ask them back, you see ? 
                 So now everyone thinks she's seducing them, plus she can't go out in winter. And no one ever thought to just give her a dress, no ! 

»
III - RESTORED STORIES
Preamble : below are the stories related to The Bathhouse Vampire arc. In other words, worth 3 entries of Hellonow's work restored. This means it's not meant to be read in one go ; and the spoilers are here to provide you an anchor to resume your read later.  
2014-12-30
I - Prologue

 

Evening...just outside the city of Whiterun...




 

 

Mai: "Whew...almost home. The trek from Rorikstead was tough! At least I managed to get some valuable information about where the Dawnguard might be located..."




 

 

Mai: "Dammit! I'm still a good thirty minutes away from the city....but I really need to pee!"




 

 

Mai: "Hmmmmm.....I suppose.....I could maybe.....just pee right here. There's nobody around..."




 

 

Mai: "I could pee into this stream - fish do it, right? And nobody needs to know!"




 

 

Mai: "Oh, Gods....this is sooooooooo embarrassing. Let's just get it over with quickly."




 

 

Mai: "Okay, girl....just relax. There's no-one around...just let it come..."




 

 

Mai: "Mmmmmmm......that feels so good!"




 

 

Mai: "I dunno why I was so worried - this is no big deal! It's perfectly natural....."




 

 

Mai: "And if i'm honest...it's kind of a turn on! Knowing that I could be caught at any secon......"




 

 

Mai: "Oh.........NO!"




 

 

Mai: "Um....hey there little boy....nice to see you again. Eh...how long have you been following me?!"




 

 

Lars: "............................"




 

 

Mai: "Um....could you maybe.....close your eyes for a few seconds.....please!"




 

 

Mai: "I'm not joking - it's great that you're here and all, but could you please turn around for just a moment!"




 

 

Lars: "..........................................!"



 

Celann: "What a journey! But I'm almost there. And my disguise has worked perfectly - nobody has given me so much as a second glance."




 

 

Celann: "Aha - and there it is, a sight for sore eyes..."




 

 

Celann: "The mighty Dragonsreach, home to the Jarl of Whiterun - a man who does not realize the danger he is in! But it also means I am drawing closer to the woman who has been haunting my every drea.........."




 

 

Celann: "Wait! I hear people...."




 

 

Mai: "Little boy - please! Don't you know it's rude to stare?! Just close your eyes and I promise we'll play whatever game you want!"




 

 

Celann: "Mai? Is that you?!"

Mai: "Celann.............?"




 

 

Mai: "CELANN?!?!?!?!"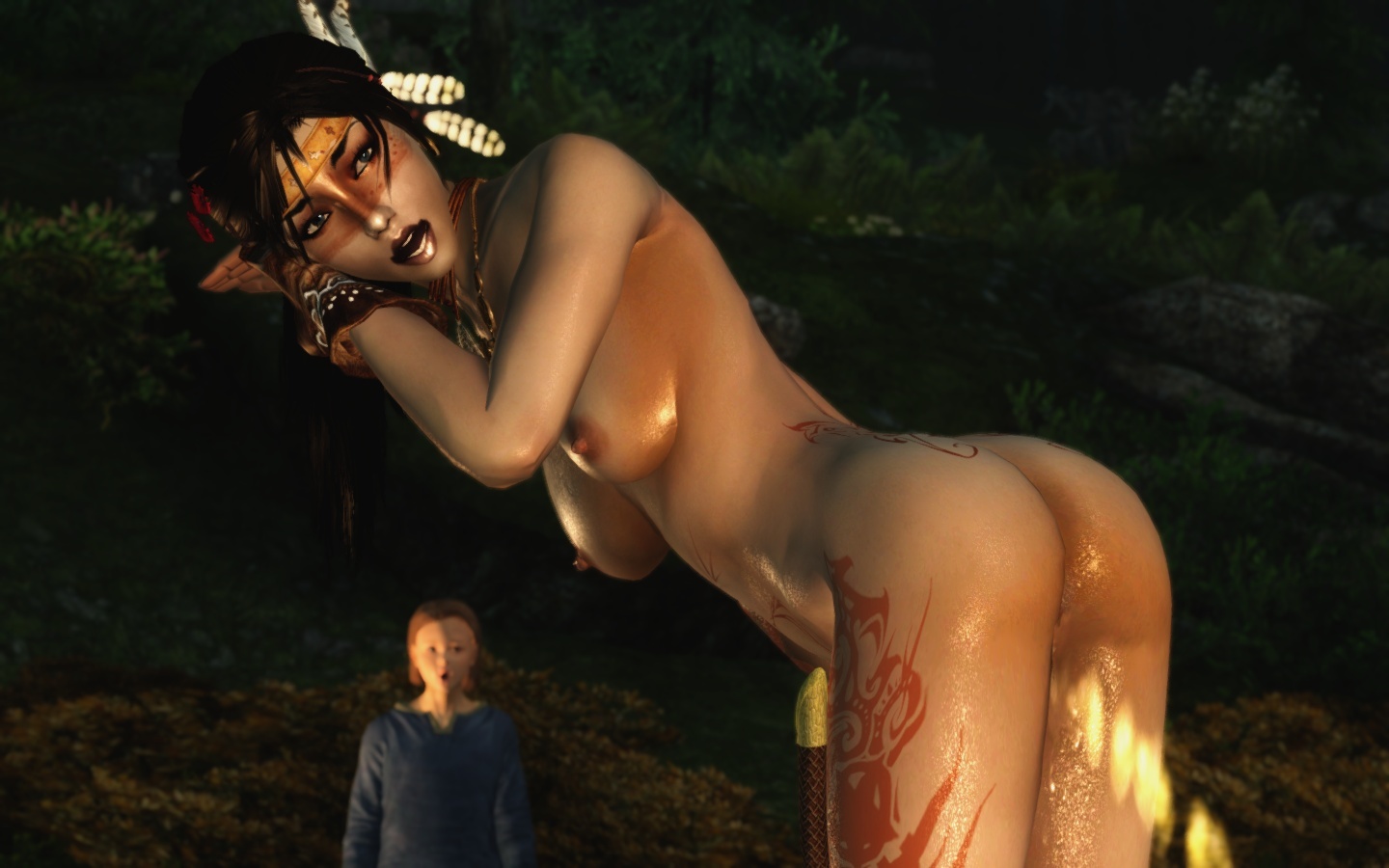 Celann: "Haha - what ARE you doing?!"



 

 

Mai: "Oh, y'know, just peeing in public while a small child stares at me, and wishing an Oblivion gate would open and suck me inside - how about you?!"




To be continued...

 

2015-01-03
II - The Tale of Mai

 

Night - Just outside Whiterun city walls...




 

 

Mai: "Guys, I'm soooooo embarrassed about the whole "peeing" thing! What would it take to make you both forget about it?"




 

 

Celann: "What do you think little buddy - should we let her get away with it?"




 

 

Mai: "Come on, little boy. We're best friends, right? I'll do anything! Just don't tell anybody about this..."




 

 

Lars: "Hmmmmm....I'll keep quiet.....BUT........you gotta be my girlfriend from now on!"




 

 

Mai: "Haha - great idea! I'll be the best girlfriend in all of Skyrim!"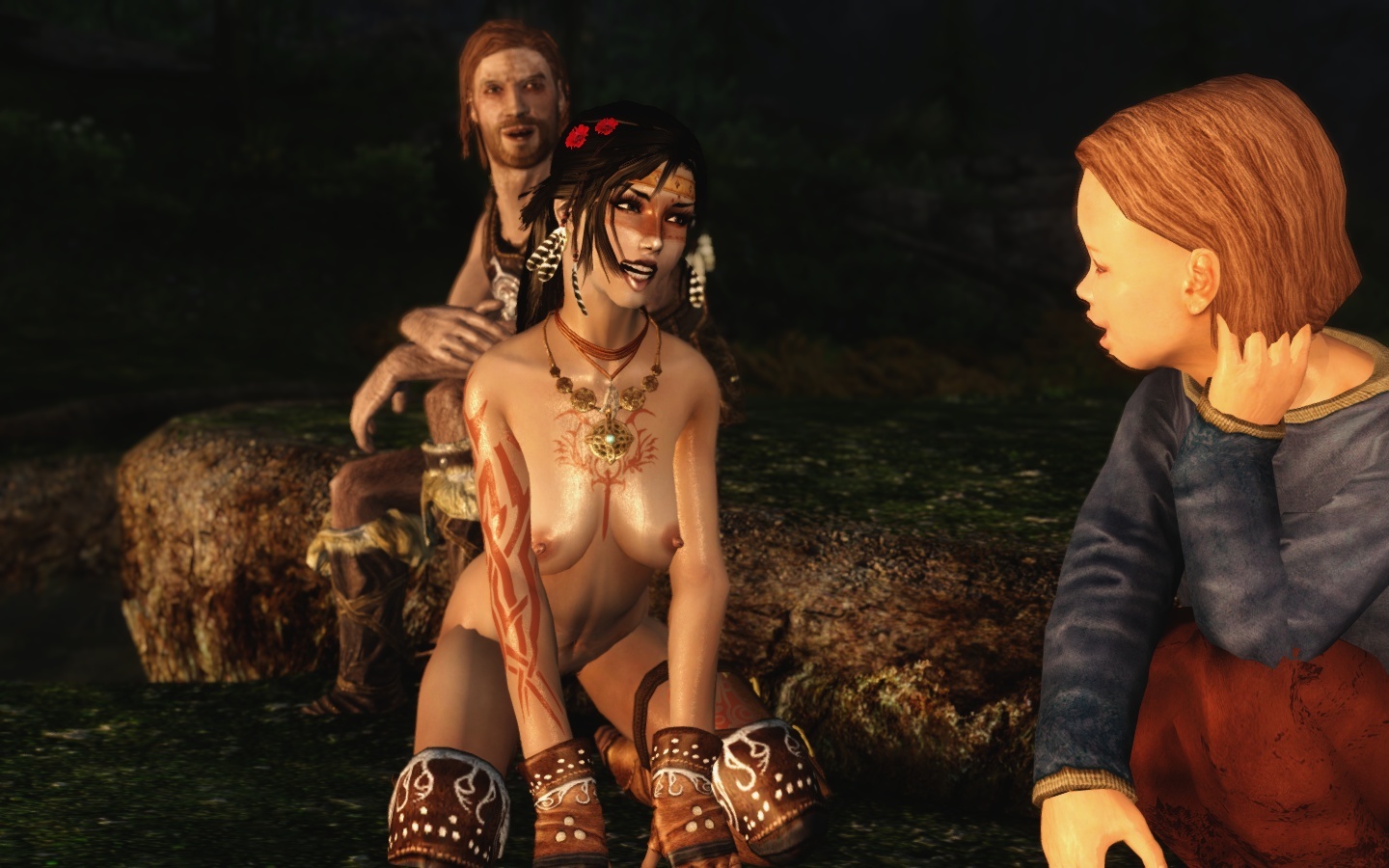 Mai: "How about you, big scary vampire hunter. What do I need to do to keep you quiet?!"




 

 

Celann: "Well, I was gonna ask you to be MY girlfriend....but as Lars here beat me to it, I guess I'll settle for you explaining why you are naked all the time!"




 

 

Mai: "Um.....really? That's not a very interesting story. Is there anything el..........."




 

 

Lars: "Yeah! I wanna know too! Tell us, tell us, tell us!"




 

 

Mai: "Okay, I guess. Here goes. It all started a few years ago...."



......I was young and stupid. I grew up in an ophanage, and when I was about 14 or 15 I decided to hike out into the wilderness and discover Skyrim.




 

 

People warned me it was dangerous, but I didn't listen. I assumed if I was polite and kept away from trouble - it would keep away from me. But it doesn't work that way.




 

 

The Forsworn, a group I knew nothing about, found me and took me captive.




 

 

They stripped me completely naked and took me into the mountains to their camp.



 

 

I was sure they were going to rape and/or kill me, and I heard them talking about sacrificing me to the 'Hag'. But instead....




 

 

....they took me to their leader - a woman named 'Shan'. She was kind and explained that I had been kidnapped by mistake. However now that I had seen their camp she couldn't let me leave.




 

 

They fed me and looked after me, under the condition that I don't try to escape - and that I never wear any clothing. I helped out doing basic chores, but it took a while to get used to the naked thing!




 

 

Shan was a good teacher, and she helped me fit in. She offered advice on getting used to being naked at all times, and explained that it was a Forsworn tradition for getting closer to nature. Slowly, I started to like it.




 

 

Eventually I stopped missing clothes at all. Being naked just felt much better.




 

 

I even stopped covering myself in front of the men. I'd play mind games with them....




 

 

...showing off every inch of my body - and I quickly discovered I could manipulate them in this way. I learned how to control the minds of men!




 

 

The camp became my home, and I was one of the Forsworn. They stopped treating me as a captive, and I could see they liked having me around.




 

 

I had finally found my true home.....or so I thought. Often, when things seem too good to be true, it's because they are. Dark clouds were gathering on the horizon.....



I was happy, living in the mountains close to nature and helping out where possible - but I couldn't shake the feeling that something wasn't quite right.




 

 

Every now and then the camp would mobilize a war party, and they would head out into the night. I was never given a straight answer when I asked who it was they were hunting.




 

 

Then later, I would be awoken by the sounds of their return - screams of panic and anger...




 

 

...As it was rare for them all to return alive.




 

 

I quickly realized that there were those who did not appreciate our kind - though I knew not why.




 

 

One thing was clear: to survive in this world I would need to learn how to defend myself. And so one morning I tied my hair back and approached the warriors for training.




 

 

They laughed at first - but when they saw the determination in my eyes they agreed to teach me the ways of combat. They were tough teachers...




 

 

But I learned fast. They all agreed I was a natural with the bow. But I didn't stop there...




 

 

I wanted to stand as an equal to the best in our camp, and so for many months I trained in the art of fighting.




 

 

Finally, I was accepted into the circle of warriors. To mark the occasion, I was allowed to decorate my body as I saw fit using traditional war paints.



 

 

It was decided that I was ready to join a war party, and head out into the great unknown to protect our land. When the time arrived I suddenly realized that I had never properly thanked Shan for all that she had done for me...




 

 

But she was nowhere to be seen. In the back of my mind I knew there was a chance that I may not return alive from this trip, and so it was important I tell her how I felt. I searched everywhere - except the forbidden fort at the back of the camp. I decided to break the rules, just this once....




 

 

I was not prepared for what lay inside...

Shan: "Please....don't make me do this! The girl has become one of us - she is Forsworn now. I'm begging you....."

Hag: "NOOOOOO! No more lies....no more excuses. You promised me the pretty flesh....many months ago when you first caught her. But I will wait no longer. Bring her to me. Bring me the pretty flesh NOW!"




 

 

Hag: "I will have the girl...I will have her NOW...and I will rip off her PRETTY FLESH! You made the oath Shan......and you know what will happen if you break it!"





 

 

Shan: "I.....I just..............I will do as you ask. No more stalling. I'll go get her now. She's yours."




 

 

I couldn't believe it. The first family I had ever felt a part of, throwing me to the claws of a monster. My heart shattered into a million pieces. I wanted to cry. I wanted to fire an arrow into the head of that horrific creature. But most of all, I wanted to run...




 

 

...And so I ran. I ran right out of the camp, past all of the others. They didn't try to stop me - or ask what was wrong - they just let me run away. I guess maybe they all knew.




 

 

Mai: "And that was that. I never saw any of them again. I headed down the mountain, and after a long trek I ended up in Rorikstead."




 

 

Mai: "I learned so much from my time in the mountains. So very much..."




 

 

Lars: "That's so sad! Um....are you okay?"

Mai: "I'm fine, thank you. I'm sorry - I didn't mean to depress you!"




 

 

Celann: "No Mai, I should be the one to apologize...."




 

 

Celann: "I didn't mean to open old wounds. I should never have asked you to tell that story."




 

 

Mai: "Really - it's okay. There was no way you could know, right? And hey - you saved my life, remember! I still owe you."




 

 

Celann: "Mai, I'm gonna be honest with you. I didn't come here specifically to kill a vampire. This was Durak's contract. I'm here because of you."




 

 

Mai: "You're....here because of me? You traveled halfway across Skyrim.....for me?"




 

 

Celann: "Indeed I did. Mai....you've been haunting my dreams. In fact, I'd jump willingly into an Oblivion gate if it meant precious seconds by your si....................."




 

 

Lars: "HEY! Keep away from my girlfriend mister!!!"

Celann: "Oh...right....yeah........sorry Lars!"





To be continued...
 

2015-01-07
III — The Bathhouse Vampire

Whiterun. Night.




 

 

Mai: "We had lots of fun tonight, right Lars! But it's time for you to run along home now. It must be way past your bed-time!"




 

 

Lars: "Bed-time?! Ha! I go to bed when I feel like it! Although I am kinda sleepy...so maybe you're right..."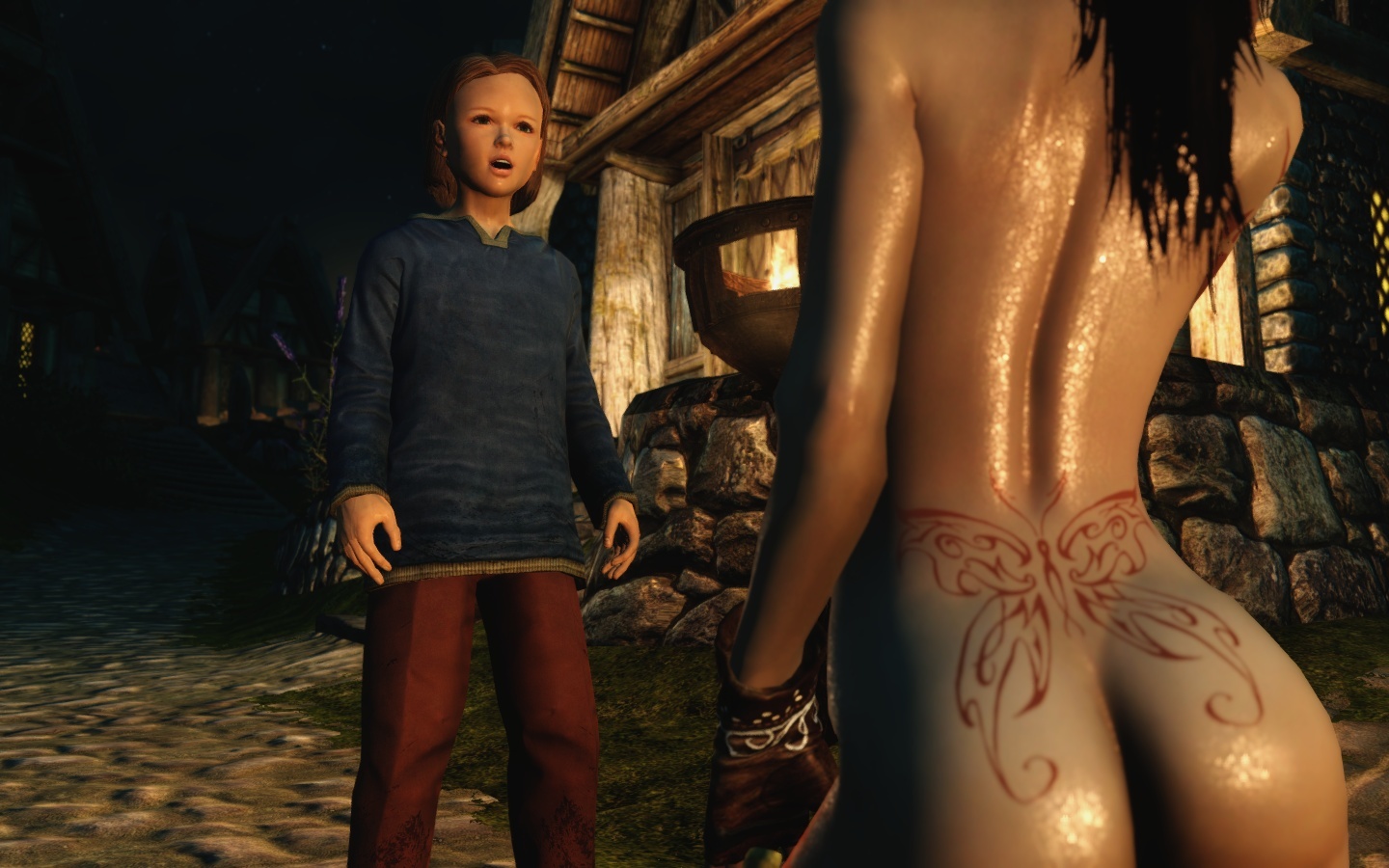 Mai: "Good boy! And....um.....it'd be great if you can keep tonight as our little secret....please!"




 

 

Lars: "No problem Mai! But hey - you watch out for that sneaky vampire hunter! I don't trust him..."




 

 

Lars: "I think he wants to steal you away from me!"




 

 

Celann: "Heh...........Smart kid......"




 

 

Mai: "Oh don't worry Lars - I've definitely got my eye on him! You run off to bed now."




 

 

Lars: "Bye!"

Mai: "Goodnight Lars - sleep tight!"




 

 

Mai: "I hope I didn't mess up his head with all that talk of Forsworn and monsters?!"

Celann: "He'll be fine. Y'know, you two make a really cute couple!"




 

 

Mai: "Well, mister vampire hunter - now that Lars is gone I believe we have some....unfinished business to attend to!"




 

 

Celann: "Oh....um....WOW! Mai, you are so direct! I mean....I've dreamt about this moment for so long......but.....you wanna do it right here?! Right now?!"




 

 

Mai: "Um.......well, yeah! I mean...if we don't kill this vampire you mentioned then who will?!"




 

 

Celann: "Oh.....right......the vampire! Of course.....silly me! Well according to our sources it's somewhere in the city. We think it will try to either turn or kill the Jarl."




 

 

Celann: "Have you noticed anything strange lately, Mai? Anyone acting out of the ordinary?"

Mai: "Sorry Celann - I kinda keep out of other people's business. I'm not sure if I can help...."



 

 

Mai: "But I know someone who definitely can! Follow me..."




 

 

Ysolda: "BY THE DIVINES!!!!!"




 

 

Ysolda: "Mai - your boyfriend is back! Where did you find him?!"




 

 

Mai: "Well, first of all, he's not my boyfriend! And secondly, one of the reasons he's here is to kill a vampire hiding in Whiterun."




 

 

Mai: "And we need your help Yssy. Have you seen any unusual travelers hanging around lately? Think hard, the Jarl might be in danger."




 

 

Ysolda: "Oh my! Hmmmm...lots of travelers moving through the city lately. But none stay for longer than a few days...........unless..........."




 

 

Ysolda: "I know who it is! The bath-house recently hired a new attendant. I felt something was wrong from the moment I laid eyes on him. And he only works the nightshift too!"




 

 

Mai: "What do you think, Celann?"

Celann: "It's the only lead we have, and time is running out."




 

 

Celann: "Vampires have a habit of knowing when they've been discovered. We'll need to act tonight. Ysolda, can you take us to the bath-house now?"




 

 

Mai: "What do you say, Yssy? Are you ready to go hunt a vampire?!"




 

 

Ysolda: "You bet your bare ass I am!"



Ysolda: Well, here we are - Whiterun's famous bath-house!"




 

 

Celann: "This place is massive! Any ideas on where we'll find the vampire?"




 

 

Ysolda: "Well, providing he actually IS a vampire - the guy I mentioned is usually out on the back decking. So we shouldn't need to go into the main building at all."




 

 

Mai: "Good - at least that cuts down on the number of civilian bystanders that might get hurt."




 

 

Celann: "Okay then, let's not waste any more time. Stay sharp guys..."




 

 

Ysolda: "Hey! Not so fast - aren't you forgetting something?! Celann, strip naked!"




 

 

Celann: "Hahaha, very funny...."

Mai: "Oh yeah - she's right! We ARE going into a bath-house after all. Everyone will be naked!"




 

 

Ysolda: "Exactly! If we walk around that corner wearing clothes and all geared up with weapons, our vampire will be gone before we know it. Get those clothes off, Celann!"




 

 

Celann: "Hang on just a minute. There's gotta be another way..."




 

 

Mai: "No excuses Celann. Clothes off! NOW!"

Ysolda: "Come on - let's have a look at little Celann!"




 

 

Celann: "I can't believe this. If only Durak could see me now! Fine, I'll take off my clothes...."




 

 

Ysolda: "WOW! Mai - stop staring!"

Mai: "I'm not staring, you're staring!"

Celann: "Can we please go hunt vampires now.....?"




 

 

Mai: "Yes. Now we can go hunting vampires!"




 

 

Mai: "Feels good being naked, right Celann?"




 

 

Celann: "When this is all over, please never speak a word of it to anyone!"

Mai: "Ha! Don't pretend you don't like it!"




 

 

Mai: "Looks like it's pretty quiet here tonight. Not too many people..."




 

 

Ysolda: "Yeah, and look - there's our guy..."




 

 

Ysolda: "He's always in the same spot, staying away from people. I've never actually seen him helping anyone..."




 

 

Ysolda: "Just silently watching what everyone is doing. I stopped coming here at nighttime because he was creeping me out so much!"




 

 

Celann: "Nice work Ysolda. Even from here I can tell he's a vampire. Okay, here's what we are going to do. One of you ladies get over there and lure him back here, away from the civilians. Then we'll drop him.

Ysolda: "Good idea - go seduce him Mai!"

Mai: "Um...excuse me?! Why am I being volunteered?"




 

 

Ysolda: "Because we need to seduce him, and your breasts are bigger than mine! Besides - you're a Companion! No fear, right?"




 

 

Mai: "Whatever. I'm not sure about the breasts thing - but I AM a Companion. I'll go."

Celann: "Don't worry Mai, I'd never let you come to any harm. Trust me!"




 

 

Ysolda: "Good luck Mai! We'll be waiting in the hot-tub!"

Mai: "Yeah, thanks for the wonderful support..."




 

 

Mai: "Ahem....Um.....Hi there handsome! I was just wondering if you.....um.....could give me a massage, perhaps? I'm just feeling so tense today..."




 

 

Attendant: "I'm sorry, I haven't been trained on how to give massages yet. Maybe you should go find one of the other attendants inside."




 

 

Mai: "Hmmm. Well then....how about.....um.....I give your penis a massage! Um.....with my breasts?!"




 

 

Attendant: "Look young lady - I can see what you are trying to do. But you're wasting your time. Unfortunately for you I prefer the company of men, so you'll just have to find some other attendant to help you unwind."




 

 

Mai: "Oooooooh.....I see. Well, this is awkward. I'm just going to go back where I came from now. Sorry for bothering you...Bye!"



Ysolda: "Hey - the fearless warrior returns!"

Celann: "Well? What happened? What did the vampire say?"




 

 

Mai: "I couldn't lure him over here. He......uh.....he said he prefers the company of men!"




 

 

Ysolda: "Well that's not a problem - we've got a man right here!"

Celann: "Woah there - hang on a second..."




 

 

Ysolda: "Time to show us little girls how a true vampire hunter operates. Now get over there and seduce that man!"




 

 

Ysolda: "And you might want to wake up 'Little Celann'. I'm sure he'll help you make a good impression..."




 

 

Celann: "What are are you talking about? Oh.......I see. Eh, ladies I'm not so sure about this plan anymore..."




 

 

Celann: "I mean...there's gotta be a better way of going about this!"

Ysolda: "Don't be such a wimp Celann! Mai, I think he needs 'a hand' with waking up!"




 

 

Mai: "At last - a job I actually don't mind being volunteered for!"




 

 

Celann: "Okay, I'm going to punch myself later for saying this - but I think we need to focus here! I mean, there is a vampire right over there!"




 

 

Mai: "Relax! That vampire isn't going anywhere. Besides, I wanna hear more about how you traveled across Skyrim to see me again. Or was that just empty talk?"




 

 

Celann: "No...I swear....I've been dreaming about you day and ni---------- MAI, WHAT ARE YOU DOING WITH YOUR HANDS?!"

Mai: "Hmmmmm, there we go. Wakey wakey!"




 

 

Ysolda: "Hehe, great work Mai! Now quickly, get him over to that vampire..."




 

 

Mai: "Not so fast. Little Celann just woke up - I think he needs a workout!




 

 

Mai: "What do you think, boy? Do you wanna exercise with me?!"




 

 

Celann: "I guess.....maybe a little exercise......might be good......."




 

 

Celann: -GULP- "Mai, your skin is so soft..."




 

 

Ysolda: "Um....guys! That vampire is gonna get.......OH WOW!!!"




 

 

Mai (moans): "Ooooooooooooh........"




 

 

Mai (Screaming): "Uuuuhhh......that feels SO GOOD!!!"




 

 

Adrianne: "What in oblivion is happening over there?!"




 

 

Celann: "Oh Mai! Your body feels amazing! Please - tell me this isn't a dream...!"

Mai: "Uuuuhhhh.........Uuuuuhhhhh........who cares!"




 

 

Mai (Screaming wildly): "OH GODS!!!"

Attendant: "Hmmmm. Looks like that girl found someone to help her relax. Good, that gets her off my back."




 

 

Attendant: 'For a minute there I thought she might have been a member of the Dawnguard. She's the first person to approach me since I've been here. Regardless, that little scare has reminded me that I've delayed too long. Time to finish my mission. Time to pay the Jarl a little visit!"




 

 

Ysolda: "Hmmm, our vampire seems to be up to something...I don't like it...."




 

 

Ysolda: "I knew it - he's leaving! He thinks he's gonna get away, but he doesn't realize that the Dawnguard are right behind him! Right guys.....?"




 

 

Ysolda: "Eh.....guys?! Are you even listening to me?"




 

 

Celann: "Yeah - take it my little Forsworn warrior!"

Mai: "UUUHHHHHH......Faster! I've been a BAD girl!"




 

 

Ysolda: "Well that's just great. I guess this means it's up to ME to save the city! Ysolda the vampire hunter - reporting for duty!"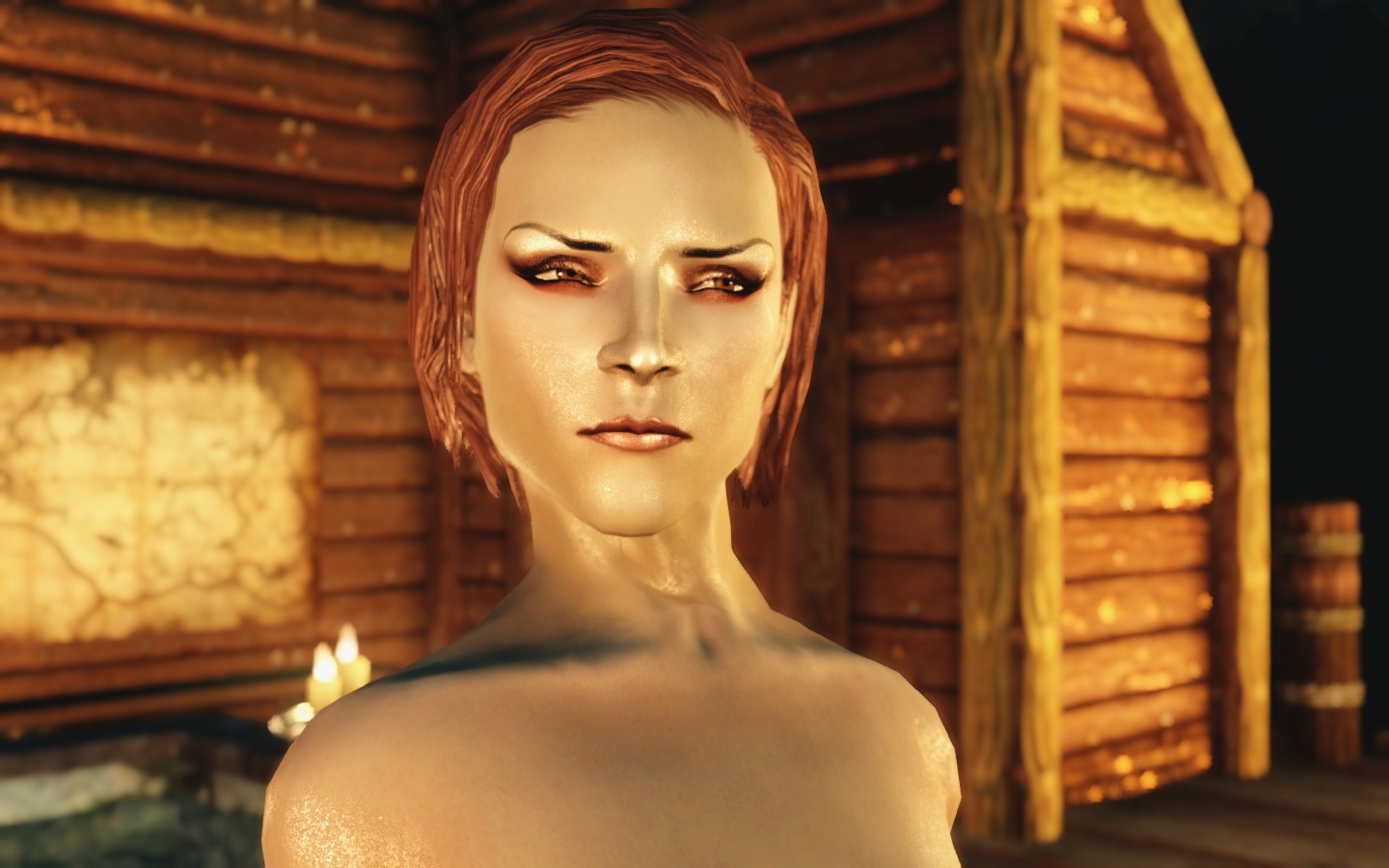 Attendant: "No more games - time for a face to face meeting with the Jarl. I'm sure he'll be delighted to see me!"




 

 

Ysolda: "He's heading for the city! Gotta stay on his tail - if I lose him Whiterun might not get a second chance!"




 

 

Ysolda: "By now Mai must have noticed that I'm gone. Her and Celann will be right behind me......"




 

 

Mai (Screaming loudly): "UUUHH......UUUUHHH.....UUUUHHHHHHHH!!!"




 

 

Celann: "Mai.....I can't believe this! You're amazing - I never want to pull out!"




 

 

Mai: "Don't.........OOOHHH........even think about stopping!"




 

 

Adrianne: "Exactly - why stop?! If anything, you need to give it to her HARDER!"

Mai: "Um...........ADRIANNE?!"




 

 

Adrianne: "Hi there, darling! We heard you guys from over there and thought we'd come give you some support! Y'know we REALLY love sex!"




 

 

Mai: "Erm.......what do you mean "we"?"




 

 

Ulfberth: "Hello there, buddy! Not seen you around here before!"

Celann: "............................"




 

 

Ysolda: "Okay, the vampire ran around this corner. Gotta stay on him....."




 

 

Ysolda: "That's weird. He should be right here......but there's no trace of him!"




 

 

Ysolda: "I have a bad feeling about this.......Celann did say vampires have a way of knowing when they have been discovered...."




 

 

Attendant: "Looking for something, little lady? Your clothes, perhaps?!"




 

 

Ysolda: "OH MY!!!! Um.....yeah! I'm just looking for my clothes! Erm - you're going to kill me now, right?"

Attendant: "Yes."




 

 

Celann: "Mai, what's going on?! Who are these people?"

Mai: "UUUUHHH.....Just ignore them......Keep fucking me.....!"




 

 

Ulfberth: "Your not doing too badly there son - making her work up a nice sweat. But I reckon we can push this little princess a lot harder..."




 

 

Ulfberth: "If you wanna just step aside and let me fuck her for a few minutes, I'll show you exactly how you wear out a little girl like this. What do you think, Adrianne?"




 

 

Adrianne: "Oh great idea, darling! You take her from behind, and I'll keep her occupied from up here. Sounds good, right Mai?"




 

 

Celann: "I.....I think I'm gonna cum, Mai!"




 

 

Adrianne: "Oh goody! Once he's done filling her up - you take over, darling! Might I suggest concentrating on her ass?"




 

 

Ulfberth: "I love you, Adrianne!"

Adrianne: "I love you too, hunny!"




 

 

Mai: "By the divines - you people are COMPLETELY INSANE!!! No-one is gonna concentrate on my ass! Ysolda, can you please get rid of these lunatics?!"




 

 

Mai: "Um....Ysolda?! Oh no - she's gone! And the vampire, too!"




 

 

Mai: "Sorry Celann - we gotta go right now!"

Celann: "No....please....wait! I was almost there!!!"




 

 

Celann: "NOOOOOOOOOOOOOOOOO!!!!!"

Mai: "I should never have brought Ysolda along. Hang on Yssy - I'm coming!"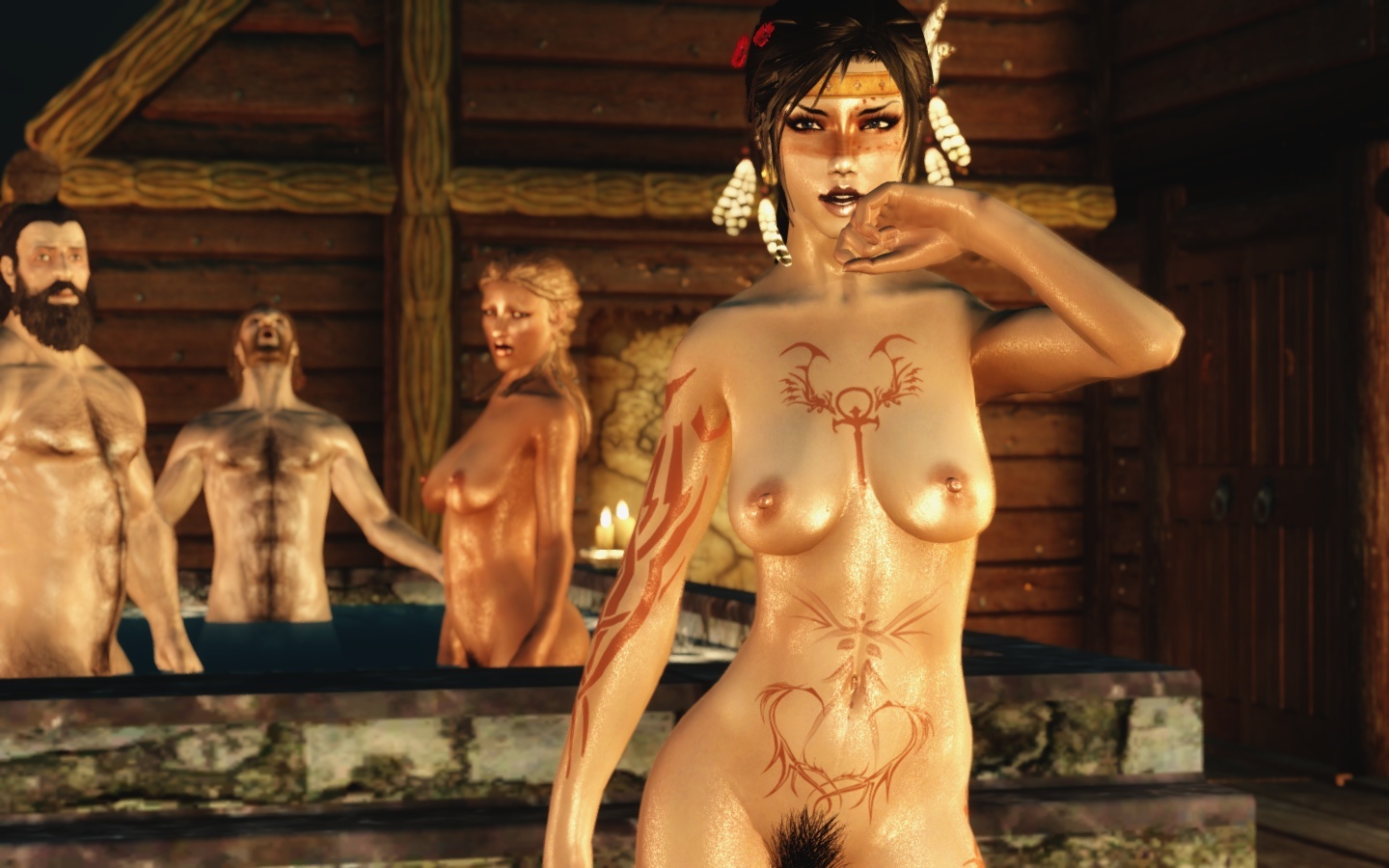 Ysolda: "Oh no.....what are you going to do to me?!"




 

 

Attendant: "Normally....I'd do soooooo much to you. Some, you'd enjoy. Most, you'd hate. But I'm afraid I have no time now. I've got to bring the Jarl round to the vampire's way of thinking. So I'm afraid I'm gonna have to cut this short. And by that I mean cut YOU short!"




 

 

Attendant: "Hehe...y'know, I used to be a human like you. But then I took a..............."




 

 

FFWWW-THUPPPP

Attendant: "AARGGH - an arrow! Right in my knee!!!"




 

 

Mai: "Got him!"

Celann: "Nice shot, babe! In the kneecap too! That's gotta hurt..."




 

 

Mai: "Keep calling me 'babe' and you might find out how it feels!"




 

 

Mai: "Yssy - are you okay? Did he touch you?!"

Ysolda: "I'm fine. I just......I was sure that was the end!"




 

 

Celann: "You know asshole, I was about three seconds away from probably the greatest feeling any man has ever experienced in Tamriel...."




 

 

Attendant: "Ackk - the Dawnguard. I knew it!"




 

 

Celann: "...Just three seconds. And YOU ruined it. Now you pay for that. Time to die, filth!"




 

Attendant: "AAAARRRRRRGGGHHHHHH........................................."

Ysolda: "I've been thinking, Mai. I'm not sure I'm cut out for this vampire hunting business."

Mai: "Really? I dunno.......I kinda like it!"



The END!

 

Librarian's notes
The entries have been restored mostly as is. However, some editorial choices differ :
— The cut is different : as this story covers three entries, and is therefore quite long, one half of the prologue has been cut. The "to be continued" mentions subsequently also have been adapted.
— The mini-headers at the beginning of each part, while a nice attention, were not included as the entry is already image heavy enough ; and I found they did tend to spoil the content a bit.
— Few minor typos corrected.
— The images are displayed full width (relatively to their upload size).
— The font is larger, to improve legibility.
— The titles have been slightly altered for more clarity as well (and to avoid repetitions).
 

As most of the original blog is unavailable, no clickable menu this time. Yet, it can't hurt to conclude on another link to the blog itself, can it ?
Edited by Tirloque