What a mess! We were arrested in Riften and nobody told us anything about the charges against us, yet.
I doubt we will ever hear about them. That's what I had learned during my last visits in imperial dungeons.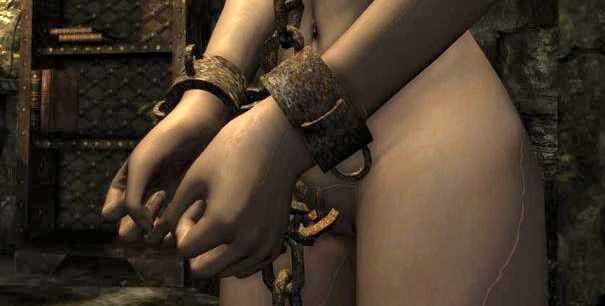 Flashback, Pale Pass Fort, 6th of Sun's Height, 201 E4

Imprisoned in an imperial dungeon
I was arrested in Snow Stone Rest, a lonely forgotten little inn at the main road north into Skyrim,  a good day north of Bruma.
I can't remember to have done anything wrong. I arrived there, .. didn't even have time to brush the snow off my boots and suddenly got a smack on my head.
Later, I woke up in this prison.They said it's Pale Pass Fort. That's even closer to the border. But nobody did tell me why I am here.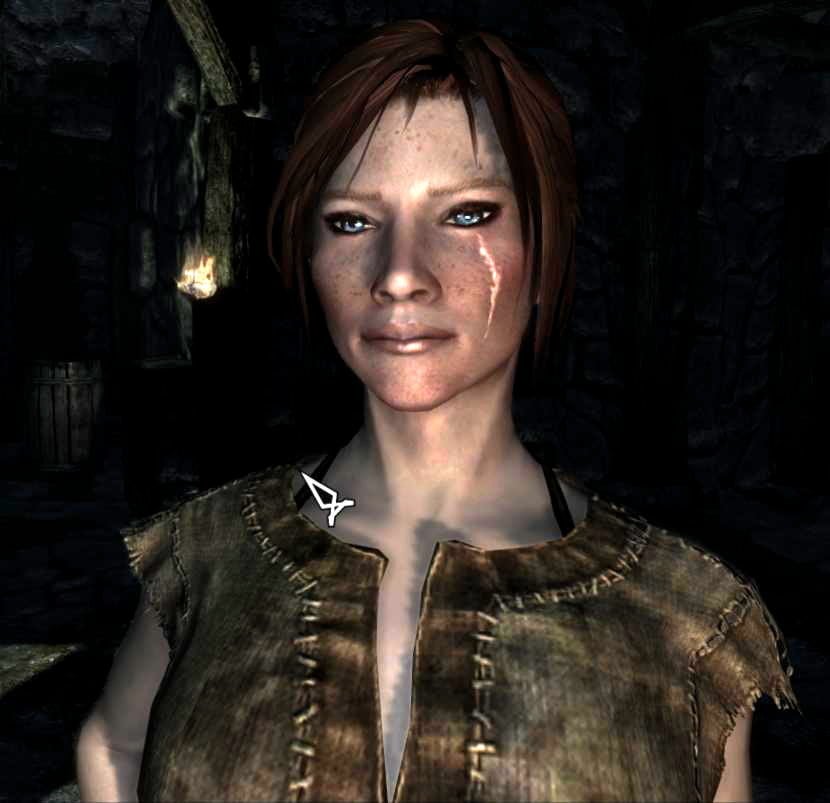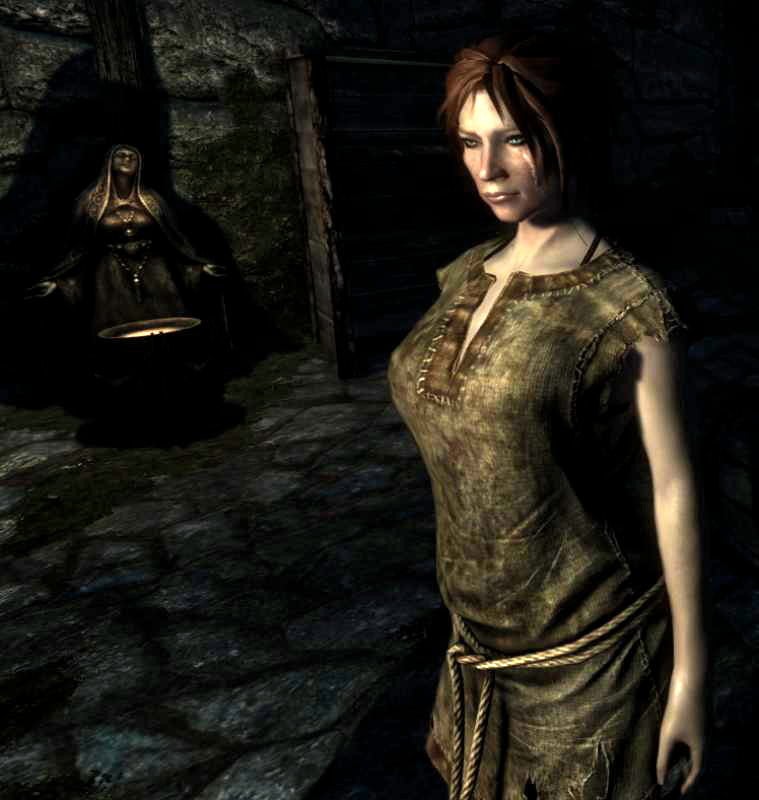 Even though the fort seems to belong to the legion, I haven't seen a single legionnair so far. Only jailers from the nearby area.
Well, I shouldn't call them "jailers". I better call them "barbaric scum with rusty swords in filthy armour".

If only someone would come and talk to me? I am an imperial citizen! We have law and order in the empire! We are not yet oppressed under Thalmor slavery rule. Not yet!


Now, here in Riften, they take no chances with us.
Even inside of the closed prison gates, we are kept in iron.
And we will be dumped into some damp and dirty lice infested hole any minute now.

Jailer: "This way, my ladies. If you please? I hope it doesn't make too many circumstances for you!
             Though there is no need to rush. We have plenty of time here."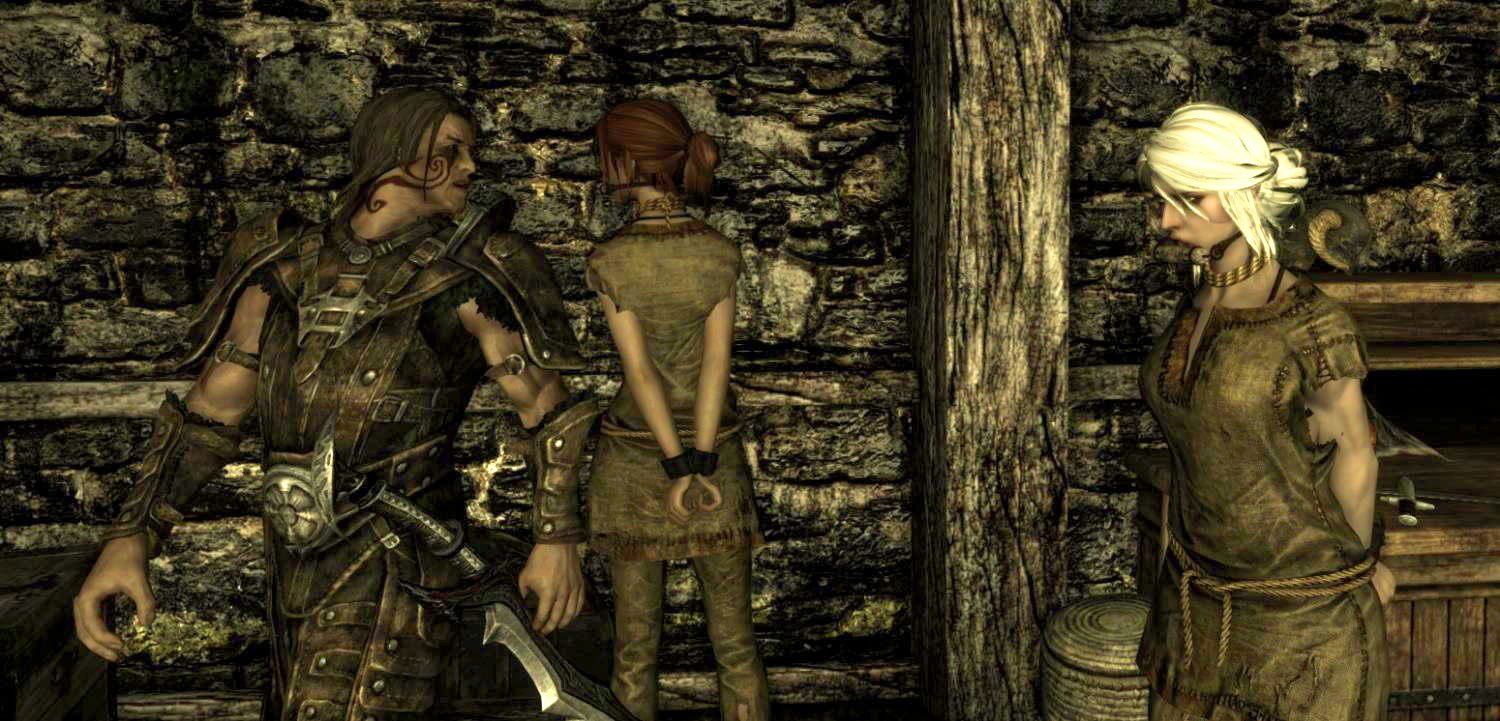 "hmmmmpf..." Asshole!
Really! They take no chances. Gagged and bound, all the way to the cell, whatever they call it here.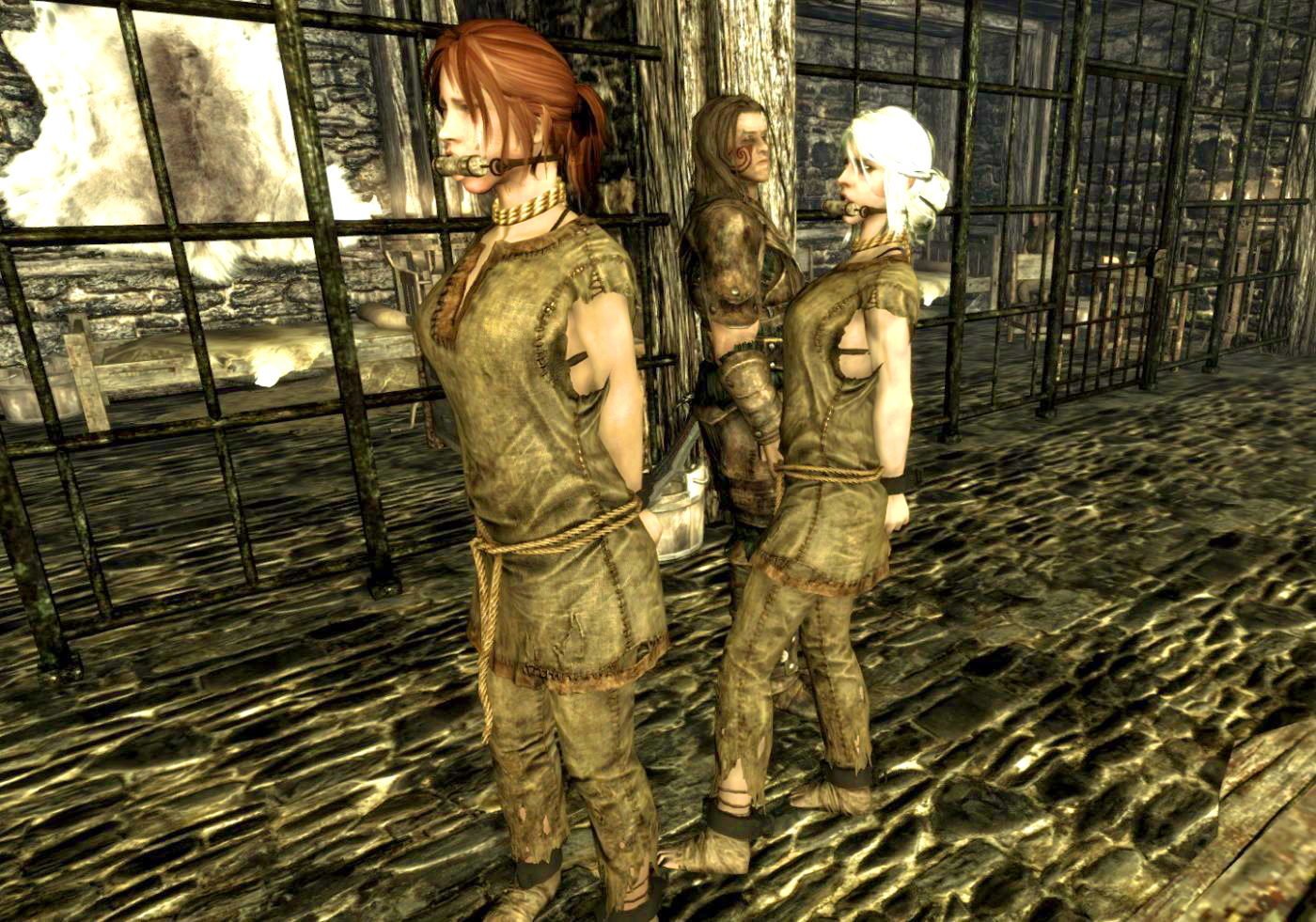 The door gets locked behind us.
Ciri: "mnmgngn?"
"hm hm mpfh! ... " Yes, I think, they will keep us gagged and bound even in the cell.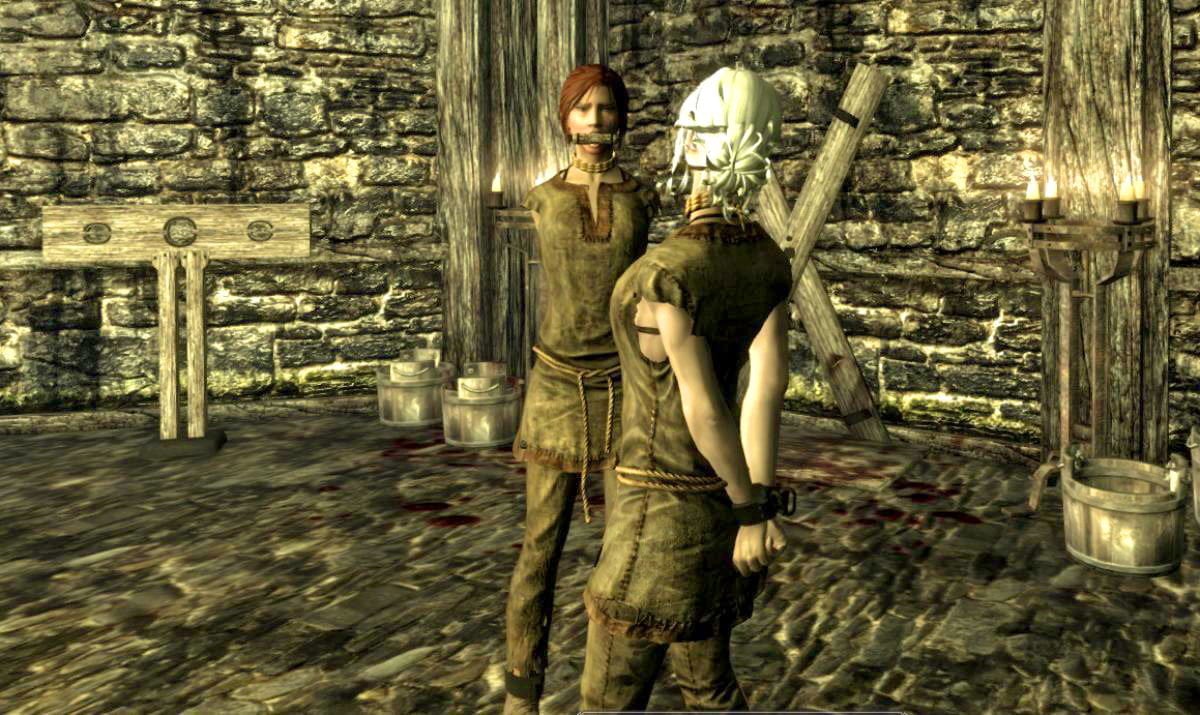 Let's see it positive. We have a spacious cell, a bed in the corner, we are together, no other prioners in here, no skeevers and it is dry.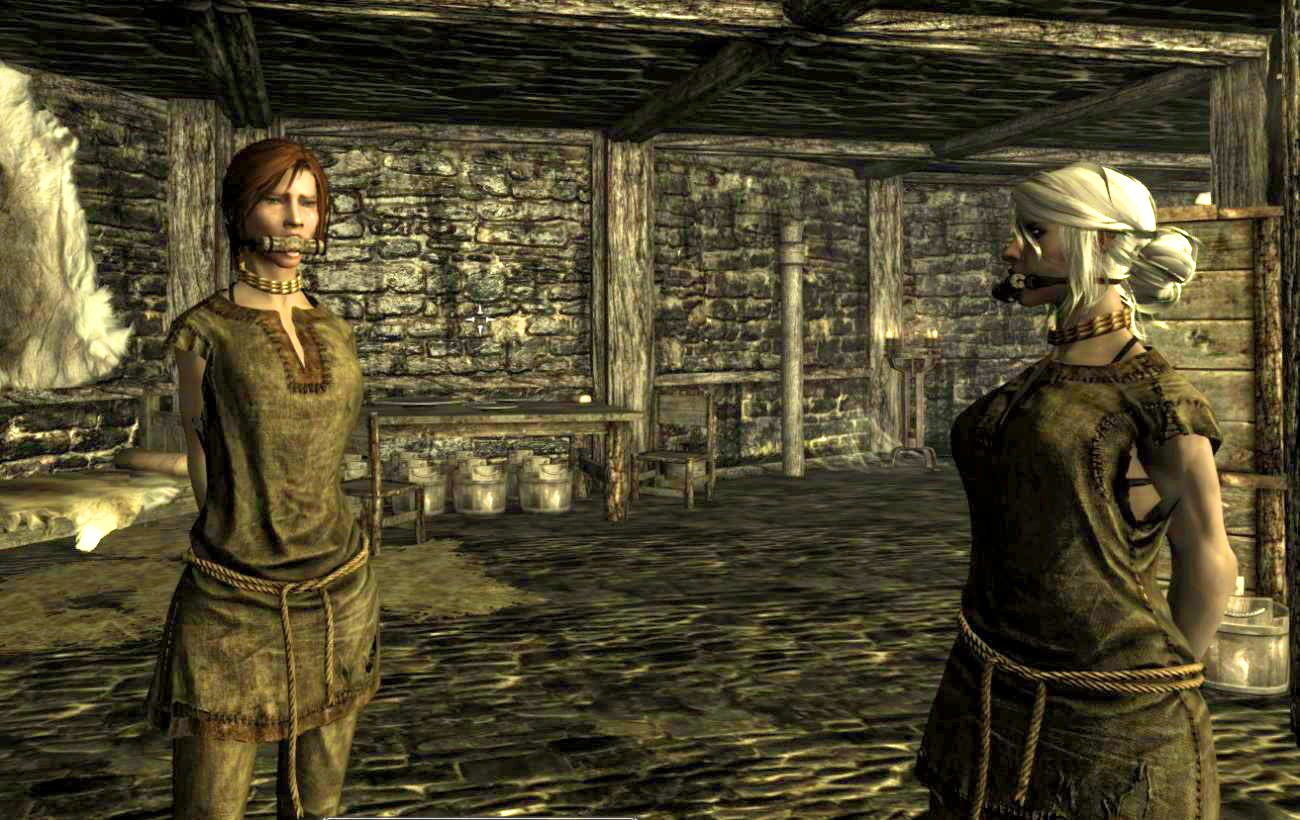 Ciri: "mmnm nmng."
"nnnnnmbh nmmmh!" Yes, It could be worse. I know what I'm mumbling of.

Flashback, Pale Pass Fort, unknown day, Sun's Height,  201E4

Survival in an imperial prison
FIRST rule:
I already told you to keep your fingers of my food.
It's almost rotten, it's not enough, it tastes stale, it has worms and bugs, but it is MINE!

SECOND rule:
And you can keep staring at my tits for as long as you like.
But in the first moment your rotten brain is thinking of something more, I'll teach you the true meaning of pain!

THIRD rule:
And just to remind you of the first two rules, now,  I'll introduce you to my knuckles.
Don't worry. It will only hurt a bit for a day or two.
No, no, your puny shiv won't help you. You can put it away and keep it. This is just a friendly reminder.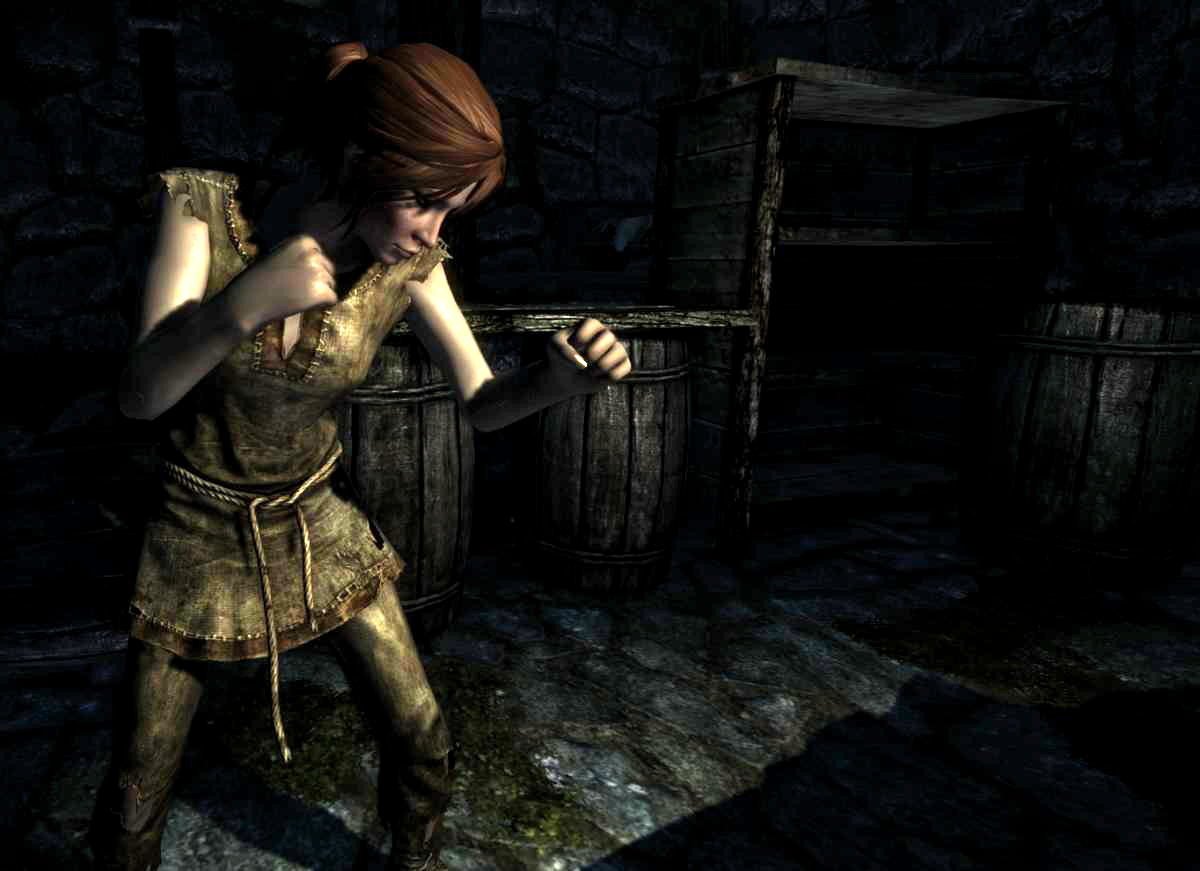 *** A few seconds later, sobbing sounds from the right ****
.. and don't you weep too loud, my little boy-toy. I forgot to tell you my rule 4: I don't like noise!
And if your whimpering doesn't stop within  your next 5 breaths, I'll make it your last ones and shut you up for good.


Ciri: "mmmmmmmmm"
"hmmph". Yes, me too. I wonder if they let us rot in here or just simply starve to death.
Better, we sit down now and rest and try to conserve our strength.

Time passes by .....

NOISE, a rattling key and some chains dragging over the rough floor.
Voice: "Filthy scum!"

I blink my eyes... my jaw is aching, my mouth is dry and I have a foul taste on my tongue
" mmmph?"

Guard: "I don't know who you are and why you are here. But if you are here you are rotten.
            You have names?"
"mmmhm mmmmbh!"
Ciri: "mrgm ffmmnm mhm mrhmhn mb ngngrm!"

Guard: "Huh! Never heard of you, that means you are nothing to me.
             So I have guessed it right and you are indeedfilthy scum in the midst of the good people of Riften."
He whistles to someone near the door.
Guard: "But don't worry! We are open minded people in this city and won't hold that against you, just because you are disgusting.
            We will help you to overcome your past and teach you manners for your future life."
Ciri: "mm mmmmph?!"
Another guard steps in view.

Guard: (clearing throat )
Guard: (raising his voice)
           "As a guard of this city and protector of the good people of Riften, it is my duty to commence with your reeducation right now."

I feel rough hands lifting me up, more cuffs and chains, stretching me and dragging my limbs apart.
"MRMRRRRG!"

Ciri gets chained to the ceiling.
Ciri: "NRRRRRG!"


Guard: "First, the red vagrant!"
I take a deep breath.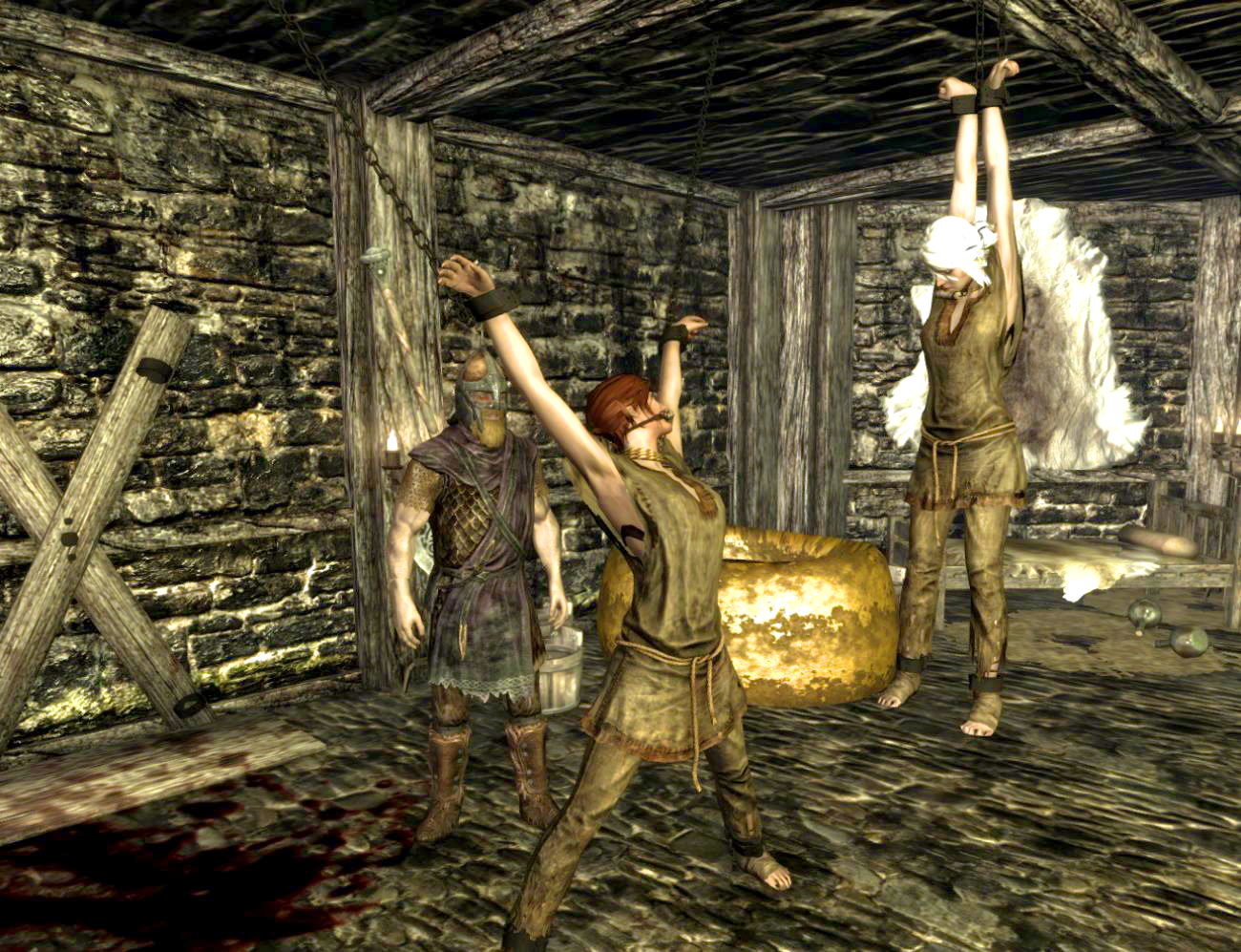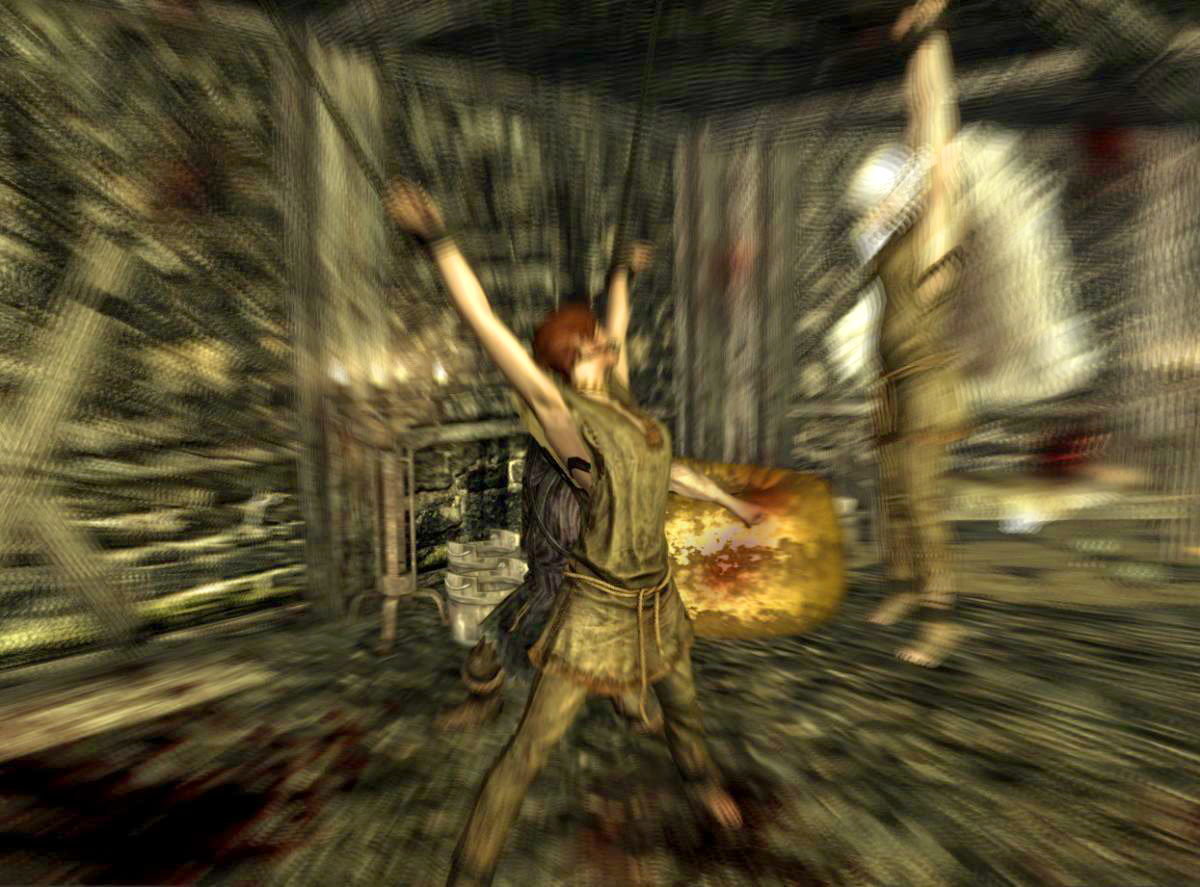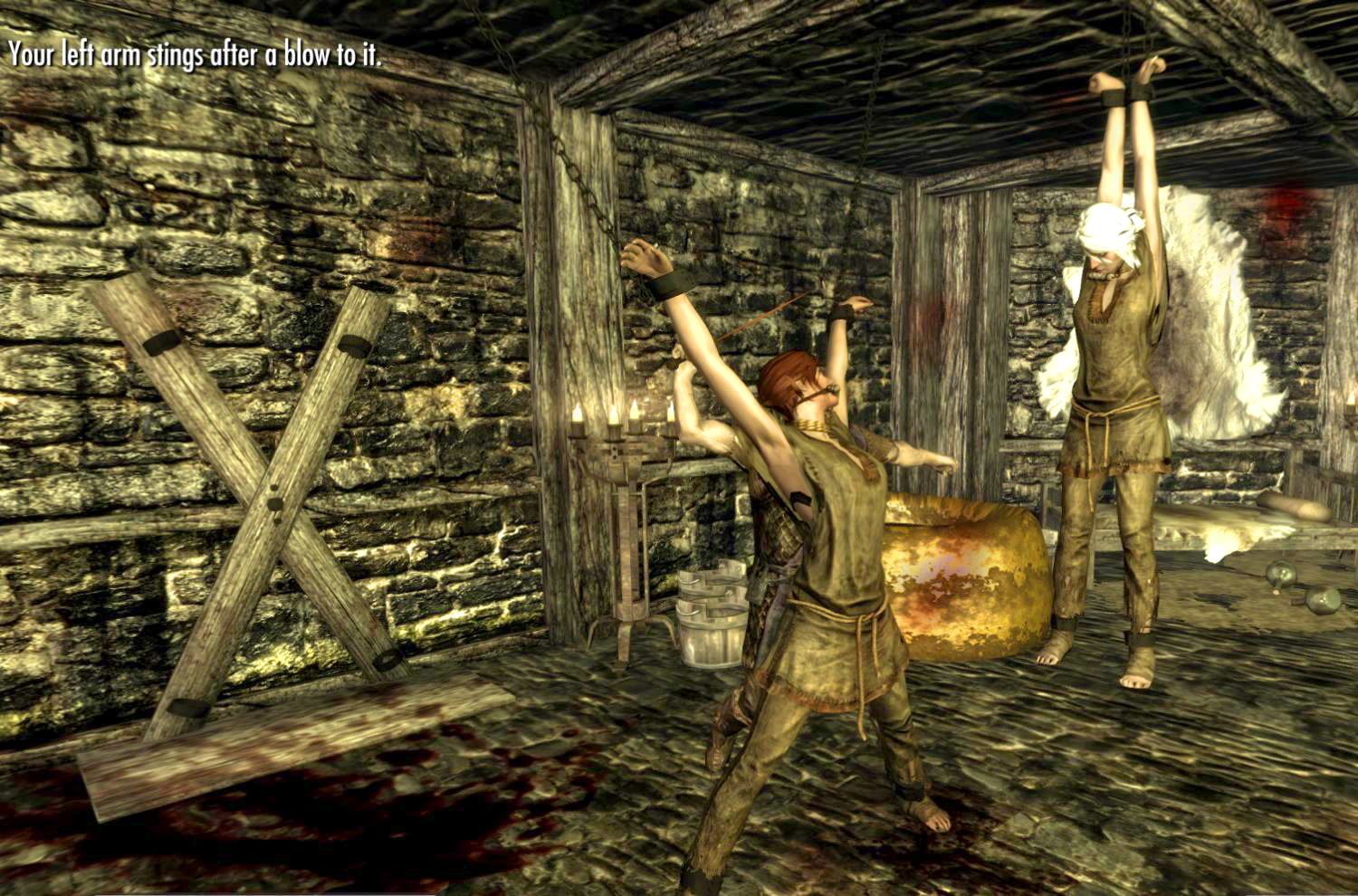 Guard: "And now, the white one."
I feel something wet trickling down on my arms and my back.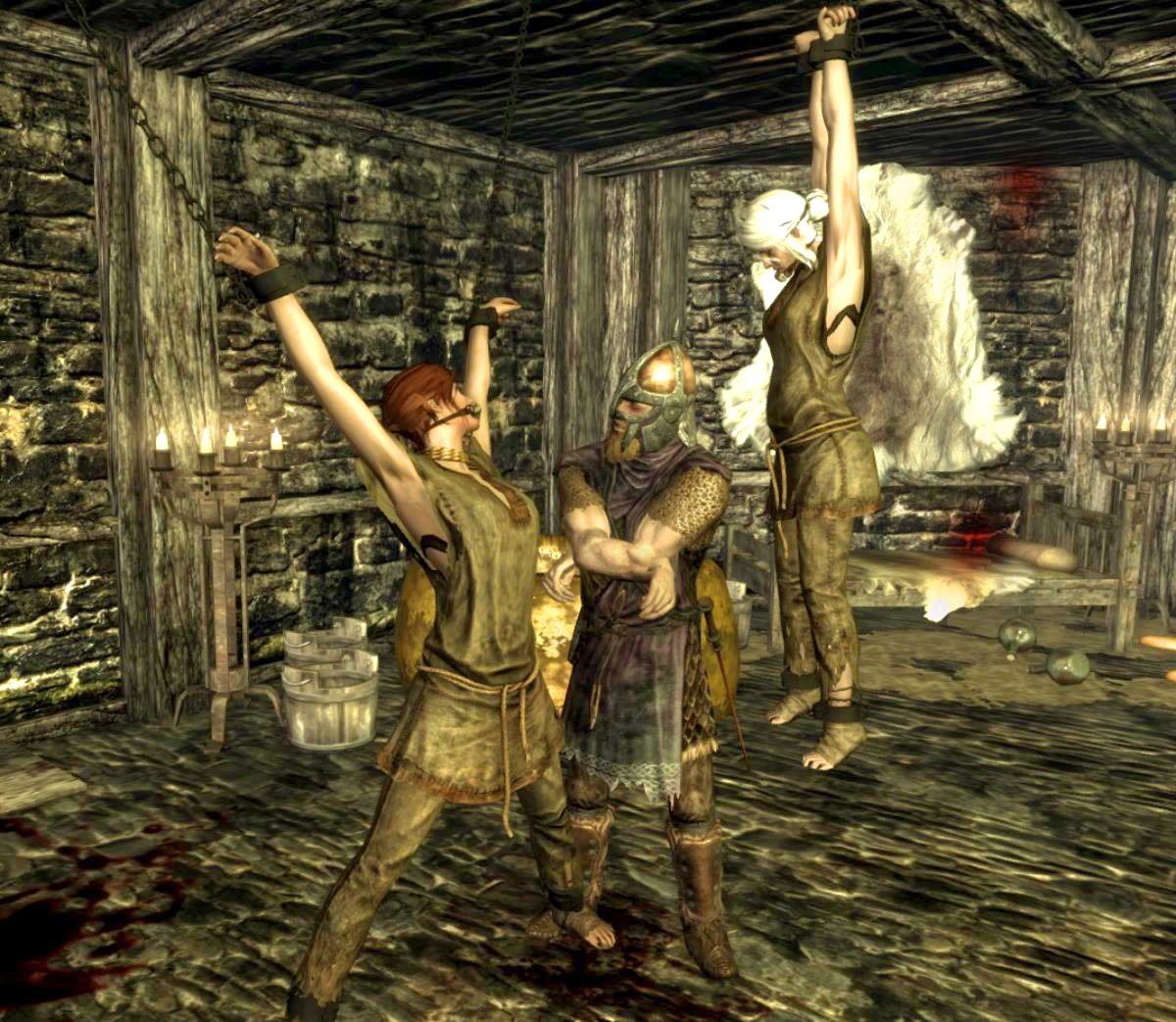 Ciri: "NRRRRRG!"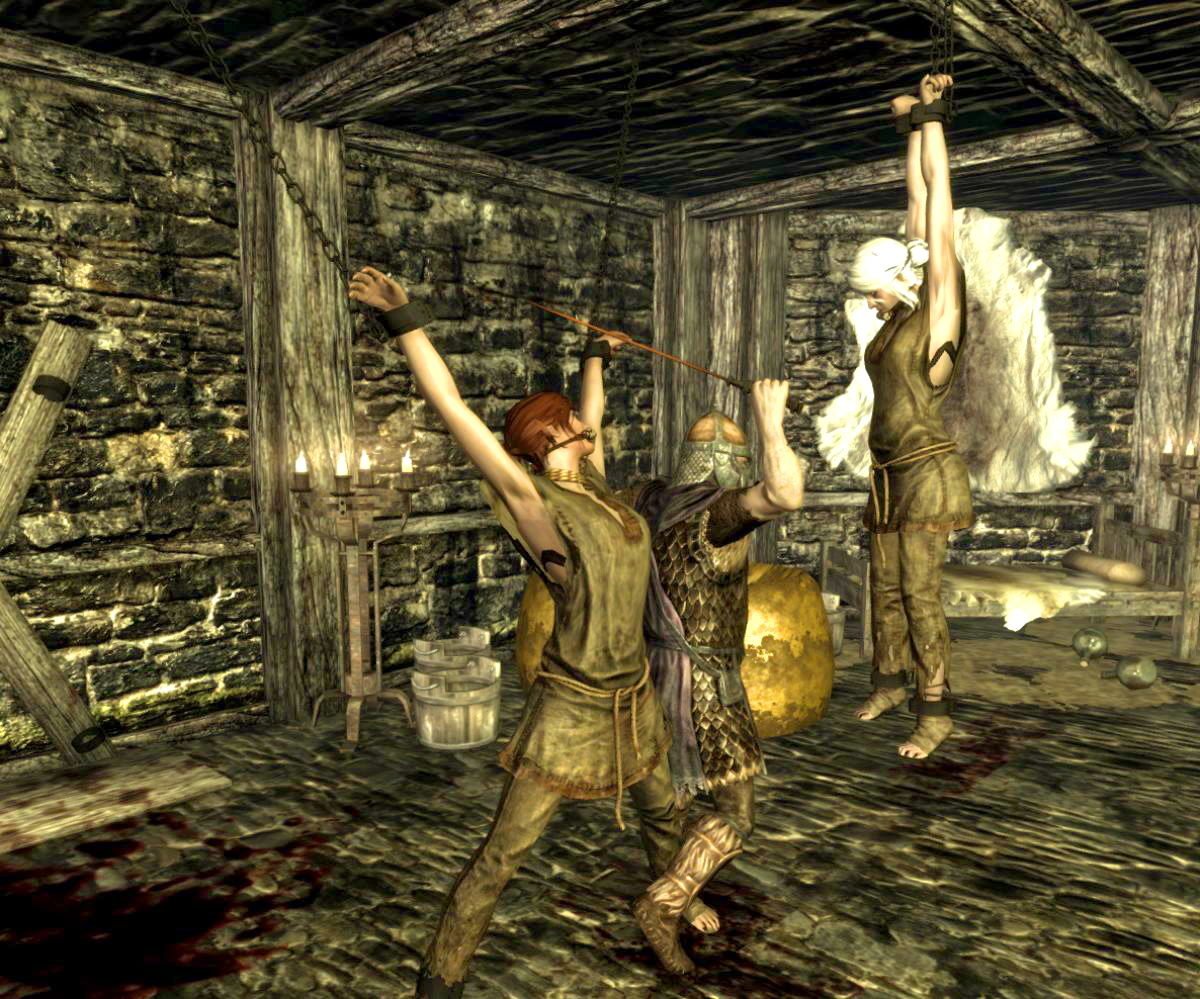 Guard: ".. and back to our ill-bred Reddy here."
I pass out.



Some time later...
Clouds in the sky

Mystic fairy singing: "wake up"
A soft hand caresses my cheek...
I taste mouldy water on my tongue, smell stale bread ... I'm dreaming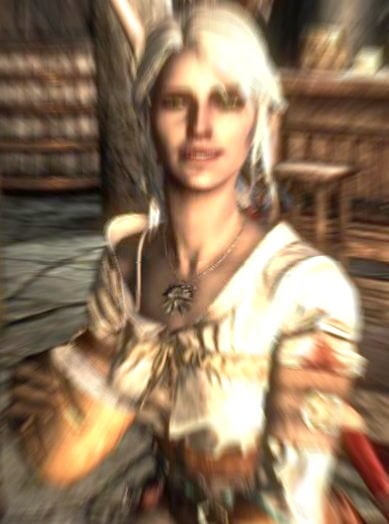 Soft voice: "wake up"
I open my eyes. No, this ain't a dream.
But at least I am alive and Ciri is still with me.
Clumsy, I rise to my feet and almost fall over on my face. My hands are still cuffed behind my back.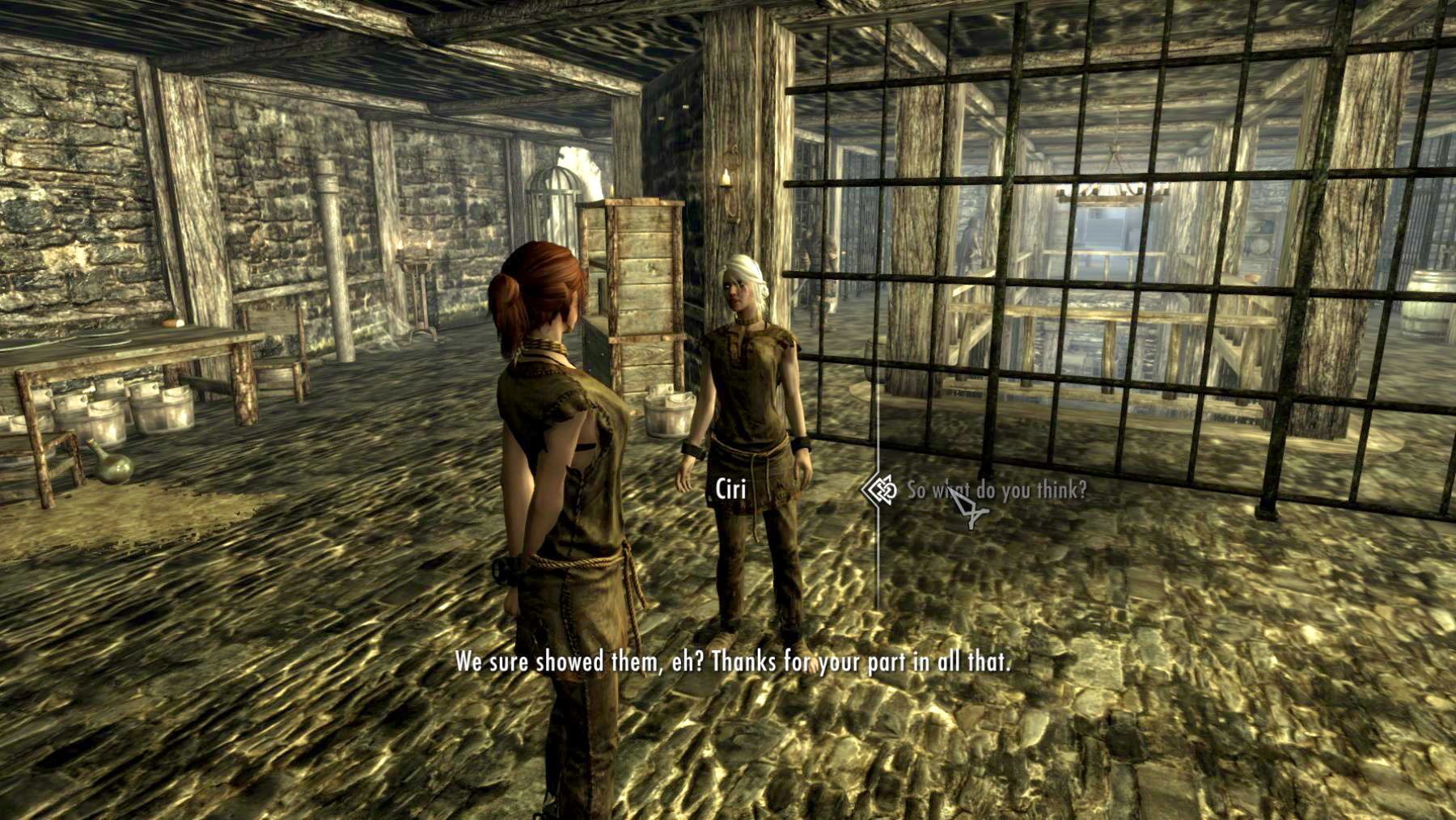 Ciri: "Welcome to our new home."
I blink my eyes again.
"Are you ok?"
Ciri: "Of course! Well, that wasn't too bad, was it? We sure showed them, eh? "
Unbroken! I close my eyes and praise Dibella!
"Yes, you are right. That was nothing, yet. We had worse days."
... I'm just wondering, what they will do next to keep us "entertained" ...?
But, let's see it positive. We are not gagged anymore, and Ciri's hands have been unbound.