INTRODUCING KITTENVOX AS IVY
IVY 5.2 TEST BUILD FINISHED:
DEVELOPMENT UPDATE + ANNOUNCEMENTS
What weird place our world is in currently.
As life as we know it is changing around us and more and more are living an isolated existence, development on Ivy has become even more important to me and I make sure to work on her every day I can. The 5.2 build has been finished and a teaser trailer with the new Voice Actress is in the works (and it's looking great) all to provide you with the much needed escapism we all so crave during this difficult time.
I can't promise that anything will be easy, in the coming months, for any of us.
But I can promise that Ivy will keep going as long as I keep going. ❤️
5.2 will be released as soon as the test team gives the OK!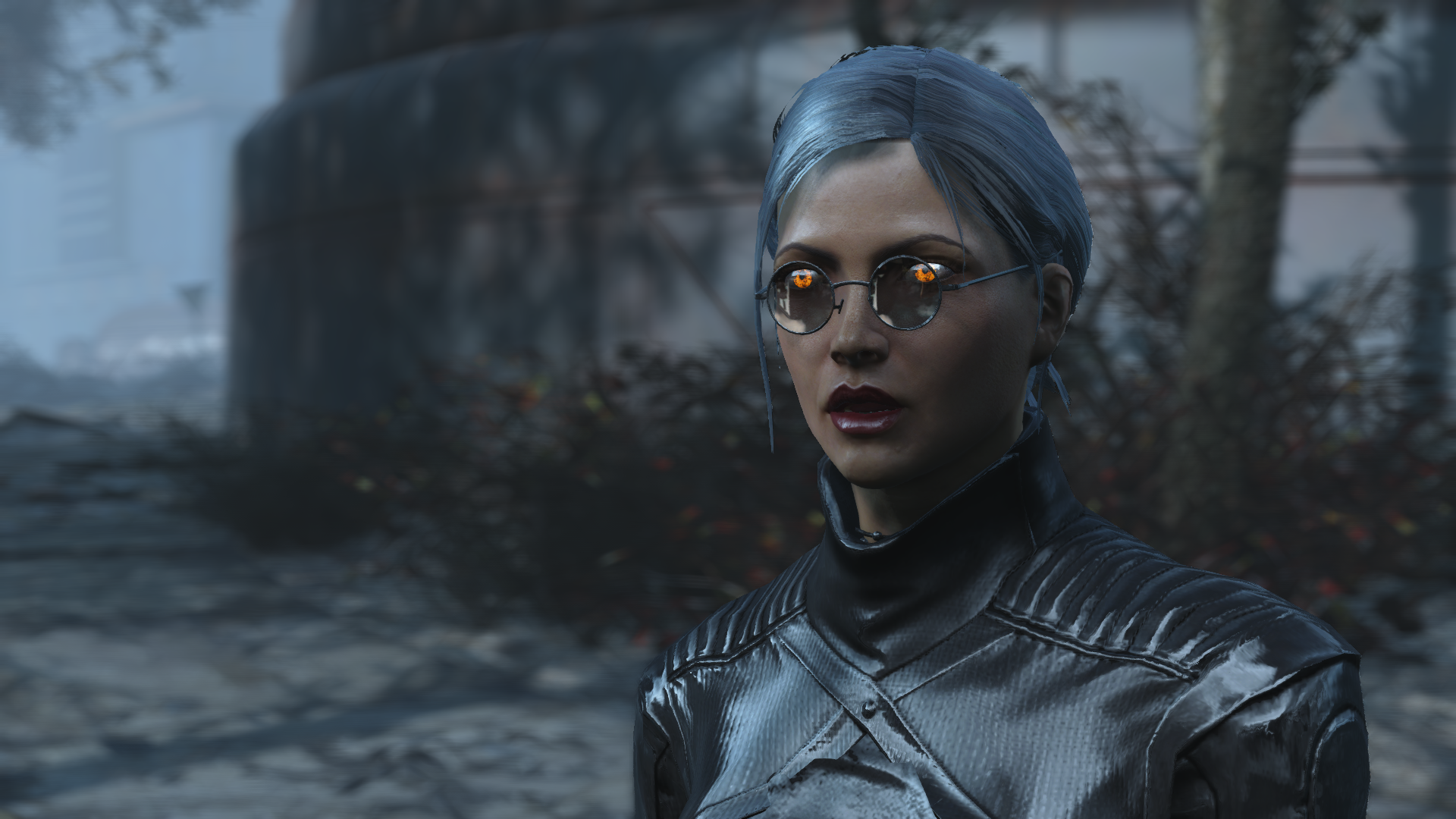 DEVELOPMENT UPDATE + ANNOUNCEMENTS
Alright so another Major Update. Apologies for the swinging left and right here. During the Multi Follower implementation I ran into some serious issues with Ivy on the technical front that were near impossible to solve. So instead of making Ivy compatible with MF mods, I have decided to create a multi-follower mod that will get a full stamp of approval from Ivy and will be the supported MF mod of choice for players wanting to add companions to their game and Ivy.
This mod was specifically designed to make ANY custom companion the main companion, and allows for an extra companion at any time, keeping most (if not all) of their functionality in tact. I have developed the base for this mod and have been testing out runs with Ivy and Nick Valentine, Ivy and Piper and Ivy and Codsworth + Codsworth Customized in the Robot DLC. So far the mod has run flawlessly without any major issues.
The major advantage of applying this outside of Ivy are:
- The mod can be used by ANY follower and is not restricted to just Ivy.
- More player choice!
- This Multi Follower mod does not touch ANY of the vanilla Follower framework. It uses a system completely outside of the Follower script and quest and does not alter ANY vanilla objects at ALL.
- This mod is NOT dependent on F4SE or any other mods, it does not require the DLC but it works on ANY follower.
MAGAZINE PLUGIN BUG FIXES + DEVELOPMENTS
I've worked hard on making Ivy's magazine plugin more robust. Sometimes she would get stuck in the scene, not pretty. This happens especially when combat takes place. It does eventually solve itself but it's not as elegant as it should be in 5.1. So for 5.2. I've completely reworked the magazine comments and now extra companions will comment on Ivy's remarks if they are vanilla companions (e.g. Nick, Piper, Codsworth etc..etc..)
IVY'S SCANNING SYSTEMS
Ivy's scanning system was not working well always. It's nice to Roleplay for yourself that these are glitches in an 80 year old prototype Synth, but that's not how she was intended. Ivy now only remarks on LOCKED safes. And she does it less. Once she's scanned a location, she will not scan that location again.
IVY'S CHATTER SYSTEMS
It's always bugged me that Ivy would sometimes go on a tangent while in the middle of combat, or that she would make an offhanded sexy remark, just seconds after heavy combat. In 5.2 a timer now tracks Ivy's combat and she will remain quiet for a respectful period of time during and after combat. And remarks or chat made will be related to combat and nothing else.
IMPACT OF 5.2. AND A RELEASE DATE?
I have tried to design 5.2. in a manner in which you can keep your current save. This has hampered me heavily in improving her base systems, but I felt obliged to all of you not to ask you once again to start a whole new game with her. It will always be the recommended way to start any new version of Ivy, but in this case since the releases follow each other up so quickly it will not be necessary.
I will ship the test version to the Q&A team soon after which it will take a few weeks to root out any bugs they might find.
I expect 5.2. to be release somewhere in February, March the latest.
IVY 5.2. Will ADD the following features:
- Over 600 animations during her dialogue with the player.
- Ivy now automatically unequips her weapon as soon as the player enters dialogue with her.
- A new COMPLETE affinity quest called 'Robotic Assimilation' spanning 9 DIFFERENT LOCATIONS, see the spoiler tag.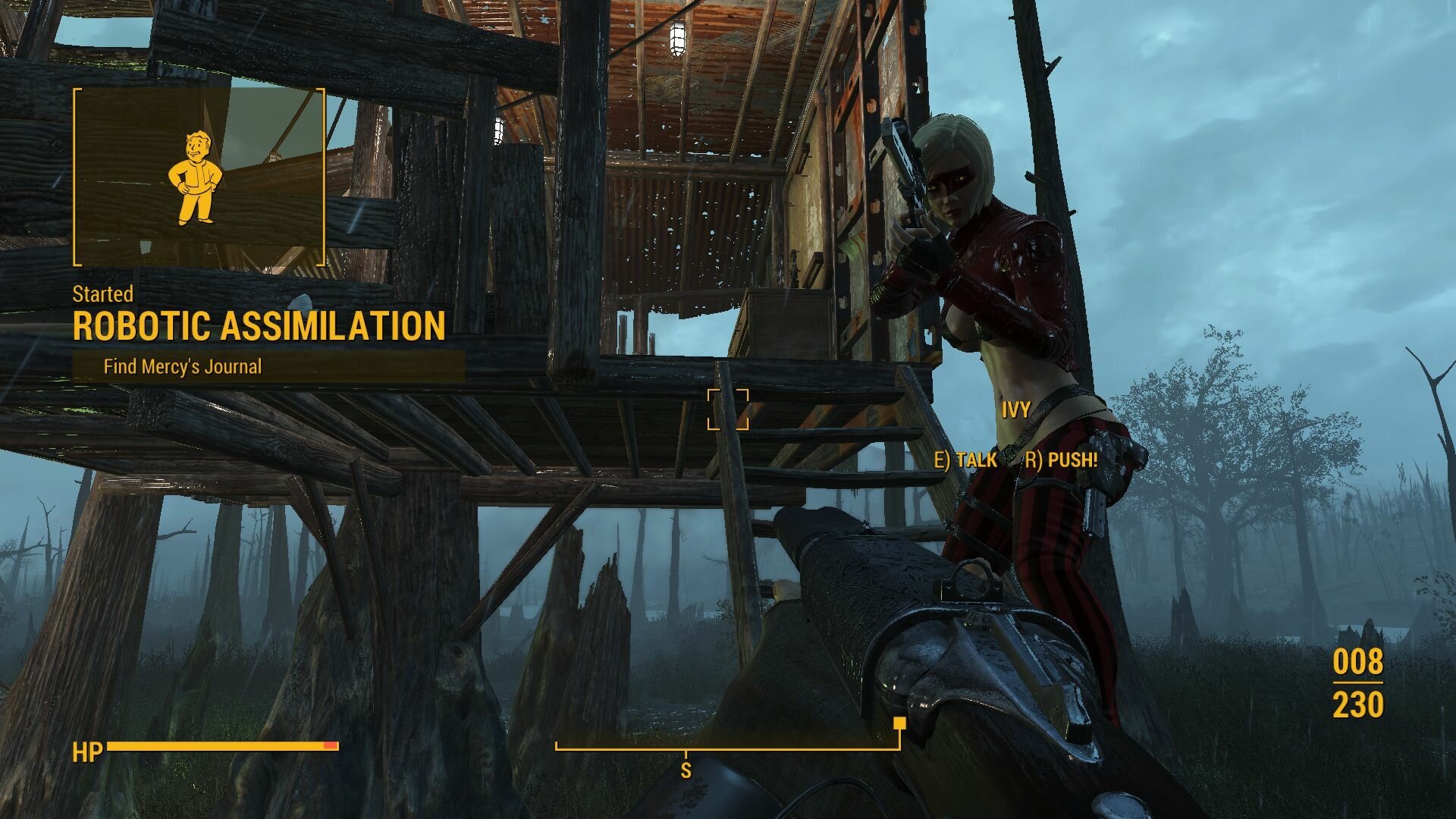 WHAT'S IN STORE FOR IVY'S FUTURE?
OPEN HEART SURGERY.
Yes you heard it right.
Ivy will receive OPEN HEART SURGERY for 6.0.
This basically means I'm going to rip open her entire follower system and rework it from scratch to be outside of the vanilla companion system once and for all. The main reason for wanting to do this is very simple. I don't like it when multi follower mods break her functionality. Then people experience a 'regular' follower with Ivy and think 'what's all this fuss about?', never realizing they didn't even get close to the real 'Ivy' experience because they broke her to begin with.
I will also be replacing her complete scripting system to allow me much easier updating in the future.
Ivy 6.0 will be fully voiced again.
Watch the Ivy 5.0. trailer below:
Visit Ivy at Discord: https://discord.gg/vyTvJYd
(link checked last: 23-01-20)