About This File
Better screenshots coming eventually, college sucks all the time out of my life.
About
This is a port of Fill Her Up - NetImmerse Override Compatibility Patch 1.12 which is an upgrade of Fill Her Up - Cum Inflation. I am not a modder but I simply followed a guide for porting this mod,
this means any new content would have to be made by someone else. If you want more information, click on the links to read more but here is a short feature list copied from the original page.
Progressive cum inflation 

Affects only belly node

Per-race cum amounts 

NPC & creature support

Separate tracking for anal and vaginal sex 

Automatic deflation with random-ish intervals with a configurable minimum time before deflation 

Hotkey for manual deflation 

Zaz animations for deflation 

Female on female inflation when female/female cum is in use in sexlab

NPC comments and status messages related to inflation 
The UUNP version uses racemenu and the belly bone of your body but the CBBE version uses the pregnant belly slider from bodyslide. The CBBE looks much better in my opinion. (screenshot comparisons eventually)
Requirements
Be sure to check each mod here for their own requirements.
For both:
FNIS (If you have never used FNIS before, please use this tutorial for Mod Organizer 2 or Vortex)
Sexlab Framework SE 1.63 NOT SexLab Light SE
UUNP version:
The bodyslide download from oldrim with the UUNP option
CBBE version:
Bodyslide (When you build your bodies/outfits be sure to check that box on the bottom that says build morphs.)
SLIF (Optional, download SLIF version of this mod if you use it)
Highly Recommended for both:
Installation Instructions
If you are new to Skyrim modding you might not understand some of this and may have to look up a guide, I recommend this one, not the necessarily modlist itself (even though it is the one I use when modding my game) but the info near the top is very useful. Please do not attempt modding your game without a mod manager otherwise nobody can help you with issues.
1. Install all of the requirements for the version you are using
2. Run Fnis. For NMM/Vortex watch this and for Mod organizer 2 users go to the data tab and find the same file path shown in the gif.
3. Run bodyslide and check the box at the bottom as shown here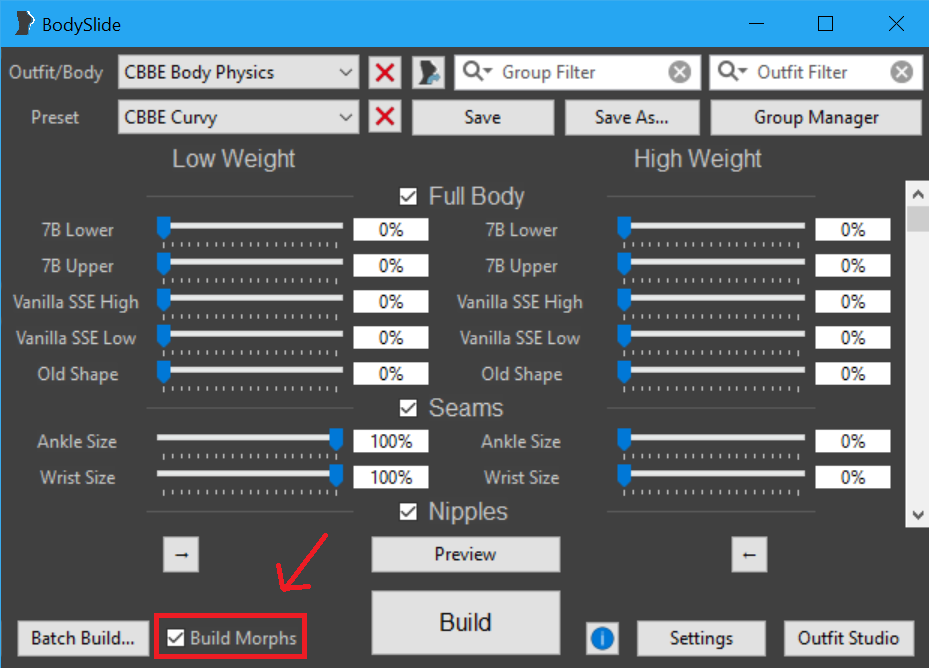 Yes I did make this with paint.
Update Instructions
Reset inflation in-game, delete the old mod, drop in the new one, run FNIS.
Compatibility/Troubleshooting
If you have too much stress on papyrus is could cause issues
Researching...
Thanks
Srende - For making this awesome mod
4onen - For improving the mod and giving me permission to port and post it
Yinkle - For making the mod work with CBBE and adding useful updates x3
ZAZ Team - For giving Yinkle and I permission to upload with some ZAZ files included
You - For reading this and downloading it (I hope)
Changelog:
November 24, 2018 - More info all around - not done updating installation instructions I can't figure out spoilers
November 21, 2018 - More info in requirements
October 17, 2018 - Yet again Grandmaster Yinkle has sent me a new file. CBBE version now compatible with SLIF, no update required for UUNP (P.S. I'll never stop loving ya Yinkle)
October 9, 2018 - Added Yinkle's new file which removes the ZAZ animation pack requirement from the cbbe version. No update required for UUNP
October 9, 2018 - Added screenshots from the old mod because I have no time, user screenshots are very welcome
August 26, 2018 - Changed the mod page title to let people know it works for cbbe now (P.S. I love ya Yinkle)
August 25, 2018 - Added Yinkle's file and changed requirements
August 23, 2018 - Yinkle got it working for cbbe
August 23, 2018 - Added a changelog and got your hopes up for nothing
August 20, 2018 - Changed requirements because racemenu is back and now the requirements say check each mod for their own requirements instead of posting them here and making the list look long
June 16, 2018 - Ported this to SE and posted it