About This File
Pick actors and trigger multiple sex scenes and ORGIES at will: PC-NPC, NPC-NPC, PC Solo, NPC Solo
A simple mindless sex mod to trigger scenes. Good for casual playing and testing. A bit like SexLab MatchMaker in Skyrim.
Requirement:
Four-Play by DocClox and all its dependencies. You can safely delete Crazy's esp. You should also use Leito's fantastic animations.
Mindless Sex 1.2 requires the latest version of Four-Play (0.5a), which in turn requires F4SE. Read the troubleshooting section on Four-Play's download page first if you have problems with stripping/ scene not triggering.
Installation:
With Mod Organizer or extract into Data folder
Then go in game > load a save (ideally clean - this should show a message about Four-Play setting up slots) > quicksave > load that quicksave > You'll get a pistol to trigger sex scene - the "sex pistol", equip it
Instructions:
Shoot at someone to pick that person as an actor (Only two-person human animations included in the Framework so far, I might make more animations myself at some point)
First shot: Actor 1 registered
Second shot: Actor 2 registered
Third shot (doesn't matter who you shoot, but it has to hit someone): Both actors cleared


Fun Time:
Trigger a sex scene by unequip (not sheath) the pistol (To speed things up, you should favourite the sex pistol to a number and your main weapon to another. Press the latter to start a scene):
If no Actor's been selected: The player masturbates
If only Actor 1's been selected: The player has sex with Actor 1
If both Actor 1 and Actor 2 have been selected: Actor 1 has sex with Actor 2
If Actor 1 and Actor 2 are the same person: This NPC masturbates
You'll get a message box to select the scene duration or cancel the sex scene.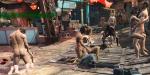 Orgy/ Multiple Scenes:
It is now possible to have multiple scenes running at the same time. You can either follow the steps above to hand-pick each scene (set the duration to 120 to make sure it doesn't run out too quickly).
Or you can use the Orgy option on the second message box that shows up when you unequip your pistol, this will ignore the actors you selected and instead pick up to 20 actors around you to start a mass orgy automatically.
Examples:
1/ I want to masturbate: Well, open Pornhub, remove your pants… Just equip and then unequip your sex pistol (you can do this very quickly with favourites)
2/ I want to fuck Piper: Shoot Piper, unequip the sex pistol
3/ I want Preston and Piper to get it on: Shoot Preston, shoot Piper, unequip the sex pistol
4/ I want Preston to jerk off: Shoot Preston, shoot Preston again, unequip the sex pistol
5/ I want to start a mass orgy in Diamond City Market: stand at the market, equip and unequip your pistol, select duration and then select Orgy.
Shameless Plug:
Four-Play Violate: player gets violated if losing in combat
All comments and feedbacks welcome!
---
What's New in Version
1.2
Released
Stripping and redressing are working perfectly now for both single scenes and orgies, without the previous 'teleport' temporary solution
The pistol no longer weights anything