Continues on from: 
After not really knowing where she is, Aerina awakens to find herself naked in a strange prison cell with an Orc staring down at her
She recognises the look of lust in his eyes. But she realises they've nowhere to go... so why not have some fun
Aerina: Really!? Fine... Suppose we have nothing else to do in here...
(The Orc lifts her up and places her against the wall, As he slides himself in, Aerina lets out a little squeak. He covers her mouth and gestures her to be quiet)
Orc: Shh... We don't want the guards hearing us now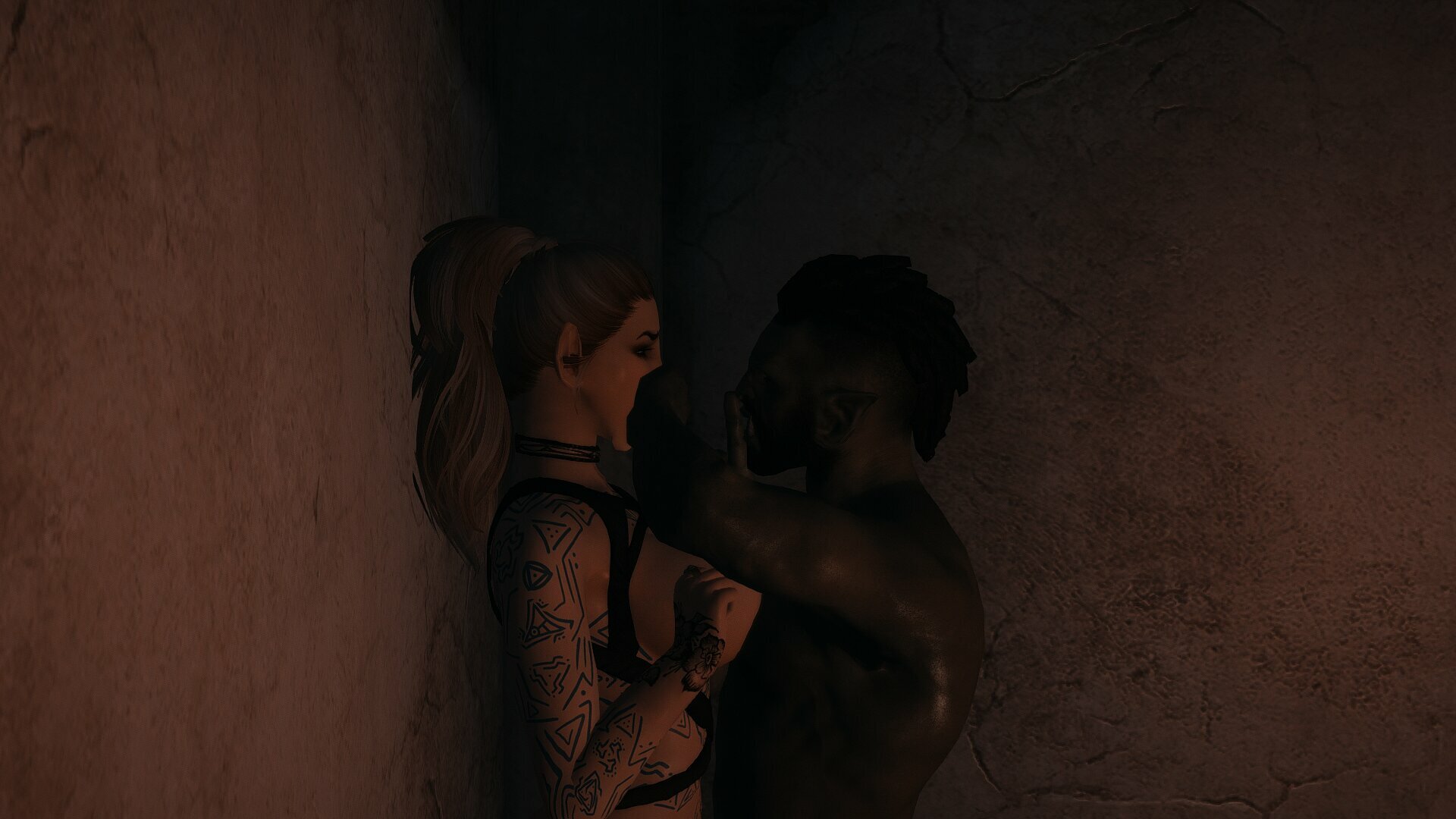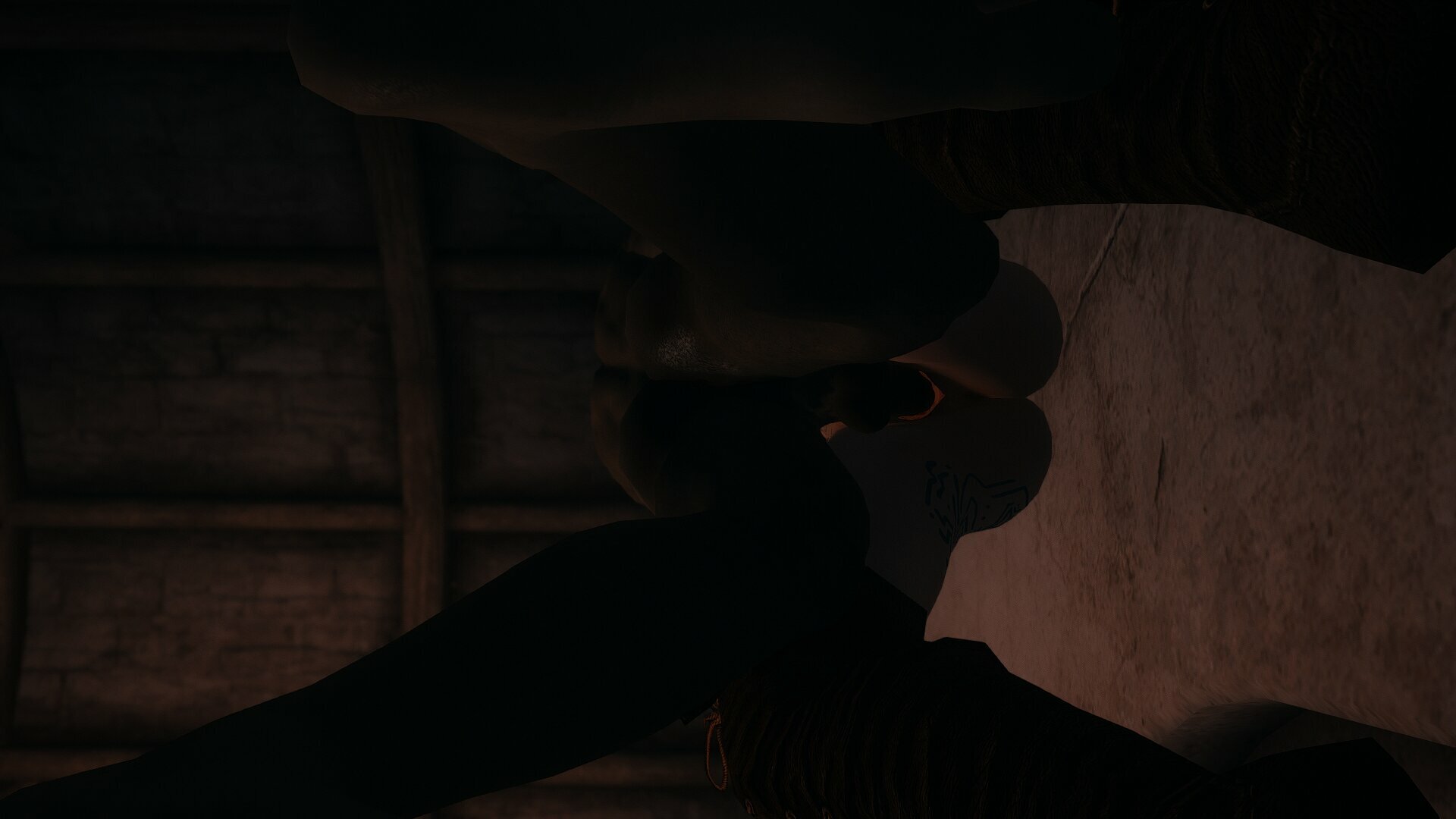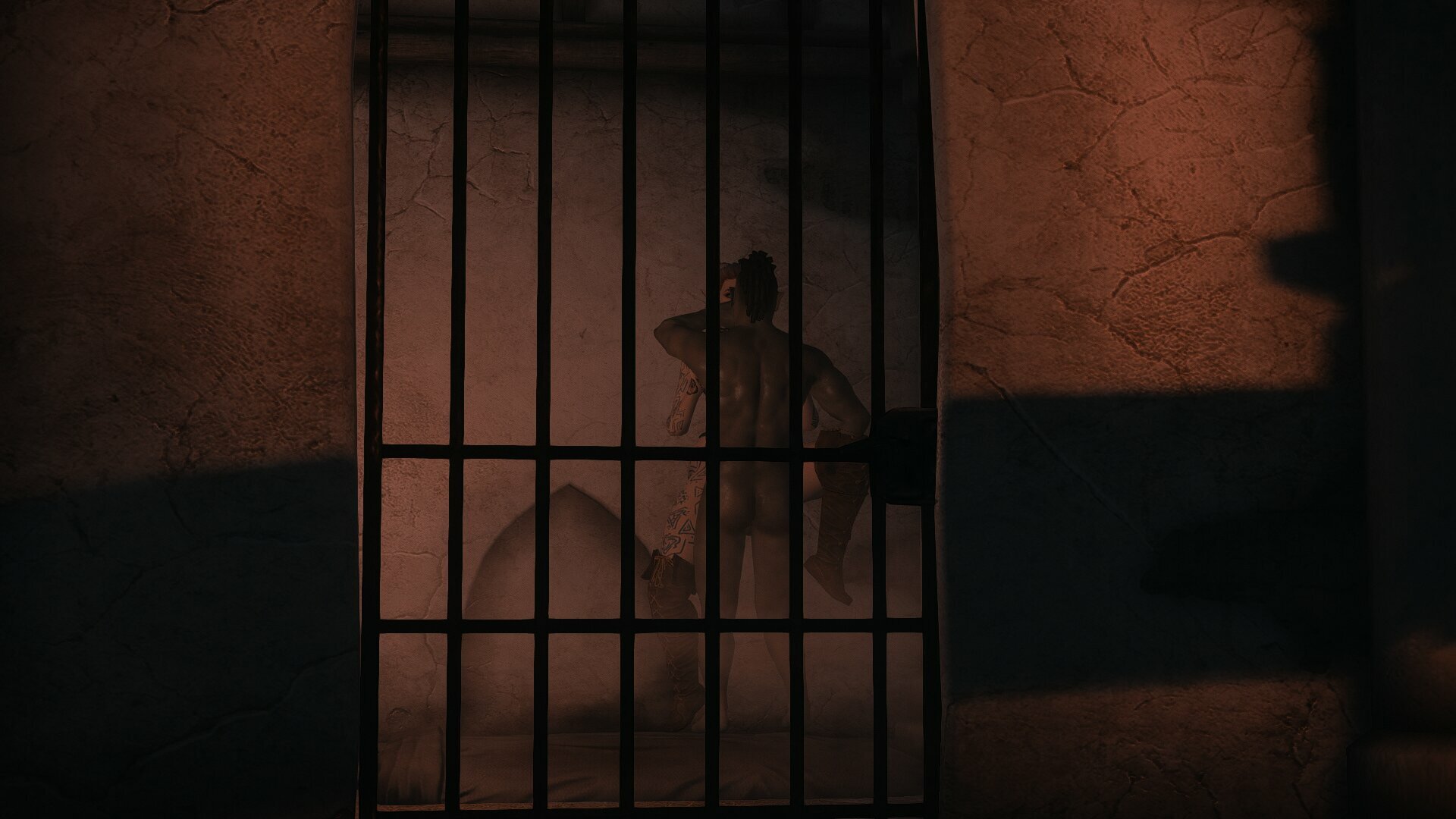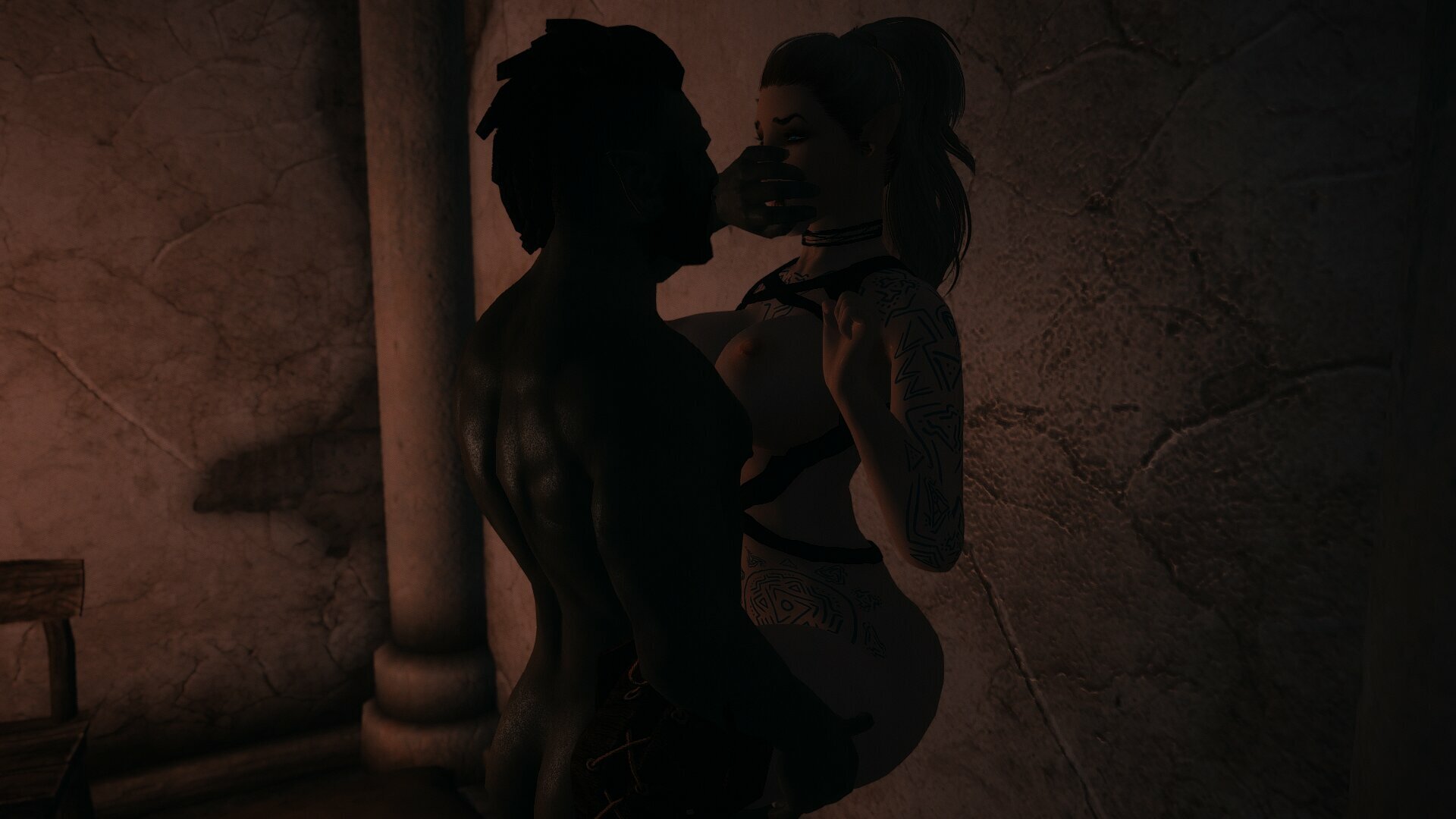 (Aerina loses herself to the pleasure, the risk of the guards catching them only intensifies this)
Orc: That's it... keep quiet now
(Her breath rate quickens and halts with a sharp breath as they both climax)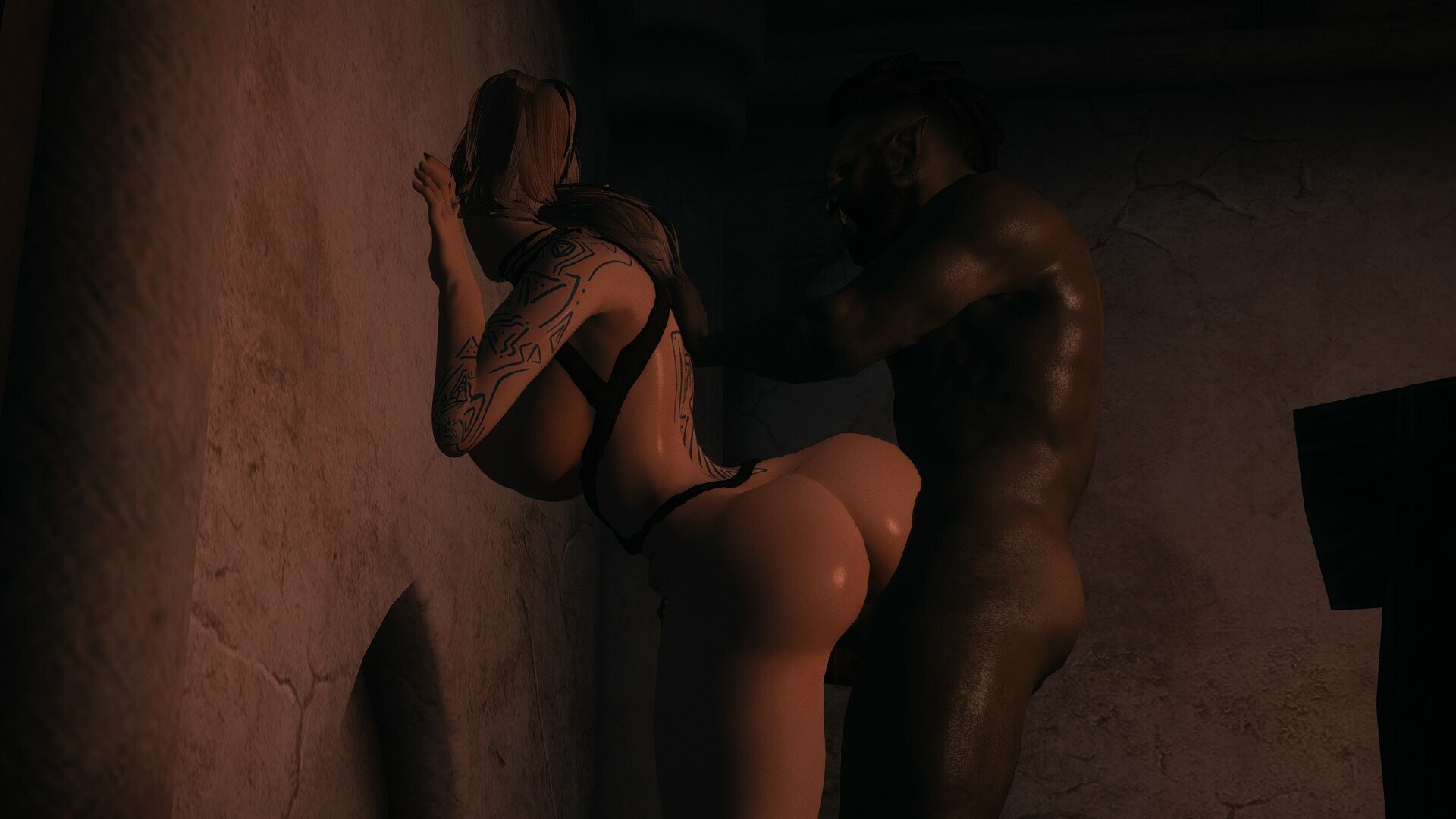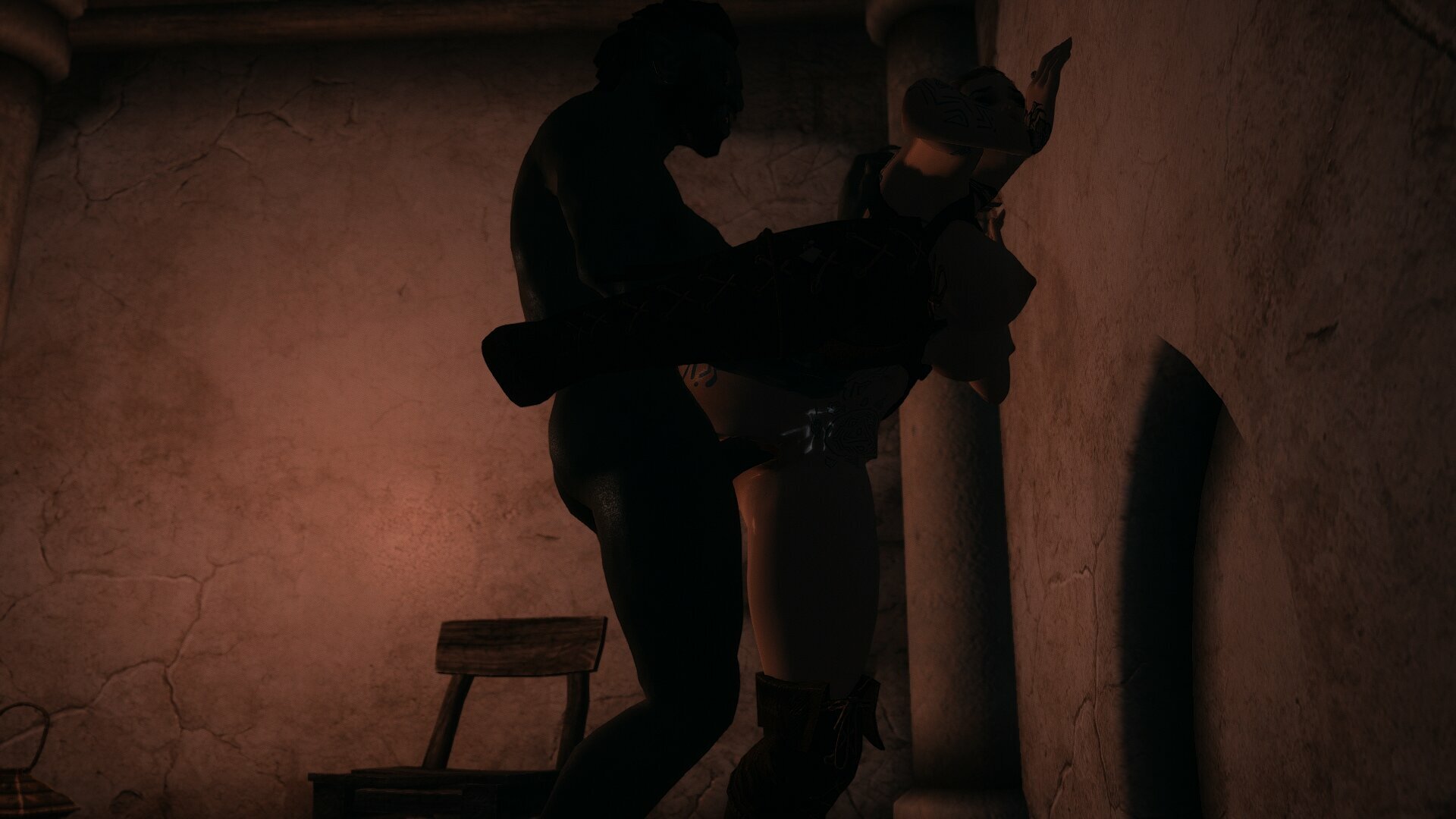 GIFS: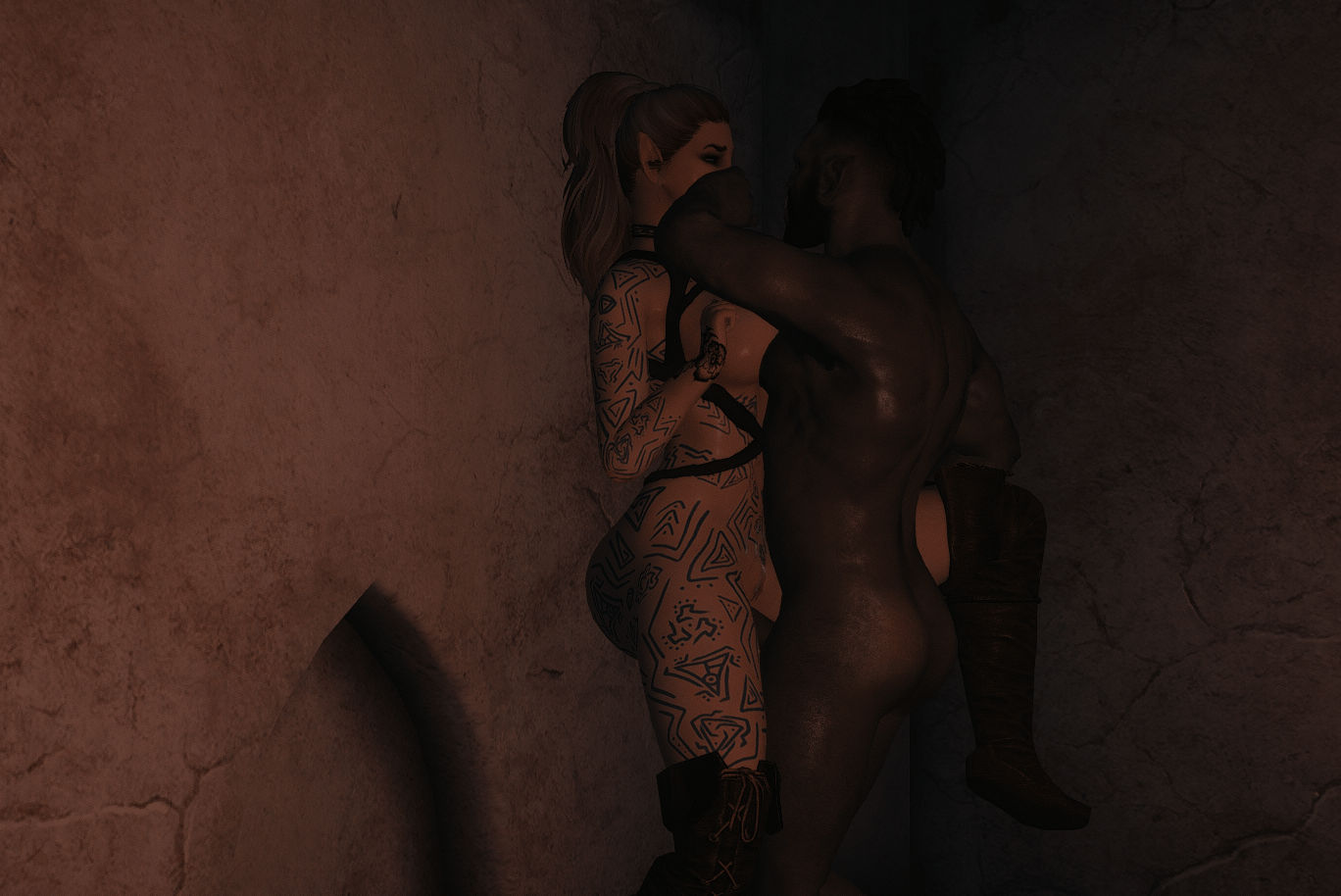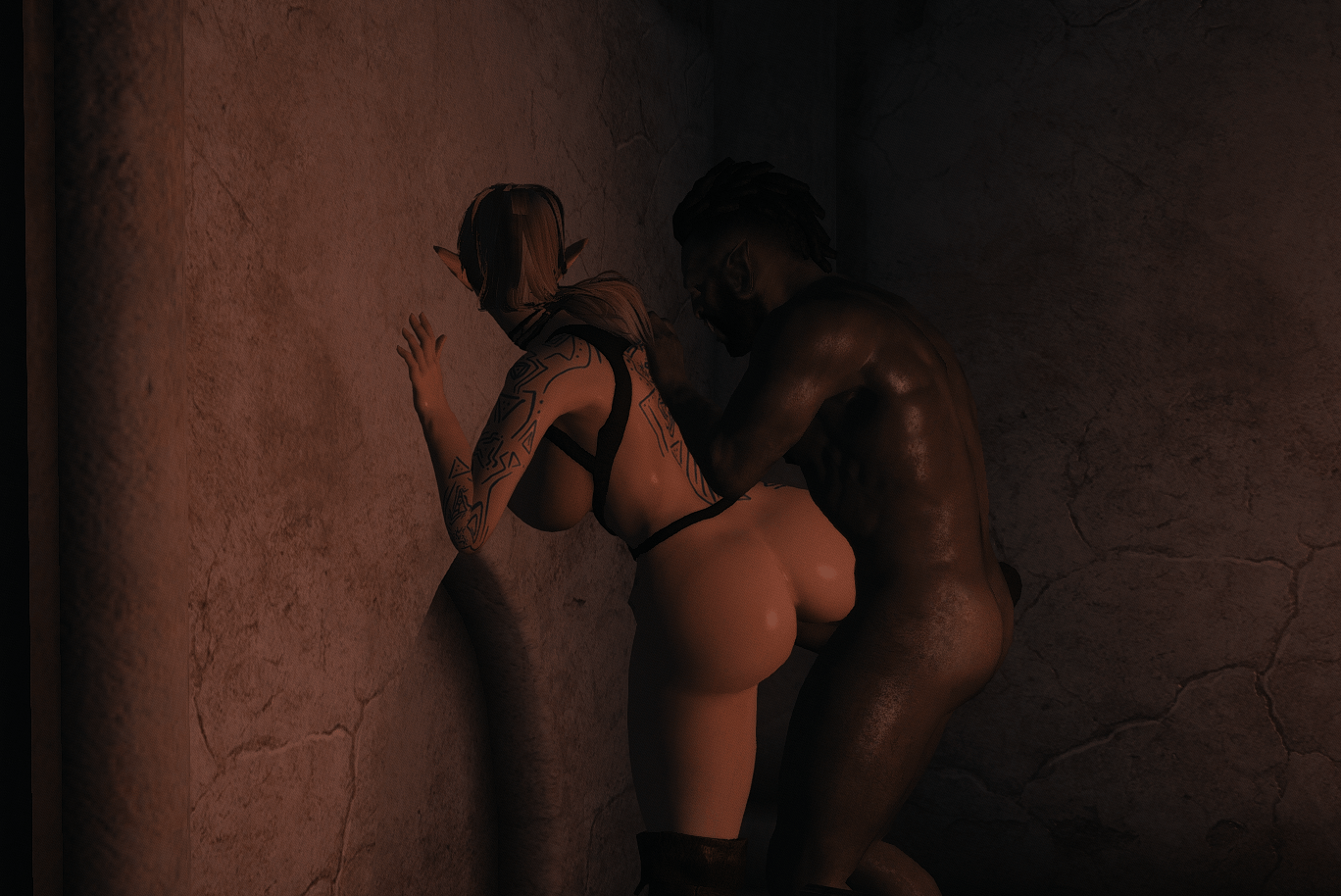 Having had their fun and the guards not showing any sign of releasing her soon.

They get to know each other a little... As there's not much else to do after the obvious.
Aerina: Phew... that was... fantastic... I didn't catch your name by the way?
Gruzol: Name's Gruzol... What about you wood elf?
Aerina: Aerina... High elf actually... well half anyway, dad was a Nord.
Gruzol: Huh... pretty rare paring giving the situation up north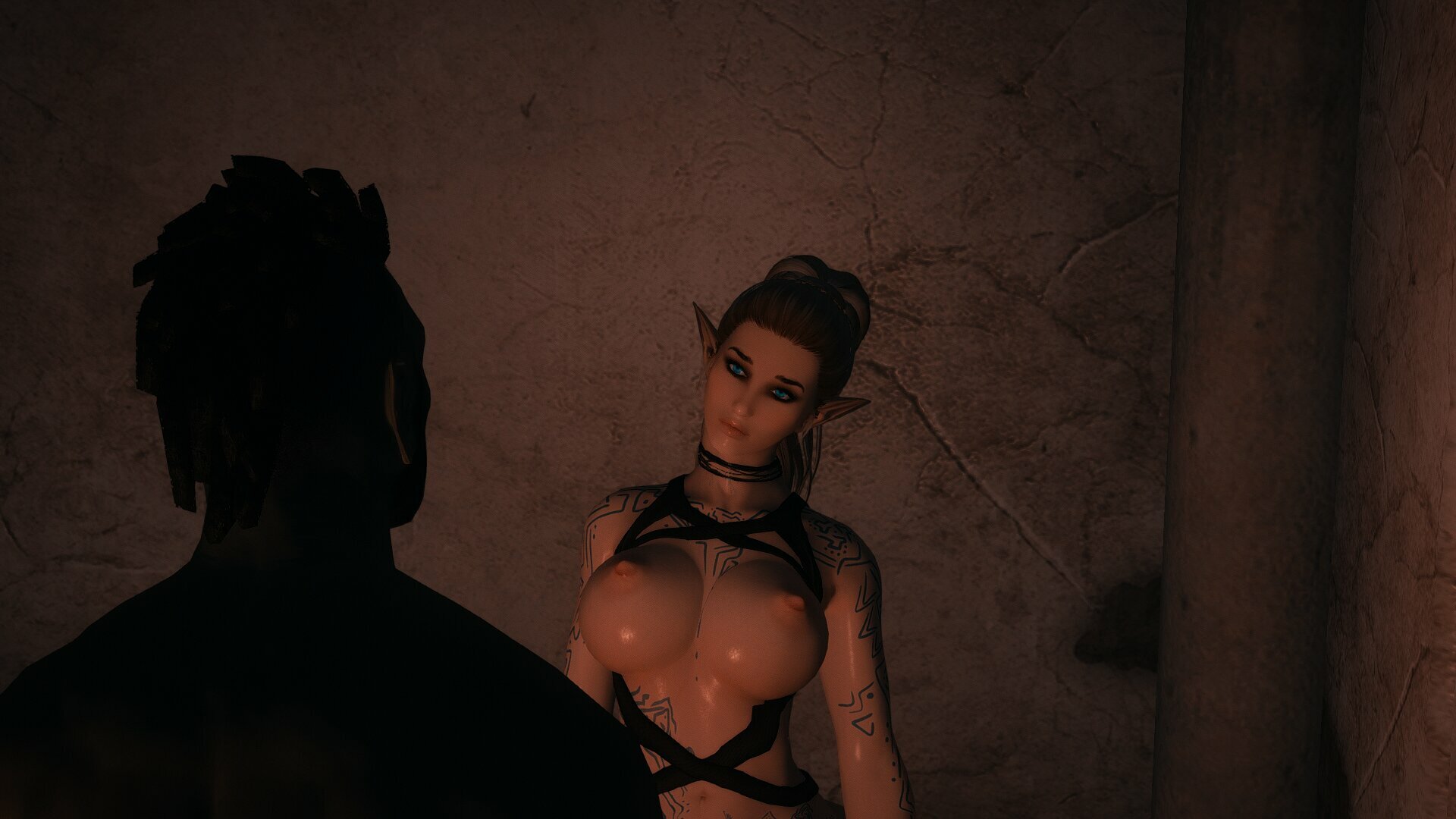 Aerina: Ahh so you're familiar with Skyrim then?
Grozul: Yeah... Born in Largashbur.
Aerina: I know it... had a bit of a run in with a friend of yours. Why'd you leave?
Grozul: Wanted more to life than that small village. Joined a merc group. Paid good money.
Grozul: So what you in for anyway, guards called you a "drunken slut"?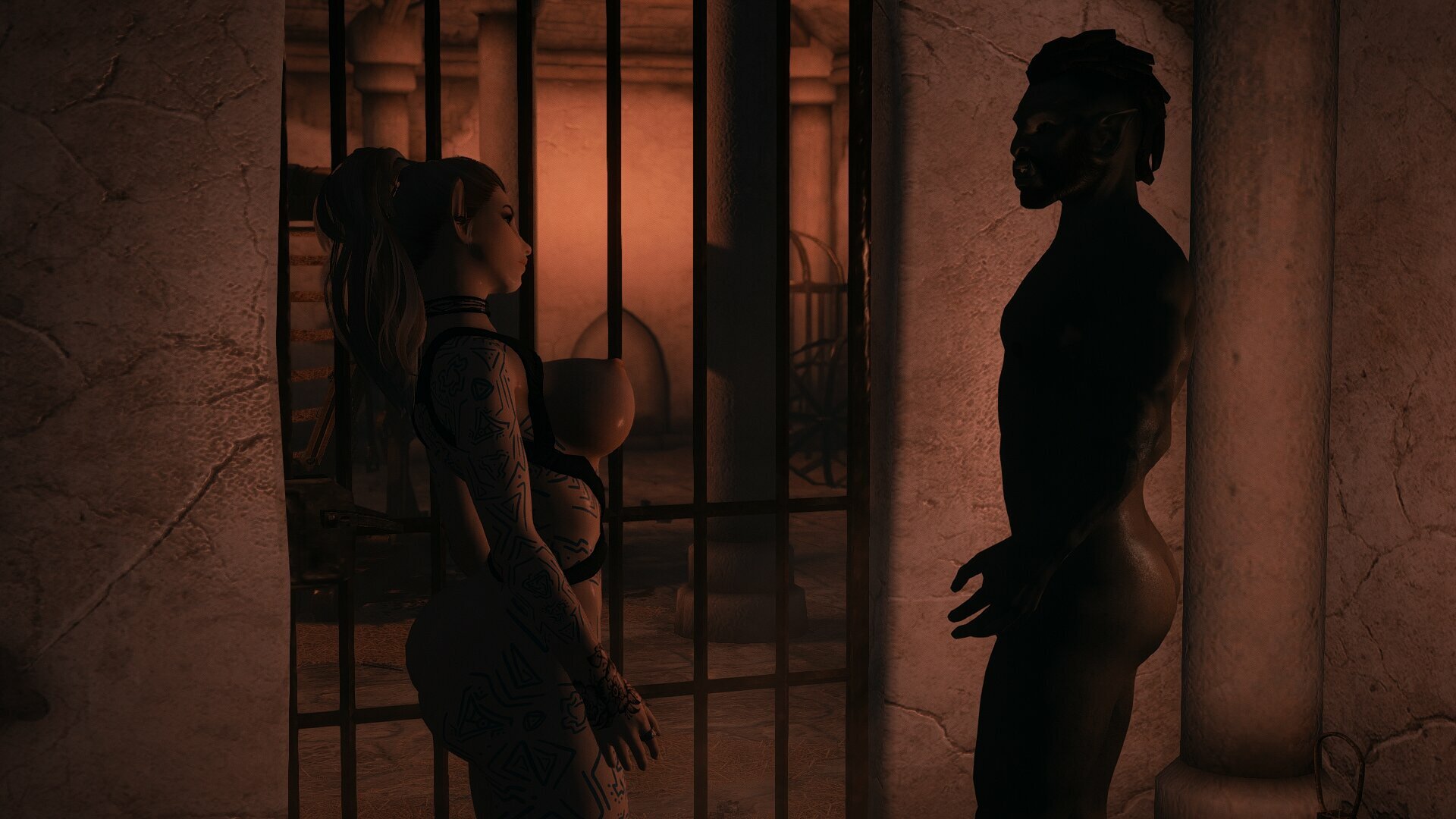 Aerina: Did they now.... Well I cant really remember. I was talking to a guard outside the Bruma city walls and then I woke up here.
Aerina: What prison are we even in anyway?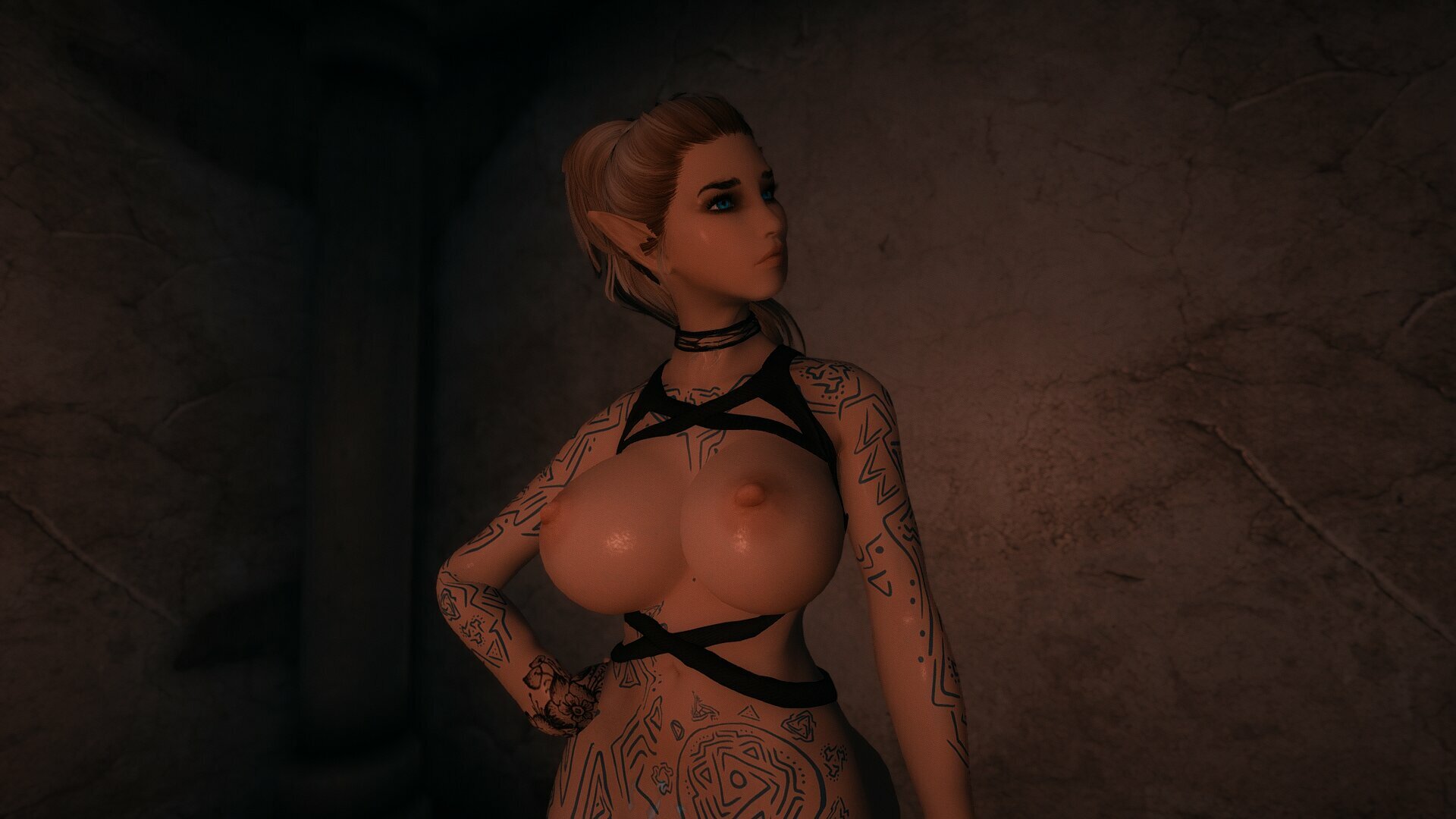 Grozul: Bruma city dungeon... They only really throw worst offenders in here, so i'm surprised they threw a "drunk" in here.
Aerina: Worst offenders? So what are you in for?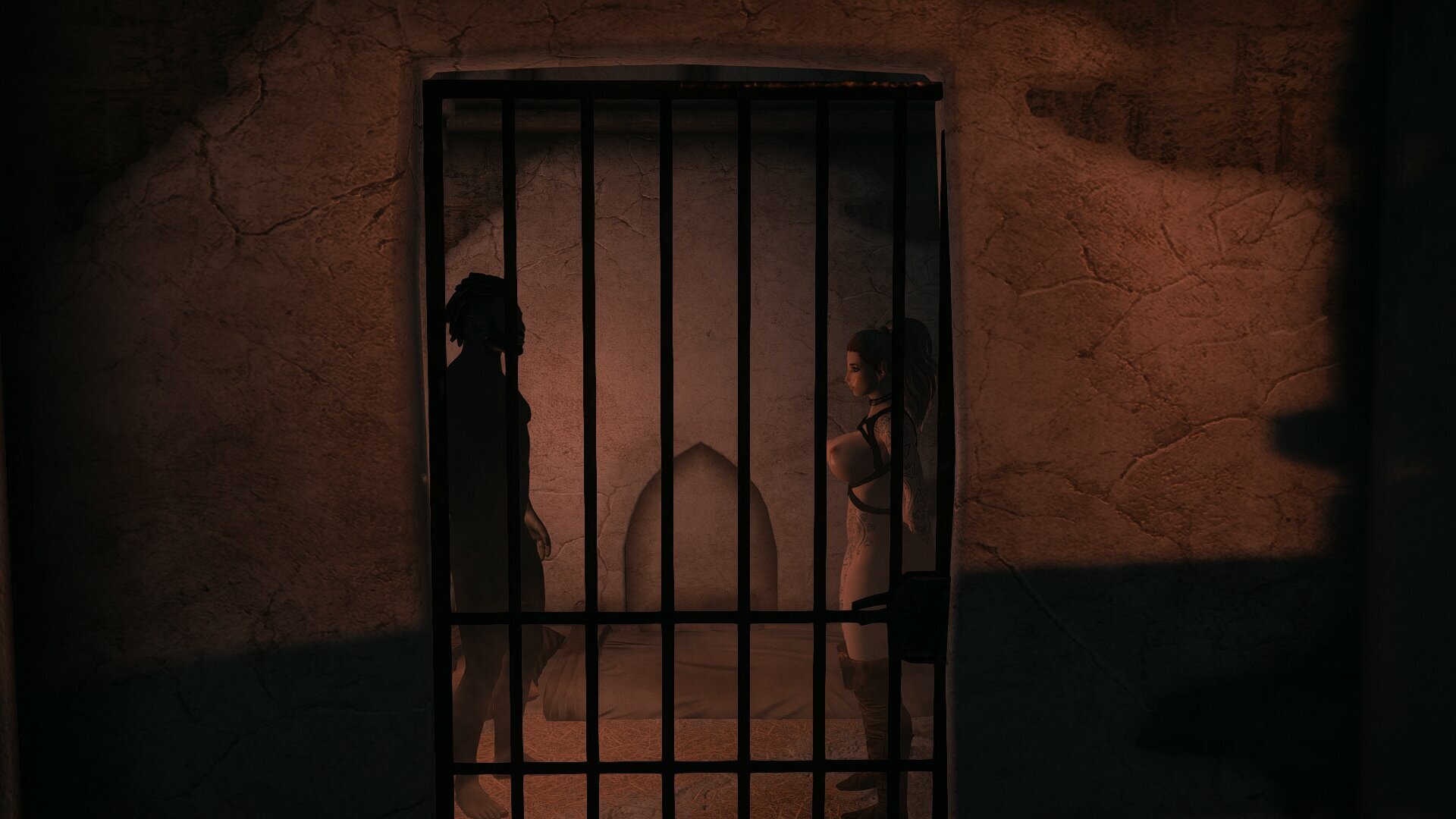 Grozul: Murder... plain and simple.
Aerina: You could've told me that before fucking me!
Grozul: Would it have stopped you?
Aerina: I guess not... Can I ask who?
Grozul: I'd rather not talk about it...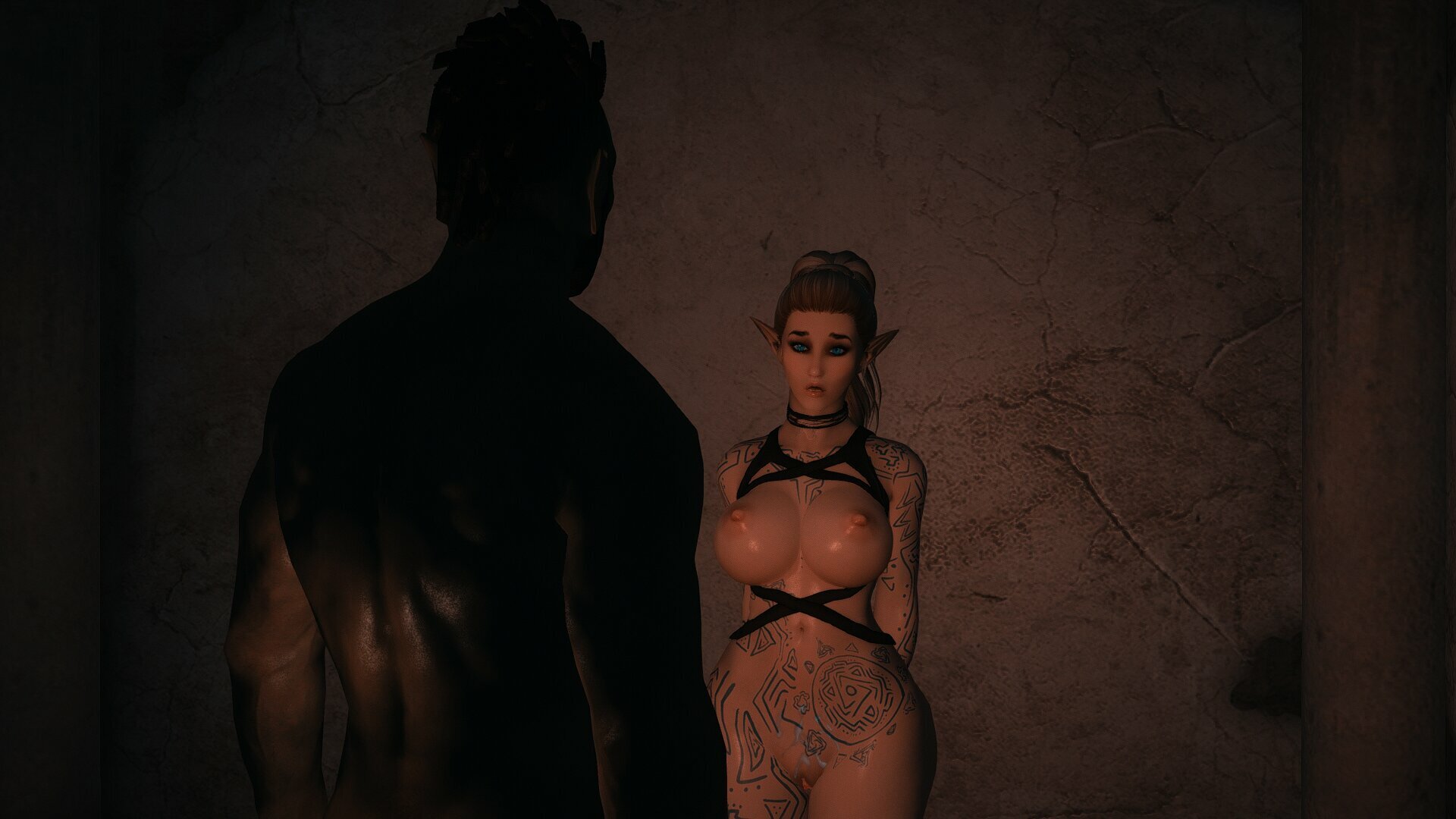 Guard: Okay Grozul, time for dinn.... What are you still doing here?
Aerina: Me?
Guard: Well who else you dumb bitch... come on, time to leave.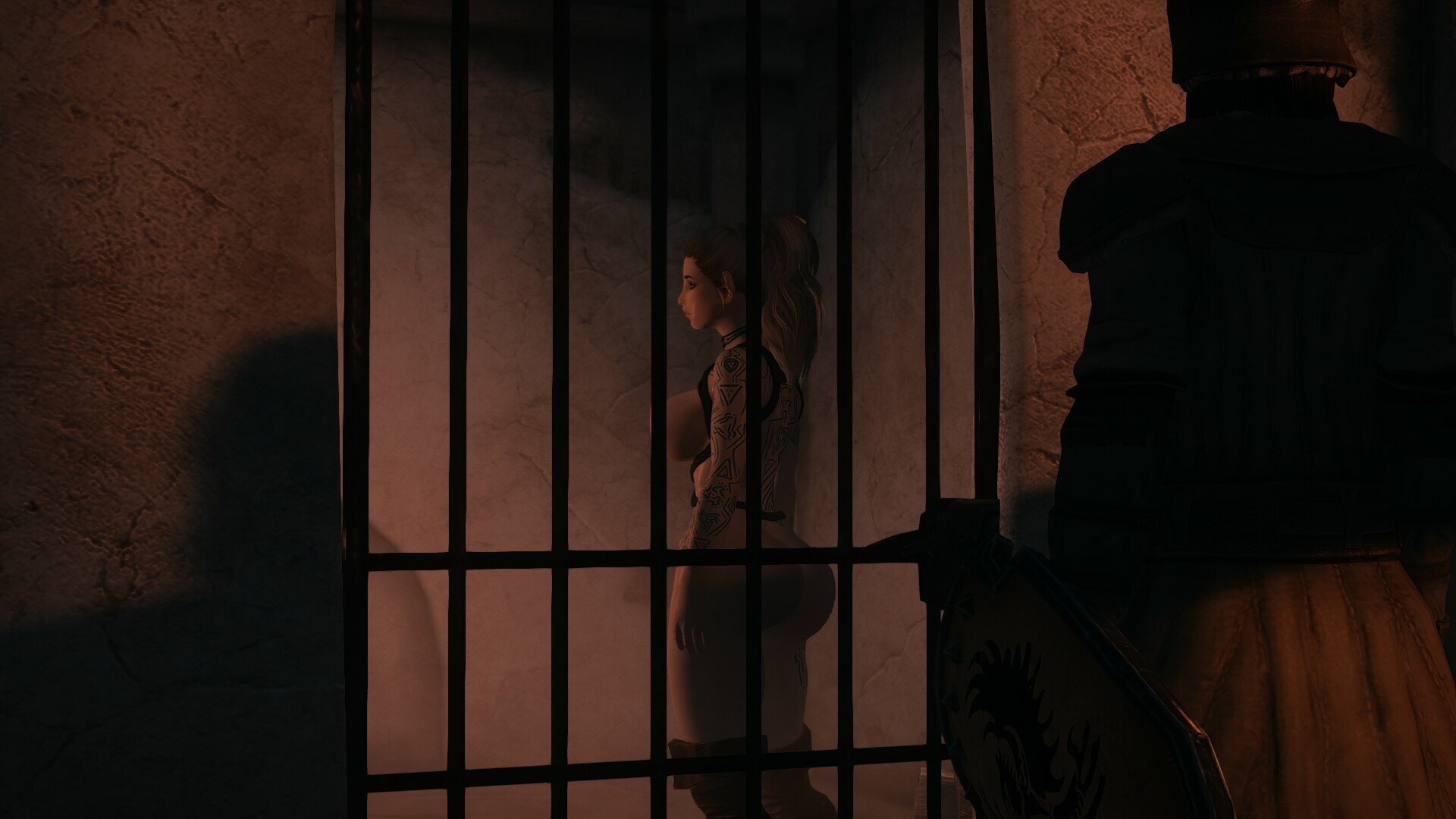 Aerina: Well... best of luck Grozul.
Grozul: Fight strong Aerina.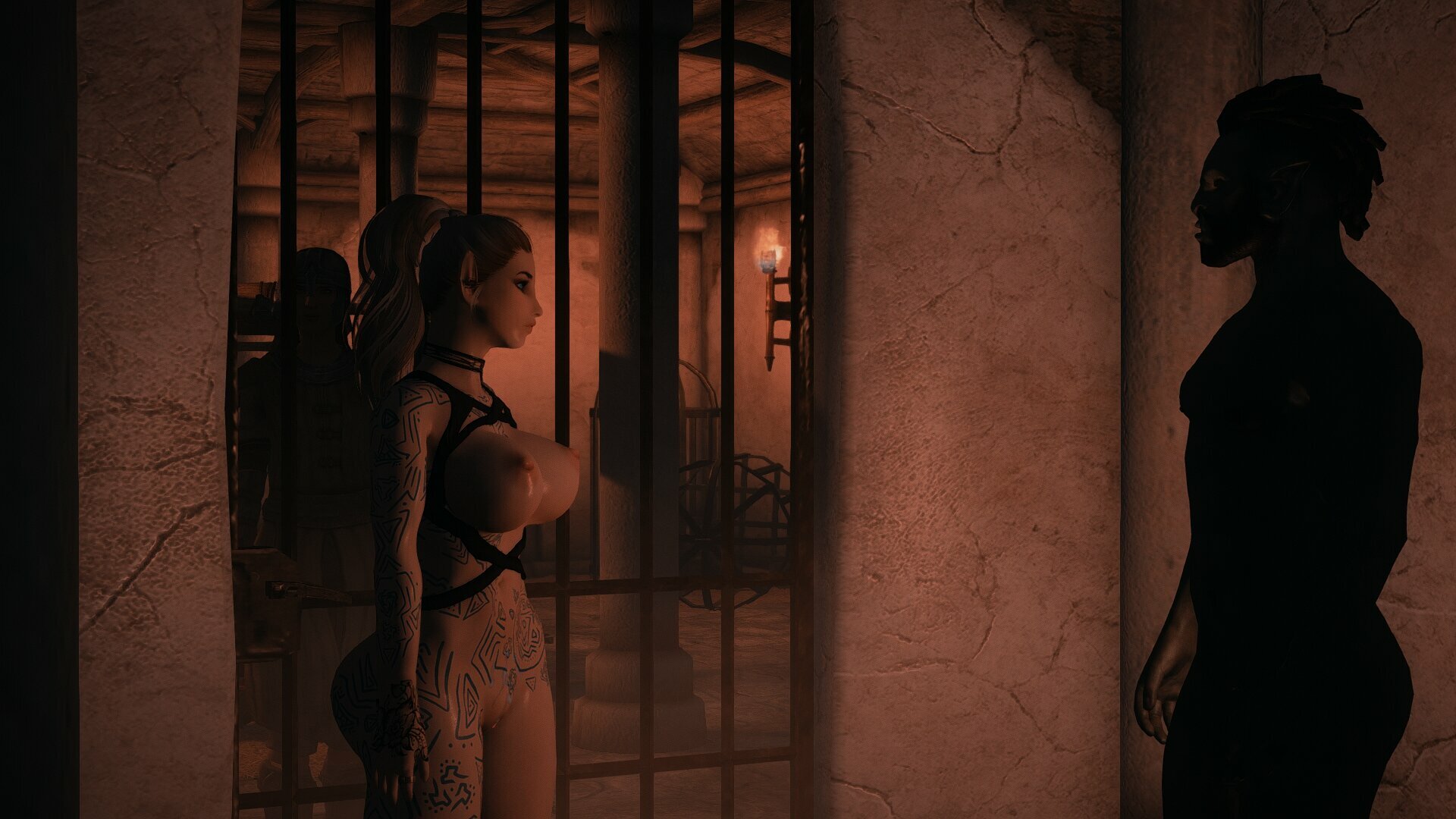 (The guard looks down and notices the cum on Aerina)
Guard: Urgh... Your stuff will be in the next room. In one of the barrels... And clean yourself up whore.
Aerina *Mutters* bitch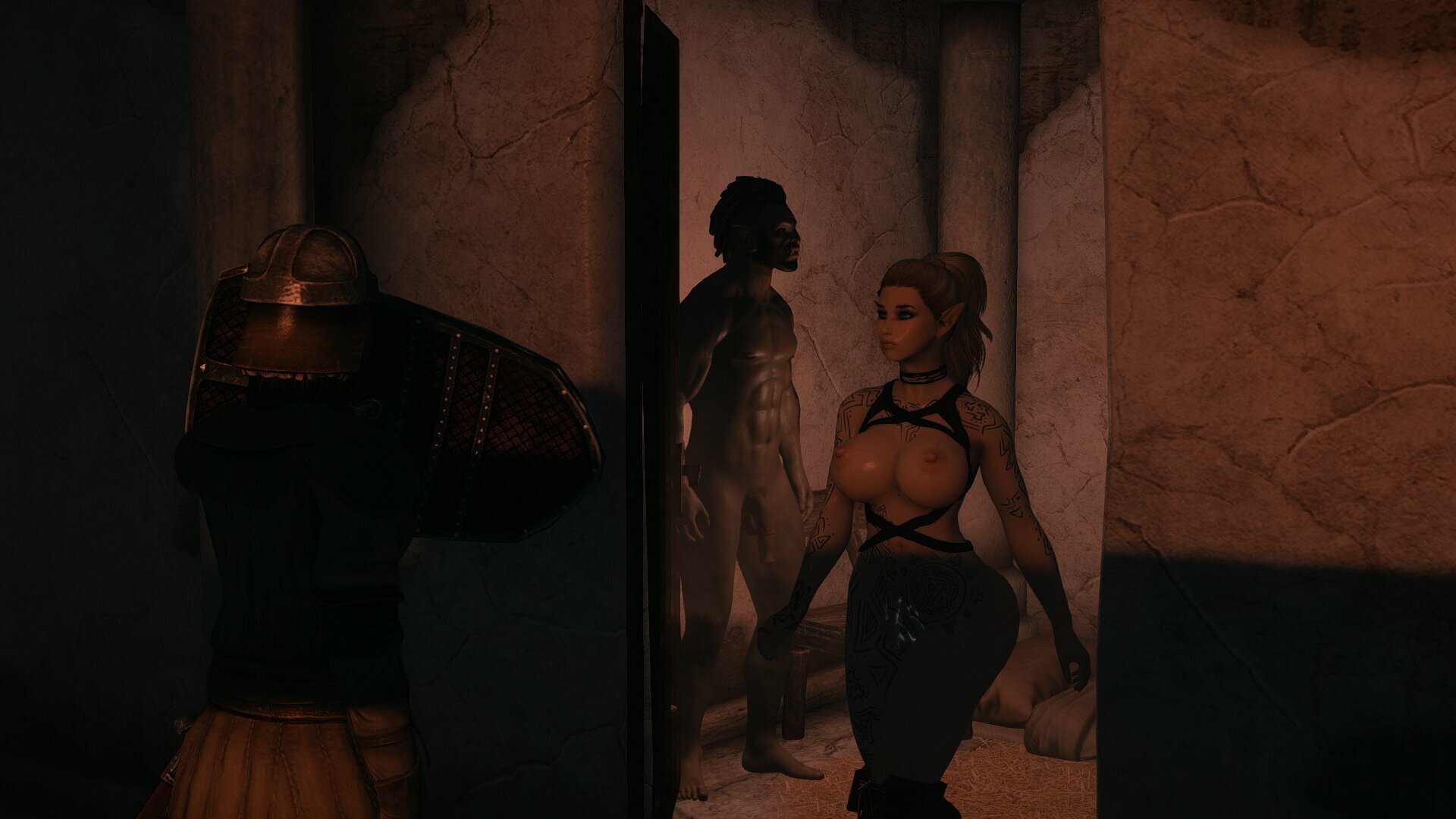 Aerina finds her stuff in the next room and gets suited up.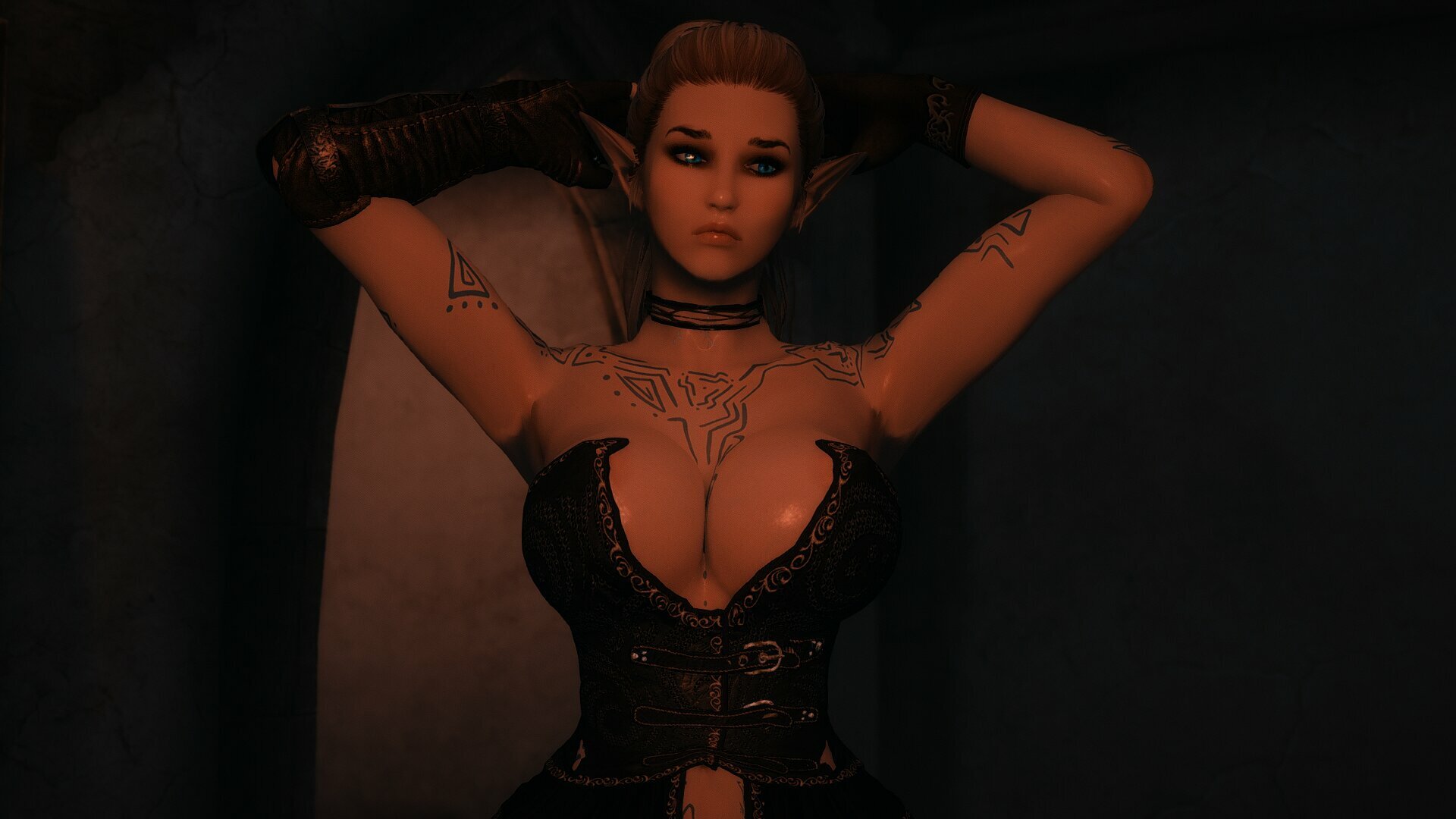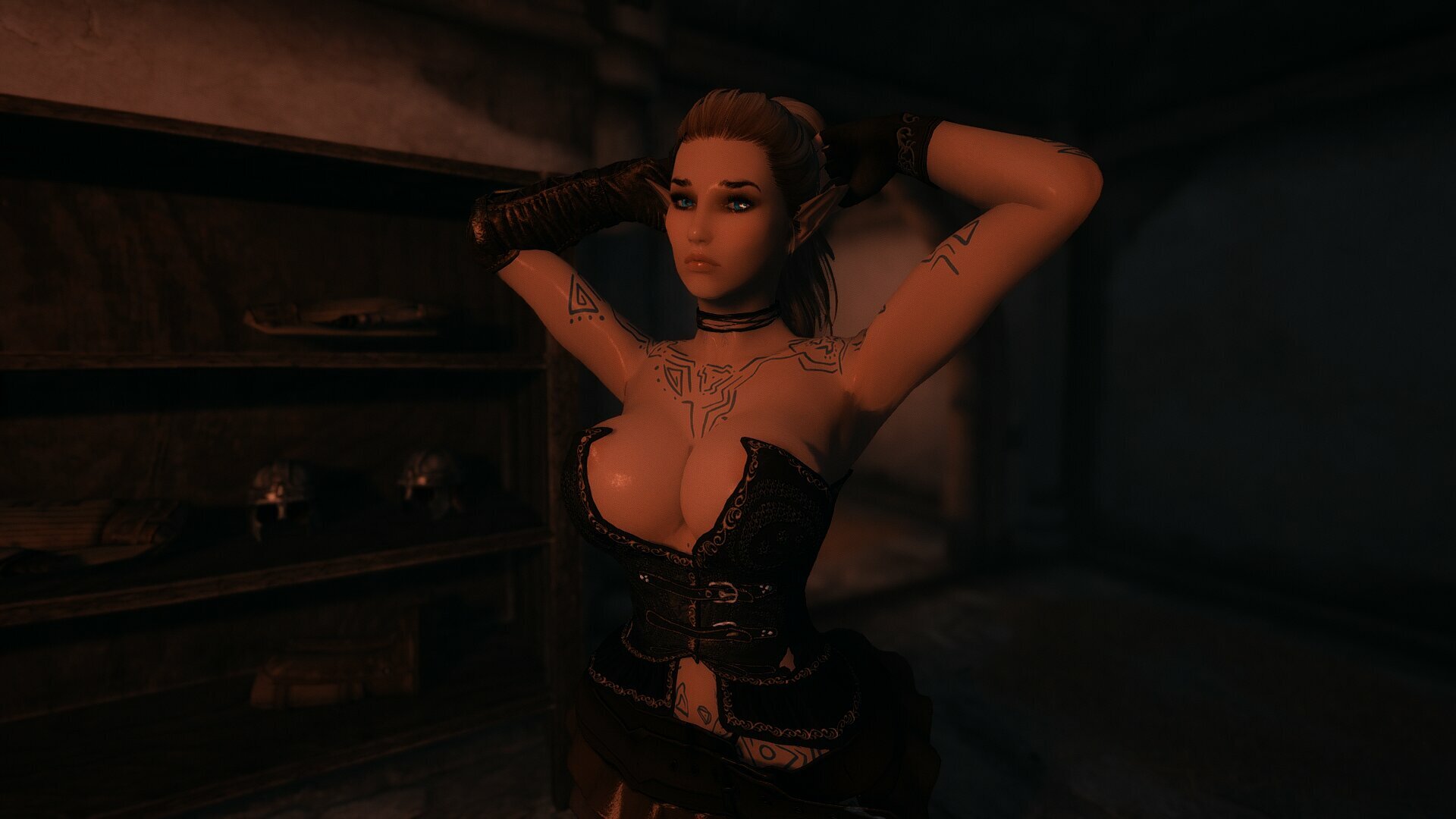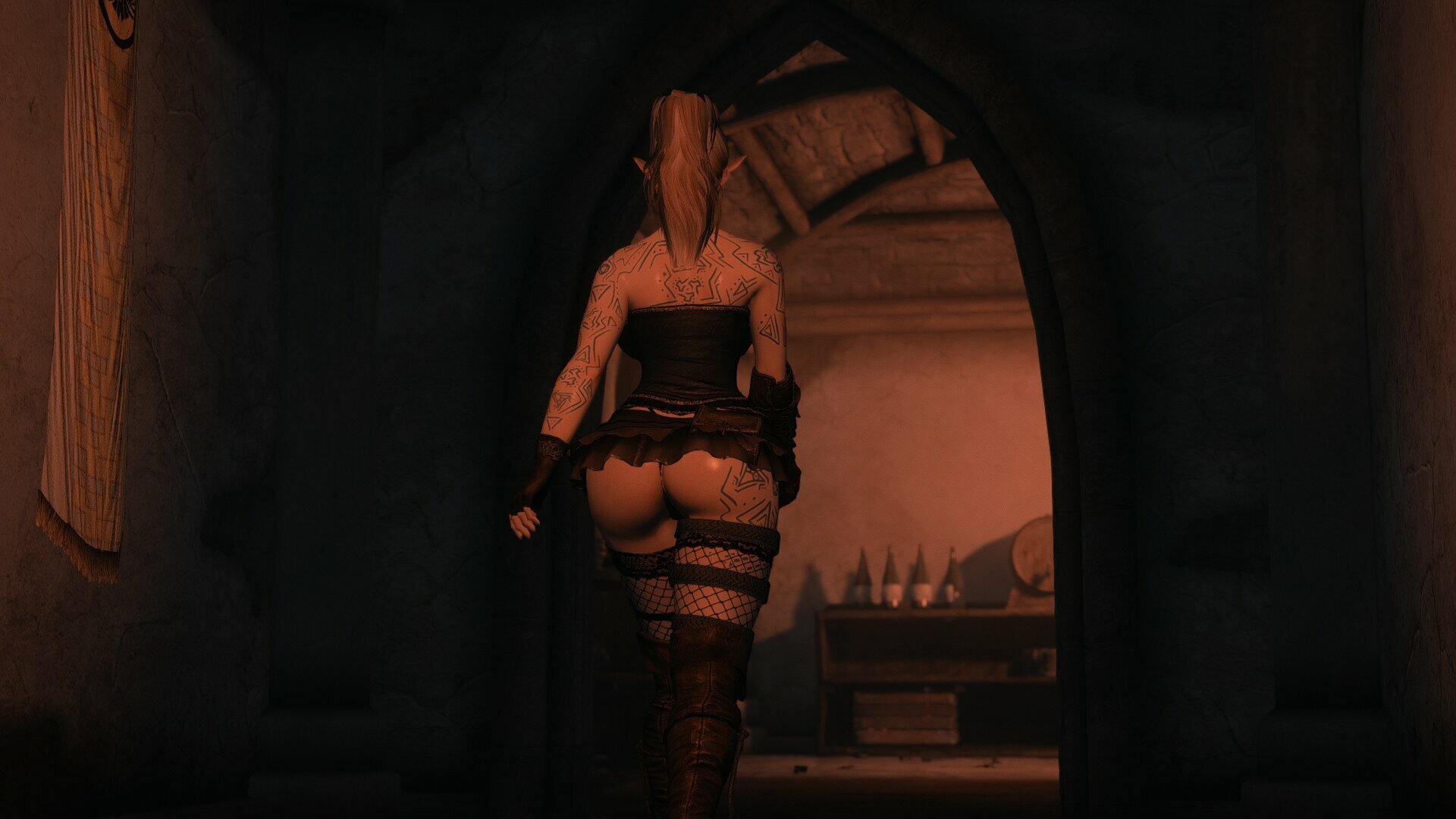 After wandering around the castle trying to find the exit. She steps outside the Cyrodiilic sun hitting her face.
Aerina (thinking): Now how do I get down to the city?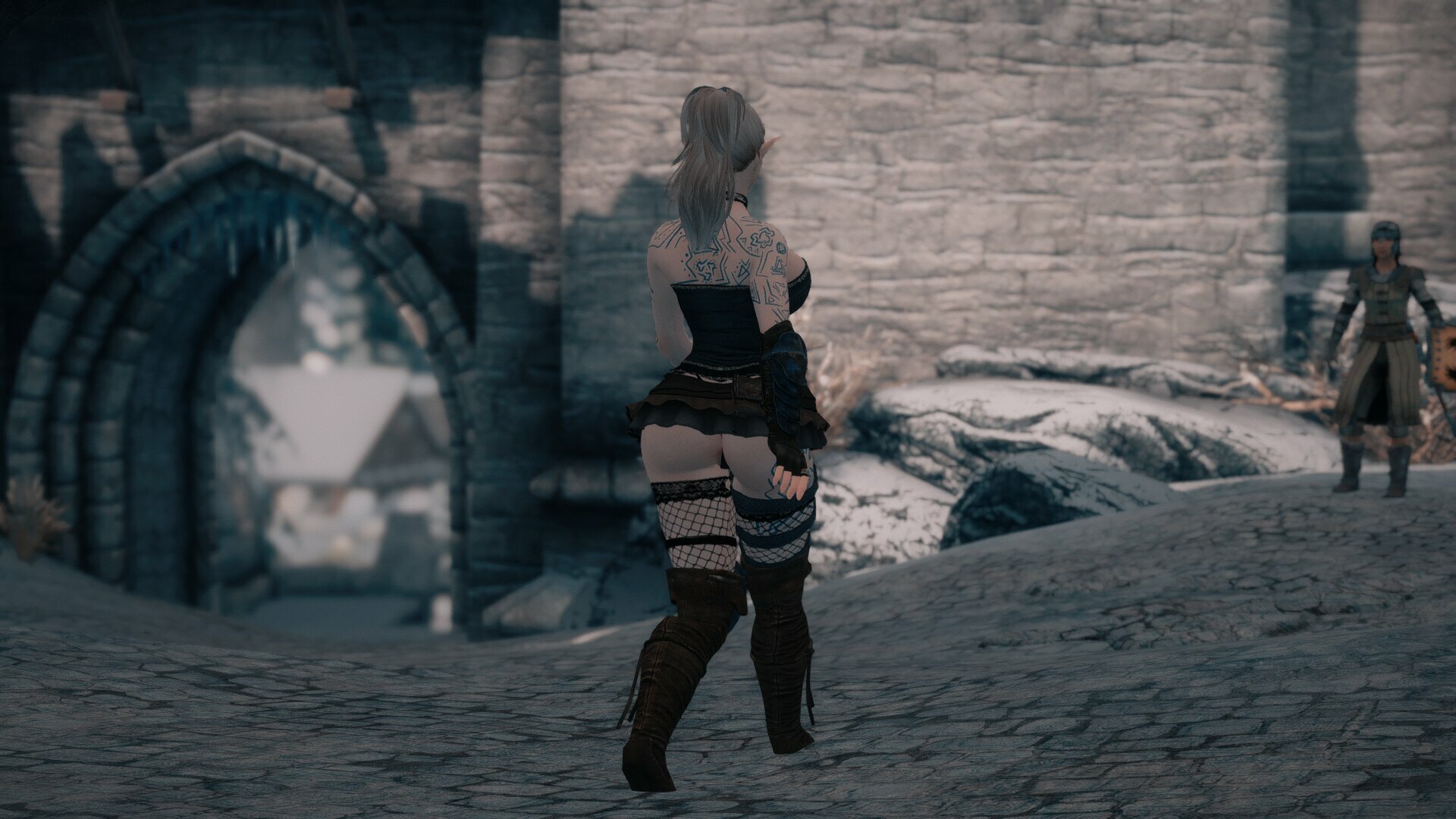 Aerina: Ahh here we are... Well I suppose that's one way into Bruma... It definitely looks different to cities in Skyrim.
Aerina: I should stock up first before looking round...
Aerina: But maybe a drink first...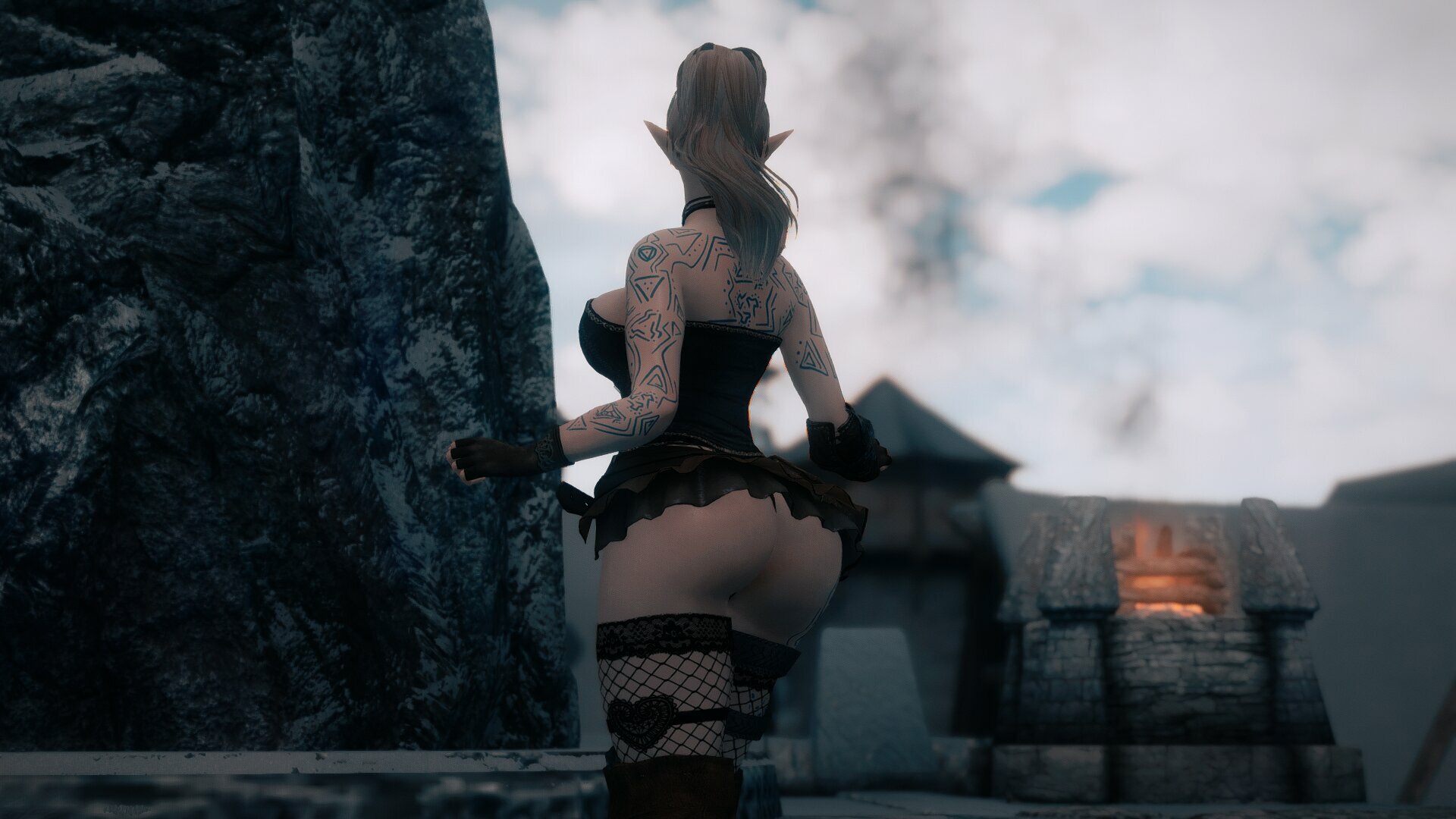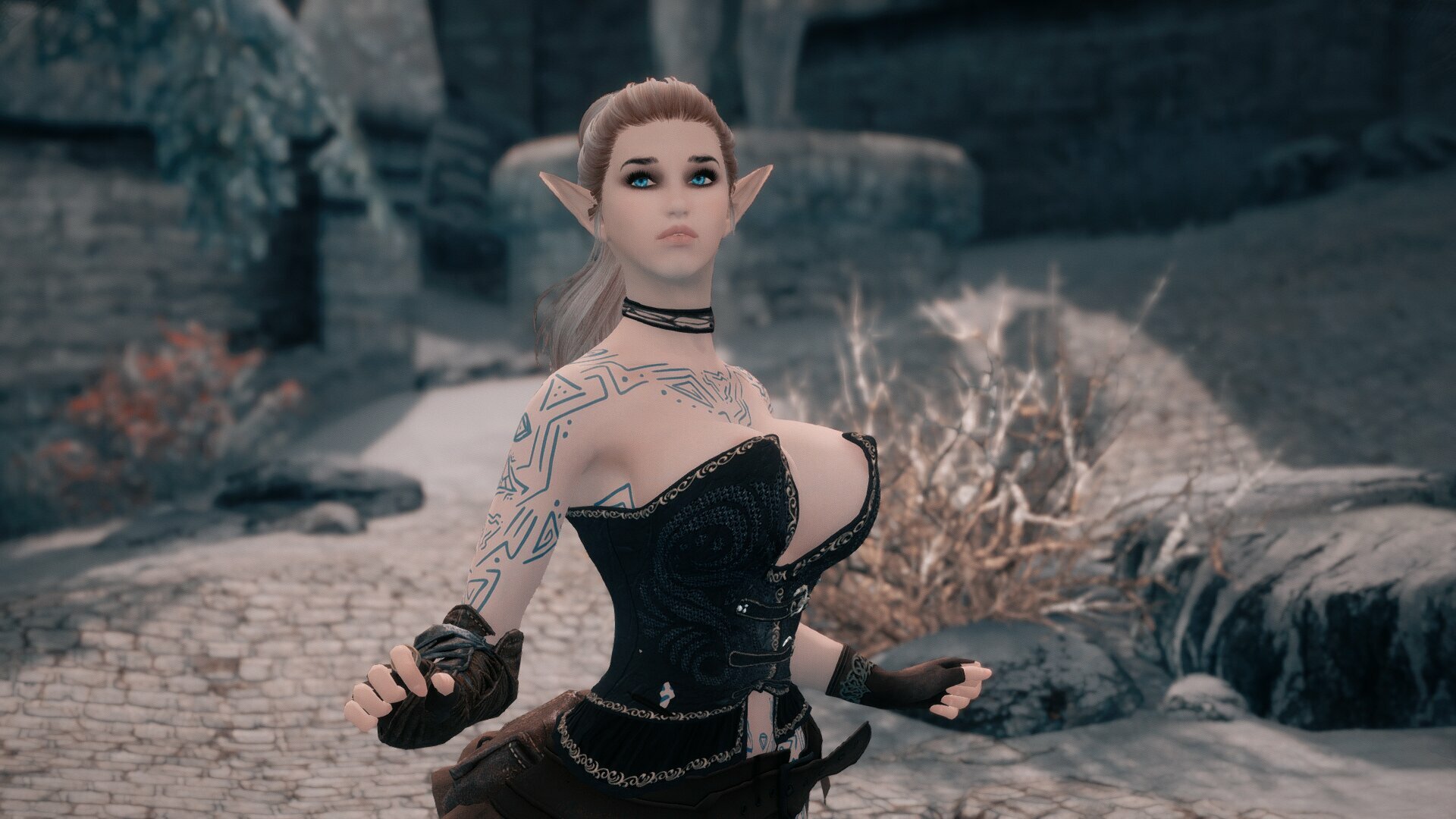 Aerina: The Jerall View Inn... this will do nicely...