After being released from the Bruma dungeon, Aerina needed some gold to stock up on supplies before the trip back up to Skyrim.
She found herself in the Restful Watchman tavern...
Aerina (Thinking) : Gods... the place is a dump...
Aerina: Lets just hope there's some work going here...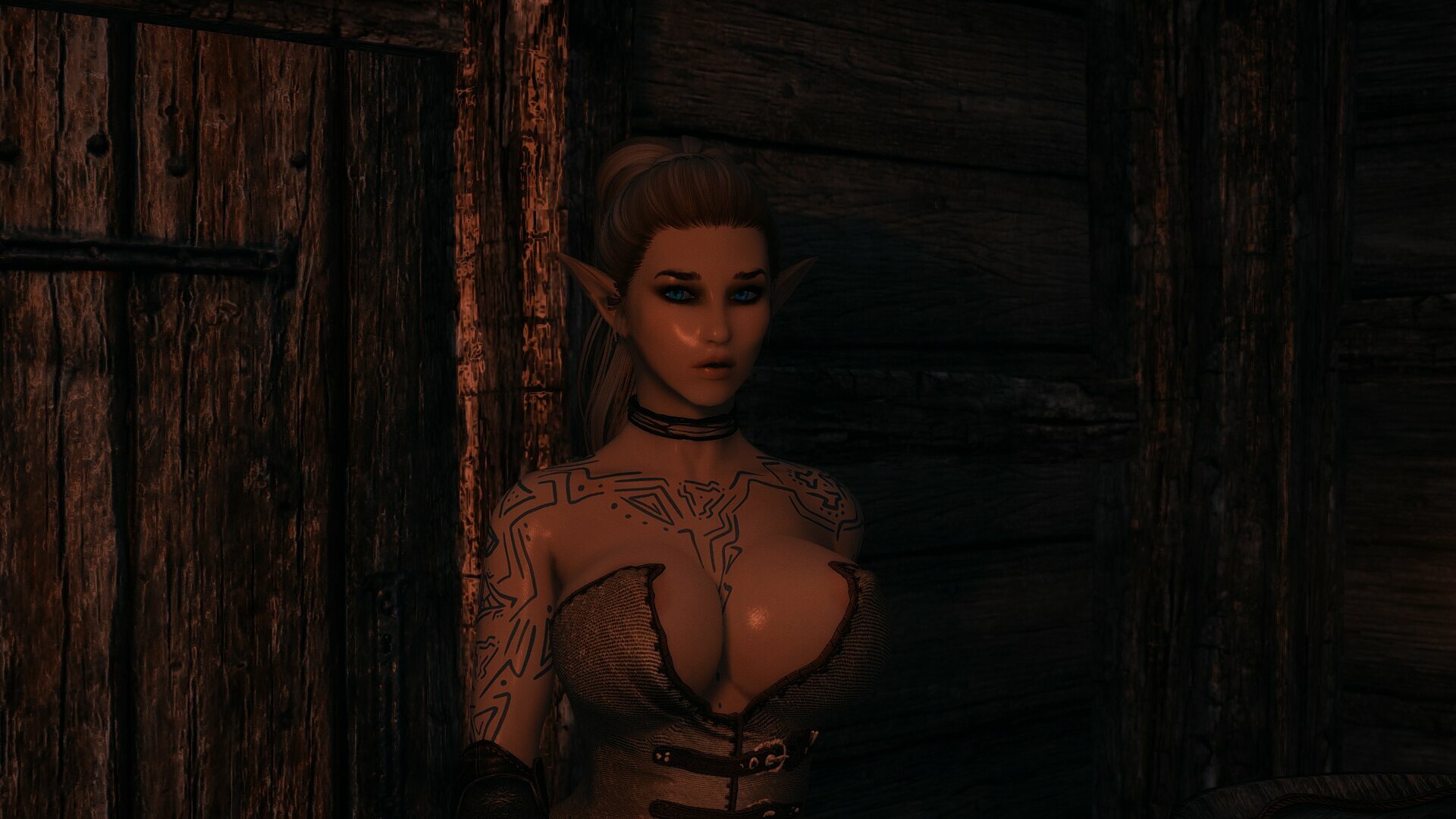 Aerina: Hi there... Don't suppose you have any jobs going do you?
Drunk Argonian : The only job a girl like you is gonna get... *Hick* .. is a blowjob
Aerina: *Sigh*
Bartender: Nothing, sorry... unless you want to be tavern whore for the night?
Aerina : What are your rates?
Bartender: We keep 90%
Aerina: 90%! I'll just have an ale then please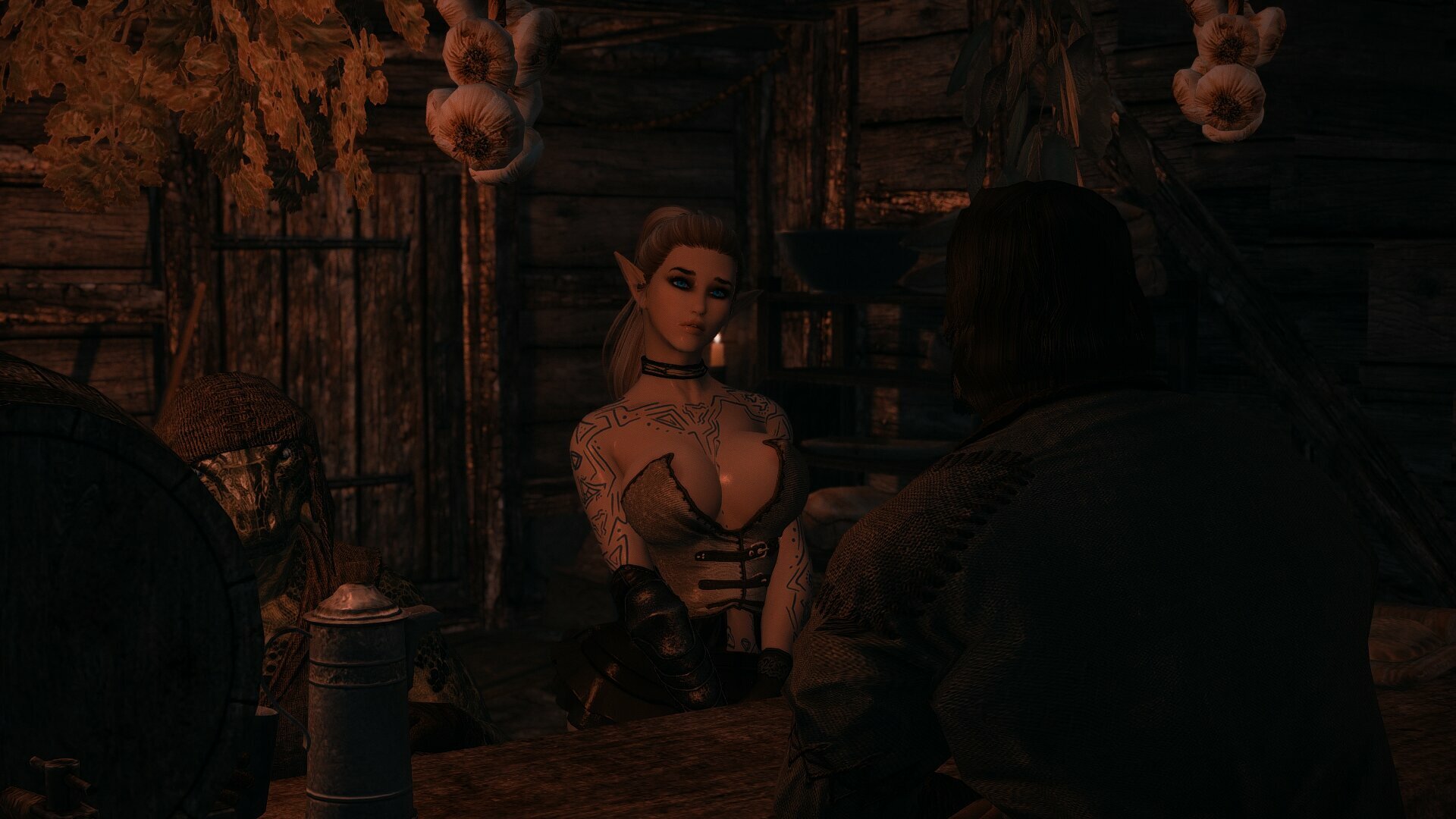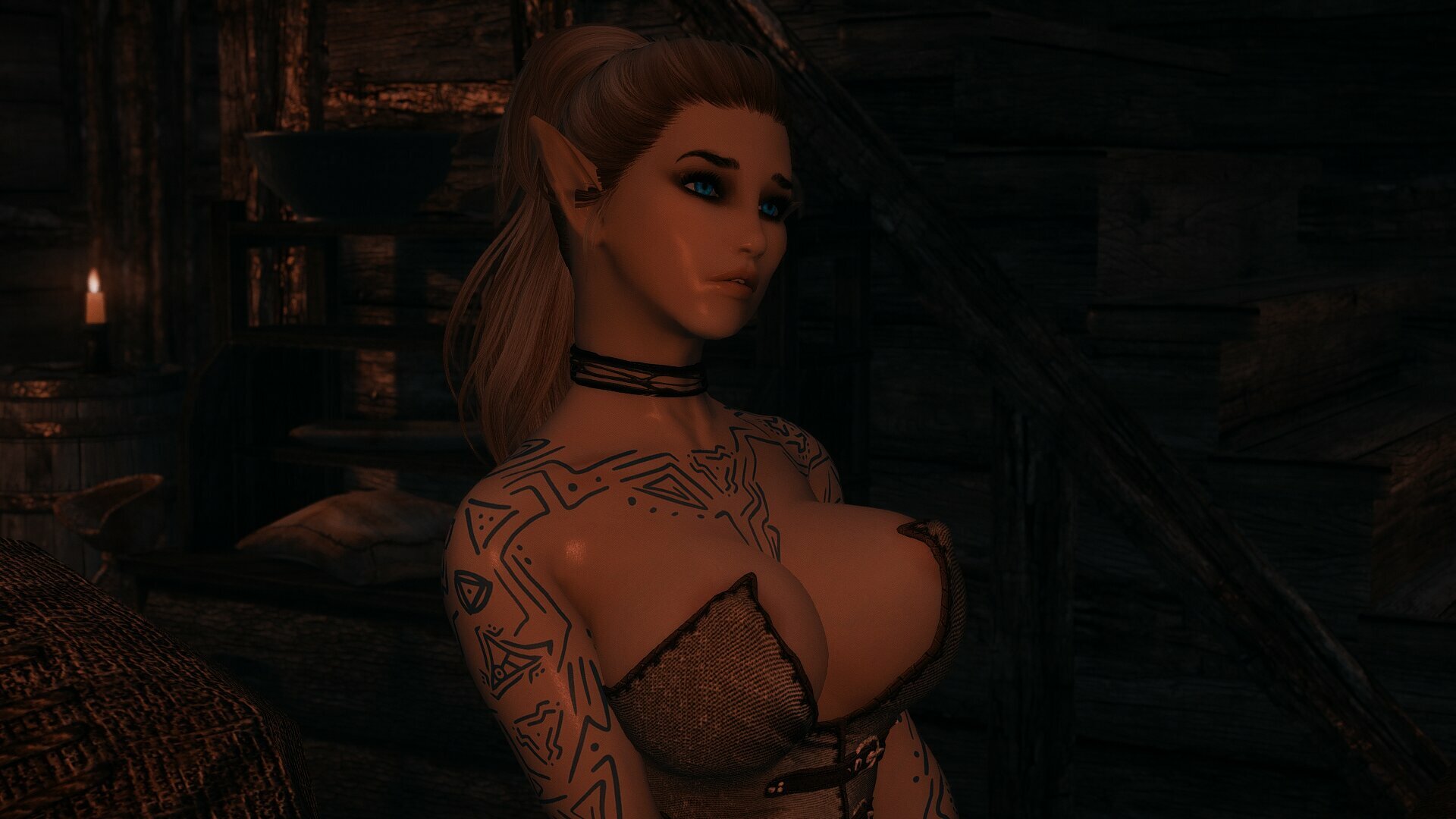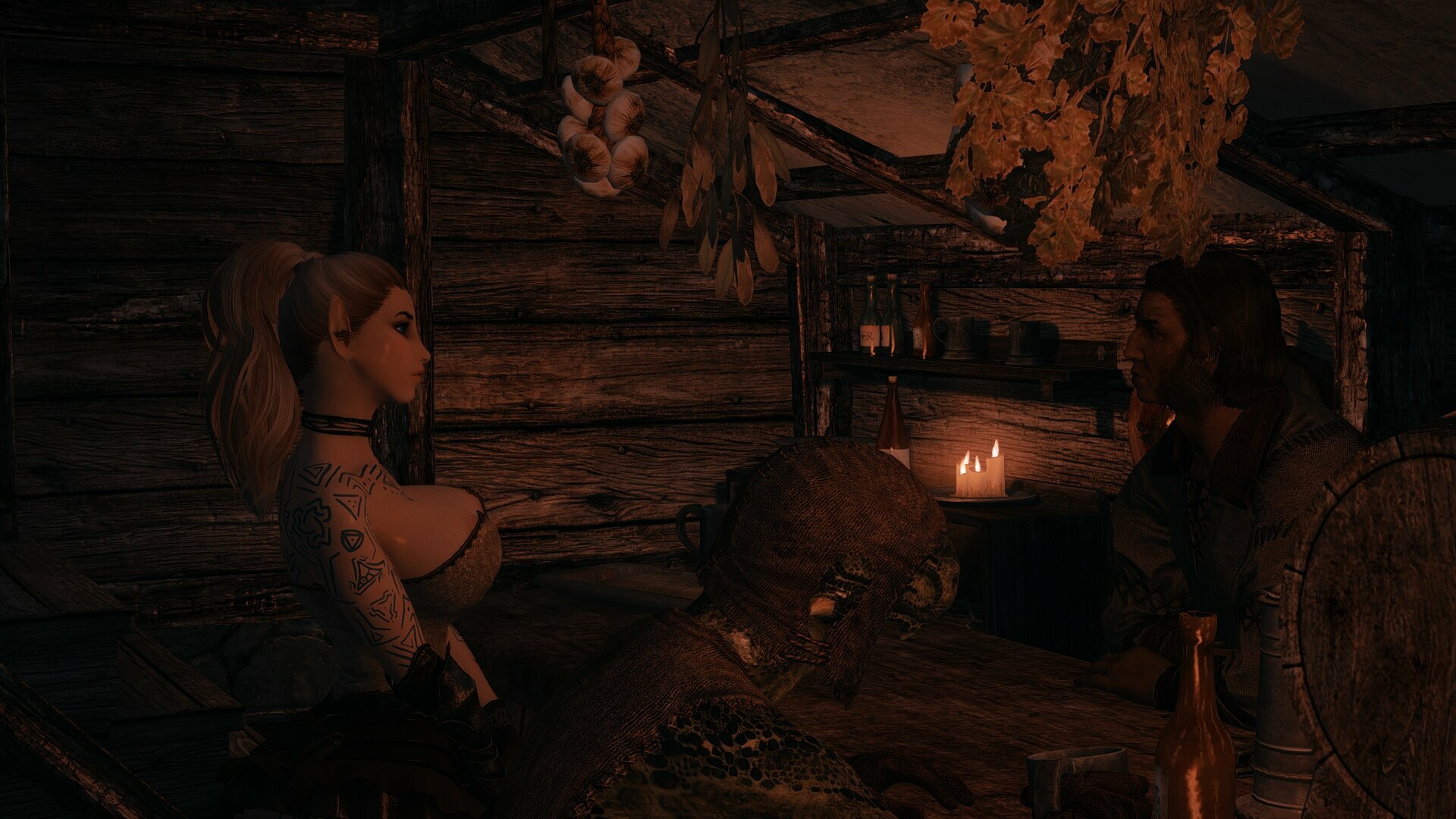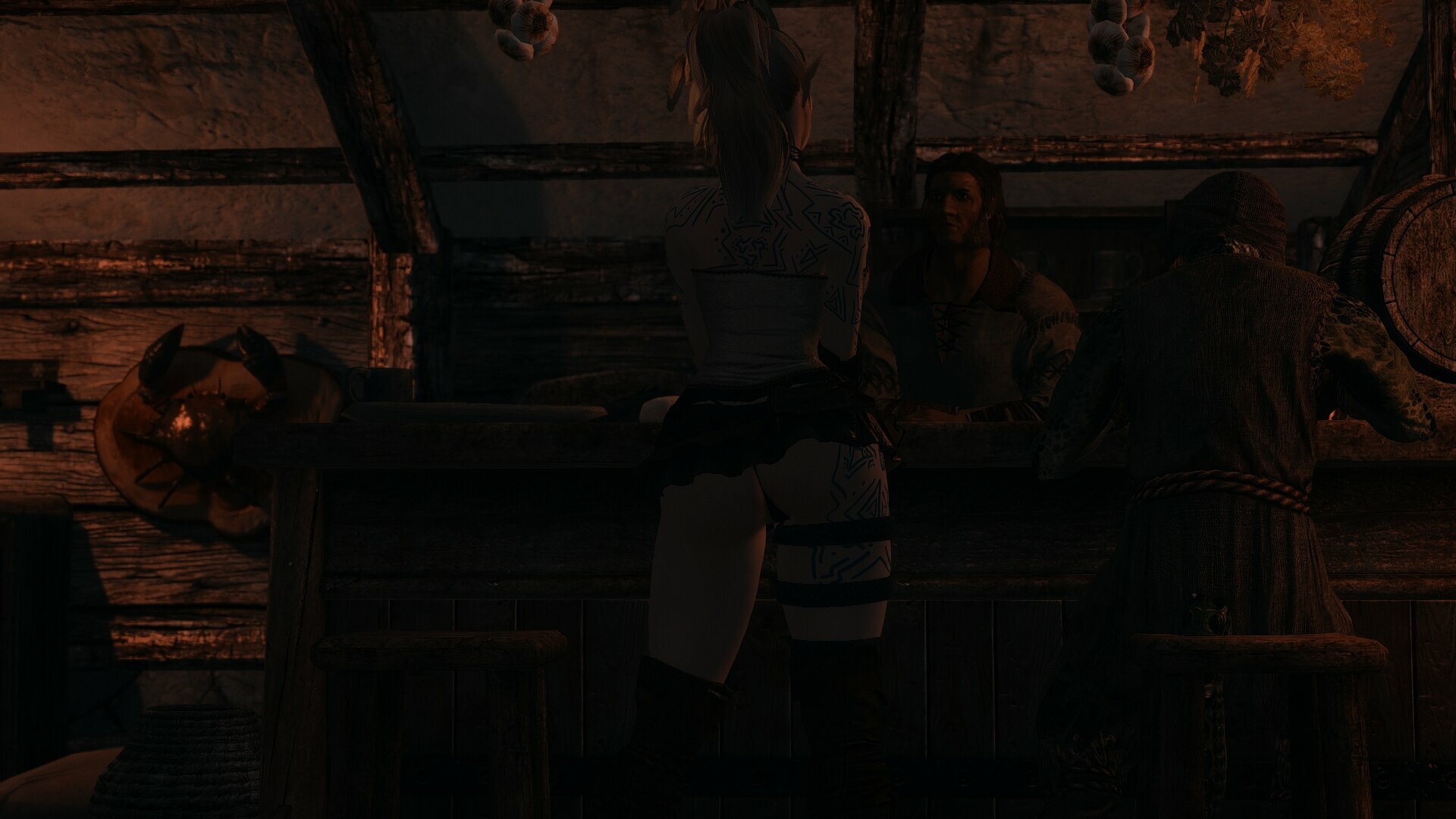 Aerina finds an empty table and tries to figure out how to make some money for the return trip.

But it seems she has attracted some unexpected attention.
Orc: Listen.. Rhaeneys, I'll be gentle.
Rhaeneys: Bullshit... You nearly killed me last time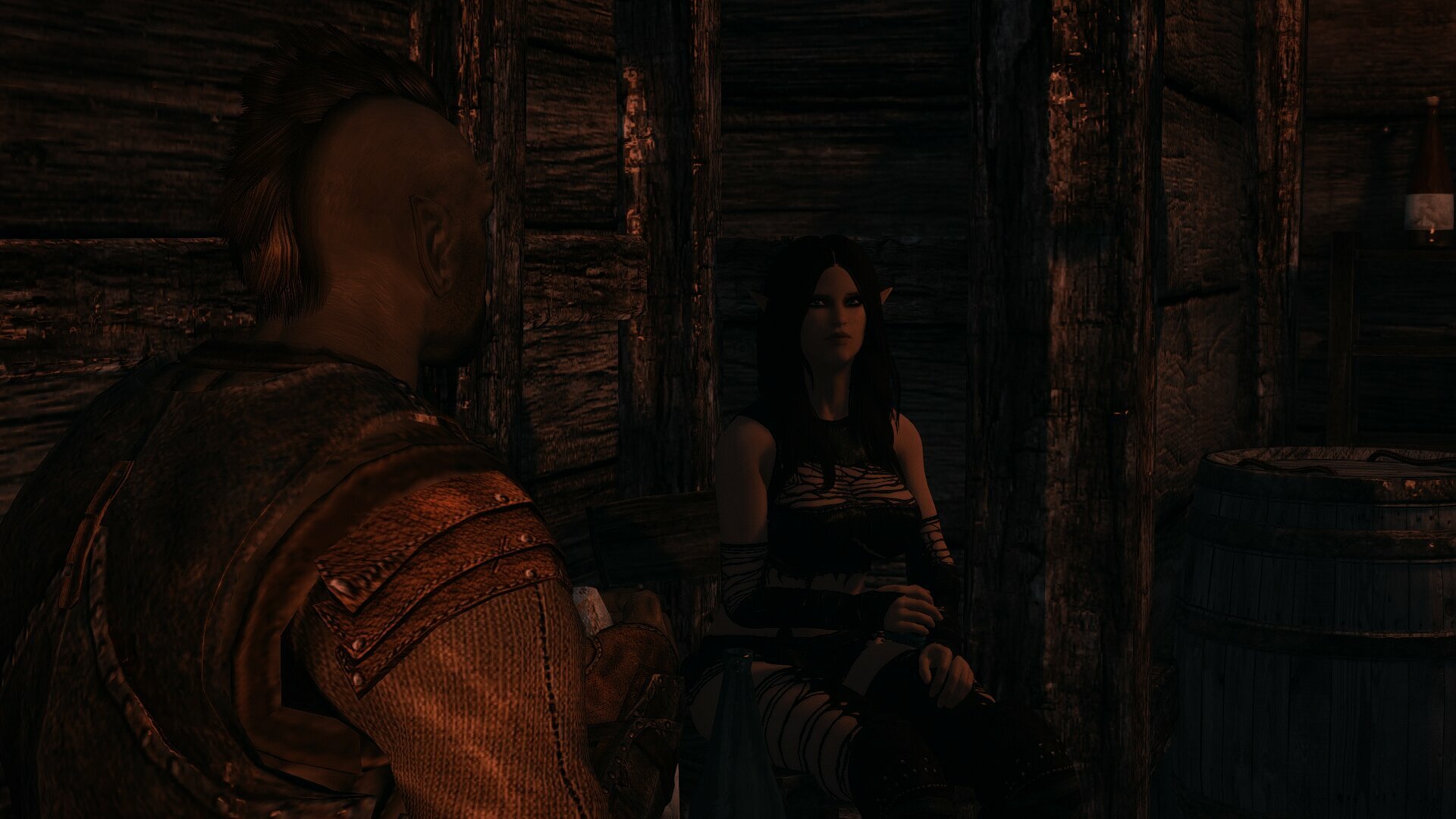 (Rhaeneys sees Aerina sit down across the room and is instantly attracted)
Rhaeneys (Thinking) : Whoa... who's that?
Rhaeneys: Look... I've got better things to do with my time
(She gets up and walks over to Aerina's table)
Rhaeneys: Hey new girl... Mind if I sit with you?
Aerina: Oh... sure thing...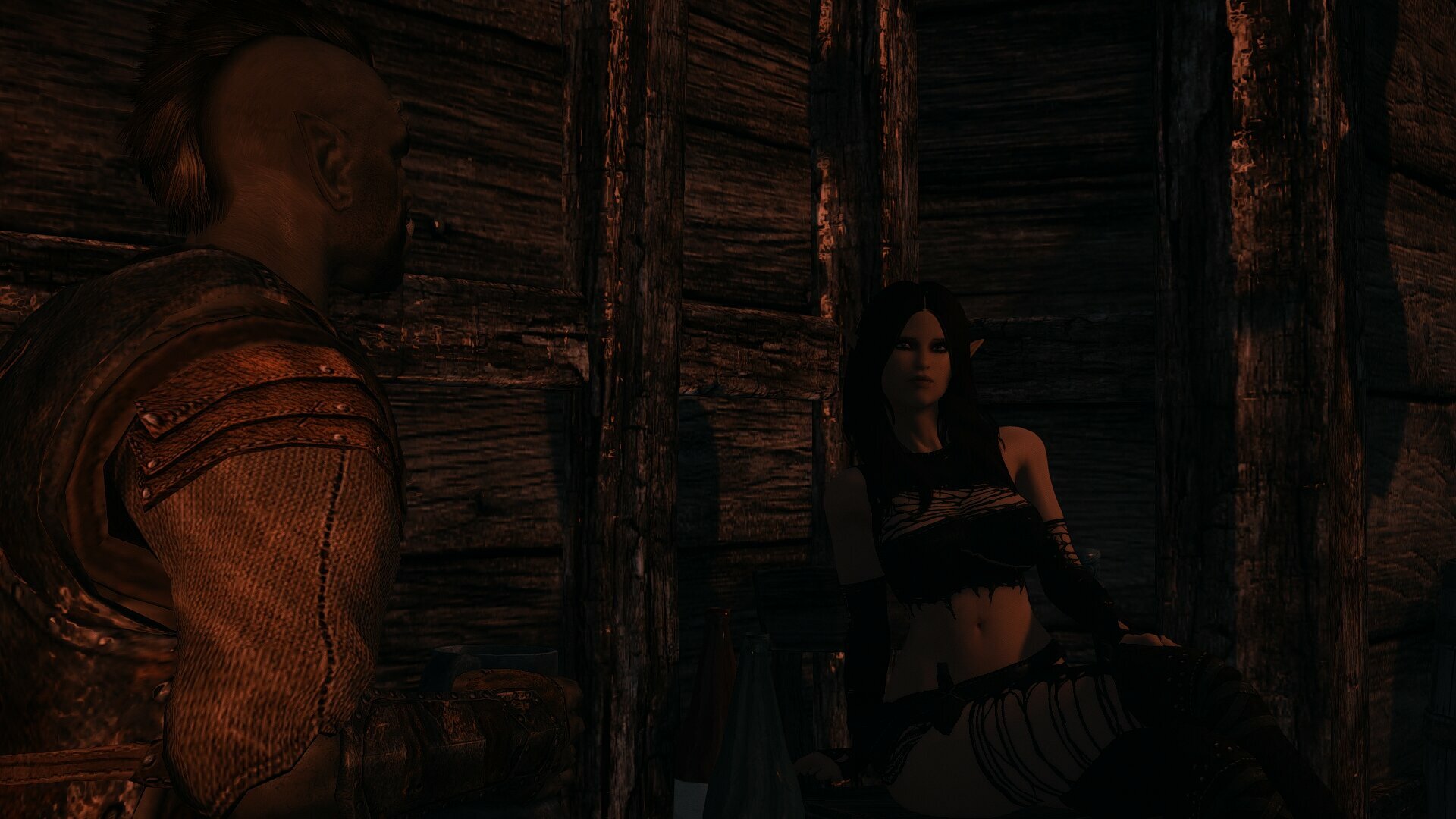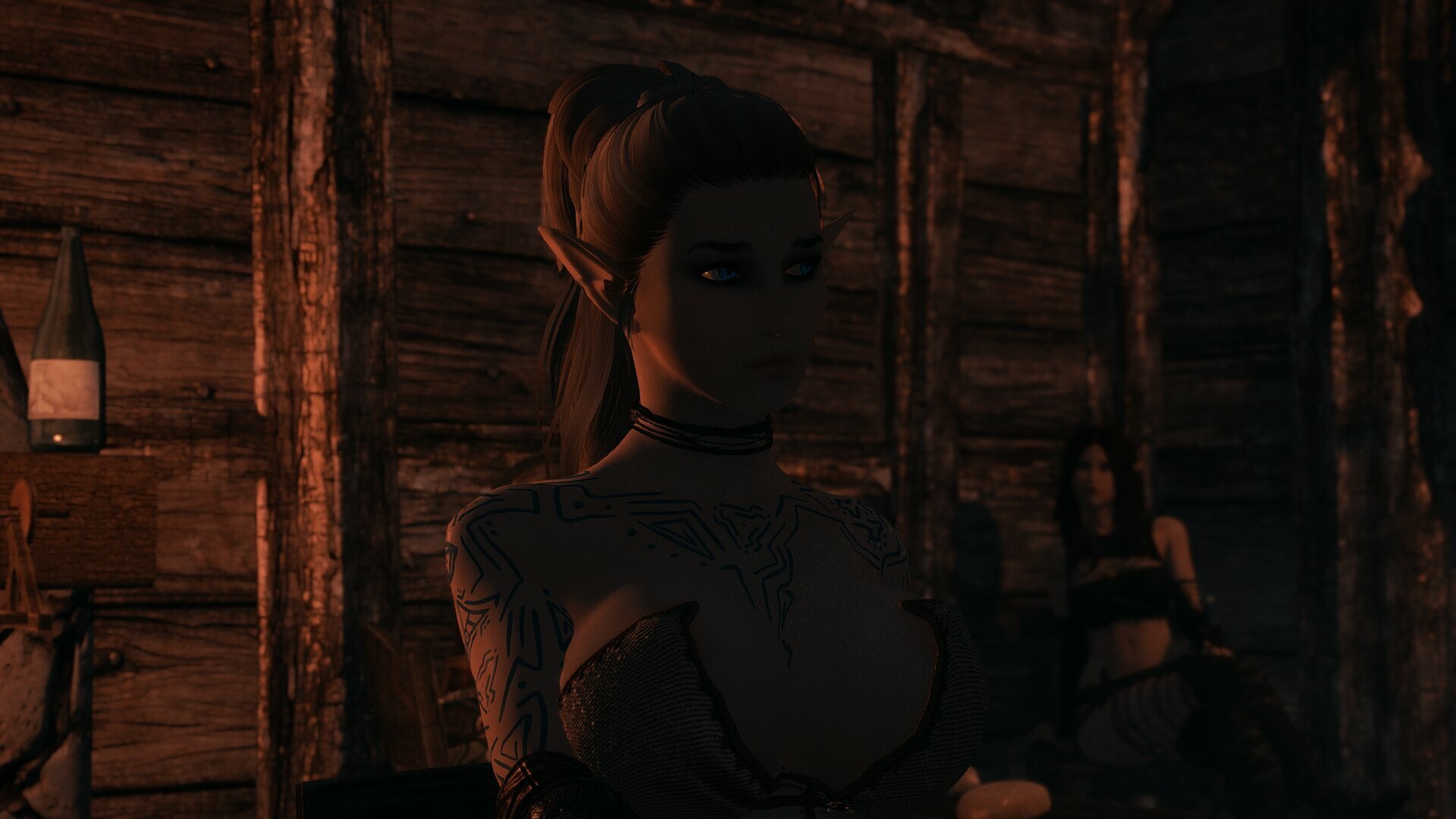 Rhaeneys: Names Rhaeneys... Couldn't help but notice you looked a little... lost.
Aerina: Yeah you could say that... Aerina
Rhaeneys: Ooh I hear a Nordic twist to that accent... you from Skyrim?
Aerina: Good ears... yeah, from Falkreath
Rhaeneys: What brings you to this shithole?
Aerina: Work actually. Looking to get back up north but need supplies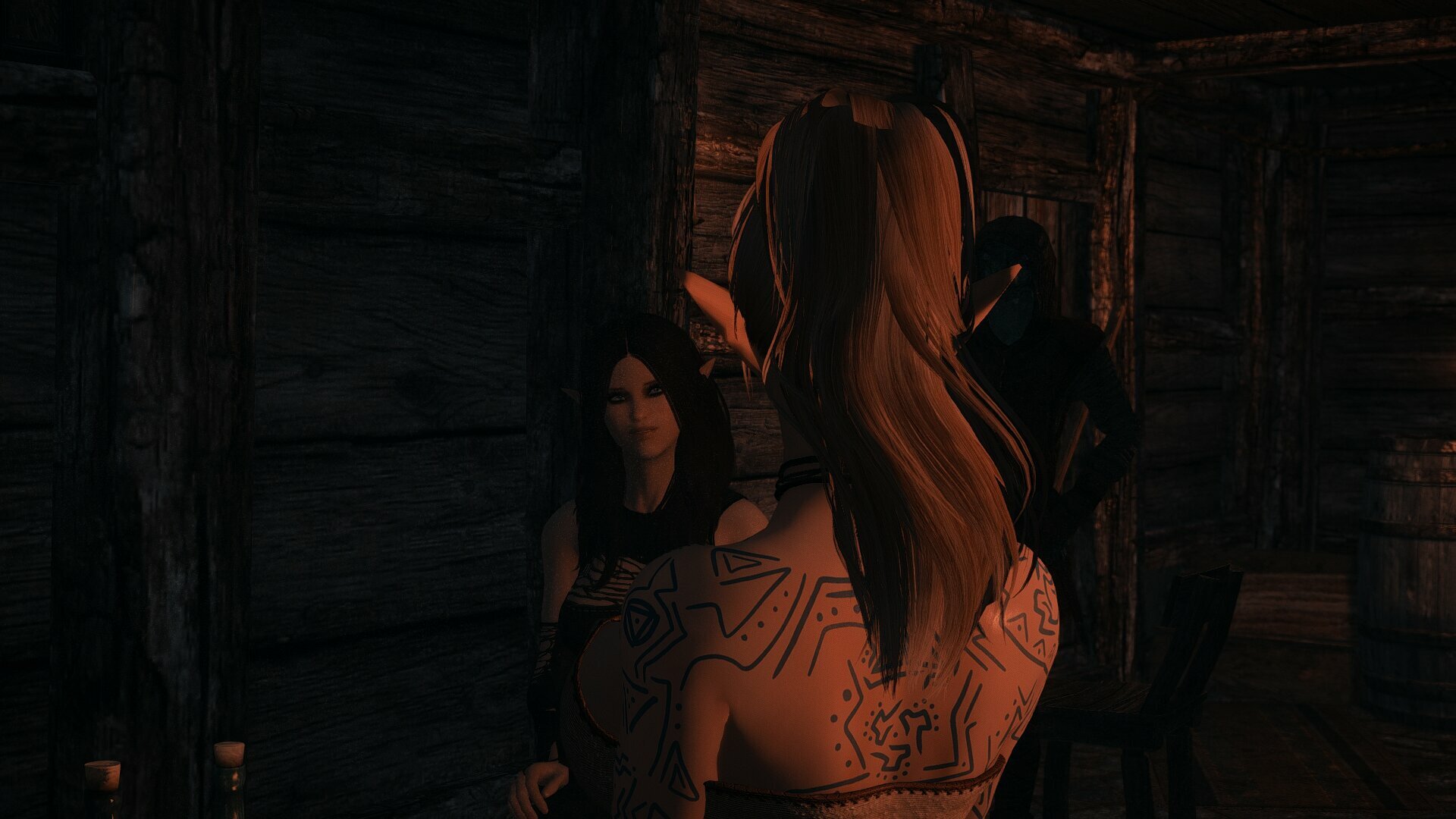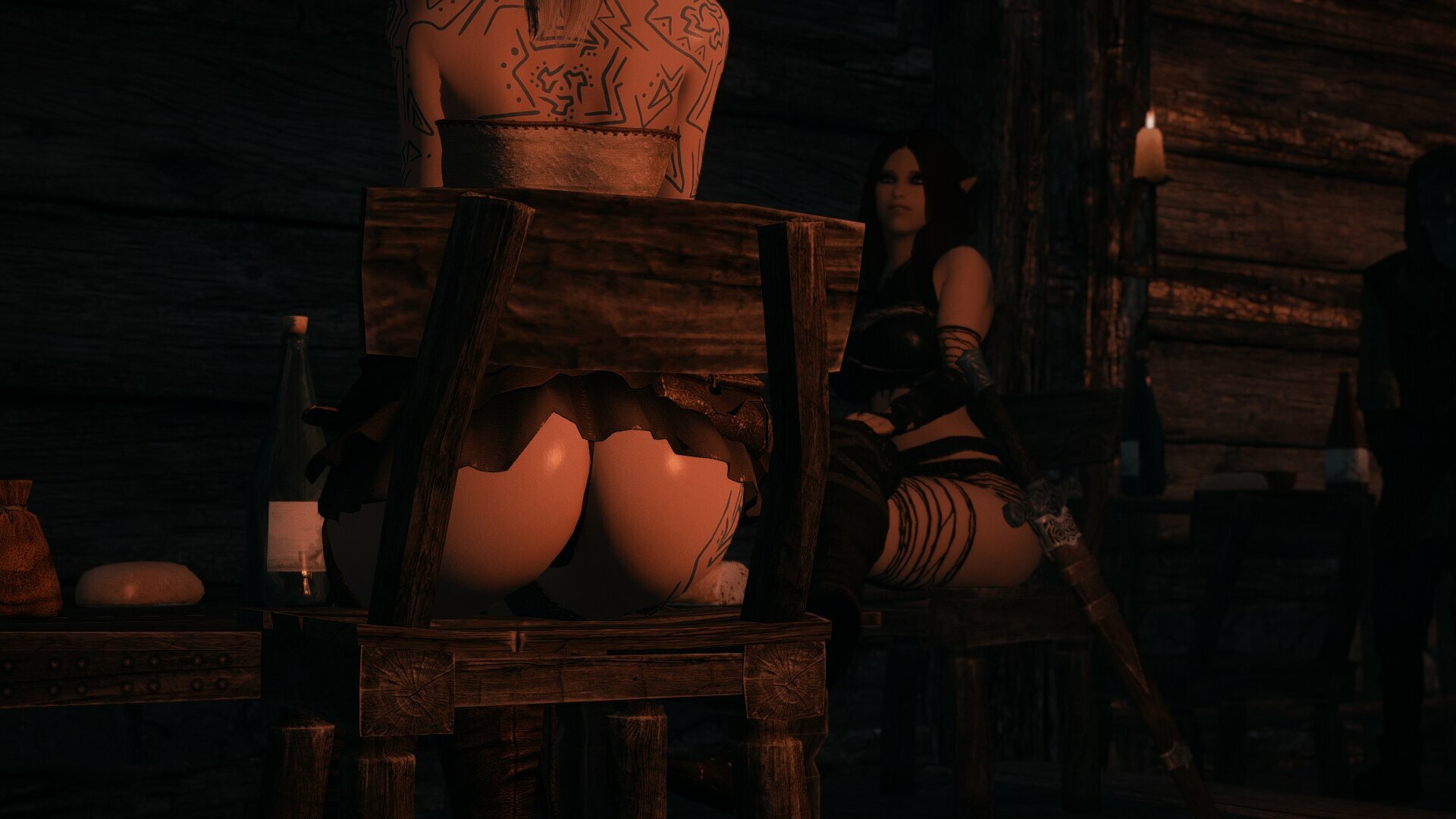 Rhaeneys: Afraid I can't help you there, city has dried up like the Alikir Desert
Aerina: So I've discovered... Part of me just wants to get back to Skyrim so I can take a nice bath in the hot springs...
Rhaneys: Well we don't have hot springs... but we do have the bathhouse at the nicer tavern.
Bartender: I heard that...
Rhaeneys: Been needing a bath myself... I could take you if you want?
Aerina: I don't see why not...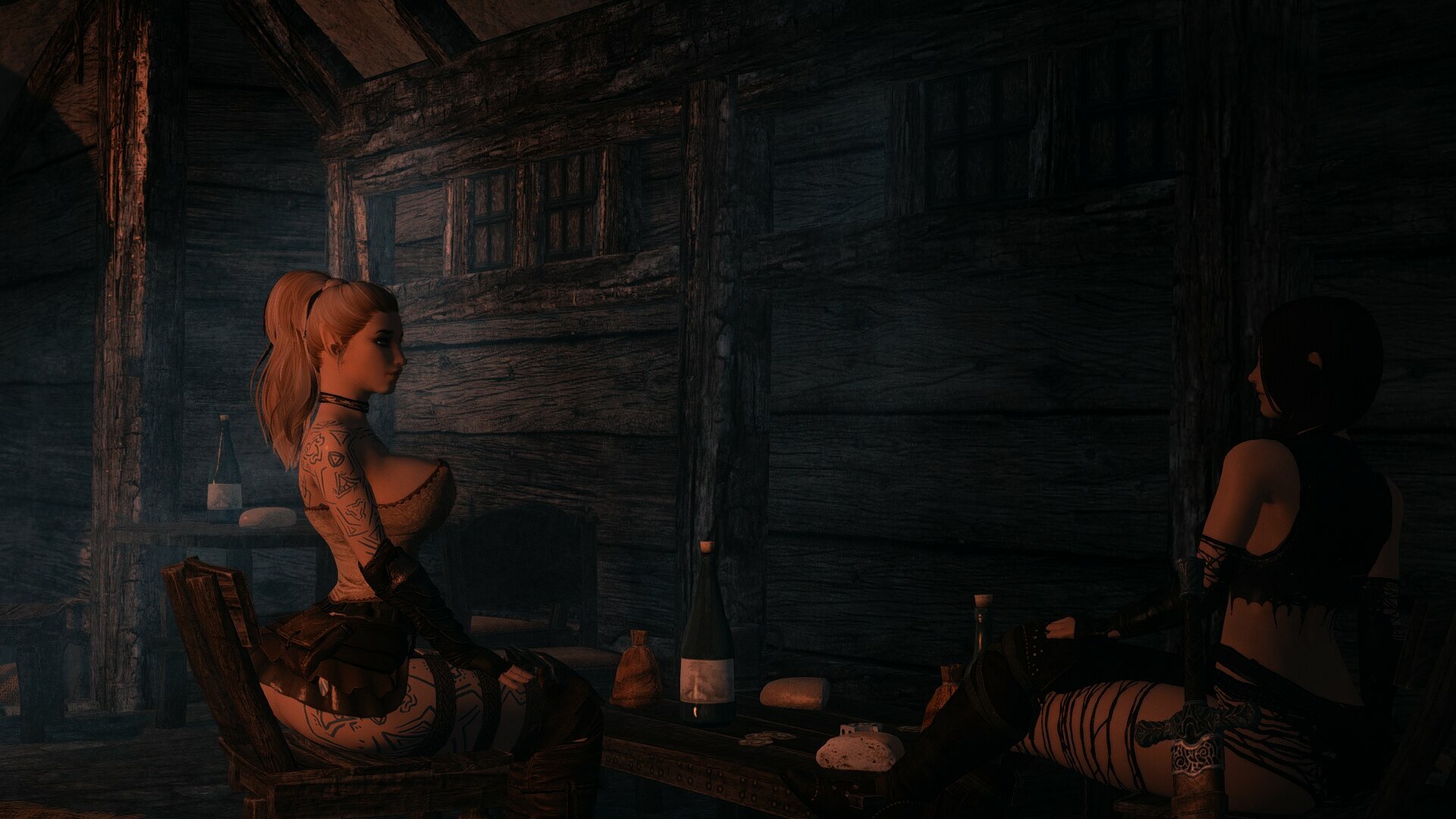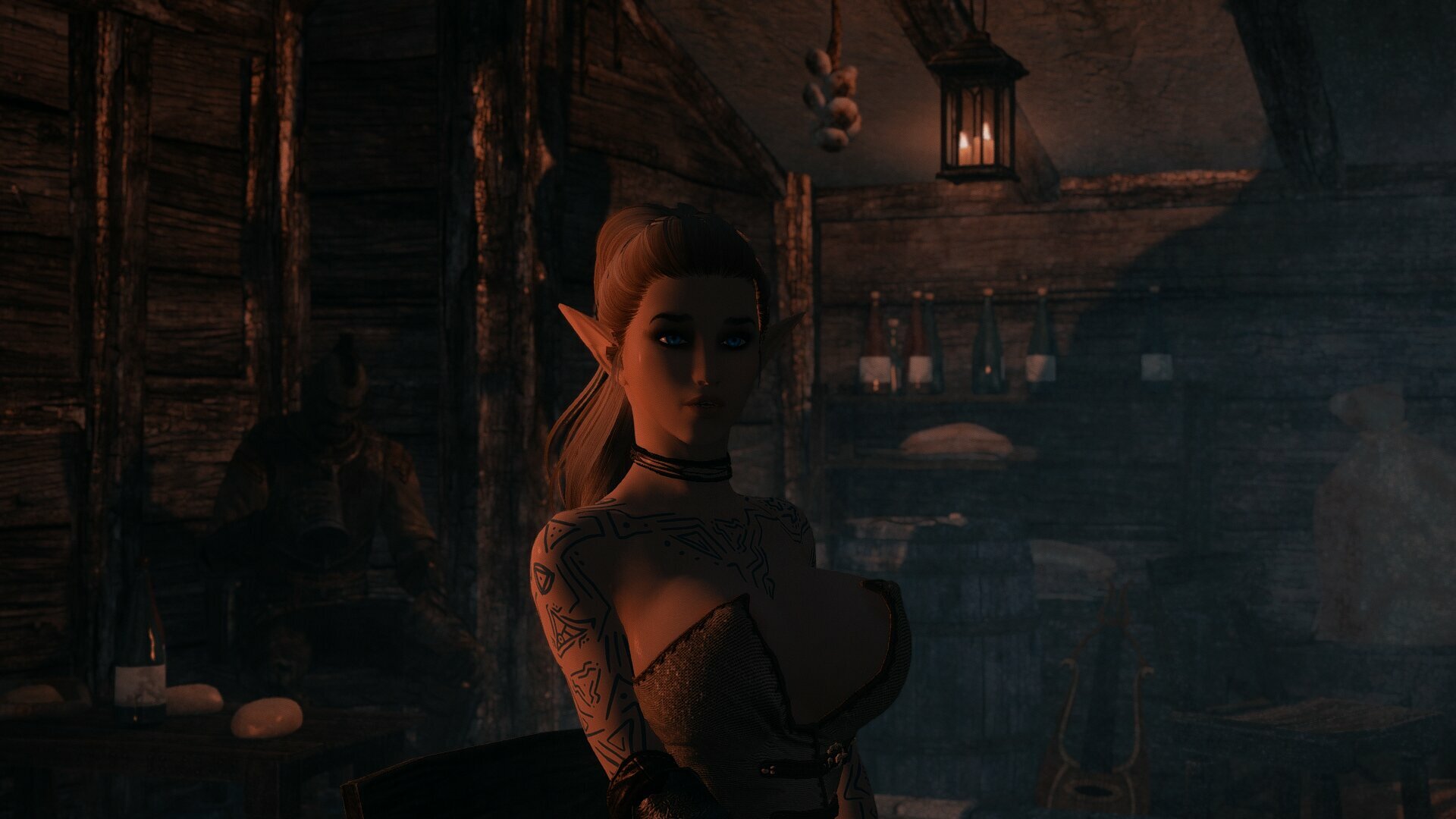 They make their way over to the Jerall View Inn, leaving the Restful Watchmen behind.
Rhaeneys: So how long you been in Bruma?
Aerina: A few days now... It's been quite the adventure...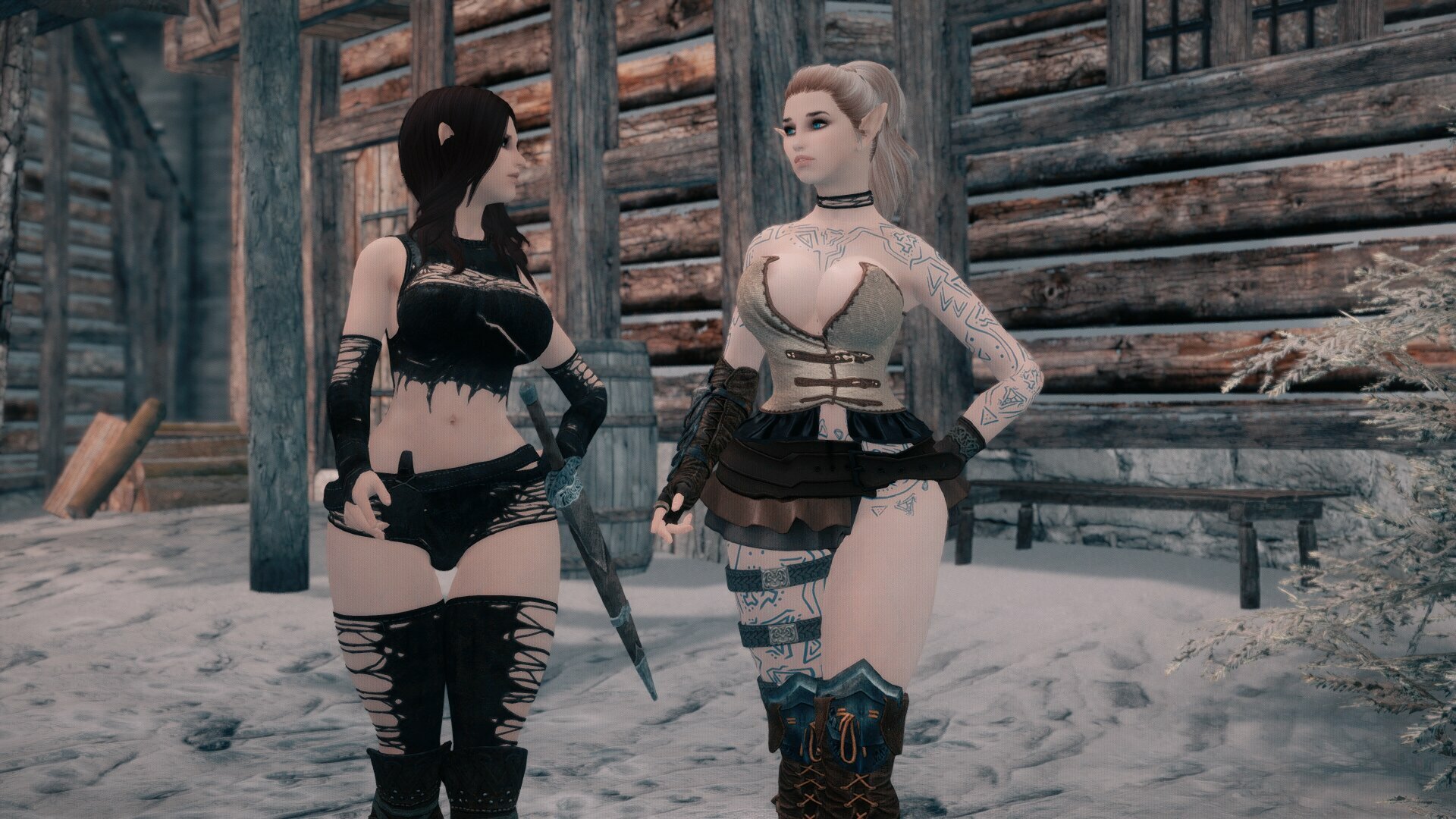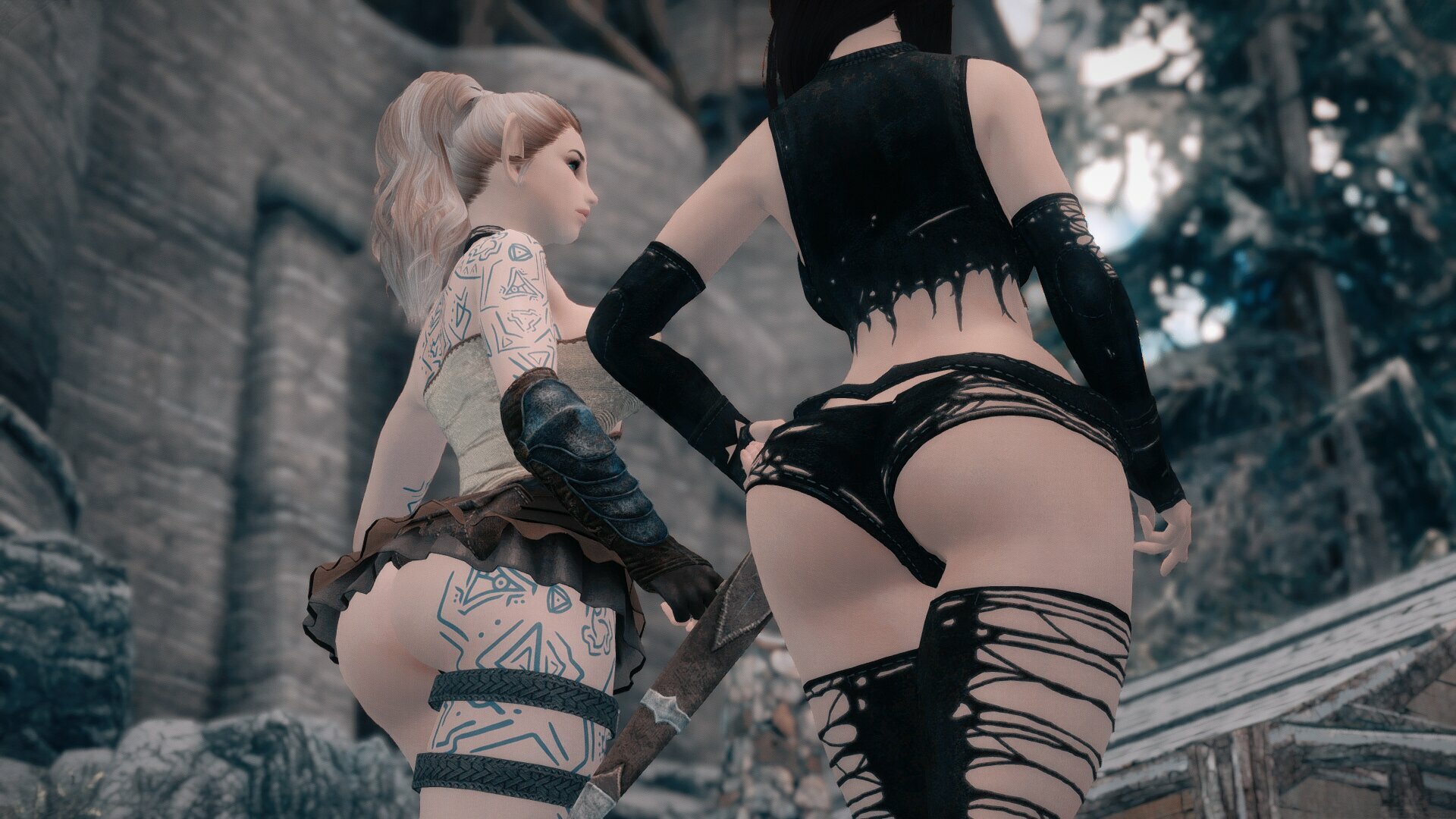 Arriving at the bath house. Aerina is caught off guard with how upfront Rhaeneys is.
Aerina: Ahh this will do... So where do we get changed into our biki...
Aerina: Oh....
Rhaeneys: Ah never mind that. Nobody is going to come down here...
Aerina: Erm... if you say so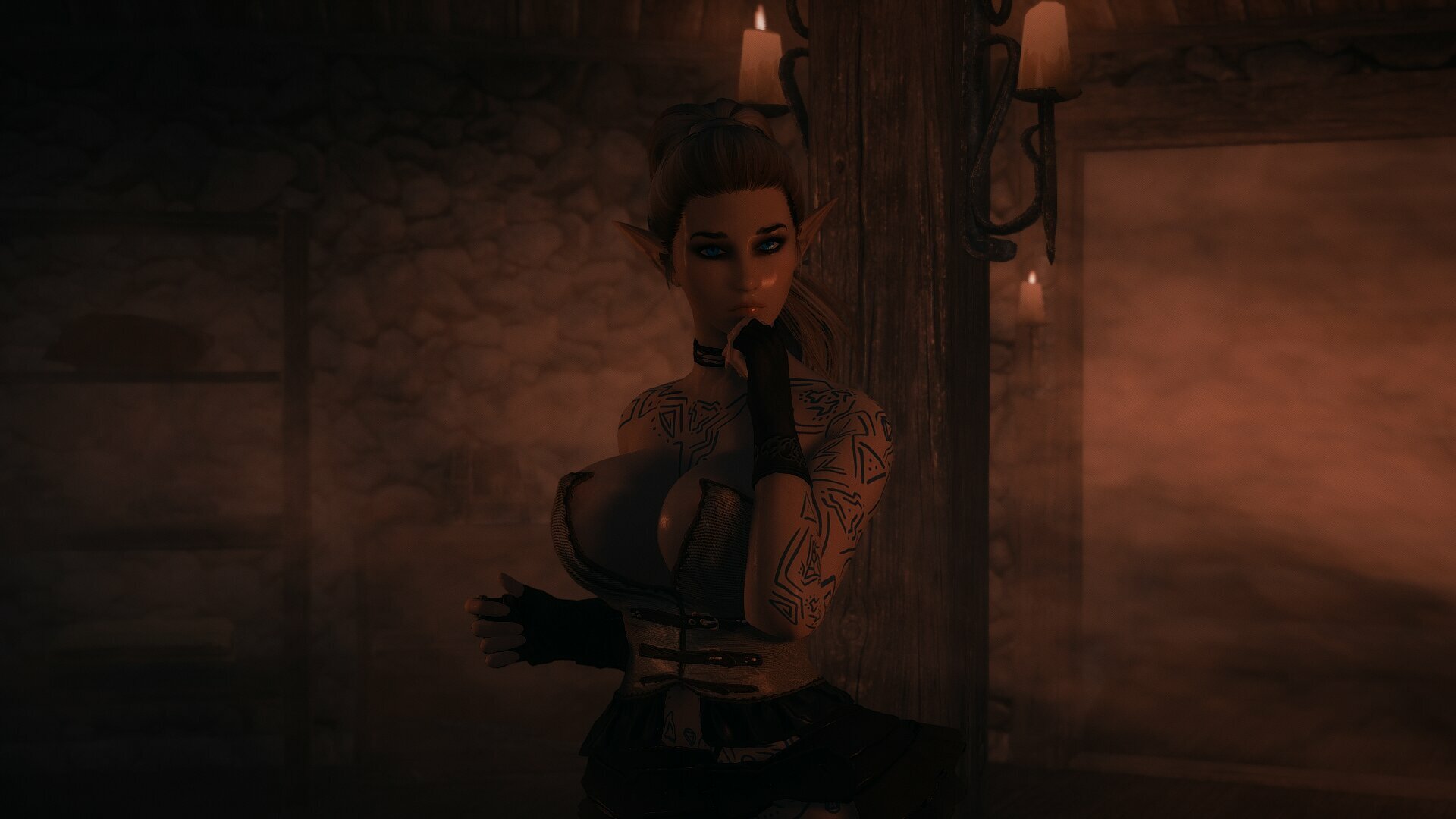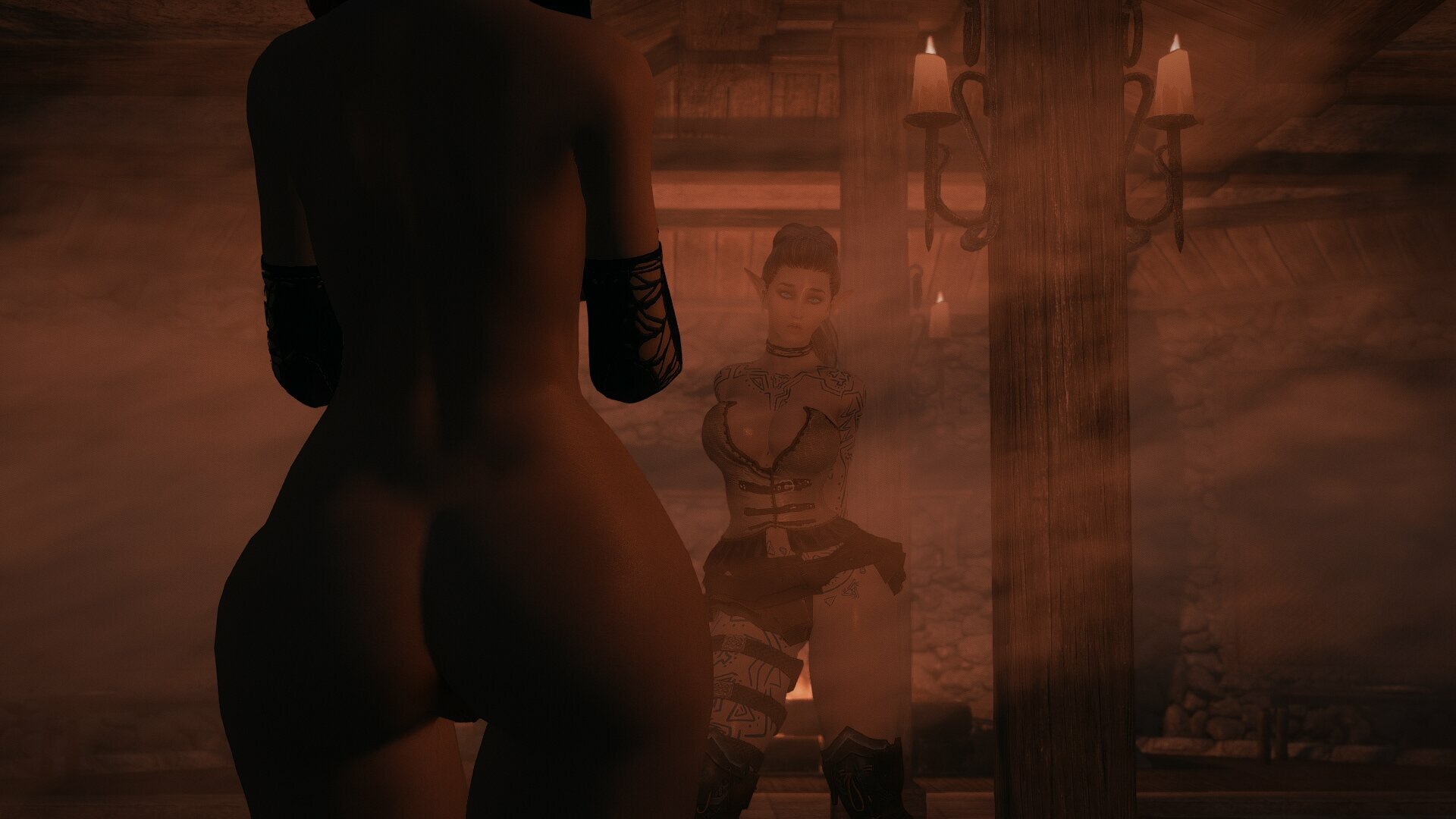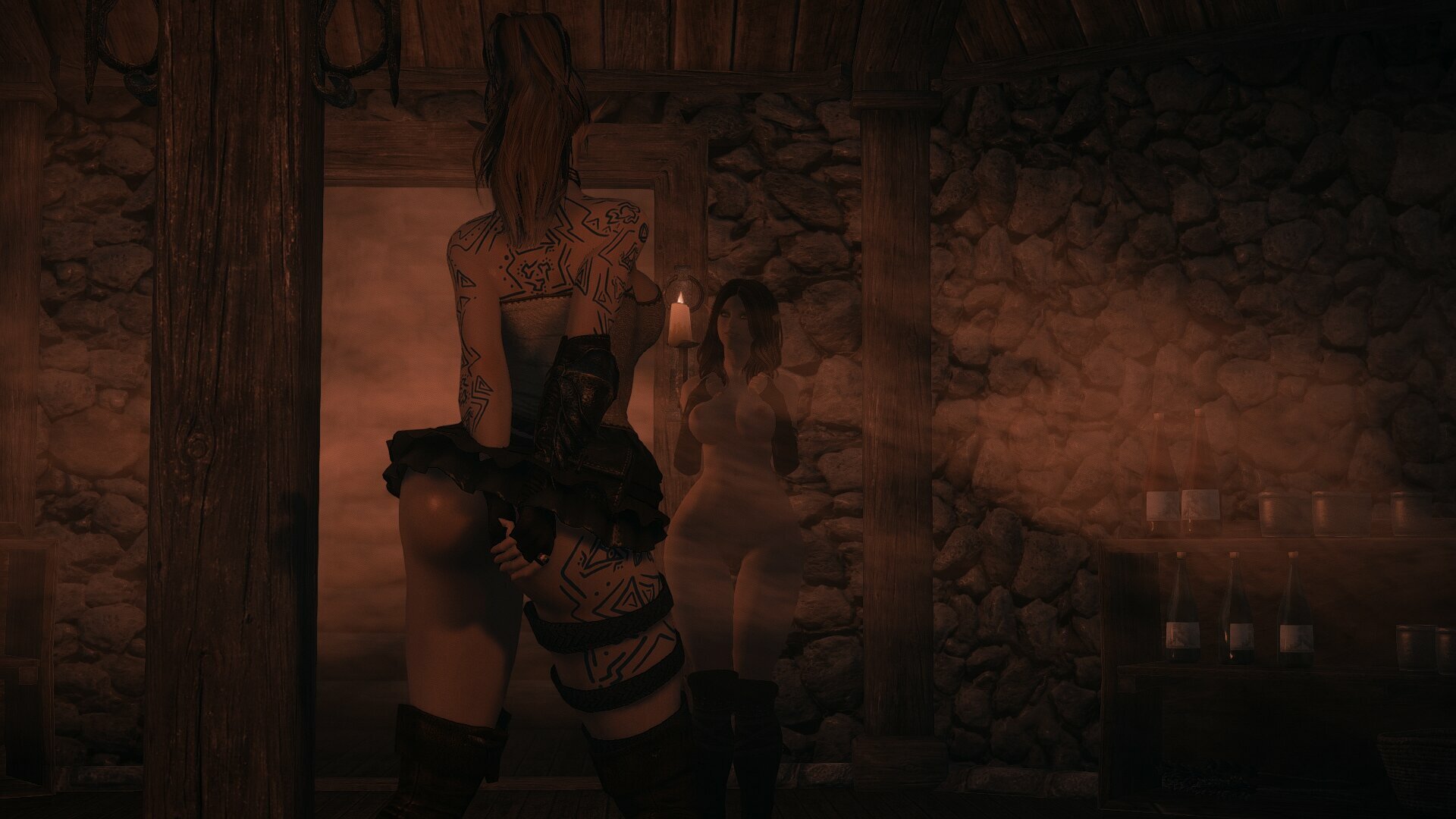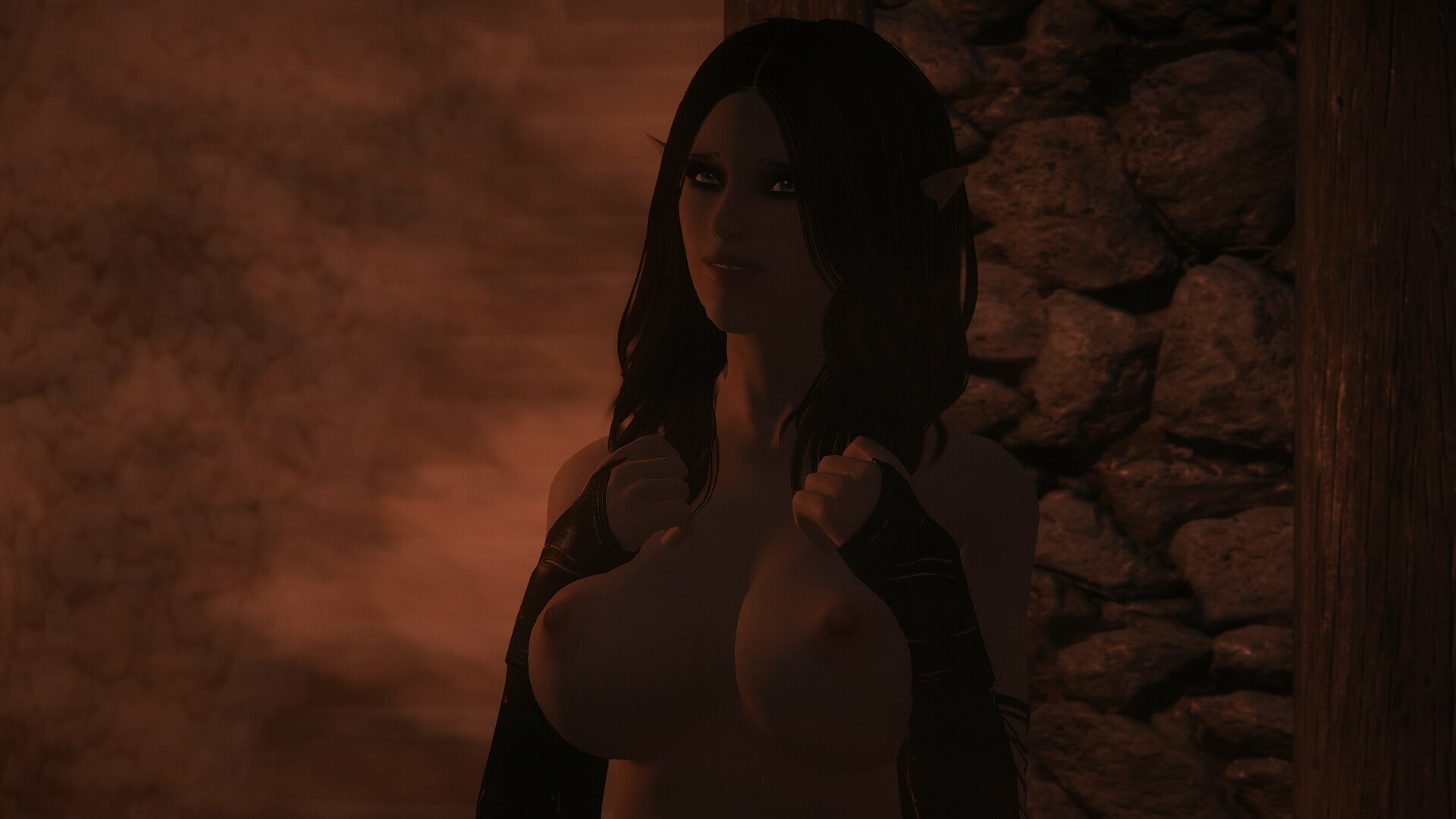 Rhaeneys: You getting in?
Aerina: Yeah sure... Just let me get this stuff off...
(Rhaeneys tries to hide that fact she is very turn't on by Aerina but is not doing a great job of it)
(Aerina however, is none the wiser as she has never had attention from other women before)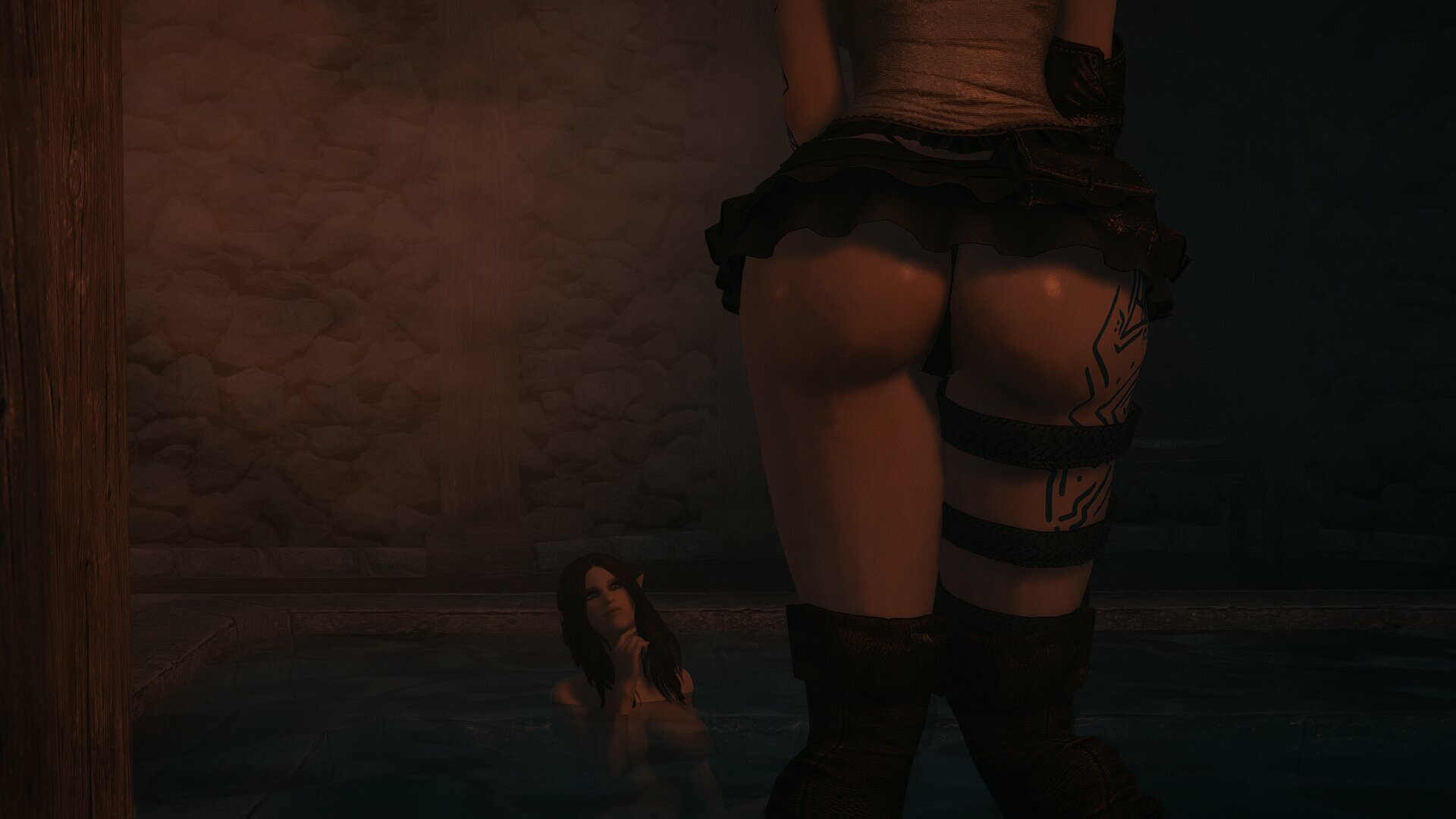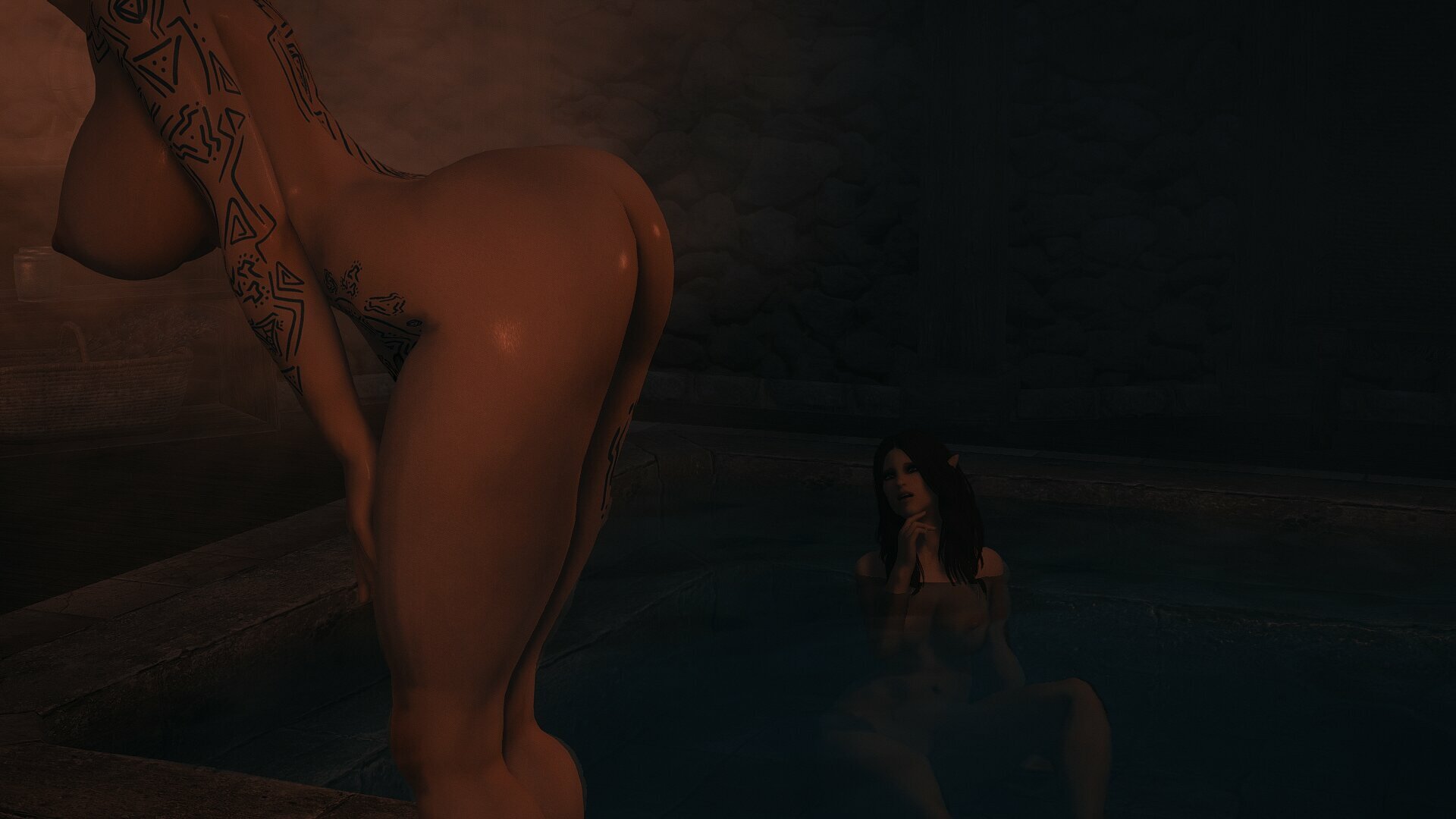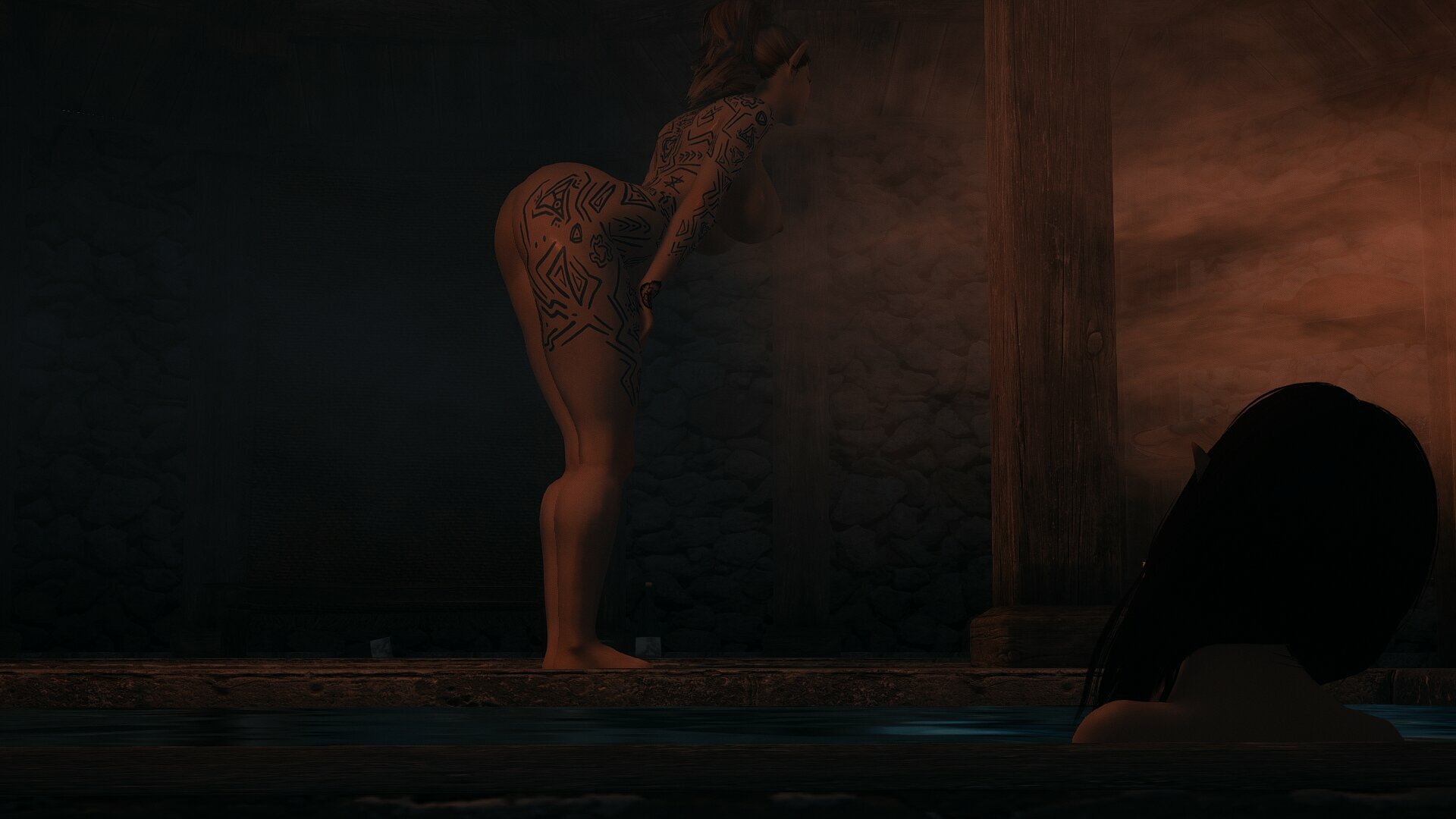 Rhaeneys clearly aroused... transitions the conversation into a sexual one
Rhaeneys: So... what do you think?
Aerina: *Jokingly* It's warm... but it's no hot spring
Rhaeneys: *Jokingly* Okay then princess...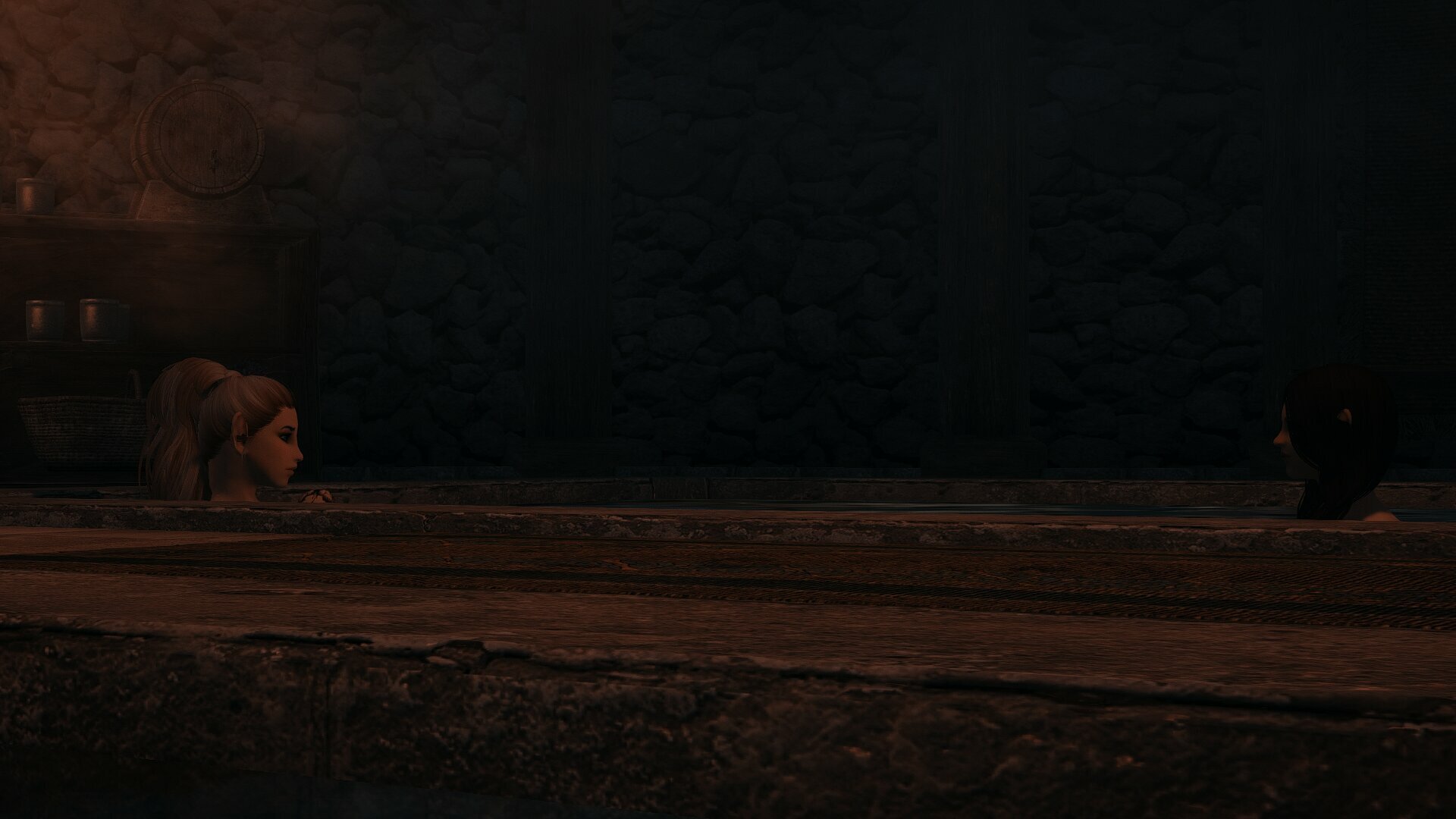 Rhaeneys: Sorry if this is too forward... But a body like yours must attract attention from the men?
Aerina: Yeah you could say that... Apparently I was fucked unconscious outside the city walls... Although I cant really remember that
Aerina: And then in the dungeon this morning actually too. Some Orc had me pinned against a wall.
Aerina: What about you?
Rhaeneys: Oh all the time... I get a few clients from the tavern every now and then... And they get very... Handsy with my throat.
Aerina: Oh that sounds... pretty hot actually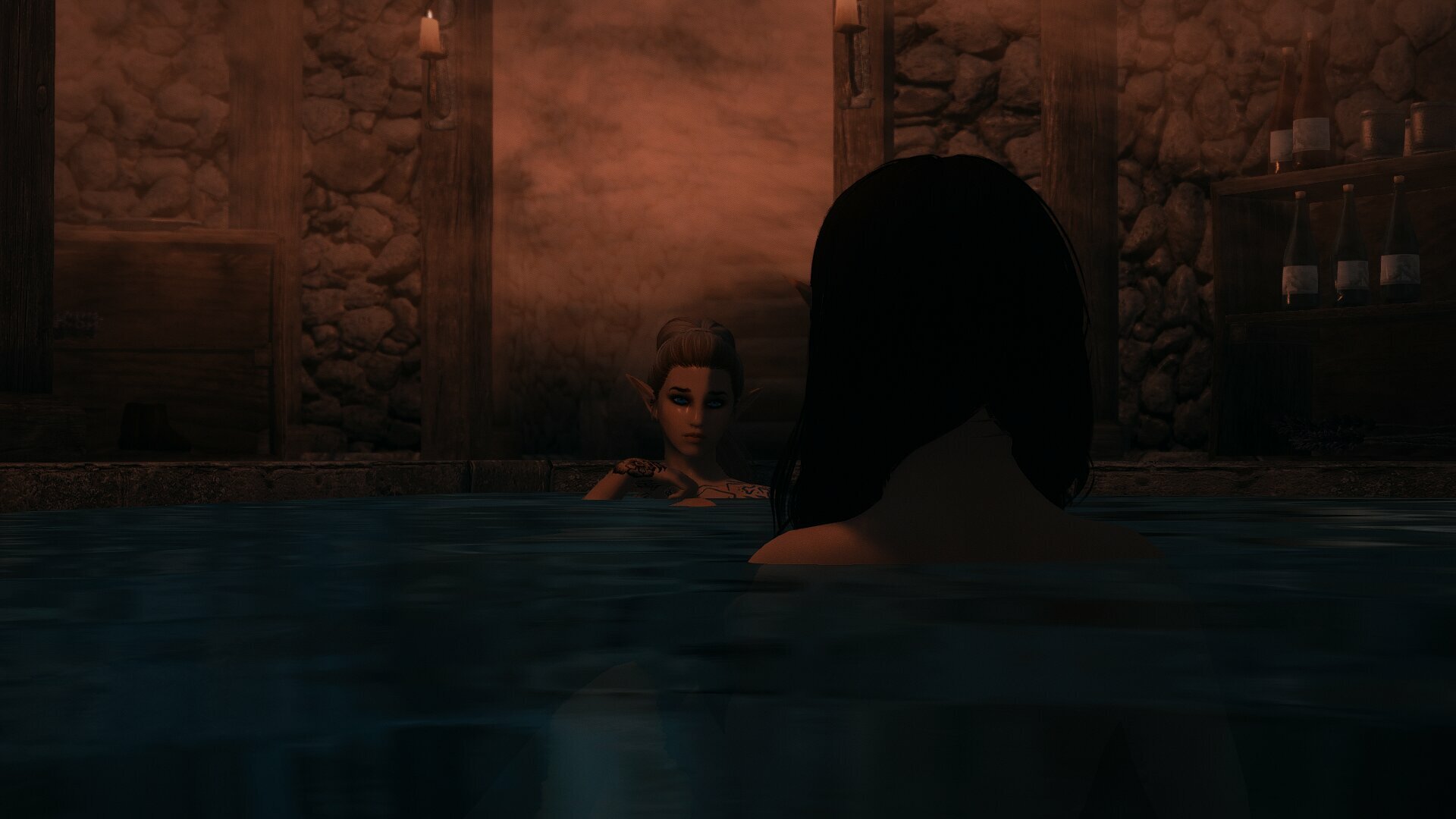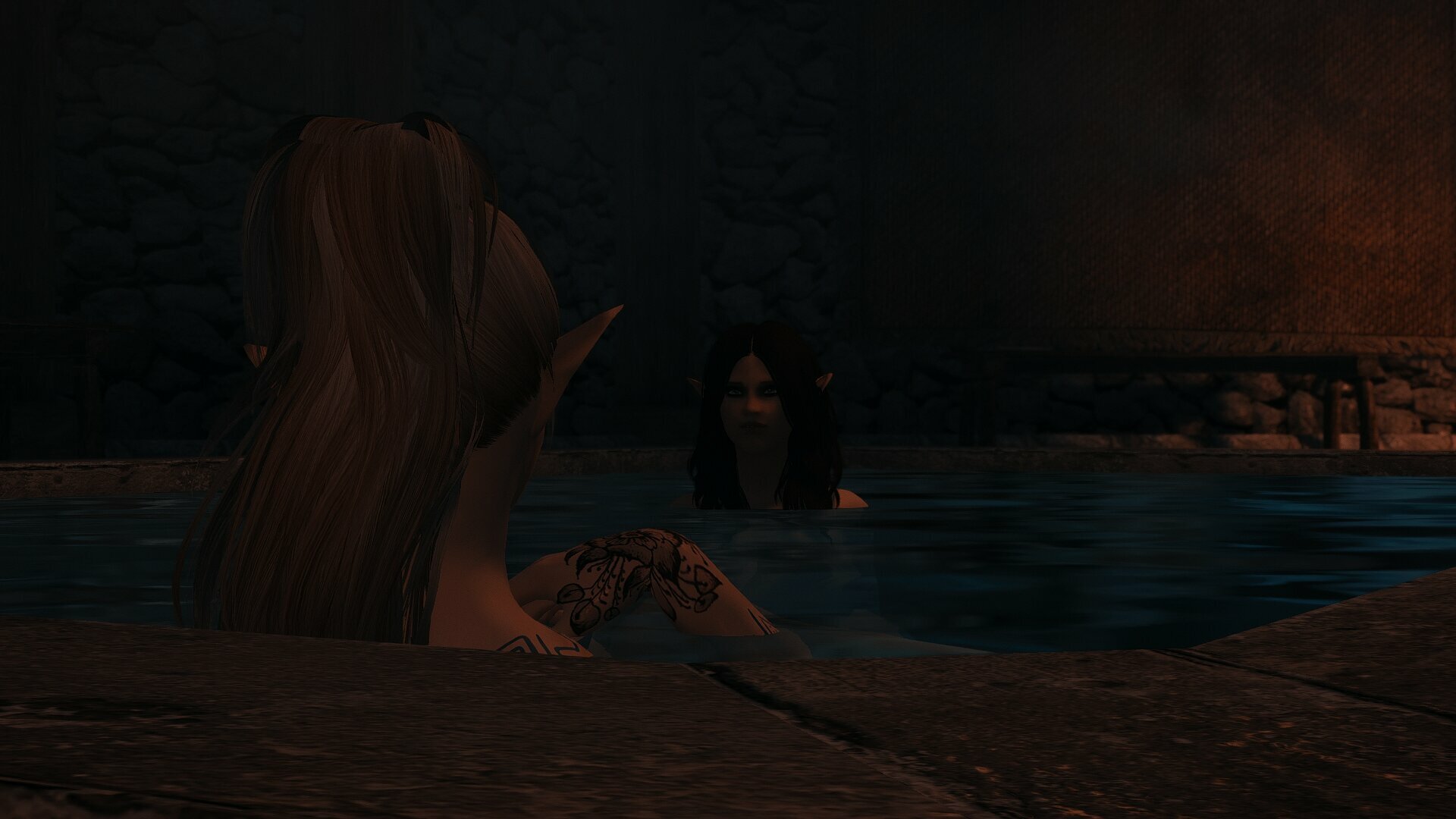 (Rhaeneys very aroused from Aerina's sexual exploits cant wait any longer and makes her move)
Rhaeneys: But enough about me... It sounds like you've had quite the rough time... 
Rhaeneys: Why don't I relieve some of that stress?
Aerina: Woah! But i'm not a lesbian...
Rhaeneys: Aww come on... it will be fun, I promise.
Aerina: Ermm... Okay, just... take it easy... I've never done it with another woman before
Rhaeneys: Just... relax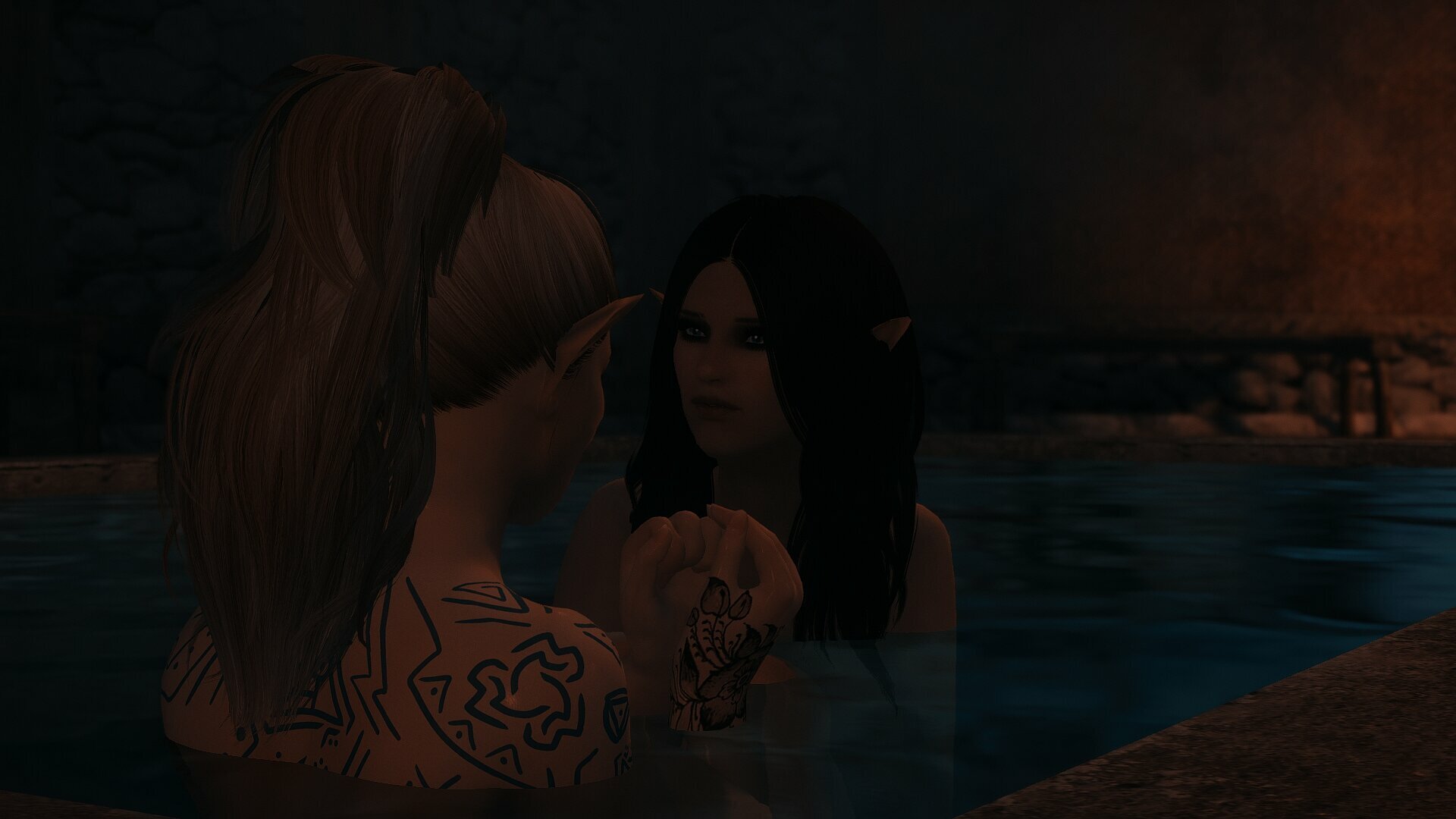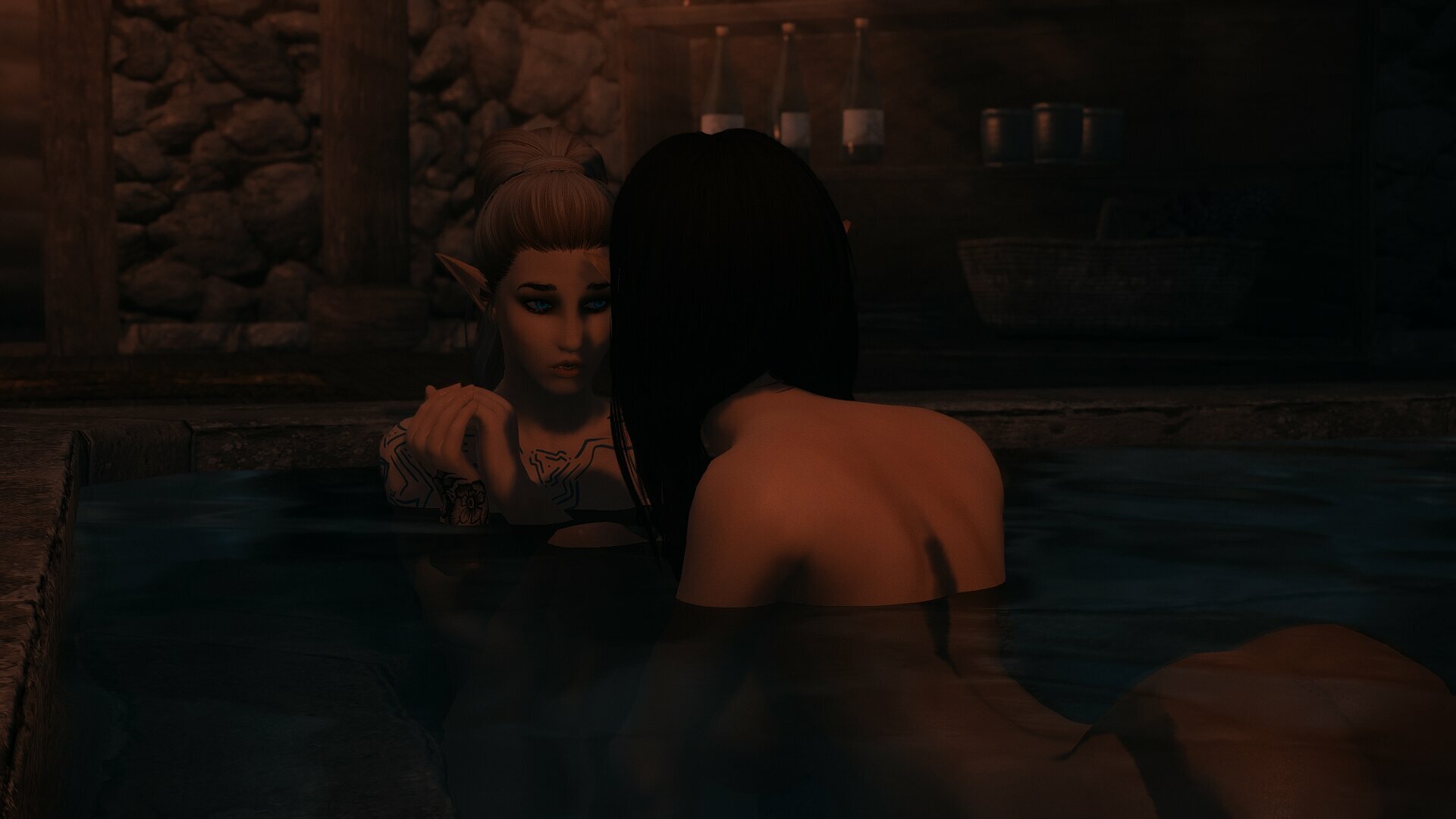 Aerina cautiously opens her legs as Rhaeneys slides her hands down.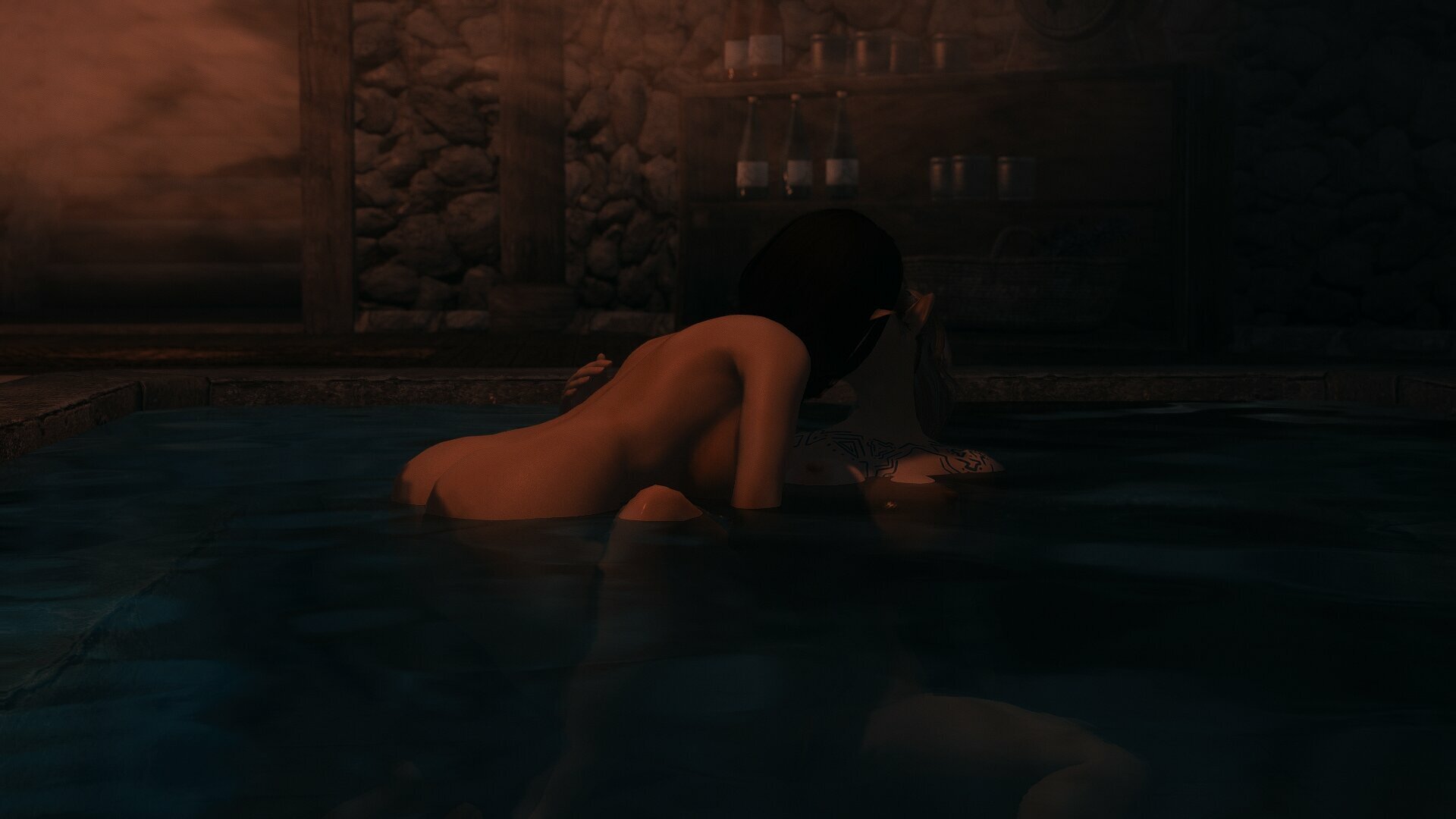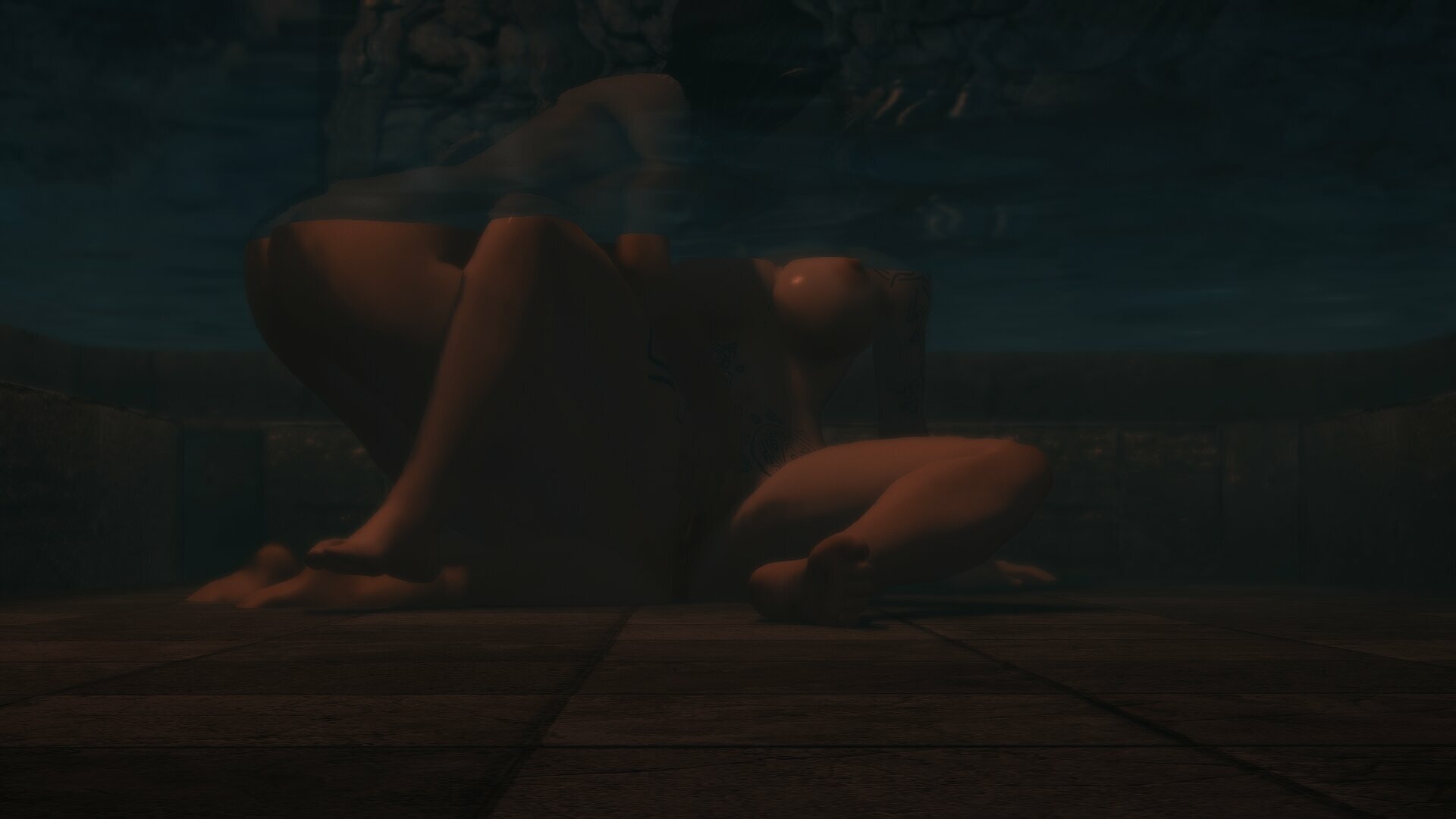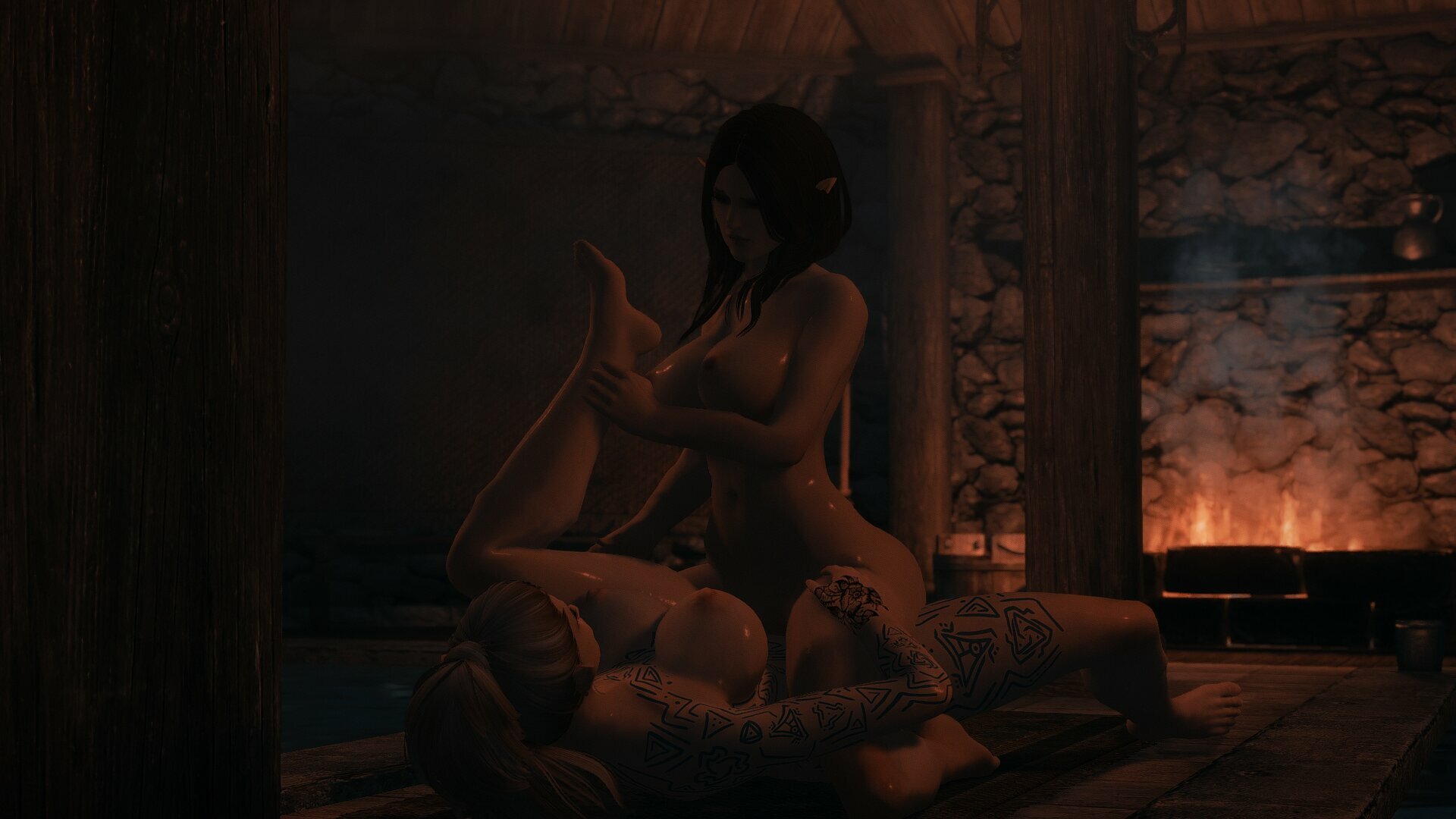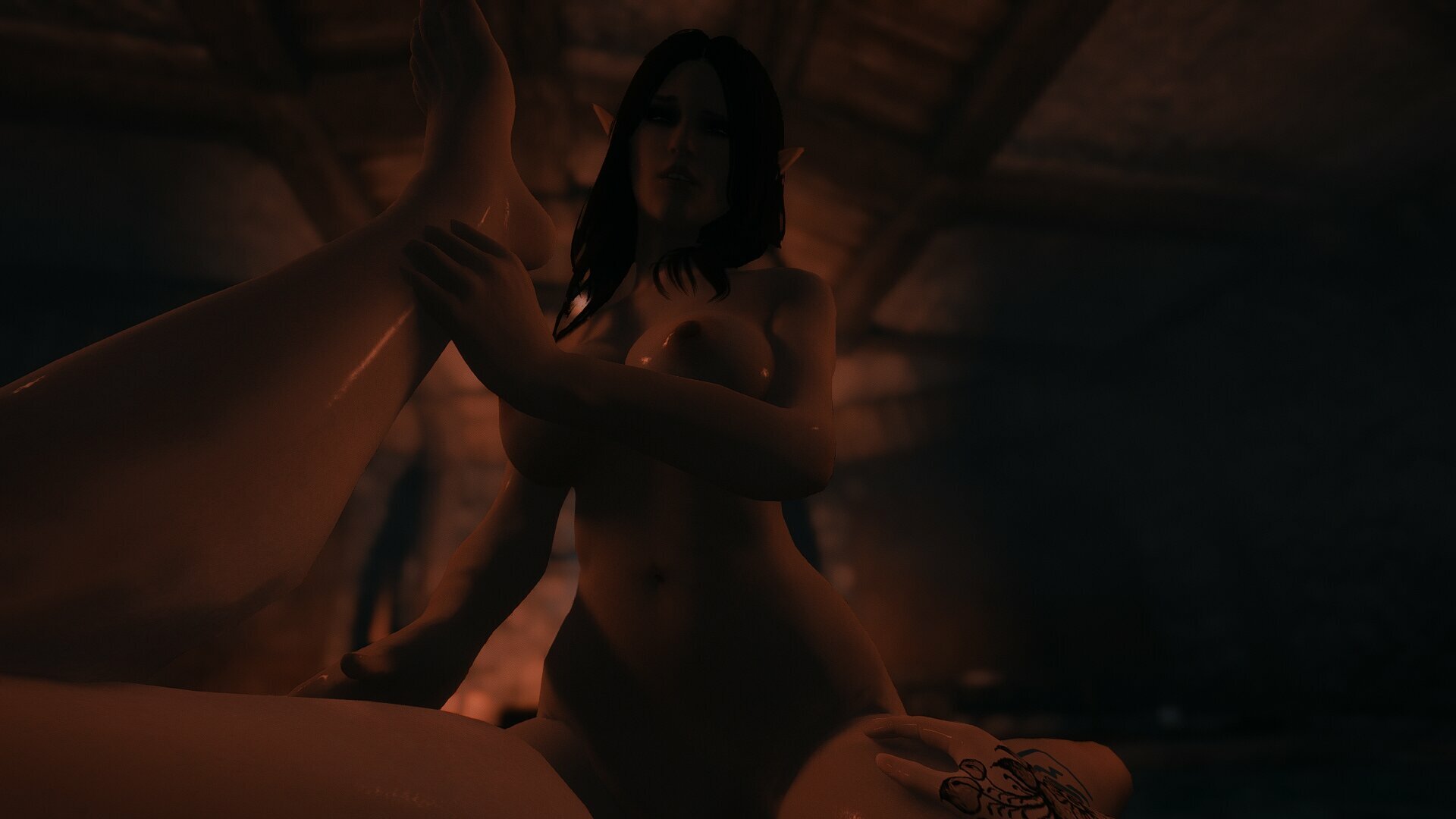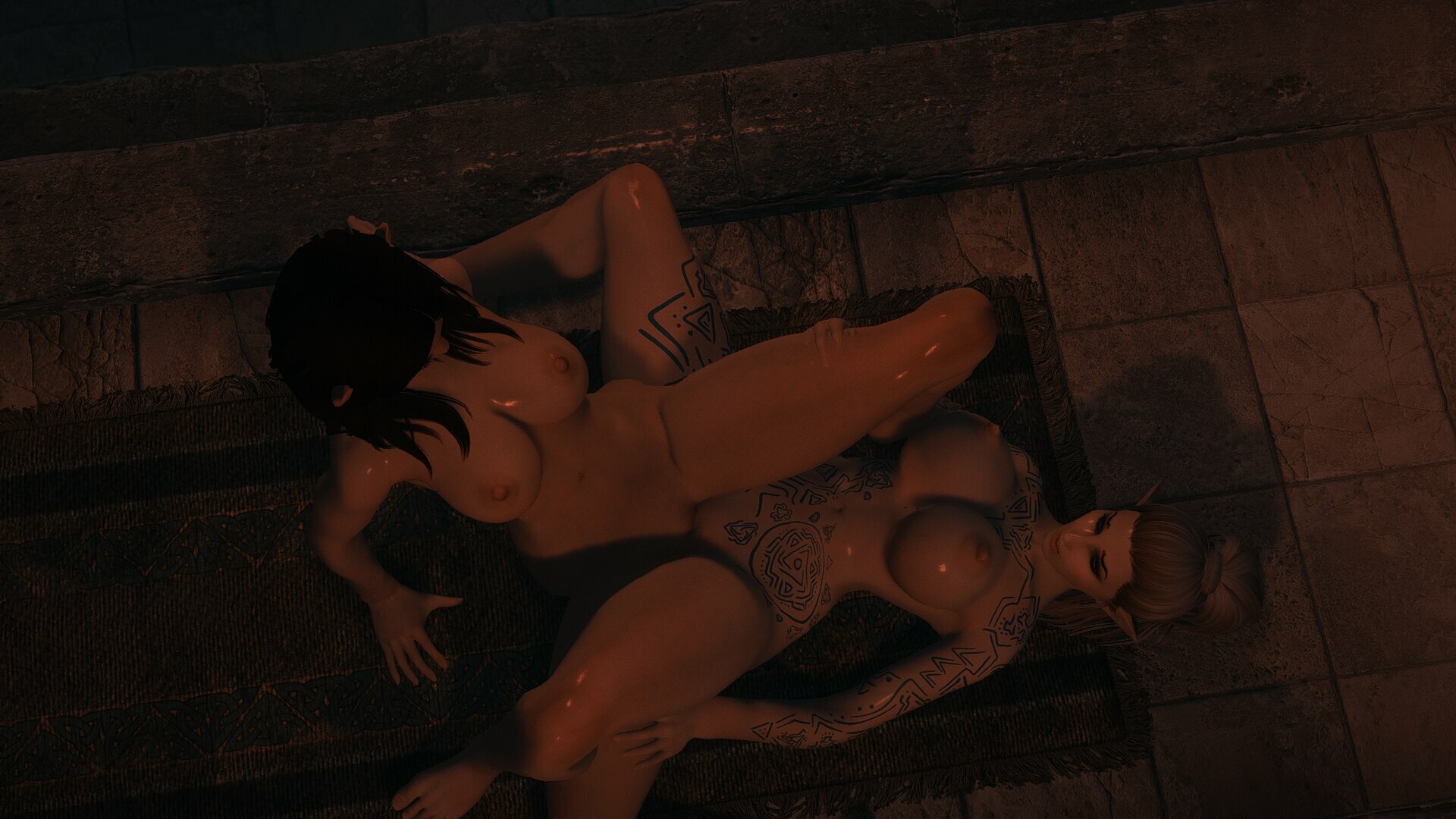 She climbs off Aerina leaving her pleasantly surprised...
Aerina: Well.. I have to admit it... that was pretty awesome
Rhaeneys: Thought you might like it....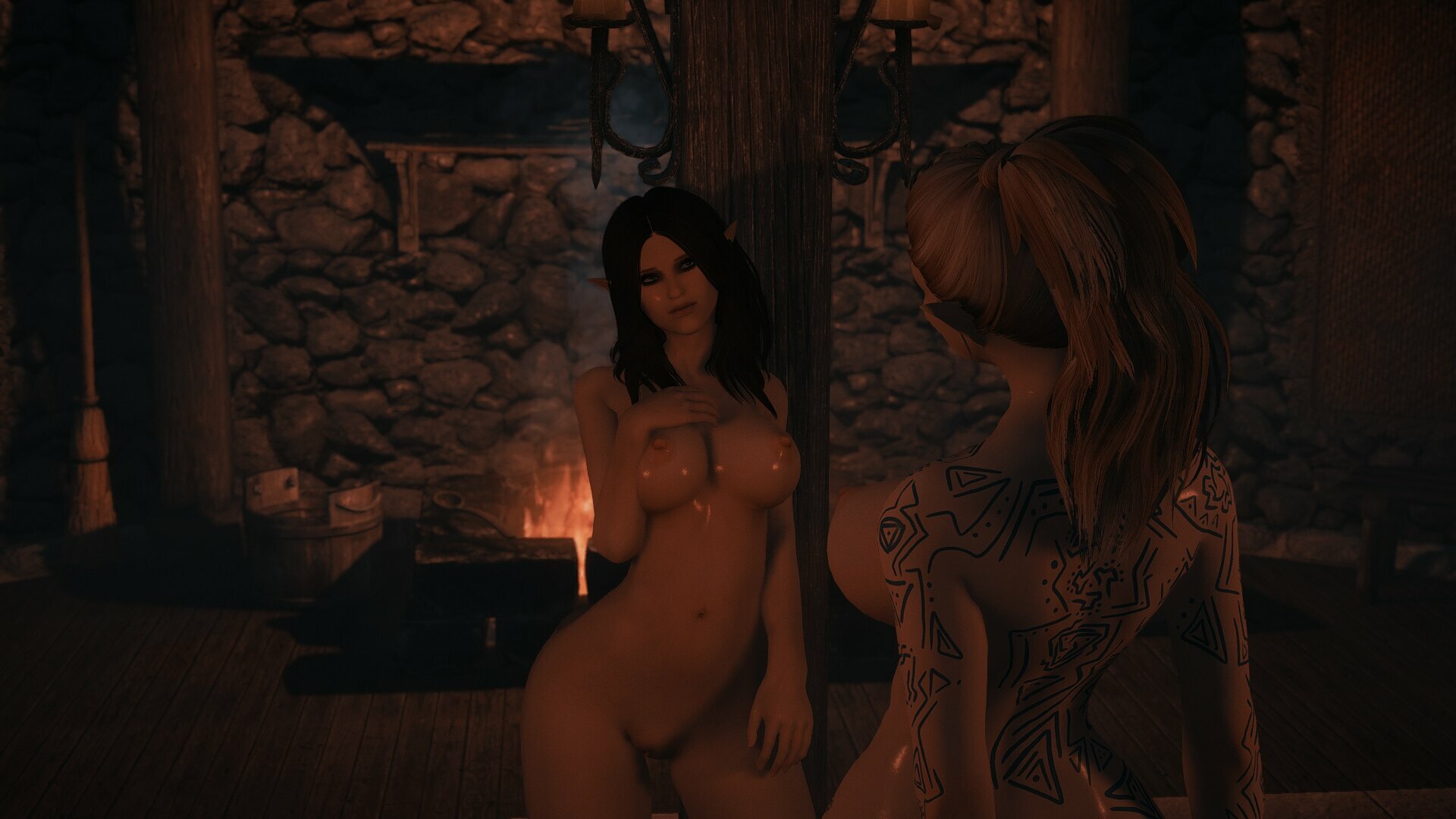 (A imperial soldier, off his shift comes down...  and is a bit caught off guard)
Soldier: Oh... Apologies girls... Didn't think anyone was down here
Rhaeneys: Oh don't be silly, you're fine....
Rhaeneys: Say Aerina... you thinking what I'm thinking
Aerina: Way ahead of you!
Aerina: Hey soldier... you get much pay for your service?
Solider: Uhhh... not a great deal... 
Aerina: Well we think you deserve a... bigger reward for your service.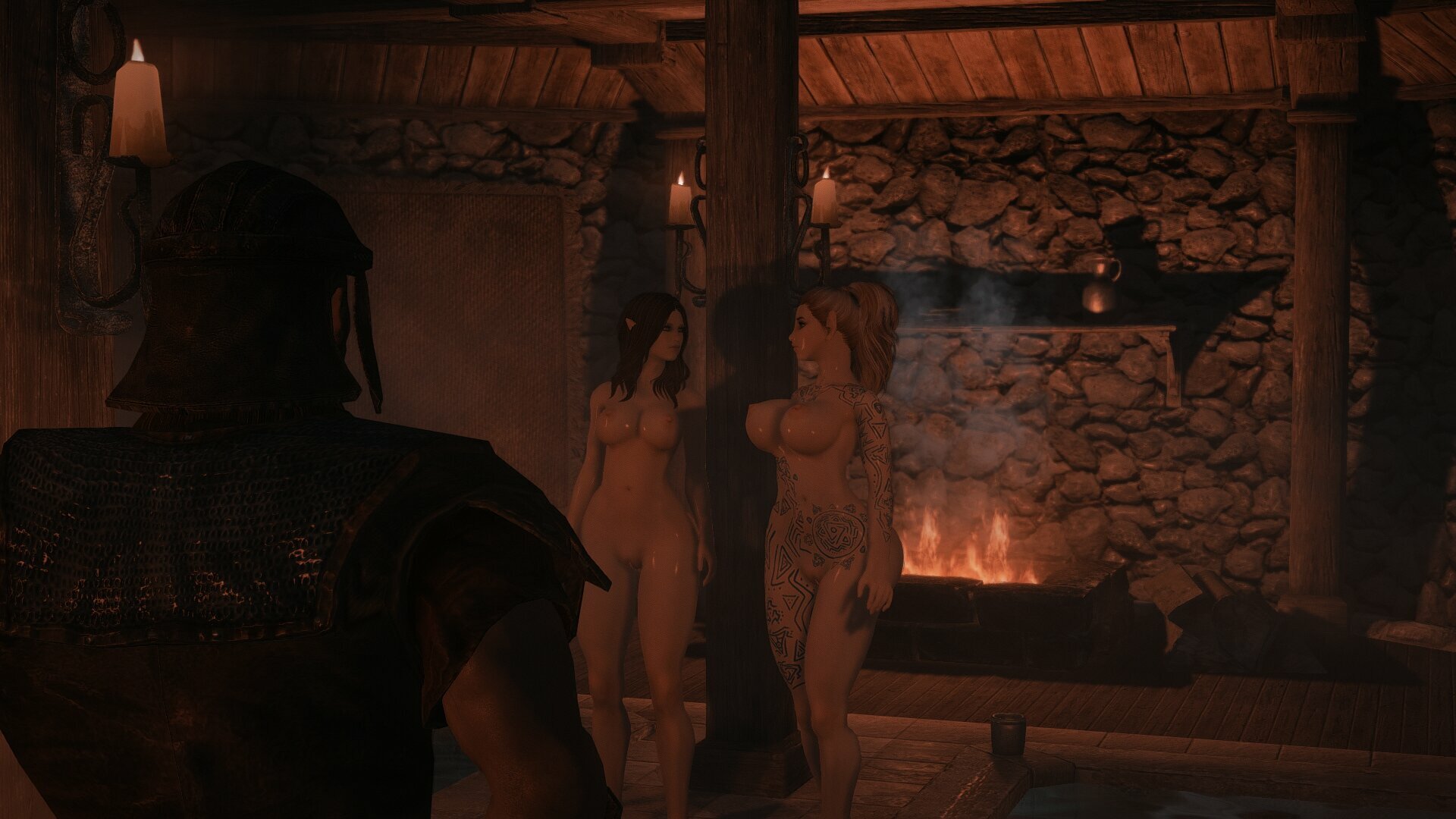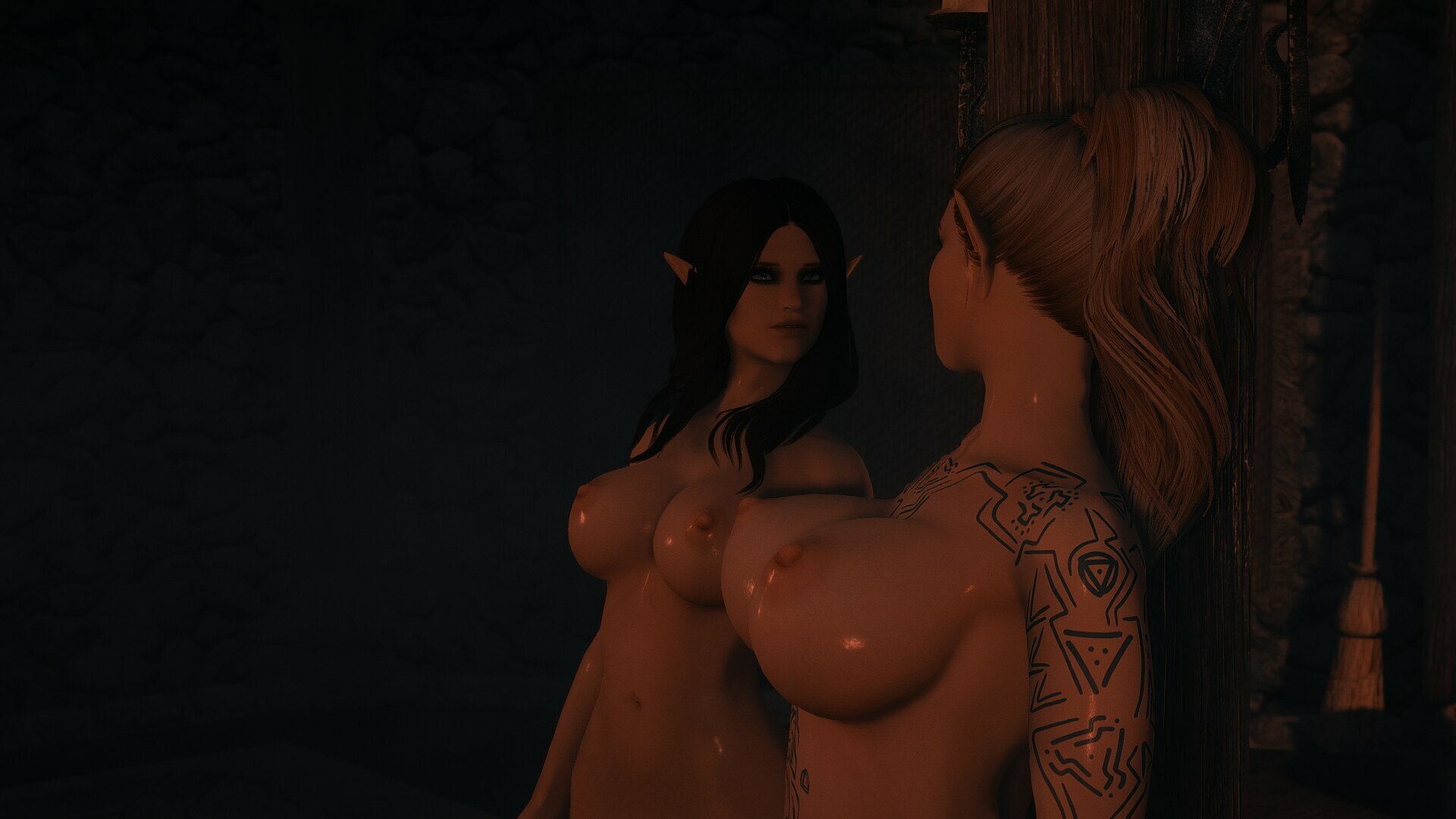 Aerina and Rhaeneys strip the soldier down and treat him to an evening he was not expecting.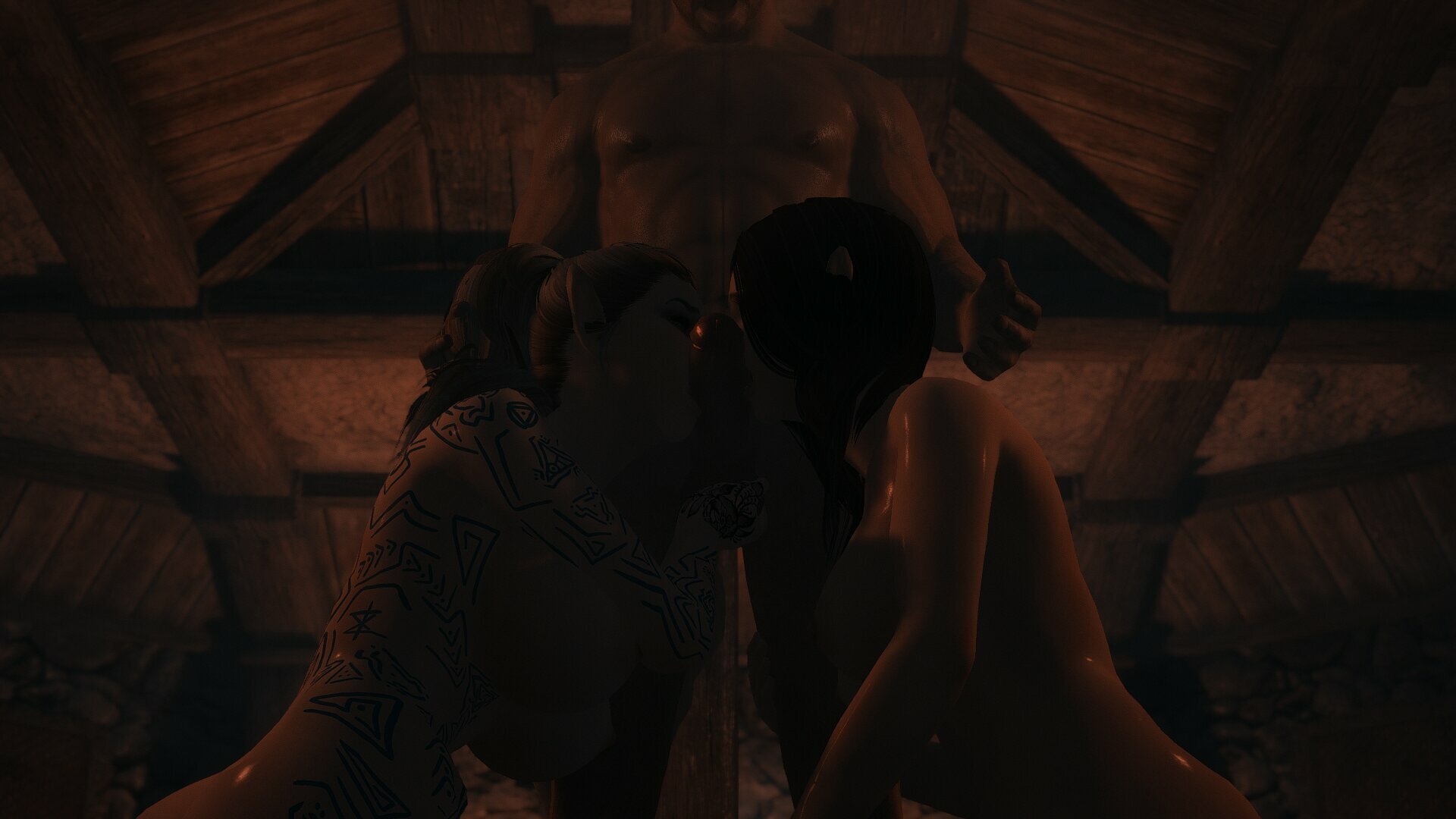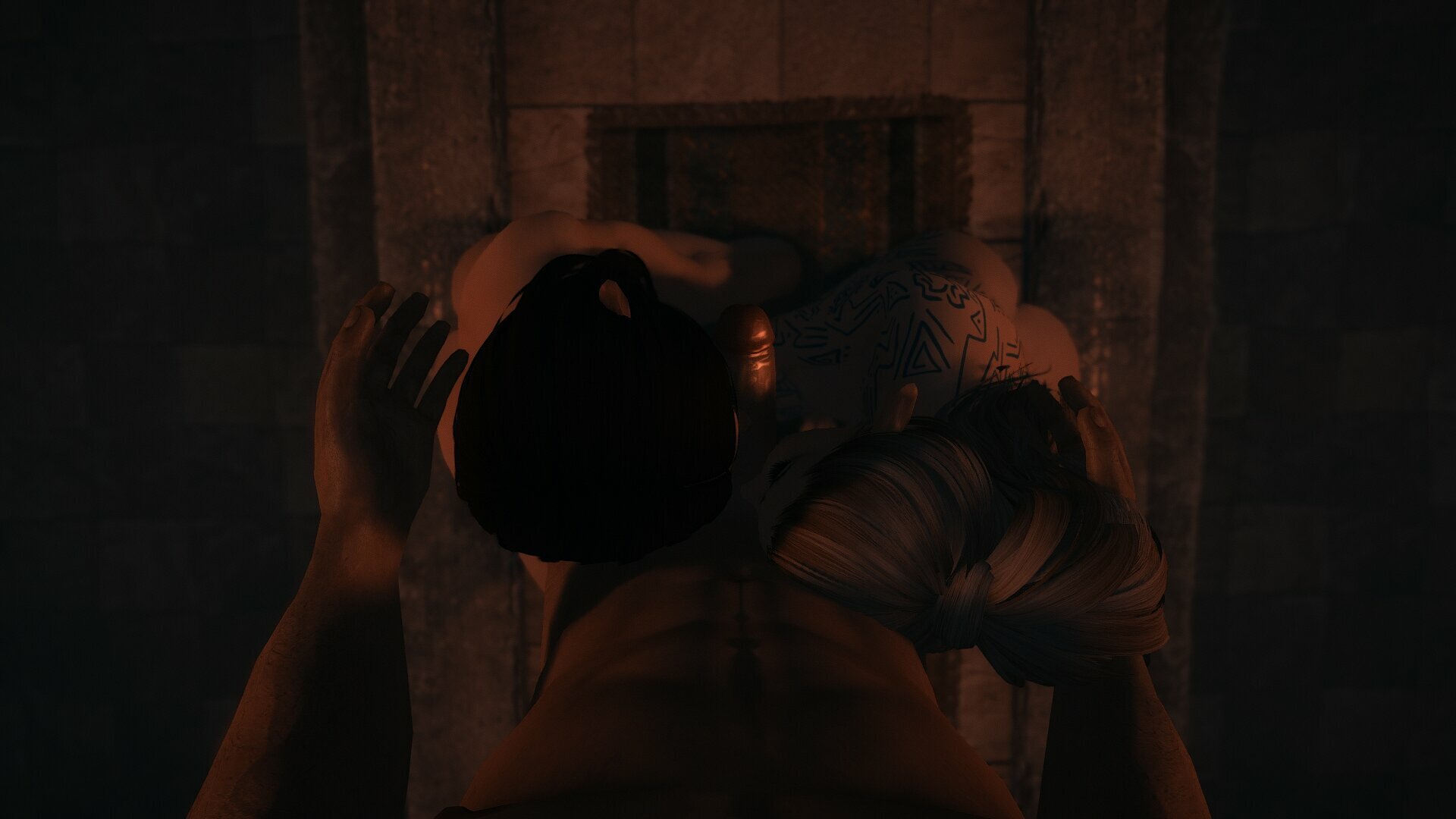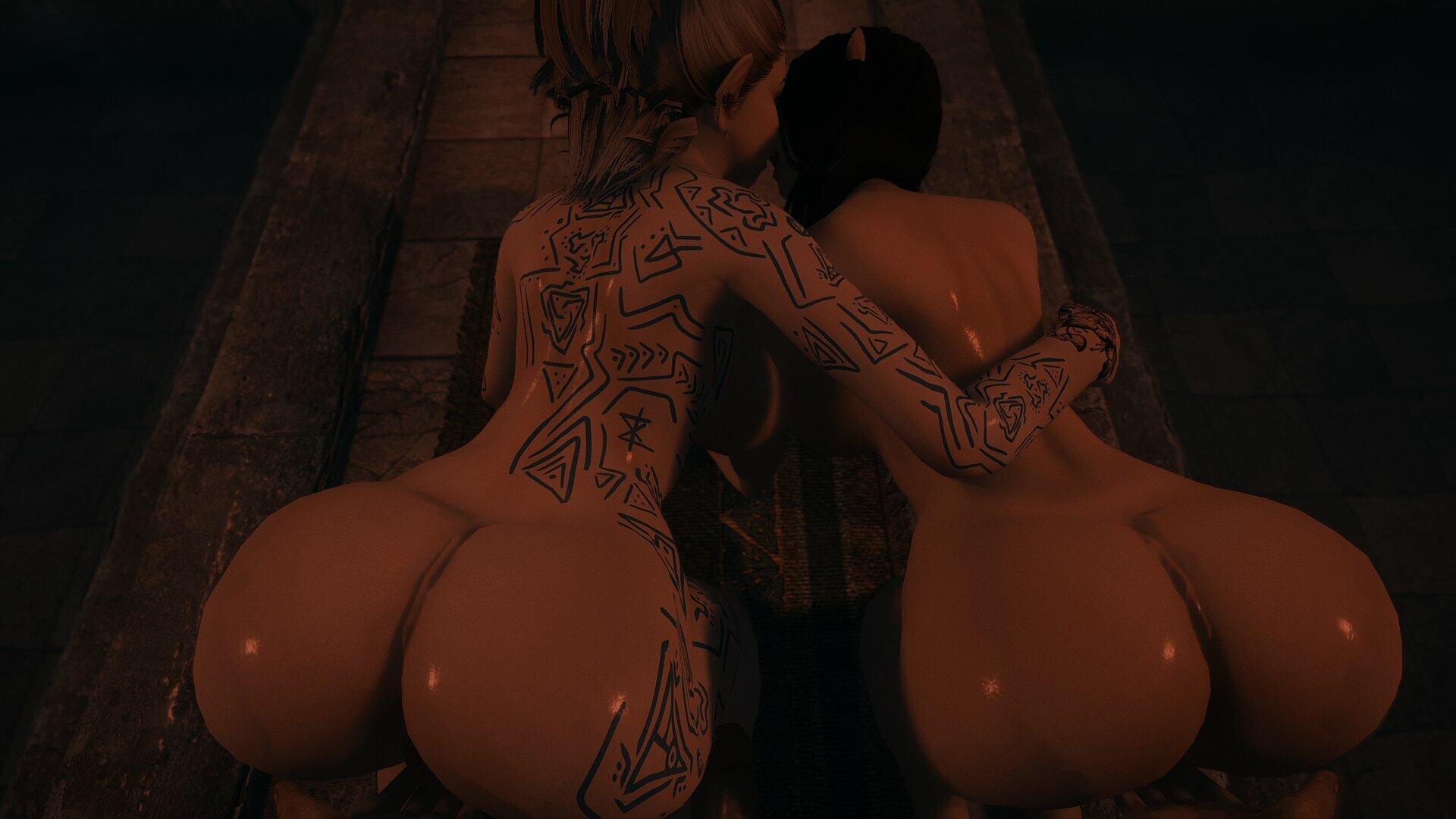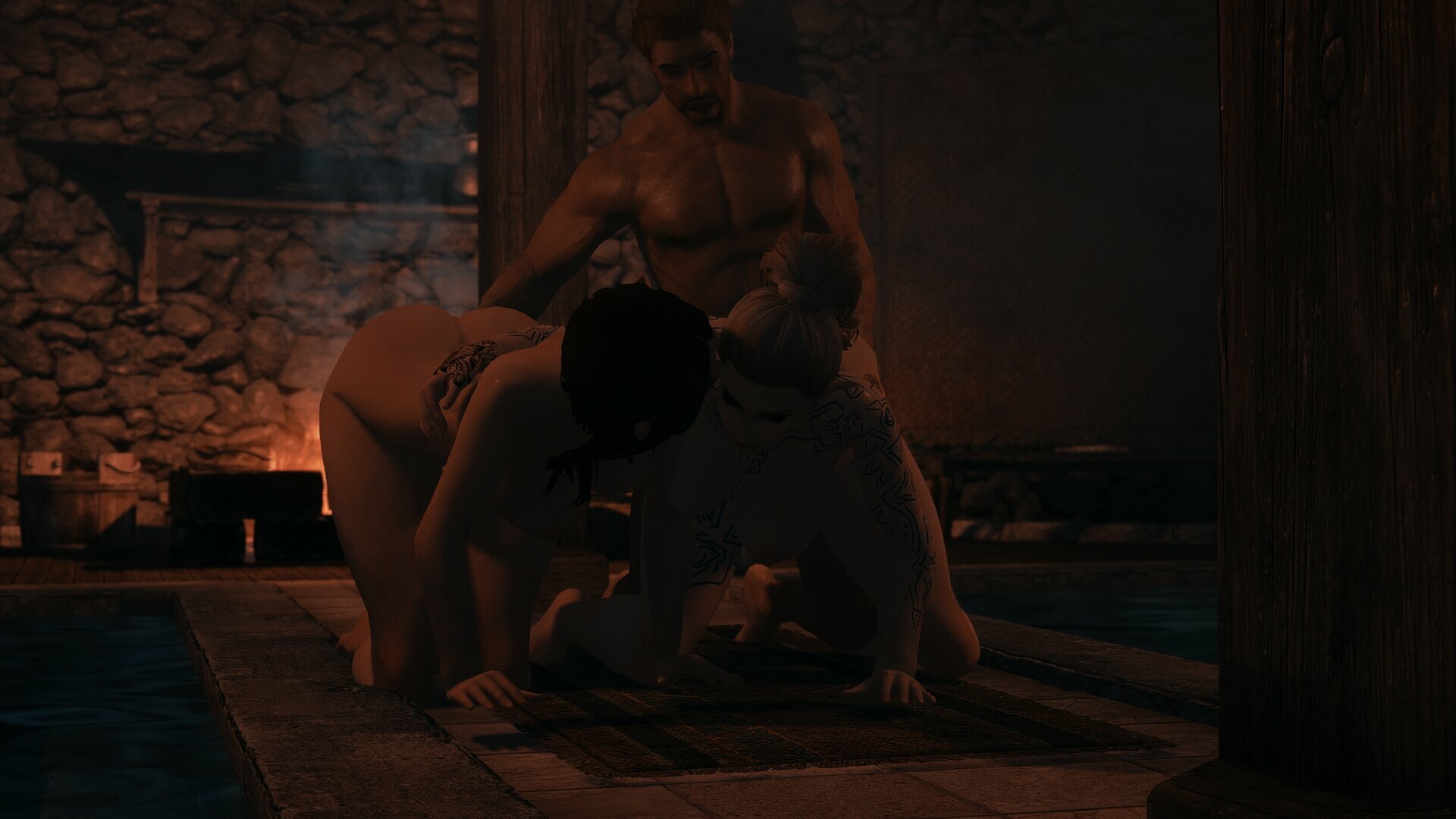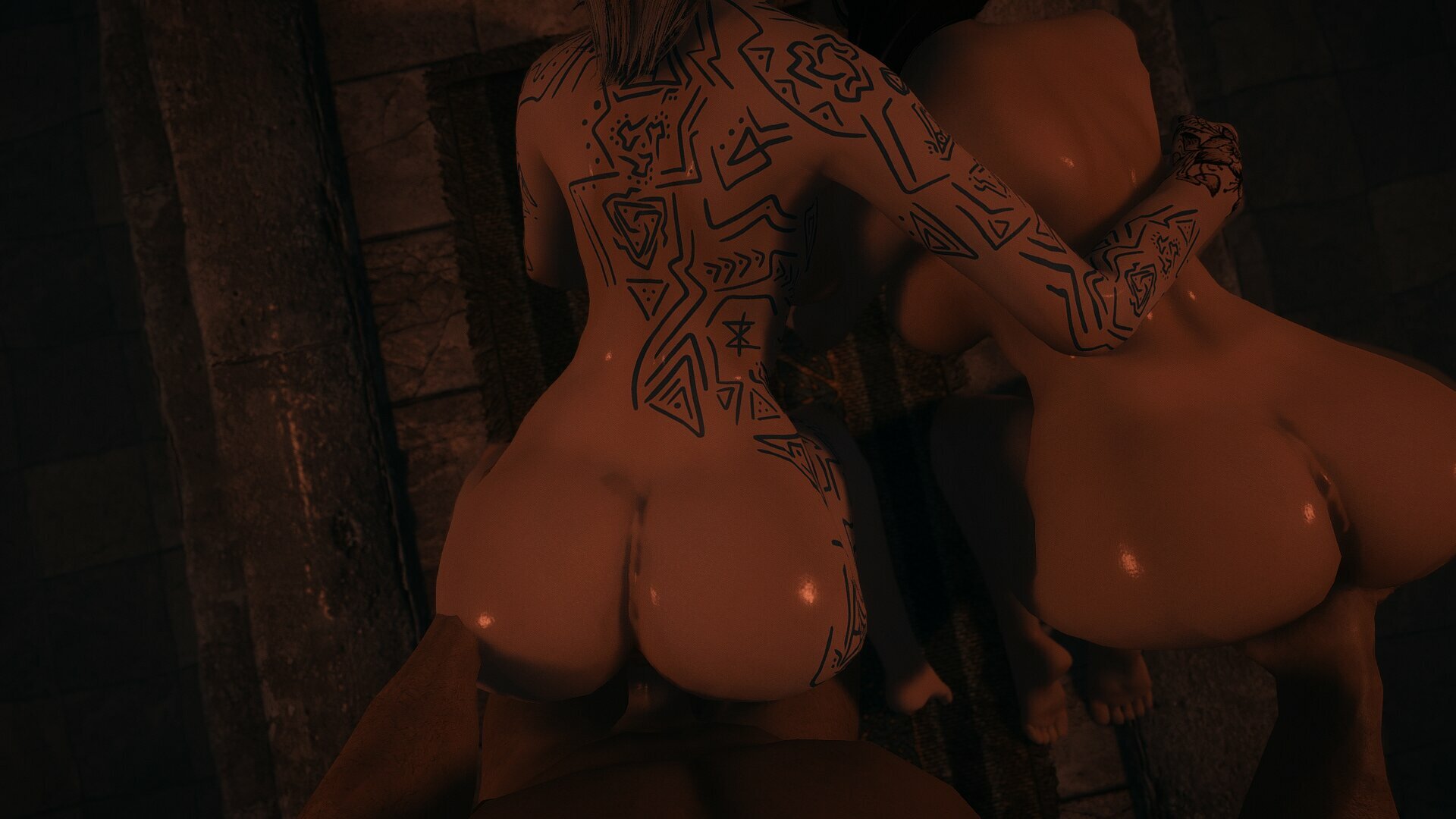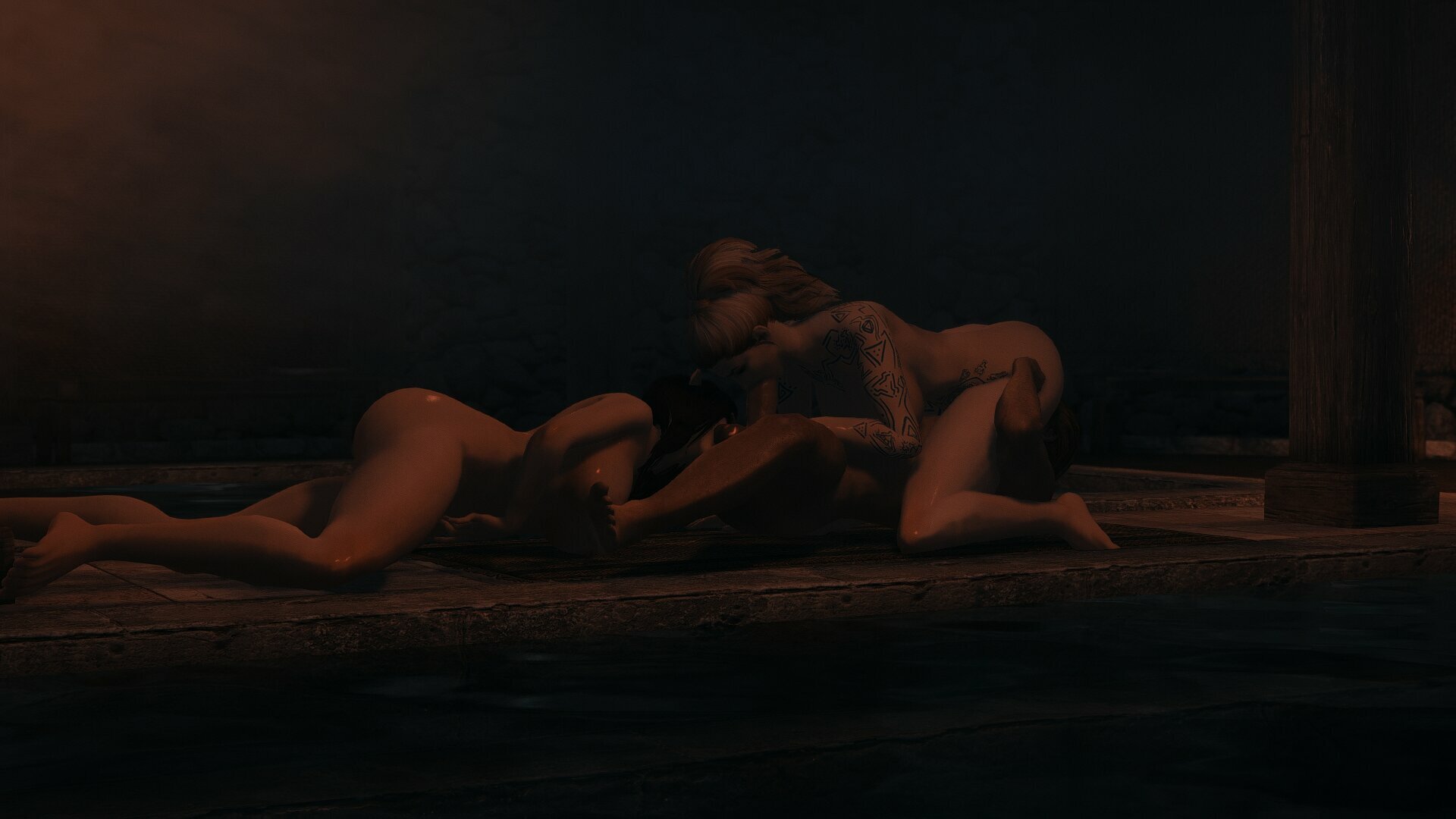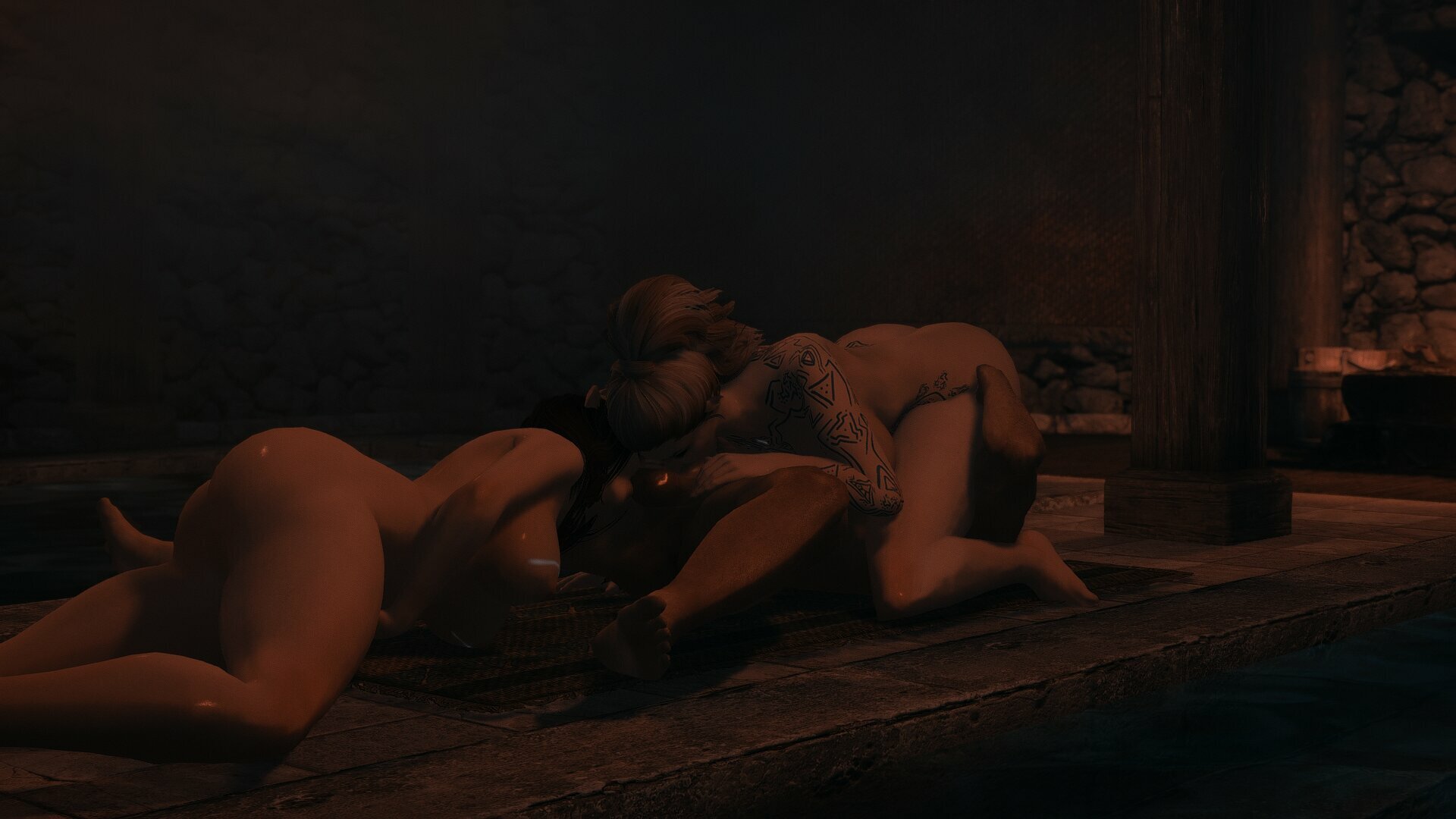 GIFS (Excuse crosshairs. It's late and only noticed after )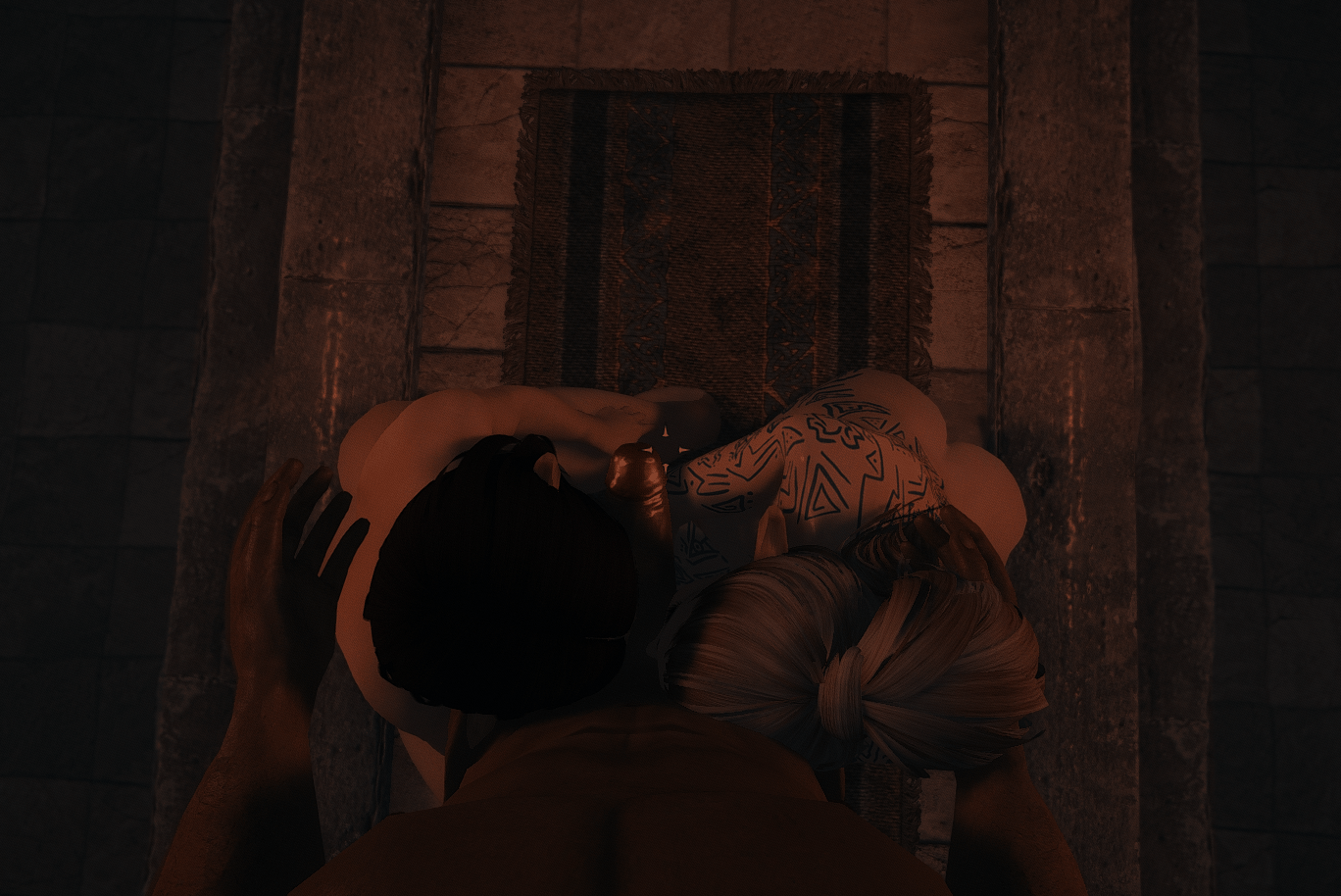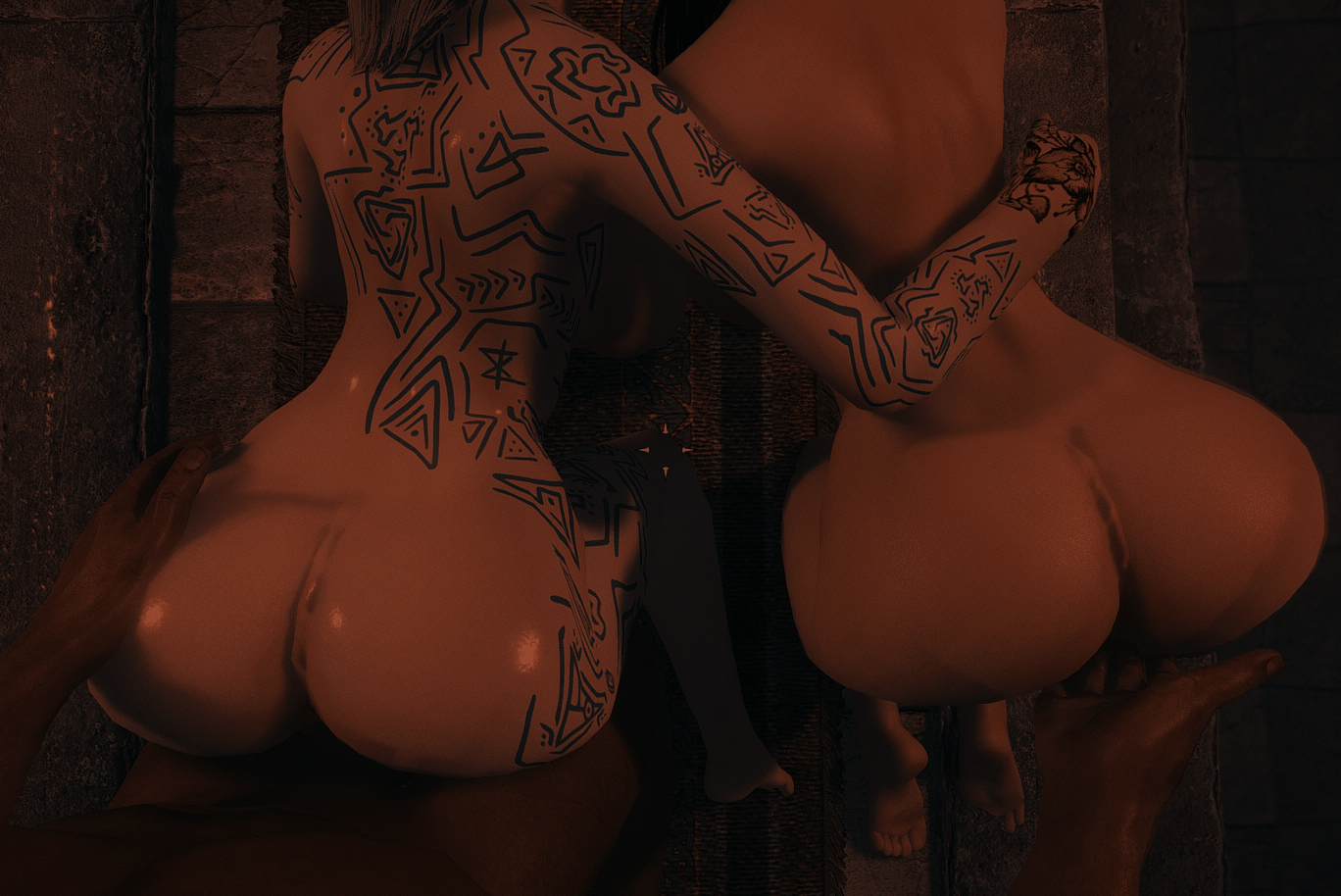 With the Soldier satisfied... Aerina and Rhaeneys say their farewells.
Soldier: Wow girls... that was fantastic..
Aerina: You're welcome!
Soldier: I'll leave you two to get cleaned up... thanks again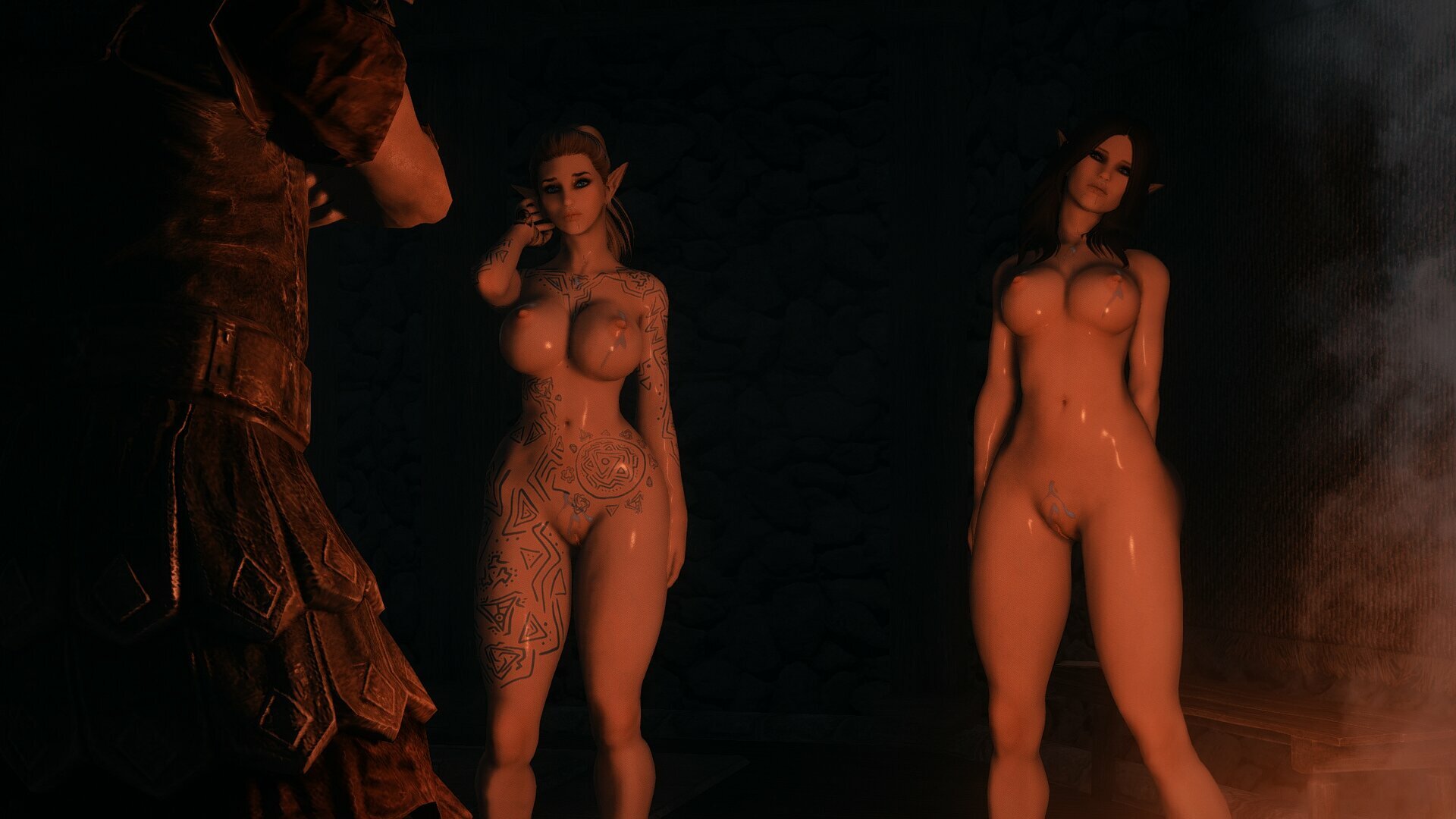 Aerina: Well I think I need to wash this stuff off then I'm going to try my luck and see if I can make it back without resupplying/
Rhaeneys. Yeah that's a good idea. Good luck with your travels. Hope to see you again someday.
Aerina: You too Rhaeneys.