Welcome to LoversLab
Register now to gain access to all of our features. Once registered and logged in, you will be able to create topics, post replies to existing threads, give reputation to your fellow members, get your own private messenger, post status updates, manage your profile and so much more. If you already have an account,
login here
- otherwise
create an account
for free today!
Submitter
TheDriedFinger
View other files from this member
Latest Version:
Submitted: May 17 2017 03:51 PM
Last Updated: May 26 2017 01:01 PM
File Size: 336.88KB
Views: 87420
Downloads: 26,441
Requires: SKSE v1.7.3+, SexLab Framework v1.6+, SexLab Aroused (Redux), FNIS v6.0+
Special Edition Compatible : No
Download TDF SexLab Aroused Rape and Aroused Sexy Idles v3.2





aroused
arousal
rape
sexlab
idles

647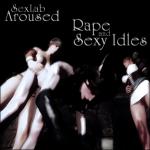 Short Description
A companion set of two simple mods making use of SexLab Aroused (Redux). Both are standalone and completely independent of the other, but can be seen as complementary in what they do. However, they share the following requirements: SKSE v1.7.3+, SexLab Framework v1.6+, SexLab Aroused (Redux), and FNIS v6.0+, and any of their dependencies.
Aroused Rape
This mod primarily causes NPCs who are above certain Arousal thresholds to attempt to rape the player character, after a short dialogue encounter. This is done by temporarily blocking any default dialogue with a short dialogue tree from this mod to that effect.
An NPC will have their dialogue temporarily replaced depending on a few factors including their Arousal, whether they are a follower, and whether the player character is naked (according to SexLab Aroused's polling). The Arousal thresholds for this occurring (i.e. normally, when NPC is a follower, or when player chracter is naked) are 80, 70, and 40. These can be customized in the Mod Configuration Menu (MCM) if SkyUI is installed. Version 3 further allows NPCs to forcegreet the player character with this dialogue. Forcegreeting can be enabled or disabled in the MCM, as well as the polling interval used to track eligible NPCs.
An NPC's sex, compared to the player character's, can also be set to restrict whether or not they will attempt to rape the player character. By default, only male-male interactions are restricted, but both that and female-female interactions can be enabled or disabled using the MCM.
When an NPC attempts to rape the player character, depending on which same-sex interactions are restricted, a follower may attempt to intervene to prevent the player character from being raped and instead have themselves be raped in a short dialogue scene. During this scene, the player may object to follower's offer by initiating dialogue with the follower, and remain the target of the assault.
Version 3 further adds options to the dialogue tree. The aggressor can be resisted with a brawl (not available against follower aggressors), a persuasion attempt (chance based on speech skill), or an intimidation attempt. Version 3 further adds the possibility that, in addition to the primary aggressor, a second aggressor whose Arousal is above thresholds, may be added to the SexLab scene for a threesome.
Aroused Sexy Idles
Using animation assets created by Leito86, and FNIS Alternate Animations, idle animations are dynamically replaced for female characters (player character and NPCs) to reflect their Arousal states. By default, within the ranges 40 to 60, 60 to 80, and 80 to 100 Arousal (that is, thresholds at 40, 60, and 80 Arousal), female characters will have play idle animations.
With version 2, an MCM is provided to allow the editing of these thresholds. Of course, the first threshold should be less than the second which should be less than the third. The MCM also allows the polling interval to be changed (that is, the time between periodic updates to assess nearby NPCs' Arousal to potentially change their idle animation) and the number of nearby NPCs tracked to be changed. Effects from this mod on the player can be enabled or disabled also.
This can be an excellent companion mod to Aroused Rape since this will indicate (for female characters) their approximate Arousal level. To avoid conflicts with Devious Devices Integration's and PCEA2's own Alternate Animations when a character is using a device that requires alternate idle animations or the player character is using a unique idle animation, there are a built-in checks in this mod's scripts.
Translations
Spanish by Gothuska
Bugs
SexLab Aroused (Redux) can take, by default, up to 2 minutes to update the player's status as being naked. This can cause a delayed response in the NPCs' ability to notice that the player character is naked or clothed for the purposes of this mod.
Updating Instructions
Version 1 can be updated to Version 2 without any special instructions (i.e. simply by replacing old files with new files).
Updating from versions 1 or 2 to version 3 requires a clean save.
Version History
v3.2:
- Aroused Rape:
--- Fixed bug where, even if same-sex interactions are disabled, player character can still be forcegreeted in violation of those restrictions.
v3.1:
- Aroused Rape:
--- Fixed bug where instead of followers NOT getting the brawl dialogue, they were the only ones getting it.
--- Fixed bug where non-NPCs can be selected to potentially forcegreet
--- Fixed bug where brawl ends prematurely if it takes too long
v3:
- Aroused Rape:
--- Added new dialogue options to resist the aggressor by brawl, persuade, or intimidate
--- Added NPC forcegreeting in addition to the standard Blocking dialogue (new MCM settings to enable/disable and edit polling interval)
--- Now possible for a second NPC aggressor to be identified and used in the SexLab scene for a threesome
- Aroused Idles
--- Fixed a bug where camera perspective change happens in opening sequence; idle changes will no longer happen when player camera is locked
--- Mod now checks that PC is considered to be a female by SexLab before applying idles; NPCs are checked to be considered female by both the game and SexLab
v2:
- Aroused Rape:
--- Bug regarding enabling/disabling same sex interactions in MCM fixed
--- SEQ file fixed to prevent bug where new dialogue does not appear on initial game load
--- Attempted to add more cunnilingus animations to rape scenarios where aggressor is female
- Aroused Idles:
--- PCEA2 compatibility added
--- MCM added - options to edit polling update time, number of NPCs tracked, enable/disable effect on player character, and Arousal thresholds
v1:
- Initial release
Credits
Leito86 for all animations contained in Aroused Sexy Idles
Fore for all behavior files contained in Aroused Sexy Idles
Permissions
Derivative work that makes use of assets not created by me contained in these mod packages must seek out the permission of the mod creators listed above. My own work here is free for anyone to use and share in its original form or a derivatized form, licensed under Creative Commons.
Screenshots
3,929

Total Files

164

Total Categories

1,302

Total Authors

69,372,102

Total Downloads
[Starbound] Sexbound API Latest File

Loxodon

Latest Submitter
TDF SexLab Aroused Rape and Aroused Sexy Idles v3.2