About This File
[Last updated: Jul 18] 

 Toys Exits Beta!  What's New 
v1.0... Our Exit from Beta / v1.01... Minor maintenance 
Leia Bra / More Toys / Buffs / Self Bondage / Much for Mod Authors... and more... Change Log
Toys Discord / LE Page / LE & SE Support Thread
New "Toys Exits Beta!" video
Toys v1.01 for SE   A Bondage Framework 
Skyrim. Land of the Nords, birthplace of Tiber Septim. It is a harsh land, shrouded in bitter cold and ancient mystery. A land of adventure where mead halls are consumed with the songs and stories of heroes and legends. A land where many come to find their fortune, themselves or their destiny.
Skyrim is also the home of more exotic mysteries spoken of in hushed tones throughout the empire. Mysteries involving strange acts in bedrooms and brothels using the most intriguing contraptions that are never spoken of in polite company. These Toys, as the locals call them, have seen a resurgence in popularity during the recent turbulent times and just may be the real answer to how the Nords really stay warm in the frozen northlands...

 Overview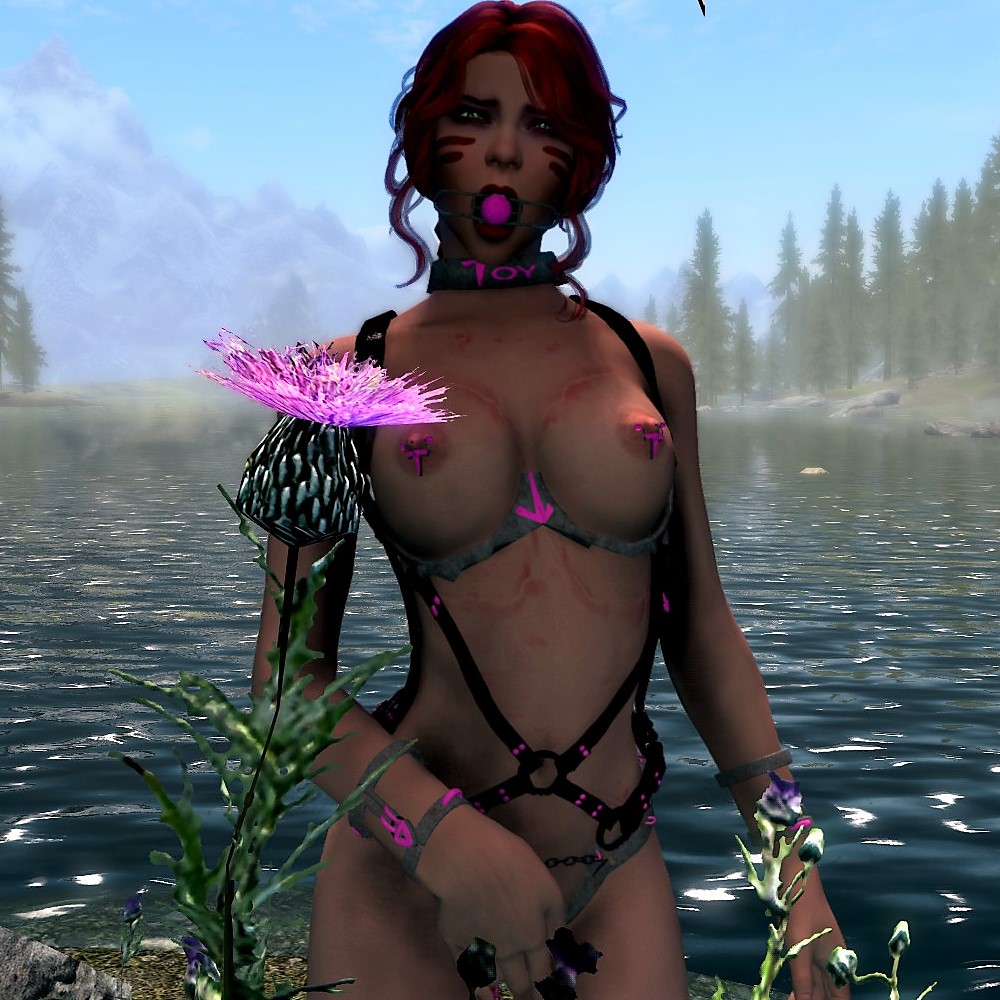 Toys provides mod authors, with Toy Boxes, effects triggered by worn toys, and an API to handle the toys, including built-in features making it very easy to "play nice" with other mods. A mod author can easily clone toys, customizing their features, or create their own new toys.
As an end-user, Toys on its own provides much to experience.  If you install a content mod that uses Toys then it escalates! Without a content mod, use Toys MCM to equip toys.
Toys have various degrees of debauchery and depravity. Basic toys might be key-less, but most will require at least a basic key. The "Exotic" variant of toys tends to have effects and other means of escape. Some toys may break in combat, or melt from the heat of your orgasm, transforming visually. In a transformed state, maybe the toy falls off when hit in combat, or can be removed without a key, or the lock becomes viable. But a transformed toy might mean things got even worse! 
Toys or their transformed variants may have enchantments that strip armor and clothing, force you to crawl, cause harm, or cause magical wrist binding, including the chance of Hard Core binding. Many toys will increase your arousal, and you could find yourself fondling yourself involuntarily or experience spontaneous orgasms.
For a complete outline of Features see HERE. 

 Toy Story
Toy Story is also available from this download page. Toy Story is a quest mod that demonstrates Toys' features, both to end-users and mod authors. Story Toy details HERE.

 Toy Boxes
What's a Toy Box? See HERE. 3 Toy Boxes are included in this Framework. Other available Toy Boxes are listed HERE.

 Covenants 
Everything Optional for content mods. Nothing Ever Forced

this does not mean a mod can't make hard core toys

"Make it realistic to play with Toys, while also playing the rest of the game"

If that's what the mod author chooses to do

No tedious, repetitive methods of escaping from Toys
See the full list of Covenants...
Covenants
Everything Optional. Nothing Ever Forced (this does not mean a mod can't make hard core toys)
"Make it realistic to play with Toys, while also playing the rest of the game" (if that's what the mod author chooses to do)
Toys can be Hard Core, tied up tight, with little hope of escape, or soft core, with many options to remove. It's the mod author's choice
Fun > Realism
Backward Compatibility Matters
Rock-solid Stability
Simplicity - Lightweight - Fast - Efficient
Built with SSE in mind. One codebase for both
Solid Documentation for Mod Authors & End Users
NO...

No tedious, repetitive methods of escaping from Toys
No Animation Filter (but some alternatives)
Almost No menus, or pop-up messages for Toys
No pop-up message ever, unless you have "Tips for First Time Users" ON in MCM
No events/effects where you are stuck in place without a way to skip the scene

 Requirements, Installation, & Upgrading
See the details...
For LE, go HERE.
Requirements
When do I need a new game?
A new game is required if installing Toys for the first time. Always check the Change Log to see if a specific release requires a new game. FAQ #4 gives more detail.
Installation
Make sure you've installed the

 

Requirements

 

listed above. This includes Sexlab's requirements and the requirements of your chosen body mod
Download the

Toys Framework SE

 file from this page, AND the appropriate

Blodyslide package

You can optionally download 

Toy Story SE

 from this page too. More on Toy Story HERE 
Install

 each file 

with a Mod Manager. If prompted about overwriting files, you should allow the overwrite 
Use Generate FNIS for Users and

 

"Update FNIS Behavior

". 

Watch for errors! Most common is exceeding the maximum animations

Build toys with Bodyslide. See steps in FAQ

 

#1. One of the most common mistakes is not getting this step right. Check the FAQ carefully
Once in game use this mod's MCM option

 

"Run Installation Test"

 

on the first tab. If the test fails, see

 

Troubleshooting #1. There is no point in proceeding if this test fails
You may wish to install some Toy Boxes. See Toys Family of Mods for what's available
Toyful Temptations is recommended so you can find keys and toys
Upgrading
Upgrading is fully tested and supported, just uninstall/install. A new game is not required unless the release notes call for it
Don't forget to "Update FNIS Behavior". This must be run each time any mod that uses FNIS is updated, added, or removed
Always rebuild toys in Bodyslide for your preset. See steps in FAQ

 

#1

 Toys Pages
These links intentionally take you to the Toys LE Support thread. Info for LE and SE is combined.
each above includes info for mod authors

 Credits & Permissions
The Toys Team
Audhol - Primary role is Toy Creation and new Animations
Mercplatypus - Primary role is the story and writing for Toy Story
VirginMarie - Primary role is Scripting and making stuff happen
Significant Beta Test Contributors: Gregaaz, Yanjunsun (we will list them all once beta completes)
Full List of Credits...
Ashal - SexLab Framework Mod
Fore - FNIS Mod
Fishburger67 - SexLab Aroused Redux Mod - Redneck2x for the original
Audhol - Models & Bodyslide setup for the majority of the Insignia Set of Toys, made custom for Toys. Animations for Blind and some of the hard core arm binding animations. Bodyslide setup for all 4 SE packages
Mercplatypus - Toy Story Design/Dialogue/Feature planning
Gregaaz, Yanjunsun - Beta Test Contributors
Zadil - Models for the complete Classic Set of Toys, originally in DDa
Xaz & Zaz - Models for the majority of the Chaotic Set of Toys, originally in ZAP 7
Hæretic - Models for the majority of the Ancient Set of Toys, originally in Hæretic Resources
MaikCG - Animations for hard core arm binding, yoke binding, and combat kicking
DarkAngel1265 - Animations for Crawling from Crawl on fours
0r080r0 - Animations for Sprinting from Khajiit Cat Sprint and Sneak
Zaria - Model for Chastity Piercing
El_Duderino - Model for Pony Gag
Angeli - Model for Workout Plugs from Angeli Devious Expansion
Aradia - Model for Full Harness
Nikitaa - Model for Nocturnal Statue from Polished and Sexy nocturnal statue
Lupine00 & Scarb - Scripting techniques shared
Seansoken - Logo artwork
Durpledore - some of the Bodyslide Setup
Permissions
Permissions:
You can NOT post this mod or any of its parts (including any derived works) without my explicit permission
You can NOT incorporate any of the code in any for-profit project
You can NOT use any of the code in a closed source project
You CAN otherwise use the code for your own projects as long as you include all source code with your distribution and allow others to use your own code in a similar fashion and give credit with link
Permission for the many assets listed with authors above, require that you obtain your own permission from the author
Edited by VirginMarie