Chapter 30: Fire in the Reach (1/5)
---
"I am not an ally of Justice, i am an Enemy of Evil"

Niyleen: Four Shields Tavern… So this is where the bastard was hiding out…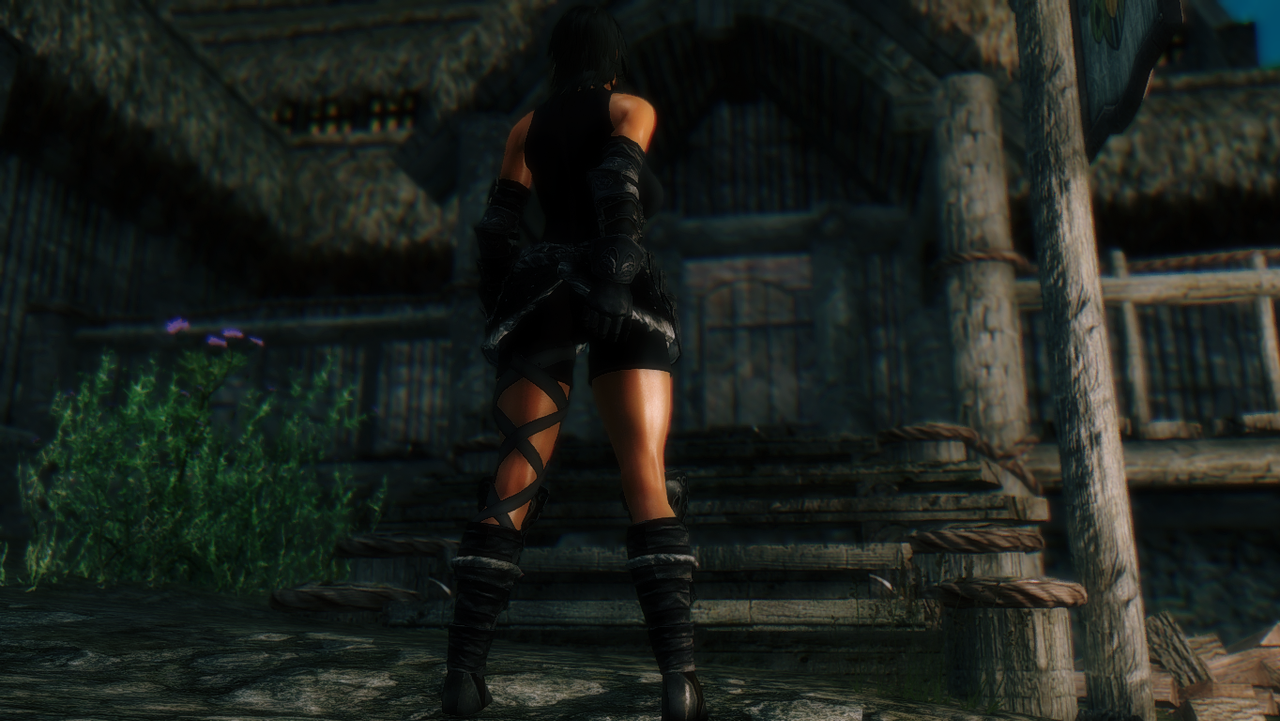 Niyleen: *sigh* Why am I out here again in the middle of Haafingar instead of cozied up next to my wife… *pulls out the bounty* Right… Because I can't turn away from 10,000 septims… *sigh*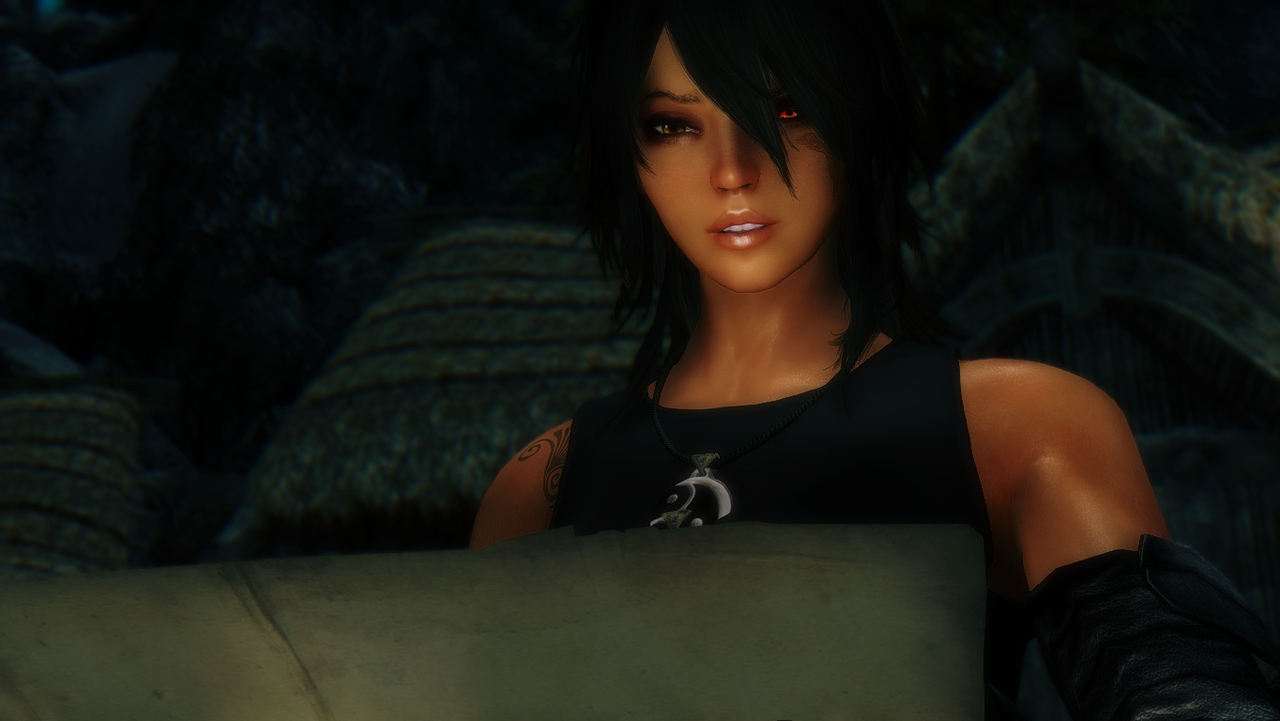 Dagon: There is something ethereal about this place. Proceed with caution my Champion.
Niyleen: You speak more than Nega did. Just keep to yourself, unless there's someone I need to kill.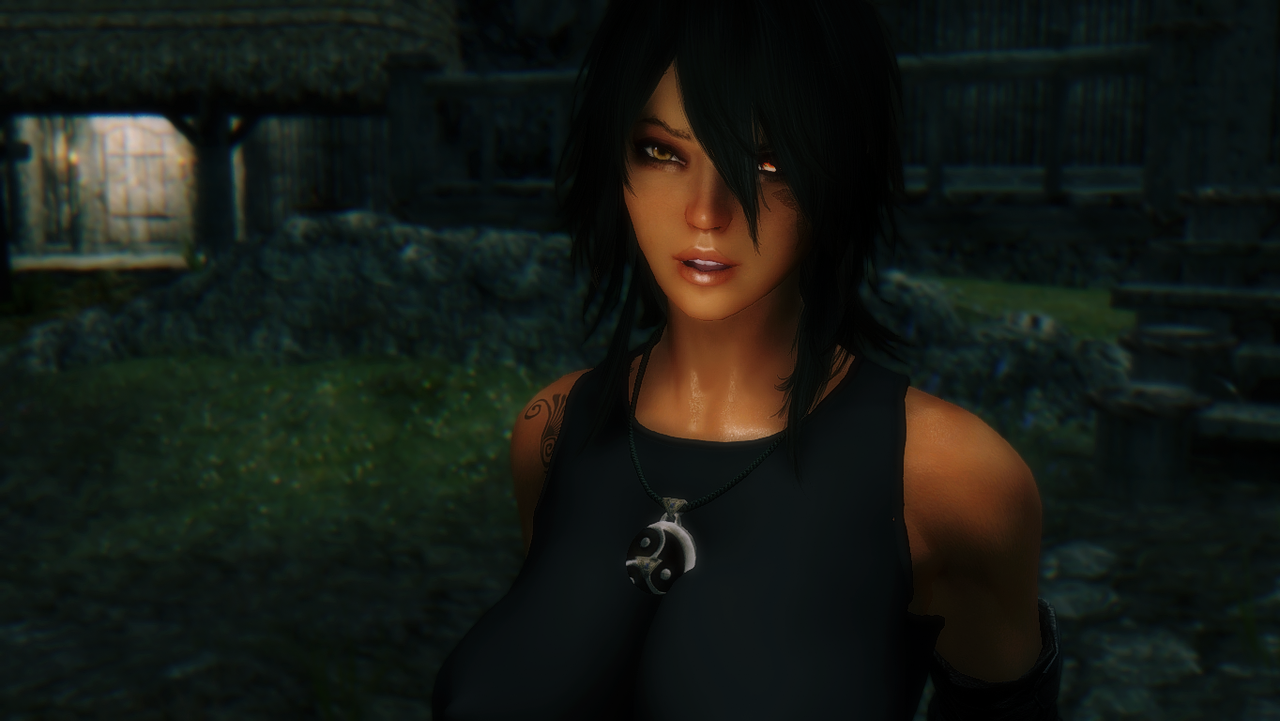 Niyleen: As for this target, I think I can handle an arrogant asshole like him with ease.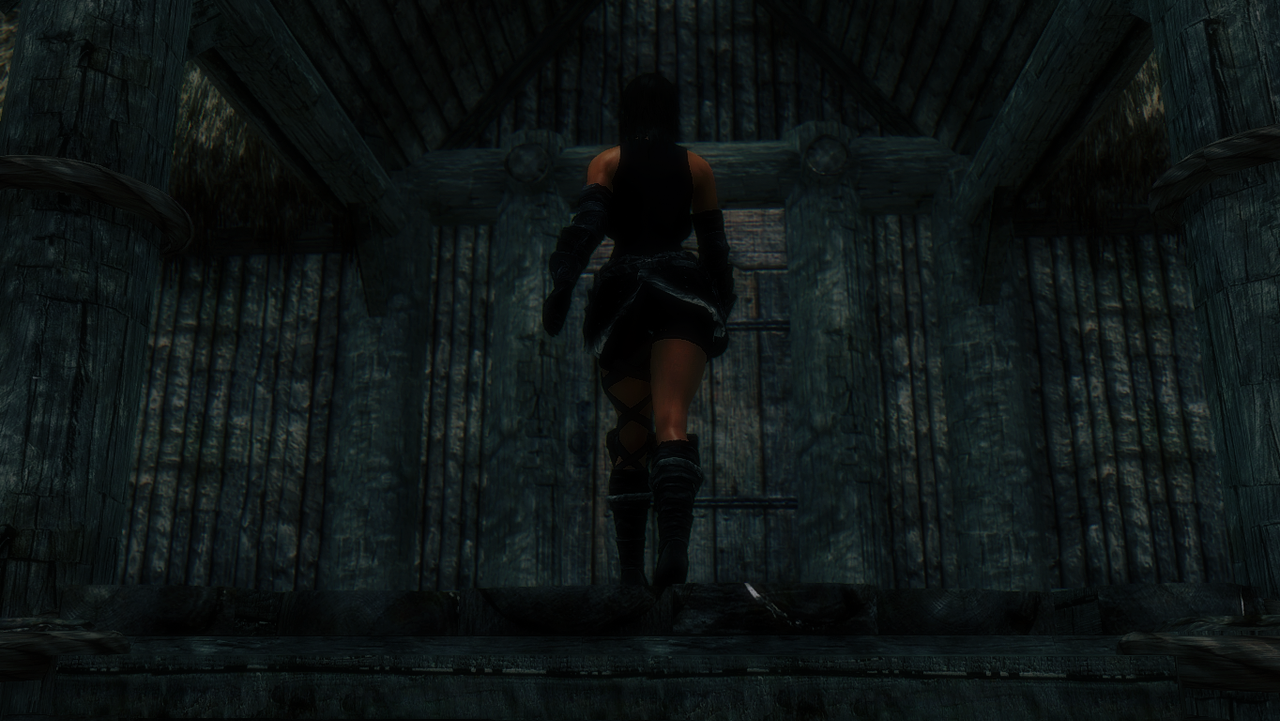 As soon as she entered the inn, Niyleen's eyes immediately found her mark.
Niyleen: (This guy…)
Dagon: Kill him now before it's too late!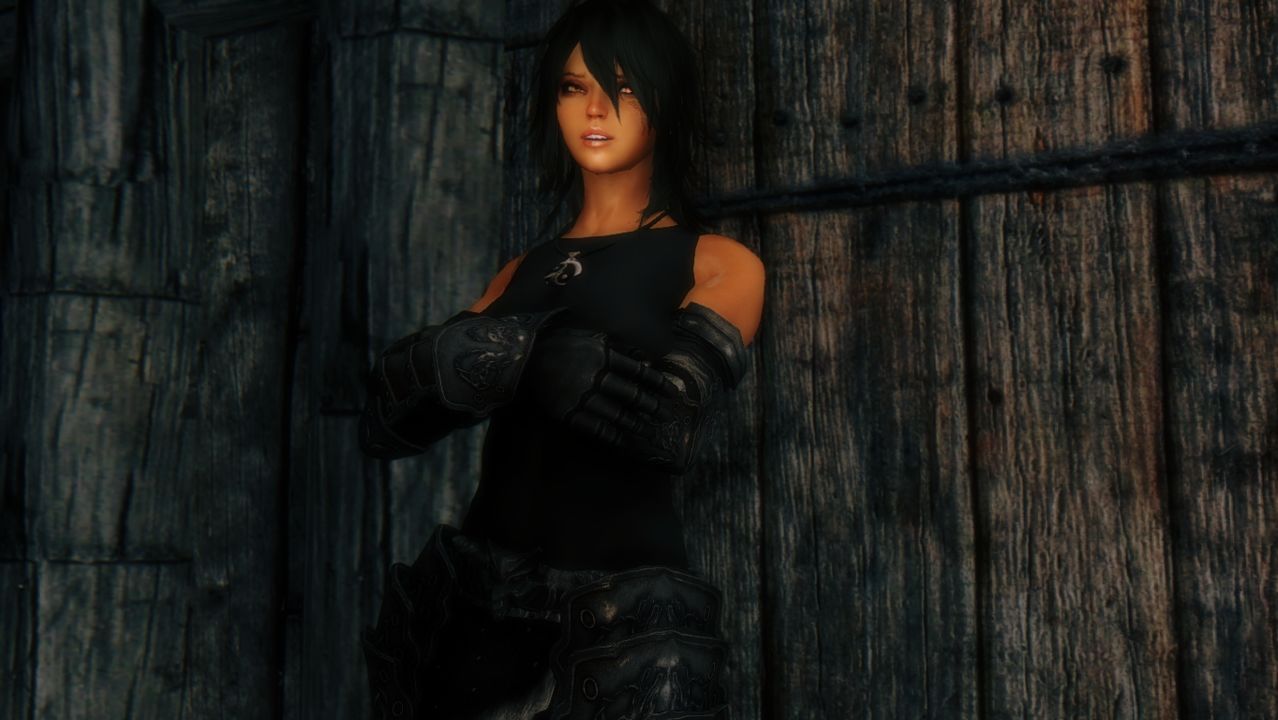 Niyleen: (I don't need you tempting me to do something I want to do. Did he seriously waste his money on a suit of armor made of silver? This asshole!)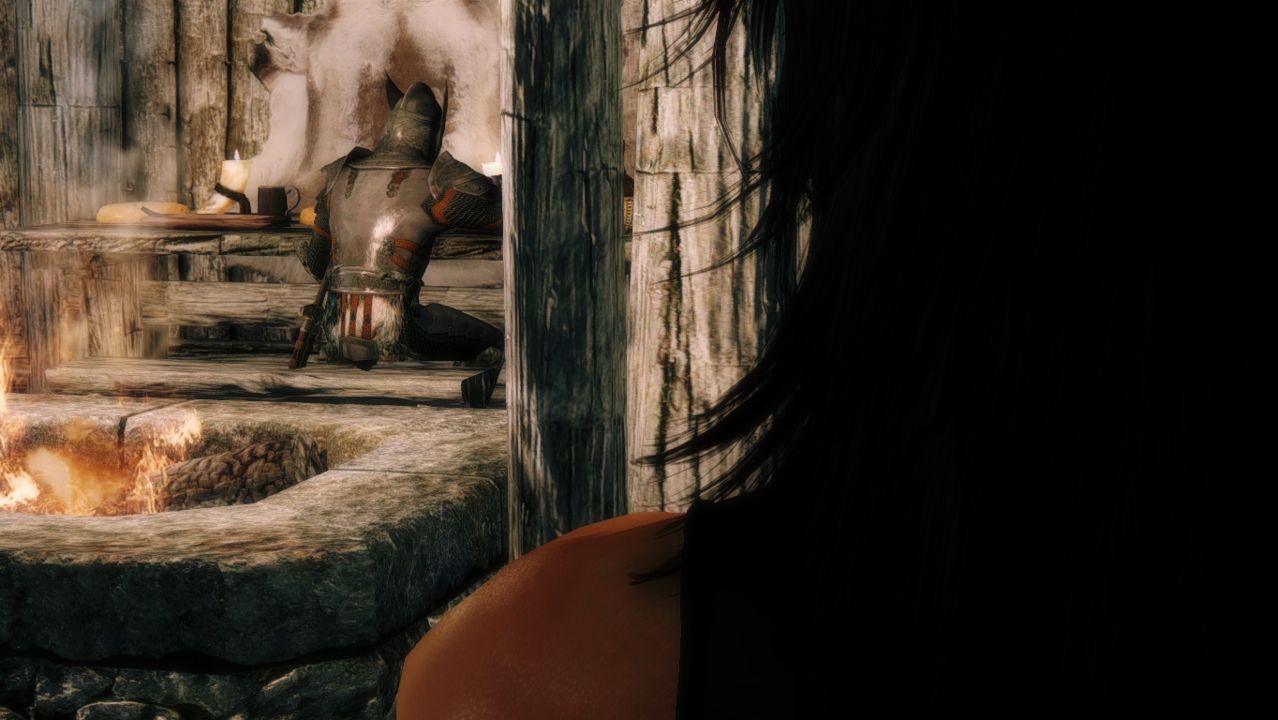 Niyleen walked over to the silver clad warrior.
Niyleen: Bandit Chief Yngvhor? I presume you remember my voice and know why I'm here.


The bandit takes a sip(?) from his mug.
Yngvhor: The Redguard of the Reach… You were but a wee lass when we last met. And now… a mercenary is it? Heh, you're the tongue of many a bandit nowadays.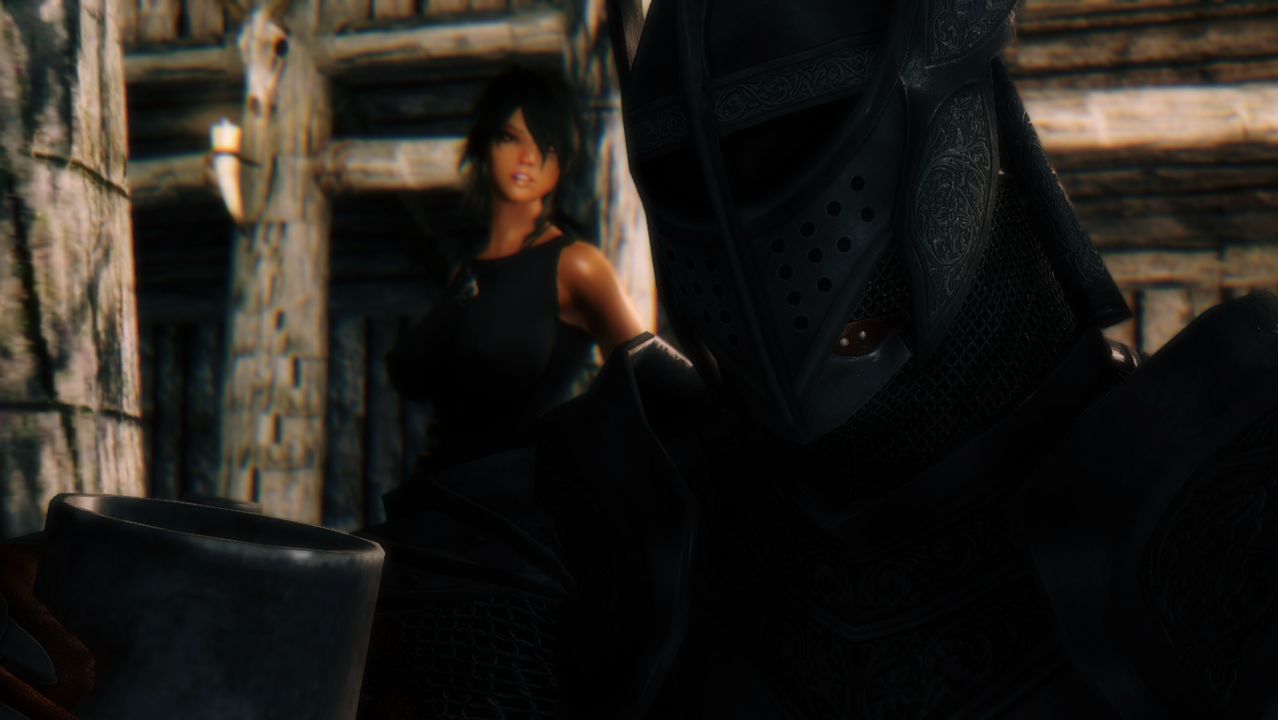 Niyleen: *draws dagger* I don't care about any of that nonsense. All I want is the gold, and I'd prefer if you didn't make me lose 5000 septims over some nonsense.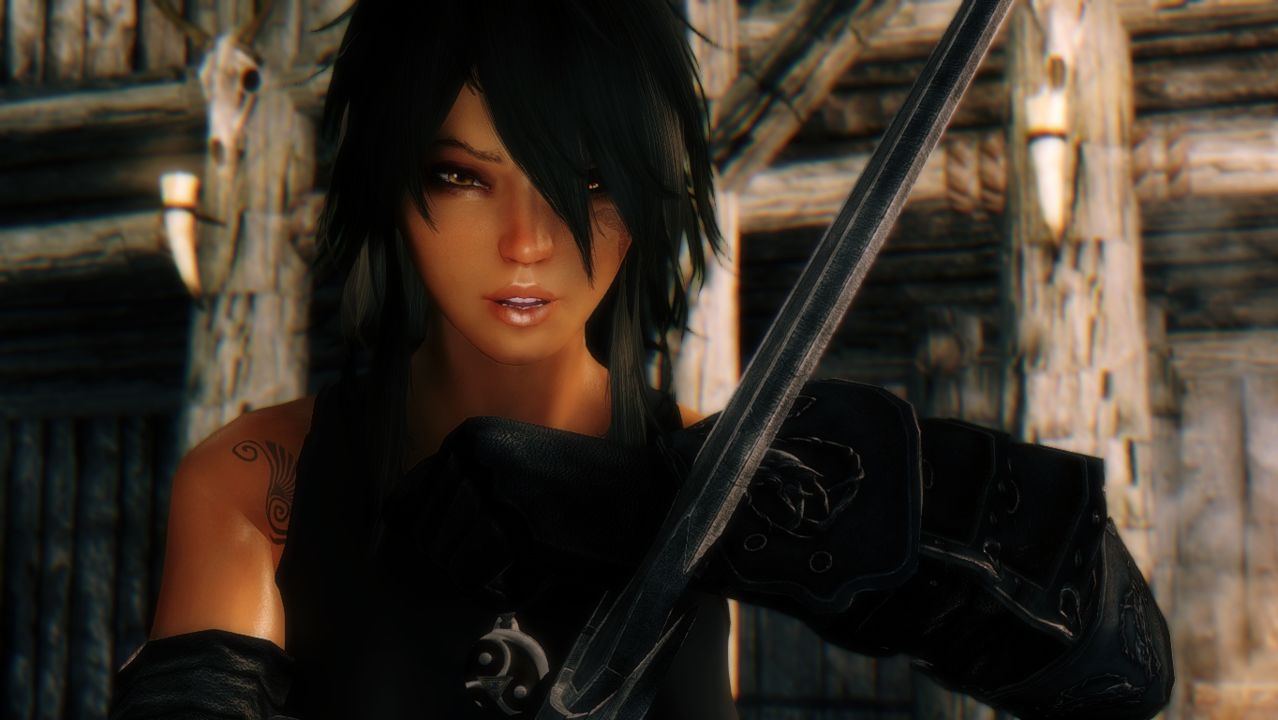 Niyleen: So if you wouldn't mind, stand up and come with me quietly!
Yngvhor: *stands* Easy now. No reason to be hostile. Can't you see that I'm complying?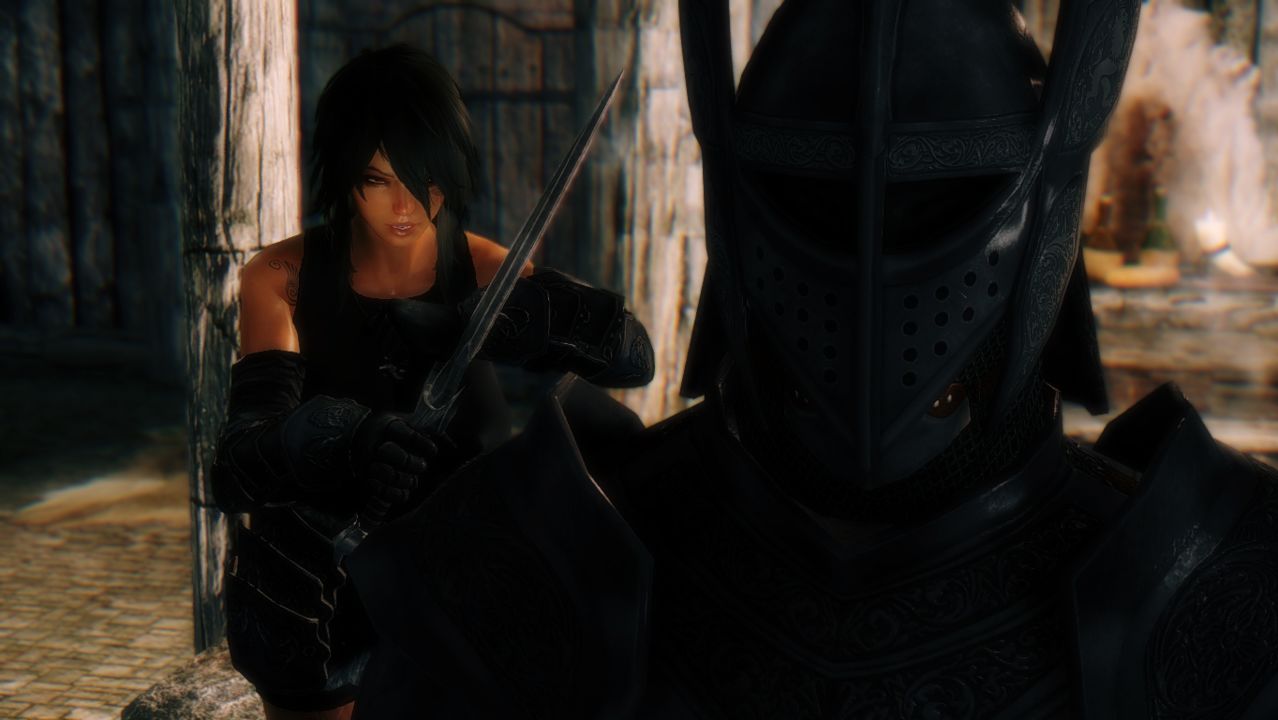 Dagon: Damn your avarice! Take his life now mortal! If you don't, there's no comprehending what events you might—
Niyleen: (He is NOT one of your targets! Don't tell me what to do Daedric Prince!) Easy now bandit…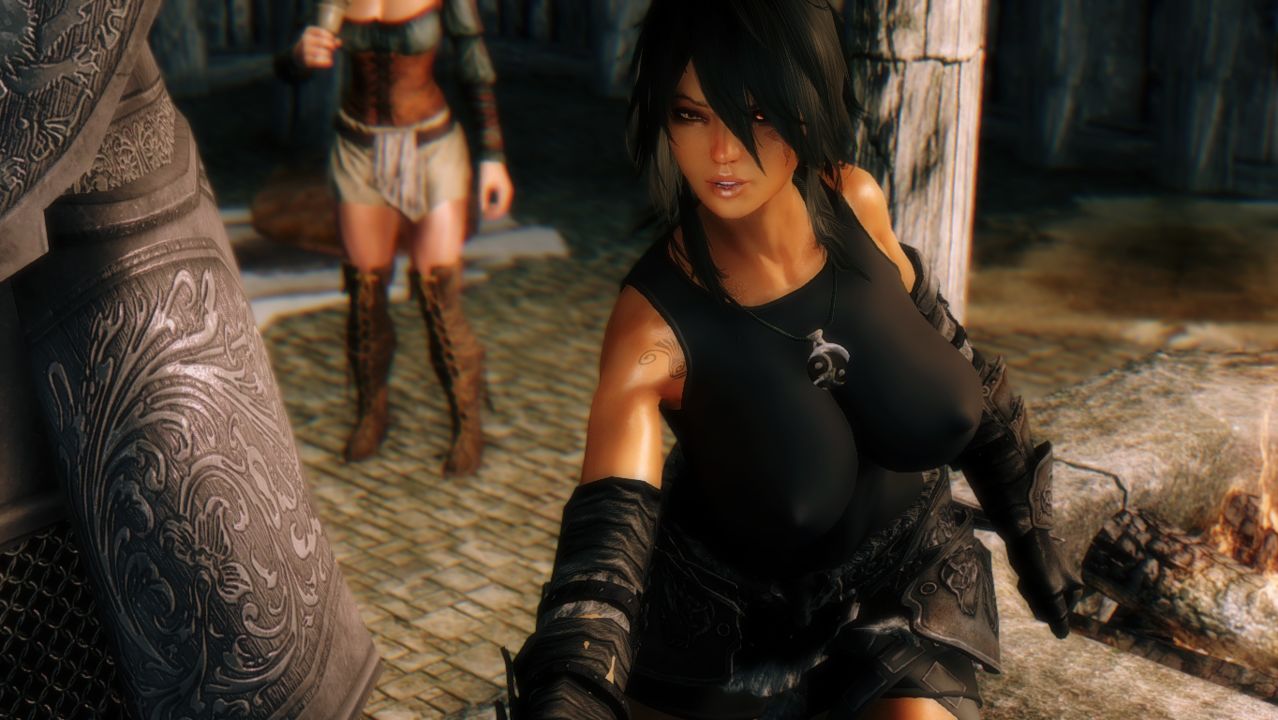 Niyleen: Don't try anything stupid, Yngvhor. I've had a long day already, and if I have to track you down again, I'll do what the voice in my head is telling me to.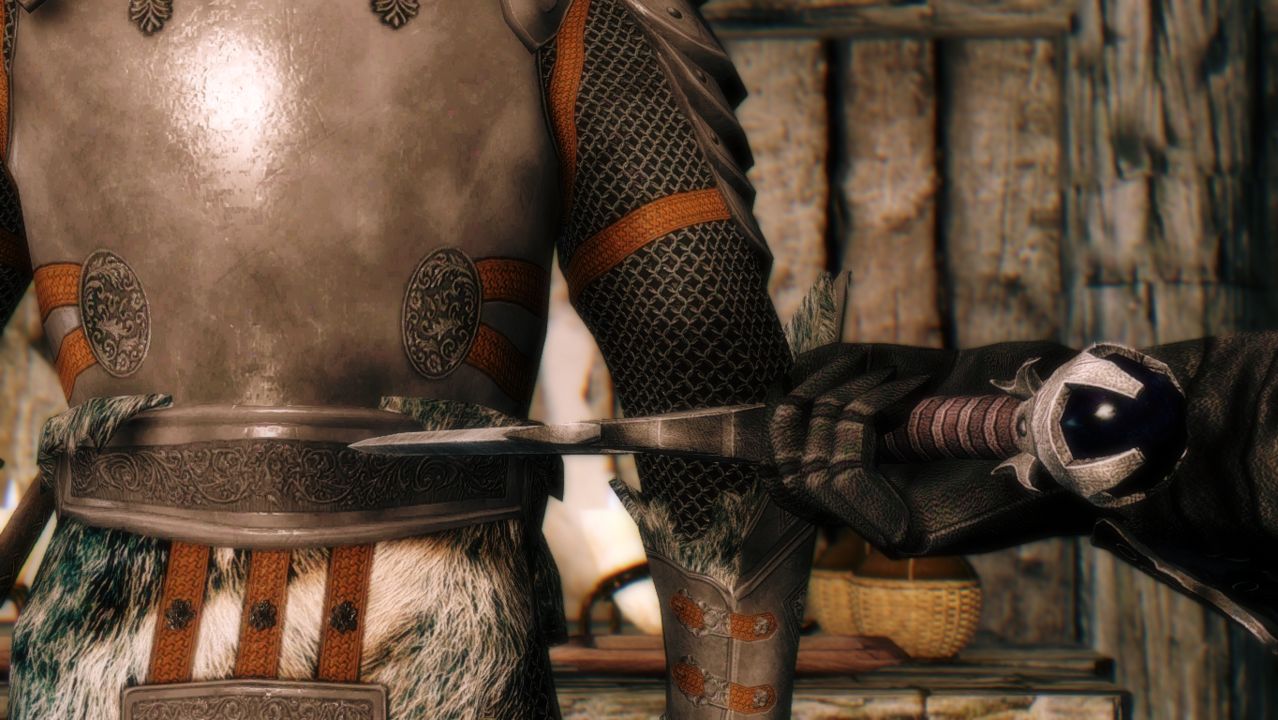 Yngvhor: Ha! So worrisome lass. Look, I know where I stand. And to be honest, jail time is going to be a heck of a lot easier than dealing with a firebrand such as you…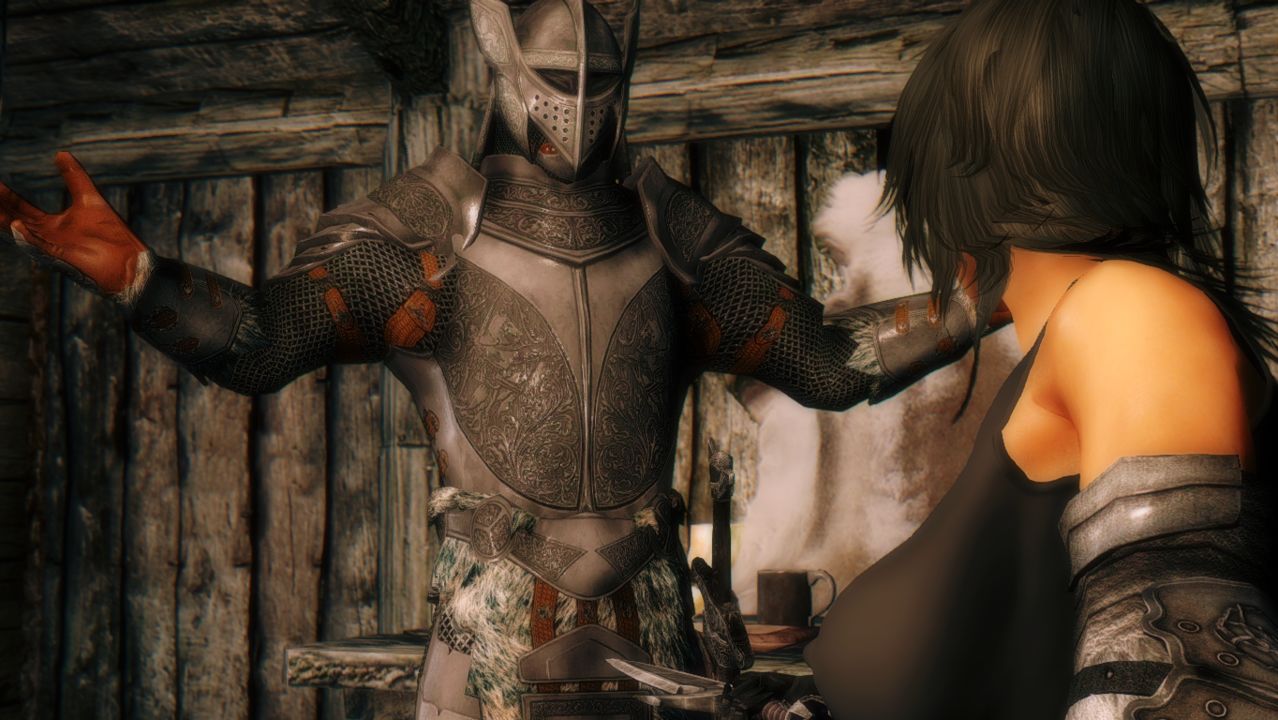 Yngvhor: So you'll have no problems out of me.
Niyleen: I swear on Julianos, if you try to screw me over the void is the only thing you're going to have to look forward to.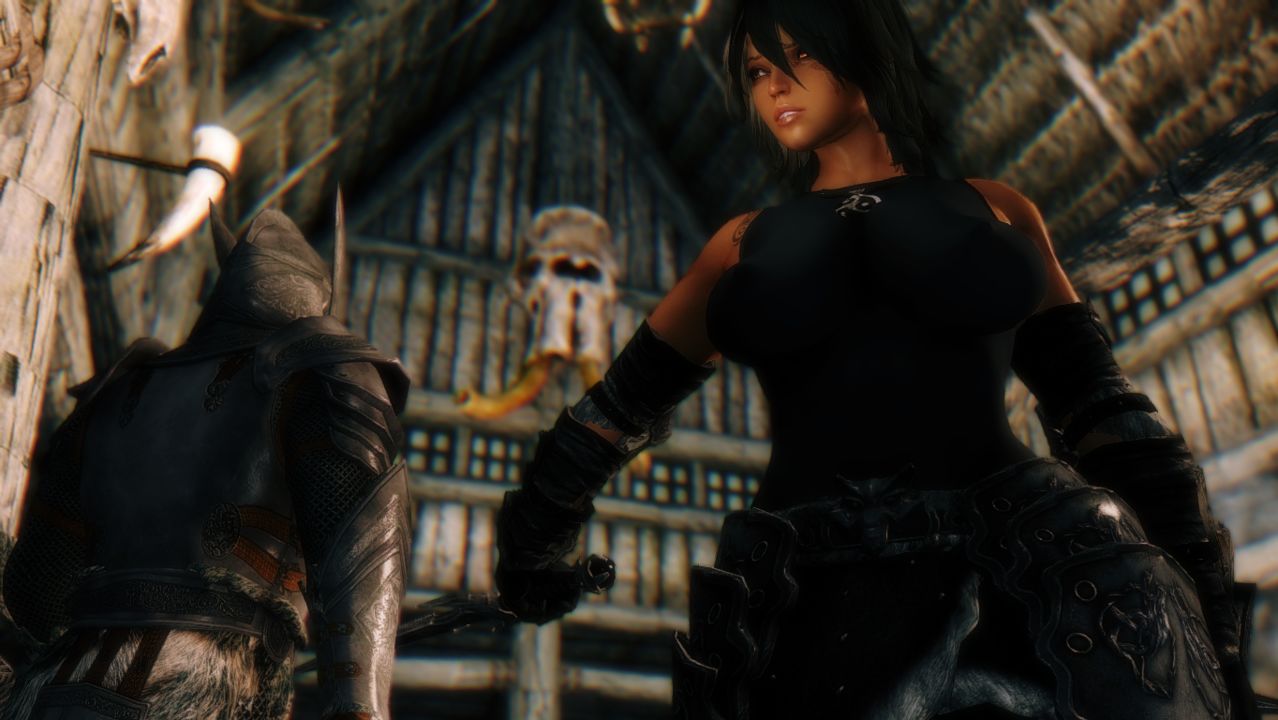 Yngvhor: I know, I know what I'm doing…
Dagon: Stop your prattling mortal! He's going to escape!!!
Niyleen: Huh? What are you—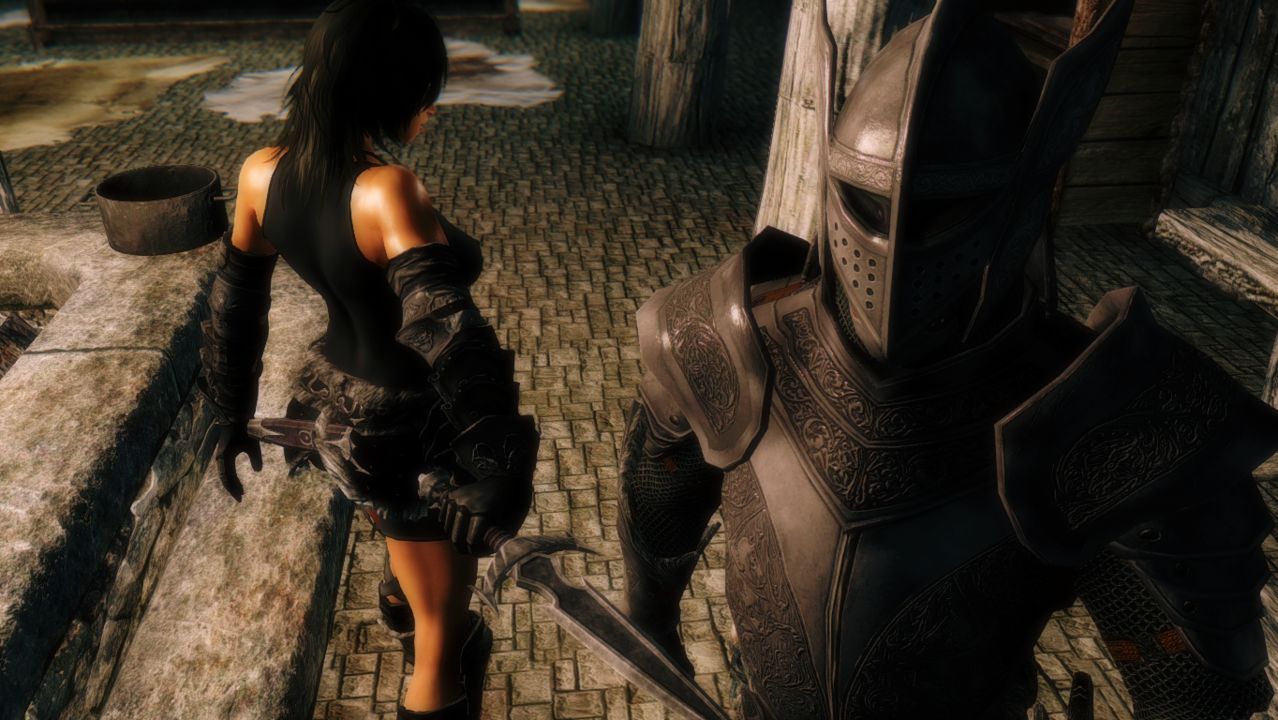 The Bandit Chief took a swing at Niyleen taking her off guard…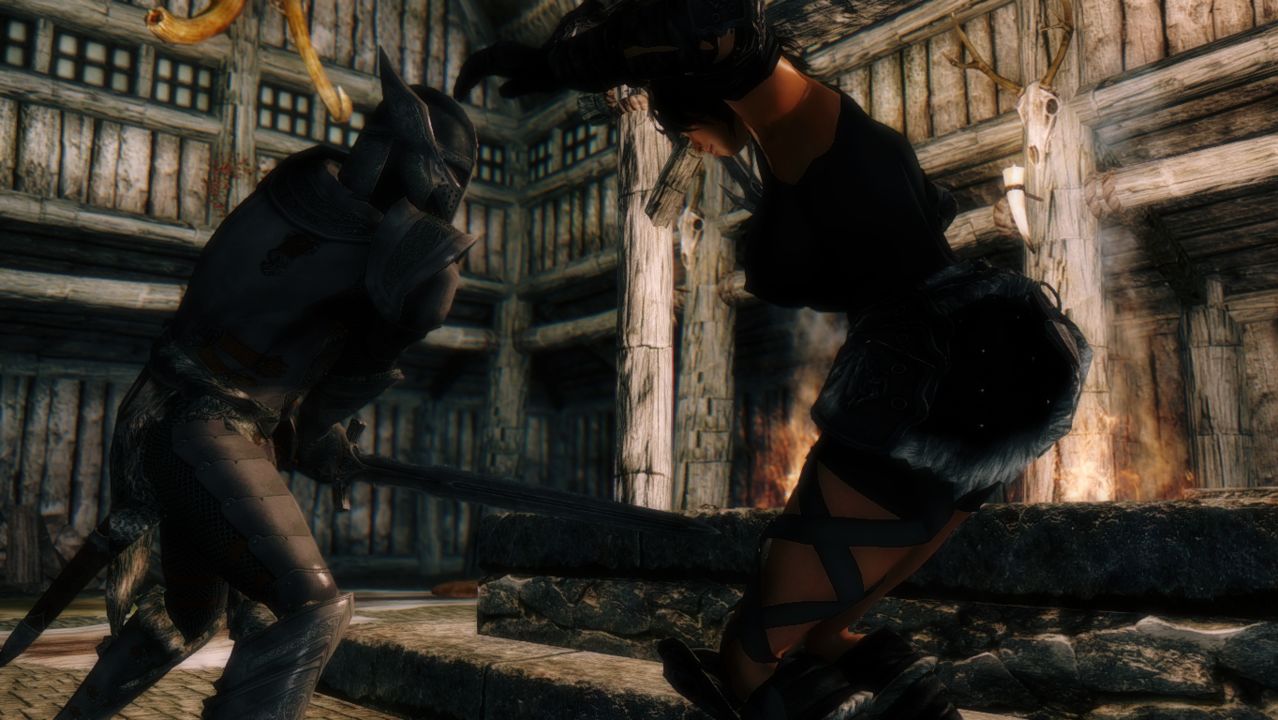 But ultimately missing her…
Niyleen: *sigh* Guess I've got to do this the hard way. Alright then Yngvhor, prepare to—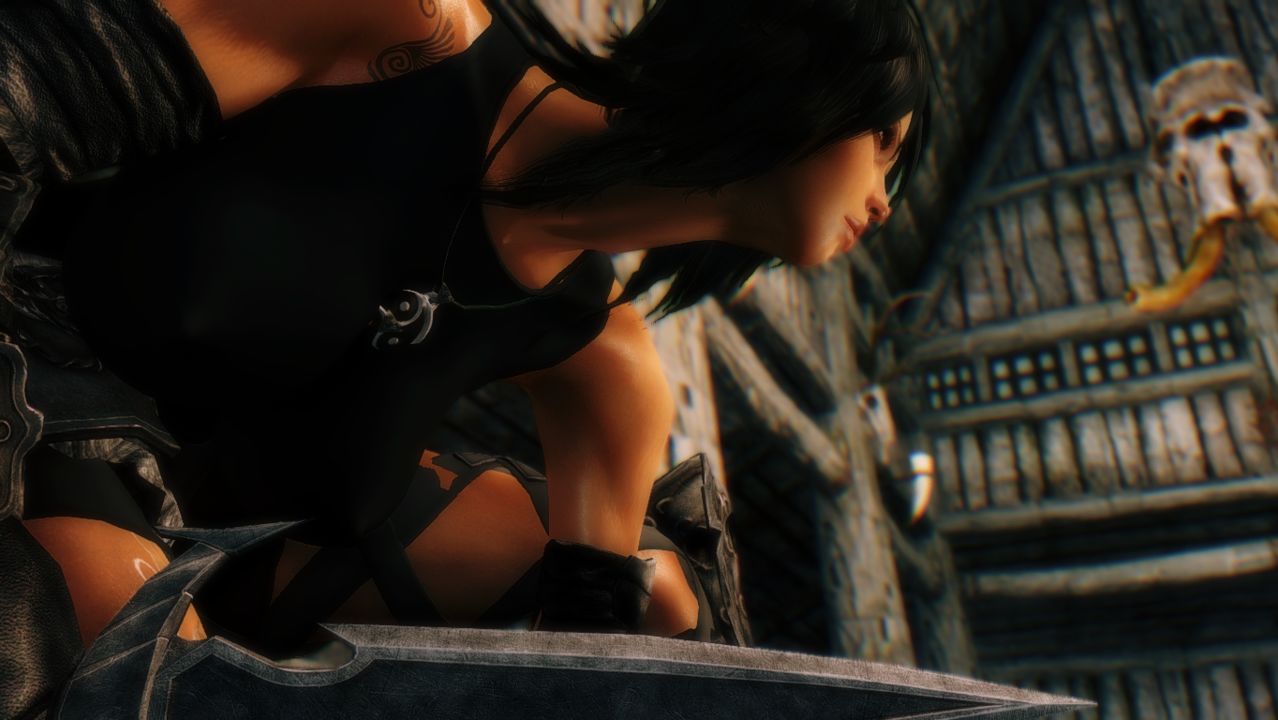 The Nord had already began his escape as he sprinted out of the inn faster than someone with his equipment had any right to.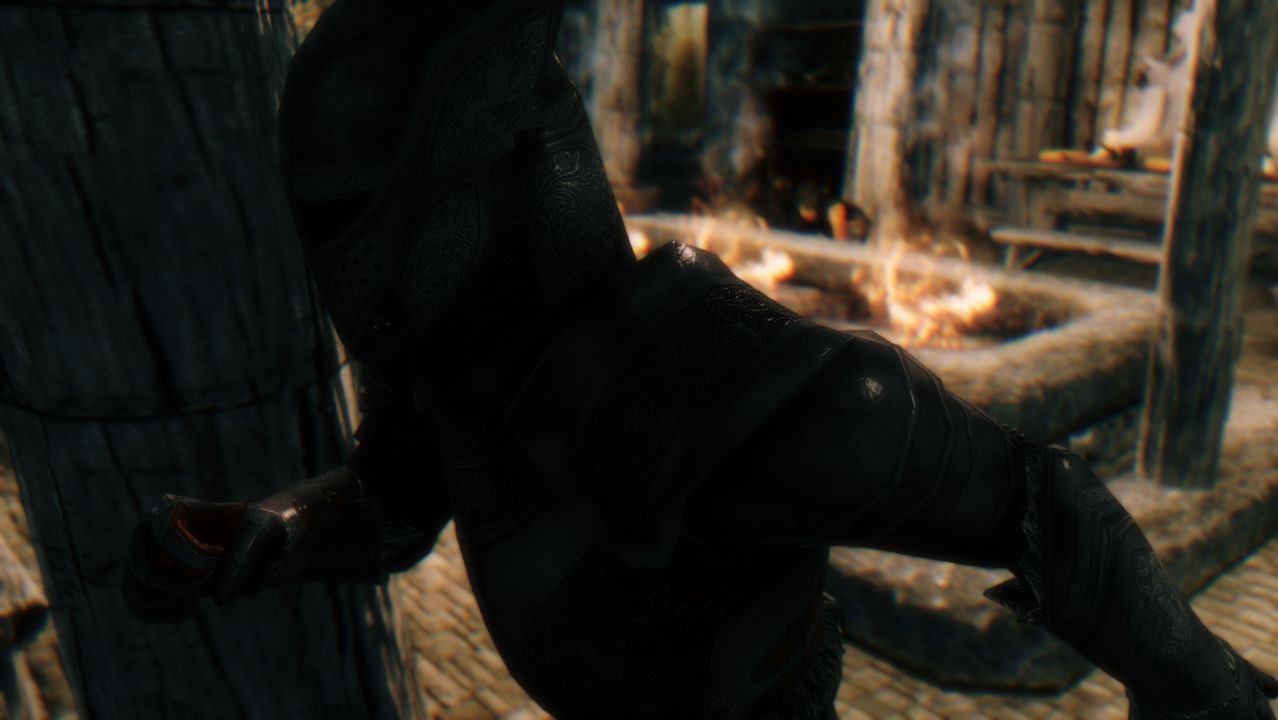 Niyleen: *sigh* "Act first and save the talking for later…" I should have killed him like Dagon said…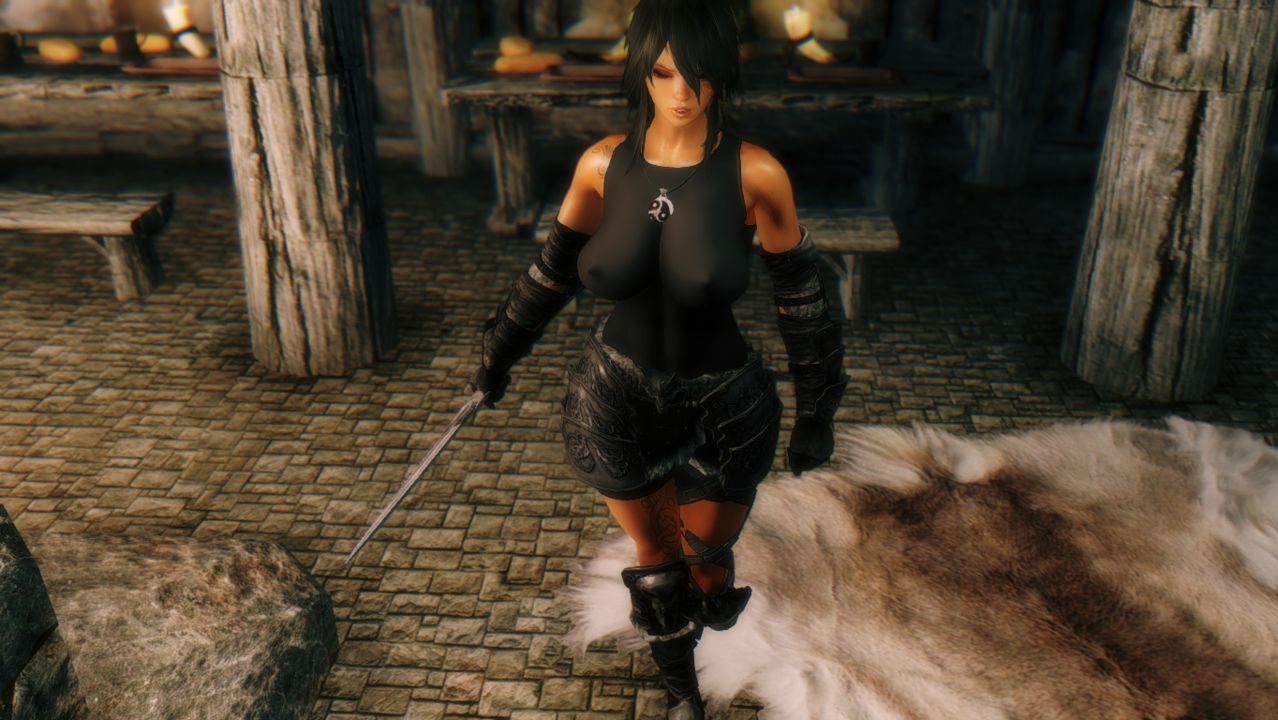 Niyleen focused entirely on once again tracking down her target.
Niyleen: But no matter. I'm going to track that bastard down faster than he'll believe possible, then head back to Markarth and snuggle up with Lucari.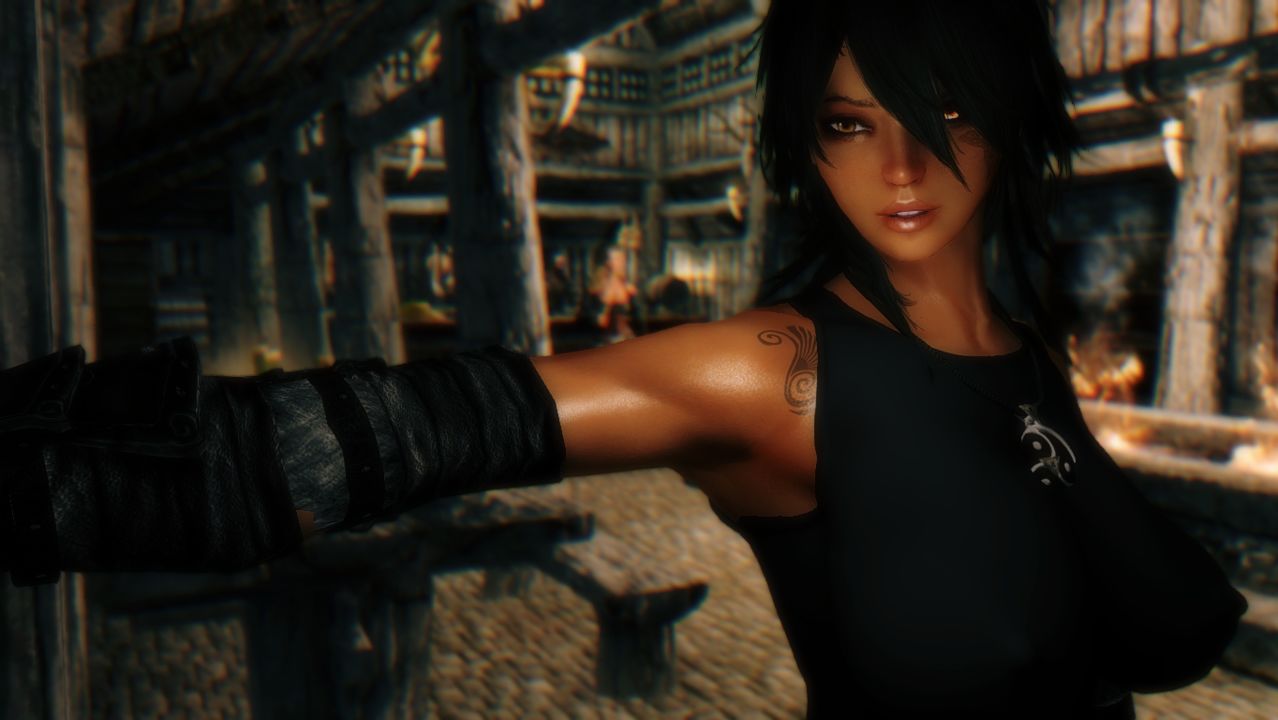 Niyleen: If anyone tries to stop me, they too can face the wrath of the Child of Flame...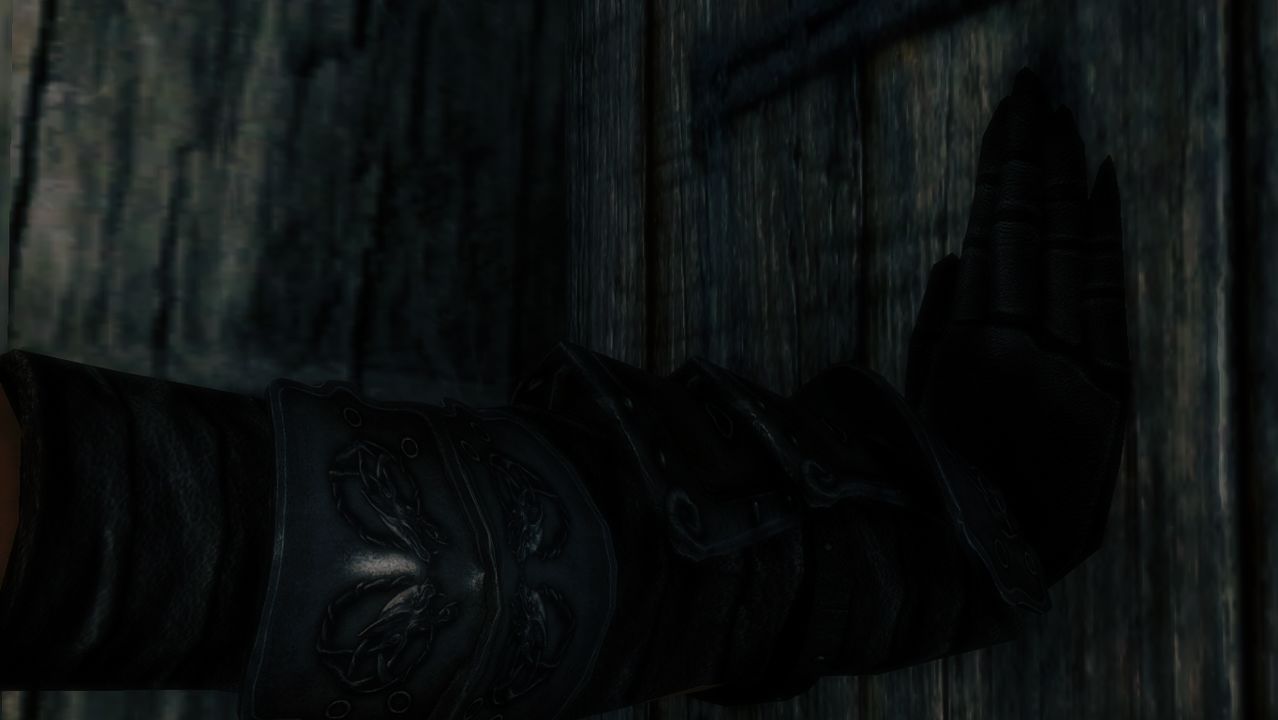 Niyleen: Where'd he go?


Niyleen: He couldn't have gotten far.


Niyleen: There he is!


Niyleen: You asked for this, i'm gonna break your legs before i kill you!
Yngvhor: You're gonna have to catch me first lass.


Niyleen: What in Oblivion!


Niyleen: How is he so far ahead already!?


Niyleen: Julianos!


Niyleen: What the hell does he do, wear that armor 24/7, there's no way he should be this fast.


Niyleen: If i don't keep up, i'm gonna lose him.


Niyleen: I can't lose him.


Niyleen: There's no way i'm losing him.


(30 minutes later)


Niyleen: Okay.


Niyleen: Now where in Oblivion did he run into.


Niyleen: I swear to Julianos, this guy is worth more than 10,000 gold.


Niyleen: I spent 3 days tracking this guy, there's no way i'm letting him go after all this BS.


Niyleen: I'm gonna make sure he can't feel his damn legs when i'm done with him.


Niyleen: Maybe cutting them off and leaving him alive will teach him a lesson too.


Niyleen: Shit this is forsworn territory, i have t-!


Niyleen: What in Julianos name!


Niyleen: What happened here!?


Niyleen: Hmm, looks like these guys killed that damn bastard.


Niyleen: Good, saves me the trouble.


Niyleen: Although.


Niyleen: What on Nirn happened to these guys.


Niyleen: Whoever came across here just riddled them with arrows.


Niyleen: You don't even need to do overkill like that....then again i planned on cutting this bastards legs off so who am i to tal-.


Forsworn: Stop right there you whore.
Niyleen: Oh good, another bastard has shown up.


Forsworn: What did you do to my brothers, you'll pay for this.


Niyleen: Are you blind? do i look like i have a bow on me?


Niyleen: You need to take off that stupid helmet so you can see better.
Forsworn: Shut it whore.


Forsworn: and prepare to face the might of a forsworn warrior.


Niyleen: .....*sigh* fine, do your best.


Forsworn: HA!!!
Niyleen: Hm!? (He's surprisingly quick even for a Forsworn)


Forsworn: YAAH!!!
Niyleen: (But still)


Niyleen: Not fast enough.


Niyleen: Goodnight Asshole.
Forsworn Warrior: HURG!!!


Niyleen: *Sigh* well that was no fun, with that speed i'd expect he'd at least be able to block....or dodge.


Niyleen: *Yawn* Well, now that this is all wrapped up.


Niyleen: I can go see Lucari and Ro, i can't wait.


Niyleen: They'll be surprised that i'm back home so early.


(Markarth)


Niyleen: Ah, its good to be home.


Niyleen: Lucari! Little Ro-Ro! I'm back!


Niyleen: Lucari? Ro'shanase?


Niyleen: Hmm...Maybe they're asleep?


Niyleen: Well then, i can give Lucari a special greeting then.


Niyleen: Hey Lucari, guess who's returned early.


Niyleen: From her.....mission...


Niyleen: Where is she?


Niyleen: Maybe she's on the night shift, normally she'd leave a note.


Niyleen: Hmm, maybe she just forgot this time.


Niyleen: In that case Ro's probably with Nyleine at the Hags cure, i'll go pick her up. She'll be so happy.


Niyleen: Hmm, it is strange though.


Niyleen: Lucari's never forgotten to leave a note before.


Niyleen: Maybe she's just having an off day.


Niyleen: Oh well, i'll ask Ro-Ro when i see her.


Niyleen: Here we are.


Niyleen: Nyleine? I'm here to pick up Ro'shanase.


Niyleen: Nyleine? Ro'shanase?


Niyleen: Is there no one h-1


Bothela: Who in oblivion is barging into my home this late.
Niyleen: Oh sorry Bothela i-


Bothela: Who are you? Nevermind, i don't care, just leave, were Closed!


Niyleen: i'm here to pick up Ro'shanase, Nyleine should be babysitting her.
Bothela: Who!?


Niyleen: Nyleine....the clerk you hired awhile back, my sister. Is your memory o-.


Bothela: My memory is fine and i can hear you quite well you you trespasser! No one works here by that name, now leave, or i'll call the guards.


Niyleen: What!? But she should be here, you hired her, we even sp-.
Bothela: I've never spoken to you or your imaginary sister, now leave, you have to the count of five.
Niyleen: Listen here you crazy bitch, we've met at least 30 times, theres no way.


Bothela: 1! 2!.....3!
Niyleen: Fine Fine i'm going, crazy old bitch.


Niyleen: Well that was ridiculous. How could she not remember me?


Niyleen: Hmmm, oh, a guard.


Niyleen: Excuse me but could i bug you for a moment to ask you a few questions (Strange, why does he have a stormcloak uniform)


Markarth Guard: What is it redguard.
Niyleen: Halfl...*sigh* nevermind, is Lucari on the night-shift tonight.
Markarth Guard: Who.
Niyleen: Lucari, my wife, blond hair, blue eyes, red swirl warpaint on the side of her face? You new?


Markarth Guard: A little, i was assigned here a month ago. But no one who looks like that rings a bell.


Niyleen: I see, well thank you for your time.
Markarth Guard: Make sure you stay out of trouble.


Markarth Guard: *whispering to self *First a slutty nudist, now a woman with skintight shirt, i'm glad i got transferred here.*
Niyleen: Hmmm? Somethings not right, no one seems to remember or even know me, and Markarth seems a little....off, its almost like.


Niyleen: ...there's only one more place i can check this time of night.


Niyleen: "The Silverblood Inn"


Niyleen: Alright.


Niyleen: I hope Klepper can stop fighting with his wife enough to answer my questions.


Niyleen: Hey Klepper, how are you doing?


Klepper: Ah another happy customer, hello Miss, here for a drink?


Niyleen: Ms, what's with the formality, nevermind, have you seen Lucari, Ro'shanane, or Nyleine.
Klepper: Who?


Niyleen: You know, my wife, daughter, and sister.
Klepper: Sorry, i don't think i've seen or even met people with those names.


Niyleen: Come on Klepper stop joking, i'm being serious.
Klepper: as am i. I've never met them, in fact.


Klepper: I'm pretty sure i've never even met you.
Niyleen: ..what?


Frabbi: Klepper dear, feeling up for it, i've been working hard all day so i wanna ease out this stress.


Klepper: For you dear i'm always ready.
Niyleen: Wait what?


Niyleen: You two hate each other thought?
Klepper: Oh we got past that months ago, now if you'll excuse me.


Klepper: I need to help my wife relax, ready for it sweetie.
Frabbi: You know it dear.
Niyleen: ...................


Niyleen: .................It can't be.


*Sound of running*
Niyleen: There's no way.


*Slams door open*


*Kicks down other door*
Niyleen: I knew it.


Niyleen: Ro's bedroom is gone....no, more like it was never here to begin with.


Niyleen: Then that means.


Niyleen: Nope.


Niyleen: Not here.


Niyleen: Nothing in the safe either.


Niyleen: *sigh* guess i'll try one more thing,


Niyleen: Dagon! Can you hear me, i need to speak with you!


*Only sound of some fire cracking and Dwarven light making noise in background*
Niyleen: ....nothing huh....fuck, if i can't even hear him then that means.


Niyleen: I'm not home anymore.


Niyleen: Meaning this isn't my house.


Niyleen: and i've probably been seen trespassing.


Niyleen: *sigh* well i guess i'll have to rent an room at the Inn.


Niyleen: I'd rather not have to deal with the guards trying to arrest-


Niyleen: Me.....dammit.
Markarth Guard: I'd like to have a word with you for a moment please.


(A little while later)
Niyleen: Wow, they were surprisingly reasonable here. Maybe someone set it up so the guards are less corrupt now.


Niyleen: Hey Hroki.
Hroki: Oh um....hello.


Niyleen: (thats' right no one knows me) Say would you guys happen to have an open room at the moment.
Hroki: Well.


Hroki: We have one, but the location might be a little noisy at the moment.


Niyleen: What do you mean?
Hroki: Well you see my brother and Hogn-


???: OH YES!!!!


???: Ahhh!!!


???: Mmmm *slurping sounds*


???: Such a tasty dick.
Hogni: You're really a slut huh?


Hogni: Lets really fuck you hard!
???: Oh yes!!!
Niyleen: Oh, i see now.
Hroki: Sorry.


Niyleen: Its fine, i can sleep with all the noise.
Hroki: Alright then, here you go. *gives keys to Niyleen and she gives her 50 septims*


Niyleen: Thank you.
Hroki: Sleep well.


???: Yes, yes, fuck my pussy and ass harder.


???: Mmmm yes!!!


???: AHHH!!!
Niyleen: Julianos they're loud.


Niyleen: What kind of whore did they pick up for her to like it that much?


Niyleen: Well whatever its none of my business.
*background of woman moaning*


*Locks door*
Niyleen: Woo, its been a long long day.


Niyleen: *sigh*


Niyleen: Hopefully i can figure this out, Lucari and Ro will get worried if i don't get back soon.


Niyleen: Guess i'll have to look around in the morning.


Niyleen: Maybe i'll find the reason....for why....i'm here.....


*Sound of Niyleen sleeping*
*Woman still moaning in background*


???: Yes, yes, Fuck me!!!


???: Ah yes!!!
Hroki: Gods does she ever tire.


???: AAAHHHH!!!

Niyleen Flame Child belongs to Blazingsai be sure to read the awesome story about her.
Part 2: http://www.loverslab.com/blog/407/entry-3761-fire-in-the-reach-25/
Part 3: http://www.loverslab.com/blog/407/entry-3789-fire-in-the-reach-35/
Part 4: http://www.loverslab.com/blog/407/entry-3818-fire-in-the-reach-45/
Part 5: http://www.loverslab.com/blog/407/entry-3880-fire-in-the-reach-55/