About This File
Description
This is SE version of Mass Match Maker.
Not a simple port, I got few experience from the time I first made this so I rebuilt it .
Internal processing become somewhat chaotic.
From that kind of thing, it is probably around to implement NthSome of arbitrary race, including creatures, which actually affects.
Usage
Cast the spell similar to the MatchMaker.
Those cast in the NPC, there are three types of things, single target of MatchMaker same, area effects such as Pacify Spell, mass effects such as the Harmony Spell.
MCM
Upper five rates:
These determines number of actors to join sex in a thread.
These can be set individually from 0 to 100 and are calculated from those values.
Also, if the number of actors registered at a time is less than the planned number, Thread is generated with the maximum possible number.
Lower five rates (female rate):
These are the probability of choosing a female actor for the Nth actor.
If no female is registered, choose a man. And vice versa.
If set to -1, select the actor from the entire registered NPCs.
Bestiality Rate:
It is the probability of choosing Actor to do bestiality.
If not possible, choose a combination that is not bestiality.
This is affected by NthSome Rate.
Manual Select Mode:
If this enabled, select manually the Actor with gang bang the target.
UI Extentions required for use.
The combination of Actors must be Valid.
For example, Nothing happens in combinations that do not have animation, such as Human - Human - Wolf - Wolf - Wolf.
Gender Definition:
Change whether the definition of gender is by game or by SexLab.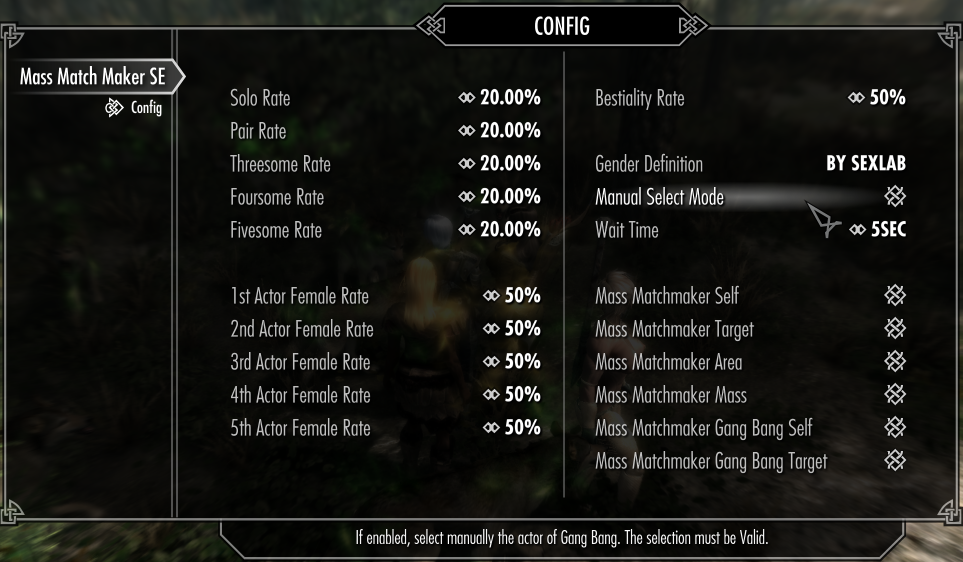 Tag Settings
Human/Animal Tag:
Play animations that has selected tags.
Choose animation with all of selected tags. If it does not exist, the tag seems to be ignored.
Suppress Tag
Do Not Play animations that has selected tags.
Direct Input
Enter the tag directly. Separate multiple tags with commas. Do not mistake the spelling.
Select from List
Select from the list of tags. When you first use it and add animation, click the "Reload Tags List" below.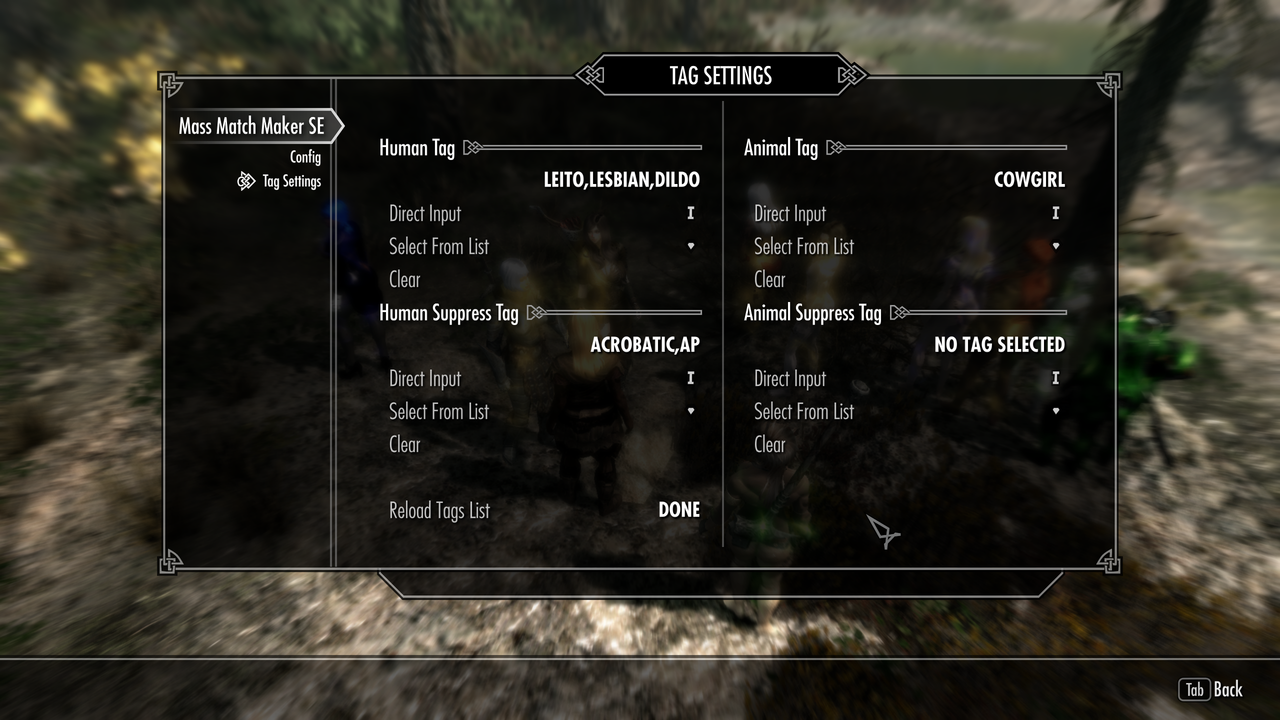 Credits
Ashal for SexLabFramework
---
What's New in Version
SE 1.2
Released
Compatibility with Male-Female-Creature Play
Added Tag Settings