About This File
This Custom Content is now deprecated!
Development has shifted to a new, fully 3D vulva, which you can download here?
I am leaving this CC up in case people who still want this old version, for any reason.
But I will not be working on it, and if it breaks in future patches, I will not be updating or supporting it. My TOU does allow fans to keep it updated (but please read my TOU in full first) but all my attention will be shifting to the new version. Thank you for understanding.
Content warnings:
Content Warning 1: This thread uses what is called 'medical terminology' in regards to genitals, both for clarity, and because it is my personal preference when it comes to terminology. I understand and empathise if people disagree with this, as we all have different life experiences and levels of comfort. But this is the way it's being done, and you would probably find instances of this when using WickedWhims anyway, so mentally prepare accordingly.
In addition, this guide will be using EAxis terminology from the Sims 4 in regards to genders, which may sound a bit cissexist and reductionist. Doing this is purely for clarity, I don't like it either.
Content warning 2: Obviously, this might be a really bad read for people with certain kinds of bottom dysphoria as well. If the words "Sims 4 Vagina for Men (and Masculine Framed Sims)" trigger some dysphoria for you, things later in this thread are probably going to get worse for you. Take this chance to turn back now.
Anyway, enough disclaimers, here we go!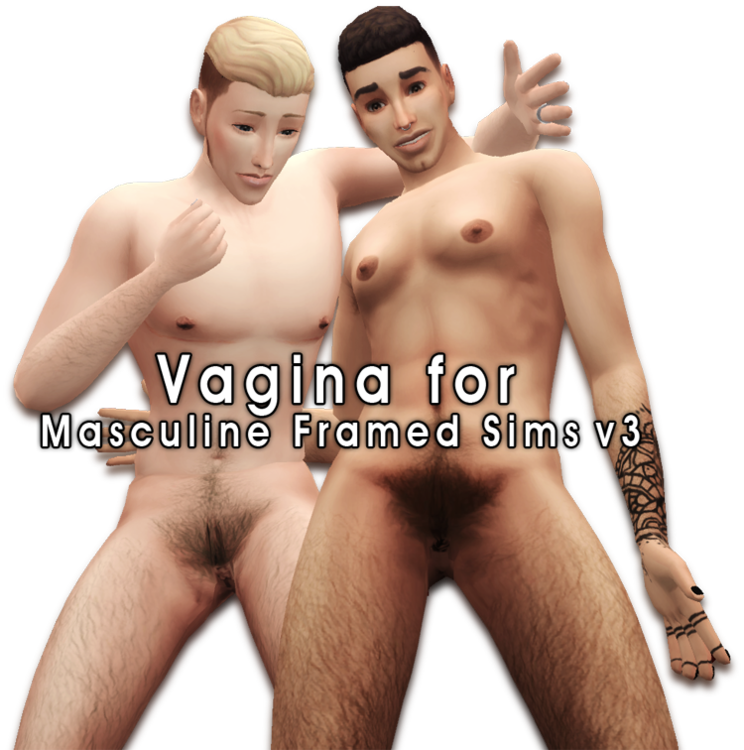 Version 3 - Third time's the charm, you know.
This is the custom mesh, which removes the excess "bulginess" from the EAxis default mesh. Here, i'll show you.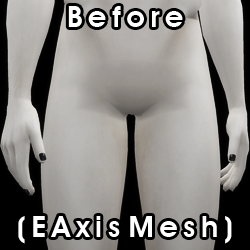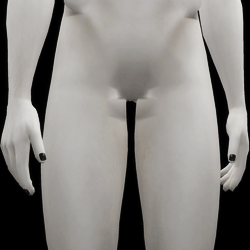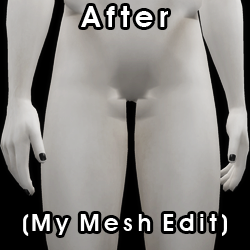 These previews done with untextured swatches - Don't worry, textures are included!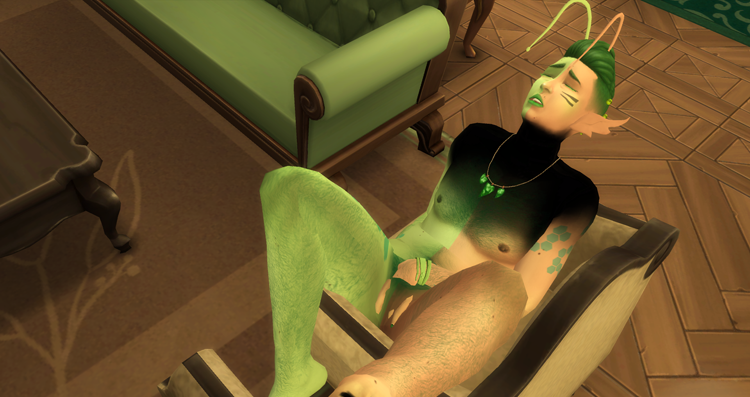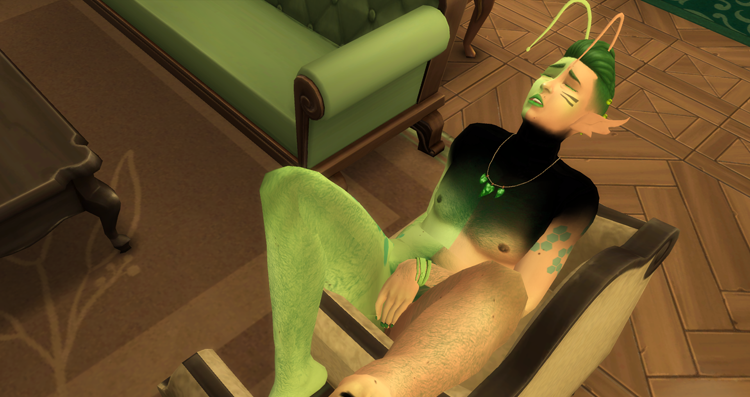 Before - Extreme clipping in vaginal poses and animations. After - Not that. (Pose credit: Cherry Bomb by Eslanes)
Let's get into this.
WinRAR file containing 3 files. You need to unzip it into your Sims 4/Mods folder. There will be three files, and you should use them all and not merge them. If you have an older version of this mod, please delete it before installing this new version.
All levels of detail. The highest level of detail was my priority in creation, and so it's going to look the nicest. Some minor UV (texture) errors do exist on lower levels of detail.
The overall polygon count is similar to the EAxis polycount - making this very performance friendly.
This mesh is for masculine-framed sims only. This means it will work for masculine-framed men, and masculine-framed women. For teen, adult, young adult, and elder sims. All fashion choices. All occult. All outfits. Sub part type: Underwear. Disabled for random.
In-action: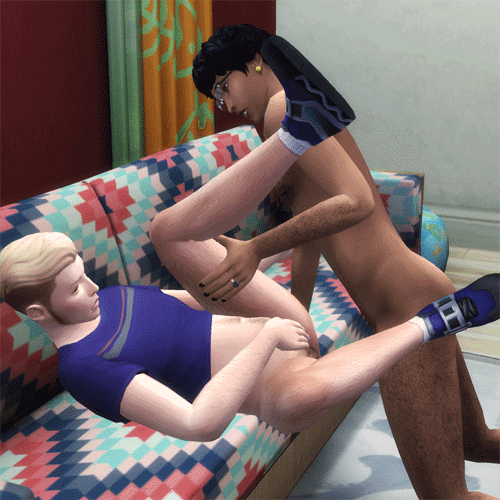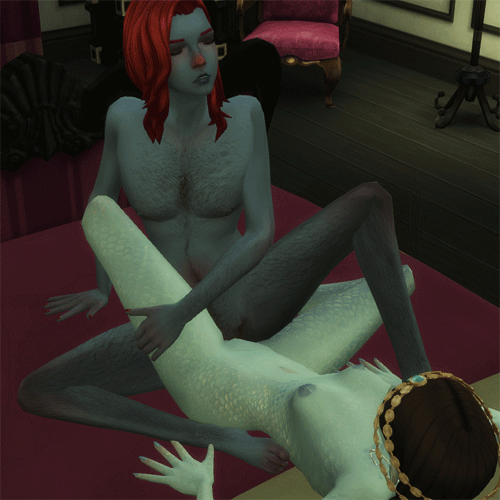 Animation in GIF one by OTE, animation in GIF two by Mike24.
Custom thumbnails: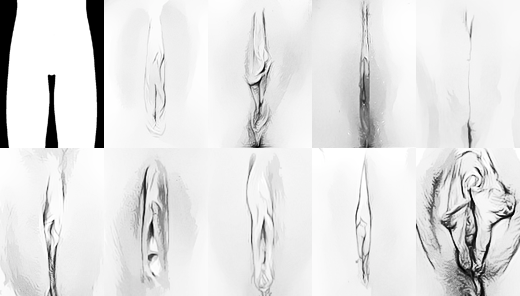 (The thumbnails for the skin detail  version are the same, minus the first swatch.)
Q&A:
How to use: Body selector compatible!
This mod works with the new Wickedwhims body selector. Please have your Sims 4 game patched to at least version 1.47.49, released November 13th, 2018. Make sure that you are running at least Wickedwhims version 4.3.5.137C.
When you create a Sim, make sure you edit their custom gender settings. You must go to the "Does this Sim have a penis?" option, and select "No."
If you want to edit an existing Sim, you may need to use the cheat cas.fulleditmode! EA's official guide on cheating, containing detailed instructions on how to cheat.
These settings also affect how a Sim uses the toilet. If this bothers you, go bother Turbodriver, as this is a quirk of WW.




 

By default, in Wickedwhims, Sims who can become pregnant will experience a menstrual cycle. Sims fertility will be affected by their cycles. Some people may not feel this represents their Sims properly. One thing you can do is set pregnancy to "Simple Mode" in WW, will remove the menstrual cycle for all Sims, and return pregnancy odds to EA's odds. Official WickedWhims documentation on pregnancy. Another solution would be to disable pregnancy (select 'neither') for Sims you don't wish to have a menstrual cycle, and only enable it when/if you want your Sim to get pregnant.
You must use a skin detail to detail the area. There is one in the skin details section, and an optional download in the tattoo section (Sims 4 Vagina for Men (and Masculine Framed Sims) Chest Tattoo detail).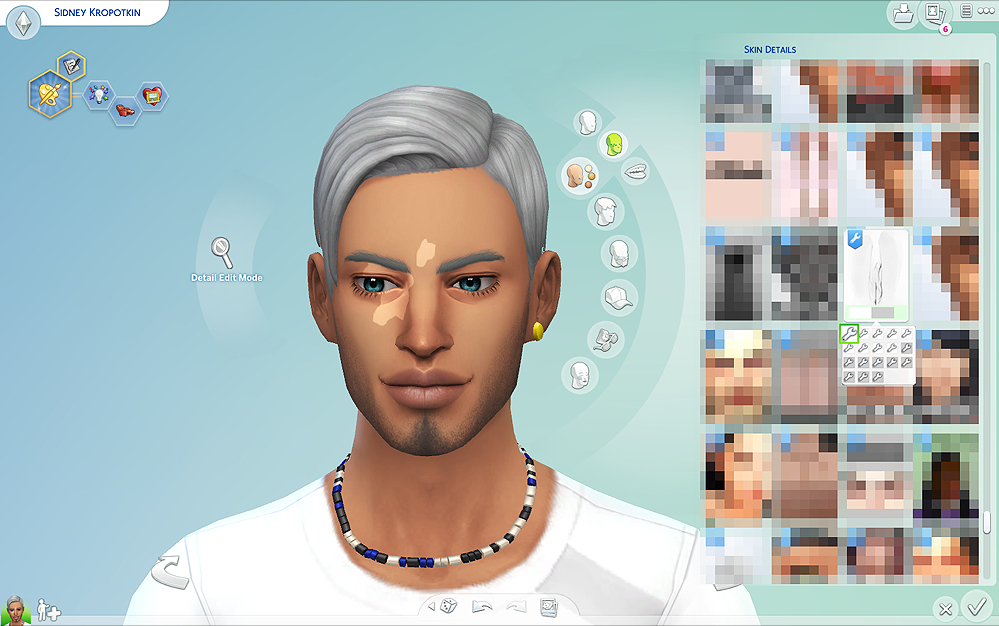 You will find the body selector in gameplay, under the "Wicked" menu. You will find the CAS part in there.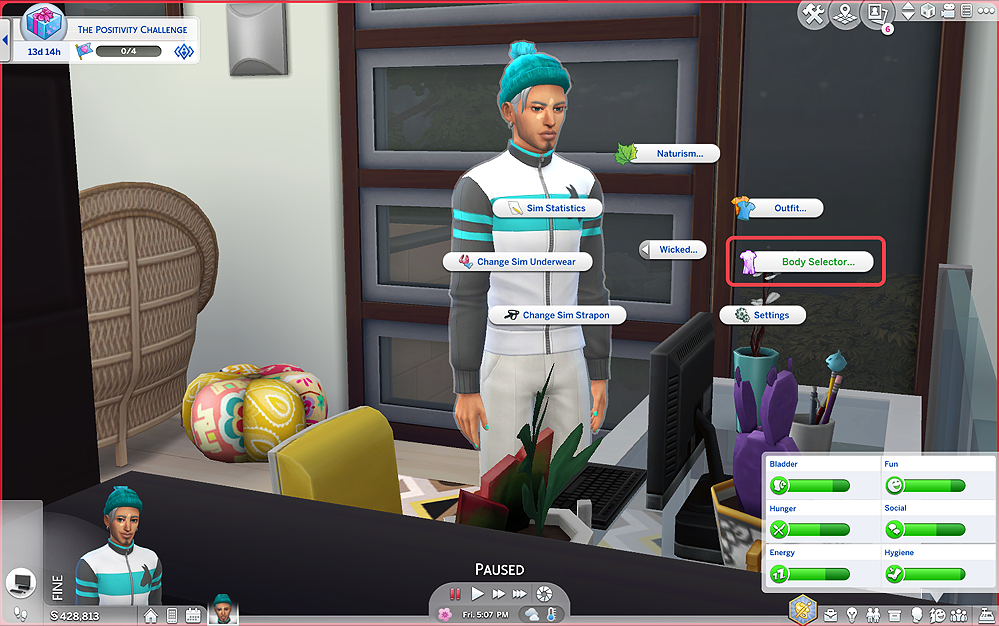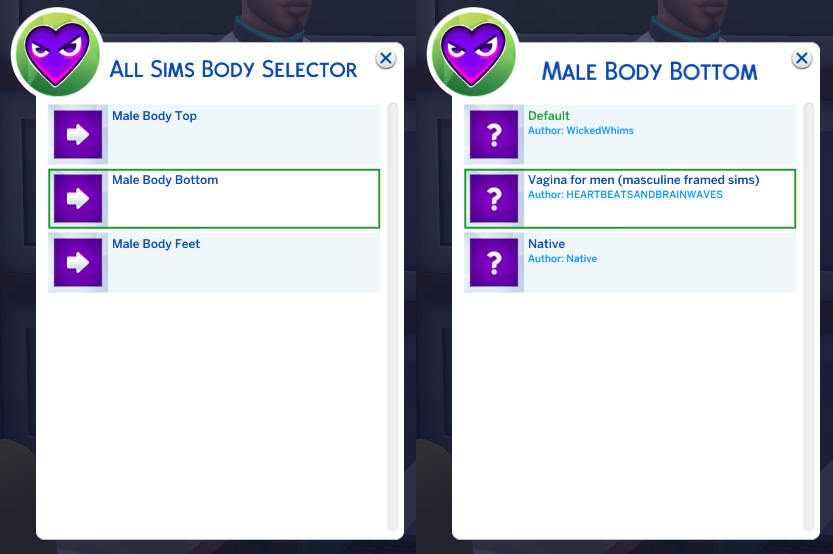 Read the Official WickedWhims documentation on the Body Selector tool. 
If you select All Sims Body Selector, you only need to do this part once. All future male sims without penises will use this bottom part.
You will find this body part in create-a-sim as well, in case you want to manually make a pseudo-nude outfit. A sim will not automatically undress into it however.
Please note that most all vaginal sex animations for WW are made with female sims in mind. Some animations will use cissexist language in their names. Also, some vaginal animations can include 'effeminate' movement and body language, Sims groping their own breasts and arching their spines, presenting their sexuality in a (stereotypically) 'feminine' manner. This might be fine by you. But if this could be upsetting for you, please review the individual animator's threads, as some have preview GIFs. You'll have to educate yourself to know what to avoid.

 

Known issues:

Aforementioned texture issues on lower levels of detail. And issues with default replacement vagina textures.

This can't fix all clipping issues with animations made for the feminine frame. Animations made for the feminine frame are just made for a different body shape, and issues are inevitable. This does make a heck of an improvement in a key area, however.

 

Alternative download link: http://simfileshare.net/download/515384/

Contains the exact same contents as the LL download, just pick whichever download you'd prefer.

 

TOU: https://pastebin.com/VZ8VTU6T

Ko-Fi donations: https://ko-fi.com/hbaabw

 

Did you see my content, and think, "I'd donate to that Patreon?" Well, I don't have a patreon. Insted, I have a Ko-Fi! All you need is a paypal account, and every donation is a one-off! Please donate to support me improving my Sims items and help give me the motivation to keep creating.

 

Recommended CC:

None of this CC is required to use this item. These are optional extras you may want to add to your game!

More CAS stuff for transmasculine Sims

 

Misc but good CAS items that might be relevant to people interested in this item

 

Game mods

Cosmic Gender Ray (Make the game generate gender-diverse townies. The effects are irreversible and it's not my mod so I can't offer support for it. Please be careful and read the mod description carefully before deciding if you want to download it!)

 

Shameless self promotion section: Download my other stuff while you're here.

 

In addition, please visit my Sims 4 Gender Guide for all kinds of resources on all kinds on gender diversity! Your guy hasn't had top surgery, and you want to represent that in your game? There's a cheat for that, and you'll find it in my guide!

 

Postscript:

 

Very special thank you to Simite for helping me make this body selector compatible!

I would love to see the Sims you create with this! Feel free to share them in the support thread, i'm keen to take a look.

Feel free to ask me anything about the item in the support thread as well. Please @ me for the fastest possible response time.

This item was made to add more gender diversity to the Sims 4. I would be delighted if you used my work to express your own gender identity in the game, or even just experimenting with your gender and/or sexual identity. But really, I hope everyone (except transphobes, chasers, truscum, and REGs) will enjoy this item and is having a nice day.
---
What's New in Version
v3.14159
Released
Update 10/21/2018: Now body selector compatible!
Make sure your game and your wickedwhims are fully updated to use the body selector feature.
New instructions on how to use it have been added to the opening post.
If you have an older version of this mod, please delete it before installing this new version.