About This File
For Support:
Please do not send PM's or use my Profile to contact me for Support! Use the Support-Thread!
- I have not the Time to show everytime in here. Maybe I am multiple days not on the computer and you are waiting for some days.
- If you contact me directly with PM, no one other can help you who knows the answer. Maybe someone other can help you a lot faster then me.
Languages for Questions & Support: German or English. All other languages will be ignored by me. Othere users are free to answer this Questions.
Lot-Profile:
Lotsize: 40x30
Price: around 5.000.000 Simoleons (1.0.9)
What is Heaven?
"Heaven - The Dungeon Mansion" is an absolutly Endgame Stripclub and fully build for the WickedWhims Stripclub-Feature, which was on Patreon with v150 and will be released for public in the Future.
It has 6 floors and a Rooftop Helicopter-Landingpad:
3 Overground-Floors:
- First floor: Main Stripclub-Area with Bars, Areas for Private Dancing, Dancing-Poles, Dancing on Bars (only the 2 left and right at the Entrance) and Table-Dance (only the Center Table in front of the Main-Stage).
- Second floor: Service Area for the Prostitutes with 6 Bedrooms, 4 Massage-Rooms, 4 Saunas, Yoga-Room, Gym and BDSM-Rooms
- Third Floor: Private Area of the Owner Household with the Office, Bedroom, Bathroom, Livingroom, Gym, Music-Studio
- On the Rooftop you have a Helicopter-Landing with 2 Helicopters.
3 Basement-Floors:
First Basement: The Underground Parkhouse
The Cars on the Screenshot are not listed in the CC-Section. You can set Cars by your own Choice there. So, if you don't choose exactly the same Cars like me, you will get a message for some removed objects, when placing the Lot.
But there are some Cars I could found with Animations available:
The Bugatti Veyron Grand Sport Vitesse - The Animations are created by R-Lo and E404P.
Ferrari California, made by LorySims - Animation made by Zorak
Audi A8 made by LorySims - Animation made by ATrois
Ferrari 458 Spider made by MXIMS - Animation made by Omaster
If someone knows any other Animations with Cars or can make some new Animations, let me know in the Support-Thread!
My Cars you can see on this Screenshot: Exept the named Cars above, they are not needed for Animations and you will not miss them.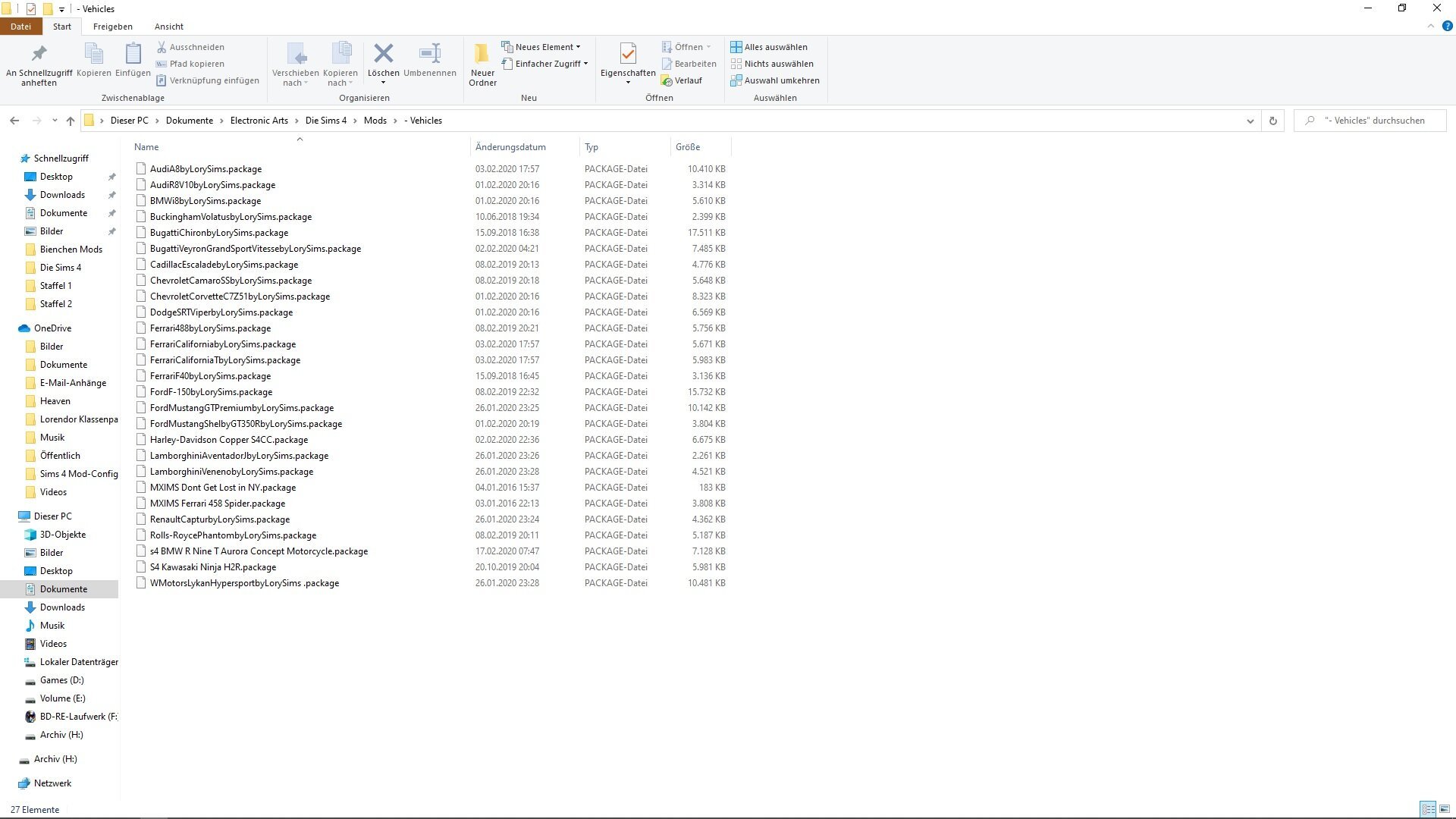 The most of my Cars are created by LorySims.
Second Basement: Dungeon-Area
- Treasure-Rooms
- Drugs-Storage
- 2 BDSM-Rooms.
Third Basement: Occult-Area
- Burial-Chamber with Coffins for Vampires
- Study-Room for Sorcerers
- Science-Room for Scientists & Aliens
- Sacrificial-Altar
- Prision-Cells
- Torture-Chamber
The Stripclub is created with:
Latest "The Sims 4" Update (Do NOT ask me to make this compatible with older Versions!)
There are additional Sims (Most of them are Dancers i my Game) for you to download: Preview
Used Gamepacks (German & English names):
- An die Uni! / Discover University
- Inselleben / Island Living
- Werde berühmt / Get Feamous
- Jahreszeiten / Seasons
- Hunde & Katzen / Cats & Dogs
- Großstadtleben / City Living
- Zeit für Freunde / Get Together
- An die Arbeit / Get to Work
- Strangerville / StrangerVille
- Dschungel-Abenteuer / Jungle Adventure
- Elternfreuden / Parenthood
- Vampire / Vampires
- Gaumenfreuden / Dine Out
- Wellness-Tag / Spa Day
- Outdoor-Leben / Outdoor Retreat
- Moschino-Accessoires / Moschino Stuff
- Waschtag-Accessoires / Laundry Day Stuff
- Bowling-Abend-Accessoires / Bowling Night Stuff
- Vintage Glamour-Accessoires / Vintage Glamour Stuff
- Kinderzimmer-Accessoires / Kids Room Stuff
- Heimkino-Accessoires / Movie Hangout Stuff
- Grusel-Accessoires / Spooky Stuff
- Coole Küchen-Accessoires / Cool Kitchen Stuff
- Sonnenterassen-Accessoires / Perfect Pation Stuff
- Luxus-Party-Accessoires / Luxury Party Stuff
Additional Mod & CC Requirements (credits goes to all of this amazing creators!):
Installation:
Installation:
- Put all Mods and CC you have Downloaded (including the Heaven Sign you have downloaded here) in your Mod Folder. Make sure that you have downloaded everything i have linked. Note for Updates: The newest CC after updates will always be the last in the specific lists.
- Put all Files in the Zipfile you have downloaded here to the Tray Folder
- Activate following Cheats: "testingcheats true", "bb.moveobjects", "bb.showhiddenobjects", "bb.showliveeditobjects" and "bb.ignoregameplayunlocksentitlement" in console or MCCC
- IMPORTANT: Activate the CC Checkboxes in Gallery and activate scriptmods in your Settings!
- Select a 40x30 Lot and open the Build-Mode
- Place the Stripclub on the Lot (My recommendation is the Place on one of the Screenshots. It is the position of the Museum in Del Sol Valley)
Attention:
Script-Mod Files should never be placed more then 1 folder deeper then the Mods Folder.
Package Files can be up to 5 folders deep.
Now there are 2 Ways to run this Club as your own (BOTH ways need the "Get to Work" Expansion!):
Running the Stripclub as WW Patreon user (WW-Stripclub-Way):
I suggest you to read this!
- If everything is ok, you should be able to buy it with the Option "Buy a Stripclub" on your phone in the Household-Section.
- After you purchased the Club, you need to design outfits (up to 5), hire employees (this can be every sim in your game, including family members. If you have the Patreon Version without patch, you can only hire "young Adult" or older. If you use the Patch on Loverslab, you can hire Teens too.) and assign the outfits to the employees. Also, you need to assign seats for lapdances.
- Every employee (including npc's), which is registrered to the Lost Eden Network by Wicked Perversion will offer some "Extra-Services". That means they offer Sex for Money. This works fully autonomic, so you don't need to manage anything.
- My full personal Setup you can see in the Description below. 
- Then you should lock the doors to the backstage area and only allow your dancers and Household to access to this area.
- I have placed barriers (the black lines on the Ground) at the bars too. Lock them for clients, so they can not go behind the bars. You need the Lock doors Mod by LMS to do this.
Another Barrier is placed upstairs to the Brothel Area. Lock them for your Employees so they are more focused to do their work. Specificly the Massage-Area will cause them to ignore their work.
- press shift+click on the ground in the club. Then click WickedWhims and disable the floor for Sex autonomy. This prevents the most clippings during Sex-Scenes.
- At the Bar, you can set the markup and buy supplys for your drinks.
- With the "ww.commands" cheat you will get a full list of all commands in ww. There is something like higher the limit of employees (max 12 Employees) and other stuff but be carefull here.
- Disable the Spot Dance "Sexy Kitty" by Lupobianco (looks weird on Bars and Tables)
If all other Settings are done, Set the Opening Hours with your Phone.
It will open/close autonomic between the Hours you have set.
Teens and Patreon-Version of WickedWhims:
Teens are deactivated in the patreon Version of WickedWhims, because of the Patreon Guidelines. To unlock them, you need to install this.
Warning:
Do NOT use with Entrance Fee by LittleMsSam! This will cause Errors!
The Mod can be installed for other Lots but do not add the Trait to a WW Stripclub!
My personal Employee-Setting for this Club:
- One Household with 1 Men and 7 Girls and an additional Household with 8 Girls (I have multiple clubs), which i use as NPC-Employees.
- The number of Employees is set to 12 (use ww.commands Cheat to see how to do this)
- The Men is the Owner of the Club,
- 6 of my Girls are Employees in my Club. The last one is the spouse of the owner, which is not an employee.
- 2 of the girls + my Spouse are registrered to the Lost Eden Network. The other 4 Girls and the 5 NPC's are Dancers only.
- The other 8 Employees are NPC's I have created for this. They will autonomic serve clients or dance on the poles)
Running the Stripclub as WW Public user (LMS-Way):
Additional Requirements for this way:
WickedWhims Public - Basic!
NisaK. Wicked Perversion (public or patreon doesn't matter but patreon will work a little bit better) - Gives you the possibility to offer Sex or Lapdances for Money,
More Buyable Venues - by LittleMsSam (Please read the FULL Description of this Mod!)
Entrance Fee - For earning Money for every Visitor of the Club. Do NOT use this, if you use the WW-Way!
Auto Employee - For Barkeepers, DJ's and Bouncers spawning in your Club. If you don't use this, you need to manage everything by yourself!
Buying and running the Club after Installation:
- Open Build-Mode
- Change the Lot-Type to "Own Nightclub"
- Give it the Lot-Traits "Auto Employee" & "Entrance Fee"
- Load your Family
- Go to a Computer and there you can find in the Household-Section the Option "Buyable Venues"
- Choose the Option "Own Nightclub" and buy this club.
- On the Door you can find 2 Options: one to open/close the Club and another to activate Auto-Employee's
- Strippers and Prostitutes needs to be all on your Household by using the Club this way.
- Make Members (can be all) of your Household being prostitutes by using your Phone.
- Use Azmodan Animations to make Poledance possible. The Animations are available in Teasing-Section by clicking on the Pole.
- Your Prostitutes will sometimes be solicited autonomic by Clients. If the Clients want to be teased, you can give them a Lapdance on the Seats by using one of this animations in the Teasing-Section.
- If they want Foreplay (Footjob or Handjob), Oral, Vaginal or Anal, serve them this way.
- You can offer yourself to clients manually by talking to them and use the Option "Offer Body" in "Ho Control".
FAQ & Troubleshooting:
Q: "My Club is not looking like on the Screenshots. Many Objects are missing!"
A: Make sure that you have all listed Game-Packs and every Part of the listed CC! Remember that only cars with animations are listed.
Q: "I can not find CC "XY", can you help me?"
A: Please ask in the support-Thread first and do not PM me! The reason is, i do not look over here every day and maybe someone knows faster.
Q: "The Neon-Light in the BDSM Room looks weird!"
A: You are not playing with full Details. With highest Graphics, it should be fully white by default.
Q: "Why don't you use the Toilet-Cabines from Discover University?"
A: Really simple: They wasting space! on the space they need i can place 2 selfmade Toilet-Cabines!
Q: "Will you create Animations for the Furniture in your Club?"
A: NO! I am not an Animator or CC Creator. I only use creations from other Creators to build my Lots or Sims.
Q: "Your Mod is outdated! Can you update?"
A: This is not a Mod, it is a Lot! The Lot itself can not be outdated. Only the used CC can be. If this happend, you can try the following things:
- Download Sims4Studio (latest Version) and try to use Batch Fixes to your Mod-Folder.
- Find and delete CC, It will be removed from the Lot when you load your Game next time.
- Look for updates for your CC.
Q: "Why haven't you included the CC?"
A: Multiple reasons! One big Thing is the Permition by the CC Creators. Specificly the Patreon Things. Another is the actuality of that CC. When I include the CC, I need to update the File everytime the CC is updated. When I just give the Links to the Downloads, this is not needed, because you get everytime newest Version of that CC.
Q: "I have low DPS, can someone help?"
A: There are multiple reasons, why this could be happen. You can try the following things:
1. Make your, you are using the right TS4.exe. For 32bit Systems, use the Legacy Edition. For 64bit Systems use the TS4_64.exe
2. Go to your Sims 4 Folder in Documents (Where your Mods, Save and Tray Folder is located) and open the config.log. Look at the line "Texture Memory" and remember the Value. After this, go to the location of your Game Exe (in my game it is C:\Program Files (x86)\Origin Games\The Sims 4\Game\Bin). Now open the GraphicsRules.sgr with notepad. Look for the line "seti textureMemory" and make sure this value is matched with the Texture Memory Line in your Config.log file. If not, match it. 
3. Lower your Graphic-Settings
Q: "I do follow you and have an update message, but there is no new changelog! Why?
A: This can have two reasons:
1. I have just changed something in the Description
2. I have just uploaded a new optional Sim. In this Case, you will have a new preview in the Support-Thread instead of a Changelog.
Only if the Version Number of the Mainfile is changed, then there will be an update to the Club.
Known Issues:
- Most of the Cars have no Collision, so Sims can walk through them.
- The "Take me, I'm yours" Sign in the BDSM-Rooms at the second Floors look creepy on lower Details.
Requests to Modders and Animators:
- A Mod that automaticly turns on the Stereo at the DJ Booth if there is no DJ playing. I am tired to change everytime to Stereo manually when the DJ is leaving.
- A Mod that makes Clients using the Waiter-Station to put away there Glasses.
- Animations for everything i have placed in this Club. Specialy more for the BDSM Section or Sex on Cars would be nice.
Ideas and Suggestions welcome!
I am permanently looking for new Ideas for the Club. If you have one (or more), let me know in the Support-Thread.
All my WW-Stripclub Projects:
Titty Twister - A original Maxis Bar rebuilt to a Starter Stripclub + Brothel for around 50.000 Simoleons - Comming soon!
Shack of Love - Starter/Early Midgame Stripclub (20x20) without Brothel Functionality for around 270.000 Simoleons - Released!
House of Desire - Starter-/Early Midgame Stripclub and light Brothel (Just 2 Bedrooms) for 600.000 Simoleons. - Released!
Palace of Pleasure (Rebuilt) - Midgame-Stripclub and Brothel with Bedrooms and BDSM Dungeon. Currently 1.200.000 Simoleons. - Released!
Heaven - The Dungeon Mansion - Endgame Stripclub and Brothel with many themed Service-Rooms like Bedrooms, BDSM-Area, Private Living Area and many more for 5.000.000+ Simoleons. - Released!
I will never hide my work behind a Paywall, but if you like my Work, please support me on:
Don't wanna make a monthly payment but Interested in Star Citizen?
You can use my Referal Code: STAR-Z9X5-C3BM
by registration on:
https://robertsspaceindustries.com/
You will start with 6000 UEC (the Money in this game) instead of the normal 1000 and I get a little ingame reward too.
---
What's New in Version
1.0.9
See changelog
Released
Delete "Bar Mods" by Fissure from your Mod Folder. Its broken and causes LE when visit the stripclub.