I. Introduction and Rules
---
Welcome to LoversLab
This blog is intended to be the information and advice that I wish I had been privy to when I first came to LoversLab (LL). This blog is NOT, in any way, shape or form, an official introduction to the site. Like others I struggled and lurked when I came here. It was months before I actually posted anything. Like a lot of other people what I learned I learned mostly through trial and error. However, the most satisfying things I learned were when helpful people pointed me in the right direction. If I can do that for even a few people I will consider this blog a success.
I need to give you a little context to help explain how most of this blog is intended to be organized. I was a great fan of the Skyrim mod "Paradise Halls" which could be found on Nexus. The development of that mod appeared to simply stop after a while which I found a considerable disappointment. One day I was on Nexus and, for some reason. I checked out the mod and its support thread. It was there that I found that Paradise Halls Enhanced had been reborn here on LL. I came here and was ecstatic to find, not just this mod, but to see that it had been developed and placed within a framework that would allow my character to have sex. Then, like many other people (I would expect most) I spent a great deal of time lurking (looking at mods and threads without posting a word). Finally, I made the plunge. First it was asking questions, then it was playing games, sharing opinions and finally, giving answers. (Now they all wish I would just shut up.) This is important to the blog because it is likely to be Skyrim-centric. Don't let that put you off if that isn't your game. When I get to discussing things that are game-specific I believe that you will find that the things I tell you about how to access information about Skyrim will be completely applicable to whatever game you came here for (Fallout, Sims, etc.).
A. The Rules
With that in mind I would like to talk about the site's Rules first. Here is a copy:
The biggest and most important thing of this community is that the modders come first. They are the ones who make this community worth coming to, they are the ones enabling you to even play these mods.  Meaning if you don't like the way a mod is going, don't be a jerk about it, they can take the mod in whatever direction they want. Don't like it? Then make your own release and put the work in yourself. Find a bug or issue that needs to be fixed? Don't be a jerk about it and raise your concerns and feedback in a constructive manner.
 
Don't be a jerk. Seriously, does this really need to be said?
 
We may be an adult-oriented community, but don't be stupid, don't post anything blatantly illegal. Meaning no discussion or assistance with illegal content such as piracy, game cracks, models or textures taken from the assets of other games, or any depictions of underage persons with exposed nudity or in a sexual context.
 
If you find yourself asking, "Should I post this questionably legal content?" The answer is simply no.
 
Forum signatures should not be larger than 250 pixels high or 600 pixels wide. They must not contain any affiliate links, or links to paysites, and must be static (no animated gif). Signatures are allowed to contain pornographic content, as long as it is not anything deemed hardcore, which is up to the judgment of the site staff. A certain amount of leeway in regards to signature sizes or avatars is allowed here, the most important thing is to simply not make your signature overly intrusive or distracting. Avatars, like signatures, should also be static images and not animated. 
 
Simple nudity is allowed in avatars, again nothing hardcore.
 
Piracy is not provided here. It's not our business where you get a game, but you will not get help with piracy here, and helping somebody else pirate is strictly against the rules. Keep it to yourself.
 
Bickering, drama queens, or publicly calling out a fellow forum member will not be tolerated. Posts/threads perpetrating any sort of attack or drama will be removed on sight and warnings given to involved parties. This is a forum for helping each other build and mod, leave the drama at the door.
 
In an effort to keep the site & community inviting and friendly we do not allow several categories of conversation. This is not intended as censorship or endorsement of any particular view, but rather a move to keep this site neutral and open. The categories of conversation that are not welcome include those discussing politics and religion. Too often these discussions descend into pointless bickering and lead to offending one party or the other (if not both). This sends the wrong message of what this site is all about. There are plenty of forums, blogs and other online outlets available for these types of conversations, this site is not one of them.

LoversLab is first and foremost a gaming community. As such, we wish to be welcoming and friendly to all genders, orientations, nationalities, religions, and beliefs. Those who are not conducive to that environment will be dealt with in whatever reasonable manner we deem appropriate. What is deemed "political or religious" is up to staff discretion and no others.
 
Duplicate topics will be locked and linked back towards the existing thread that shares the same subject.
 
Account deletion is handled by the forum admin, if you need your account deleted for whatever reason, go to your Account Settings and select "Delete My Account" from the bottom of the list to the left (direct link to form) and your request will be handled as soon as possible. Posting your request about it elsewhere will result in it being ignored or deleted.
 
In an effort to keep large threads to a minimum both for performance reasons and to keep things easily searchable; topics with greater than 750 replies may be closed and archived at staff discretion. A duplicate post by the same original author will be put in its place along with the last page replies from the closed thread. The larger archived thread will remain searchable and present.
 
We are a free and open community; members requiring payment for mods, support, or putting anything behind a paywall will be removed without warning. Donation buttons/links to support an author is fine, so long as nothing is promised, given, or rewarded other than a sense of satisfaction for supporting an author or owner of the content. 
 
As we are typically associated with being an adult pornographic community, we will not allow any sort of nudity or sexual content involving characters that could be seen as depicting somebody as underage. This includes any character that could be seen as loli, shota, child, or underage teen, regardless of its position as a virtual character or the intent to be passed off as a mystical race who only looks young; the only thing that matters in this respect is what the character appears to be at a glance. For further details on this matter, check the related announcement here.
 
Marketing spam posts will result in instant ban.
Don't panic, there will not be a quiz. I was on the site for months before I was aware of these Guidelines. That's a shame because while I just listed them for you they can also be easily found. If you go to the bottom left hand corner of any page on LL (including this one) you will see a link that reads, "View Community Rules." Here is an example: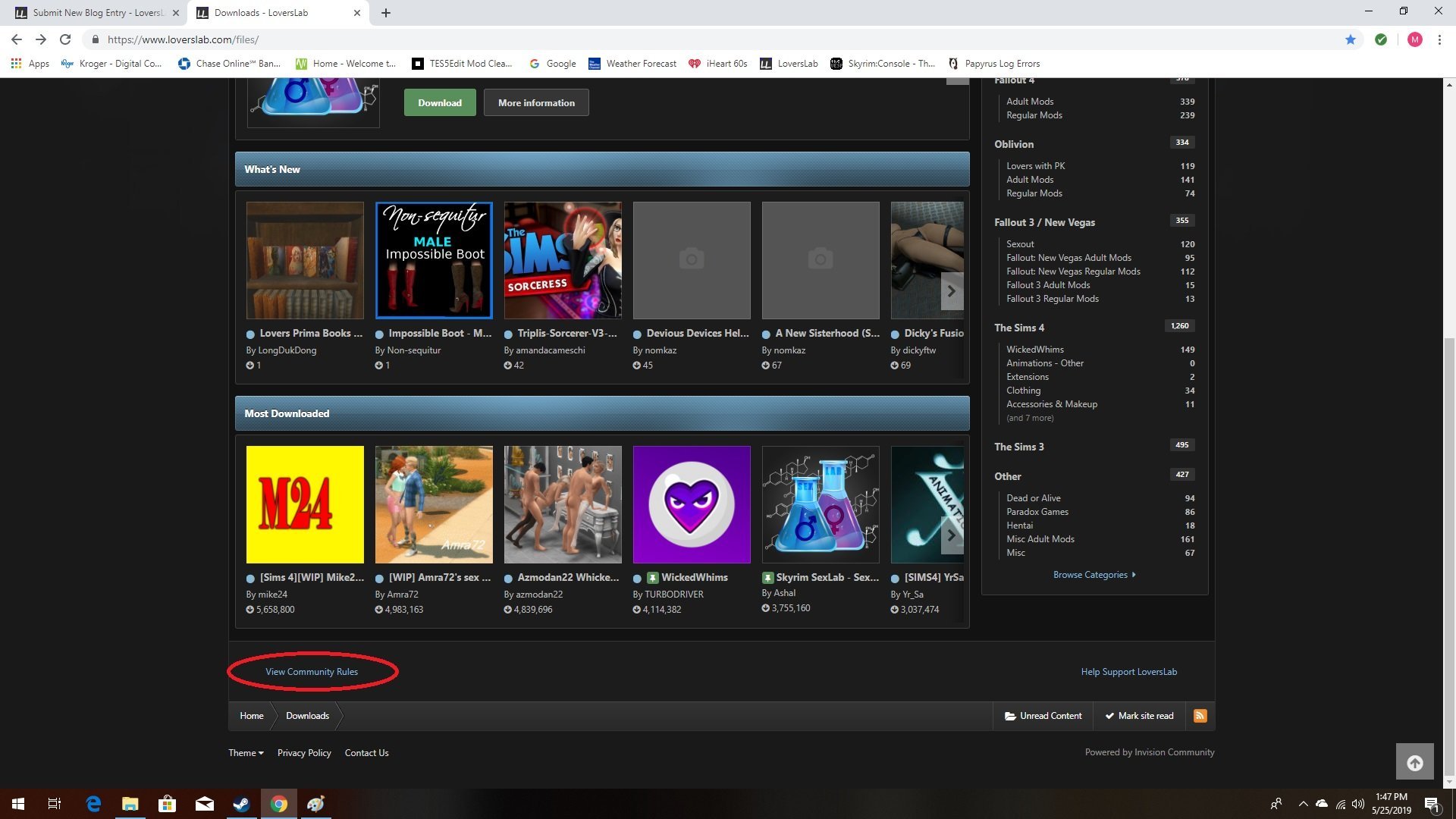 In the spoiler you will see a picture with the link highlighted. If you click it you will find another copy of the rules.
In addition, there is another place you can go to quickly find the Rules. If you go to the top of the page, on the right there is a bar (see below):
If you then hover over the bar where it says "Browse" you get: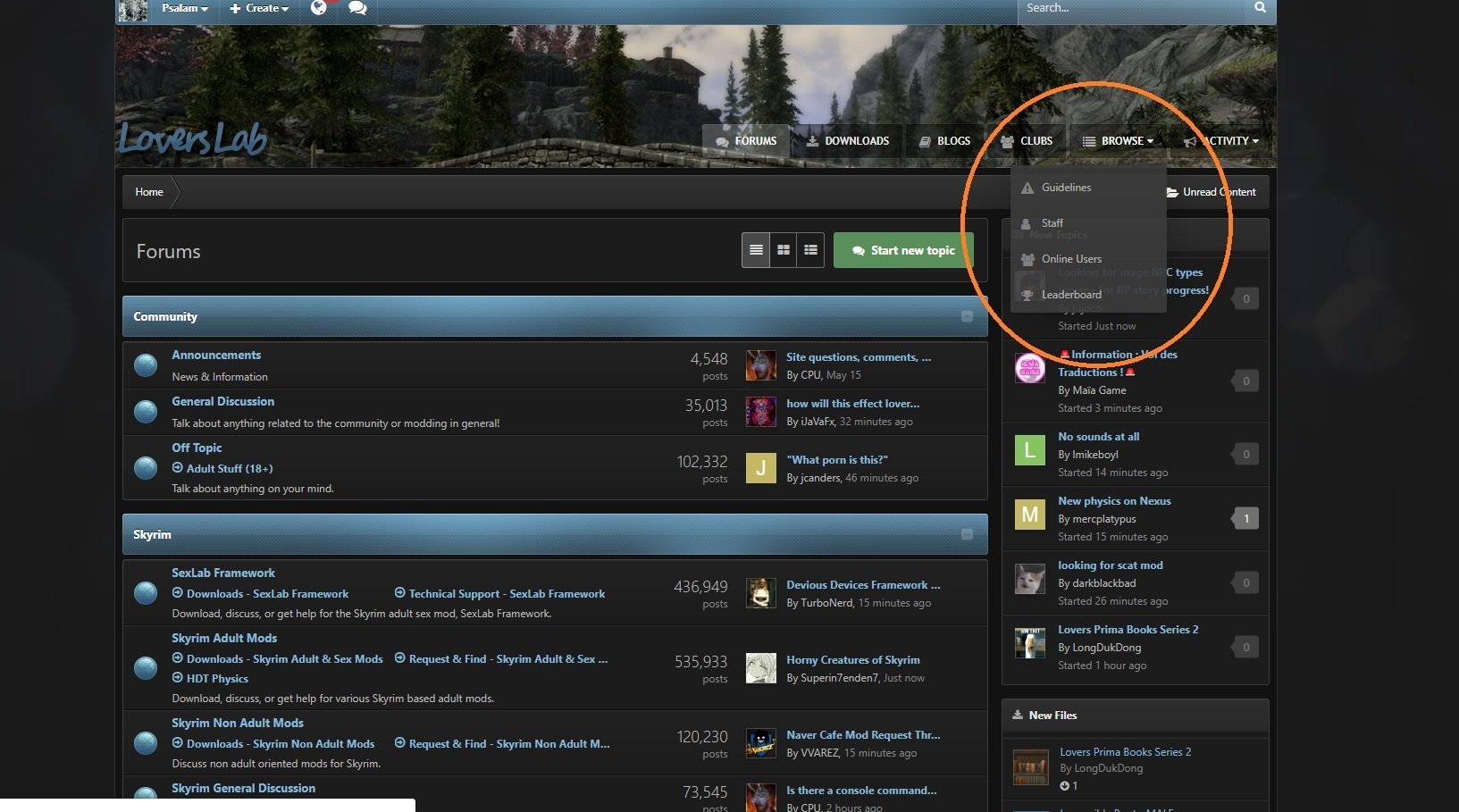 The first thing listed in the dropdown menu (highlighted in orange) is "Guidelines." If you click on it you can also review the Rules.
So, you are asking, why are you showing this to me? I have just shown you three different ways to access the site's Rules because there will almost always be more than one way to achieve your goal here on LL. In something as mundane as looking at the Rules you now have been shown three easy options. You will find, as you go through the site, and try to find things, that there are many ways to get to where you are wanting to go. Most of the time on this blog, I am only going to show you one way - the way that I have found easiest and/or best. As I have just pointed out, that does not mean it will be the only one and definitely not the only "right" one. 
B. The Rulers
This site belongs to Ashal. He makes the rules. He chooses the moderators. He determines if you get to stay on the site or get thrown off. (Incidentally he is also the author of SexLab Framework which allow Skyrim characters to have sex). Please keep in mind that, while you are on this site you have effectively entered his home. Unlike many hosts, he has kindly posted the rules by which he expects company to abide (see Section A above). I find that if I keep the idea in the front of my mind, that when I am on this site, I am effectively in his house, it helps me to be a bit more polite and nice. This is not a store or other retail establishment. Neither Ashal, the moderators, the mod authors or your fellows here on LL owe you anything. You are not paying them for the privilege (even if you choose to become a contributor it is more like bringing a bottle of wine to your host's party than it is to paying for a service). For your sake, and everyone else's, please try to keep that in mind.
If you go back to the last spoiler which showed the Guidelines (just above) you will see that there are other choices in that dropdown menu. The second one is staff: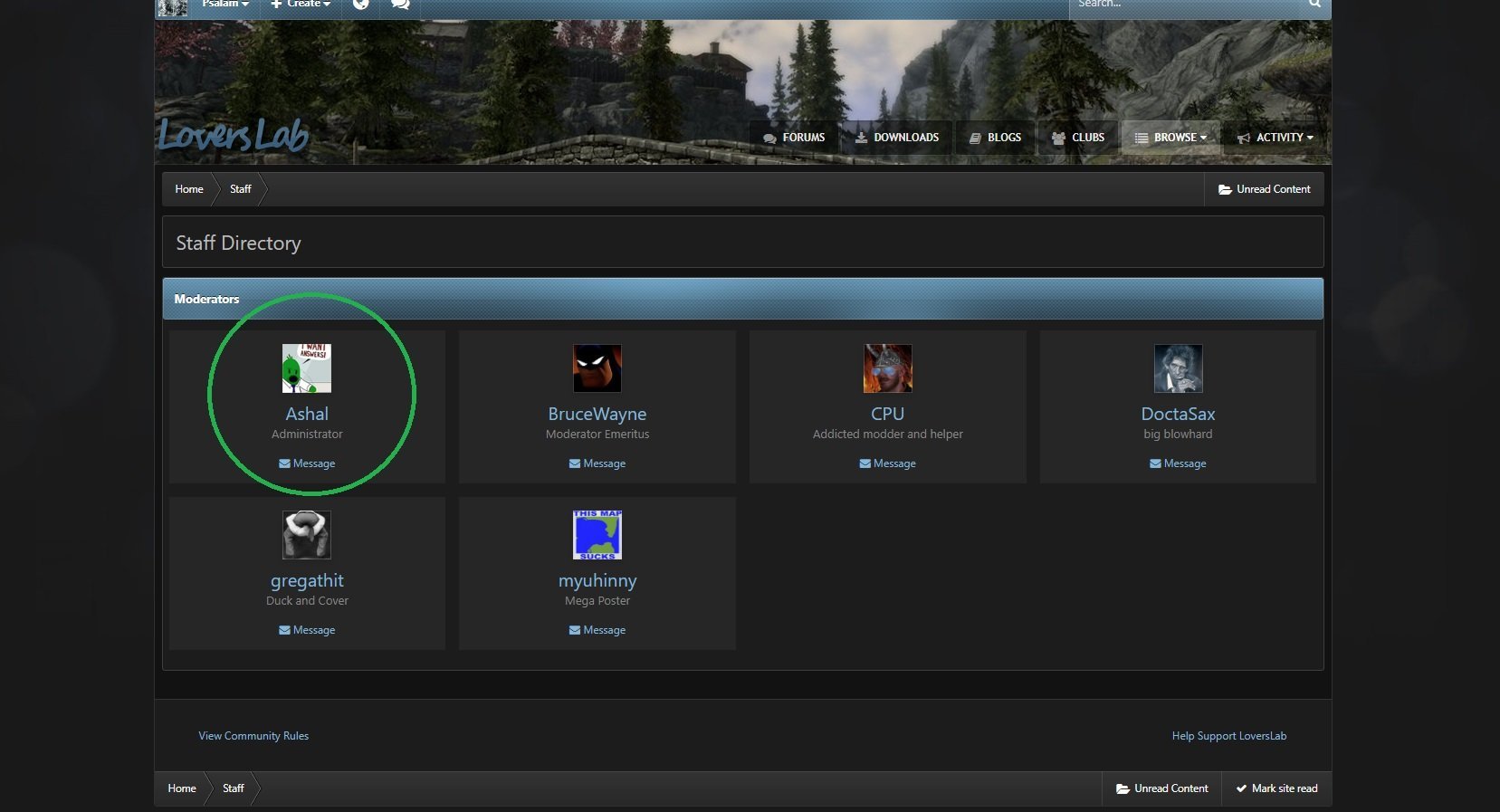 This contains the list of moderators. I have taken the liberty of highlighting Ashal's avatar in green. The people listed here (and only the people listed here) have the authority to speak for the site. If you find any of them addressing you it is in your own best interest (if you want to stay on the site) to pay heed to what they have to say.
Like the other people on this site, the moderators have been known to change their avatar (the small picture you see above their name). This means that you need to pay attention to whether they have the "moderator" tag on their message more than what their avatar looks like.
I think that this is enough for one post. I hope to get a bit more into the meat of the site with the next post.