Chapter 25: A Naked Huntress Appears (1/2)
---
"Being Shameless has its moments, like not giving a fuck on what others think of you"
(Whiterun)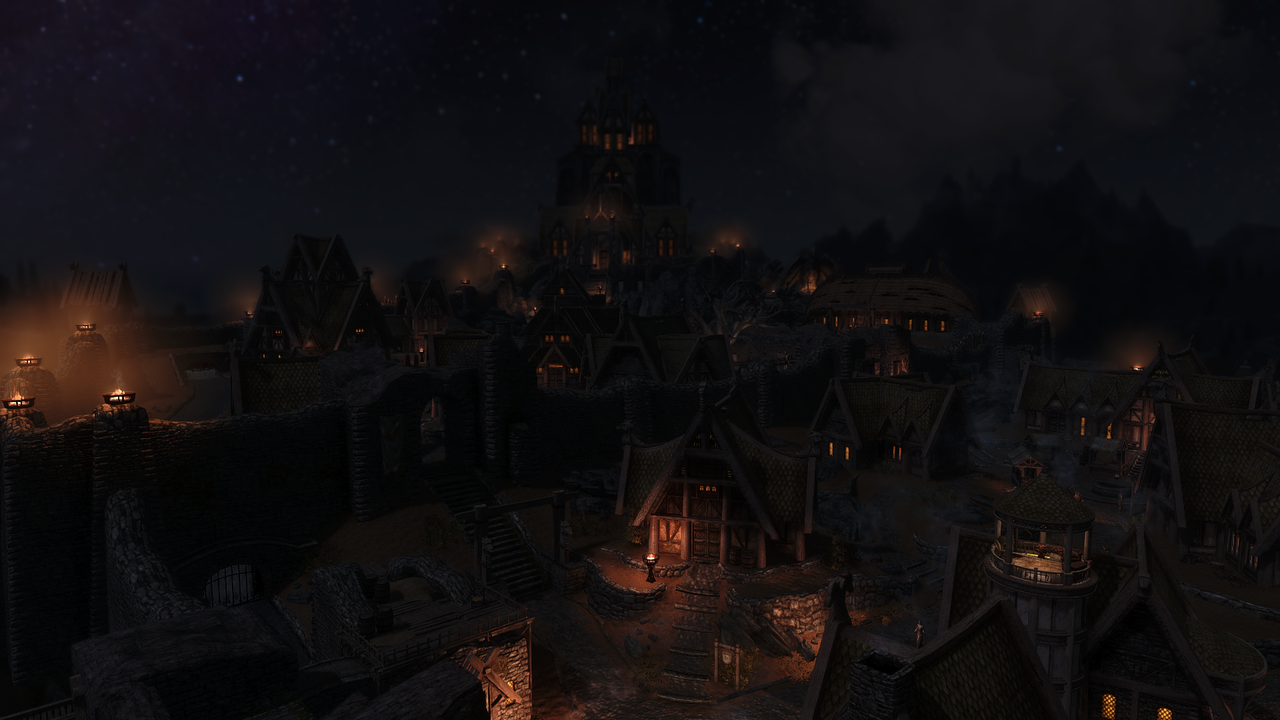 (Jorrvaskar)
*loud laughing inside*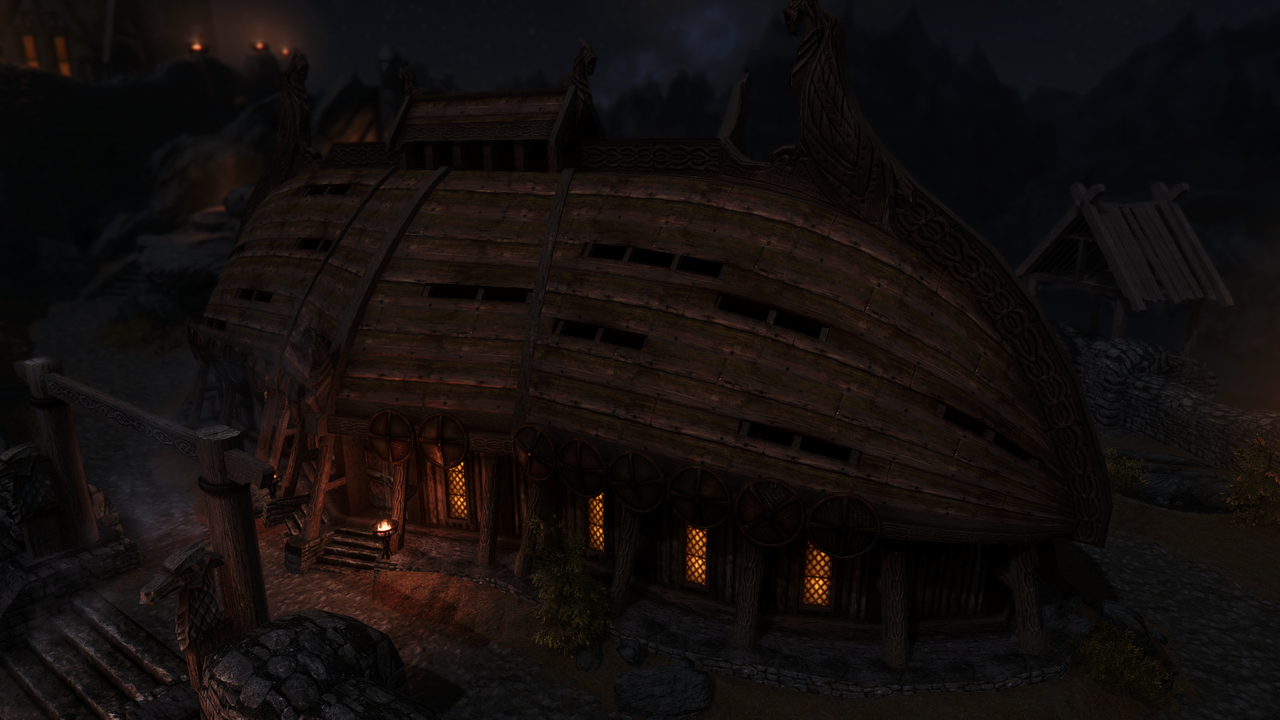 *laughing*
Farkas: Please stop.
Aela: So this is the best part.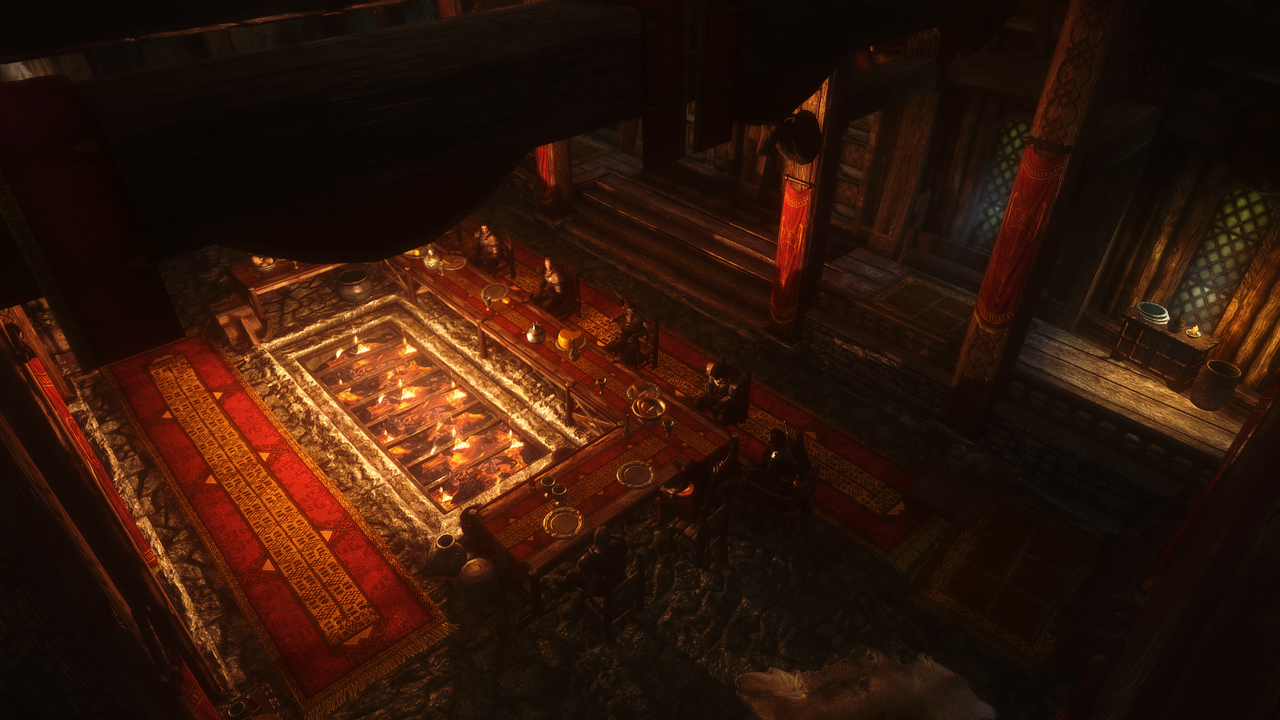 Aela: So Farkas throws down his sword, his armor, and tries to punch the troll, punch it! that thing threw him down and slapped the crap out of him.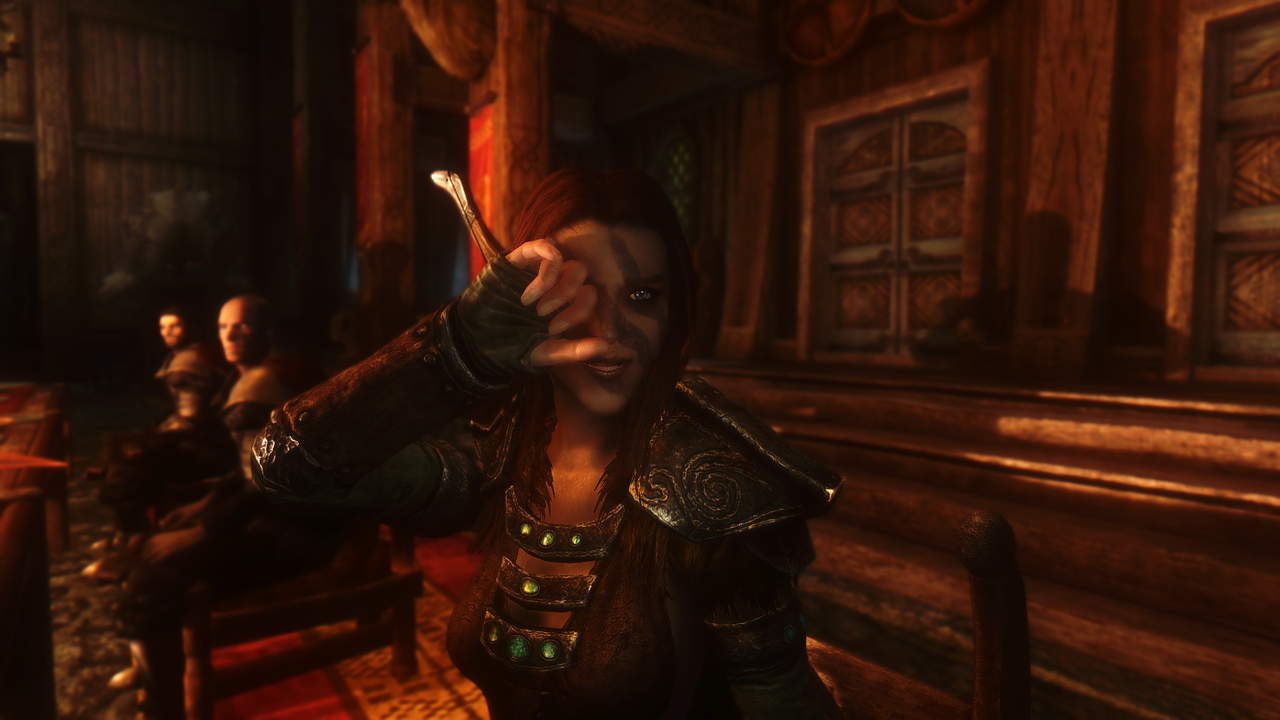 Aela: If i didn't shoot it in the face he would have been screwed.
Farkas: Please shut up.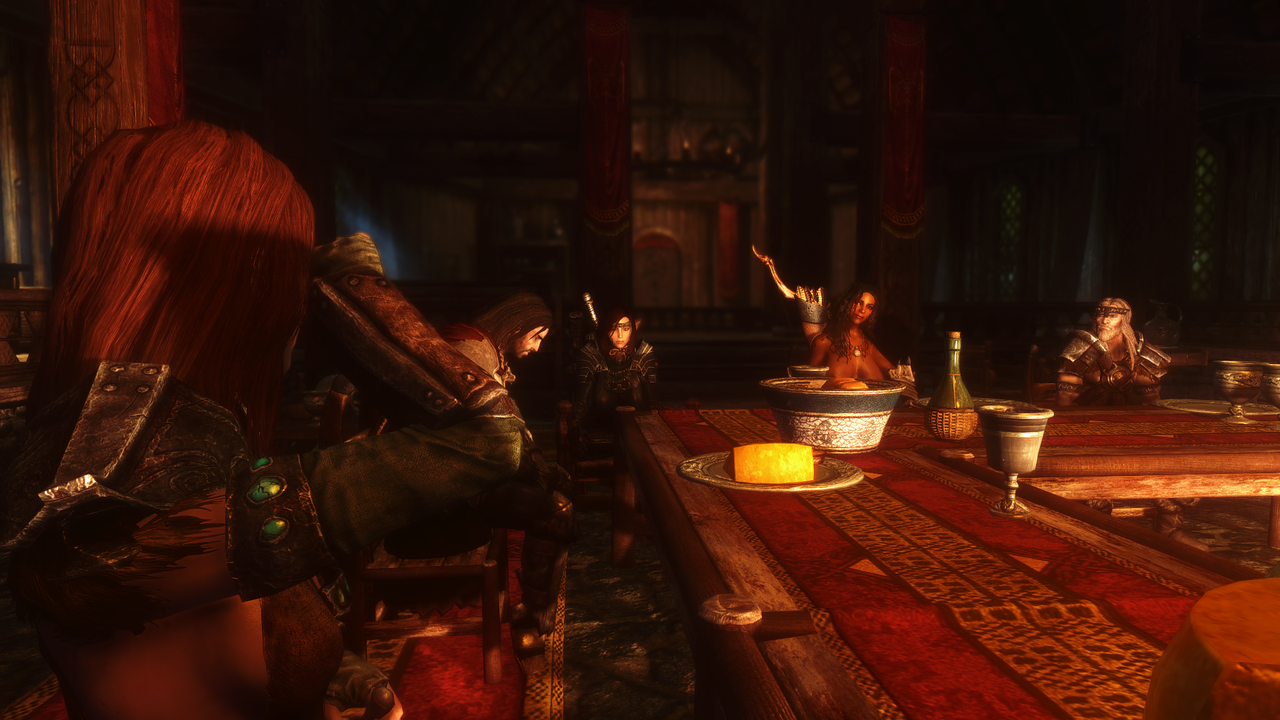 Vikas: Haha, oh little brother, a troll isn't gonna fall to punches like that, you gotta hit them hard, full force punch. I'd have taken him out in 2 hits.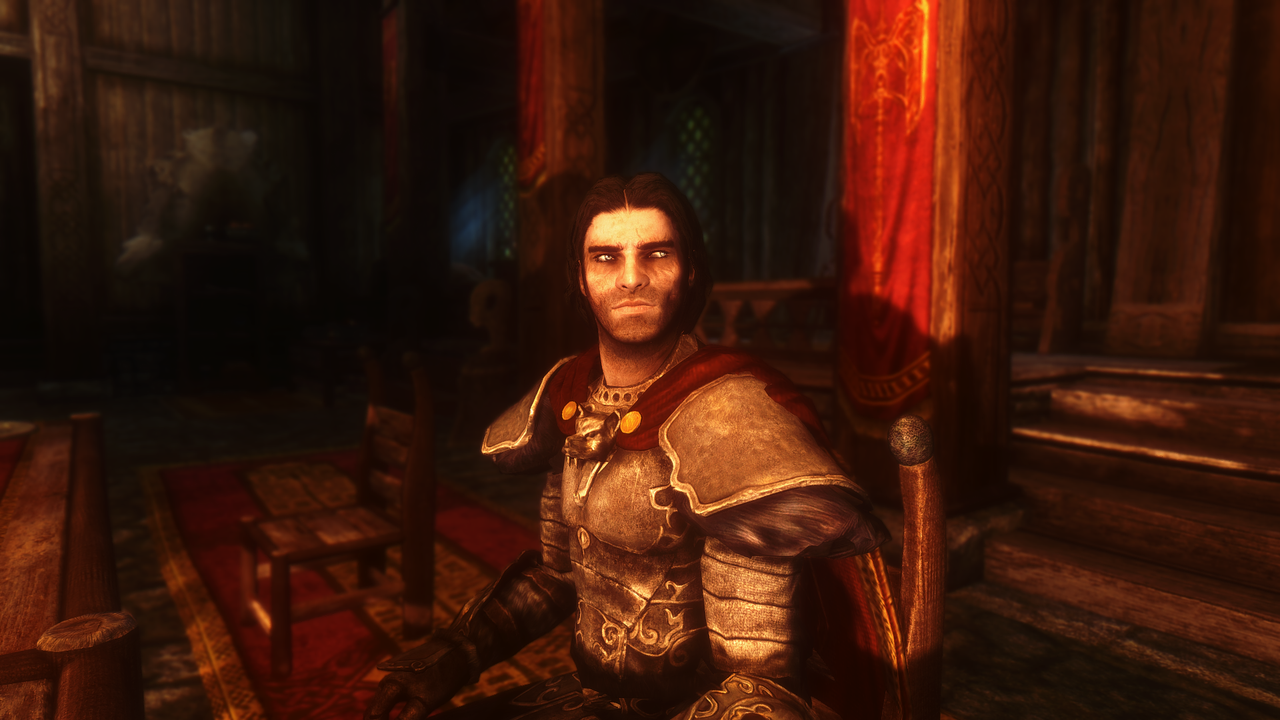 Eorland: Ha, you'd have ended up the same as him.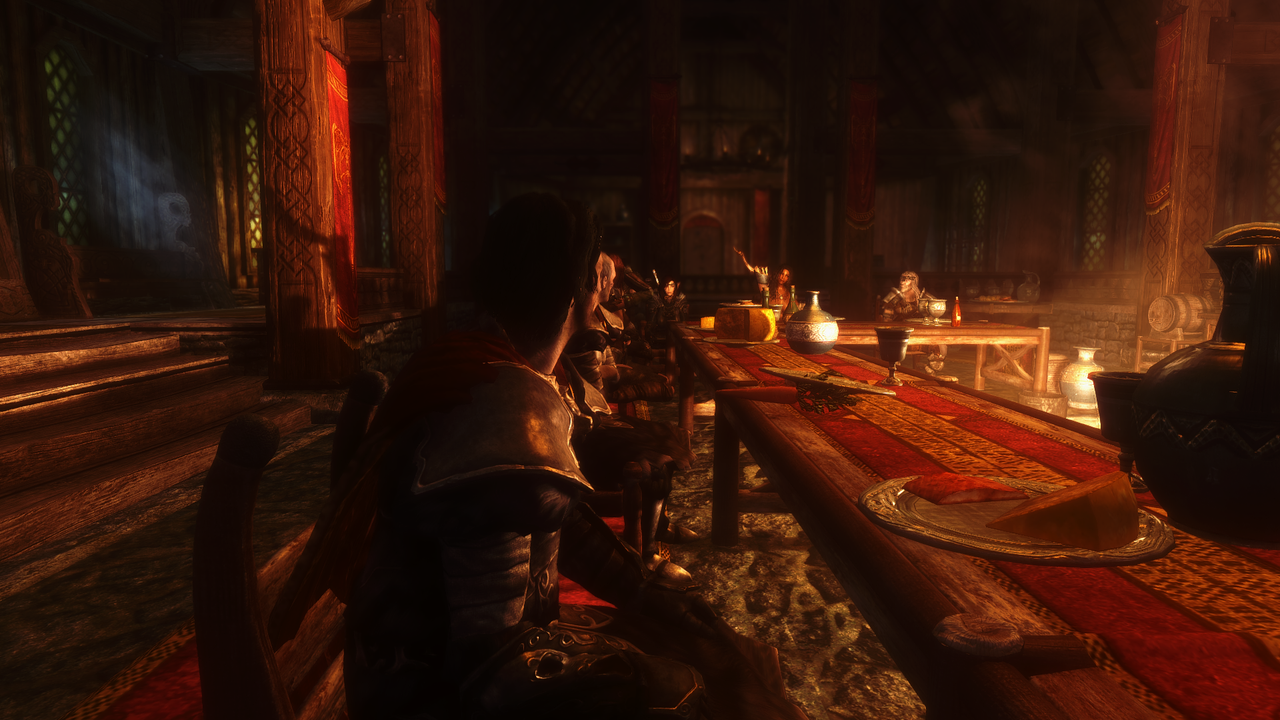 Eorland: I recall you tried the same against a bear when you were younger.
Satsuki: why would you even try that?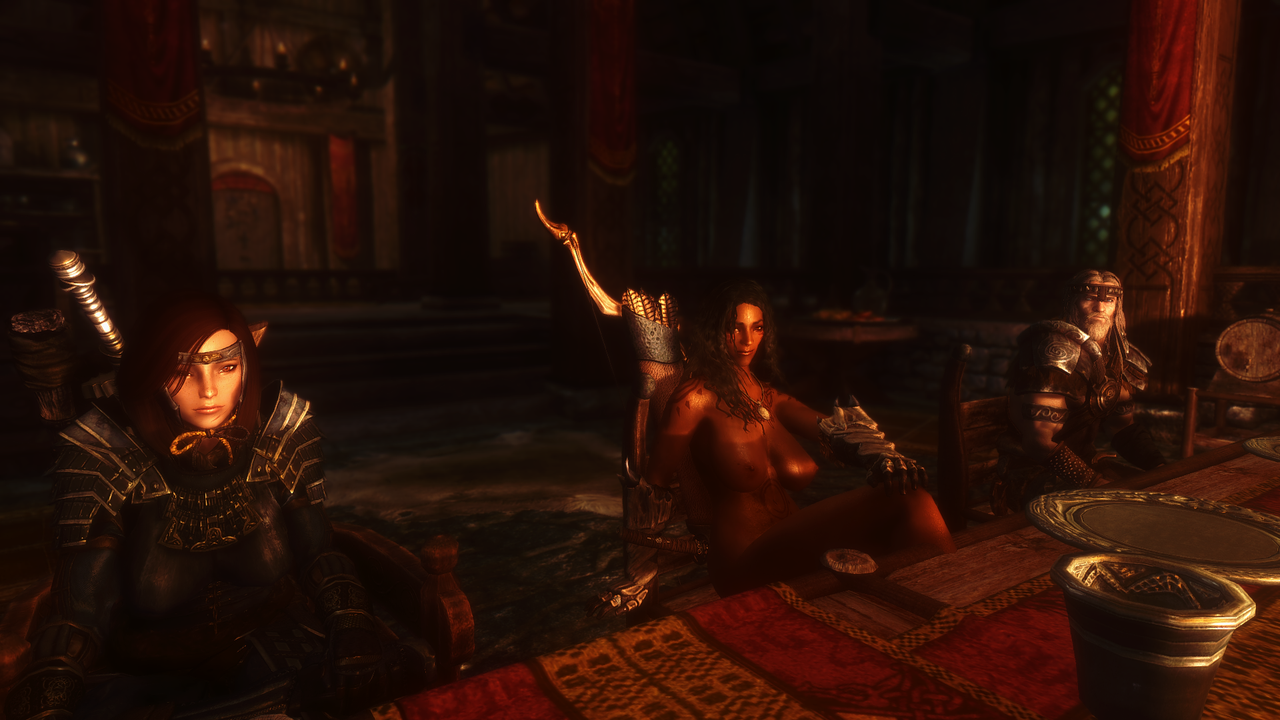 Ms.Heavy-Iron: They're trying to be macho. Killing a troll with your fists would be pretty hard, let alone naked, i'd be smarter to wear armor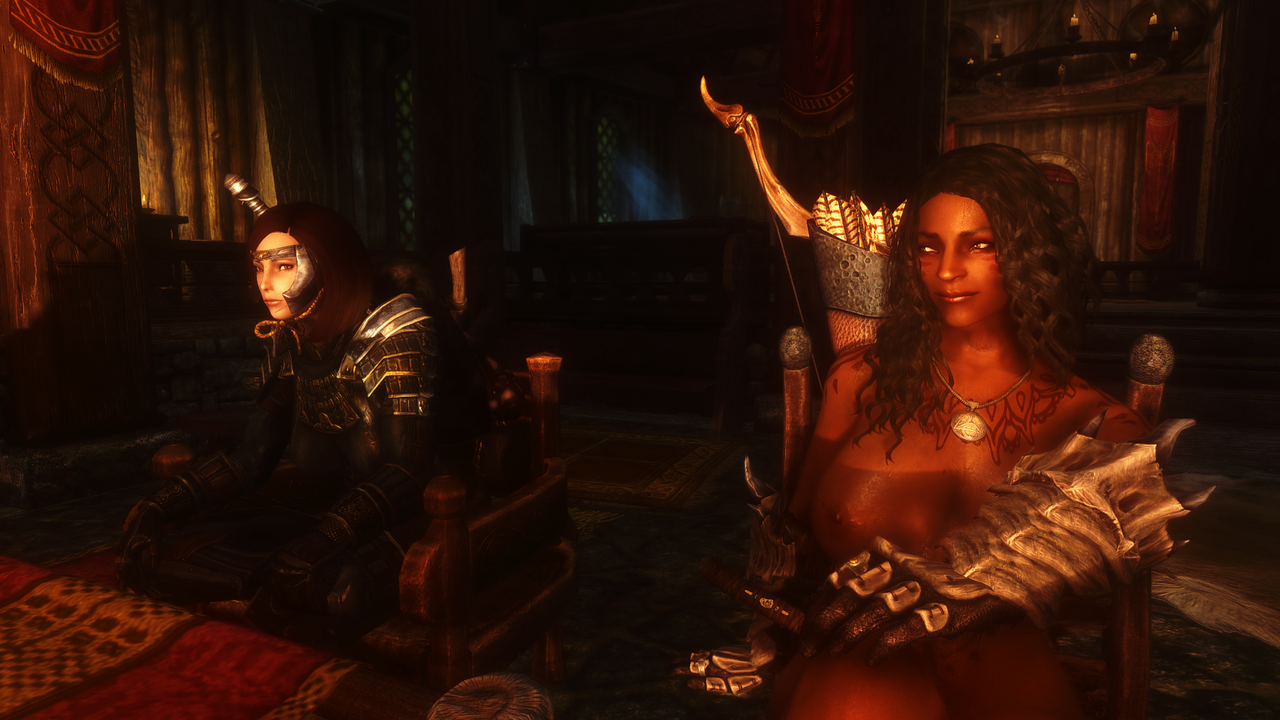 Aela: Are you really one to talk about armor though?
Farkas: Yeah, you don't even wear armor.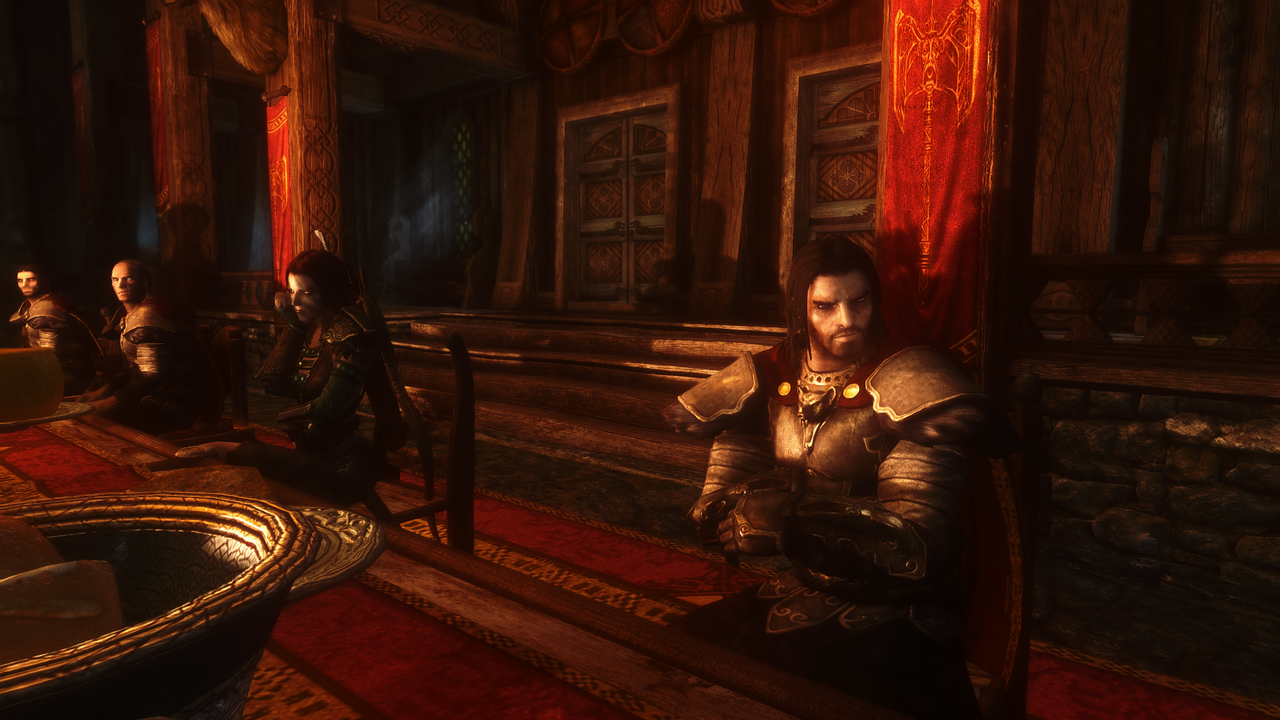 Ms.Heavy-Iron: True but i'm not going around punching trolls.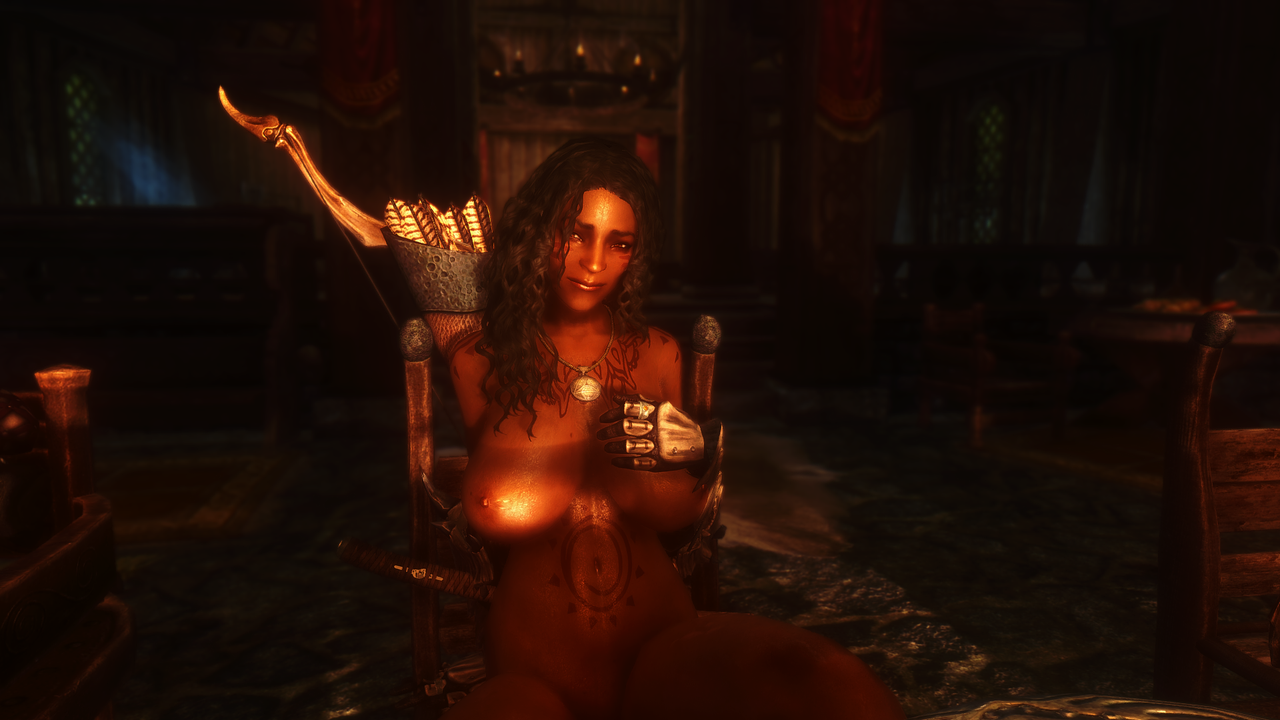 Ms.Heavy-Iron: Besides i'm an archer, i mostly fight at a distance, i don't need too much.
Aela: But even i wear armor.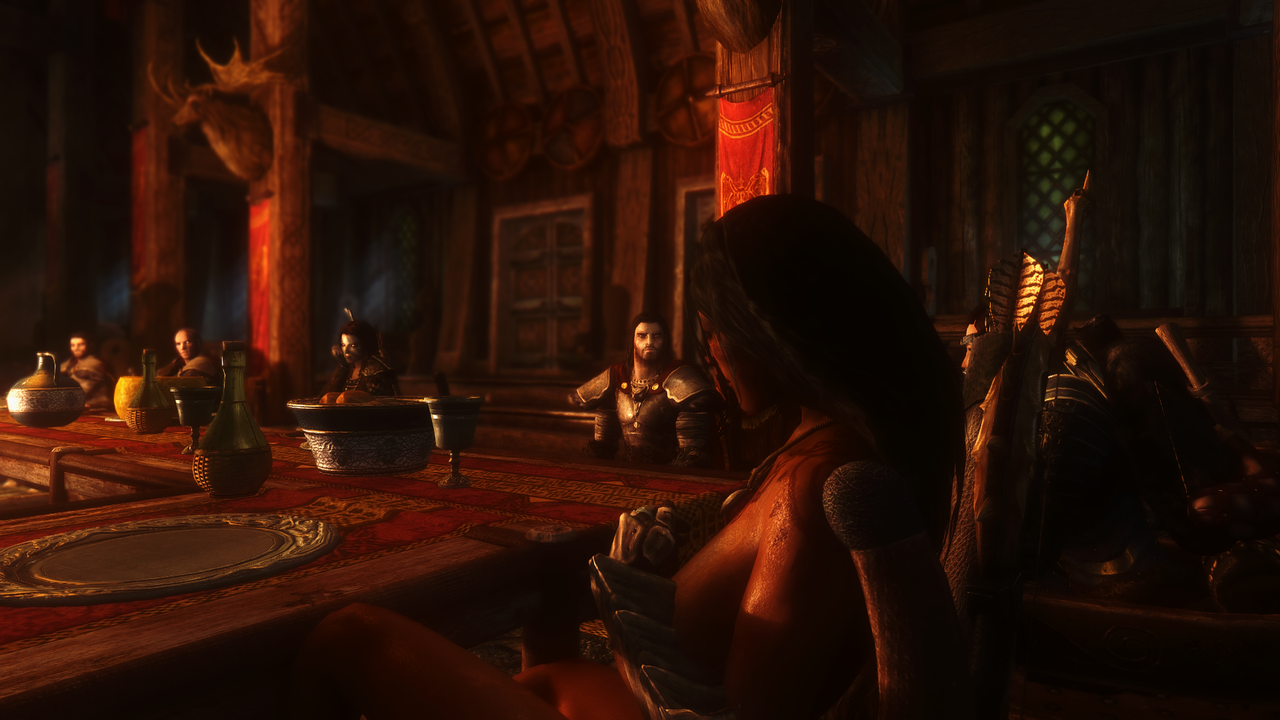 Aela: Even at a distance i've been hit by some rather accurate bandits so i can't ever be too prepared.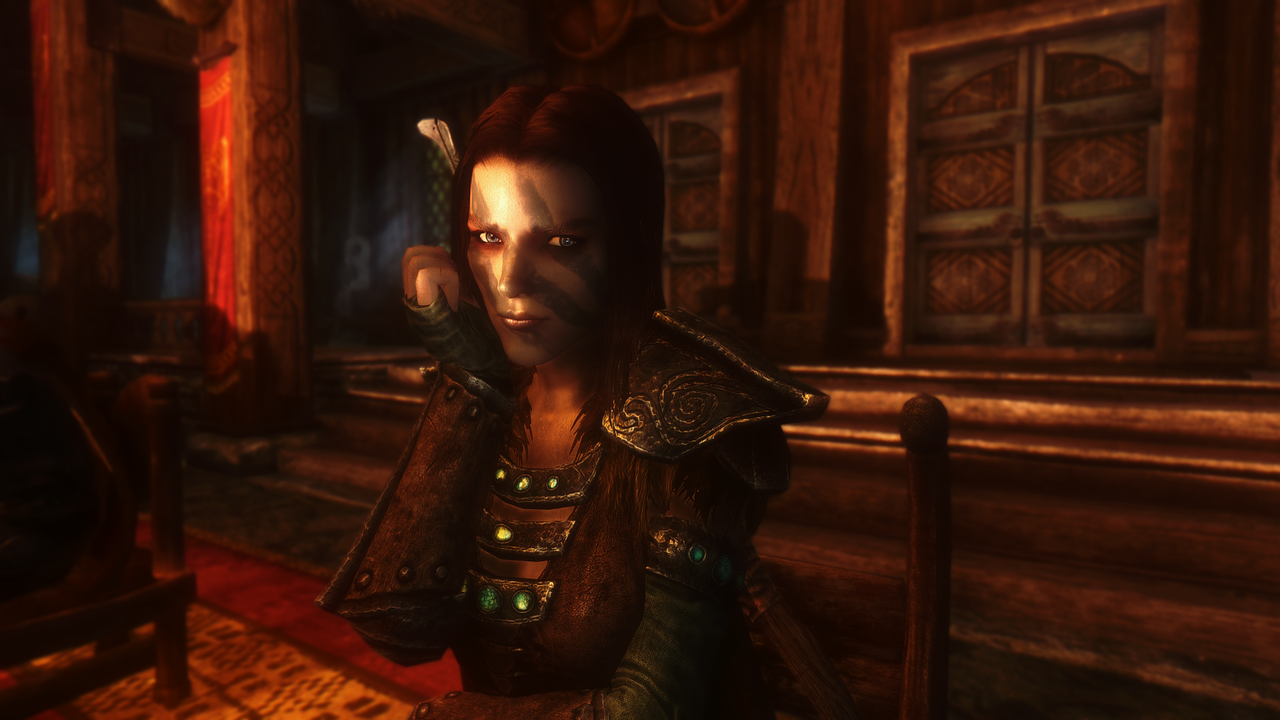 Aela: Come to think of it why are you a nudist in the first place.
Ms.Heavy-Iron: Its for Hunting.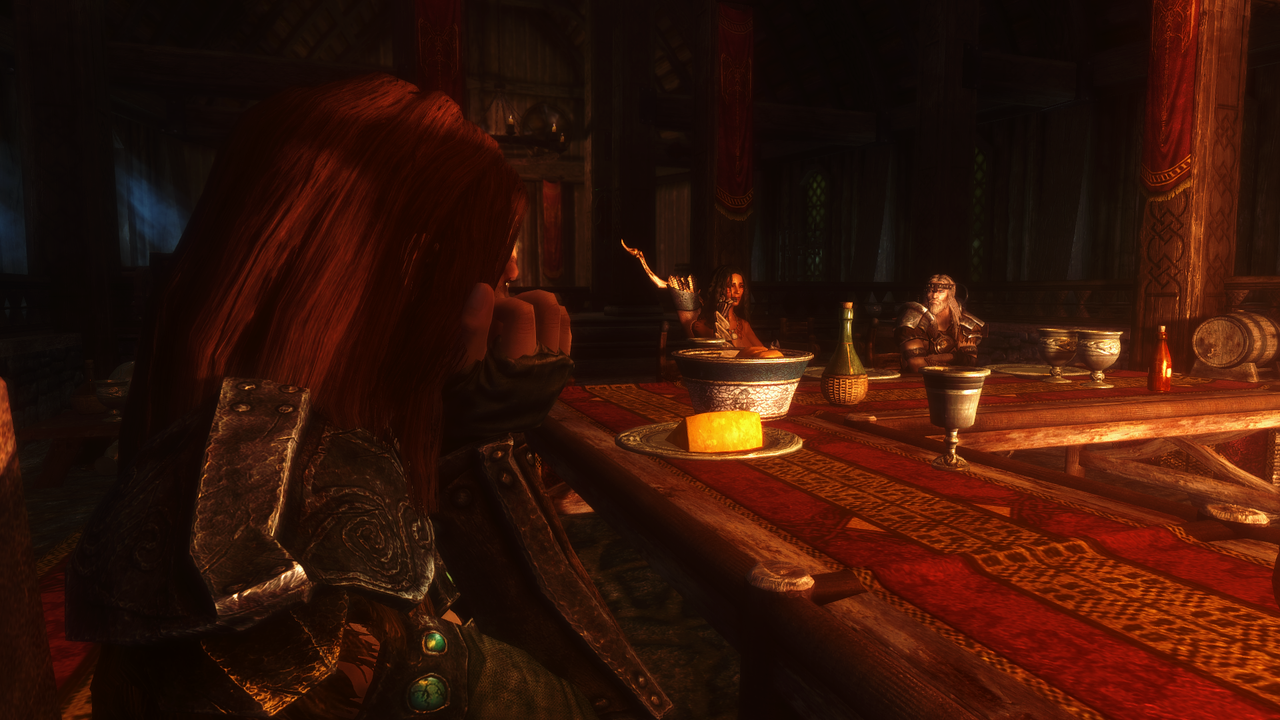 Vikas: Trollshit, there's no way that's true, so what's the real reason.
Farkas: Yeah.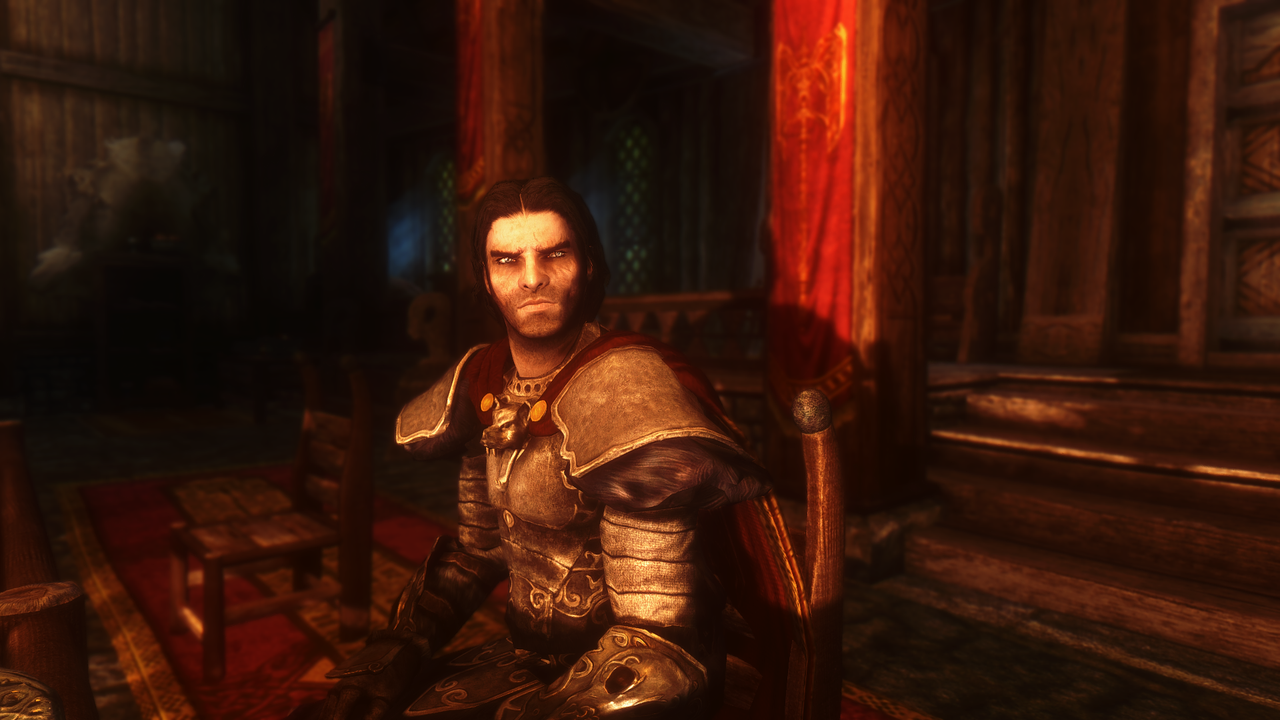 Ms.Heavy-Iron: Guys.
Satsuki: Please Emily, we want to know.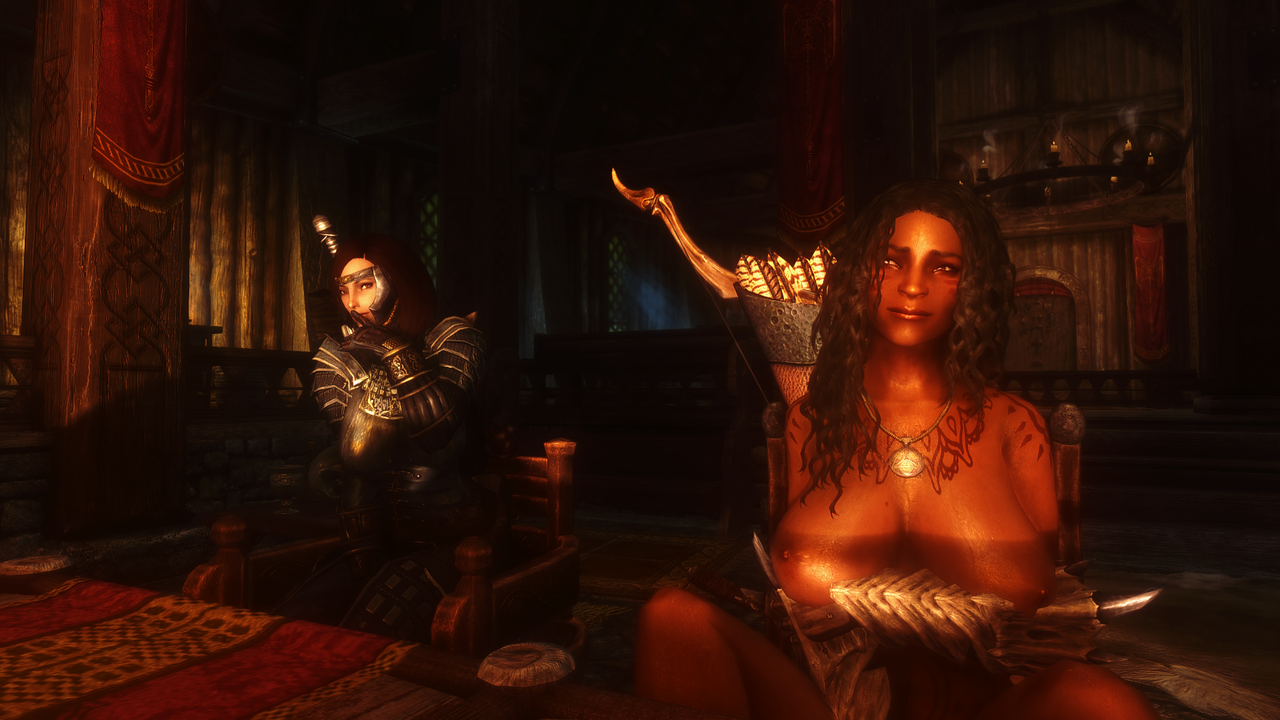 Eorland: Does it have to do with Lily and Throk?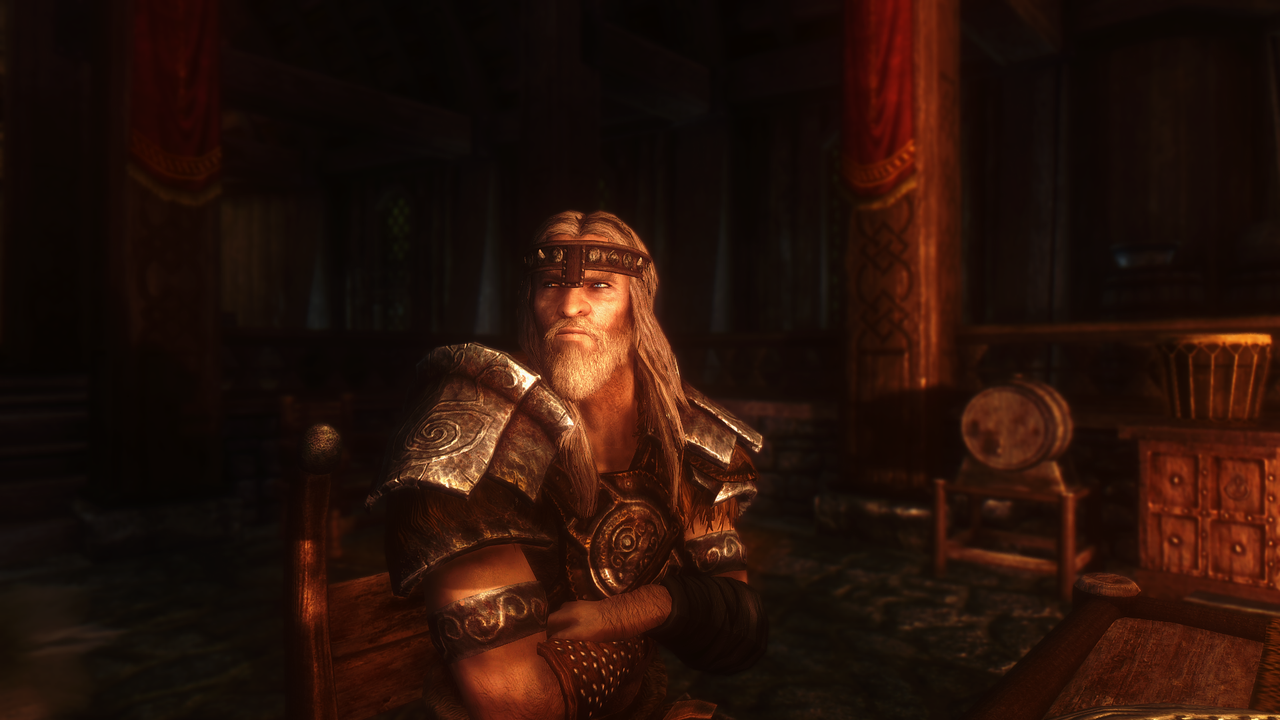 Aela: Lily and Throk? Wait, Lily Sondu, the Demonic Archer you've told me about?
Vikas: The one who hunted mammoths and giants for practice.
Skjor: Oh not her!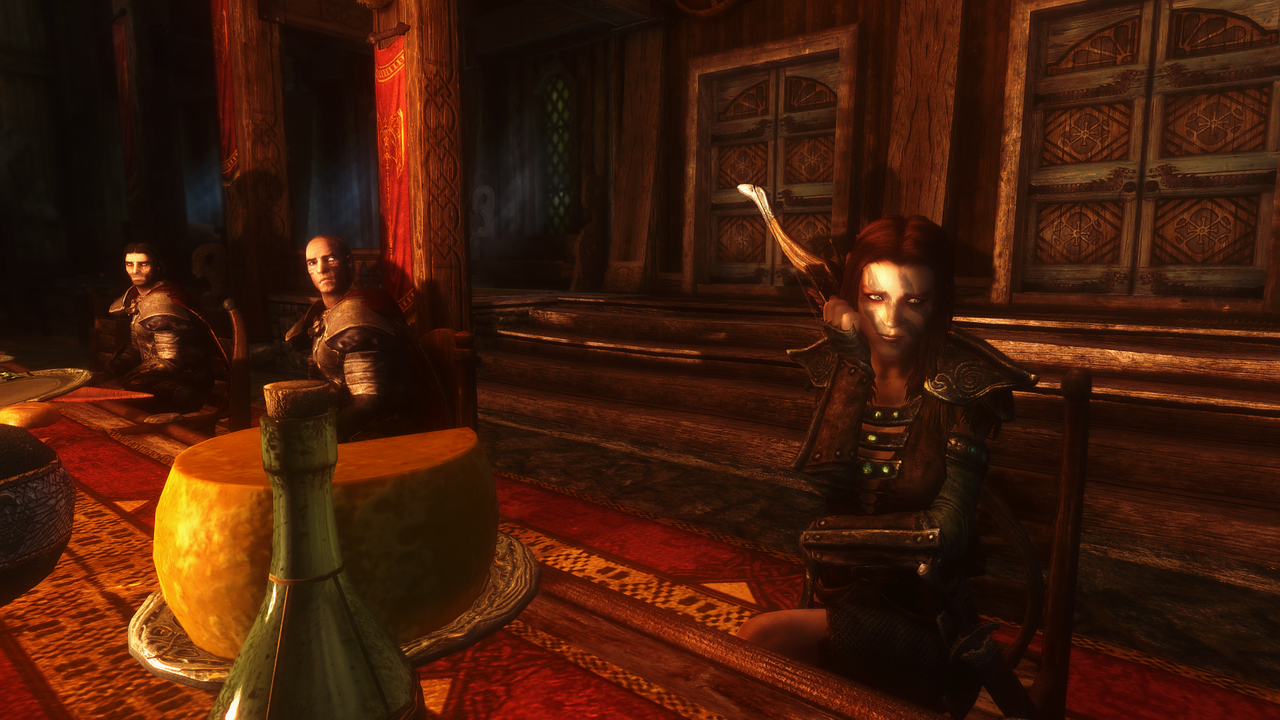 Ms.Heavy-Iron: Heh heh, Mom always told me she would hunt bigger game, didn't thinks she was aiming that big all the time.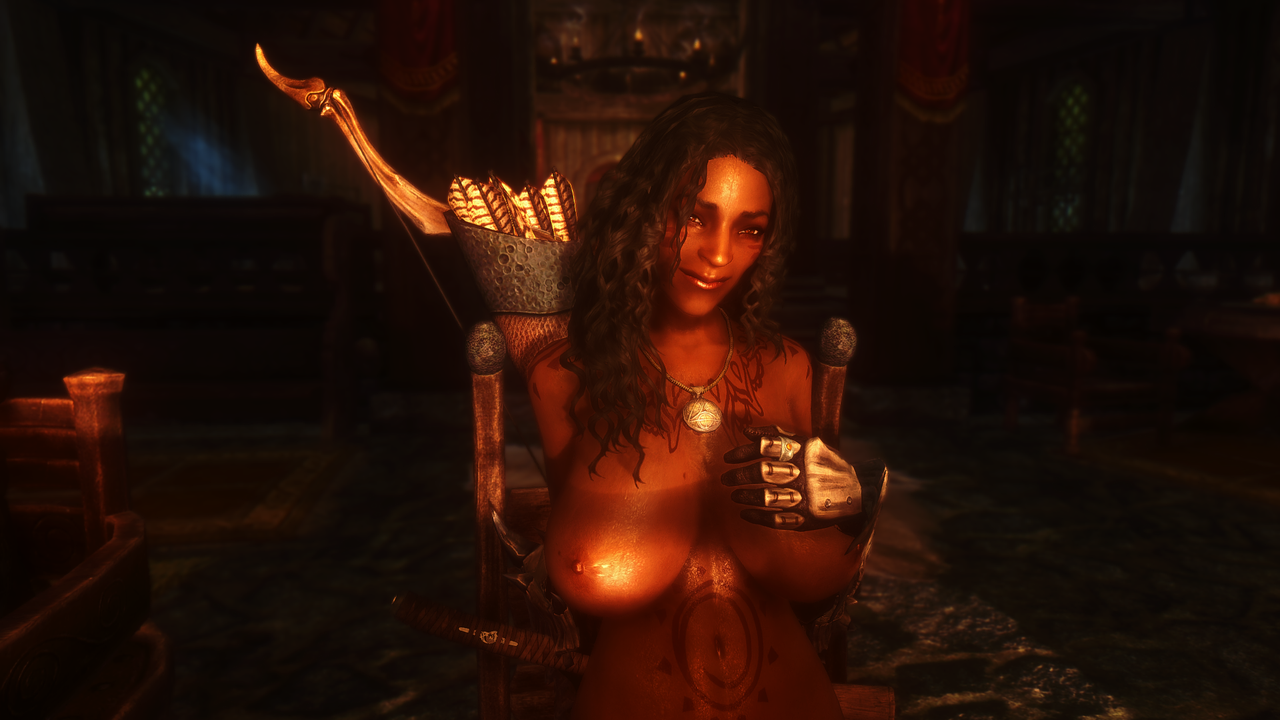 Aela, Farkas, and Skjor: MOM!!!!
Satsuki: Excuse me.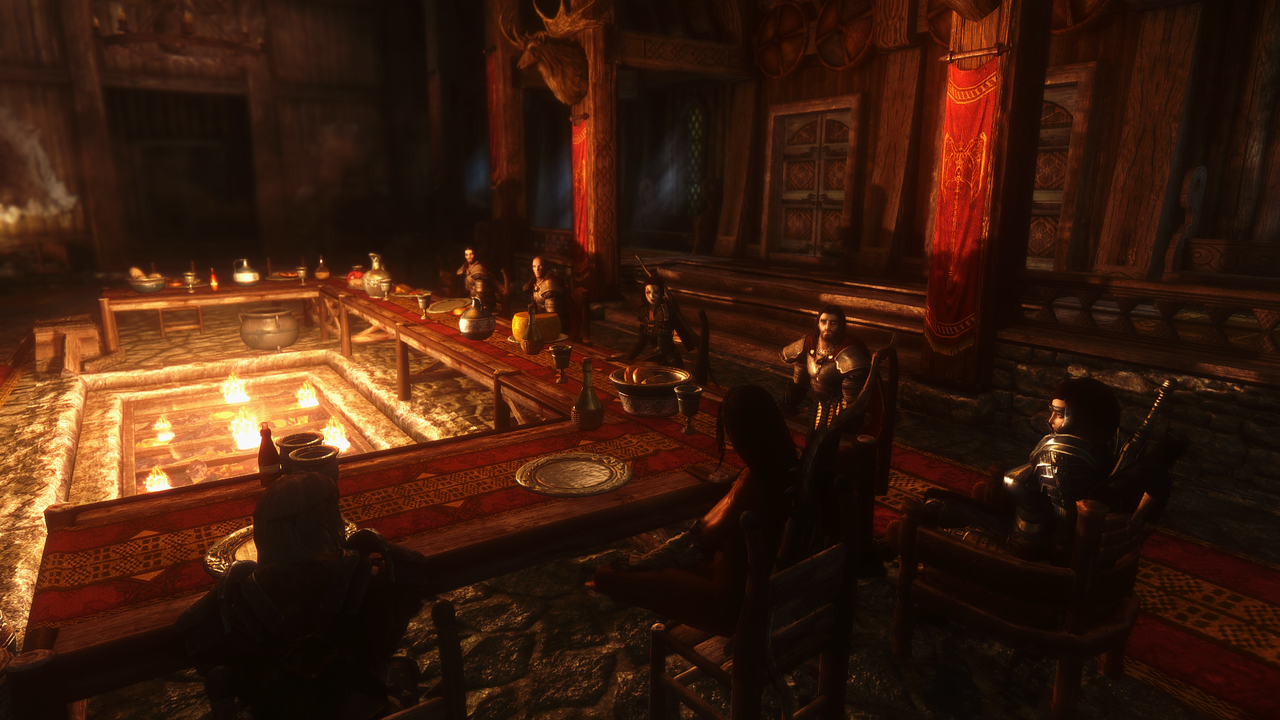 Satsuki: Who's Lily Sondu.
Eorland: She was a former companion 21 years ago.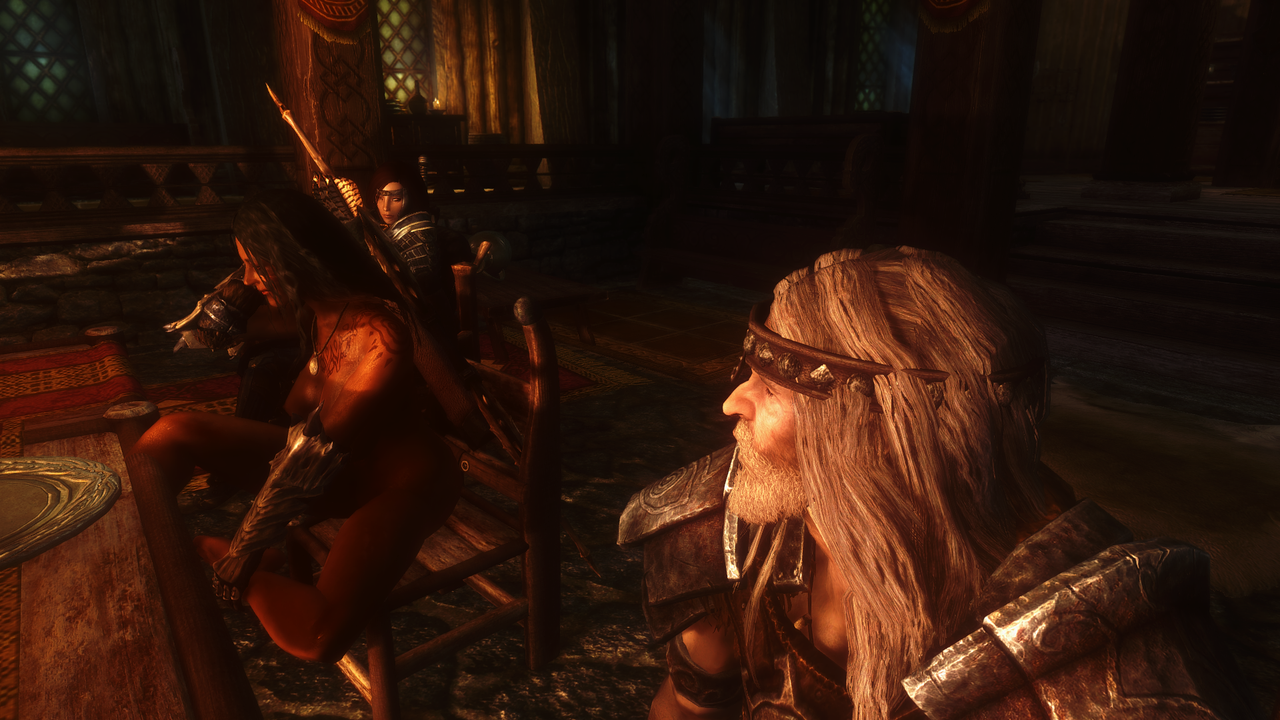 Eorland: "Lily was part of the Companions for 2 years."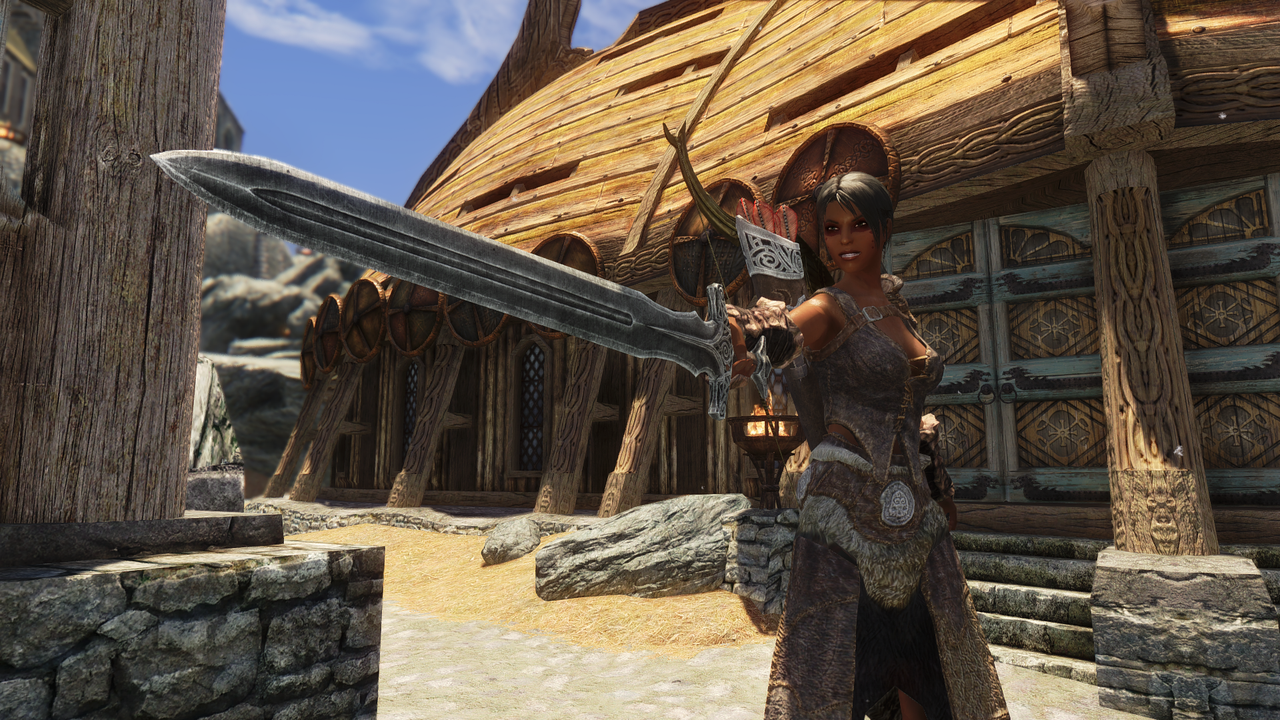 Eorland: "Lily was probably one of the toughest Redguard and Archer i'd ever met at the time"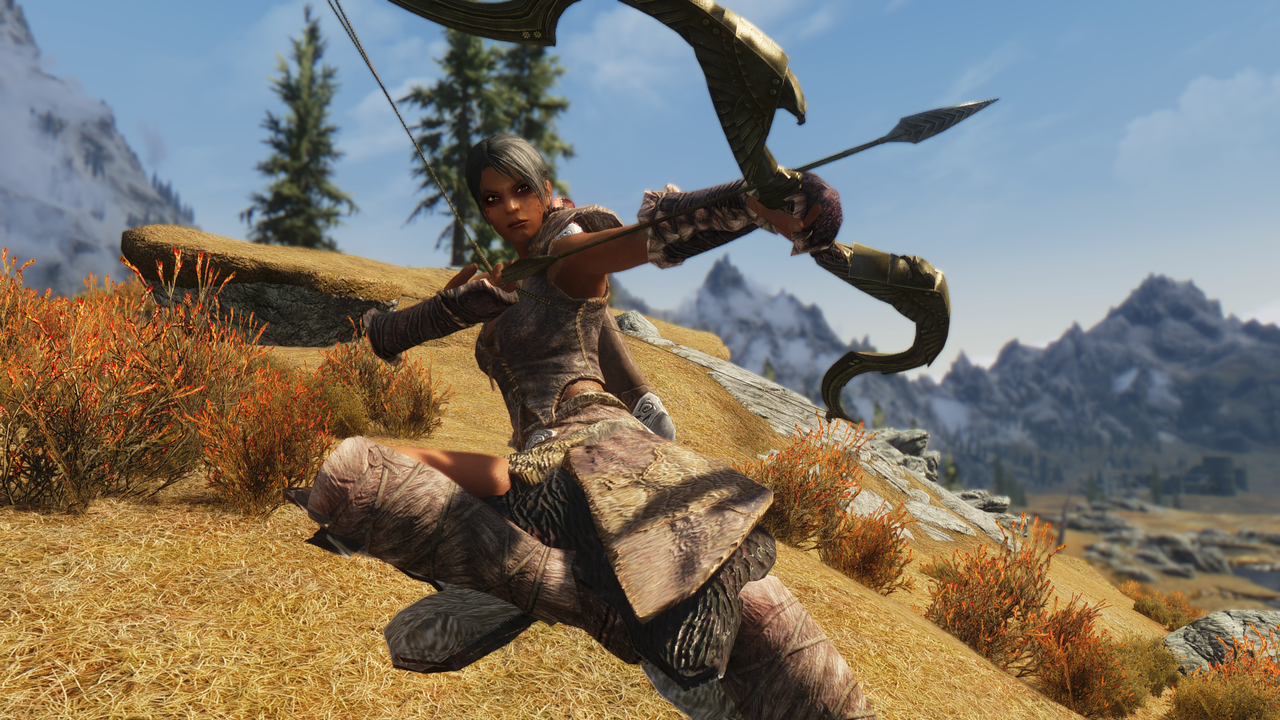 Eorland: "Lily was very tough too, bandits couldn't defeat her."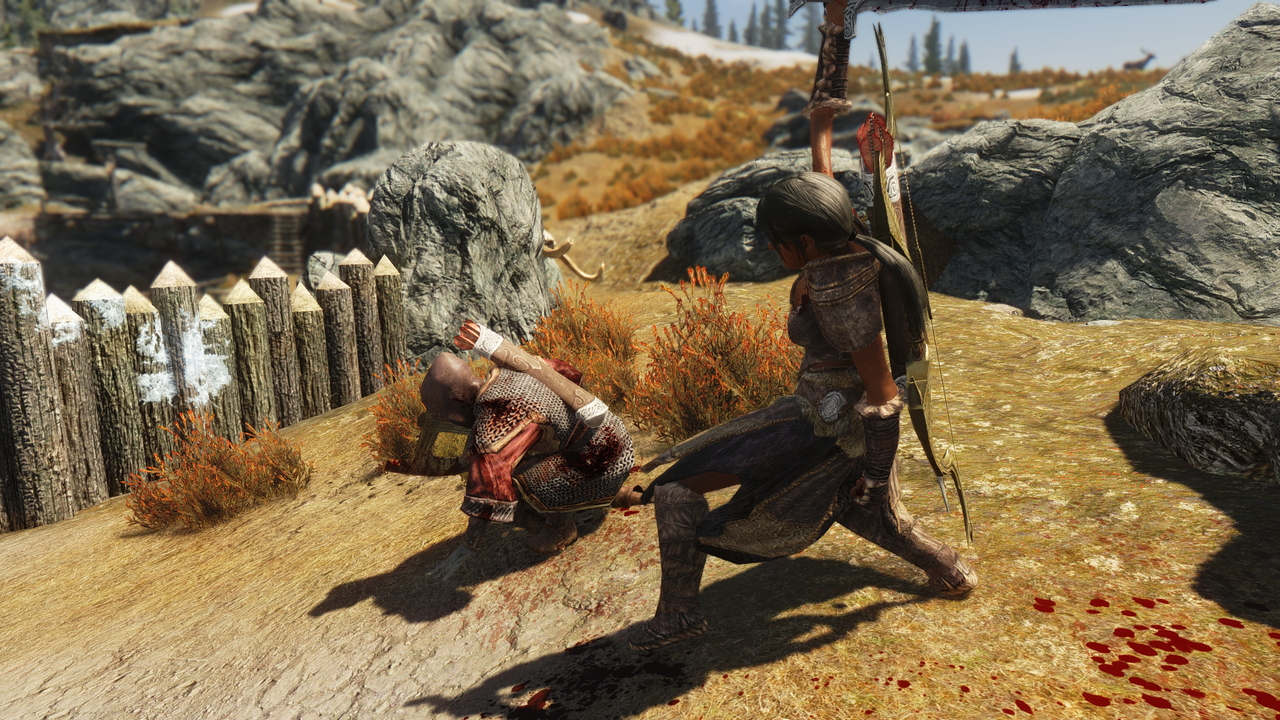 Eorland: "Nor their chiefs"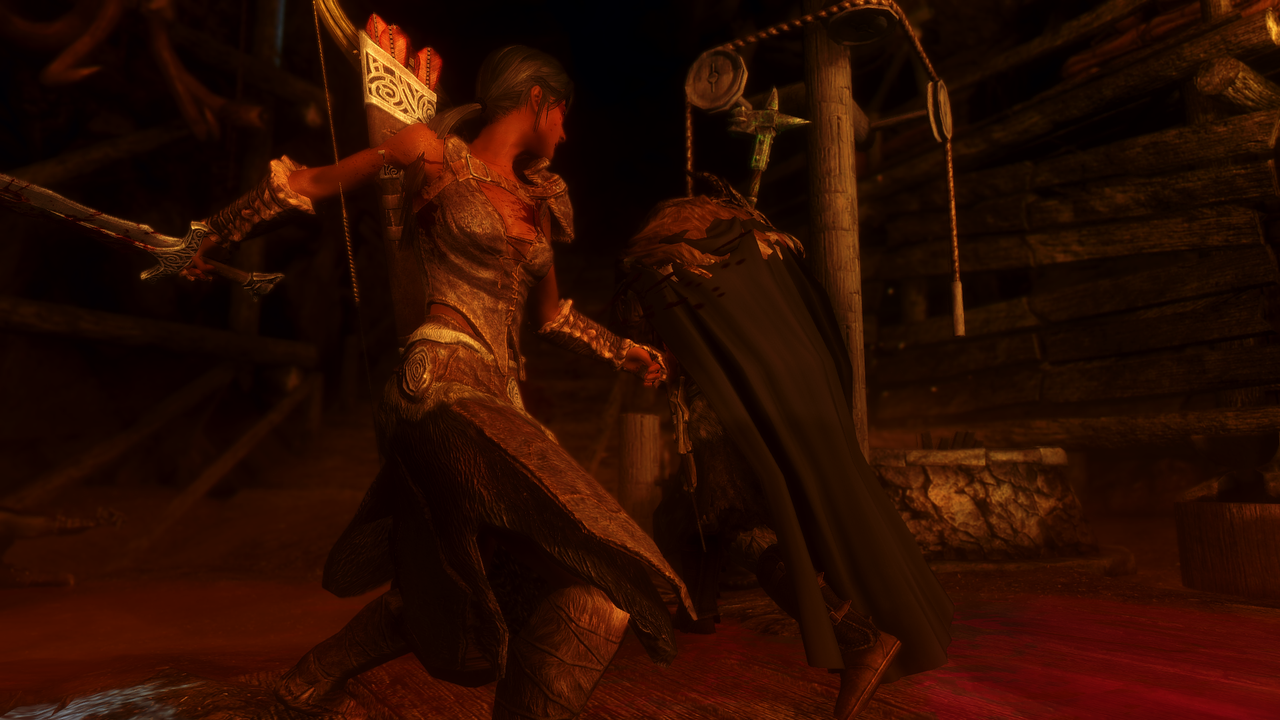 Eorland: "Whether it be Giants and Mammoths."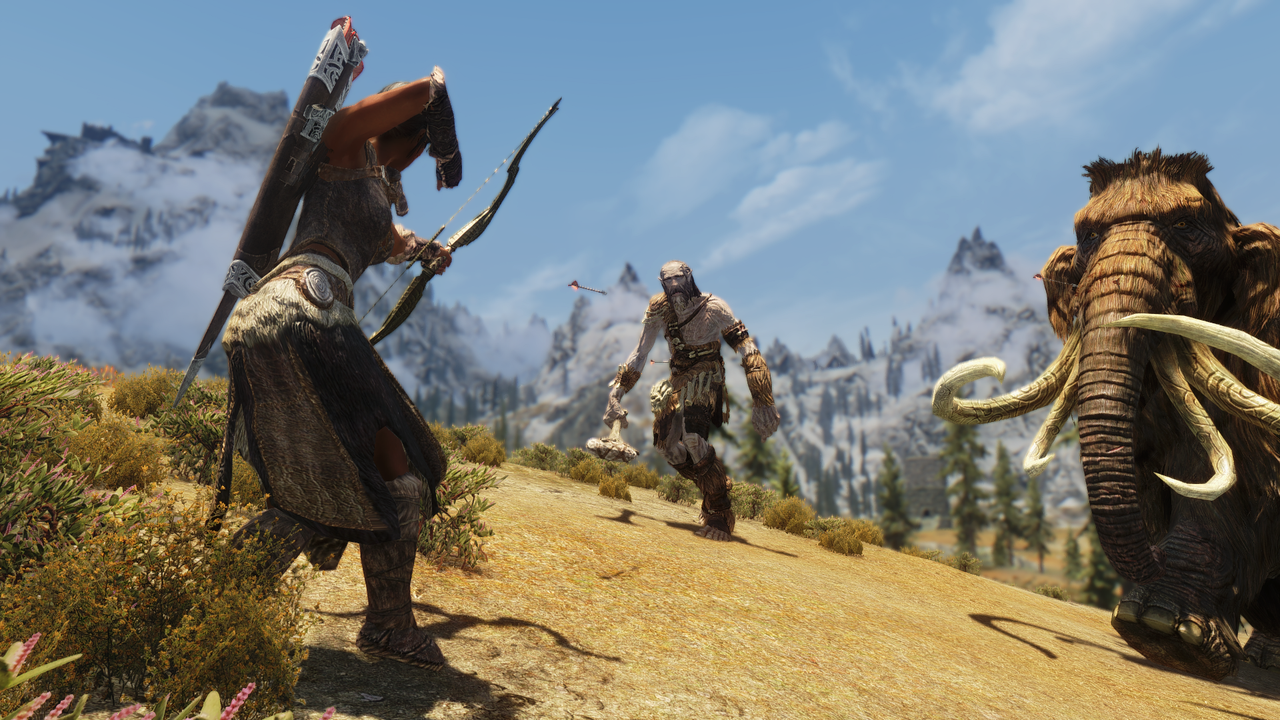 Eorland: "She'd always prevail"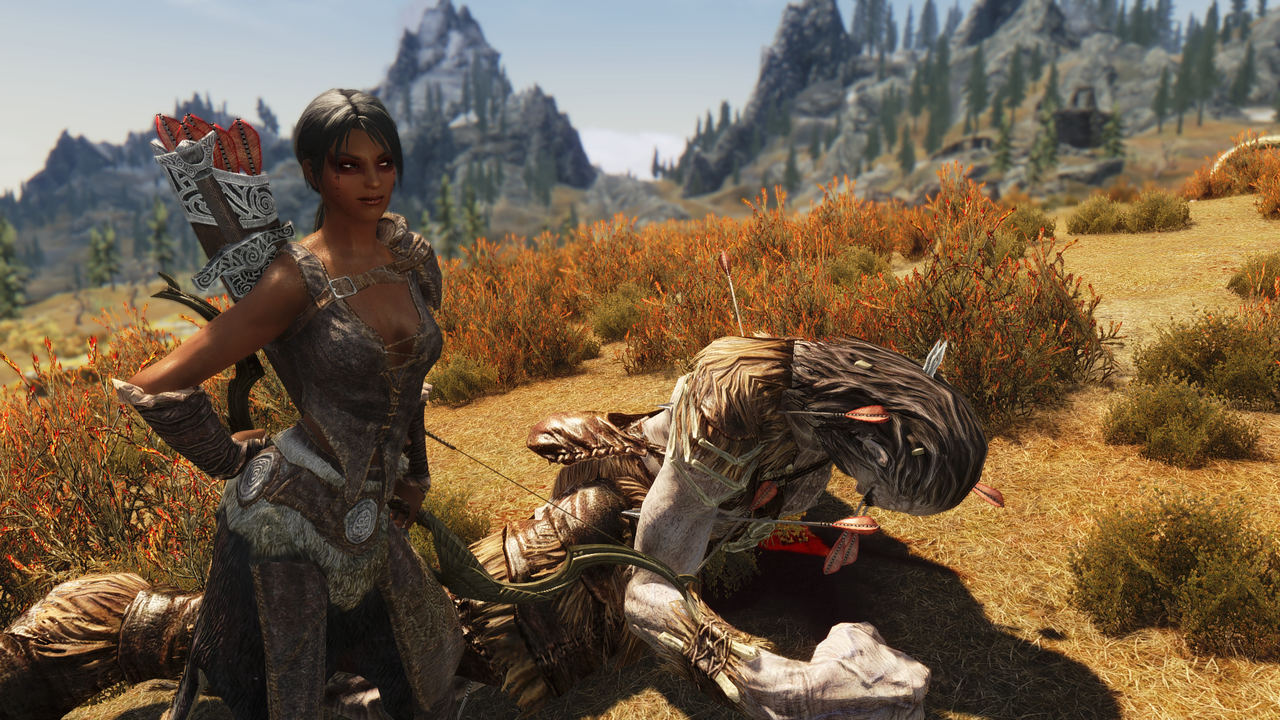 Eorland: "She had a bad Temper though"
Skjor: "Oh i remember"
Lily: You old Bastard!
Skjor: Ah!
Ms.Heavy-Iron: "Yeah that sounds like mom"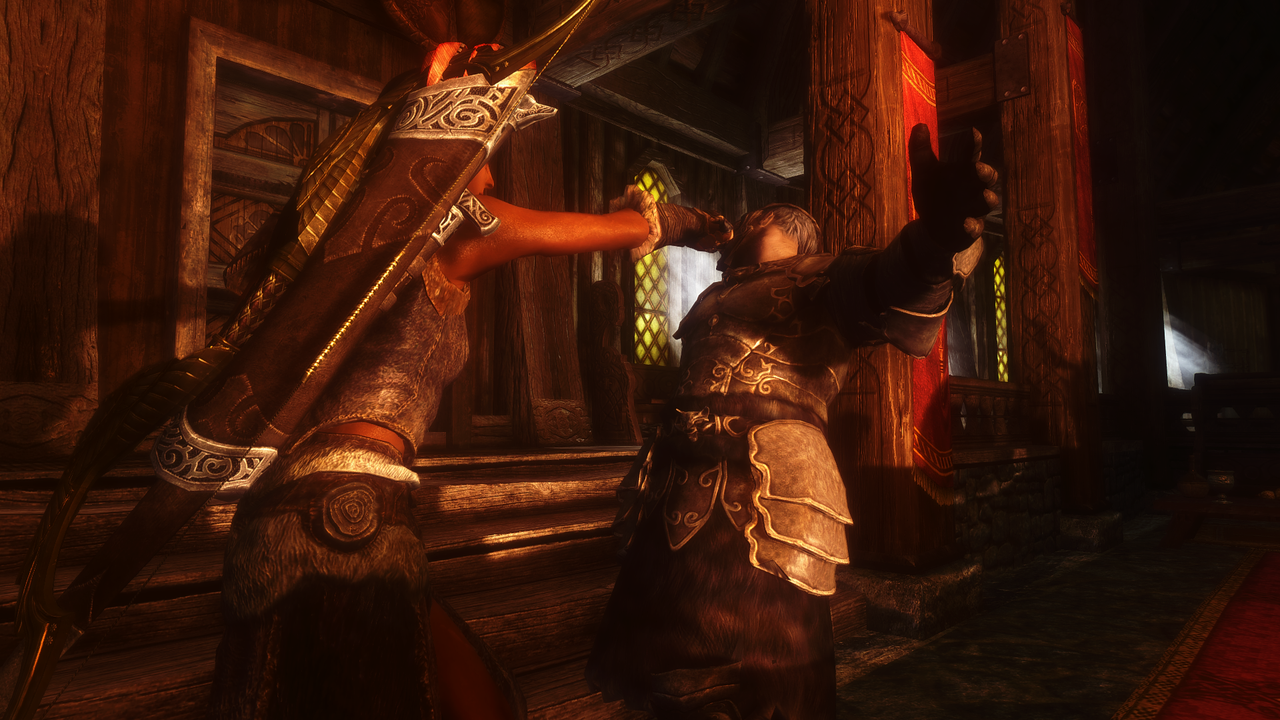 Ms.Heavy-Iron: She always got angry quick.
Satsuki: she sounds pretty cool.
Ms.Heavy-Iron: Heh, thanks.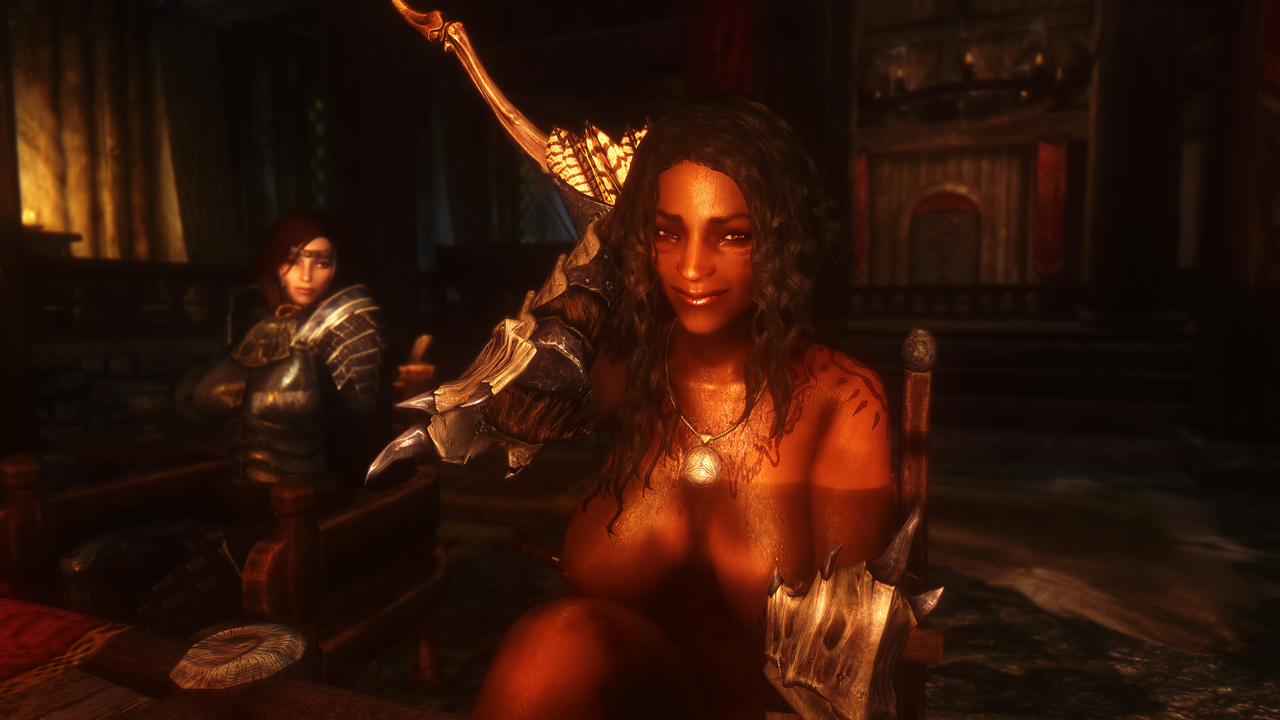 Farkas: So was she a nudist too? I'd like to see you two naked side by side, busty mother and daughter.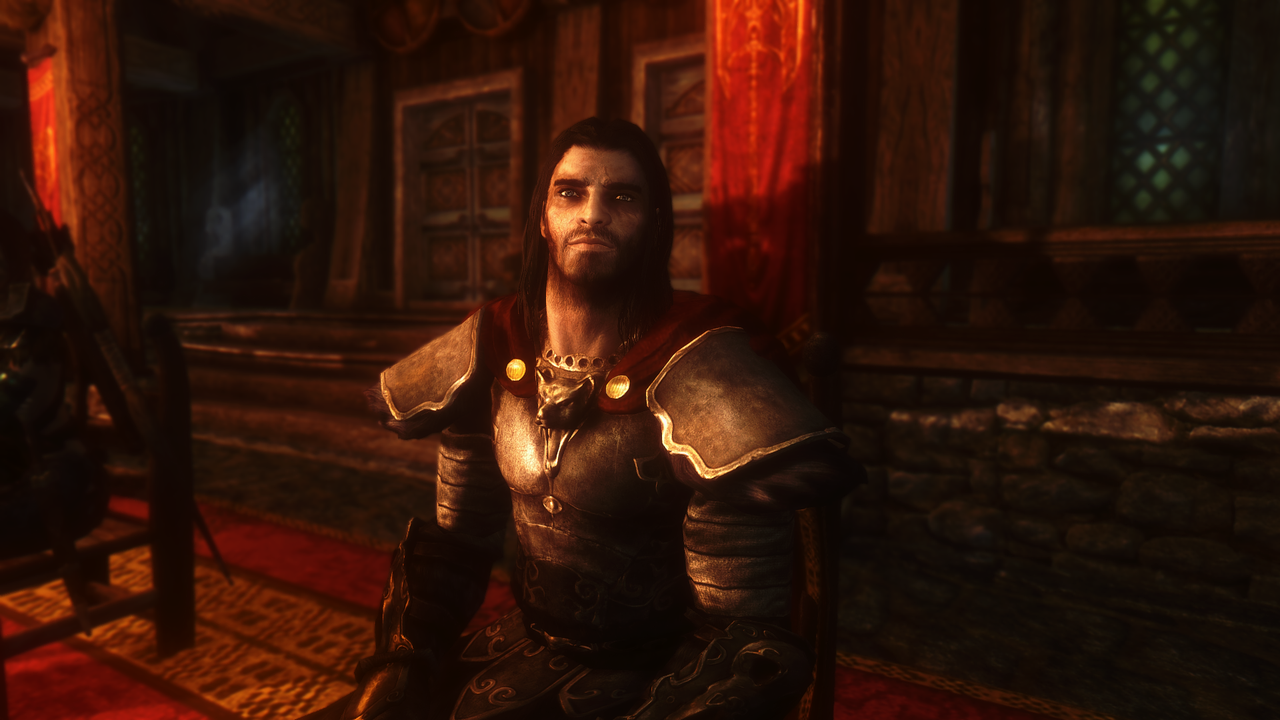 *Aela hits Farkas*
Farkas: Ow.
Ms.Heavy-Iron: Not that i know of, besides.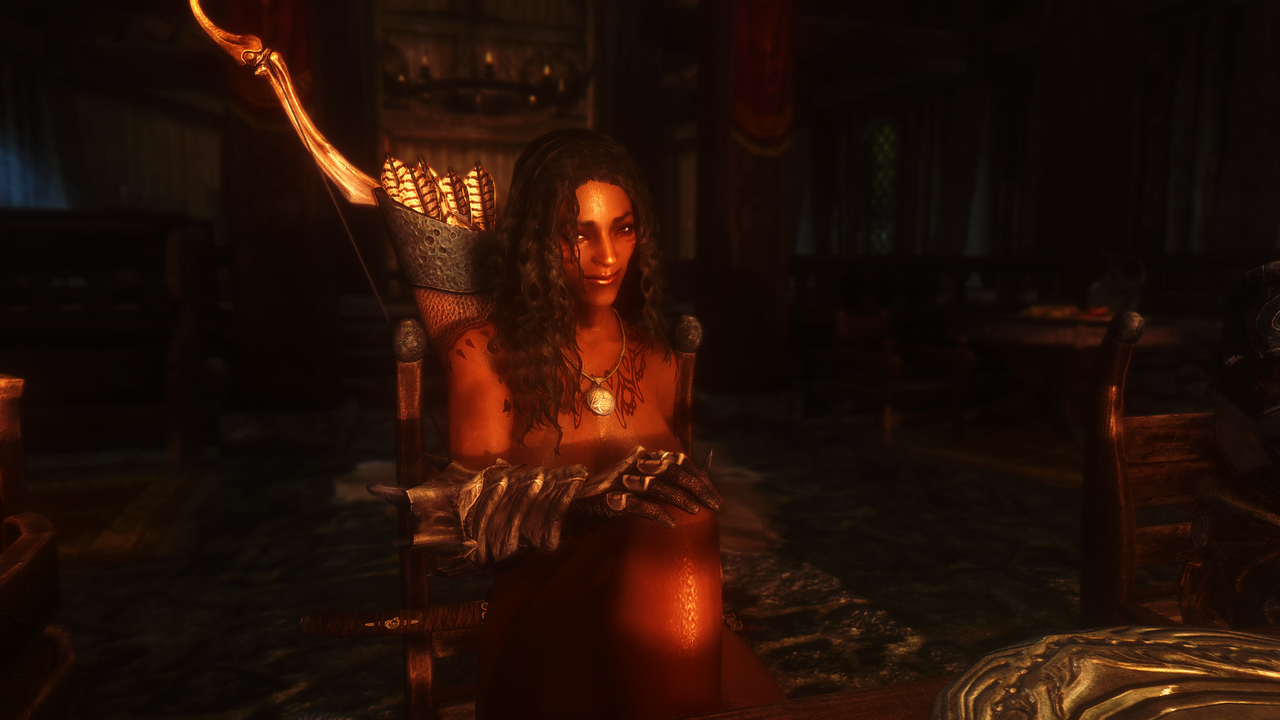 *Looks at chest*
Ms.Heavy-Iron: I'm a lot bigger than my mother in a lot of ways.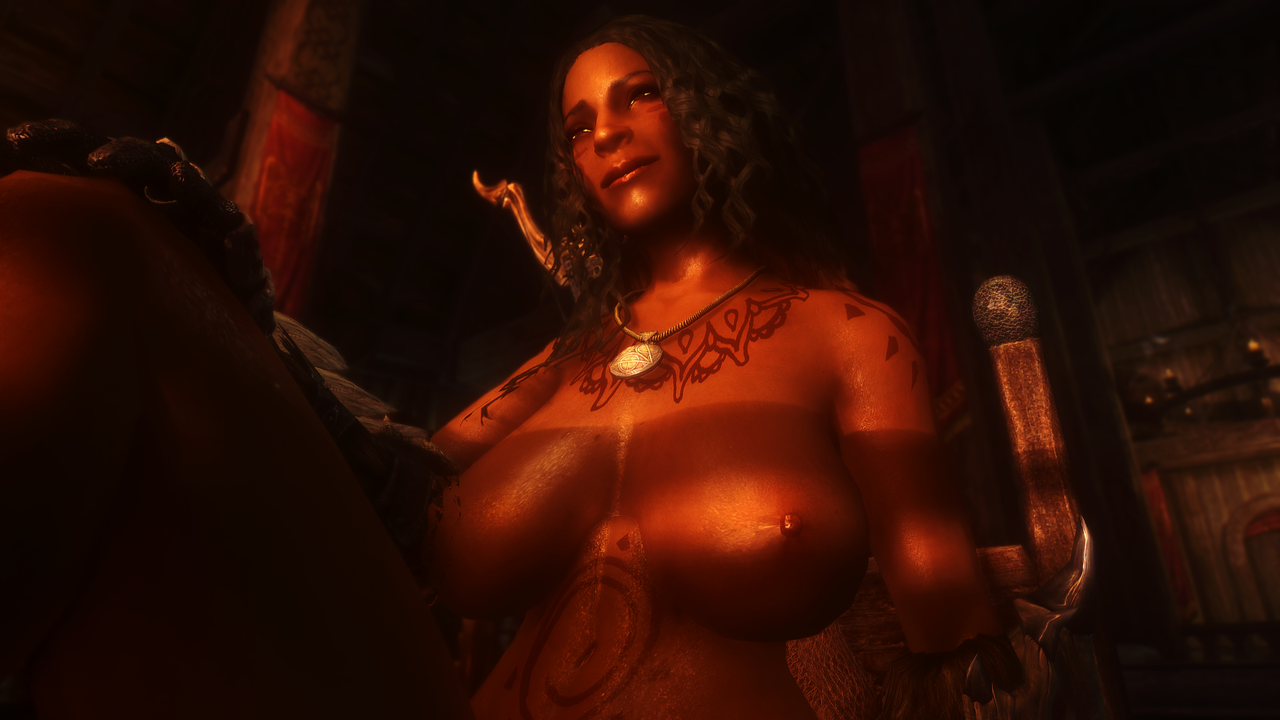 Farkas: Really.
Aela: Keep staring and i'll beat you with a warhammer this time.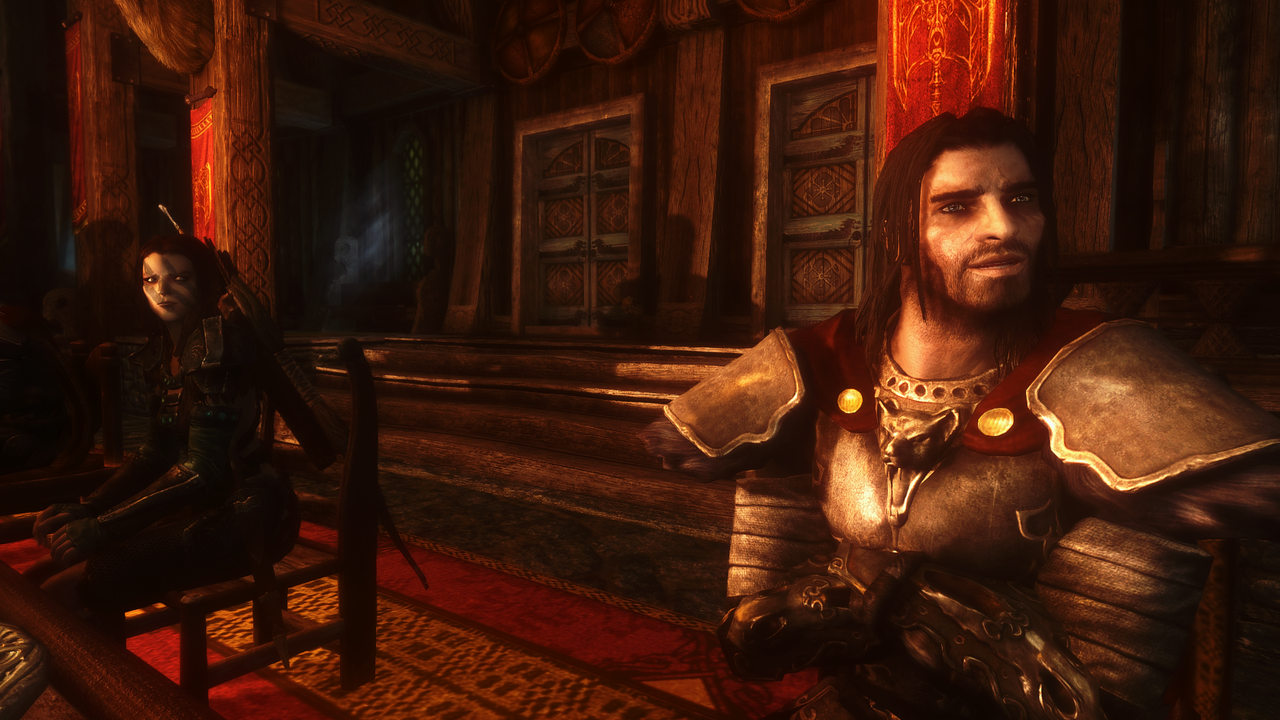 Eorland: I met Emily before when she was 6, while she looks like her mother, she acts nothing like her, in fact she was rather prudish compared to Emily.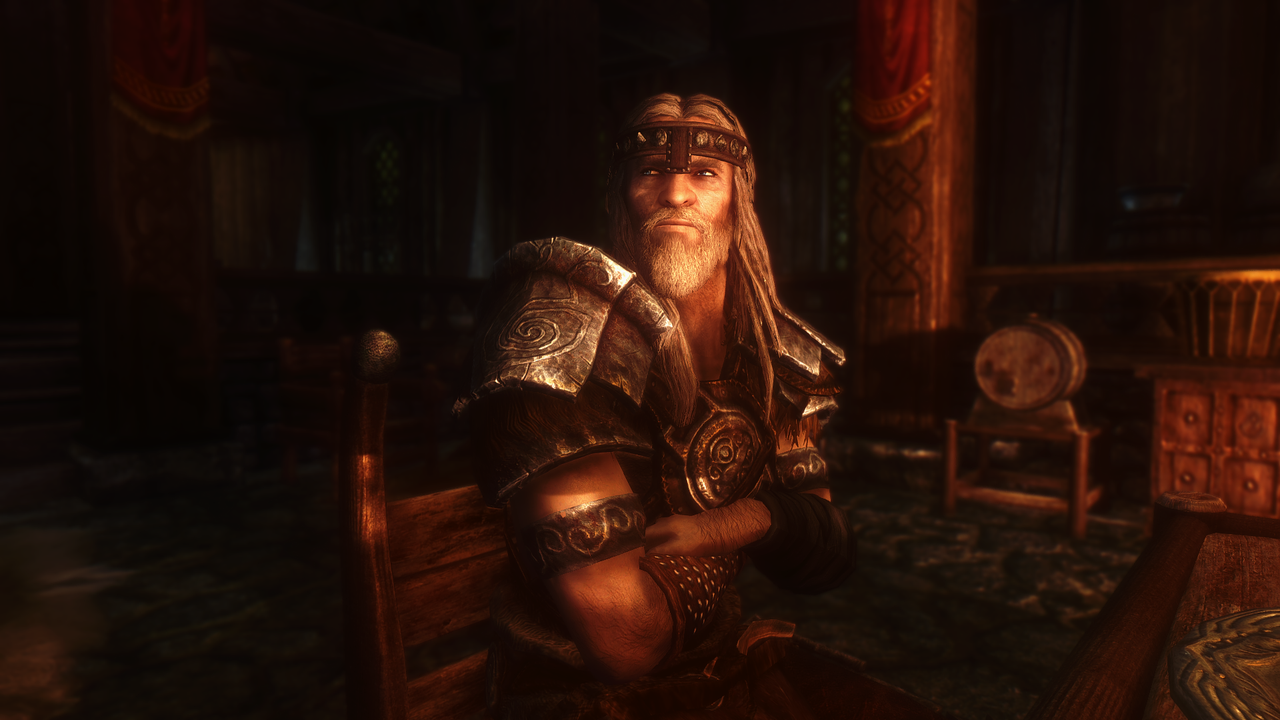 Aela: Really?
Eorland: Yes, where Emily doesn't care if you so much as touch her, Lily was more than likely to break your arm if she even caught you glancing at her.
Skjor: Tell me about it.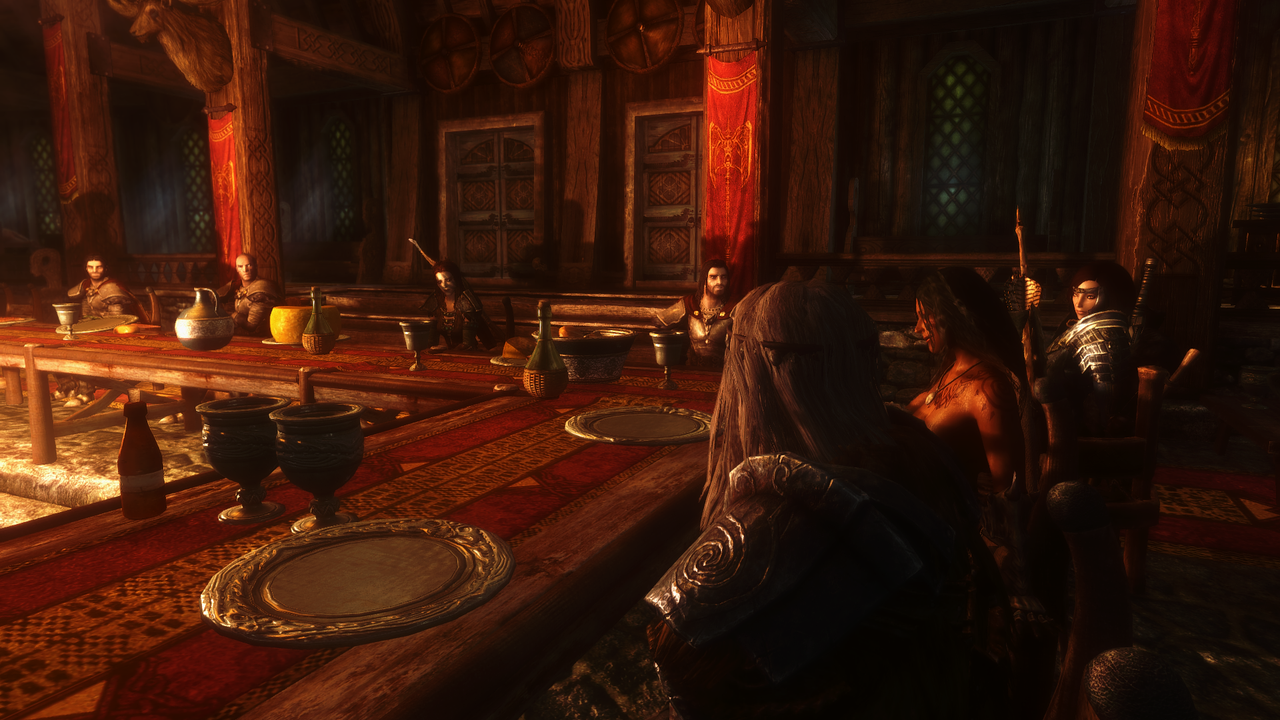 Skjor: "One time I walked in on her changing."
Skjor: Lily, Eorla-Oh.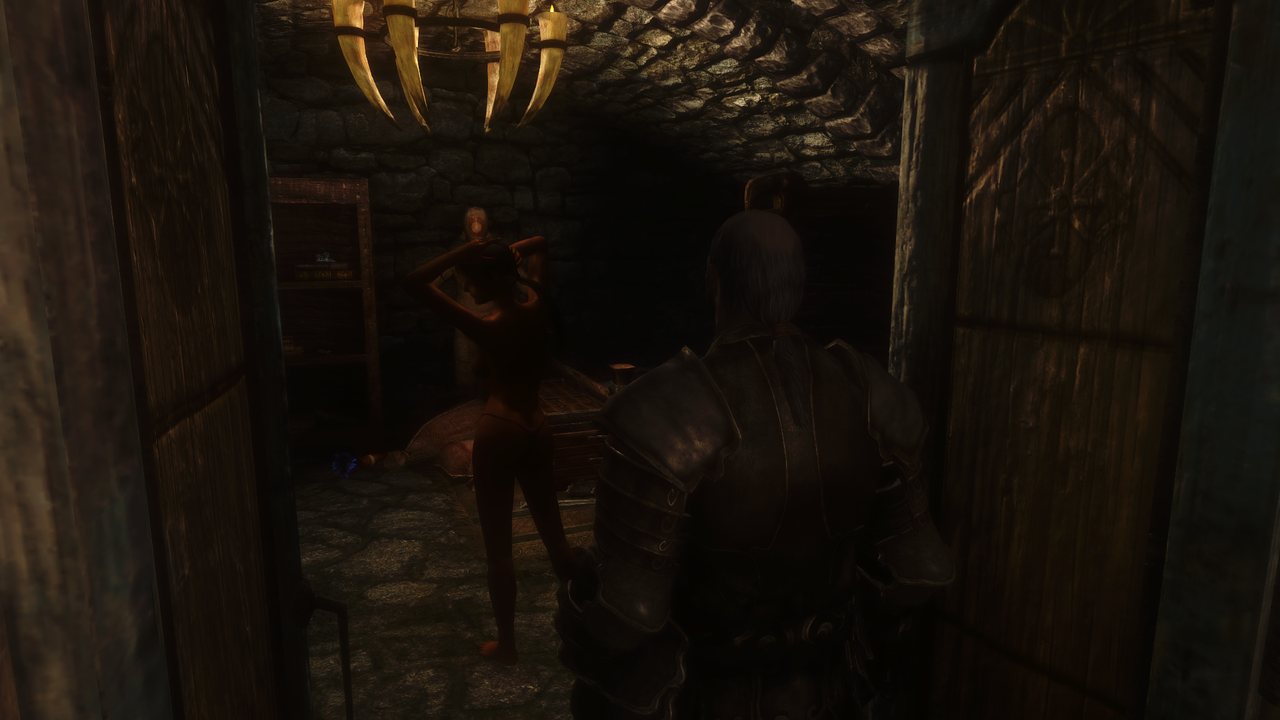 Skjor: "She freaked out."
Skjor: Sorry i-!
Lily: You fucking bastard.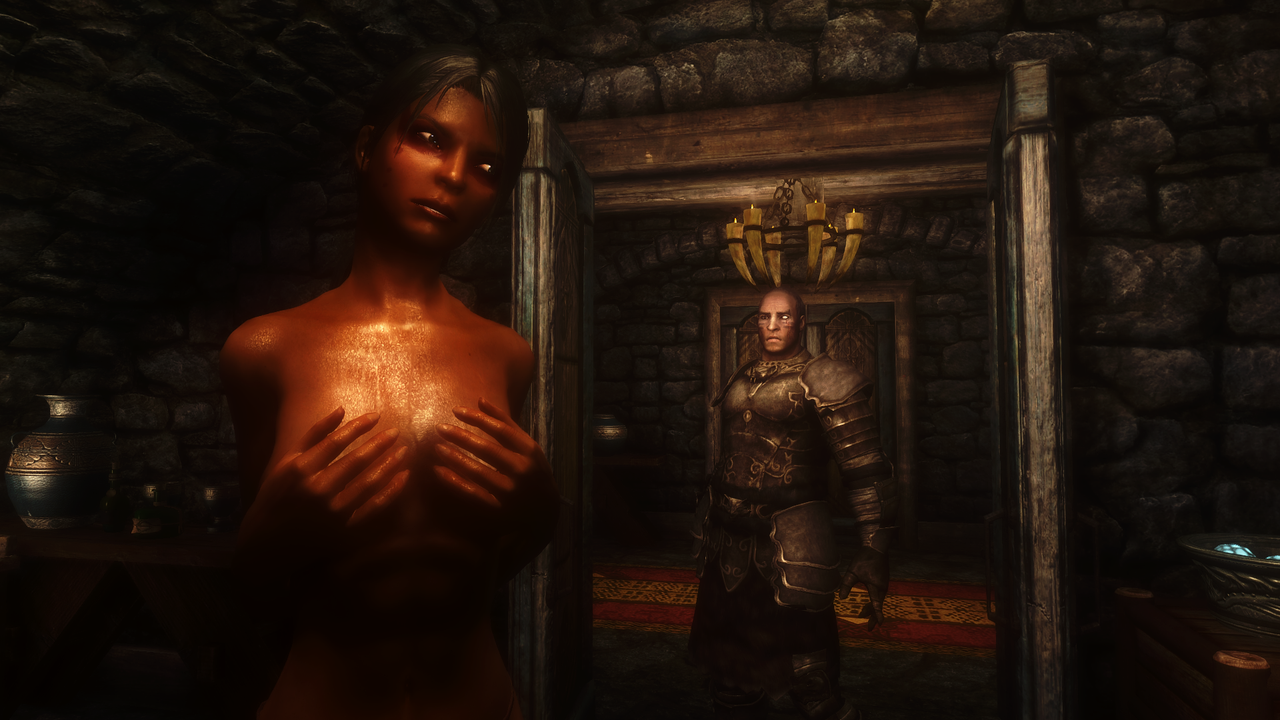 Skjor: "And beat the crap out of him."
Lily: LEARN TO KNOCK!!!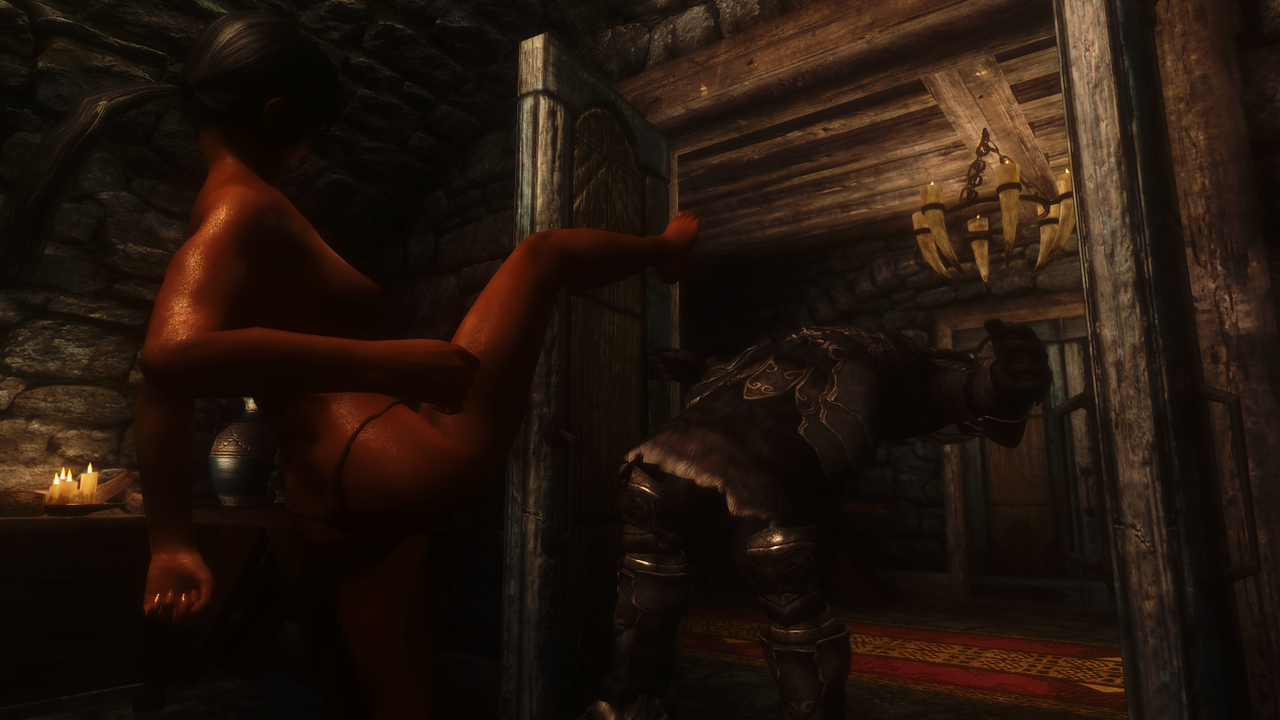 Satsuki: Then how did you end up not wearing clothes.
Eorland: It was probably her dad.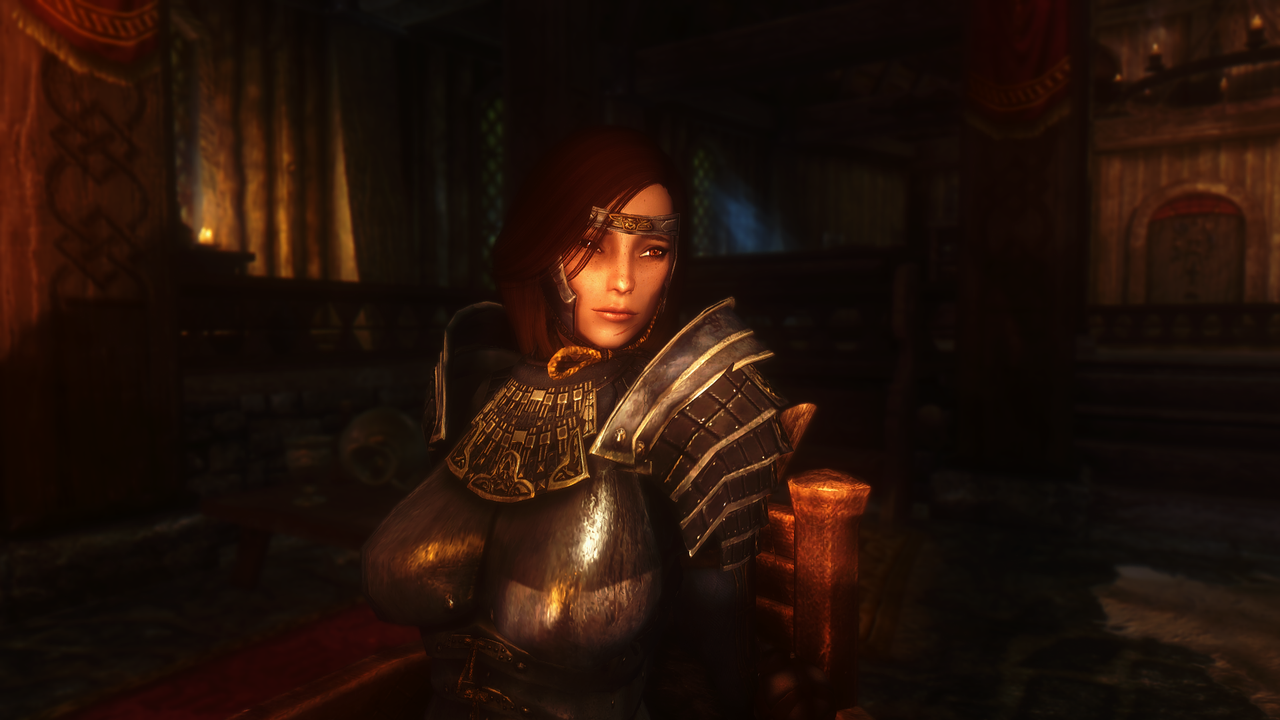 Satsuki: Her dad.
Ms.Heavy-Iron: Really? I didn't know dad had a side like that.
Eorland: He did though, Your mother for the most part got him out of the habit.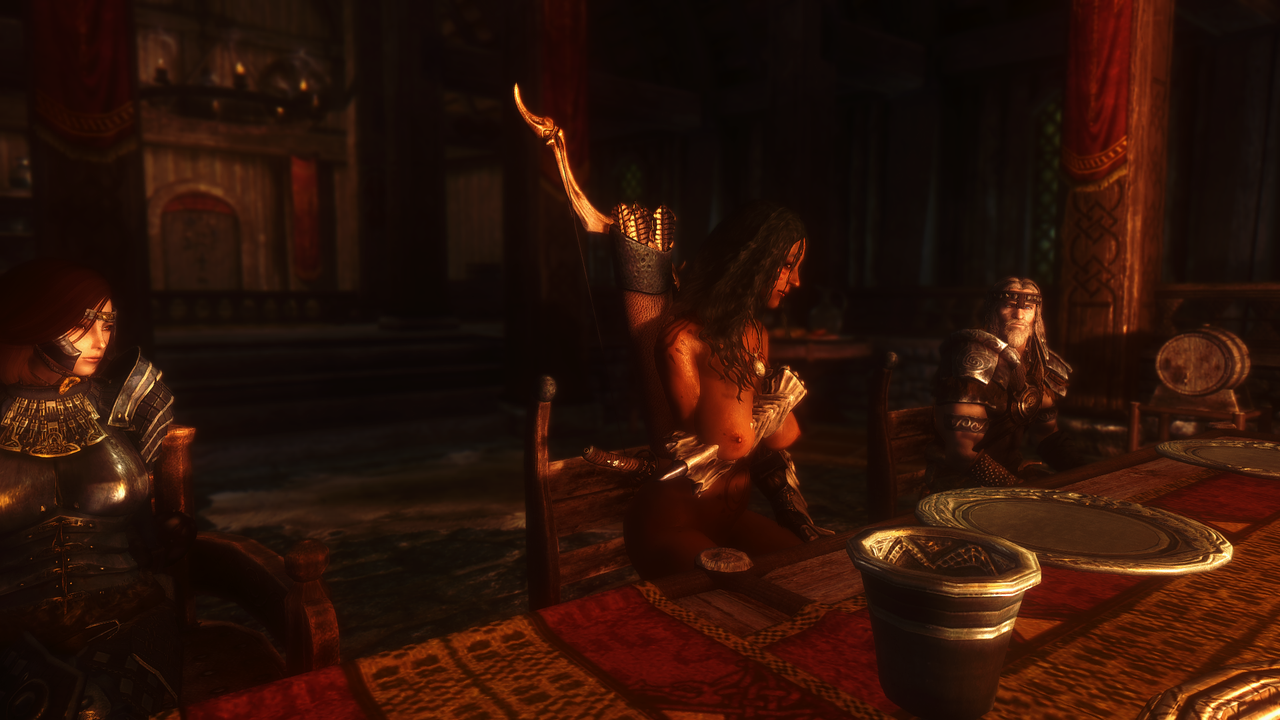 Ms.Heavy-Iron: What was he like when you met him?
Eorland: Well, Throk Heavy-Iron was an interesting fellow, reminded me of you.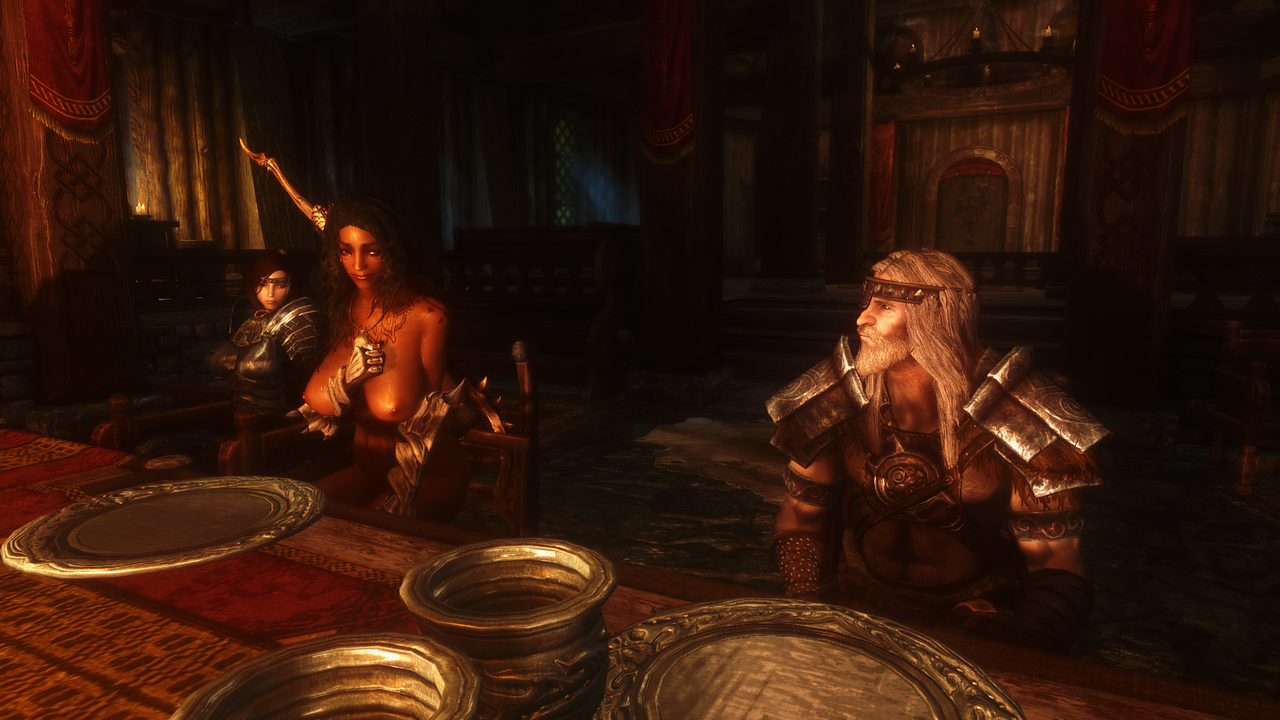 Eorland: "Throk was probably the biggest nord ive seen."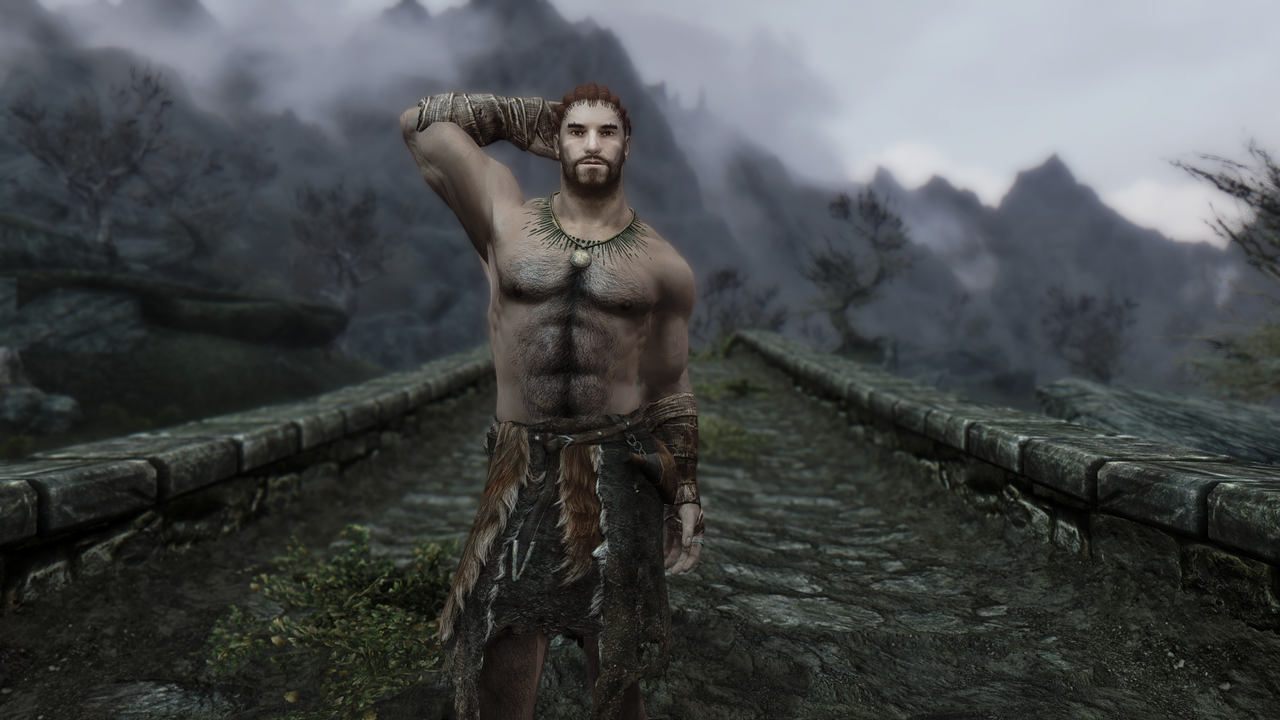 Eorland: "Throk strangely never used weapons, in fact, he was a mage"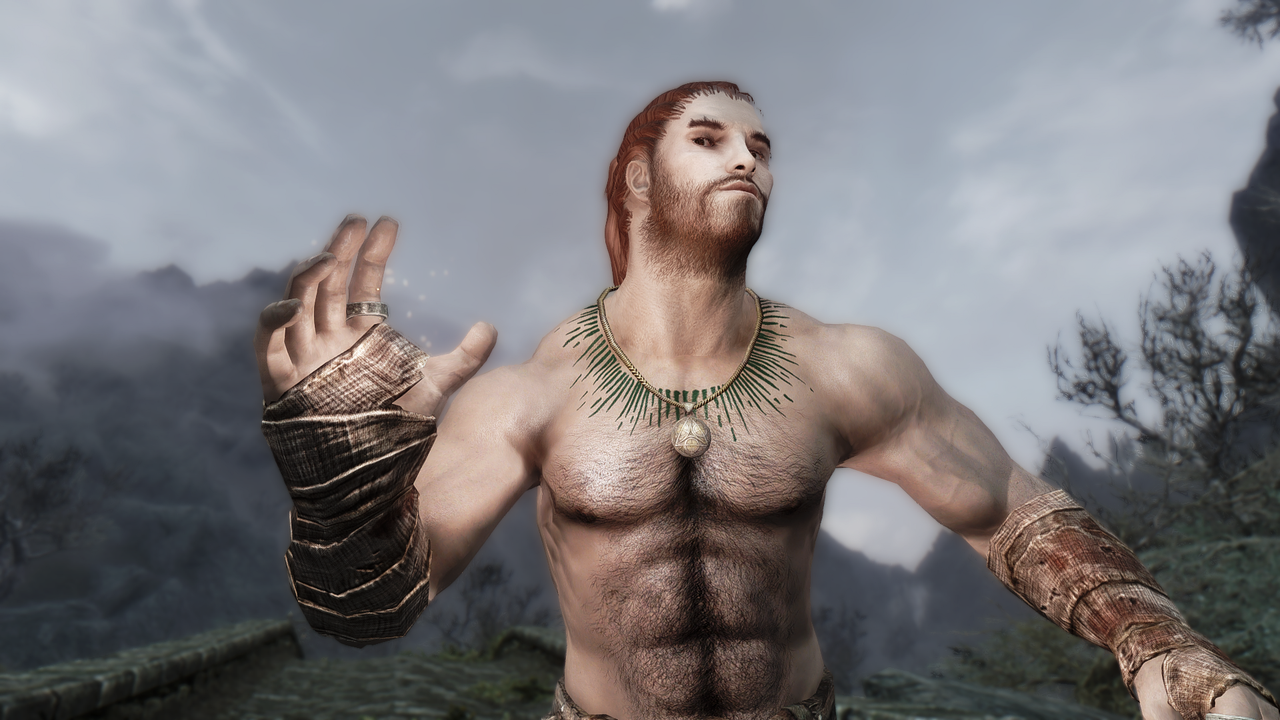 Eorland: "We were surprised when Lily took a liking to him, Mages don't tend to be tough, so we thought he didn't know how to fight or was even tricking her with magic somehow"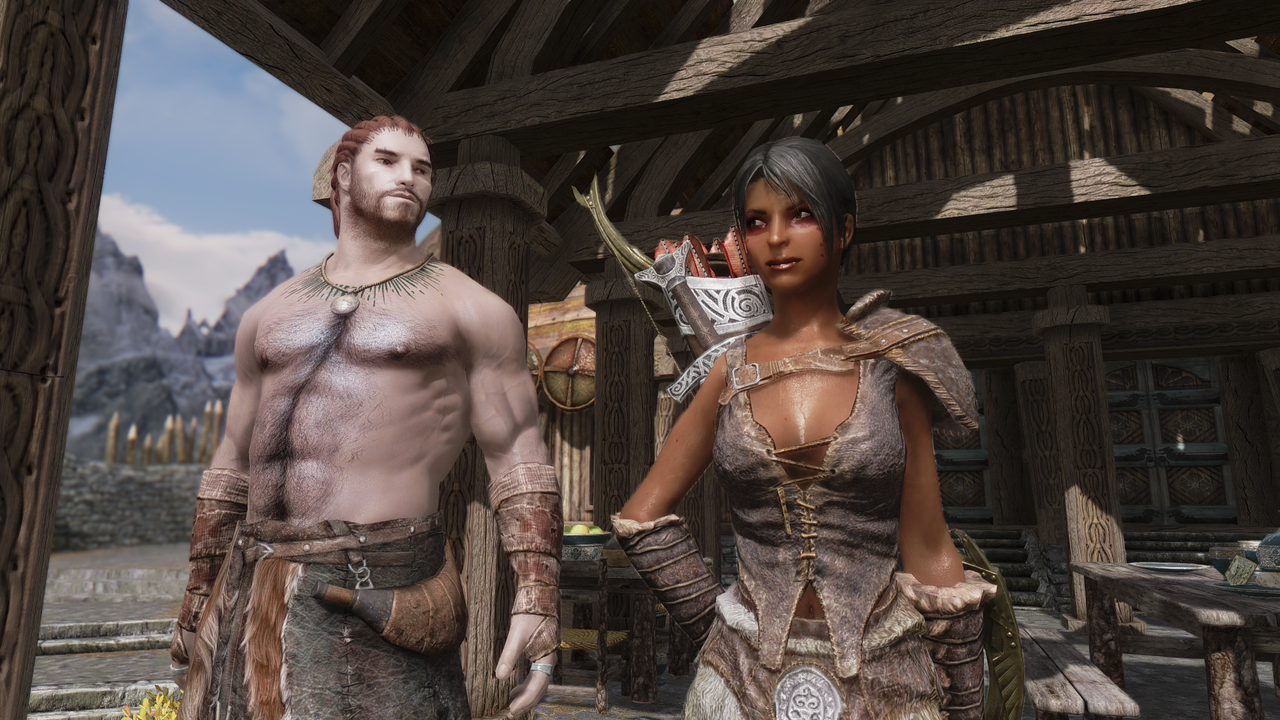 Eorland: "It didn't help that he preferred to talk rather than fight, was rather good at it though"
Thork: I'd appreciate it if you left, i'm working for the companions so...
Bandit: i-i see, we'll leave.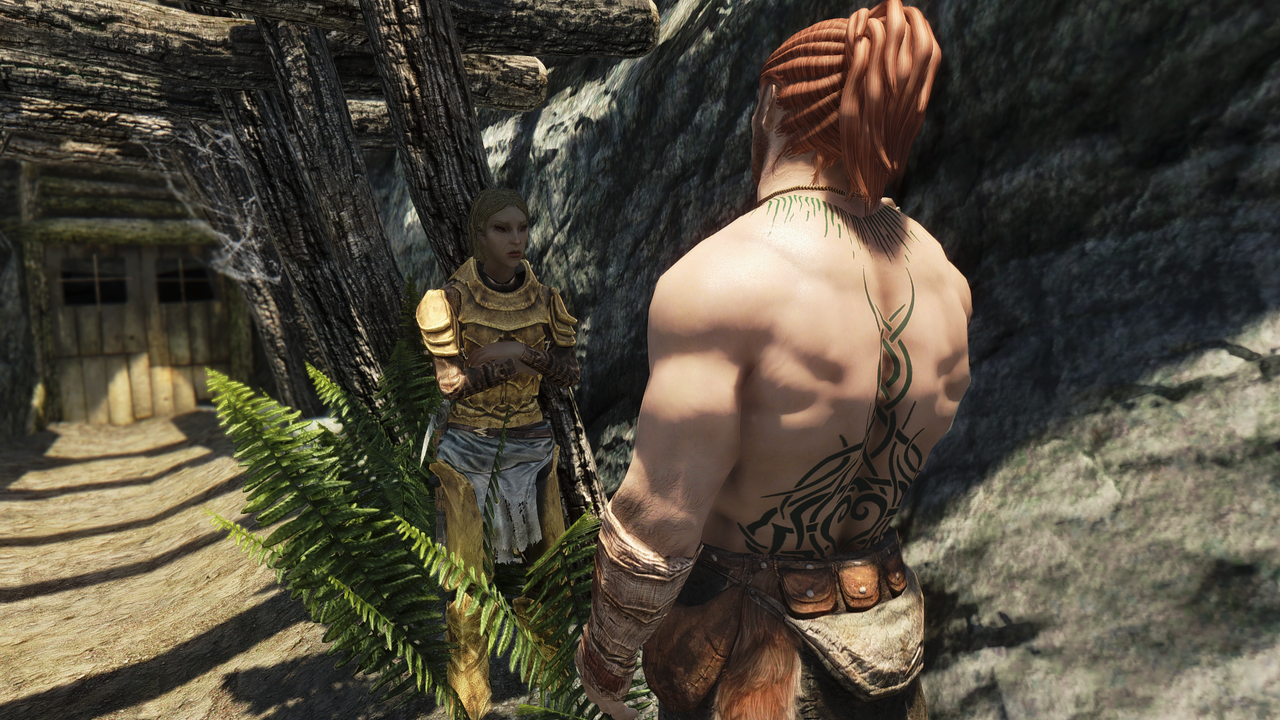 Eorland: "My mind changed when i was helping him with a quest to kill a Bandit Chief"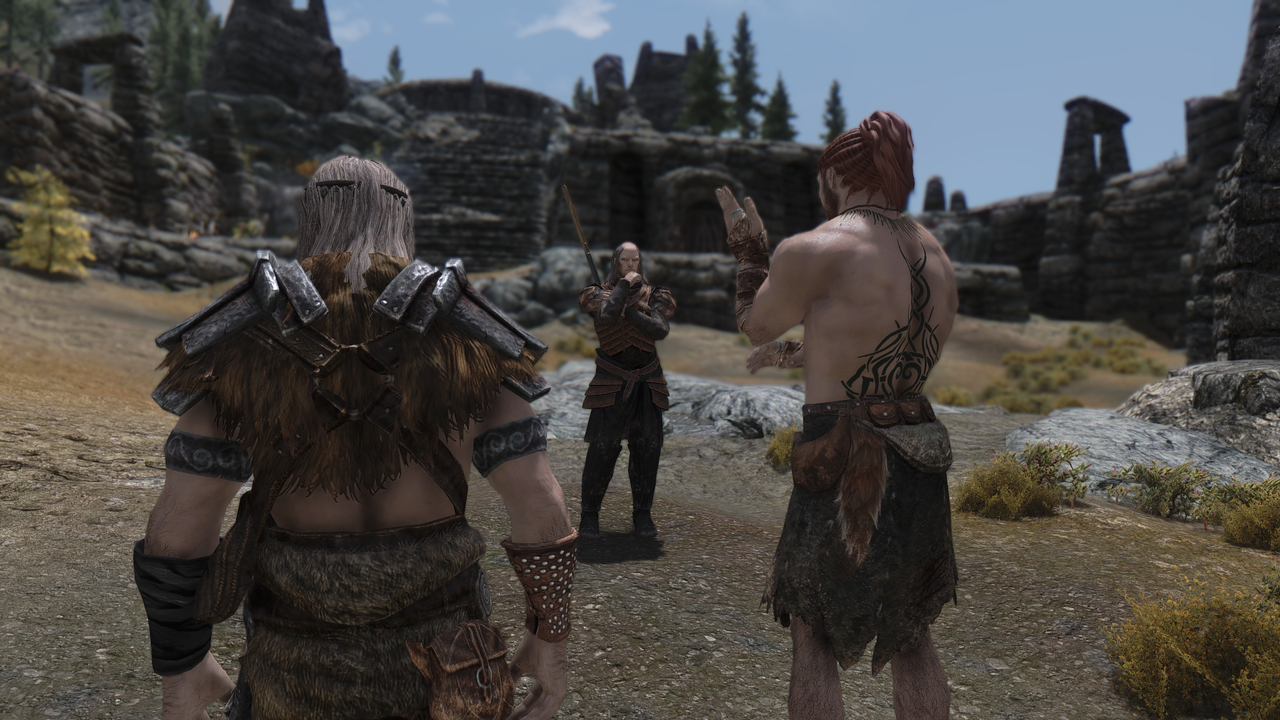 Eorland: "I remember because it was a particularly long talk and i just wanted them to stop"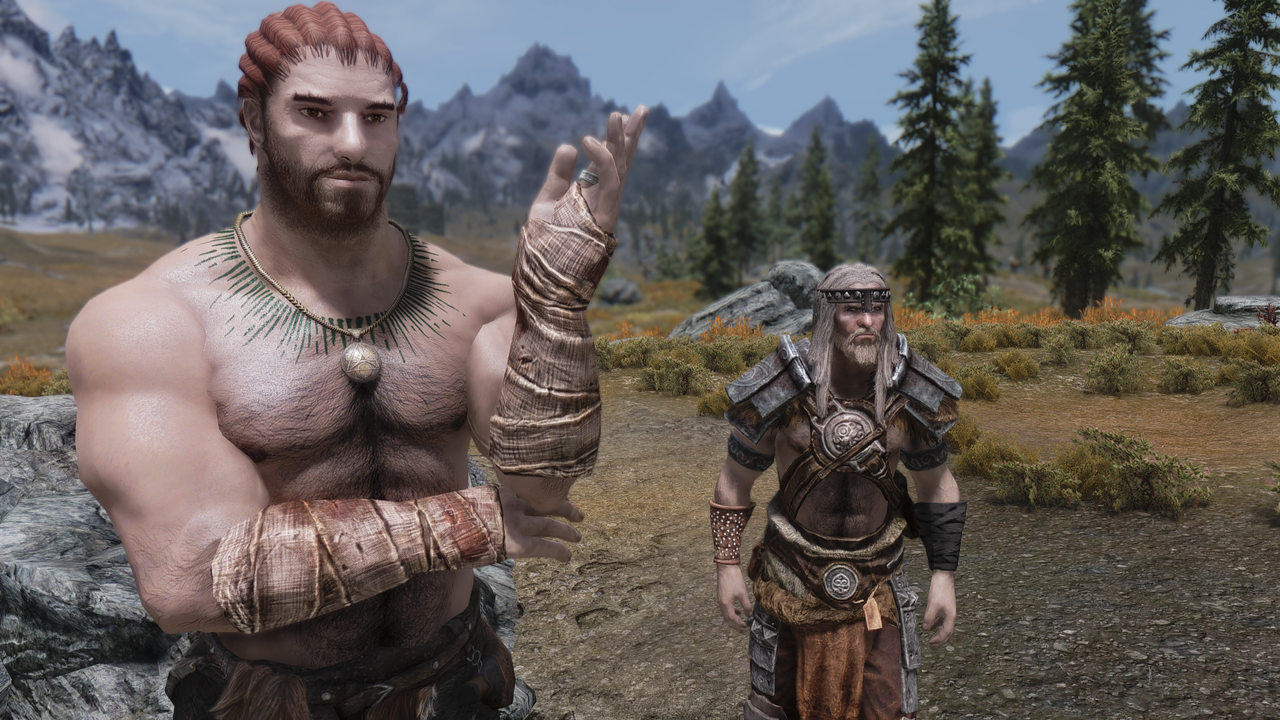 Eorland: "and like i expected, it went south and the chief and his bandits attacked, i expected to have to protect him, but Throk"
Thork: Damn, i warned you.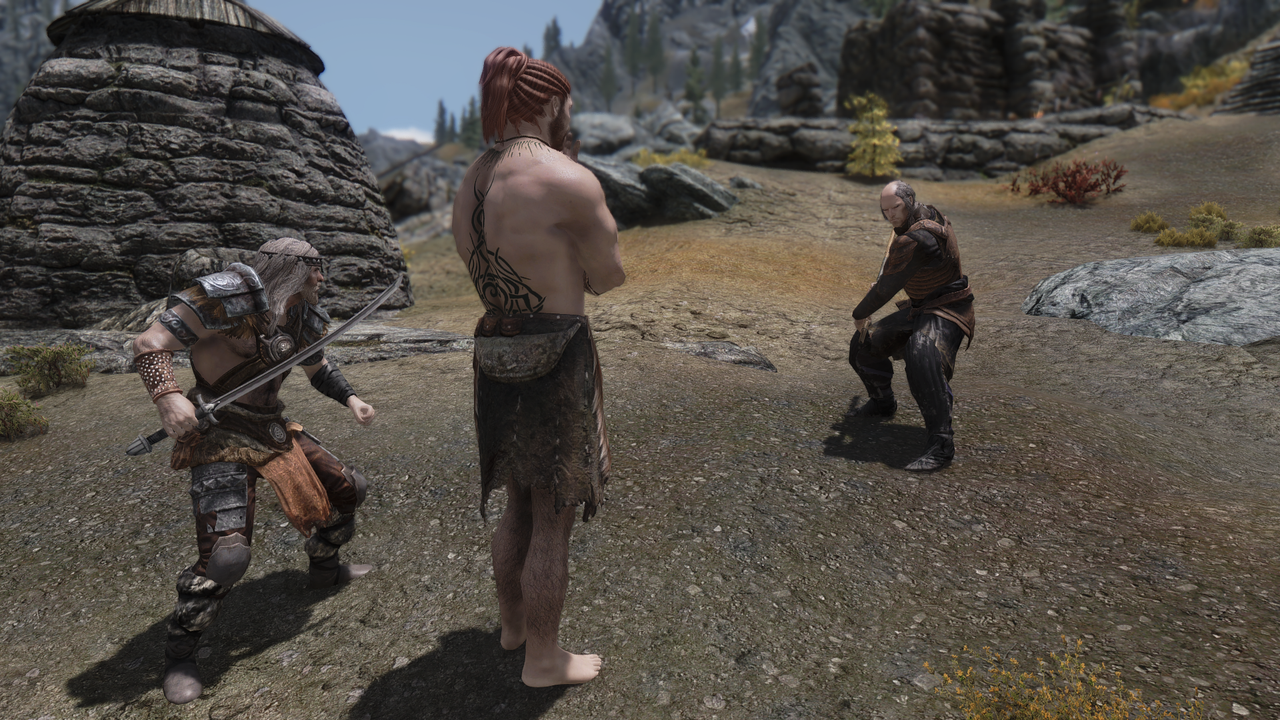 Eorland: "Throk beat the chief"
Bandit Chief: OH MY DICK!!!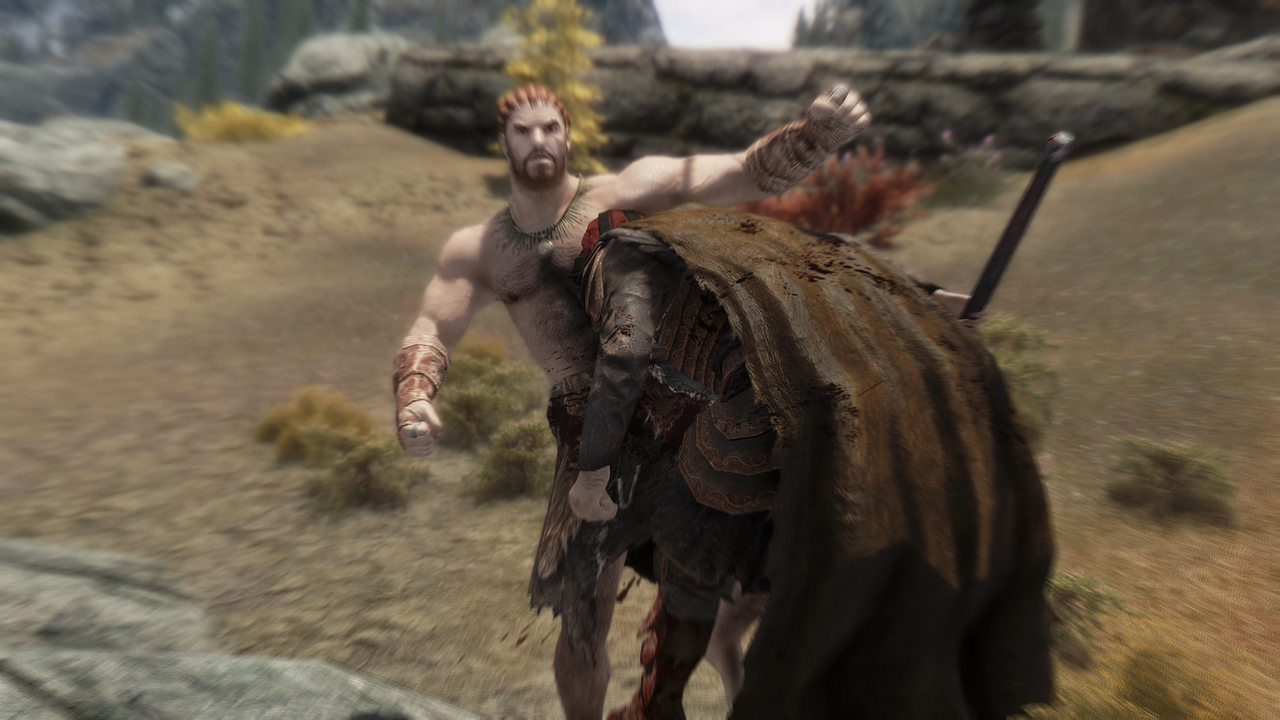 Eorland: "and all the other bandits like they were paper"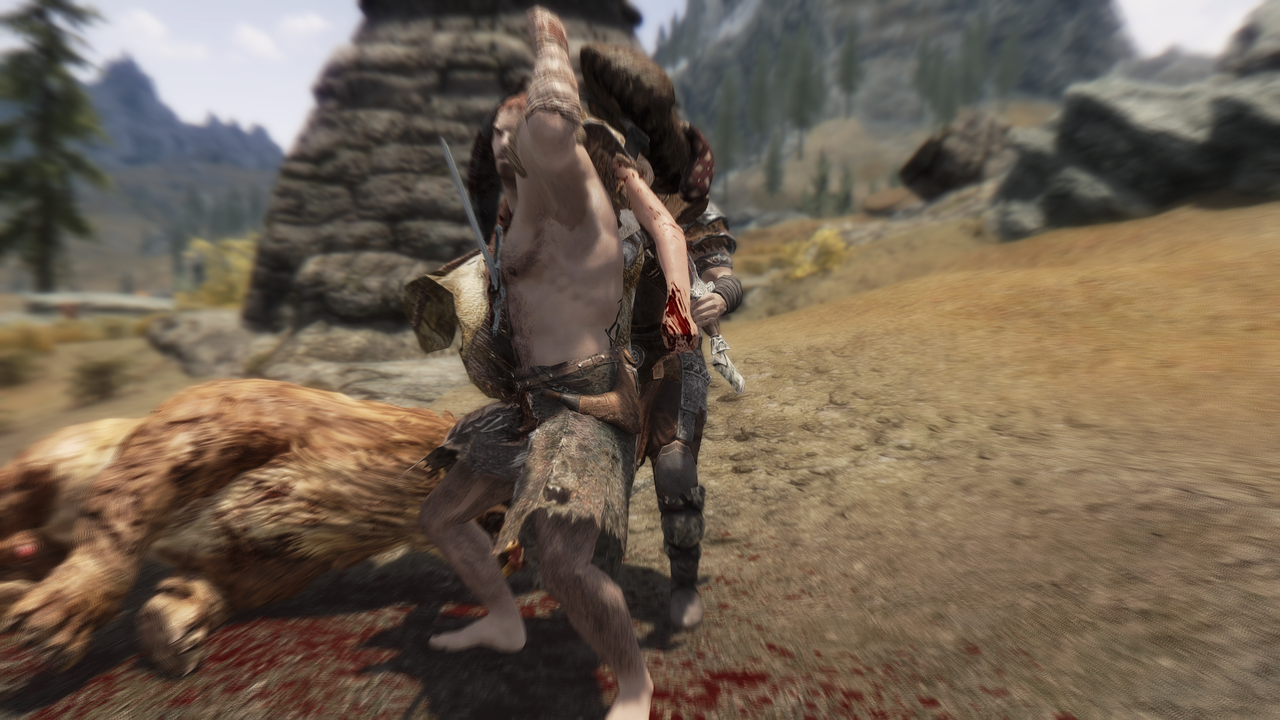 Eorland: "It turns out he just preferred talking over fighting, i didn't think he'd be that tough"
Throk: Shame it had to come to this.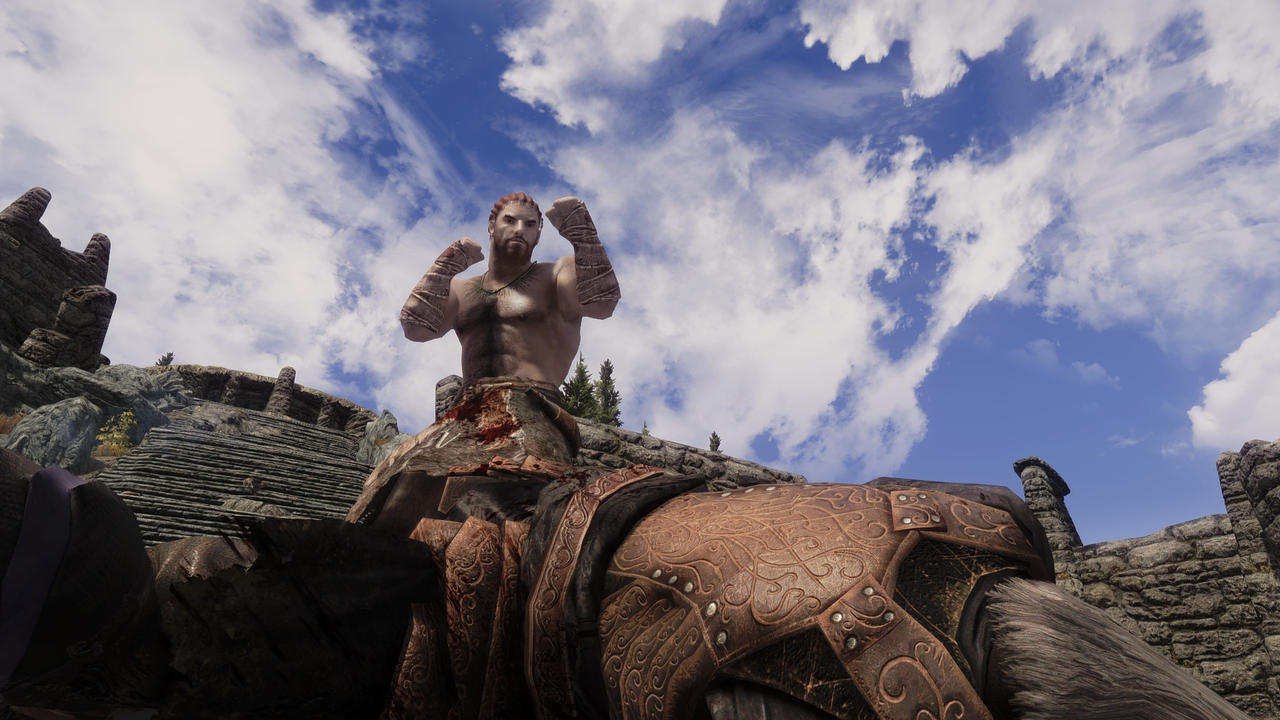 Vikas: Man i would have loved to fought him.
Eorland: That probably would have ended poorly for you.
Aela: Wait, so why do you think she got her nudity habit from her dad?
Eorland: Well.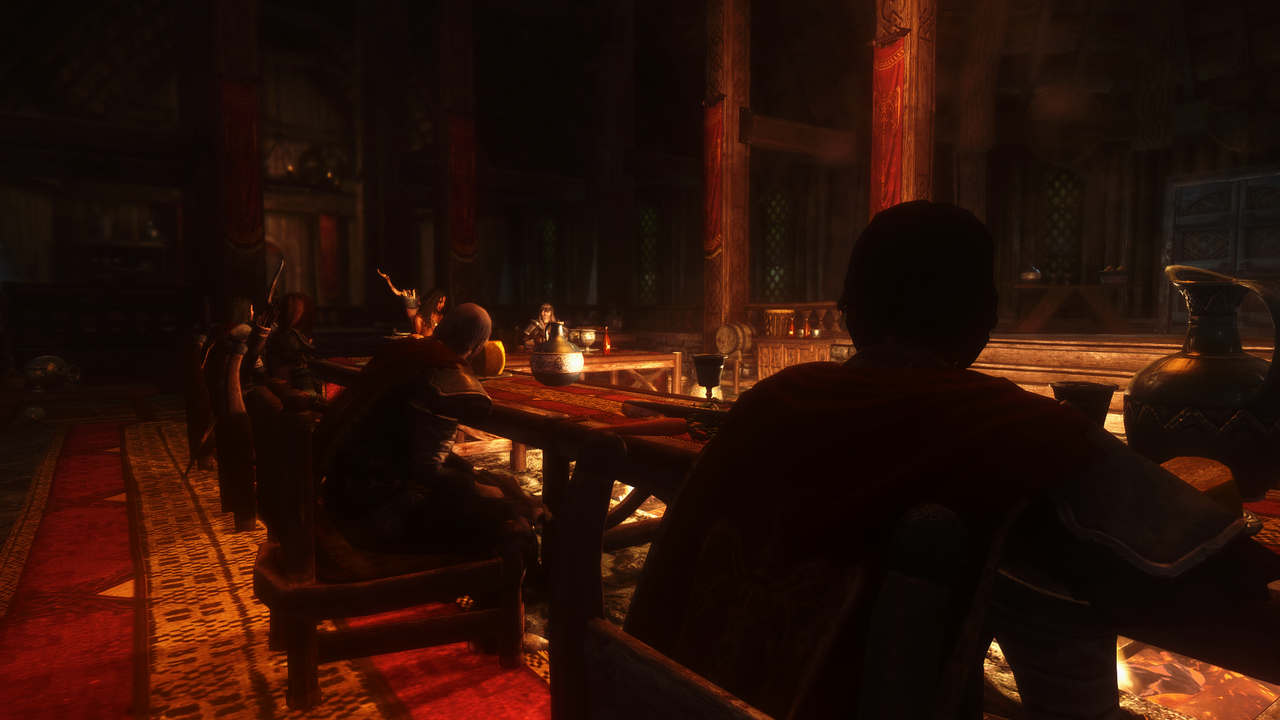 Eorland: "According to Lily, she came across him in the Reach gathering ingredients"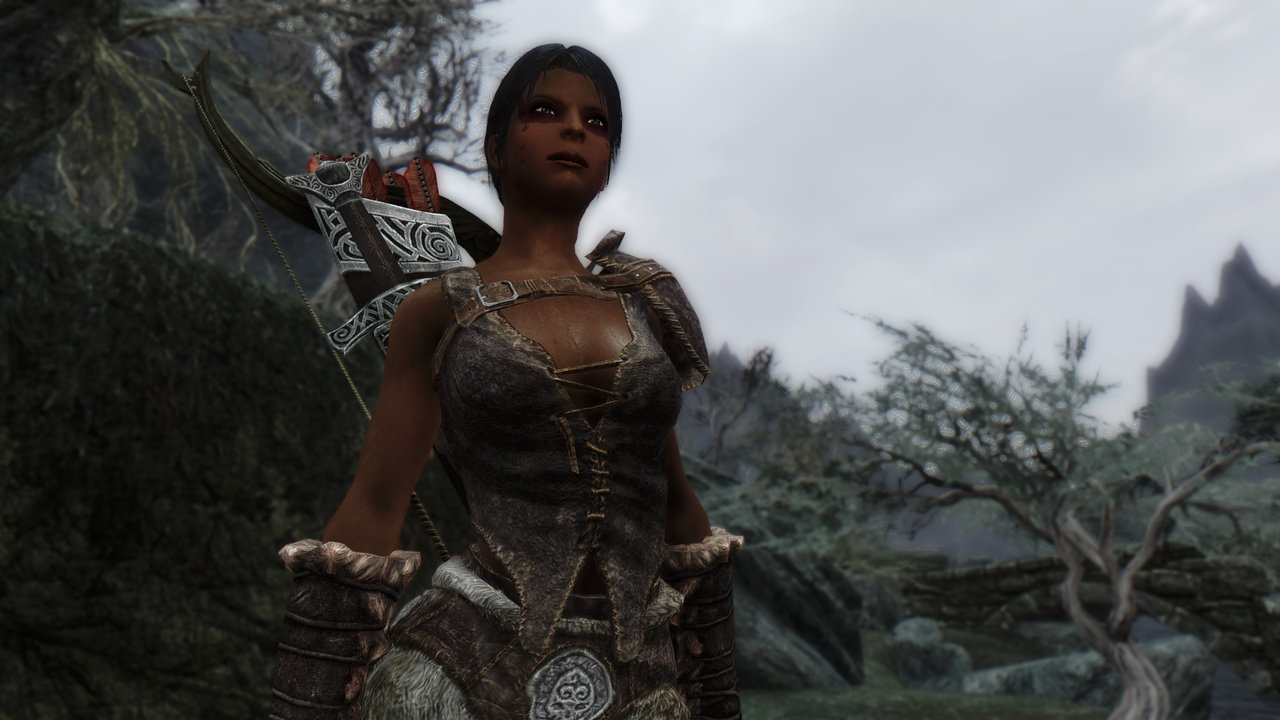 Eorland: "The two talked"


Eorland: "and Throk decided to come help her, but Lily was on a higher cliff and a angle"


Eorland: "so she was really surprised when she found out."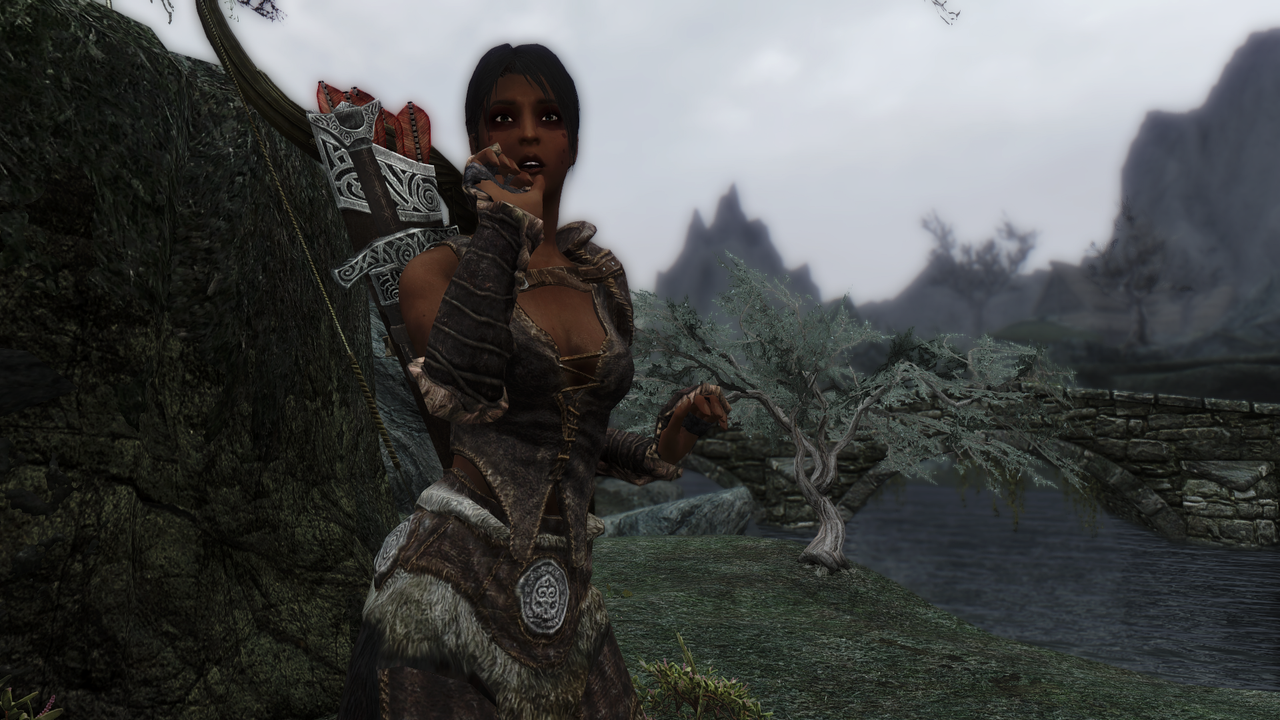 Eorland: "he had been completely naked during their entire talk"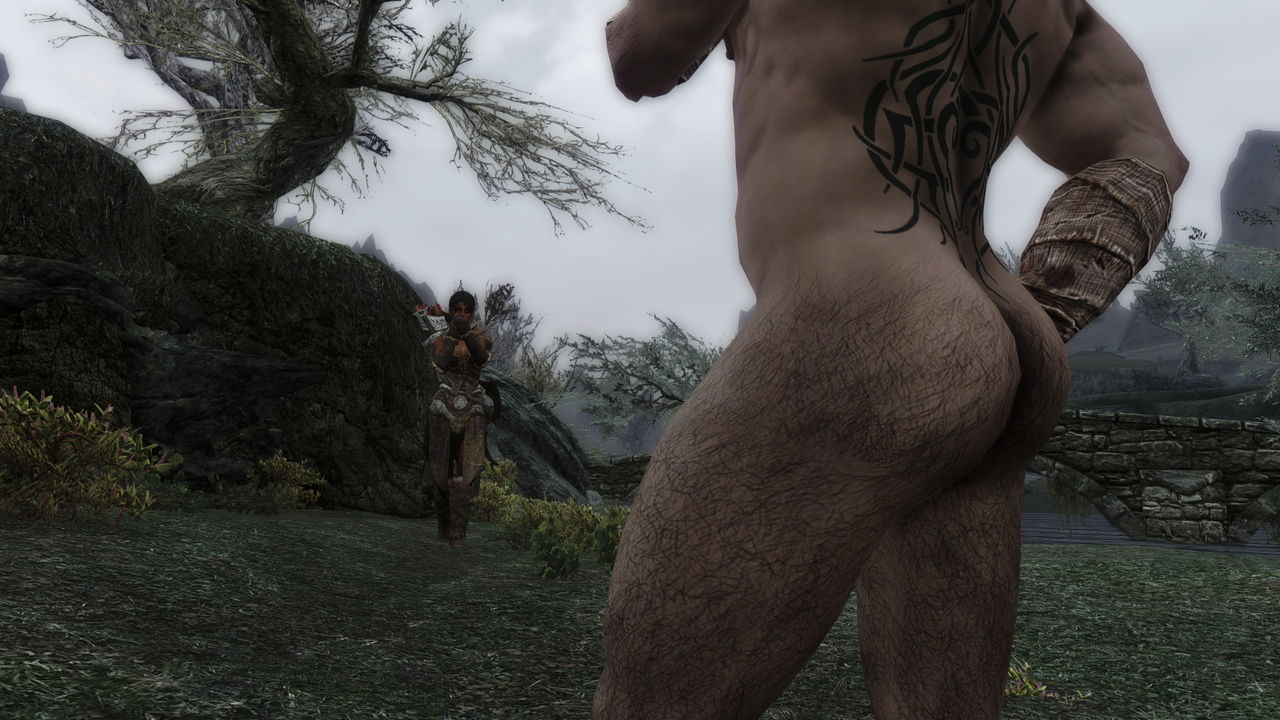 Eorland: "Lily got mad and started barking threats at him if he didn't put on clothes"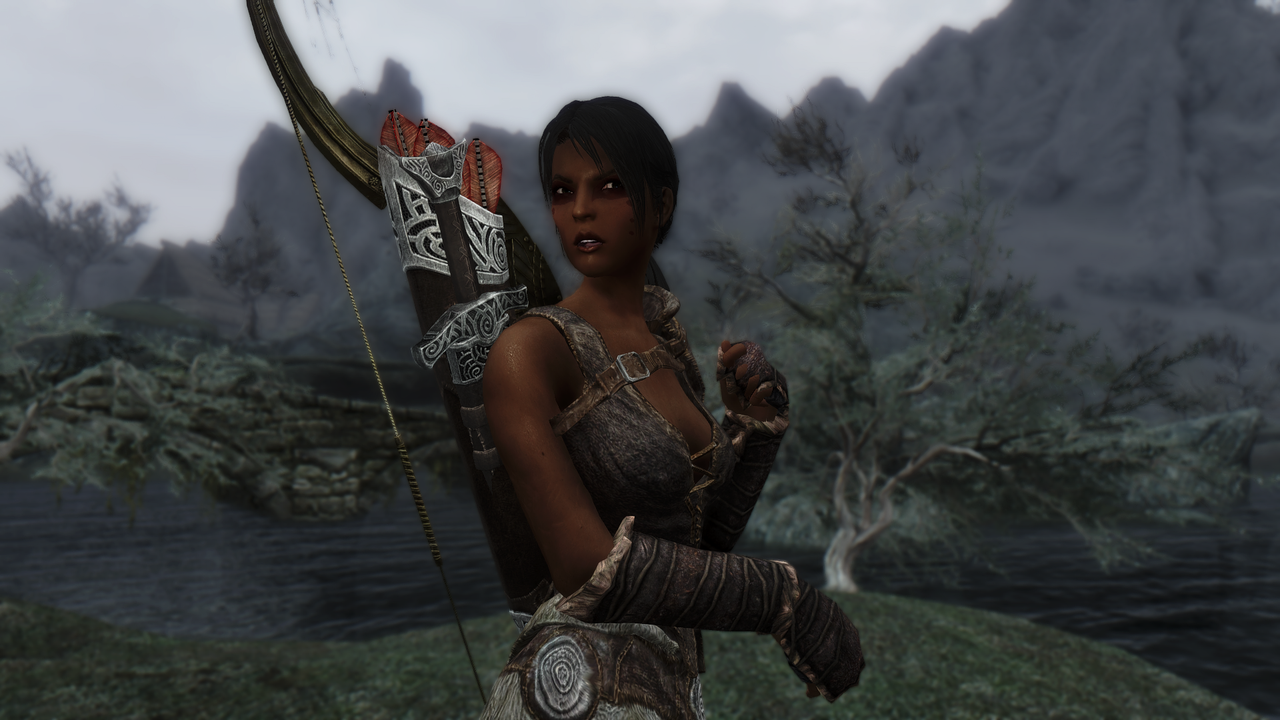 Eorland: "Throk apparently found how embarrassed she was hilarious"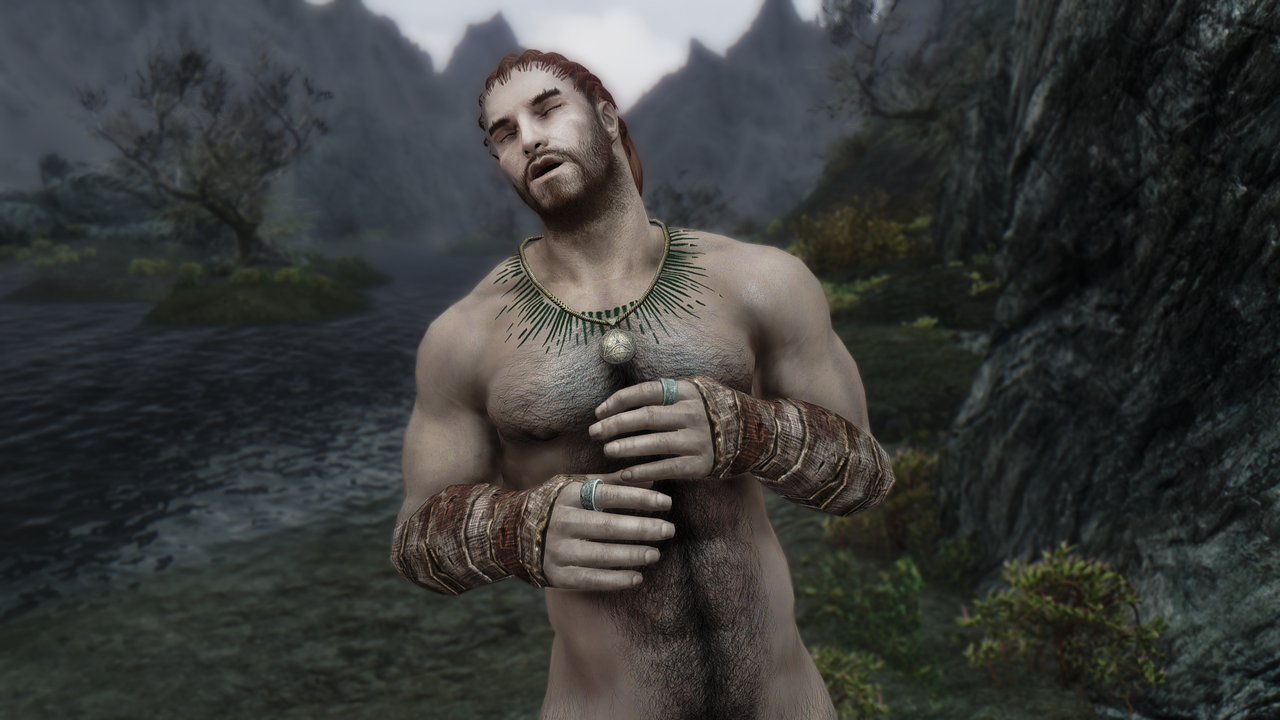 Eorland: "and agreed to at least where pants"
Ms.Heavy-Iron: "heh dad liked to tease mom back then too"
Eorland: "you don't know the half of it, like you he was quite the deviant. He liked to sexually harass Lily daily, only her too, no one else"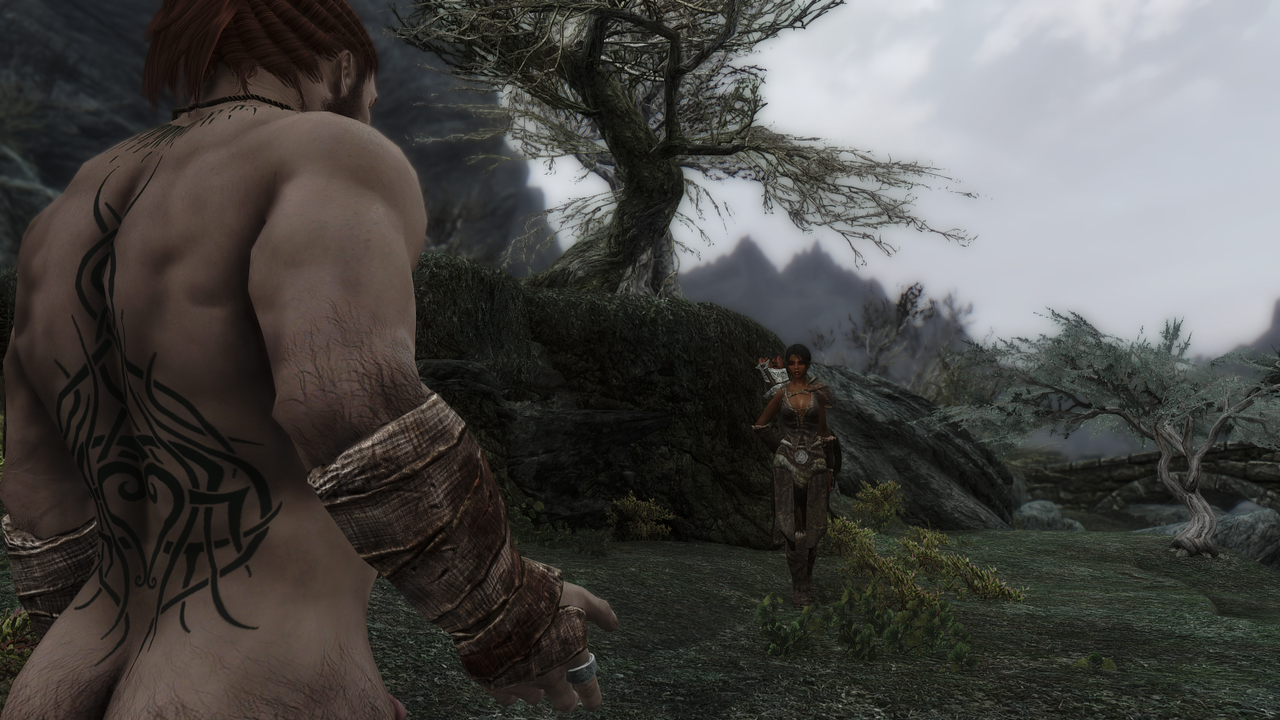 Eorland: "From opening her doors while she was changing"
Lily: The Fuck Throk!
Throk: Just enjoying the view.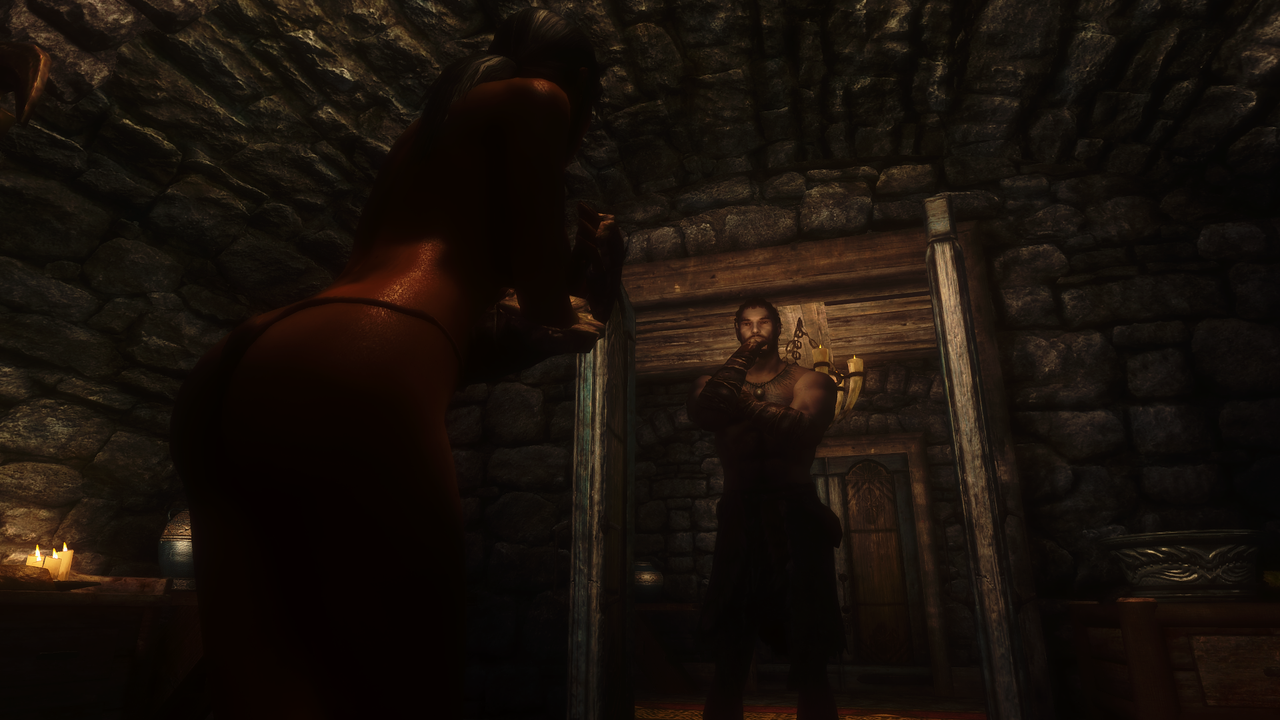 Eorland: "To randomly groping her, we thought he was gonna be killed, but strangely"
Throk: Soft as always.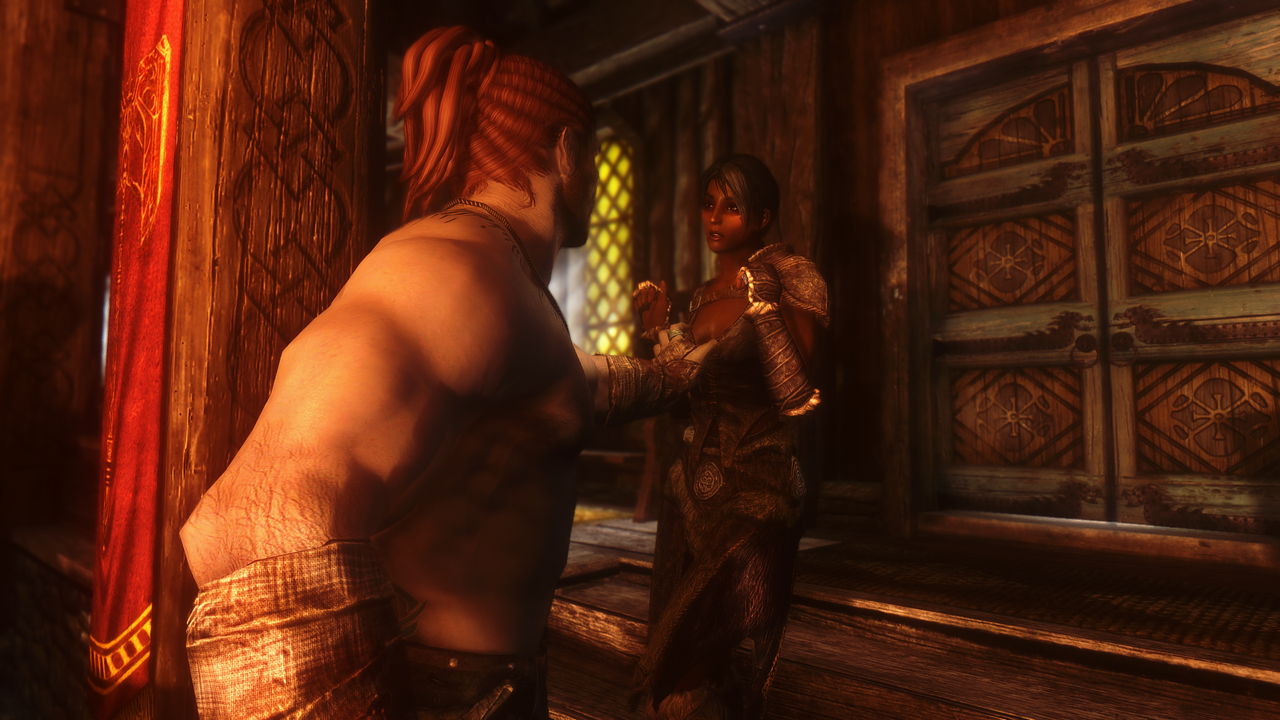 Eorland: "Lily only chased the big guy, never hitting him"
Lily: Get back here shithead!
Throk: gotta catch me first sweetie!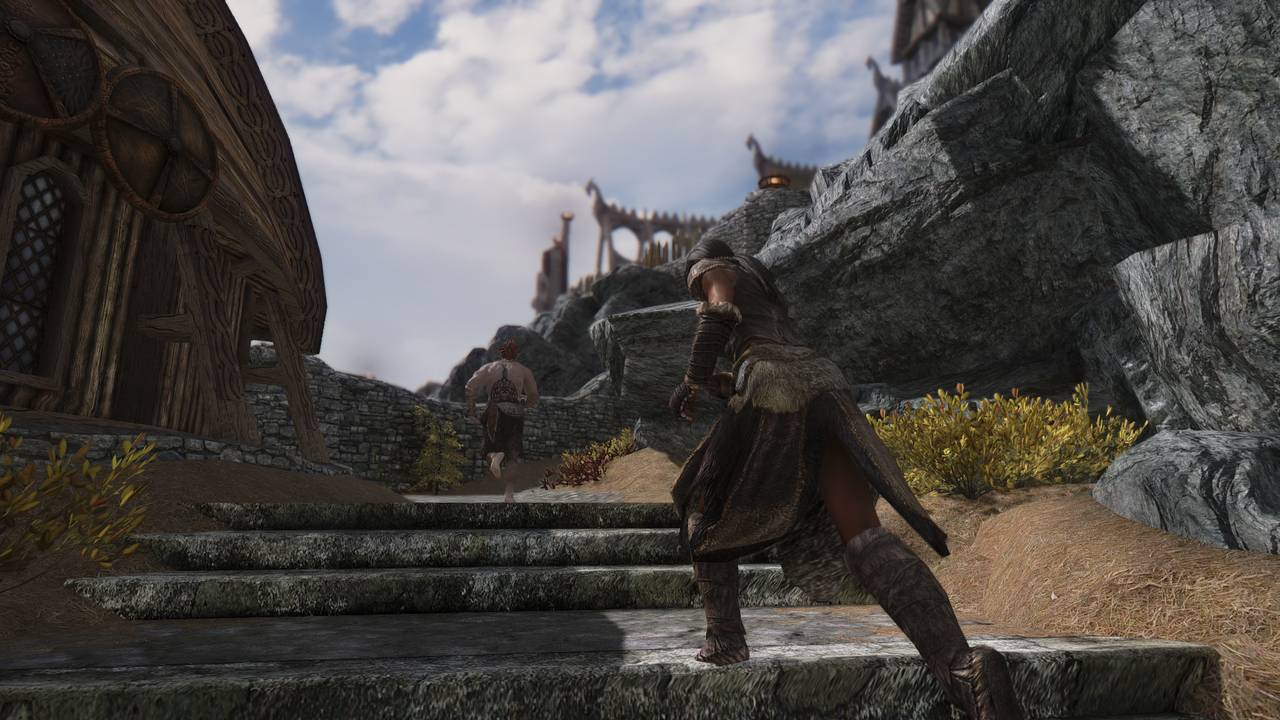 Eorland: "we thought at first that she was worried that she couldn't take him on, but after seeing her running after him a few times"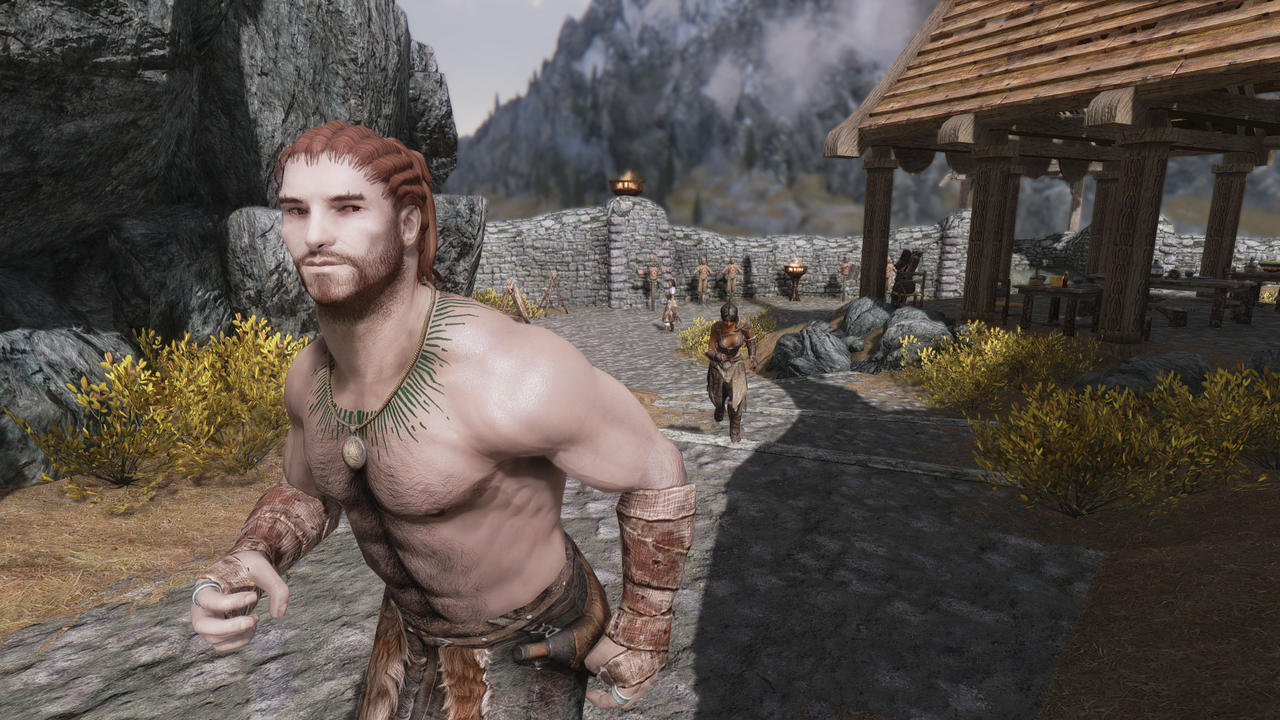 Eorland: "With that big smile on her face, i think she was actually enjoying it."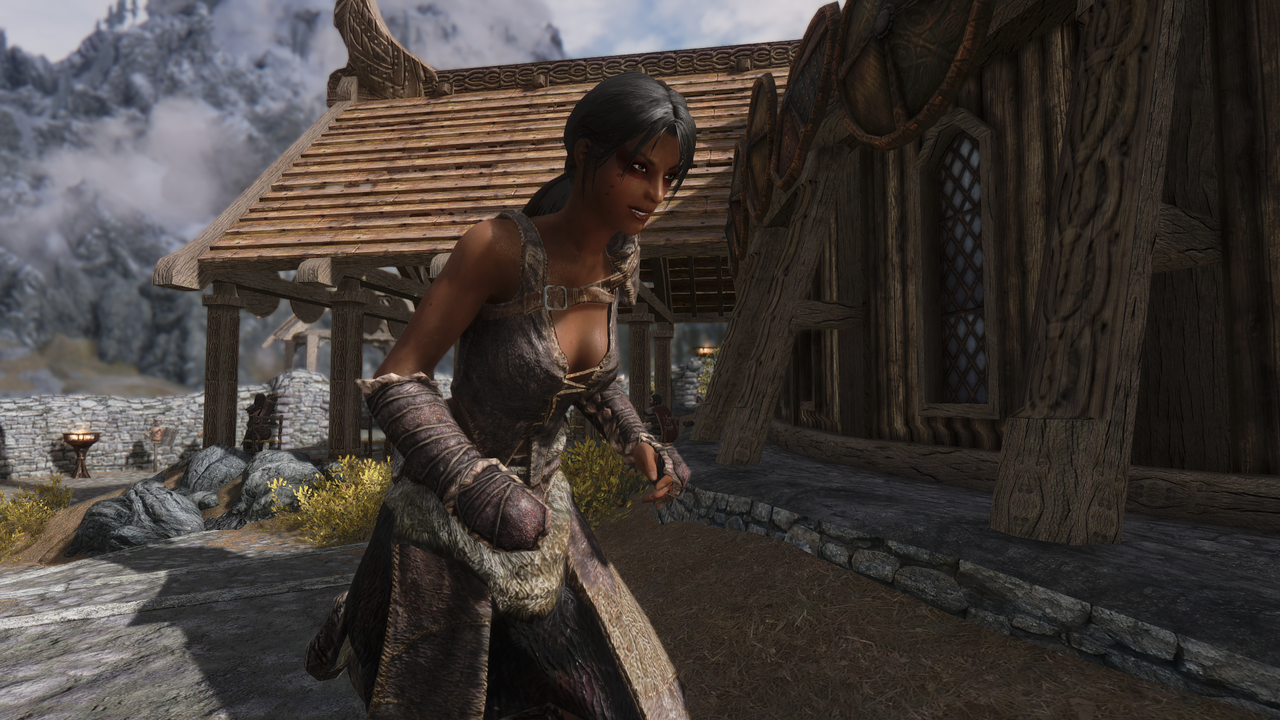 Aela: apple doesn't fall far from the tree huh?
*Emily scratching her head shyly"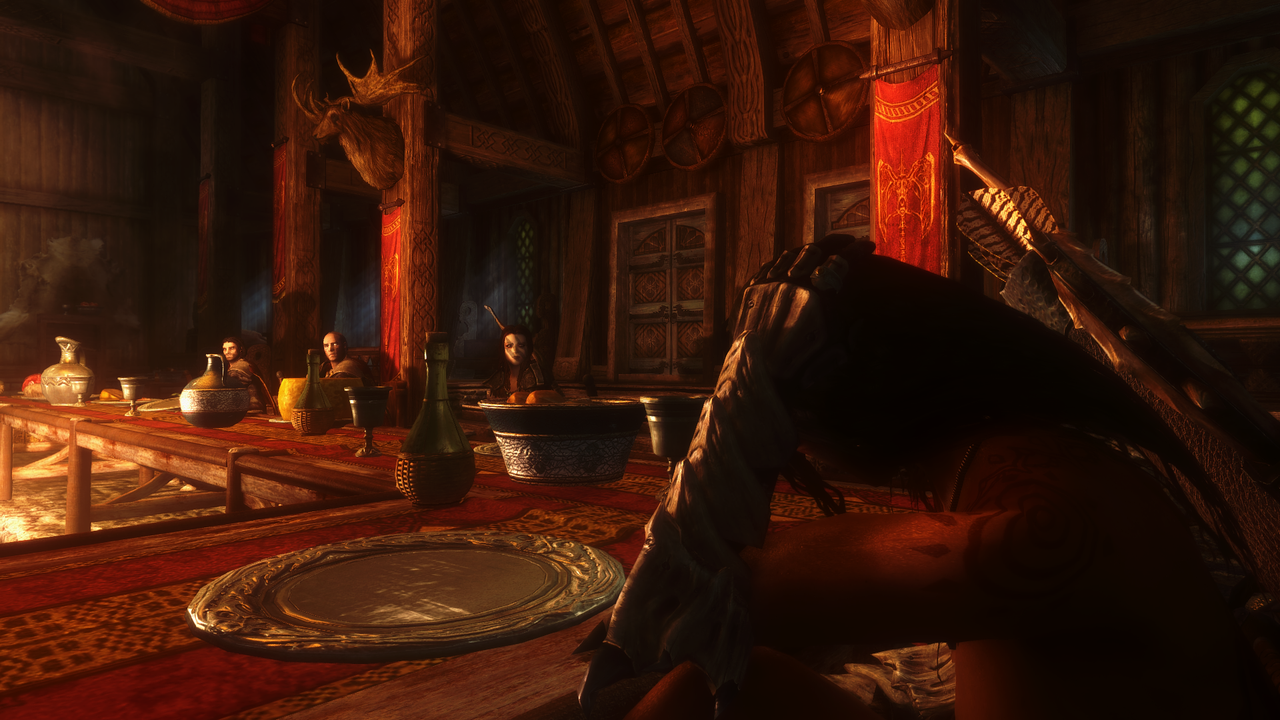 Satsuki: How come they didn't mention it to you now? I'd think they would have at least mentioned it seeing as you walk around naked.
Ms.Heavy-Iron: Well i didn't start walking around naked until after they died.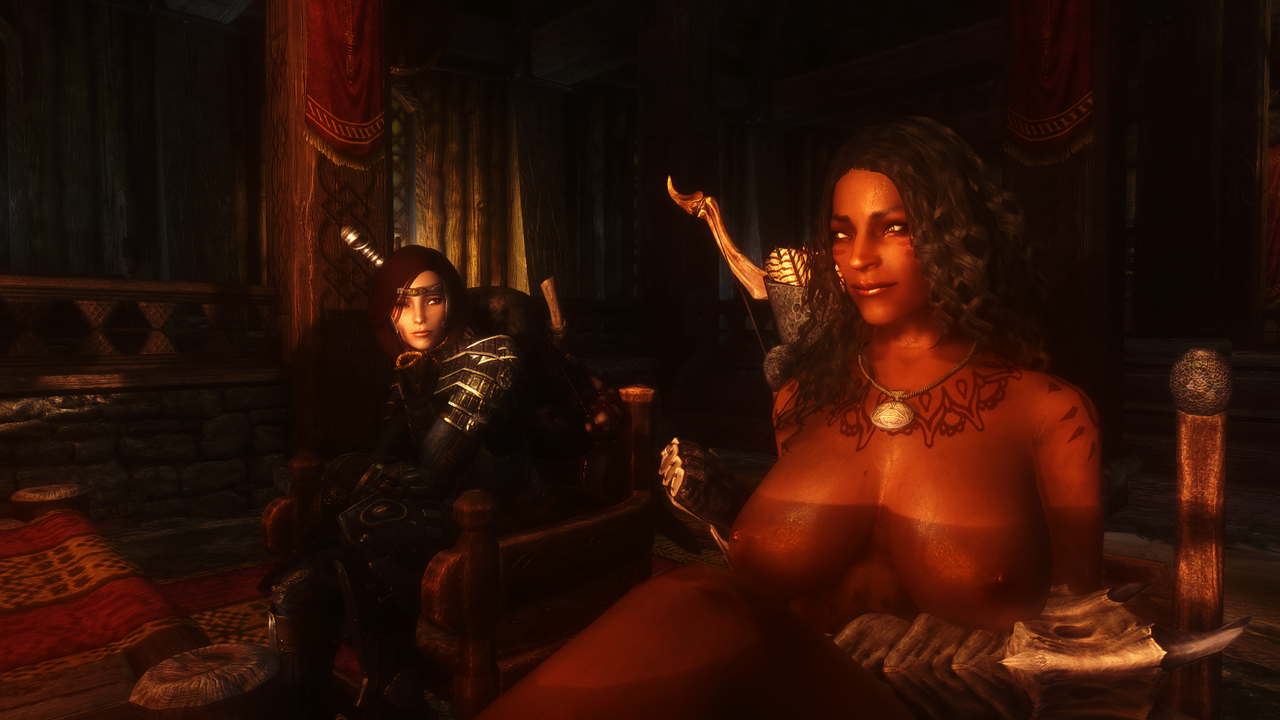 *Silence*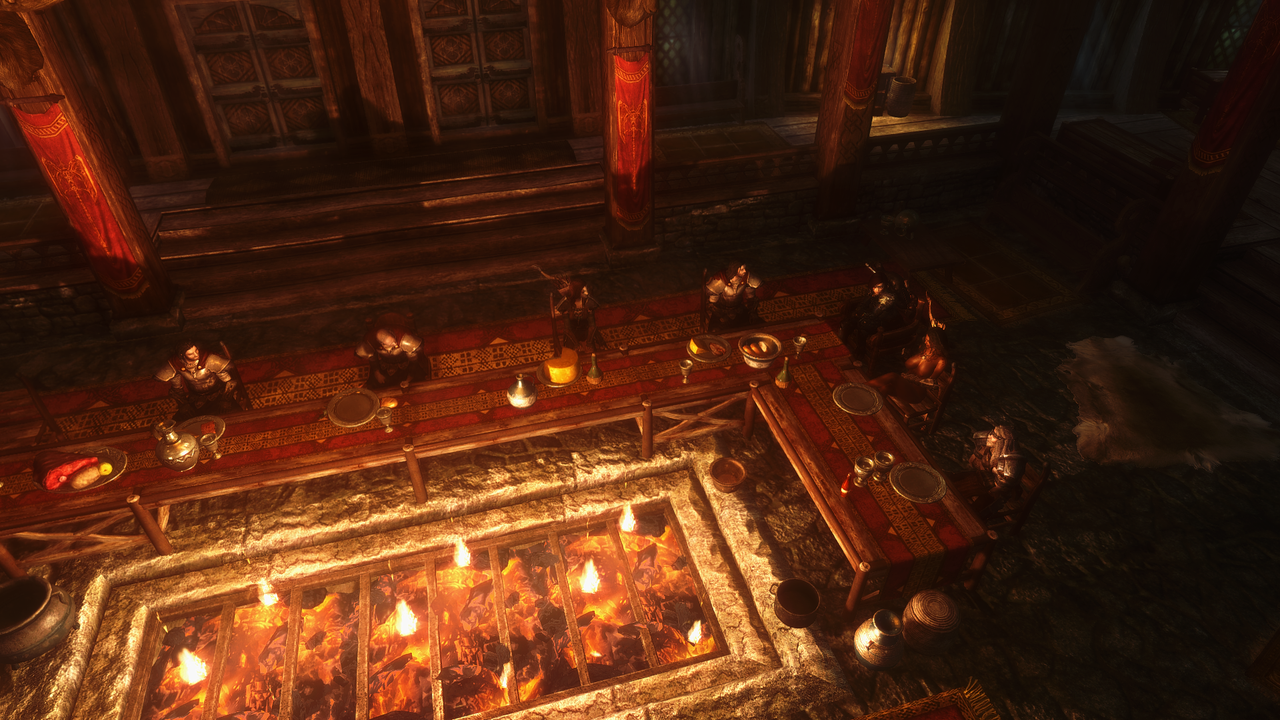 Satsuki: O-Oh, s-sorry i didn't.
Ms.Heavy-Iron: its fine, they died 7 years ago.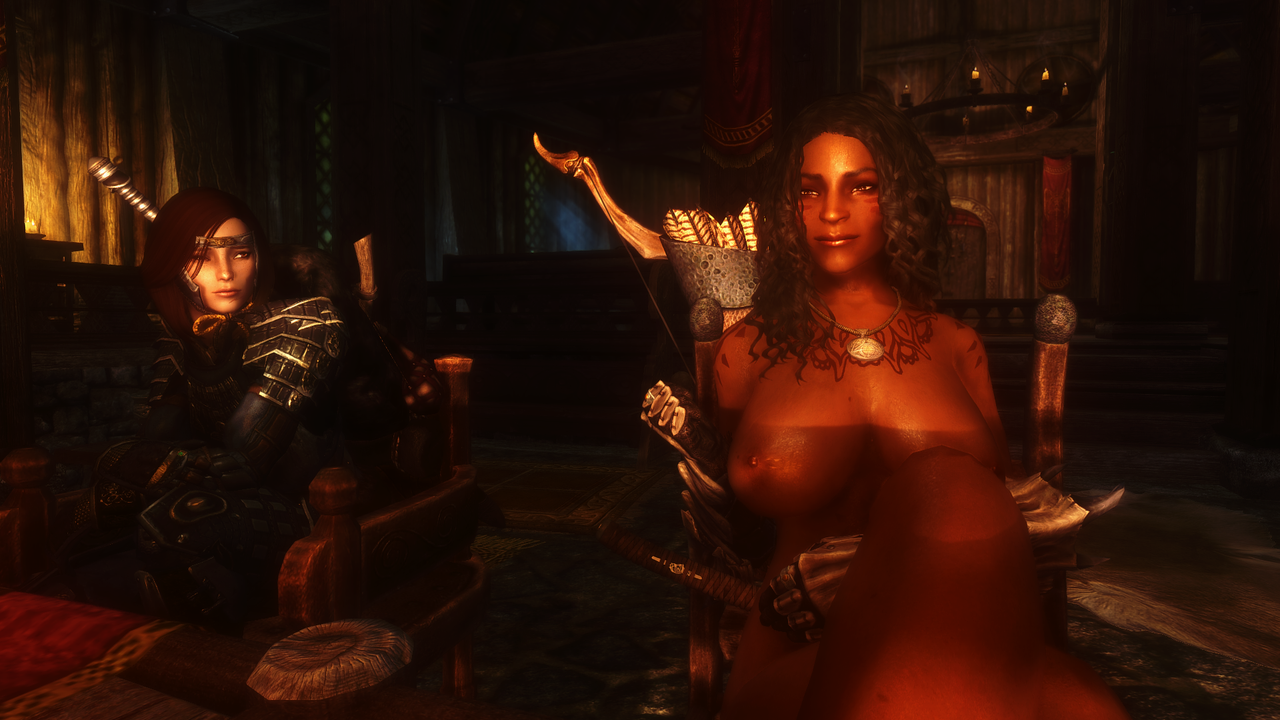 Eorland: It was a sad day.
Ms.Heavy-Iron: Yeah.


Satsuki: Is it alright if i ask what happened?
Ms.Heavy-Iron: Hmm....well.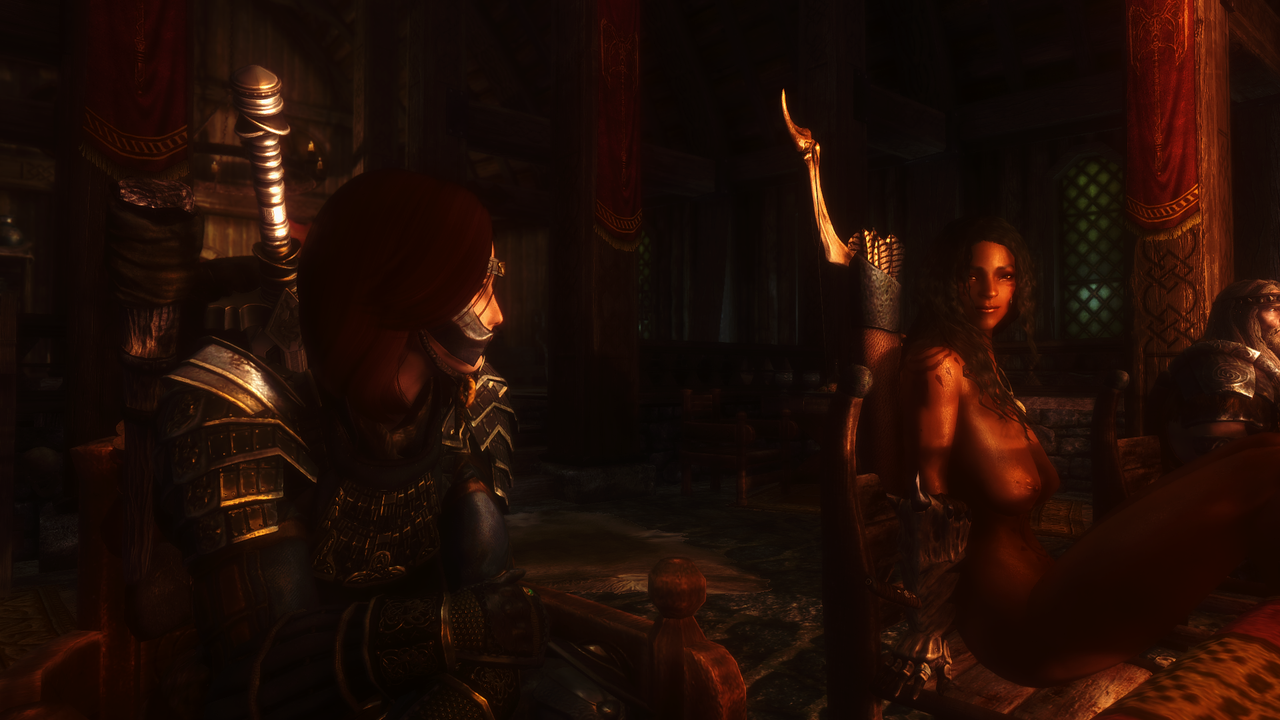 Aela: You don't have to.
Skjor: Its fine, don't force yourself.
Ms.Heavy-Iron: No-no, its fine, i don't get to tell it much, and normally when i do i feel a little more at ease.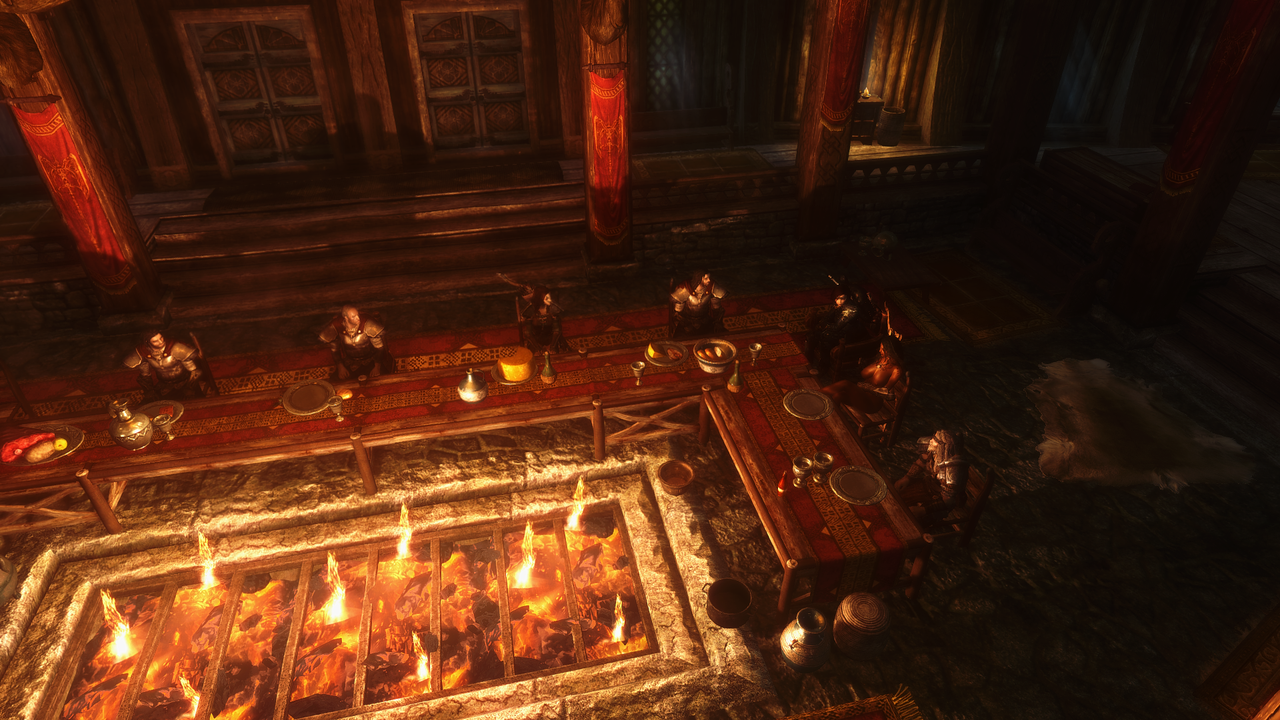 Ms.Heavy-Iron: It happened 7 years go.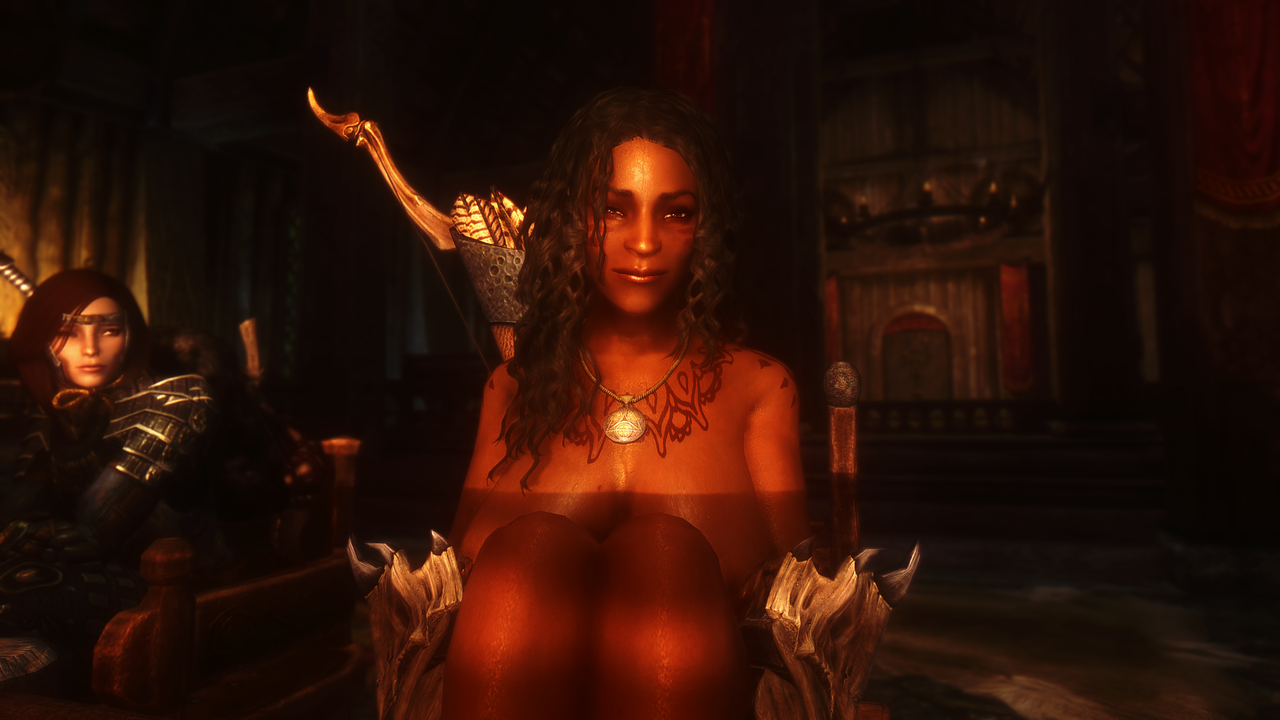 [Flashback]
Ms.Heavy-Iron: "I was 14 years old"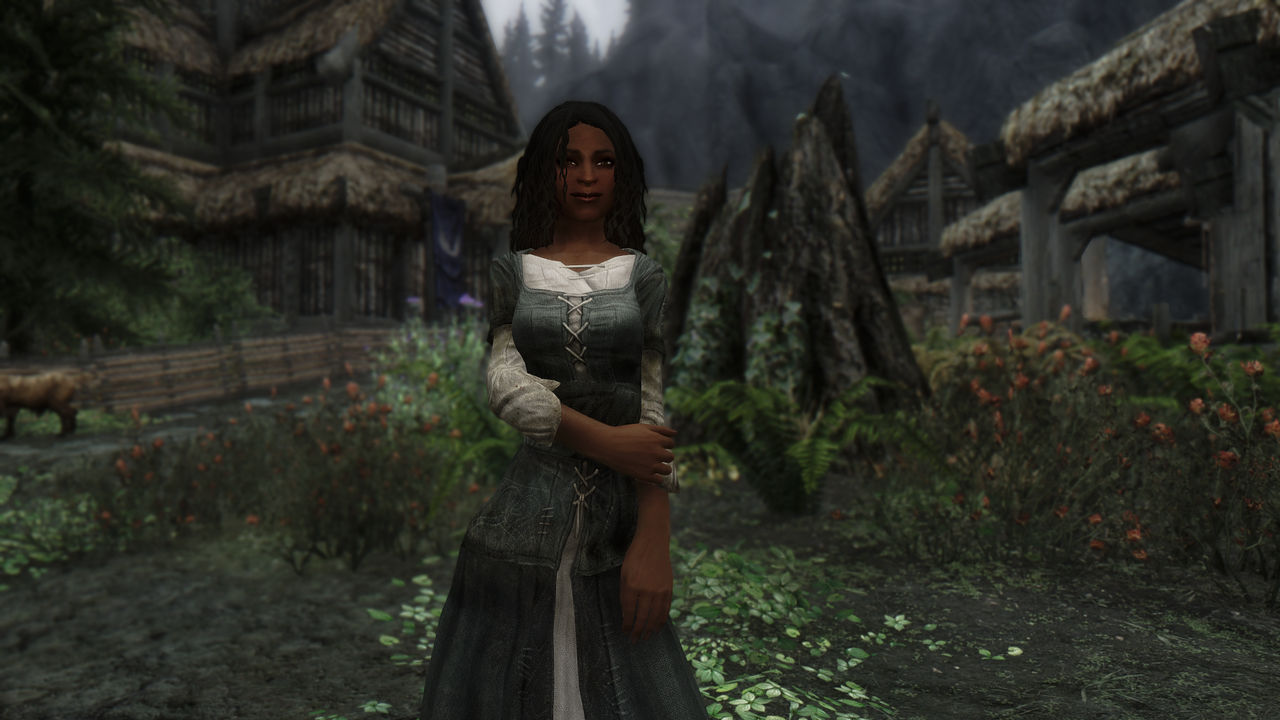 Ms.Heavy-Iron: "I liked in Falkcreath with Mom and Dad"


Ms.Heavy-Iron: "We lived in the house that the Old Jarl uses as his home now"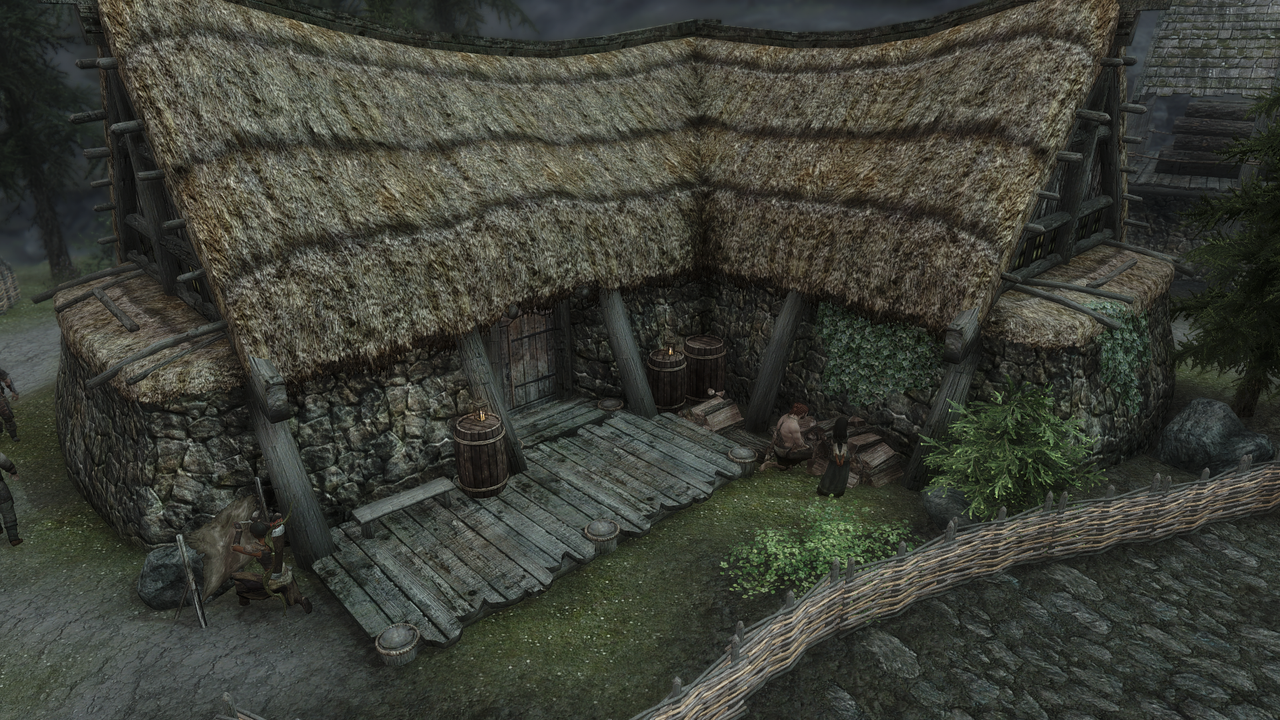 Ms.Heavy-Iron: "My Mom Hunted"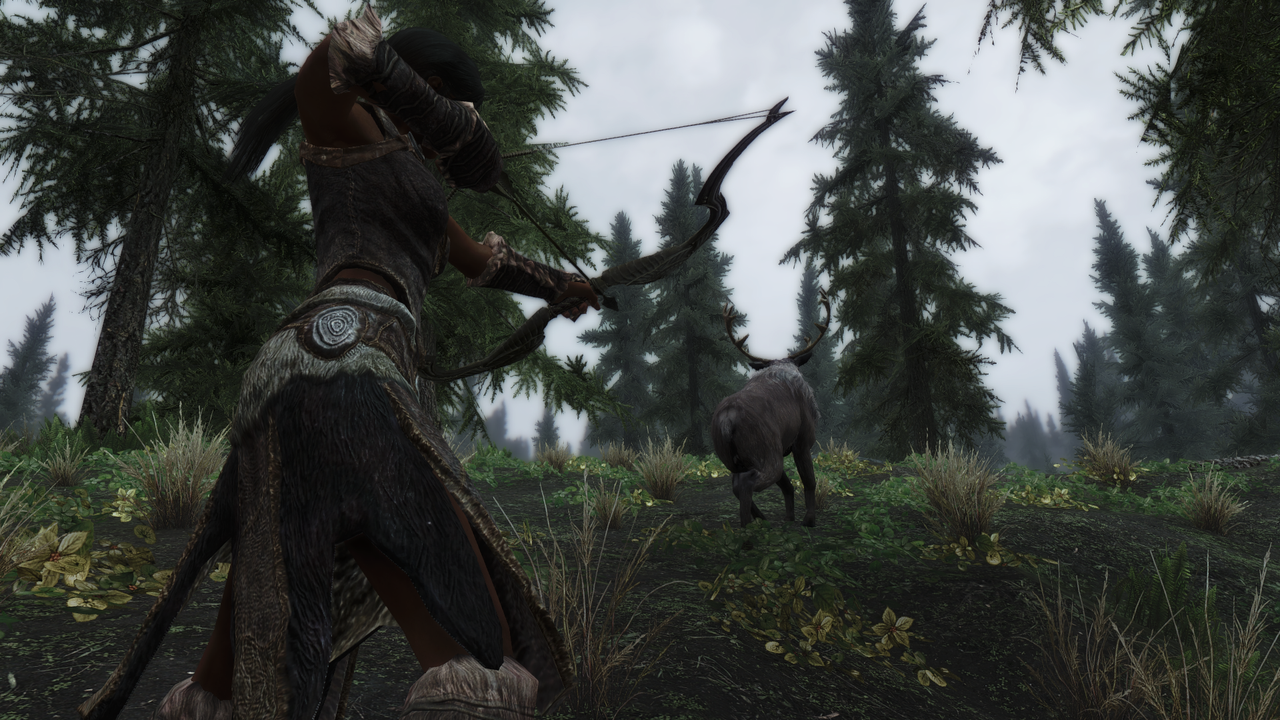 Ms.Heavy-Iron: "and my Dad made potions for the people of Falkcreath as well as healing them with magic"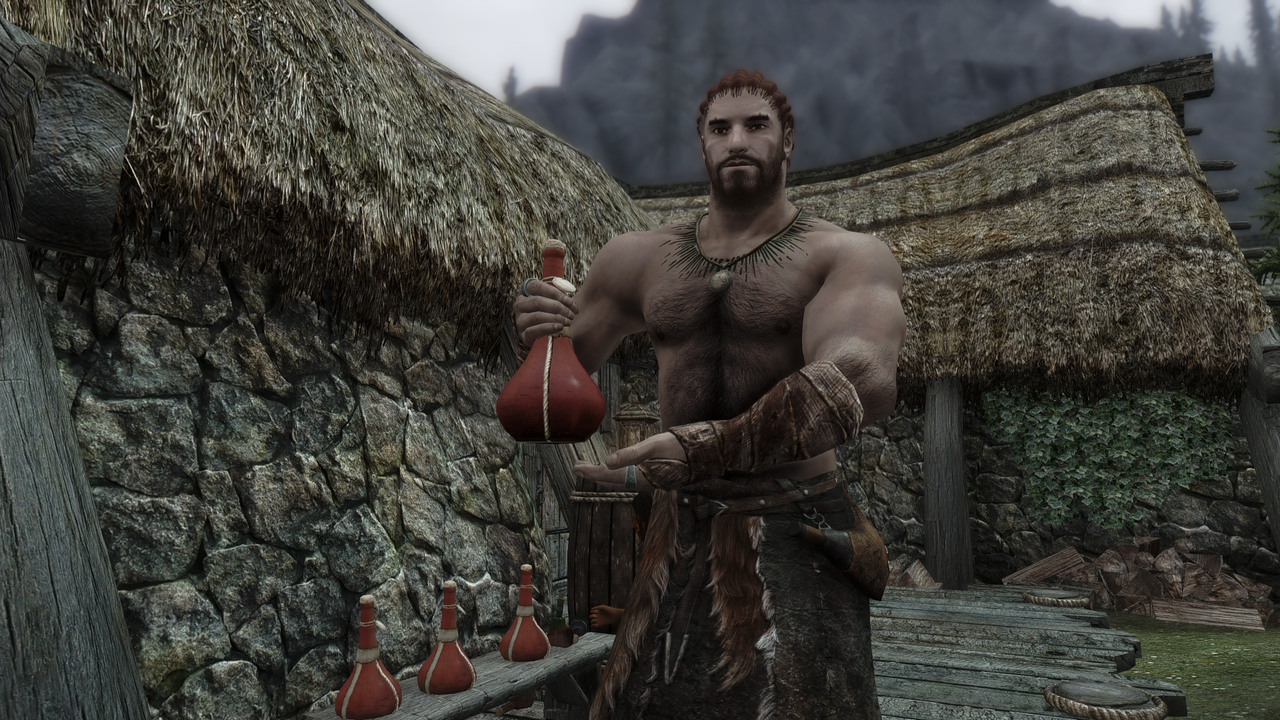 Ms.Heavy-Iron: "I spent my time helping them too."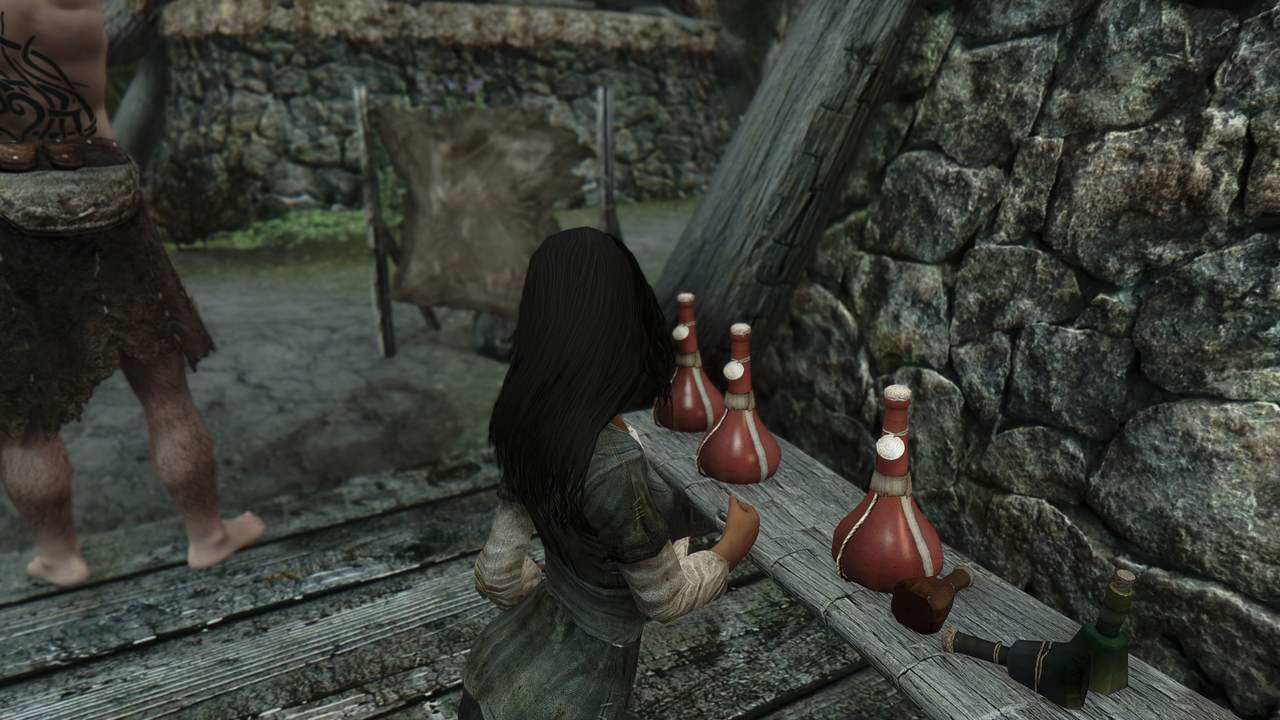 Ms.Heavy-Iron: "I helped my mom a lot with Hunting"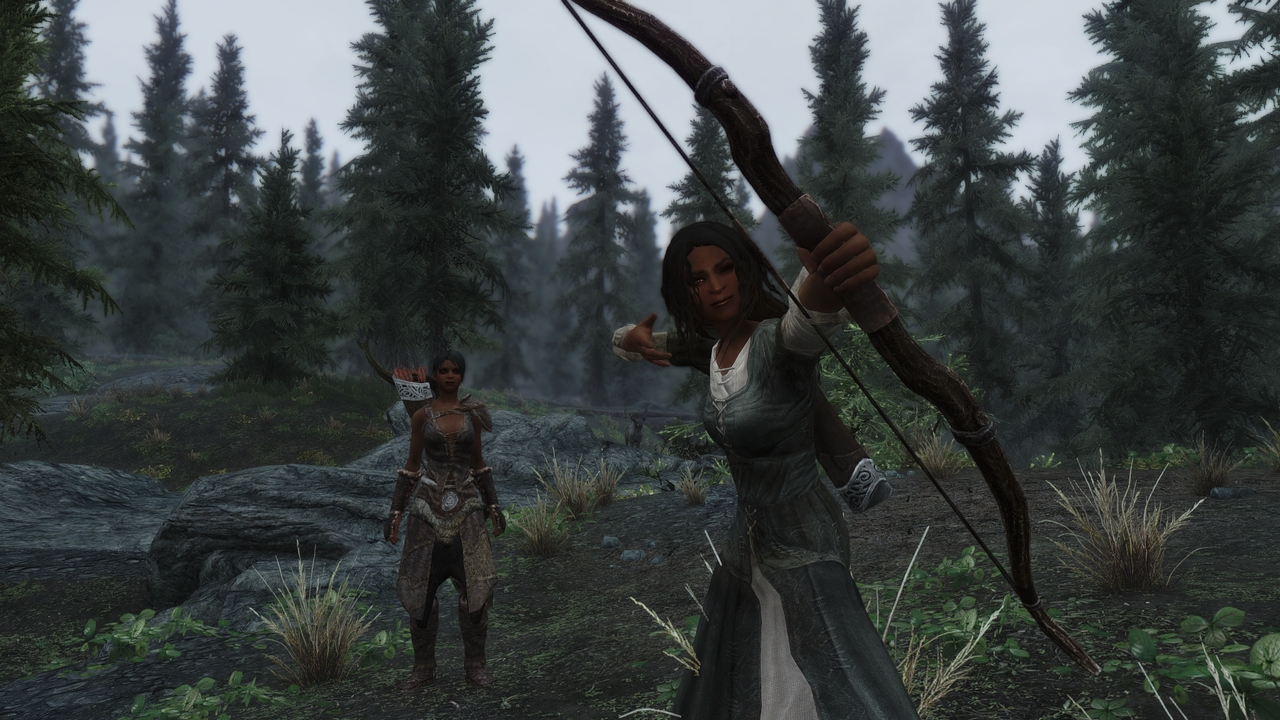 Ms.Heavy-Iron: "I don't mean to brag but even back then"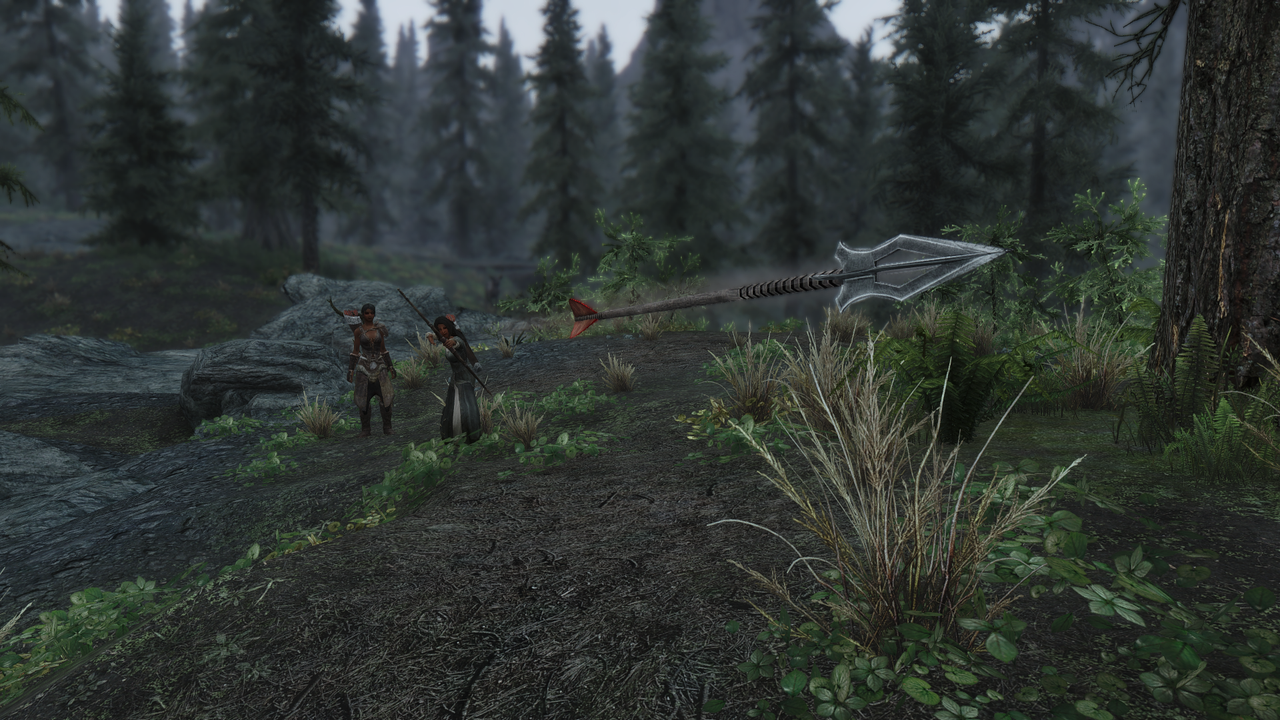 Ms.Heavy-Iron: "i was a pretty good shot"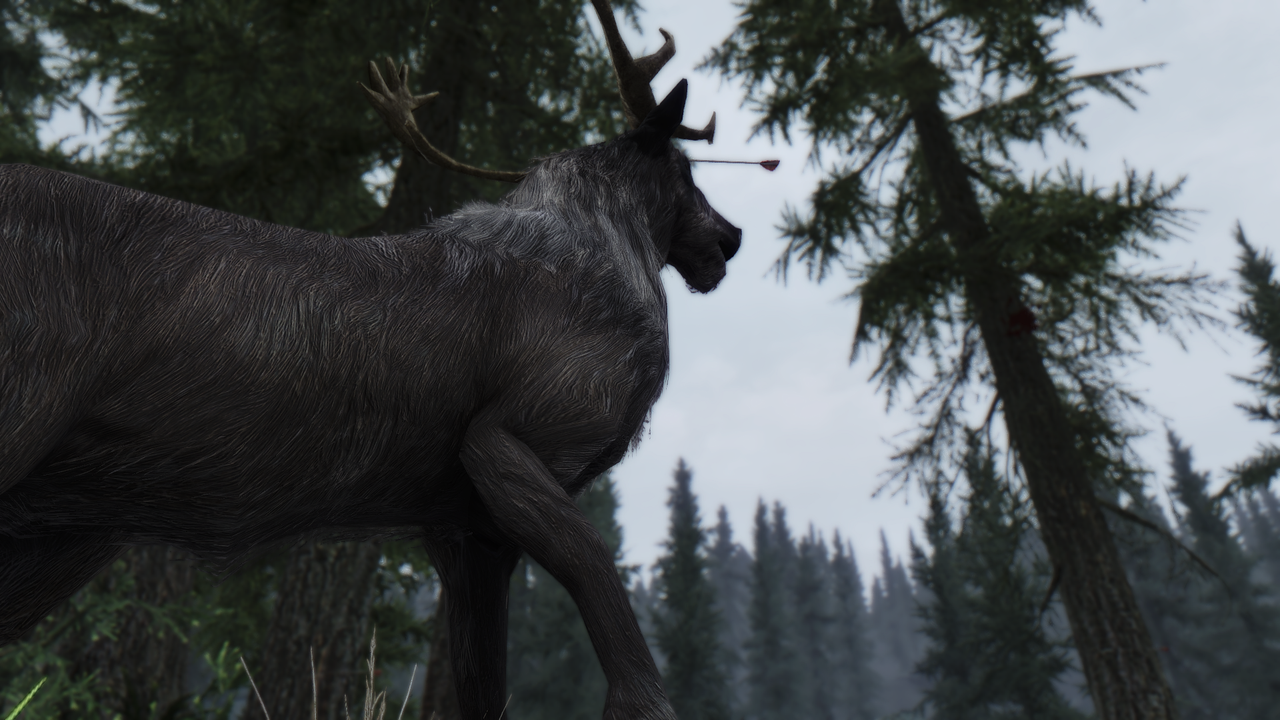 Ms.Heavy-Iron: "My mom was happy that i got that from her"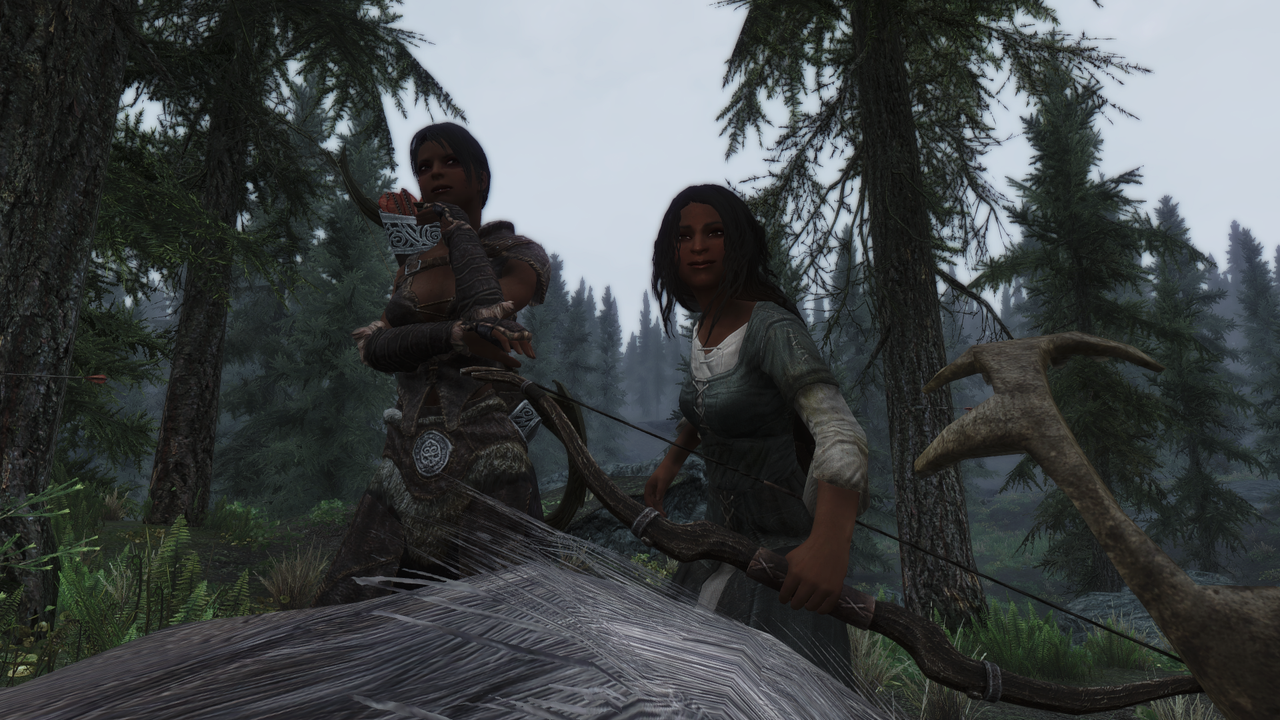 Ms.Heavy-Iron: "However i was terrible at magic"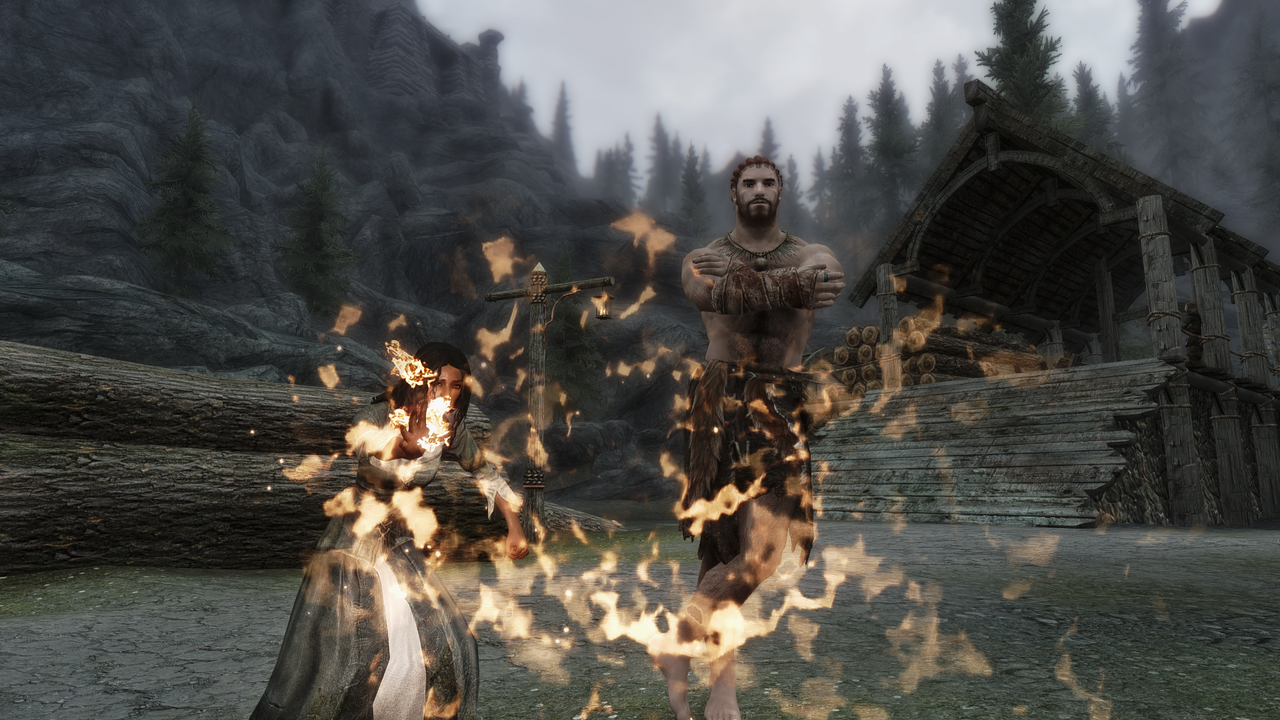 Ms.Heavy-Iron: "My magika output was extremely low, i could barely use Flames or Healing"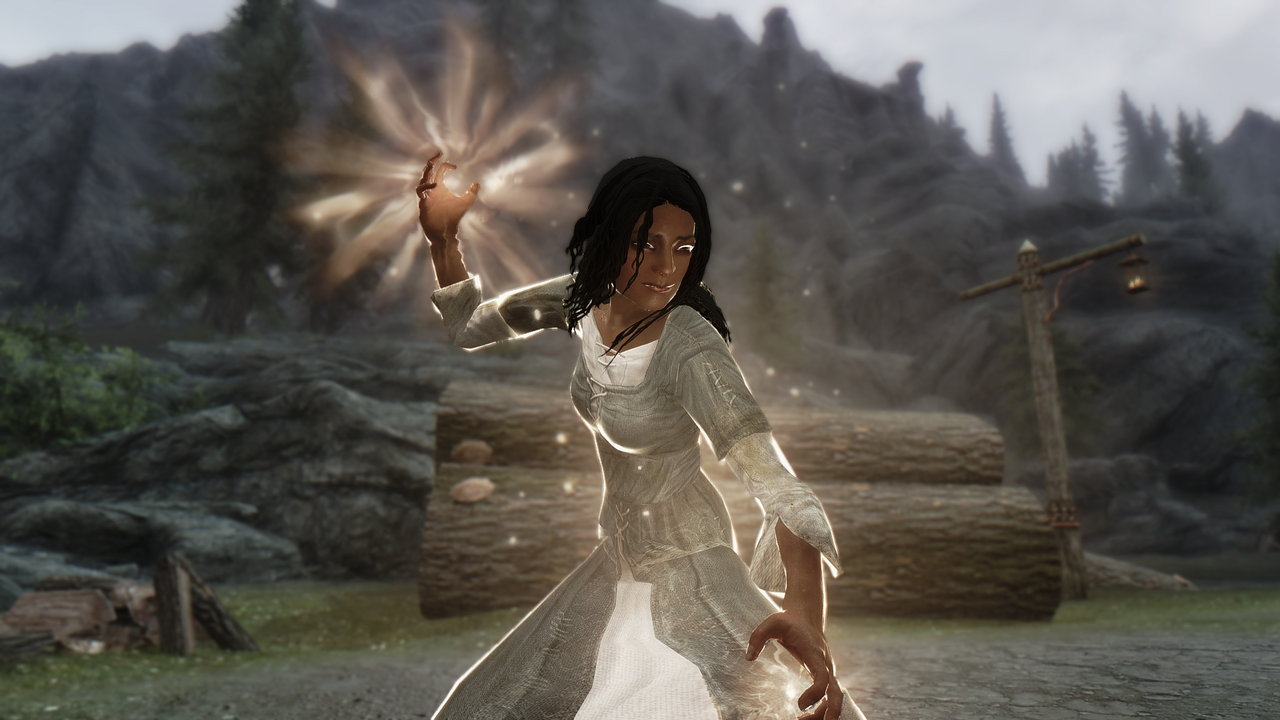 Ms.Heavy-iron: "I often got worried my dad would be embarrassed of me because of this"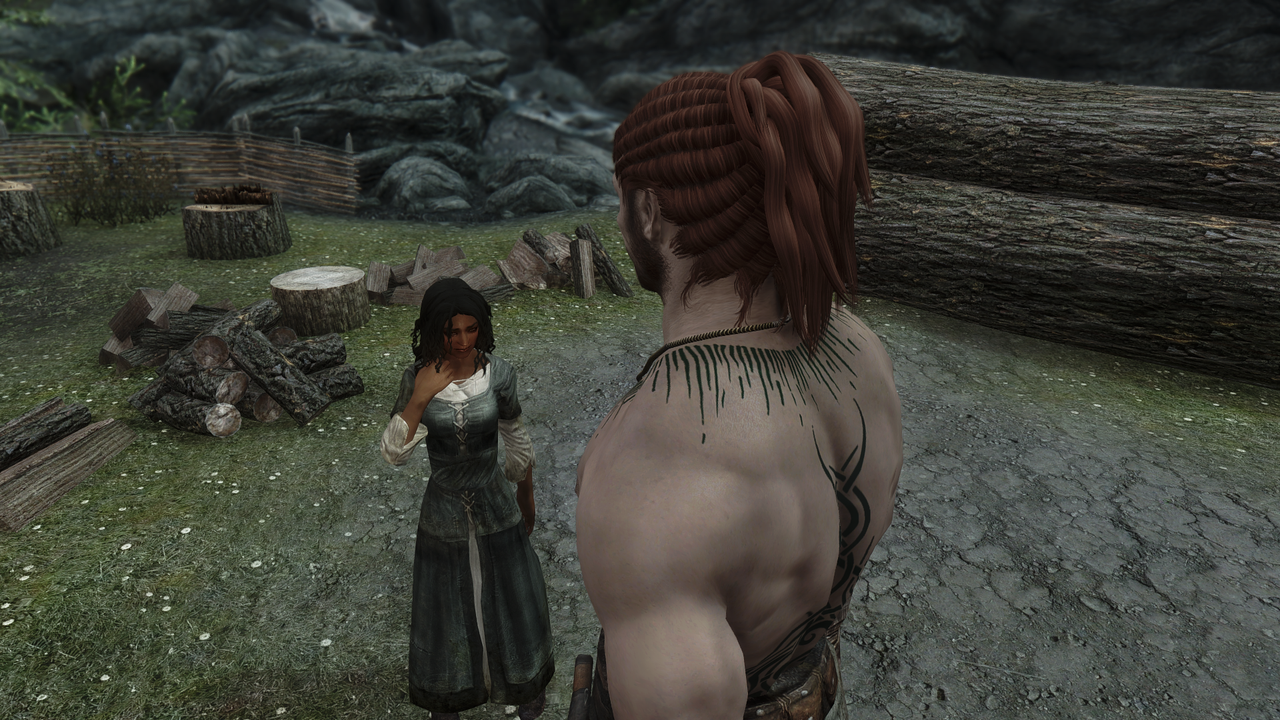 Ms.Heavy-Iron: "But my dad didn't mind, he said i was really good at mixing potions so that made me happy"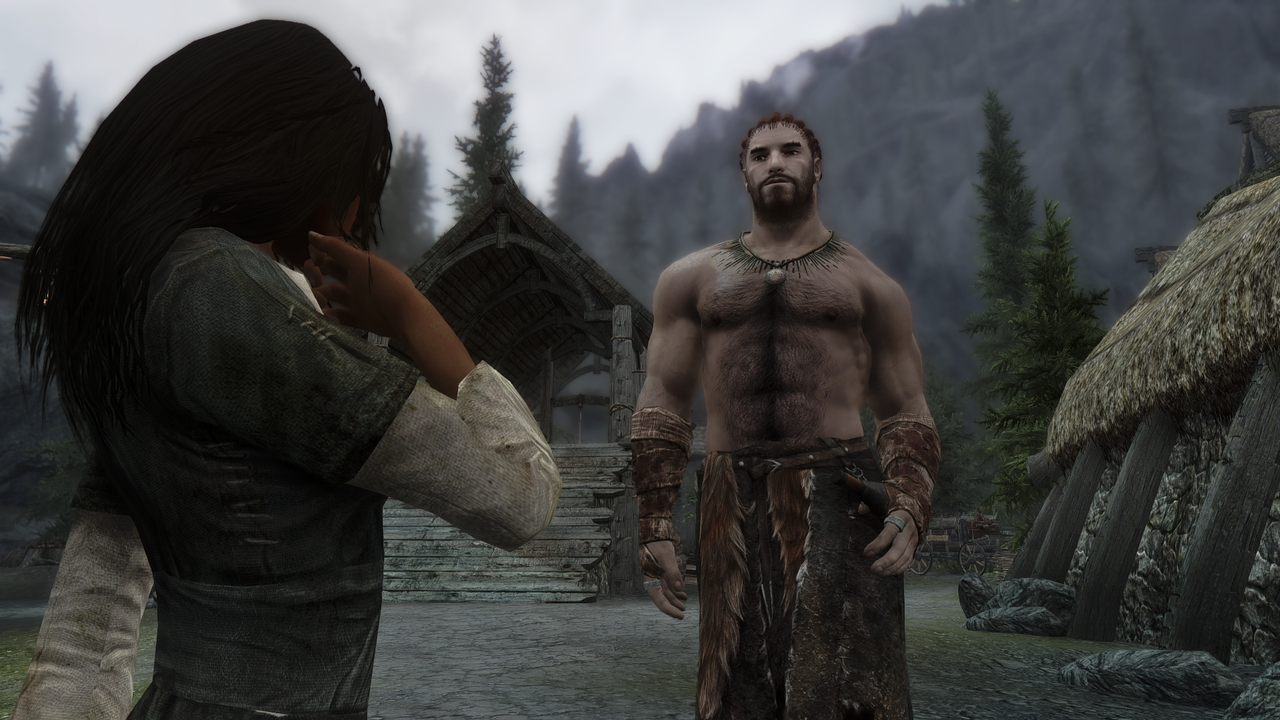 Ms.Heavy-Iron: "They also occasionally went on Missions on their own".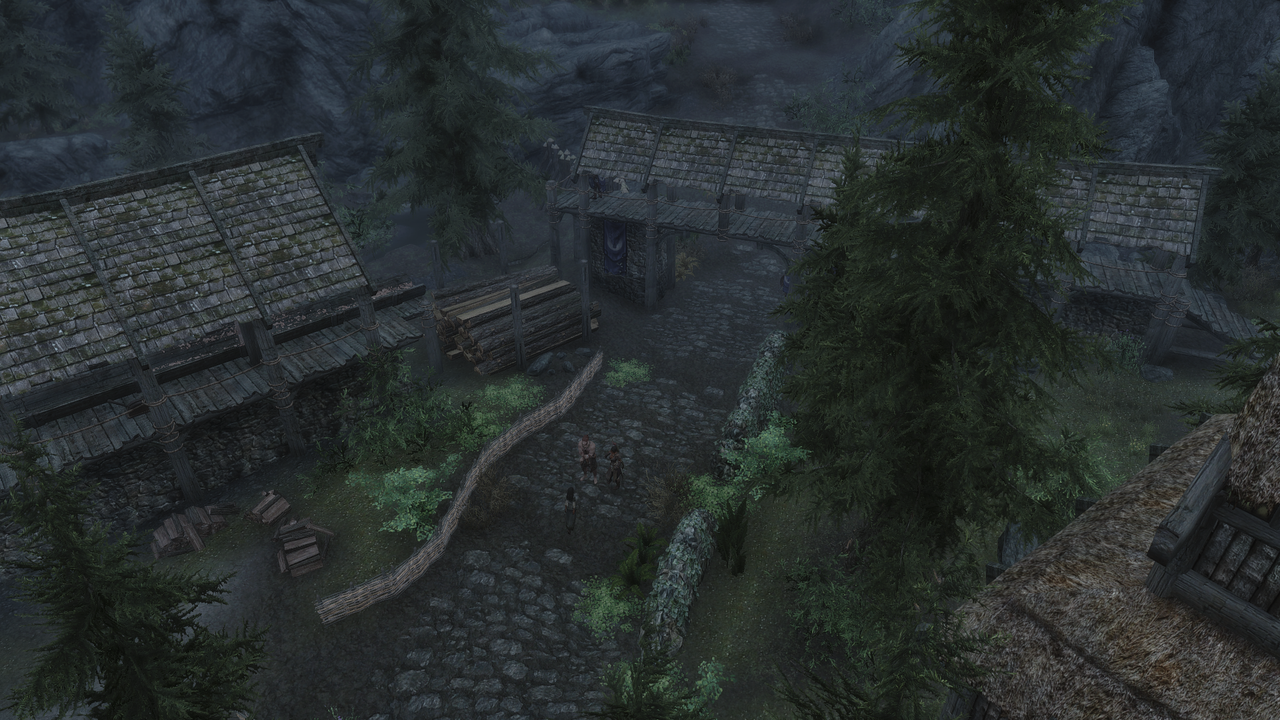 Ms.Heavy-Iron: "I would get worried but my Mom would always say""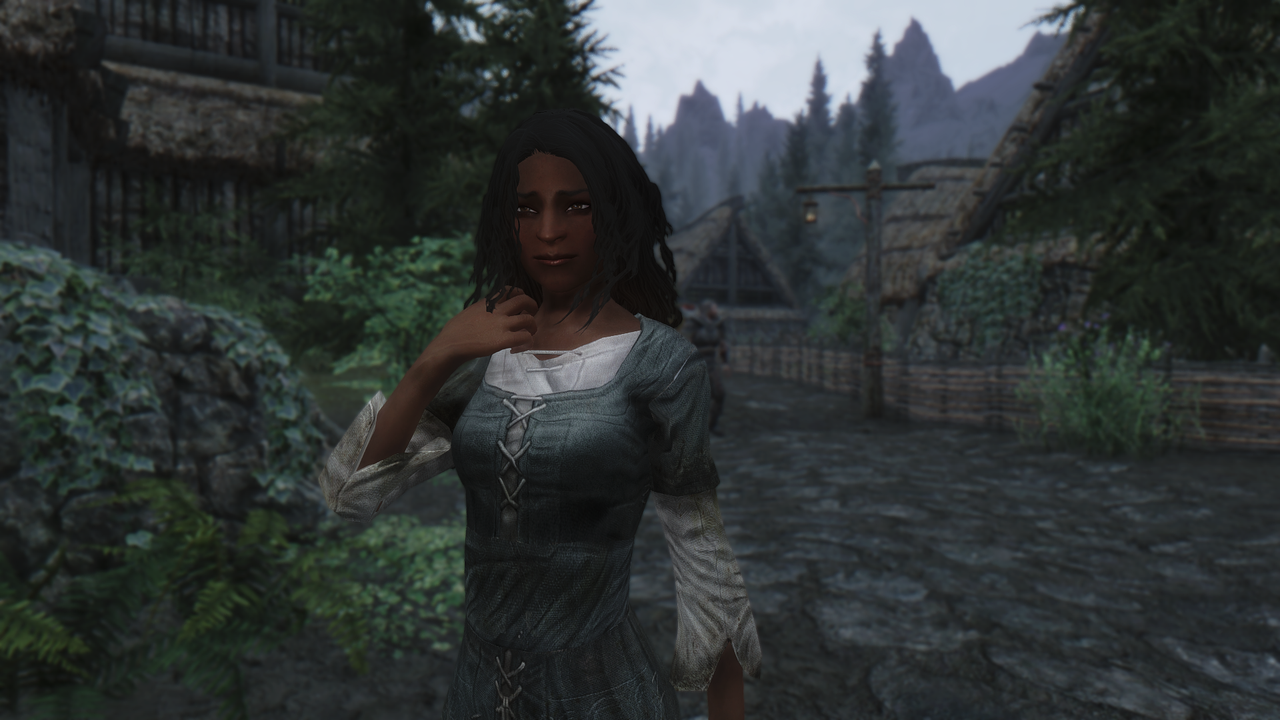 Lily: Don't worry sweetie, me and your Dad are badass's we'll never lose to bandits, assassins or anyone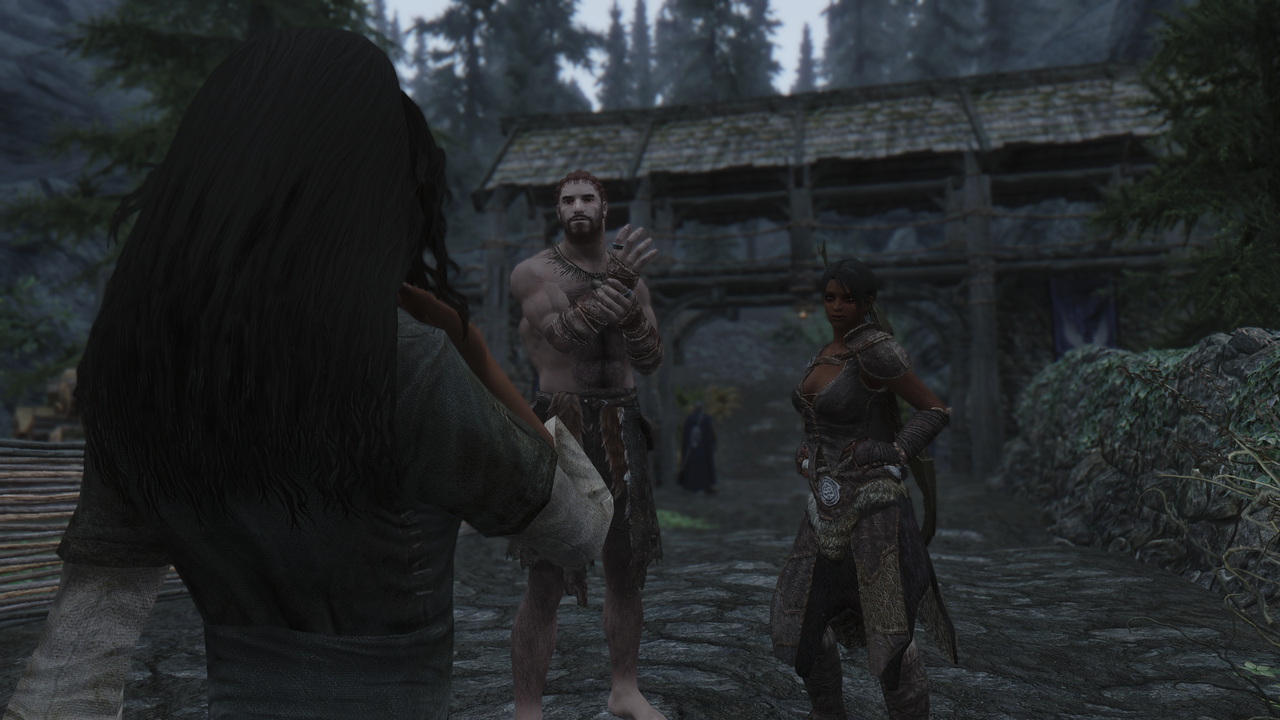 Ms.Heavy-Iron: "That always made me smile"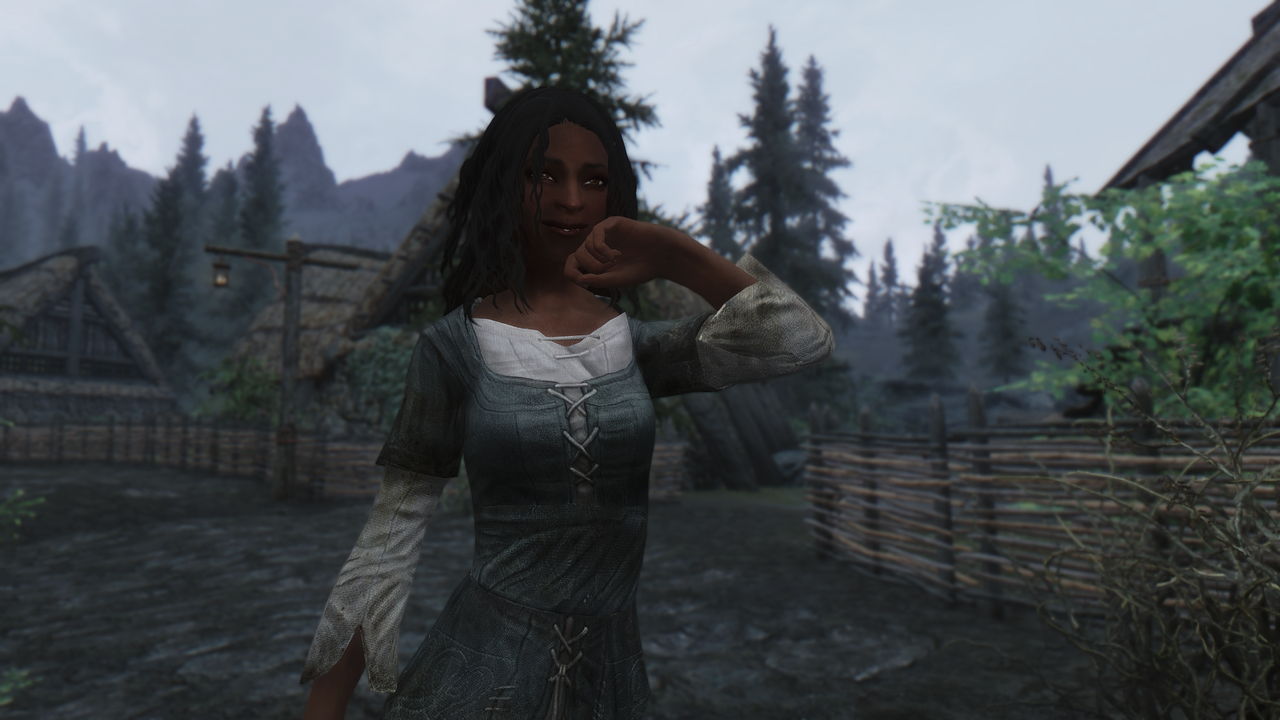 Ms.Heavy-Iron: "It was a nice life, until one mission changed everything"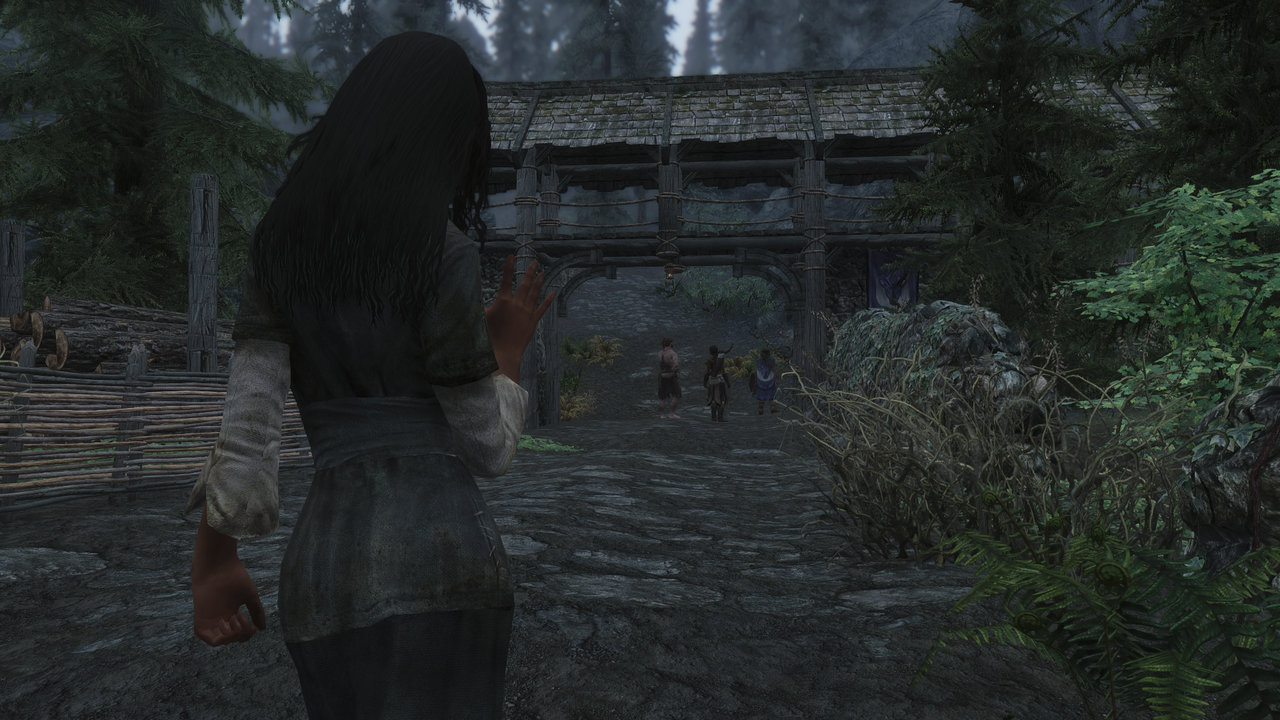 Ms.Heavy-Iron: "My parents excepted a quest from an anonymous person to go clear a bandit hideout which had some forsworn"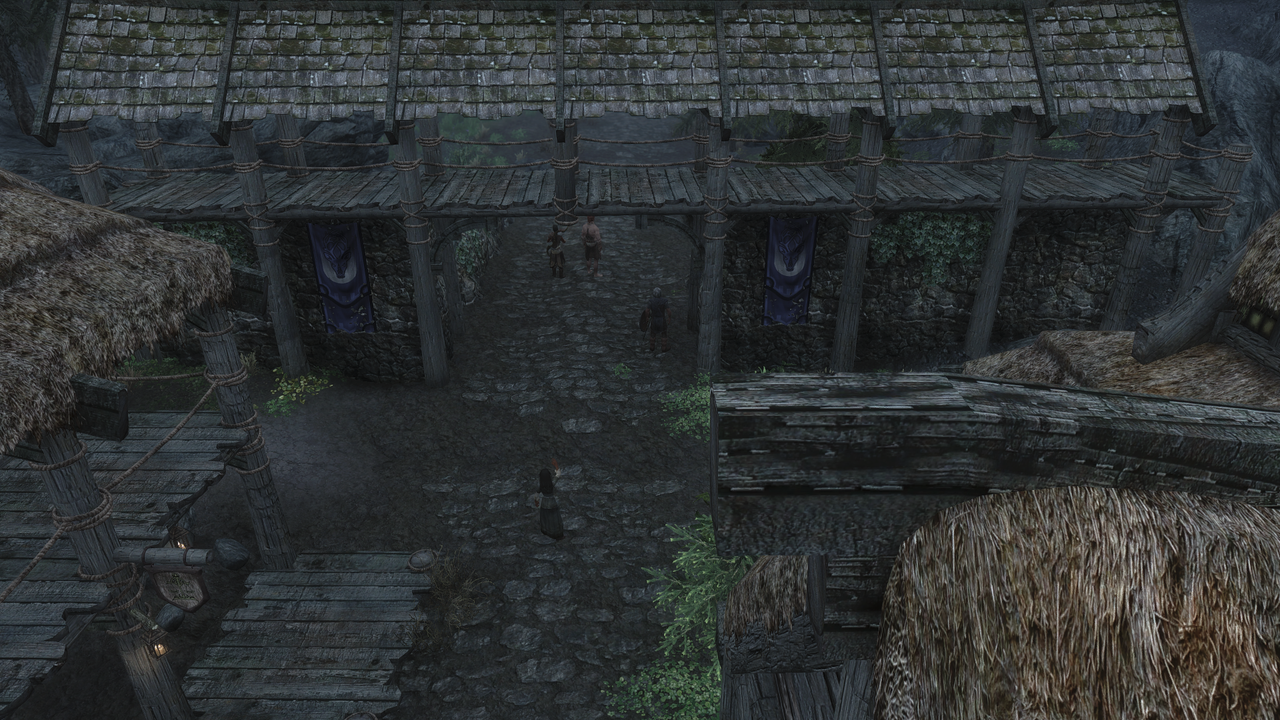 Ms.Heavy-Iron: "I was fine with that and said bye as they left but i felt anxious"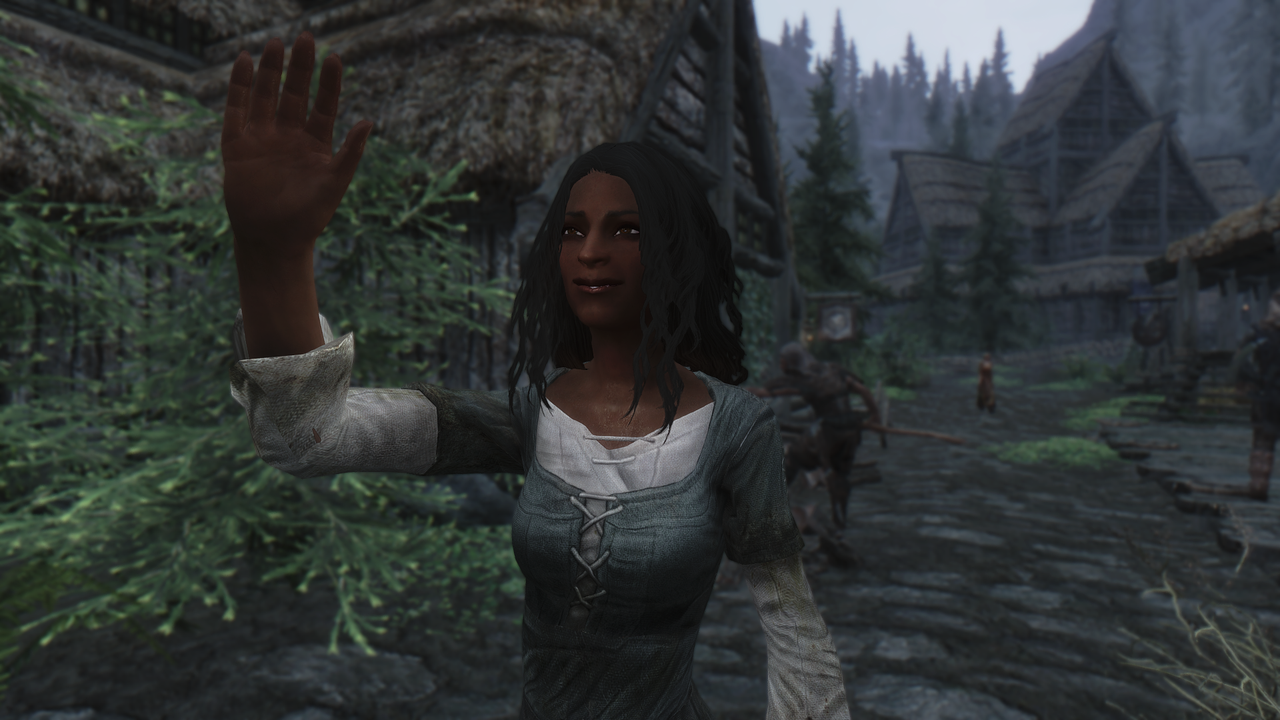 Ms.Heavy-Iron: "A few hours later they returned and i realized that i had a good reason to be"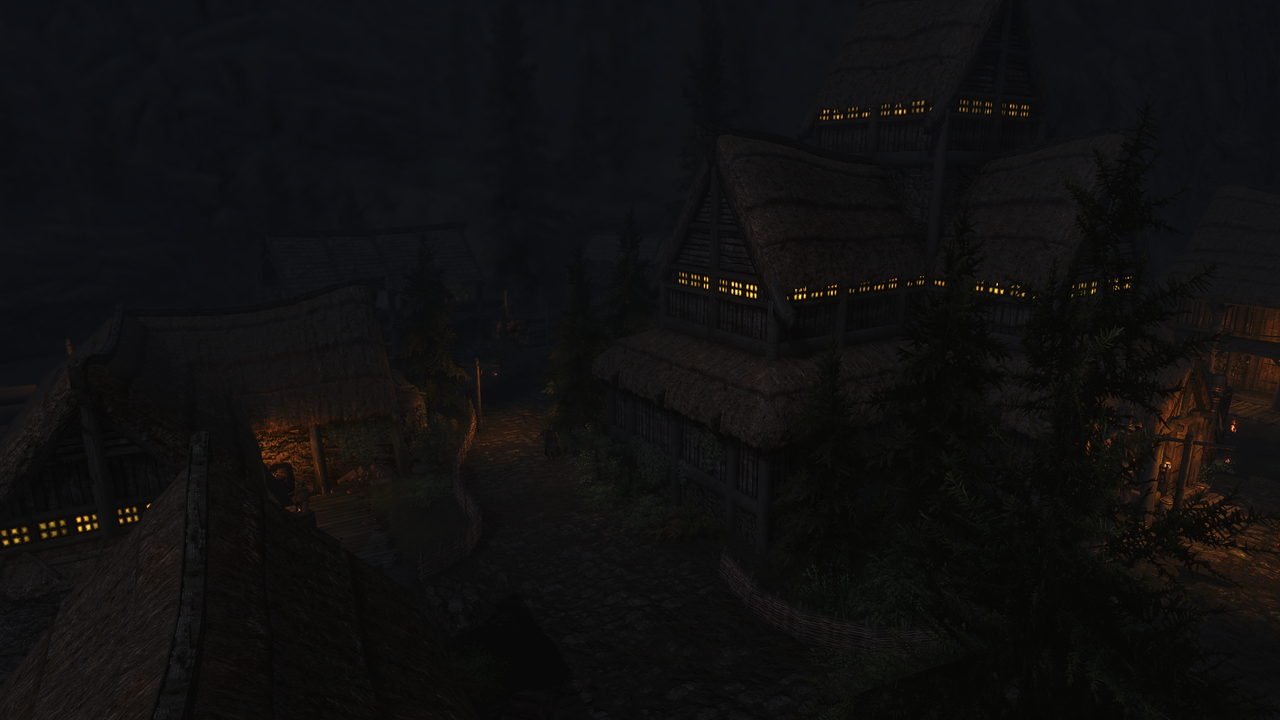 Ms.Heavy-Iron: "Needless to say i was surprised when i saw them"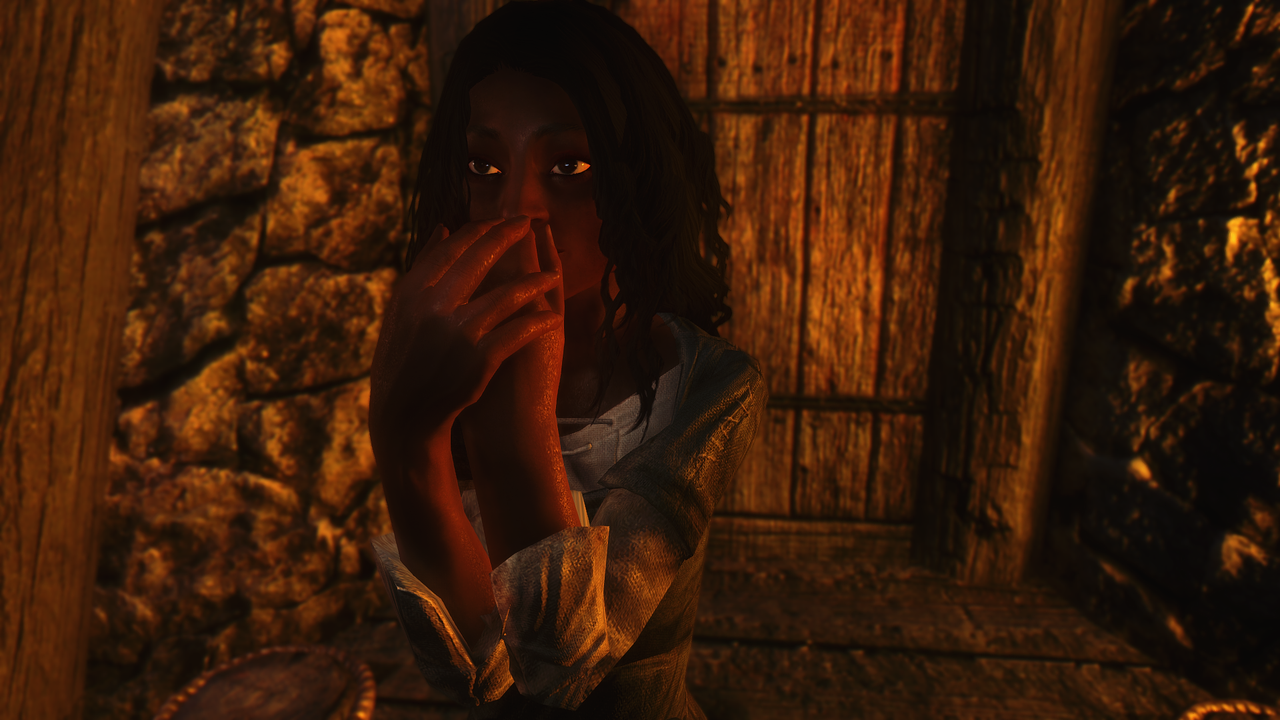 Ms.Heavy-Iron: "But they in particular my mom"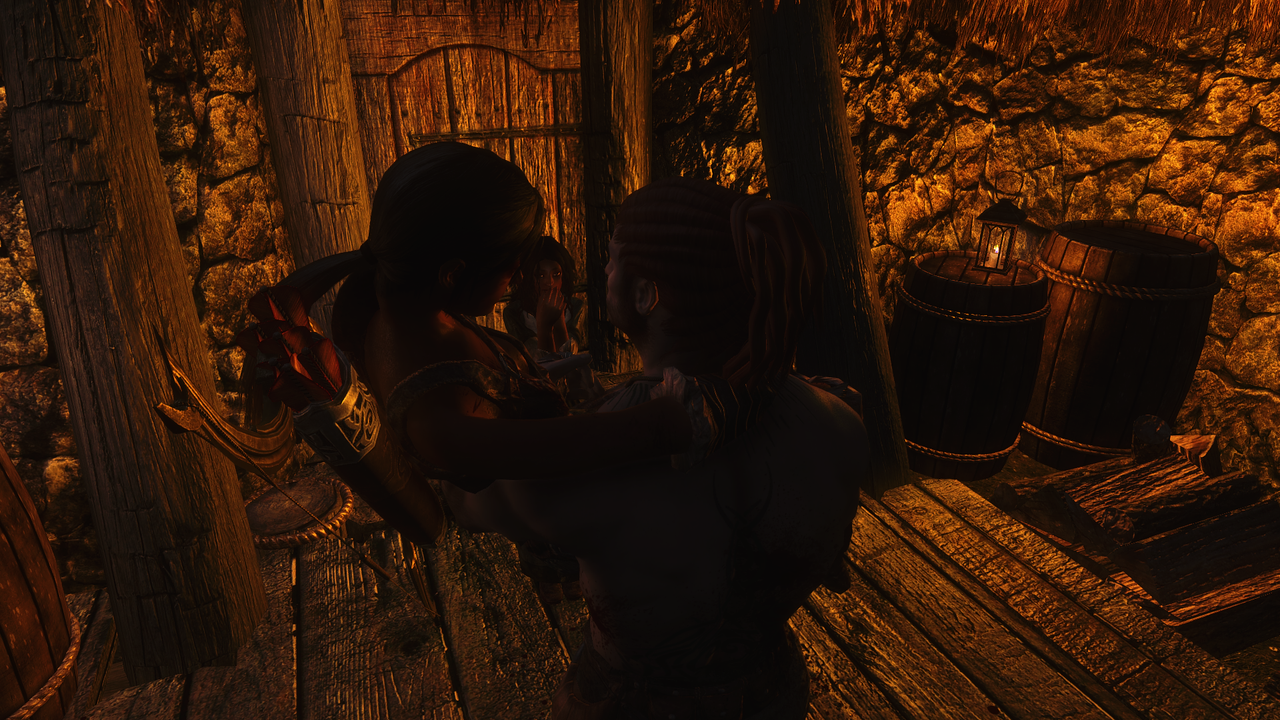 Ms.Heavy-Iron: "Were in bad condition"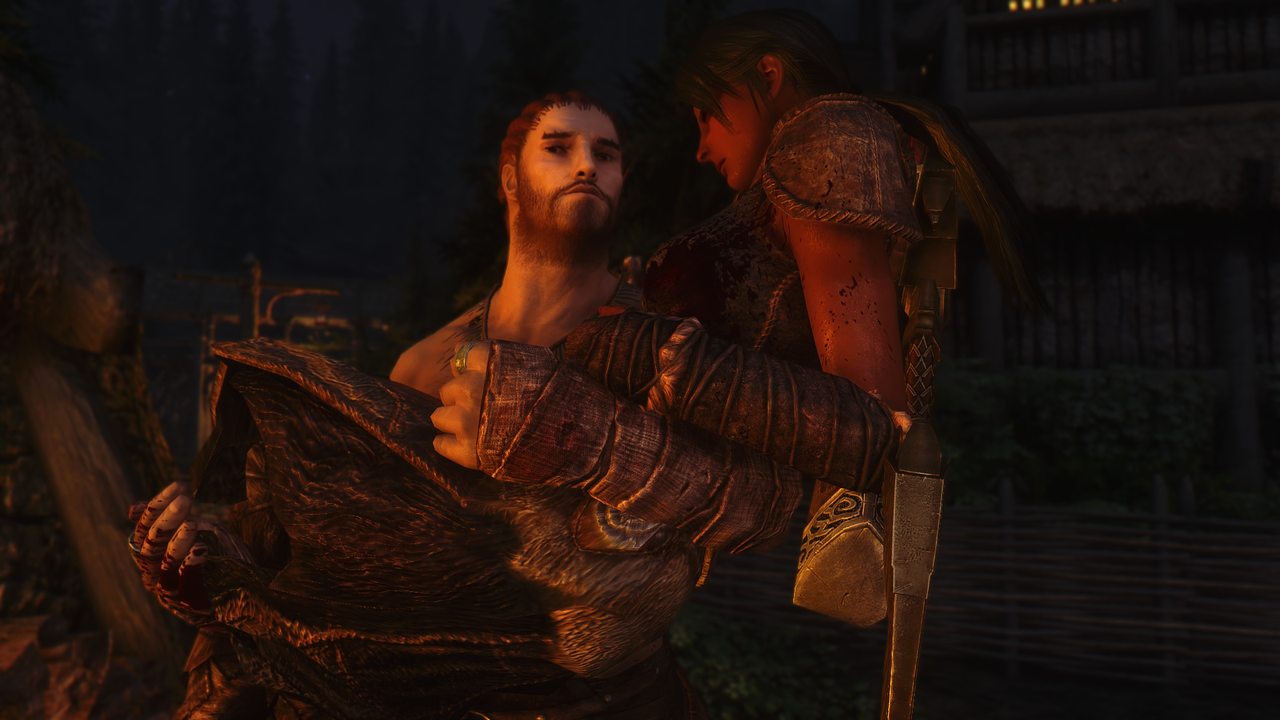 Ms.Heavy-Iron: "Turns out it was a trap, some dark brotherhood members attacked them with the bandits, defeated my mom and were able to poison my Dad who was able to kill them"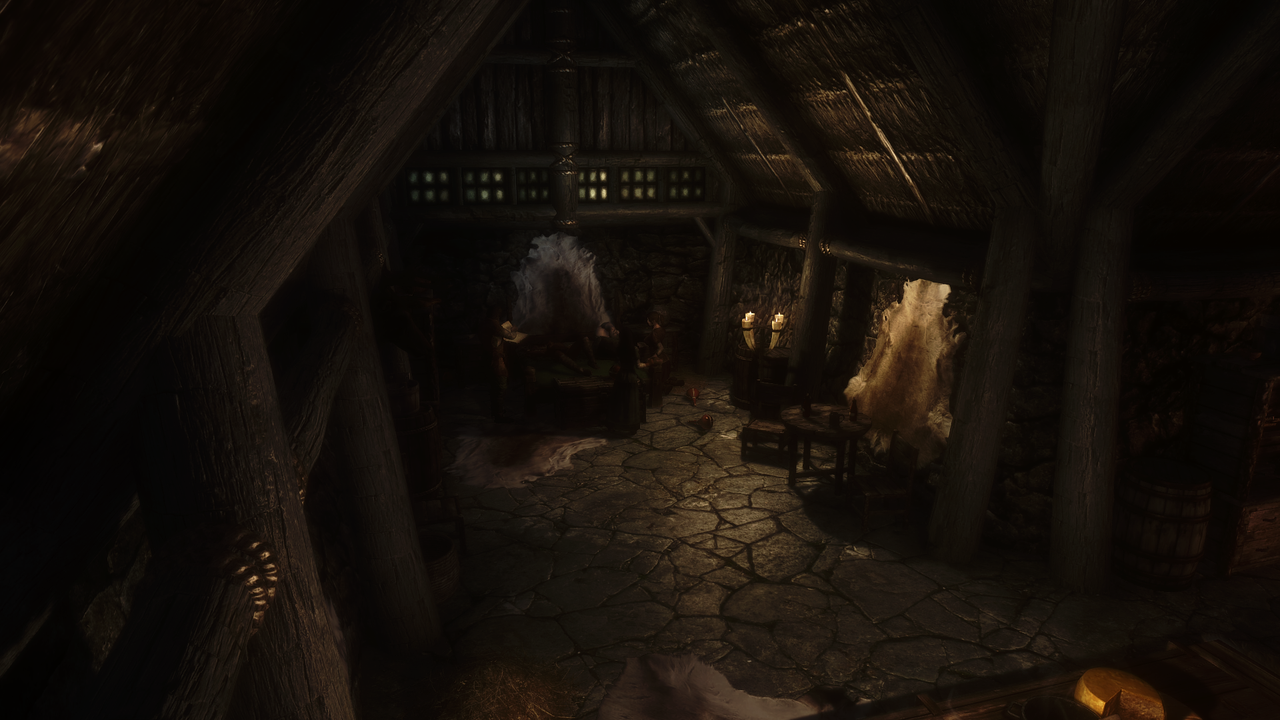 Ms.Heavy-Iron: "Me and some others helped tend to their wounds, my mom was really cut up"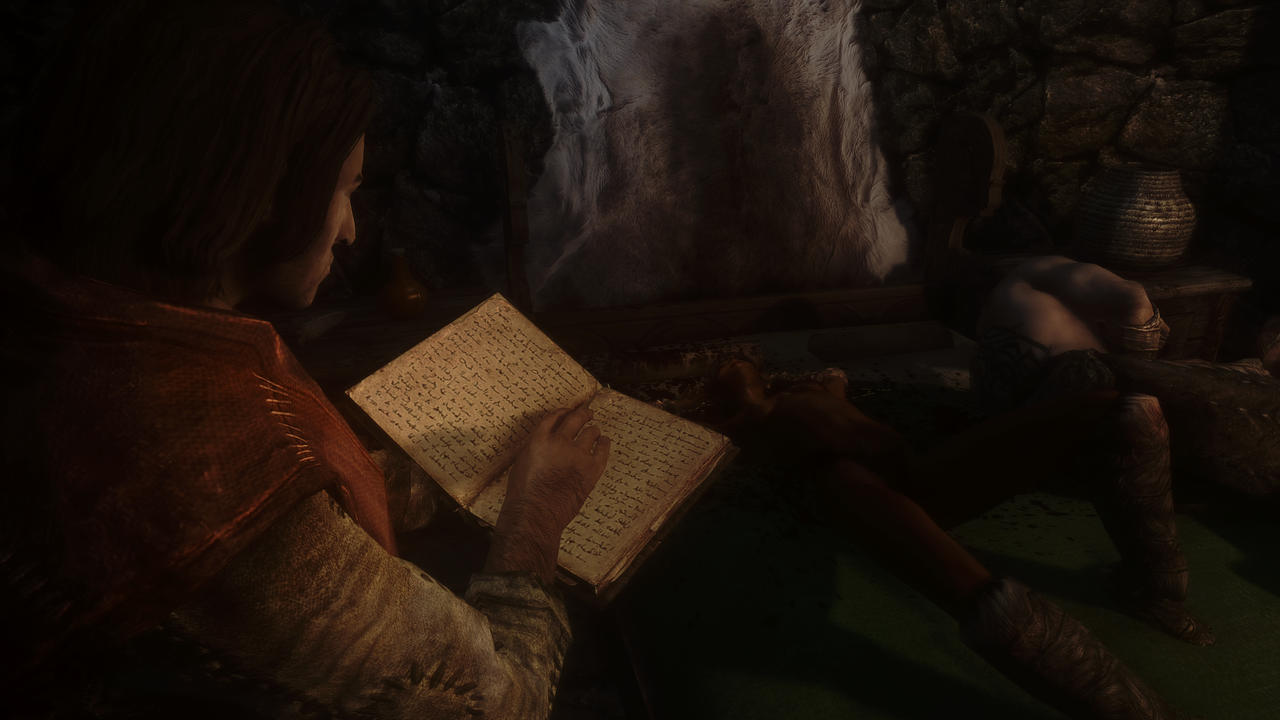 Ms.Heavy-Iron: "and my dad was in pain from the poison which had now spread through his body on the way back was keeping his wounds from closing too"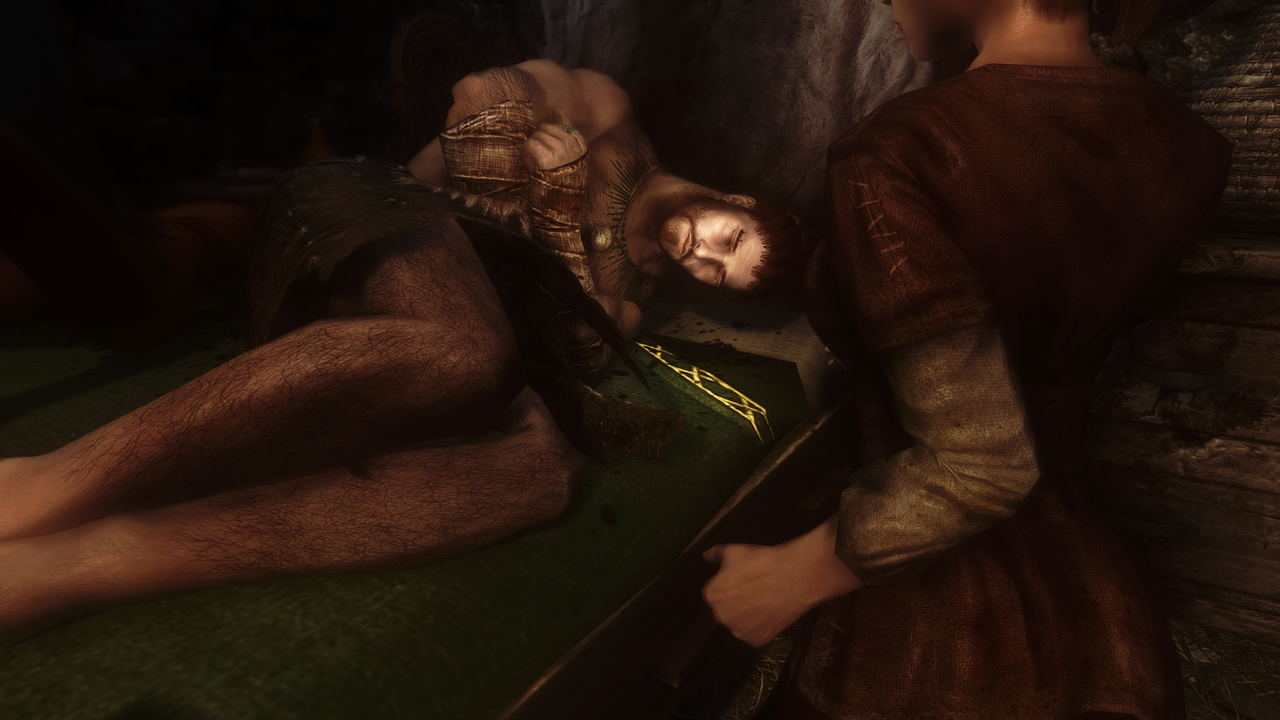 Ms.Heavy-Iron: "I tried my best but there was nothing much i could do, even the potions didn't help"


Ms.Heavy-Iron: "the neighbors left saying they should let them rest and hopefully get better"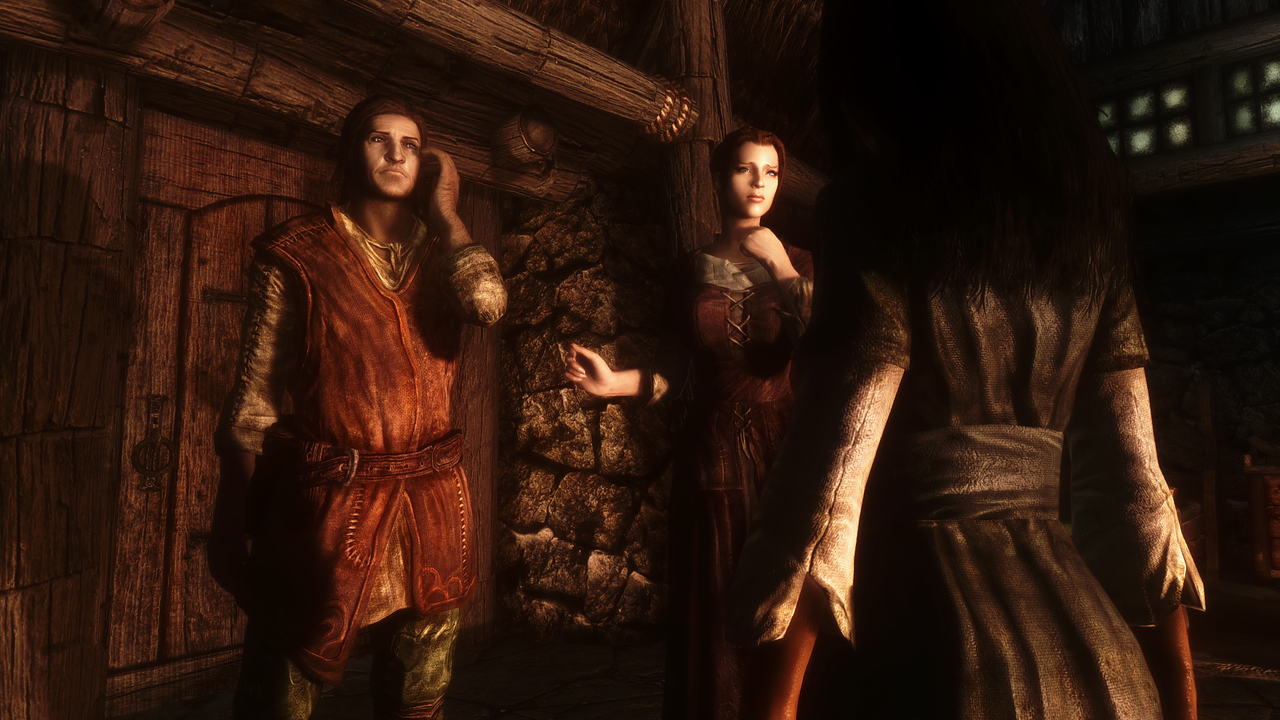 Ms.Heavy-Iron: "but i know they knew that my parents weren't gonna make it"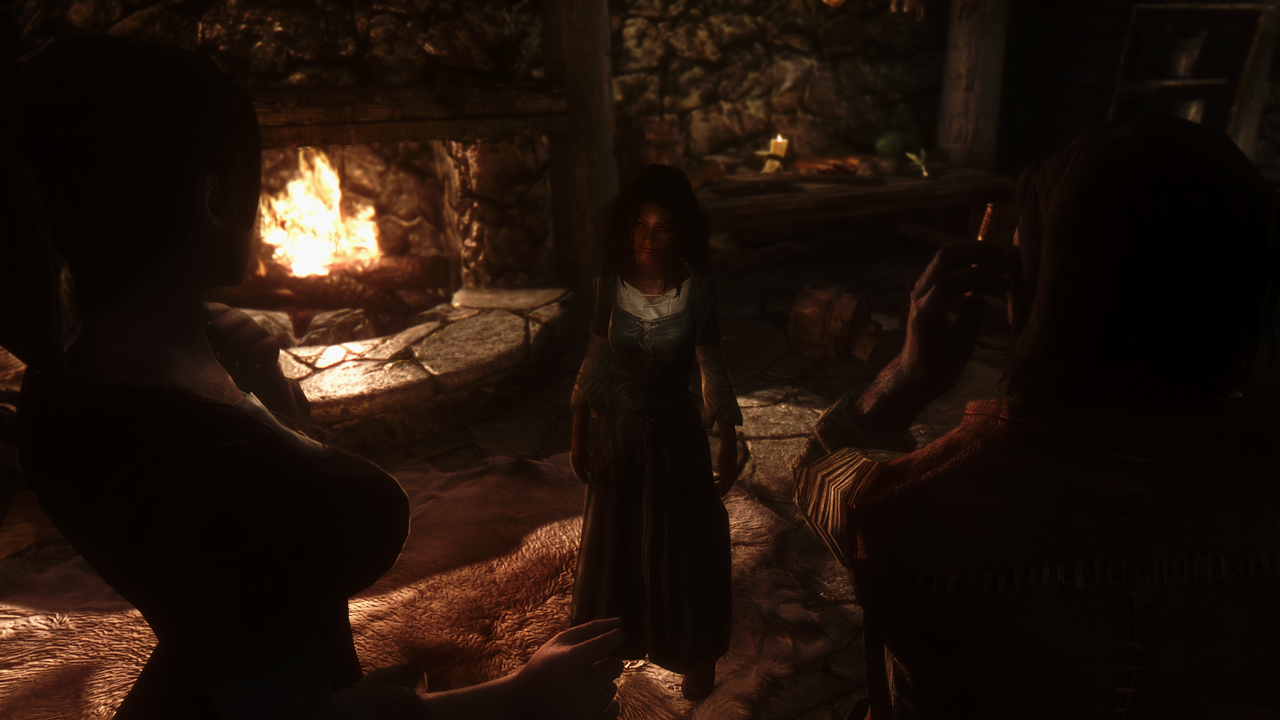 Ms.Heavy-Iron: "and sure enough 2 hours later My mom died a few hours later and my dad was gonna follow suit pretty soon"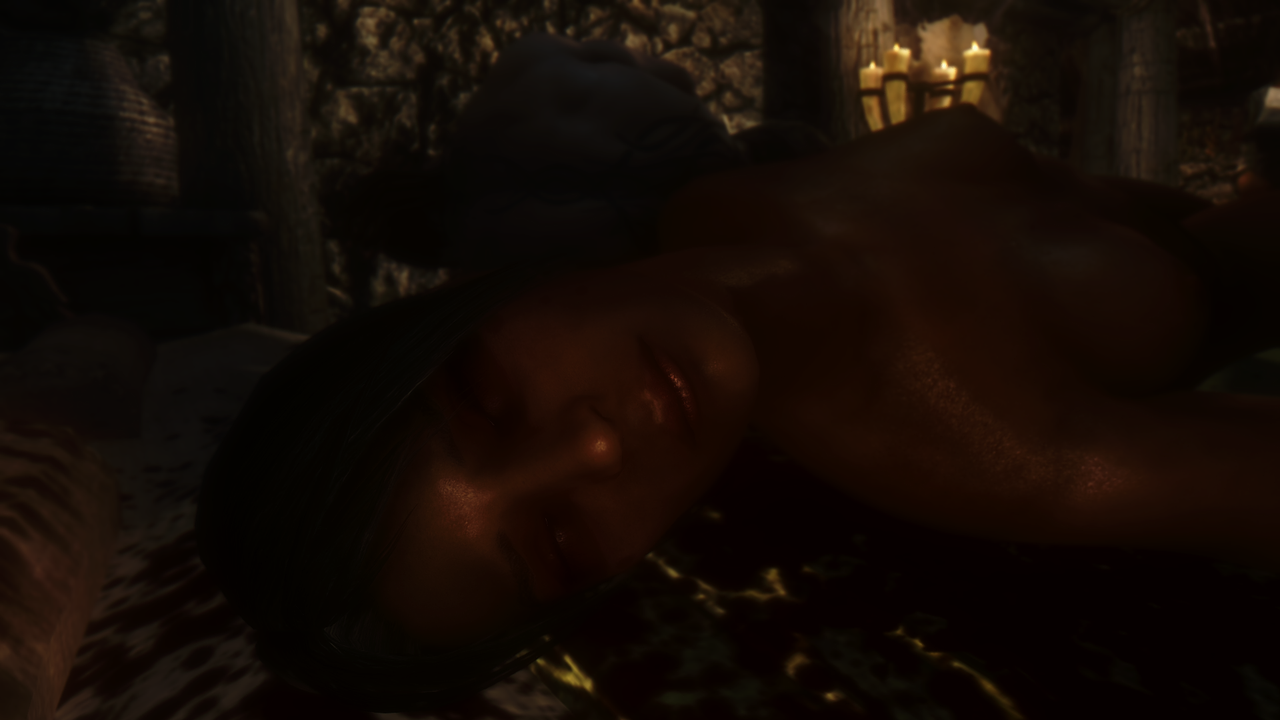 Ms.Heavy-Iron: "i started to cry"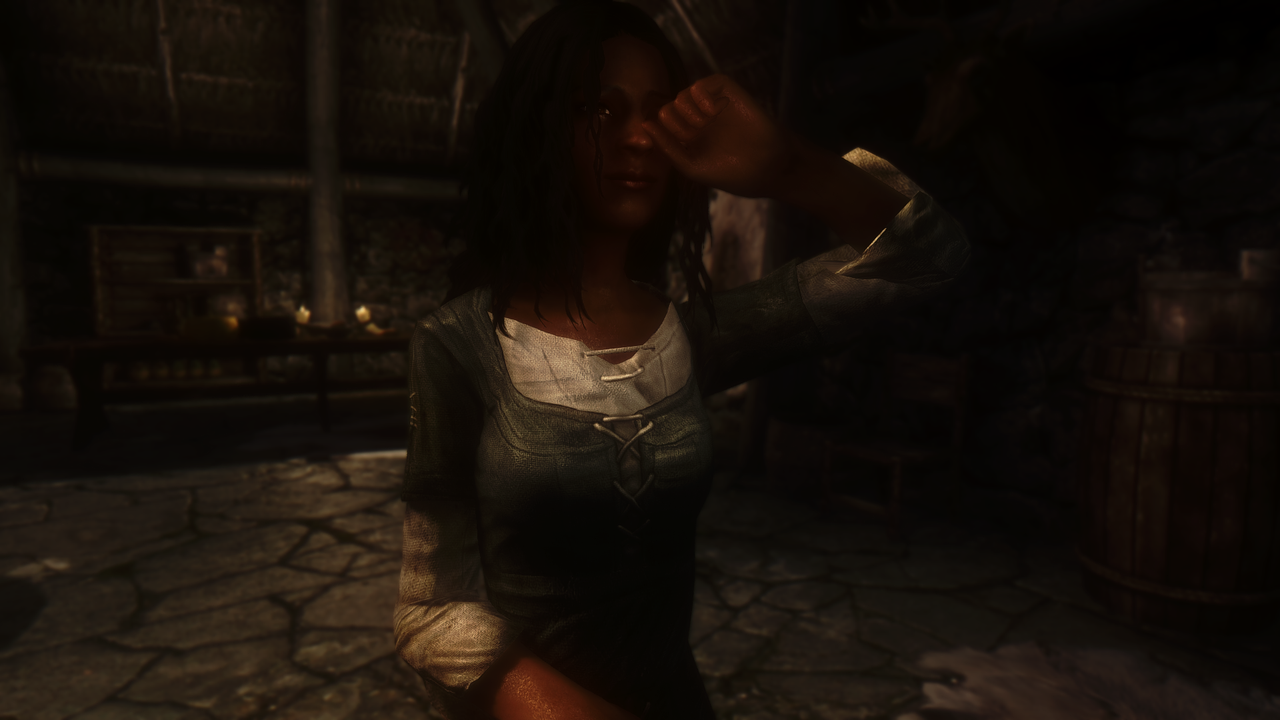 Ms.Heavy-Iron: "But my dad spoke up"
Throk: Hey hey, no more of that okay. we won, we beat those assassins like the badass's we are.
Emily: but you're dying.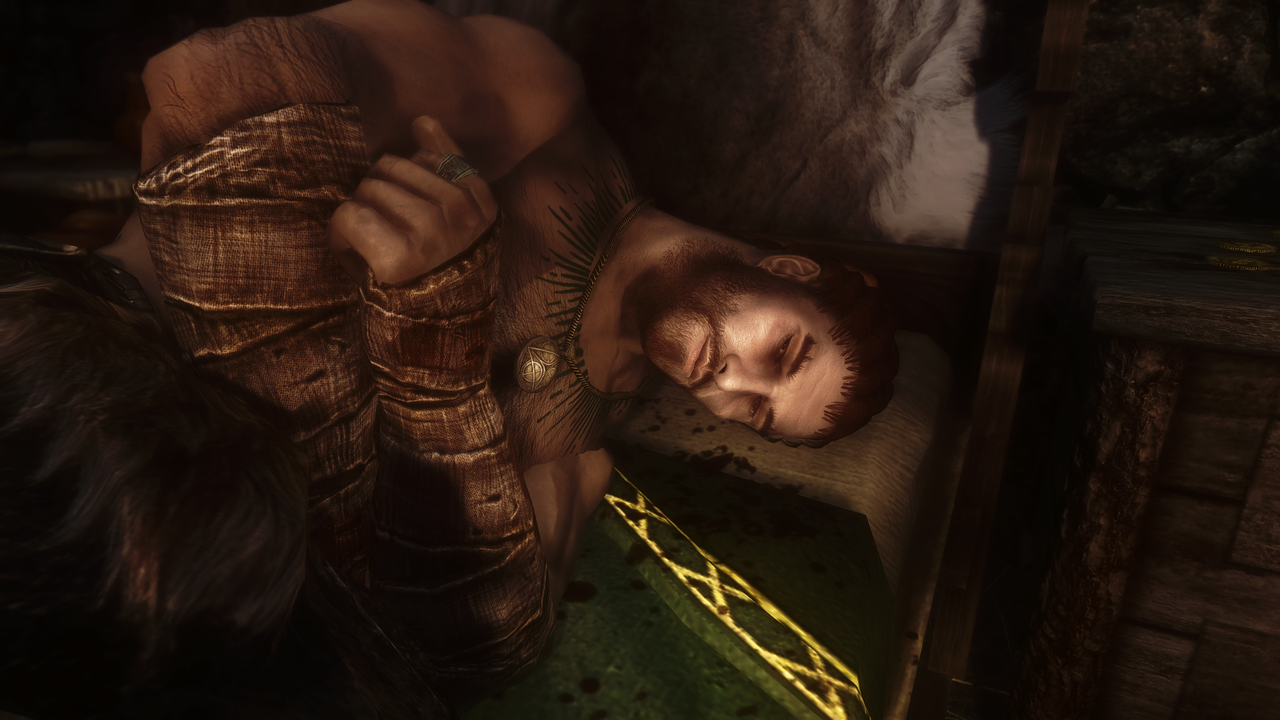 Throk: unfortunately yes, *cough*, winning against others doesn't always guarantee you come out aive sadly.
Emily: please don't go daddy, with mom gone i-i'll be alone.
Throk: your never alone, we'll be with you still, here take this.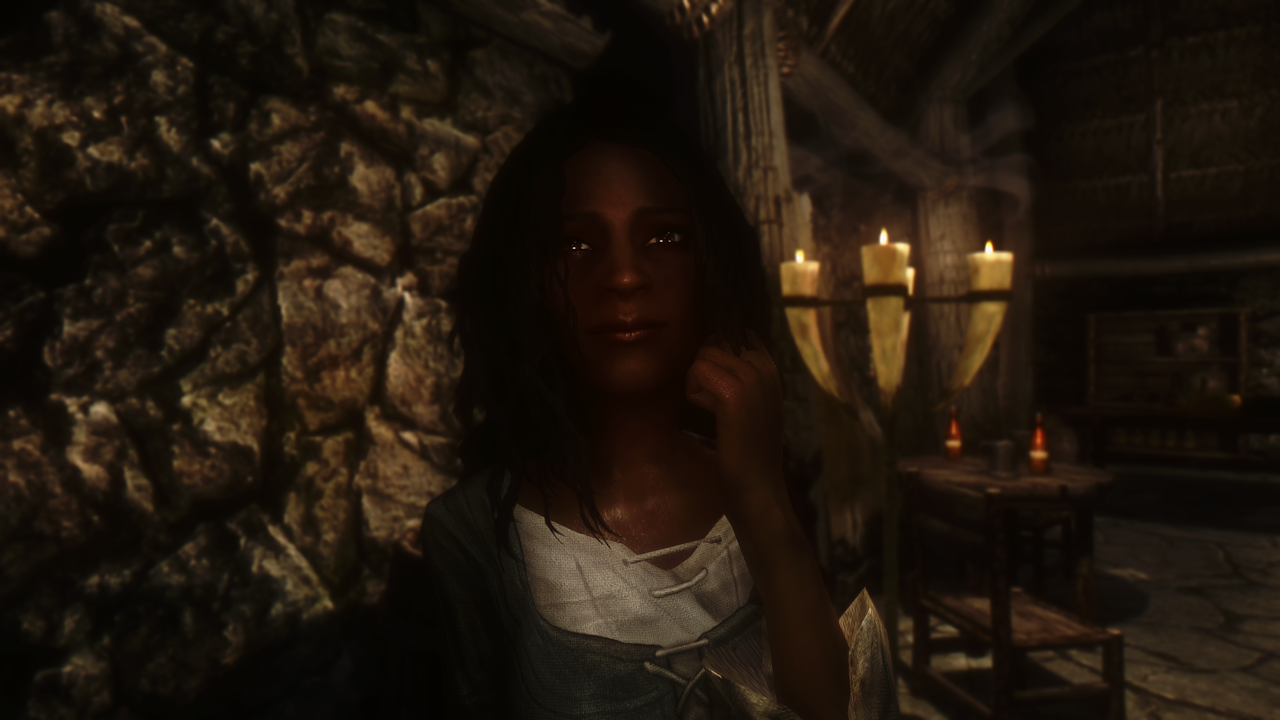 Emily: Y-Your necklace, but dad i'm not a mage, i can't even do magic.
Thork: You don't need to, Julianos is the Aedra of Knowledge and Wisdom, you have plenty of knowledge, this is just a a reminder that we're always with you and for you to remember to think with your head so you don't end up like us. You're a smart girl already so this won't change much heh*cough*.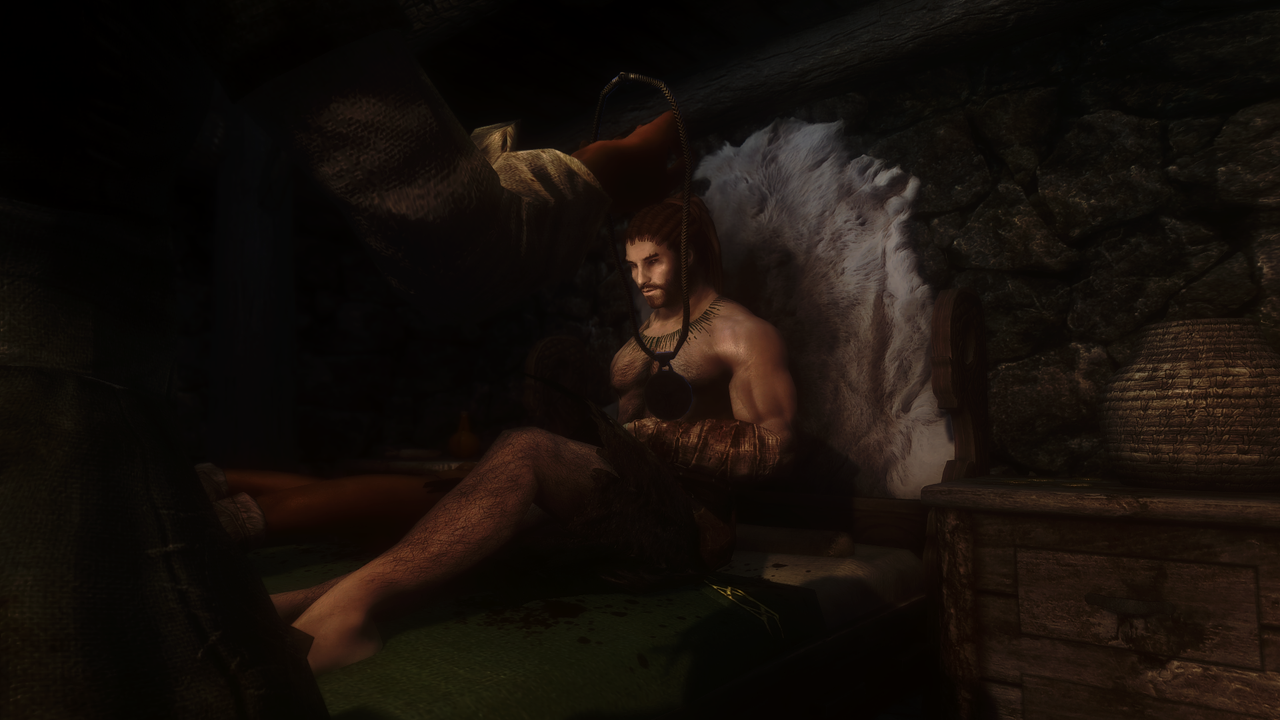 Emily: But i'm not that smart, i couldn't even heal you.
Throk: a cure for this type of poison would be difficult even for me.
Emily: But i can't even use magic, my po-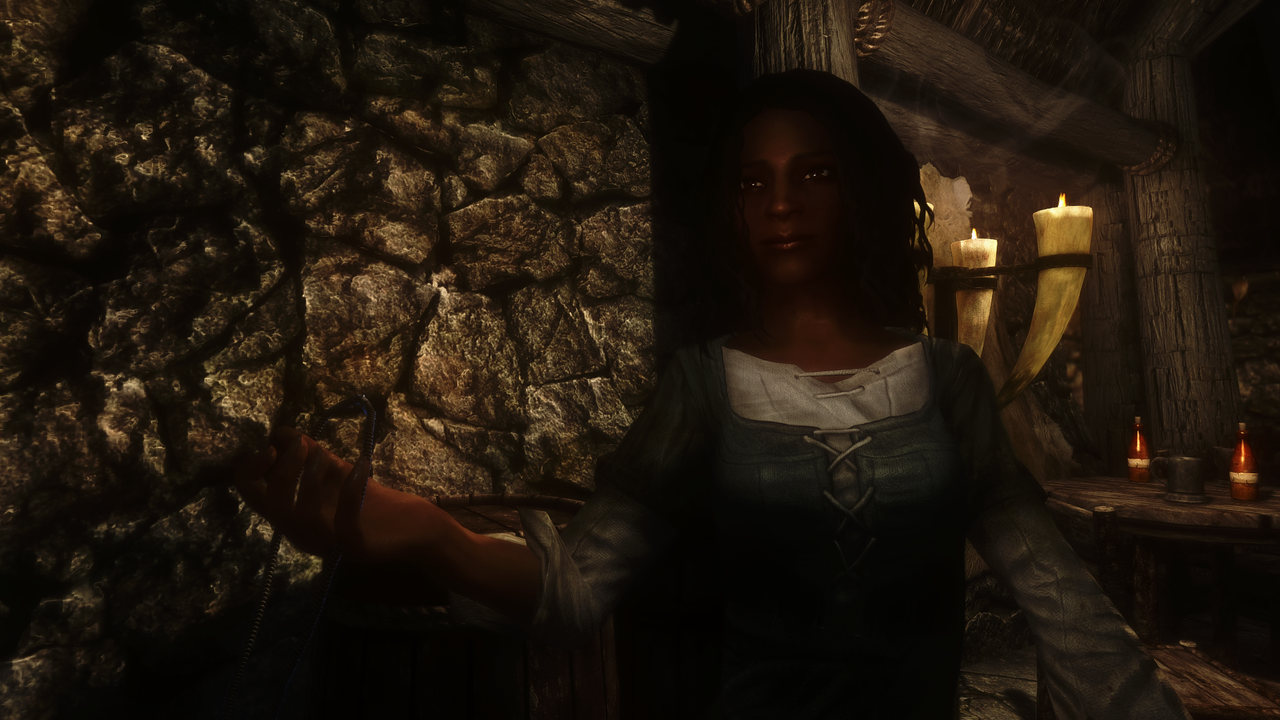 Throk: Emily Heavy-Iron, my sweet beautiful daughter, you are more than capable of being smarter and more badass than both Lil*cough*y and m*cough cough* combined, now promise *cough* me, no, us. That you'll stay safe and strong, and no matter what you come across in your life time, be it a bandit, giant, or somehow a dragon, you'll be safe and come out an even bigger badass then both your mom and dad combined*cough cough*.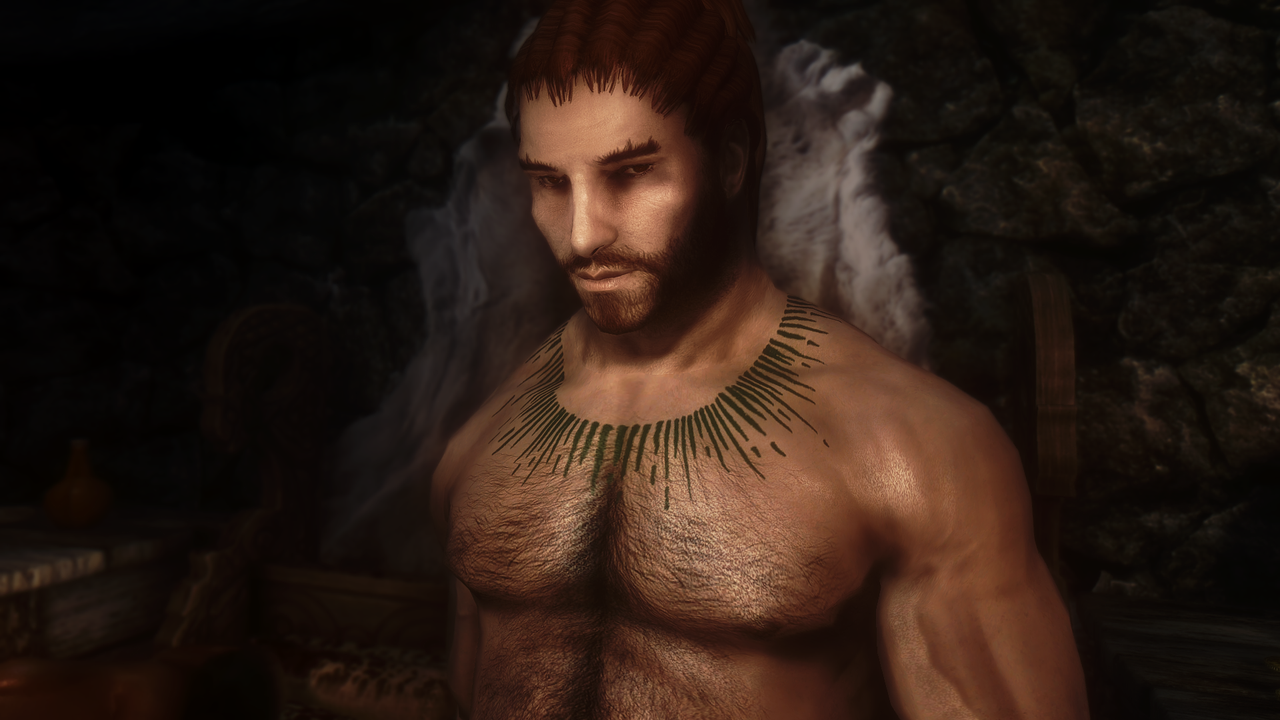 Ms.Heavy-Iron: "i couldn't help smiling after hearing his words and put on the necklace, "
Emily: O-okay dad, just you wait.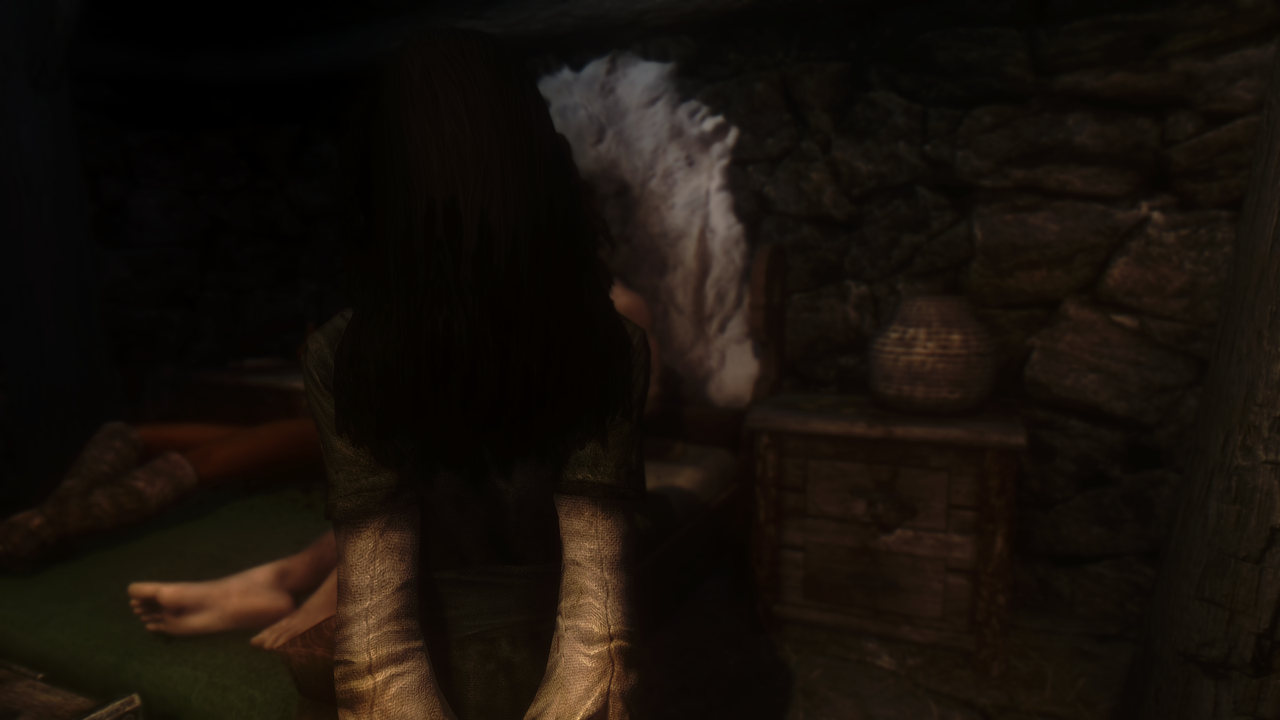 Emily: Yes, i'll be the greatest Hunter Skyrim's ever seen, you'll see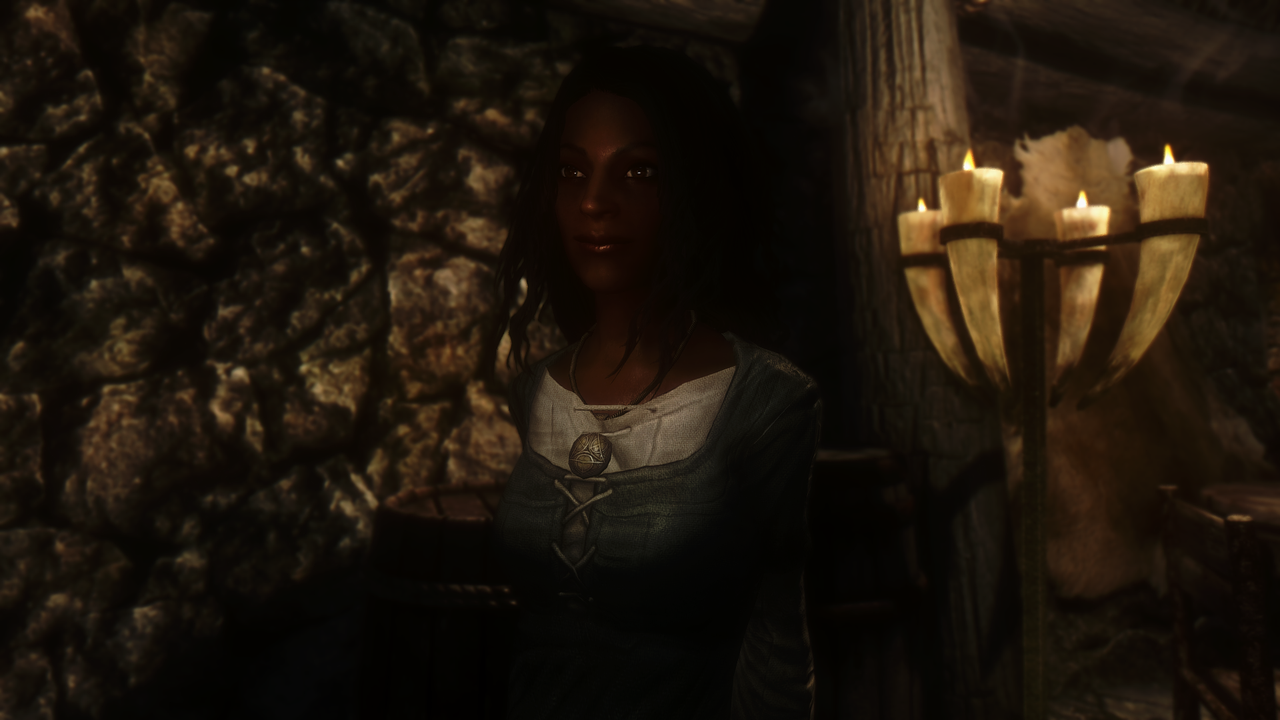 Ms.Heavy-Iron: "Dad smiled"
Throk: Good....we'll be......watching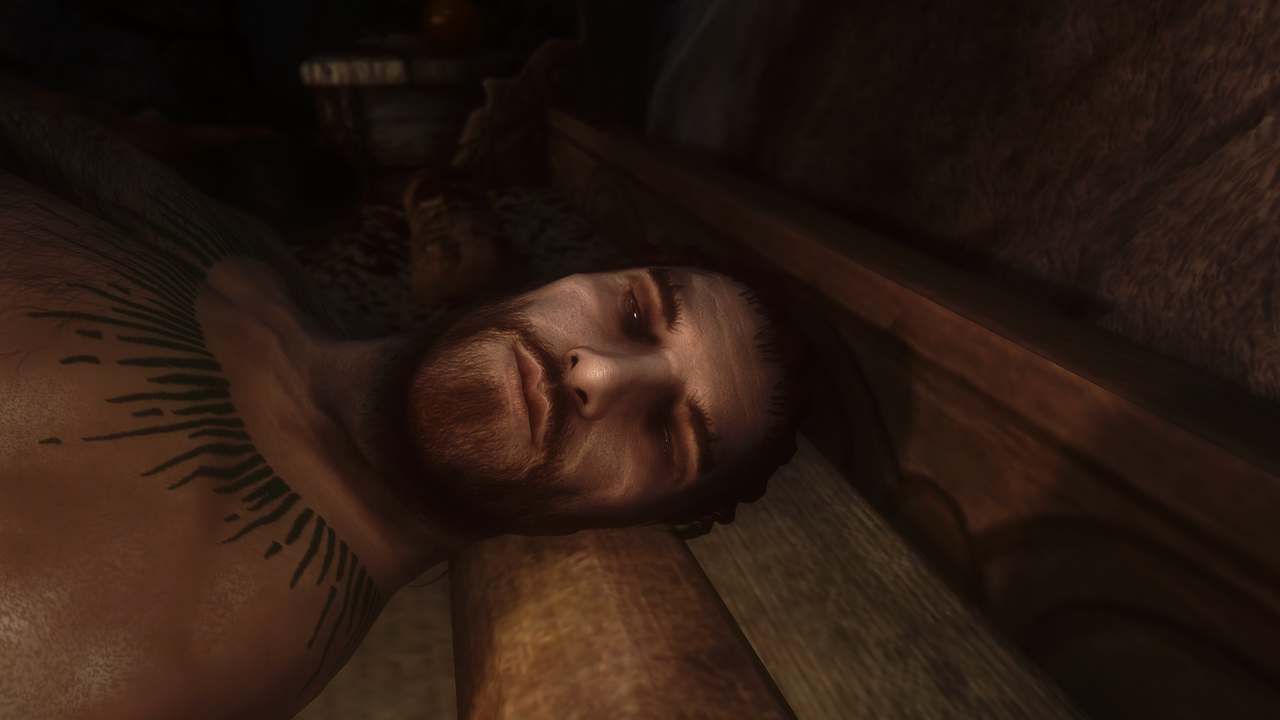 Emily: Dad.....dad..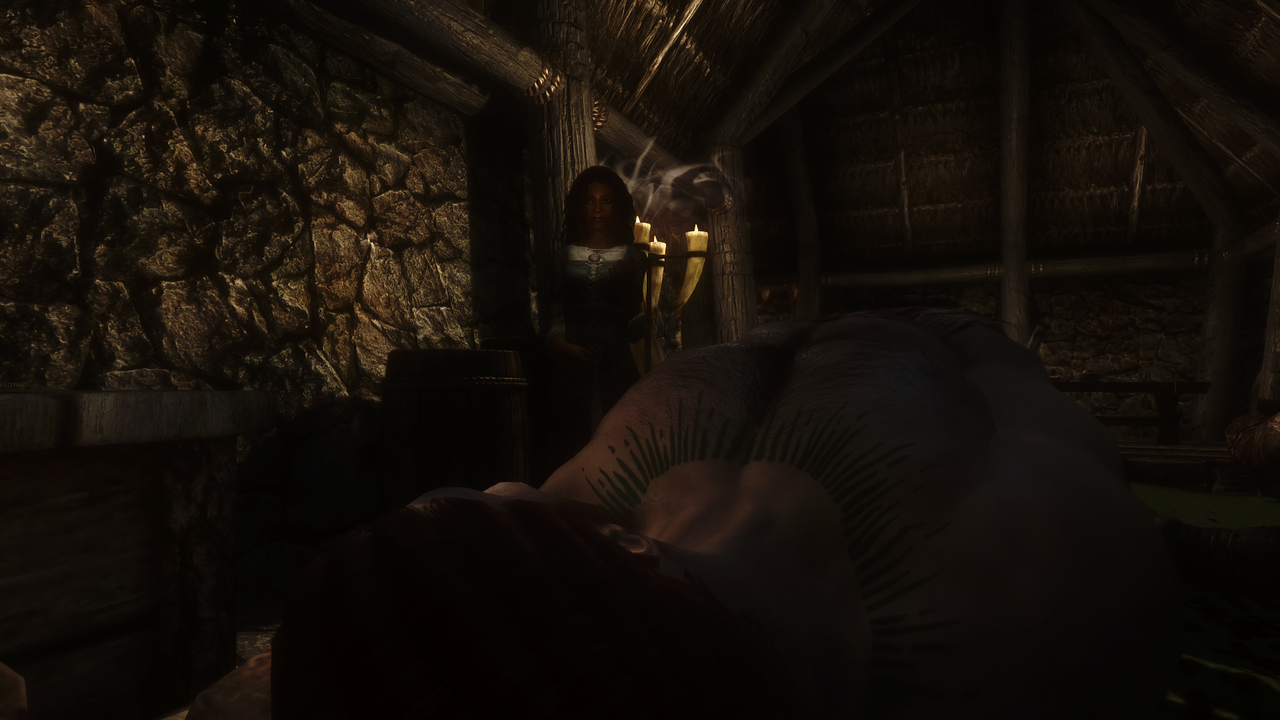 Emily:.............Dad...i promise, i'll be as great as you and mom one day, even better.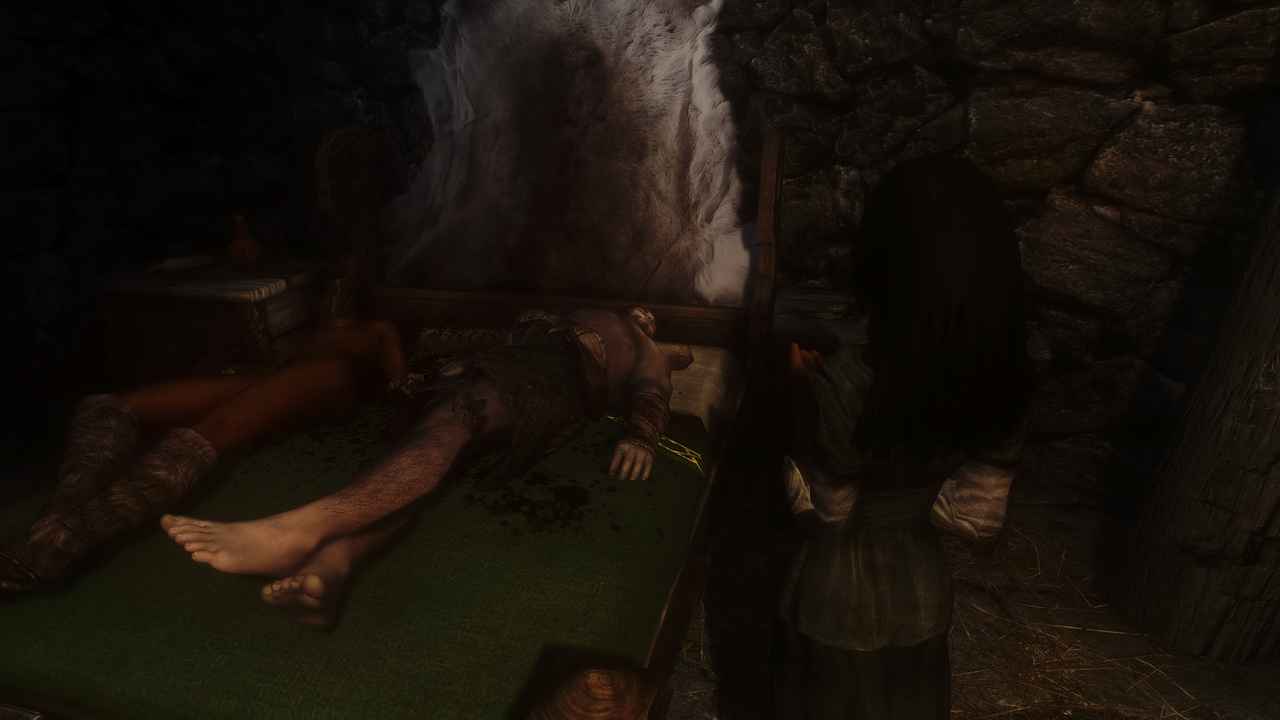 Emily: I promise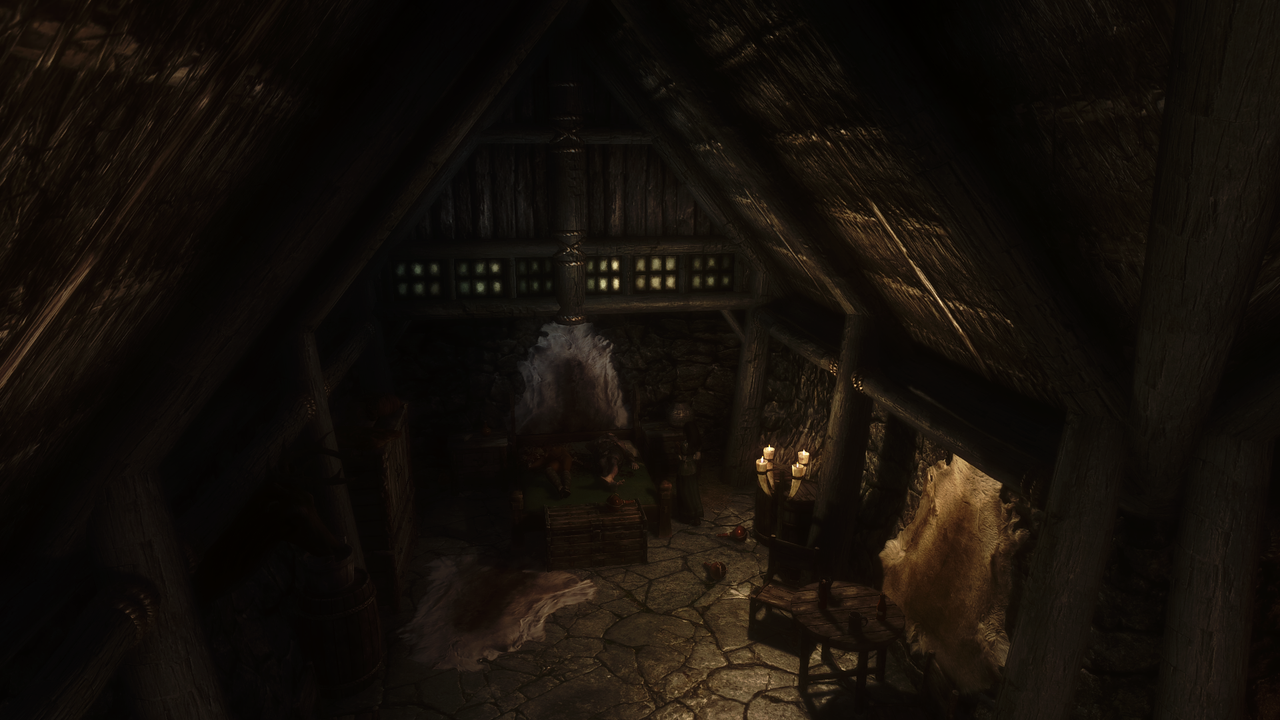 Ms.Heavy-Iron: "They were buried the next day, i placed some flowers in front of their graves as well as mom's old bow."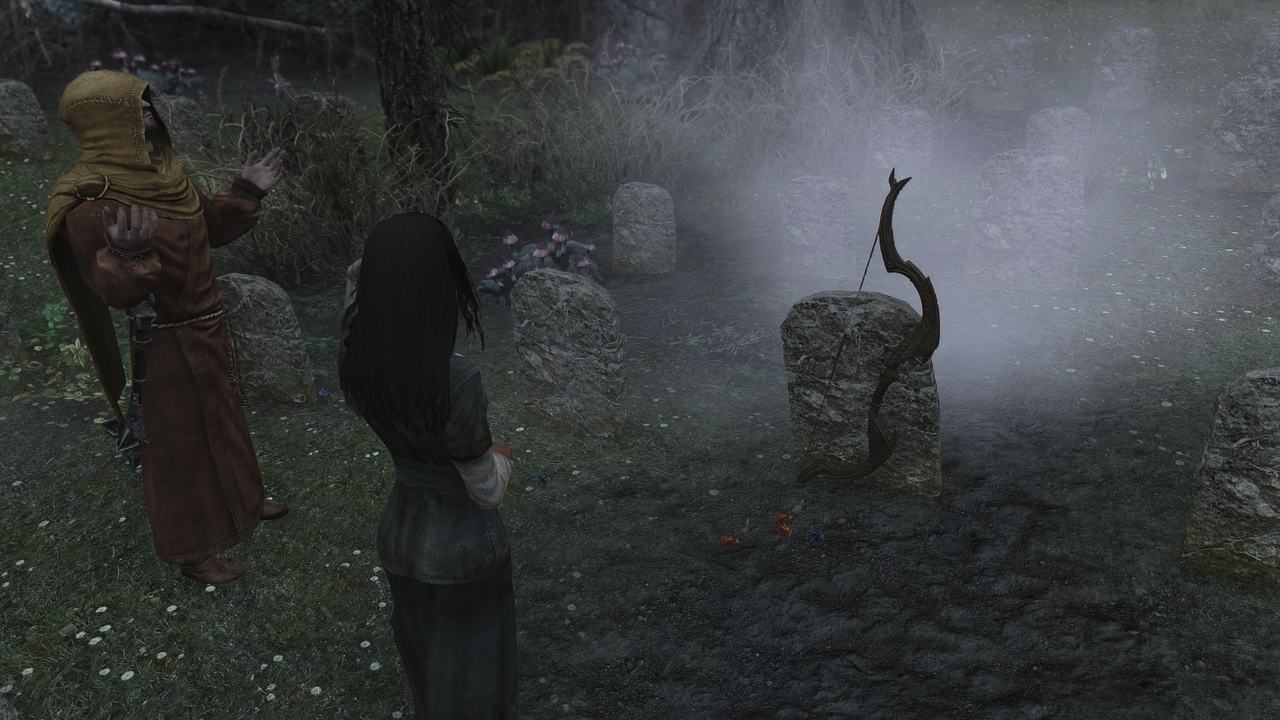 Ms.Heavy-Iron: "I couldn't stop crying at the funeral as the priest spoke kindly about them."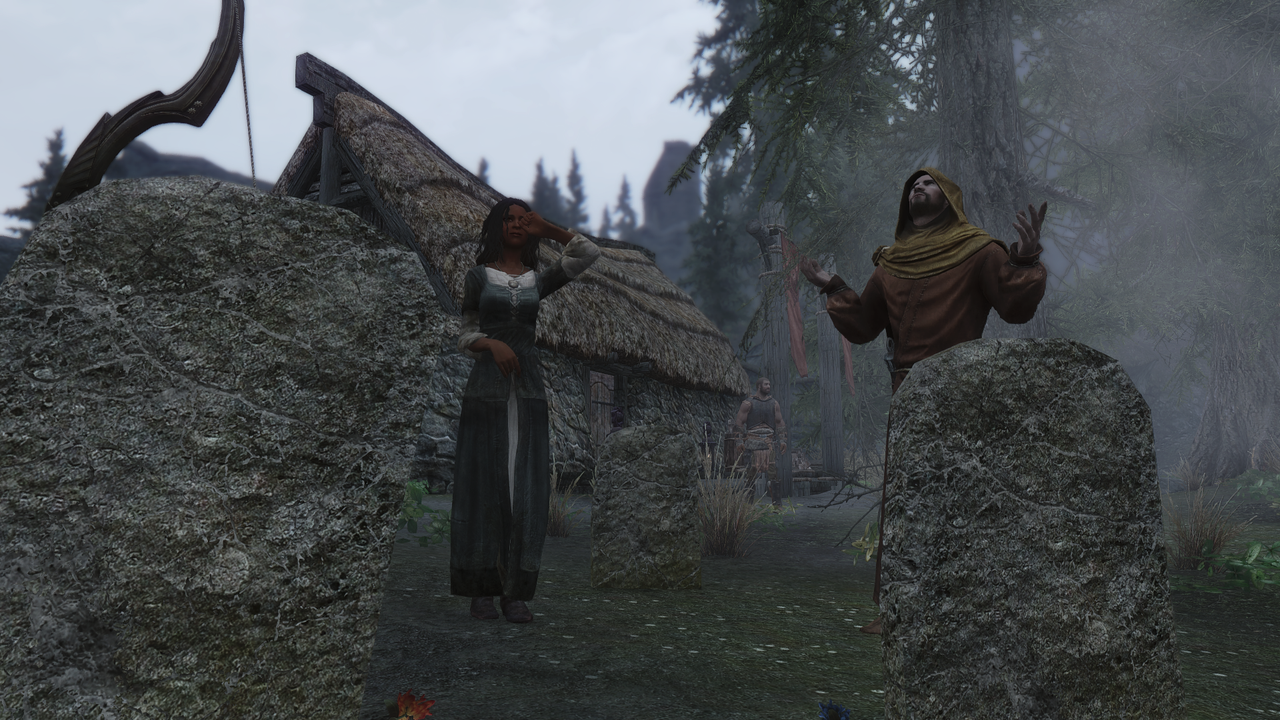 Ms.Heavy-Iron: "I spent the next 3 days crying"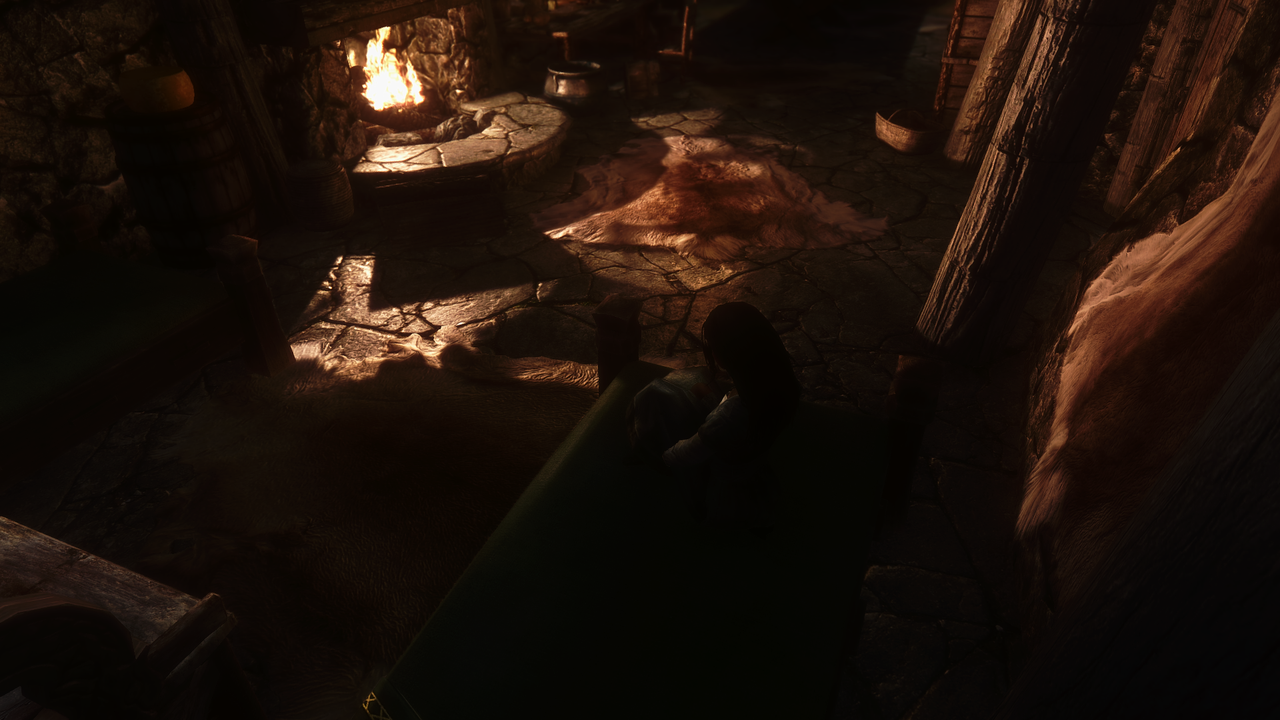 Ms.Heavy-Iron: "it was hard, i finally sucked it up realizing crying in the house all day would break my promise to them"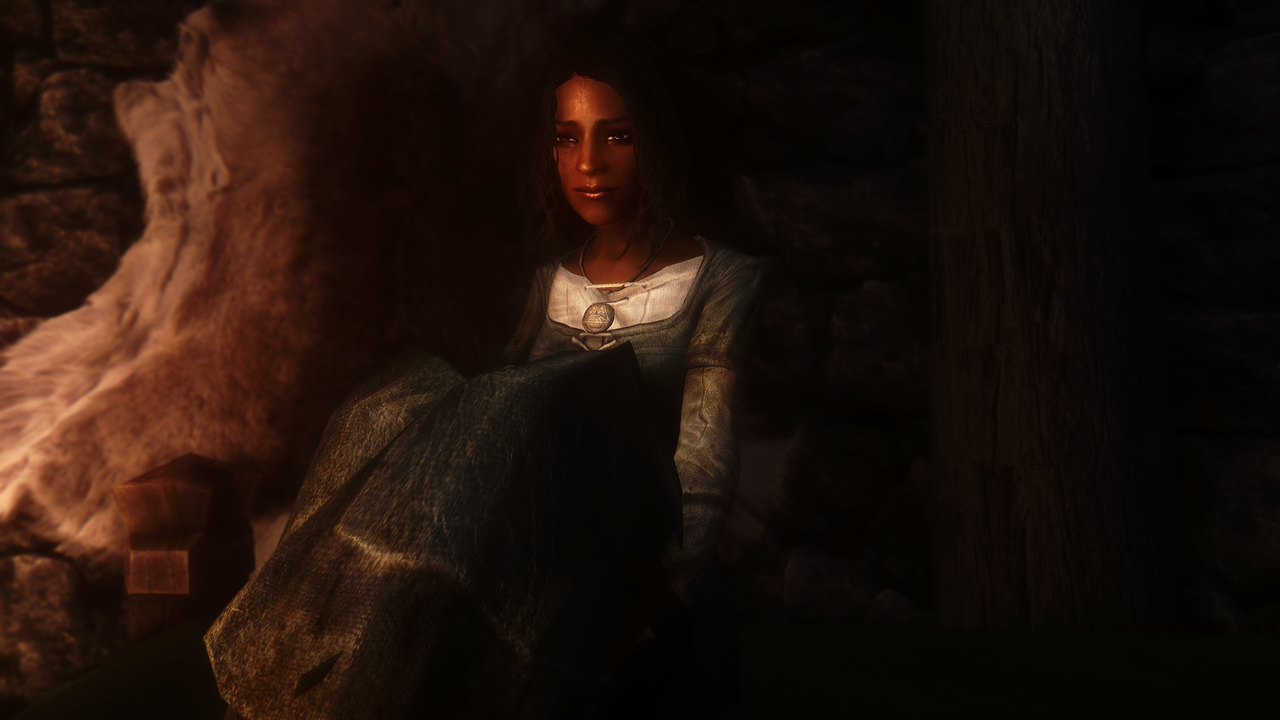 Ms.Heavy-Iron: "So on the fourth day i shaped up, i grabbed some of my moms old hunting clothes"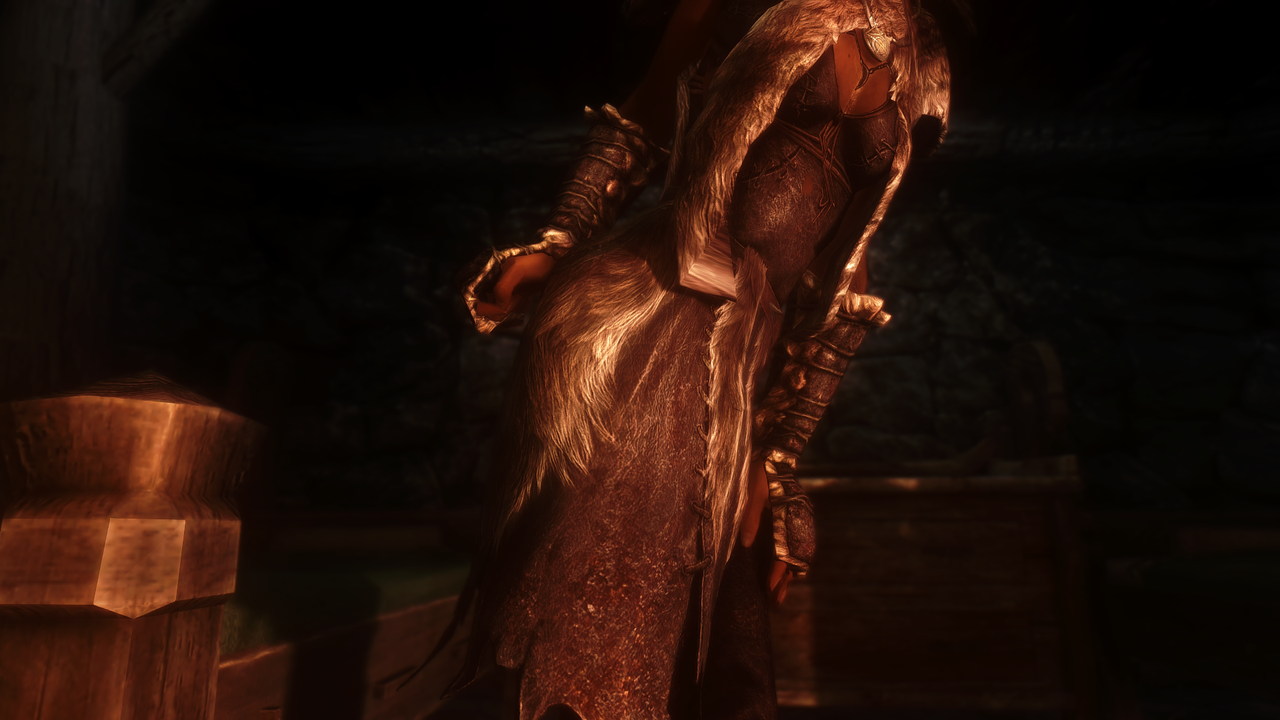 Ms.Heavy-Iron: "Grabbed my hunting bow"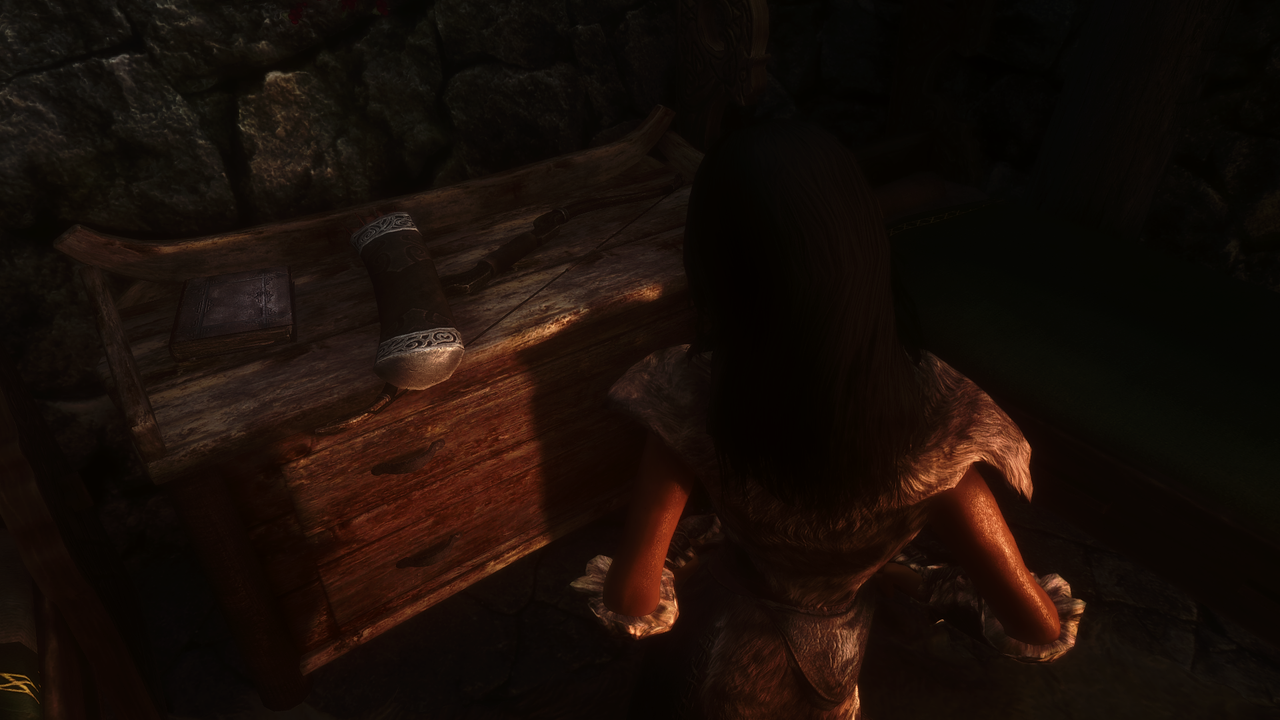 Ms.Heavy-Iron: "Started my new life living alone in Falkcreath until i was ready to leave to become the badass i told my parents i would be"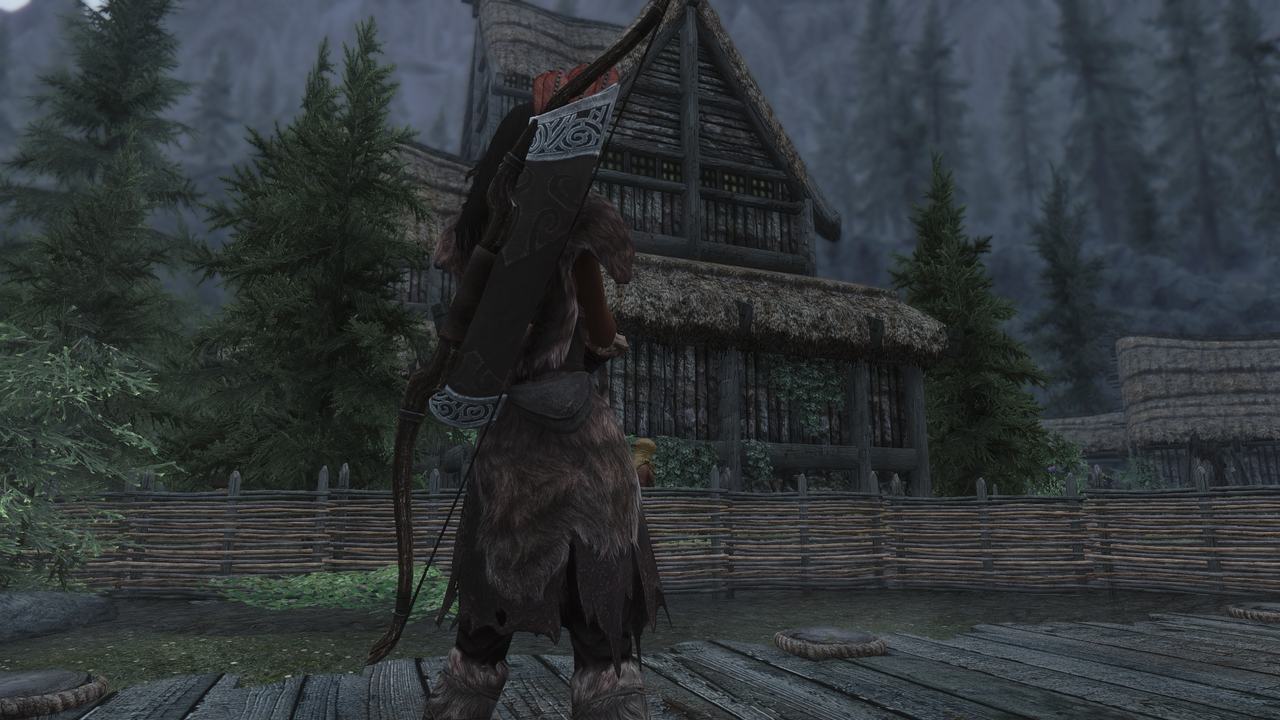 Satsuki: I'm sorry all that happened to you.
Ms.Heavy-Iron: its okay, it hurts less everytime i tell it.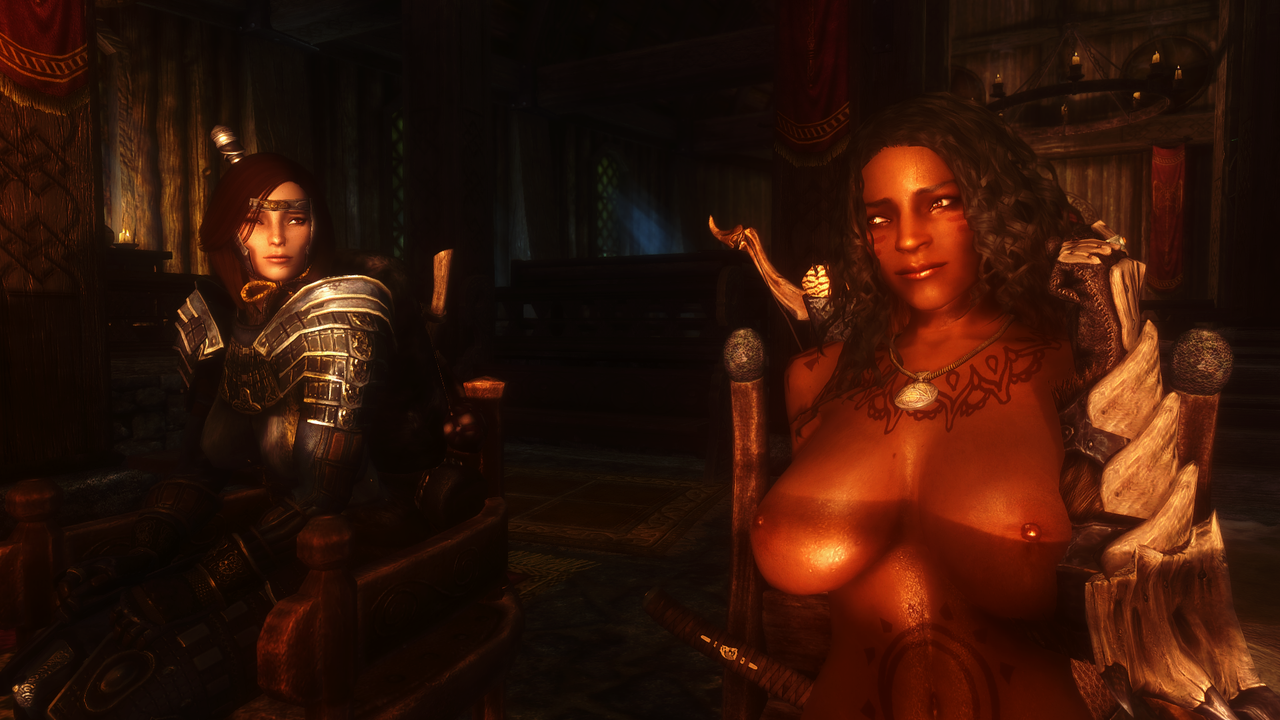 Farkas: I can't believe the brotherhood did that, i'm sorry.
Aela: Yes....but while this is all sad, how does all of this lead up to you being a nudist?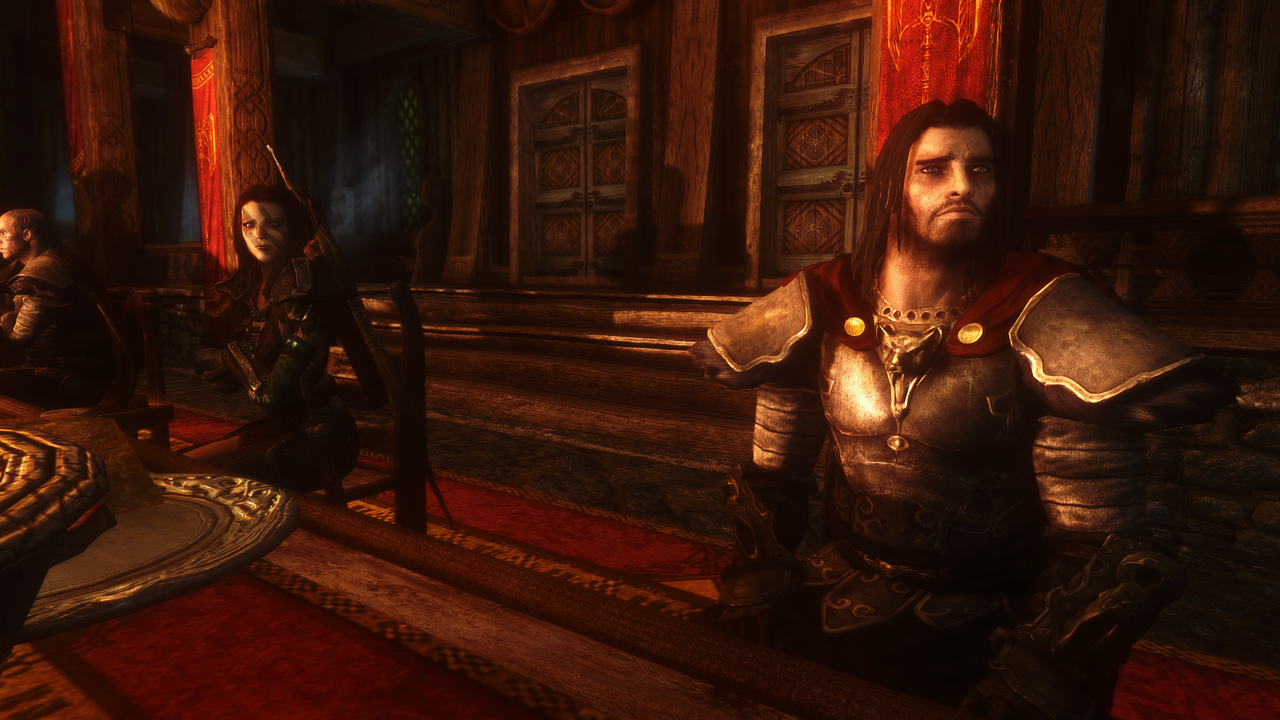 Ms.Heavy-Iron: Hold on, i'm getting there.

Part 2: http://www.loverslab.com/blog/407/entry-3584-chapter-25-a-naked-huntress-appears-22/