Welcome to LoversLab
Register now to gain access to all of our features. Once registered and logged in, you will be able to create topics, post replies to existing threads, give reputation to your fellow members, get your own private messenger, post status updates, manage your profile and so much more. If you already have an account,
login here
- otherwise
create an account
for free today!
Submitter
vinfamy
View other files from this member
Latest Version:

191216 (All Cities)

Submitted: Dec 18 2016 01:33 AM
Last Updated: Dec 19 2016 10:36 PM
File Size: 23.77KB
Views: 118630
Downloads: 19,097
Requires: SexLab, Fuz Ro D-oh
Special Edition Compatible : No
Download SexLab Pleasure 191216 (All Cities)





SexLab
Dialogue
Consensual
Vanilla
Lore-Friendly
Humor
NPC

590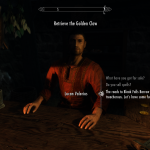 All hold capitals + Riverwood are now done - 80 NPCs in total with unique dialogue options
This is a lightweight mod that adds context-specific dialogues to 80 vanilla NPCs in all major cities (+Riverwood) that trigger consensual sex. The dialogues are tailored to each NPC's own personality and backstory. You are still able to play Skyrim normally, just with optional sexual interactions. The dialogues are quite gender and orientation-neutral.
For each NPC, you have to pass a Speech check or the NPC must have a certain level of arousal for them to accept your advance. The 80 NPCs are divided into three difficulty levels, based on marital status, morality and attractiveness:
Easy - Speech > 25 or NPC arousal > 40
Average - Speech > 50 or NPC arousal > 65
Hard - Speech > 75 or NPC arousal > 90
The Persuasion perk, Amulet/ Blessing of Dibella, Gift of Charity, Mask of CV, etc all stack up and help your success too.
Requirements:
SexLab Framework, and its dependencies
Fuz Ro D-oh
SexLab Aroused Redux
Recommended/ Complimentary Mods:
SexLab Privacy - give you the option to automatically find somewhere private to do the deed
SexLab Solutions
Amorous Adventures
Installation:
Manually or with MO just like any other mod. The added dialogues may require one save-load cycle to appear so just load up a clean save/ start a new game, initialize SexLab, save then load the save you just create.
What's included so far:
(Honestly, you don't need to read the below, just play the game normally and you can't really miss the new dialogues)
Minor Spoilers - NPC names only:

Major Spoilers - Details including difficulty levels:

What's New in Version 191216 (All Cities) (See full changelog)
Screenshots
3,928

Total Files

164

Total Categories

1,301

Total Authors

69,357,831

Total Downloads
Crotchless Lace Panties M&F Latest File

Reitanna

Latest Submitter
SexLab Pleasure