About This File
Daddy Linus Replacer!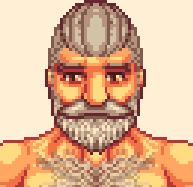 About :
Simple as that! Linus got a fancy haircut, and a change of clothes, (So he is more in touch with nature)
(It will be a hard requirement for my other mods later on.)
Requirements : 
-Smapi
Installation :
Unpack inside your Mod´s folder   in your SDV directory.
Note :
All replacers like this works on phones/Android version of the game.
The Smapi installation is different i think.
-Thanks to Samyu for the codework!. (Credited)
Discord, for more updates :    18+