About This File
Hot Male Furniture     
Updated for SDV 1.4+  Content Patcher, With Animations!. (And new items)
This is a Reskin/Replacer for Vanilla Furniture Items.  As we dont have a working furniture framework right now.
(Custom Furniture on Nexus, Is Broken!)
About :
Your house never looked more alive!
Hot Posters, Bound dudes, kinky bookshelves, gloryhole minitposters with a cock peeking.....  Oof!.. its getting hot in here!..
Requirements : 
-Smapi
-Content Patcher Animations * / **
*I made it a requirement, but you can Turn off the animations on the config file.
** If you use Content Patcher Animations.. you should avoid "Sprite Master". Not compatible.
** Conflicts with another Content patcher animation files targeting the furniture. Aka  "Animated Furniture" on nexus.
Unpack this file Inside your "Stardew Valley\Mods" folder
Furniture Catalogue Patch :
You can "Buy" the forniture pieces at "Random" from Robin´s shop or the Traveling merchant.
Or you can buy the Furniture Catalogue... But :
That Damm thing cost 200,000 , and you can only have it "After" you have upgraded your house at least 1 time. (At Robin´s)
So...
In this mod,,  BY DEFAULT, a patch is aplied to make it cost just 500 gold pieces :
Before:
After : 
For it to appear on Robin´s Stock.. you still need to upgrade your house at least one.
Or you can use "CJB item spawner"  to spawn it.  (On Nexus)
Special Usage :
Some pieces have 2 more variants..  So, for the Standing Bound Dudes (6)  You can Right Click the furniture piece to change it to another variant.
This behavior comes from the Vanilla Chair /And Some Large tables :

If you have the animations Enabled  (Default : true)  
Then, each variant of the same item will look like this :



There are 6 Chair items like that..  Feel free to choose the best variant between the 18 different ones! 
Museum Rewards :
Revenge of the Crops!.
By completing the museum,, you may get some unique furniture rewards.. Look! :
"Some farmers trapped by sentient crops! So they can harvest the cum from the farmers to grow and make more devious crops!"
So Evil 





Custom Options :
In the Config file :          (Generated after you launch the game once) (May not be generated for Vortex Users)
You can Enable/Disable many features just by typing true or false in the fields.
You only want the paintings?.. Cool! just disable all other Fields but the "ModActive" one.
  "Animations": "true",
  "ModActive": "true",
  "BoundDudesfor_Chairs": "true",
  "BoundDudesfor_Bookshelves": "true",
  "SexAndPenisPostersfor_PaintingsOrFrames": "true",
  "SmallPostersWithBigDicksfor_SmallWallPictures": "true",
  "TrapedFarmersWithCrops_MuseumRewards": "true"
They should be self explanatory.
I´ll leave you with the Furniture Sheet that i worked on, so you can see what tiles were replaced (By a cross)
And for what groups they belong. :    (Warning 185kb big file.)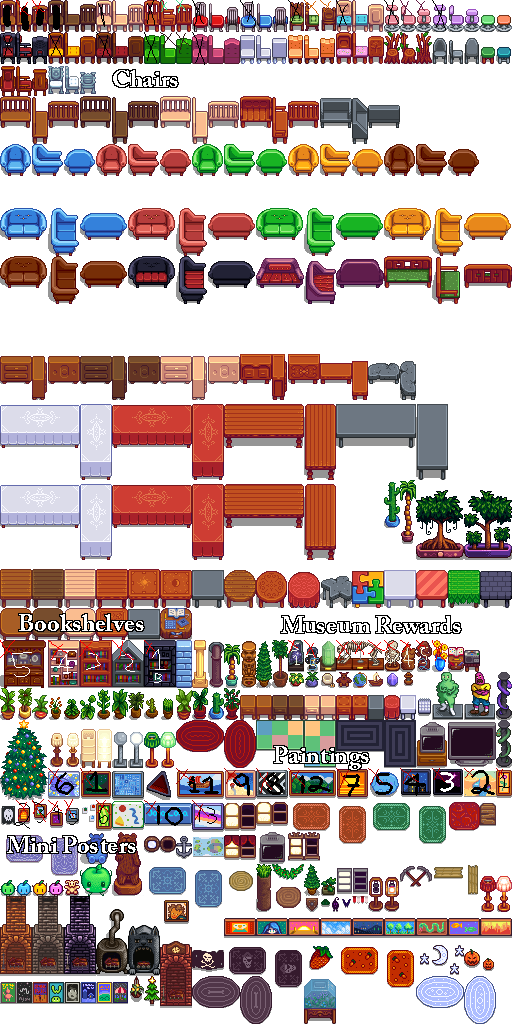 Thanks a lot to :
@A-Mi go  Many cool ideas (Like the variants and the Museum Reward items), optimization, 
And 
Samyu48 Testing on Phone, ideas and good vibes to keep working on this! 
Discord :
For updates, files, art and help.
Hope you Enjoy it