About This File
Companion Ivy 6.0

DOWNLOAD INSTRUCTIONS:
1) CLICK ON THE DOWNLOAD LINK.
2) WAIT 10 SECONDS UNTIL YOU ARE REDIRECTED TO THE GDRIVE
3) FOLLOW THE INSTRUCTIONS IN THE README.TXT FILE
IMPORTANT: ANY 'PATCHES' FOR PREVIOUS VERSIONS OF IVY WILL NOT WORK WITH THIS BUILD BUT BREAK IVY INSTEAD.
DO NOT RUN IVY AFT
DO NOT POST 'BUT I DID IT AND IT WORKS FINE FOR ME' CAUSE IT DOESN'T.
WARNING: PERMISSION IS NOT GRANTED TO REDISTRIBUTE THIS MOD IN ANY TYPE OF 'MOD-PACK' IN ANY FORM.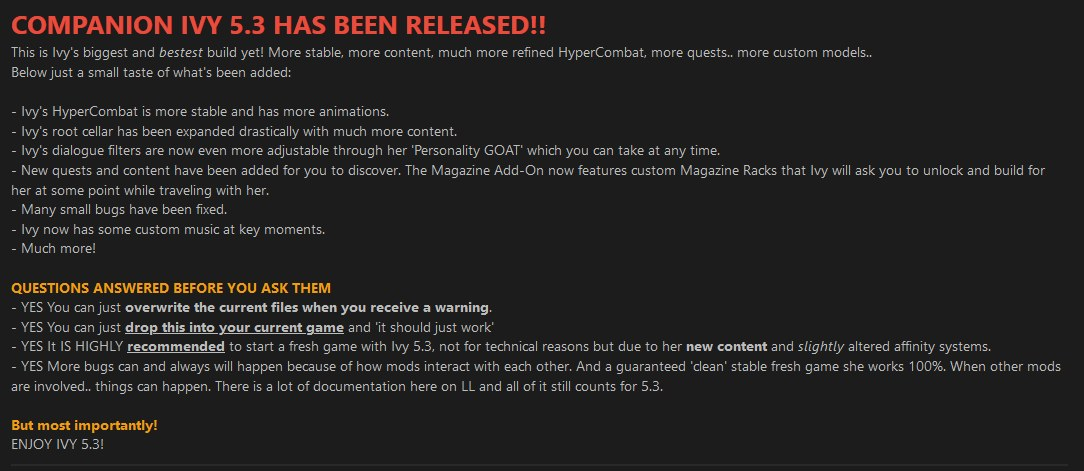 WARNINGS / LEGAL / CREDITS & GAME PLAY VIDEO AND SHOWCASES in spoiler tag:
IMPORTANT: Version 5.2 release
IF YOU ALREADY HAVE 5.0 OR 5.1 INSTALLED... ONLY THEN COUNTS: You can simply overwrite the current mod with this one and continue playing where you were.
Translation available by @urbanoantigo:
IMPORTANT FOR MO2 USERS. YOU MIGHT RECEIVE THE 'No Game Data on top level' error when installing Ivy 5.2.
If so follow these instructions: https://forum.step-project.com/topic/11179-no-game-data-on-top-level-mod-organizer/
 For ALL INFORMATION and TECHNICAL SUPPORT visit the Ivy blog:
IMPORTANT: REMOVE VERSIONS 4.0 OF IVY COMPLETELY BEFORE INSTALLING!
IMPORTANT: REMOVE VERSIONS 4.0 OF IVY COMPLETELY BEFORE INSTALLING!
IMPORTANT: REMOVE VERSIONS 4.0 OF IVY COMPLETELY BEFORE INSTALLING!
Introduction
Welcome to Companion Ivy!
Ivy was created with the greatest of care and dedication.
Over 2 years of development time went into creating a rich and full backstory that fits in the world and in the storyline of Fallout. While she may at first glance appear to be a mindless sex puppet, she is far more than that!
Her 'mind' was created using real life psychological models, exploring childhood trauma, nihilism, existentialism and other psychological phenomenon. She draws upon a rich history of psychology as taught by Freud, Carl Jung and many other renowned clinical psychologists around the world. But next to that, she is also sexy as hell and delivers powerful lines with a comic punch that will make you smile, smirk, or cry every time she surprises you with a new line of dialogue as you travel the wasteland together.
Her psychological profile was created from three distinct personalities, which you as player will come to meet as you travel with her and get to know her better. Each personality fights for its own place within Ivy, making her a unique individual and one that is consistent in the world, based on real life psychological principles.
Always remember when talking to Ivy that she likes to use metaphores!
Ivy is a so called 'Prime Companion'.
You could also describe it as a 'Gold' companion.. what does this mean? It basically means she has a shitload of content. Much, much more than regular companions have and perhaps... maybe even the most content of any custom companion for any Bathesda game to date (the jury is still out on that one). At the time of writing all of her dialogue in all of her base mod and add-ons count for nearly 9500 lines of dialogue. But the current base mod has around 7000 lines of dialogue. In comparison, the player character has 12000 lines!
This means that she is meant to be used as a SINGLE FOLLOWER and has about as much content as a regular DLC sized add-on as released by Bethesda.
Ivy comes with many special functions, multiple quests (in new locations) and thousands of lines of dialogue, unique for each situation, location and quest. Her radio station offers trailers, music, news and weather reports. She comes with add-ons, DLC and other extras.
Consider Ivy to be a game-long quest.
Ivy needs a NEW GAME.
Meaning you, walking out of the vault, and recruiting her directly, to run with you through the game.
She was not designed to be recruited in a later/high level save. It will result losing a lot of content that's important. Her quests and affinity are designed to be built up from the moment you leave the Vault. This is an important distinction between regular followers. Ivy is like a long running quest, not a follower to fill the troupe of other followers with. If that's your thing, Ivy is not for you!
WARNING: Using Ivy with multi follower mods will result in lack of functionality for Ivy.
Ivy allows you to travel with Dogmeat as a secondary companion if you use a suitable mod to enable that functionality.

SPECIAL THANKS
- @kchurchjr (test team and INGAME artwork and BOOK artwork) Who can't see any more safes for the rest of his life.
- @Bravo267 (test team) - He just needed some sleep!
- @Adviser69 (test team) - Awesome last minute ideas to improve Ivy
- @urbanoantigo (test team) - Ivy's biggest fan?
- @Flashy (JoeR) (technical support and much more support than anyone can imagine while making Ivy)
HOW TO INSTALL (Read it.)
Step 1)
Drag the Downloaded File into your Mod Manager
OR
Manually install by unzipping into your Fallout4 folder.
In both cases always choose 'overwrite' if you get this question!
OPTIONAL STEP 1a:
Install the Magazine Add-On for Ivy by dragging the Companion Ivy - Magazine Addon.7z file into your Mod Manager (Warning: NSFW Contains pornography!)
Step 3) Play!
DON'T RUN IVY WITH A.F.T.
 Warning & Legal
Permission is not given to recompile, alter and/or redistribute any of the assets contained within the companion Ivy mod for Fallout 4, including, but not limited to the voice and lip files. Permission is not granted to host this distribution on any other website than Lover's Lab.
This custom companion incorporates a lot of dialogue which can be considered of a mature subject matter. Aside from the erotic dialogue which has been included, there are many mature themes of a psychological nature that can be considered shocking. These include themes of religion, artificial consciousness, madness, schizophrenia and other heavy subject matters, which for some can be considered controversial, shocking, perhaps even offensive. 
 
By using this custom companion you acknowledge that you understand this and that you are using this companion by your own free will and in a country/region where such subject matter is legal. If you disagree, I will refer you to Rule no.1 Posted below. If you have a particular disposition for schizophrenia (or other psychological disorders) it is recommended that you do not play computer games, in general, let alone use this companion.
As author I do not subscribe with any of Ivy's opinions, she is a character, completely made up and does not represent any person, real or imagined.
Rule No.1: If you think that this mod is sexist, rude, or in any other way offends you.... If erotic stories, pornographic literature, dirty talking and mature subject matters have shocked or confronted you in the past... then you should not download it, play it, or use it. This mod represents a companion/follower in the form of a completely fucked up raider-boss spliced with a sex bot. Her 'brain' is completely virtual. She was designed by a perverted and twisted scientist. She does not in any way represent real women, or how real women would speak, or how real women would act in real life. Any complaints will be quoted this rule for future reference. Should you have ignored this warning, played with Ivy and got to a mental state where you feel the need to comment in a negative way on what she says, or how she acts... DON'T. I don't care.. if you felt that need than you simply do not understand Ivy.. and she (and her subject matter) is not suitable for you.
 MUSIC CREDITS
More legal:
All covers from the Magazine Addon were downloaded from official Color Climax and Marc Dorcell and other vintage Archives. Millions of copies of all of these magazines were sold all over the world and are still available today through official channels. All models depicted are over 18 years old. No content of the actual magazines is distributed through this add-on other than the publicly available covers.
Edited by Reginald_001
Added legal because people are stupid
---
What's New in Version
6.0
Released
NEW IN VERSION 6
- Voiced by KittenVox: https://www.patreon.com/kittenvox
- Addressed dozens of QOL features and points of attention from 5.3
- More robust way of handling quests, affinity and the way quest stages are handled
- Added Ivy Goes To Nukaworld and FULL NukaWorld integration to Ivy
- Added new outfits, extra features and couple of K new lines
- Now Fully VR compatible *excluding Ivy Goes to NukaWorld, because the DLC itself is not compatible with VR.
Much.. much.. more. ❤️