V. Profiling and Miscellany
---
This is my last planned post for this series. Let me remind my readers that the purpose of this blog is to share all the things I wish I had known about LL when I came here. As a result, there are some things about LL that will just not be covered in this blog. In addition, some of the features that I mention in this post are only available after you have made five or more posts of your own. So, if you try something out that I mention here and it doesn't seem to work - go make more posts of your own.
The title of this post comes from the fact that most of what I have to say in this post revolves around the profile, yours and others. Once again, while I have no intention of this post being anything like comprehensive it should include all the things that took me a while to learn - and some more.
A. Who Are You?
When you look at a thread you will see something like this (a lot):

I've mentioned this before and I pointed out that the number of dots reflects the number of posts (partially obscured by my blue box above) that you have made. You can do absolutely nothing to this information. What is listed in the blue box (usually some variant on Member) can be changed by a) becoming a Site supporter (as I have and then yours will say Supporter too), or b) uploading mods in which case yours will say Contributor or c) becoming a member of the Staff by being asked to do so by the current staff in which case this will say moderator.
The other three things I've highlighted are entirely up to you as is your signature (that large box at the bottom). Before I show you how to change these let me point out that when you change any of these they do not just go forward. All of your previous posts will now reflect your new information. This can cause some anomalies. For instance, my signature references both of my blogs. If I were to change my signature so that the blogs are not listed all my previous posts that say "the link is in my signature below" will make absolutely no sense. So, you may want to give some thought to making changes before you do so. And now let me show you how you can alter these. 
When you hit the dropdown menu next to your name on the top of any page you will get this:

The top arrow points to the link to your profile. You will need to go here to change your avatar. Please note that you can get to you profile (or anyone else's for that matter) by clicking on their avatar or name pretty much anywhere they appear. So, if you go back to my first screenshot, I could just click there on my avatar to get to my profile. The second arrow will take you where you need to go to change your name, title or signature.
Going to account settings gives you this: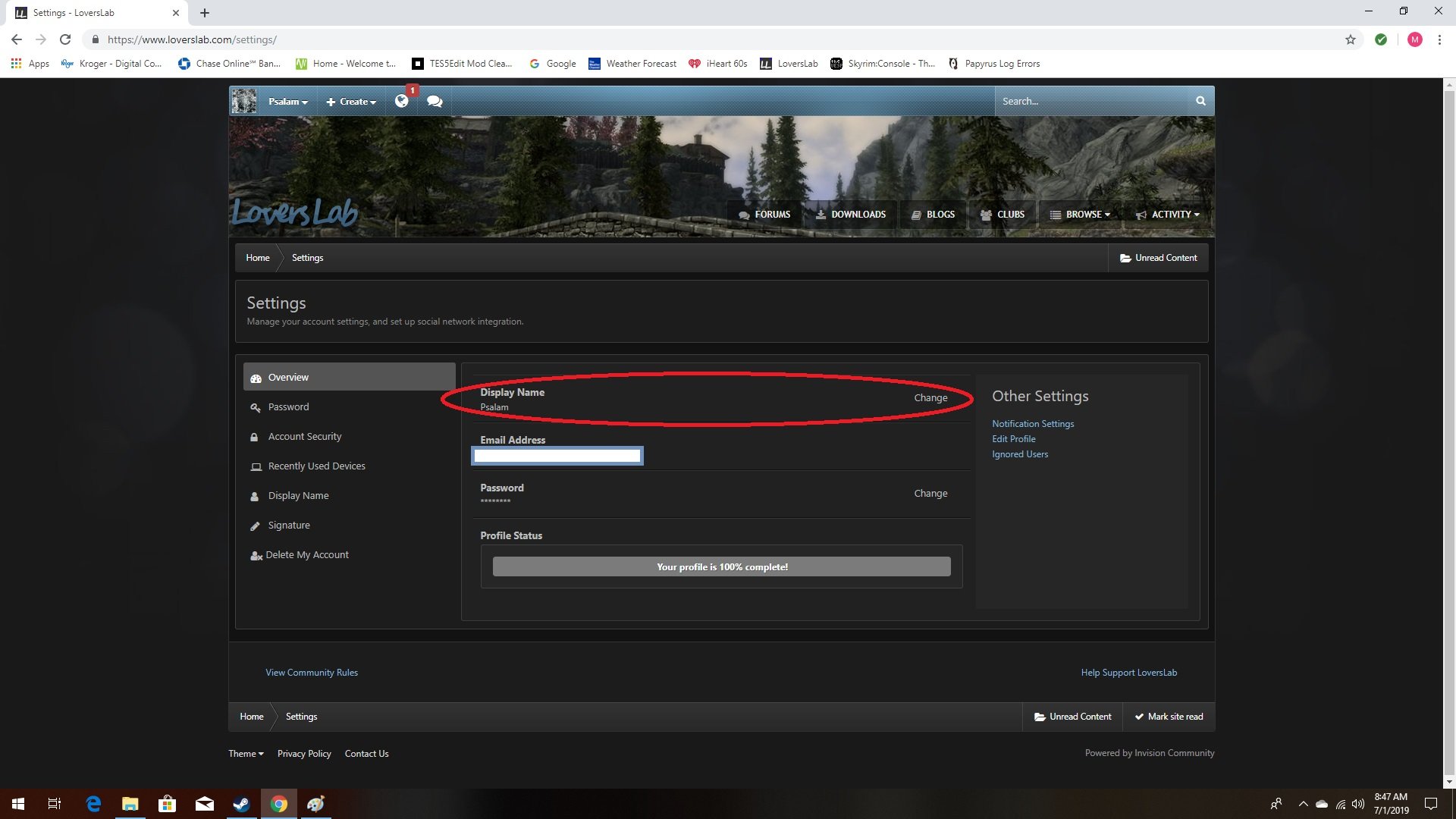 If you click on "Change" next to your Display Name or go down and click Display Name on the left side of the screen you will be given a box in which you can change your name. The site will only allow one change in a 30 day period so do so at your own risk. Please note that I covered up my email address. When you pull this screen up your email address should show there. Now if you look on the right you will see "Edit Profile" in blue (I've also highlighted it in blue below):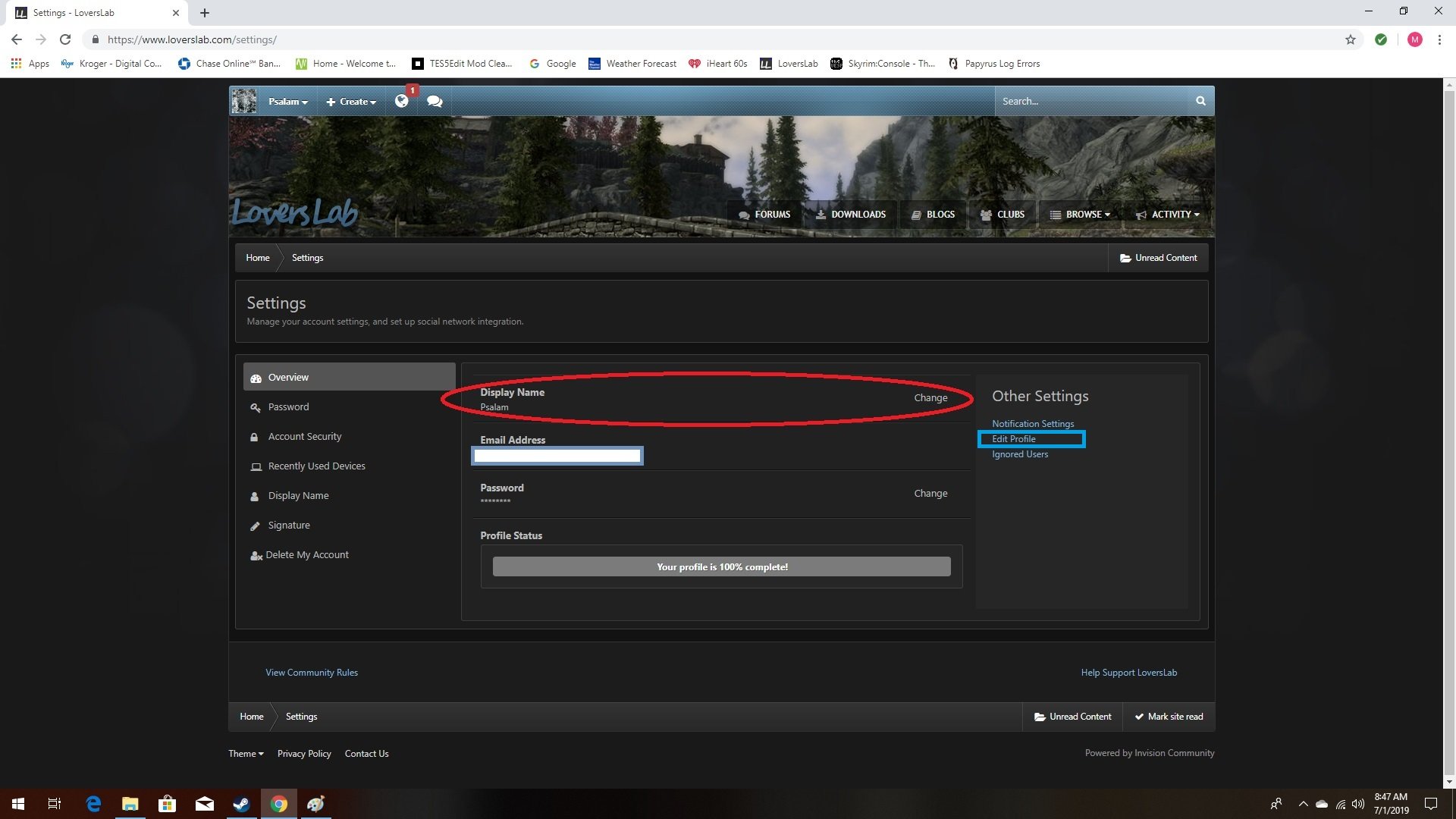 If you click on it you will come to a screen that will allow you to change things in your profile. The first item listed (at the top) is Member Title. What you choose to put there will be displayed with your avatar. In my case I typed in "I miss hippies" as the title and, as you can see in my first screenshot, that is what appears above my avatar.
Finally, on this screen you can find "Signature" also on the left side of the screen (highlighted in green):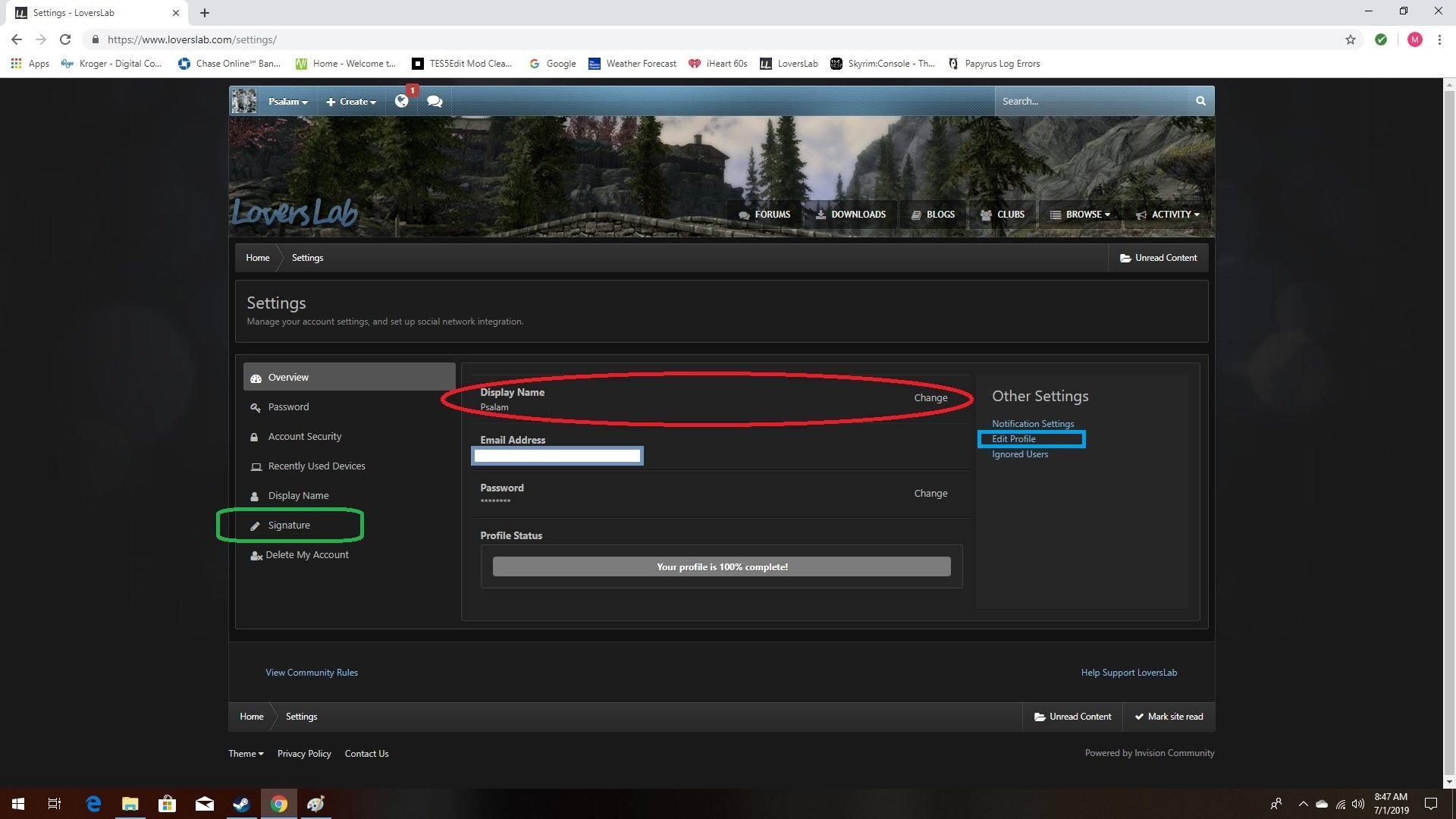 And, if you click on it you get this: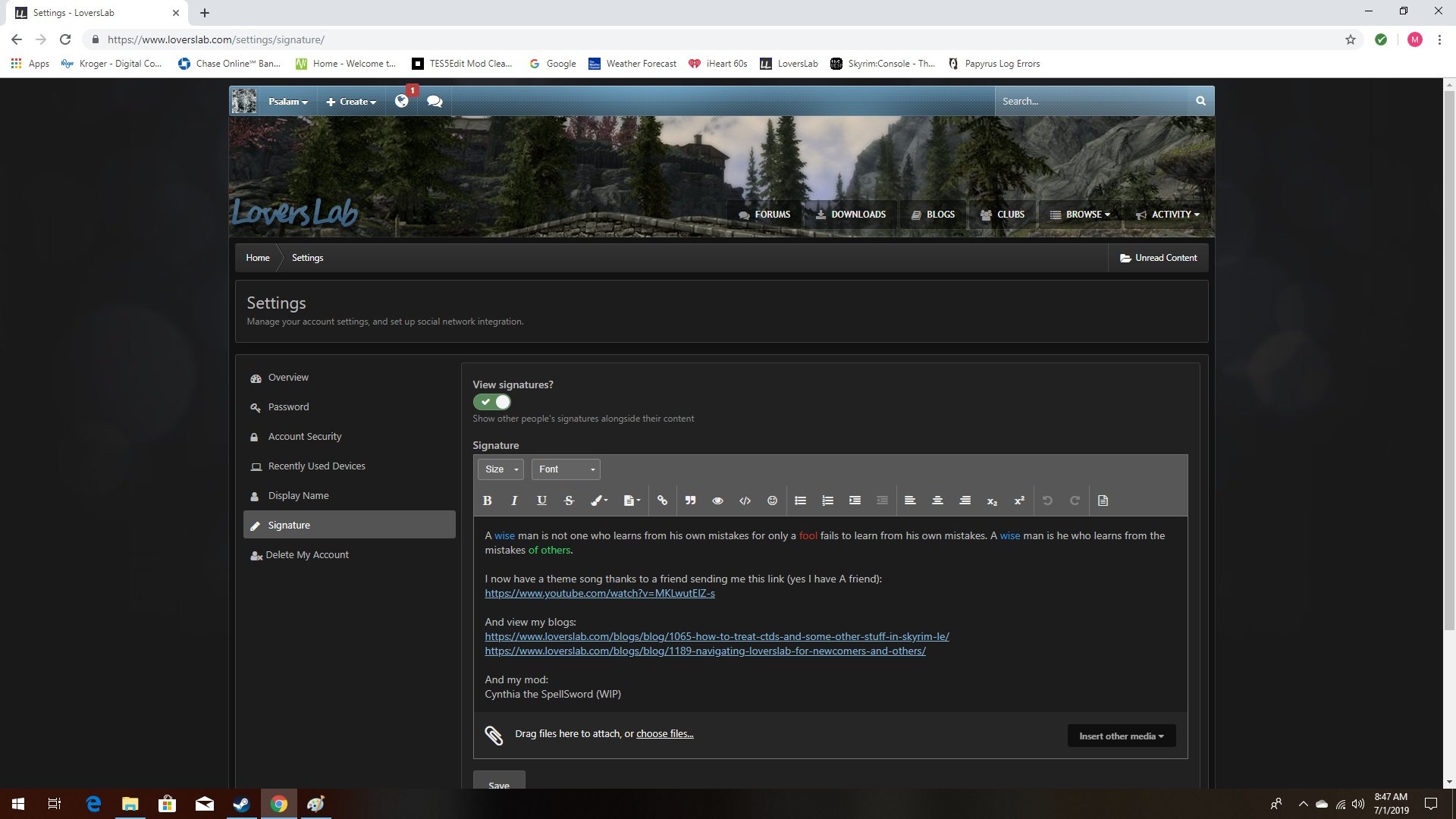 When yours first comes up it will be blank. Fill it as you see fit. I want to take this time to reemphasize a point a made before. Once you change something here it's gone (unless you've taken a screenshot (which I just did). I've just changed my signature changing Cynthia from WIP to available on request. If you now look at any post I've made you'll see that the new information is reflected in my signature - but my screenshot reflects what it looked like before.
Finally, lets go to the profile and see how to change your avatar. This is my profile page:

The current avatar shows up at the top of your profile to the left of your Name. If you click on the small embedded picture (which I highlighted in red) you will get another page that will allow you to enter an avatar of your choice. As I mentioned in the "Posting" blog entry, the simplest way of doing this is to drag and drop it onto the space noted for it.
One last thing I forgot and am now adding as an edit. Site rule #5 limits what you can do with the various things I've just mentioned. Since I KNOW you've read every word in all five of my posts I don't have to remind you that you can find out what it says by going to the bottom left hand corner of any page and clicking on "View Community Rules".
Now you can do a complete makeover of your presence on LL (or nearly so). Hopefully, being able to do so will make you feel more at home.
B. Profiling
Let's take a look at some of the other things on a Profile page.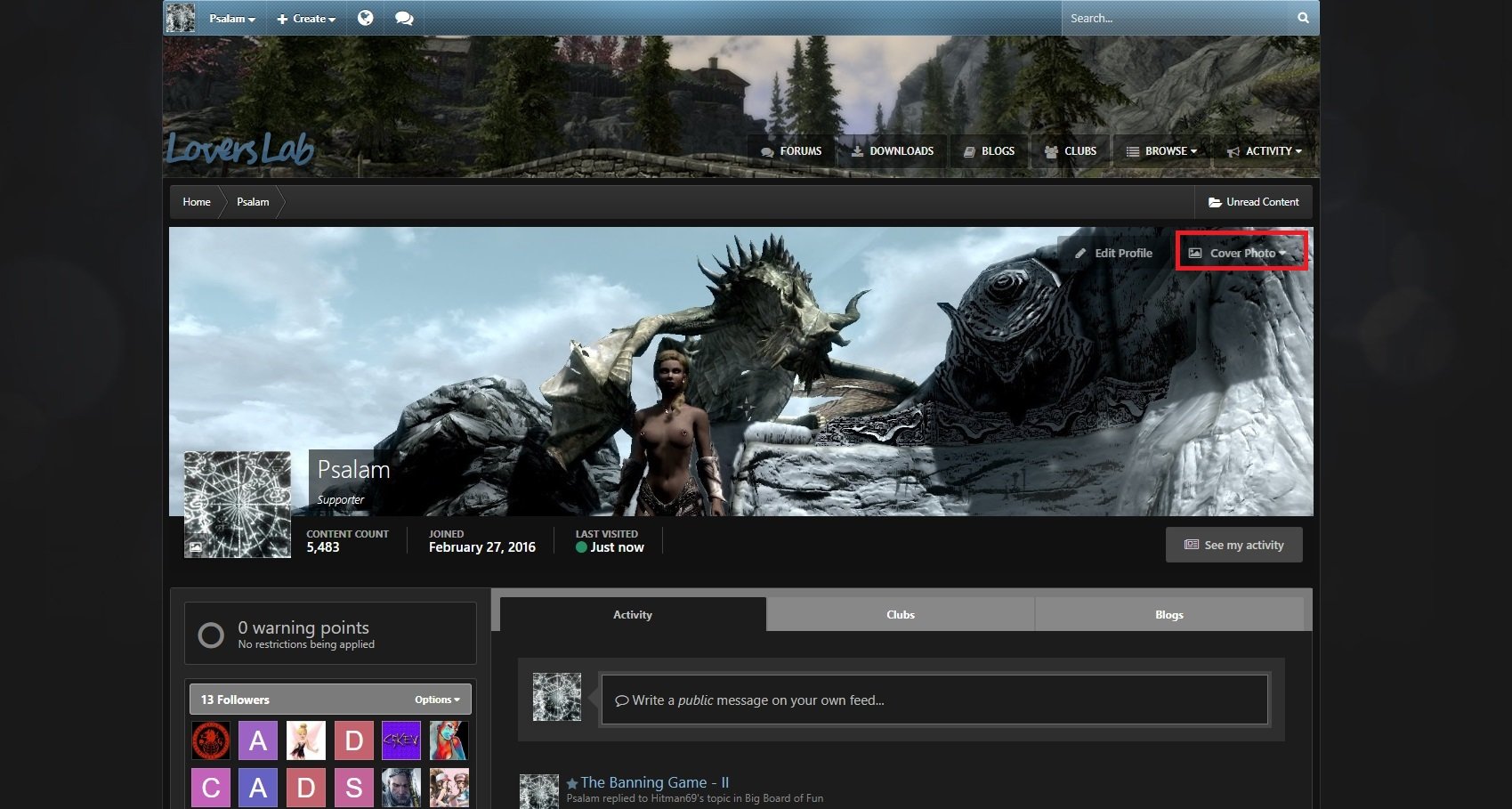 I have highlighted in red the box for changing your cover photo. If you click on that you can add a picture to the top of your profile like the one I have of Paarthurnax (the dragon) looking over my PC's shoulder. The method is the same as I've described throughout. Before I leave the cover photo let me share a trick I learned from Winny257. If you click on your cover photo (or anyone else's cover photo when you are on their profile) it will expand and give you a larger picture. It's of no practical use but it's kind of fun.
In the "you can do everything in more than one way" category, just to the left of the cover photo button is an "Edit Profile" button. This is another way in which you can get to the screen to change your title.
The information on the left side of the screen from here on out is informational. There may be times when you find it useful particularly when visiting someone else's Profile. You do have the option under "Followers" to not allow anyone to follow you. Remember, if someone follows you they will automatically receive a notification when you post. Conversely, if you go to someone else's Profile and indicate that you are going to follow them they will receive one notification to that effect and you will receive notifications whenever they post. You can not pick and choose your followers although you can choose to ignore users (a choice I didn't spend any time on which can be found in the Account Settings).
There are three tabs just to the right of the "Warning Points" box. The first is "Activity". When this is chosen the last several posts that you have made will be listed here. At the bottom of the page there is an option that will allow you to show even more. However, on the right, just above the tabs is the "See My Activity" button. If you click on it you will get a display of ALL your posts. When you have few posts this isn't all that handy. When you have a great number and you want to find one from a conversation you had months ago this is really useful. You can use the bars on the left side to help sort out where to find the material: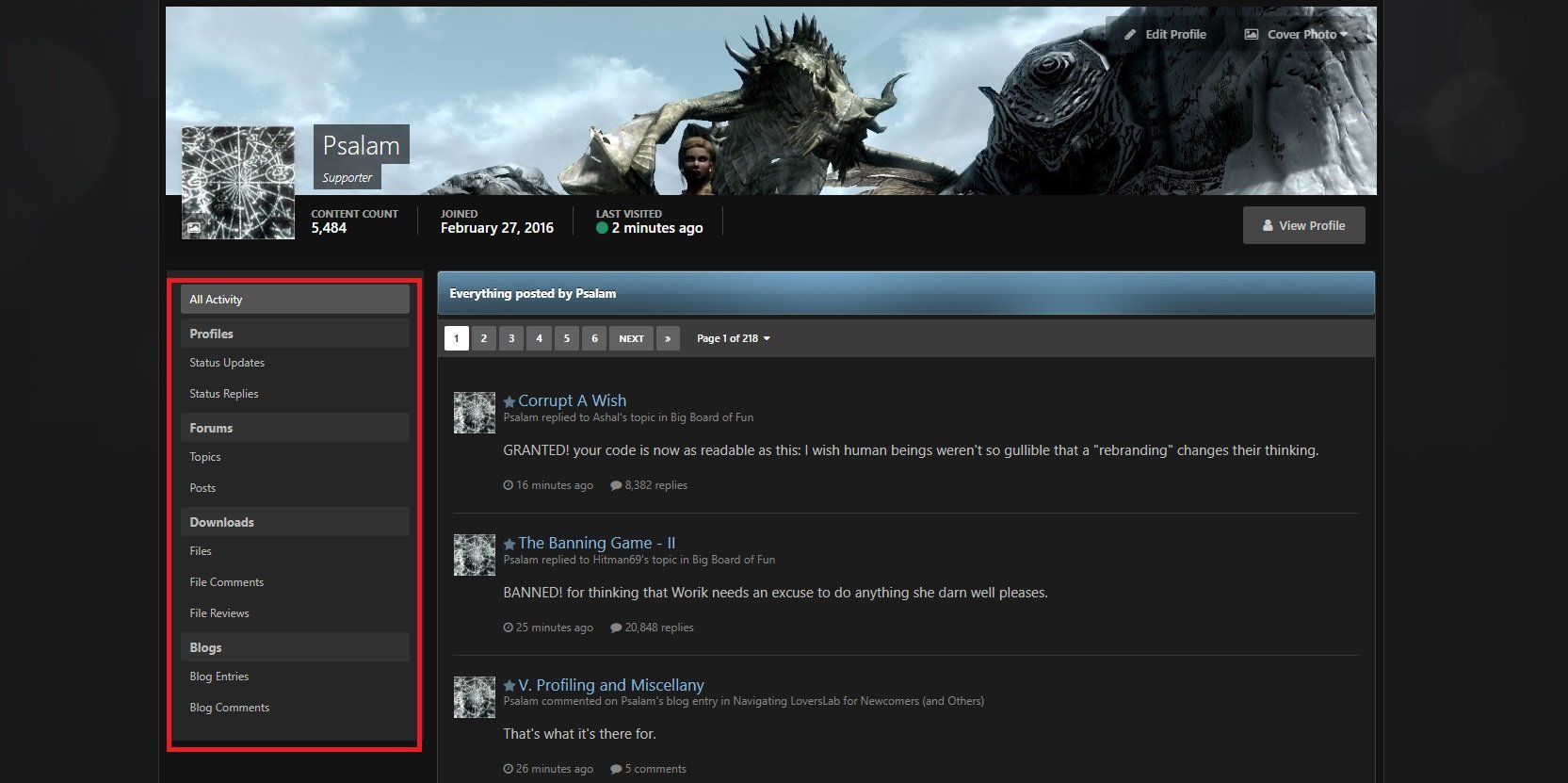 Back to the other tabs in the Profile. The middle one is Clubs. I feel that I may have given them too little attention before. LoversLab (LL) has many clubs. They cover the range of general interests, fetishes, language groups and more. If you are looking for people who might share your interests and don't know where to look, take a moment to peruse the clubs. Now, the Profile shows what clubs you are a member of. To look at the clubs go back to the main page and hit the "Clubs" button on the bar that begins with "Forums."
The last tab is "Blogs". This gives a listing of your blogs. If you haven't posted one you needn't bother to look. To check out blogs in general go back to the bar mentioned just above and hit "Blogs" instead of "Clubs".
I should also mention that if you fill in the information under "Edit Profile" on the very bottom entitled "About Me" a fourth tab will appear which will contain that information. It's use is, of course, entirely optional.
The last thing I want to mention on your Profile is that box just above your activity, the one that says "Write a Public Message on your own Feed." This is place to put up a public notice about anything. However, I have most seen it used when RL (real life) has interfered with someone's time on LL and they want to let all their friends know about it at the same time. Like the rest of the tools here on LL, use it as you see fit.
C. Private Messages (PMs)
This is the last topic that I intend to cover. PMs on LL work like most emails and should not be too intimidating. To send a PM go to the Profile of the person to whom you want to send it: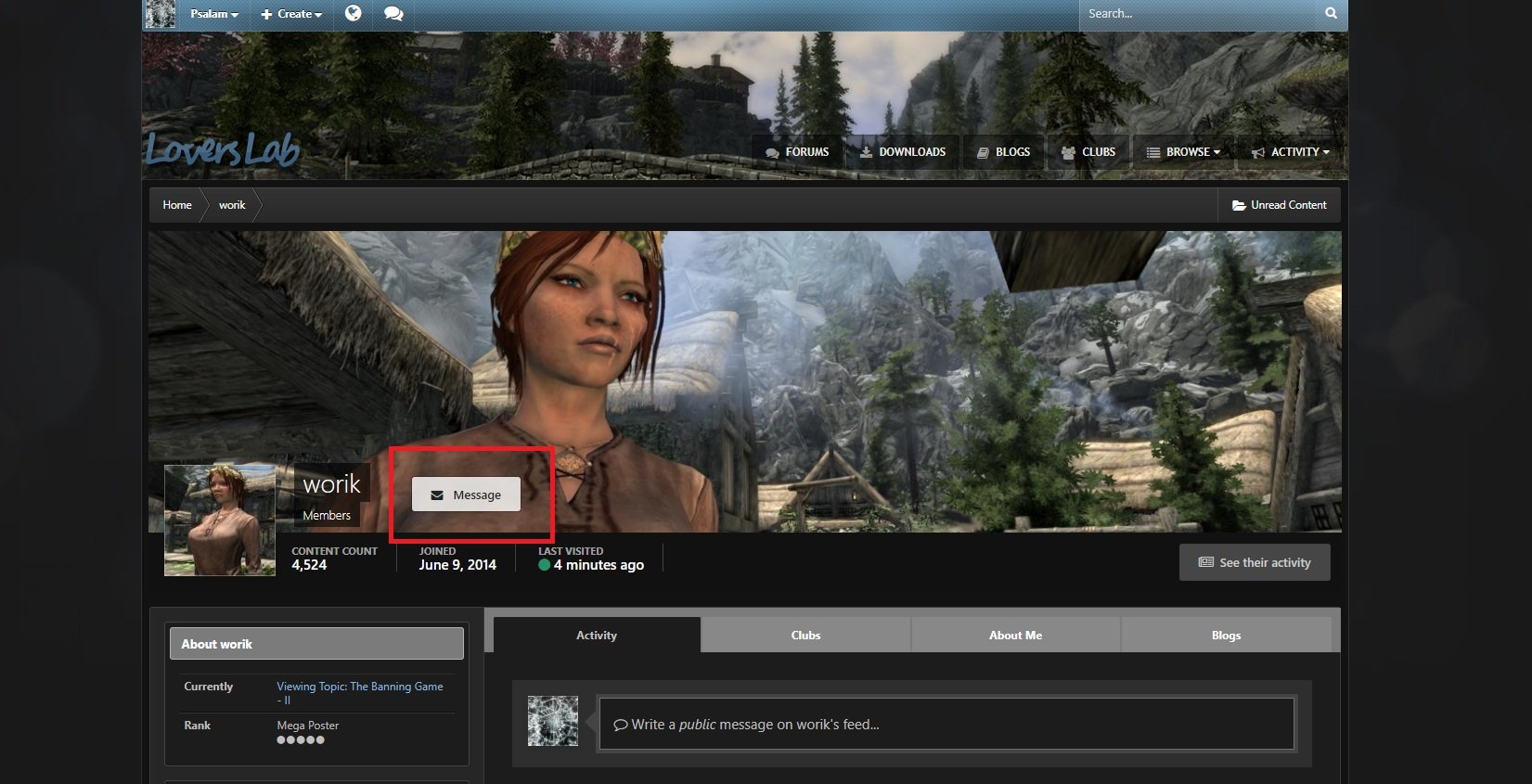 Then simply click on the message button (highlighted here in red). When you have done so you will get something that looks like this: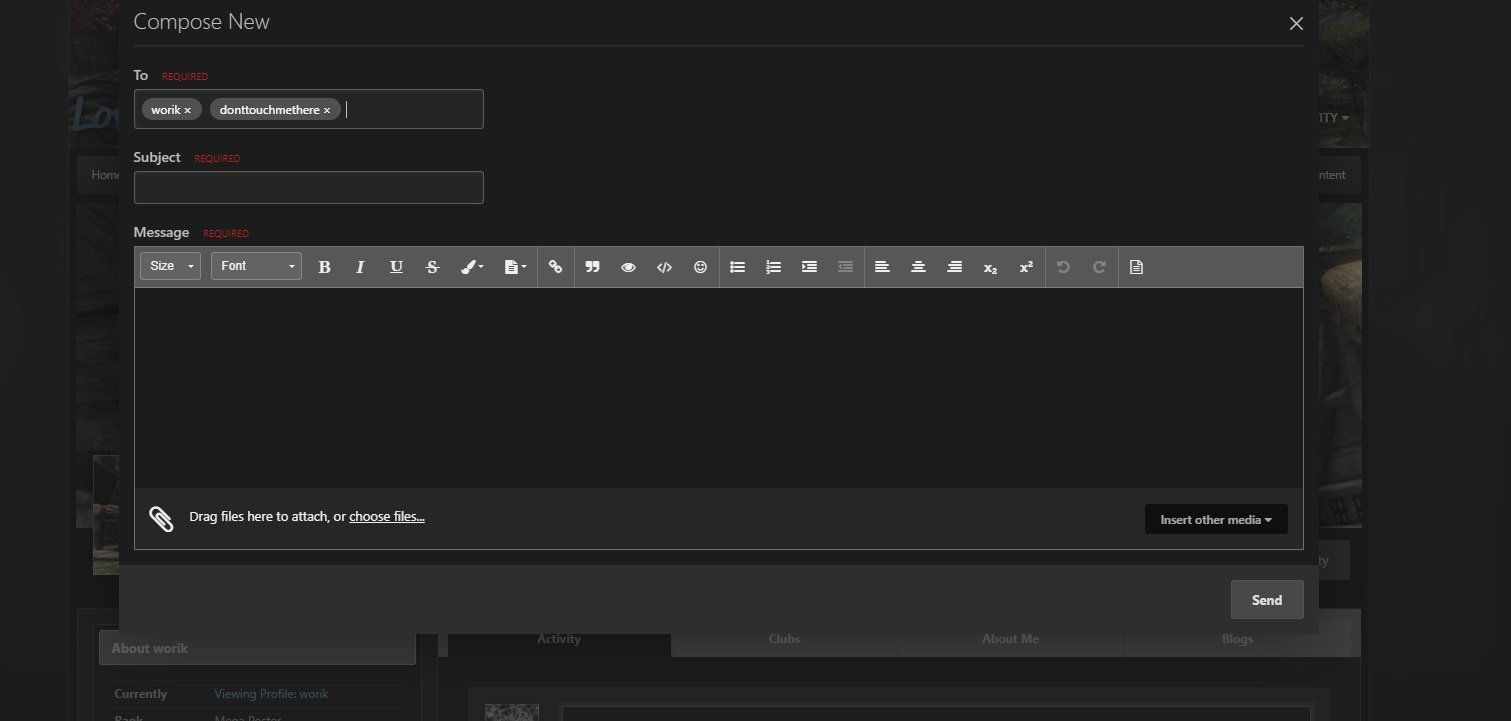 The one you do will have only one name in the "To" box. I added the second to show that it could be done. Four or five people can easily be included in a conversation in this manner. To add the second name I simply began typing it in until it appeared (with a copy of his avatar) under the "To" box - then I clicked on it. This is identical to the method I described in the previous post for using the "@" sign to notify someone in a post (do NOT use the "@" sign here).
Next add a subject and type your text (post). Notice that both are required and, if you forget, your PM will fail.
When you have a conversation going in this manner you will get notifications in the balloon area next to the usual spot as seen here:

I have highlighted the balloon button on the top bar. I have also highlighted the subject for the message. This is in blue text and is the spot you need to click in order to go back to your conversation. Your conversations will be listed according to their activity with the most recent one being on the top.
So, if you start a conversation and decide to add another person to it that can also be easily accommodated. Just open up the conversation: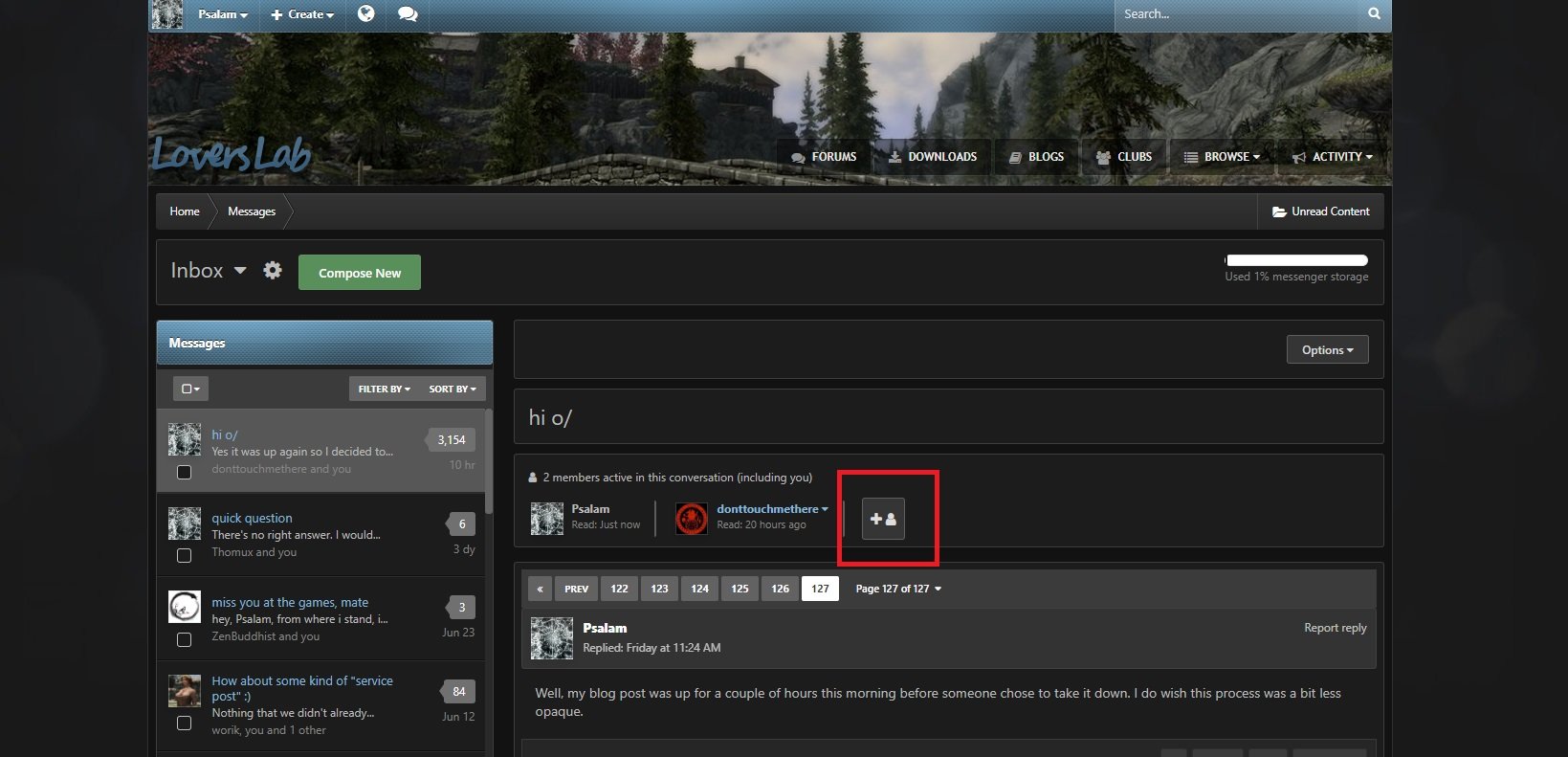 As you can see under the subject the people involved in the conversation are listed. their names are followed by a button that will allow the addition of more people. Note that only the person who first began the conversation can add more people.
And, I think that's it. This is all the information that I wish I had easy access to when I first came to LL. I hope that it helps you and, that knowing all these "insider" tricks will make you feel more at home here.
Good luck and happy hunting!