Is it missing an "if" event?
---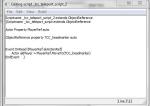 I don't know what to try. I was watching a tutorial that showed how to make OnRead events, but of course it looks much too simple, as the guy was only making an example quest.
Therefore, to fully state what I'm trying to accomplish... I made an elder scroll that has this script attached to it. Of course I want the "cool graphic" that is the elder scroll script to play, but when it's finished I want my script to trigger, therefore cutting to a load screen, in which case, when the load screen is finished, the player finds himself/herself at a specific point inside The Crystal Corridor.
This should be very simple, and here are some specifics regarding the elder scroll in question: 1) it will be lootable (which I have to learn how to do), 2) I want it to trigger by using/reading it like a book that starts a quest or the Devious Devices book that teaches the player how to craft the devices, when read. The major difference between the previous examples and the elder scroll in question is that the elder scroll in question will send the player to a designated spot.
I'm almost sure this explanation is more complicated than what I'm trying to accomplish, but at least I have produced at least some level of script understanding, which is all encouragement.
Does anyone have the gusto to explain what's wrong and what's right with what I'm attempting?
Thanks, folks.