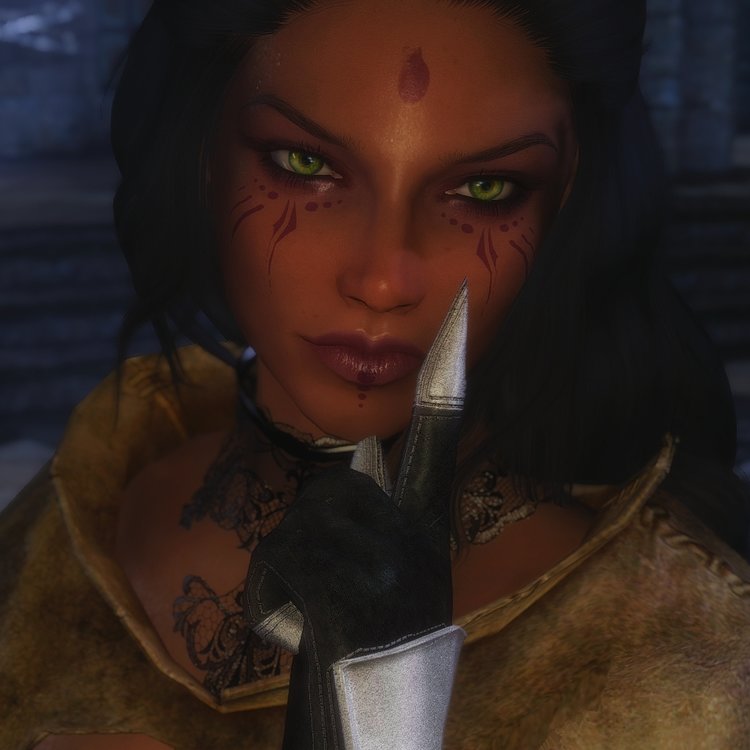 A New Tale...
Lorelei, the only daughter of a wealthy nobleman from Hammerfell
She was always fascinated by magic since she was a little girl.
But her father was over protective and spoiled her to no end after his wife passed.
And due to the reason Lorelei's mother died...a magical experiment that gone very wrong...
Her father could not stand magic and forbid Lorelei practicing it.
But Lorelei was very stubborn and spoiled little princess...
Using her fathers wealth, she secretly managed to learn the arts of magicka from various sorcerers she hired
And When she came of age she ran away from home, and headed to Skyrim... to her mother's homeland...
But the land was much harsher then she expected, and getting by was not easy
Especially since the Civil War in skyrim started...
Mercenaries were looking for her all around Skyrim for non stop for months...
Lorelei knew if she joins the College of Winterhold she would eventually be found... so she kept hiding...
After over a year of hiding, the mercenaries eventually stopped showing up.
Lorelei took the courage to make a contact with a Merchant who knew her family
Who in turn gave her some pretty upsetting news...
That her father has passed away.
And all his belongings and wealth were seized because no relatives were found.
Now Lorelei who was once as wealthy as a princess is left with naught but grief in a foreign Land of Skyrim.
After Grieving for a while she made up her mind and decided to pursue her dream and join the College of Winterhold.
She sold all her jewelry and other trinkets she had, and that was barely enough join the College.
Here is where Lorelei's tale begins....
These Pics are quite old...so the quality is a little worse then most of my recent sets
I started this playthrough on my Previous PC...
so i'm basically reposting here on Loverslab because i recently found the damn flash drive with the save i lost


So now i'm continuing Lorelei's playthrough...
i just need to somehow manage to find time both for Caede and Lorelei now...


And maybe somewhere down the line their Adventures shall cross paths