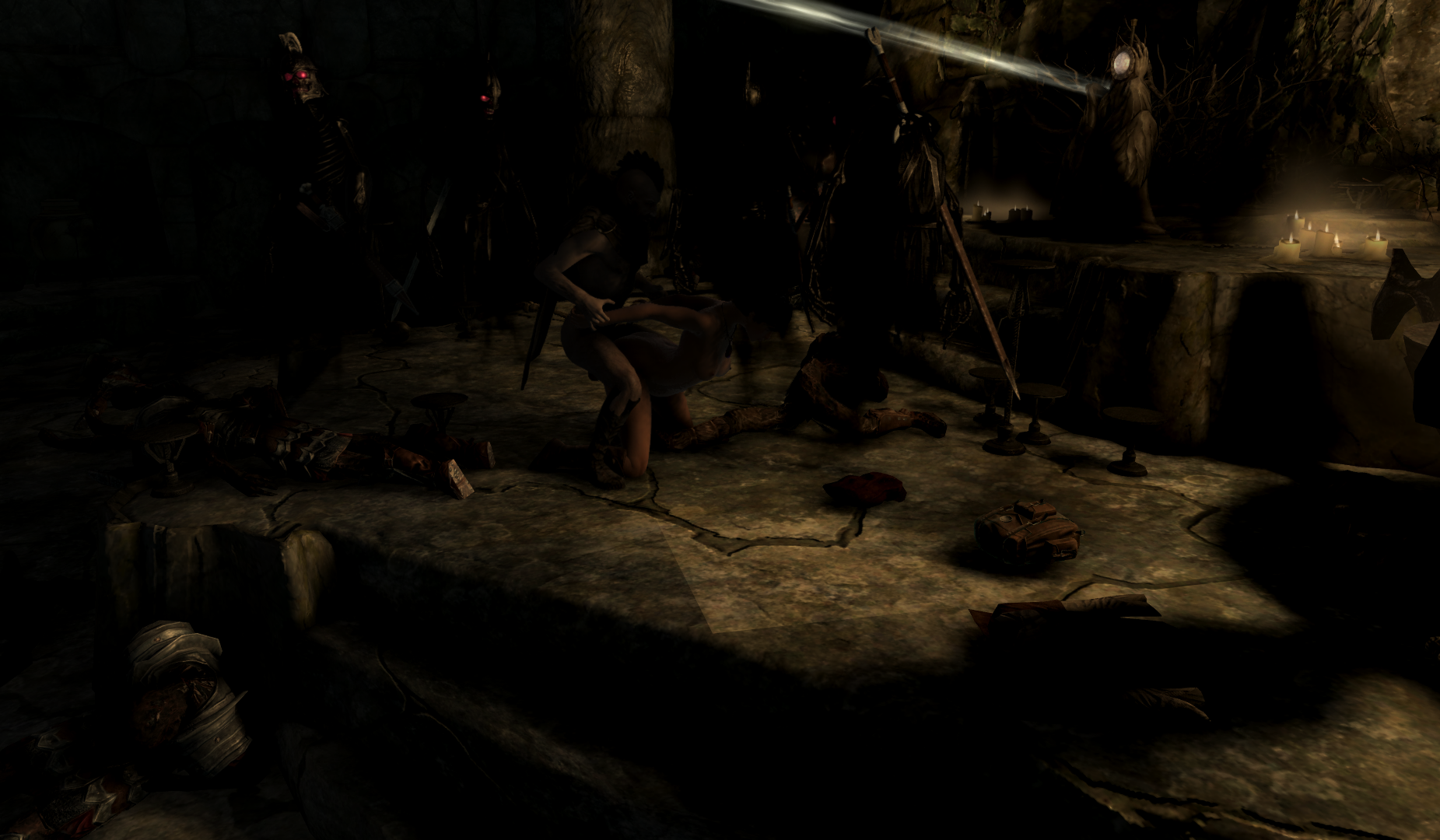 A dark end for the would-be champion of light, as she is herself brought low and befouled by Malkoran the defiler.
Malkoran sighs as he slides forcefully into the champion's sopping cunt
for the second time. "Where is your Bright Lady now?"
"There, there is her altar. Call out to her. Strike me down where I stand."
The champion hangs her head in shame, trying to shut out the silken heat
coiling in her nethers.
A moan slips through her lips at the unexpected sharp sting of a slap on
her ass.
"Do it, whore."
Whore. Tears mist her vision. The word stings more than the slap. With
each humiliating thrust more of the brave adventurer is flensed away,
revealing the small, scared girl who'd always been lurking beneath.
"Radiant One... please," she whimpers breathily.
The Lady, hitherto silent, now speaks, a whisper as loud as the world.
YOU HAVE ALLOWED YOURSELF TO BE PROFANED BY THE DEFILER
IN MY TEMPLE
YOU ARE UNWORTHY TO WIELD DAWNBREAKER
I HAVE NO MORE USE FOR YOU
The necromancer laughs as he continues to violate the girl from behind.
"She has no power here."
"I am still worthy," she whispers, "please."
"Just a little help... " She gazes pleadingly at the pedestal, almost within
reach, yet so far. "I'm so close."
A shudder passes through her, then. She know in that instant what is to
come, but she is powerless to resist its coming. And it comes, a cresting
wave of pleasure that washes over her in blinding light - a mockery of
sunfire, an obscene pantomime of apotheosis. On its own accord, her
body pushes back wantonly against his. Her cunt spasms around the
necromancer's foul staff, and he groans, defiling her temple once again
with his seed.
DISGUSTING
I WILL FIND ANOTHER
A clatter as her amulet of Mara falls to the stone floor and shatters.
Mother Mara, too, had abandoned her.
With mounting horror she suddenly realizes that Malkoran's shades are
closing in. In the thin, cold light of Dawnbreaker their indistinct forms seem
to shimmer with anticipation.
Inside her, she feels Malkoran's shaft harden again.
The girl who was once a future champion lets out a low wail of despair. It
reverberates through the vast dead catacombs of Kilkreath, once, twice,
before the inky dark swallows it forever.
Other heroines, other bad ends: