I want to make a list of the things I'd like to do with the Raider Reform School. It's getting a bit complicated, and there's a degree of overlap, so I want to keep it all straight. So I'm going to use this topic as a worklist, and a development log. I'll update either the main topic or else add a comment as things develop. Some of this is stuff I don't know how to do yet, so some of this could get interesting. if you like that sort of thing.
OK: What do I want to do?
Fusion Girl Support
Scripting Blender
Test maternal Adoption Disabler
MCM
Pregswap non-breeder tattoos (optionally?)
Remote controller for designations
Some lore
Fusion Girl
I'm sick of looking at broken CBBE knees. So I'm going to switch to FG, and that means that the Raider Reform Girl is going to switch too. That said, if I was using the mod and the author suddenly decided to change the body used, I can imagine myself getting upset, so I want to support CBBE too. There's a few issues around that.
Two downloads or one? Or one and a patch? I'm thinking two downloads. Which is a pain since I need to maintain two sets of files. Doing a single esp and prgramatically changing the model paths appeals, but then I need to include both sets of textures and meshes, and in any case it's scripted and therefore subject to errors at runtime.
The other possibility is a patch file that overrides the armor addon records and changes the paths ... but I'm reluctant to use an esp slot for something so trivial. And I can't ESL it because it has AA records.
I already have FG models for the top and bikini, and they're working in my game at the moment.
The big problem is the tats. Specifically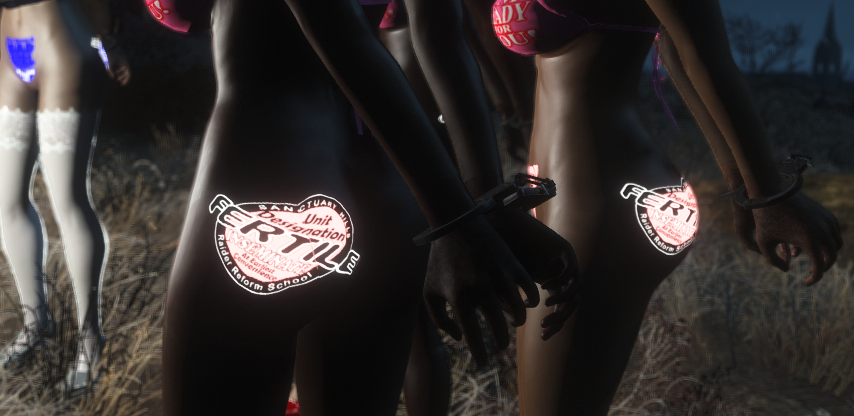 I assume that if I paint them onto a FG model and texture I can get ones that will work for the new body, but that's a lot of tedious and fiddly work. Which brings me to the next point:
Scripting Blender
Blender has a Python API. I speak Python quite well. So it shouldn't be beyond me to write a script that positions the view and then loads a texture and a brush, applies the brush and saves the result.
Let's list some resources.
This one is a pain since it's gt a lot of unknowns, but it's a bit of a showstopper for the FG work. Well, either that or I redo all those tats by hand. Which I really don't want to do.
Test Maternal Adoption Disabler
I have a version of the adopter script that can be modified by global settings. One disables the adopter altogether, the other skips kids whose mother is the player character. The first one works great but for the second ... I play as a guy and I don't fancy starting a female playthrough and waiting until my char's babies grow into children.
So I could do with a volunteer. But first I need to pack up the script with the old CBBE resources. I think I'm going to set up a rrs_common folder in MO for the things that don't change, and then rrs_cbbe and rrs_fg folders for the body specific stuff.
MCM
I don't much like making MCMs. I don't suppose anyone does. But getting folks to open the console and set globals is not a long term solution. So ... I think I need one. Probably more and more so going forward.
Pregswap non-breeder tattoos
The pregswap2 script is the one that switches breeder and fertile textures back and forth. (The original pregswap is obsolete and unused, but I'm reluctant to change the name in case it messes up script properties). What I'd like to do is have all the tats in the game go pink when the wearer is breedable, and then go back to their designation colors when she's pregnant. I wouldn't change the tops this way, just the tats. So you'd immediately know who needed breeding and who didn't. I can do that by applying the pregswap2 script to all the garments rather than just the breeder ones, and then leaving the object mod properties empty.
It's a bit fiddly, and there may be issues with properties not being set correctly on the new items. That last is a pain, since a clean save will remove all existing tops and tats, and redoing 50+ of them is no joke. I might be able to finagle it in scripting if it's a problem.
Remote controller for designations
I want a handheld clicky thing that you can point at a RRS girl and get a list of options. Mainly I want to be able to change her designation without going into the inventory and faffing around, but it might be nice to get some information as well.
Real Handcuffs has a suitable device, which it uses to trigger collars. I reckon I can adapt that. @Kharos was kind enough to give me a detailed breakthrough on how it worked.
I've since sought and received permission from fadingsignal  to use the mesh, so it's probably just a question of copying the device and associated items into RRS and then changing the script attached to the ammo mod. To start with I might just copy the device and the omod, and make RRS depend on RH. I can fix details once it's working.
Some Lore
I've written bits and pieces of lore for the School, but nothing that quite gelled yet. I want a background figure that serves a similar purpose to Korneum The Objectionable in the Slaver's Spellbook. Someone who had the basic idea and produced the technology and who sets the moral tone for the thing. Probably just a couple of holotapes in the Sanctuary workbench. I'm tempted to add some quests for schematics and the like, but I can imagine finding it very tedious to have to clear out some dungeon at the far end of the map, just so I could put some pretty colors on my slavegirls.
In terms of tone, the School Founder is going to be quite different from Korneum. Where the Slaver's Spellbook revels in its depravity, I want the Raider Reform School to adopt a high moral tone: all very this is for your own good, and this hurts me more than it hurts you, and lots of pontificating about the Good of Society and the Future of the Commonwealth. Obviously the player isn't going to be required to run the school (such as it is) that way; this is just to add a bit of flavor and make the gear seem a little less random.
I think I'd also like to create a second character who left some technical notes about the pre-war tech they used to create all this. Mainly so I can makes jokes about it all being "nano, or maybe quantum" and perhaps start describing the operation of the tats and tops in terms of "nanoquants". It'd give a bit of contrast to the tone of the Founder.