A Commander, Humbled: Finale
---
Out on the Mass Pike Skyway, I captured a Gunner Commander. So I stripped her of her power armor and dragged her back to Starlight Drive-In where I built a special stage to hold her and her team of eight, lovely soldier girls.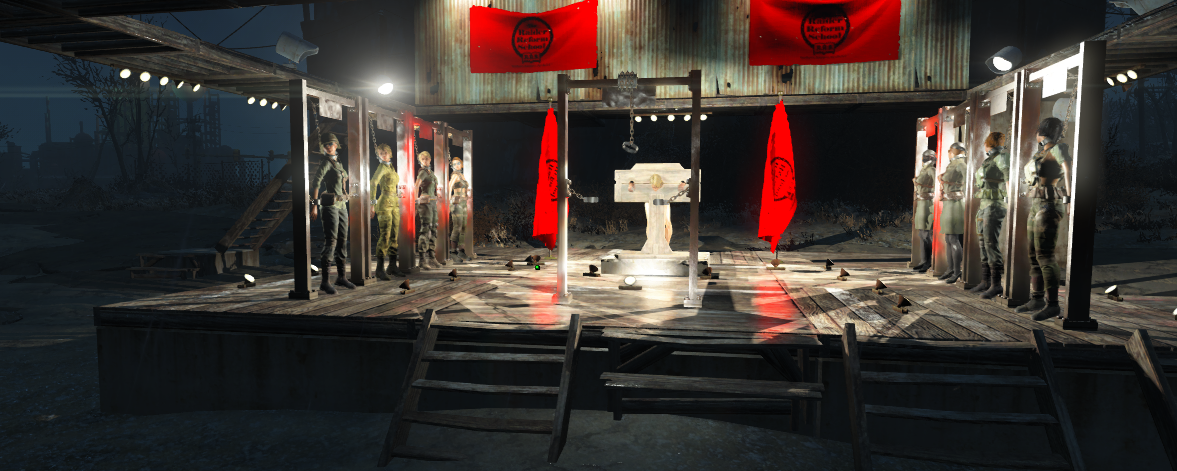 The commander has been stripped naked, branded as  a whore and exhibited, naked and floodlit, while the rest of her squad were forced to watch.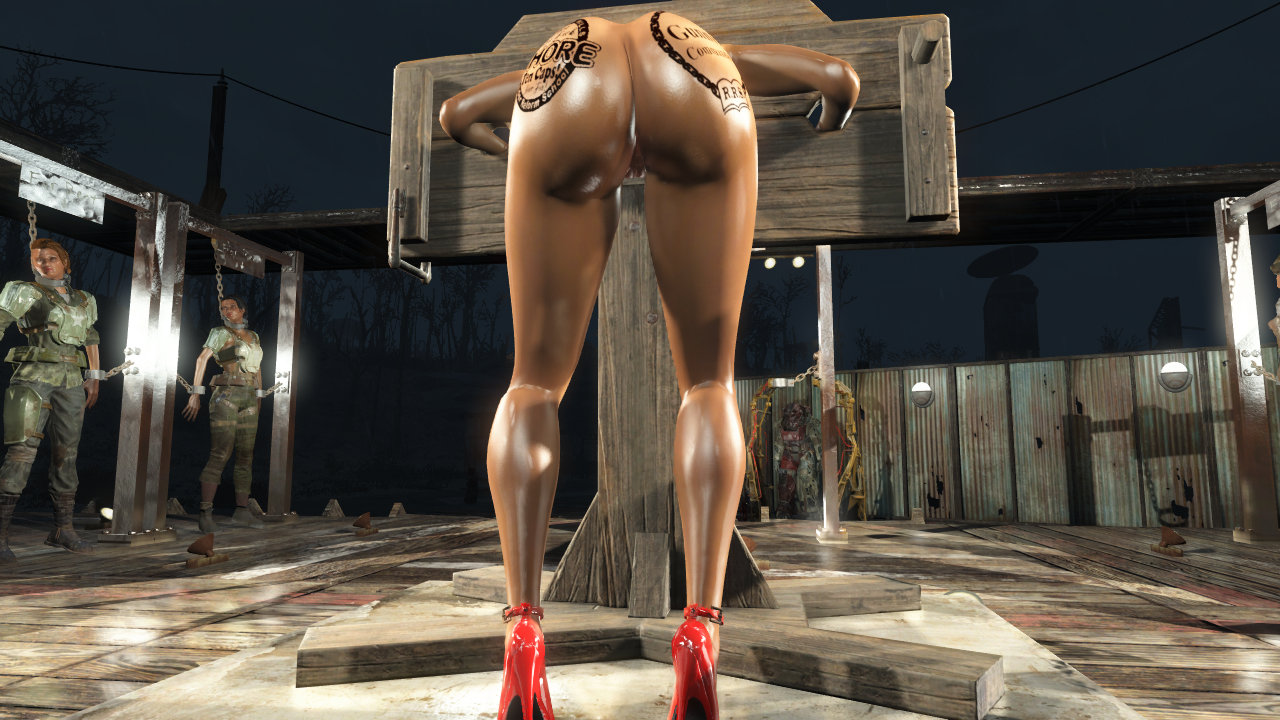 For 48 hours she has been left on display like that.
She has been otherwise unmolested.
It's finally time to change that.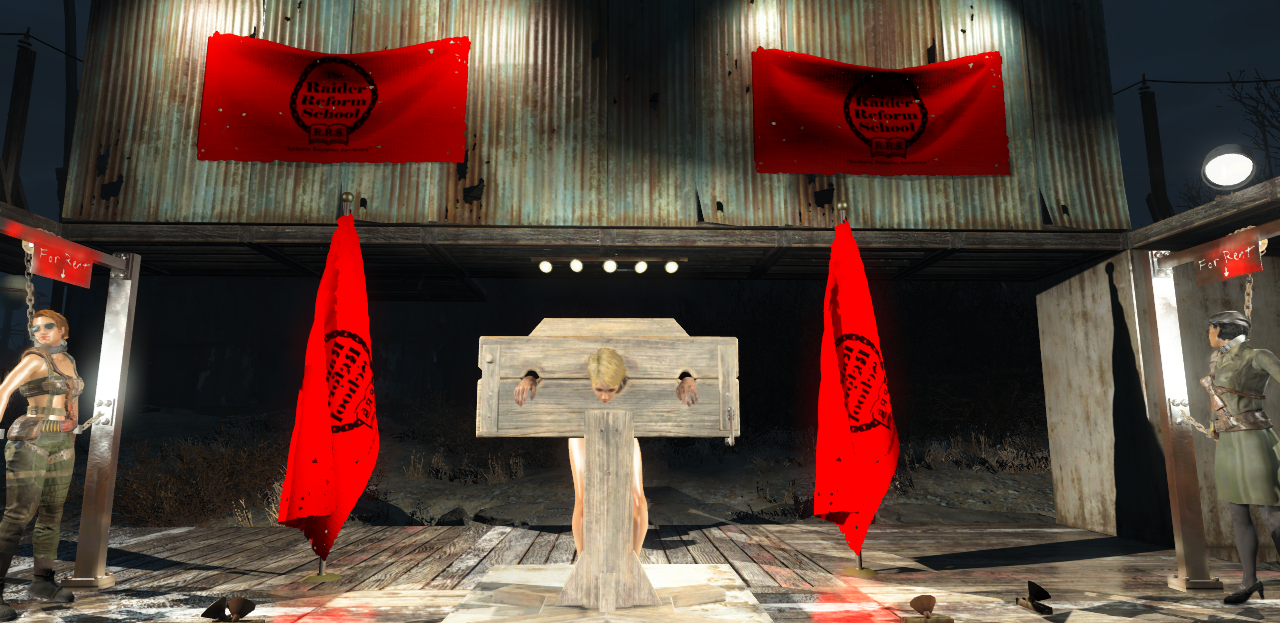 I waited for the stroke of midnight to begin. Really, there should be drum rolls. There should be music. Instead I'll have to make do with a slow, deliberate walk across the stage.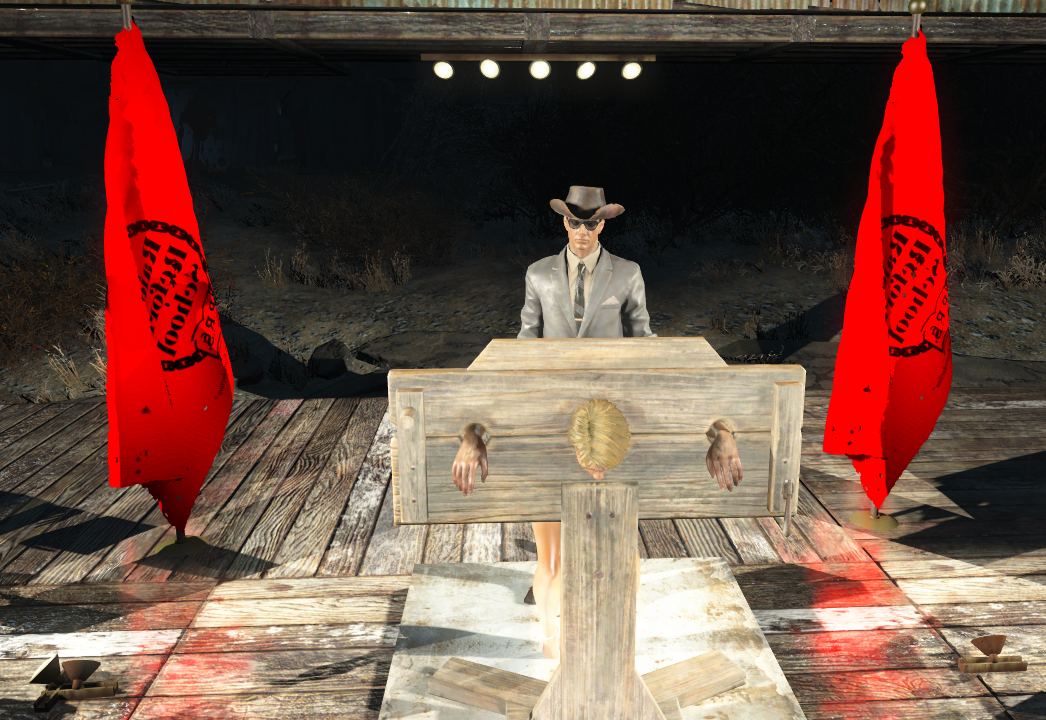 Let's just take a moment.. Savor the occasion.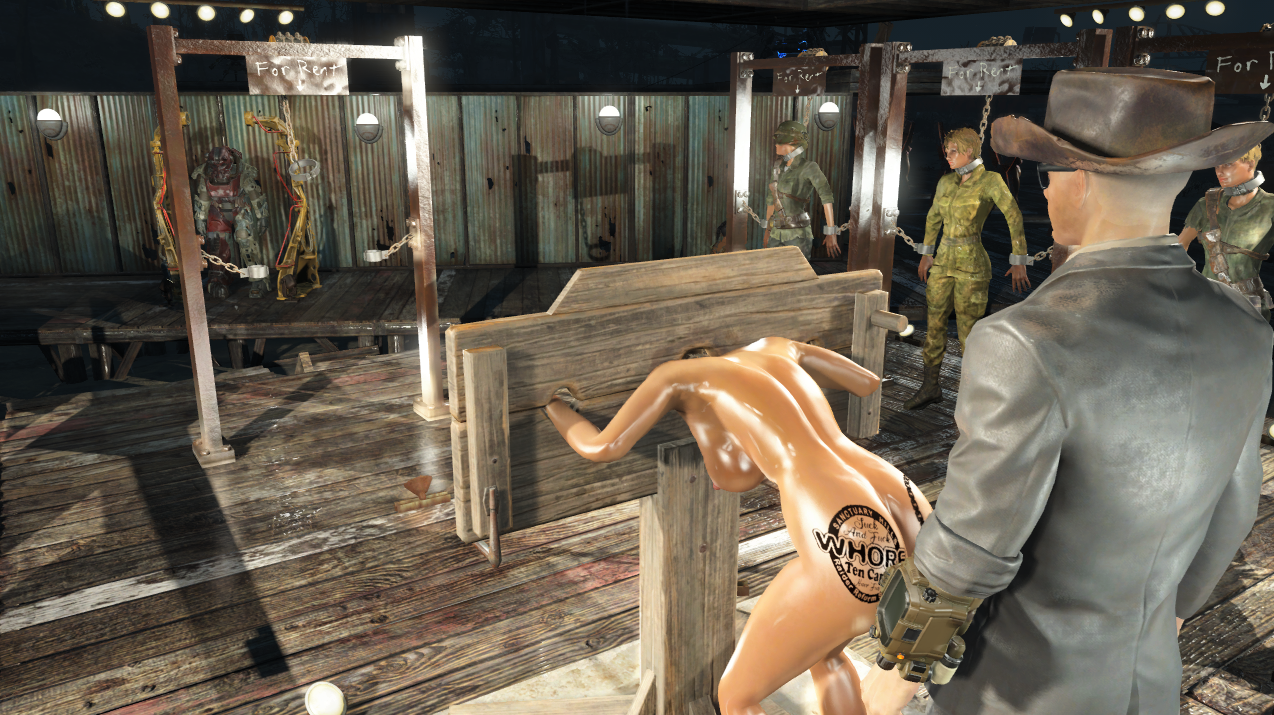 Think about what must be going through her mind at this point. She's had two days to think about what is going to happen to her. Is she feeling apprehension? Defiance? Perhaps she is steeling herself not to react. Is she, maybe, feeling an unwelcome twinge of excitement? Is she perhaps getting, despite herself, a little wet?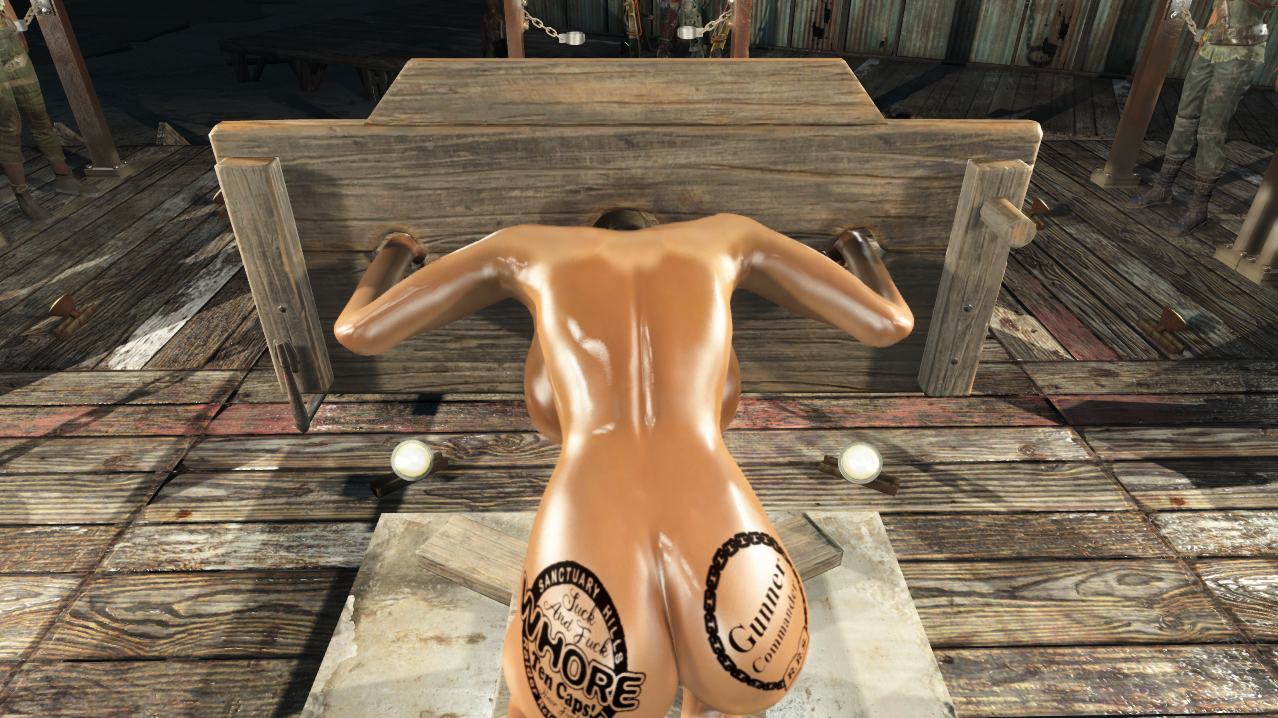 The time has come.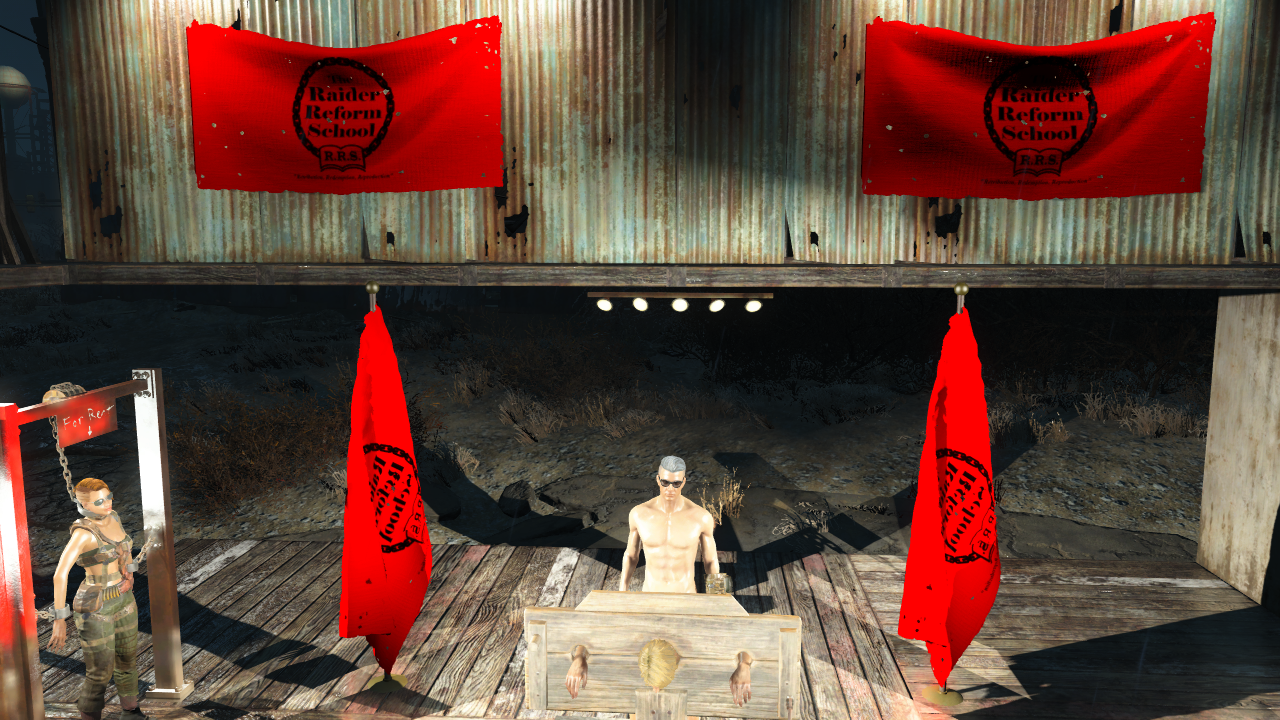 Let's do this!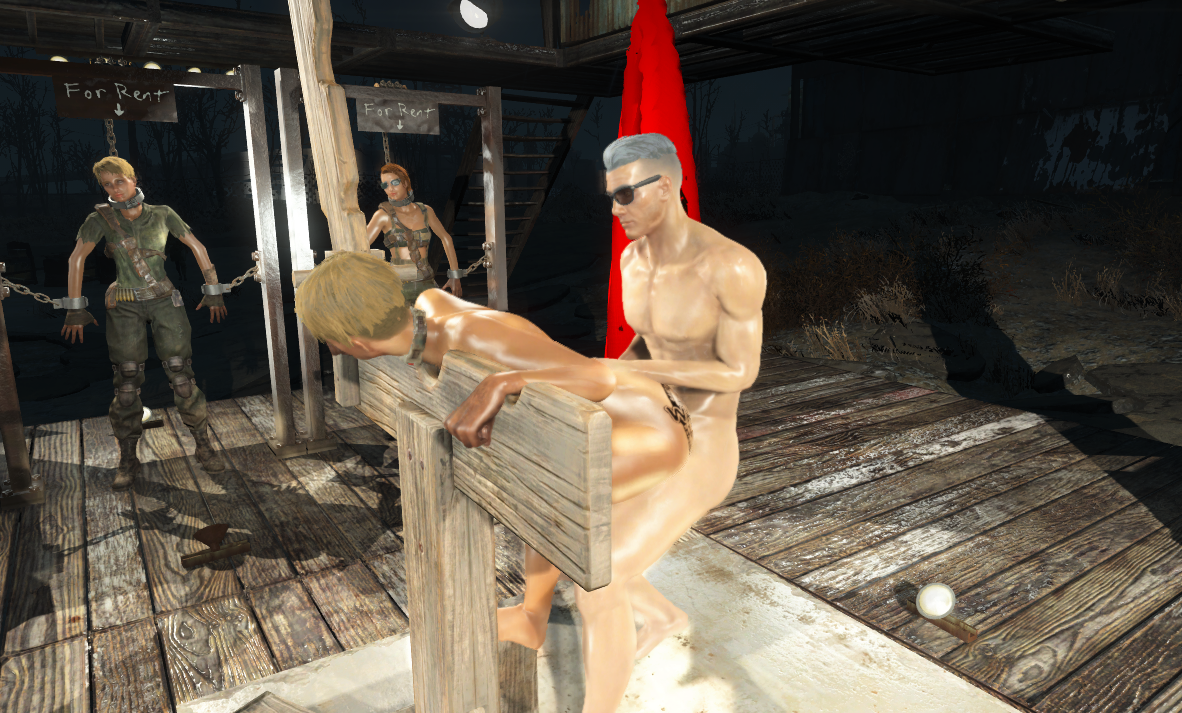 There's not so much to say about the actual act.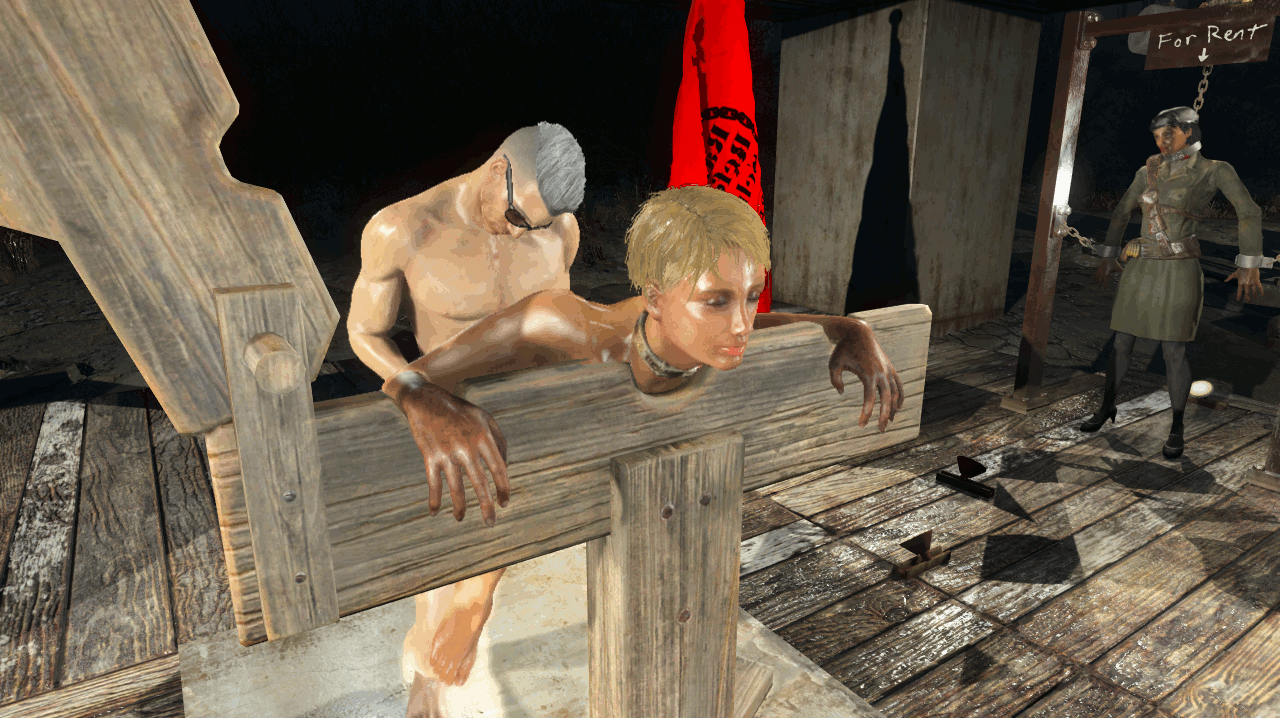 This isn't a moment of passion. This is the opposite: a dispassionate act.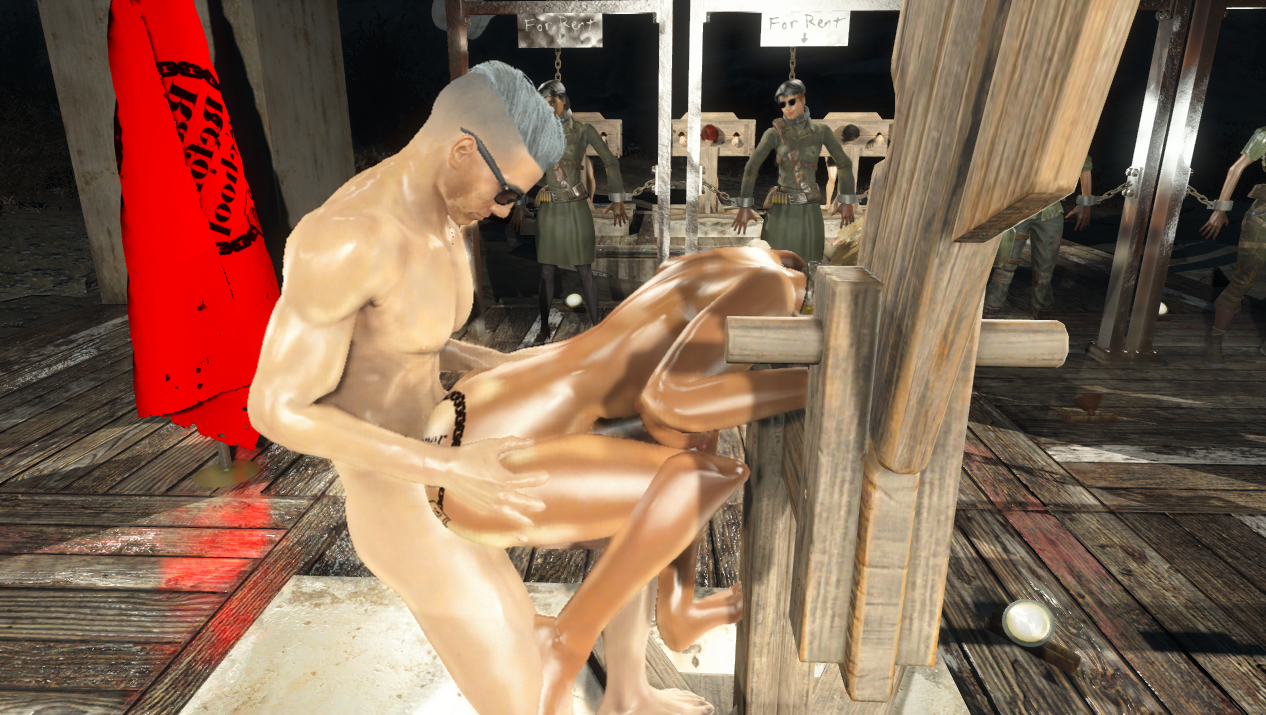 This is about marking my territory in terms no one can dispute. This is about demonstrating my dominance and control in the oldest way of all.
And, of course, it's also about having the Commander's squad bear witness.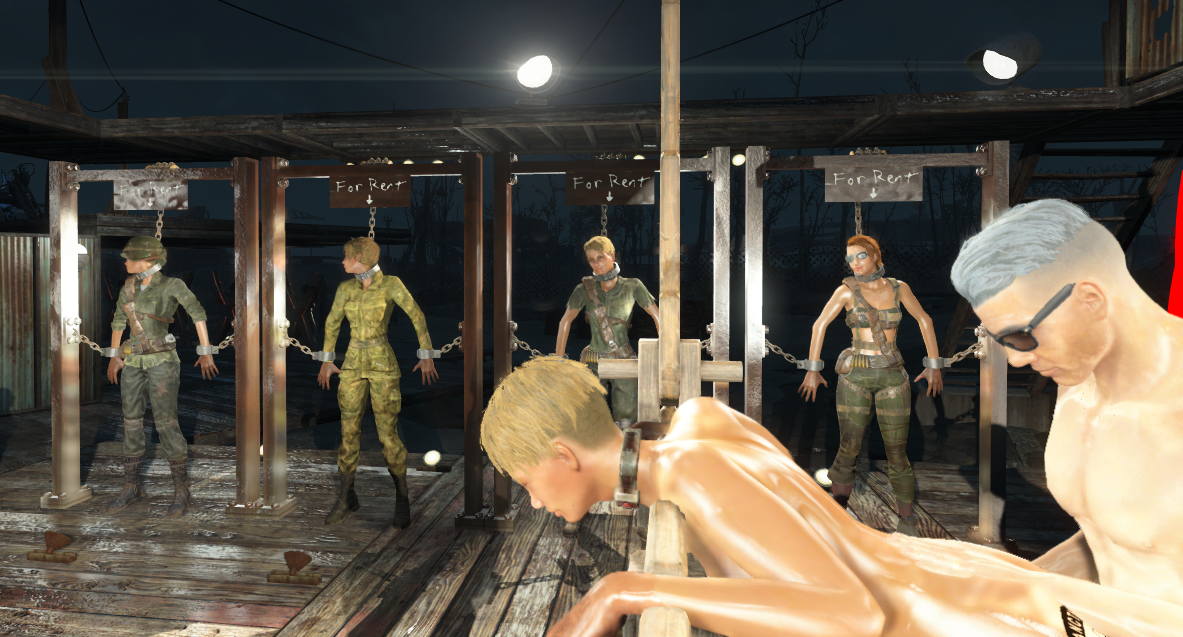 This is as much about them as it is about their commander, after all. So much of their sense of identity is bound up in their organization; so much of that is embodied in their commander. This isn't just fucking their commander. This is Fucking The Gunners. At some level, every one of them understands that.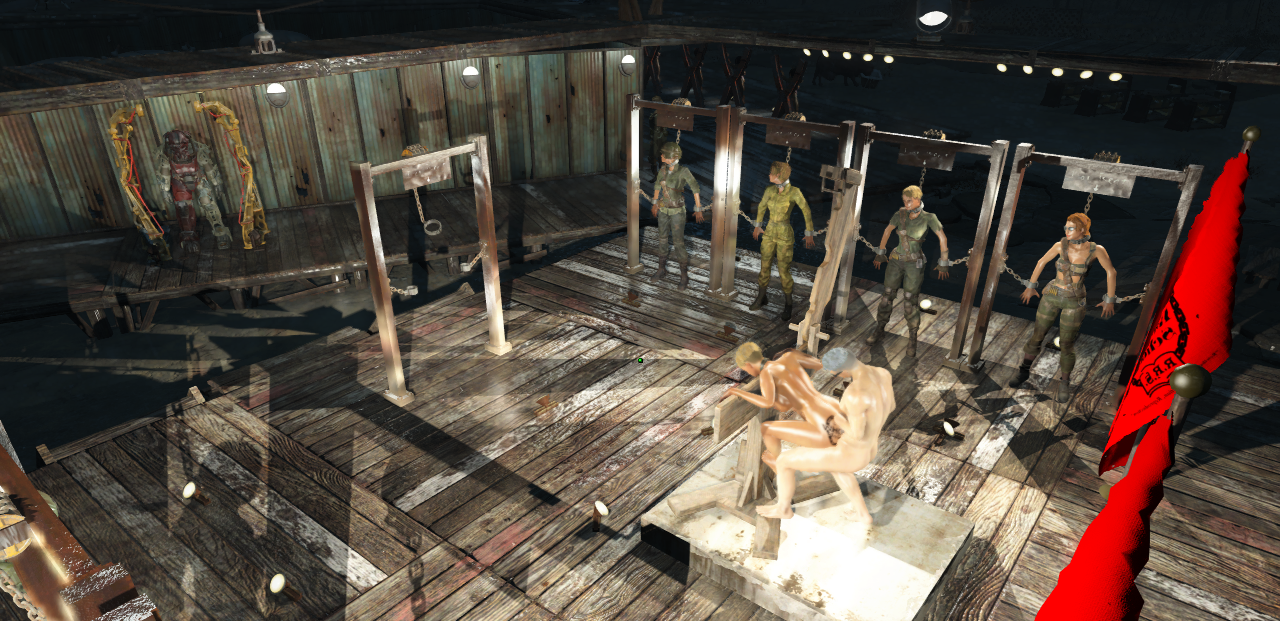 But more importantly still, the Commander understands that. Her duty here is that she sets the best example she can for her troops. Her duty demands nothing else.
Constrained by circumstances as she is, it is a duty she is bound to fail.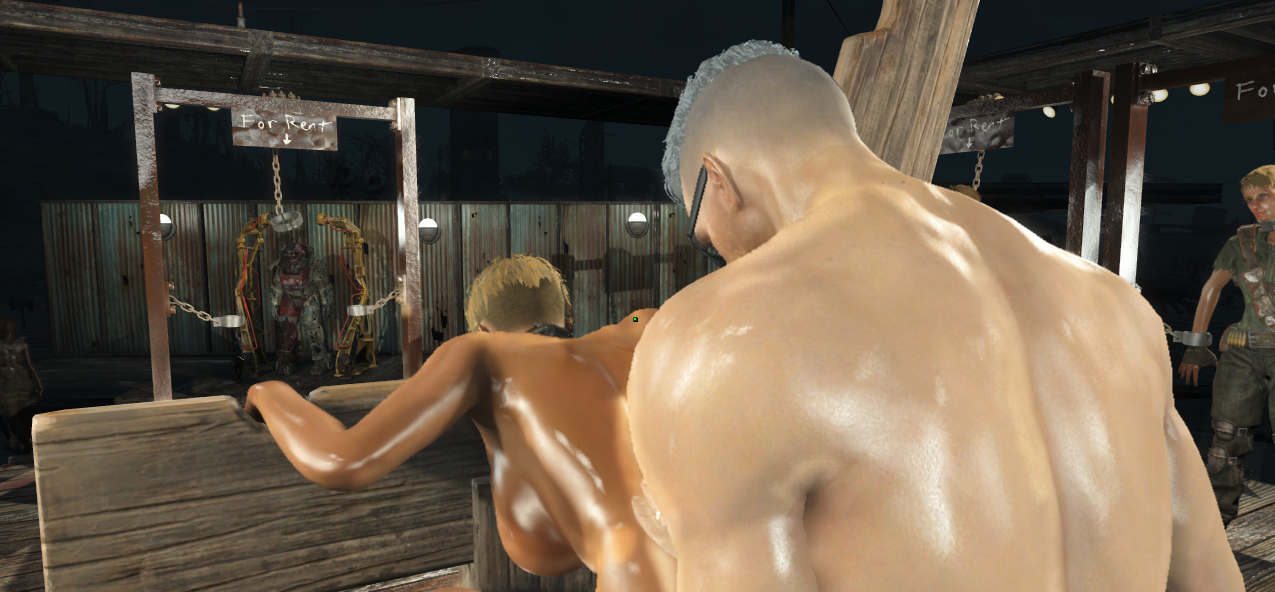 When I was done with her, I released her and told her to lock herself into the standing pillory.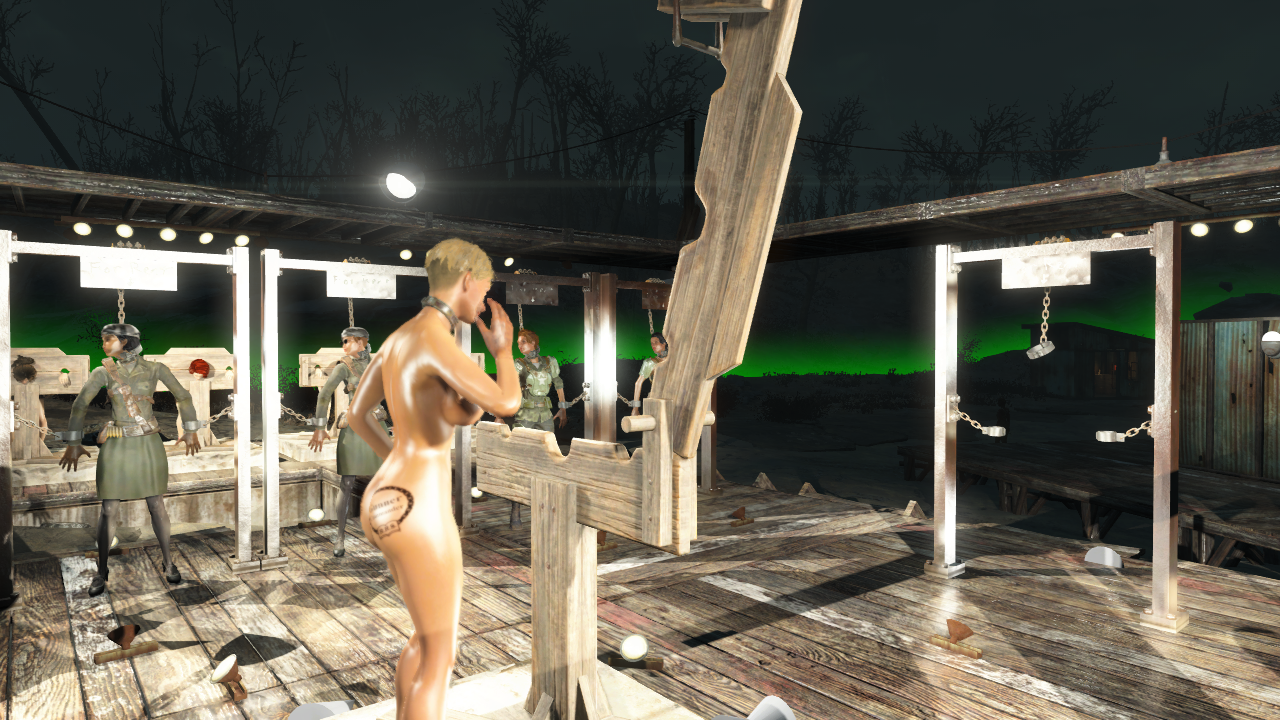 With the collar around her neck, she had no real choice but to obey.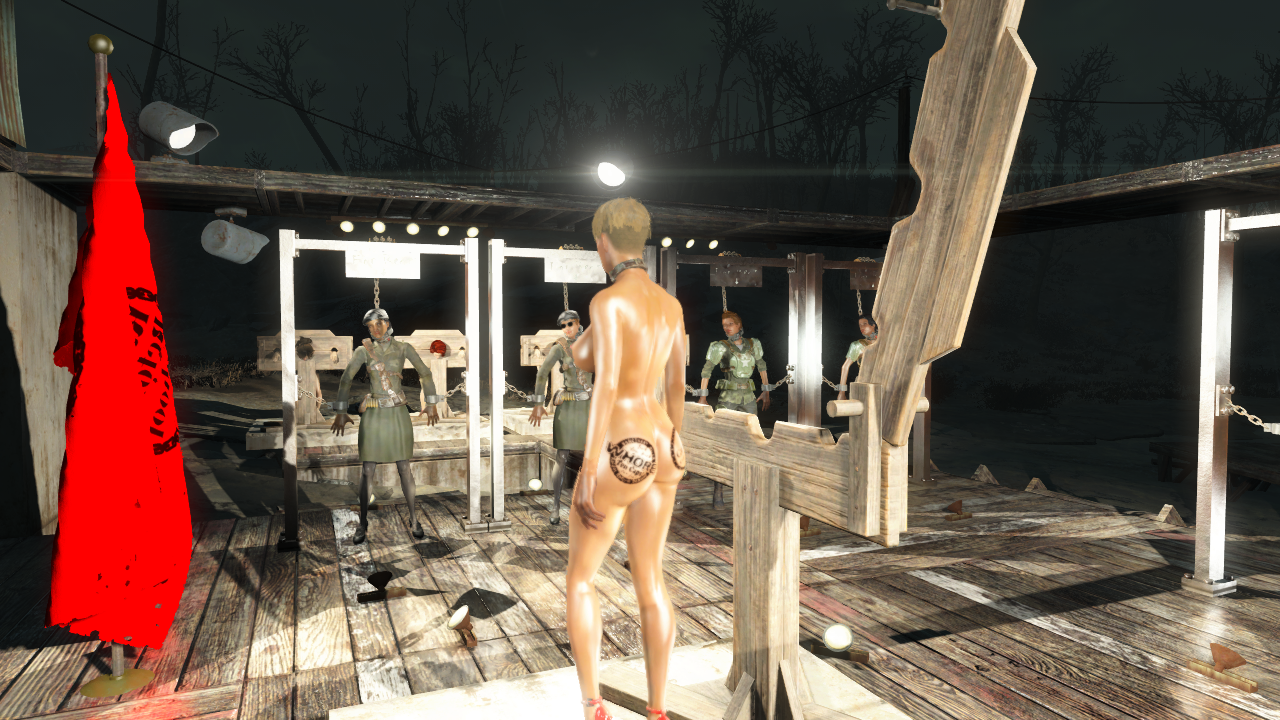 But it amused me nevertheless to see her go so meekly.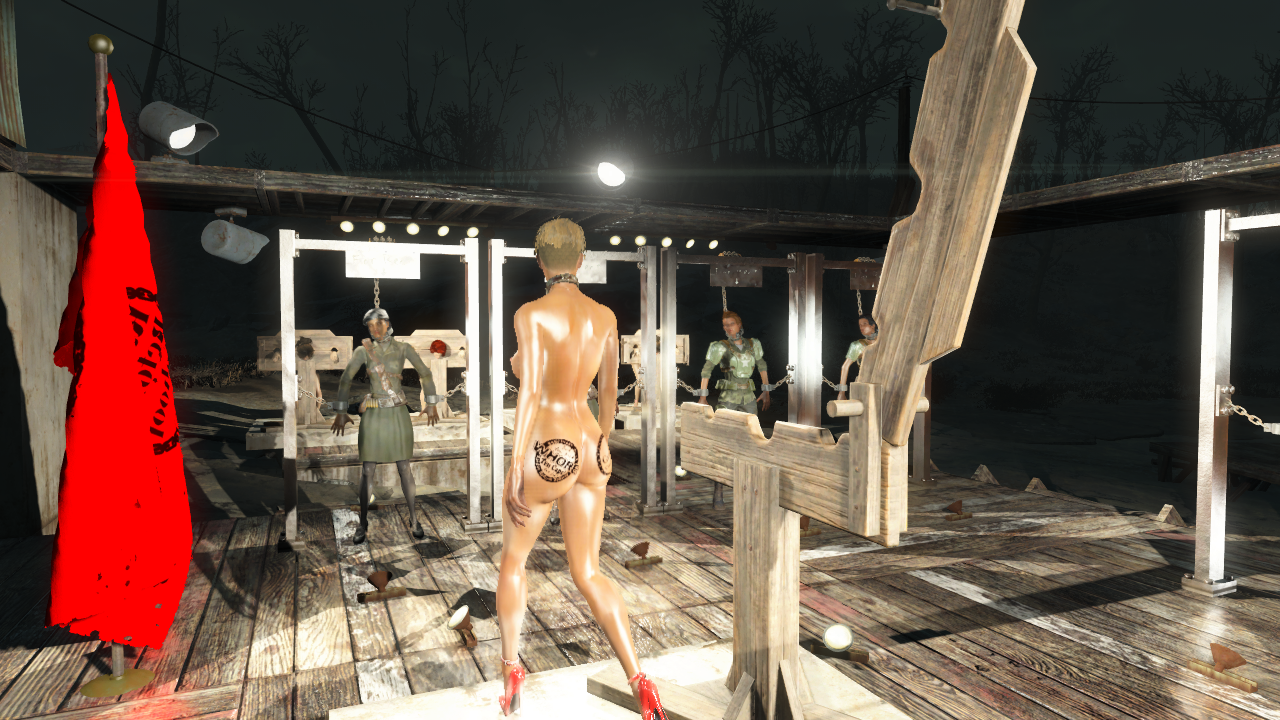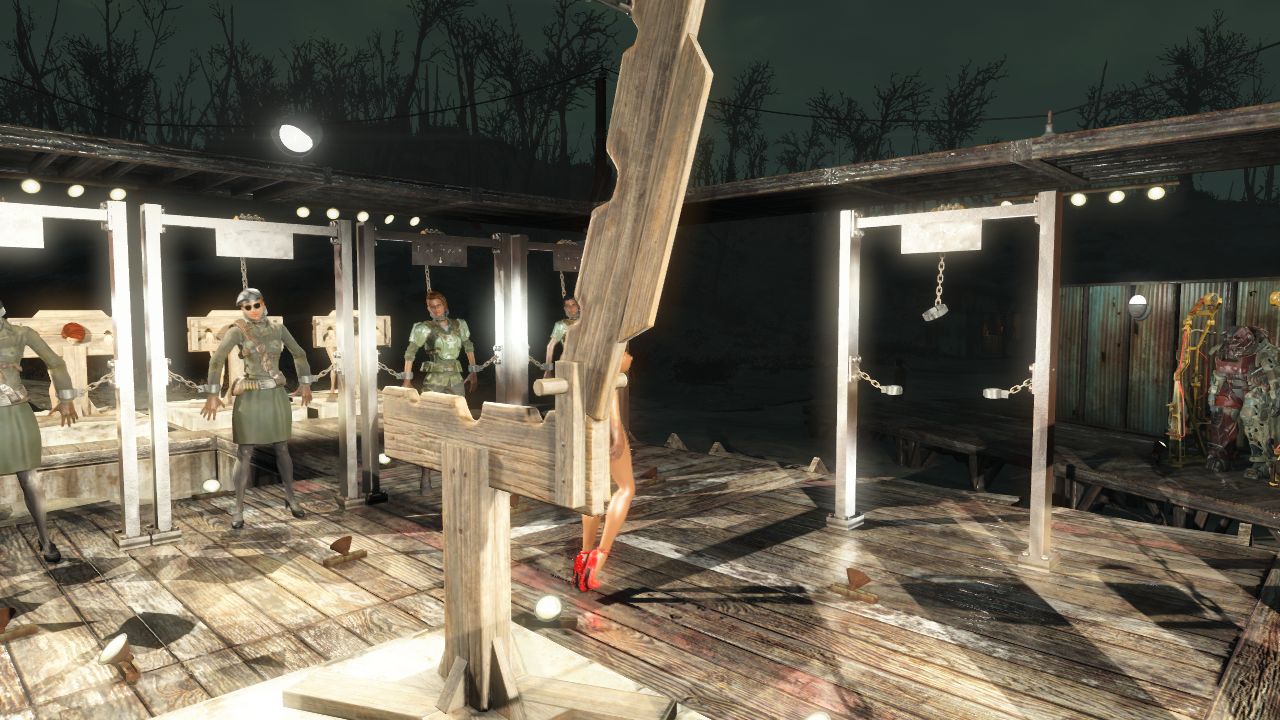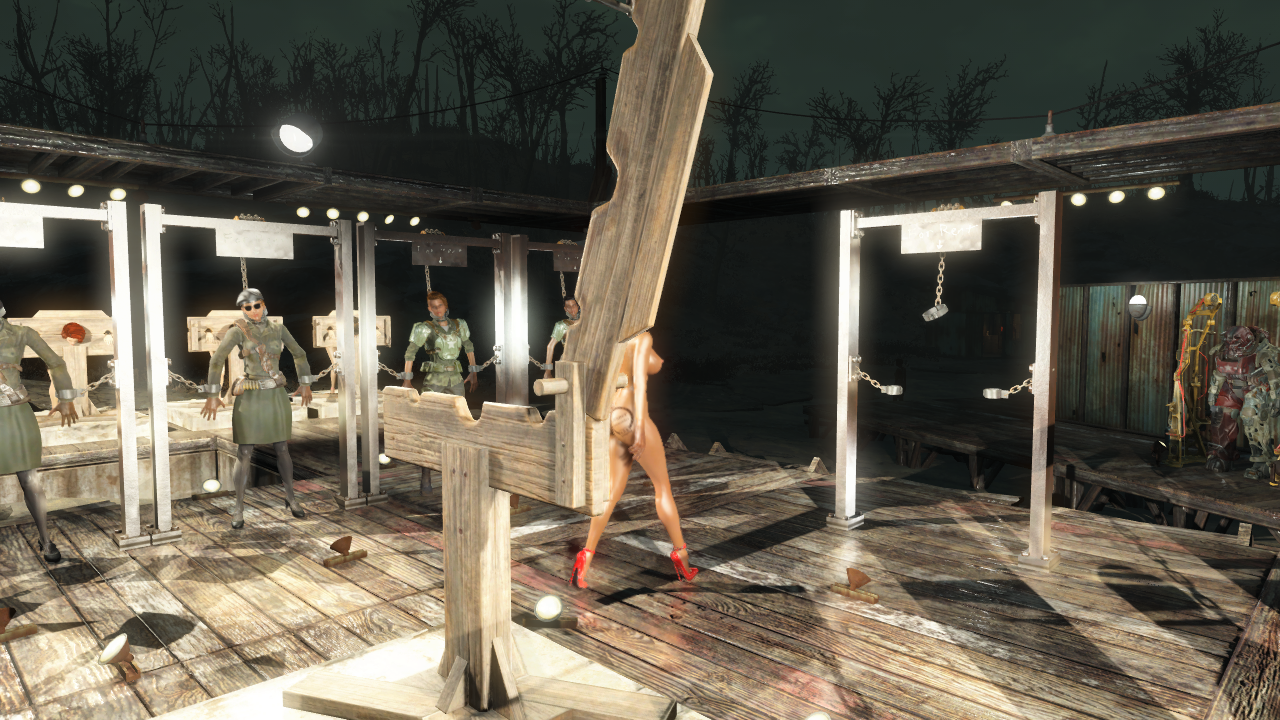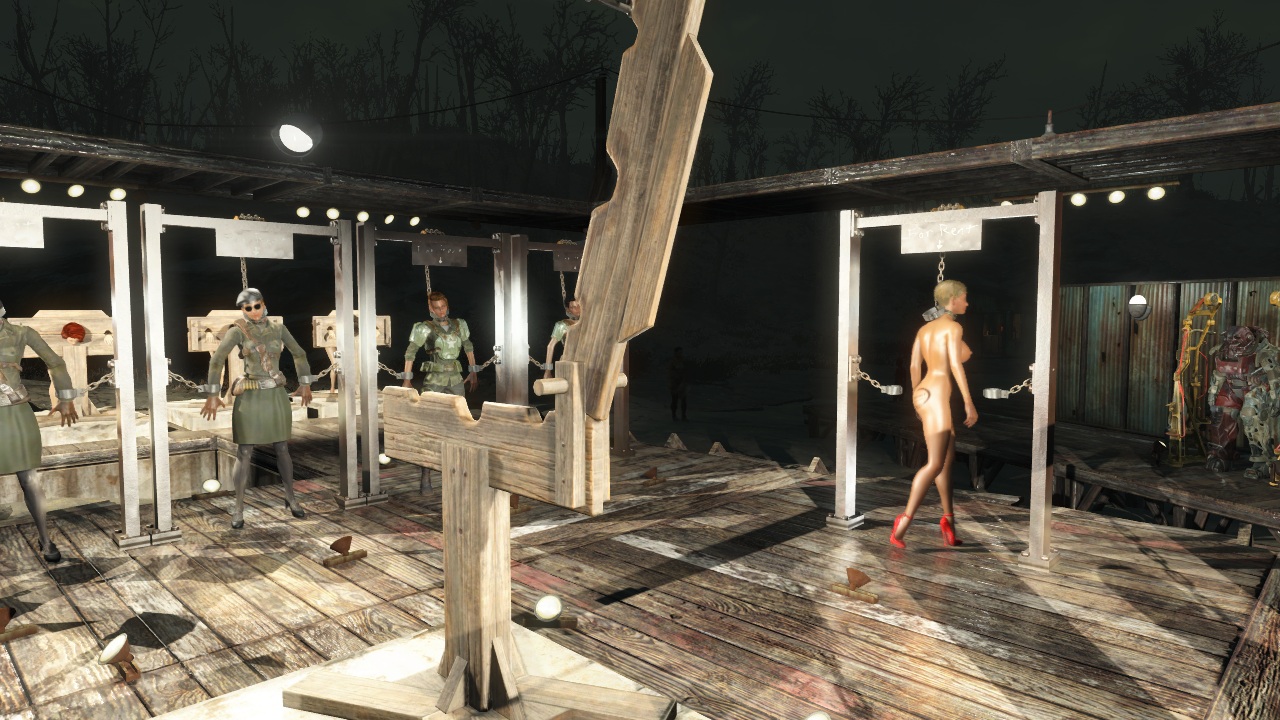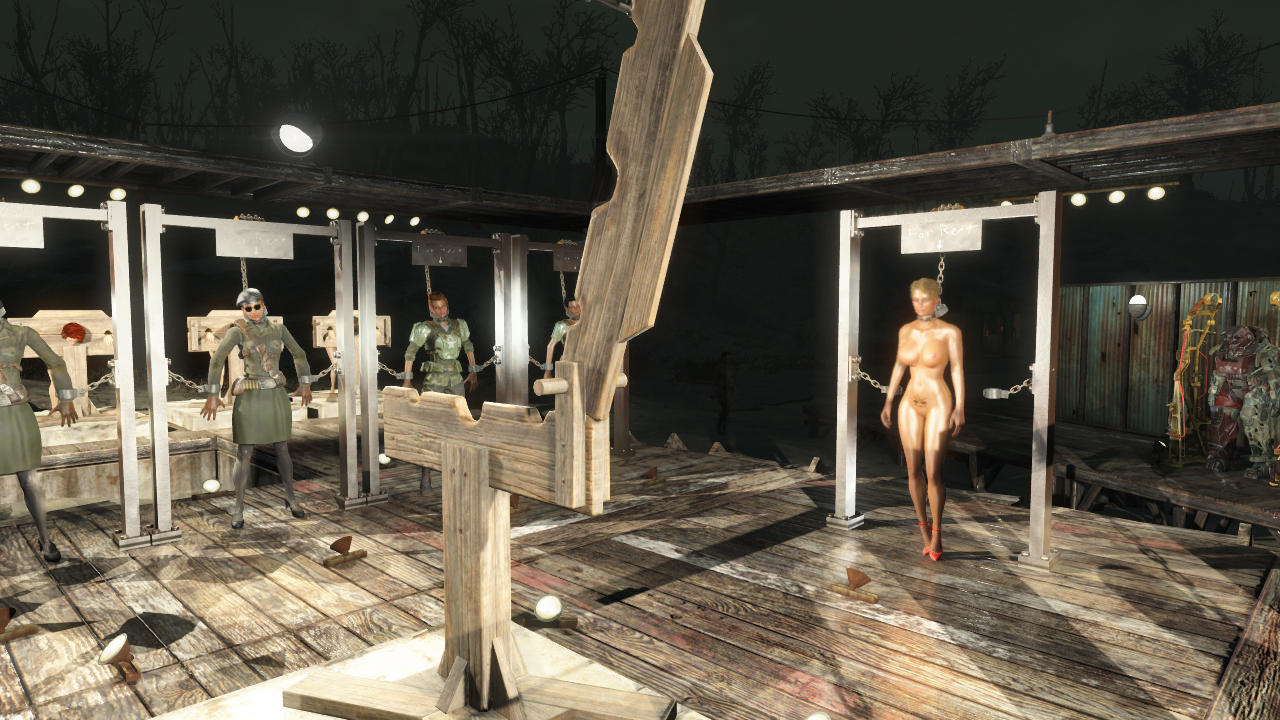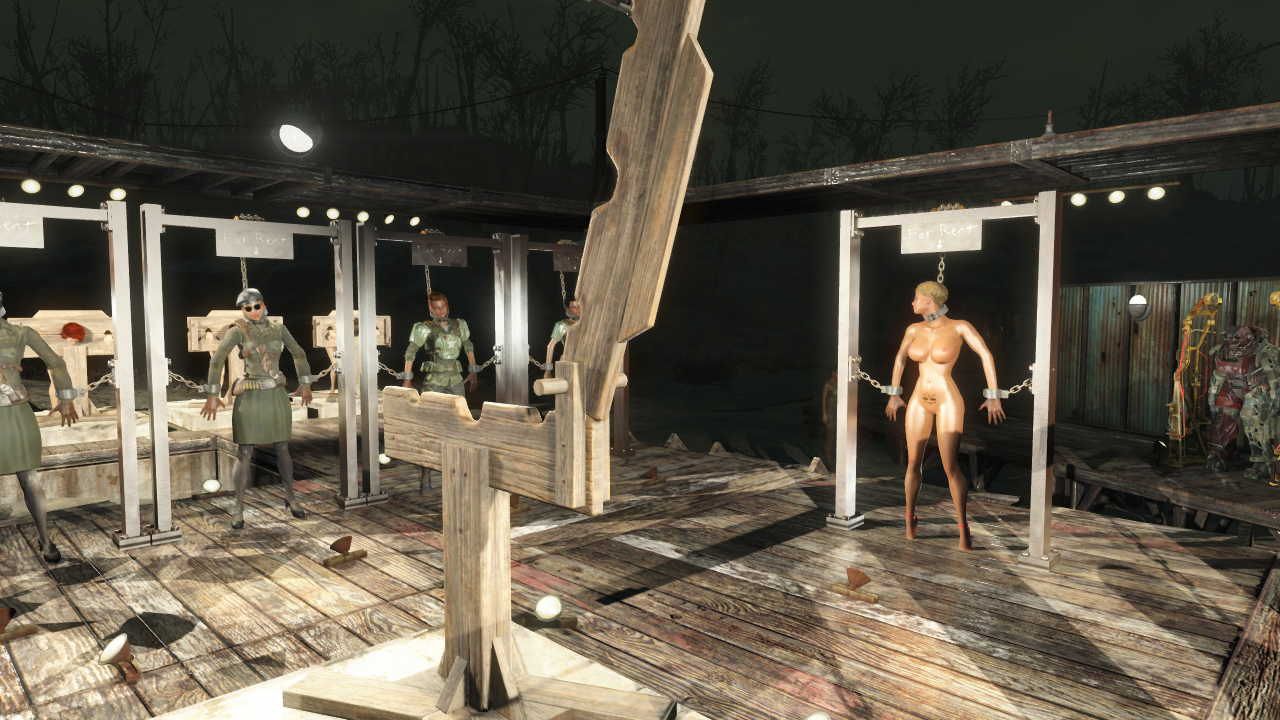 So much for setting an example for her troops. She didn't so much as glare at me.
Although in a very real sense, she did set them an example they can draw upon. Because now it's their turn.
Here's someone who's not afraid to glare at me: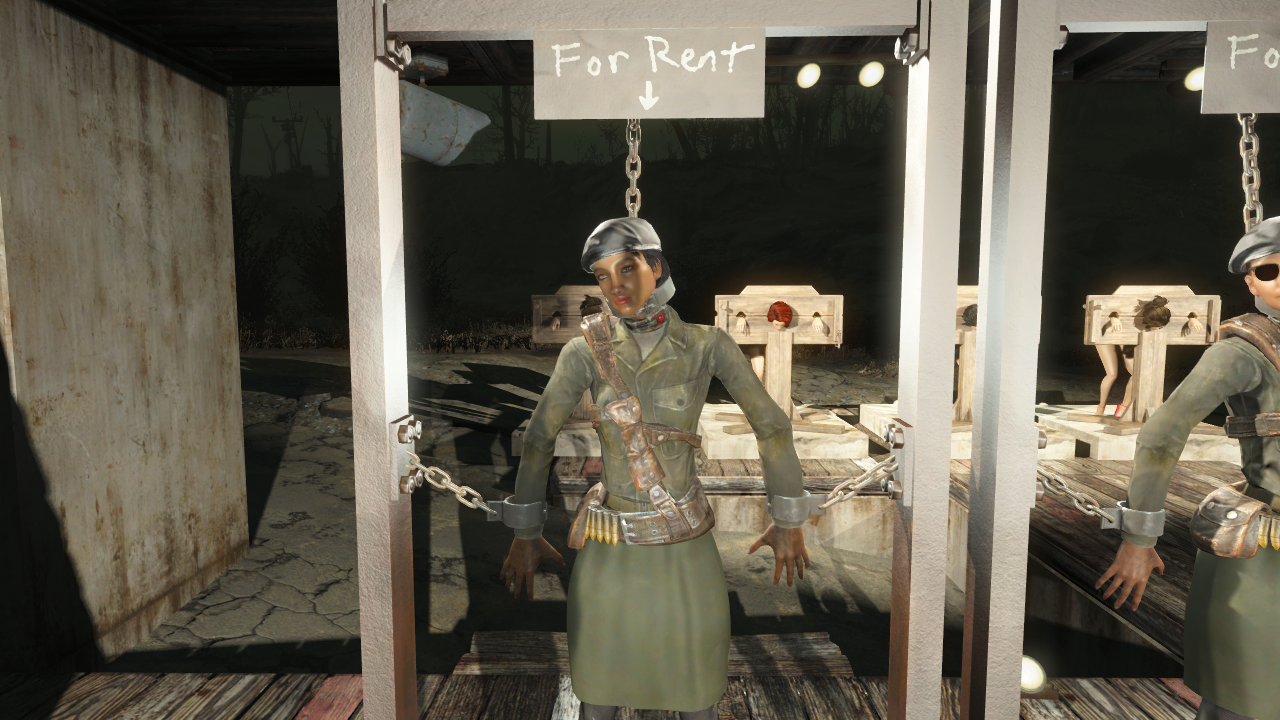 Let's get her stripped, branded and put her center stage.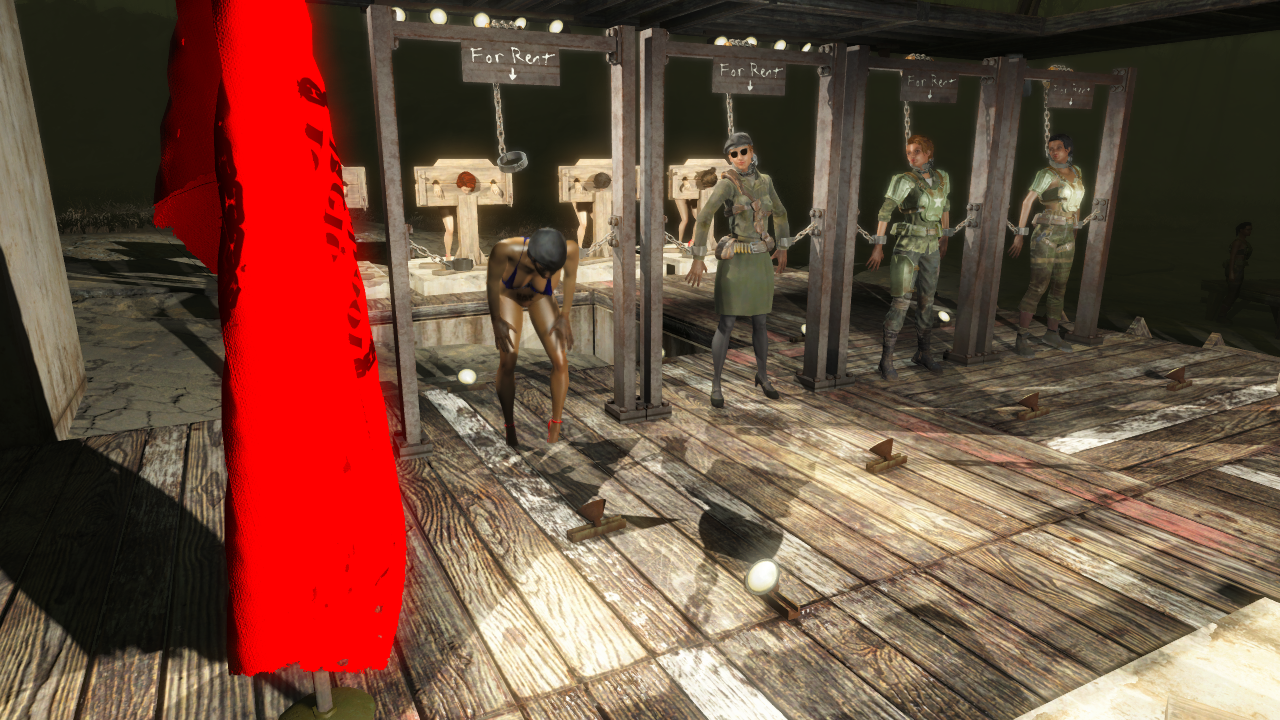 Now this one gives me a very cool look. Her commander could learn from her example.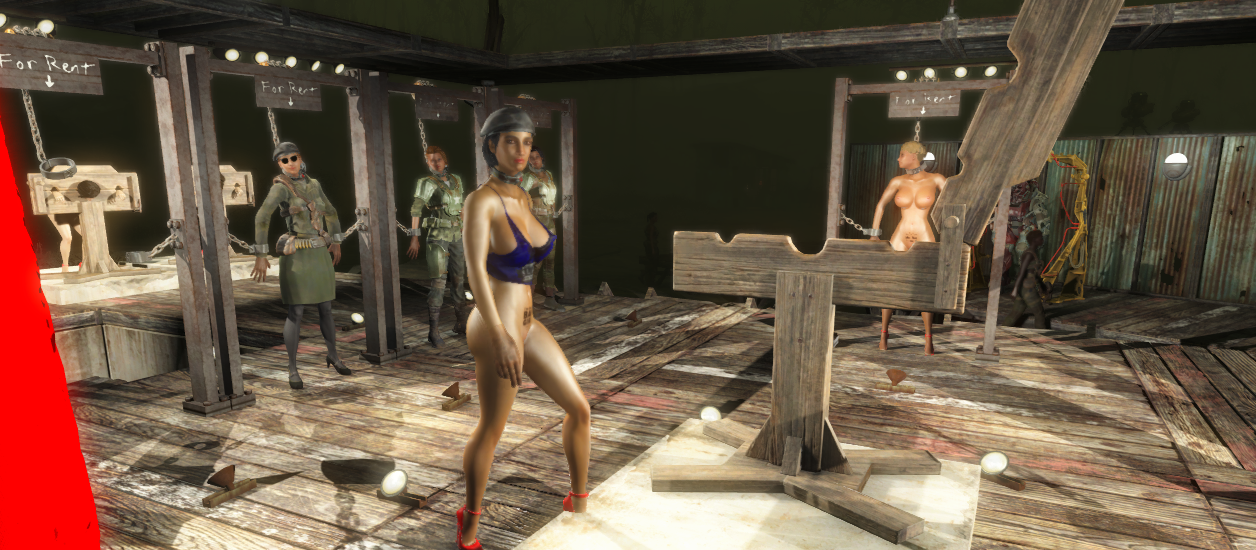 Or is there just a touch of come-hither in that gaze?  Maybe I'm just imagining it.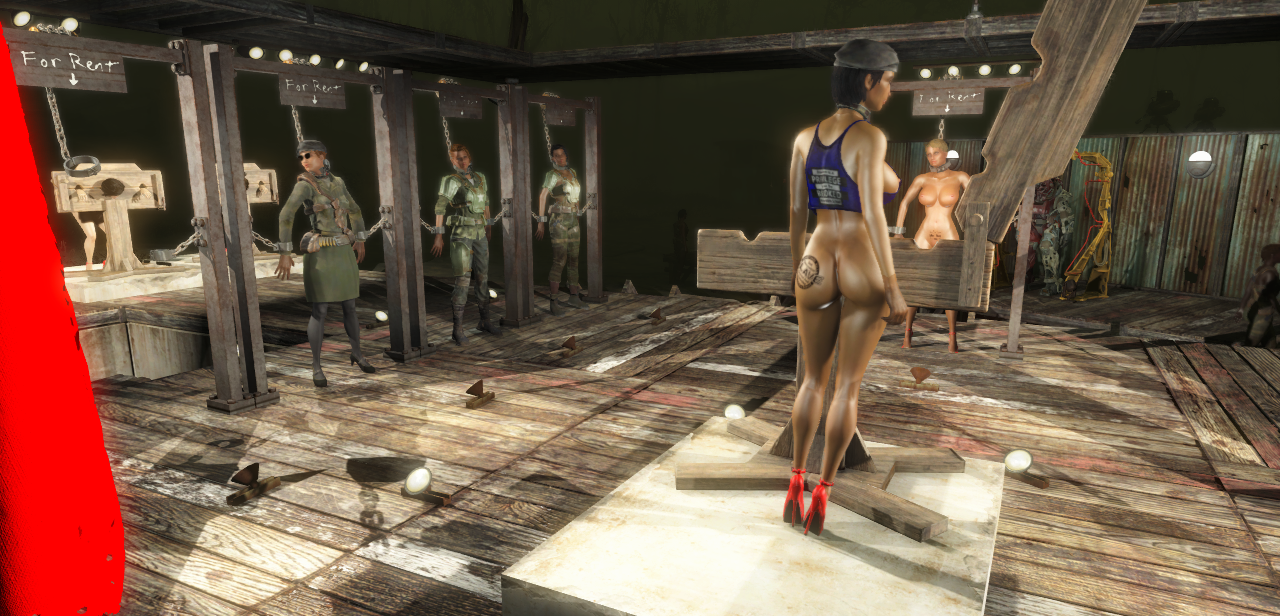 But still...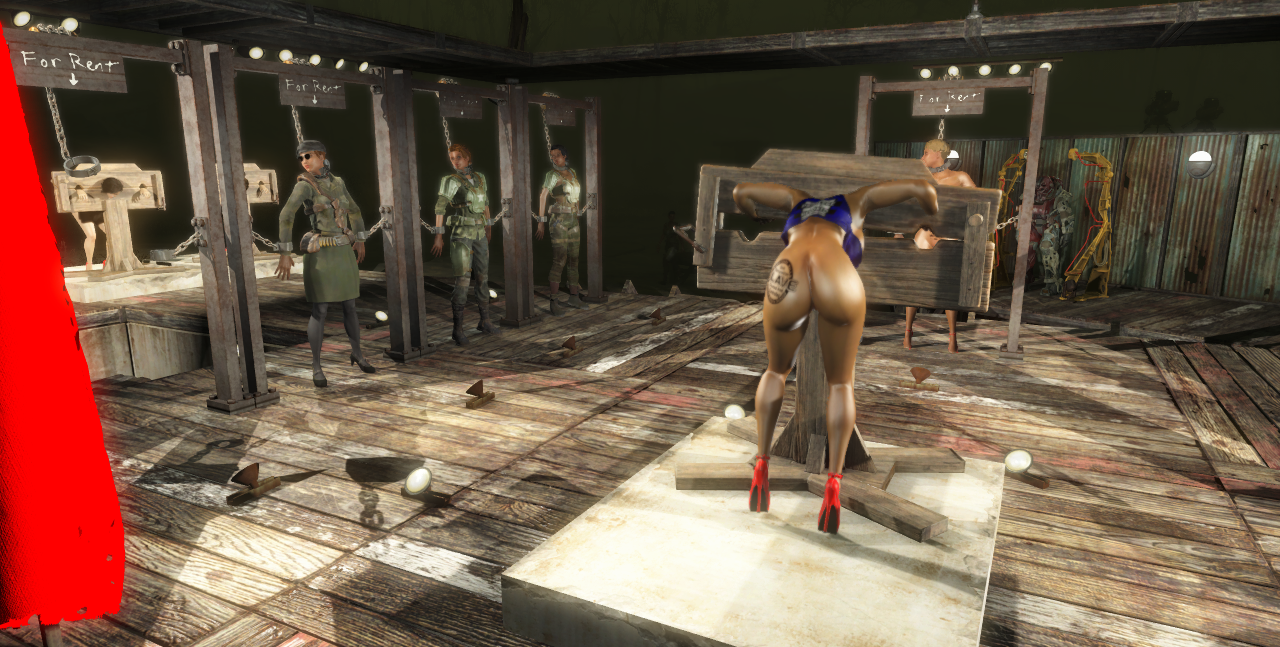 ... she gets in the stocks compliantly enough.
All this, of course, is still for the benefit of the Commander.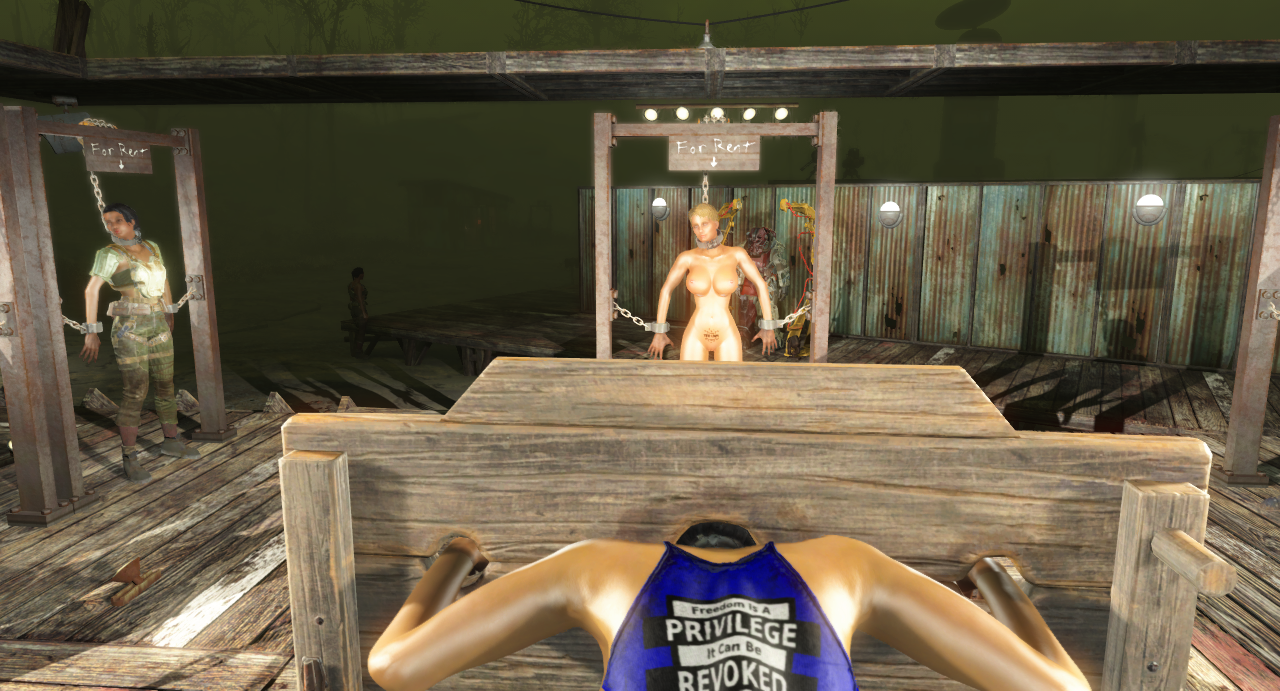 Having failed to uphold the dignity of her post or the honour of her unit, she now gets to bear witness ...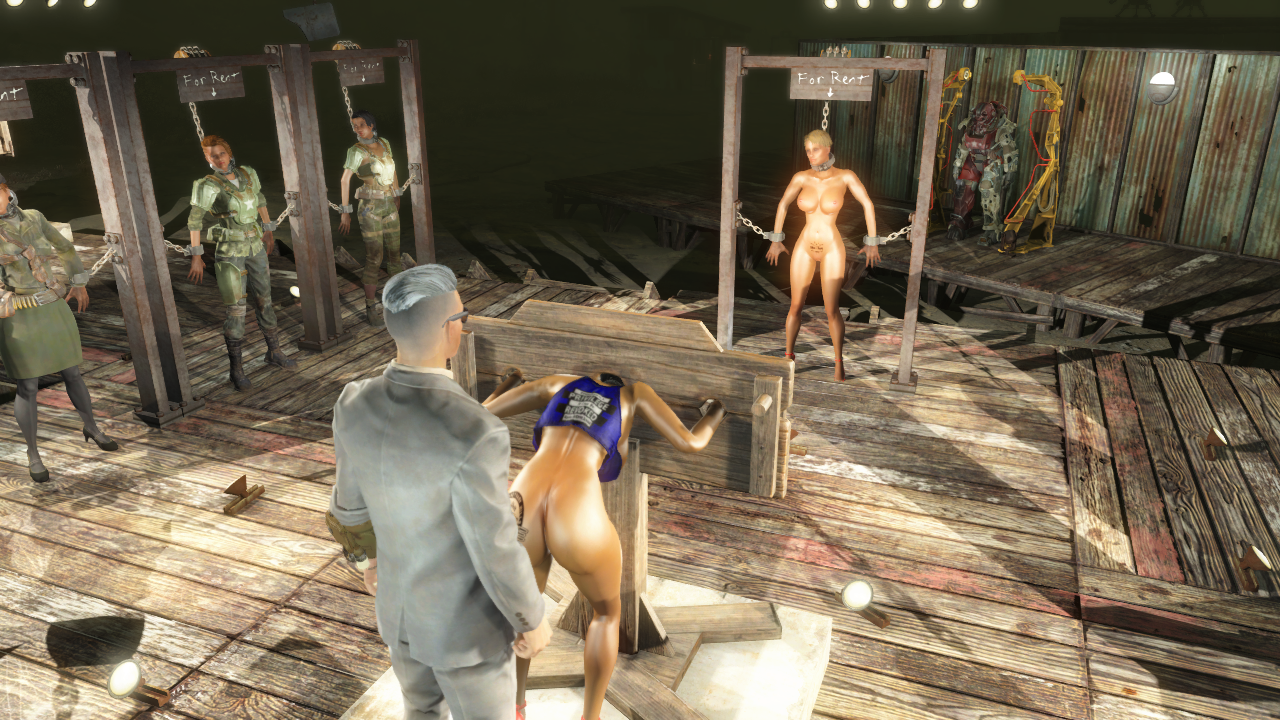 ... as she fails to protect the soldiers under her care.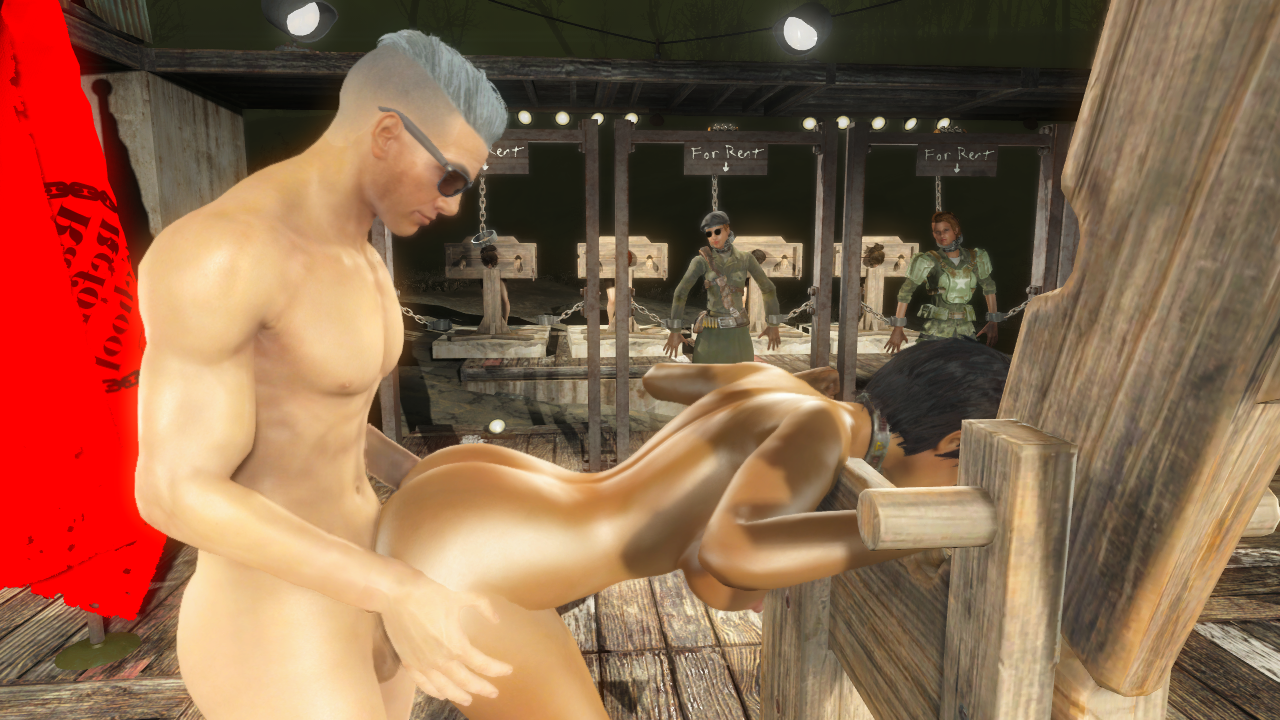 It's just a shame the commander doesn't have a better view of her face.  Look at that expression! Nothing cool or reserved there.
Perhaps we'll let the Commander review the pictures afterwards.
Number One goes back in the stocks, time to peel number two out of her uniform.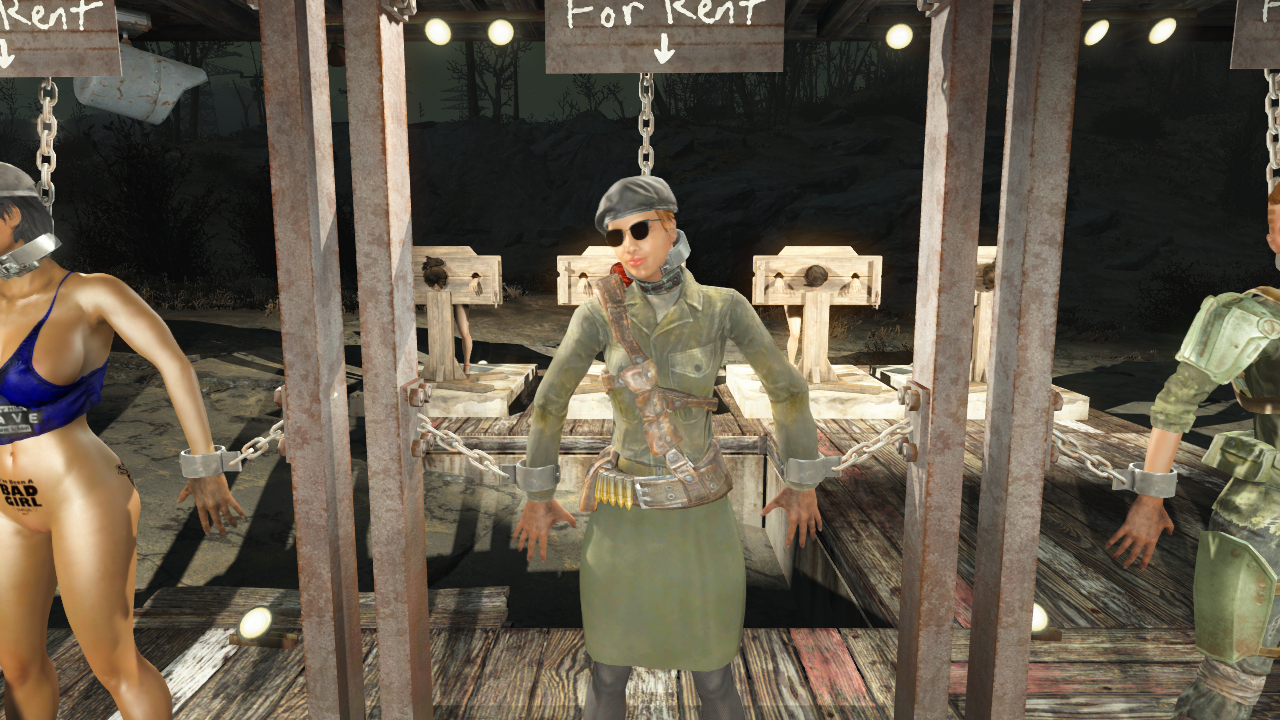 That's better! I decided to brand them all as slaves. It seemed appropriate. I can't see me allowing any of them any real degree of liberty after this.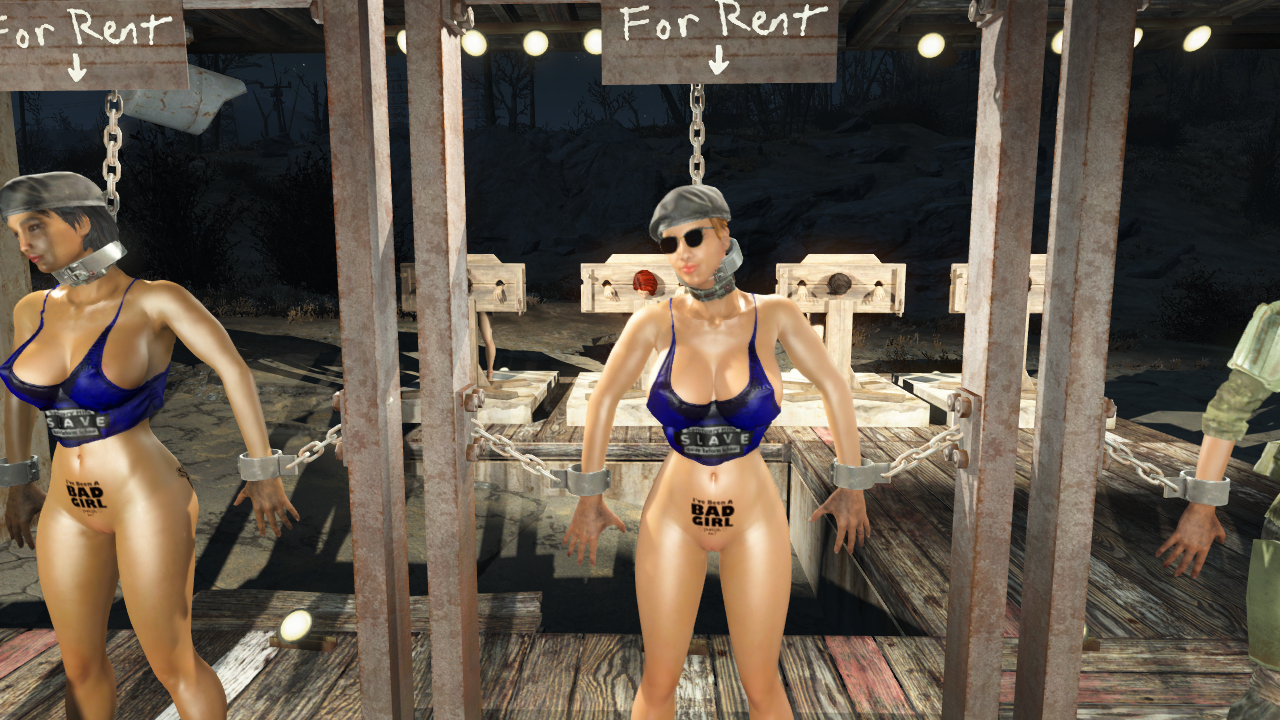 Number two doing the walk of shame. Although her comportment here seems more shameful than ashamed.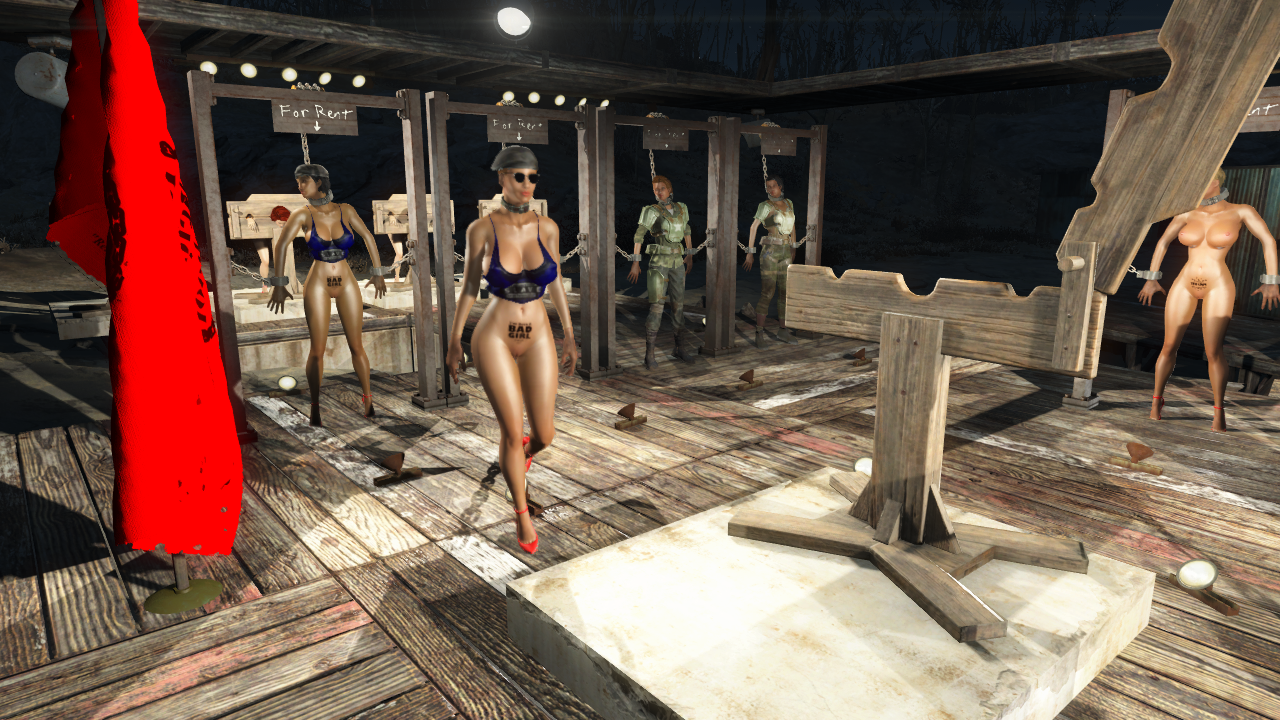 I suppose after what they've seen so far, and knowing how events are are going to proceed, it would be surprising if some of the squad wasn't feeling some degree of arousal as their turn in the stocks arrives.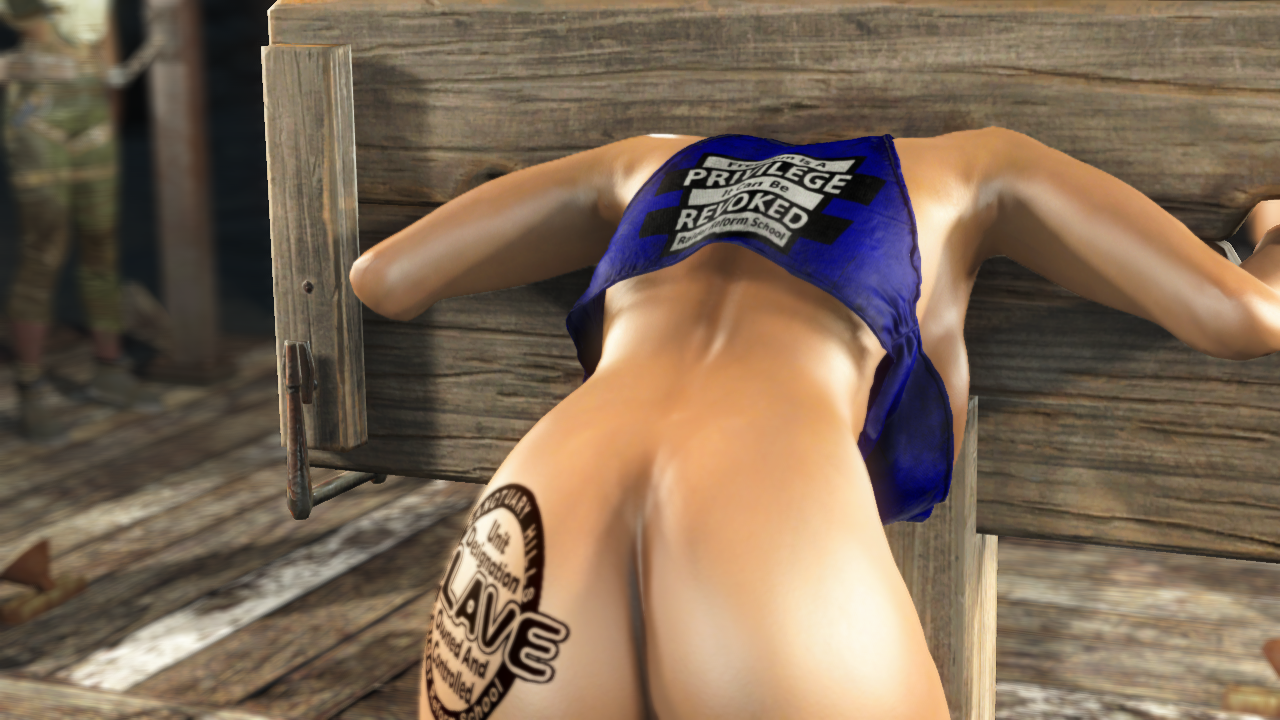 Although I think her commander looks more sad than anything. Had she hoped for more defiance from her girls?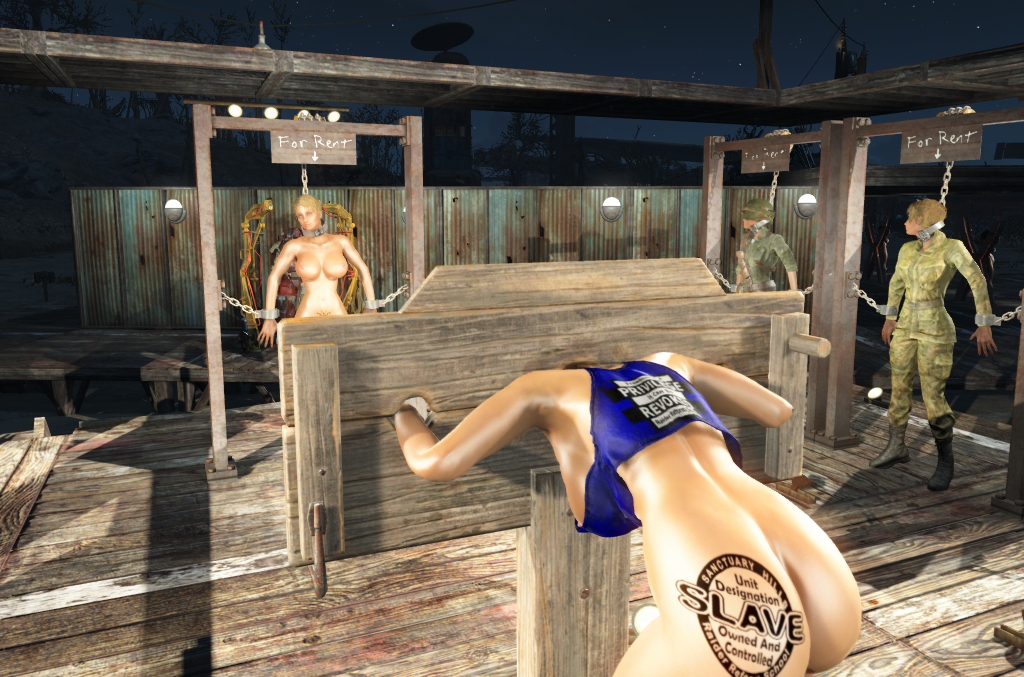 Maybe she is simply resigned to the inevitable: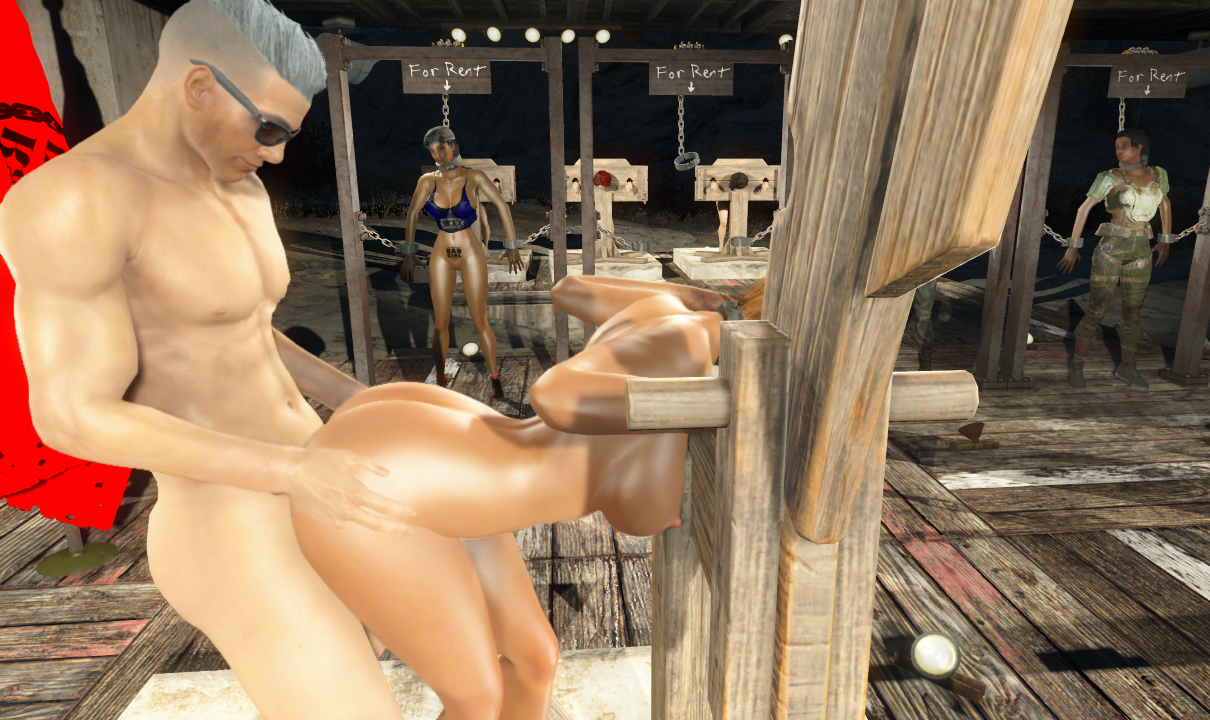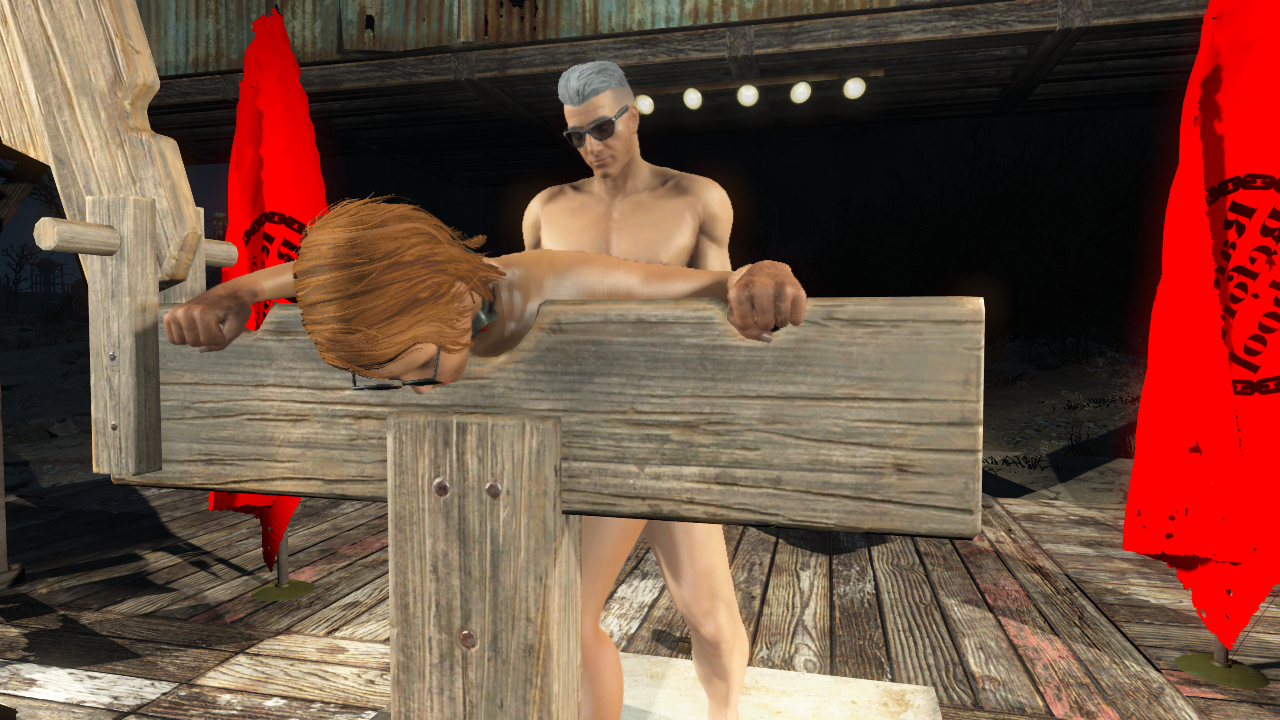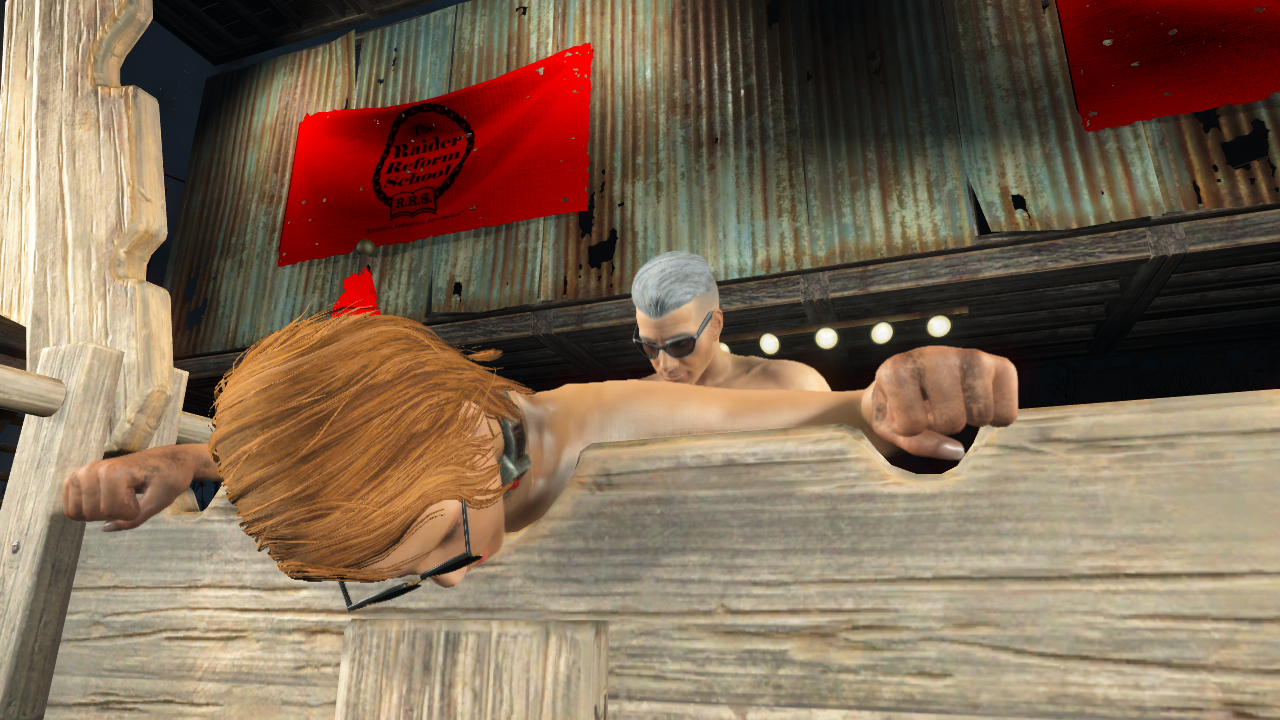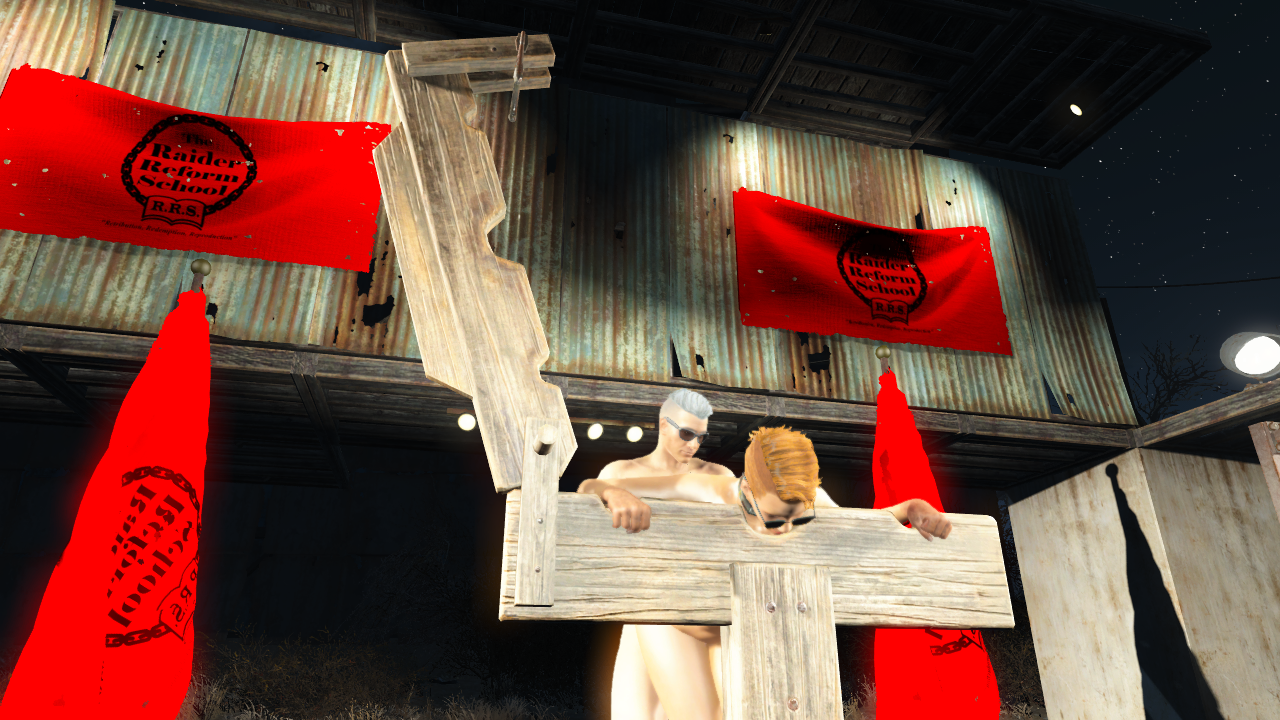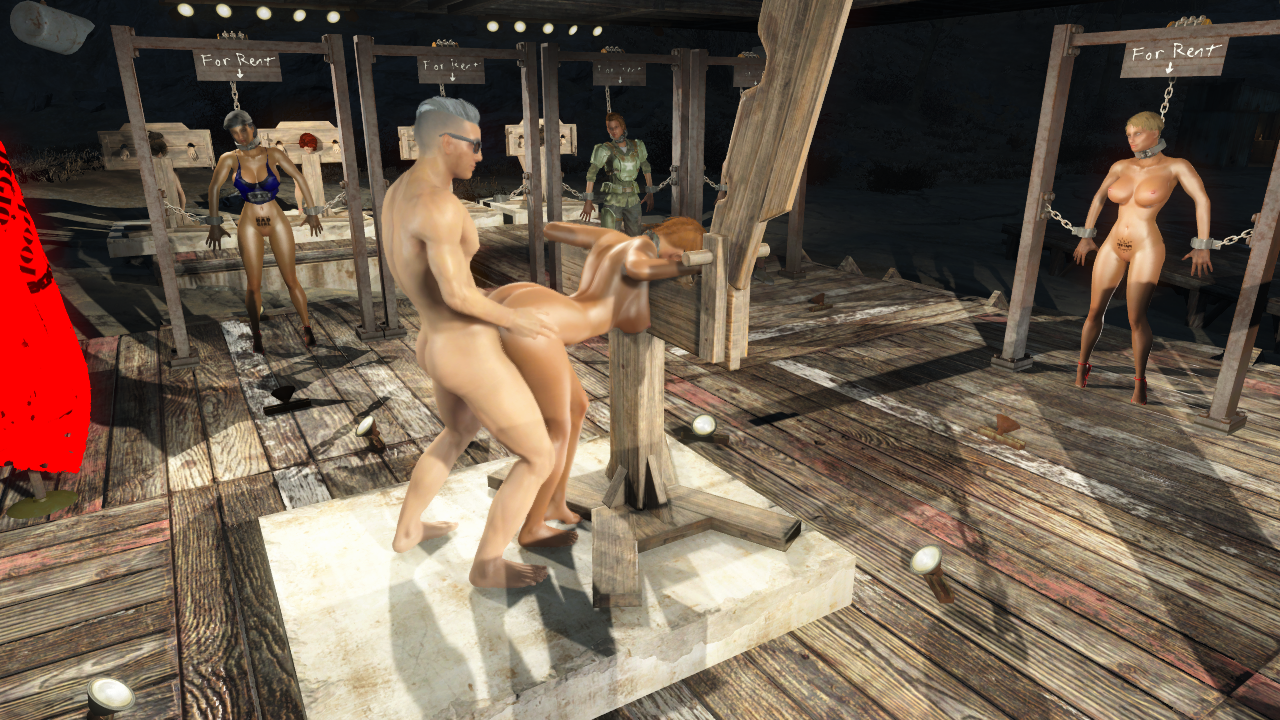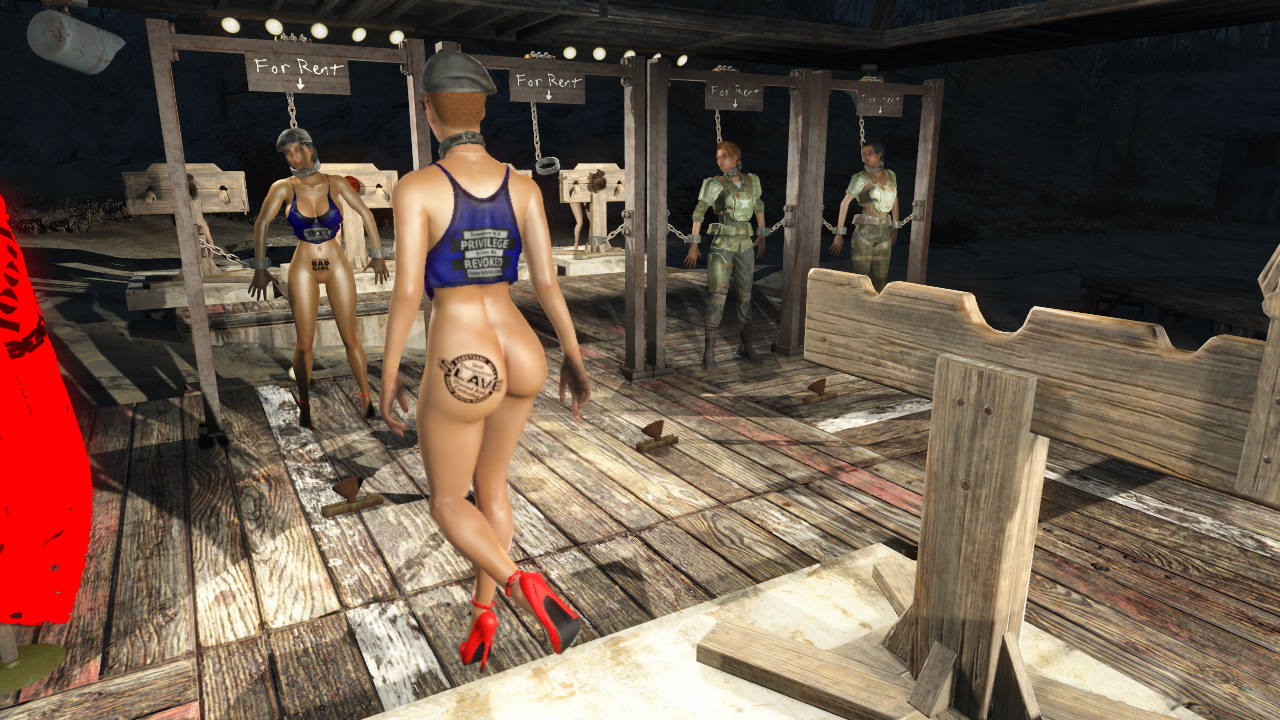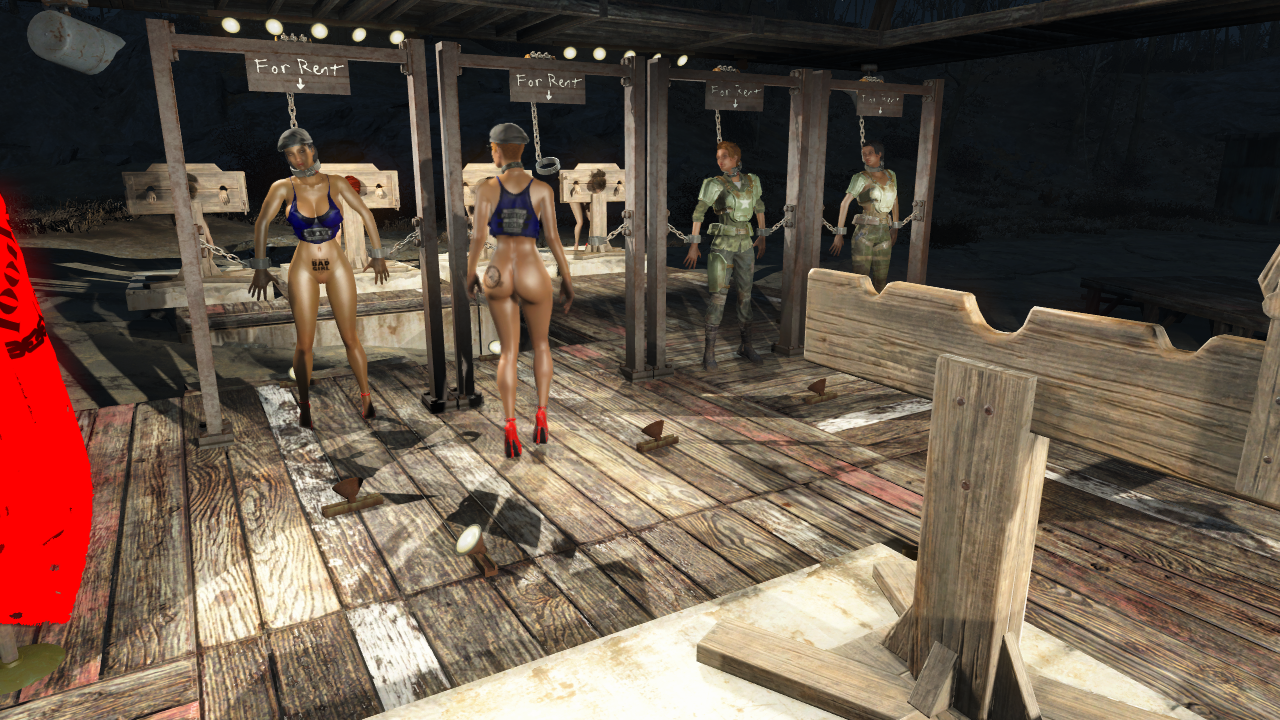 Number Three! Are you ready?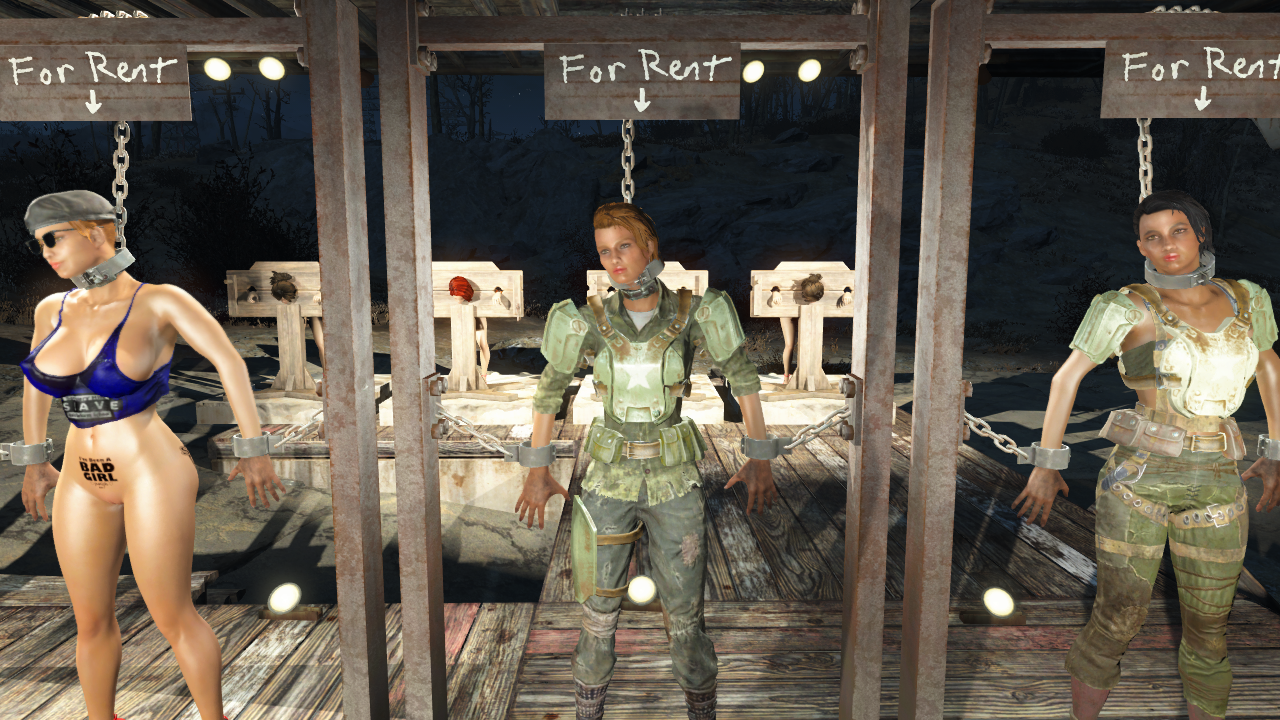 Apparently not quite. Who forgot to strip and brand this prisoner?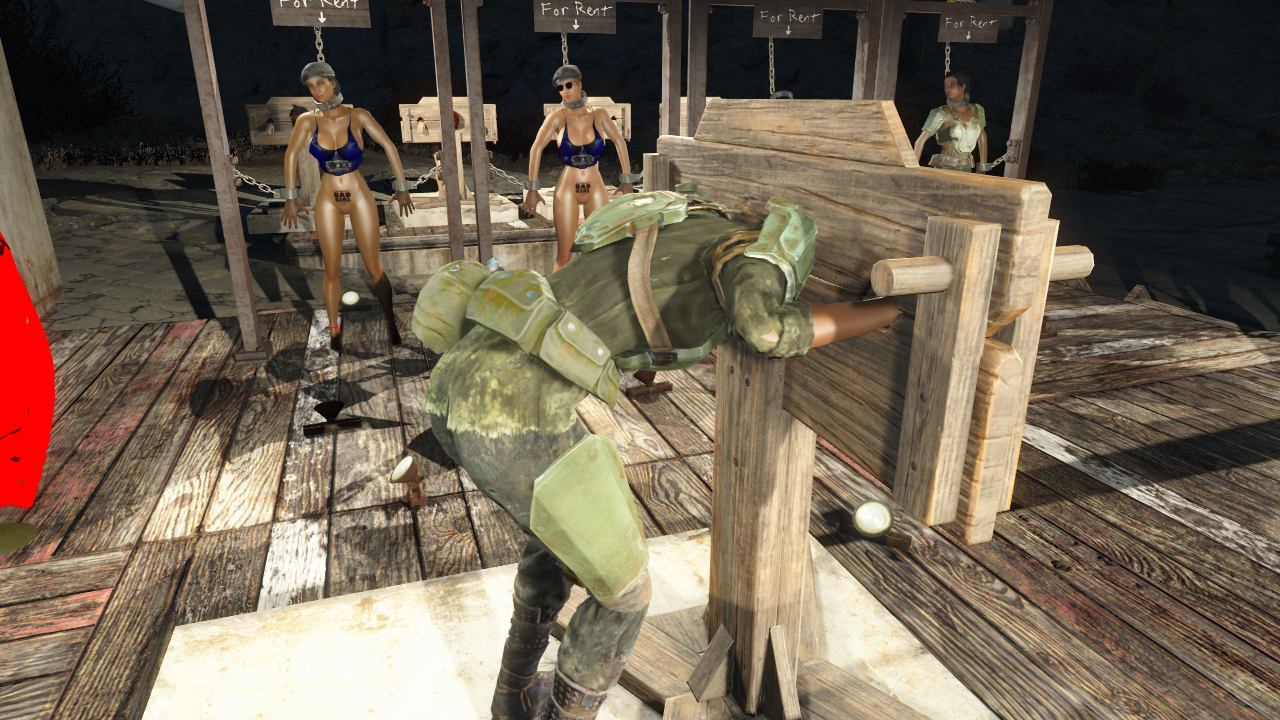 Never mind, easily rectified.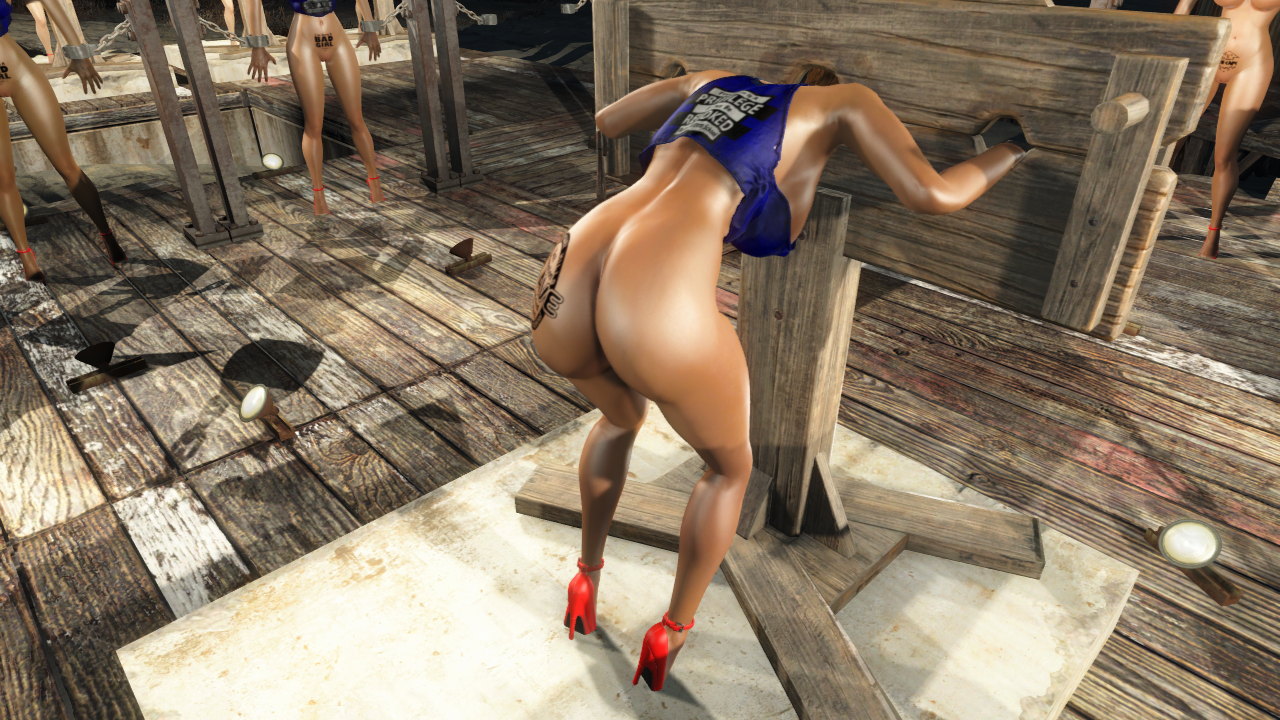 Just think what the other five must be thinking at this point.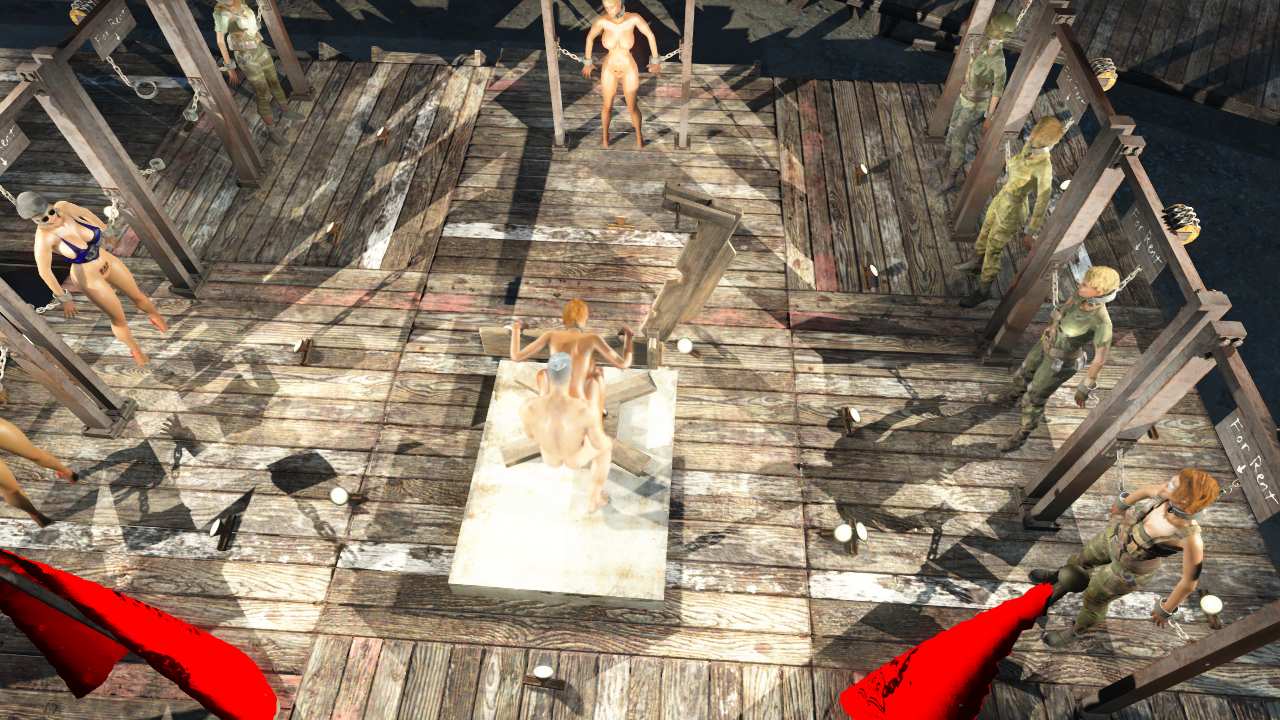 We're not going to repeat that mistake with Number Four. Here she is all prepped and branded in her pillory.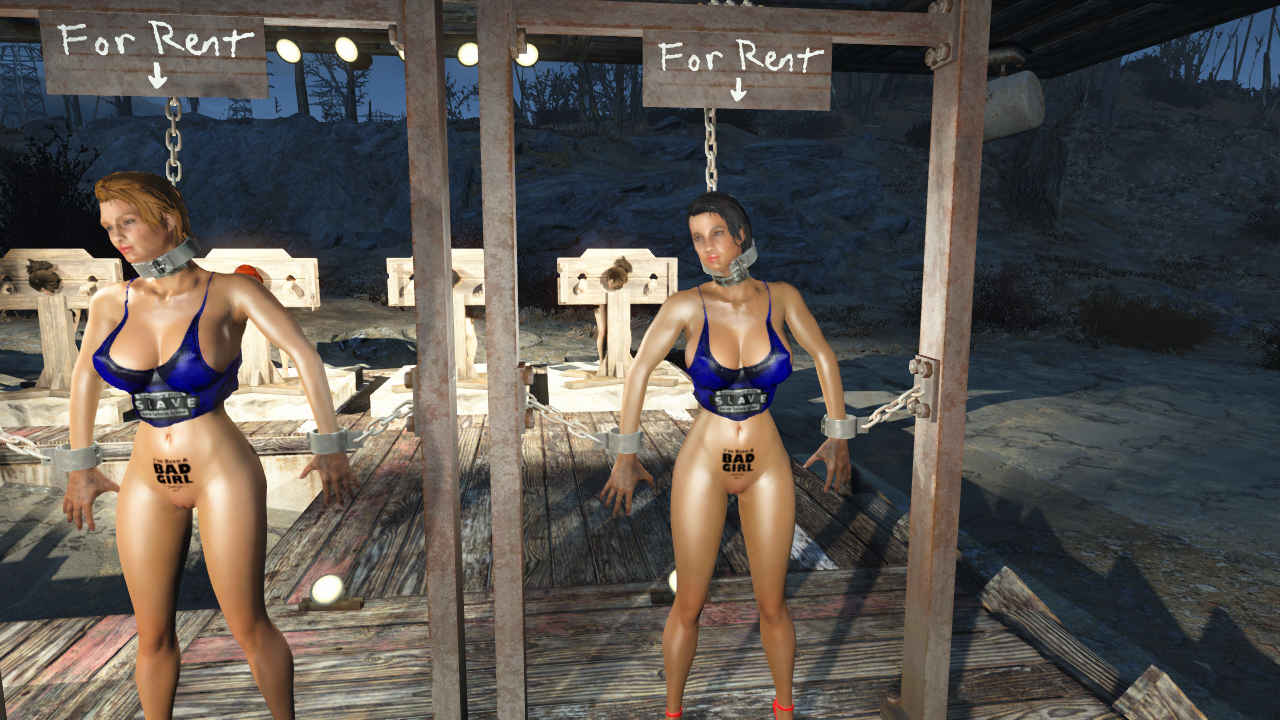 Is she seeking some advice from those who went before her? None of them seem willing to meet her gaze.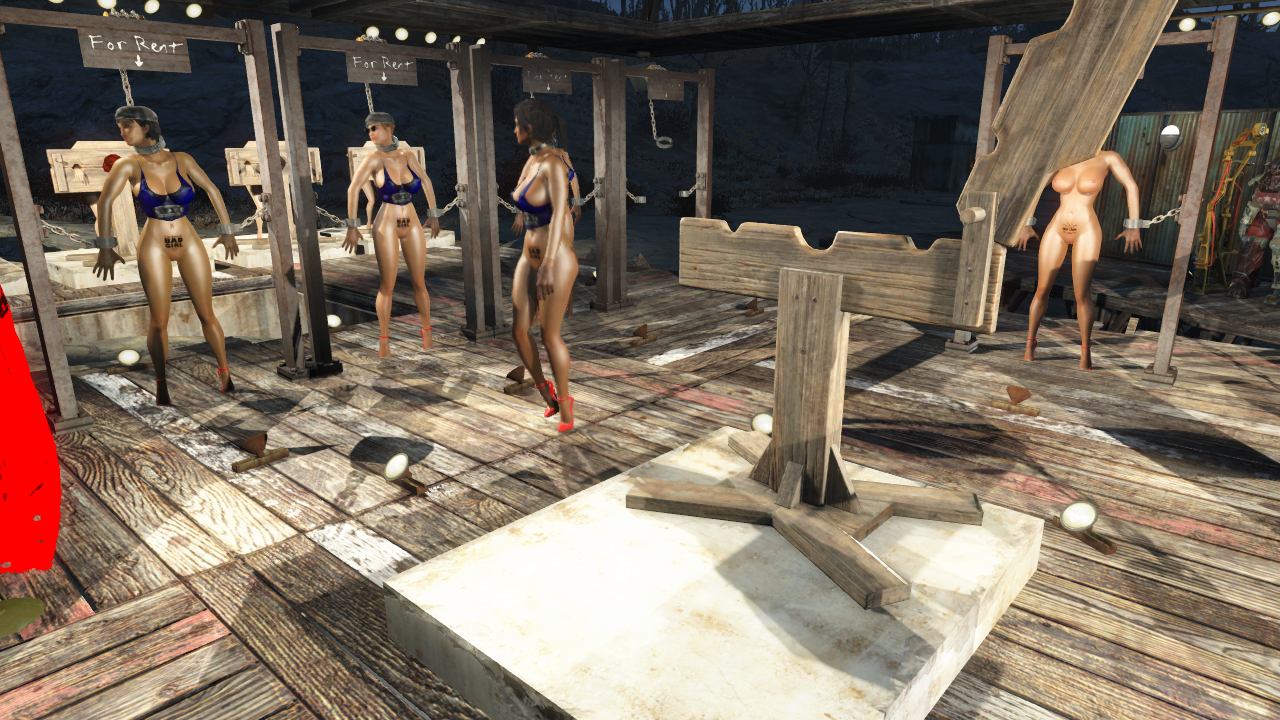 But then...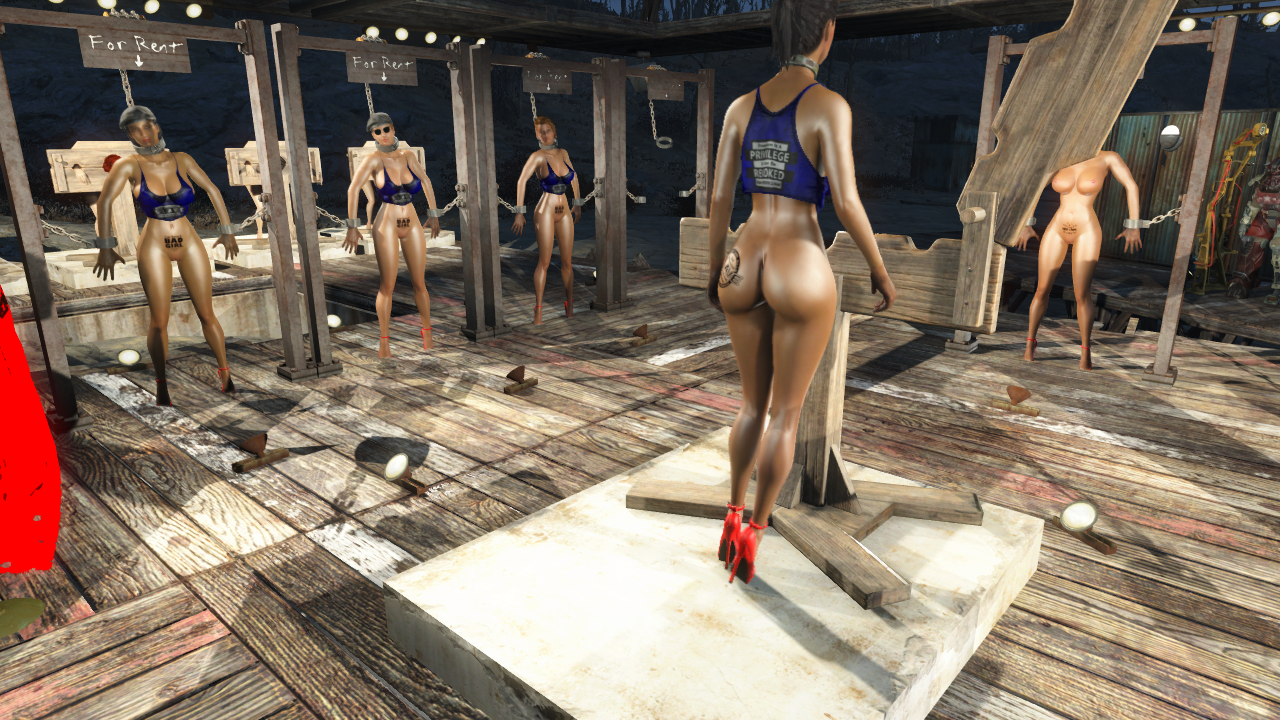 They know better than anyone the inevitability of what happens next.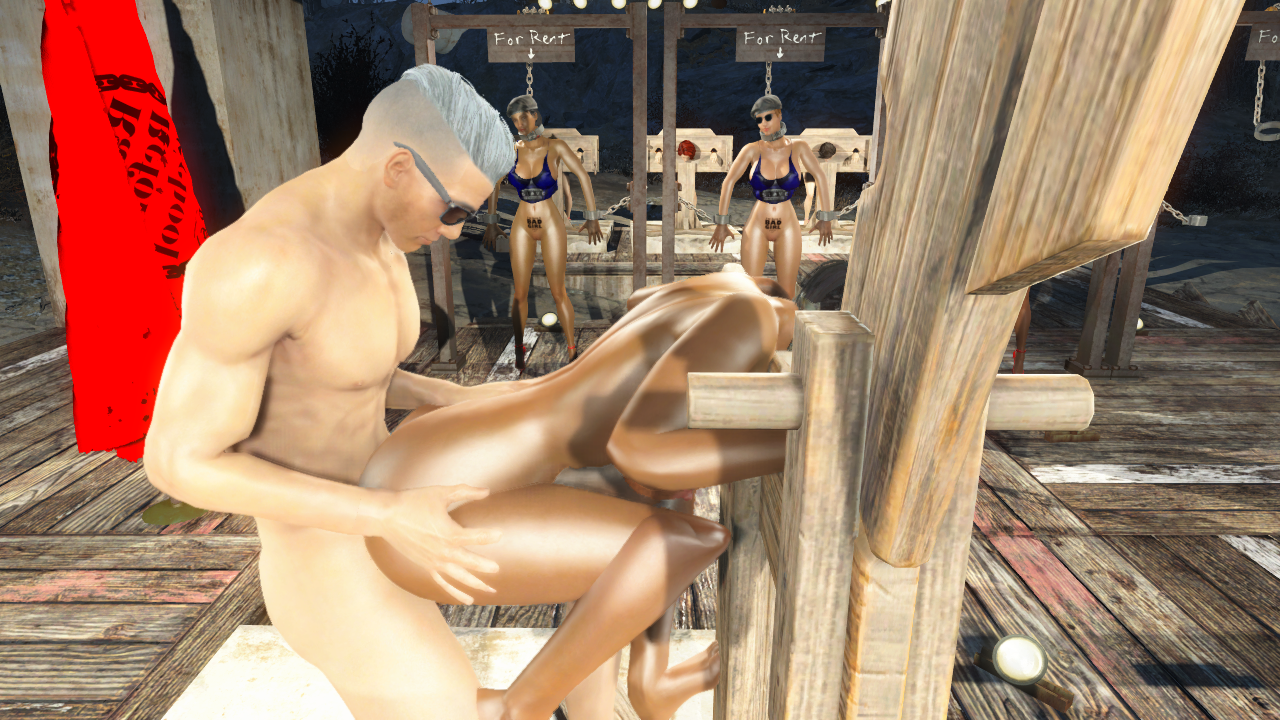 All this time, the Commander gazes on. Not that she really has a choice.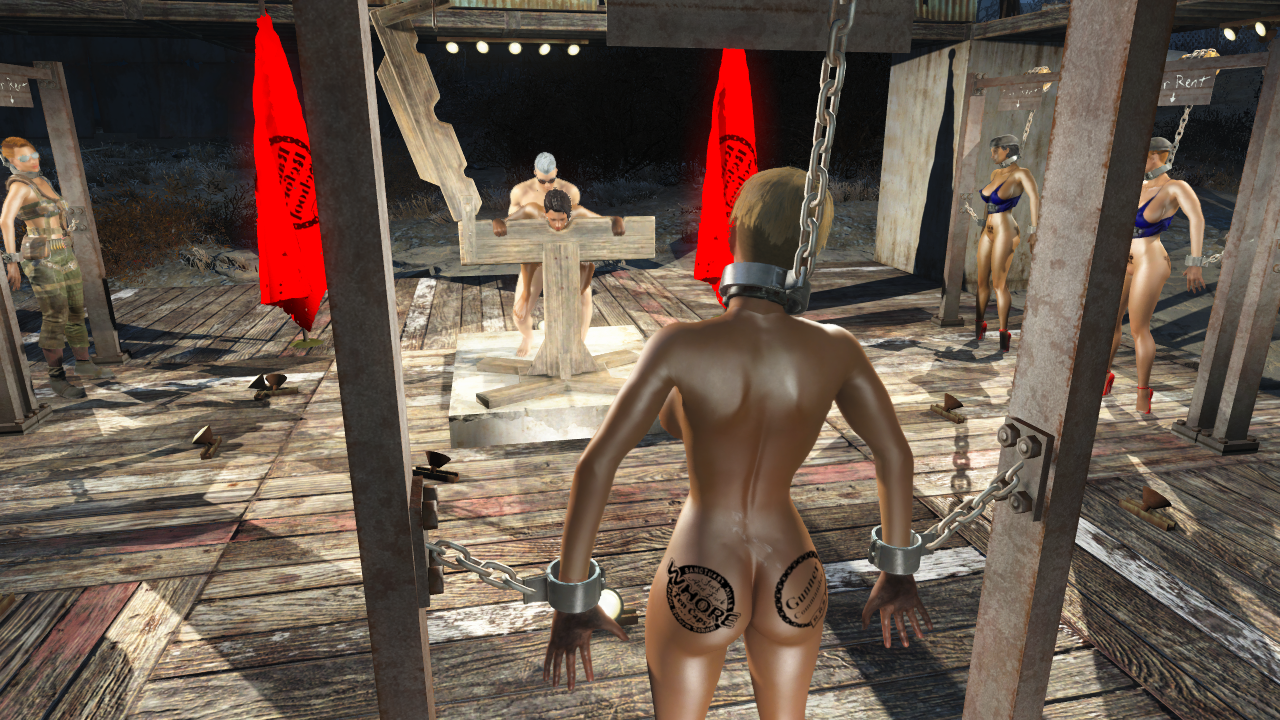 Let her witness the ultimate failure of her command.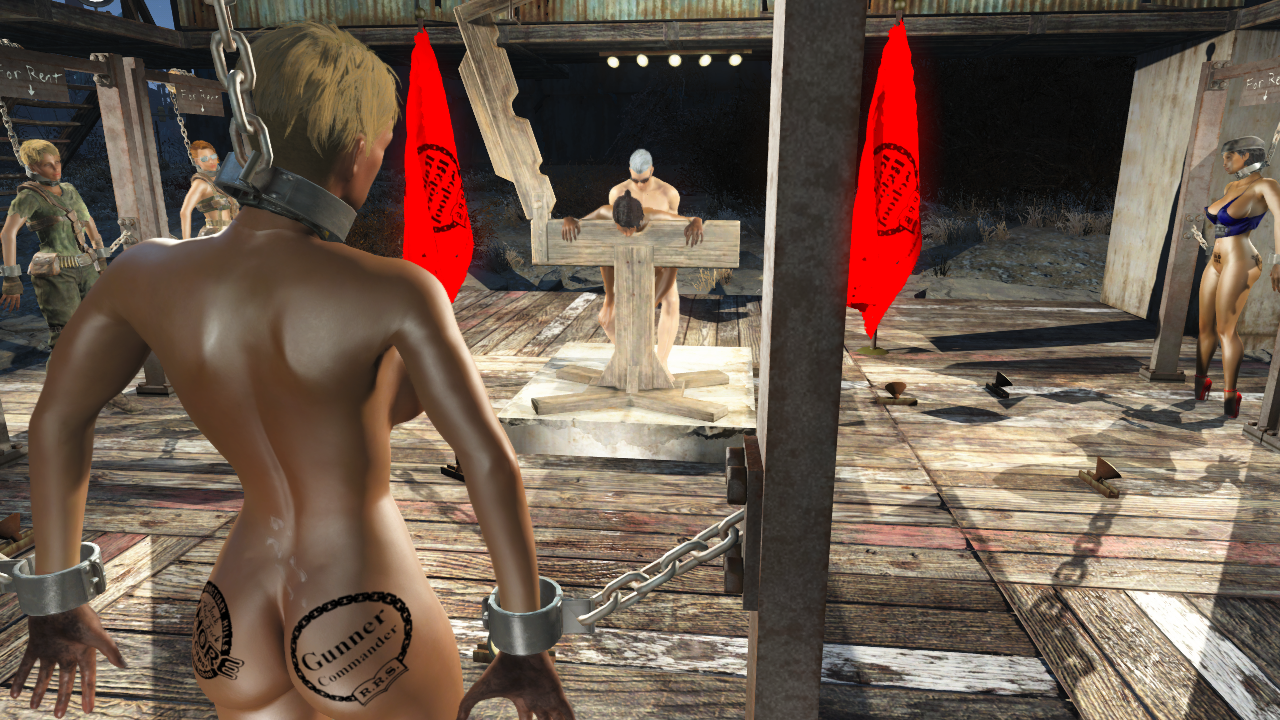 One Gunner at a time.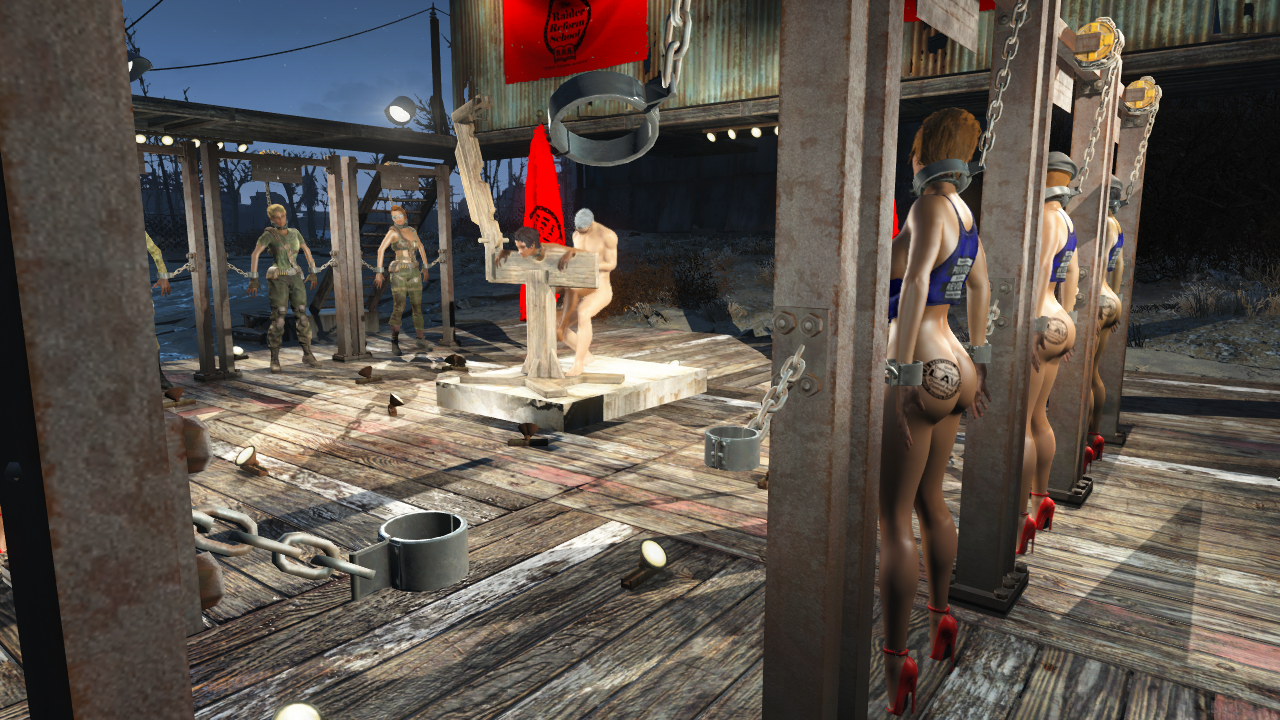 And that brings us to the fifty percent point. Half the commander's girls have been stripped of their rank and uniforms, and issued with the livery and markings of a slave. All of it under her watch.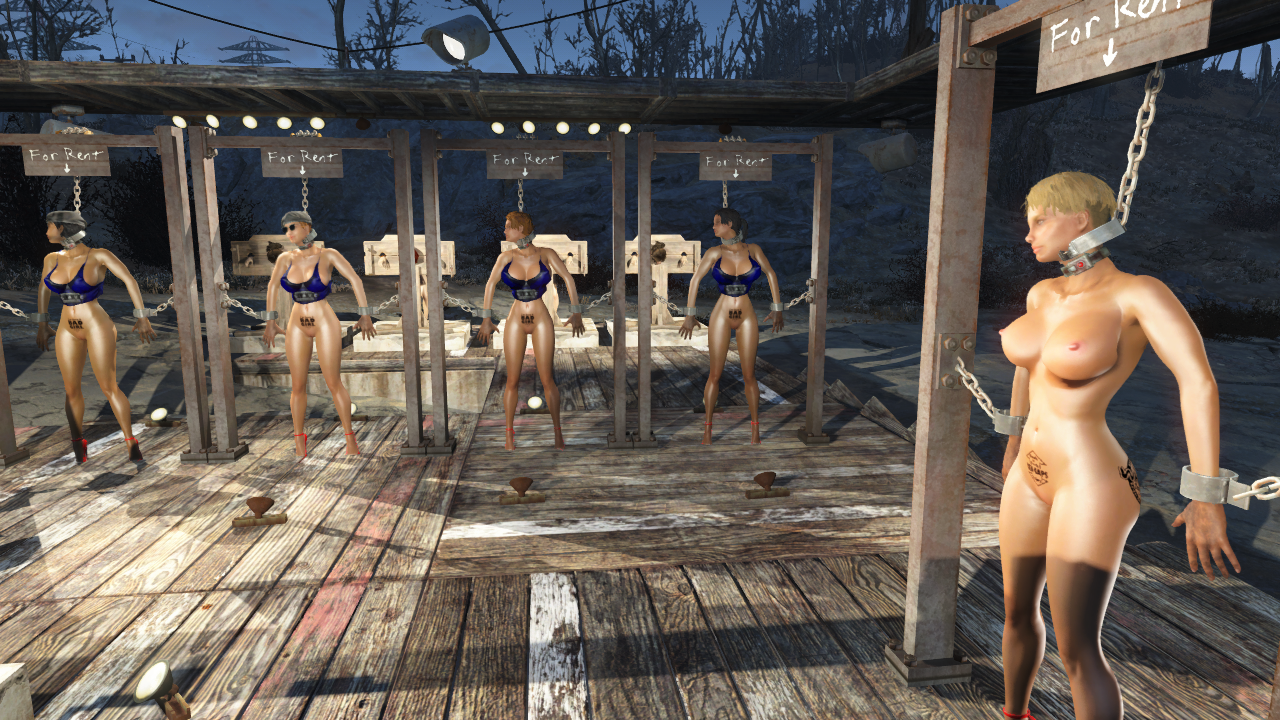 Is there any chance for the other half of her command. I suppose it would only be human to hope at this point. Be it ever so much in vain.
Let's have a look at Number Five.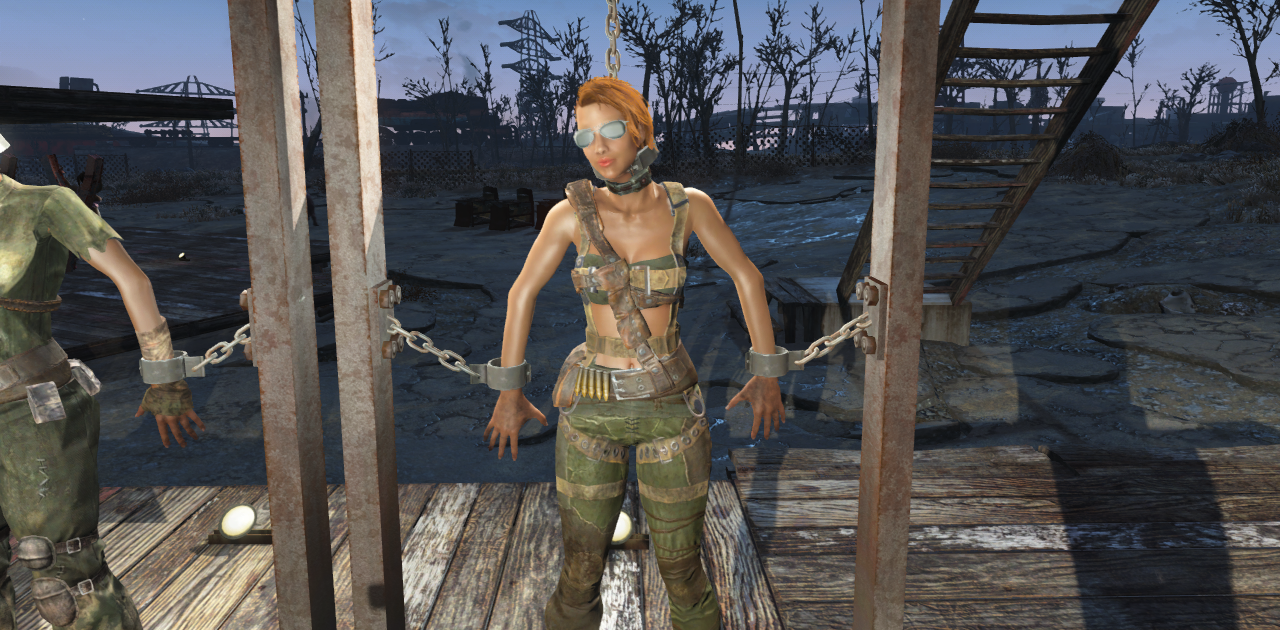 The Commander turns her head away as Number Five starts her walk.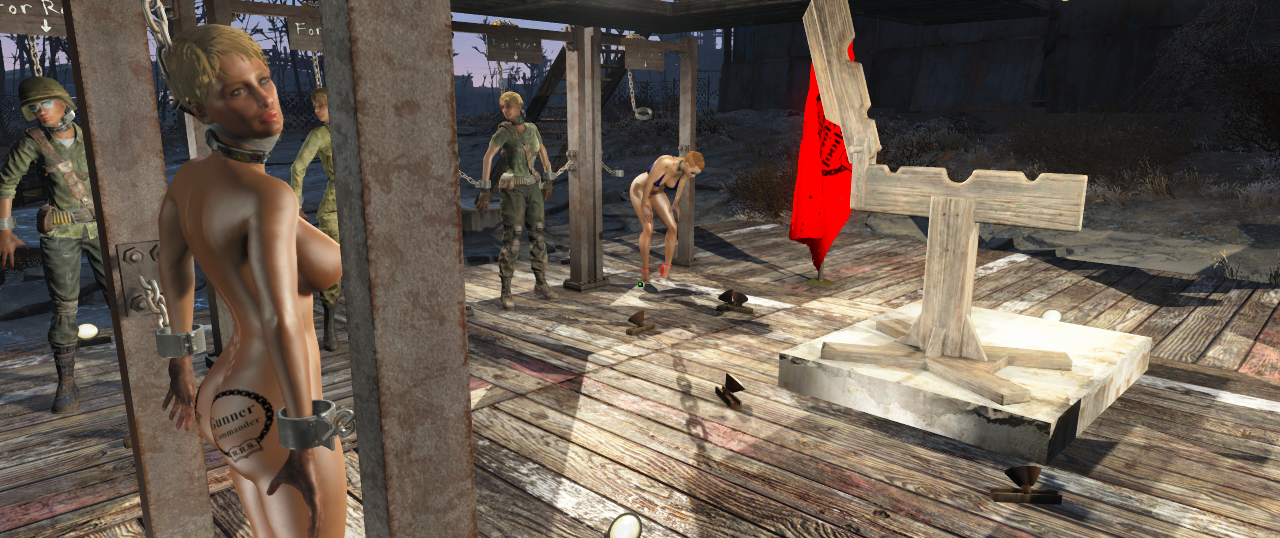 Really, there are no good solutions here. Either the Commander watches, and so adds to the shame of her trooper, or else she looks away and demonstrates a lack of courage and compassion. Either way, she cannot win.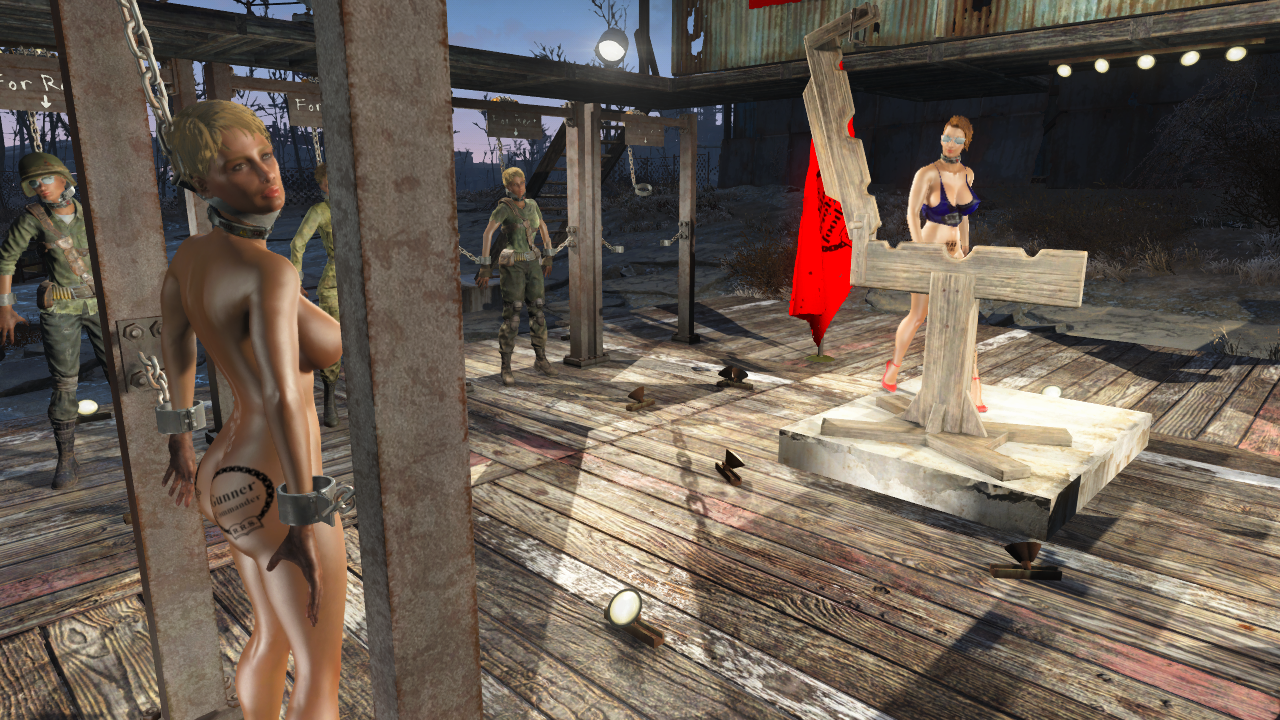 Of course, the same can be said of Number Five...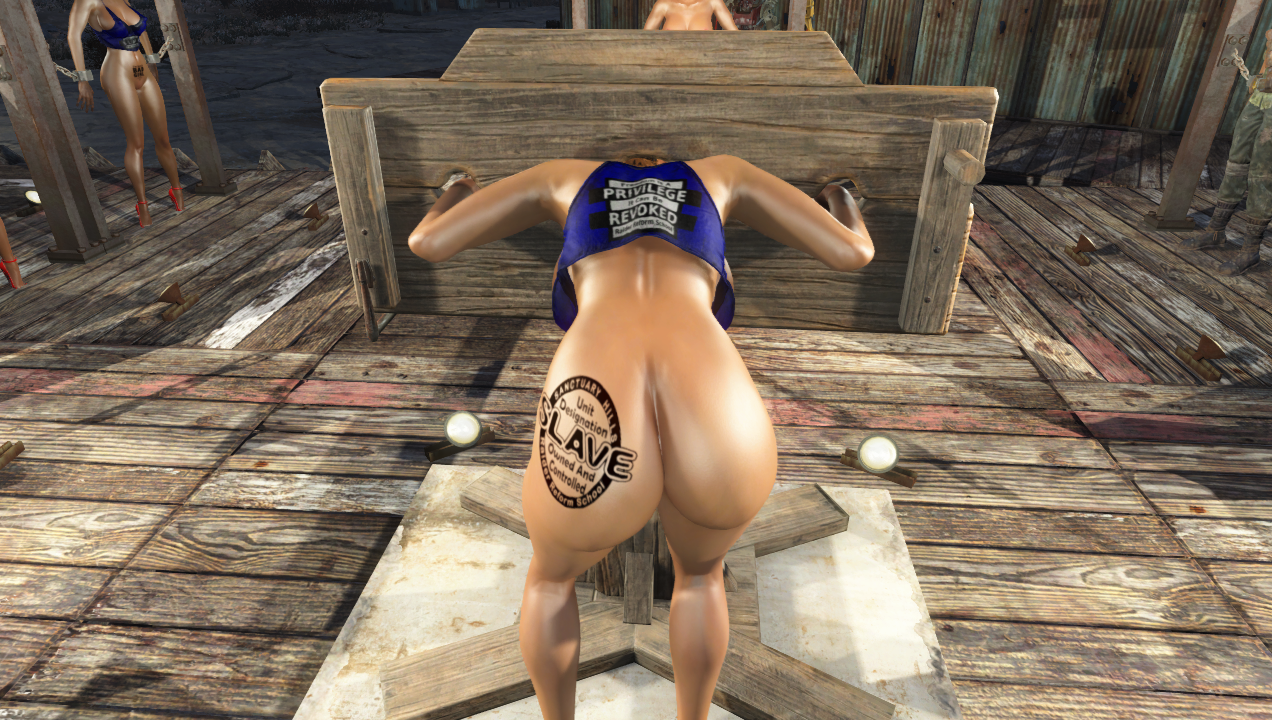 ... who most definitely cannot win.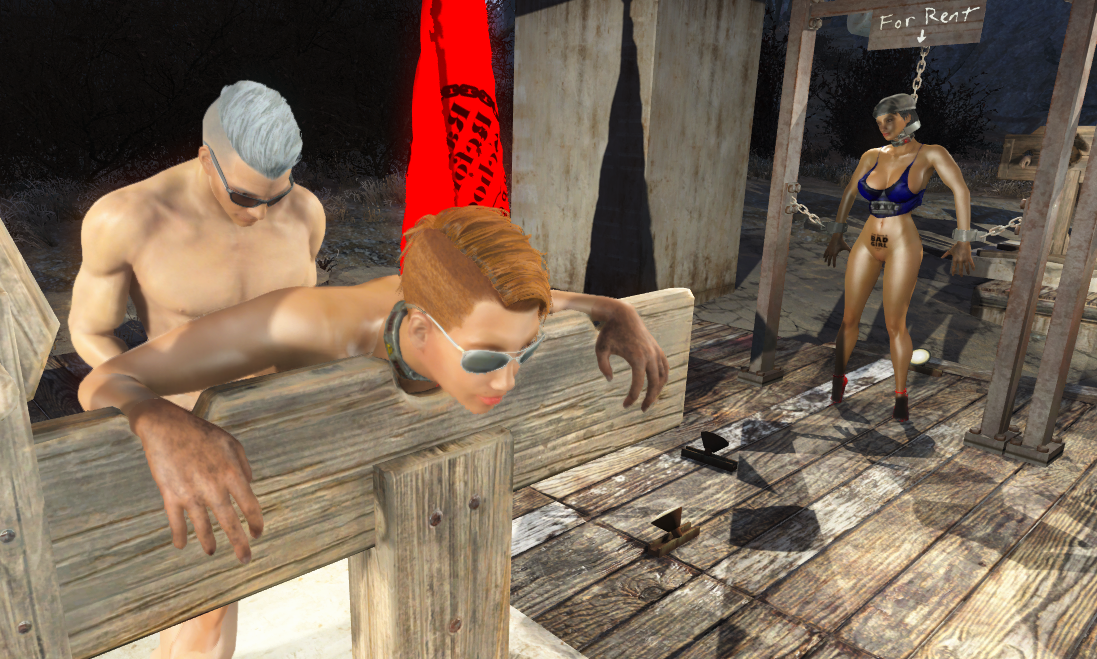 Is that semen drying on the Commander's back? Just one more way for everyone to see how she has been used.
Number five is back in her chains. Time to give Number Six the treatment. And I'm not talking about Patrick McGoohan.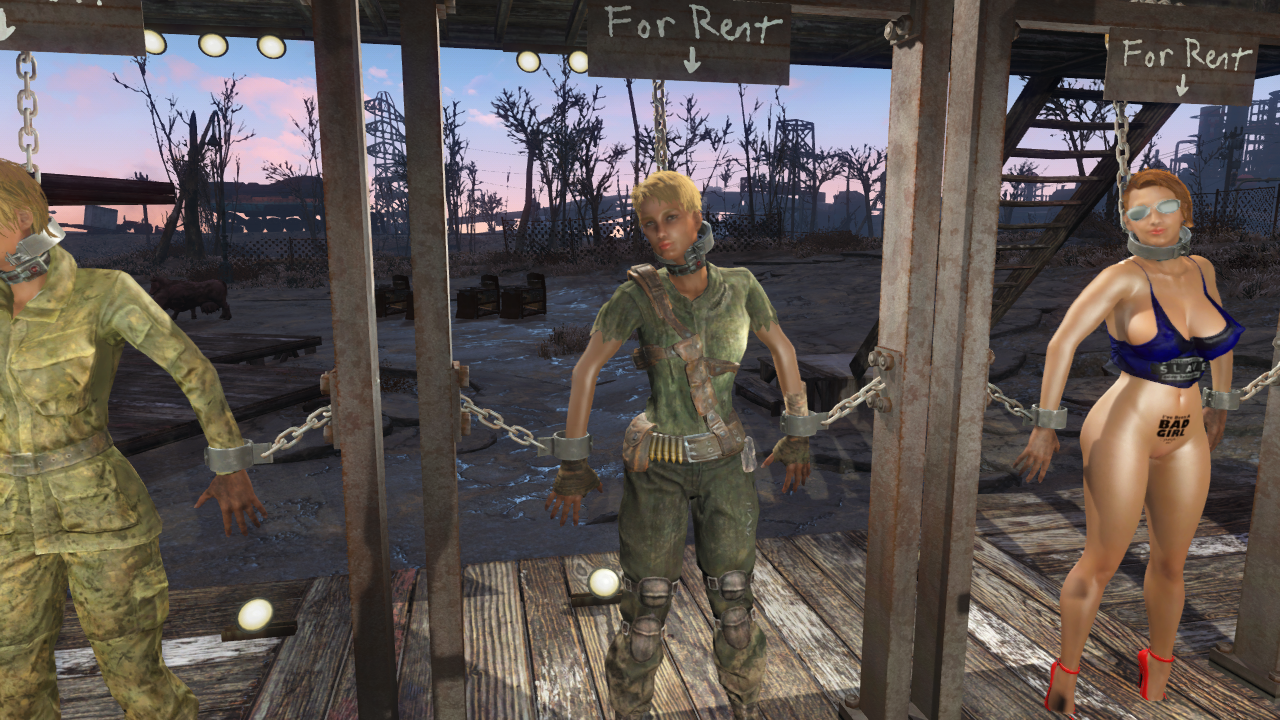 We've been at this a fair while now. Considering that we started at midnight, we're in danger of losing the light.
I might have to take a break and resume when it gets dark again.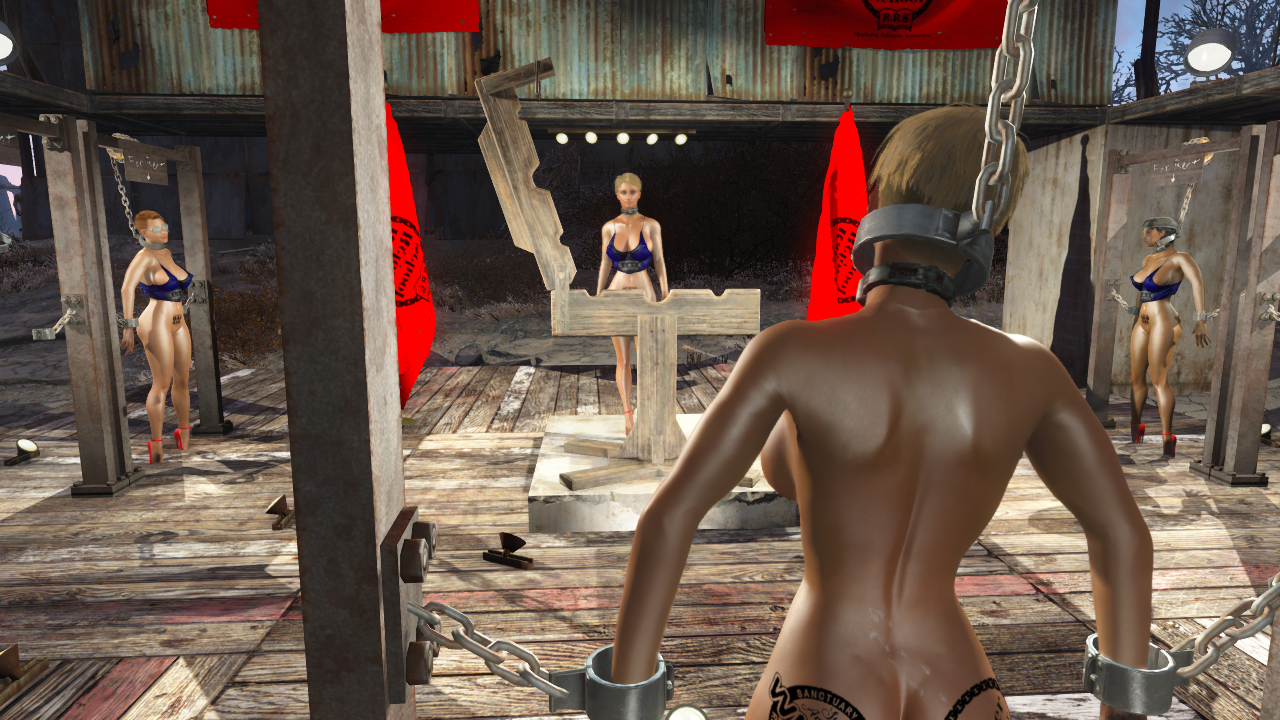 Let's get Number Six in the stocks.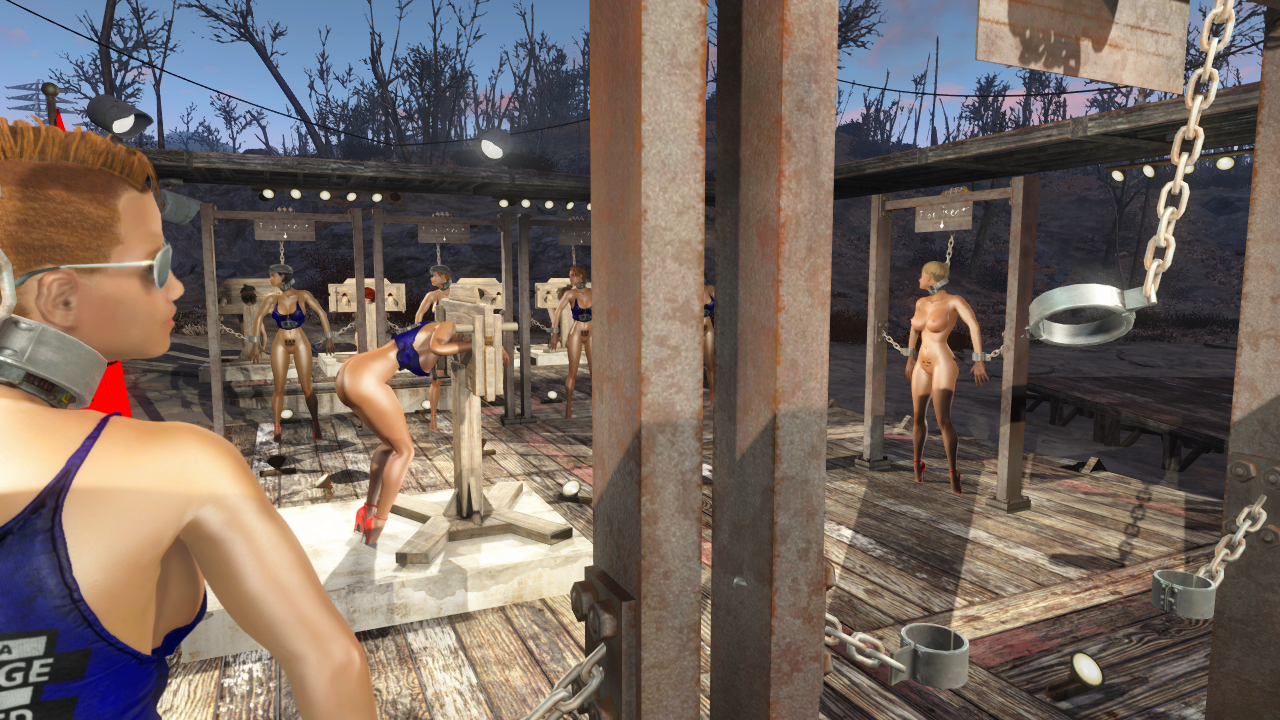 And it's no good. I can't do it!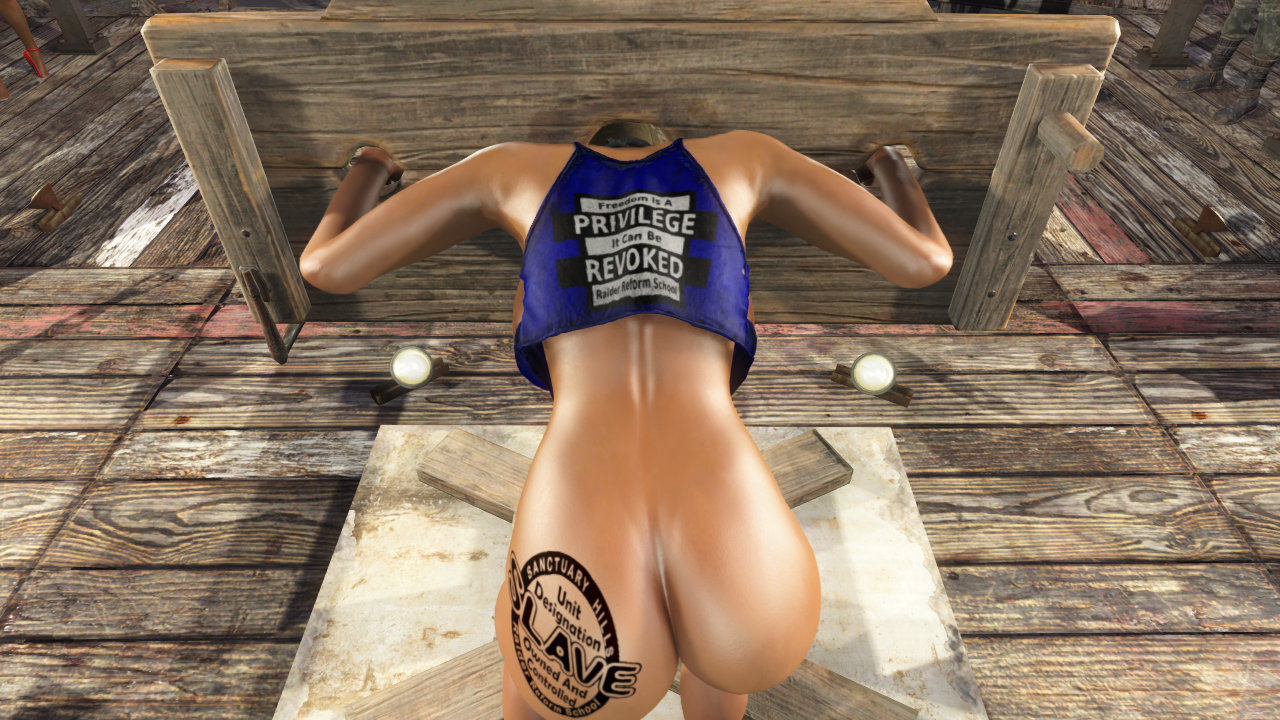 I mean, just look at the color of that sky!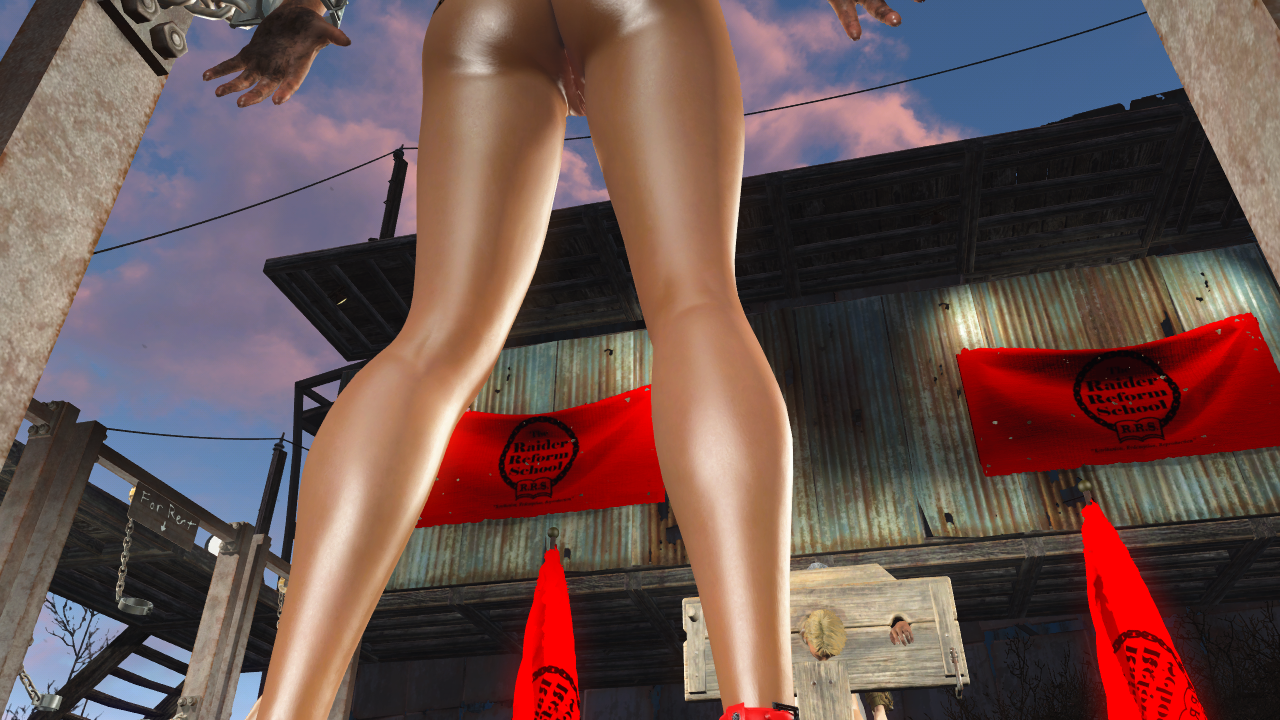 So I decided to take a break and resume again at midnight. If I had my time over, I'd probably keep going at this point, valuing the continuity of experience over quality of lighting ... but done is done. So I left the soldier girls to contemplate what had been (or soon would be) done to them, and went to get a little rest.
Although not before giving a brisk seeing-to to one of my courser chicks. I mean she's been watching it all since the start. She's probably got some pent up tension of her own that needs taking care of.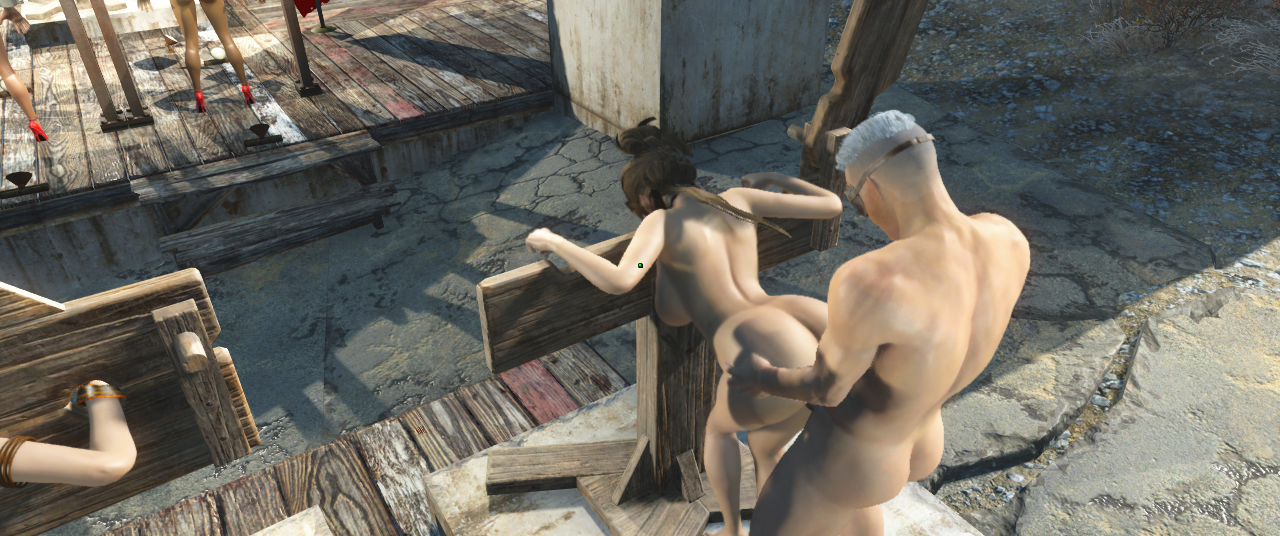 I know what you're thinking: "where does he get the stamina?" Personally, I'm going to call it a Perk. Like regenerating in sunlight, or being able to breathe underwater. It's probably the radiation that does it.
Still, my reserves are not boundless, so I went to take a much needed nap.
Afterwards, I walked back to the stage past the Starlight Breeding Pen. I believe that's dark enough for my purposes.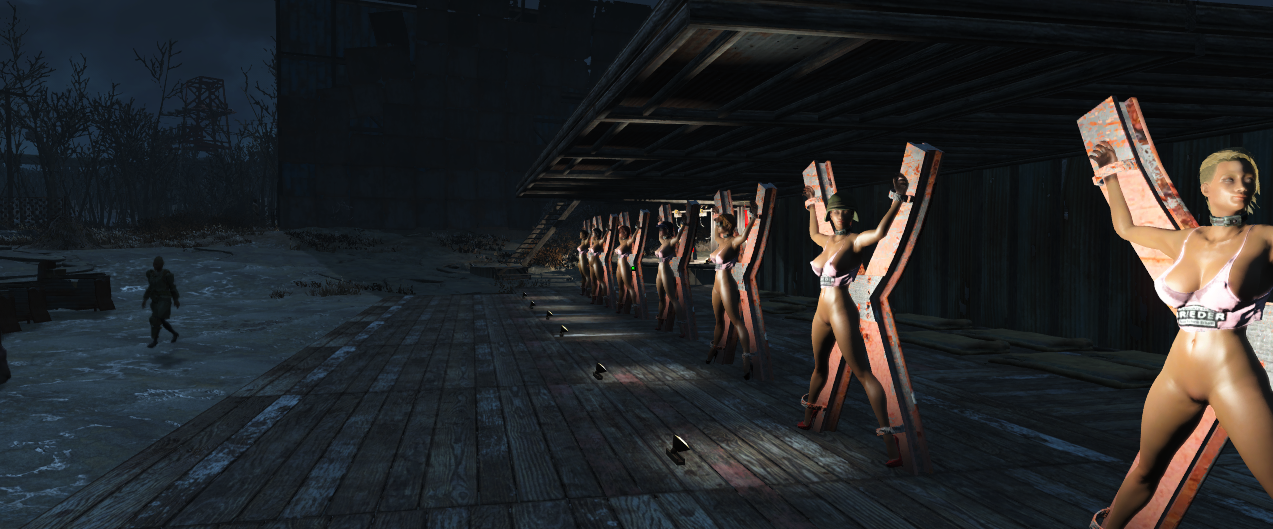 Dearly Beloved, we are gathered here today to fuck the shit out of Number Six. Get back in your chains, Five, I won't tell you again!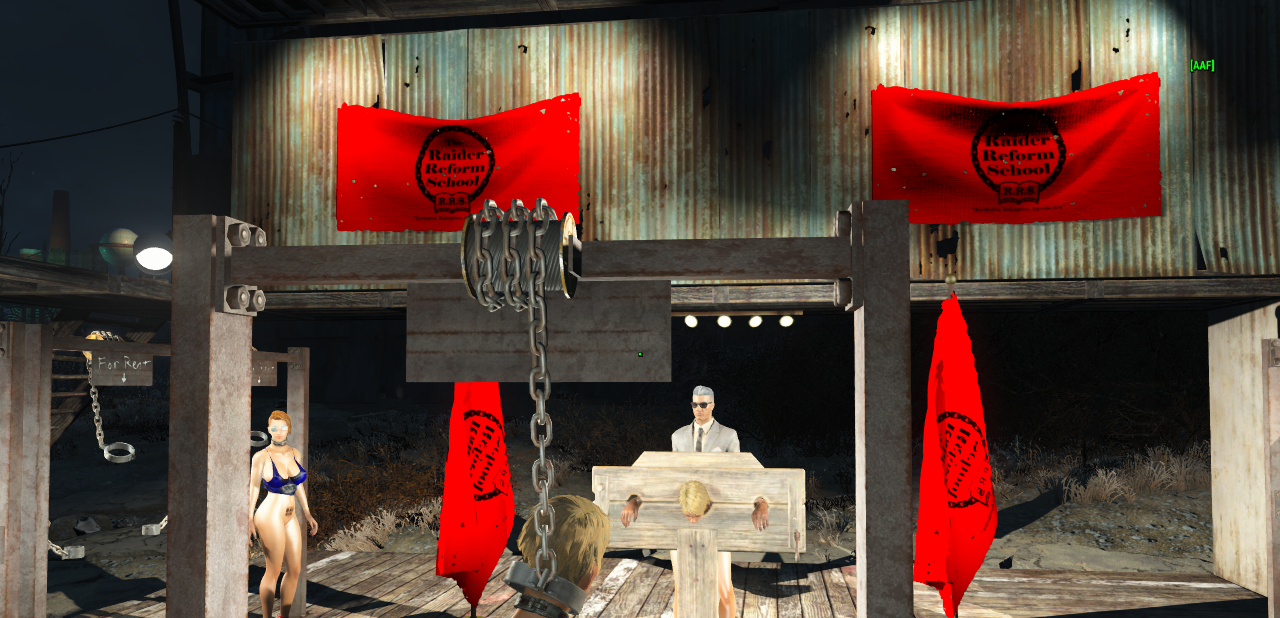 Was it worth waiting for? Personally, I'm going to go with "Yes".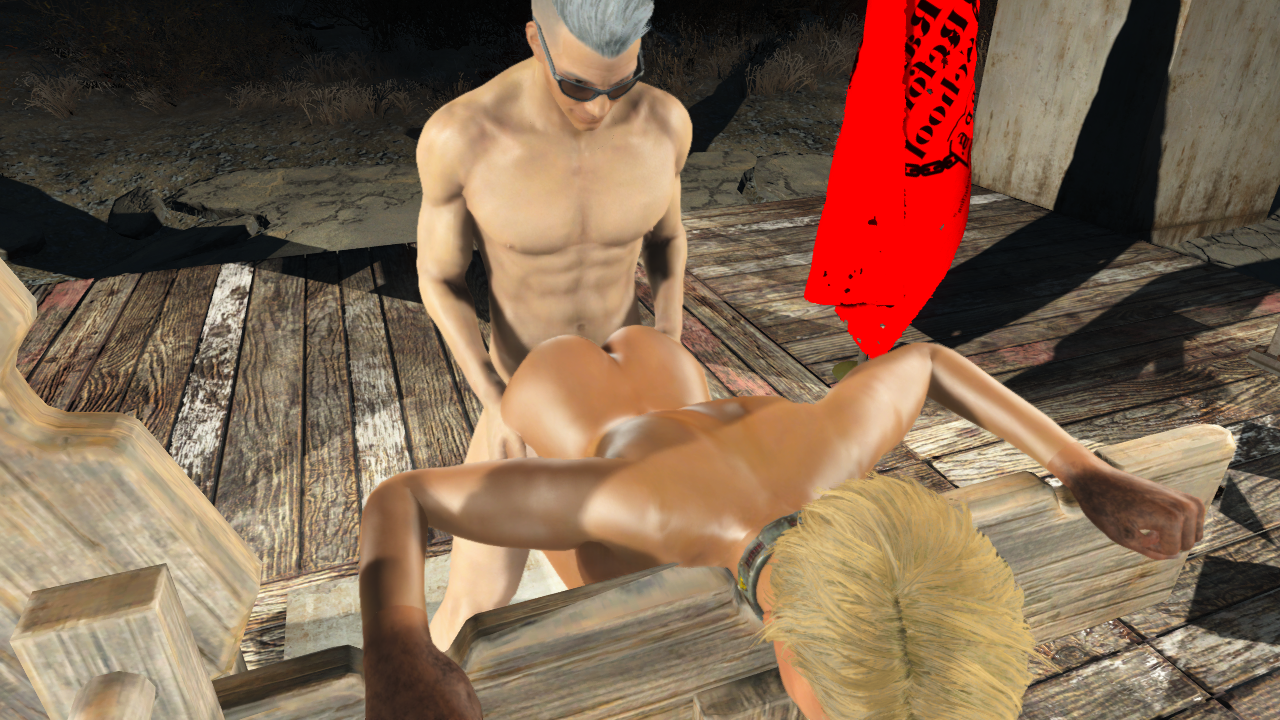 "Look at what remains of your squad, Commander! Only two more to go after this!"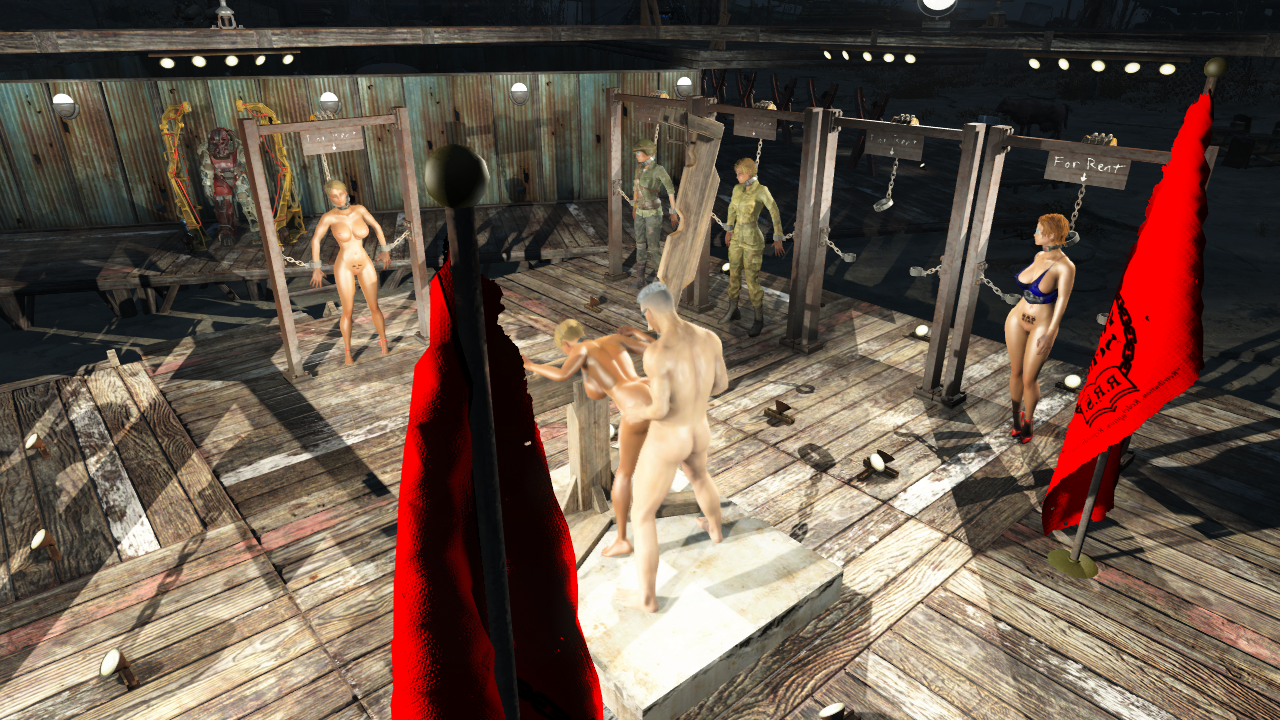 Don't avert your gaze like that. Have the courage to meet your trooper's eyes!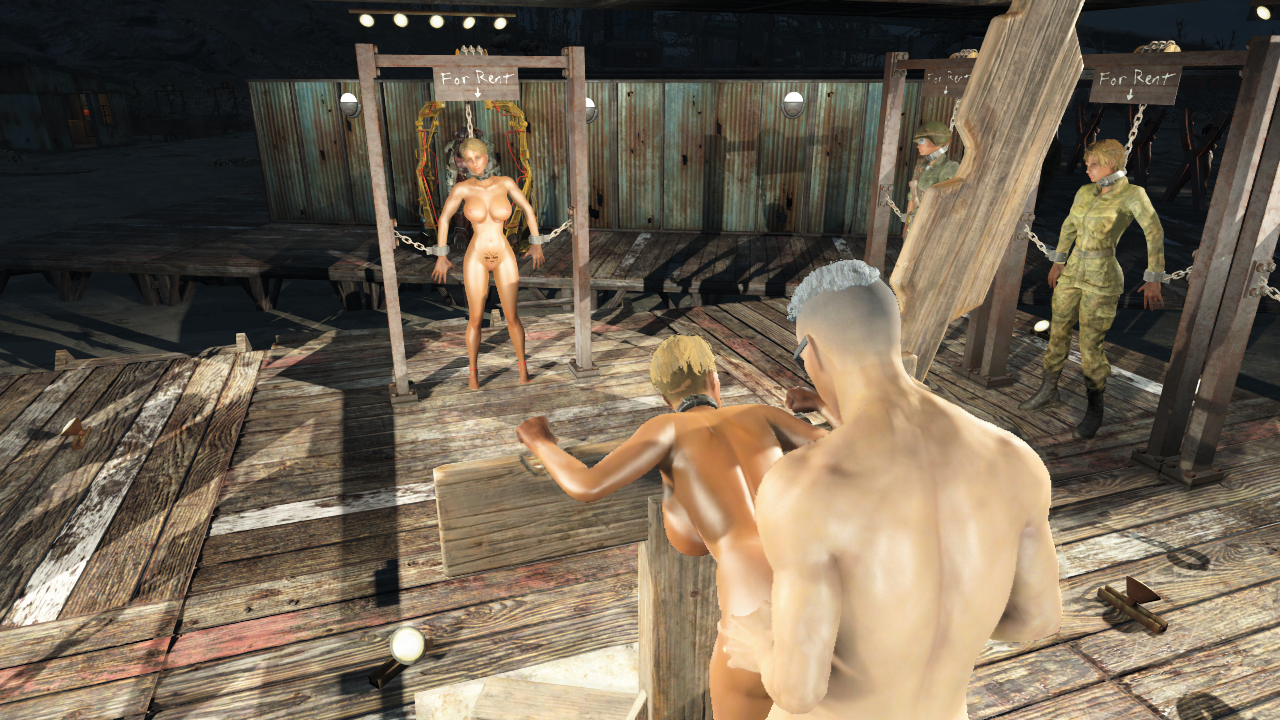 Look at that smile! I think we've broken her.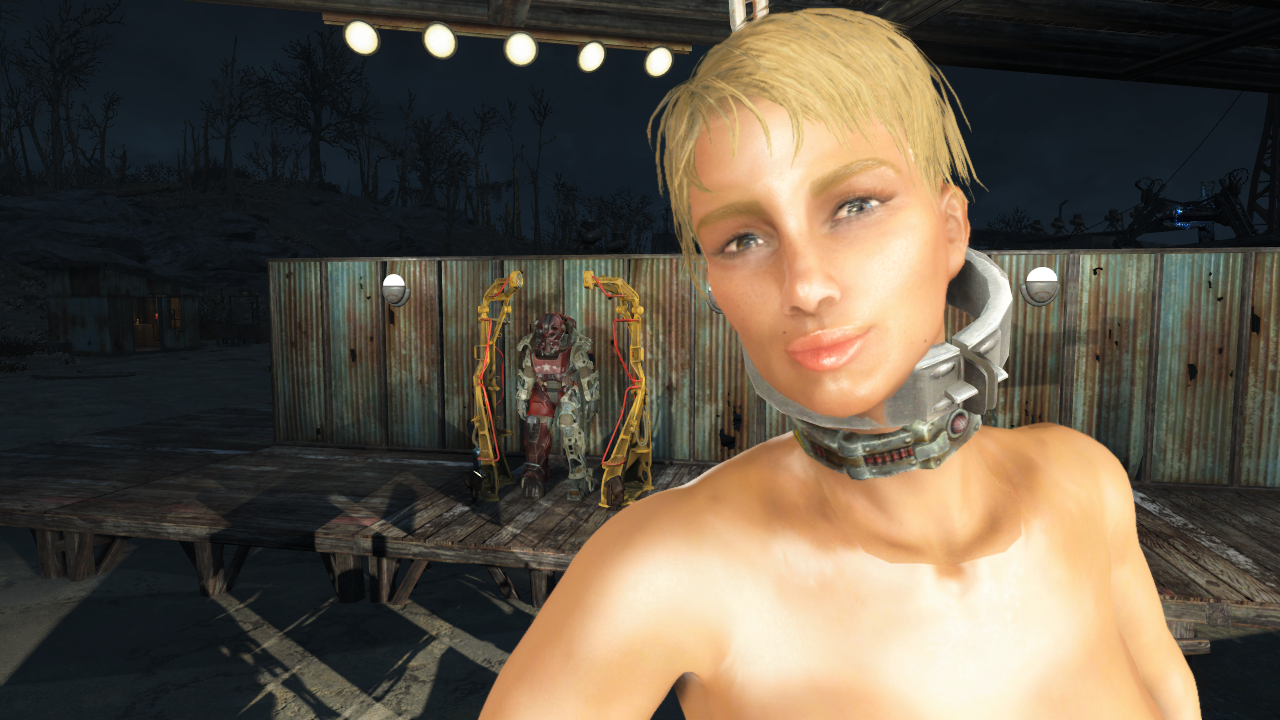 Number six back in her chains, time for Seven to get her moment in the Spotlight.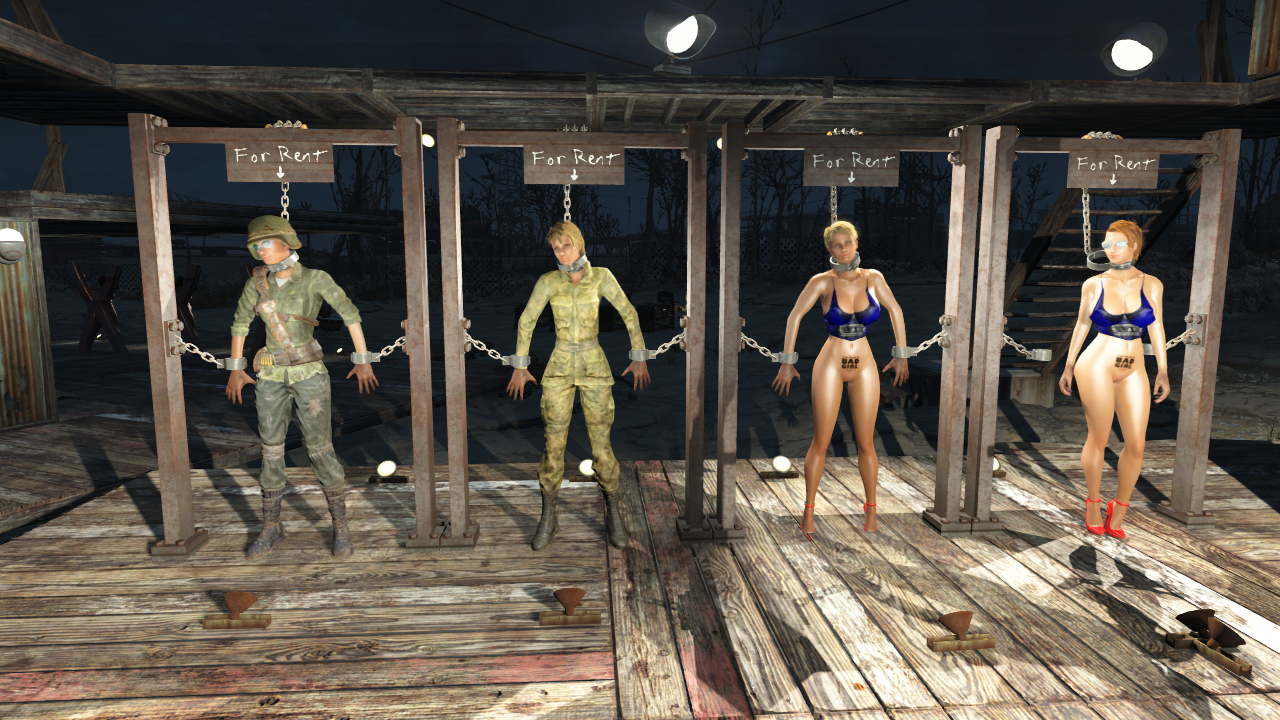 Let's get her out of that uniform. It isn't hers any more.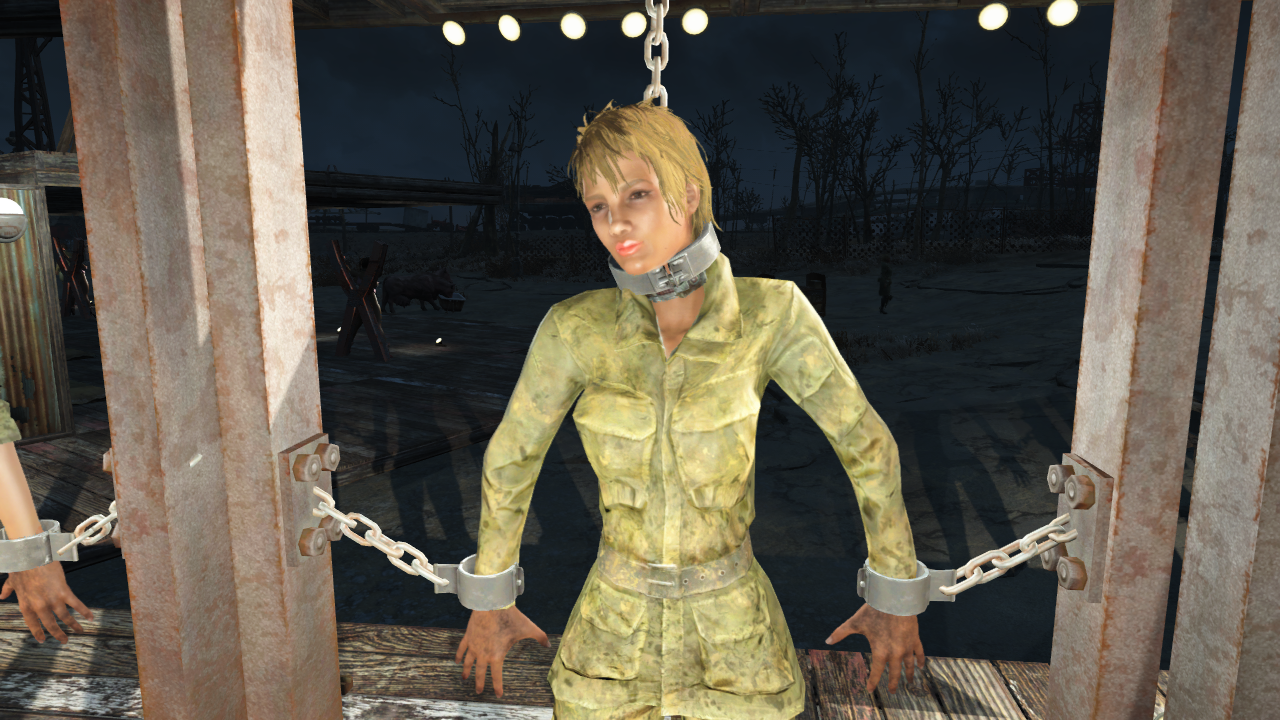 That's better!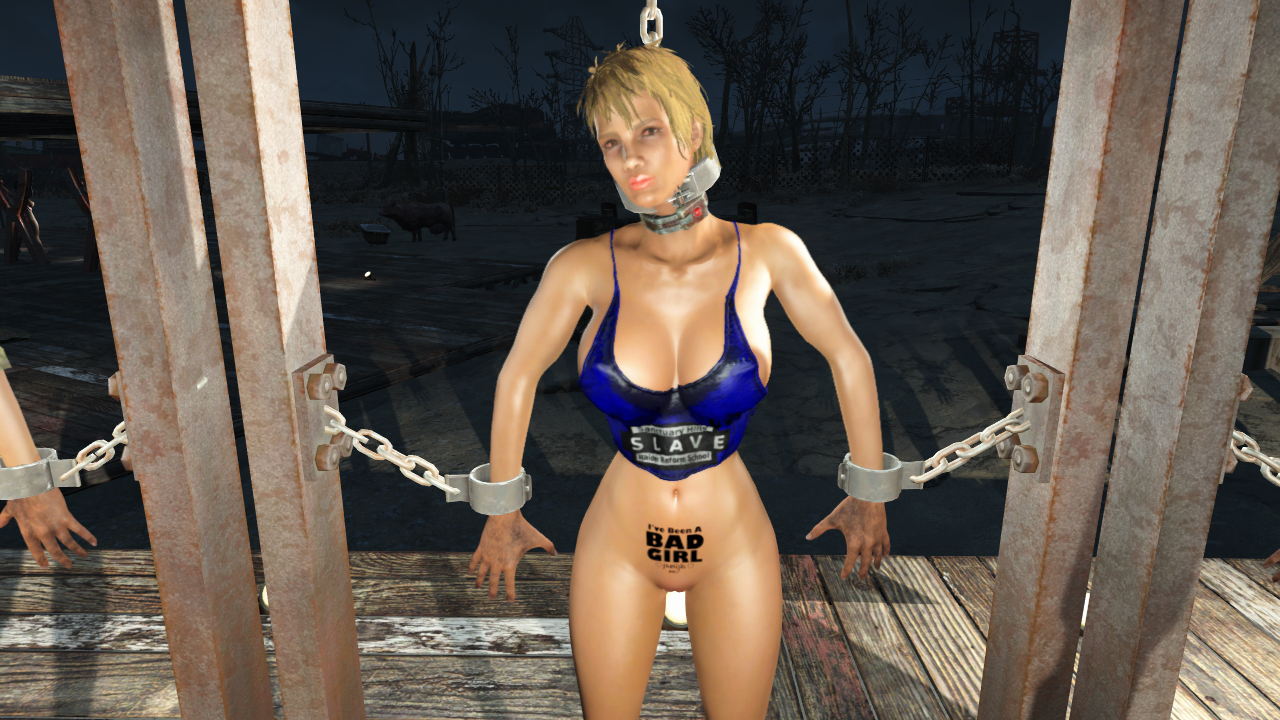 Doing my best to do a thorough job of her: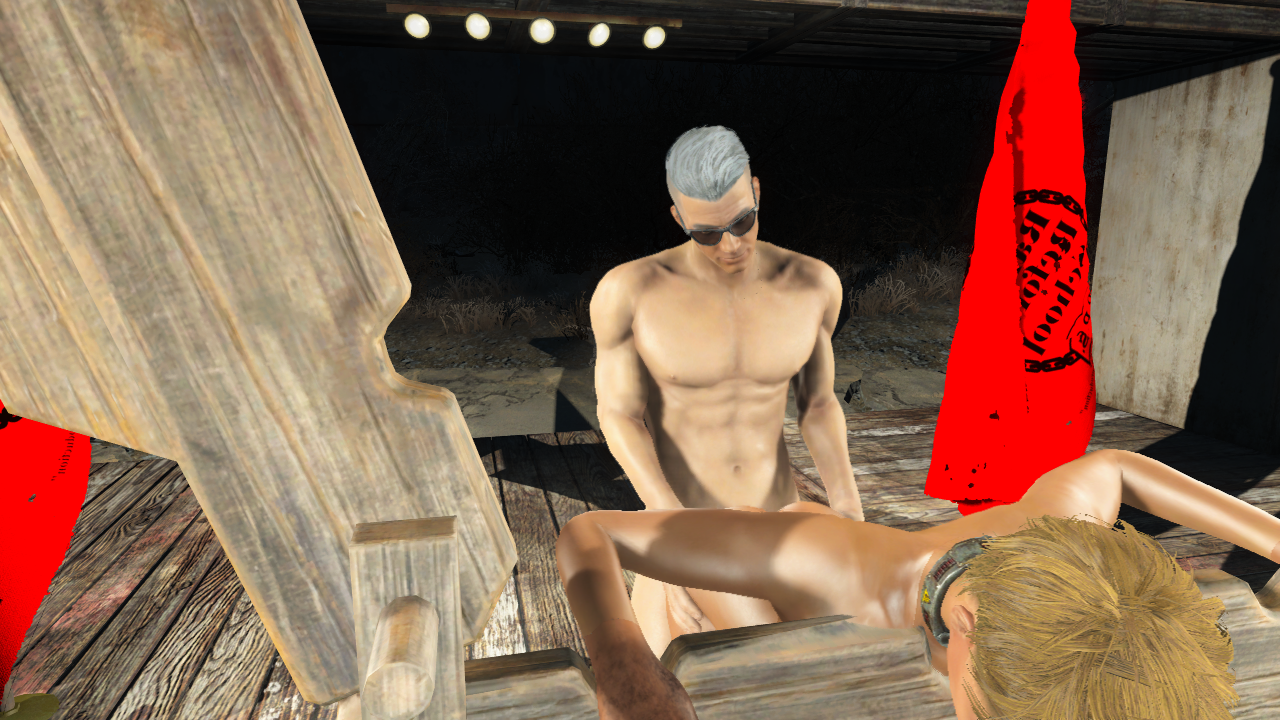 Got to get right deep in there!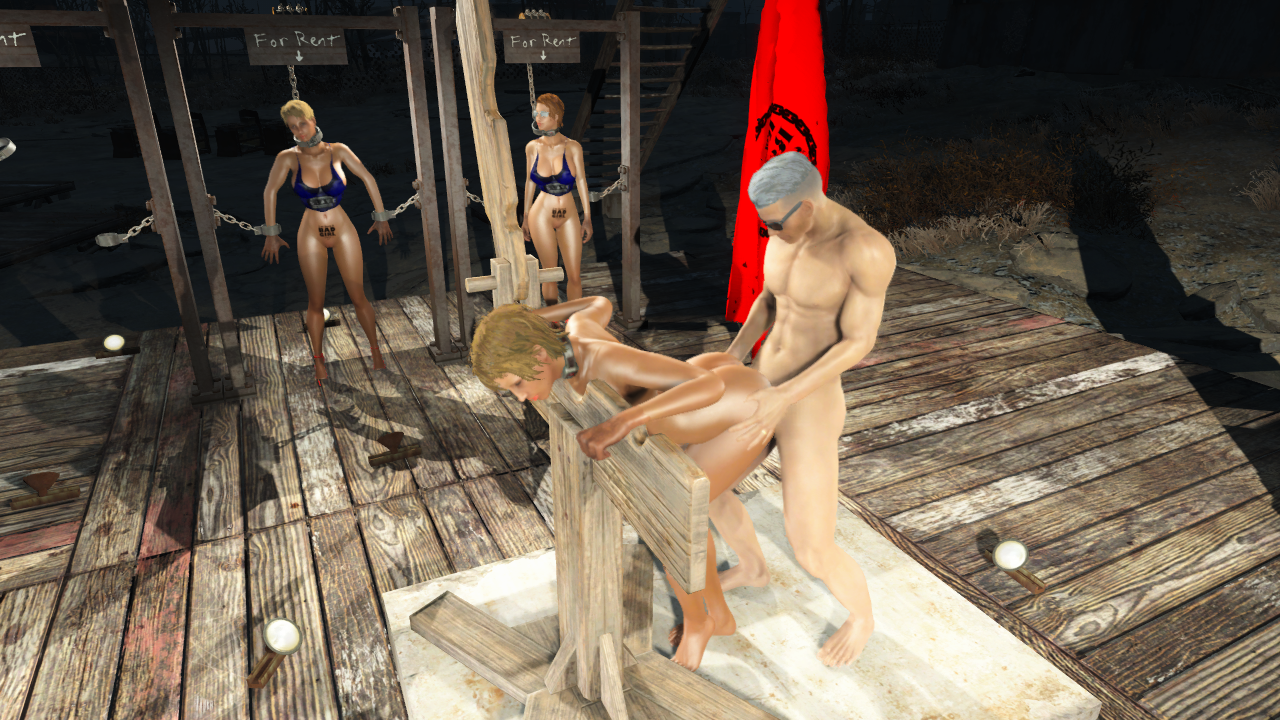 So: that's One through Four all put in their place.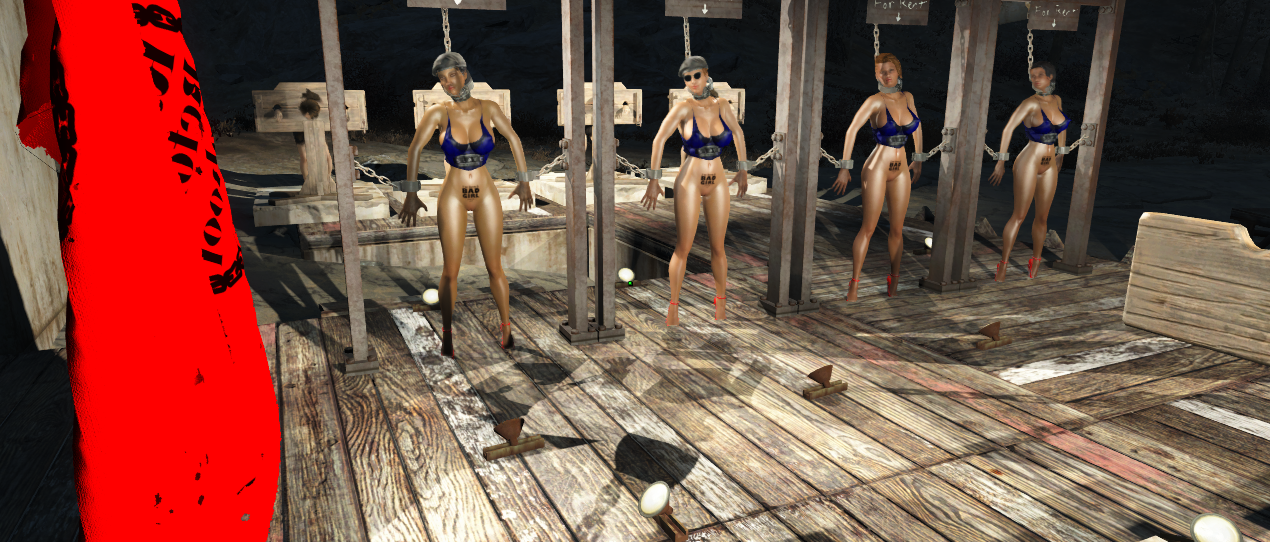 Same is true of Five Through Seven.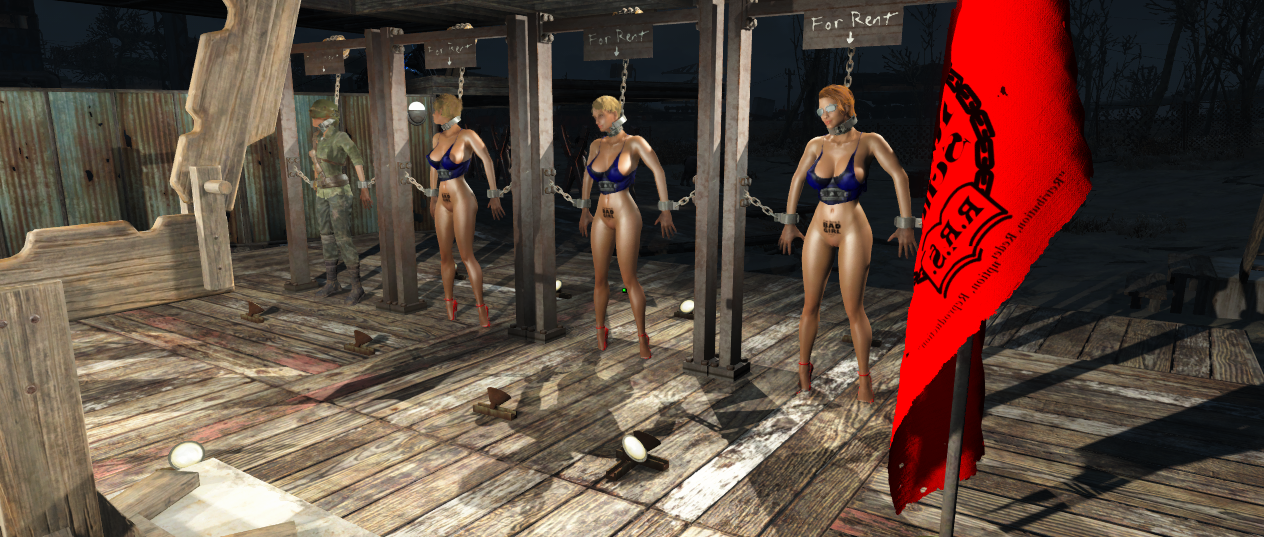 Time to prep Number Eight.
I wonder how she is feeling, right about now?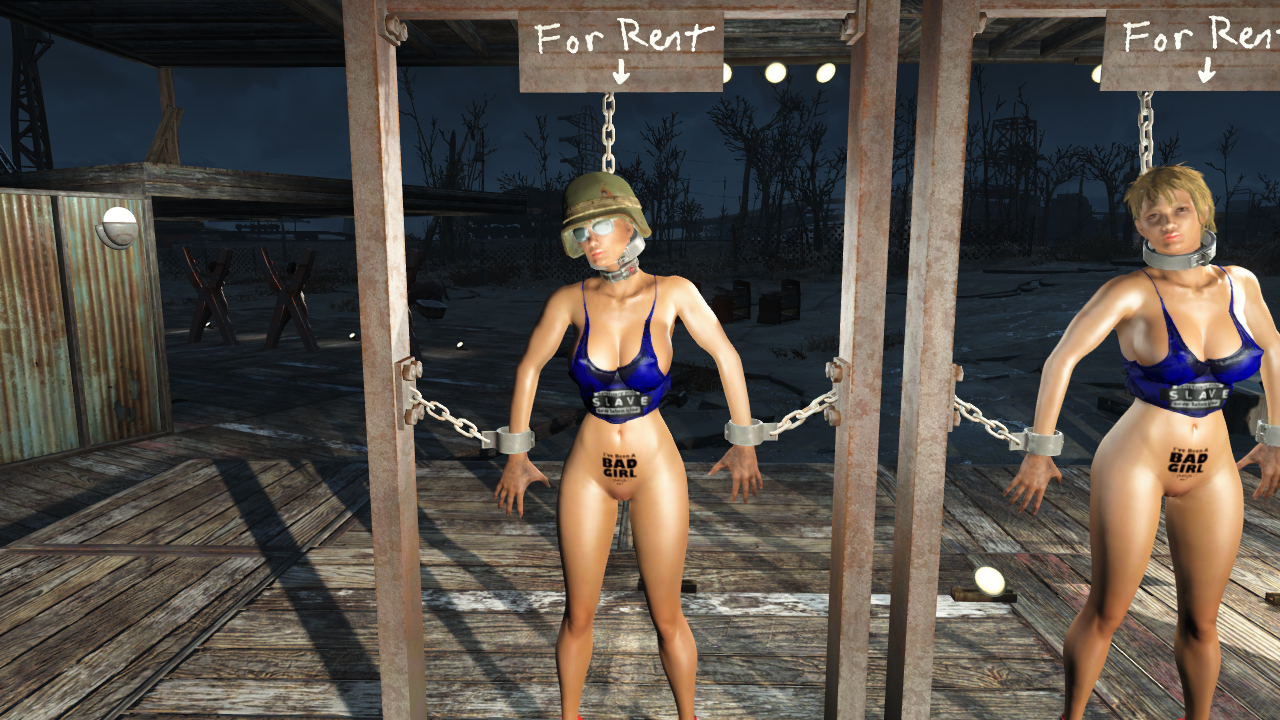 Eight starts the Walk of Shame.
Is the Commander blowing kisses at me? She really has lost it.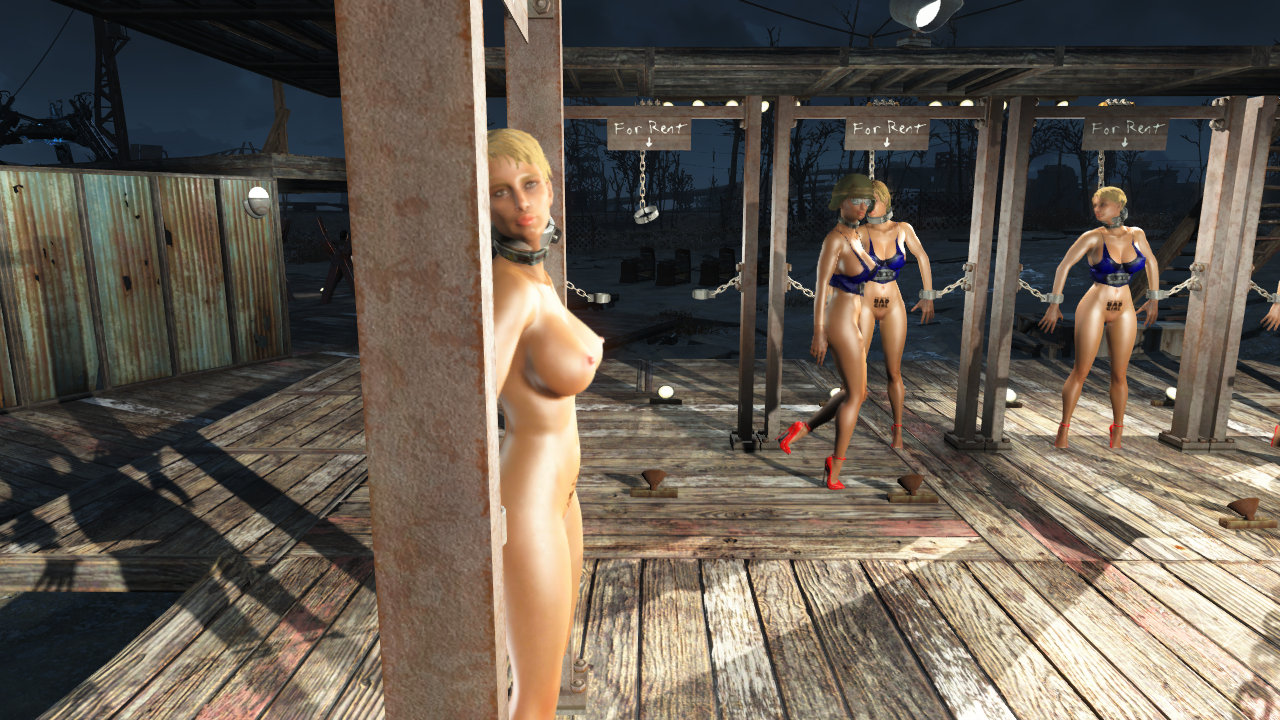 Get your head in those stocks, bitch!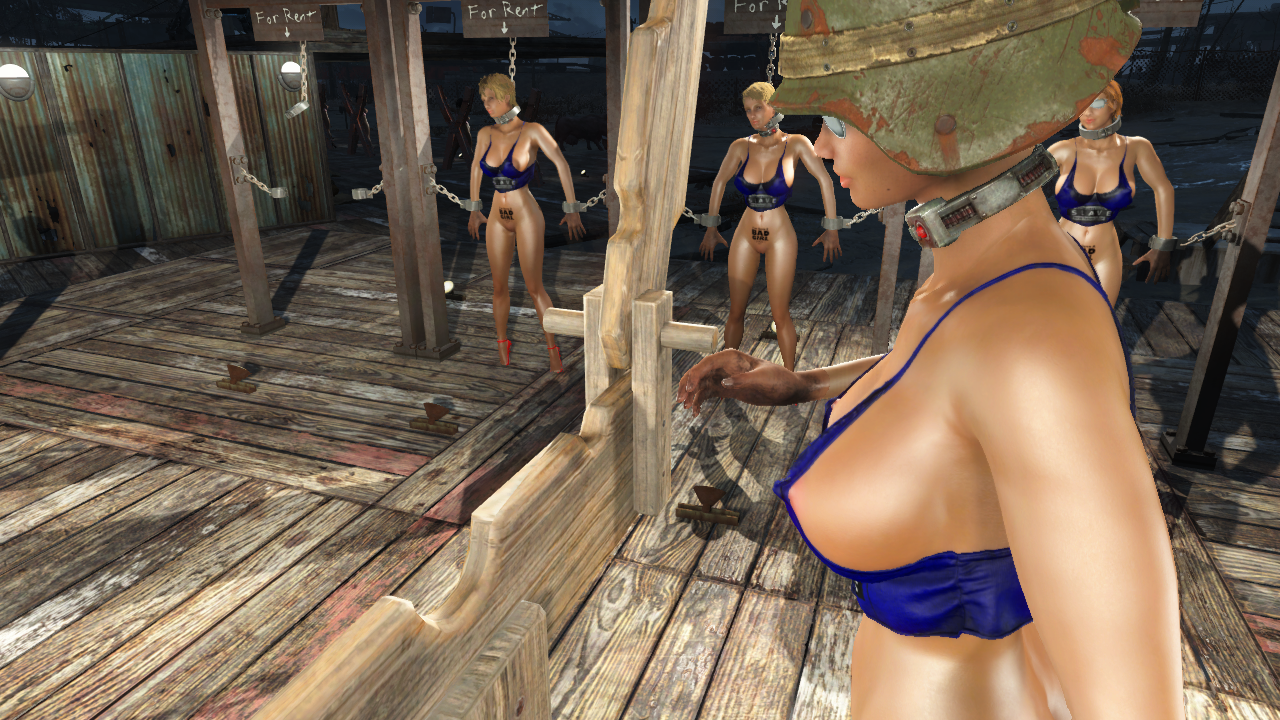 One more time!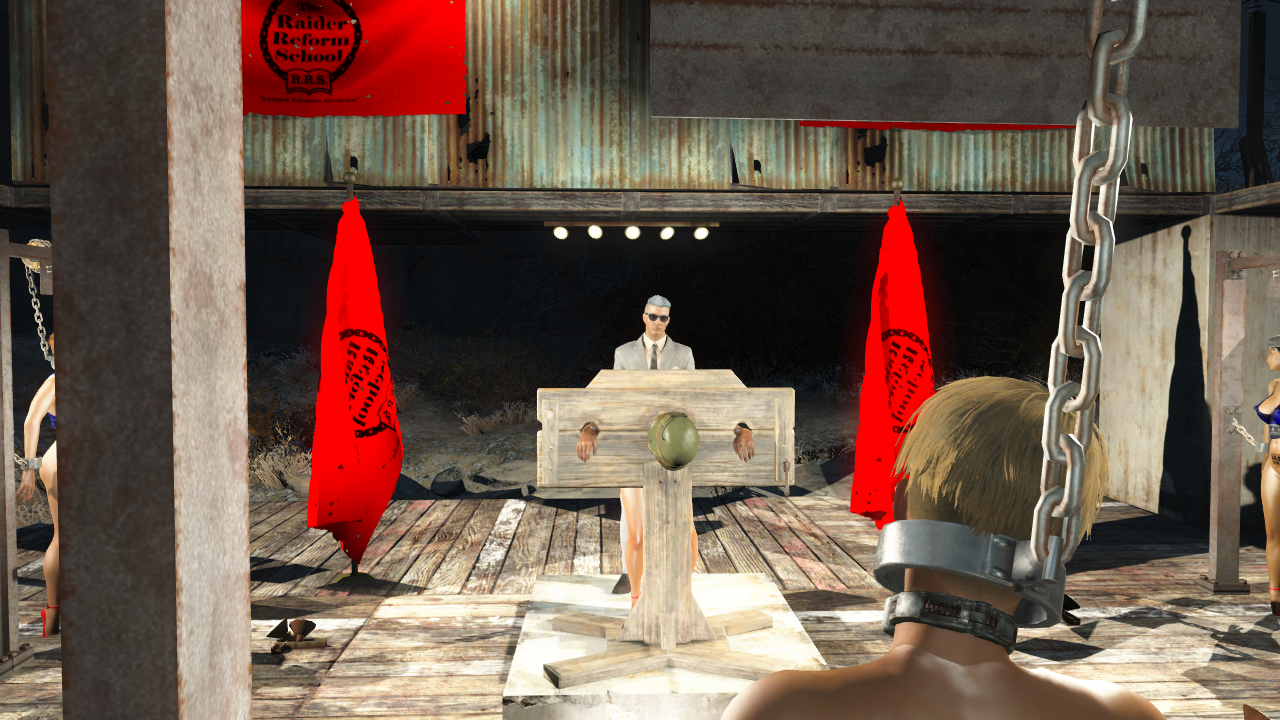 There we go!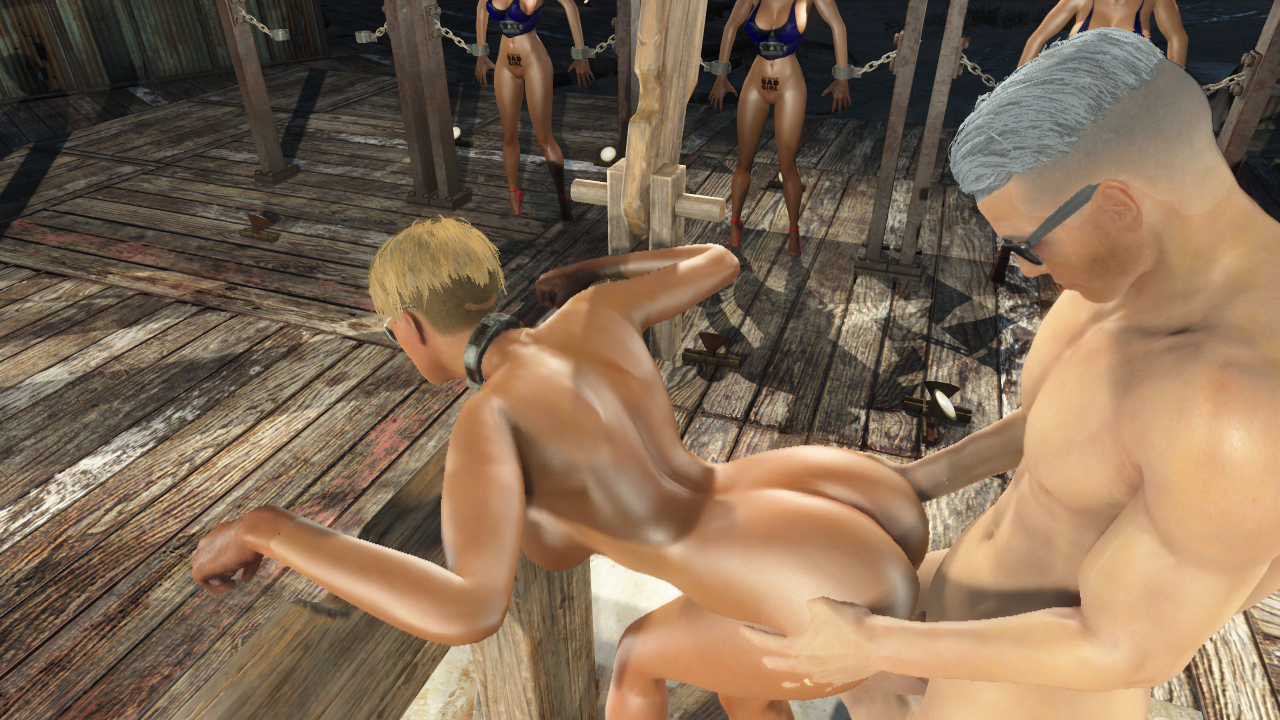 Keep watching Commander!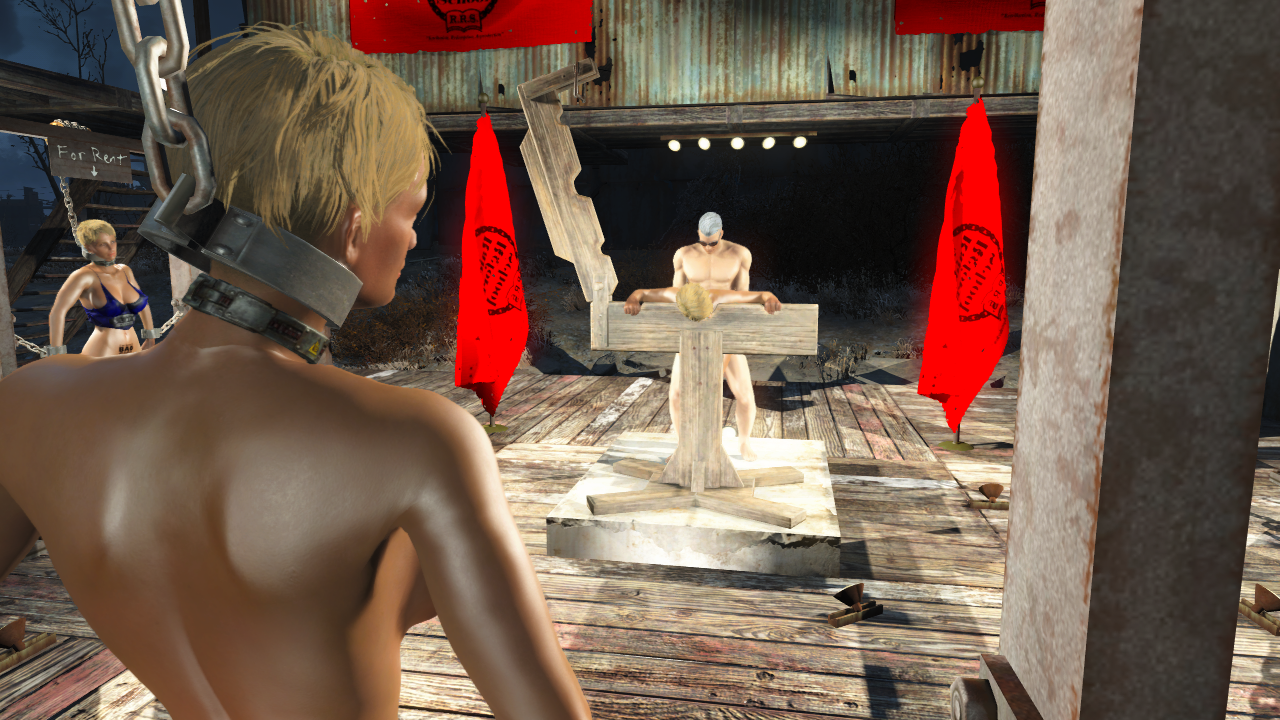 And that's all eight done.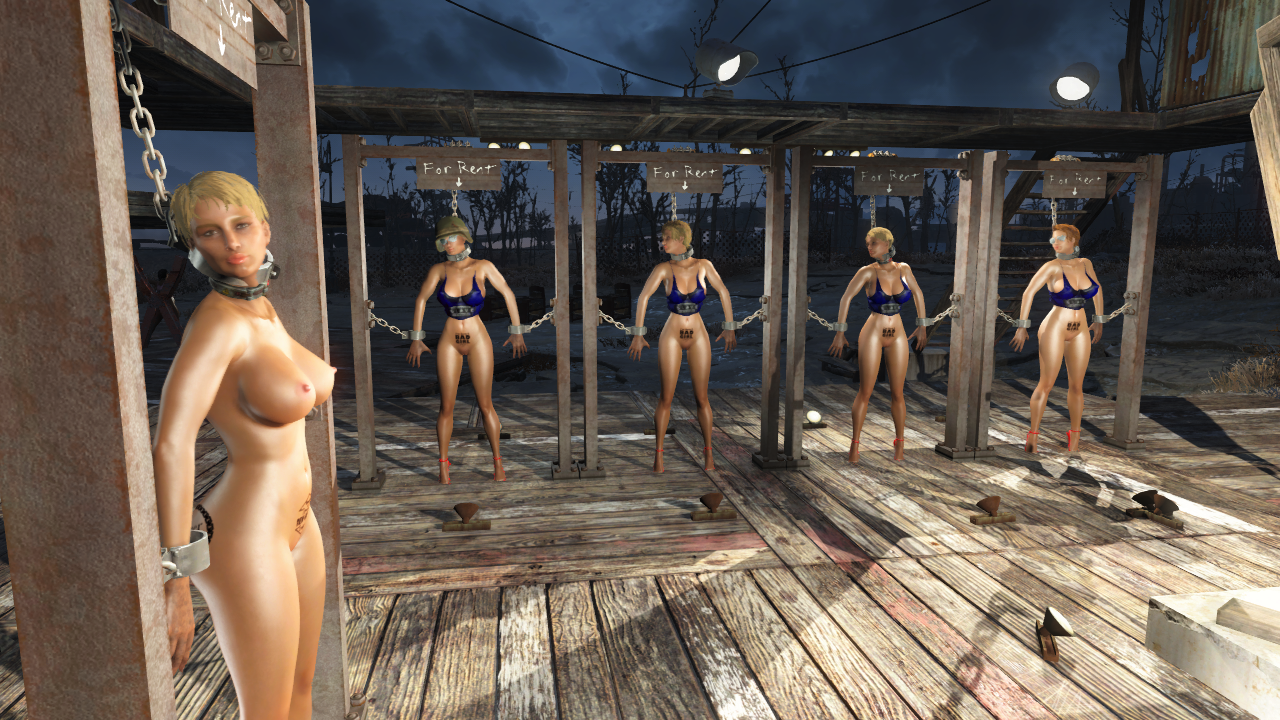 Time to put the Commander back in center stage.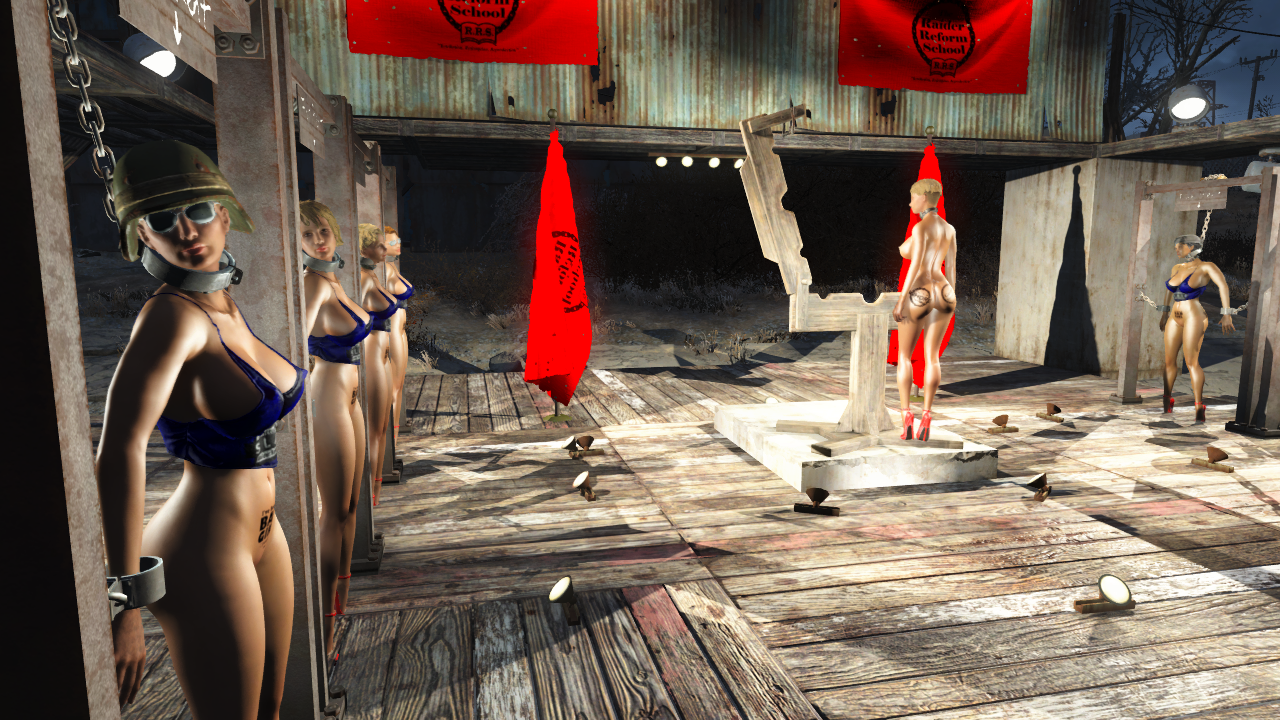 There's a good little Commander.
Pity those sunglasses make it so hard to read Eight's mood. I'd love to know what she's thinking here.
Here's One to Four watching the Commander return to her post.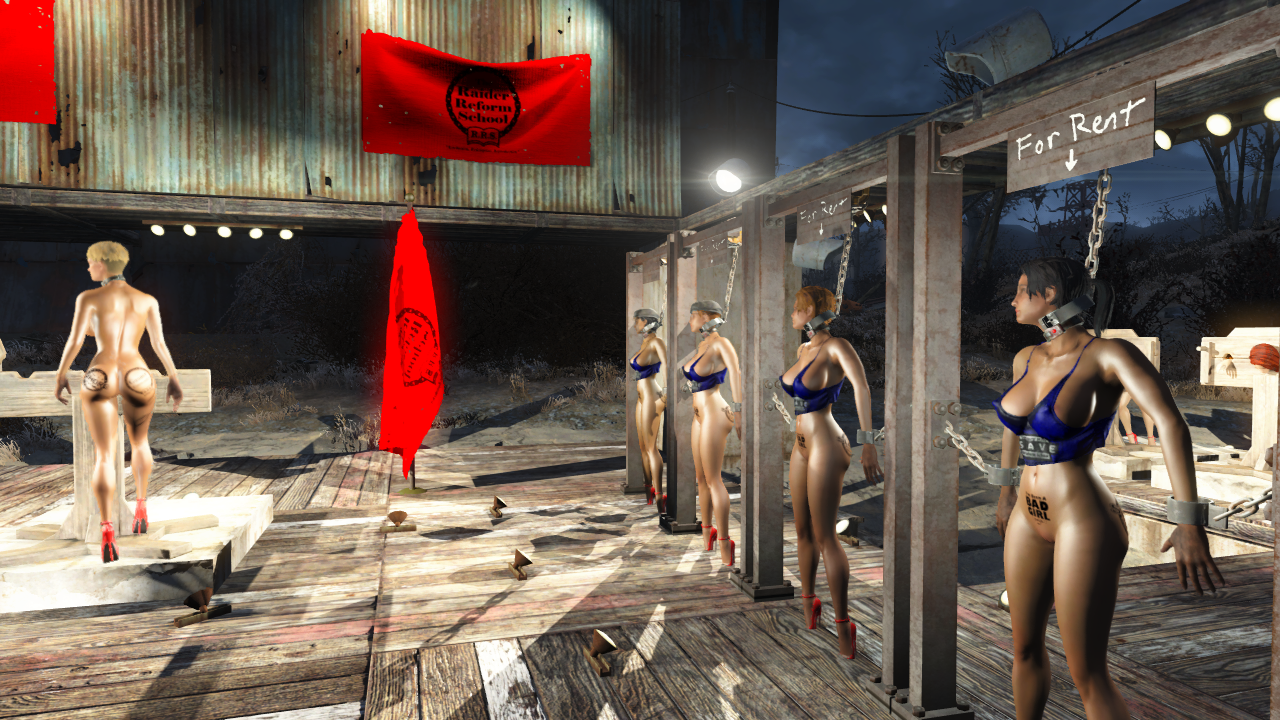 In you go!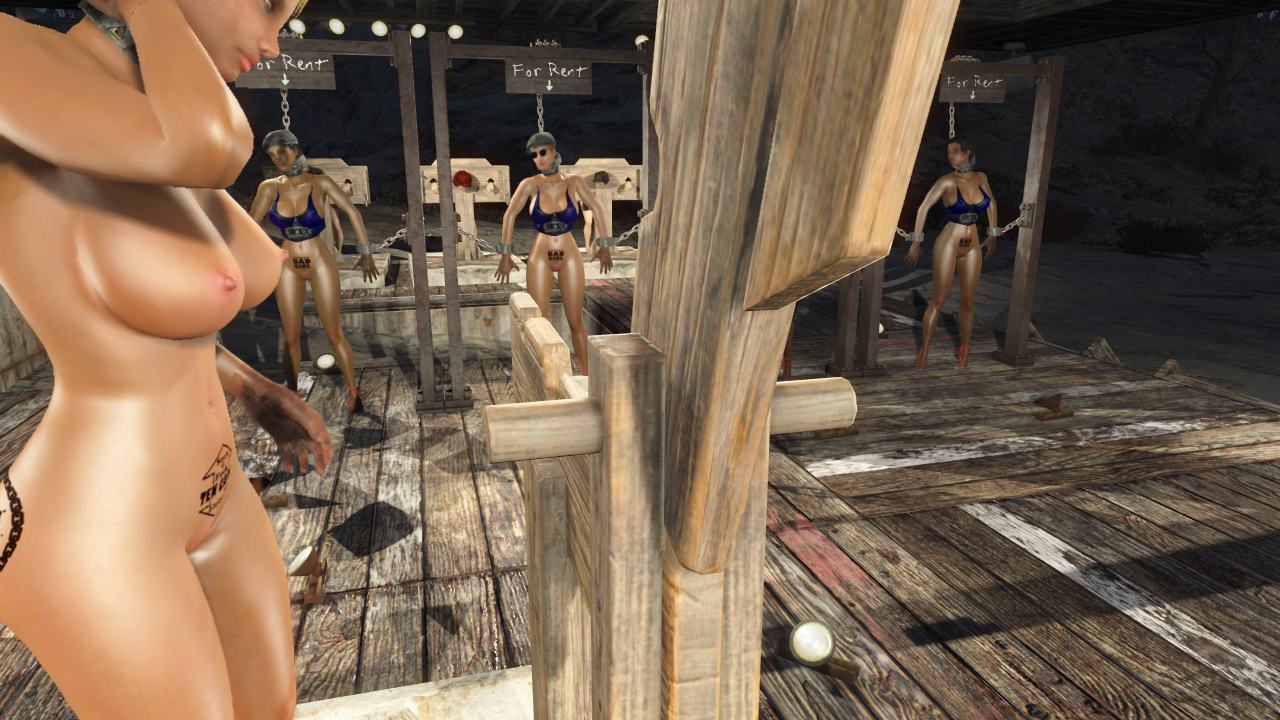 Purely for the photographic record, let's establish who is in the stocks.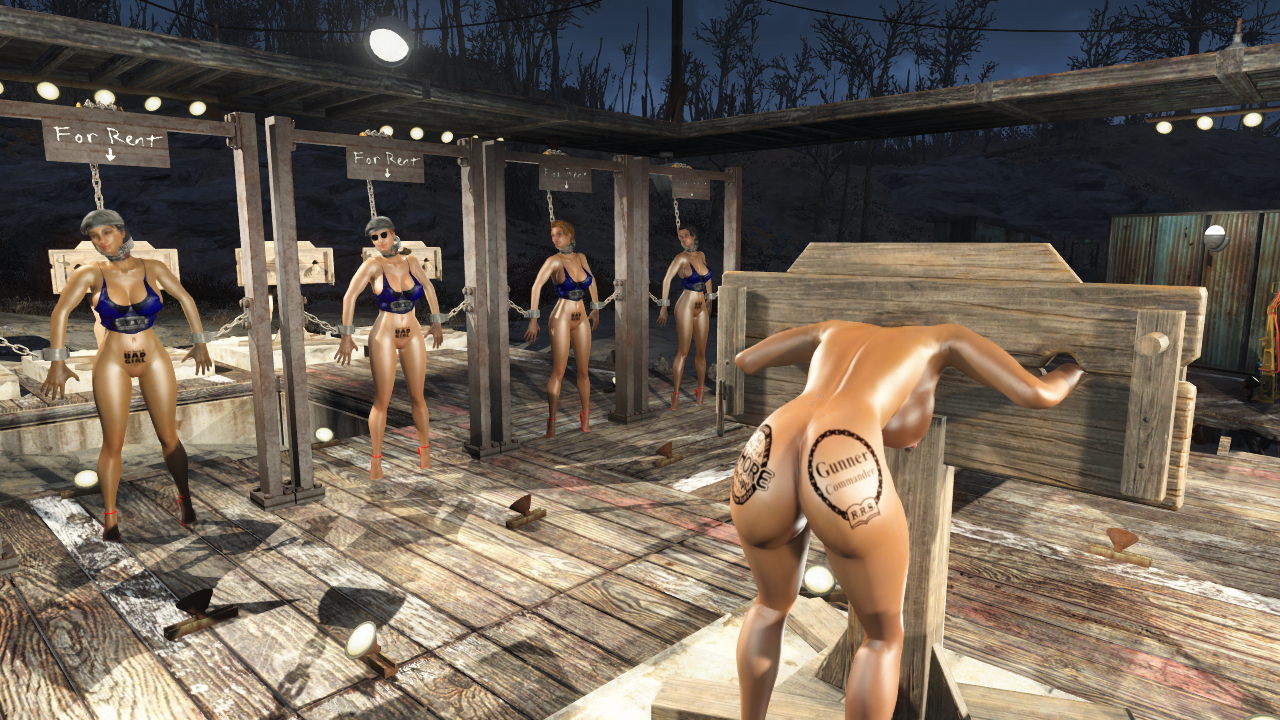 And her status. Because there's only one thing left to do now...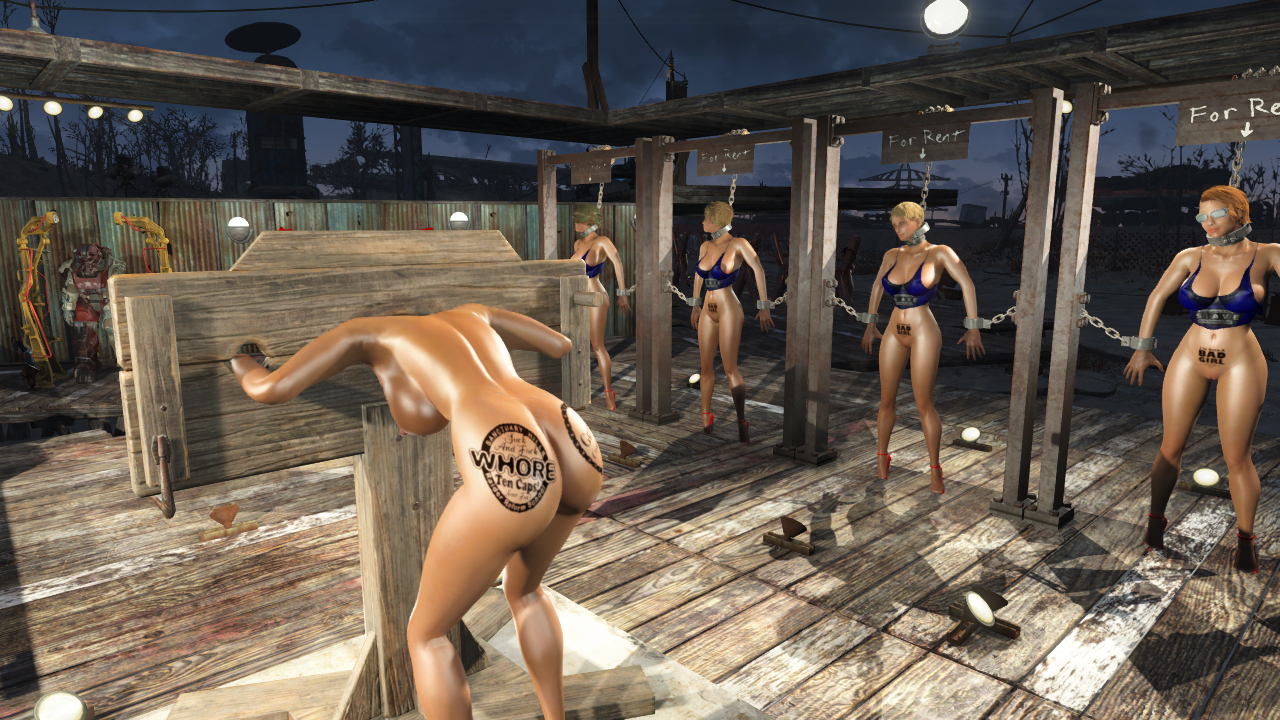 And that's to give this whore, formerly a Commander of the Gunners ...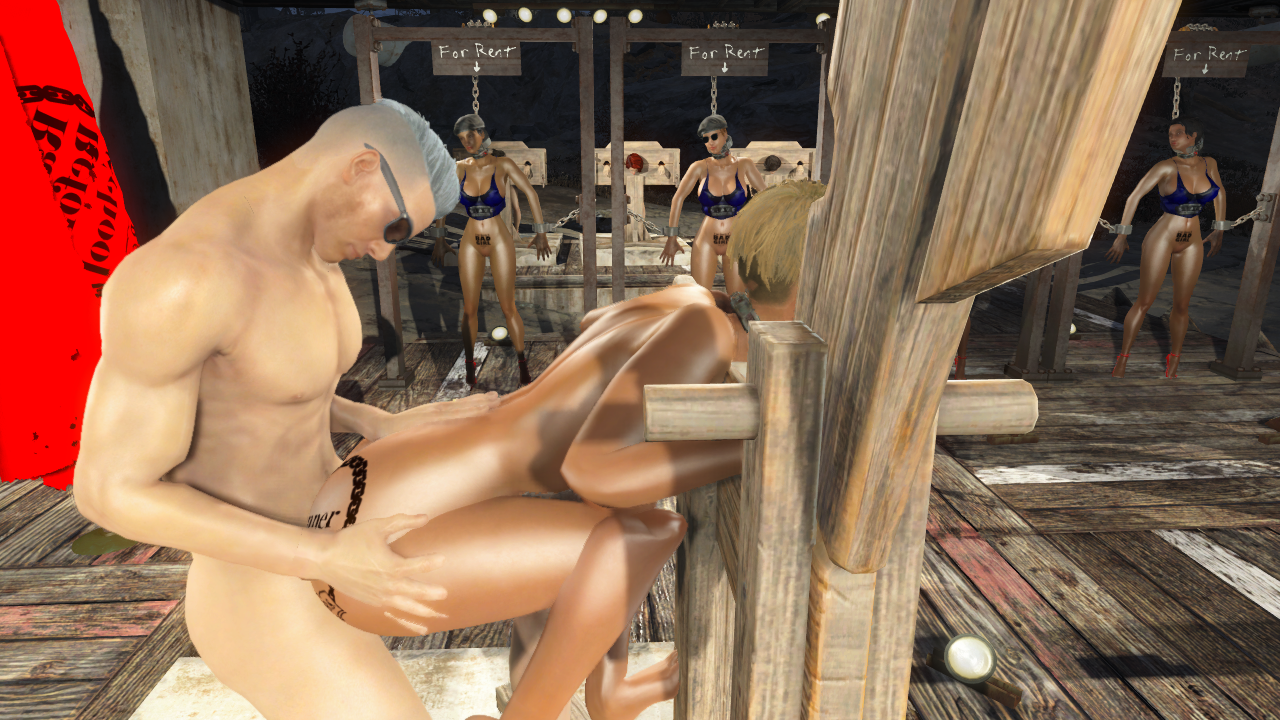 ... the sort of fucking she deserves ...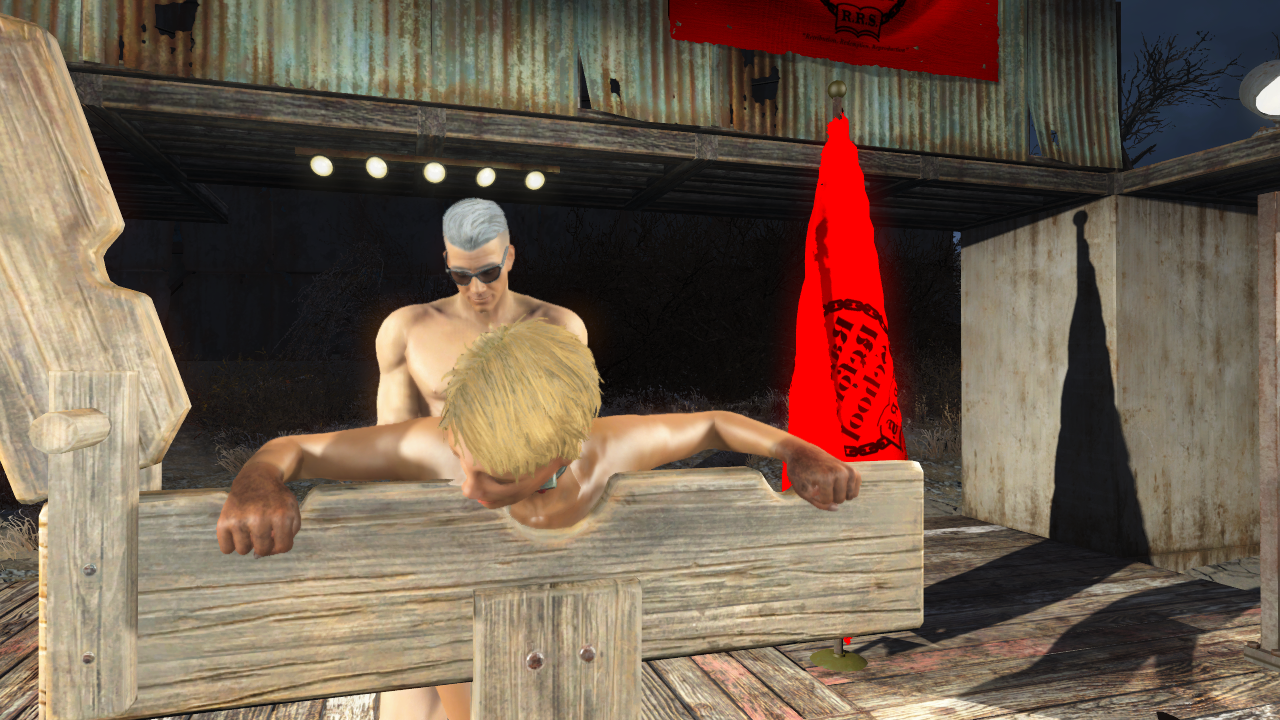 ... while those slaves previously under her command get to watch ...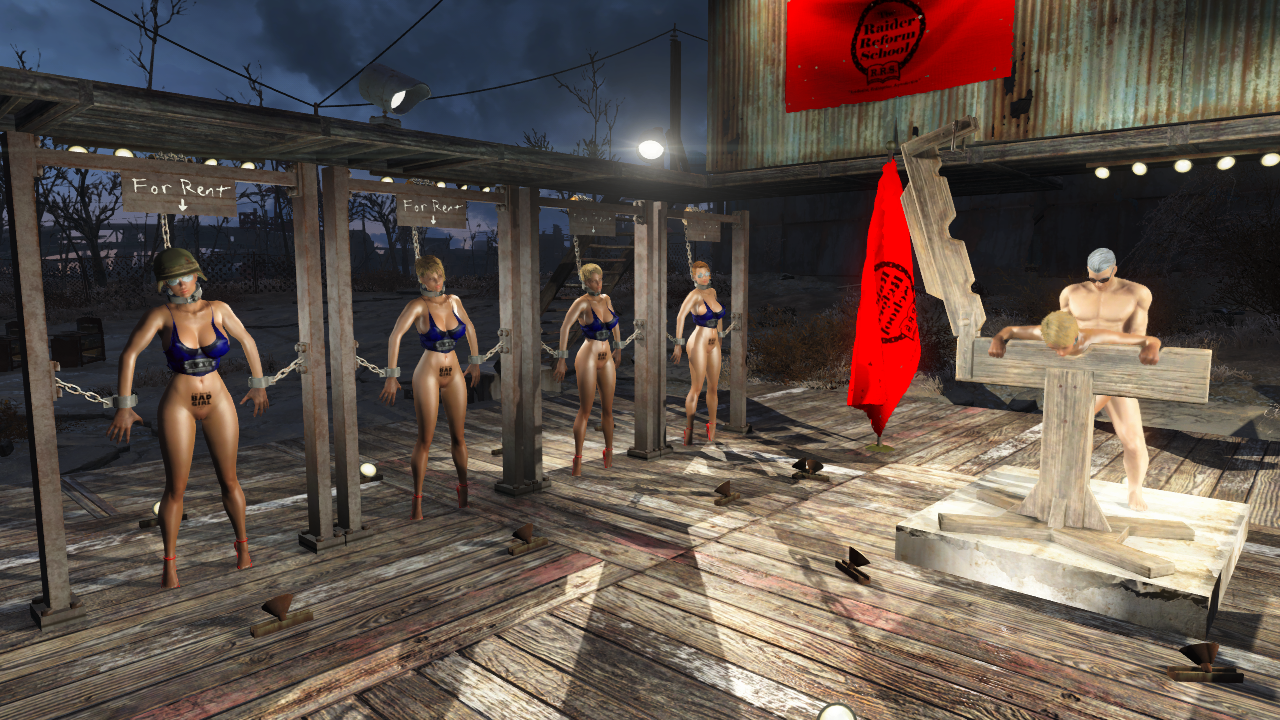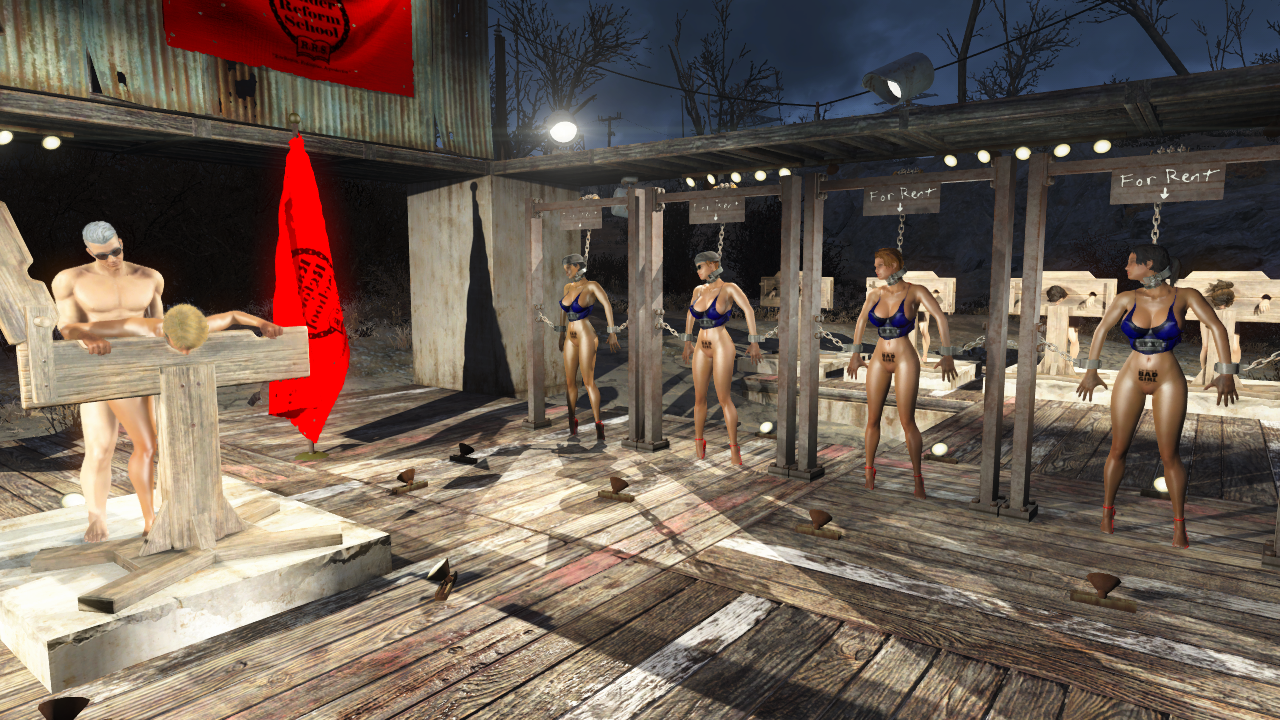 ... and see what sort of woman their Commander has become.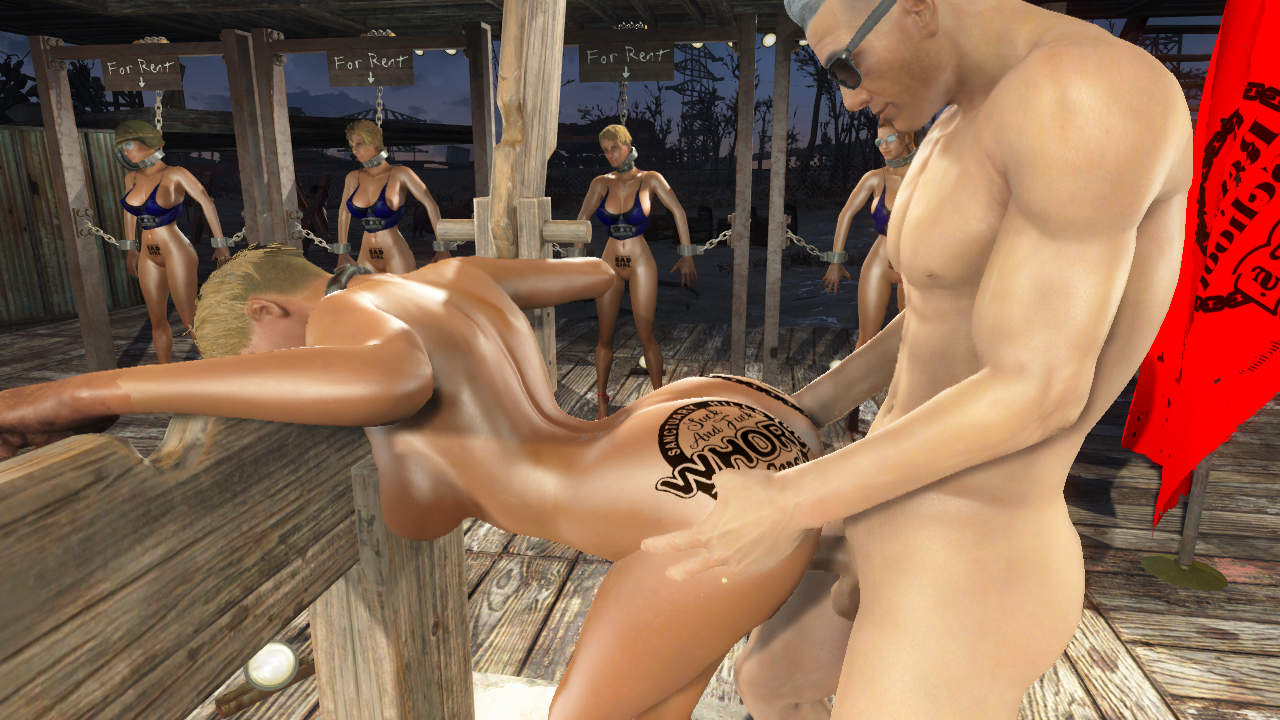 And with that, our tale is finally told. It remains only to give the erstwhile Commander clothing befitting her new rank...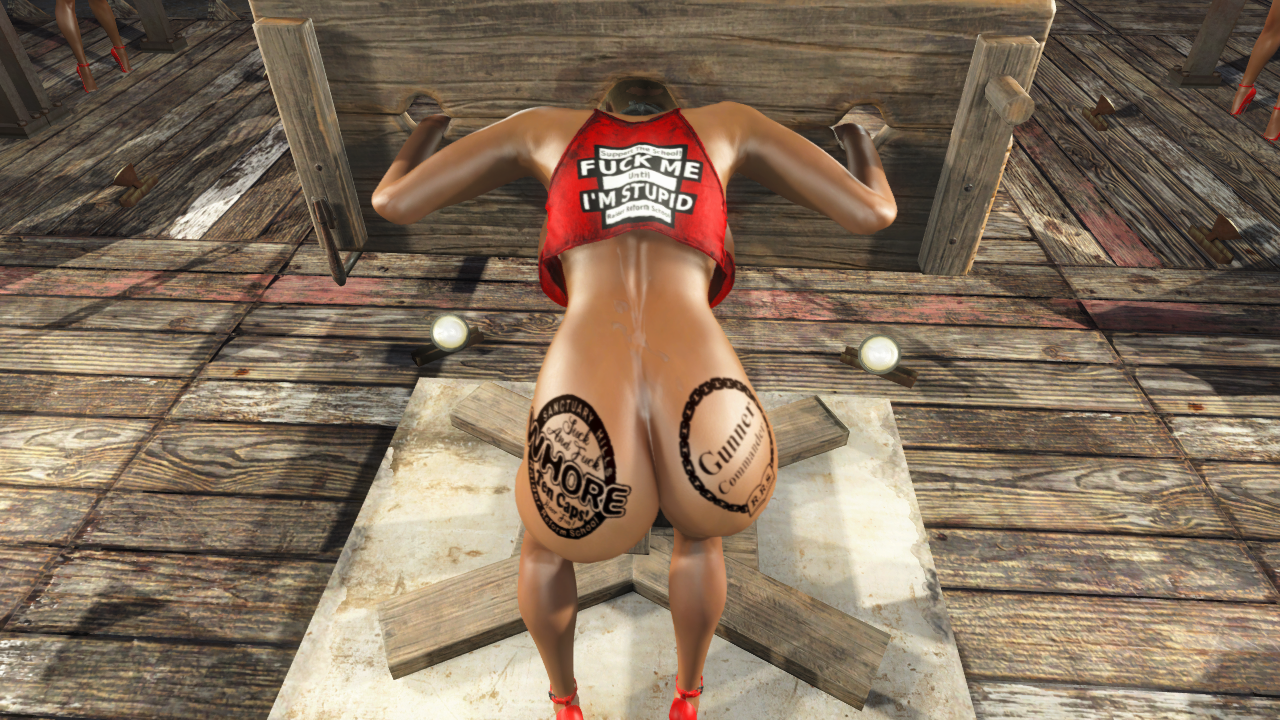 ... and then to leave her so that she may begin to fulfill her new duties.
There is perhaps a small epilogue of sorts, but that will most certainly have to wait. Thank you for your kind attention, our tale is hereby concluded.