Time Is Running Out For Sanctuary Hills...
---
These may look like children, but actually, they are ... the Harbingers of Doom!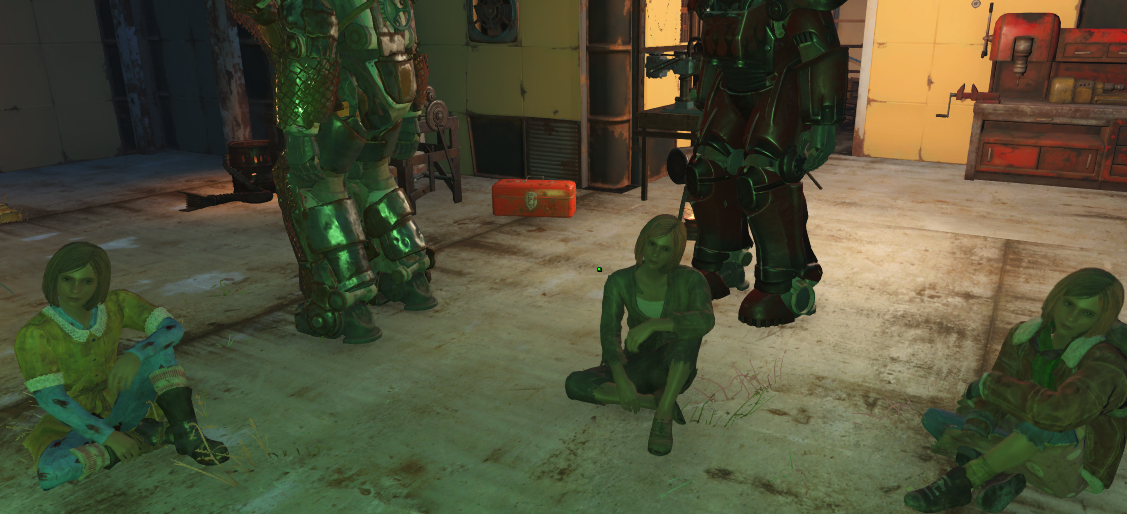 Kind of, anyway. These scruffy tikes represent the first wave of babies from the Raider Reform School Fertility Program. Which is good, because it means the program is working the way it should. The trouble is that SH already has a population of 33, and there are probably another 50 or so babies either waiting to be born or to turn into children. The Population of Sanctuary Hills is set to skyrocket. Again, that's no bad thing really ... except that the game has increasing difficulties coping when population levels get that high. Assign a brat to look after a carrot patch and it can take 10 minutes to work out who should optimally tend what.
After a while, it'll get to the point where I daren't enter Sanctuary, and most of the other settlements not long after that. Which again, isn't necessarily a bad thing. The Raider Reform School will at that point have achieved its twin objectives of solving the Commonwealth's population crisis and rounding up the raiders and gunners and putting them to productive use. So in one sense it's a way to win the game ... but in another, it's still very much Game Over.
So what am I going to do about it?
Well, if I can get it working, I want a script that grabs the babies once born and spirits them off somewhere. The idea is that they're being fostered with respectable couples who exist in some out-of-game space somewhere. Or, maybe better, have the kids removed. That way I can still load Ack-Ack down with half a dozen bairns to nursemaid, which always amuses me greatly for some reason. Maybe set up a Miss Nanny robot you can build that rounds the little buggers up and leads them off into the wasteland, never to be seen again. And maybe have some sort of citizenship papers you can craft and give to kids if you dont want them spirited away. Say if you wanted one or two kicking around the place.
Because the alternative is a fitness park with Vault 88 exercise bikes set up next to a Soylent Green production line. And no one wants that.
The other idea I'm kicking around is a variant for the Breeder top, so that when the wearer is not pregnant, the wording changes like so: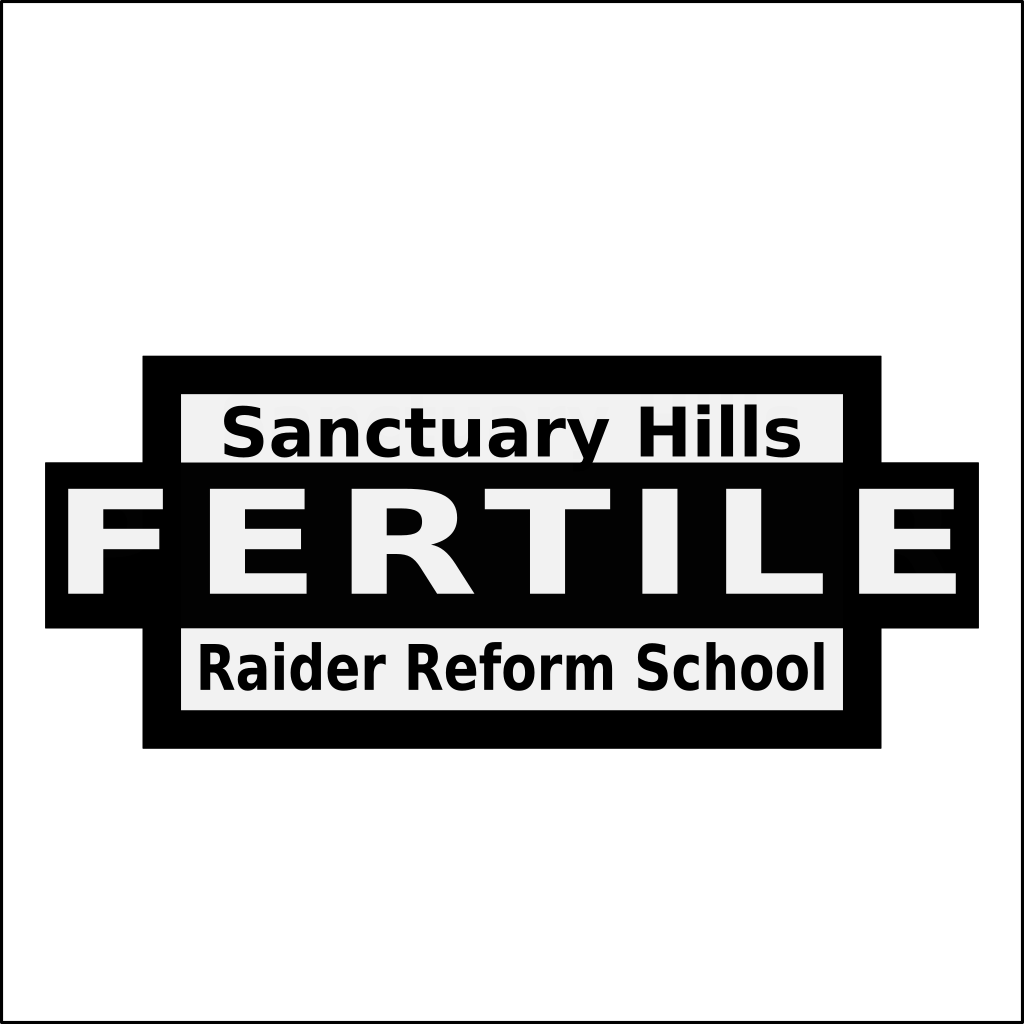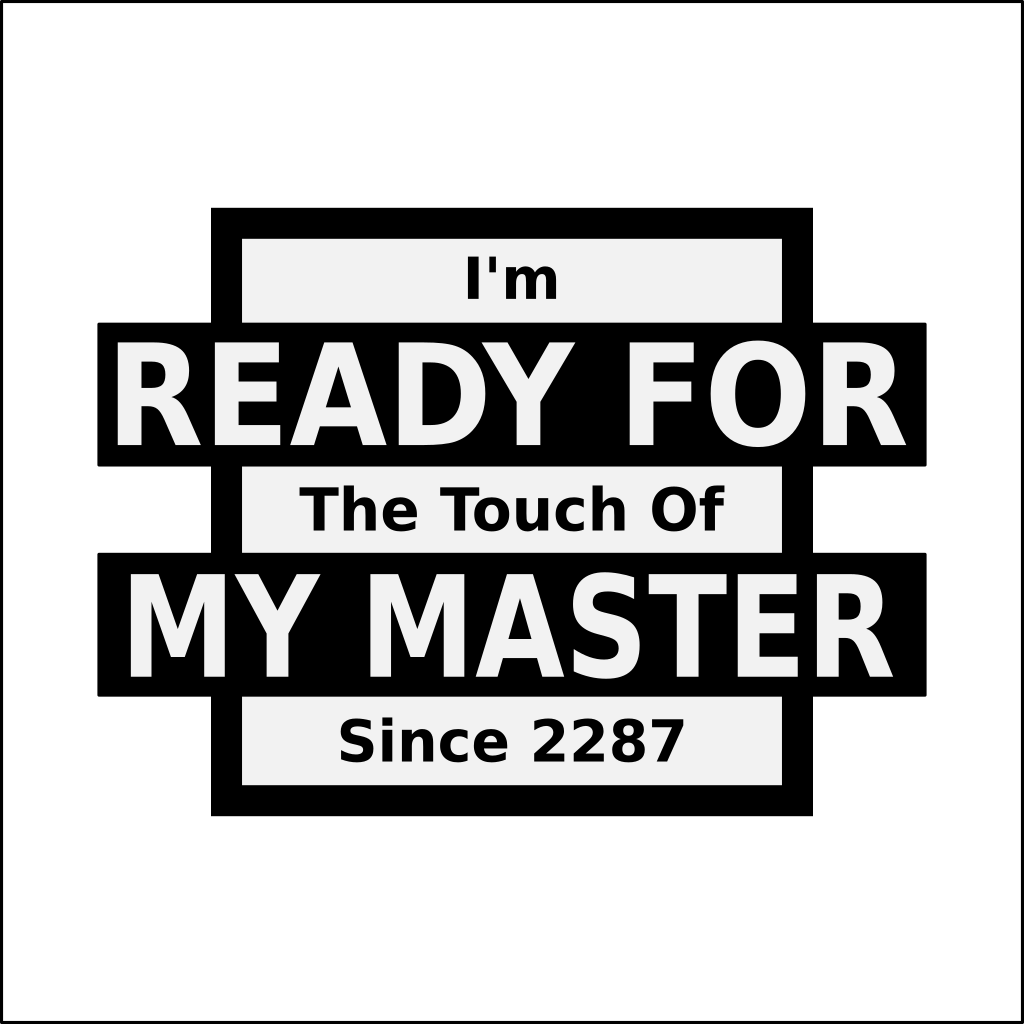 So instead of having to use the FPE debug function to find out whose hot and whose not, I can just read their shirts.  Changing the text should be a simple scripted material swap, and I think there's a birth event I can listen for to change the writing. I'm quite looking forward to this one.
I'd change the tats too, but I can imagine problems with events firing while the actor has no 3D loaded. I'll have to see what can be done.
[edit]
I got some in-game shots of the new shirt.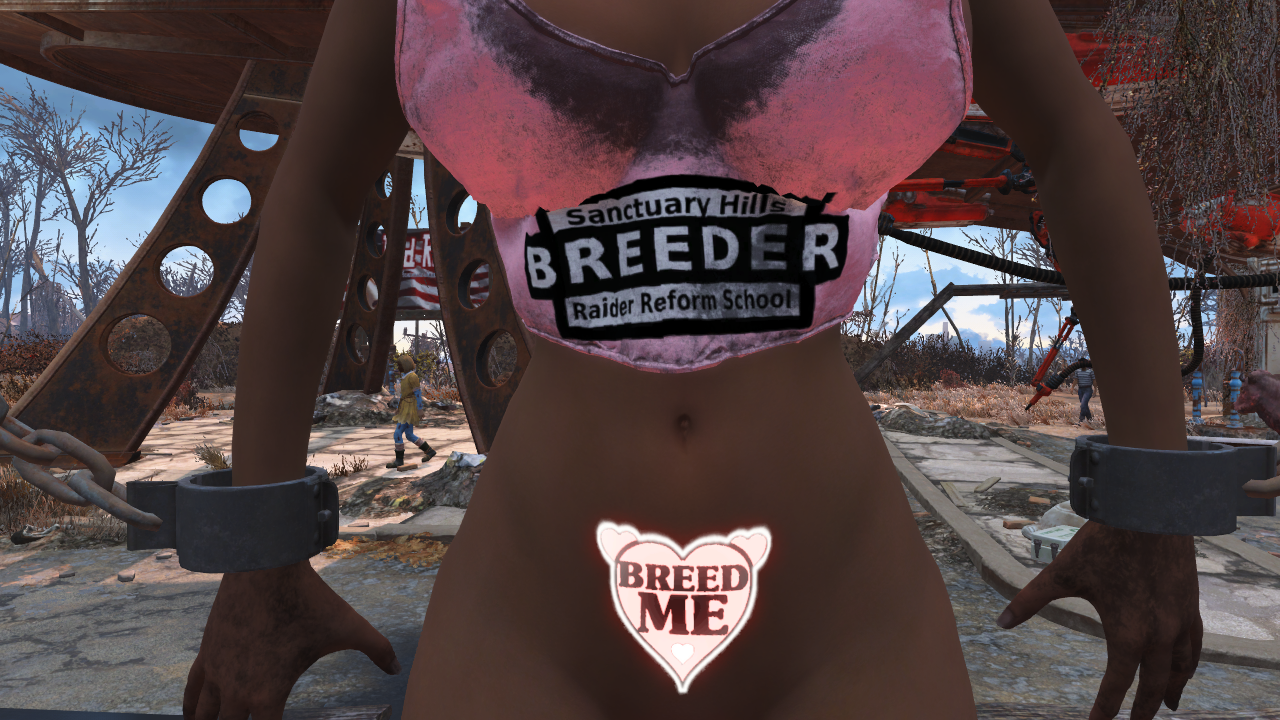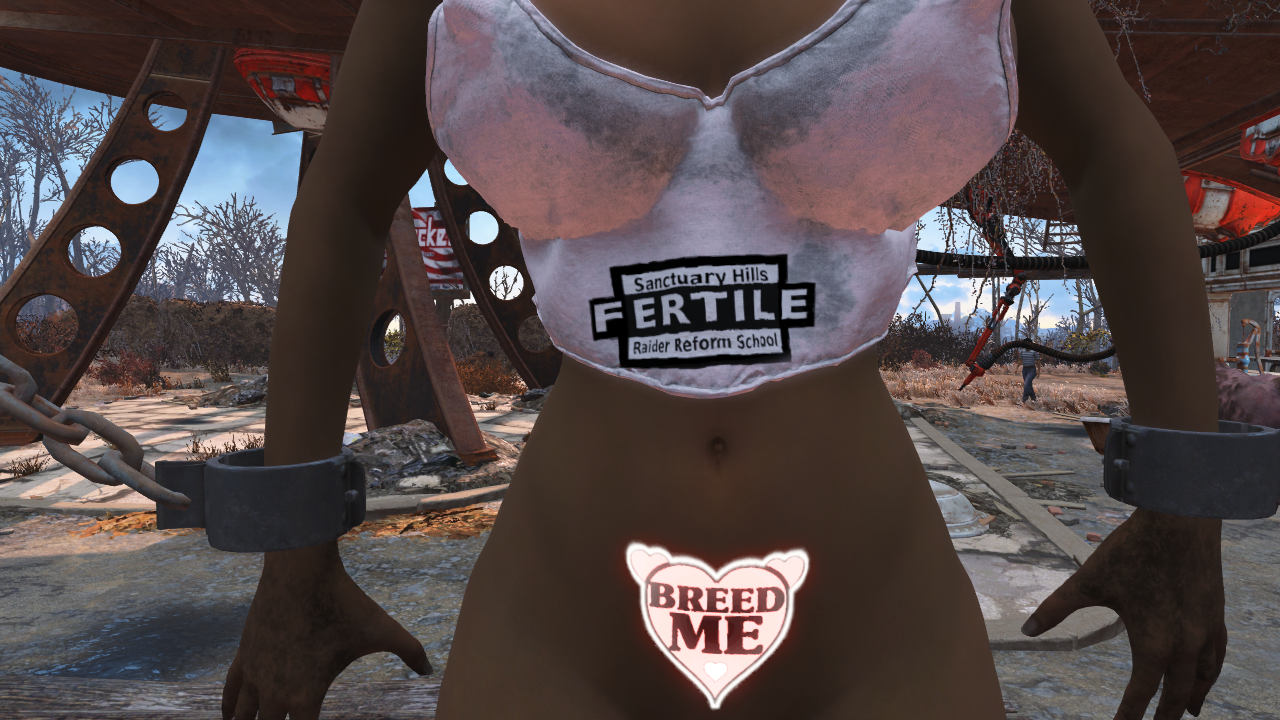 I used a slightly different workflow to make the new shirt, and I think I like the results better. The text needs to be bigger though. Not too big or you lose it in the boob overhang, but it should match the others. I'm starting to wish I'd kept a .blend file from the last time I did this. Then again, I can alwaysload the old shirt as a texture, use that to get the position and size right, then swap in the pink blanck and paint the new text onto that. That should work.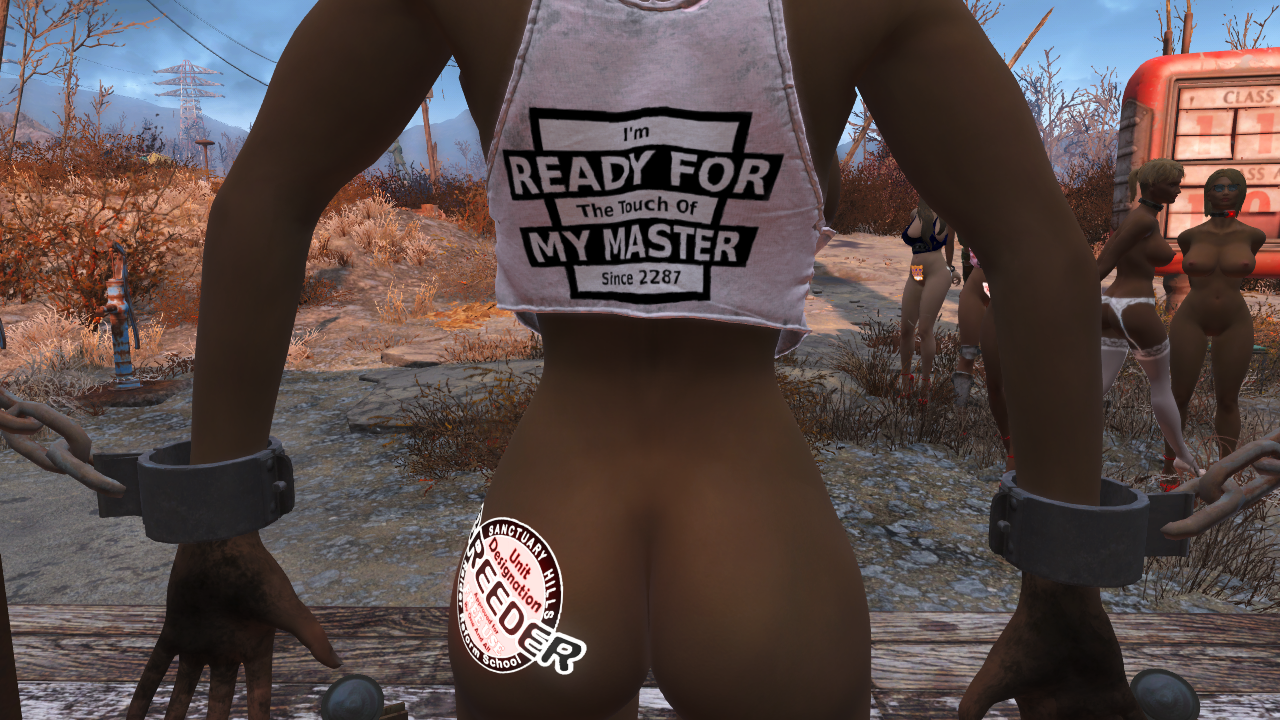 And that's slightly skew whiff and a bit wider at the top than the bottom. Which I think is down to Bodyslide giving her a big chest and narrow waist. The other one does it as well, just not so obviously.
Oh well, fixable.
[edit]
After much fussing and faffing, I gave up on trying to make the now wording look like the old stuff, and redid the old Breeder texture: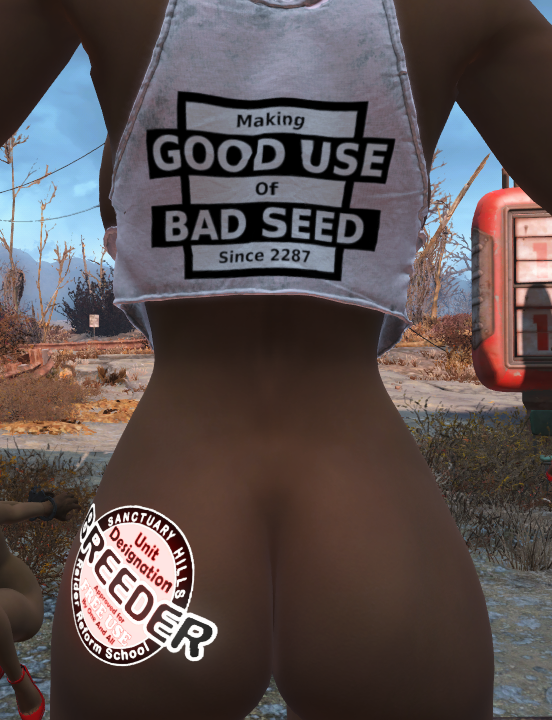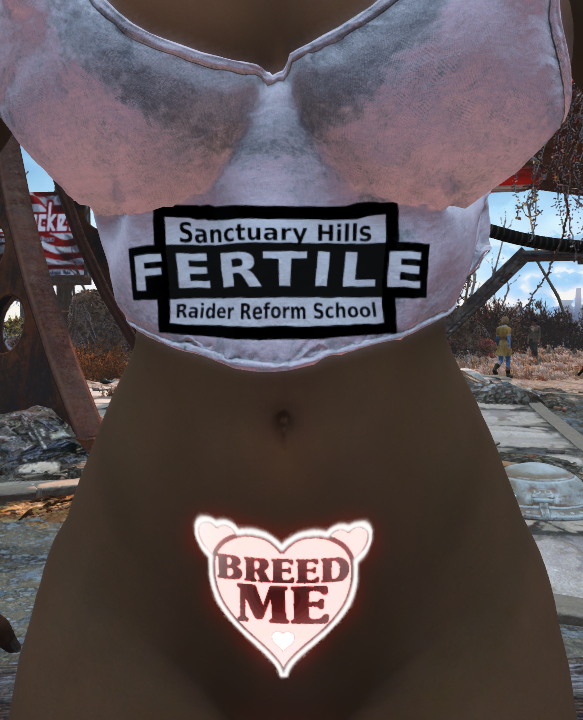 I definitely like that version better. I may end up redoing the other baggy textures.
Thinking back to the idea of harvesting the children to keep population for spiraling out of control... Another thing I thought was to have the girls generate income from some mysterious sponsor.  So maybe 50 caps when a captive is first assigned to a settlement; 50 caps per impregnation (or maybe 20 for each fetus) and 100 caps for each child fostered. Nothing game breaking, but a small reward for building the needed infrastructure and for keeping your breeders bred.
But before any of that happens, I need to understand better how to script a quest with zEdit. Or I may give in an see what hoops Bethesda want me to jump through this time to get the CK. Although honestly, I think I prefer using zEdit.