A Commander, Humbled: Part 2
---
I took a slight detour on the way to Natick Banks with Nick Valentine, and as a result ended up with nine freshly captured Gunners. Plan is to ceremonially ravish the commander in front of her troops, and I've been building a special facility at Starlight Drive-In.
Trouble is, the build was a chaotic mess of slaves all getting in the way and by the time I got everyone in suitable restraints it became clear that two of the slaves had gone missing. And this with the build only half done.

After some investigation, it looked like I might have sent them to Sunshine Tidings rather than Starlight Drive-In. So the logical thing was to go to Starlight and look.
This is the entrance to Sunshine Tidings Co-Op: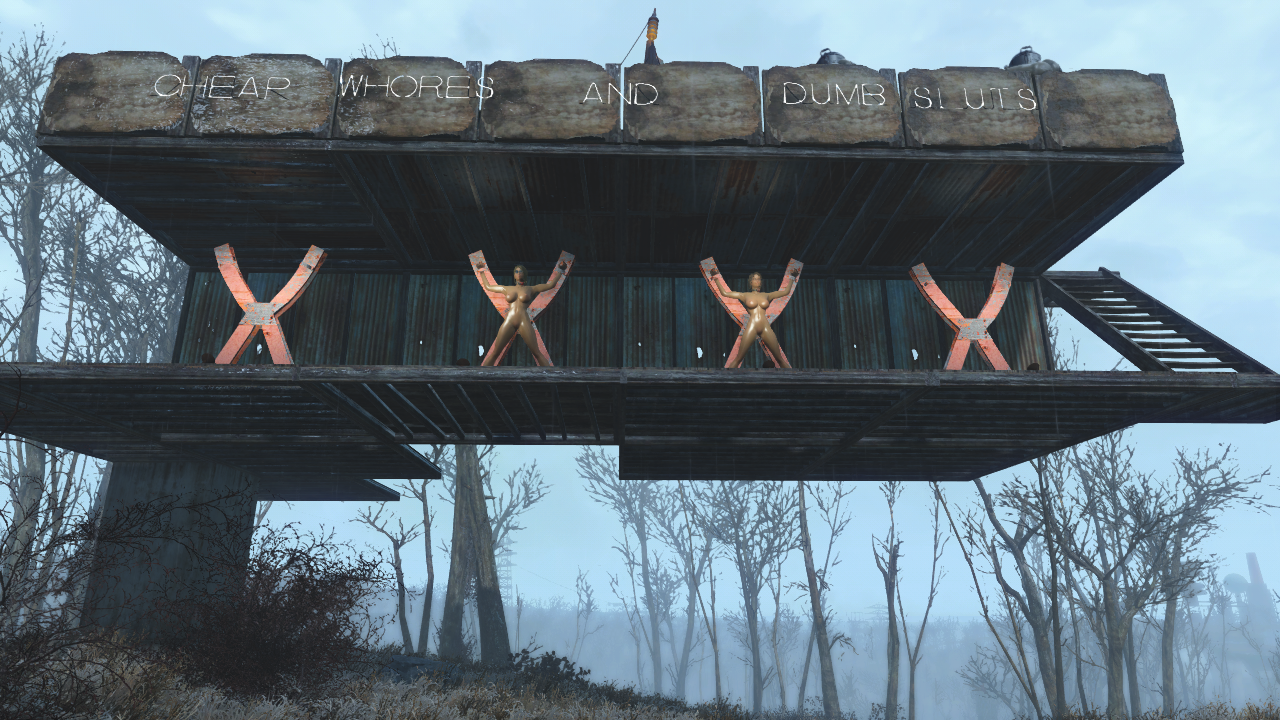 It was intended as a sort of combination breedery, welcome banner and defensive gun emplacement. Only I built too close to the Red Zone and couldn't complete it as planned. So it's half done and with two free crosses. Hmm...
Anyway, I did a quick run round the settlement. I can't find the slaves I'm looking for: not on the farming plots, not in the huts  - nowhere. So I decided to take care of a couple of odd jobs. I wanted to fill those empty crosses, I wanted to fetch the Commander's PA suit which I'd  left on the skyway, and I needed to scrounge up another Gunner from somewhere.Maybe another five and fill out the third side of that square back in Starlight.
Getting raiders for the empty crosses was easy. There's an old shack south of Starlight with a box of drugs.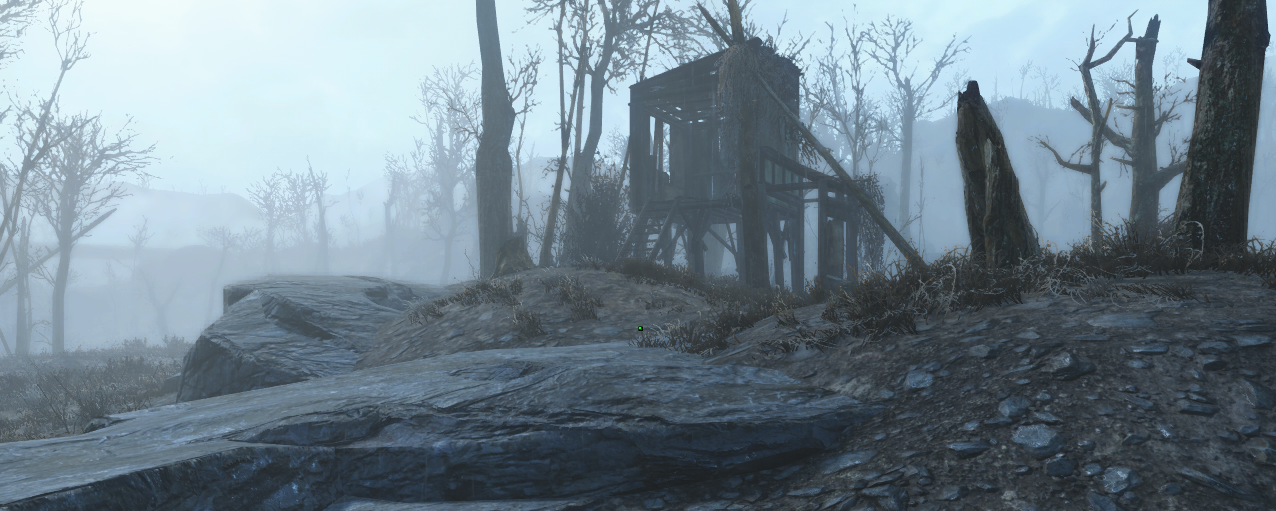 Take the drugs and three hostile raiders turn up. I only got two of them, but that was all I needed. They were a comely enough pair once you got rid of the armor.
Didn't take long to get them inducted into the school. I did the one ...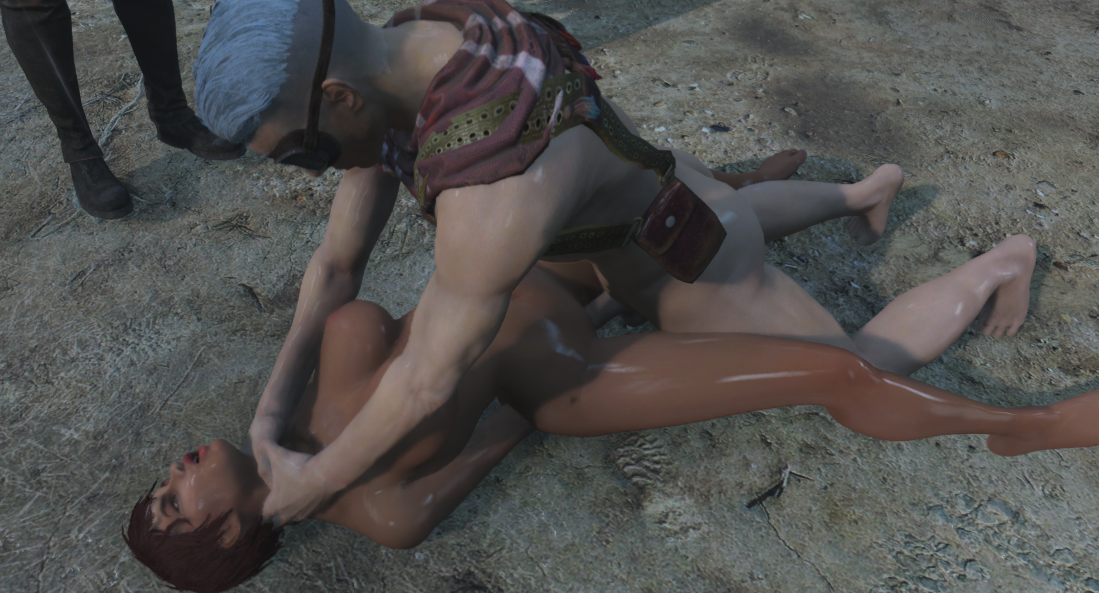 (I think the feet belong to her friend)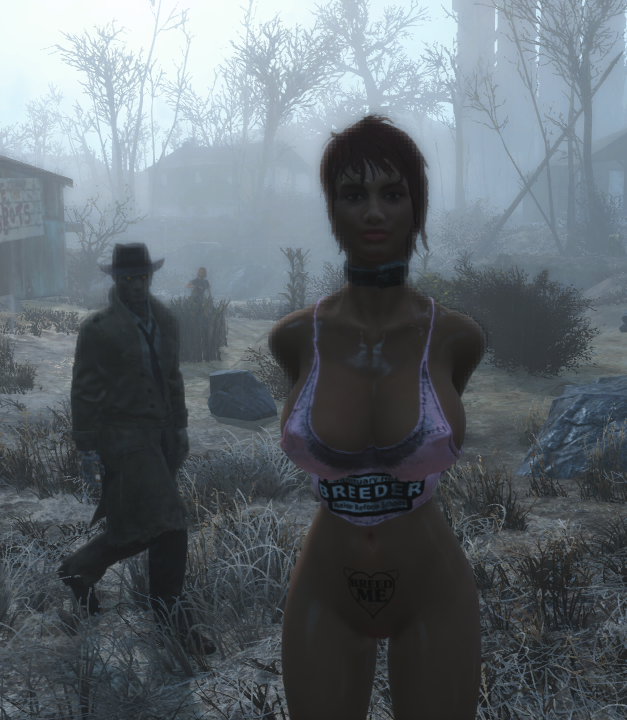 And then realized I'd run out of shoes and tops, so it was off to the barn and the chemlab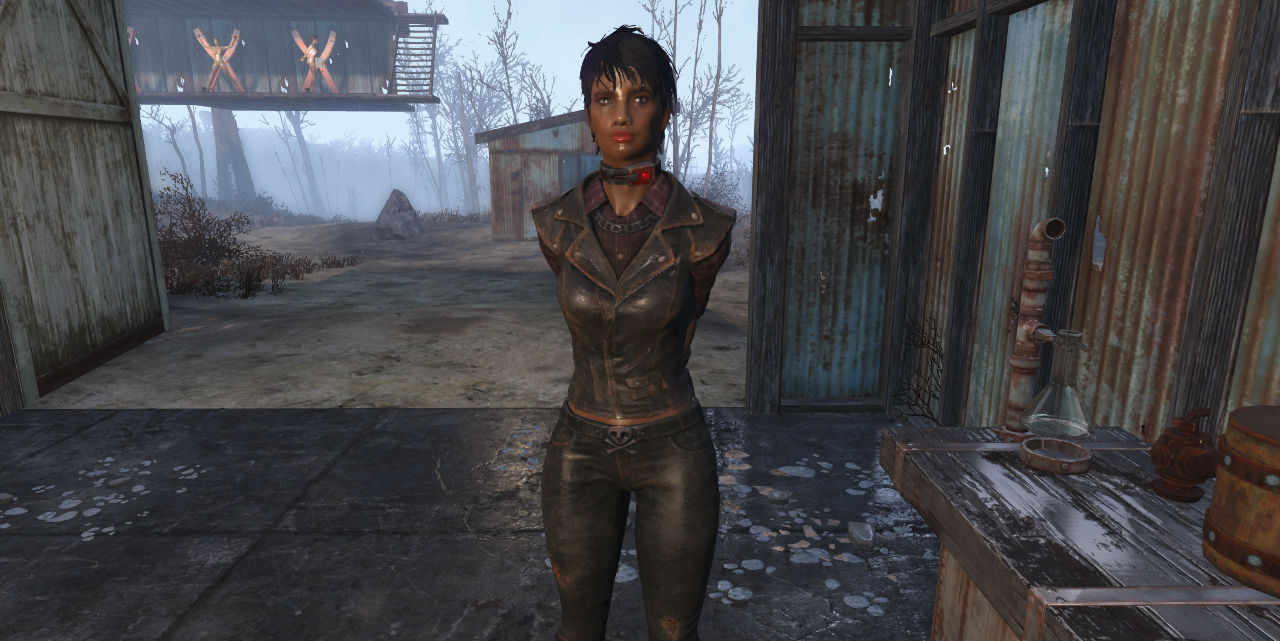 After which
Have you ever noticed that bug where things get wet indoors when it rains. I know there are a few mods that fix it ....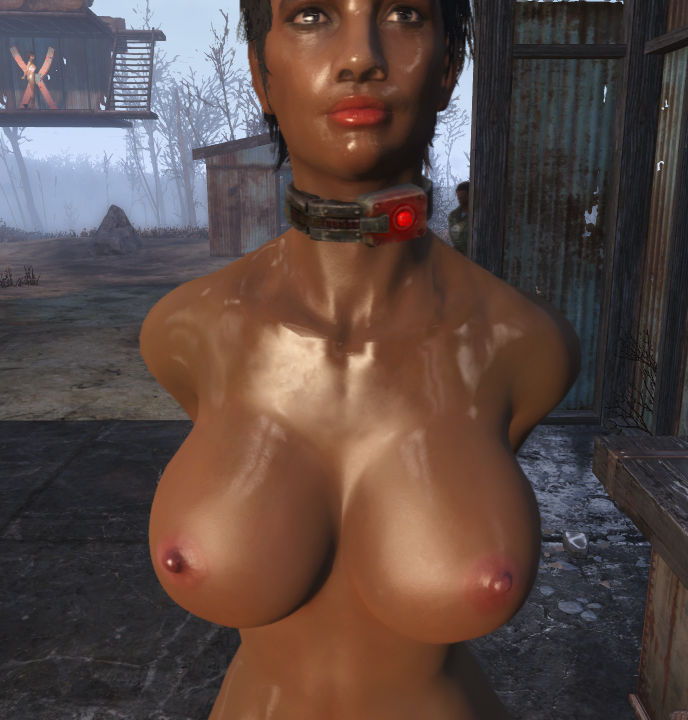 I never bothered with them myself.
...for some reason.
About this time I got a pleasant surprise: X927 turned up!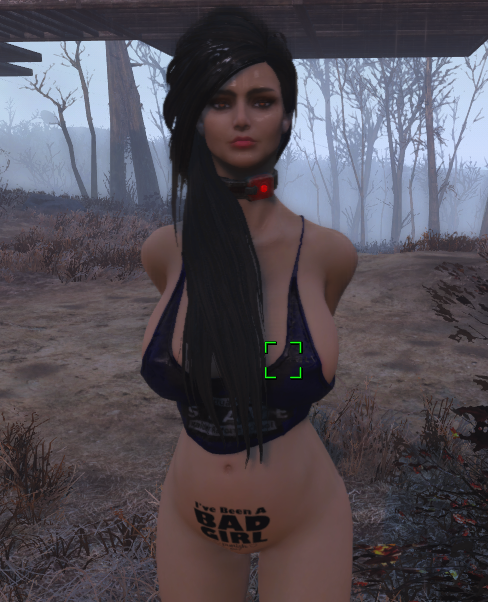 Turns out I had sent her to Starlight after all. It just took her a little longer to get here.
Anyway, that was pretty much it for Starlight. I set the new girls up on the breedery, re-fertilized the ones already up there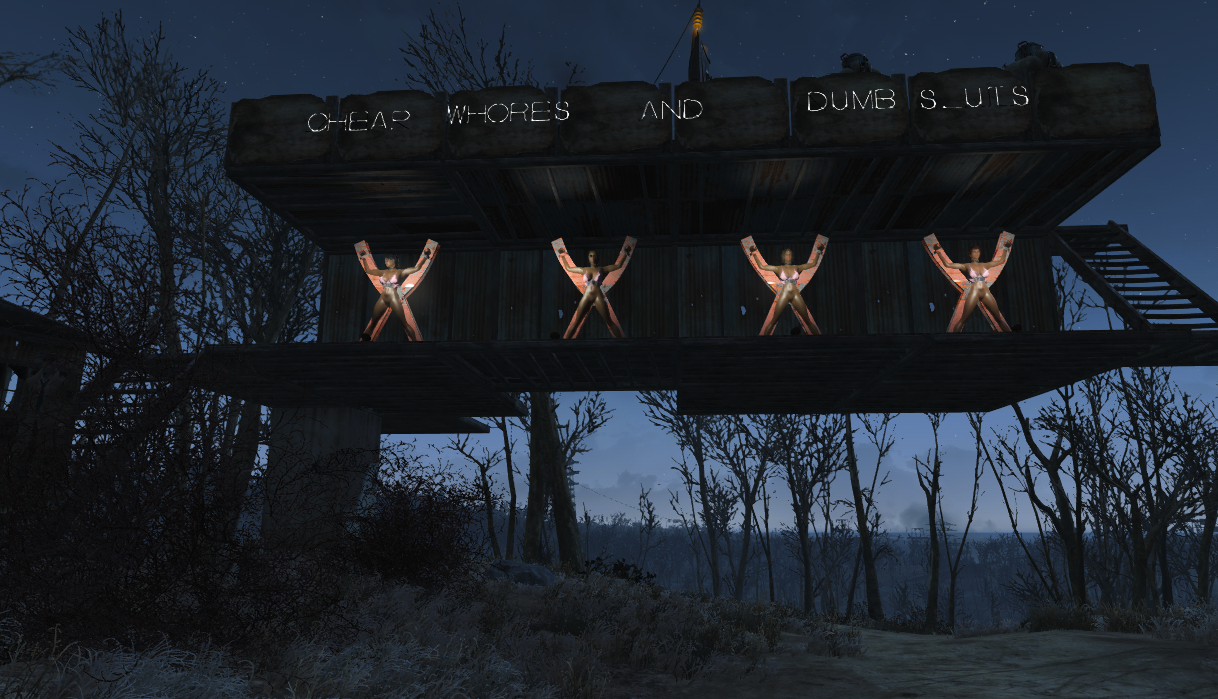 And time to move on. Which is just as well because a Runaway Slave quest starts. So I high tail it over to Mystic Pines (it's always Mystic Pines for some reason)  and find...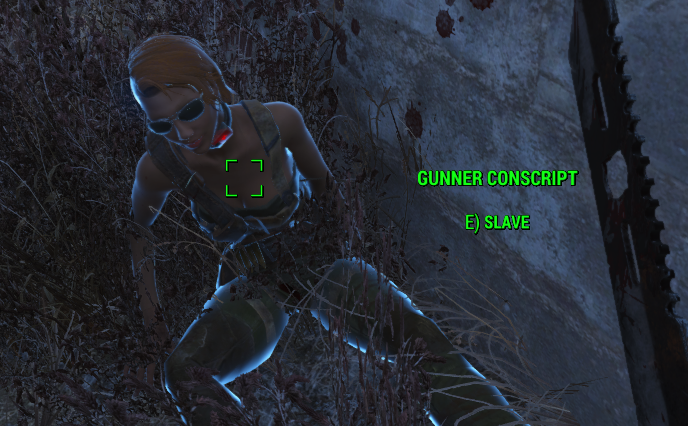 Well, that accounts for the missing Gunner. I'll grab the Commander's PA and we can all get back to Starlight.
Except, over on the Skyway, I get attacked by a Gunner! Well, just one didn't pose much of a threat.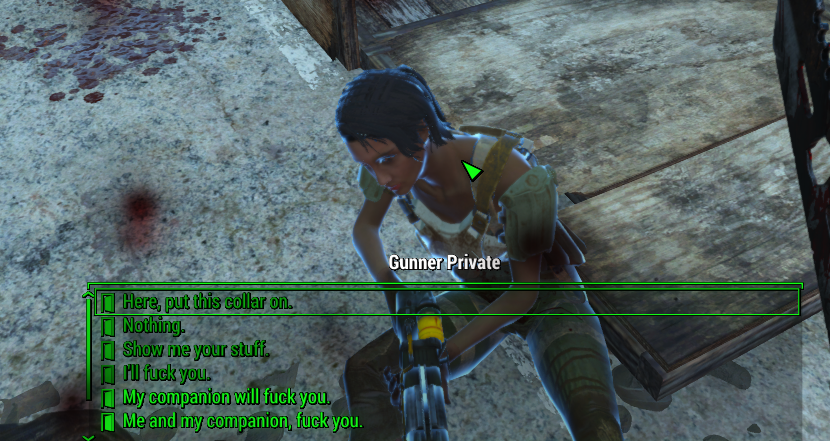 Only I set out looking for one of them, and ended up with two. Maybe I really will need to find an extra three and set up a third side to the square.
Time to worry about that later. I grabbed the Commander's PA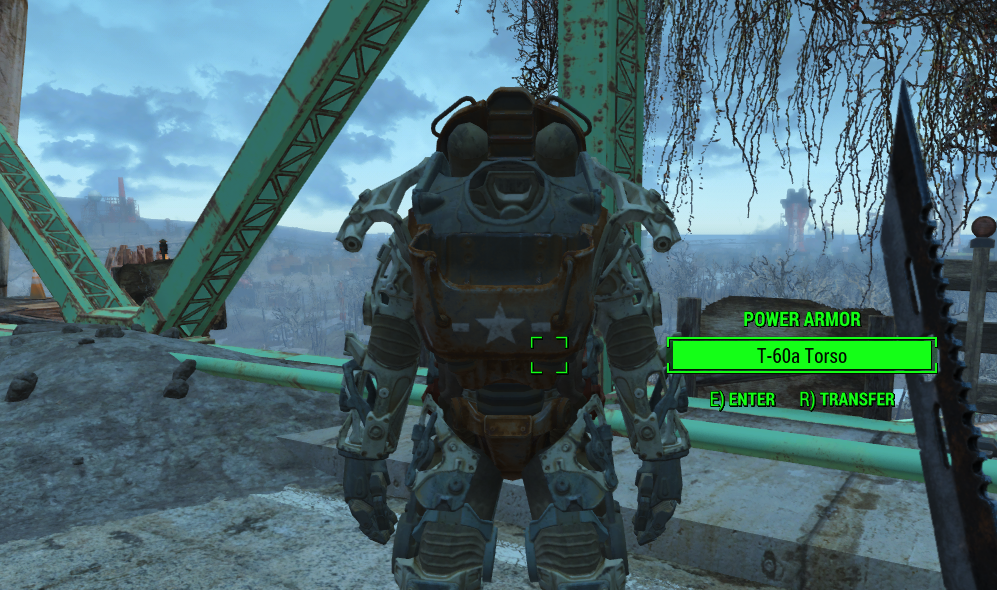 And returned to Starlight Drive-In where I find I'm missing two gunners. What must have happened is that I missed collaring one on the Skyway, and another one I sent to the pillory, but didn't set her home, so it didn't stick. Then, as soon as I was out of the picture, she ran.
So that was what happened in Sunshine Tidings. Next time, there's a bit more building to do, and then maybe we can get to the main event.