About This File
Captivity Events

Description
Captivity adds custom events to captivity system (captor, captive), prostitution menu, and the loss of armor and weapons for the player, various parameters to loss of renown to relationships as well as quests to retrieve missing equipment. A key feature of this mod is the ability to customize your own events with images and your own event chains and dialogue.
Help Required
Need more artists to create some adult/non-adult backgrounds. (New default events help required, message me if you are open to assist)

Need more writers for more events to cater to more tastes.

Translators.
Reminders
Delete the old mod completely before installing new one.

VERY IMPORTANT!

If you are installing manually please read the README as well.
This mod affects save-data make sure to make backups of your saves.
This mod requires MCMv4.
LL Version Additional Content
Contains some modified event text that doesn't follow nexus guidelines.
Contains the Gif Sub Module.
Links
Nexus Link:
https://www.nexusmods.com/mountandblade2bannerlord/mods/1226/?tab=description
"Remember LL will always be updated first."
Discord Link:
1023 is out! (Looking for Artists)
Custom Module Loader Supported

Event Writers, please refer to zCEDefaults inside of fomod, move it to Mount & Blade II Bannerlord\Modules

Road Map (Coming Soon)
New Flavor Packs for Events - Standardized art in the making (NEED SOME ARTISTS).
Randomized Captors - Captors will be selected at random from the party, not just party leader as it is currently.
Companions/Spouses - Companion/Spouse will be included within the events.
Delayed Events - Support for events that should happen sometime after another event.
Tutorial Write-Up - Tutorial in how to use this framework is currently in the works.
Leveling and Expansion for Brothel - Leveling, bonus rooms and slavery dialogue.
Animated Scenes - In brothel (currently blackscreen) and in other scenes.
Custom Scenes for Events - Teleports you into a custom attached scene that you created in mod tools from captivity events.
Already Supported
Randomized/Conditional Images - Randomize background images based on conditions or weight.
Custom Events and Loader - Make your own events and load them to work with this mod.
Moving Images and Custom Images - Insert your own images or make animated images using the animation XML.
Various Custom Conditionals - Various Custom Conditional (Location Flags, Raiding Flags, Day/Night Etc) included in the XSD file for you to work with your events.
Custom Quests and Strip Consequence - Lose your gear on loss and go on a quest of chance to reclaim it after escaping.
Random Events - Random Events that don't require captives.
Captor Events - Events where you are the captor.
Brothel - Own your brothel where you can enjoy yourself, work as a prostitute or become an owner and put your captives to work.
Custom Skills - Custom Skills/Flags Supported.
Create New Characters - New custom generated companions/captive heroes via events.
Progress Events - Support for events that require a party to stay in place for a duration.
Special Thanks to
LogRaam - For the special CEEvents Story Compiler and assisting with the Mod.
YoungSailorGlitter
- For assisting with implementation of Custom Events into the Mod.
@YoungSailorGlitter
SadSun - For writing some of the default events. @SadSun
TB - For assisting with writing and image finding. @transfer
Stronggater- For assisting with writing dialogues. @stronggater
Helfont - For assisting with images.

Please message me if you have any trouble installing
https://www.loverslab.com/profile/5266607-badlistener/
Common Issues
If you are experiencing crashes on startup please remember to unblock all dlls in \zCaptivityEvents\bin\Win64_Shipping_Client\.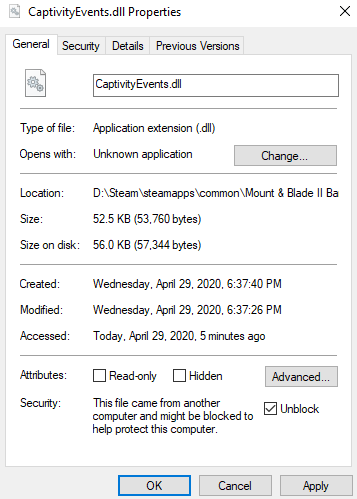 If less than 100 events are loading. Make sure your folder looks like this.
Please Enjoy!
---
What's New in Version
1023
Released
Update 1023
Added new Trait Conditions.
Added new World-map Conditions.
Updated for e1.5.5
Added new random and captor events. (More to come)
Previous Update 1022
New Conditional Image Feature.
Fixes to invalid Events.
New Images.
New Settings XML for when MCMv4 not working
Various Image Revamp to Default Events. (Special Thanks to TB)
Translation File Retouched.
Previous Update 1021
Branch 1.5.4 Updated.
New Progress Events Introduced.

Requires MCMv4 now.

Various Text Rewrite to Default Events. (Special Thanks to TB)
Various Fixes to Recruitment and Heroes.
New Kingdom Join/Leave Feature Added.
Various Fixes to Custom Skills.
New Brothel Maid.
New Images for Various Events.
Work in Progress on Default Events.
Translation File Retouched.
Notes
Delete the old mod completely before installing this new one.

Requires MCMv4 now.

Added Custom Save Data Classes (For Quests, Pregnancies, and Skills), this will put custom data on your save, please always make backups before installing this mod.
LL Newest Version (expect crashes and please report them)
Issues with Custom XMLs
None in this version. Currently on the roadmap to enabling a new way to import events.
Known Bugs
Duel Children (Rare but a possibility, this is due to tale worlds private pregnancy model that I don't wanna replace as it is currently broken anyways)
Rare texture failure in world map after hunting event (just enter a scene in the closest settlement to refresh the map)
Hero Companion Child comes up as a direct duplicate.
Missing Door to Center from Brothel.
All credit to the artists on Rule34 for the source. Please go checkout their work in your free time