The 'doll wigs' part of this project has been kind of on hold while I got myself distracted by flashing lights and the like, but before that I did learn how to paste the hair meshes together to get them to cancel out some of the weirder alpha effects I was seeing in the first run of prototypes. In the course of this, however, I also found that a number of promising candidates also needed a third 'scalp' mesh integrated into them to avoid having big ol' gaps showing through in the meshes themselves, which is a bit of a problem for pairing these with the replacement faces. That scalp mesh is basically the same as the stubble mesh that I've used in the past and that I already know doesn't pair well with those. So I'm going to have to sieve out the wigs with that issue, which in a way isn't a bad thing as it'll help me pare the parts count down, but dammit, I really had hopes for that Daisy hairstyle. 
Of course, the gaps are less of a problem when you're keeping the character's original head...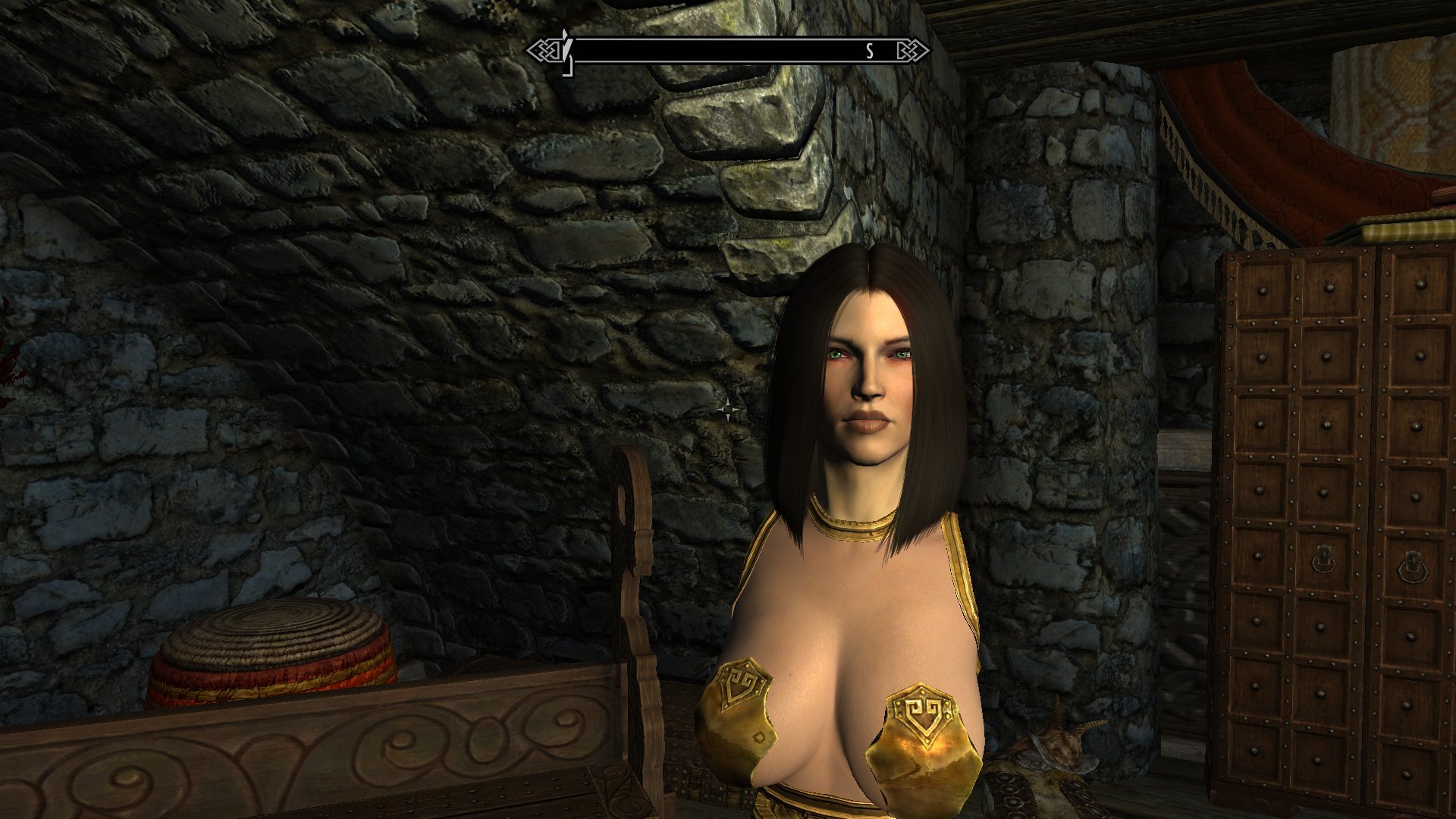 But this runs into the minor but still annoying problems I previously mentioned with combining the weighted human neck with the unweighted neck ring. I spoke at the time of how I was disinclined to add head weighting to the Doll Body neck ring as it would introduce distortion, and also how I was thinking about doing a stand-alone 'collar' version of the ring for use with regular human bodies. Well, that worked out quite nicely.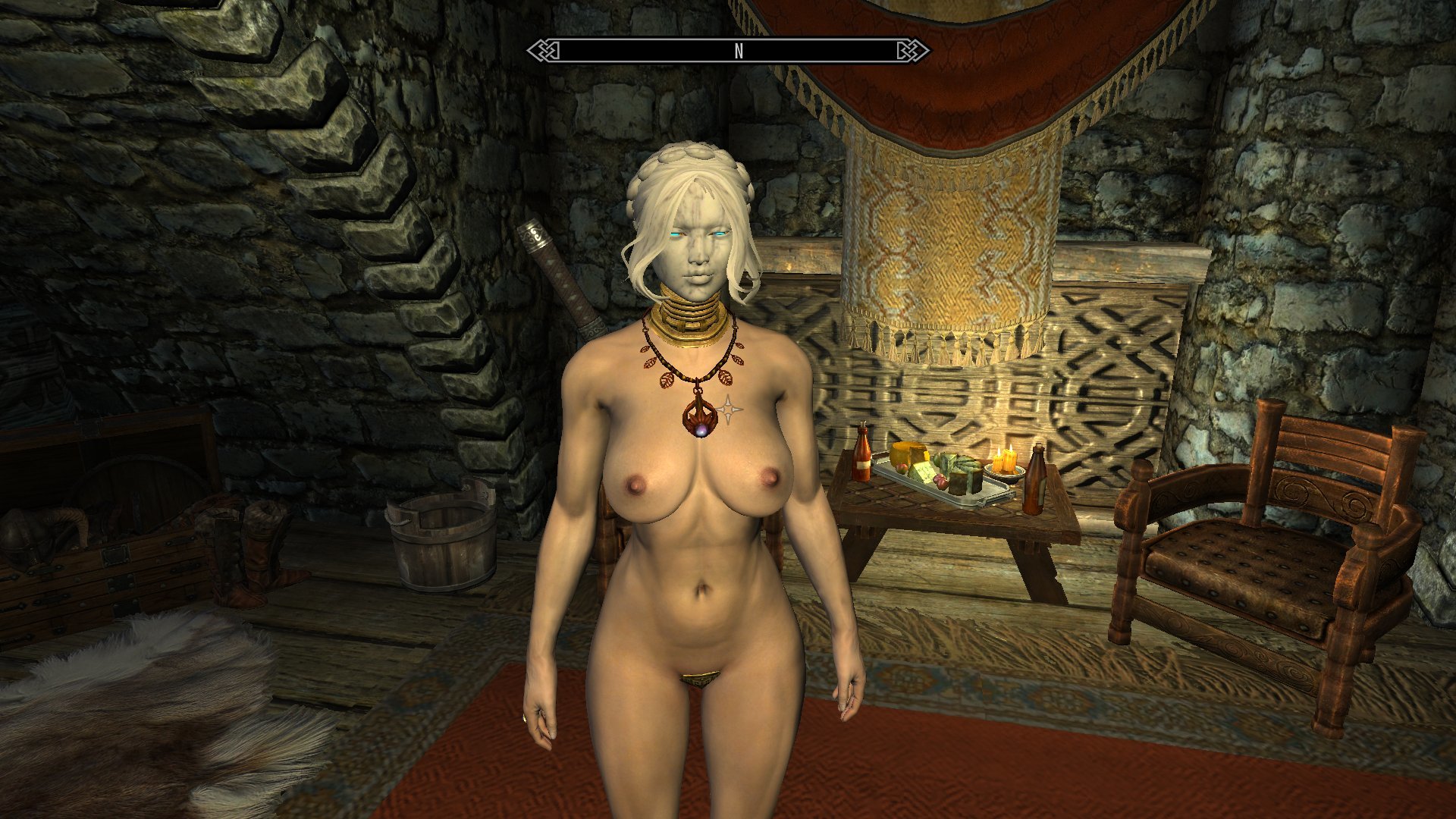 It's on slot 45 so it can function as either a connection point for the Doll-type heads or as just a regular collar, with the same look as in that pic of Lydia above but without all the potential clipping. It also carries over the Doll part's filler plate, so if you combine it with the Null head in DMA you get...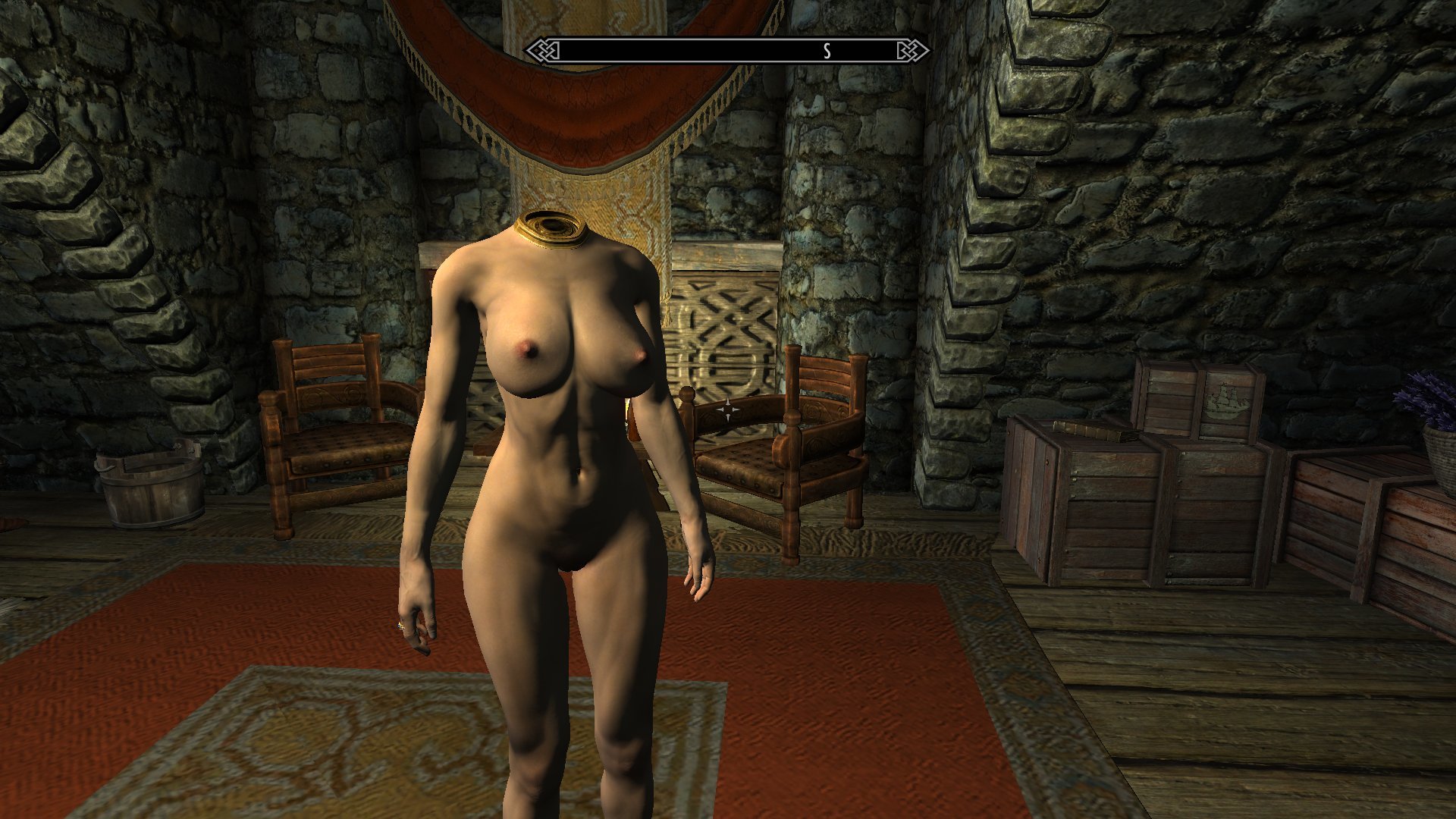 A rather nice bare neckplate. But ironically this also does a very nice job of showcasing why I didn't want to add the head weighting to the primary Doll Body part, as when you crouch with this on, you get this kinda thing: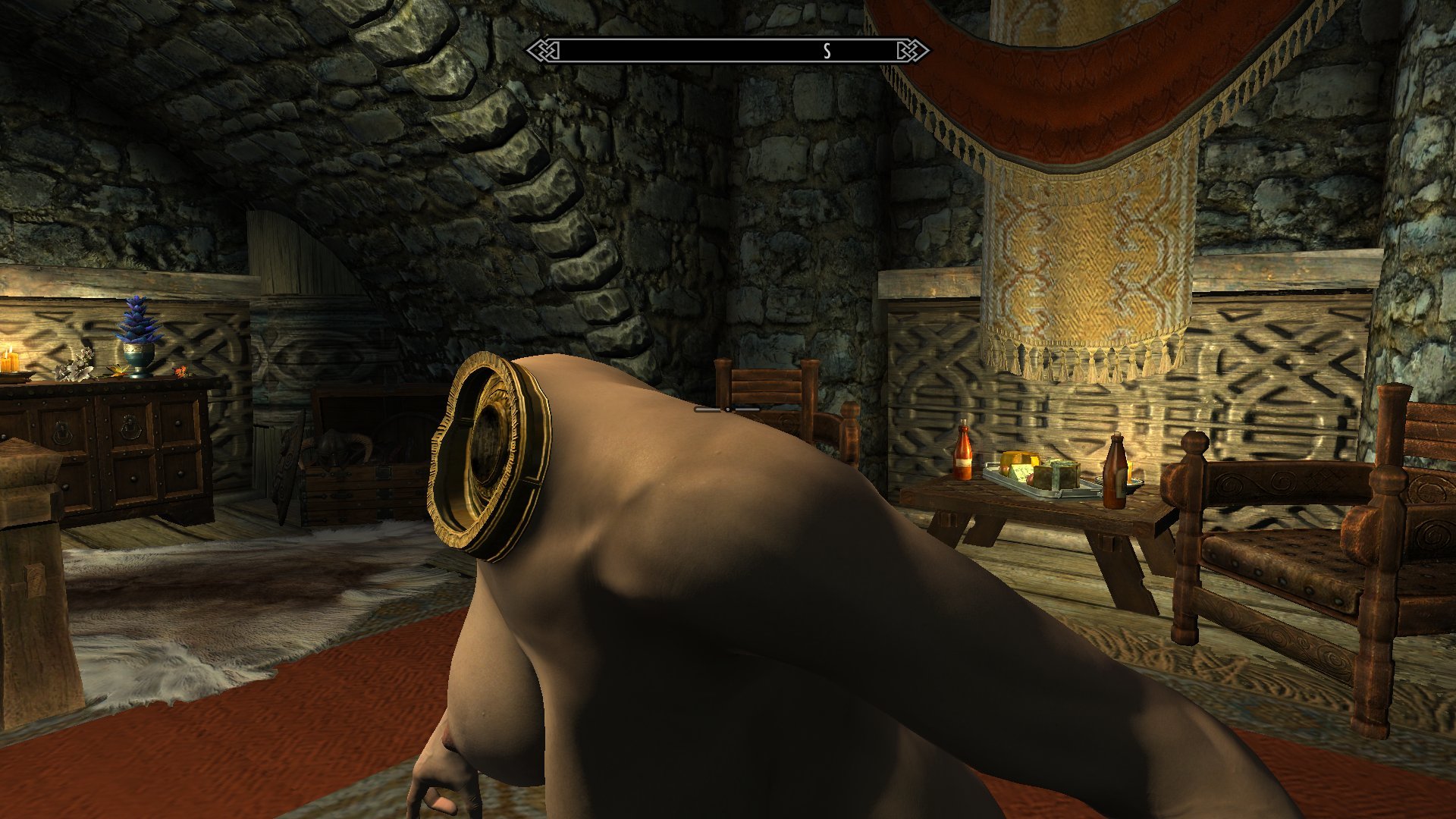 So yeah, that aspect's not great, but it's needed for the other functionality. 
All of this, though, doesn't really help with providing a 'mount' for human heads on the doll bodies. You can use the collar version of the neckplate on top of the body's, since they're on different slots, but as they're trying to occupy the same space but with different weighting you just end up with a lot of funky visual effects as the cubemapped textures clip through each other. So I can't recommend it.
There's a few ways to bypass the issue. The easiest one will probably be the Dwarven Bikini Collar III- or at least the version I'm planning to toss in with these that's been modified a bit to fix some spots where the neck ring likes to clip through it. Or you could find that one of the various existing collar meshes manages to obscure things enough to get by.
If you wanted to use something more definitely on-theme, one solution might be to use the neck frame from the Preservation Dome set. But that runs into the same issues with the size of the baseplate that the prior replacement heads did, for the simple reason that the necks for those heads were originally built from this neck frame.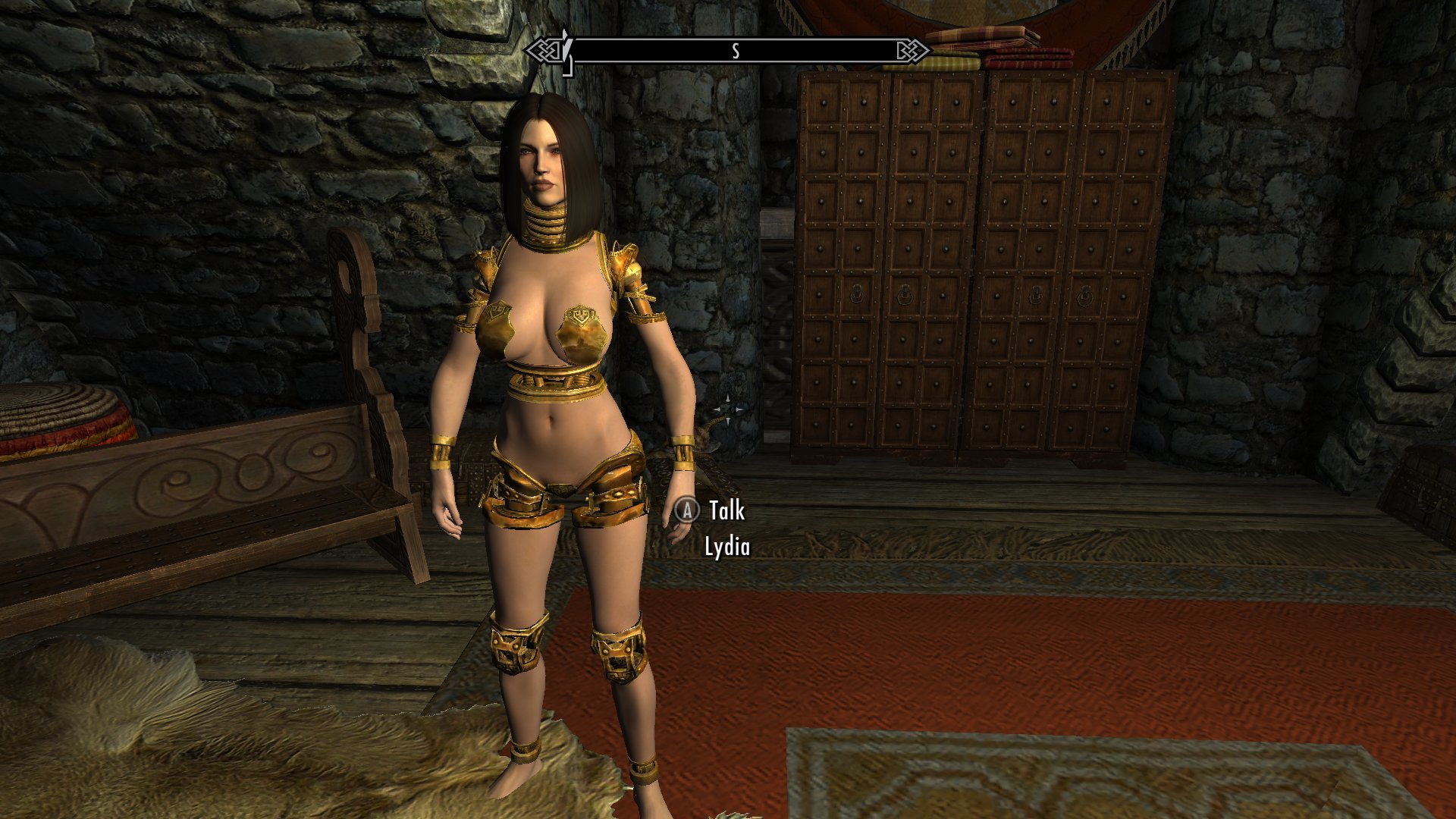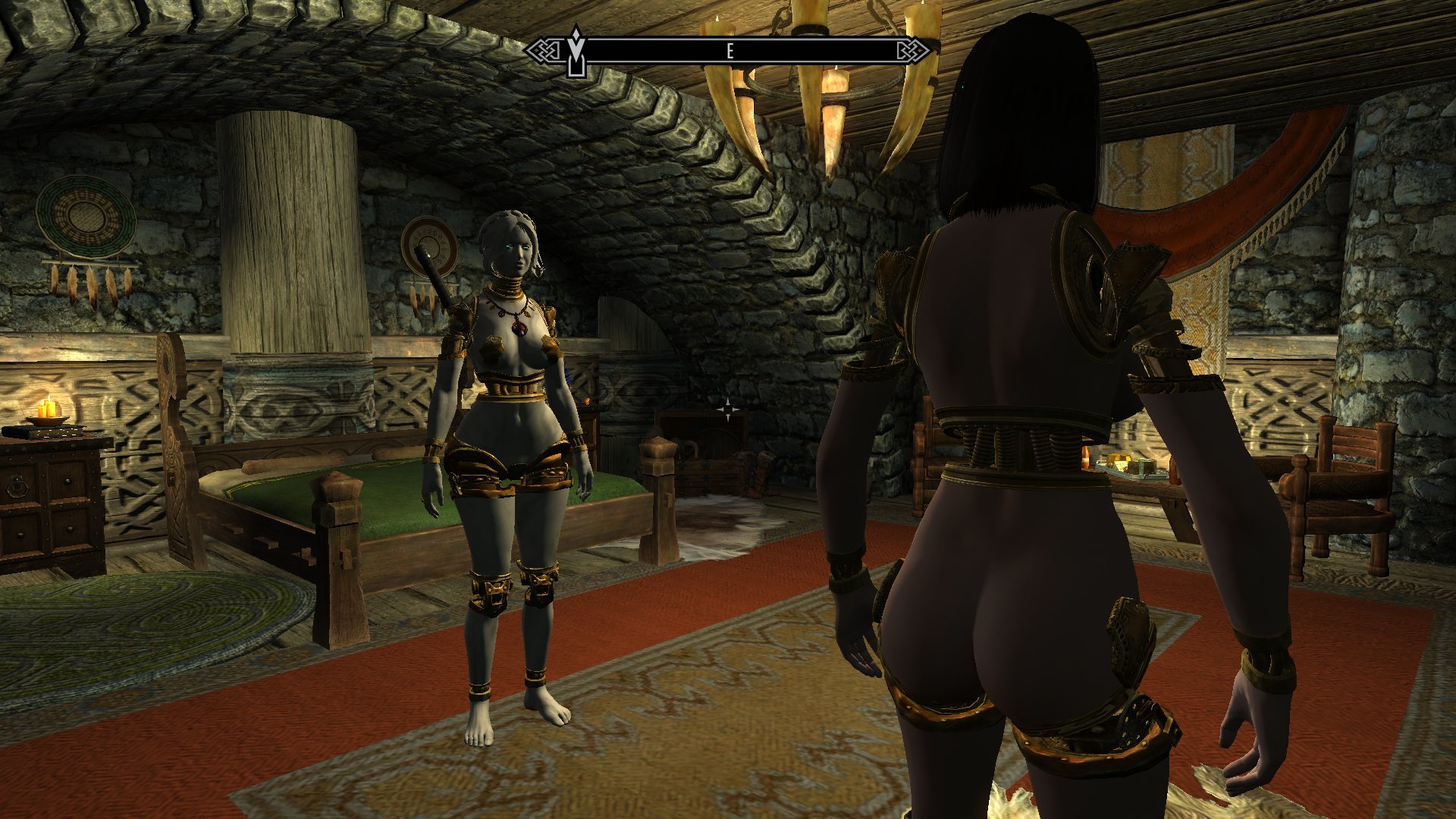 Honestly, I knew this was coming. The obvious thing to do with it was to build a new, Doll-specific base for the frame, same as I did for the heads. This was significantly trickier, though, as I couldn't just shrink it down to the point where it just pegs into the hole of the neck like on the heads; this part has to actively encompass the existing neck mesh to try to keep it from clipping out, which is a part of why I ended up with such a large base in the first place. To shave it down I had to pull off another application of the handy Scroll Chamber ring and use it to basically build another neck ring that slots over the existing one. And it pretty much works.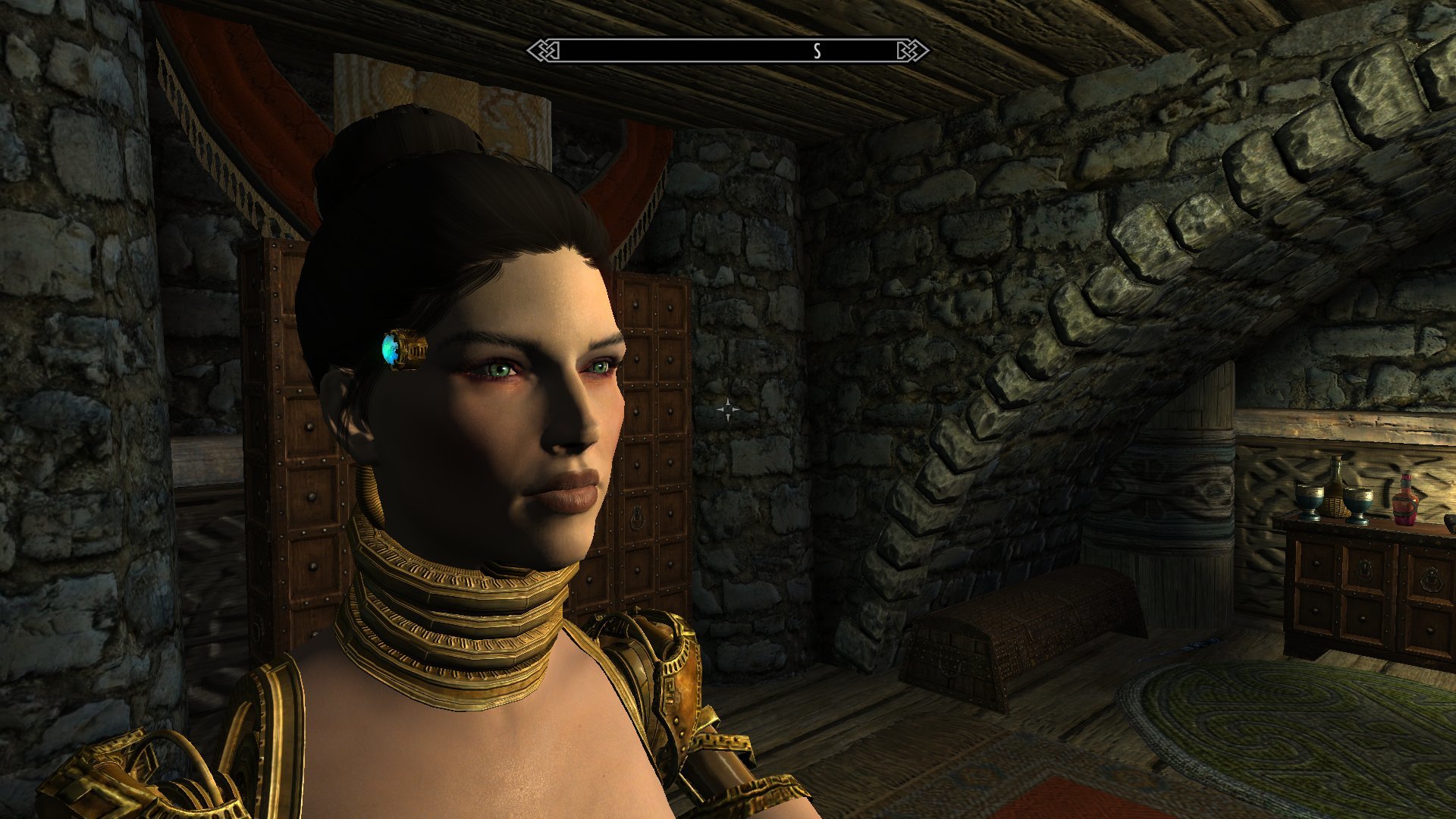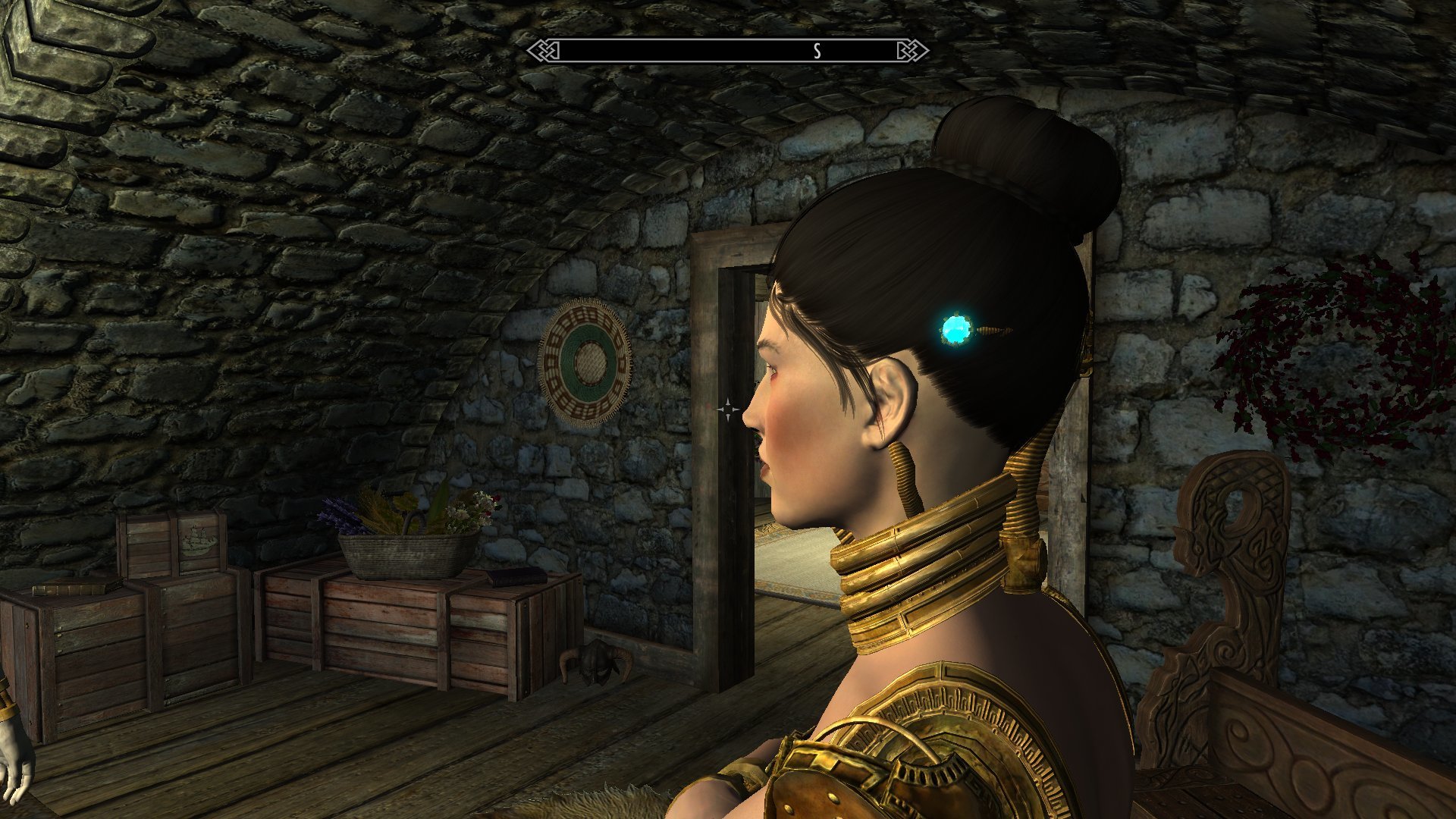 It's still a fairly massy piece, but it's significantly more trim than the prior version. It works reasonably well with a number of the more promising hairstyles I've tested out.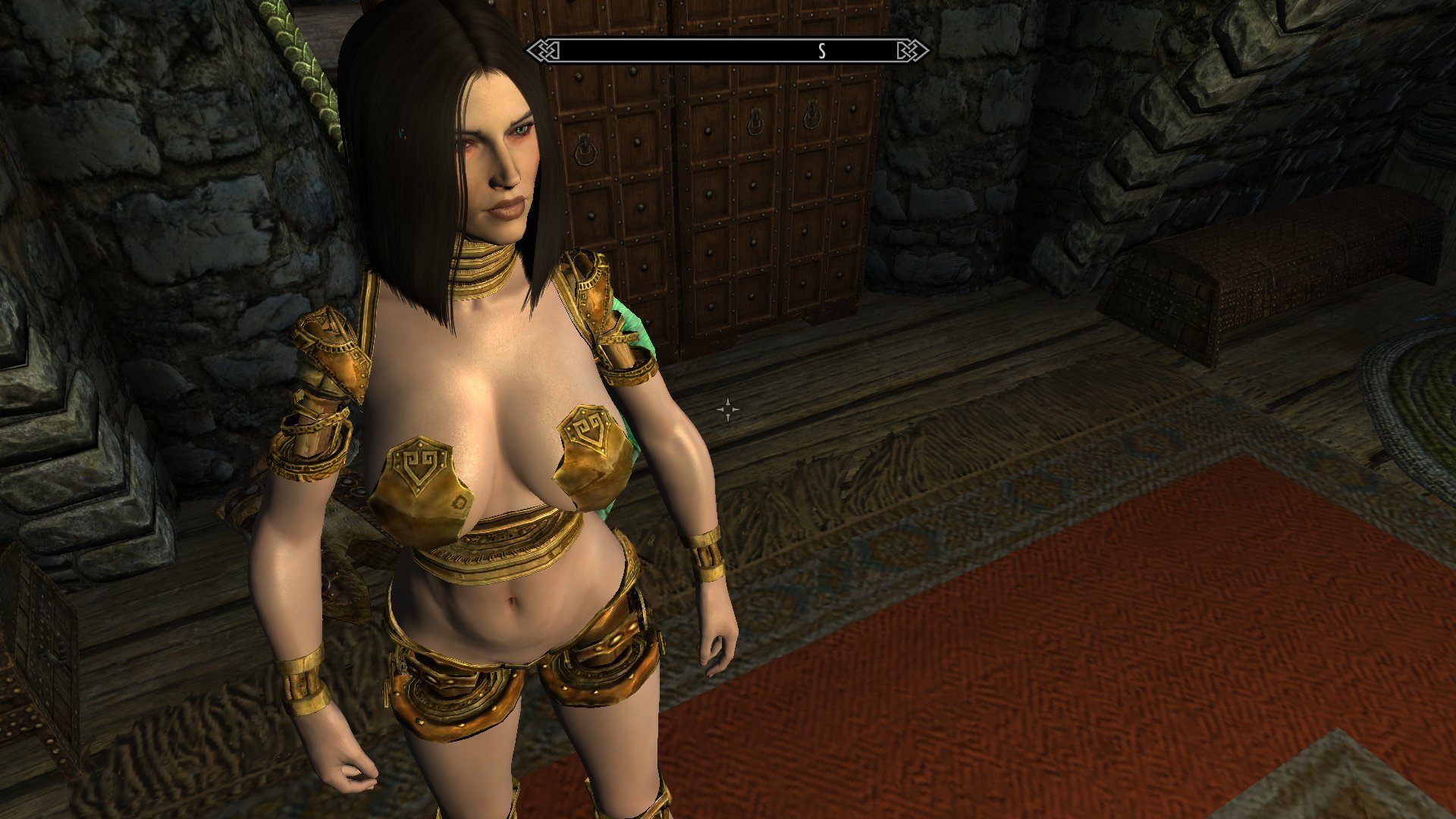 I do feel that it might be even more Doll Body-specific than the new heads, however. I haven't even tried it with the robot neckplates yet, but it does have an unfortunate bit of the base-filler piece that shows through when you use it on a regular human body: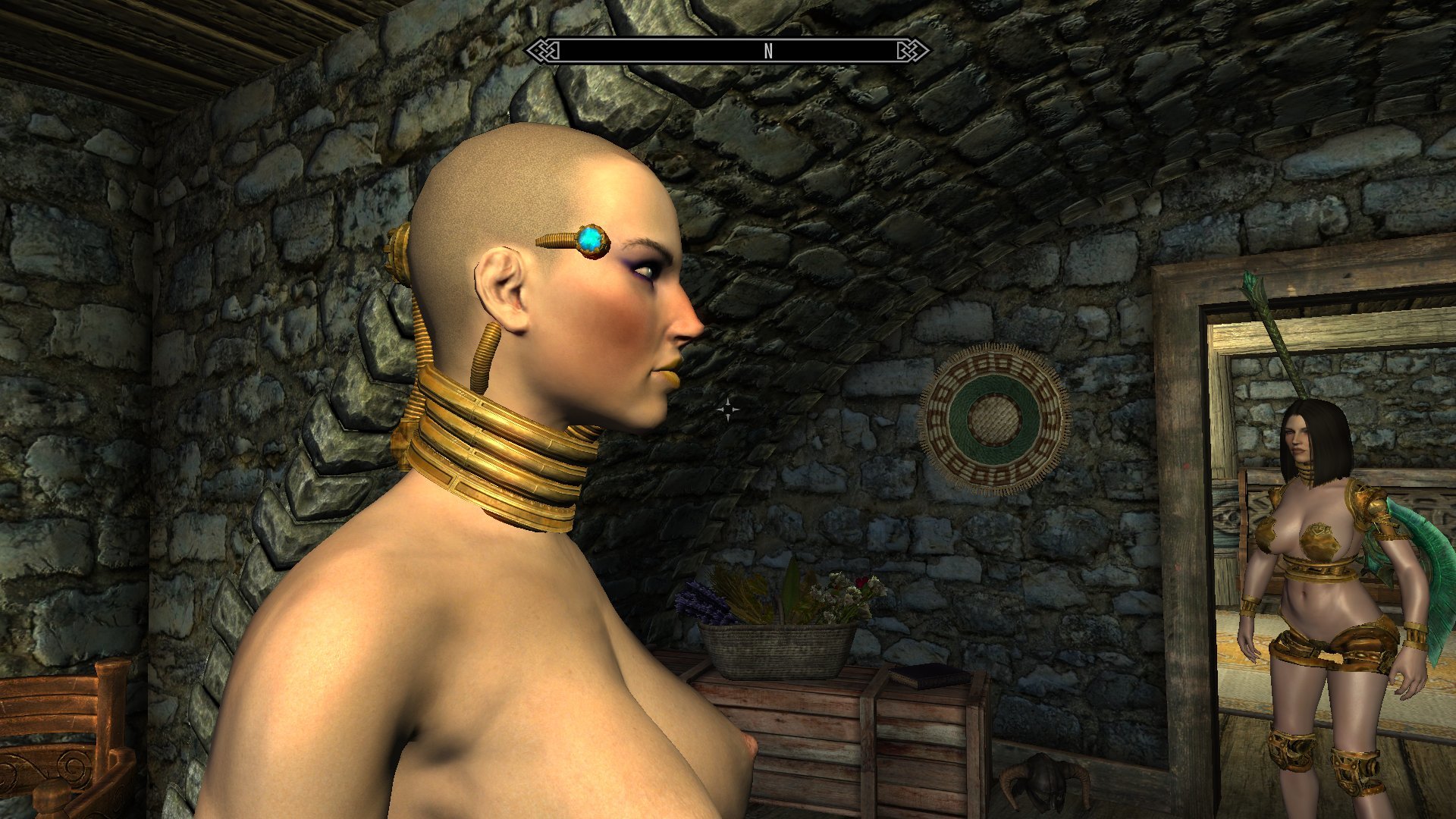 I also tossed together beast race-specific variants for this as was needed on the original version, with them having drastically different neck shapes, but I haven't bothered testing those at all yet. Beast race support on the Doll Bodies as a whole is a bit sketchy at this point. I had considered setting them so that they would just always use the human body texture without any character-applied bodytints, but when I finally figured out how to do that it turned out that using the unpolished skin textures in-game looked kiiiiiinda nasty. So I abandoned that idea, but there's still the issue of how using a part with a human skin texture on a character with beast skintints gives you some really funny-colored bodies. The only real way to work around for that is to use the CK's texture sets function to make race-specific alternate bodies pointed at their textures, but that's honestly more of a pain than I really want to bother with. So I might just skip it. Dunno yet.
Another elephant in this particular room is the question of CBBE support. One of the things I liked about doing the robotic DMA bodies is not having to give a fuck about body types, because they didn't use any parts of either body. That's pretty obviously not the case here. Every bit of these so far has been made from UUNP HDT and Special bodies, but as it happens they are technically CBBE-compatible, in the sense that they are also built with all their body textures pointed to an isolated folder with alternate copies of the textures instead of the primary character assets folder. This means that as long as you continue to have a UUNP Special-compatible texture in that isolated folder you should be able to use these alongside a CBBE ecosystem without any texture problems. I think. For UUNP users this also means that you can can give the Dolls whatever skin texture you prefer to use, either matching your default or keeping them unique, by simply copying in the textures from any given skin mod. I'm currently inclined to 'ship' it with the textures from The Pure packed in, as they're quite clean and have wide-open permissions, but probably not the default 'glossy' version that Lydia's sporting in the last two pics. That's a little bit too artificial for my tastes. 
But even if the texture problems have been sidestepped, there's still the issue of the bodyparts themselves being built from UUNP meshes. This won't be a problem for the fixed-size 'prebuilt' stuff I intend to make based on the various UUNP pre-sets, but rather with the core 'variable' versions I have planned out for all of the parts as they're functionally just UUNP bodies. That might be an issue for pure CBBE users, as they'd have to do some extra steps just to build the things in the first place. And I also have no idea how this will impact getting all this new stuff into the SE version. Of course one solution there is just to make a CBBE version of the variable body, built entirely from a straight CBBE-type mesh. Preferably CBBE HDT, if I can find the vagina for it. But I haven't really done any experimenting on that at this point, and probably won't until I've got the current pile of work more finalized. Hell, I'm not even sure if the CBBE meshes can be cut right for the Gynoid parts, yet. 
I have higher hopes for the BodySlide parts aside from the main torso being cross-compatible, though. The 'collar' neckplate ought to be fine, from what I understand about the ones in the DCC Heads pack. There's a set of Variable hands in this that should be able to function as regular gloves as well. And as for the feet the main 'variable' part is a thin ring that caps off the bottom of the leg mesh, so that should be fine. Mostly. I intend to offer both variable and 'fixed' versions of the feet due to one potential issue with the planned fixed-size bodies: using a fixed-size body with thin limbs on a high-weight character along with the variable weight feet would just result in that joint cap sticking out and looking silly. I could just skip it and offer only the fixed-size feet, as all of the Doll Body legs already have the leg end of that cap incorporated into them, but I kinda want people to be able to use these with regular bodies as well. Or I could change my mind and just pull the variables to save on the parts count. Not 100% sure there either, yet.
But all that concern about variable bodies and various presets and so forth ran me right in front of another problem: the high heels I built for the initial DMA release from the Nova Catsuit boots. Those... Are not variable. At all. They're built to go over the UNP leg shape on the Gynoid legs and the more or less UNPB shape of the Edhildil legs, and not much else. If the calves are any thicker than that, they clip through the rings; any thinner, the rings just float in space. Not great.
Now I could have just made Bodyslide versions of those heels, but when using them in my earlier testing I couldn't help but feel that they didn't quite fit with the high level of skin exposure involved with the rest of the Doll parts. The rings were already a problem, and then just having those all-metal feet hanging off the end of a flesh/stone limb came off kind of wrong. So I figured what I needed was an alternate high heel mesh with a nicely exposed foot, and went looking for one. What I ended up finding was a truly lovely pair of sandal-style pumps in the DG High Heels set by good ol' Petrovich. Truly beautiful models, great texture and normalmap, and pretty much exactly the sort of thing I had in mind when I started looking. The only odd thing about them was that while the rest of the closed boots included in the set were packaged in the UNP version of the mod, the sandals were not. 'That's a shame,' I said to myself. 'Guess I'll do a quick UUNP conversion of it for my own amusement before I roboticize it,' I said to myself. 'Can't imagine why no one seems to have done it alrea... Oh.'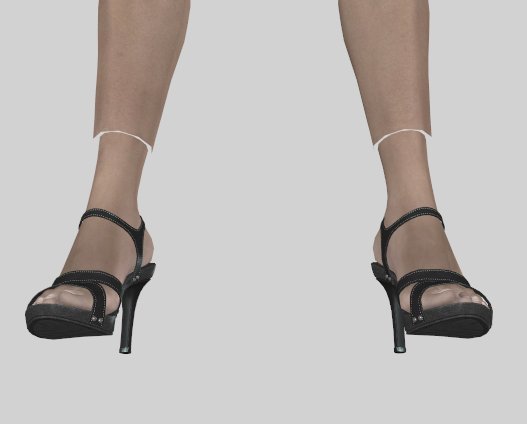 So yeah, I guess the original Dreamgirl body's ankles were a lot thinner than the UUNP ankles. I can't even get the UUNP's down to quite that size using the sliders. And going at it the other way and trying to expand the feet just netted me these weird tears in the mesh. Probably the only effective way to modernize these would be to make entirely new foot meshes for them, and that's well outside of my skillset. So I pretty quickly gave up on making a conversion of these. 
But then I also realized that for my purposes, I didn't really have to. These are robot parts. All they need is the right kind of adaptor. 
Texture-wise, these turned out really nice. This 'fully sculpted' version was my first go at a retexture for the Statue feet, and they look great. Maybe a little low-contrast, but for that I had my alternate take, and that was just perfect.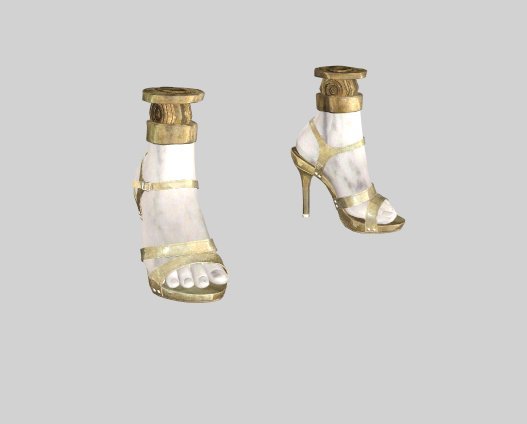 I really couldn't have asked for better with these. Not only do they do a wonderful job of picking up the color and the gloss, but some trick on the original normal maps, which I've retained to carry over the various detail elements they provide, causes the tacks and other pieces of hardware to display a contrasting silvered color instead of the base bronze.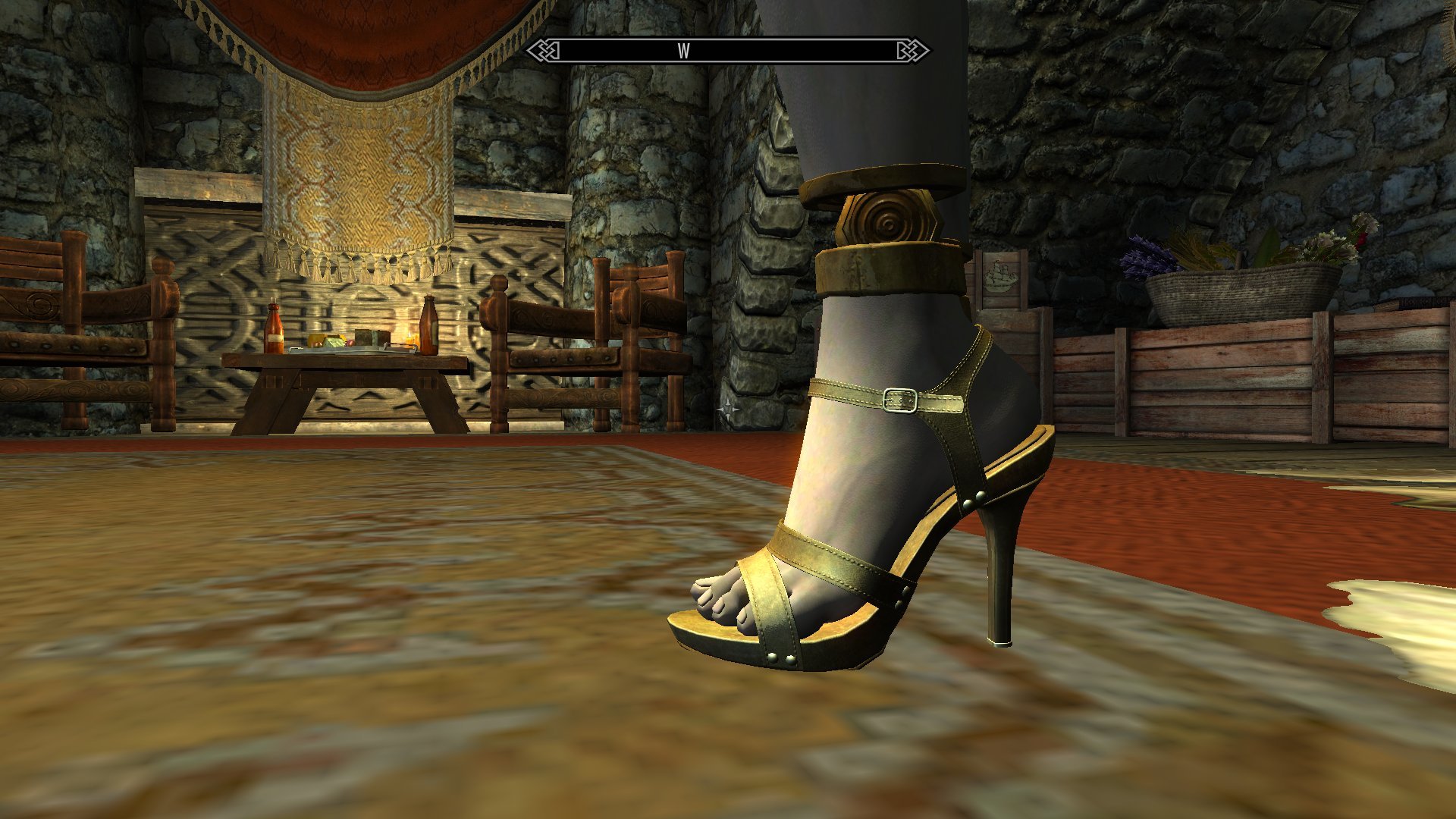 Just a wonderful bit of happenstance brought about by a very nicely executed original. Since it's all so damn nice I ended up with multiple versions of these; stone or brass for the Statue feet, and the original leather or brass for the Doll feet.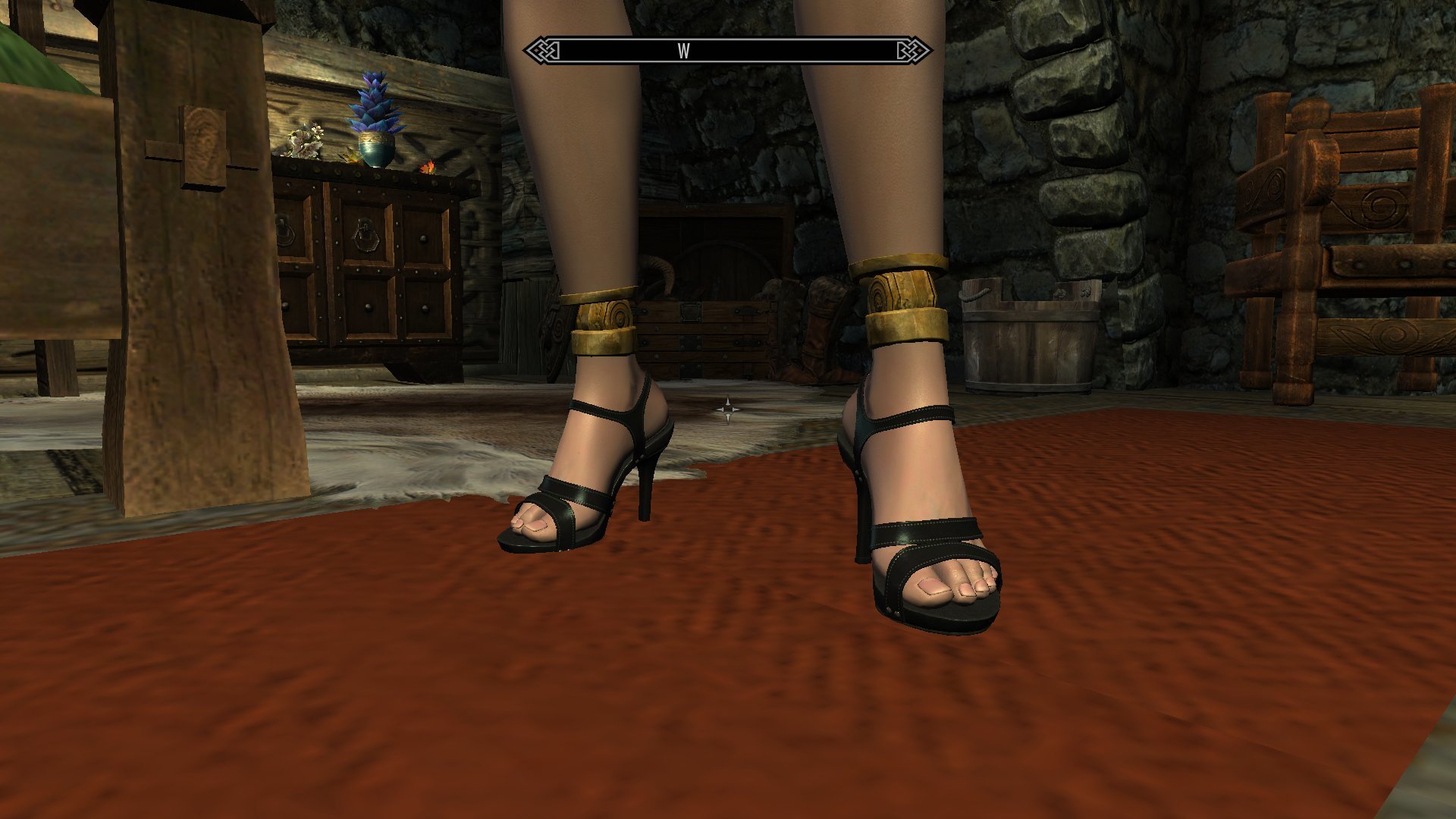 The ankles do continue to rather sharply thin down, but yeah, not gonna care. Robot feet.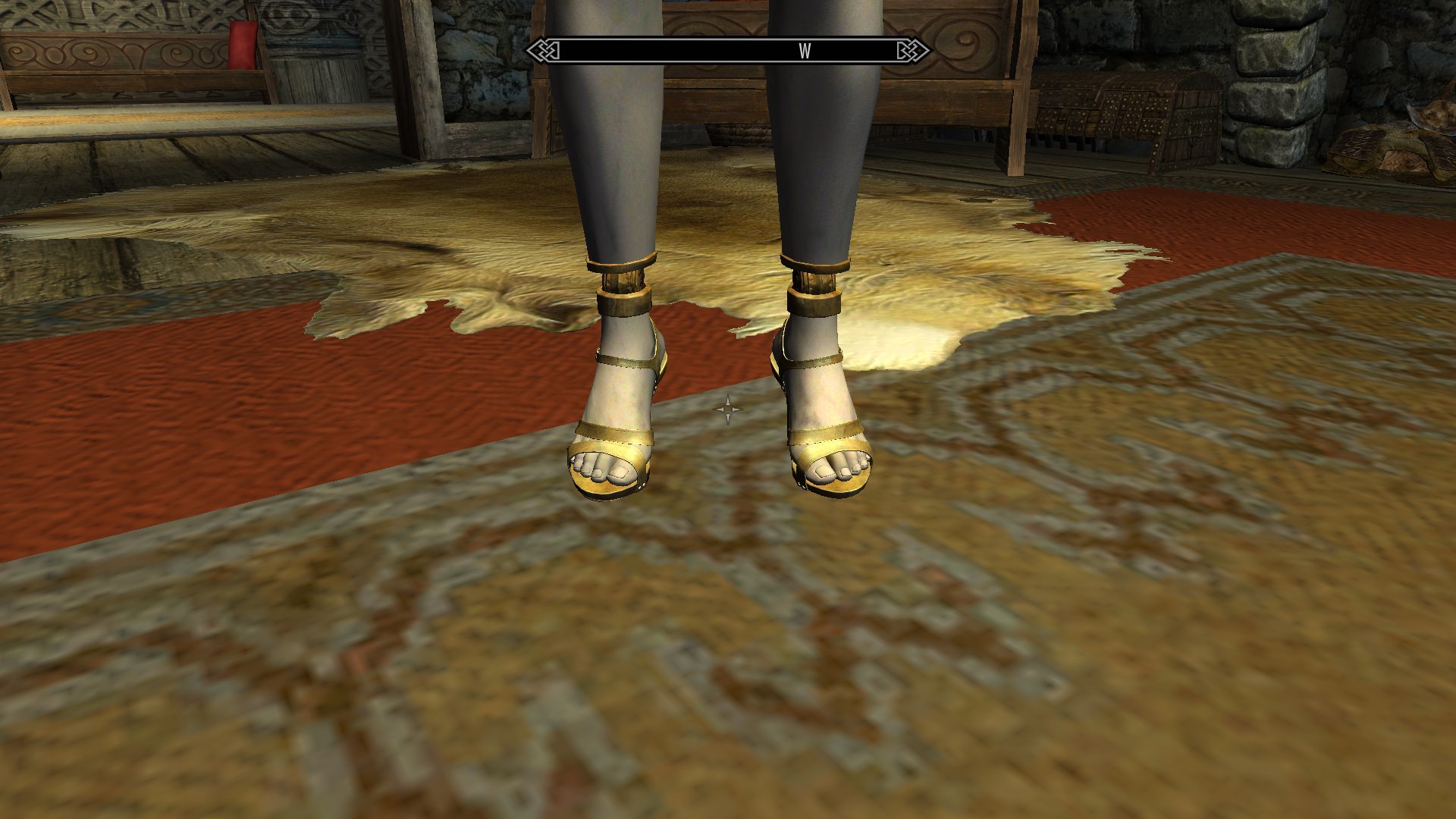 Honestly, though, while I like the other two enough to keep them the brass versions are definitely the winners here. They look great in motion.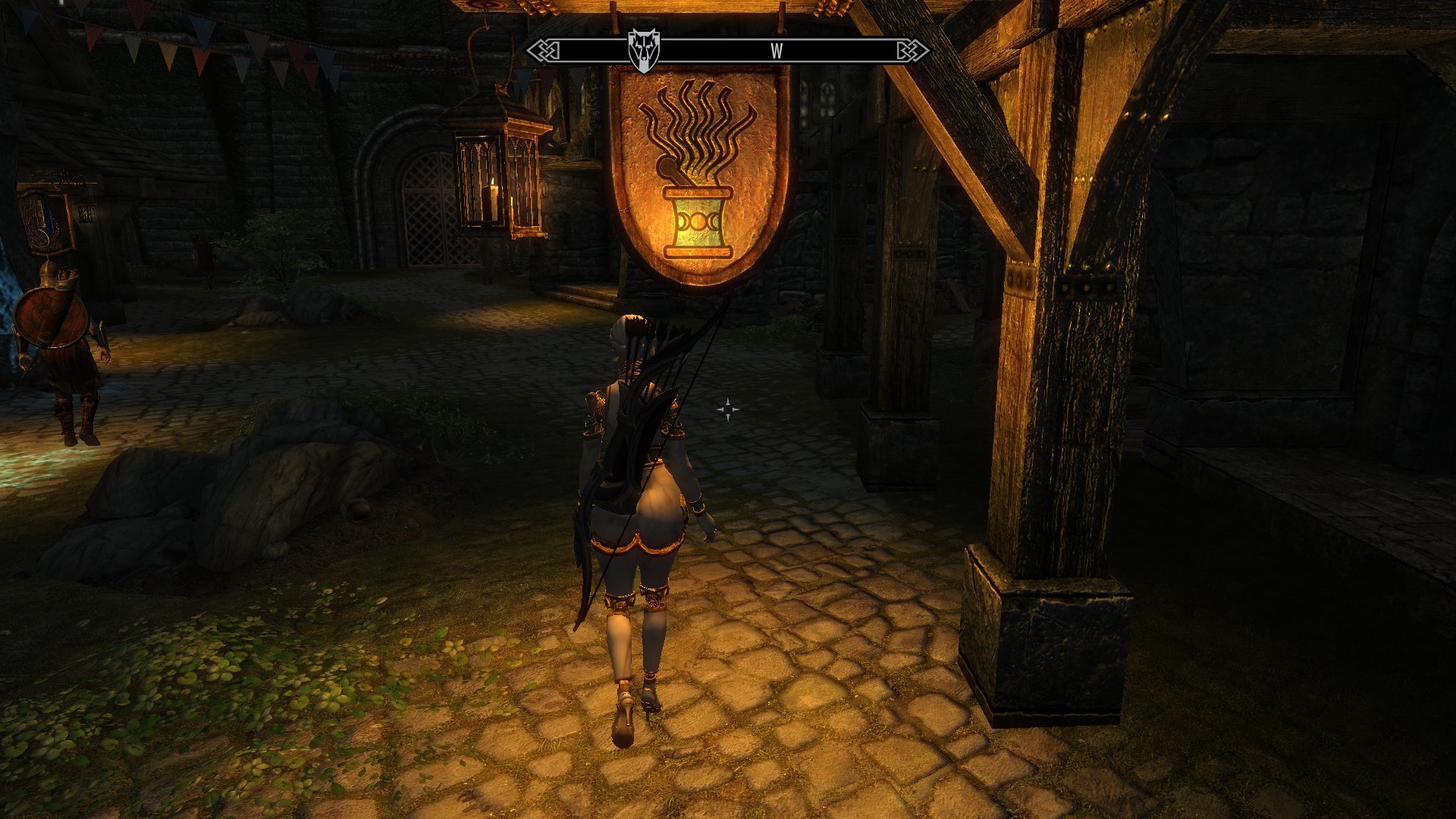 And they do an even more spectacular job of accenting the Rubberized Doll version: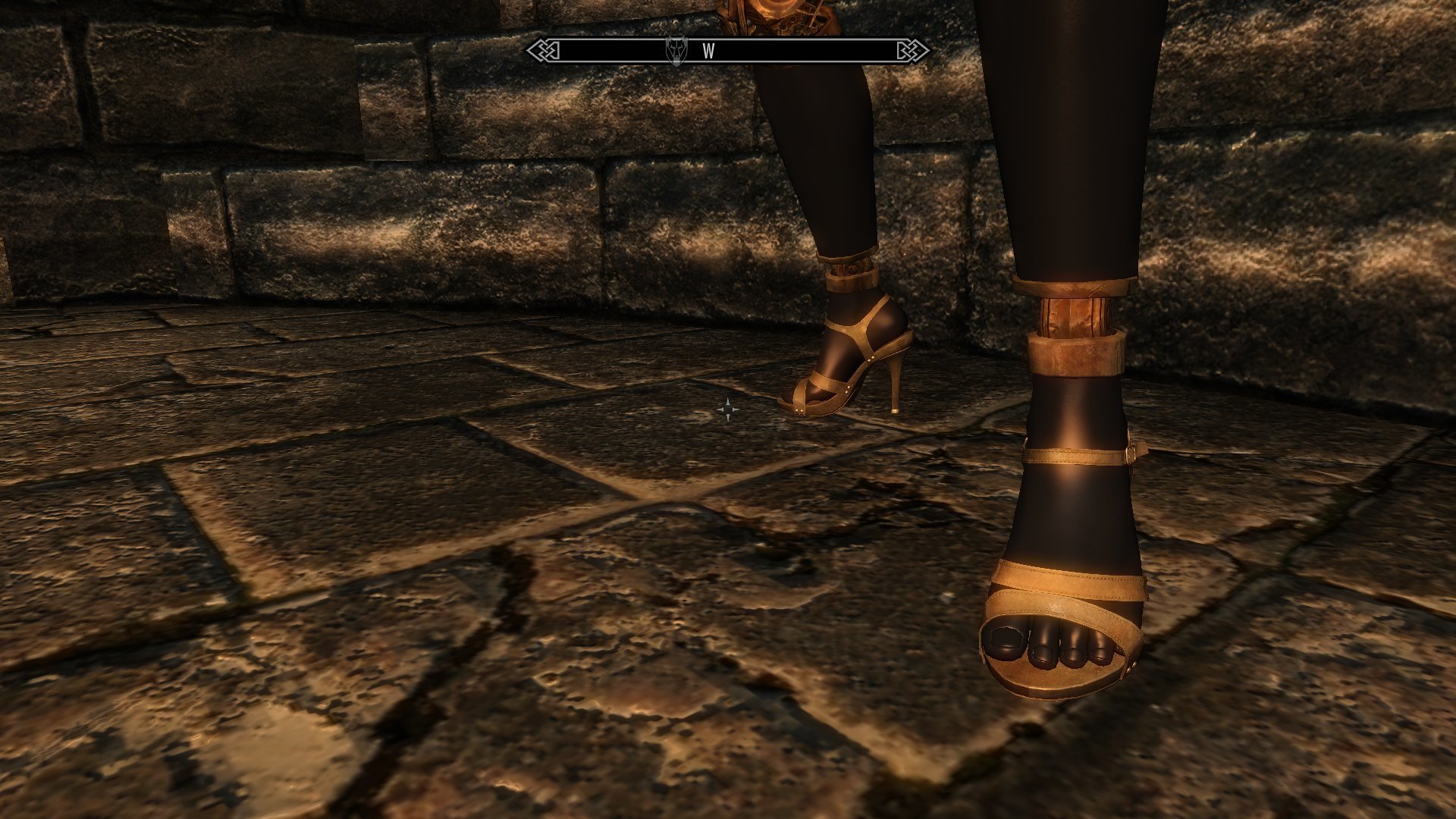 Honestly, this whole look amuses the hell out of me.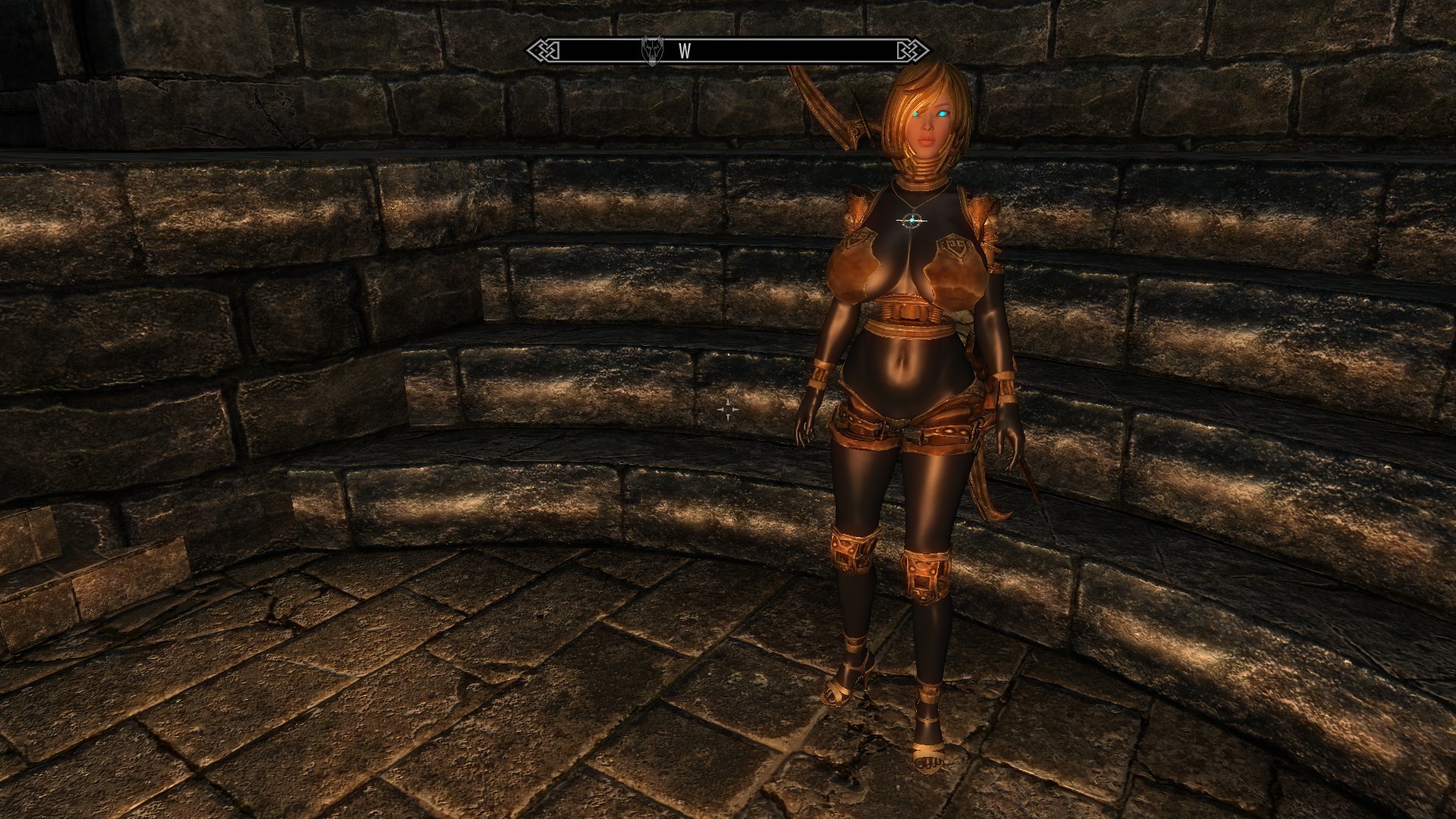 To segue into the topic of the skin variants, these three- flesh, rubber, and stone- will likely be all of them. The flesh and stone types are a given, and the rubber version is basically a freebie as it can be accomplished entirely by texture-swapping in the CK without having to build any new meshes. The new meshes being the core of the issue with adding any kind of 'brass skin' version to match the cast faces, as I mentioned before. I'm pretty sure I'm forgetting how to do something there, as I have done environment-mapped skin meshes before in the -BAF- kit, but for whatever reason when I try to do one here it turns out like this in Outfit Studio: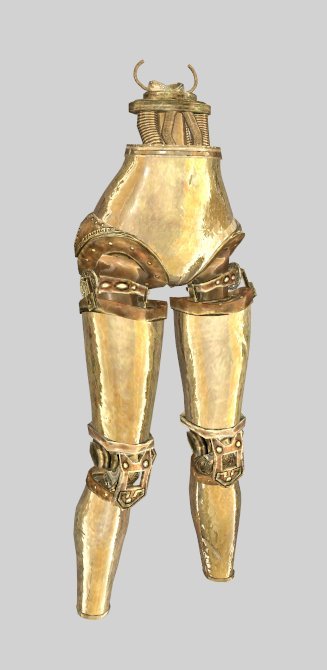 But like this in-game: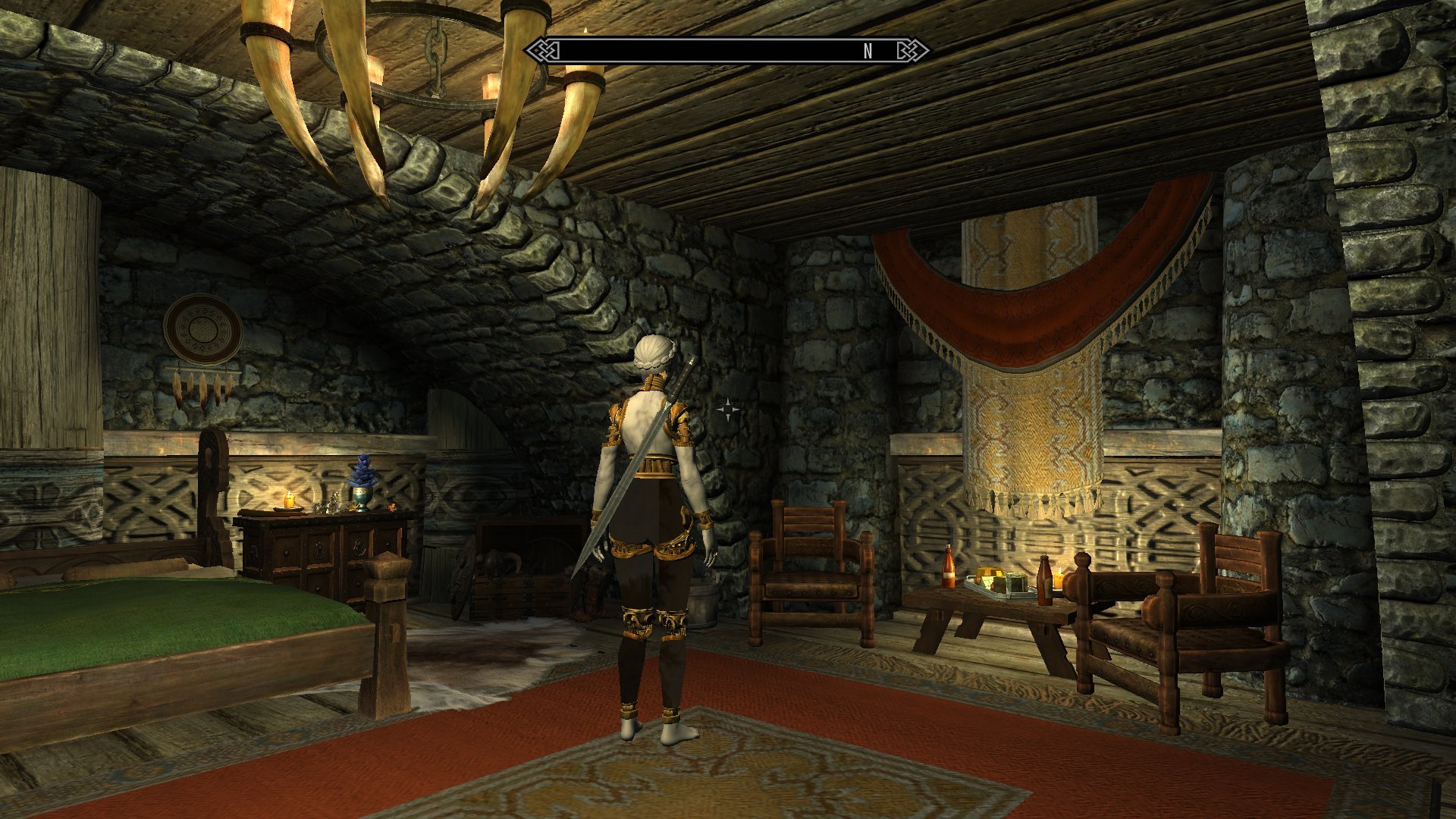 And to be honest, neither case is particularly acceptable. The in-game shot clearly has something going screwy, but the complete loss of the skin's original modelspace normal map needed to get the environment-mapped textures to (maybe) work results in something that just feels woefully out of place. Honestly, I'm not really inclined to pursue this further at the moment. I mean, I'm already looking into a deeeeeep barrel of potential variants. I've got three base skin types, and given the complications involved with the bounce-less stone bodies and the planned fixed-sized versions I've pretty well solidified into the route of doing the 'modesty' versions of the torso and pelvis as separate parts with the panels permanently attached. Solidified to the point where I took the Variable versions out of the prototype stage and added them to the core .esp file, giving me this lineup: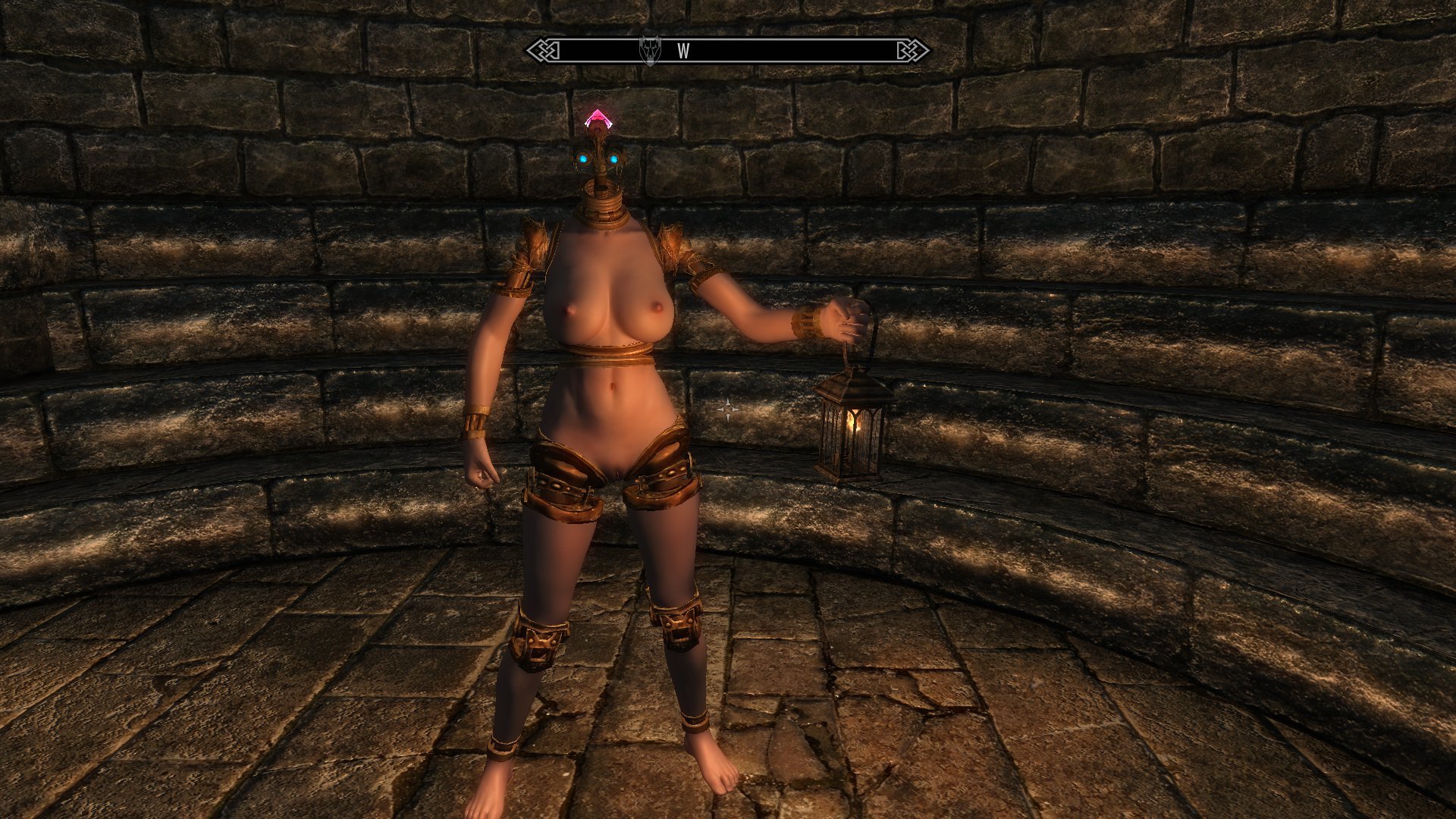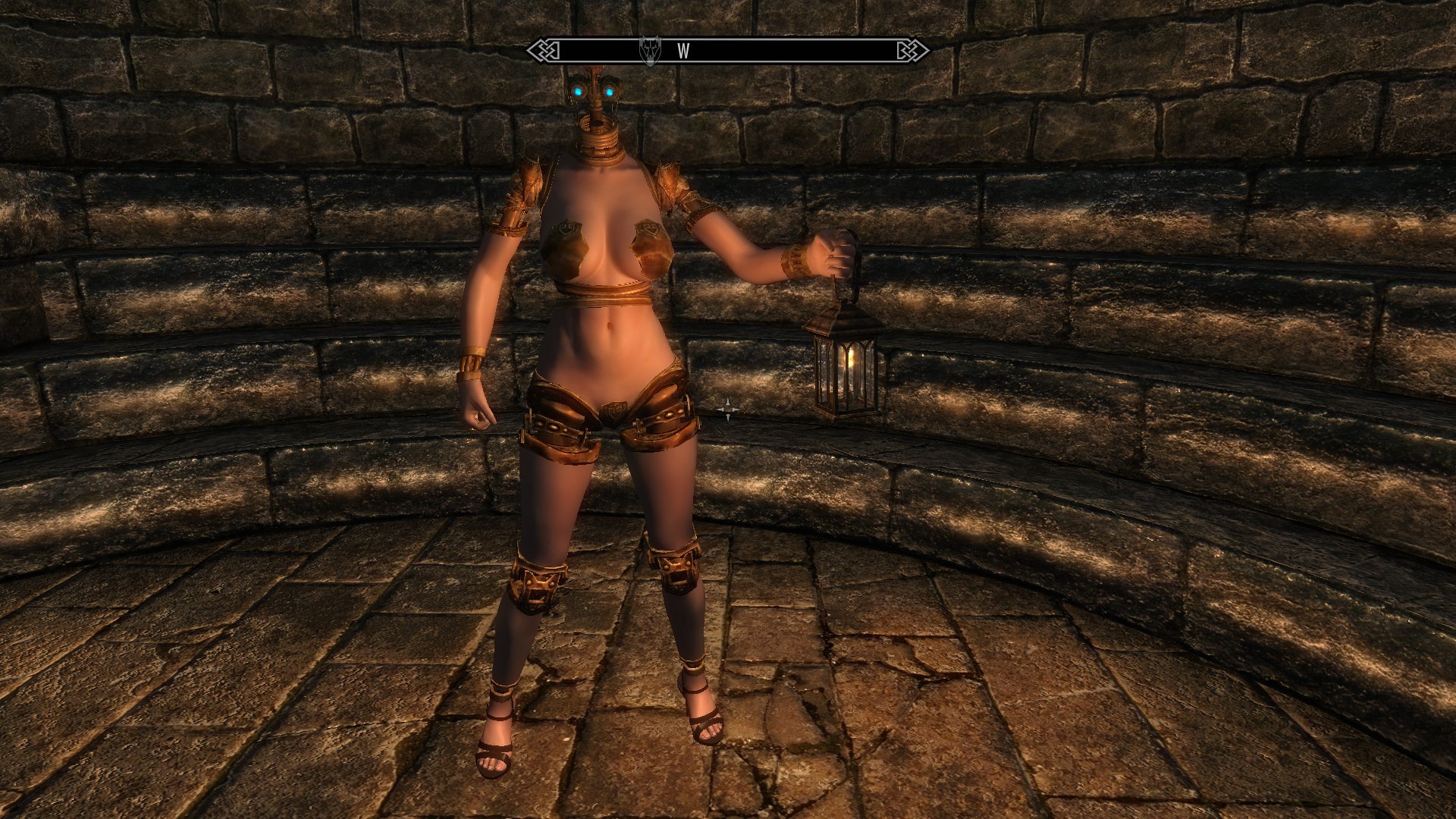 Model D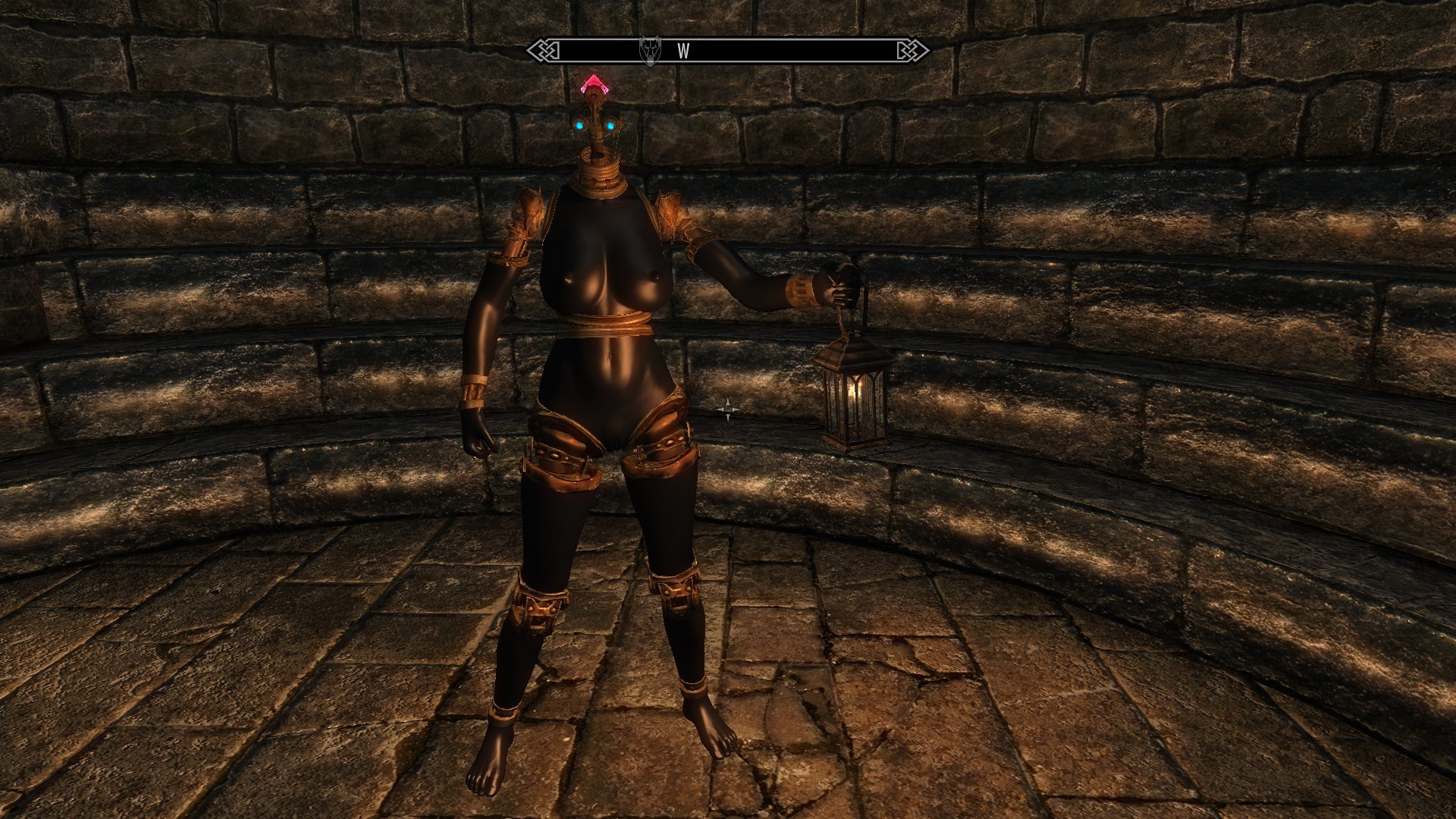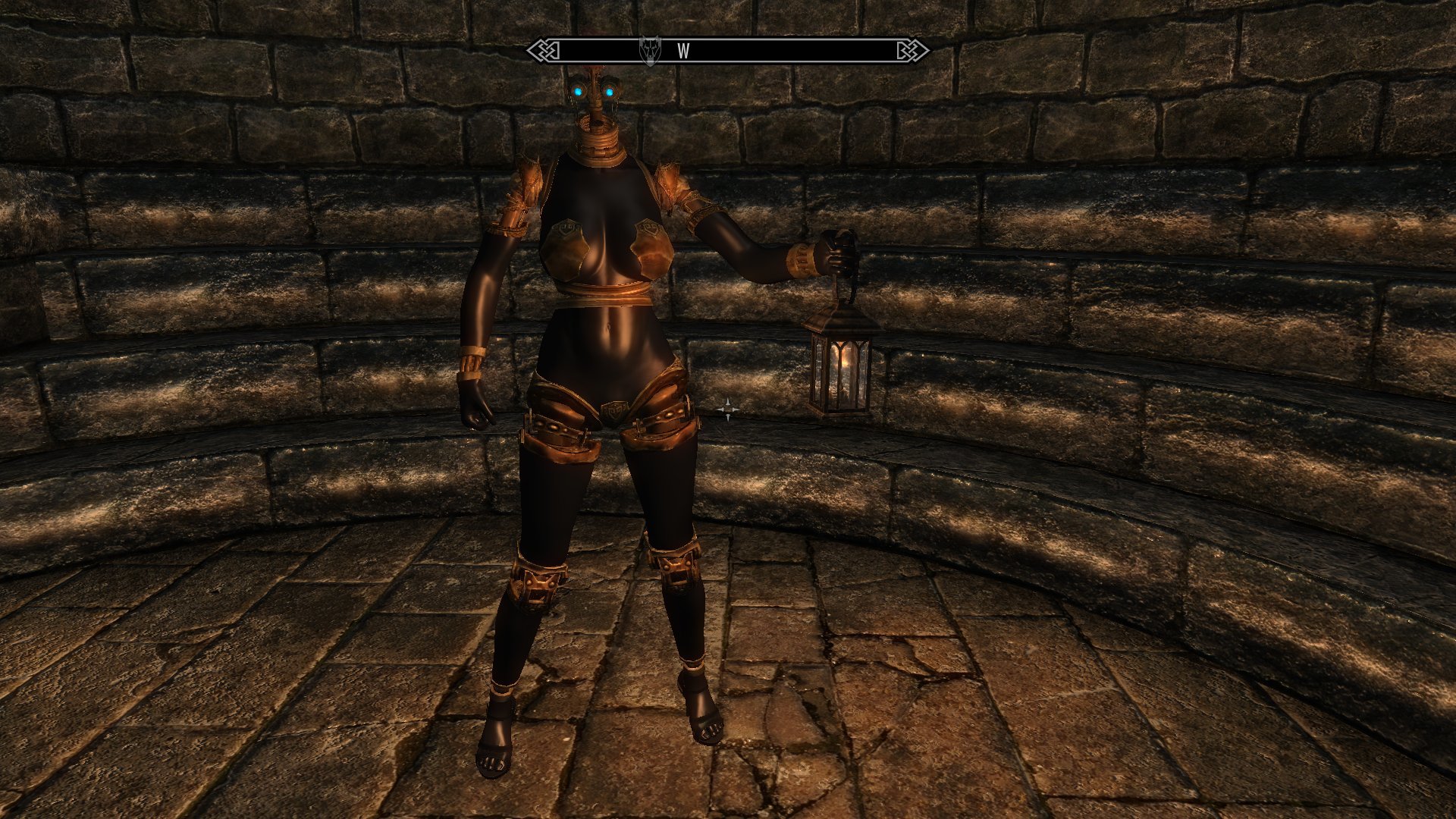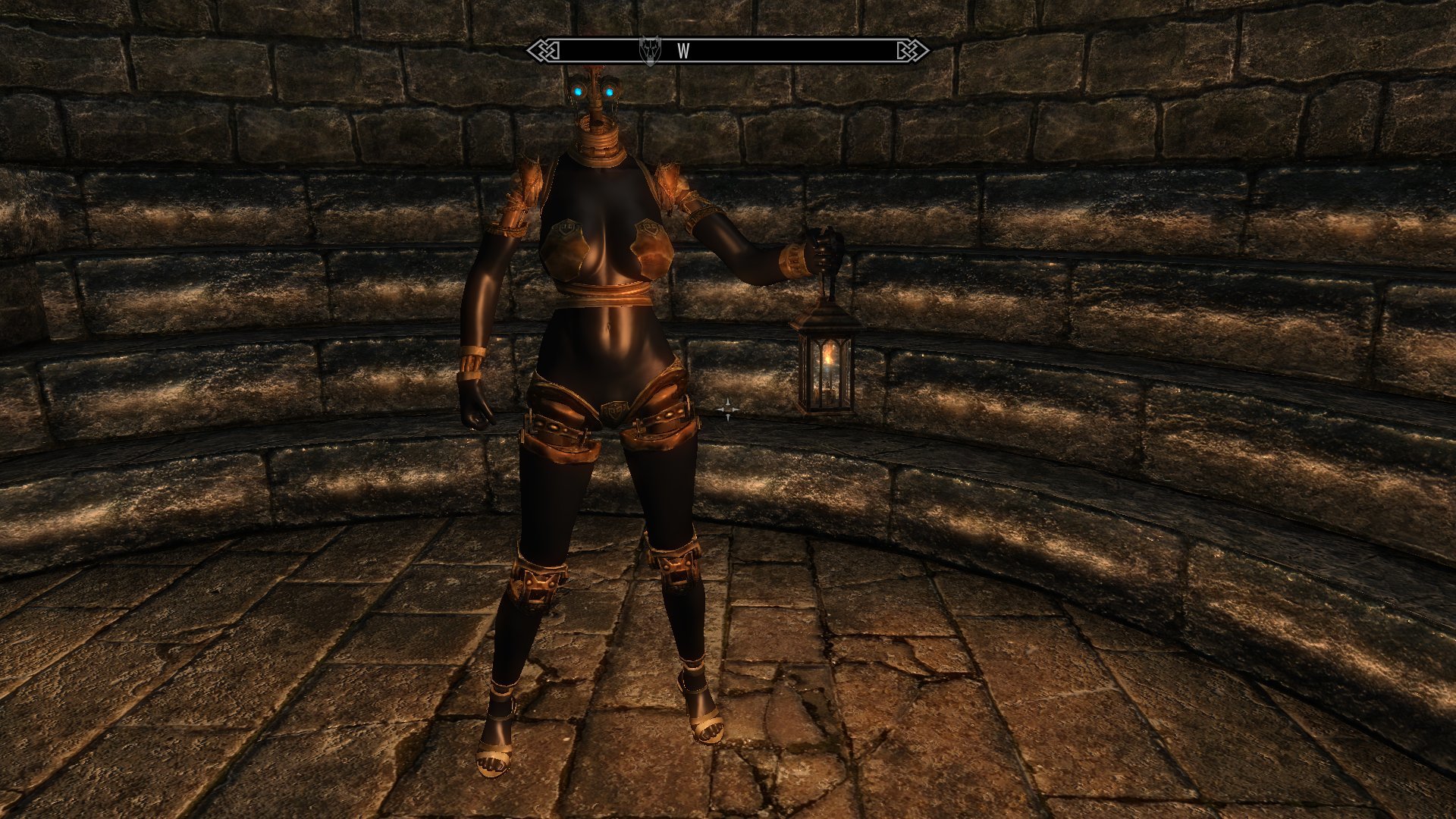 Model R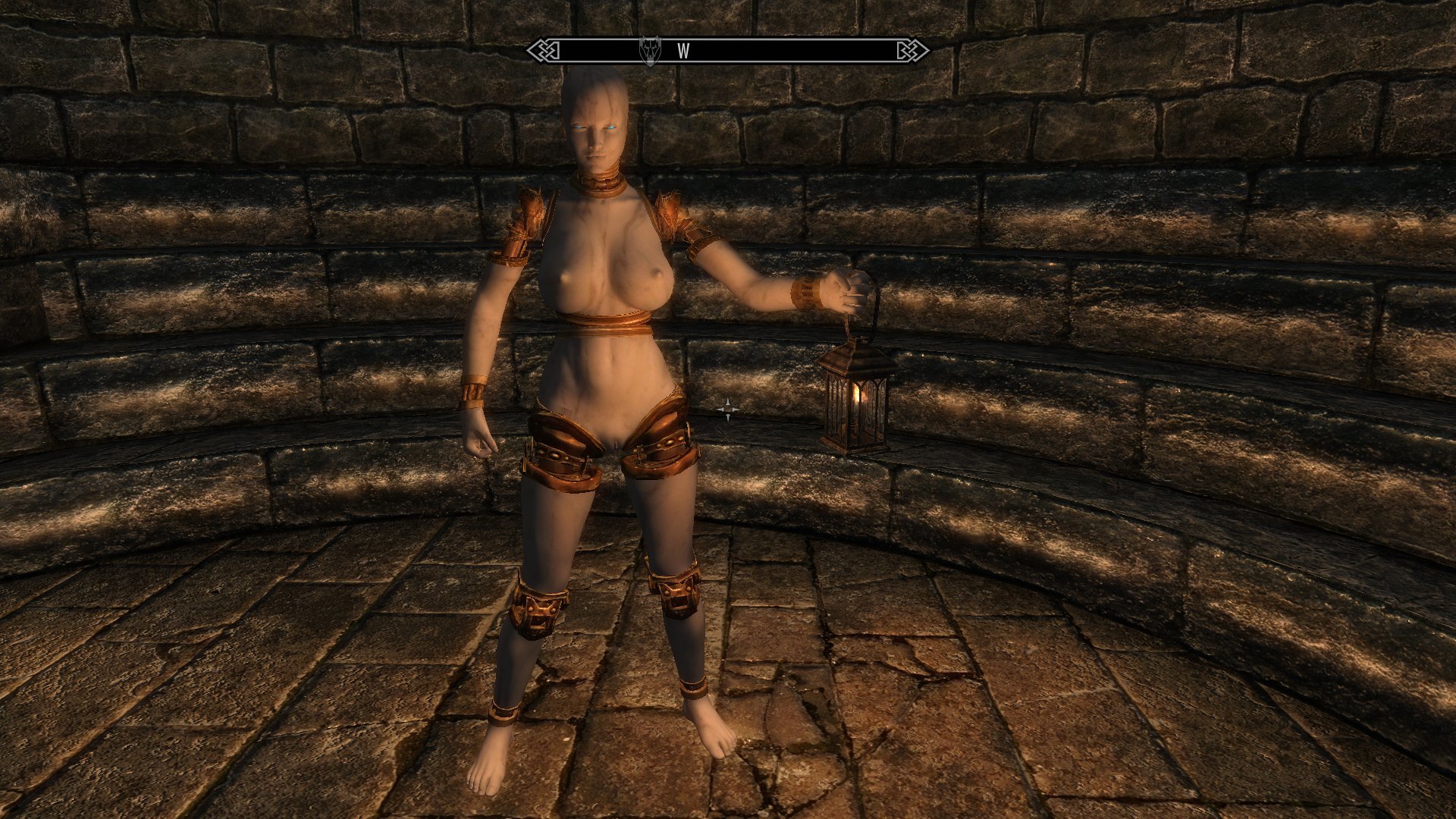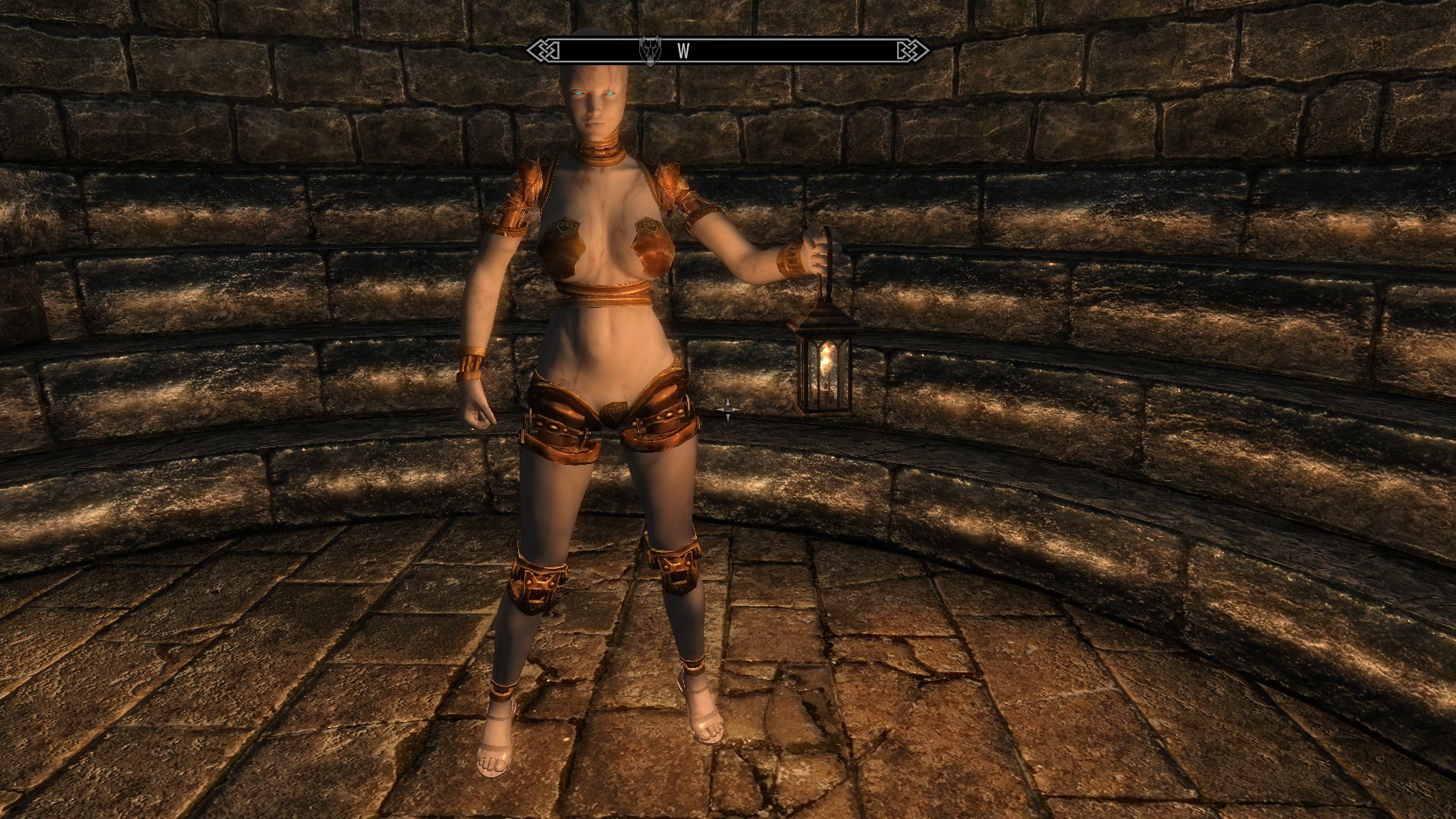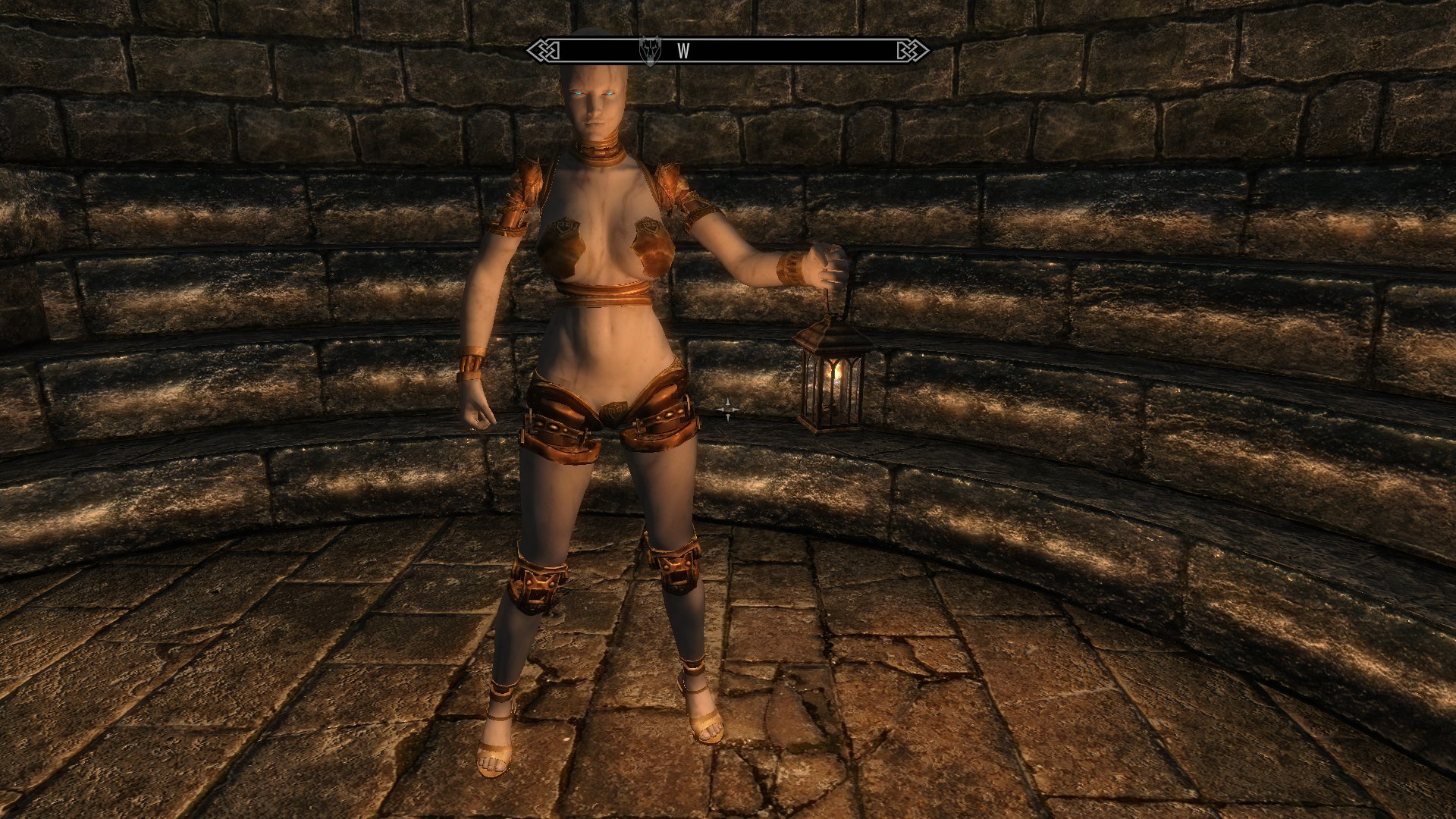 Model S
(And a side-note about SLIF functionality on the variable Statue bodies; while they have the breast and butt bones removed to disable the bounce, I left their sliders fully intact. This means that they probably won't work with NiNode-based inflation such as provided by the base SGO mod, but they and all other parts marked as Variable will function normally with SLIF's Bodymorph-based inflation system. How can a statue get pregnant? Magic.)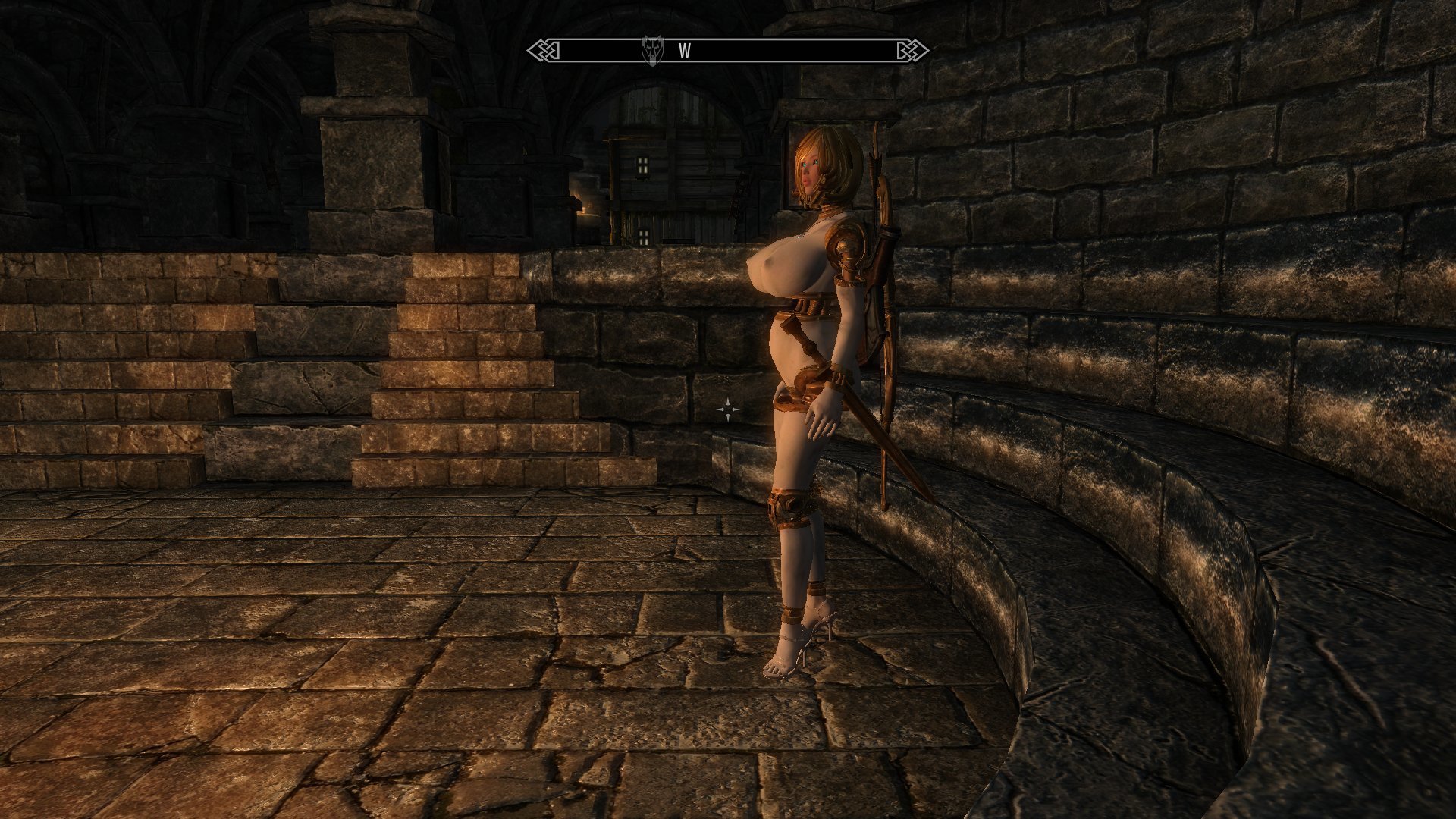 With this I'll have two basic variants for each half of the torso, across three skin types. There's also variants with the Gynoid legs for each skin type, which I don't yet have pics of because I completely forgot to change the Gynoid skin's armor slot before building these in Bodyslide and thus just ended up with free-floating knee joints, but those would double my output. That gives me twelve pairs of torso parts simply to cover the single Variable body type, and doesn't even get into all the potential fixed-sized bodies I could do...
A quick run through the UUNP pre-sets along with some customized versions in Outfit Studio got me 61 potential parts. Not all of them will make the cut; there's a bunch of UNPF varaints, for example, because it has an amusingly wasp-waisted and bubble-butted lower half, but the thinner versions of the top half have some issues with the top of the pelvis connector along with some really oddly formed breast meshes that I can't seem to quite recover into a decent shape. So I've been trying to recreate the waist proportions onto a more normal base chest, but haven't quite got things right yet. But even if I manage to cut this list down to a quarter of its current size, at twelve variants a pop it'll net me a massive pile of stuff. As such I'm seriously considering doing the fixed-size parts only in the base Doll and Statue models, and reserving the Rubberized skin and Gynoid legs for the Variable version. Although I may toss variants in for body types that particularly amuse me.
You'll note that at no point did I mention the arms. That's because I hit a bit of a snag with them. I had intended to make a variable version of them, as I had for everything else. I already had the variable version of just the hand that I had made up for the early prototype that was simple the upper half of a Gynoid cyborg torso, and I figured I just needed to cut out a Bodyslide-able version of the arm meshes. So I did just that... and found that the biceps on most of the low weights did not play well with the modified versions of the Gynoid upper arm 'bones' I had spent so much time on when I was trying to get the Type G arms to move right. 
Feh.
Looking through the various pre-sets I found that the majority of the body types don't really have a lot of variation in the arms themselves, anyway, outside some of the real oddballs. But I did feel that using the prototype 100-weight arms on the prototype UNPetite torso parts came off a bit odd. So you get two pair, a UNP High and a UNP Low. That should cover most things.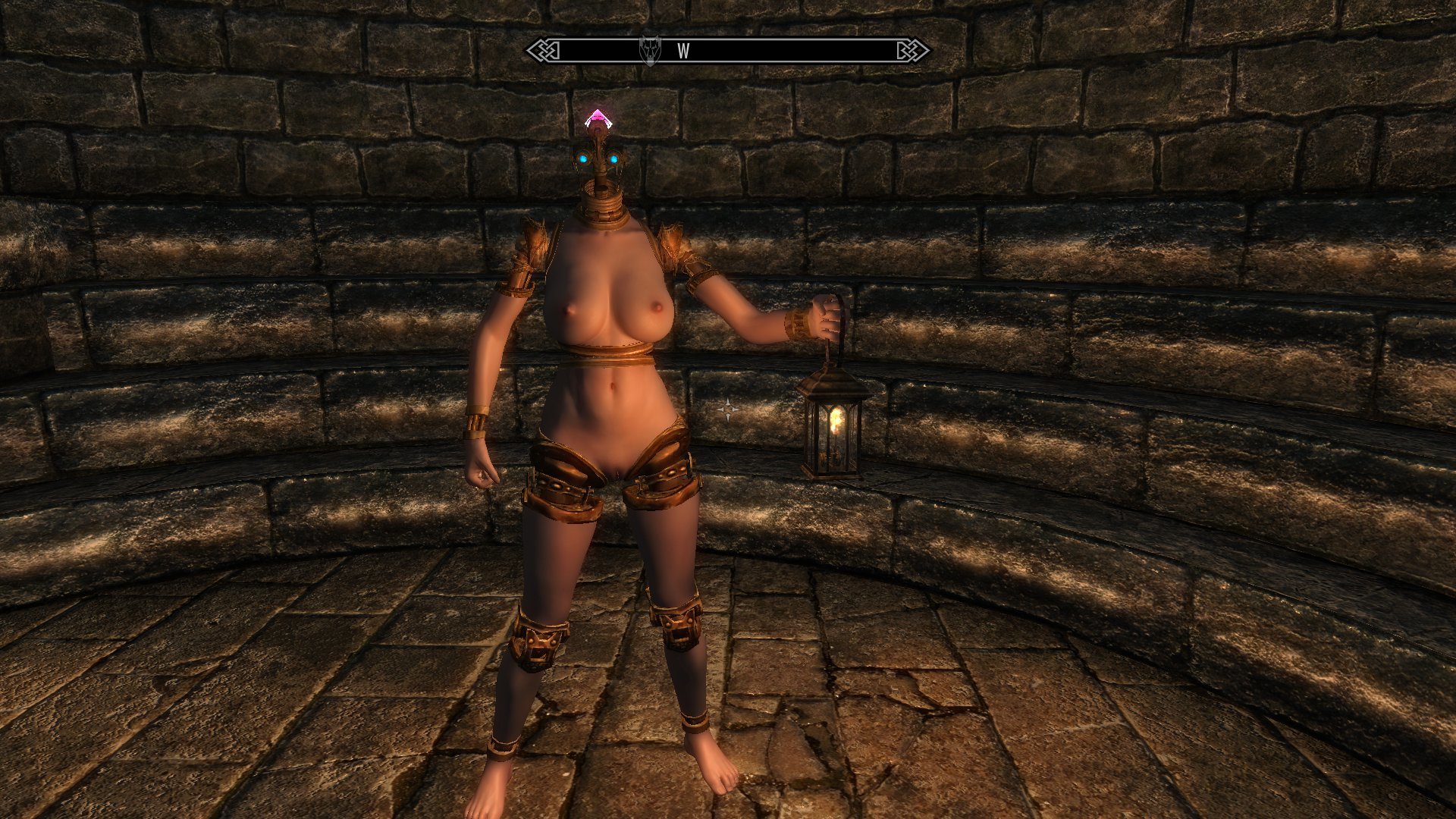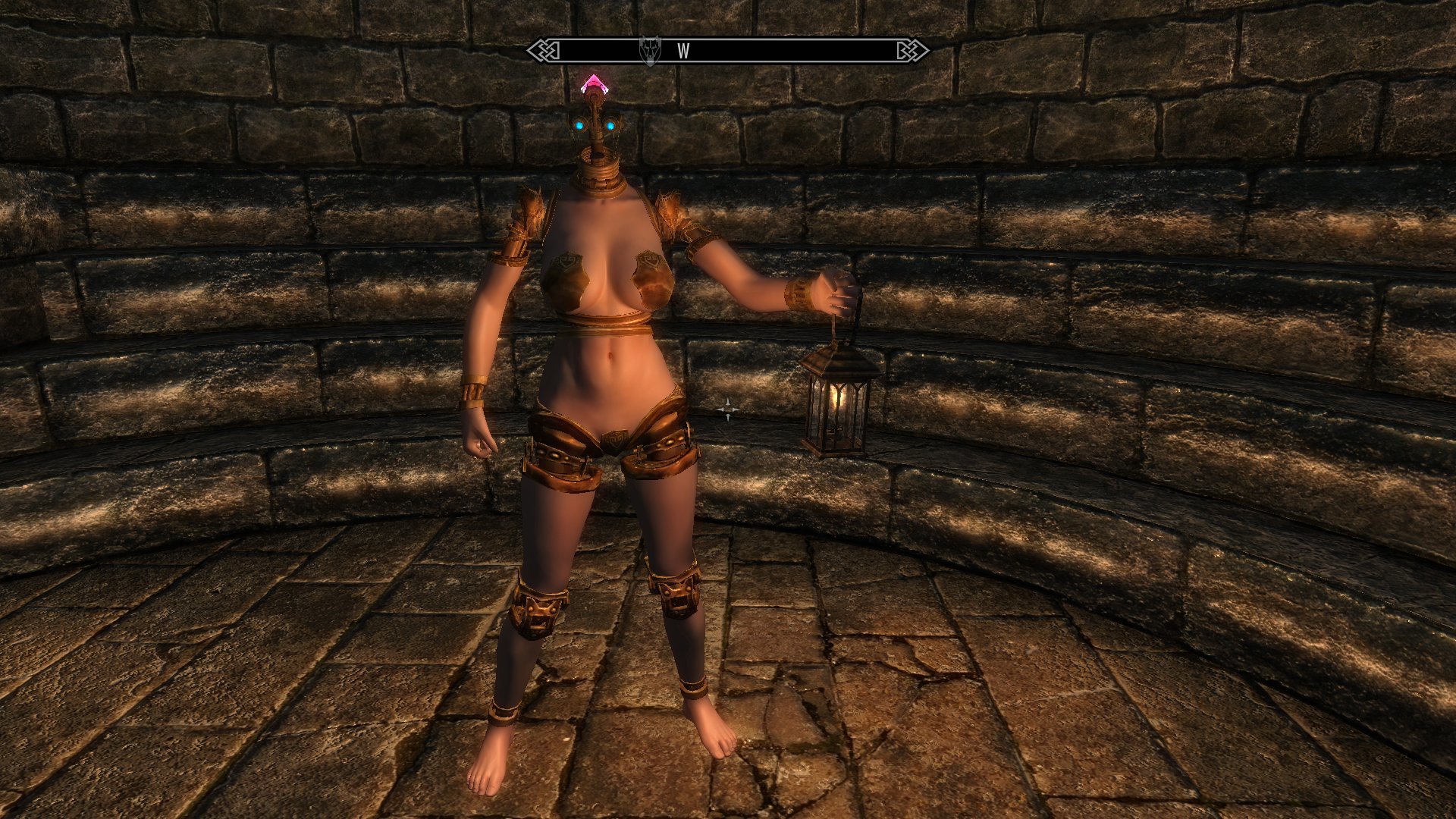 You may remember that I had to change how I built these due to some weirdness with how the game handles skin textures, and that they're internally two parts; the hands and wrist-pipes on slot 33 with the rest on slot 34. This conflicts with the slot 34 Gynoid forearm armor, so I'm still considering doing alternate versions of these with those pre-equipped. I'm also kinda thinking of doing a pure slot 34 version of just the arms, so they could be combined with other gloves (to a degree) or with the Null hands to get handless stumps. Not really committed to any of that yet, though, and of course my continuing concerns about parts inflation play into that. With just the two sizes and three skins I've already got another six parts added to the core .esp here, and that can easily double for every variant I add.
And of course I've still got yet more parts to inflate the counts of. I'm still planning on including the 'milker' stuff that started this whole mess, but I've been kind of distracted from my original plan to build more sizes of the harness by all this other stuff. But the one version I did whip up so far and the initial Variable breast-mount chest were done enough to toss into the core.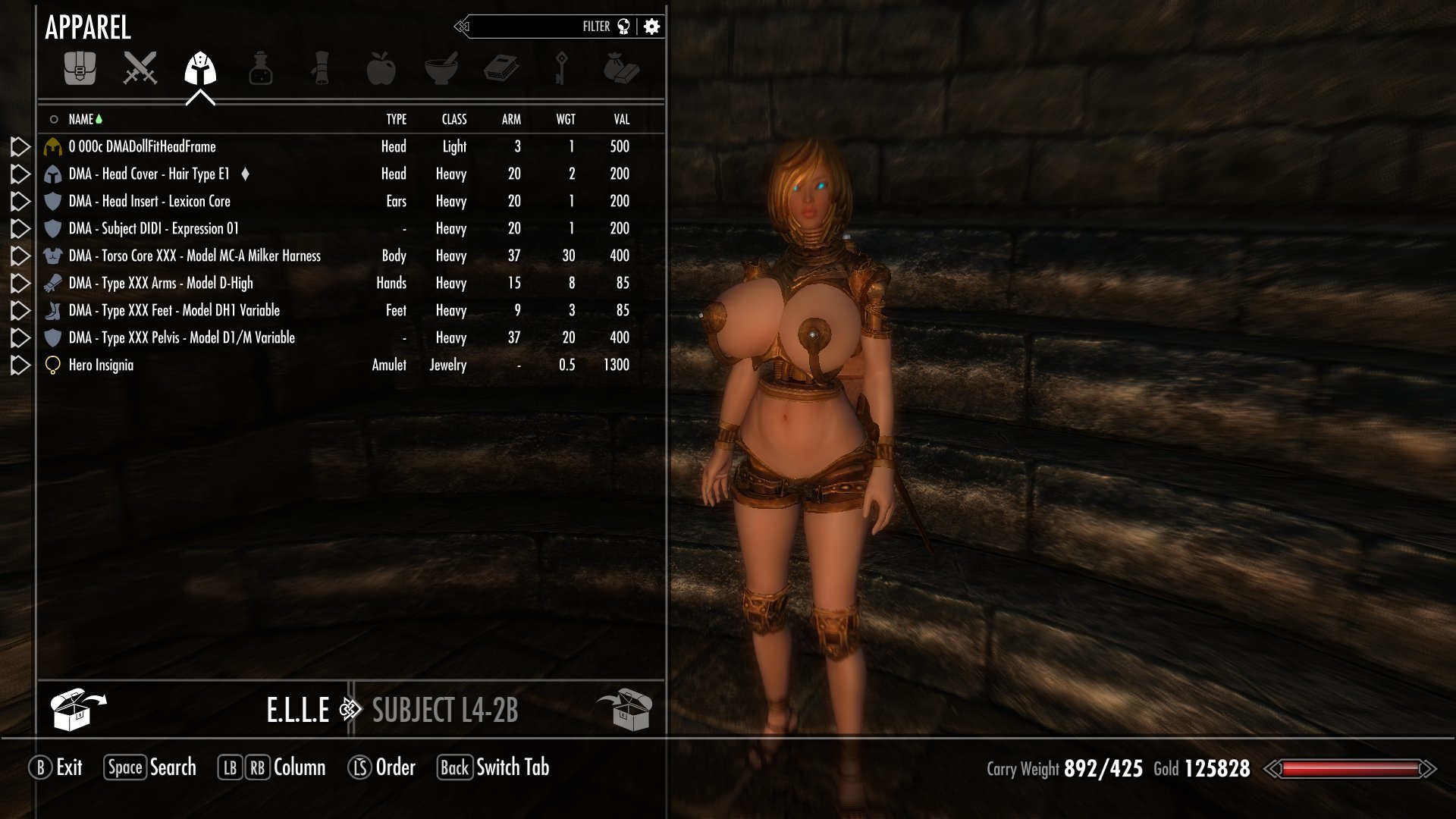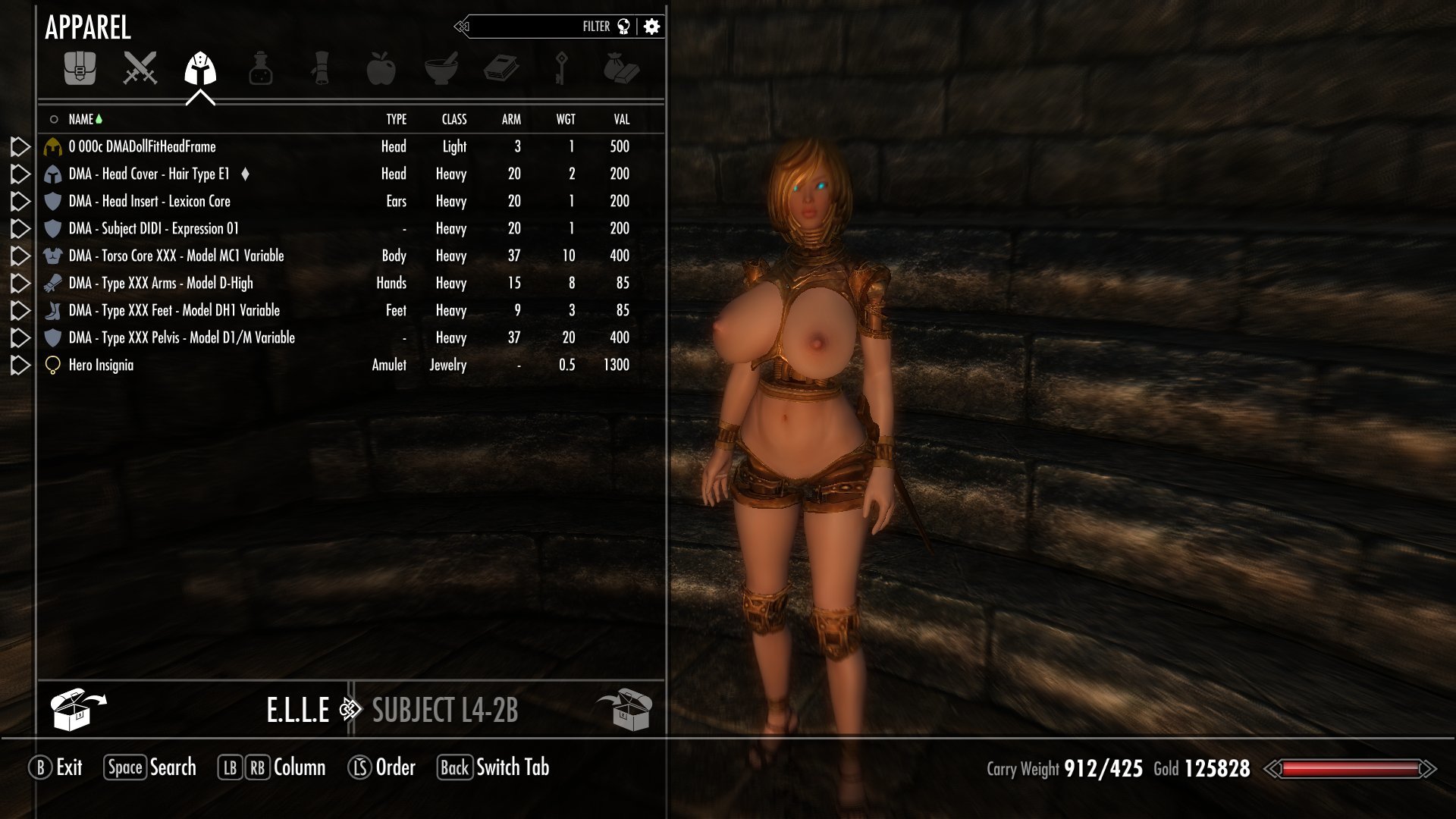 I also formally integrated the Fragment of Dibella head insert, and decided that a piece of a goddess' power ought to have an artifact-grade enchantment to go with it, although the exact details might change before release.
I even managed to remember the completely non-pervy alternate Centurion arm parts I made before going down this whole rabbit hole. Actually, no, I tell a lie. I completely fucking forgot I had already built these weeks ago and was all set to build them again after I suddenly noticed they weren't in the core, right before I was about to shut the CK down and fire up the game for screenshots. But they're there now! (Don't think I've shown the Doll torsos with the Bikini-type arms before. They work surprisingly well together.)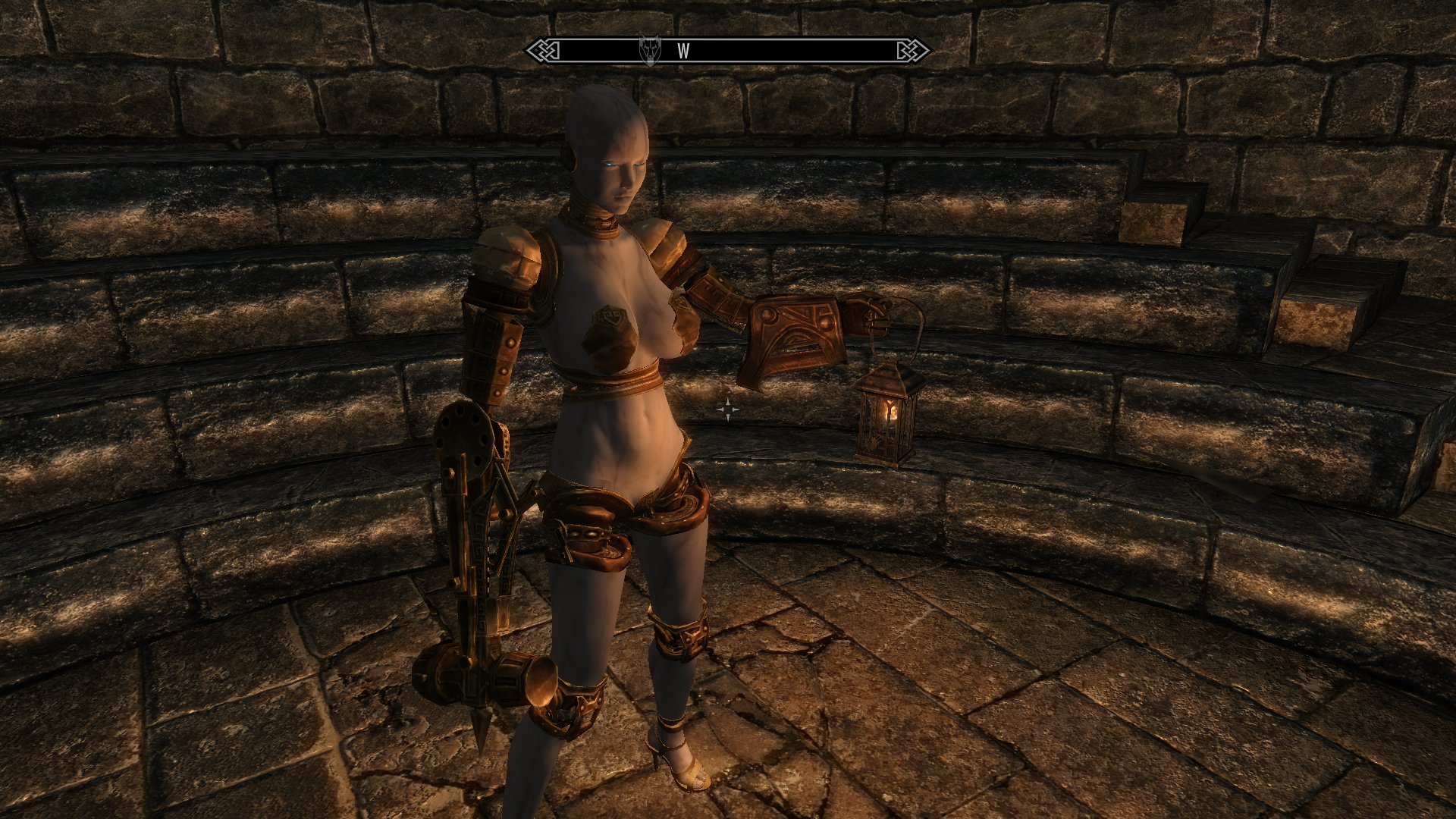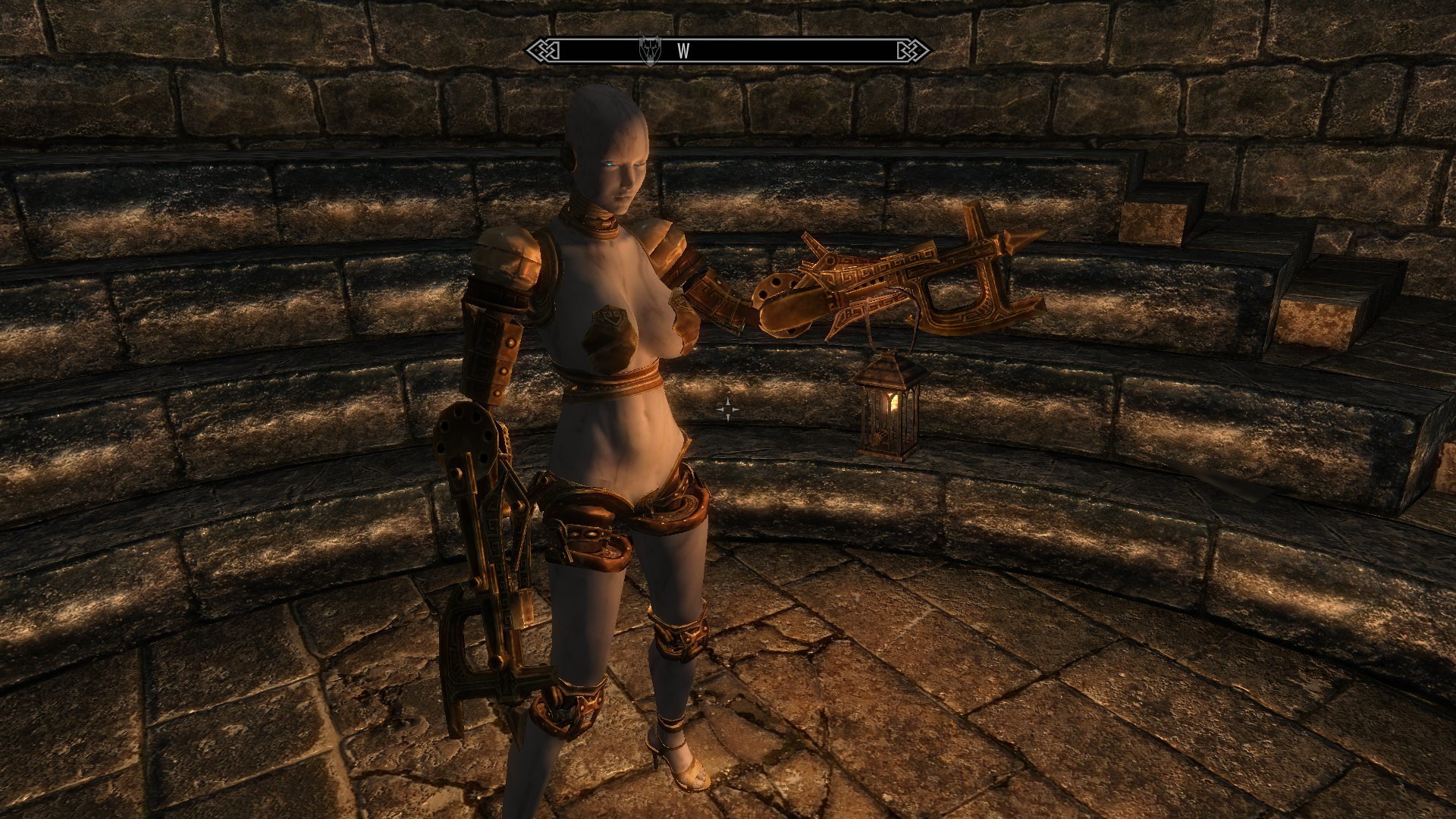 I did, however, completely forget the Pedestals.
There's also a few more things that aren't in there because they're not quite out of the prototype stage yet. Such as the very first thing I did as part of this whole 'salacious' line, the Dwemer Strap-On adaptation. In its case the model itself is done, I just need to dig into the original's .esp file and figure out how to actually mark it as a strap-on for SexLab, assuming that it doesn't need a dependency somewhere. But I also took a bit of time to whip up a couple of variants on the idea that still need fine-tuning; one using an elongated copy of that Dragonborn gem mesh, and another with a full-sized copy of the Sexy Dwemmy dick.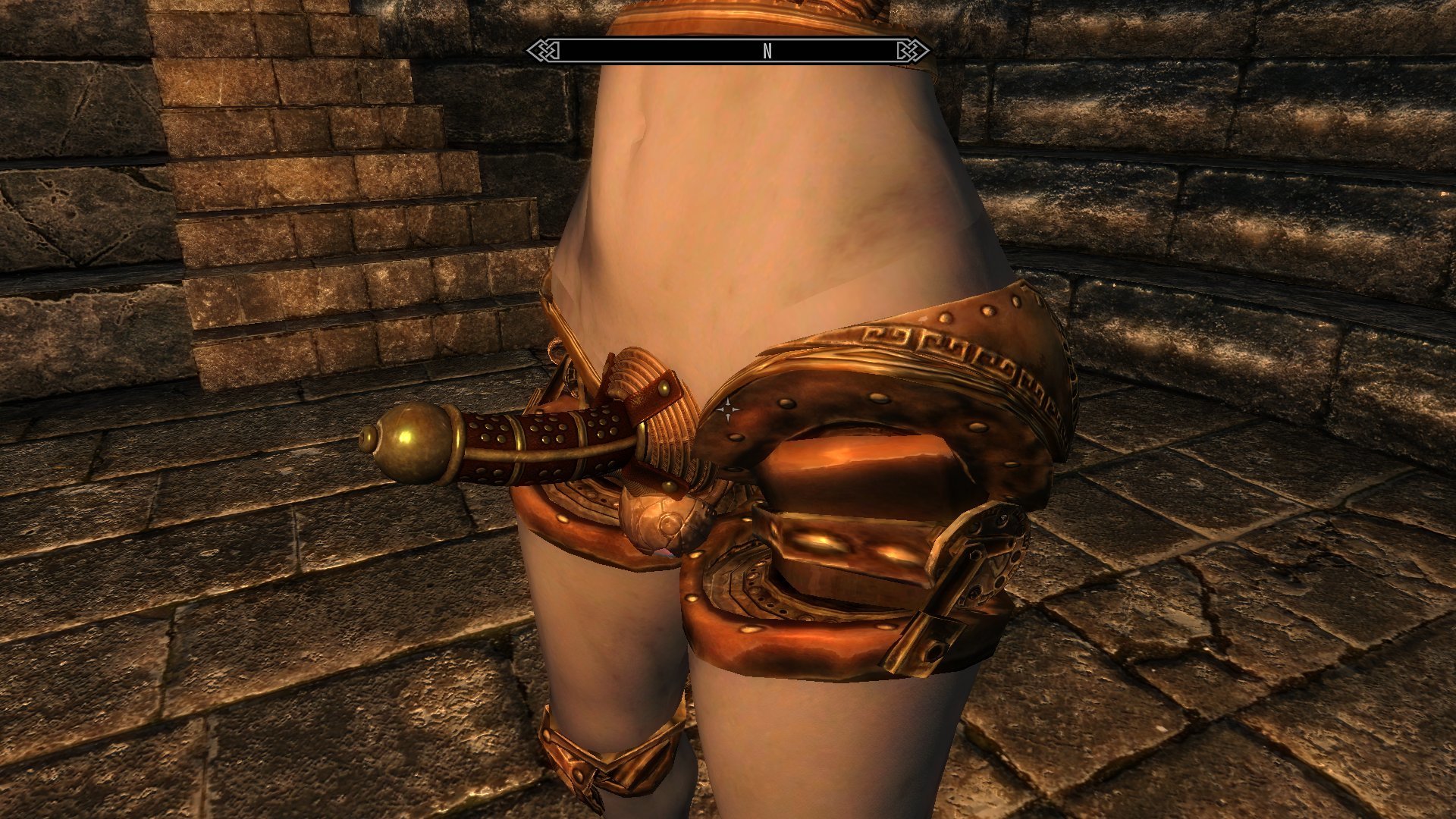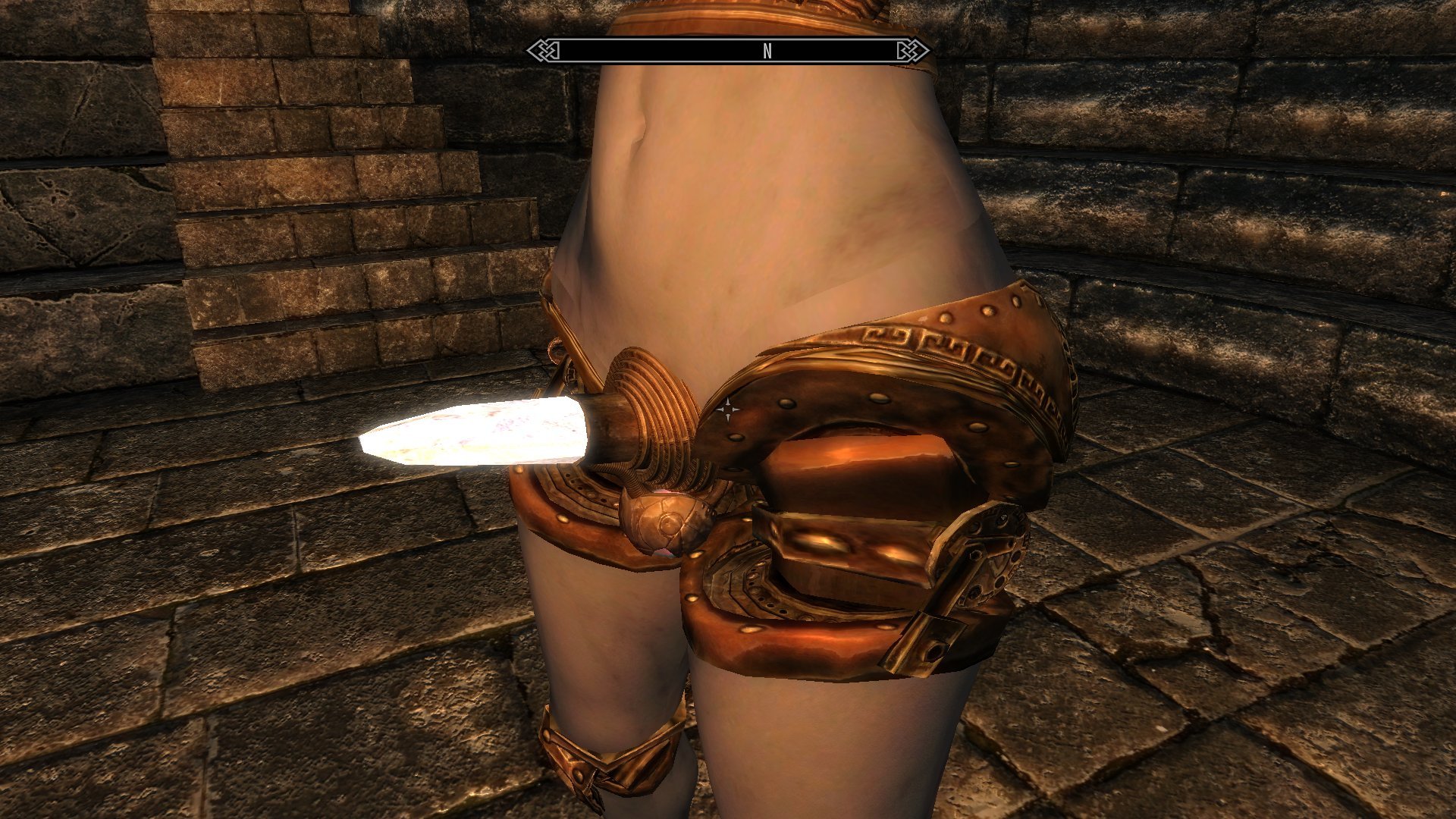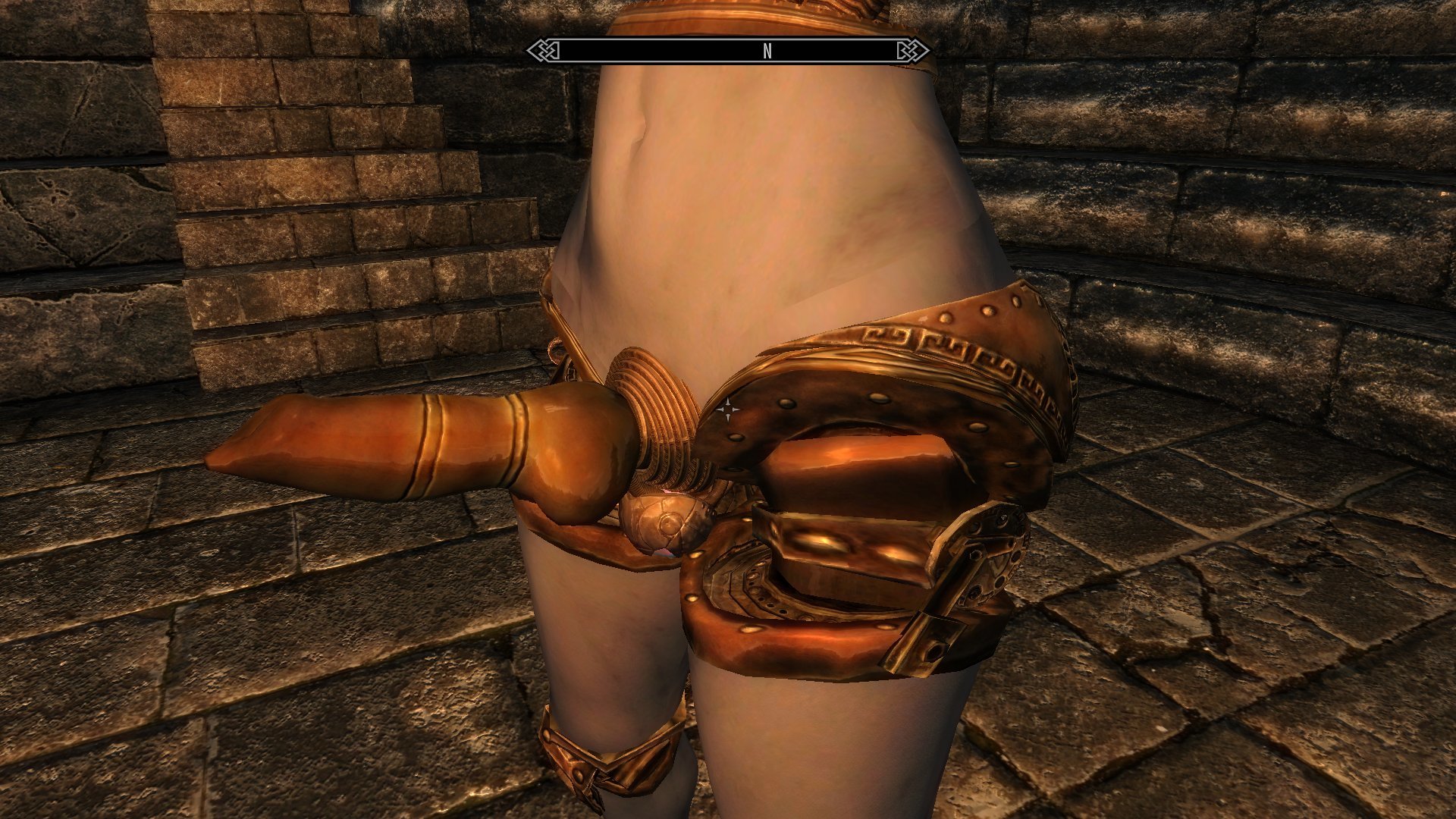 And of course the gemstone one has a glow cycle on it.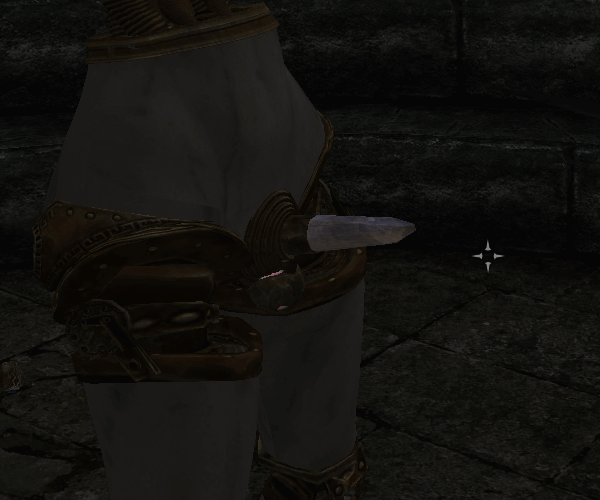 Got a couple other sources for phalluses I'd like to try out on this, but no promises on what'll make it into the final pack. Depends on what amuses me the most.
And I still have to get back to sorting through all the hair sets! I'm probably gonna triple the size of whole DMA mod at this rate.
Worth it, though.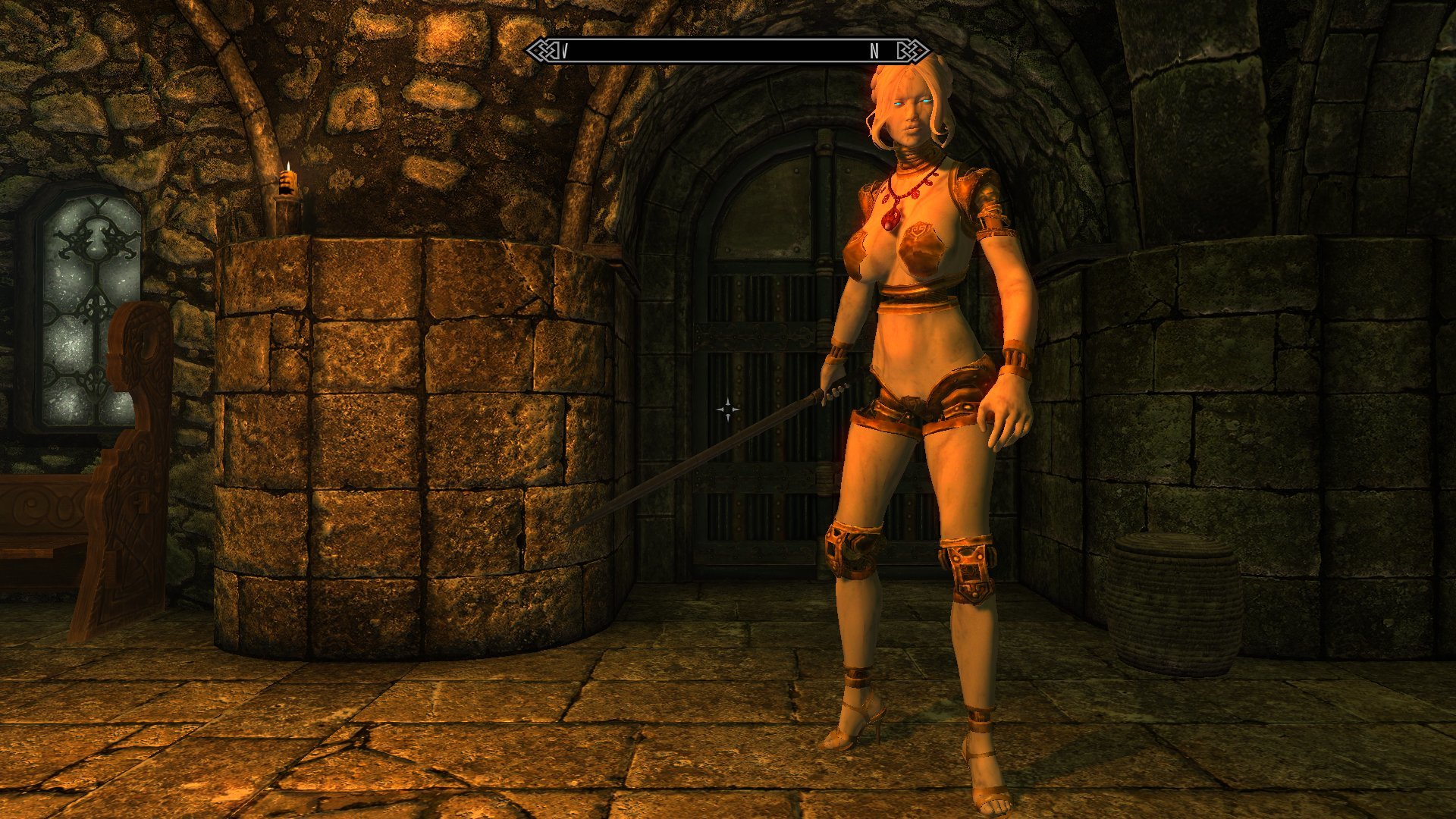 Our Lady demands this service of you.