skyrim
The Nymph Races, Part 4
---
Hello there Nymph Lovers!
It has been quite a while since the last update, hasn't it?  School has kept me terribly busy the last two three four weeks I'm afraid!
Don't worry about me though, I've got some great news.  I have just this week finished the fifth and final Nymph race, as well as all the presets, which means for all intents and purposes the mod is finished!

I wasn't sure this day would ever come, especially with some of the endless minor glitches I had to deal with week after week.  Nothing in Skyrim ever gets modded easily, as they say.
Before we get into all that though, I'd like to give a few more details about how the Nymph races actually work.
I've mentioned before that the nymph races get an inherent resistance to damage.  Originally I was planning to have this be a form of natural armor or simply raw damage resistance, but I have decided to go with the more flavorful (and lore-friendly) version of this ability, which gives them a massive protection against damage from weapons that are steel quality or below.  The reason I had not gone this route to begin with is I was sure it required the use of scripts to accomplish, something I had been trying to avoid.  Not so it seems!  
Anyway, in game terms what this means if an attacker swings an iron sword at her, she will take almost no damage from it.  I gave a little bit of wiggle room here so it's not 100%, the math works out to something like base 60% reduction, -20 on top of that.  This means very weak opponents will be totally unable to hurt her with puny iron or steel arms.  Silly mortals!  
A very strong opponent will still be able to hit you pretty hard (a lot harder than I expected actually), so don't expect to be invincible to guardsmen!  Specifically this protection applies to:
Iron, steel, imperial, and wooden weapons, which includes forsworn weapons (steel somehow, don't ask me) as well as giant's clubs.
It does NOT include animal attacks (bears, wolves, etc.), nor any weapon of Elven, Dwarven, or higher material, and provides no protection from Draugr weapons.  I am still debating in this last phase of balancing whether to make an exception for enchanted weapons, (ie if an enchanted iron sword will bypass the protection regardless of what enchantment it has), since I can't remember the mechanics of this in daggerfall.
Sounds very powerful, is it balanced?  Well, I have ultimately decided in favor of making the Nymph a more powerful base race trading off with the experience penalty I discussed briefly in the last entry.  Base races start with +35 to bonus stats, and Nymphii start with base stats ranging from +55 to +70, depending on race, have two very powerful racial passives, but have a 25% penalty on all experience earned.  
This is not nearly so noticeable early in the game when stats rise quickly, but definitely slows things down mid-late game as you cannot really offset it by using a standing stone.  It becomes somewhat noticeable too that skillbooks and trainers do not level you a full rank with this penalty, but there wasn't any way around this.  Also keep in mind that the nymph protection from damage starts to vanish around this time too, since leveled lists will start populating enemies with higher tier weapons.  
The numbers on some of this is still subject to adjustment.  Basically I want to emulate the feel of daggerfall where you could build a super strong starting character invincible to just about everything except that it would take you ten times as long to level.  Not quite to that extreme obviously, but still on the same sliding scale.  
Other ideas I am playing around with in the last phase
    I really like the flavor of the Desert Nymph fire resistance; it didn't seem necessary to give her a penalty.  In testing I found myself wanting to take her clothes off while fighting a dragon just to get that extra bump in fire resistance, which is exactly what I was going for.  I may consider other races I could apply this idea to (not wearing clothes boosts the natural passive resistances of the Nymph) but only if it still makes sense. 
    Having certain creatures be naturally non-hostile to nymph races (spriggans are the obvious one that comes to mind).
    Possibly adding an enchant to leveled lists that is a kind of "nymph-bane" and works like silver weapons do on werewolves/vampires.
    Adding Nymph Hunters as enemies (probably more interested in capturing than killing nymphii, if somebody wants to tie in a slavery mod here), who are pretty much pushovers unless you are a nymph.
    Maybe even adding Wild Nymphii as random encounters that could be hostile if you aren't A. a nymph, or B. in the company of a nymph follower
(of course then I would have to sculpt more faces, sigh)
Anyway, the general takeaway is that I've got lots and lots of flavor ideas I would like to add now that the meat of the mod is finished, but this may be where updates come in, otherwise I'll never end up releasing it!  I'm pretty sure I want to release it as a .esm and sticking with the original stated intent I would hope that other people would be interested in adding their own nymph race .esp addons.
Another thing I have been working on lately is polishing up the original 6 followers.  I had discovered that I have done somewhat more extensive edits to each of them than I realized, and their custom normal maps no longer fit as well as they used to.  
Since my proficiency with texture editing has improved quite a bit in the last 3-4 months, I decided to rebuild all of their normal maps from scratch using Xnormal, rather than tweaking the existing ones.  I also found a way to create a nice detail map of the base diffuse that can be layered over the generated normal map which gives it a very lifelike look in most lighting.  This was especially important for the three ladies I have built custom diffuse maps for, since no existing face normal has the same details as the textures.
It's hard to do justice to how these mesh mapped normals look in game with screenshots since it's easy to get the lighting in a screenshot just right.  Take my word for it though, having light and shadow hit a face based on the actual mesh/texture and not just a generic normal is very striking, and I'm glad I took the time to make them.  
I experimented with this for the races and racial presets but the effect just wasn't the same, their facial features are too different and it ends up looking like any other generic normal map.
Well, finally, with all of that out of the way, let's get on to the Beast Nymphii!
 
From the in game description
Quote

Beast Nymphii are of beast-race blood, commonly Khajiit or Argonian, but there exist others such as Tsaesci, Dreugh, or possibly even a vulpine Lilmothiit blooded Nymph, although such a creature would be rare.  Beast Nymphii are extremely resilient and appear only slightly beast-like, inheriting minor traits such as ears, tails, patches of fur or scales.  Imperial Scholars speculate that rather than magical creatures all Nymphii are a part of the beast-races.  Nymphii generally take offense at this.
Quote

    Beast Nymph Stats

 

Sneak 25
One Handed 10
Conjuration 10

Illusion 5
Lockpick 5
Pickpocket 5
Speech 5

 

         for a total of 65
Beast Nymphii are a fairly rare subtype of Nymph, and as you might expect with their unusual hybrid appearance they do not fit in well into civilized places.  Unlike Night Nymphii, who have an inherent form of magic that allows their supernatural traits to be remain unnoticed, Beast Nymphii have nothing like this, and they only vaguely resemble any known mortal race, even the very rare beast/human hybrids.  Thus, they rarely, if ever, attempt to live near civilized settlements.  Likewise, there is little reason for them to conceal their Nymph heritage. 
One of the reasons they are rare is that while most pureblood Nymphii mothers who no longer have pureblood offspring (i.e. a wood nymph mating with a non-bosmer) generally retain whatever appearance they have, just less distinct, Beast Nymphii will immediately lose their beast characteristics as soon as their magical makeup no longer favors the Beast races.  Interestingly, if the offspring remains pureblooded it does not seem to matter which Beast race the father was, an Argonian Nymph mating with a Khajiit will still produce an Argonian trait Nymph, until enough subsequent generations alter the magical essence enough that she begins to add Khajiit traits to her appearance, and eventually loses her Argonian traits.  Thus, it is entirely possible for a Beast Nymph to have everything from fur, scales, a lizard tail, and cat ears, all at the same time, but if such a creature exists, no one has yet reported it. 
The selection of traits is entirely integrated, and does not require any transformations or armor addons, just pick which parts your Nymph has at character creation, under the hair tab.
You can even pick parts that are not tinted, tinted based on hair color, or tinted based on warpaint.  As you might expect, I am very pleased with how much customization this offers the Beast Nymph, especially considering how much work I had to do while figuring out how to implement these options seamlessly.
The Beast Nymph has the usual Nymph resistance to mundane weapons, but has no other resistances.  Her greatest strength is her recovery: with stamina, health, and magicka all regenerating at rates many times faster than other races.  Currently this is 300% health/stamina and 200% magicka, but I will need to do some testing to make sure this is in line with the other Nymph races.  Lykaea, who is a Beast Nymph, also fully regenerates health in combat (just like a troll!), but I have to test how balanced this trait would be for the player to use.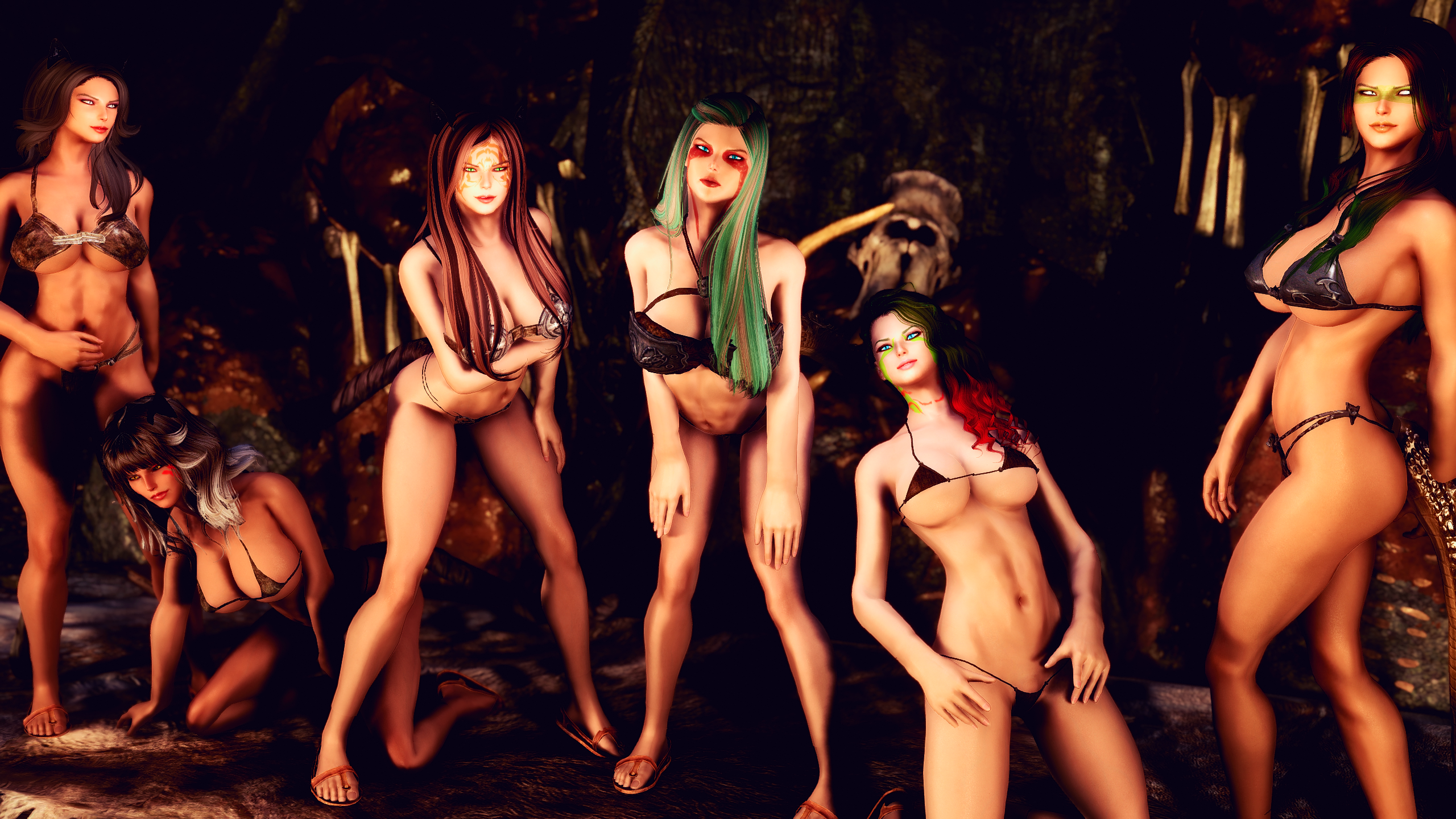 There are six Beast Nymph presets at present, three kitties and three lizzies.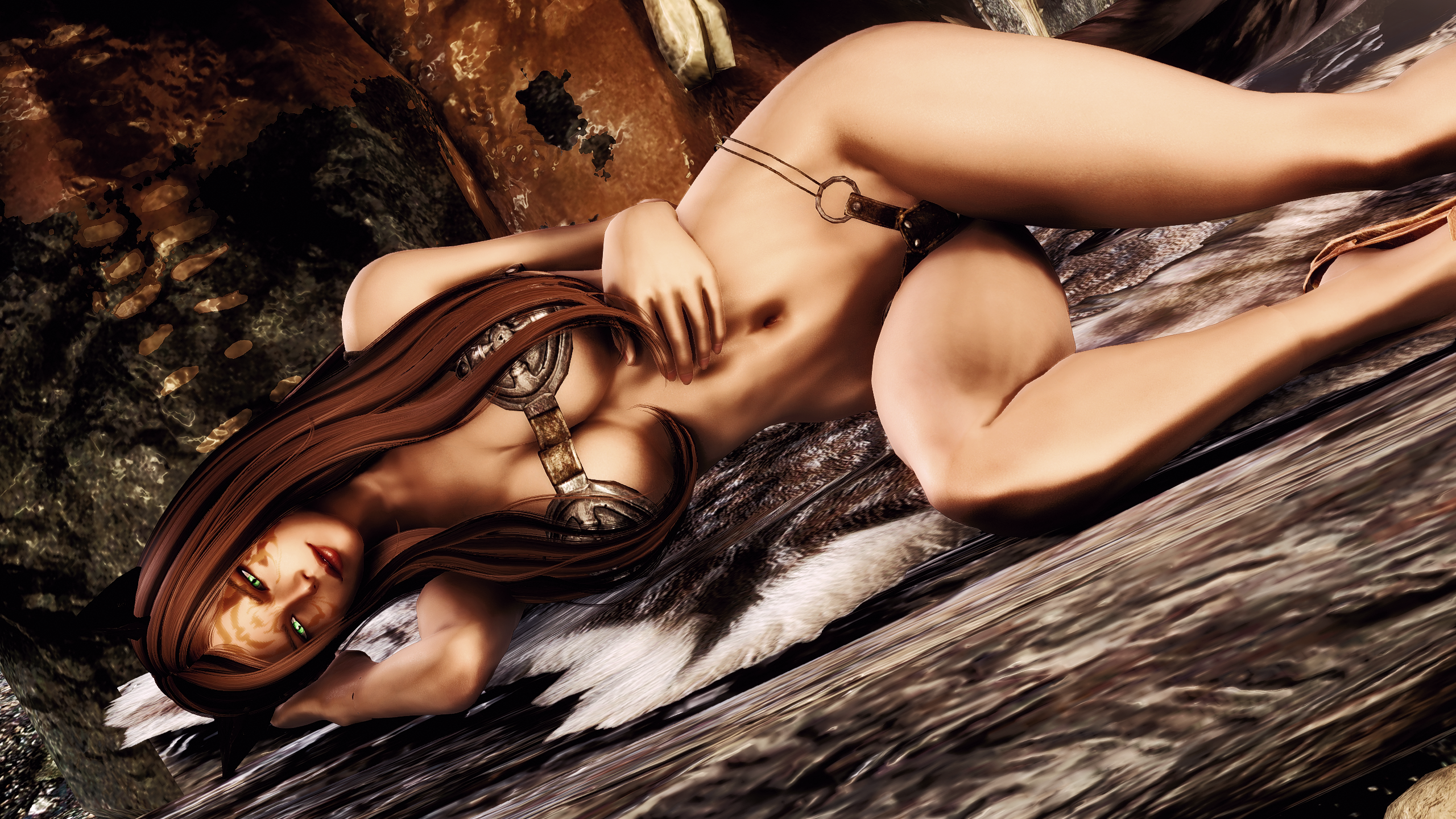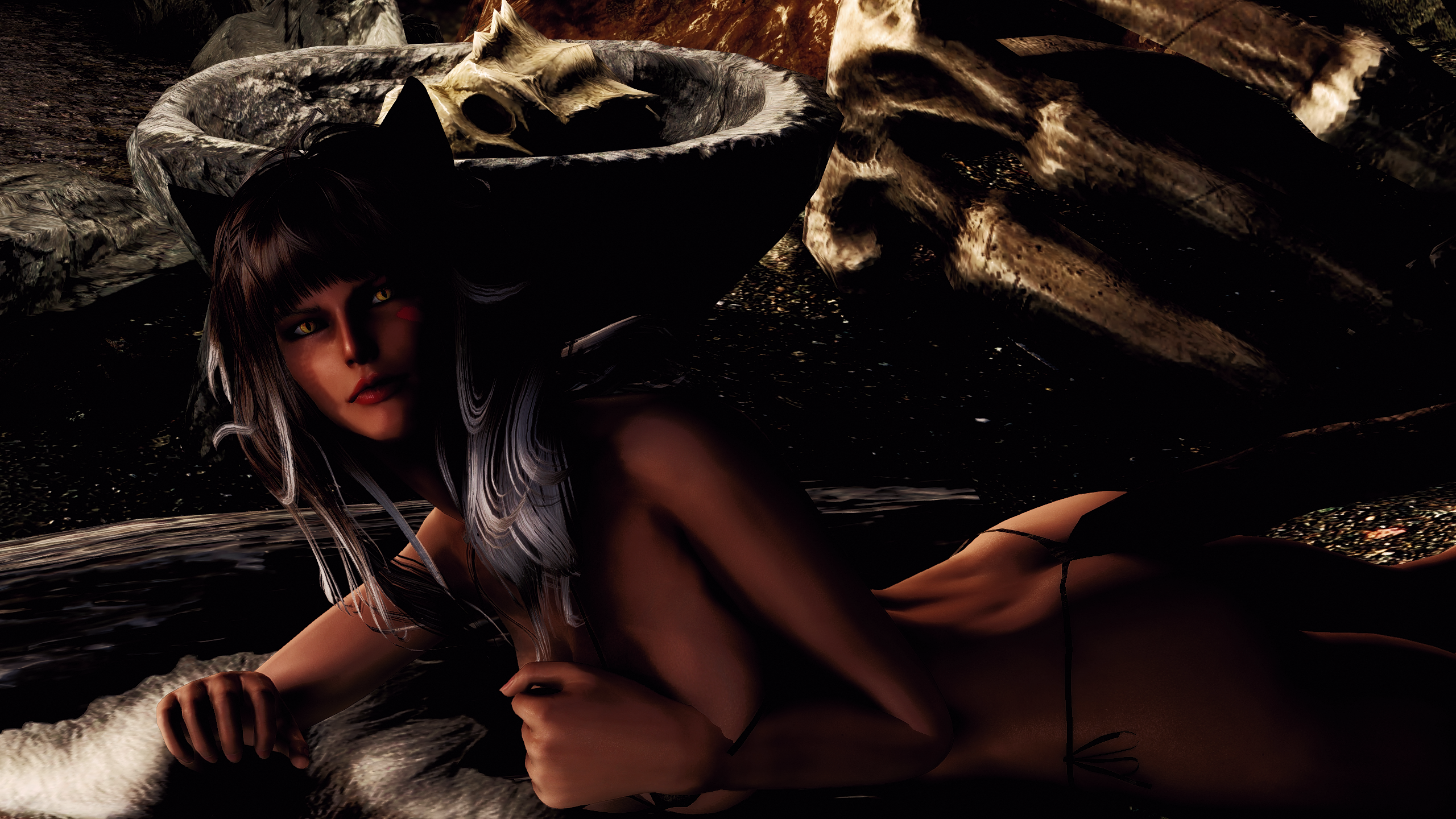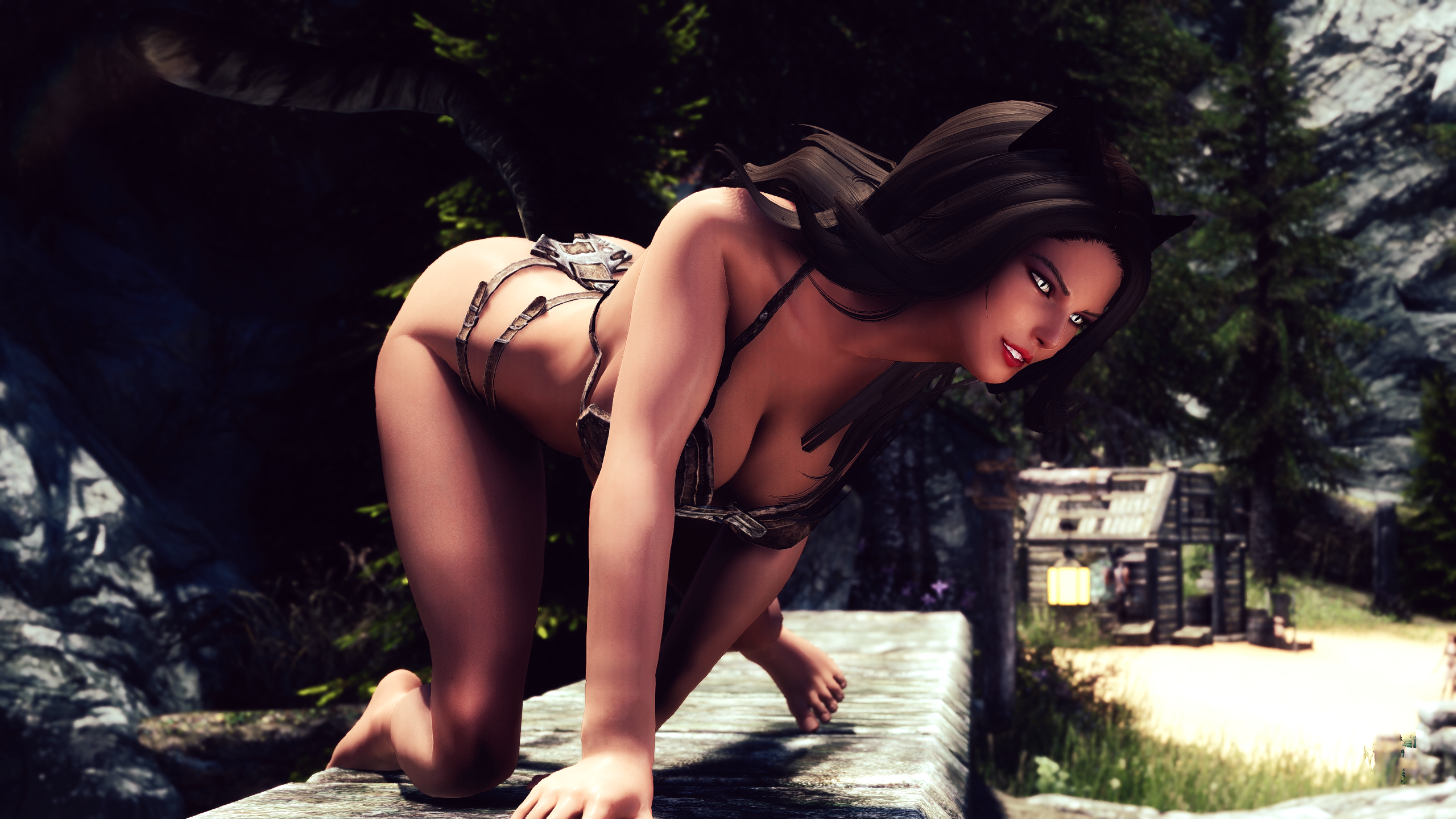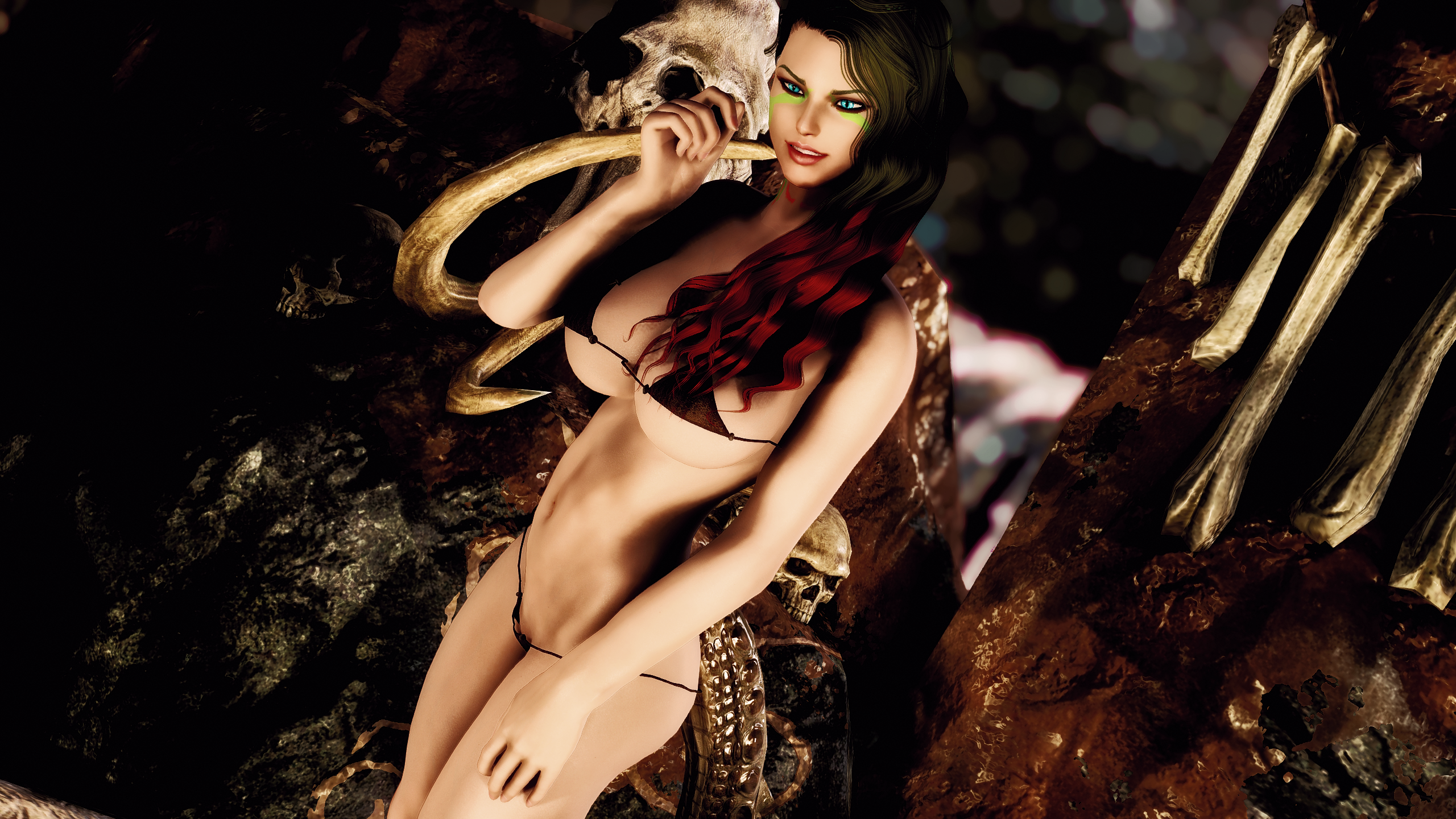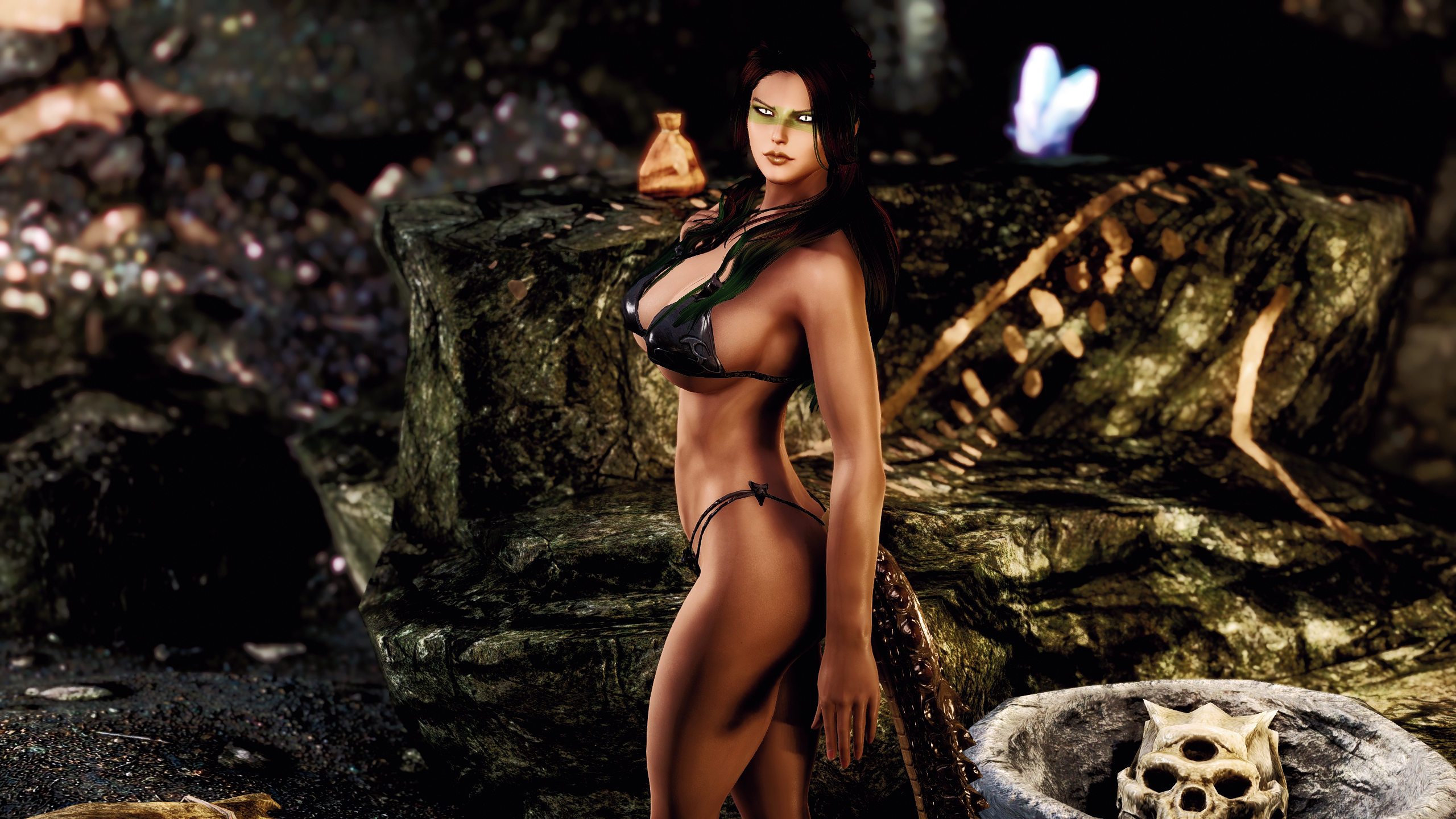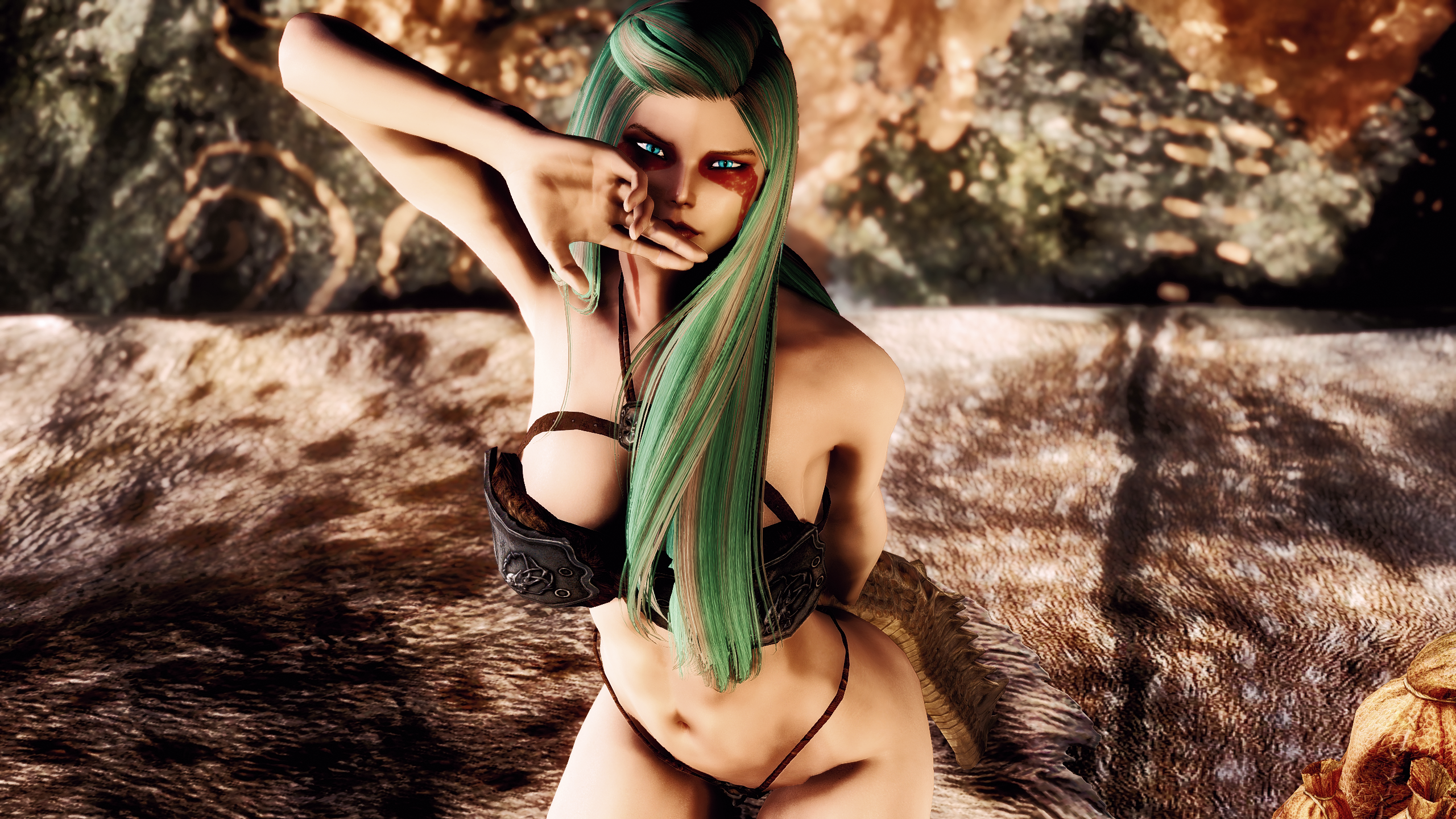 And on that note, all the content for the mod is finished, so all that's left is testing, balancing, and bug fixing.  This is probably going to take me at least a week, maybe two, since I know that unfortunately I won't have a whole lot of time to offer support once I publish it; I want to make sure I get it as cleaned up as I can before I let it loose into the world.
In the last couple weeks I made another MMD of the Night Nymphii too, so here's the link for that.
Finally, keeping with the theme of the last few entries, I assembled all the followers and presets so I could take a bunch of group screenshots.  Six followers and twenty four presets means it takes a really, really long time to set up these screenshots, so I hope you like it!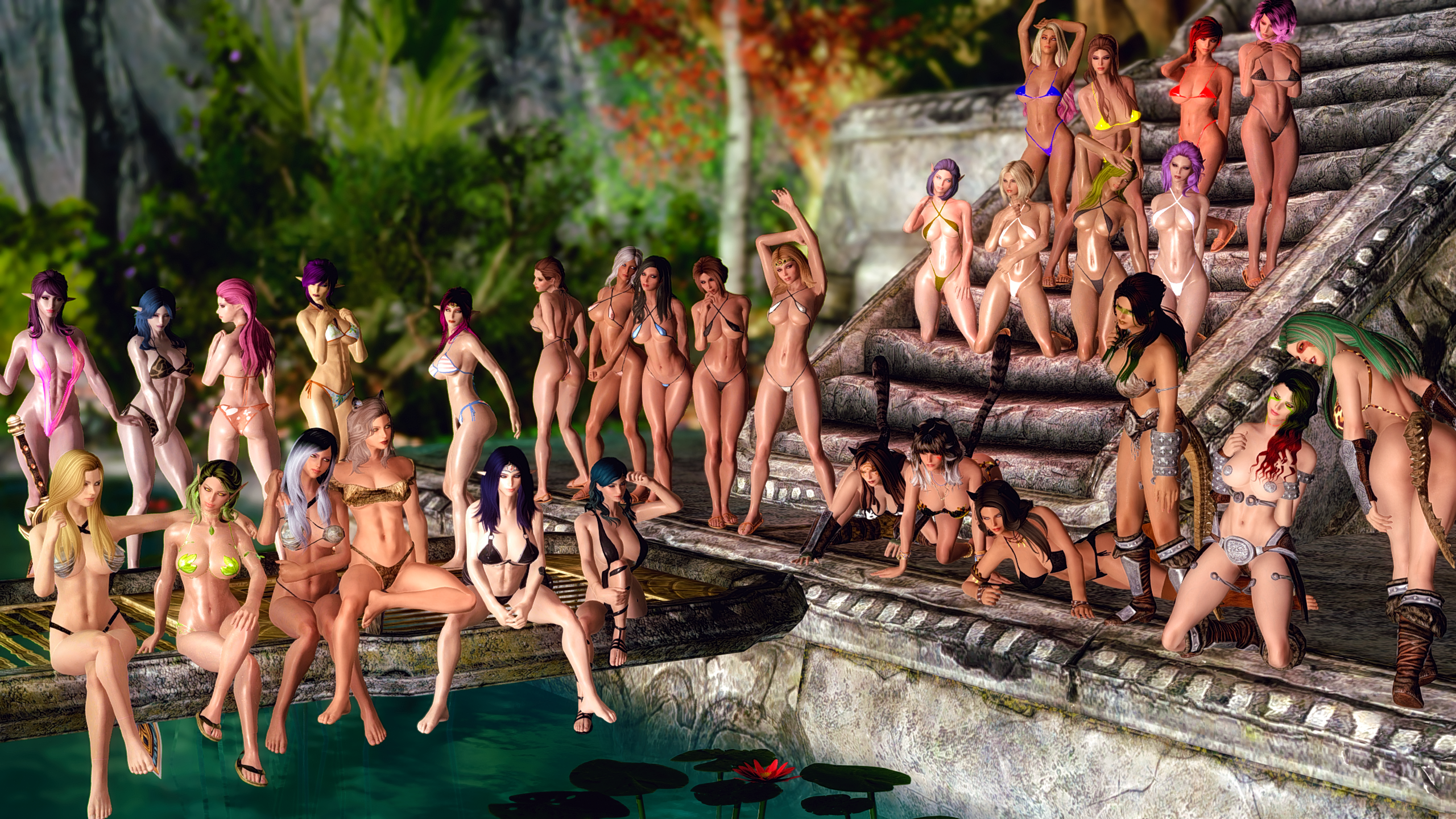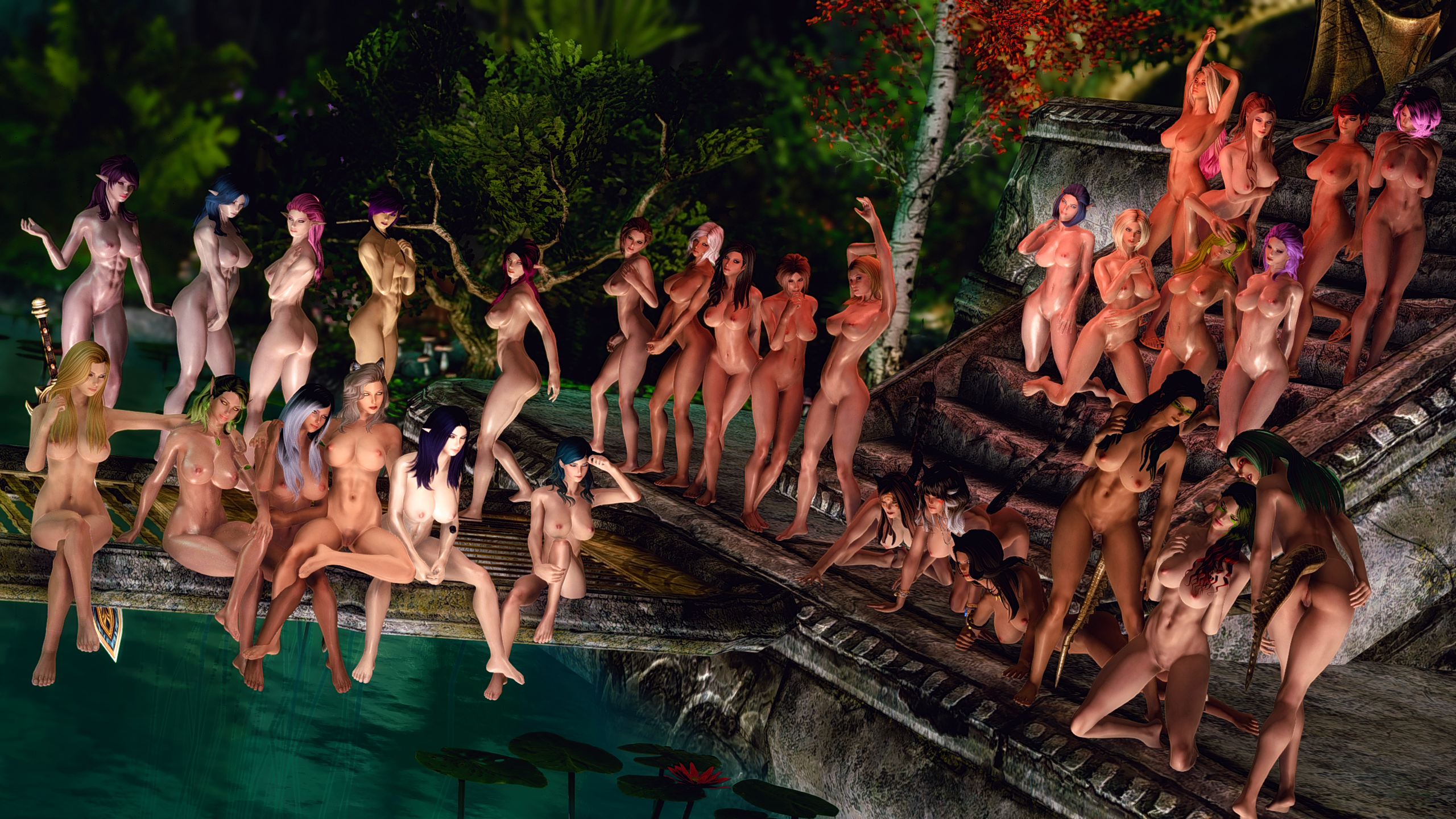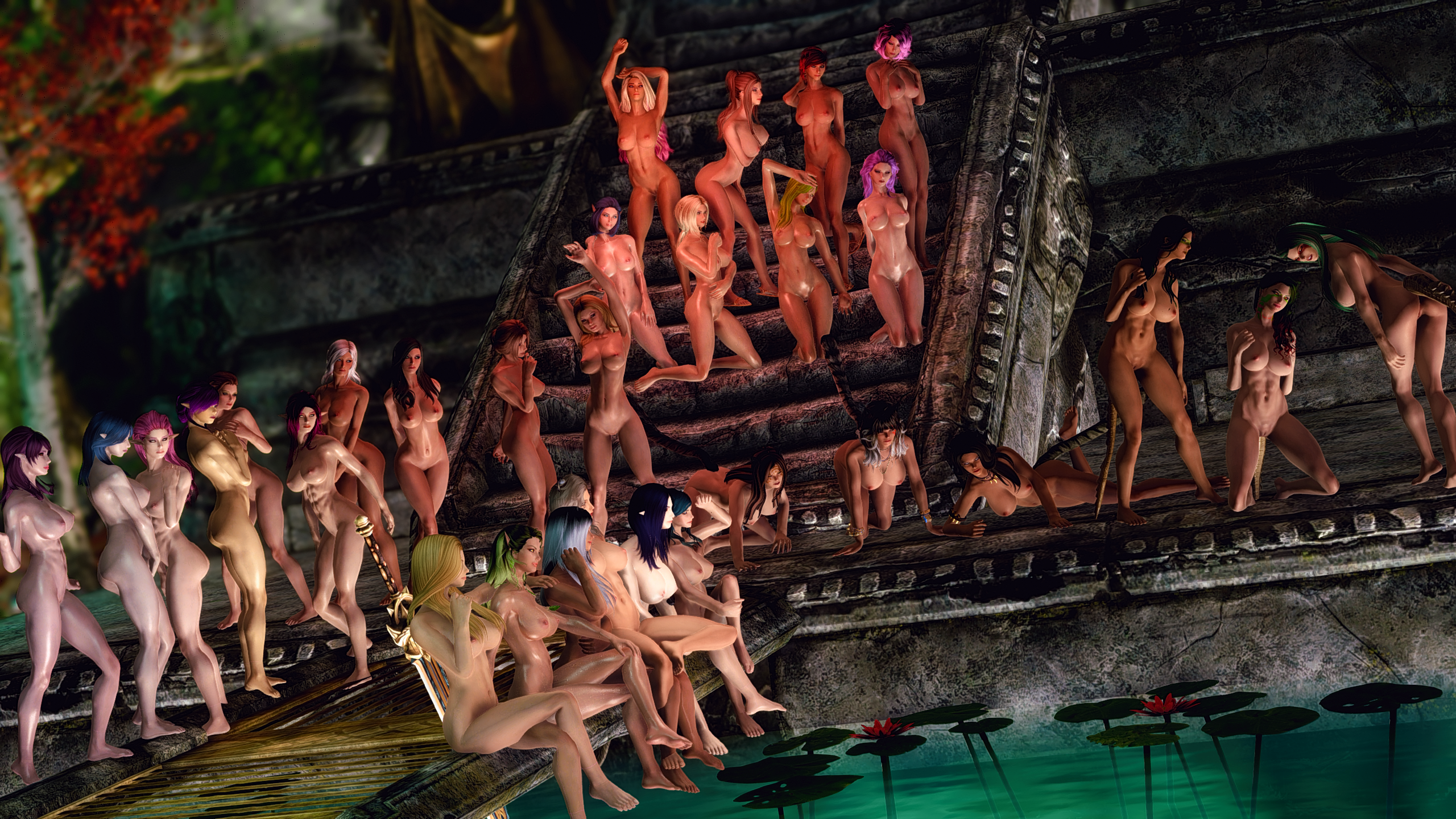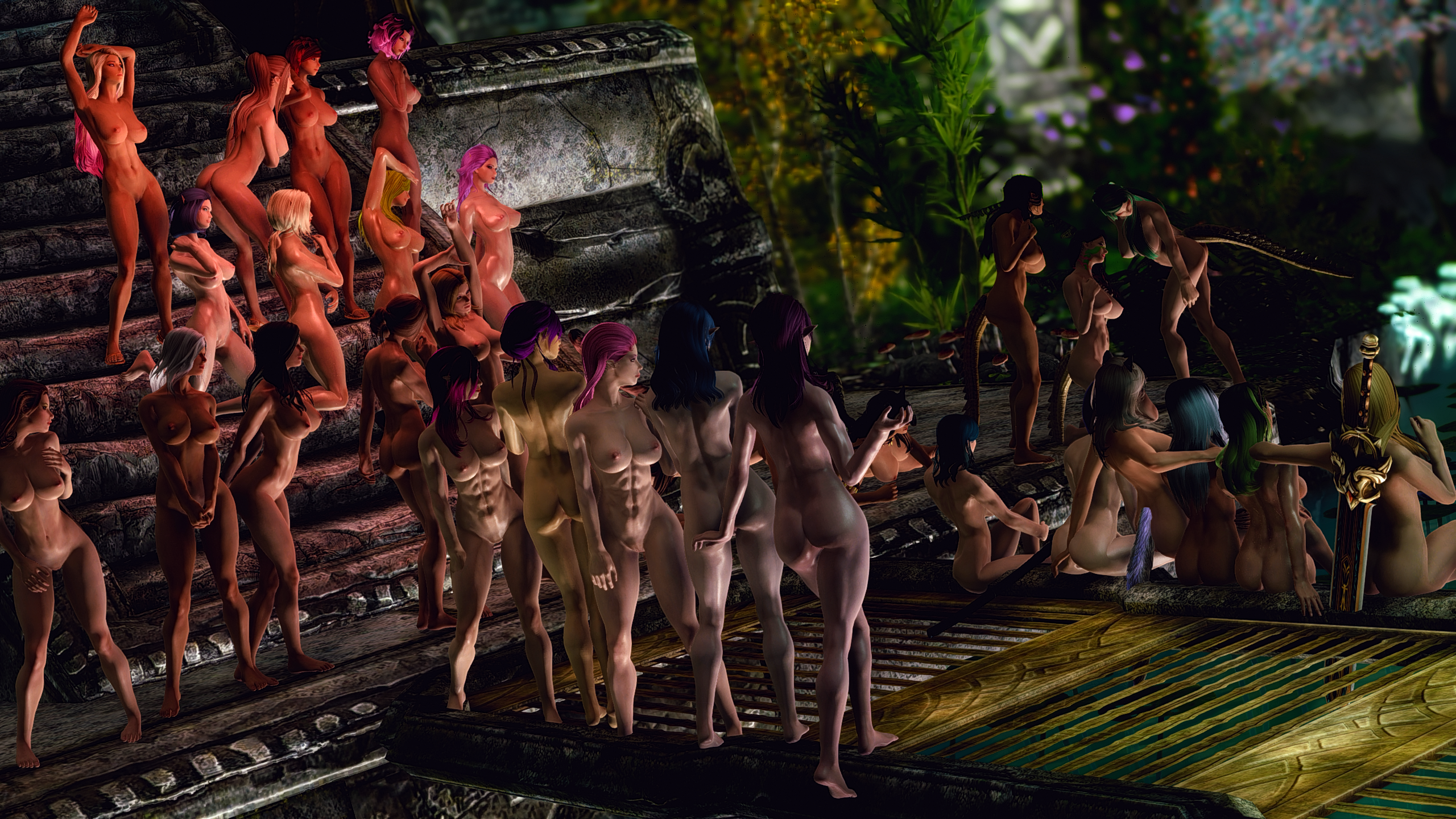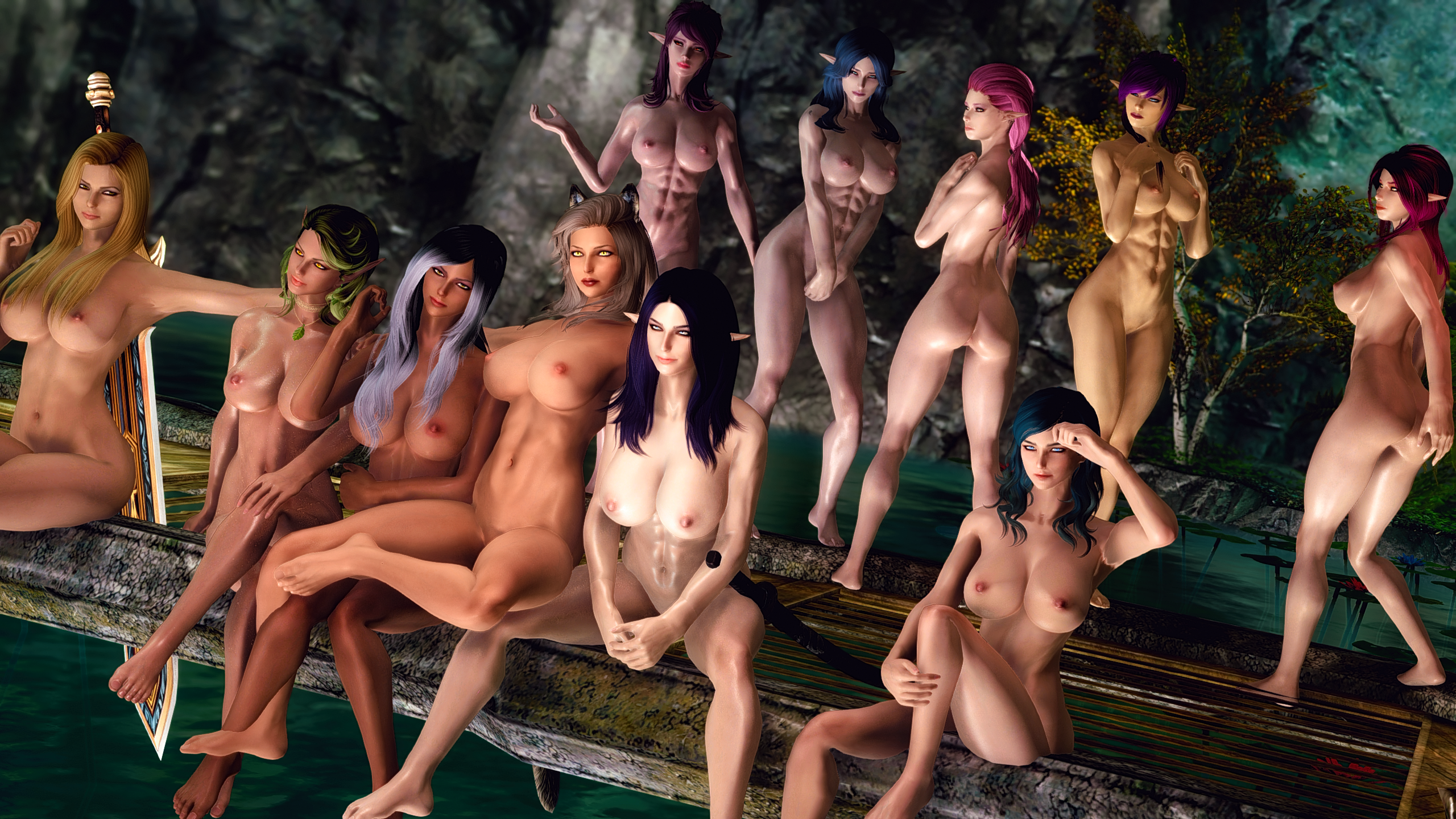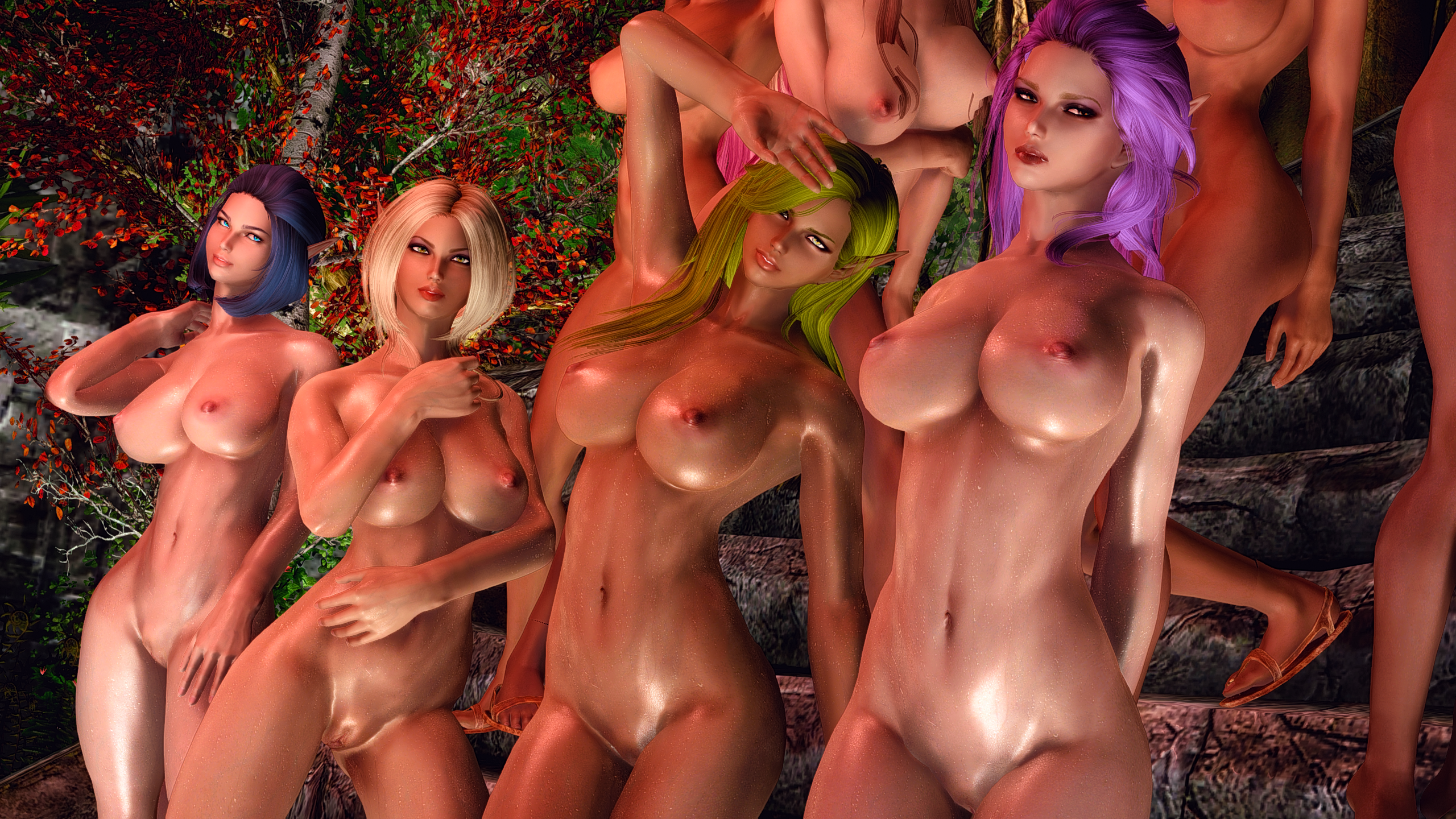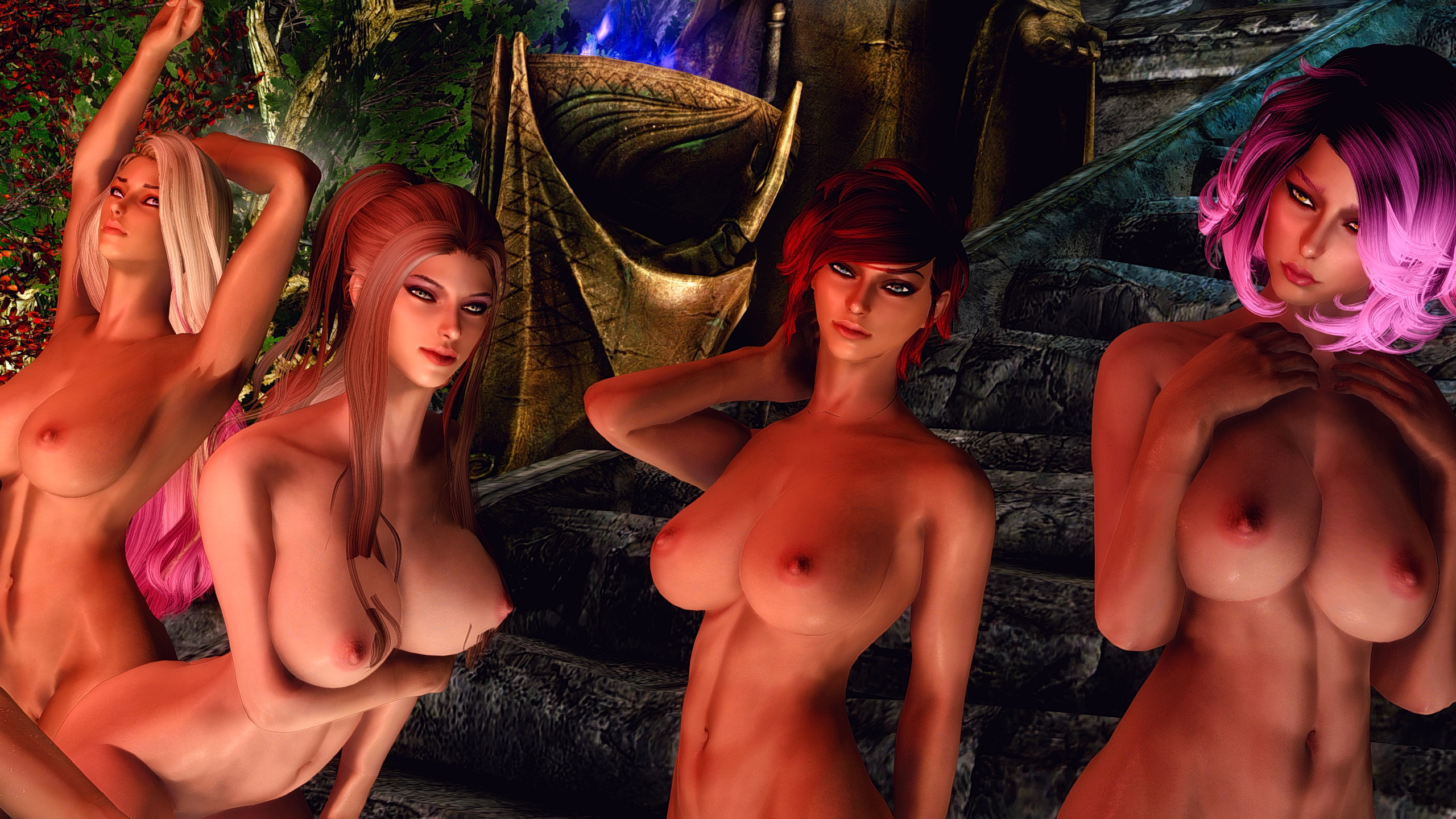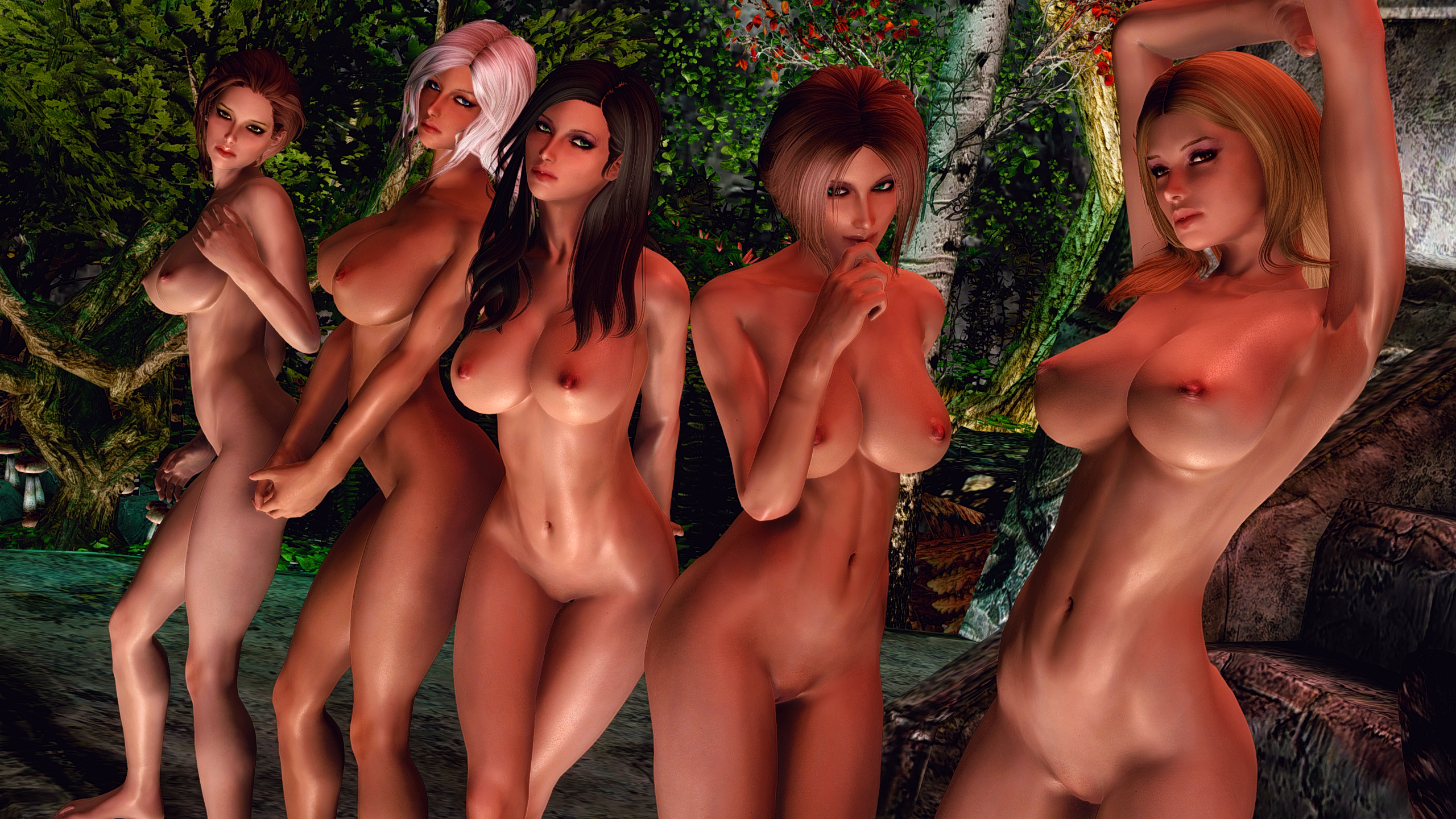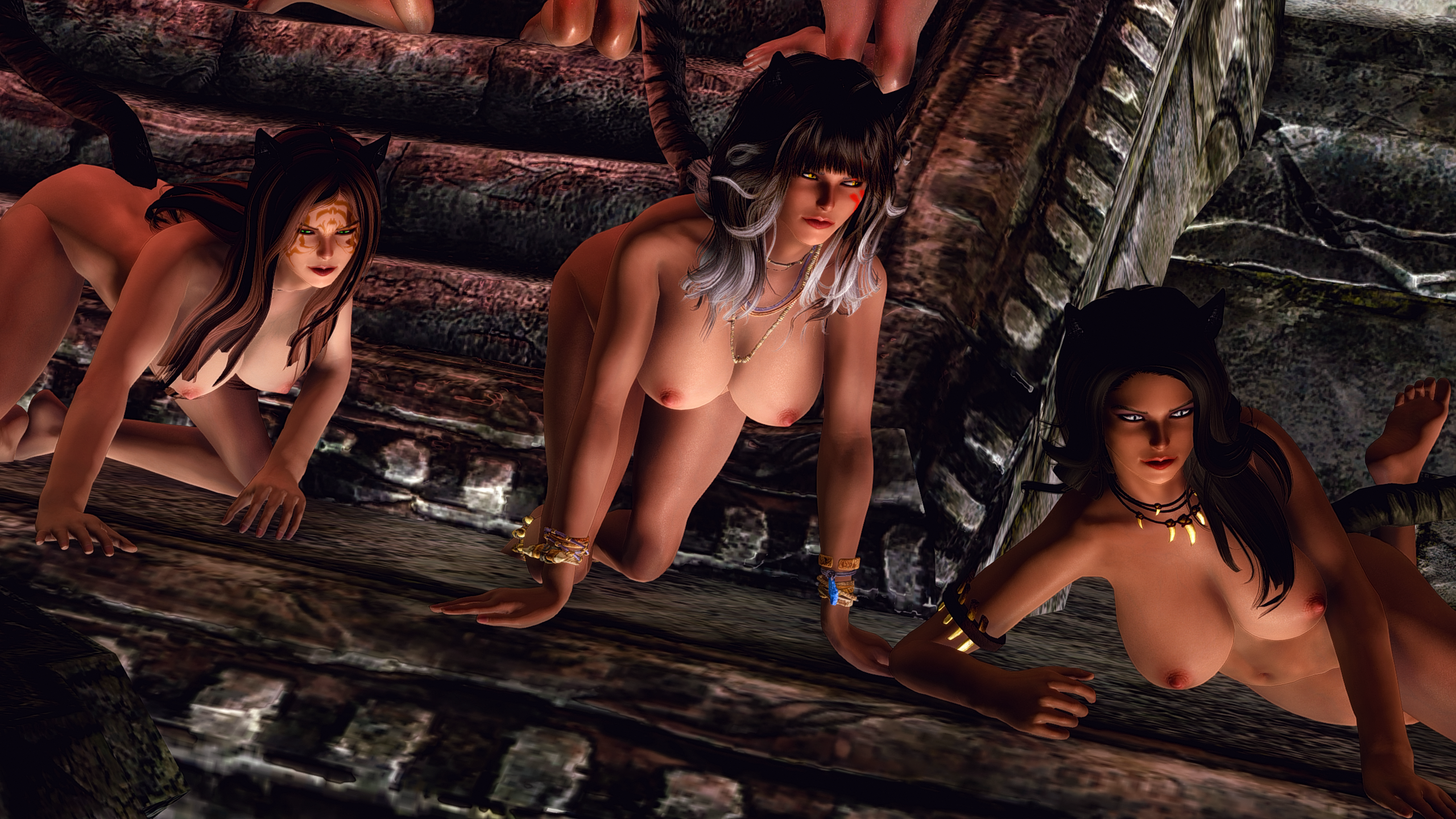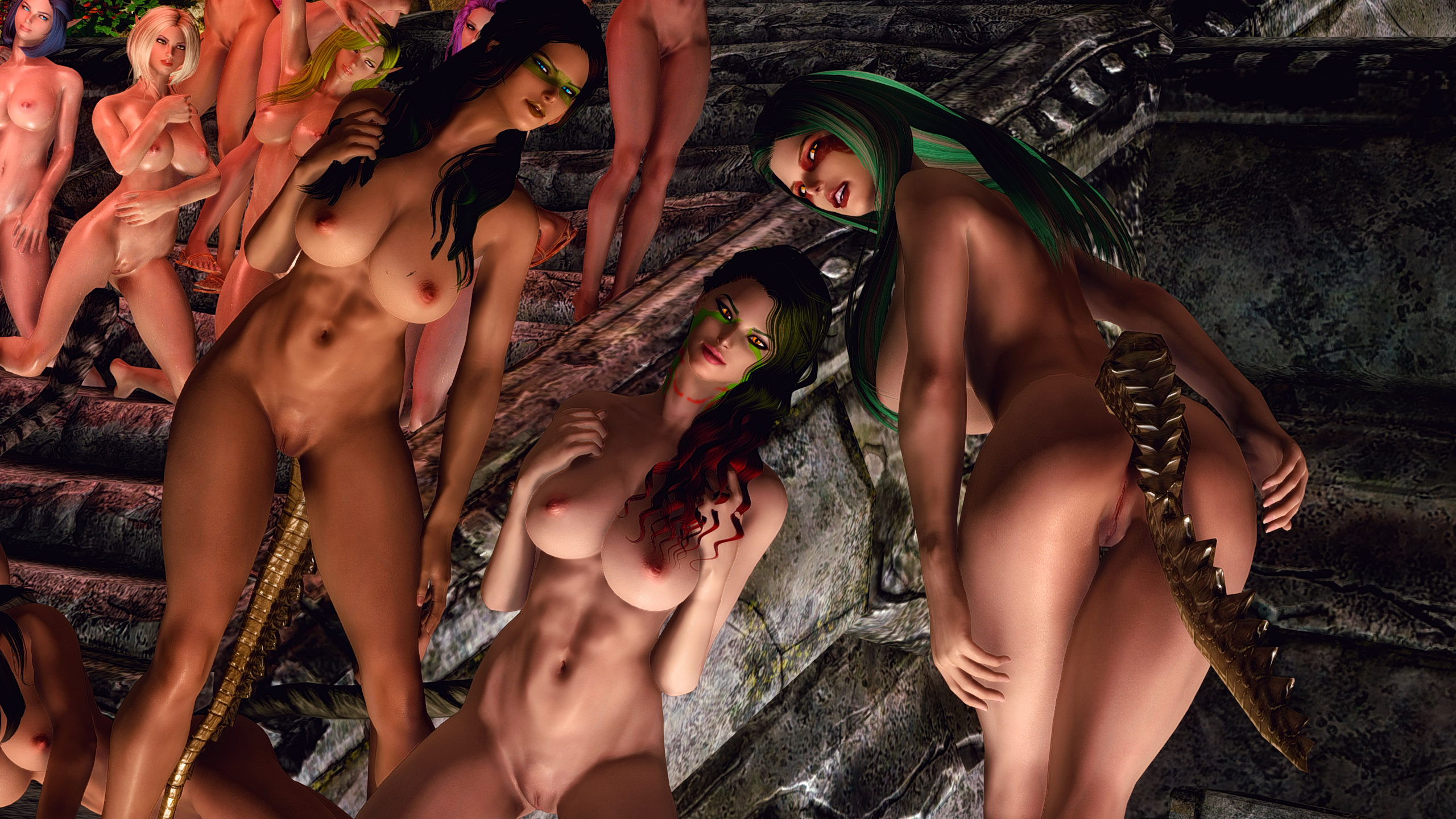 I have some more swimsuit group screenshots on my tumblr if you're interested in those, but I thought it would be redundant to post both swimsuit/nudes of basically the same scene.
Whew!  This was a really long blog entry, but hopefully  I made up for the last several weeks with no updates.  This will likely be the last entry until after I publish the mod, so I hope you enjoyed it!  Thanks for reading!