Started porting Illusion hentai game maps to Skyrim
---
I really like location mods, especially ones that have modern locations that I can have my models dressed up in 'real life' situations.
There aren't that many 'modern' location mods in Skyrim. The one that's really notable is Halo's Aether Suite mod, which is simply amazing. There's photo studios, a school, and a couple bars that have this futuristic feel and it's really well done.
I am not artistic though, and I'm pretty sure I won't be able to create something from scratch. What I've been able to do is to port over existing assets from games, 3d-modeling to Skyrim. As long as the assets can be made into something that Blender can import (obj with uv maps) and the textures can be extracted, it can be brought in-game in Skyrim.
I've been wanting to have something like a modern street scene, and ones that have caught my attention have been on the streets of japan. During my visits there, i'd always see girls dressed sexy, so i thought it'd be a little exciting to be able to recreate those scenes in Skyrim

I went hunting for some game assets, and what first came to mind was the Yakuza series of games by Sega. They had street scenes, clubs - seedy places in Japan. Unfortunately, i couldn't get the assets out of the game (from Yakuza 3) to a usable format

I then remembered Illusion's hentai games had some scenes i might be interested in, and thankfully someone made a collection of maps and so I took a couple of the maps - inside a commuter train and inside a subway station, and ported it to Skyrim: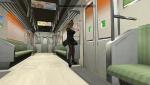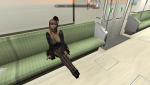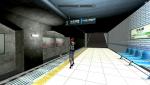 The textures are low-res because the games they came from are old, and i kinda suck at doing the lighting in the Creation Kit

If anyone wants to improve on this, i can make the files used for this available, or if you just want to play around with it, lemme know and i'll see if i can put up the mod files.