Antlyn And The Fire That Burns

The current character I am playing is a Breton named Antlyn.
Left for dead on the shores of Solstheim, she is found by spellsword mercenary Teldryn Saro. He takes on the role of her guardian while she heals from her wounds. When she is strong enough, she begins to follow Saro on the jobs he is hired for. She begins to take on work for Modyn Veloth, captain of the local Redoran guard in Raven Rock, first investigating the origins of the Ash Spawn at Fort Frostmoth and clearing out encroaching Reaver camps.
Saro begins to teach her his Destruction fire magic. Her Breton blood is perfect for this and her skills improve quickly. Eager to please her mentor, she burns General Carrius to a crisp before he can even finish a sentence. She finds a friend in Yamira, one of the local Redoran guards and she joins Antlyn and Saro on adventures all over Solstheim.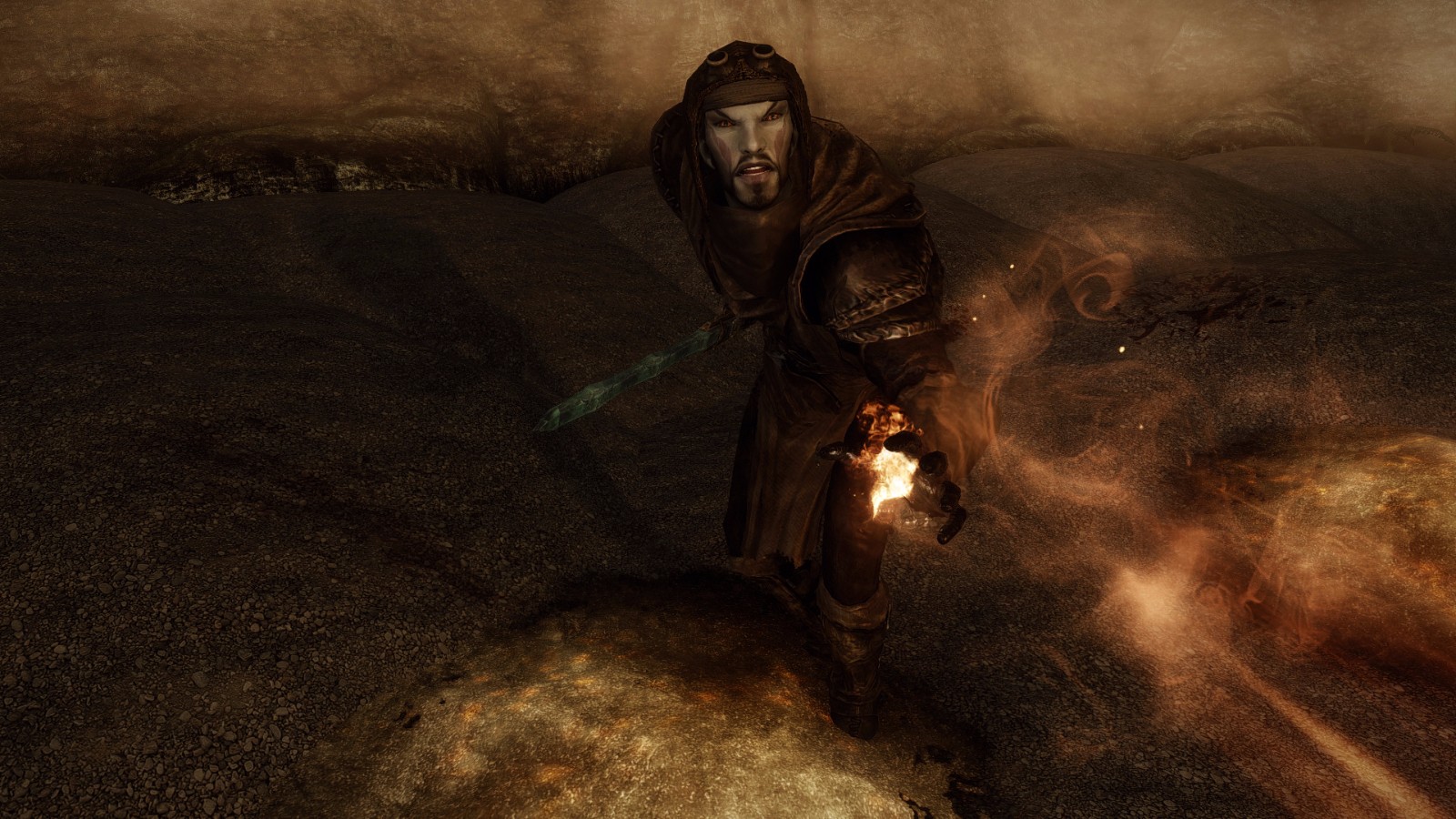 Searching for answers about who killed her parents and stranded her on Solstheim, fueled by revenge, Antlyn travels to Skyrim, along with Teldryn Saro. Arriving in Riverwood, she meets Camilla Valerius and her brother, Lucan, owner of the Riverwood trader. Lucan hires Antlyn and Saro to retrieve a golden dragon claw recently stolen from them and possibly taken to nearby Bleak Falls Barrow. Antlyn and Saro make the journey up the mountain to Bleak Falls Barrow. They swiftly dispatch the bandits that have taken residence in the Barrow.
Journeying deeper inside, Antlyn finds Arvel the Swift entangled in a spider's web. Using her flames to free him, Arvel makes a run for it. He doesn't get very far as he is pulled apart like a piece of mutton after waking up some Draugr in the crypts. His screams are loud and brief but enough to wake up more Draugr further inside.
Saro is proud to see Antlyn using her fire magic more frequently, in combination with an axe she retrieves from one of the fallen Draugr. Not used to using her powers so frequently, she begins to tire but unwlling to disappoint her mentor, she does not pause to rest. His heart wells with pride.
Reaching the end of the Barrow, she finds her first Word Wall. Antlyn is drawn to the whispers she hears and gets closer to the wall. Saro is surprised to see her enveloped by light bright enough to force him to cover his eyes. When the light has finally dissipated, he can see on her face and he already knows that her world has changed.
Back in Riverwood, Antlyn returns the golden claw to Lucan and he happily pays for their services. Recognizing that Saro has developed a fondness for Riverwood, she spends some of her coin to buy a home for them. Her first home without her parents...
On the first night in their new home, Antlyn finds Saro relaxing in the armory. She approaches the flames of the forge, weary from their adventures in Bleak Falls Barrow. She takes off her boots, unbuckles her steelplate chestpiece and lets it drop to the floor.
She can feel Saro's eyes on her body as she warms herself. He's the only one in the world she feels safe enough around to let down her guard like this... Antlyn stretches her limbs and a smile spreads across her face.
Antlyn finds herself drawn to the ruins of nearby Helgen. She travels there with Saro and arrives just in time to see an enormous black skinned dragon fly away, leaving the town in rubble and smoky ruins. Finding a journal near a pile of ashes that once was an adventurer like herself, she discovers a cave nearby where they meet Raloff, a wounded man in Stormcloak garb, sprawled out on the cavern floor. Sharing a healing potion with Raloff, they follow him back to Riverwood. Raloff shows Antlyn the Standing Stones and she chooses the Mage Stone. Not terribly surprising but it pleases Saro that she chose it over the other Stones. Arriving in Riverwood, Raloff introduces them to his family. After hearing Anylyn's story about Helgen, Raloff's sister Gerdur asks Antlyn to travel to Whiterun to warn the Jarl about the dragon.