Flame-Child: Part Two:
Chapter Nineteen - For Power 2 (Nyleine)
Last: http://www.loverslab.com/blog/156/entry-2845-flame-child-part-two-chapter-eighteen-for-power-niyleen/
Next: http://www.loverslab.com/blog/156/entry-2857-flame-child-part-two-chapter-twenty-for-power-2-carciel/
Part One
Nyleine awoke had a good yawn. She felt sore and heavy, sleeply as well, but at the same time light and fuller of life than she'd felt in a while. Being separated from her sister always made her feel good physically regardless of the mental impact it caused. Once she finally got fully awake, she started off towards Orphan Rock.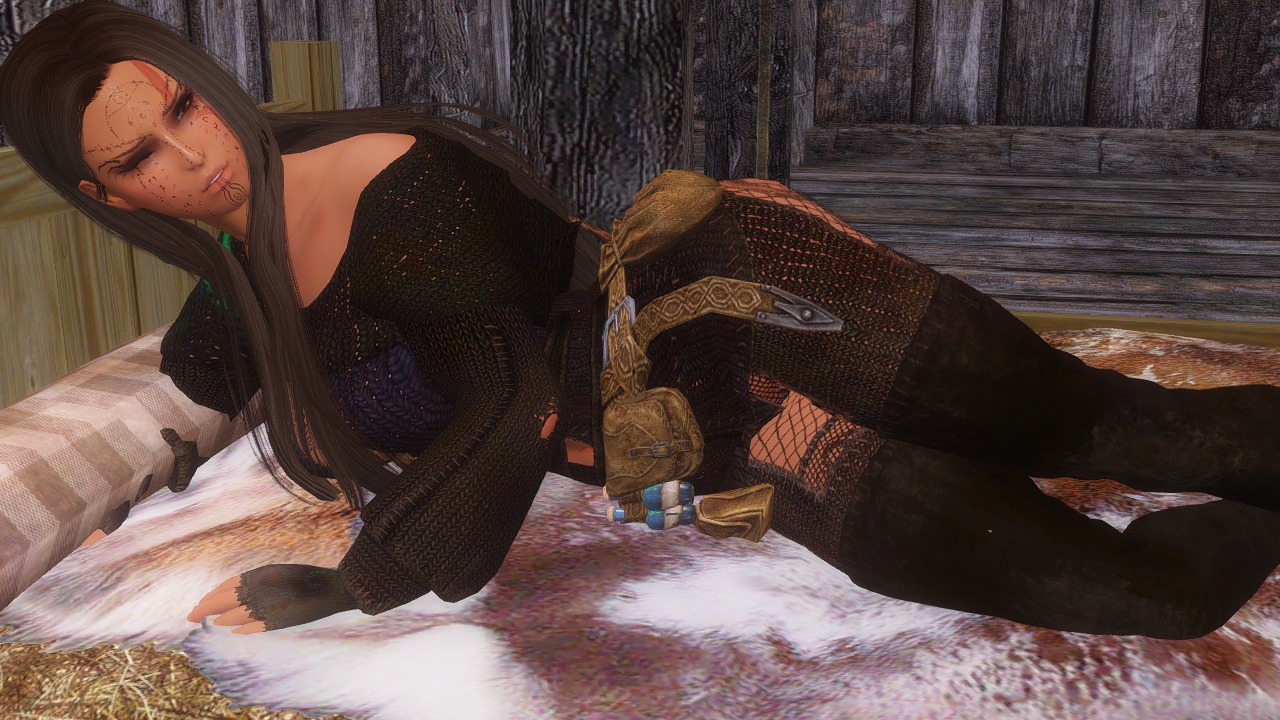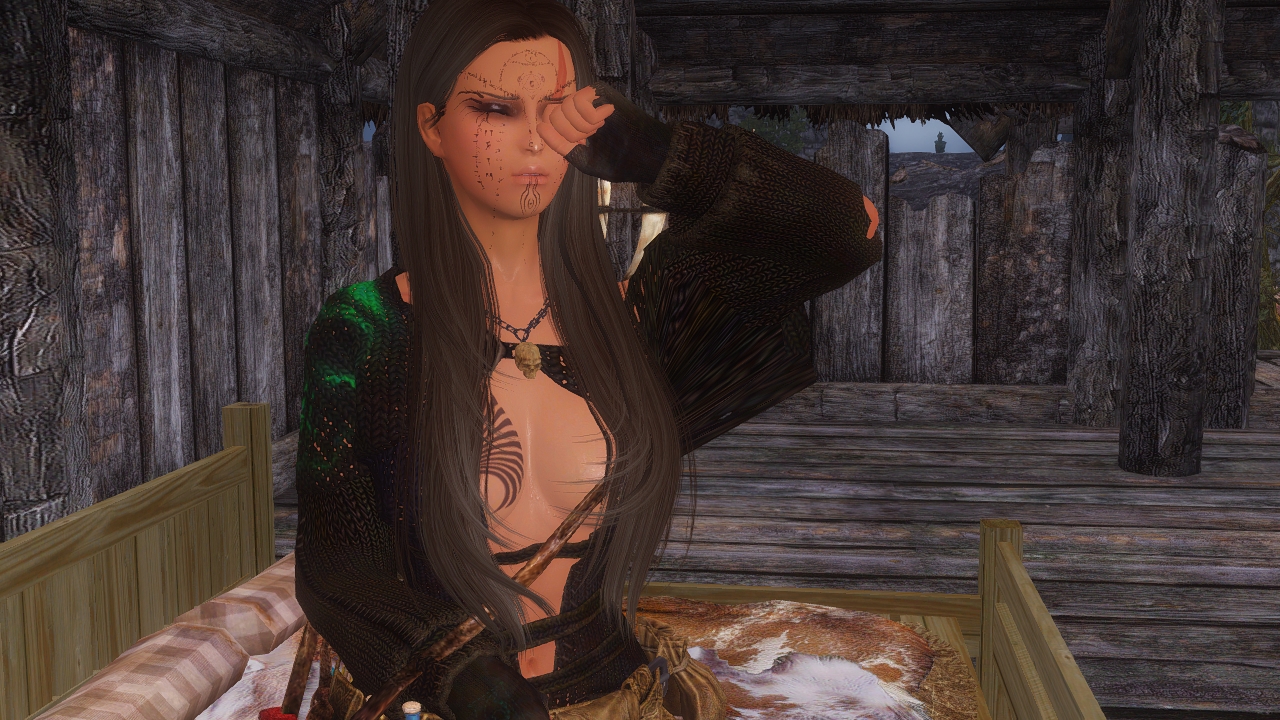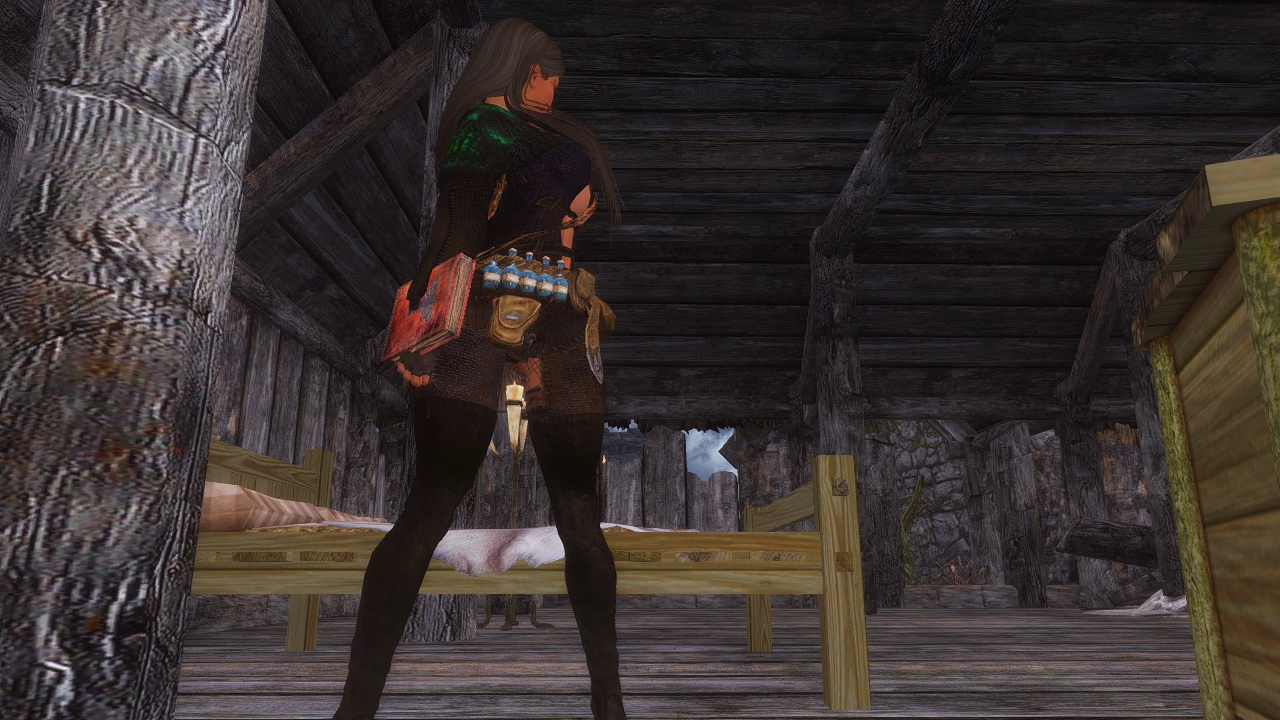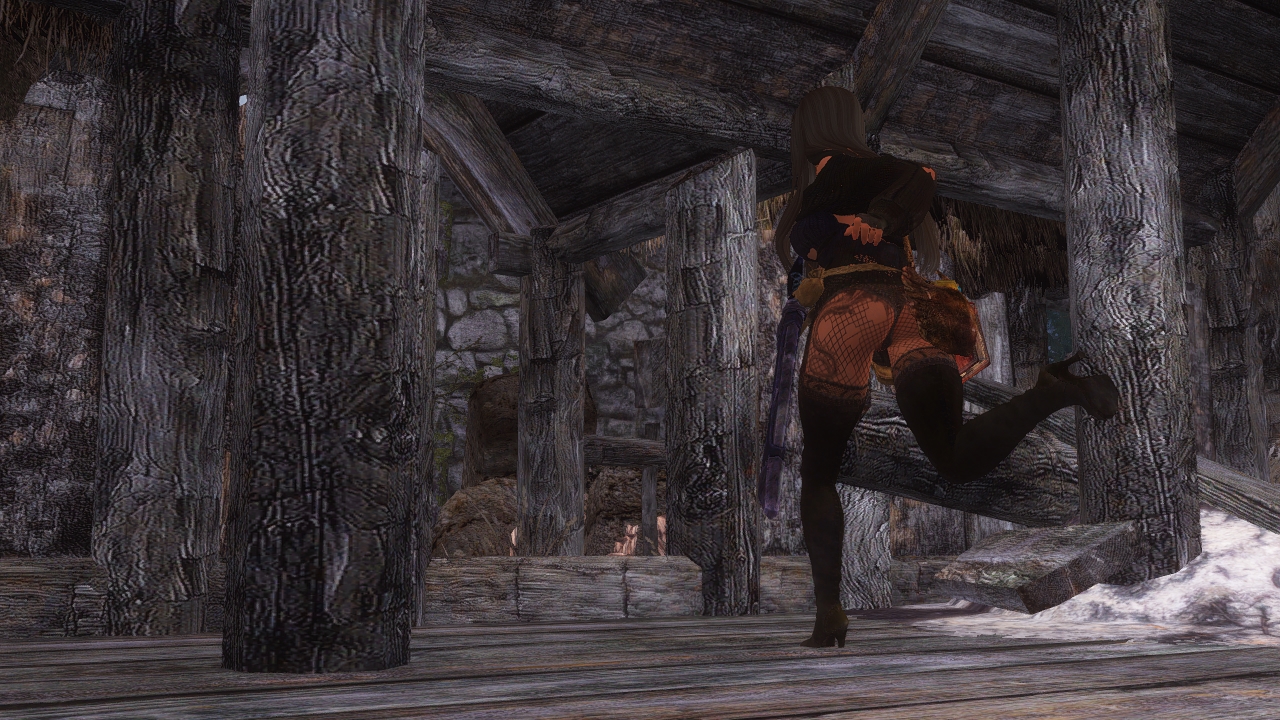 As soon as she exited the remains she had dwelled in, she tried to remember what Ji'aska had said to her. …East of Helgen. Take path on left, leads north. You'll arrive. Looking at where the sun was positioned, Nyleine immediately headed east, but was almost instantly forced to a halt.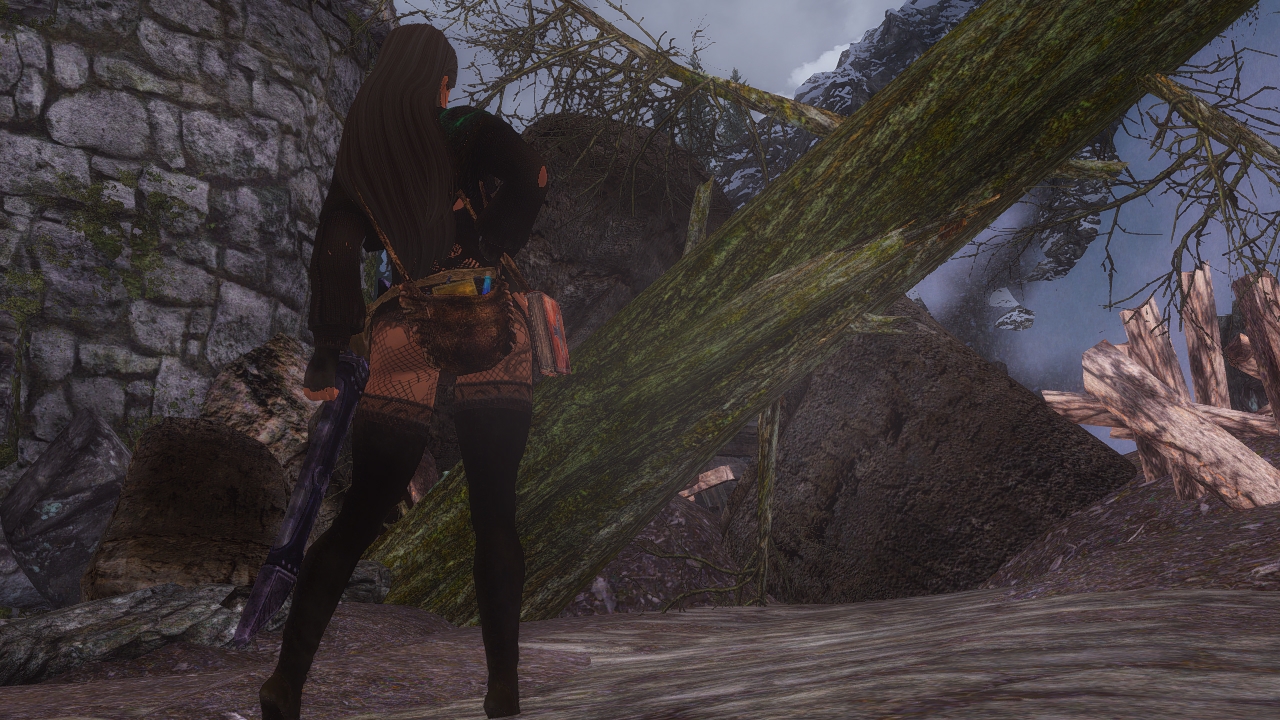 "You've got to be joking…" Before her the path was blocked by trees and fallen debris. "I could double back… but father always said that the straightest path was the quickest." She began lightly stretching while letting her Magicka gather in her hands. "I guess I needed to do a warm up spell anyway."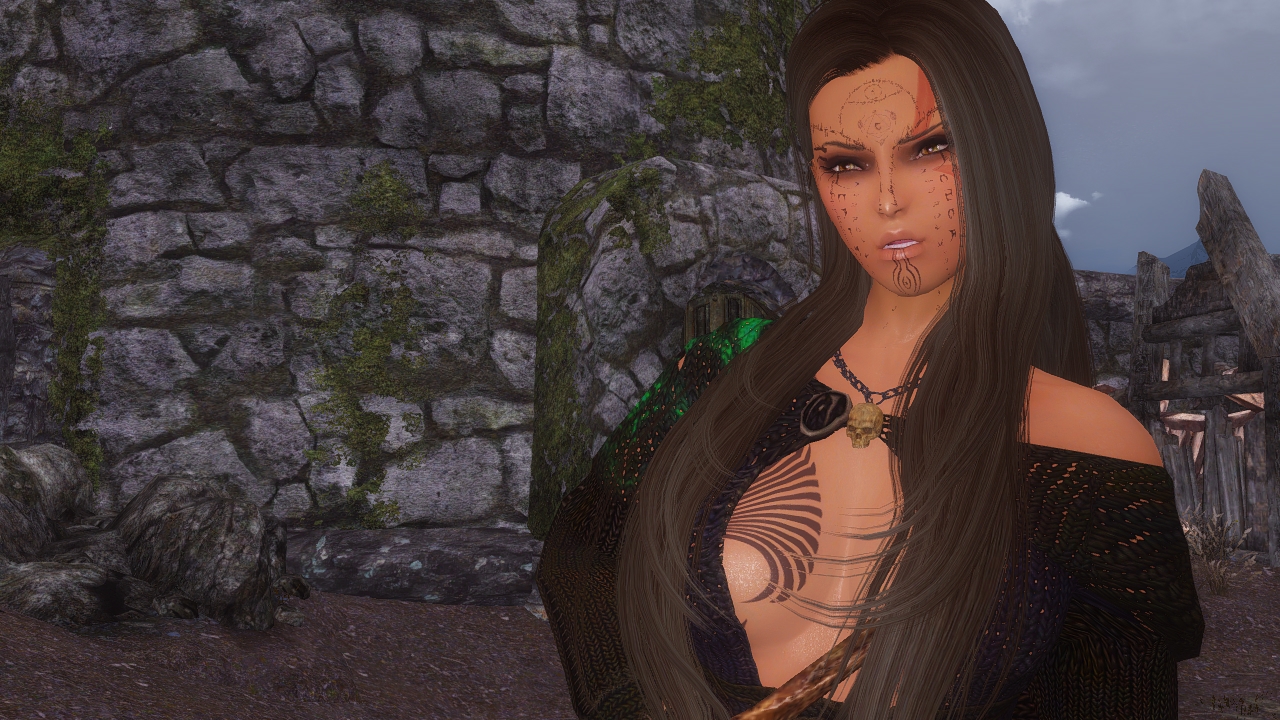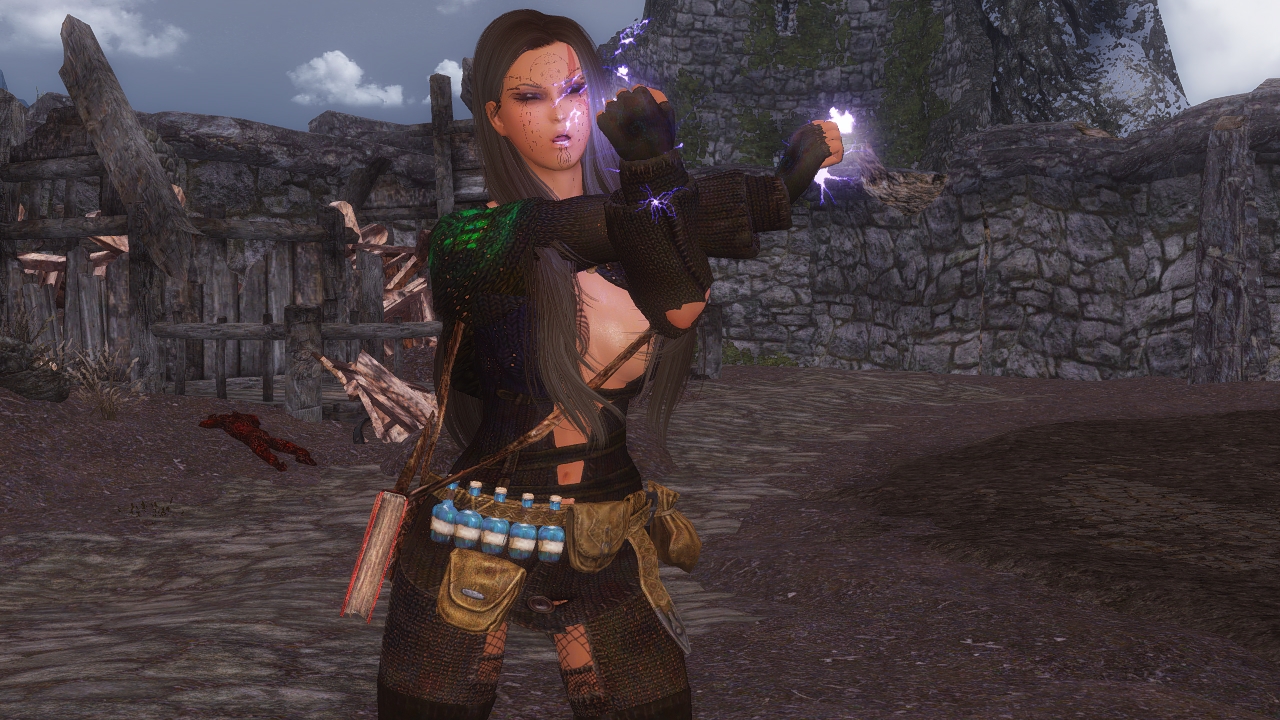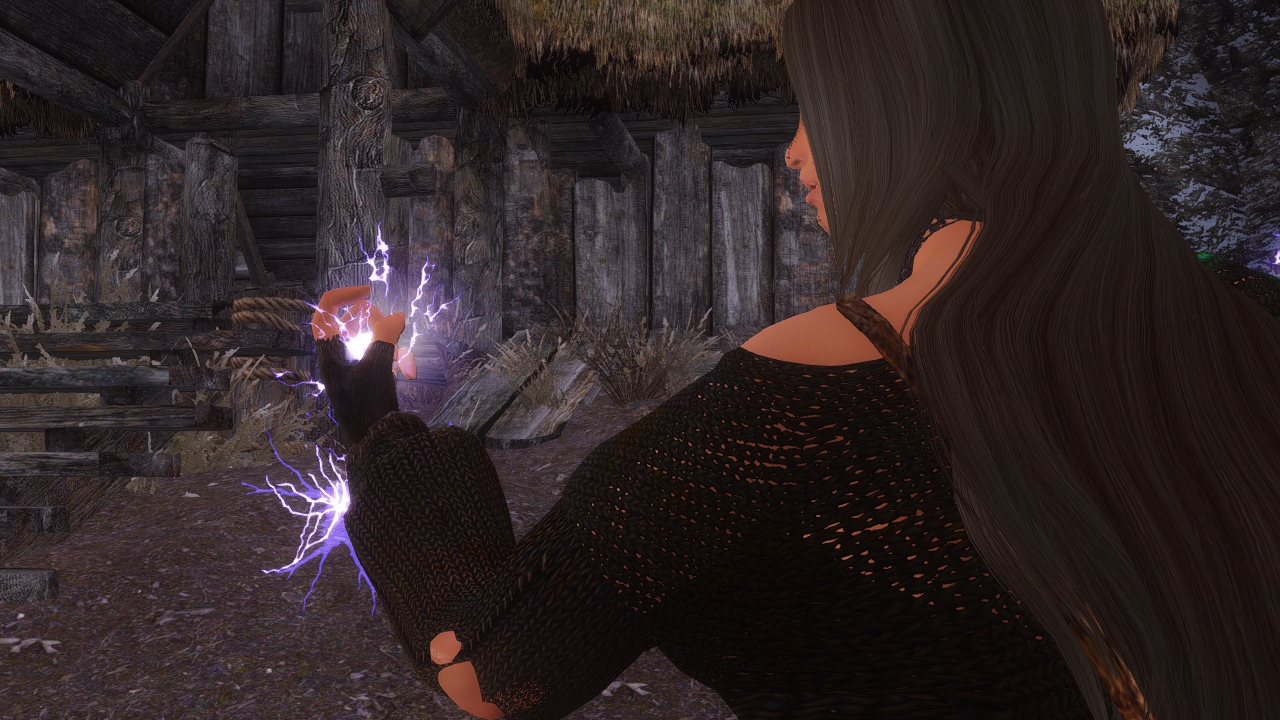 "Lightning Teleportation!" She dispersed all the Magicka from her hands and it shot out like lightning to a point behind the blockade, and within moments Nyleine herself appeared at that exact spot. "Whoa, what a rush,"


"My aim's a bit off, but not bad for a spell I haven't used in ages." she said as she got to her feet.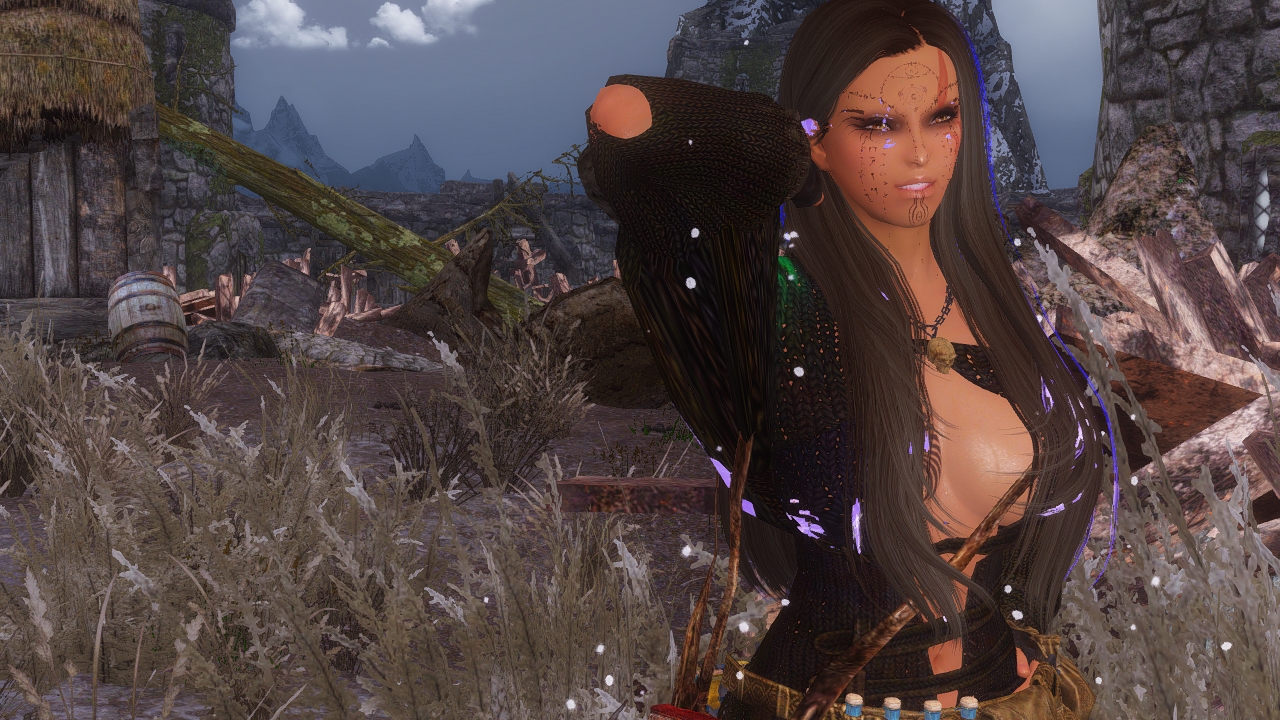 "Now then…" Nyleine headed off again and soon exited the town from the east.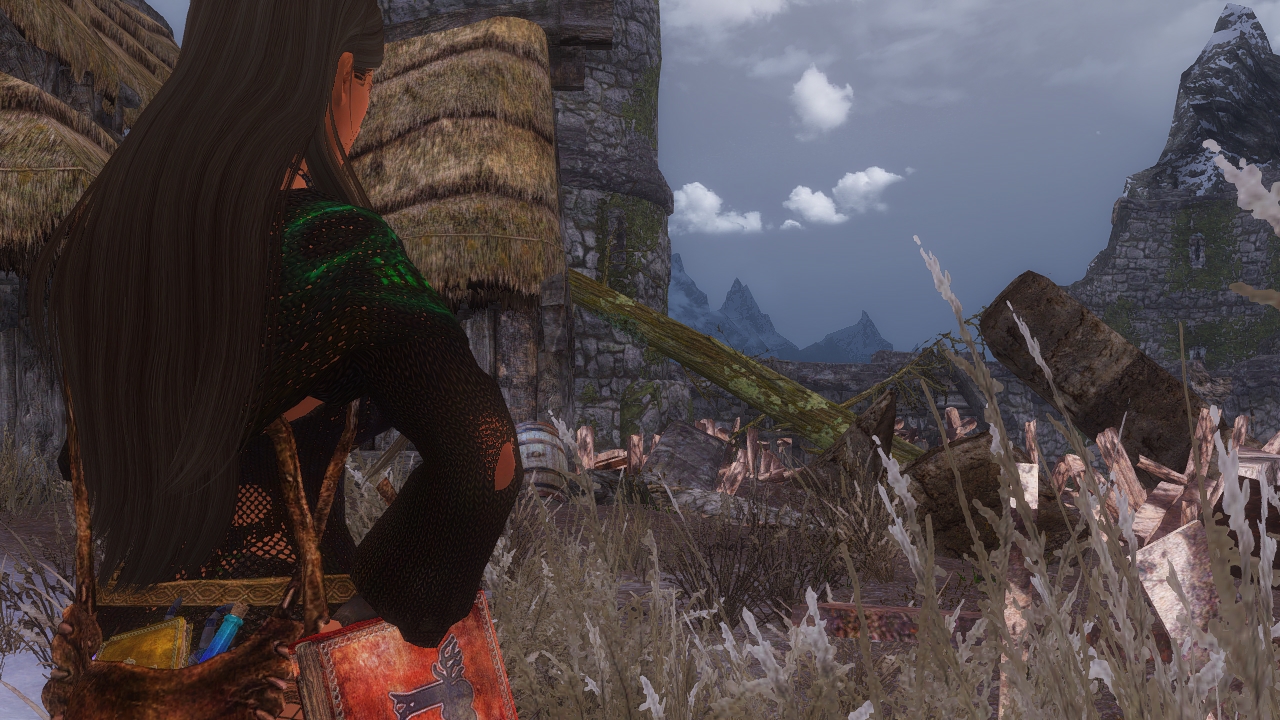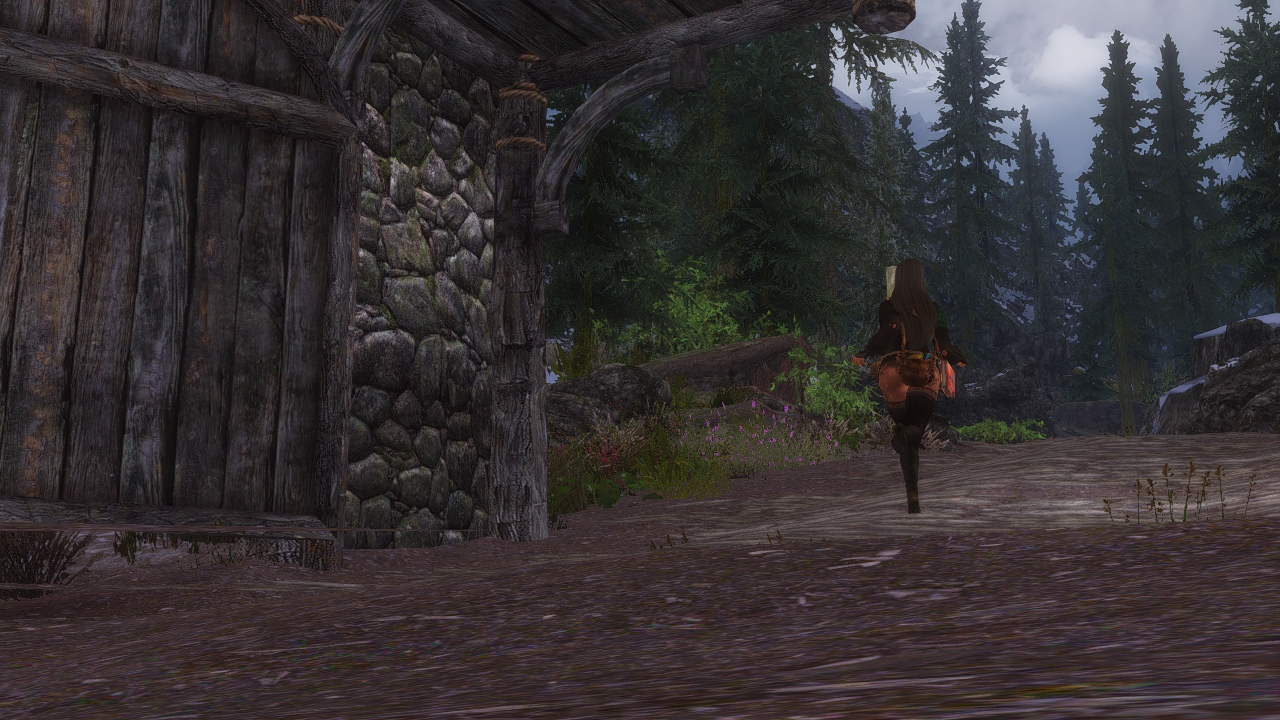 She followed the Khajiit's instructions until she had come up upon an area occupied by hags and Hagravens.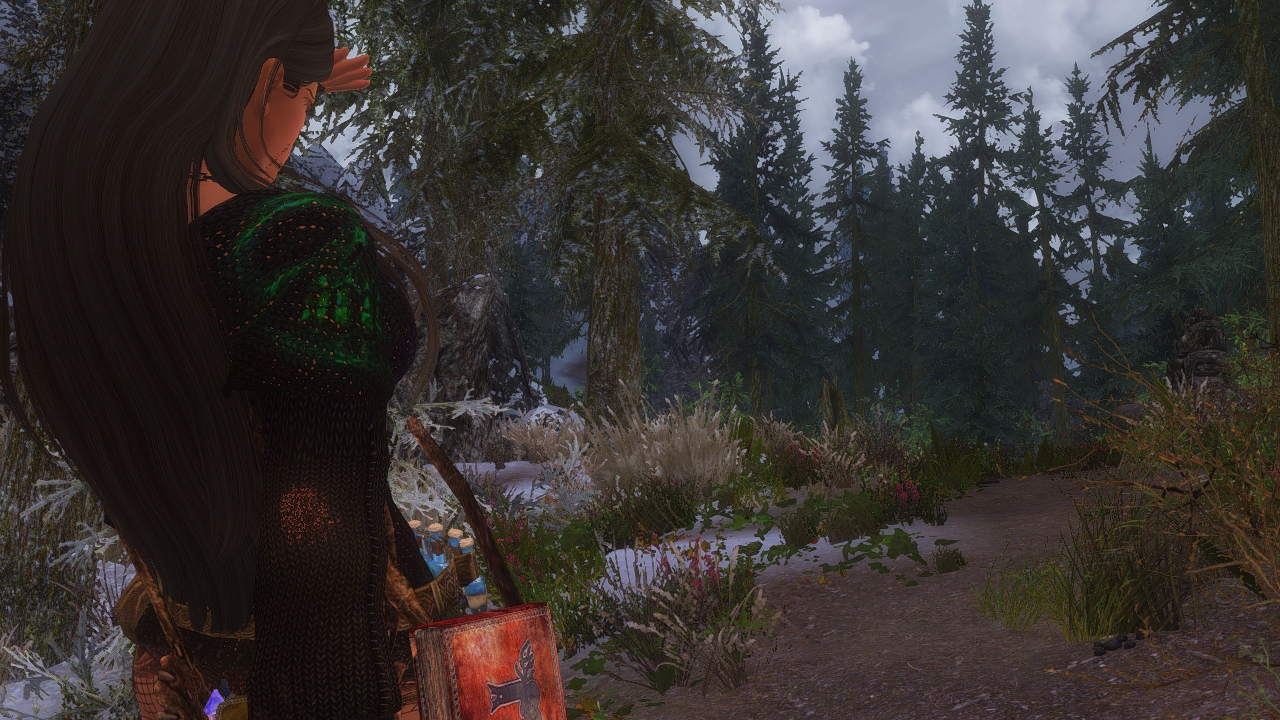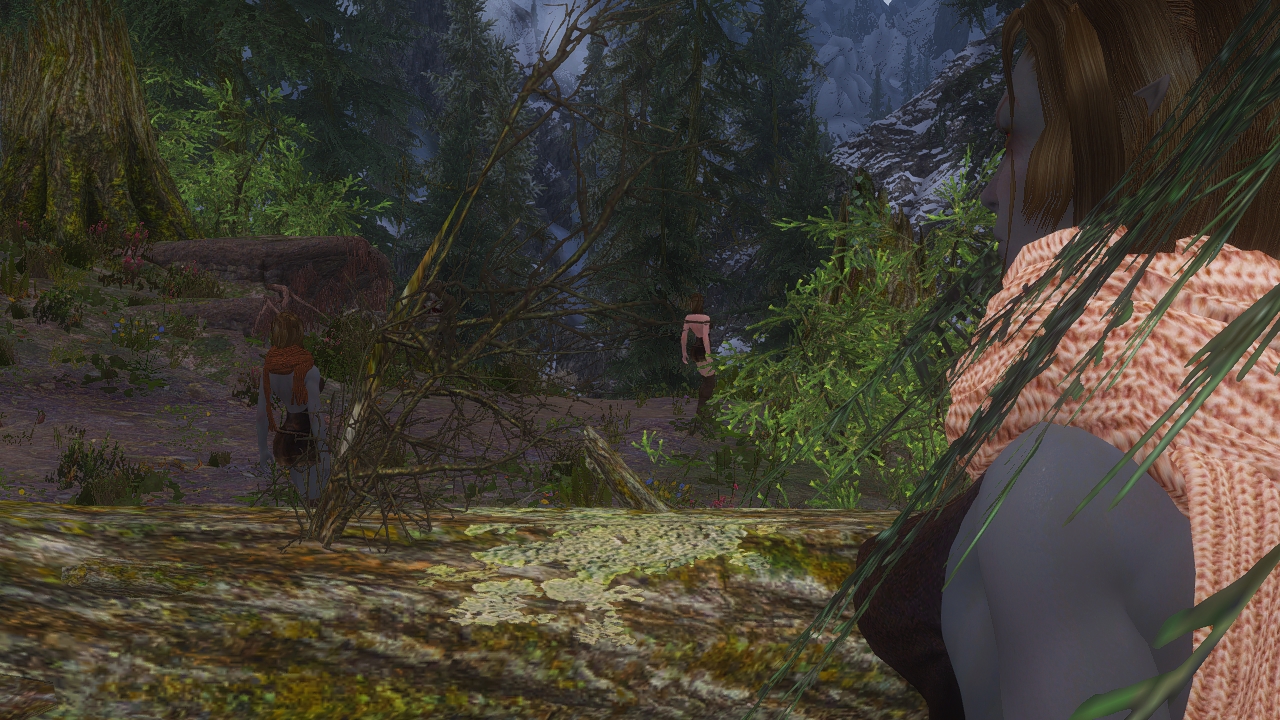 She immediately took cover and after not being spotted after a minute, let out a relieved sigh. (Ji'aska you brilliant cat! I'll make sure to get you some skooma and a pile of moon sugar next time I see you.)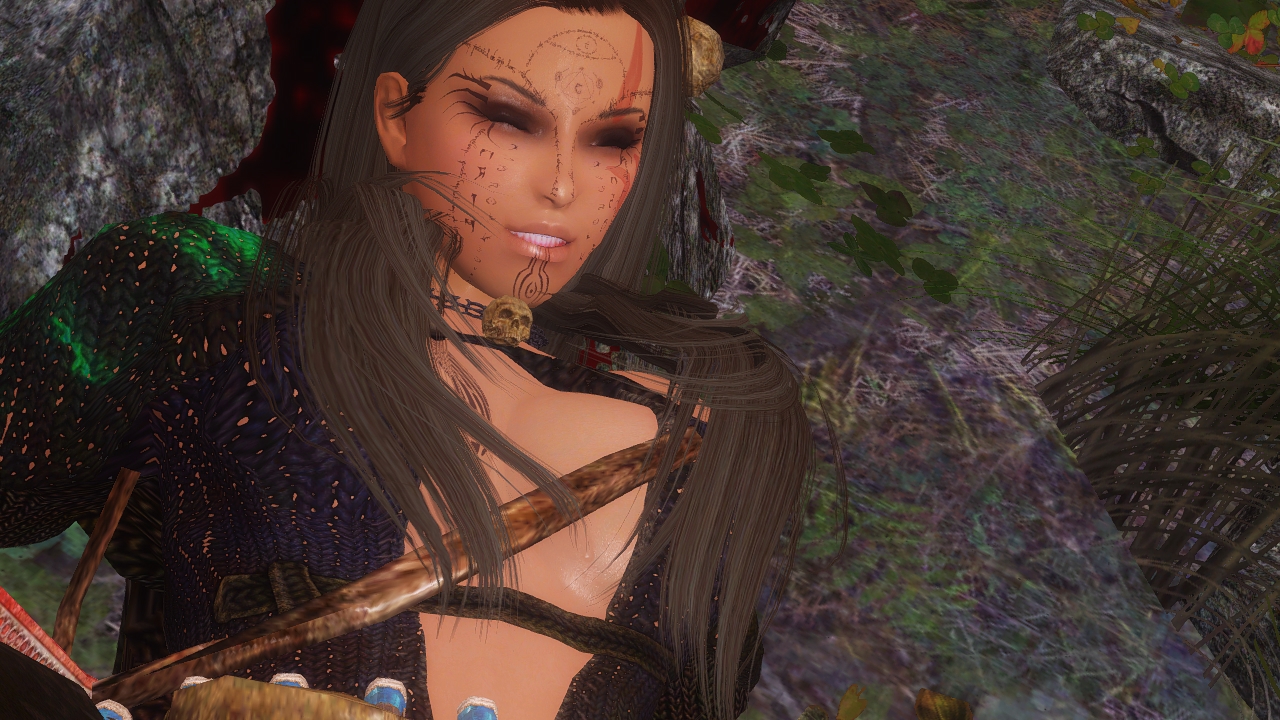 Steeling herself mentally, Nyleine rose from her cover and saw that a few hags had noticed her presence. "Okay then, time to work." Simply by snapping her fingers, Nyleine conjured a small army skeletons and with a single hand gesture they set off to battle.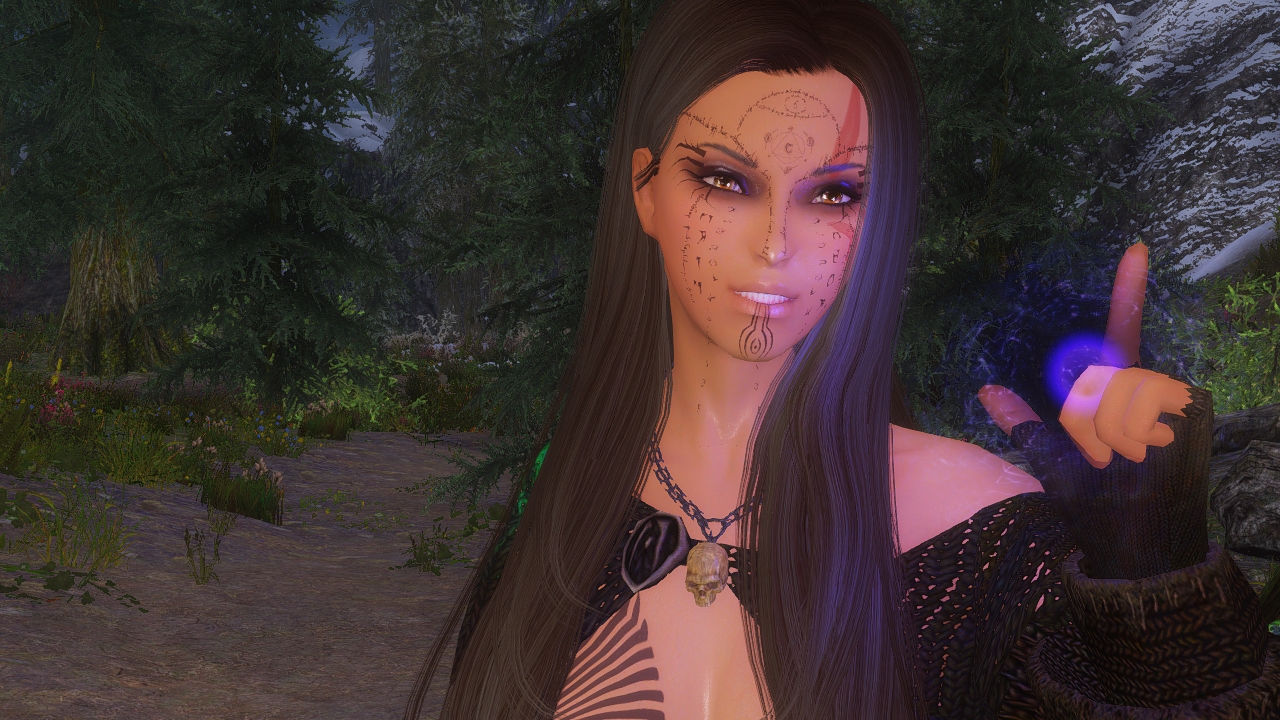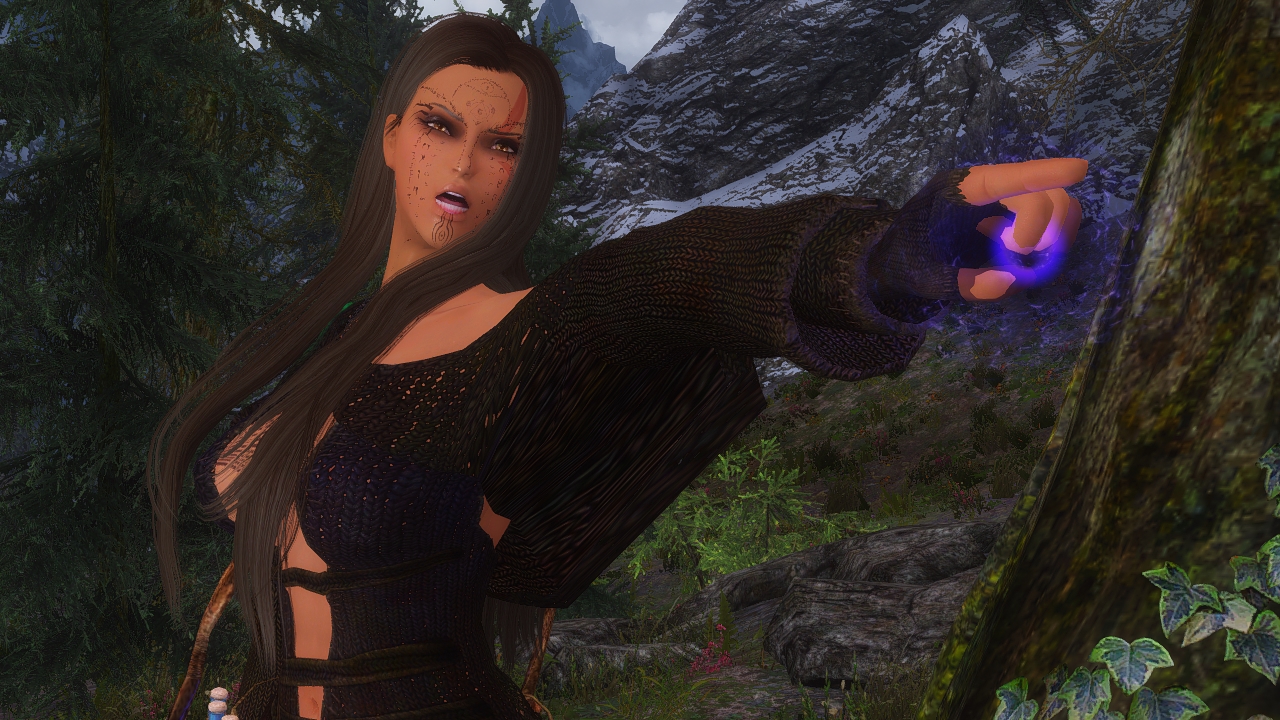 It wasn't necessarily swift, but Nyleine and her skeletons easily dispatched of the hags like the milkdrinkers they were. She wasn't paying too much mind towards it, but she knew that each kill fueled her necklace making it, and her, stronger.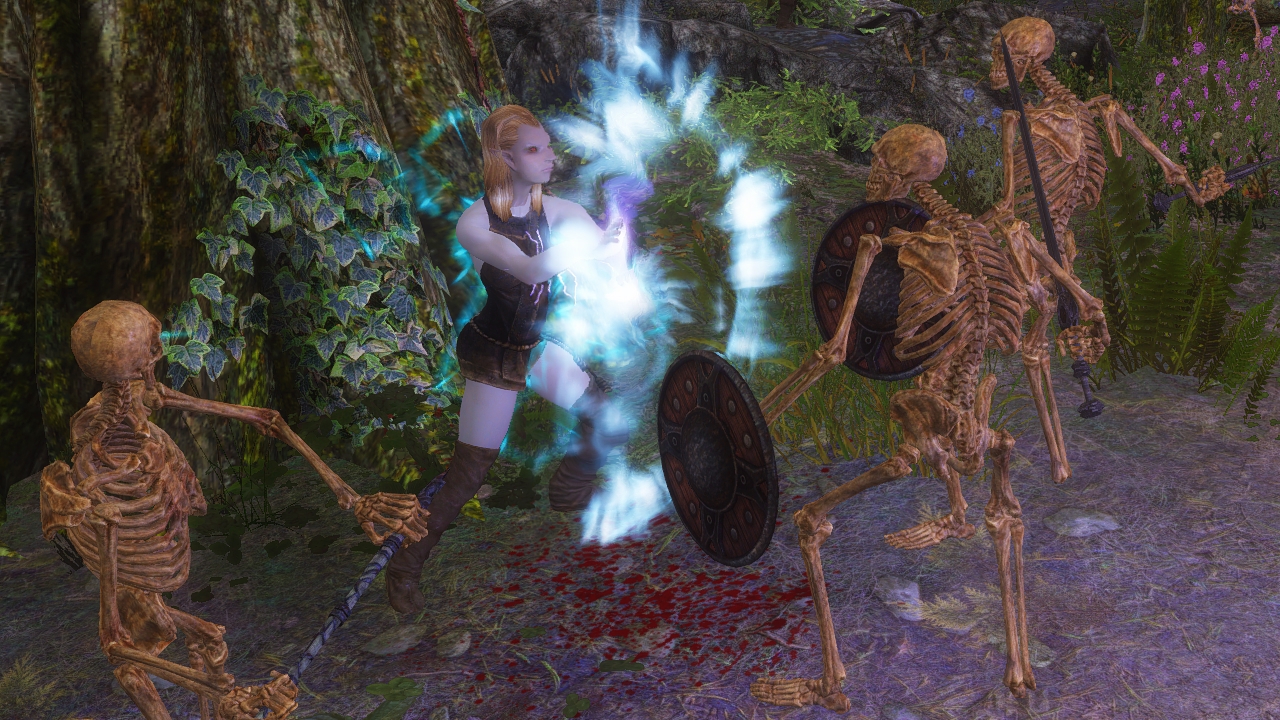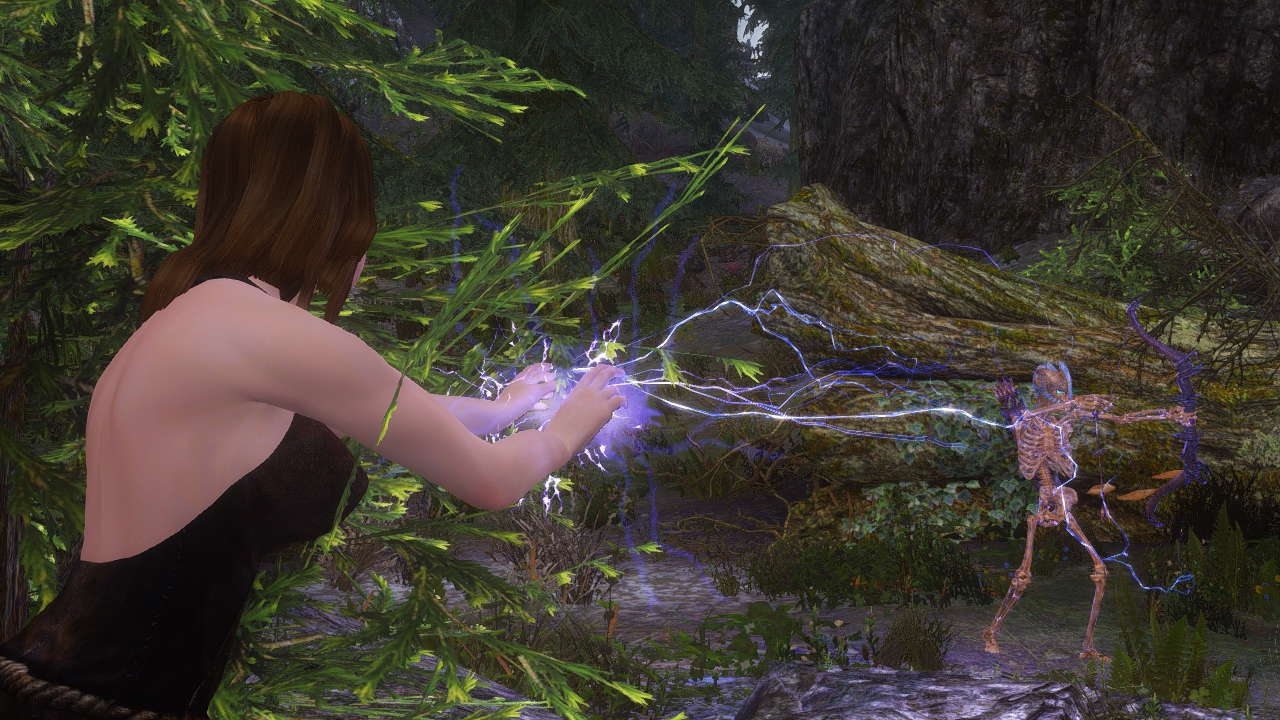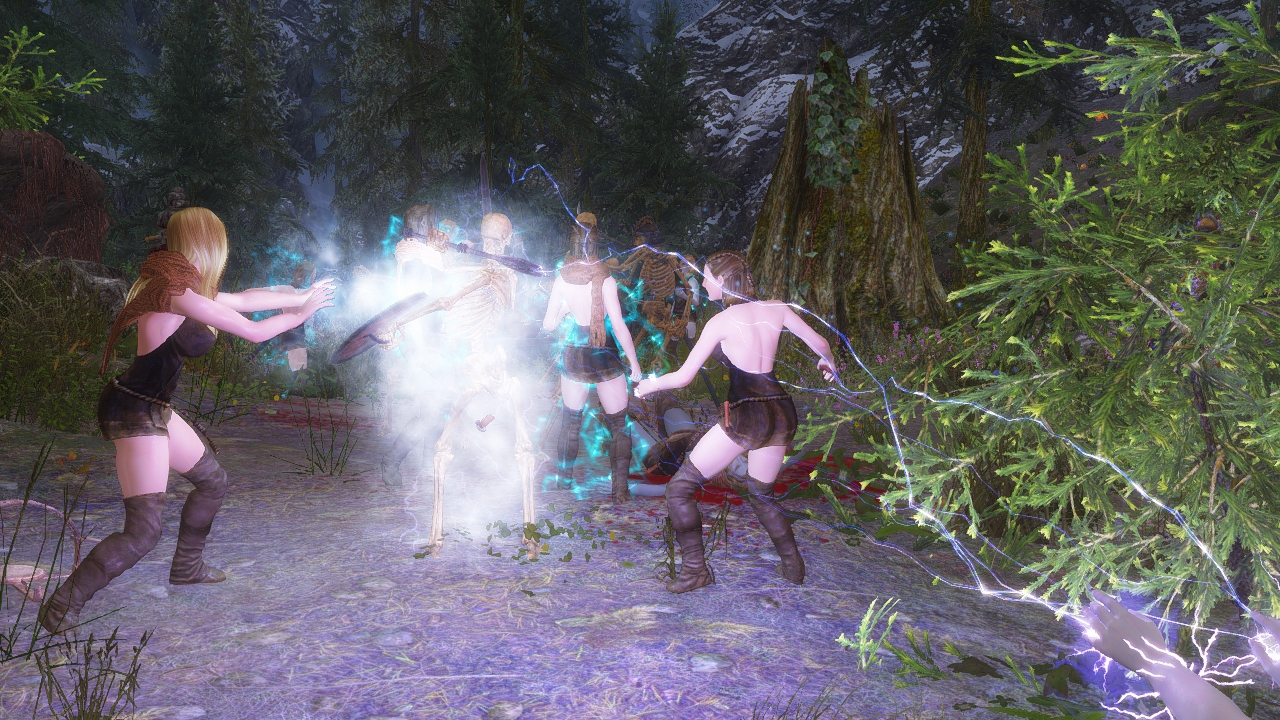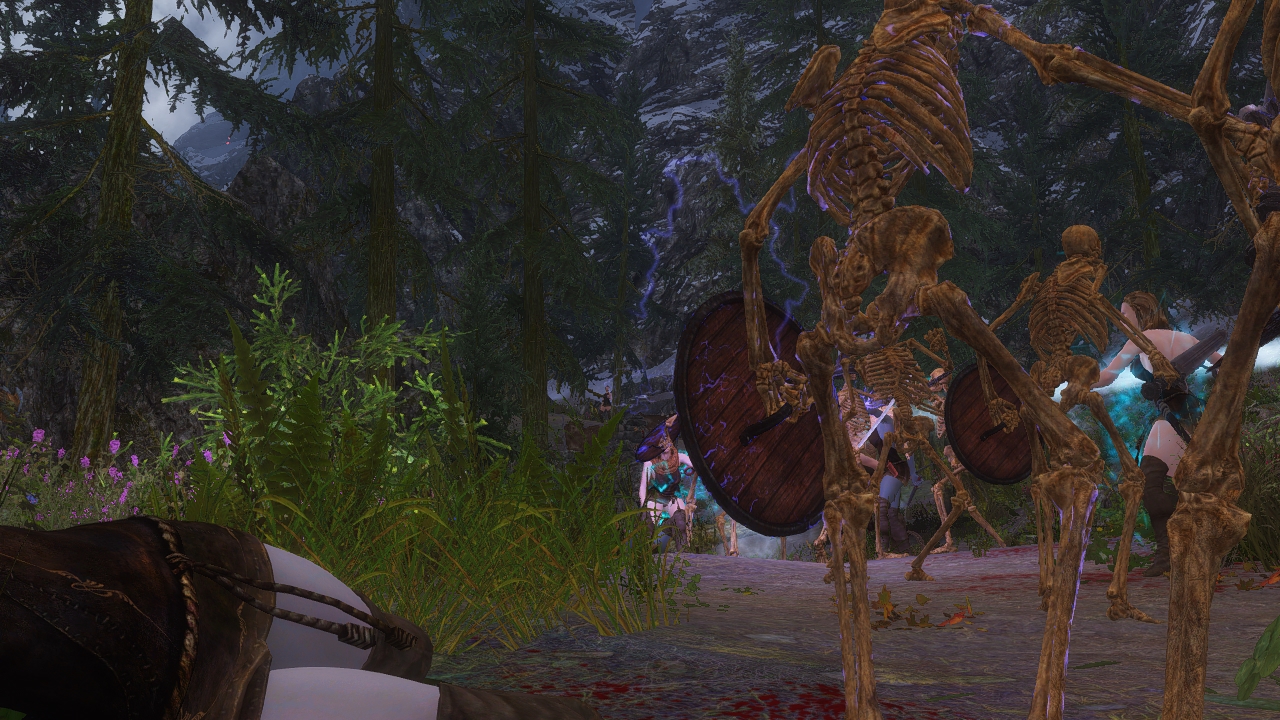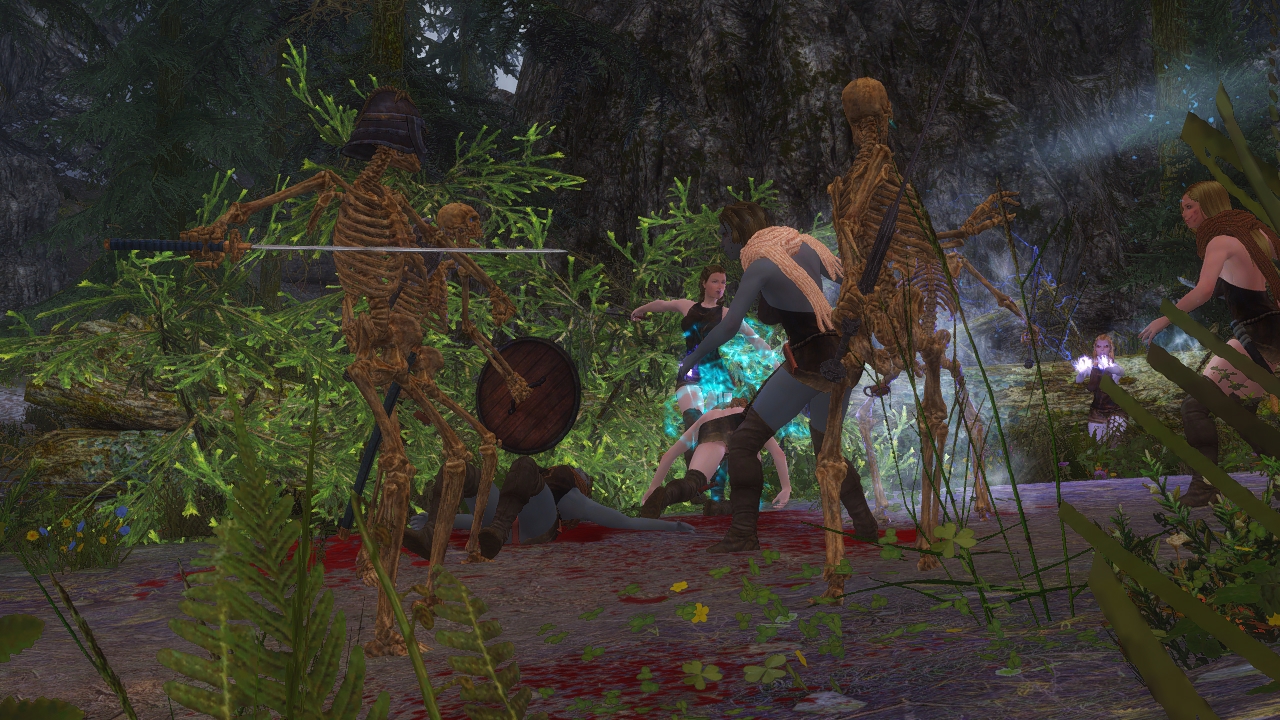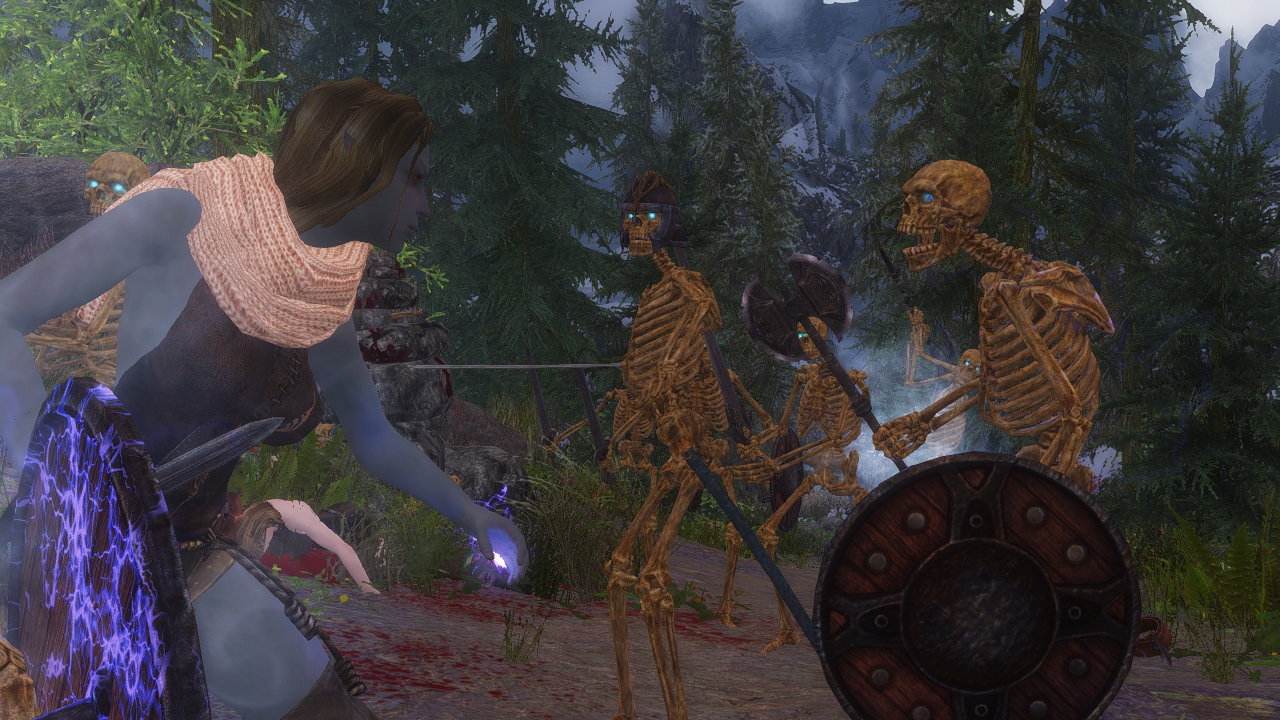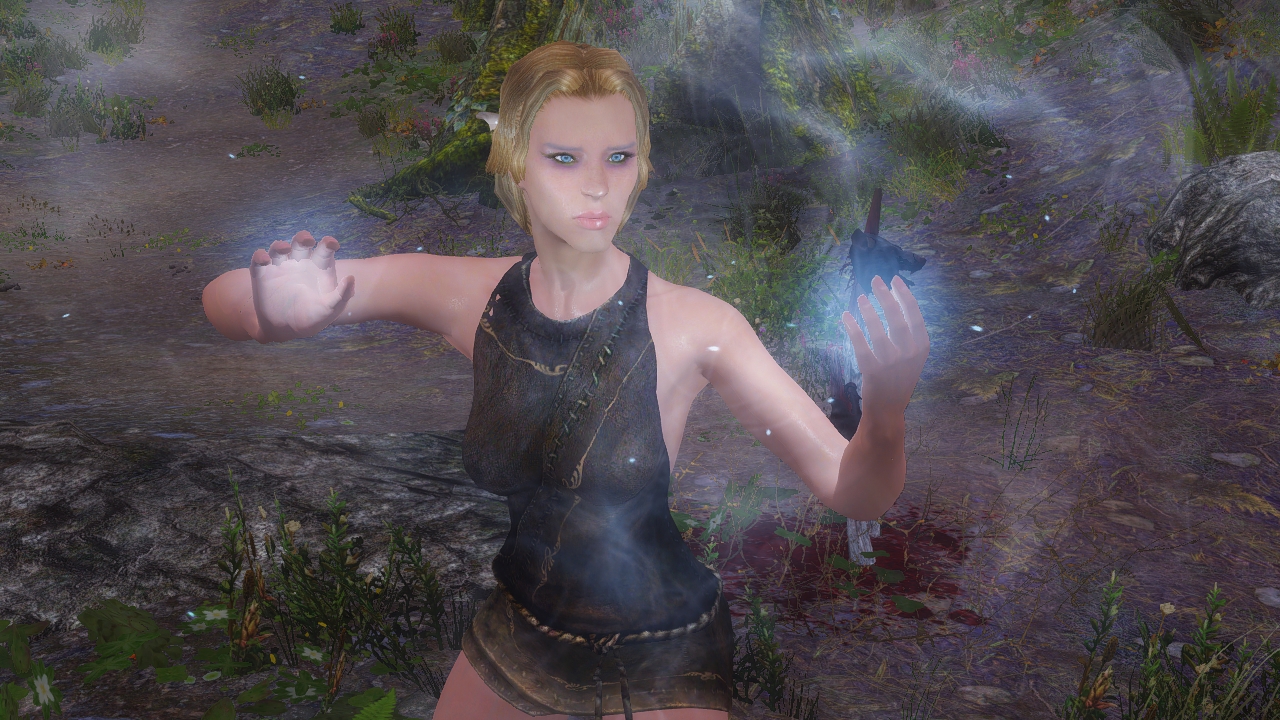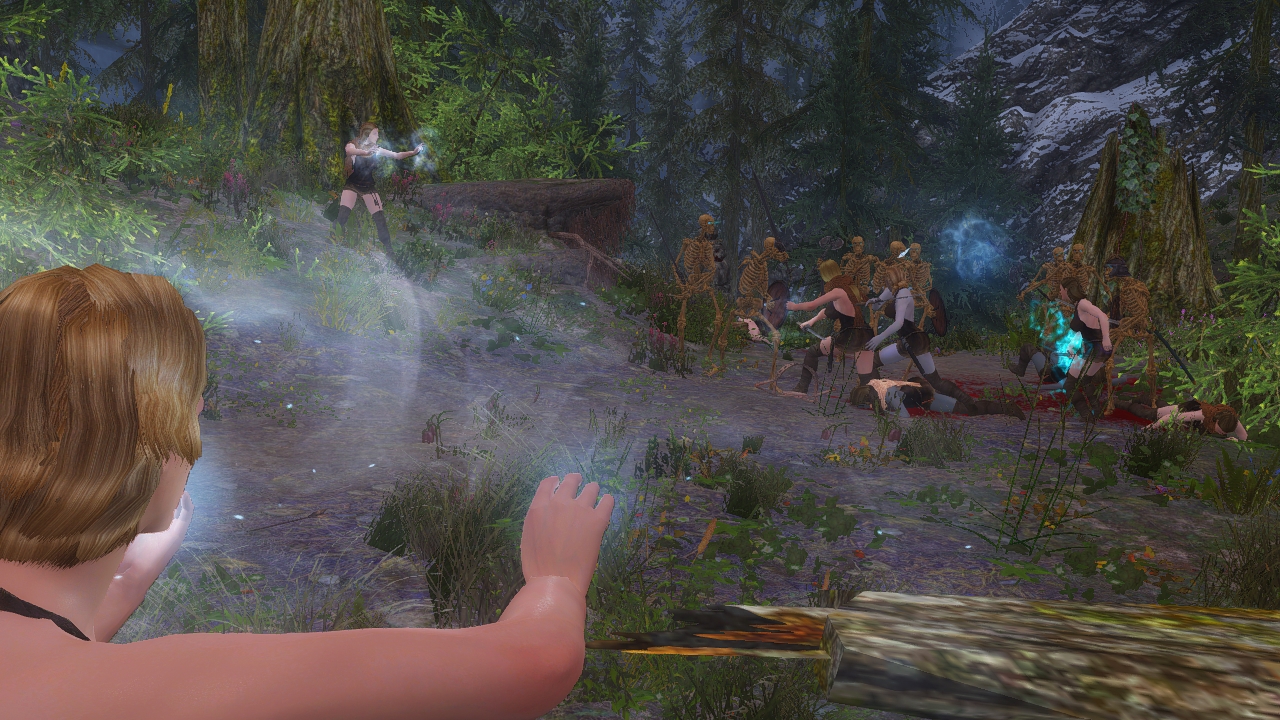 When most of the hags were dispatched, the Hagravens finally decided to take action.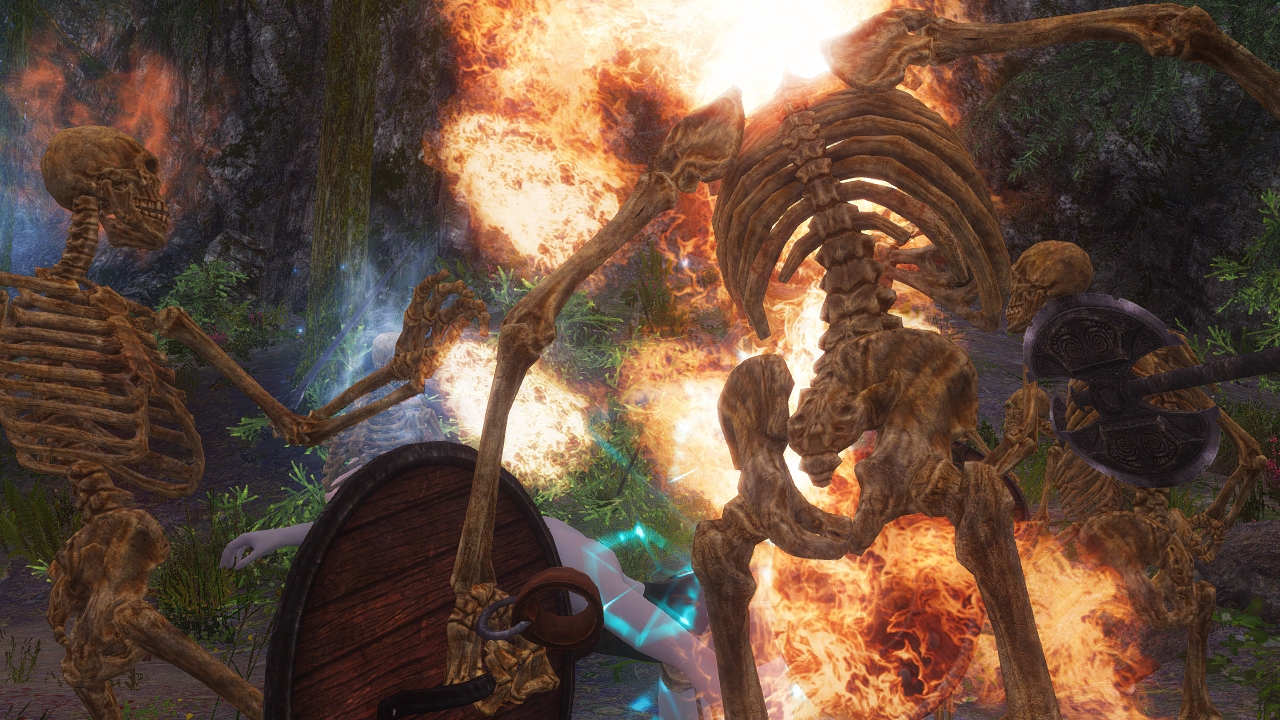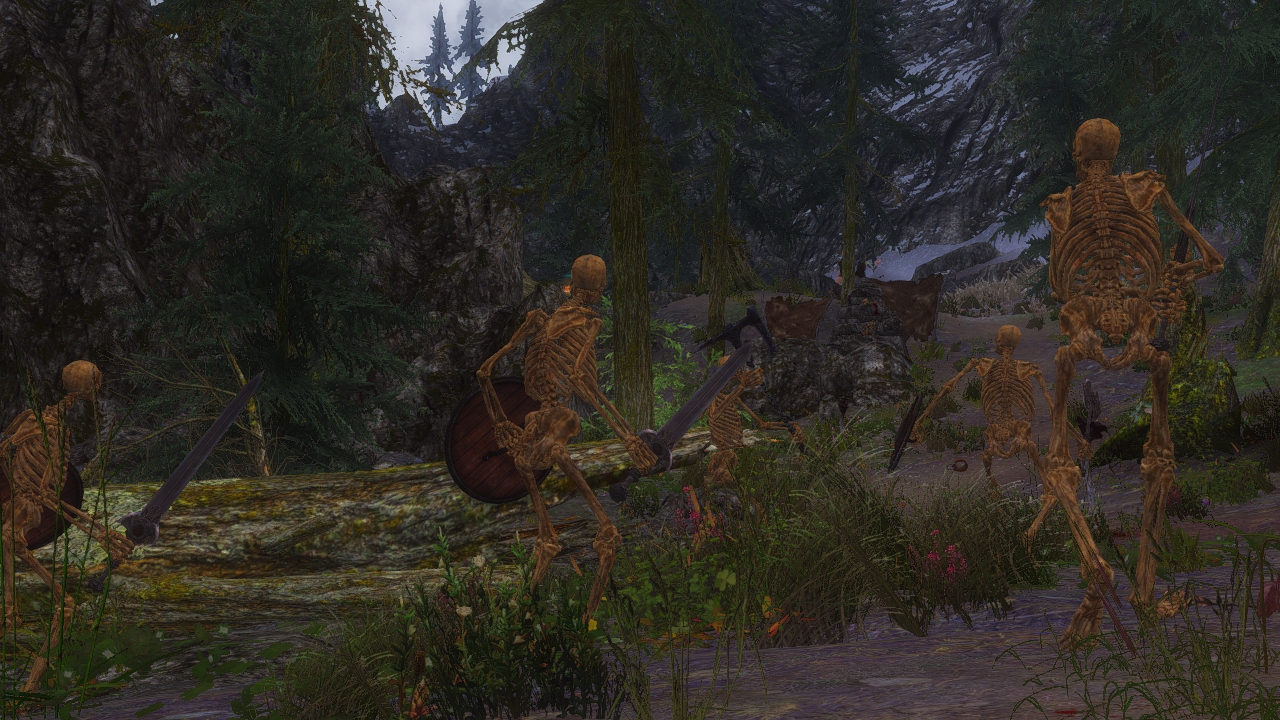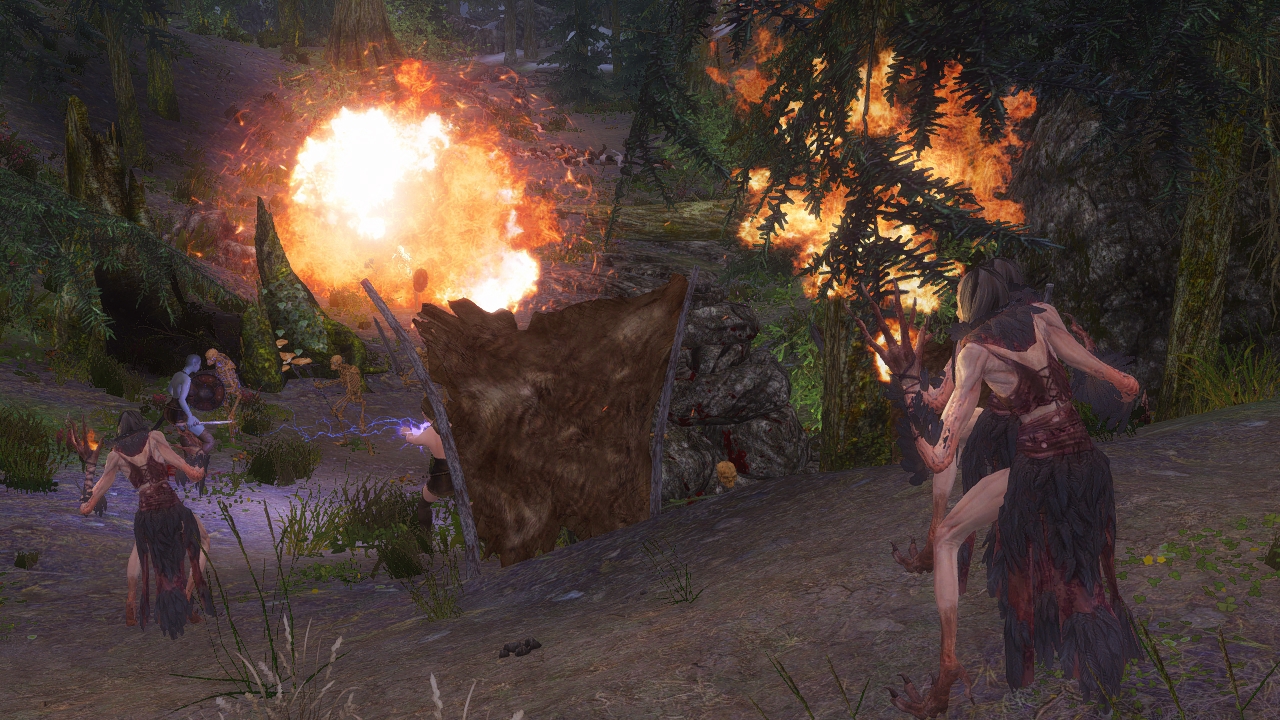 It was soon apparent that her skeletons were no match for their might. She didn't want to waste Magicka re-summoning her skeletons or going through the motions of summoning bigger and bigger creatures until something finally worked, after all efficiency was the name of the game.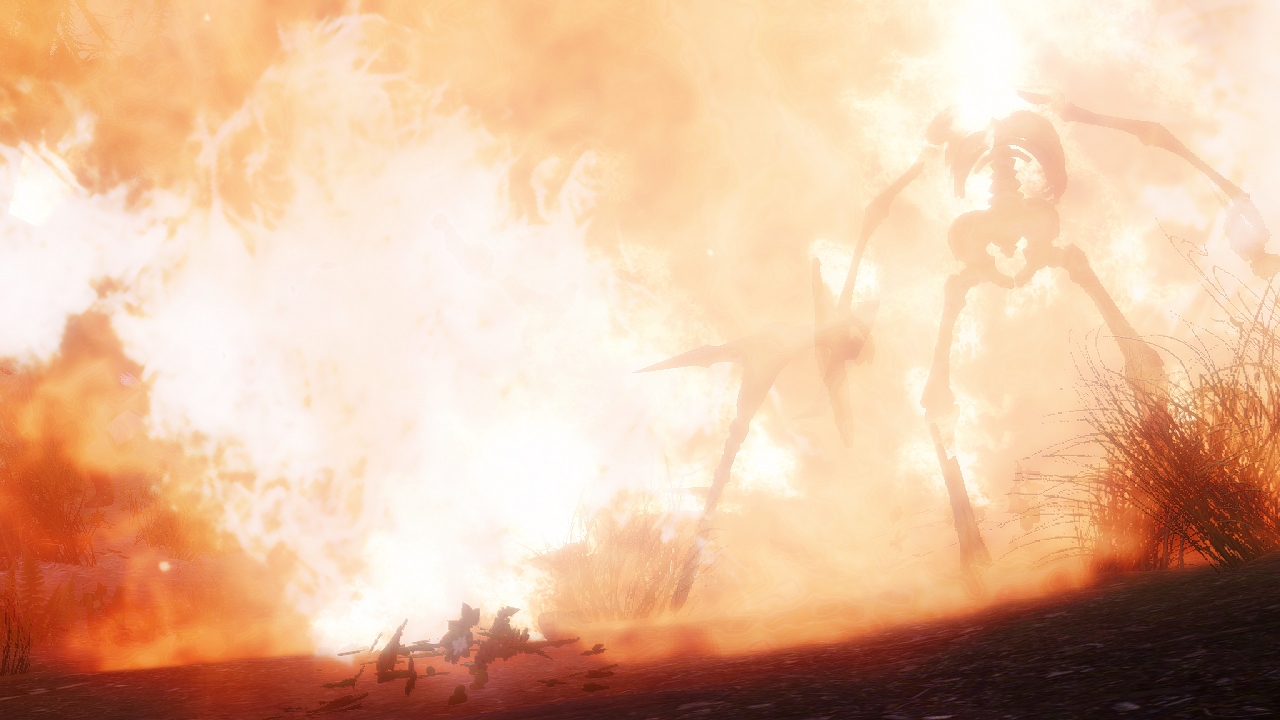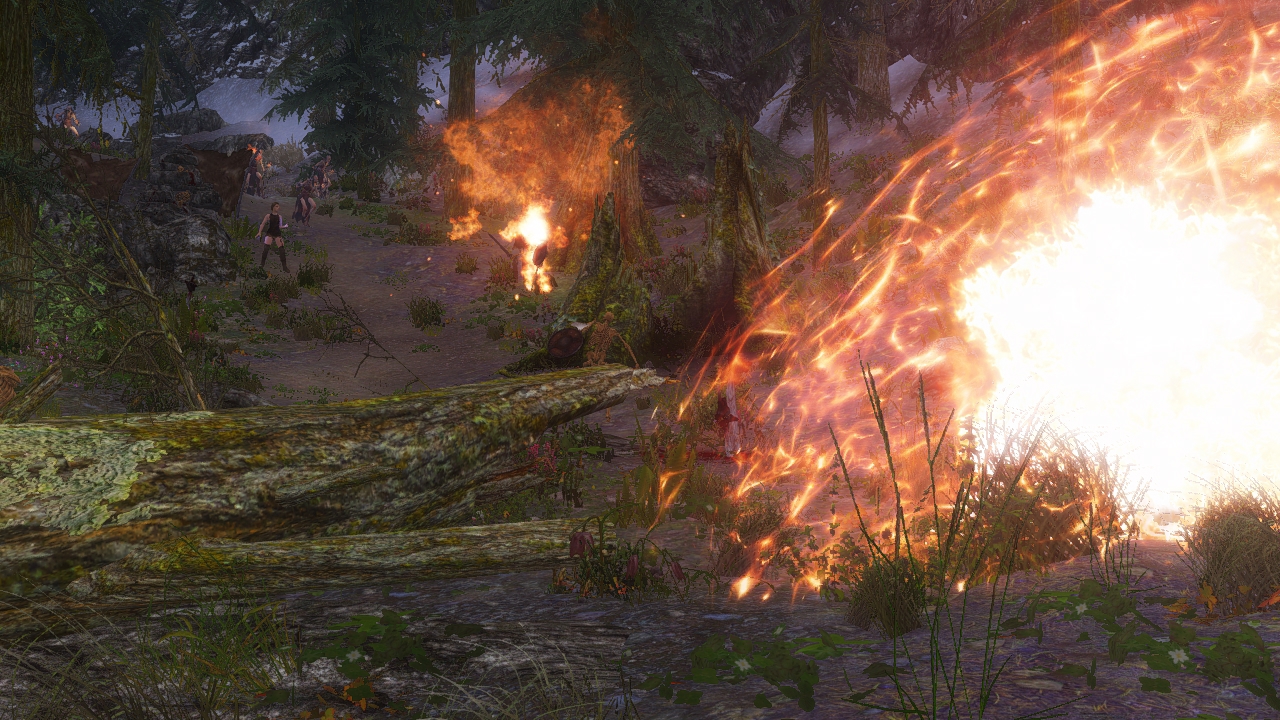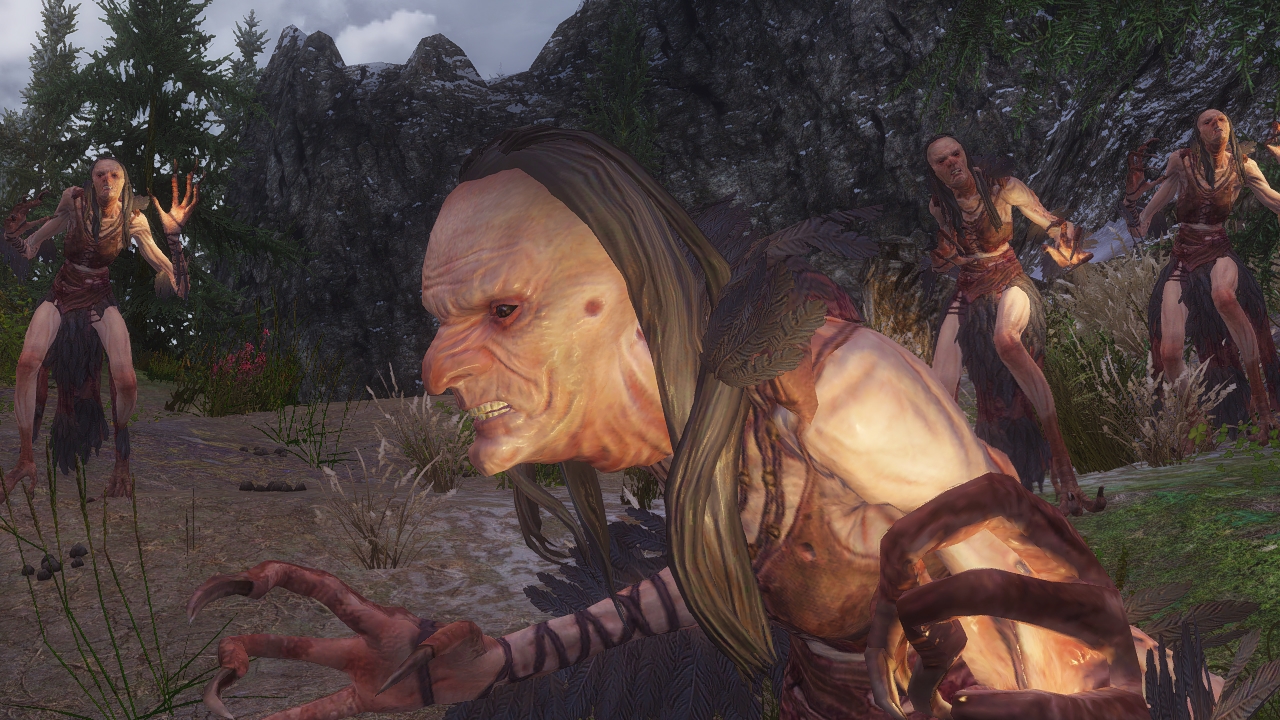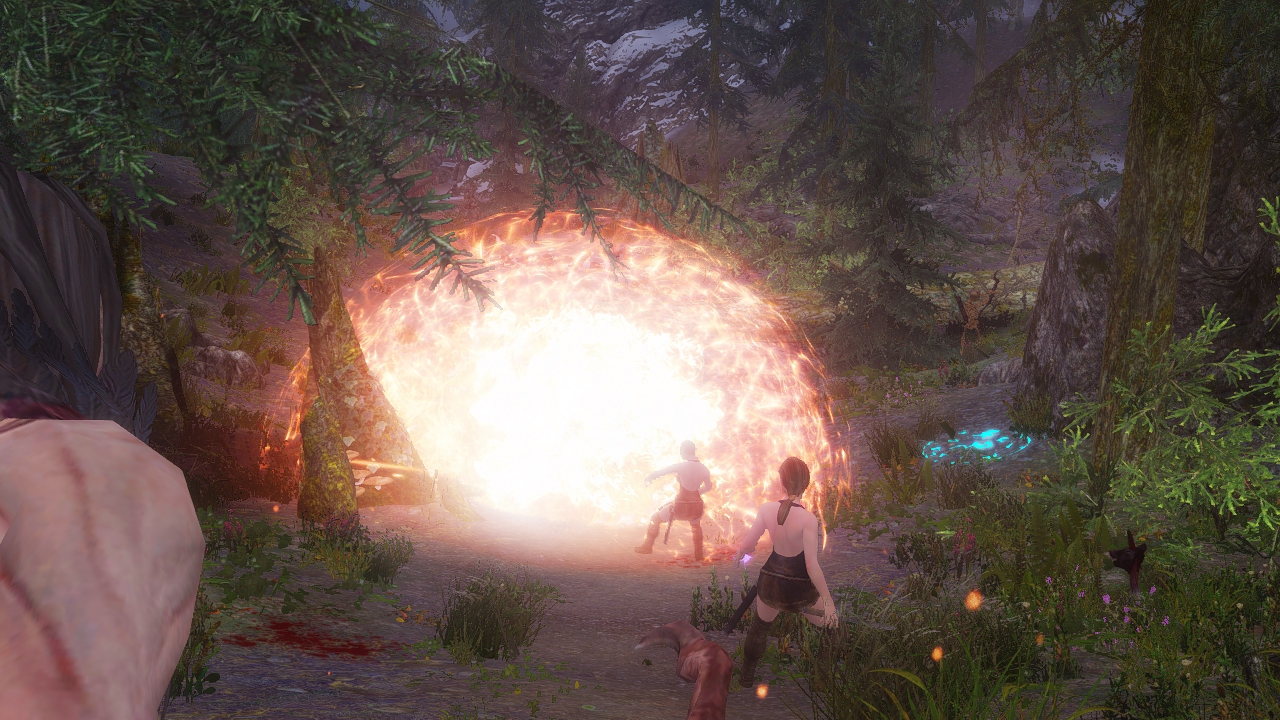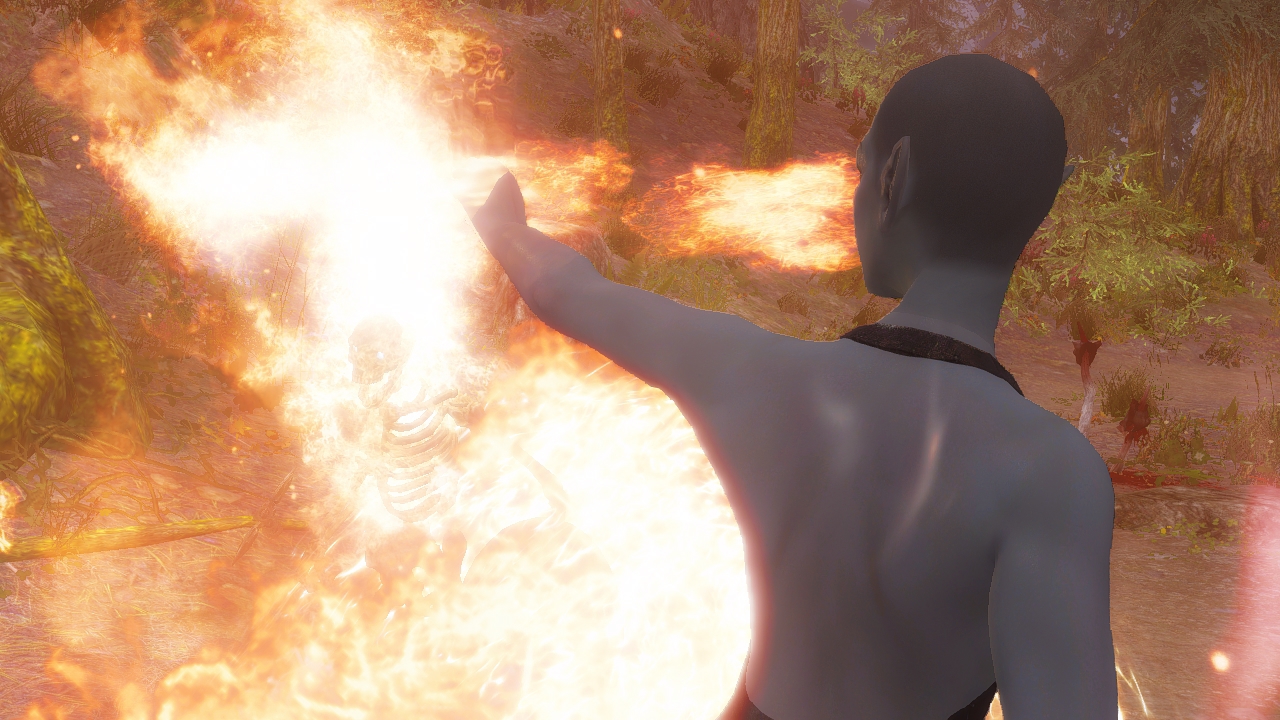 So after forming a wall of electricity between the Hagravens and herself, Nyleine tapped into the power of her amulet. Sifting through souls, she didn't know exactly what or who it was she was looking for but she never had.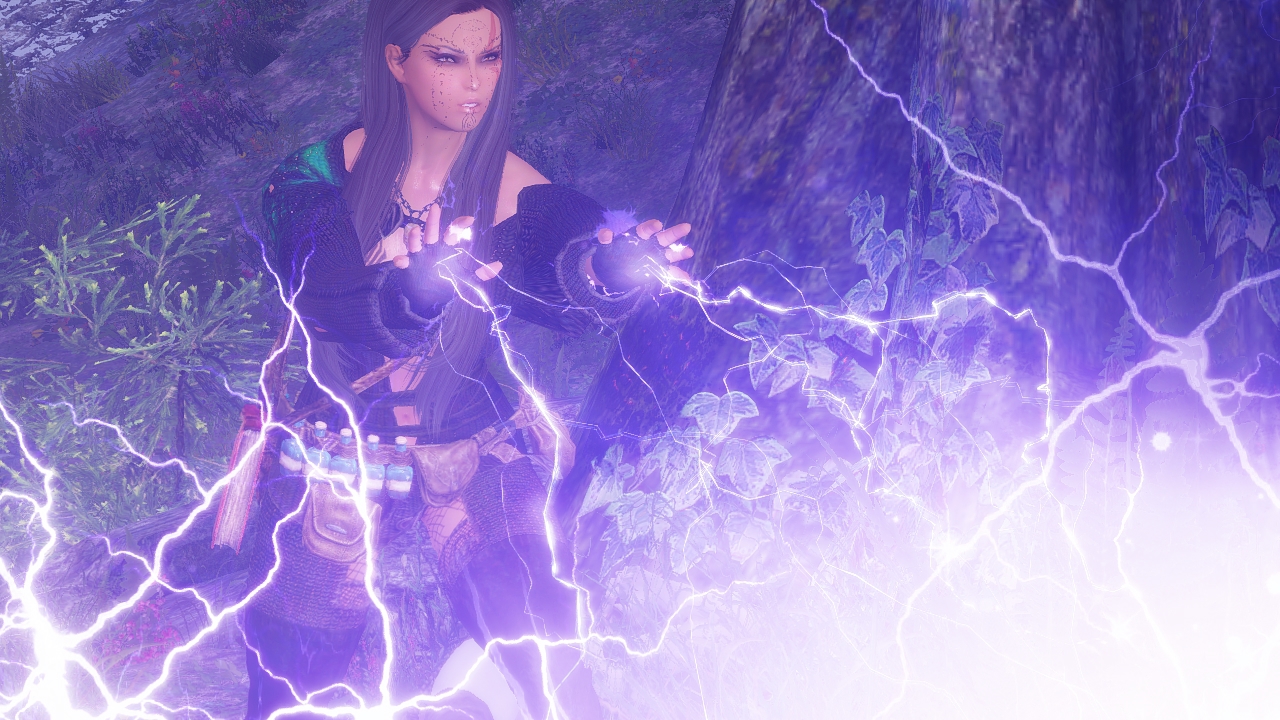 That's not how it worked. The amulet devoured souls and made their power available, but the souls themselves were often anal, and unless Nyleine had a definite bond with it before or after death, the soul's power would be available, but their knowledge wouldn't. What she needed now was knowledge, the knowledge of a summon so grand and powerful that—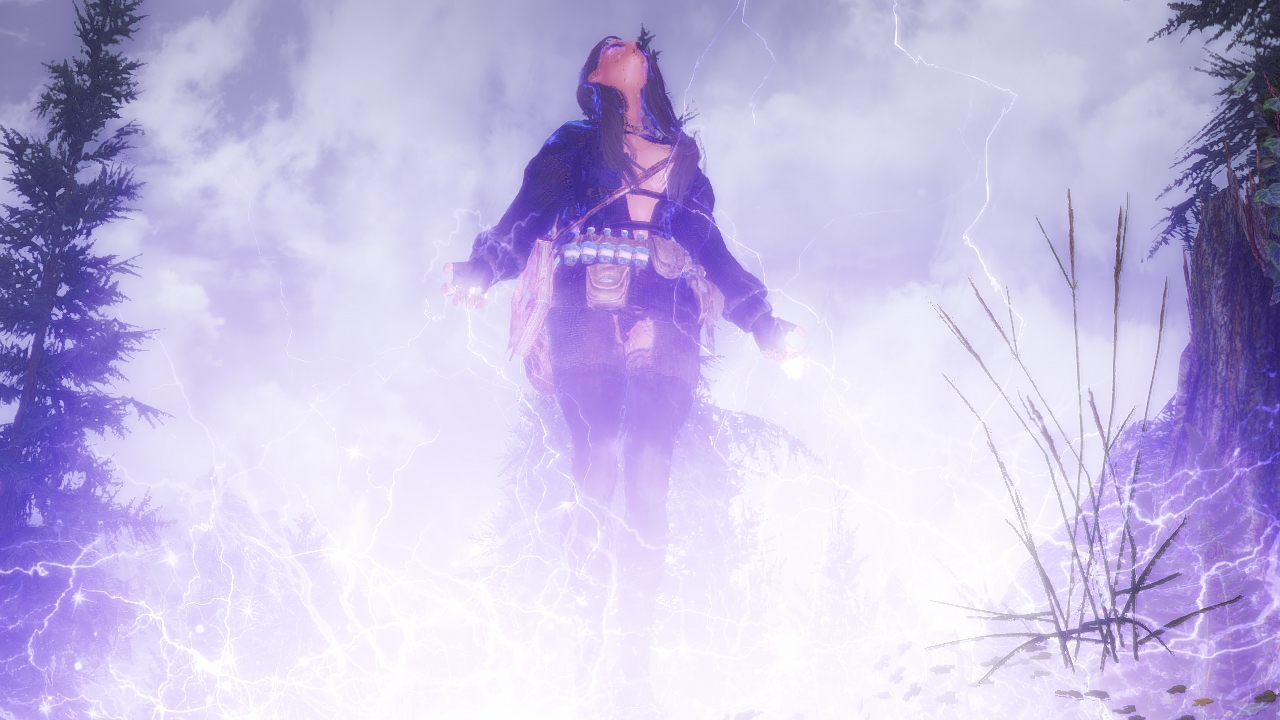 (I've got it!) Immediately her eyes snapped open and said, "I summon thee Aabas, guardian of Rhiie the Necromancer Supreme," she rolled her eyes when she said that, "Tear the world asunder, and make it cower before your might!"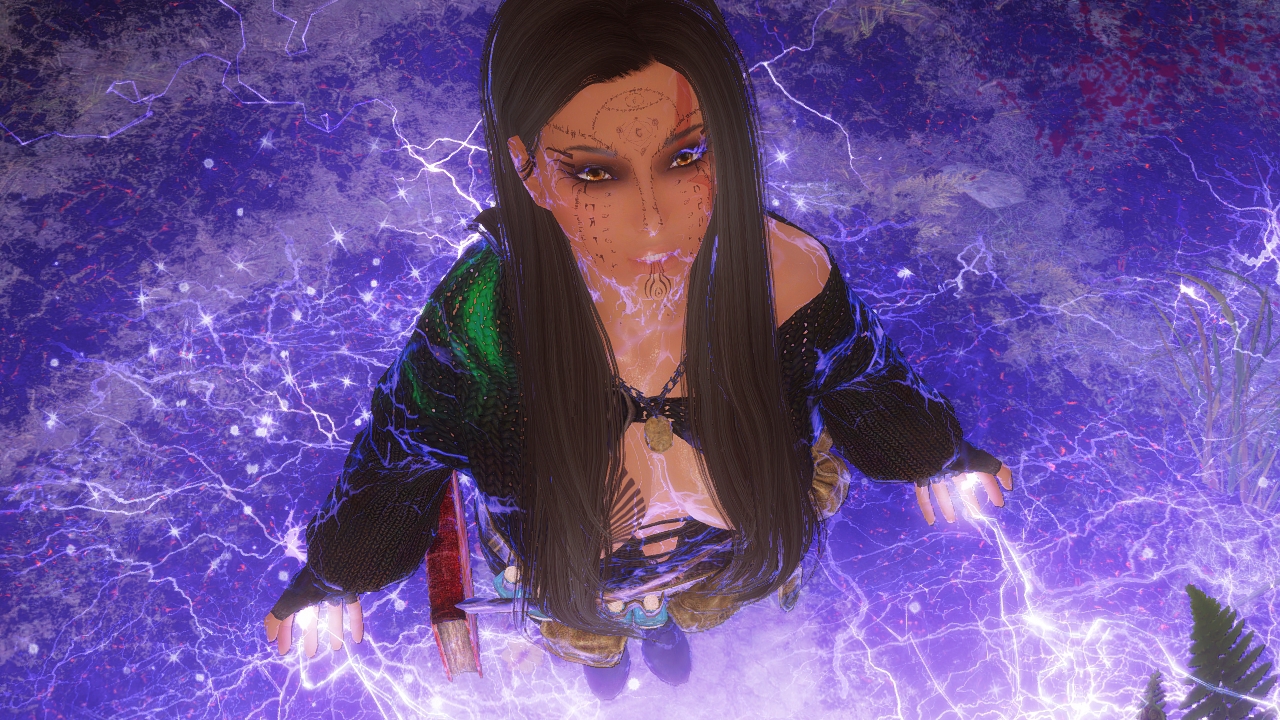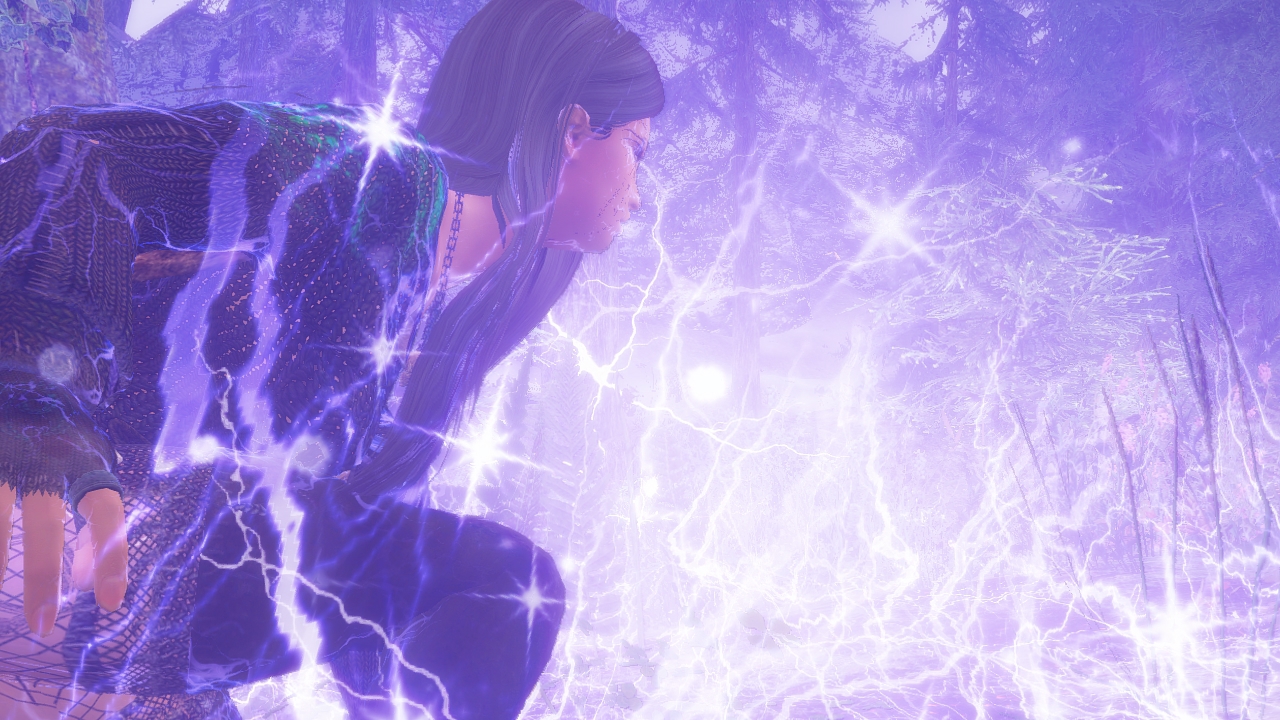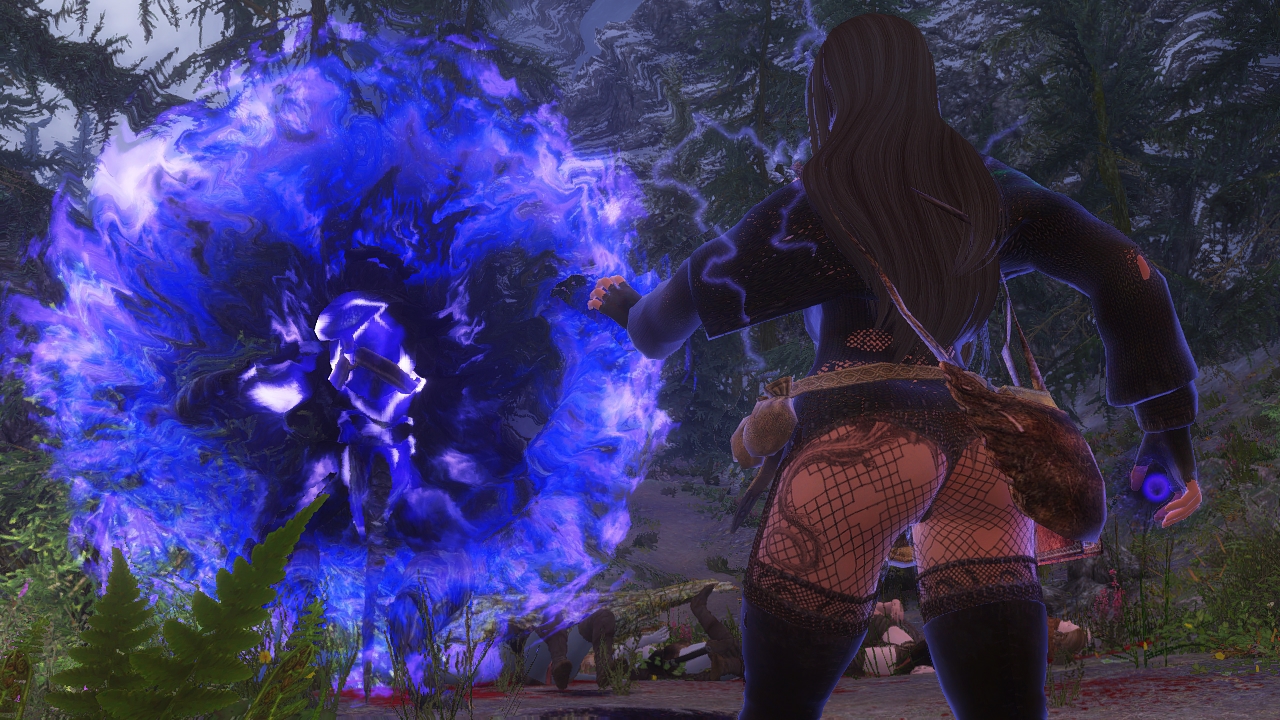 Nyleine looked up at the beast she conjured in awe and fear.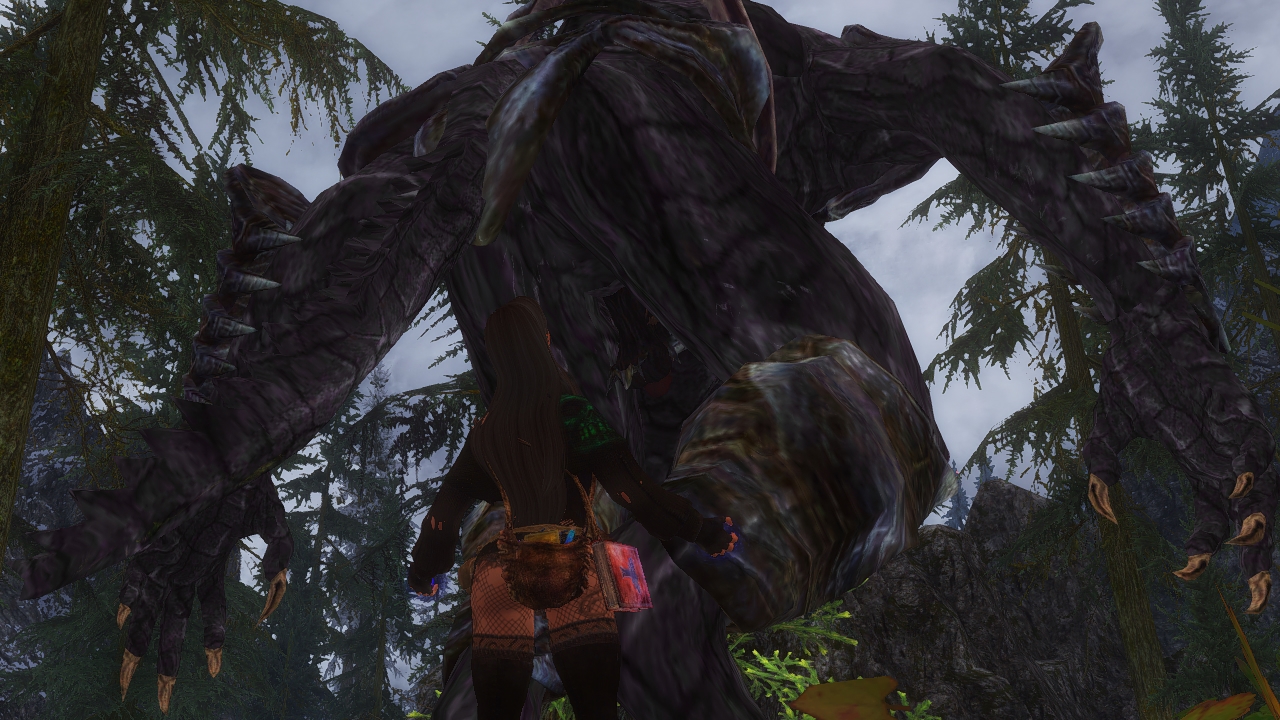 "Go Aabas!" she commanded. "Tear them to shreds!"


The Hagravens and remaining hags drew back as before them stood a giant beast from times past bent on complete and utter obliteration. Some of them ran, most fought, but all was naught as soon Aabas had thinned their ranks immensely.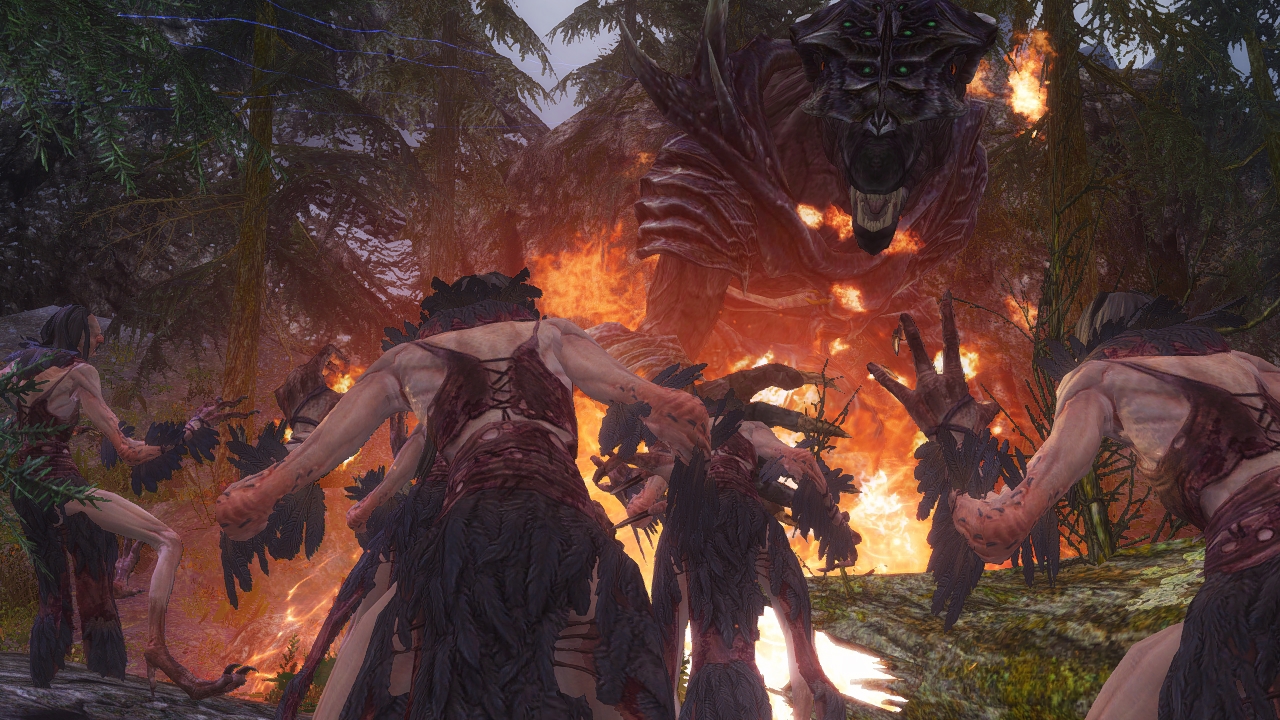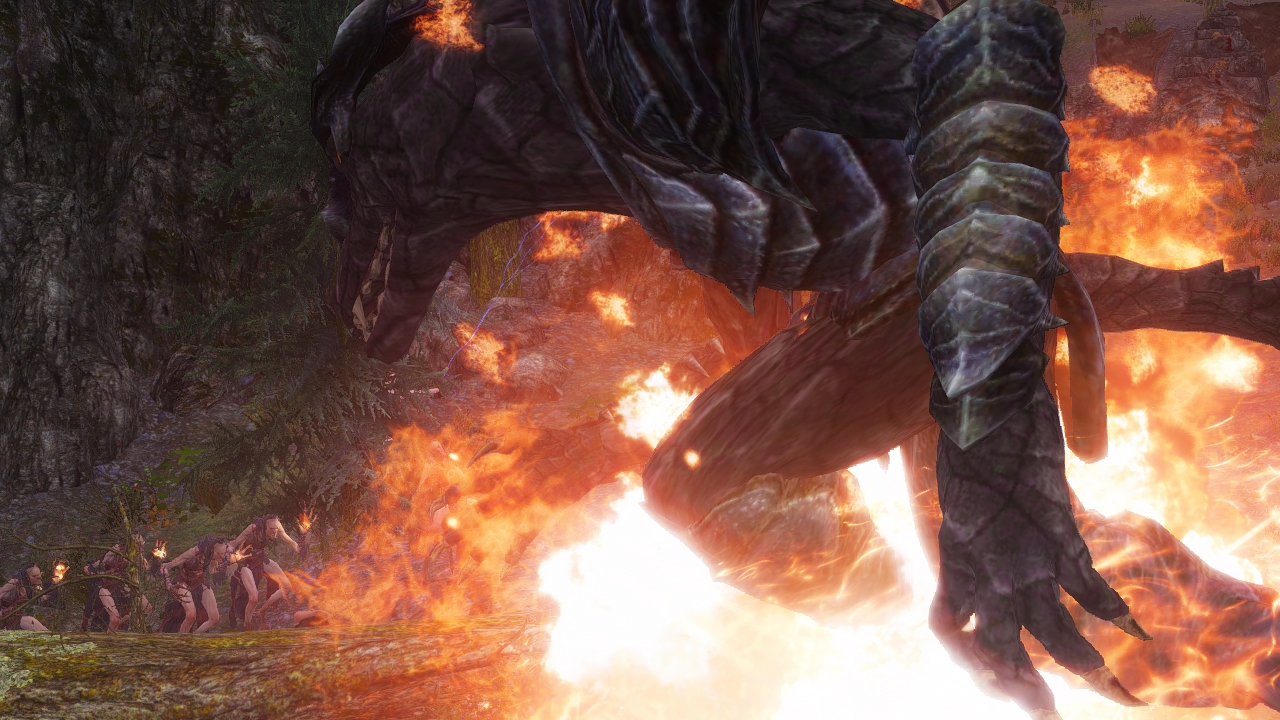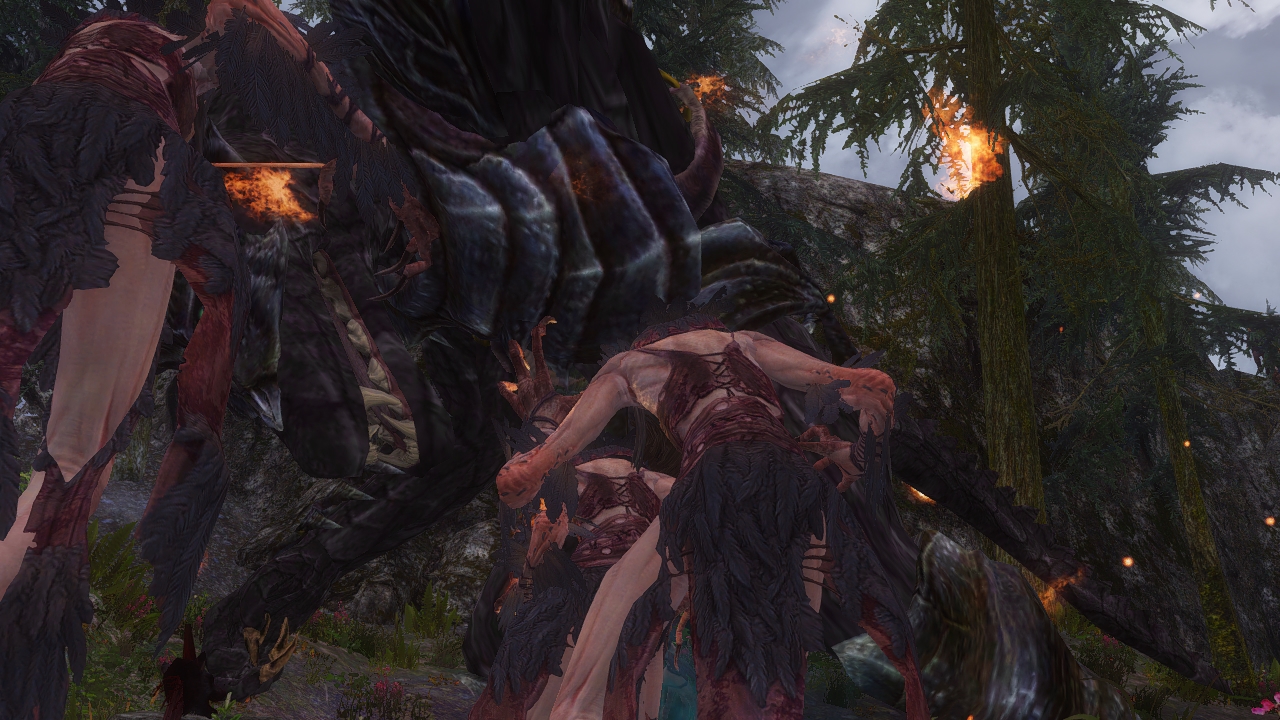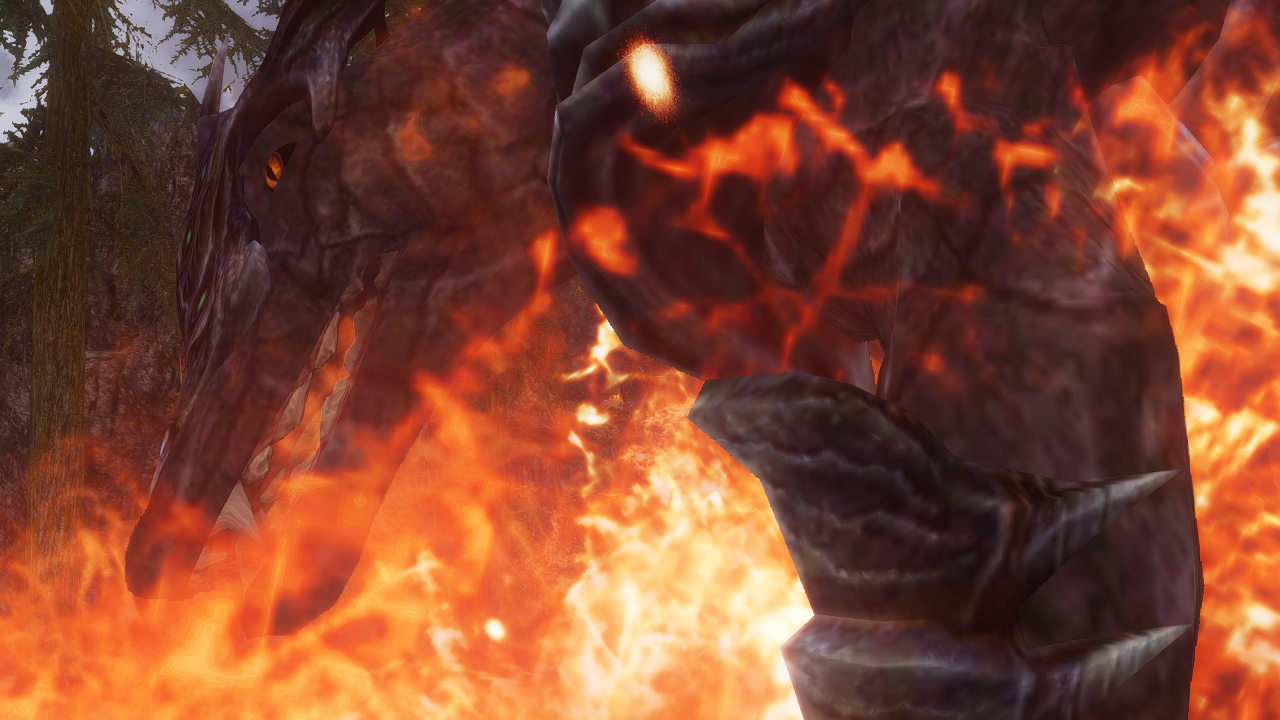 Seeing that the end of the Hagraven's was at hand, Nyleine's thoughts wandered towards Rhiie.
Rhiie was an obnoxious necromancer that was a bit better than her peers in everything.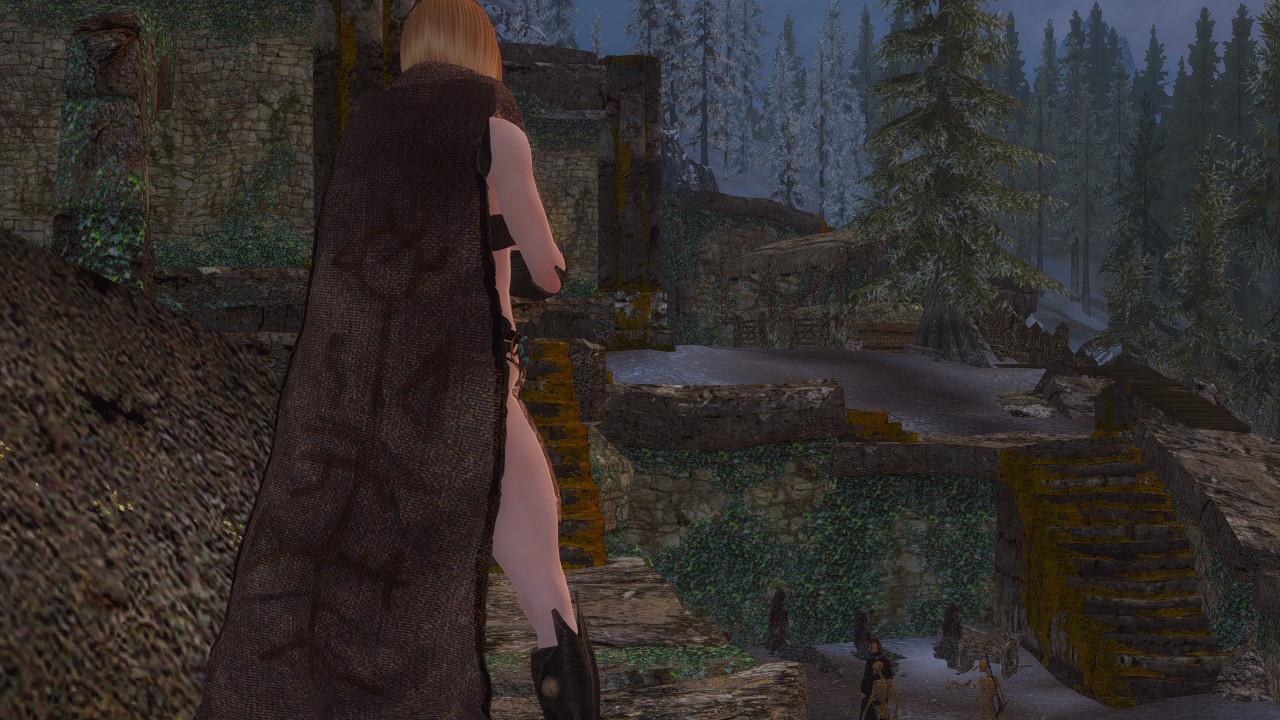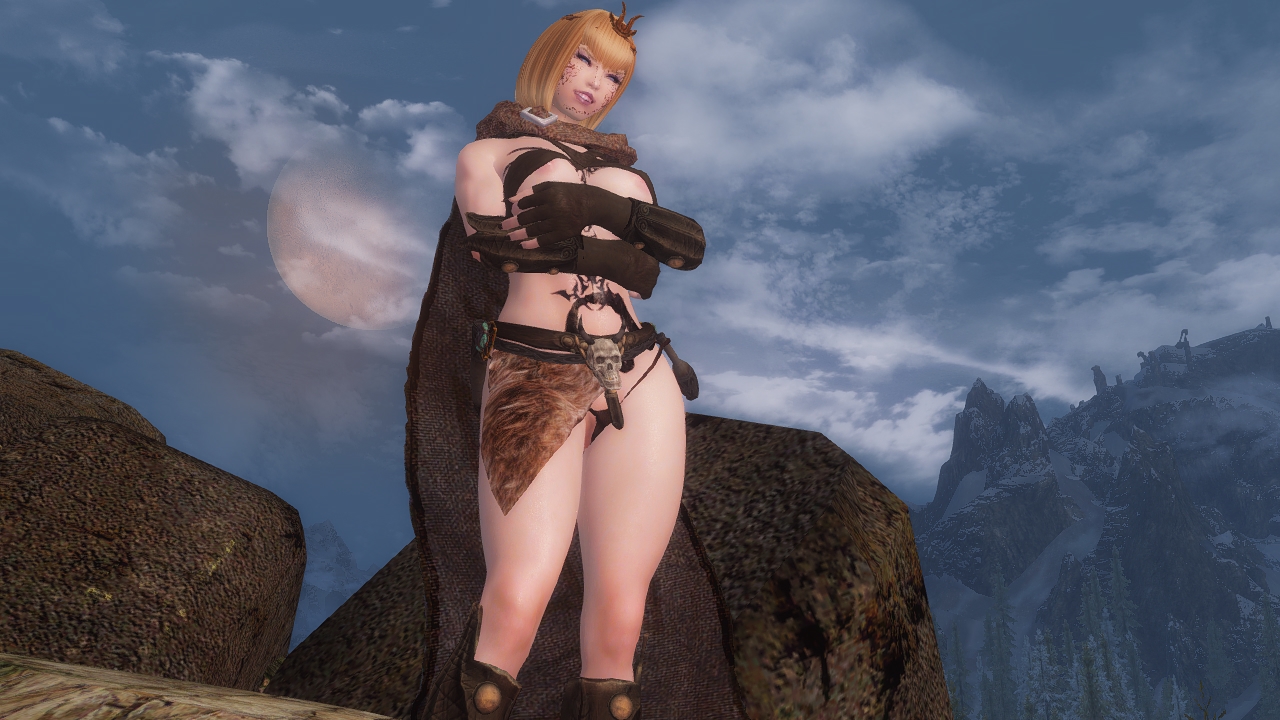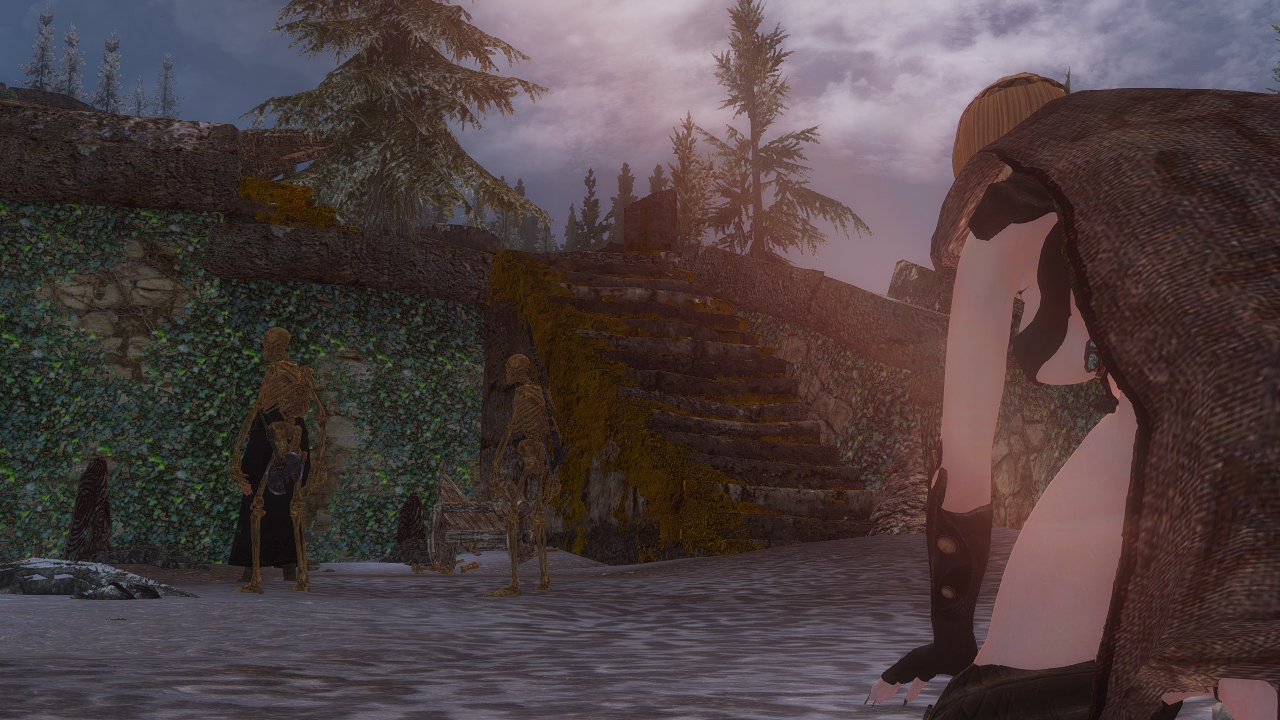 She had a knack for irritating those around her to the fullest, but for some reason nothing anyone ever said or did ever got under her skin.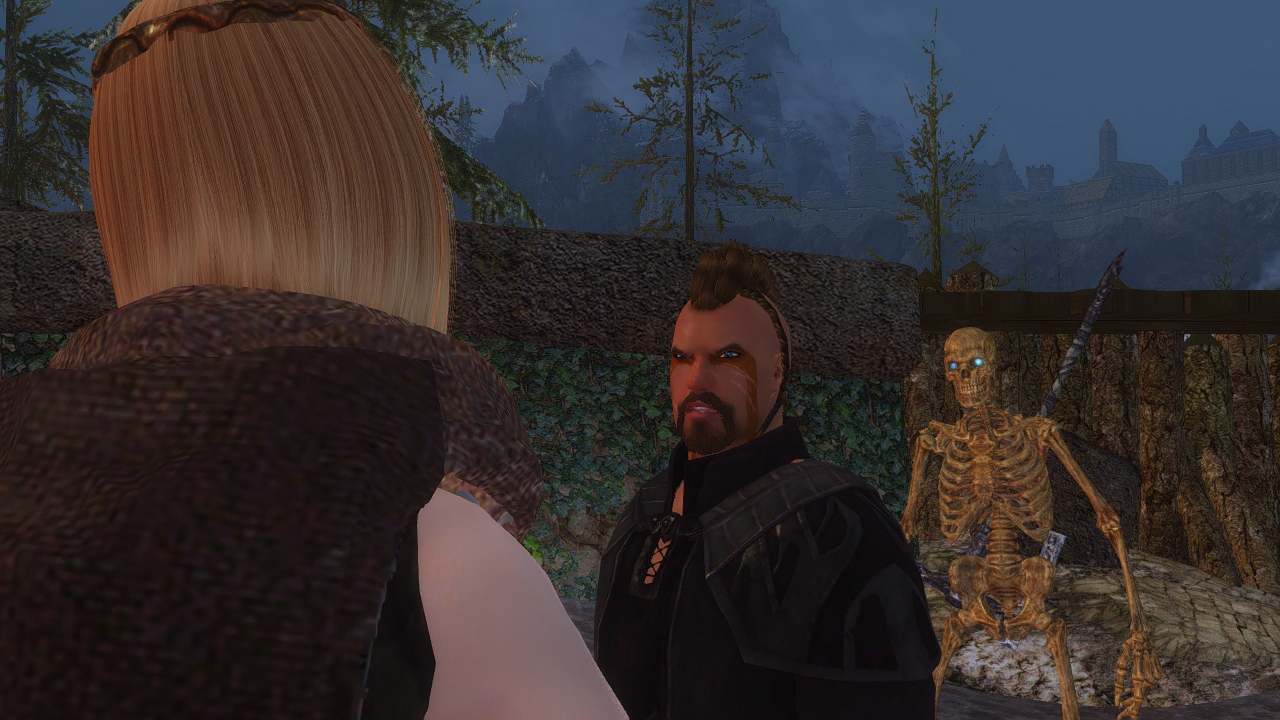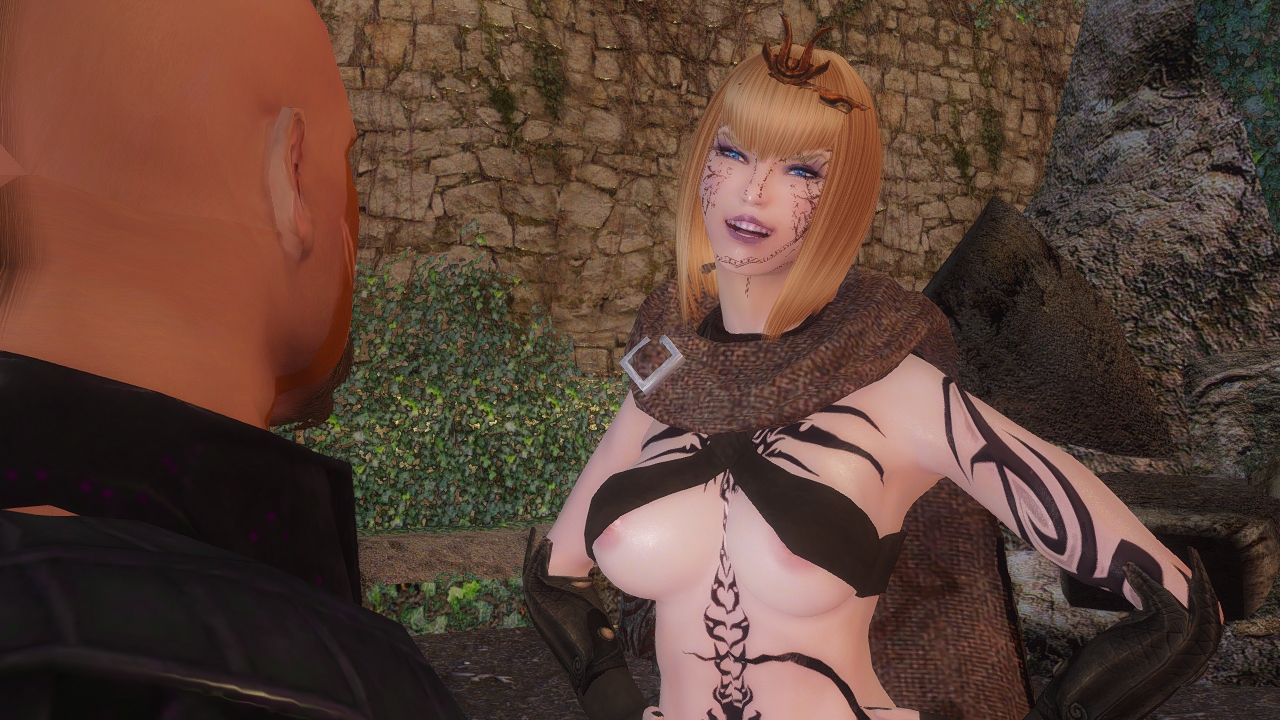 Except for the Redgaurd…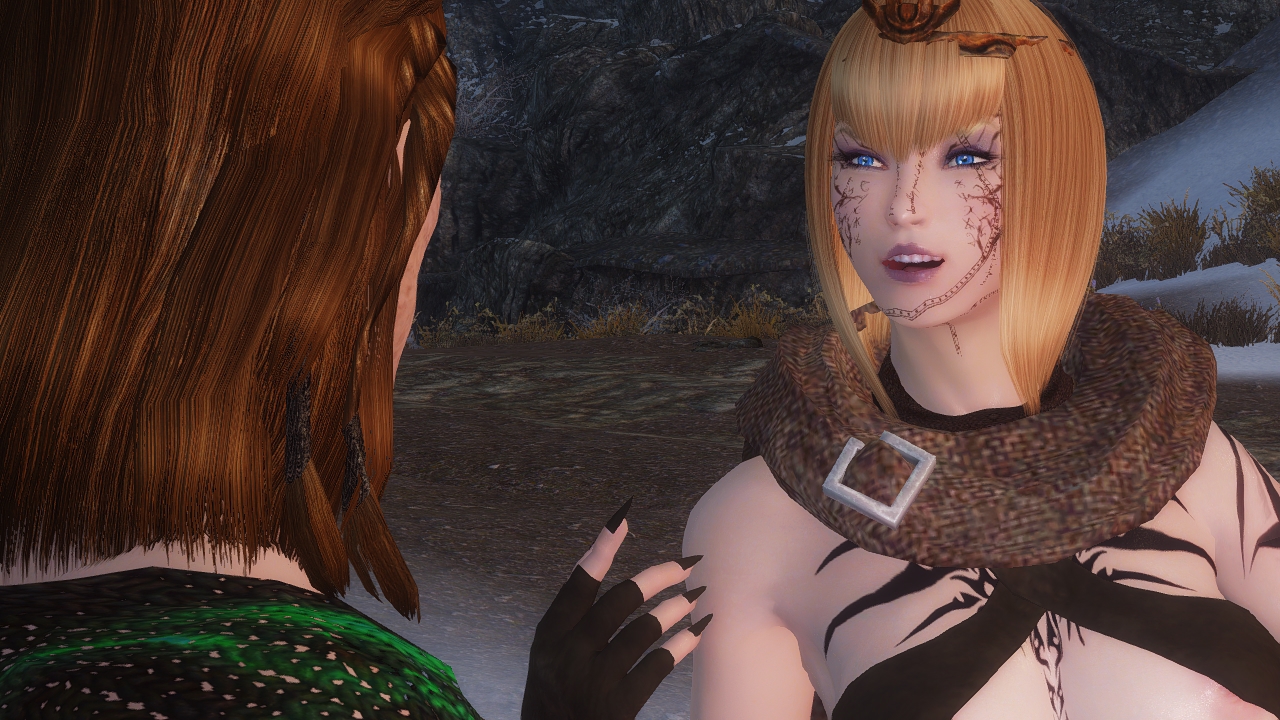 Having heard of Nyleine's antics when she was still going around and killing necromancers en masse, Rhiie had the audacity to challenge the Halfling at dusk when Rhiie's powers would be at their fullest.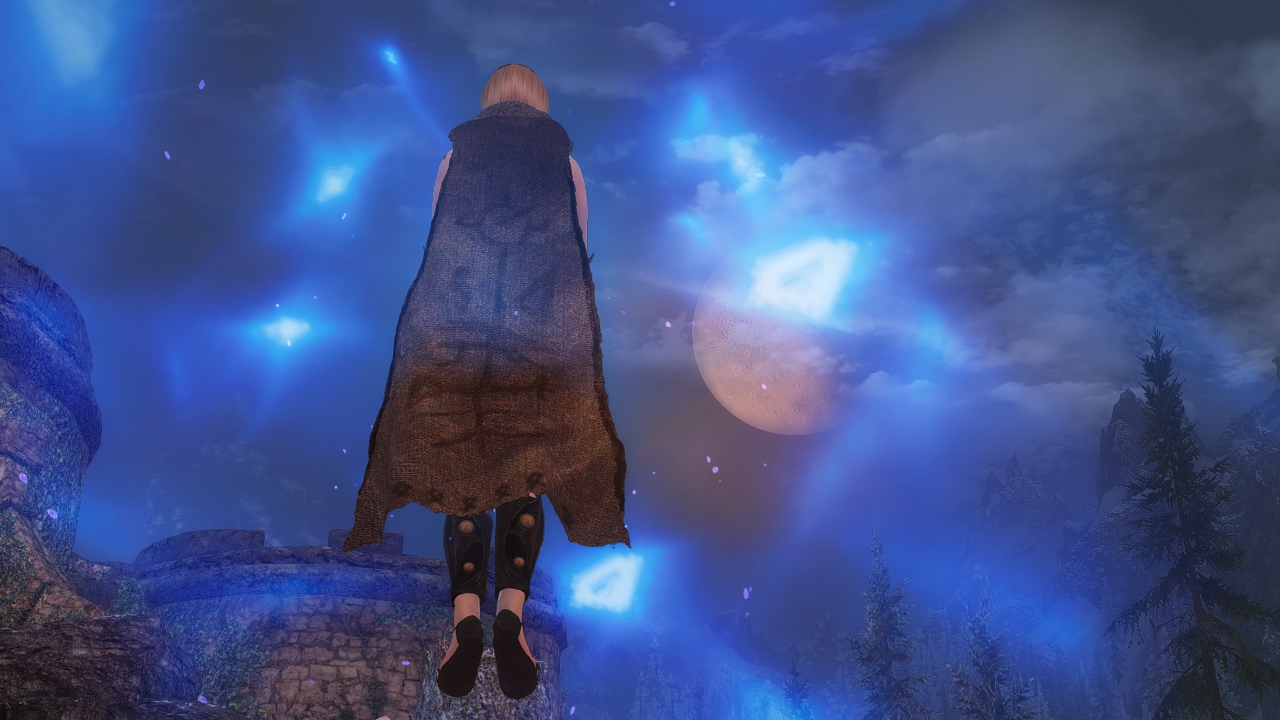 Even with the advantage she technically had, Rhiie's hubris was far too great, but that still didn't mean that her powers weren't immense.


She gave almost as much as she took, and if she couldl have ended the fight before midnight like she'd planned, it may well be that Rhiie and not Nyleine would have been the best necromancer of this age.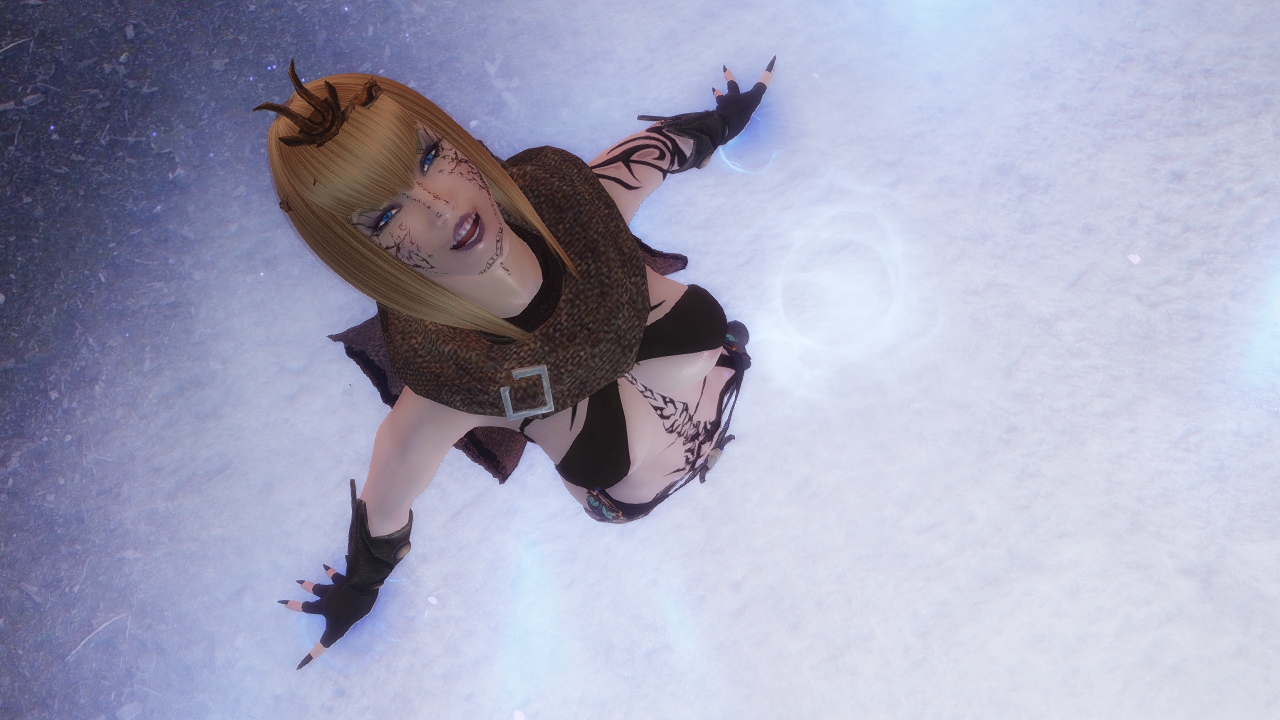 "If she had a secret weapon this great, why didn't she use it against me? The fool," Nyleine said as she witnessed the last of the Hagravens beings dispatched by Aabas.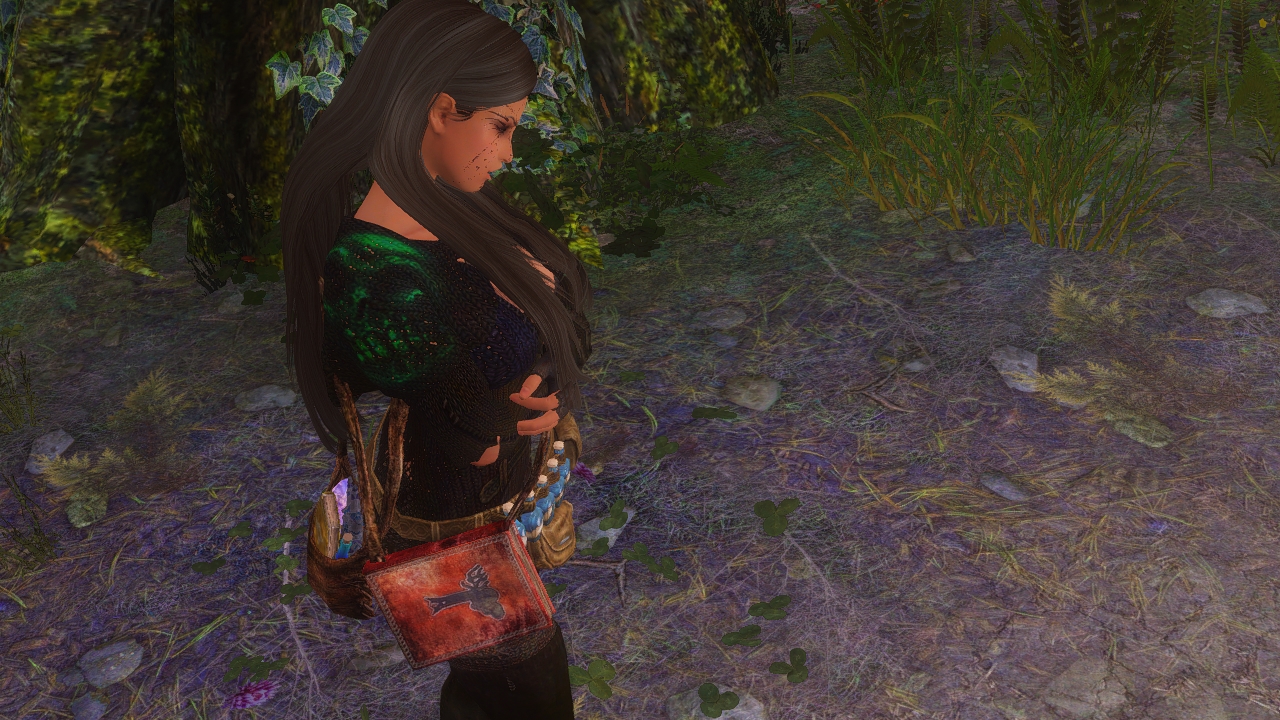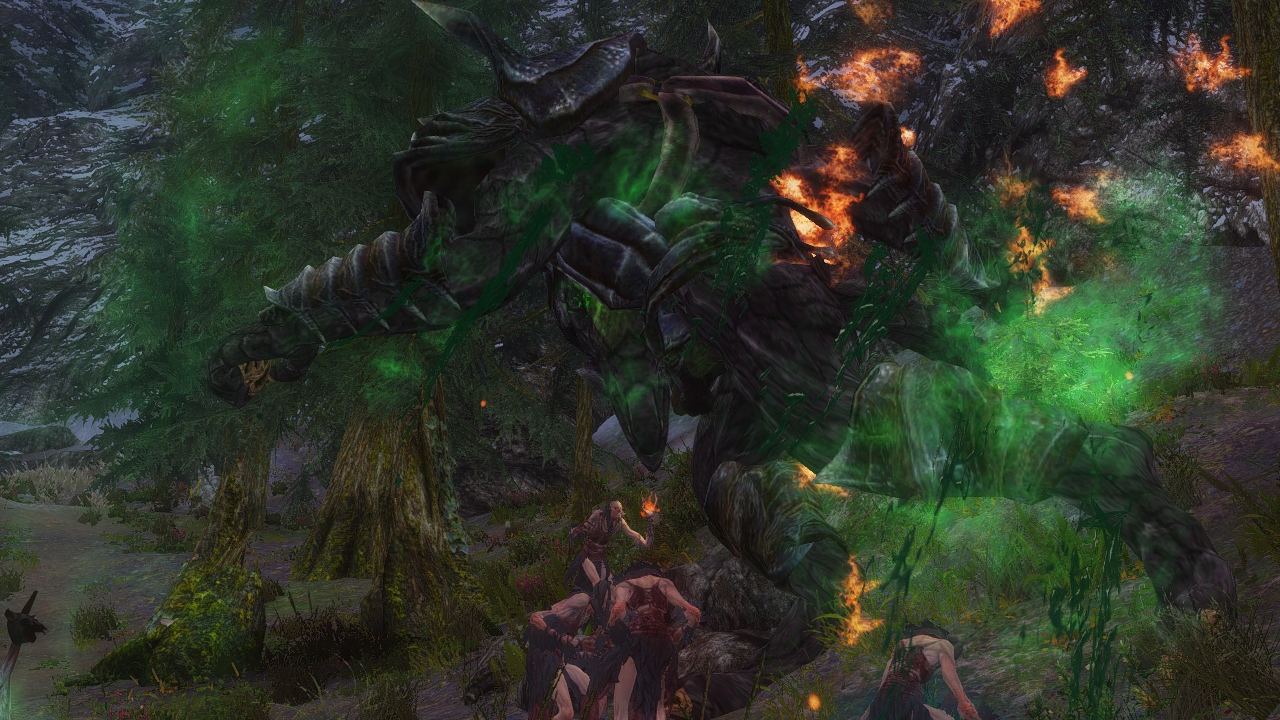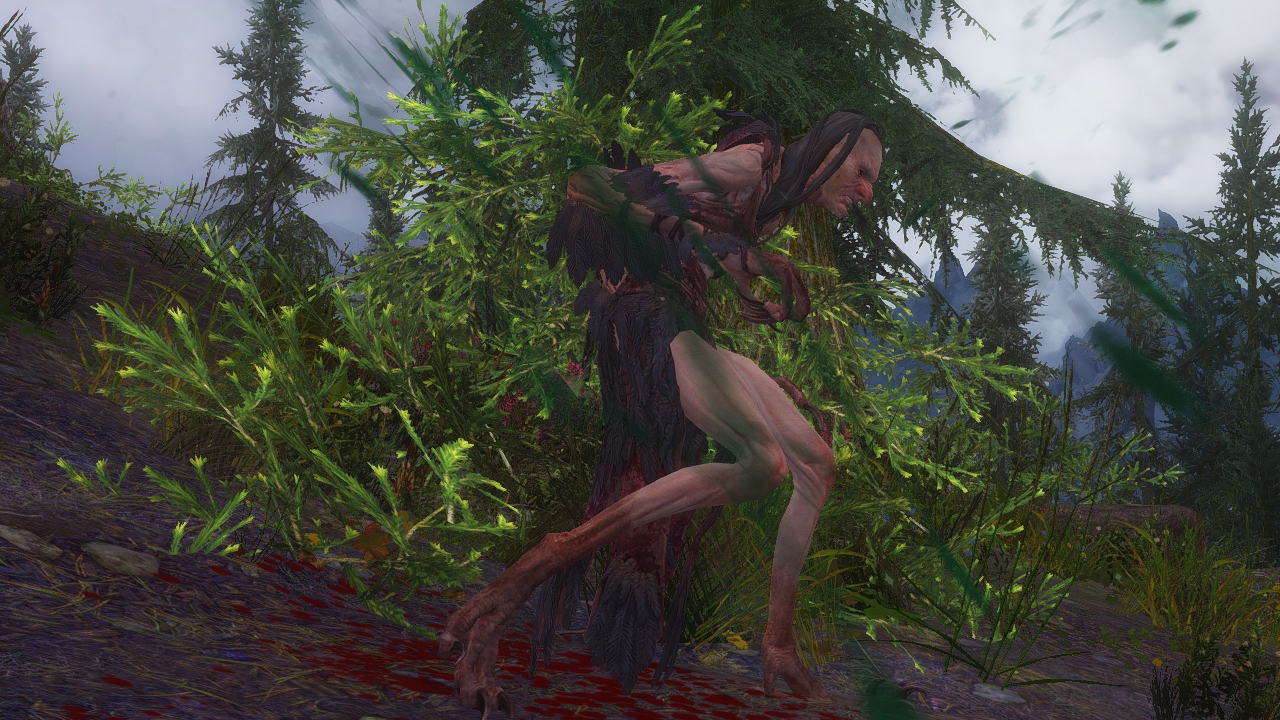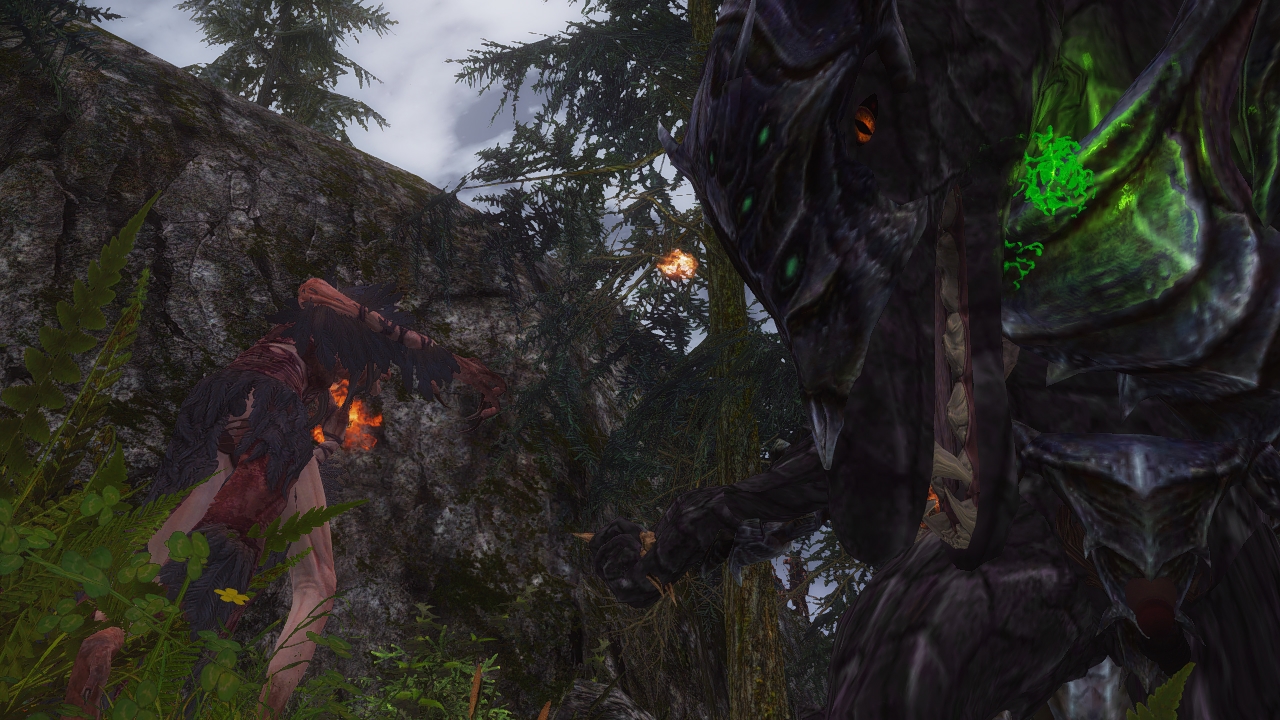 He turned to her seemingly wanting more victims to crush, but when Nyleine shook her head, he howled and immediately disappeared.


"And now…" She held her amulet in her hand and frowned.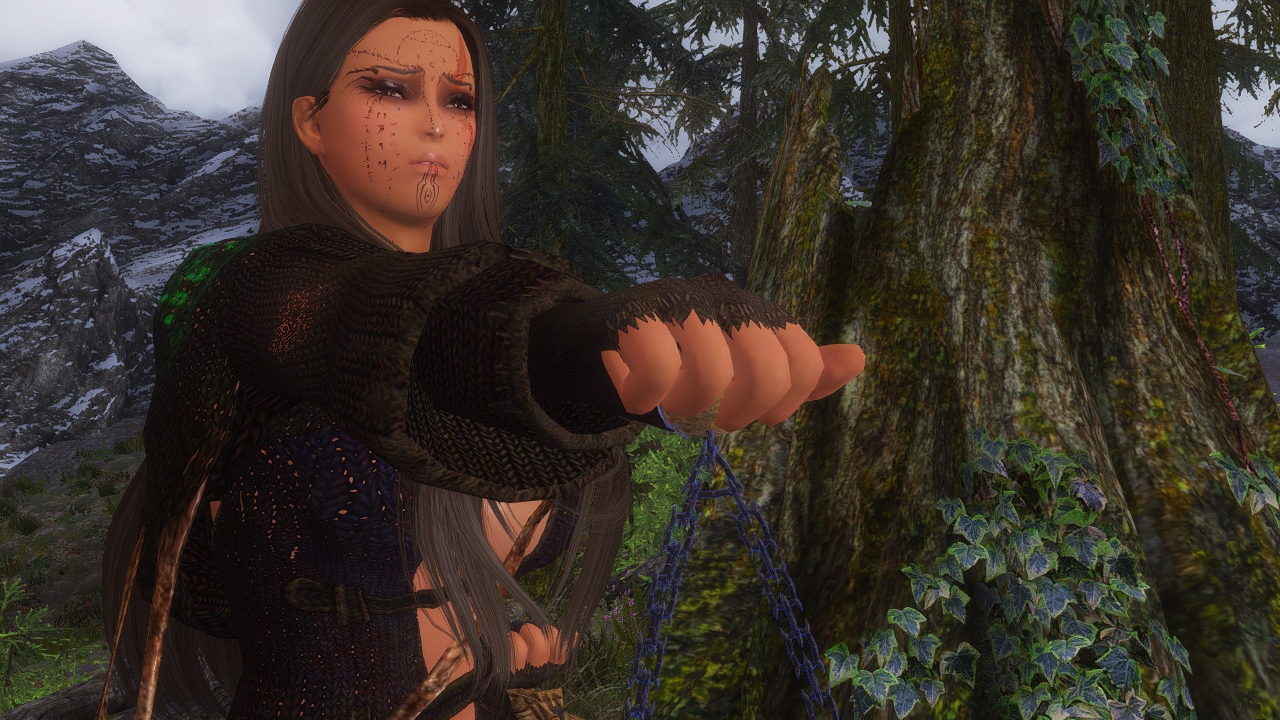 Kill the Hagravens there and once you've absorbed their souls into the amulet, destroy it.
Trembling, Nyleine tried over and over to do but she couldn't. "This is the culmination of my life's work, a legacy my father left for me, the cradle of my power. How am I…" She let her words trail off. She didn't want to destroy it then, and she didn't want to destroy it now. She wasn't going to convince herself otherwise, so she did what she always did… she turned towards her amulet.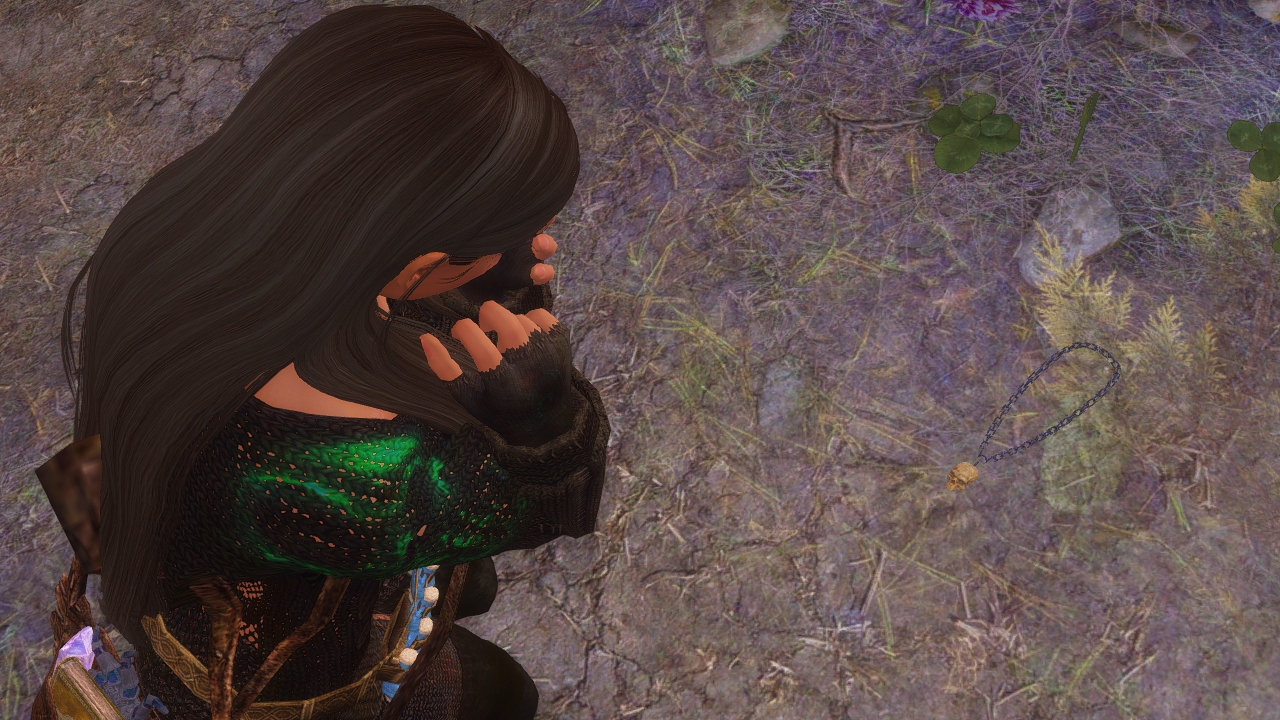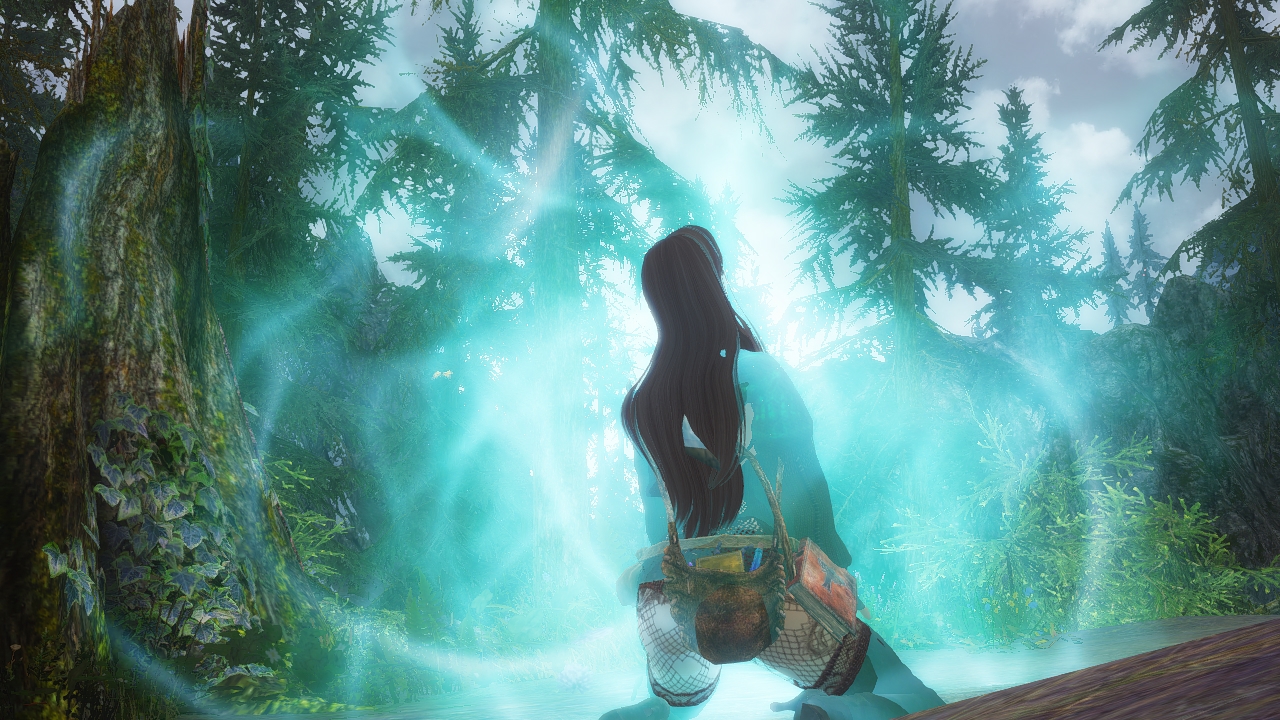 Closing her eyes, she tapped into the amulet's power and let her its power flow into her. It was a high like one Ji'aksa had described to her once. Her senses were heightened: she could taste the air and see sounds.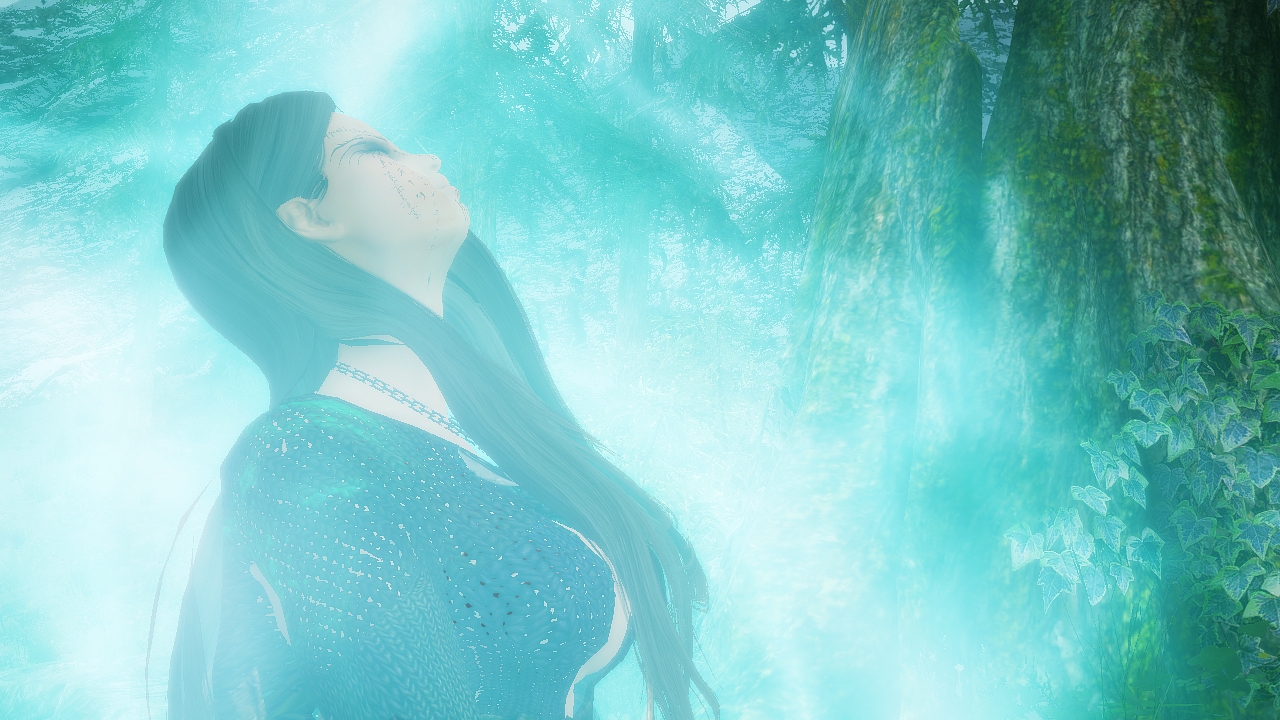 It was amazing to be sure, but that's not what she was looking for. For a problem such as this she'd normally seek out her father's soul for advice, but she knew he'd say, Just do what your heart tells you. She needed wisdom, not reinforcement and she continued to search and search until she finally saw who she needed.


Nyleine's eyes snapped open. Getting to her feet, she stuck her hand out and she coolly said, "Acride Death-Hand, rise."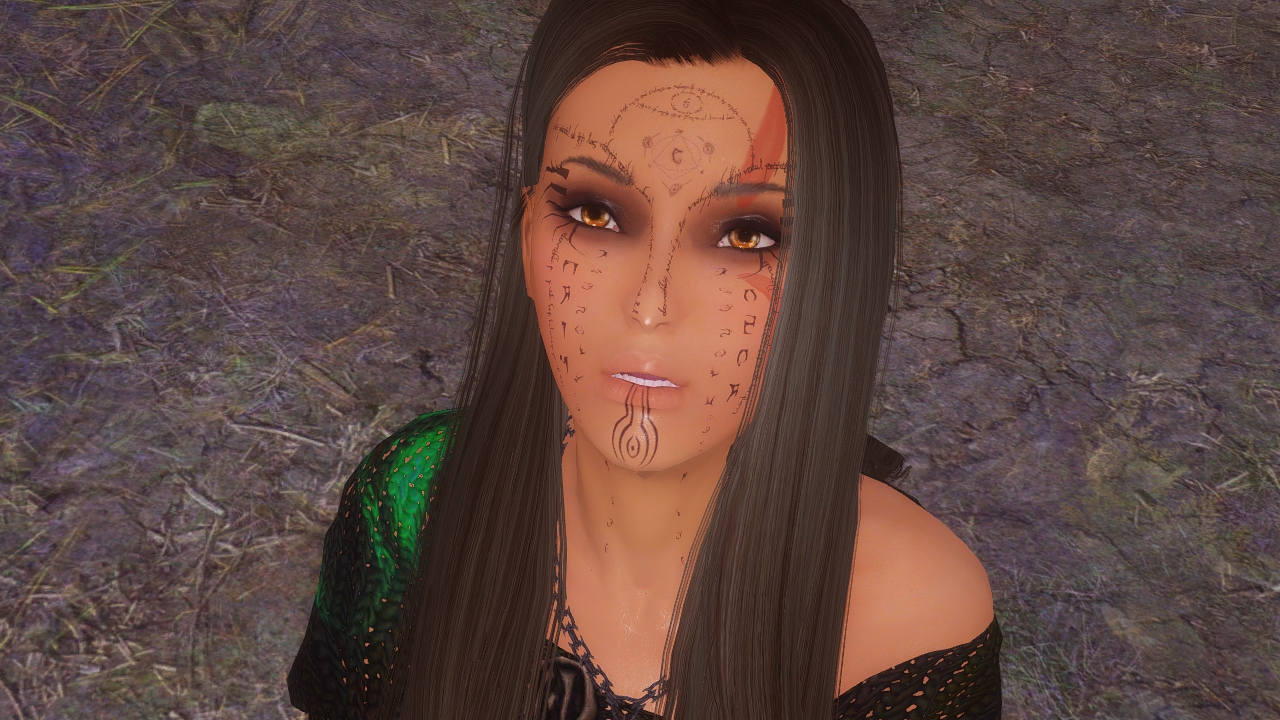 Within moments a ghost appeared before her with its back turned toward Nyleine.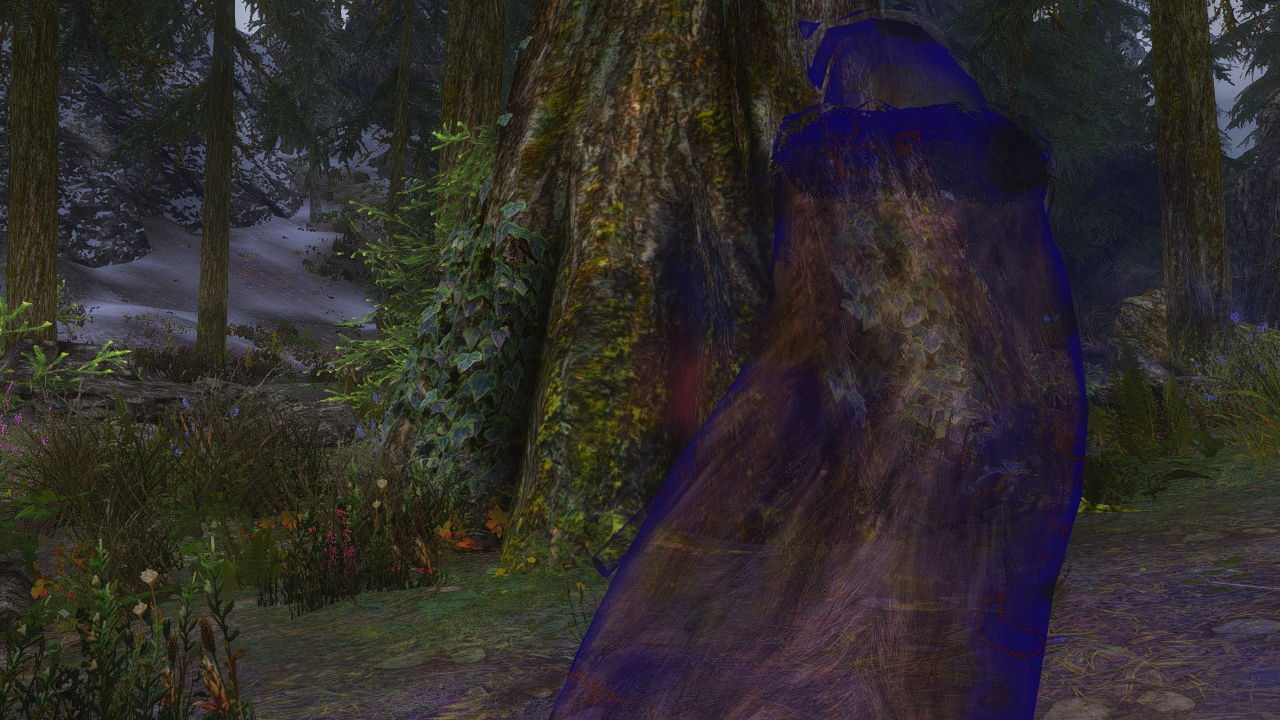 Looking at how Acride looked, Nyleine guessed she was fighting with everything she had to forcibly dismiss herself. Nyleine was aghast by her—its visage. Acride was an anomaly, as she—it was when it was alive. It was clear as day that Acride was a female by all outer features, but her voice, stature, actions, all the little intricacies that most women had were not there. Acride was feral, manly, and the wisest necromancer Nyleine had ever met.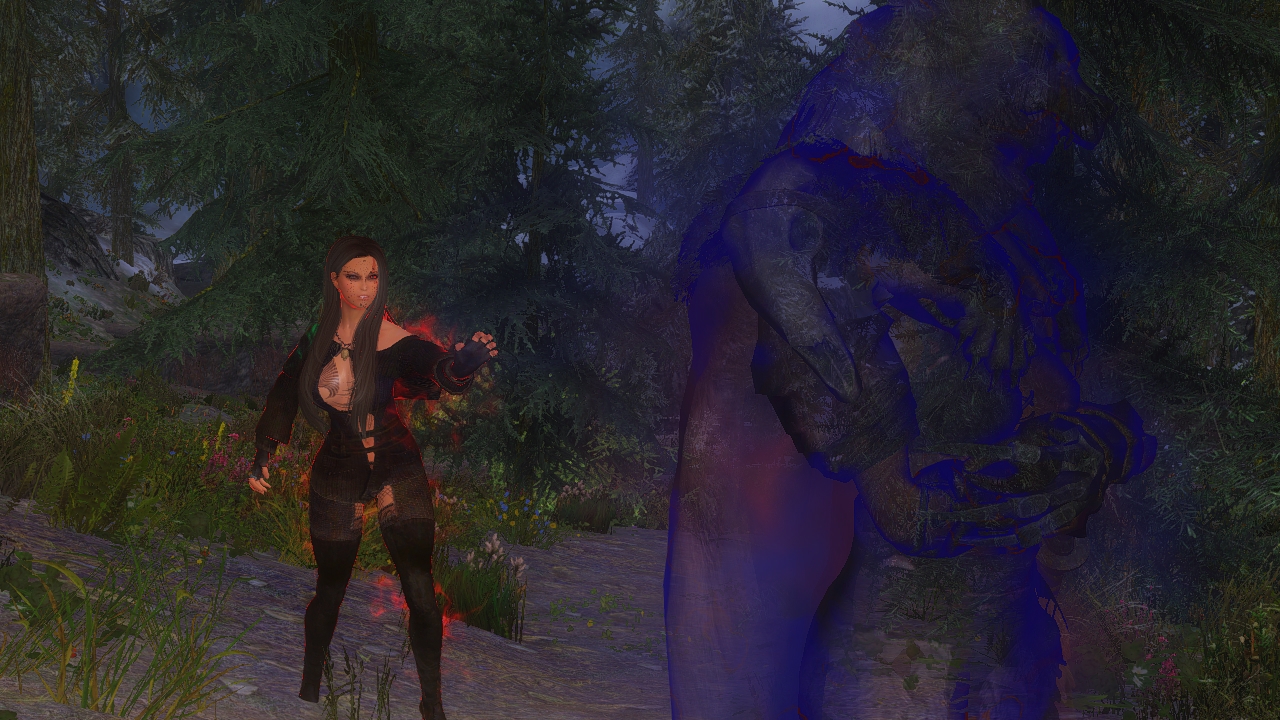 Thinking back, Niyleine remembered that she had used her twice before and swore to Acride never to do it again, so her aggression and dismissiveness towards the Halfling was well deserved. "Acride…" Nyleine said. "Hi…"


"So you've decided to die? Despite all that's entrusted to you? Intriguing…" Acride was gave Nyleine such a fierce stare that the Halfling actually got chills.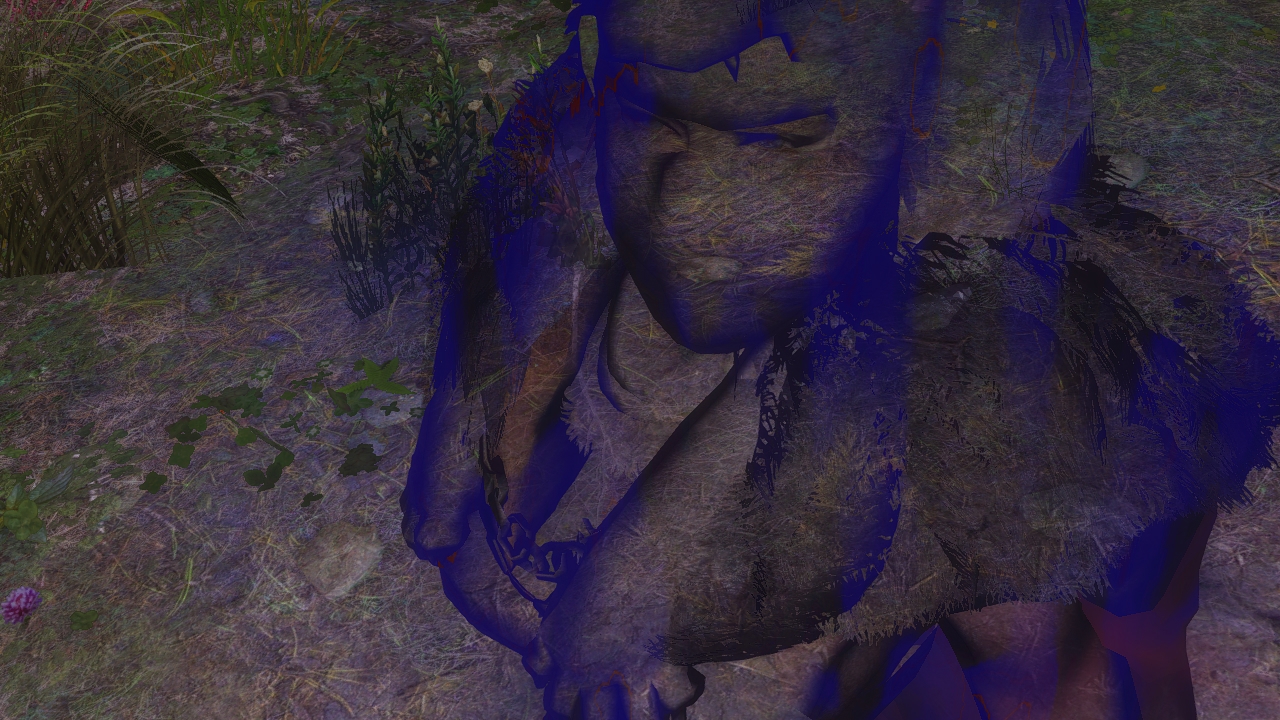 "I don't want that," the Halfling pouted. Acride's laughter soured Nyleine's mood further. "I need your help."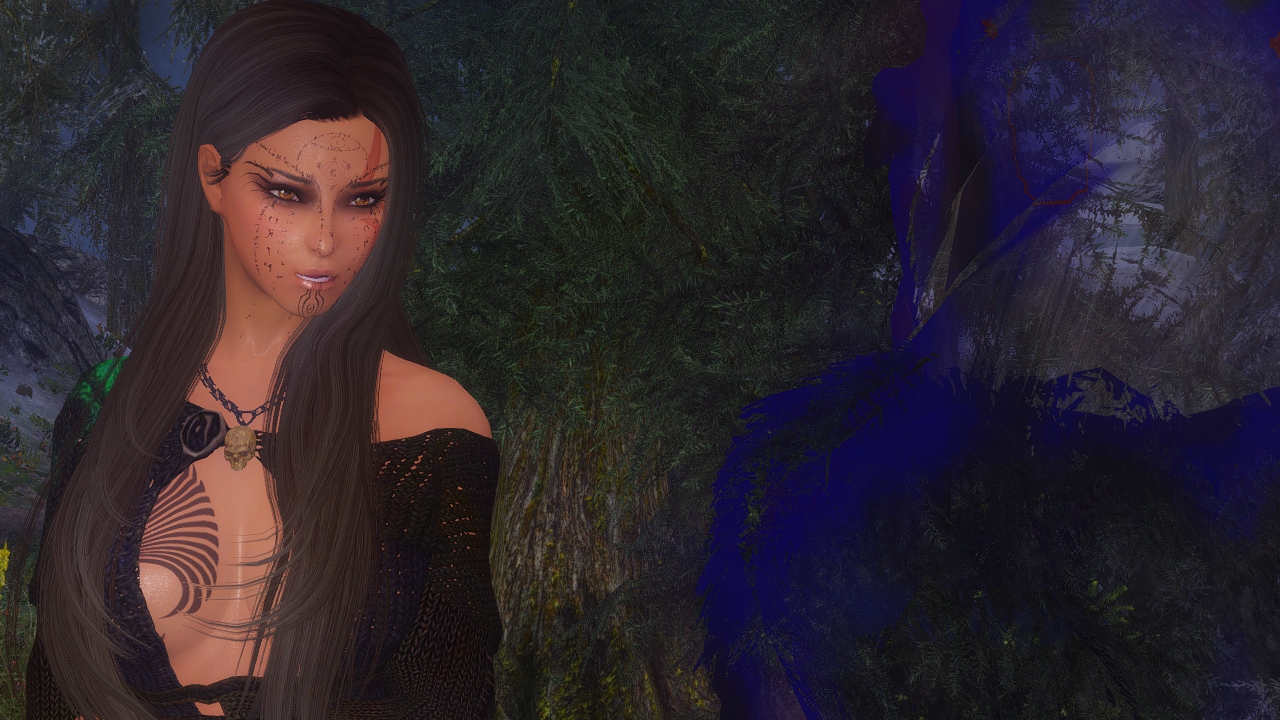 Acride sat down abruptly. "Doesn't everyone?"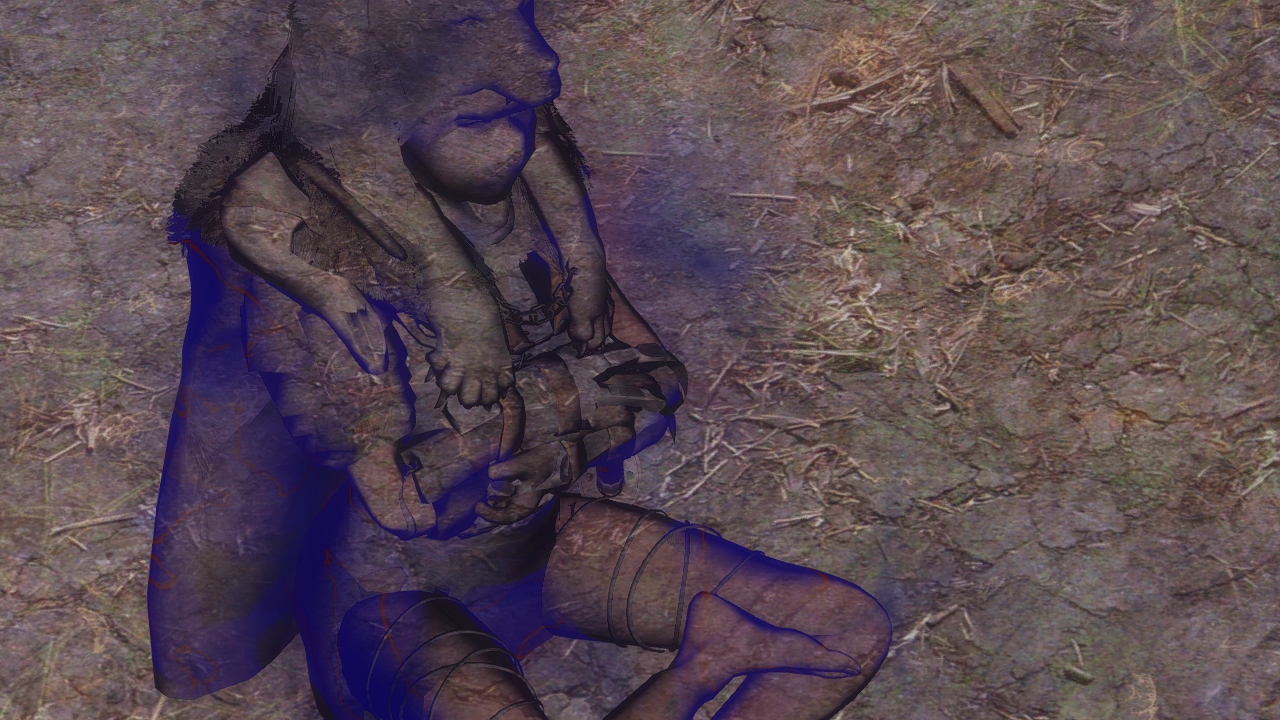 Nyleine sighed. Acride loved to see herself as the only mortal whose wisdom could challenge that of Julianos, and whose knowledge was only triumphed by Hermaeus Mora's. That along with her vindictive nature made her a major annoyance and sometimes impossible to deal with. "Listen, my amulet… I was told that I need to destroy it."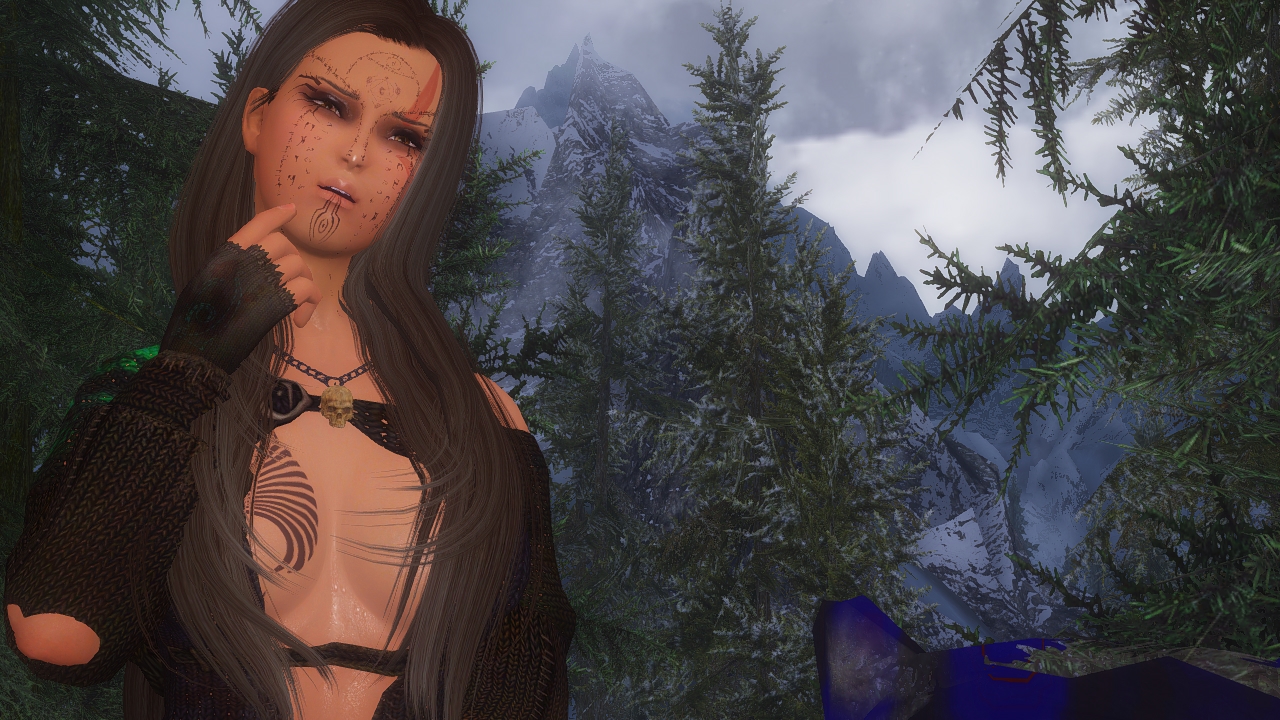 "And you don't want to let go of your bottle? Stupid child. So," she said seeming amused at Nyleine's dilemma. "I told you when I let you kill me, that thing is a crutch. I won't deny your ability, it's what made me forfeit to you in the first place, but that amulet has crippled you. Destroyed your growth."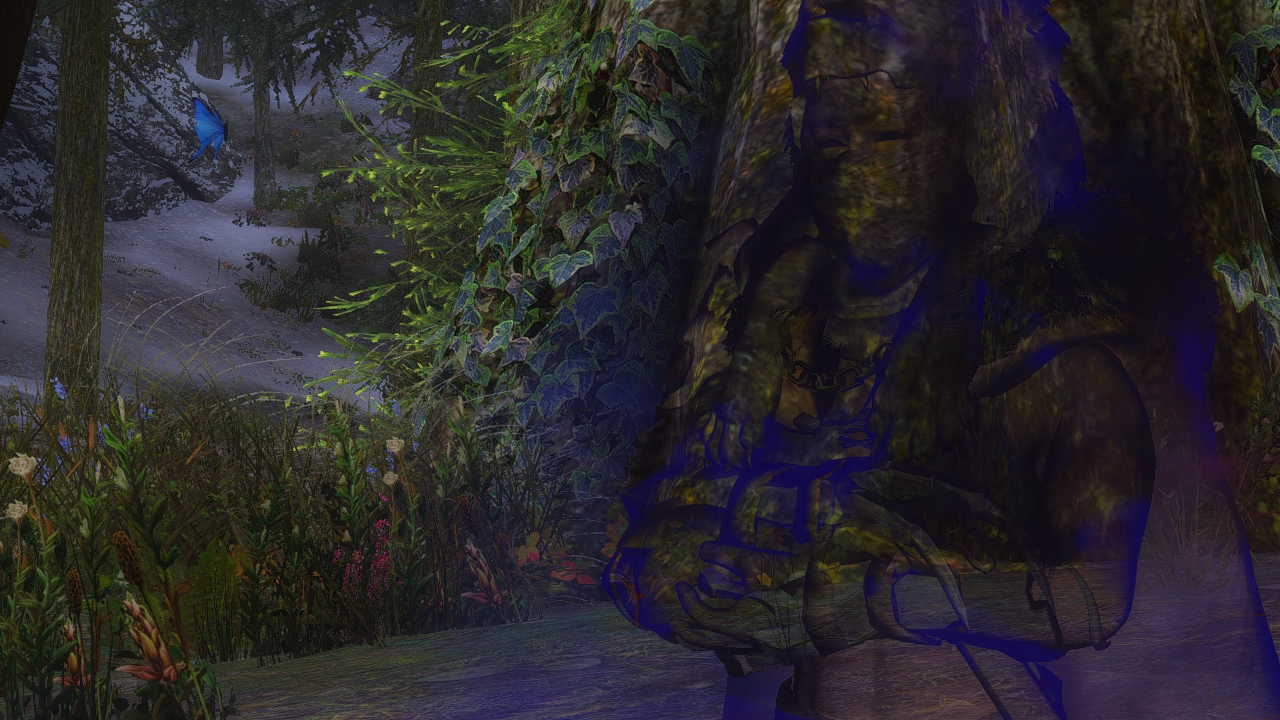 Nyleine thought about it long and hard. "So you say…" She turned from Acride. "This is hopeless. You just want me to release your soul like all the others. By the Nine, this was just a waste of—"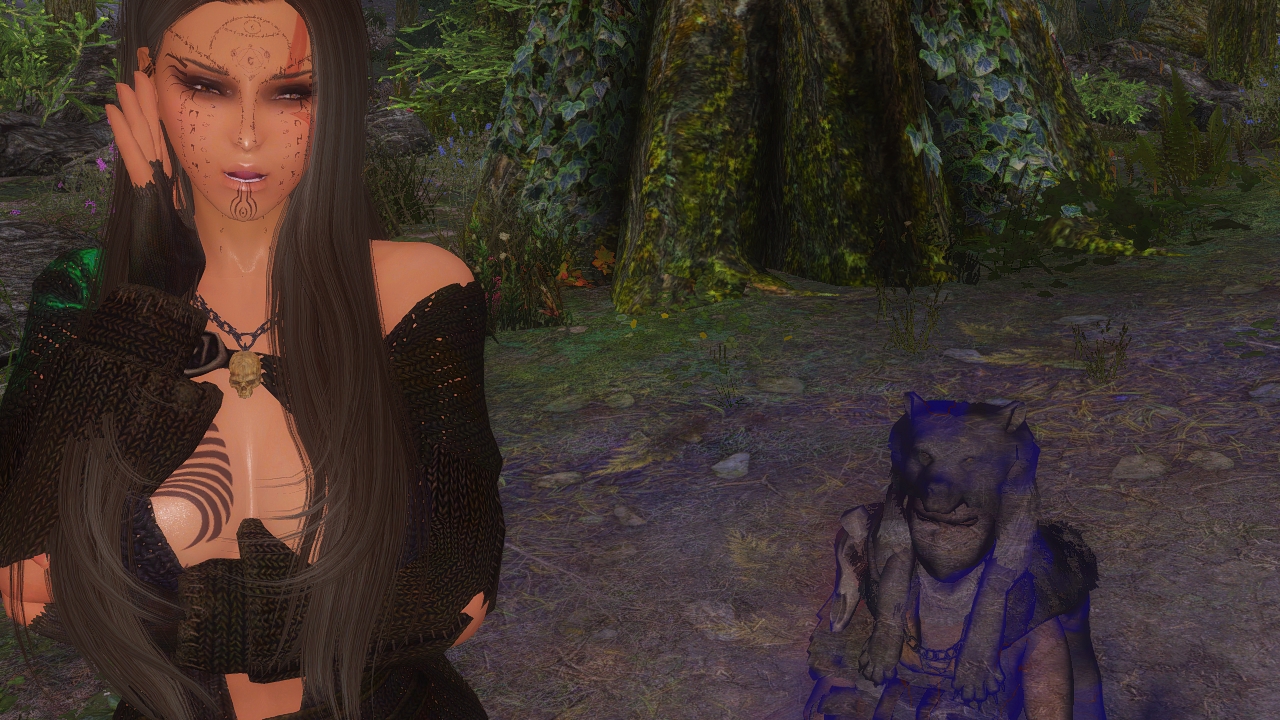 "Silence girl, and open your ears." Acride whipped around Nyleine and put her hand through the Halfling's heart.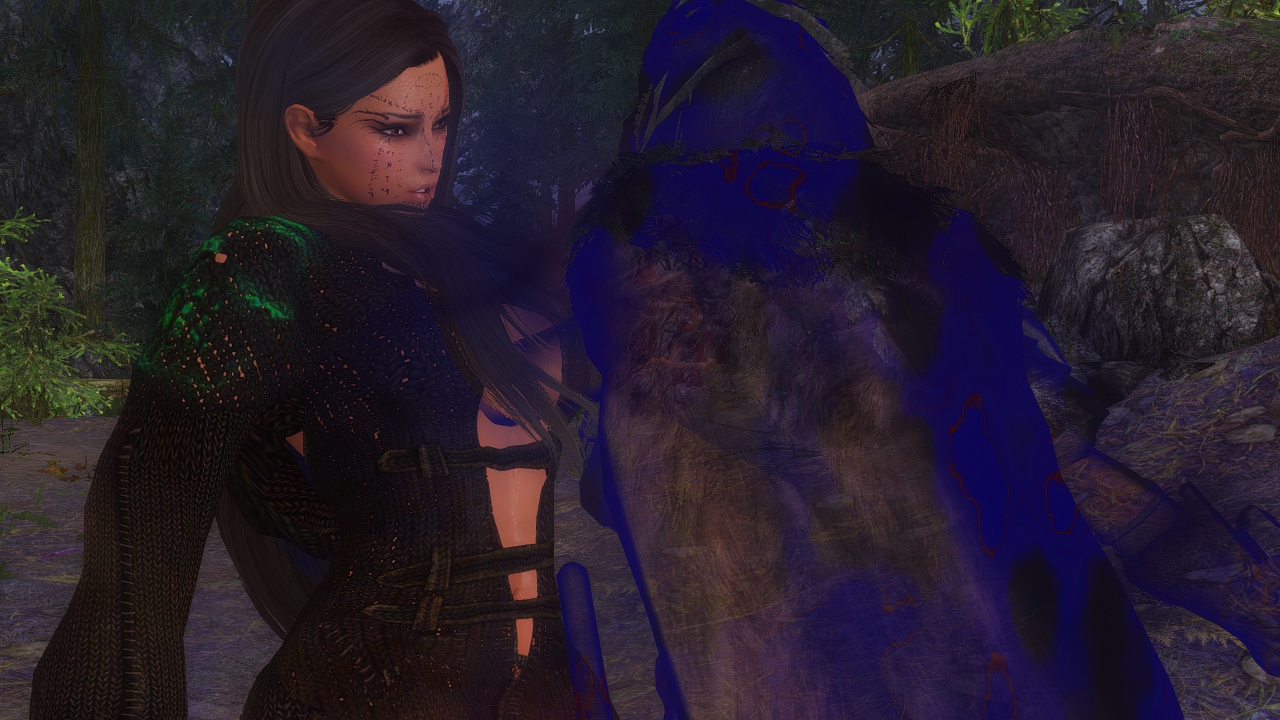 "Since you've absorbed me all you've done is get weaker. Your mind has narrowed and narrowed, and the woman who once called herself 'the greatest necromancer of her age if not ever' is now just a girl who loves her damn sister too much."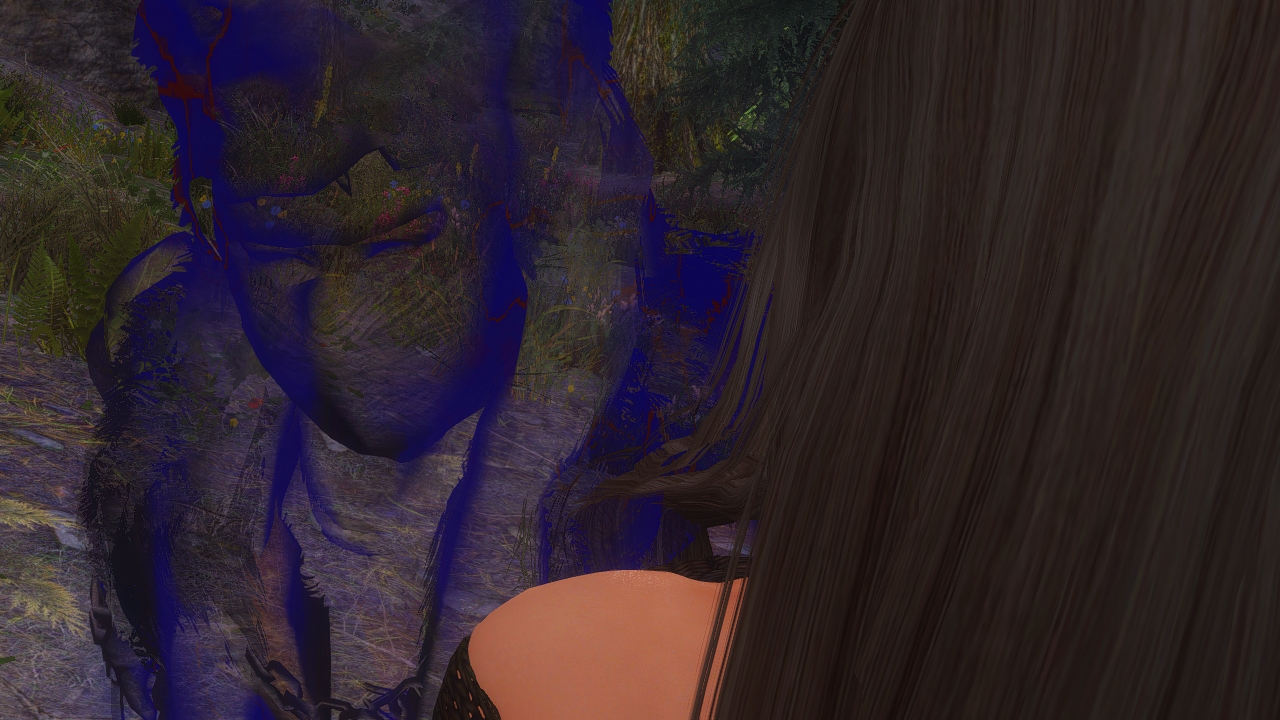 Nyleine tried to get away from Acride, but the ghost would not back down. "You think we can't hear?"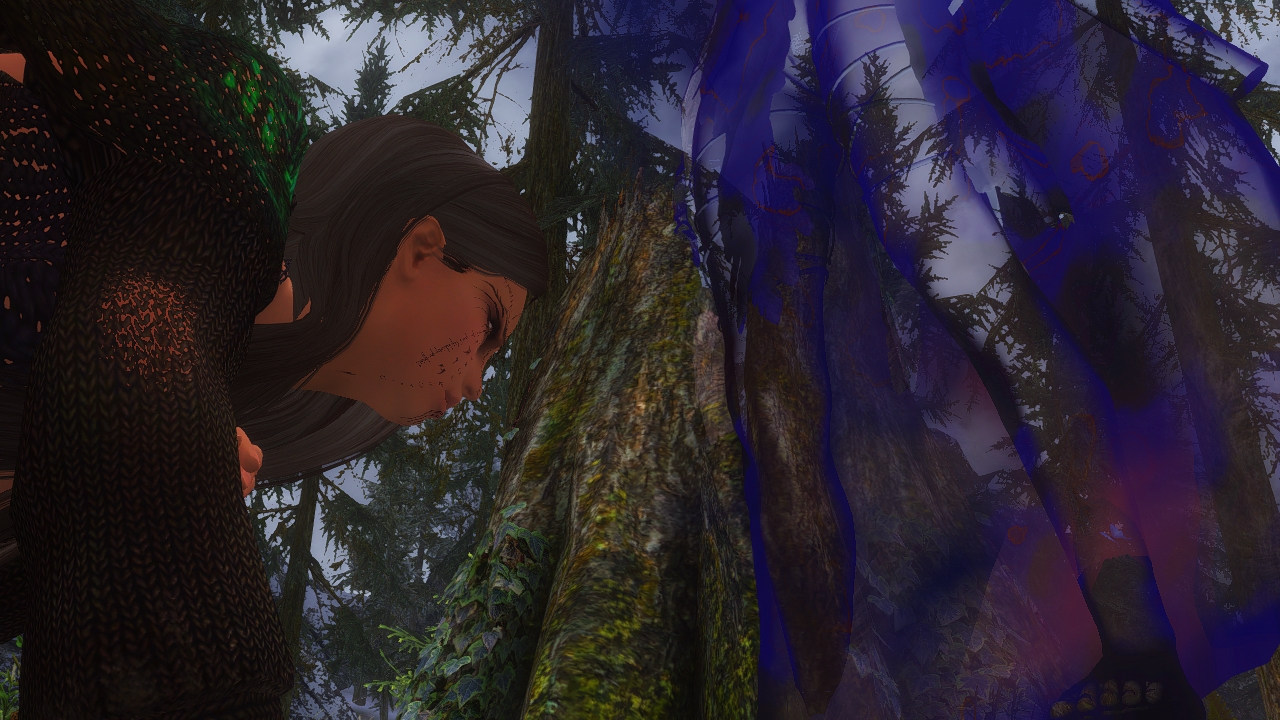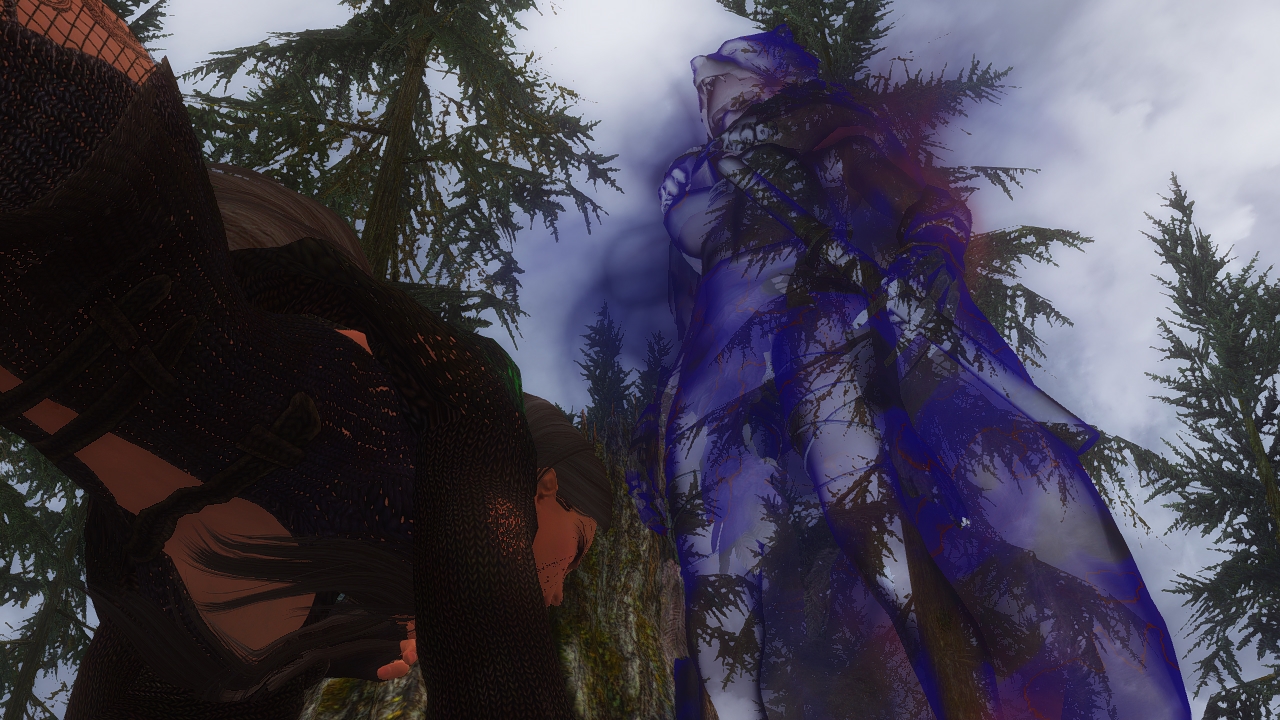 "You think we don't know? This, all of this," Acride gestured around herself, "It means nothing. NOTHING! You are nota necromancer anymore! You want to know why Rhiie didn't use Aabas against you?"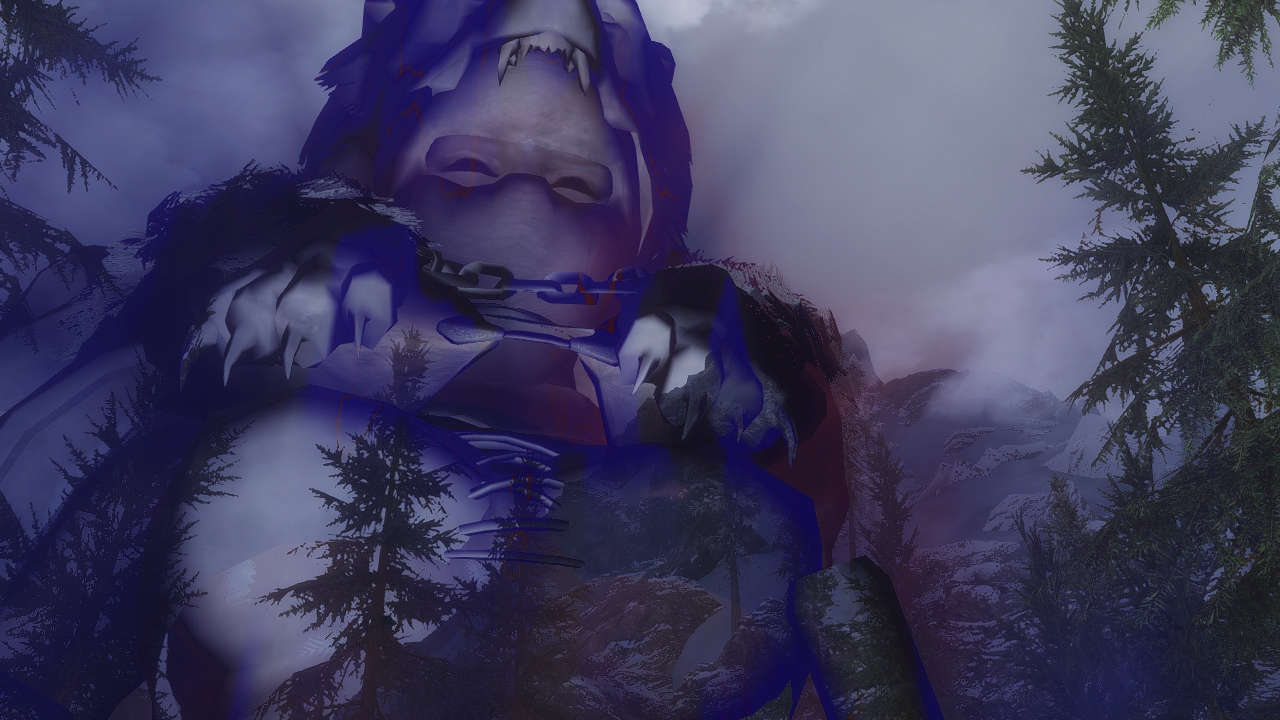 Nyleine glared at Acride. "Why?"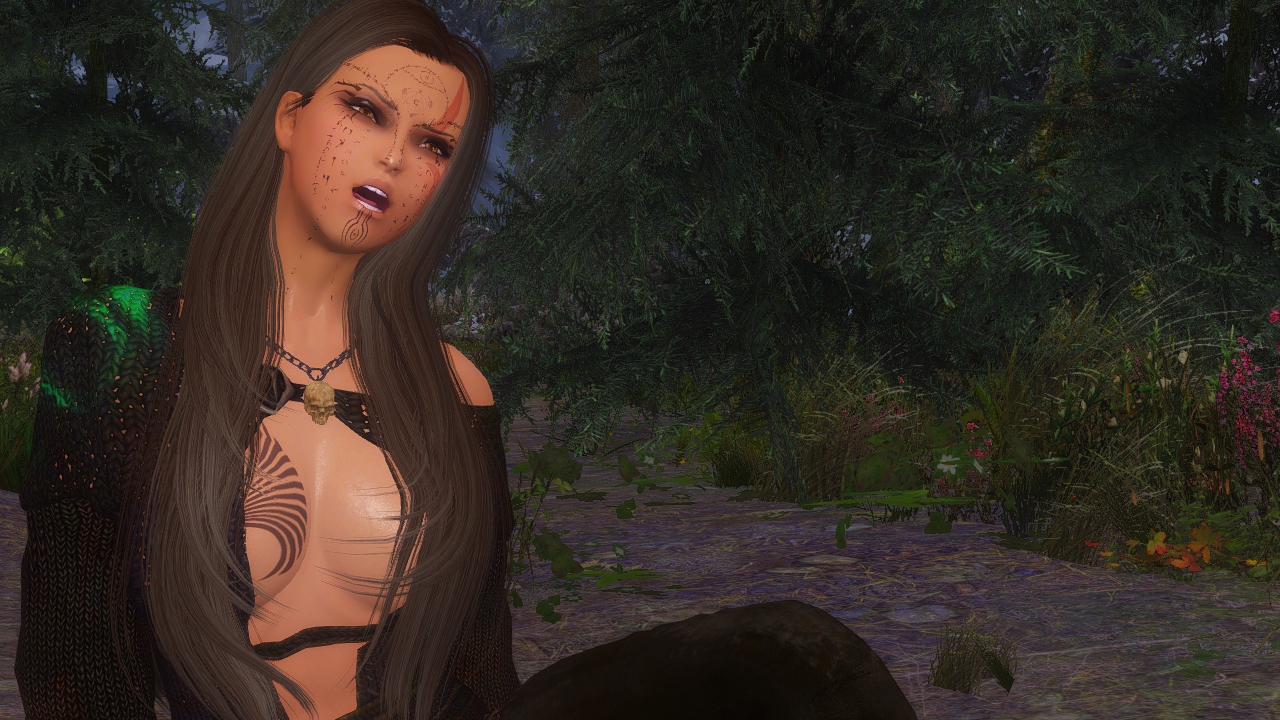 Acride turned from her and rather than fight Nyleine's summoning, used its power to forcibly enter this plane of existence physically. "It was because she was a necromancer fighting a 'necromancer' with necromancy." With that the ghost faded away leaving Nyleine alone.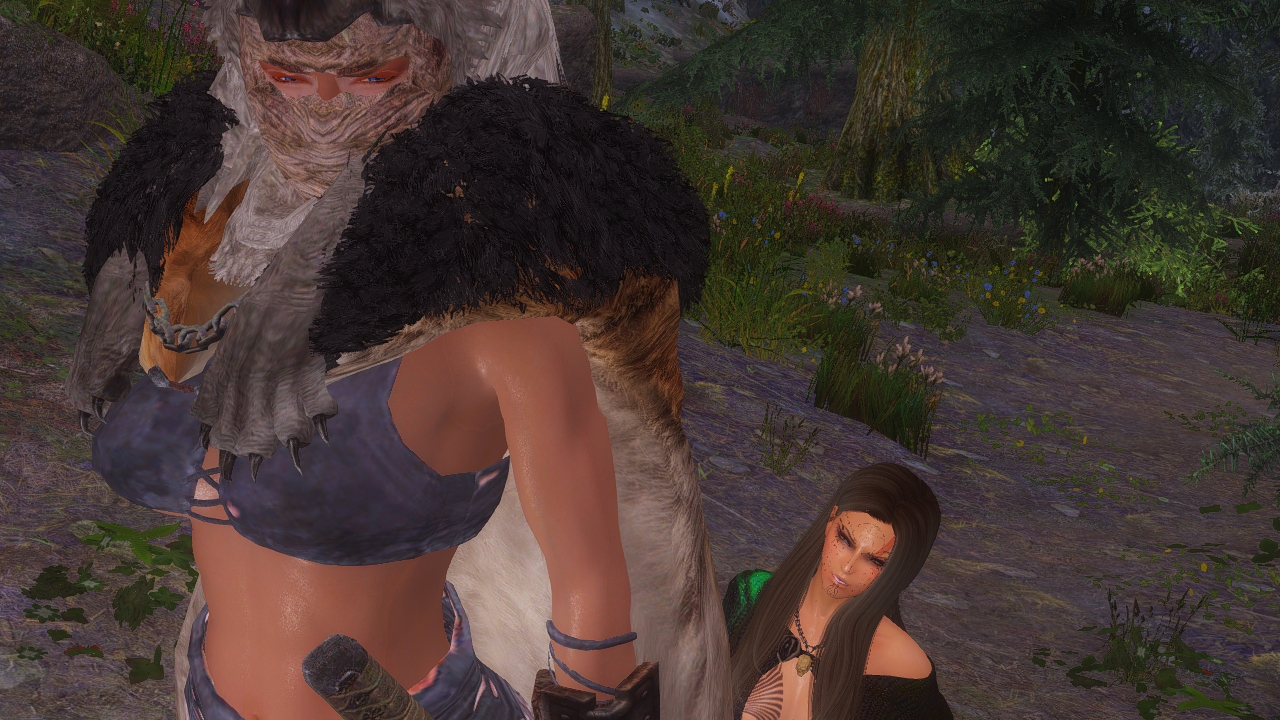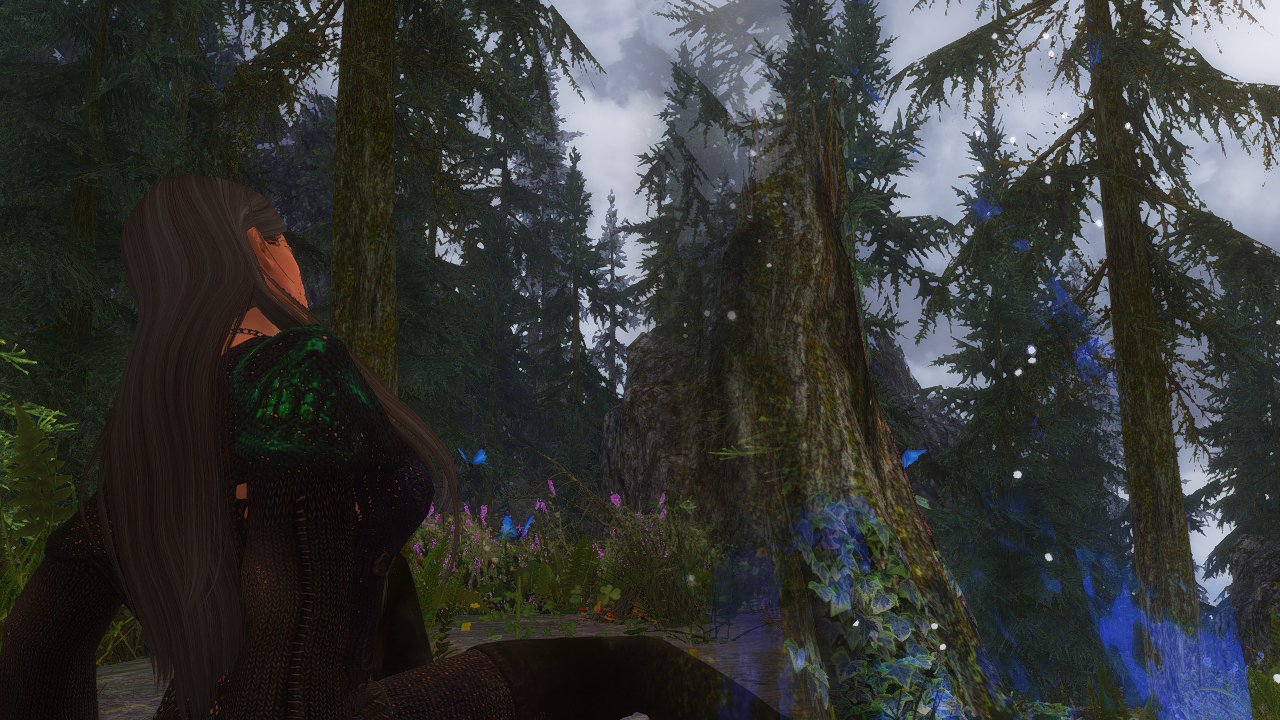 "That's not an answer dammit!" Nyleine's cries echoed all around her, taunting her, saying to her that she knew the answer.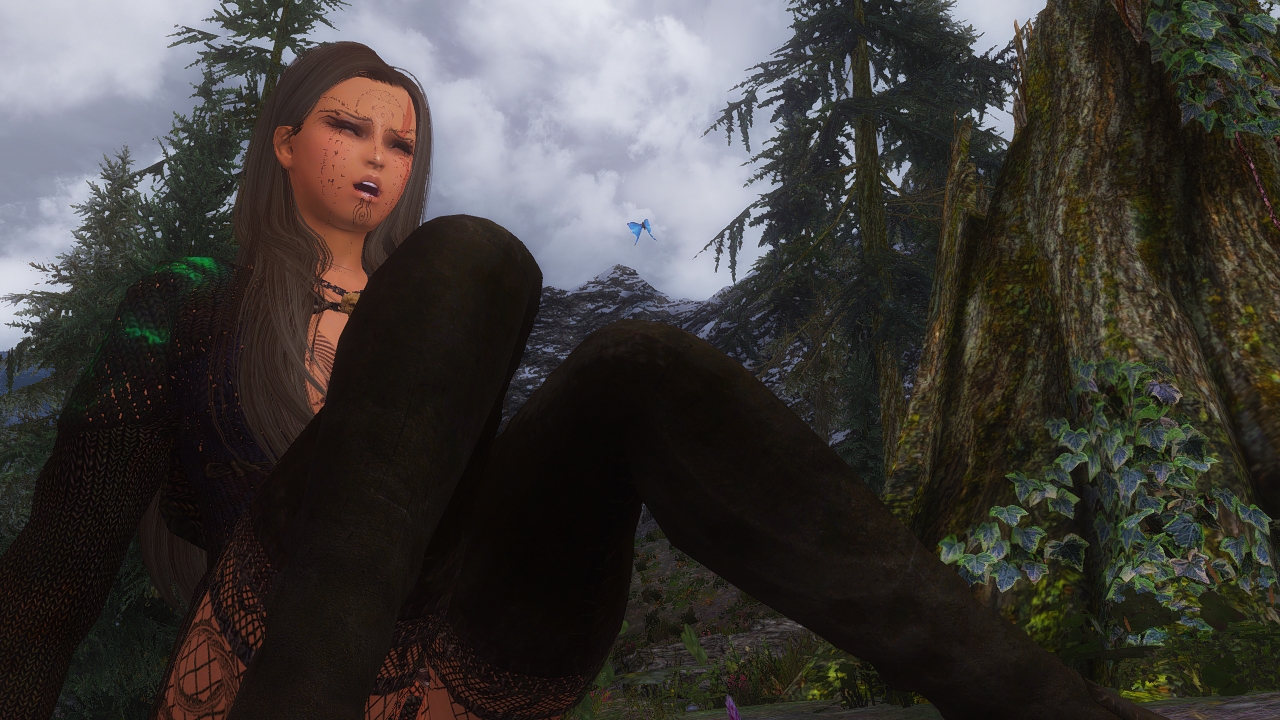 "Besides, I'm still a necromancer! I'm still…" (No, no I'm not.) Nyleine rose to her feet and sighed. She thought about the last few weeks, how she avoided the use of necromancy and only utilized her destruction and alchemic abilities. "I guess I'm not a necromancer…"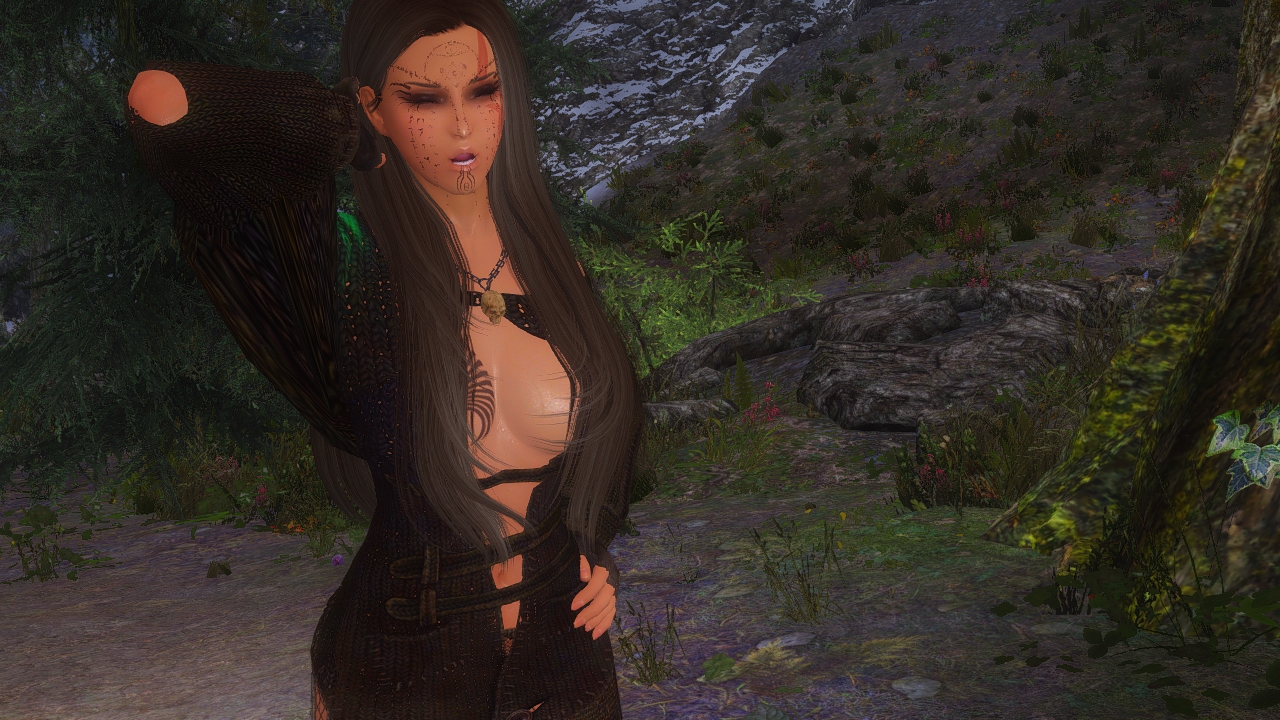 She held the amulet out in front of her. "Culmination of my life's work…."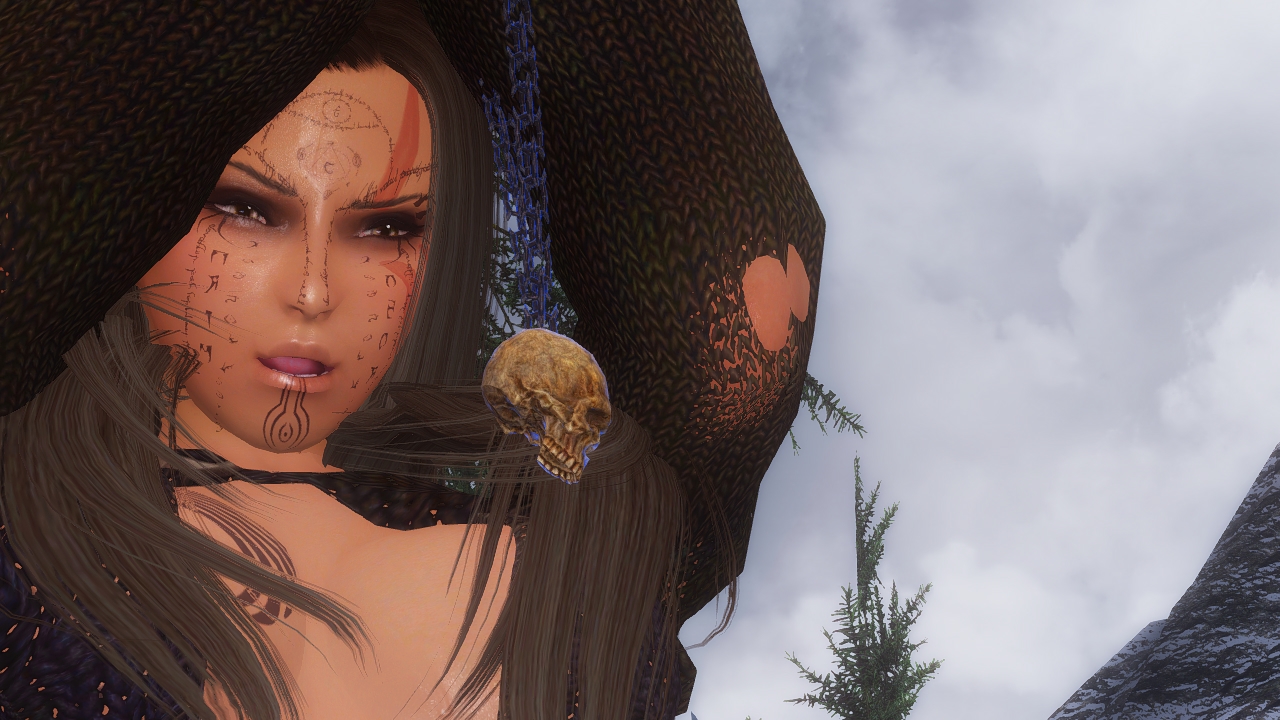 She threw it to the ground. "Ha! It's just a tool, and like all tools its usefulness has run out."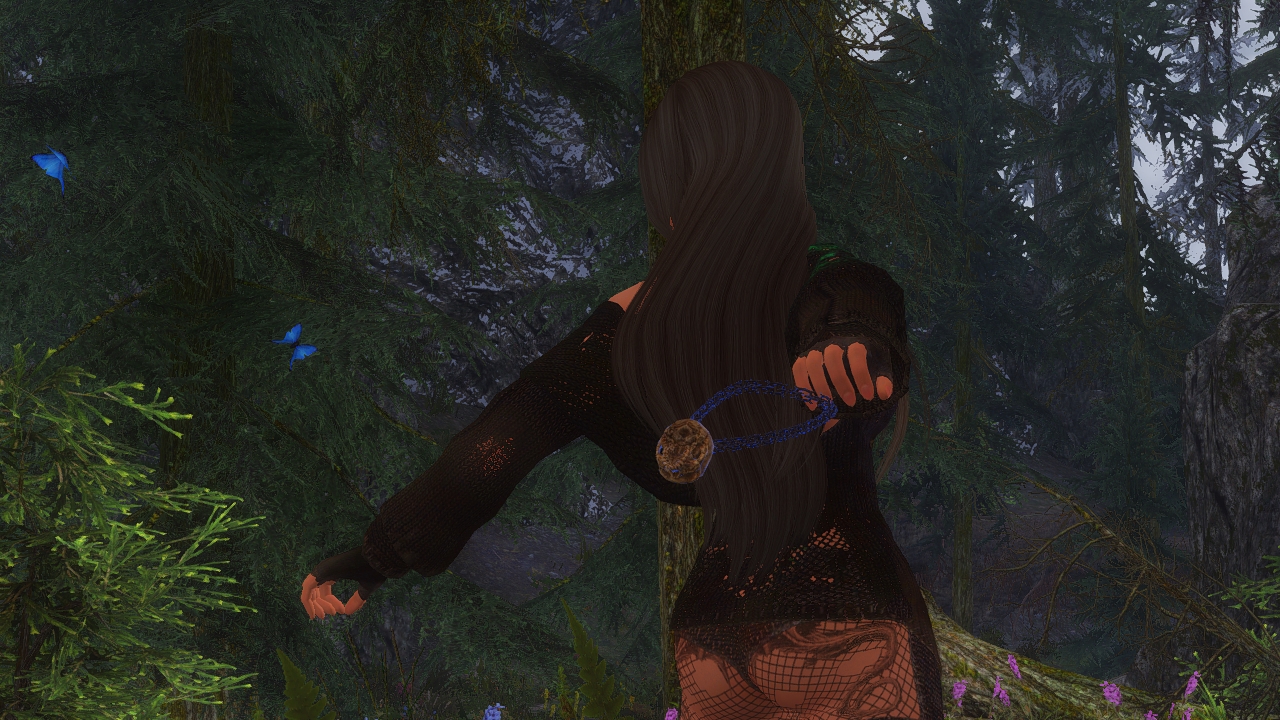 Nyleine gathered Magicka in her hands and without hesitation flung it all at the amulet shattering it into pieces.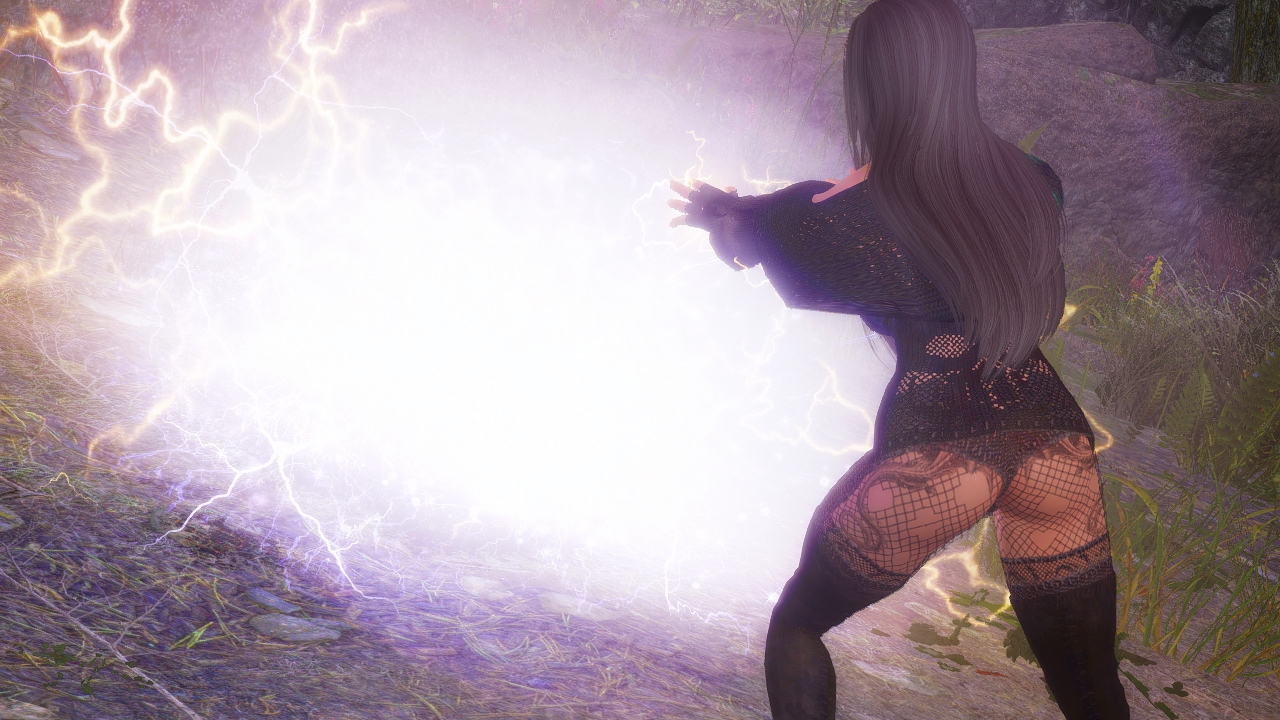 Energies swirled past Nyleine as soul after soul was released from the amulets embrace. When the flow stopped Nyleine looked around and sighed. "I knew it. Nothing happened. When I see Sis again I'm going to—"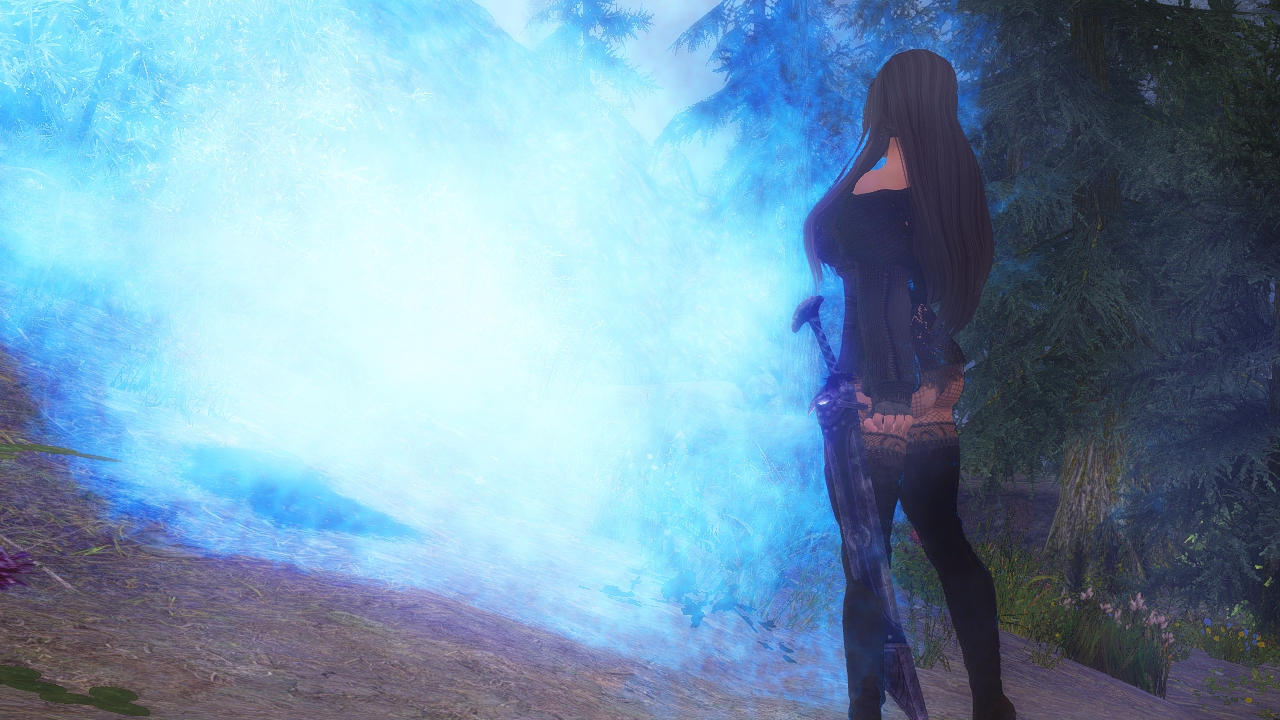 Part Two
Suddenly a massive amount of energy began flowing into Nyleine and she could literally feel her Magicka pool growing and growing. The feeling made her think of the time she borrowed Lyrus Satoro's power but it was bigger, greater. She felt whole, like she'd always wanted to feel before Niyleen. She felt powerful and her mind was ablaze.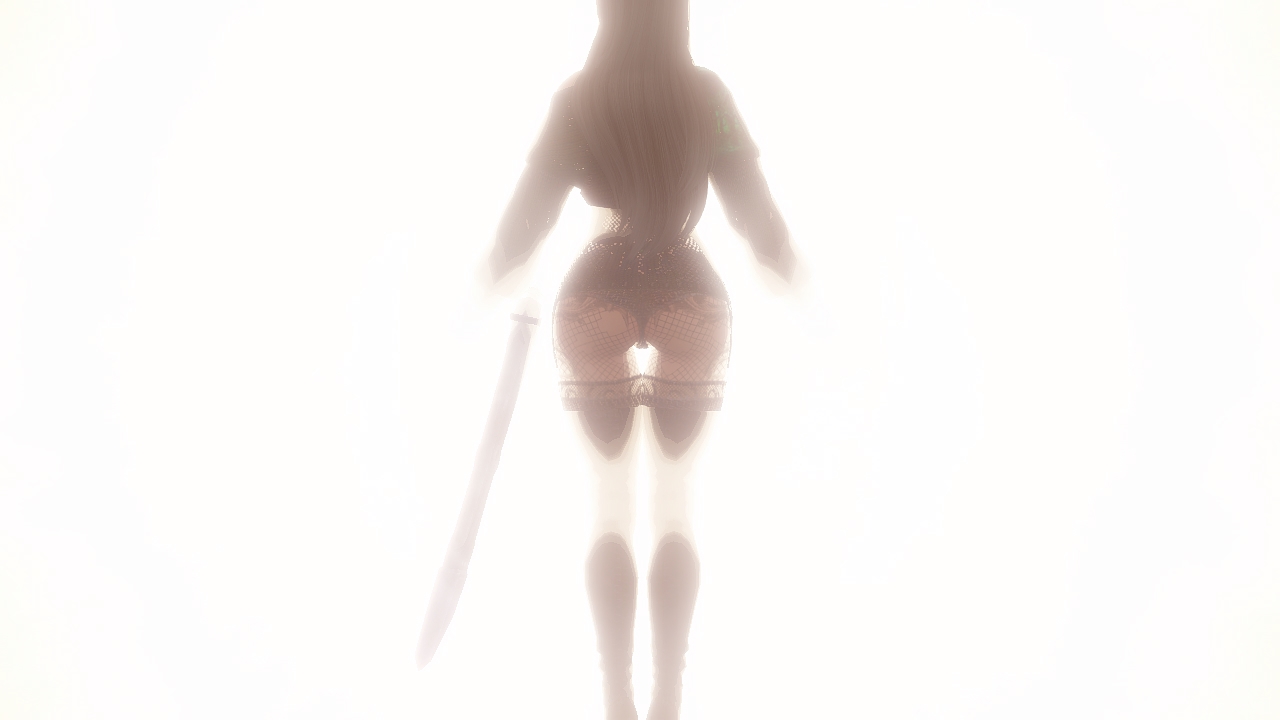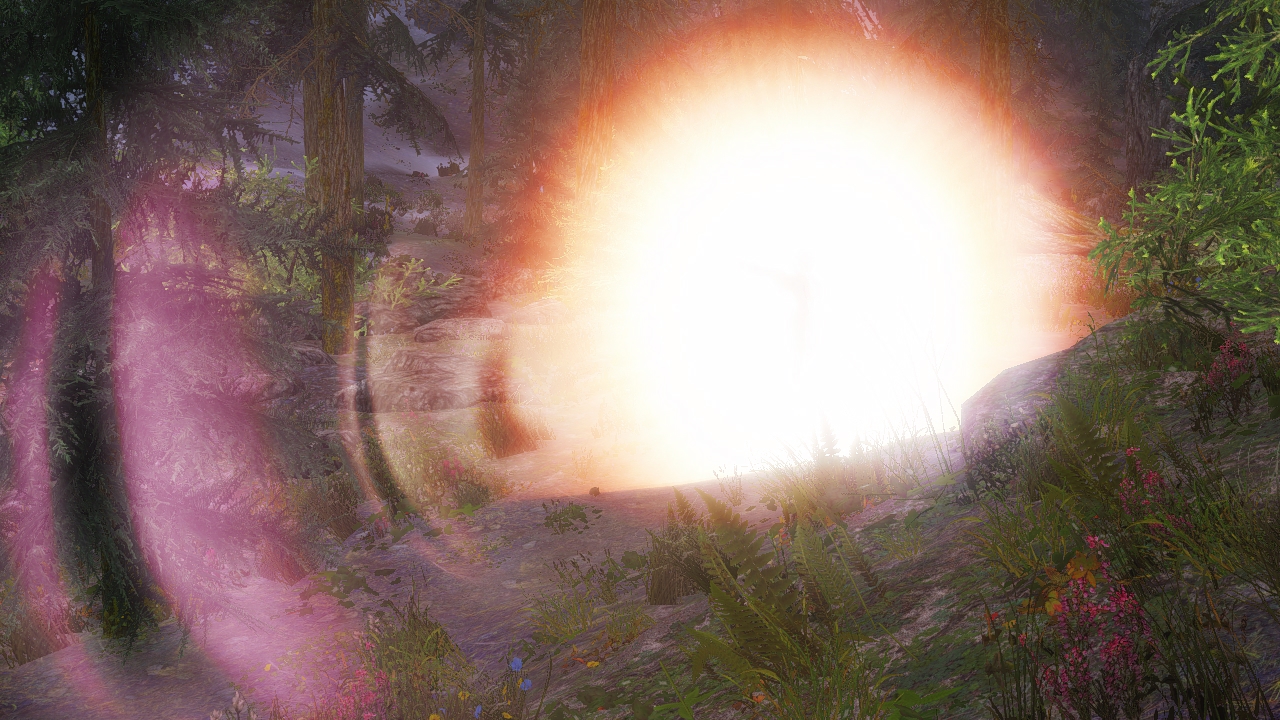 Knowledge, memories, all sorts of spells from every school began to flood into Nyleine's head and instead of feeling overwhelmed, it was like this was right, like her past self was all just a dream and she'd awakened to her true self at last.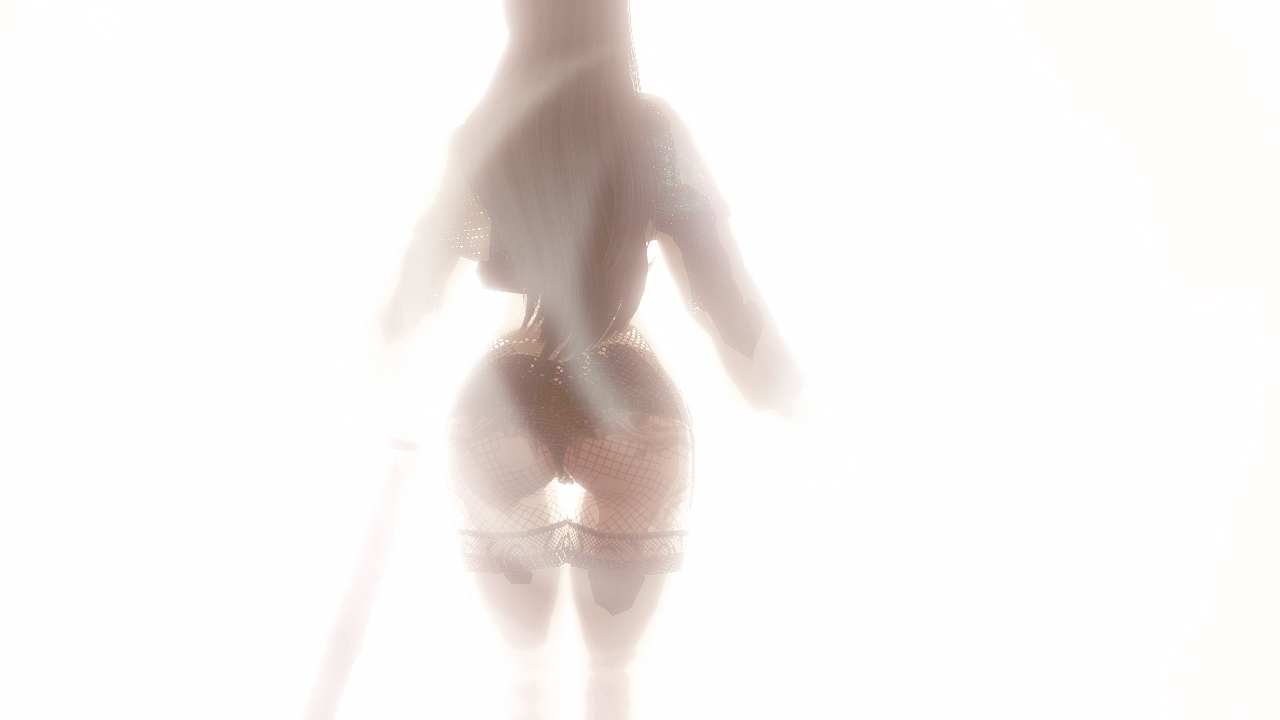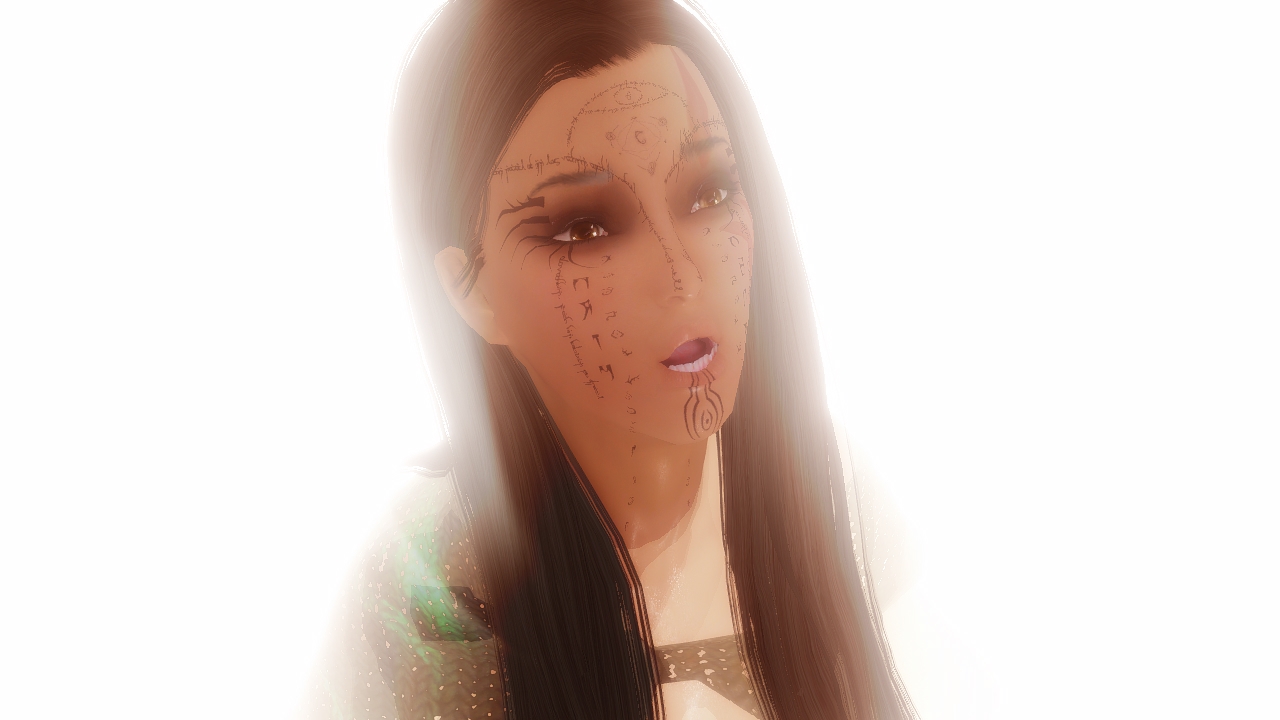 "Awesome…"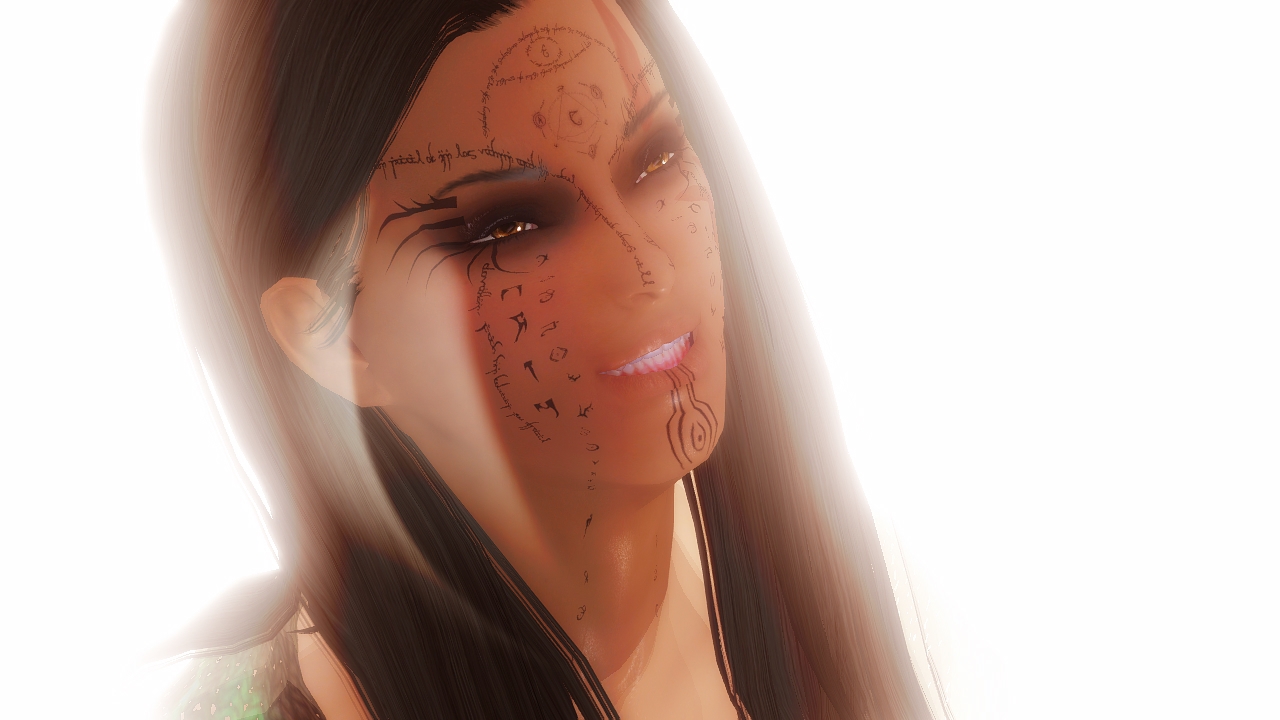 The air around Nyleine settled and her thoughts began to normalize and Nyleine could stop laughing. (Nega was right… THIS IS AMAZING!)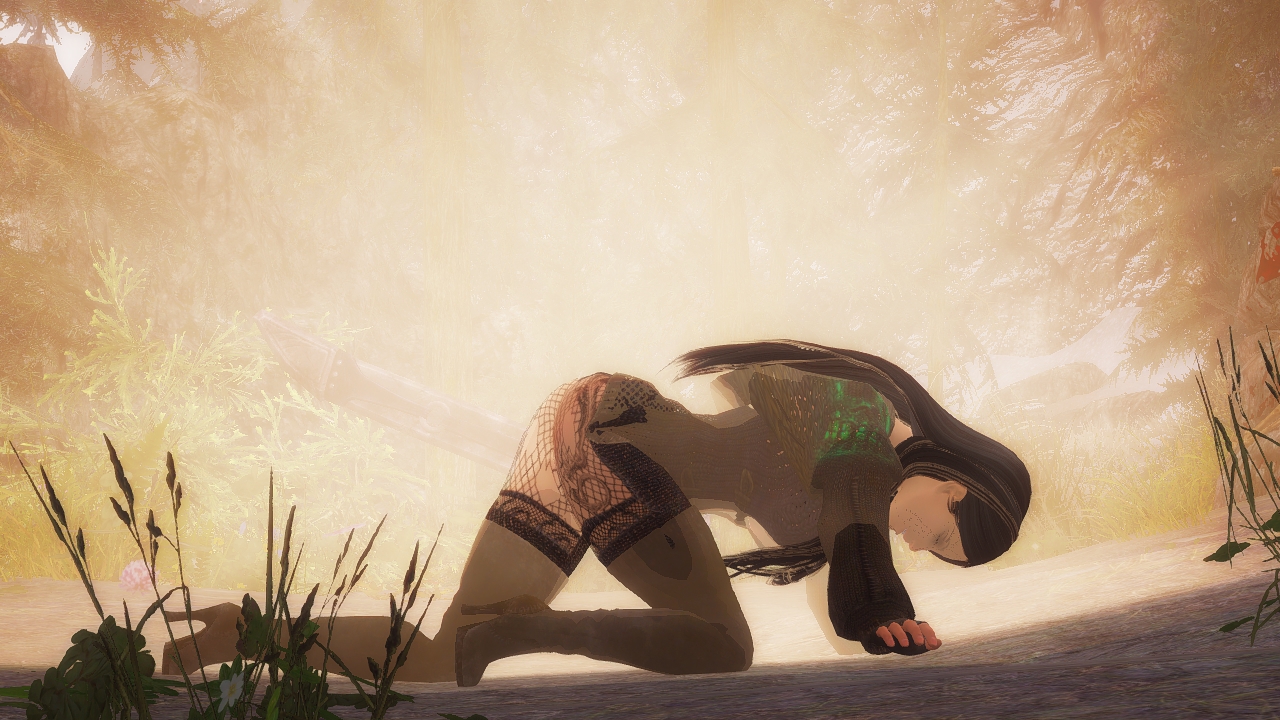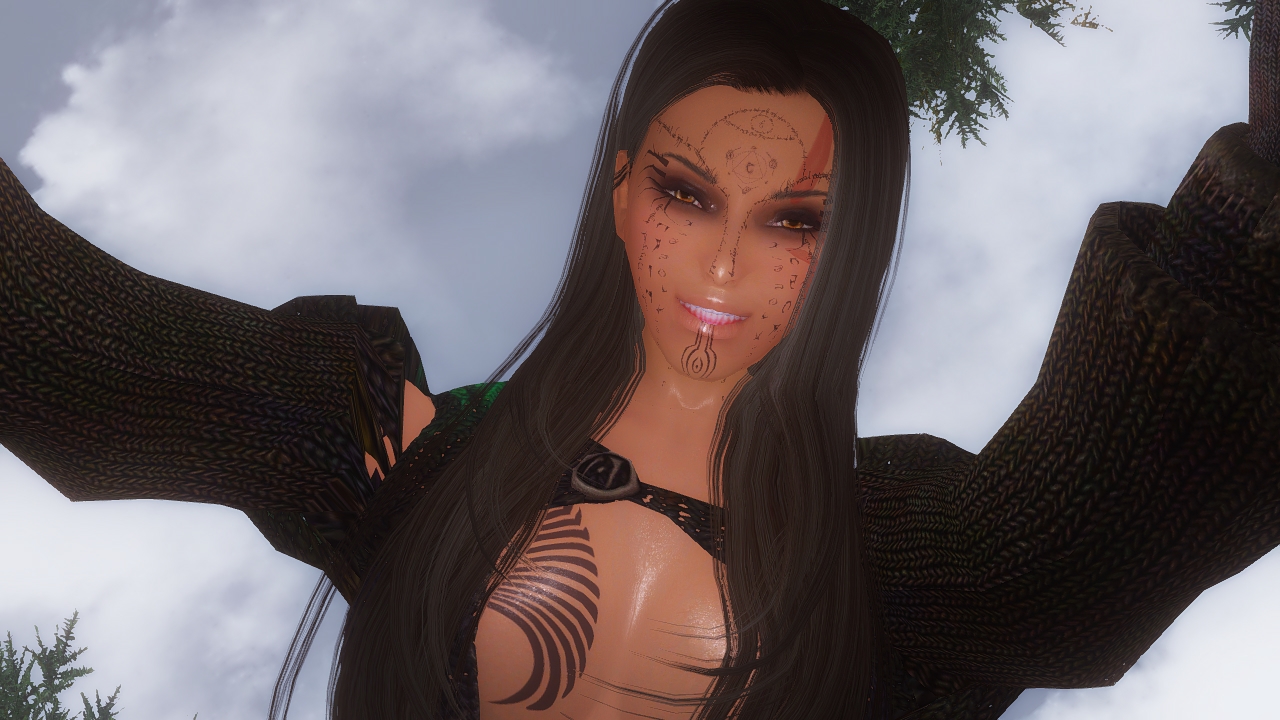 Suddenly she was overcome with anger and punched the closest thing she could find, which sadly in this case was a rock. "Dammit dad! You knew this! You knew that this was the amulet's true power! Why didn't you say something? Why—"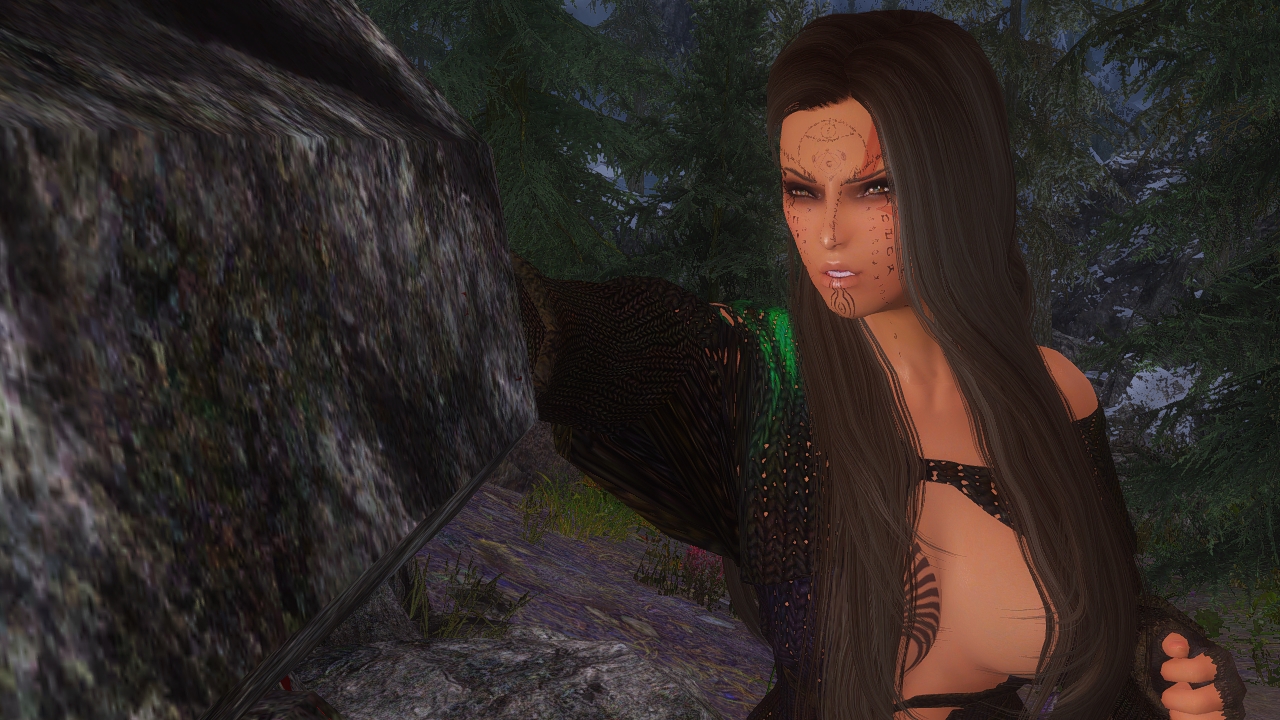 "Hello there Redguard," said a voice from behind her.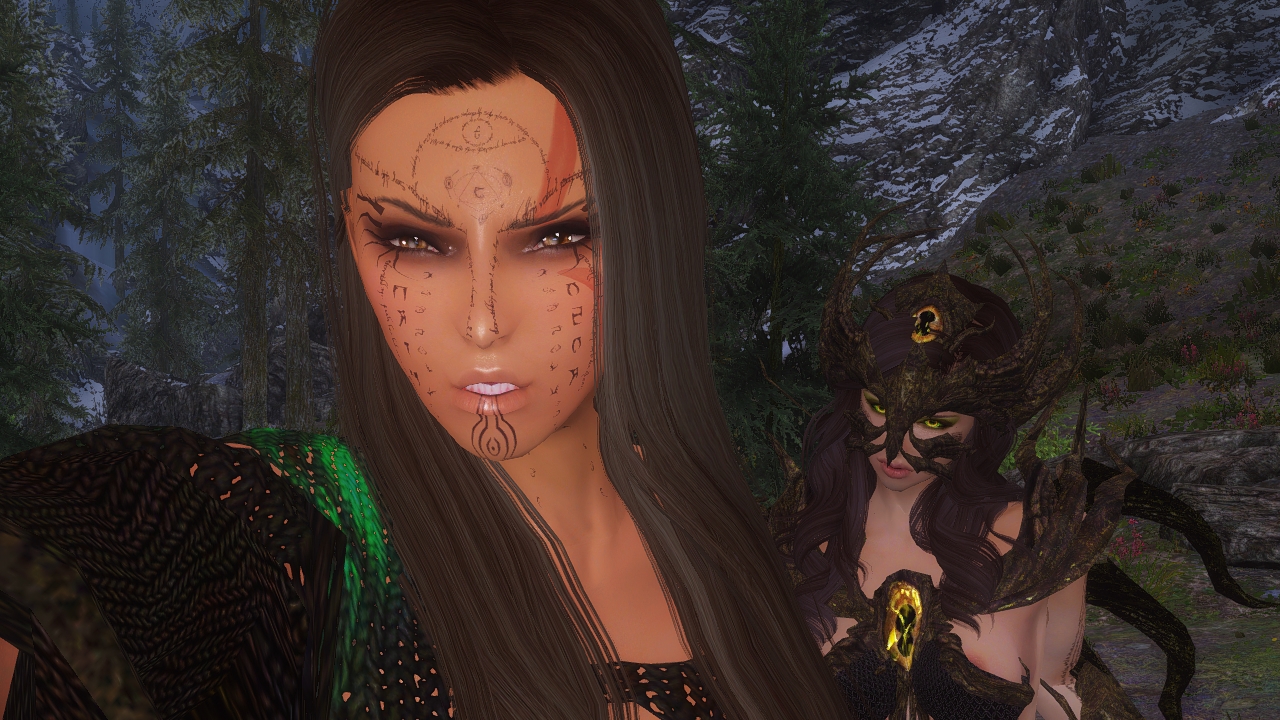 Nyleine whipped around to see a woman with writing on her skin and tentacles coming from out of her. "Or was it Nord? You mortals and your Races… You all look the same before the Keeper of Knowledge." Her voice was powerful, and although she sounded bored, each word struck with the force of a blow.


"Y-you…" Nyleine remembered Nega's words: …You'll end up getting rid of two more Champions…


"Another Daedric puppet?" She sucked her teeth and gathered Magicka in her hands. "I think you picked the wrongmortal to mess with."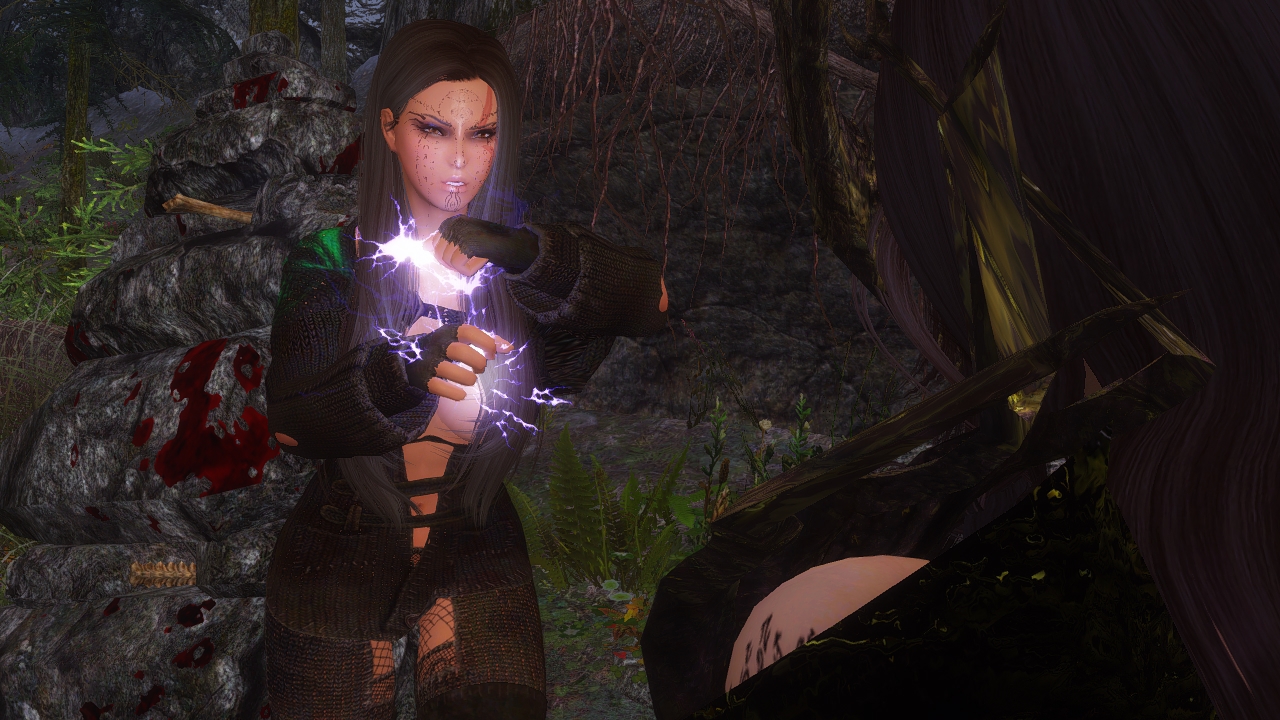 "Hubris? I thought someone with your knowledge would be above that… Regardless, Herma-Mora wants you mortal. I disagree, but he believes the accumulated knowledge of necromancy you possess to be… worthy of his indulgence. "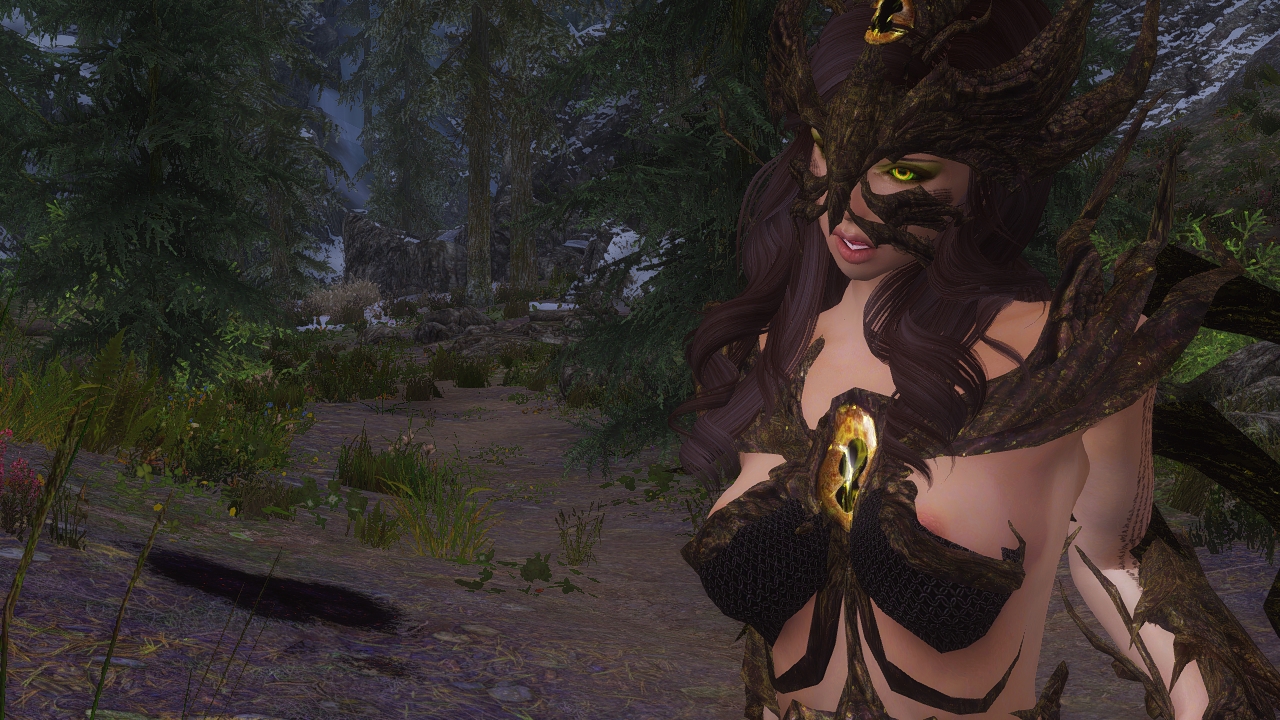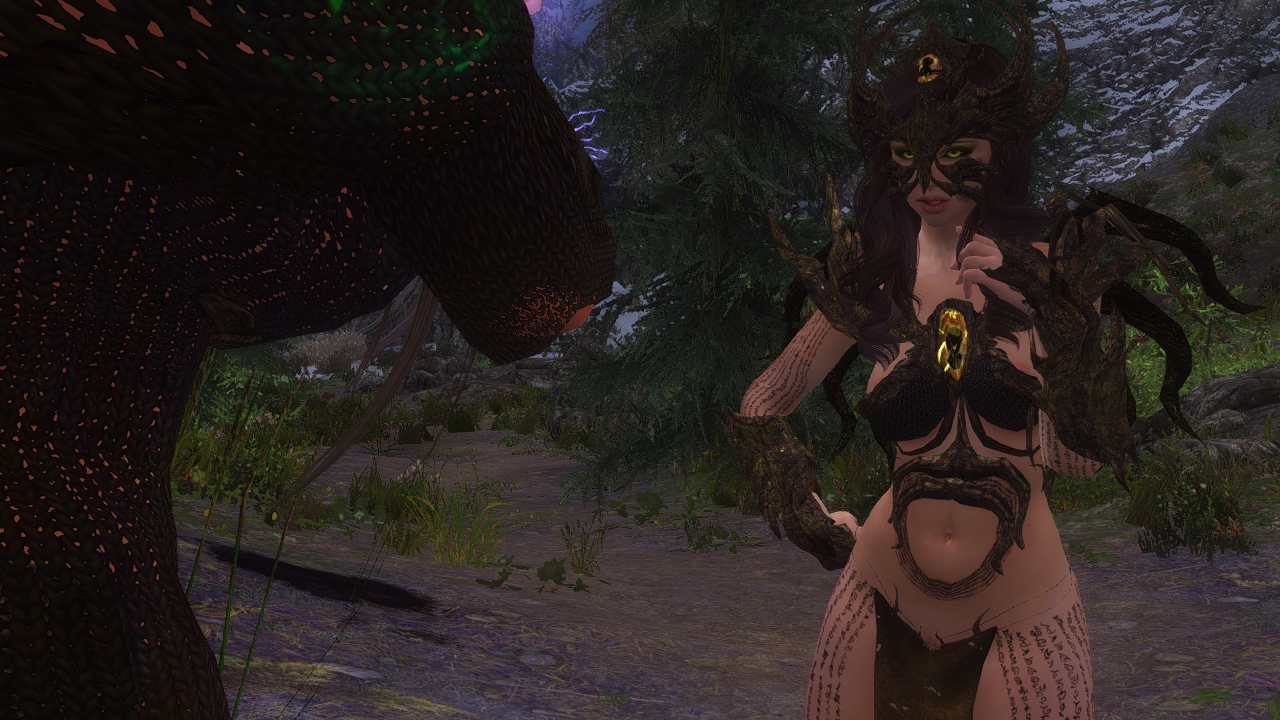 "And if I don't want to accept his offer?"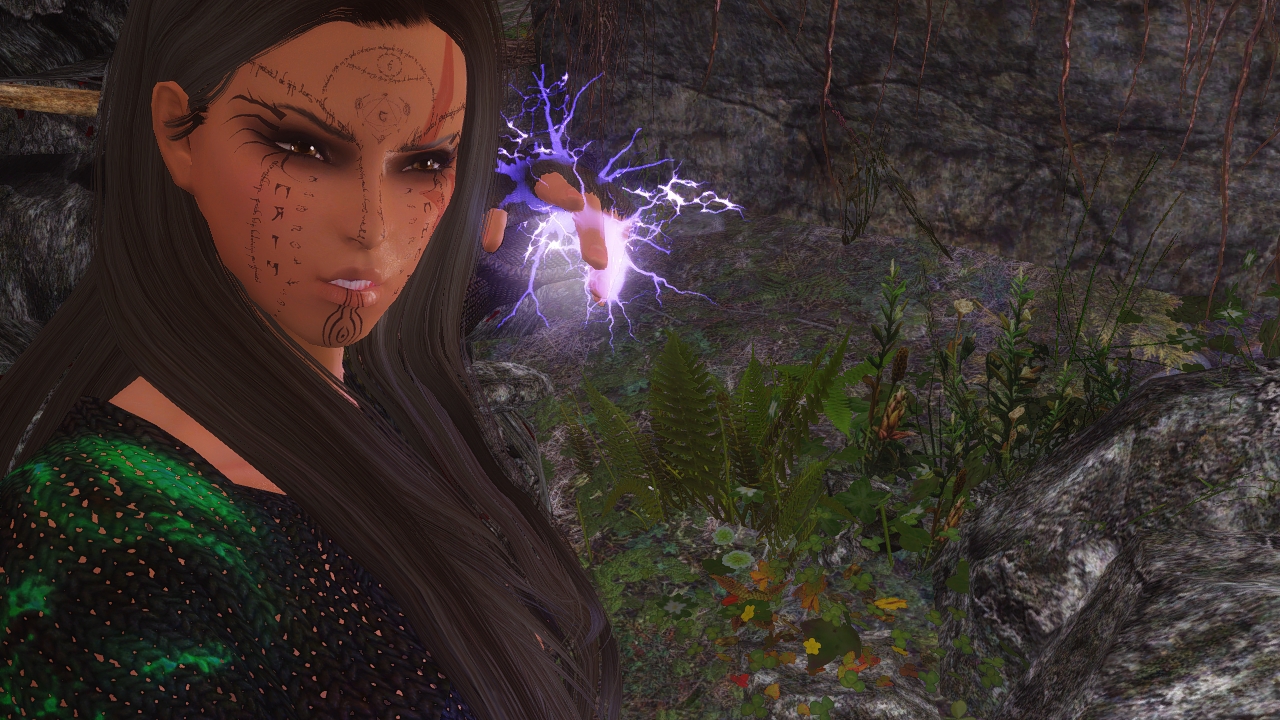 The woman spread her arms leaving herself vulnerable to attack. "Then make a move mortal."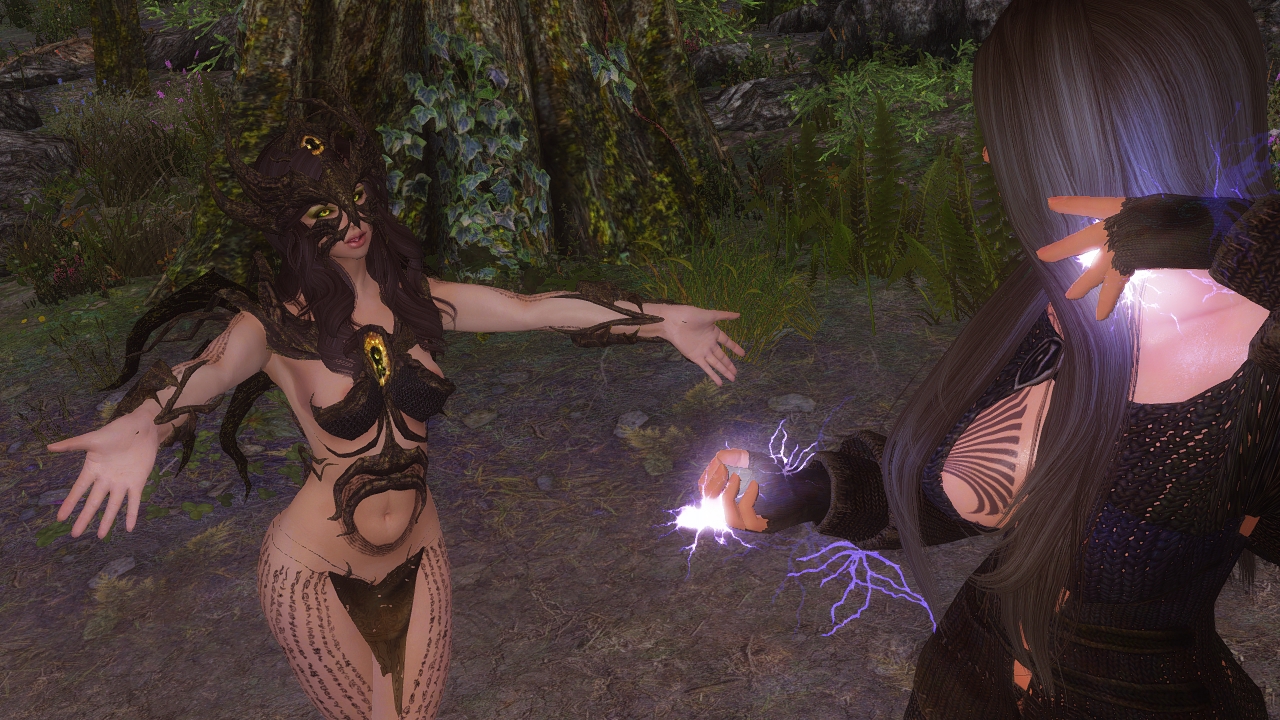 The look in her eyes was almost hypnotic. Seeing that the Halfling was hesitating, Mora's Champion followed with, "That is, if you can."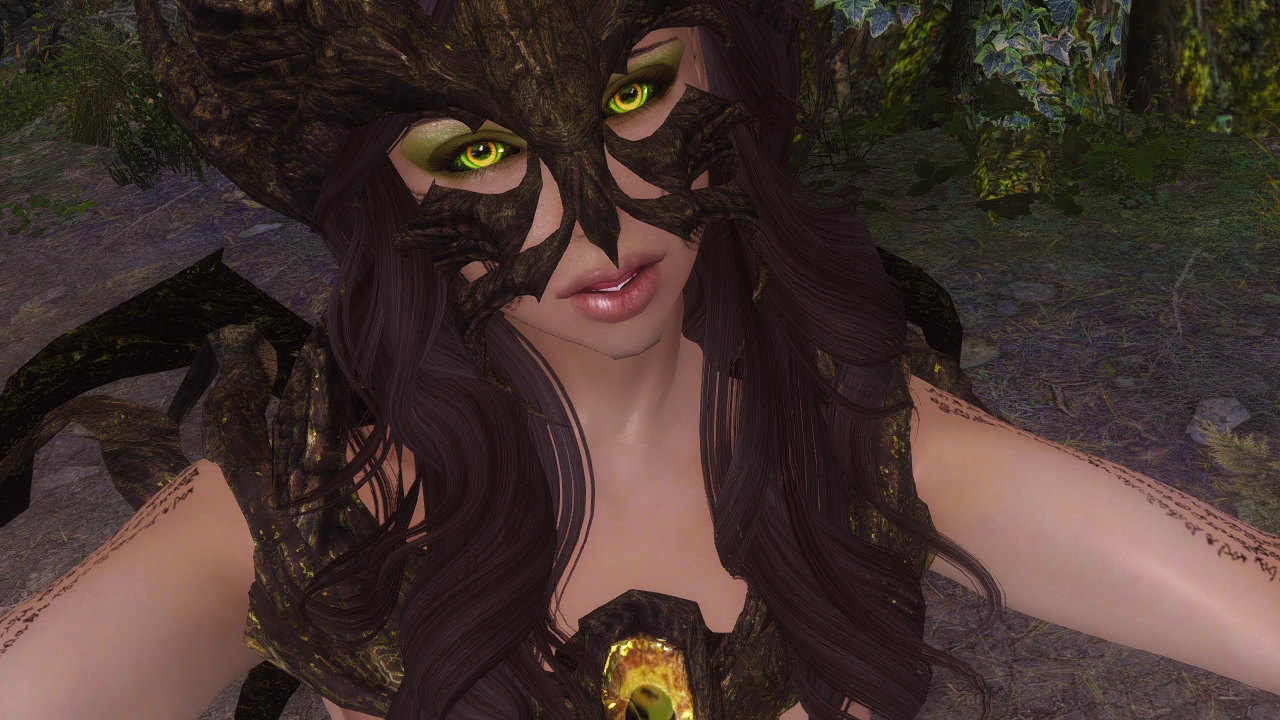 (How should I attack? Should I feint? Use a summon? My sword? Overpower her with magic?) More and more thoughts plagued her and Nyleine was left paralyzed by her own mind.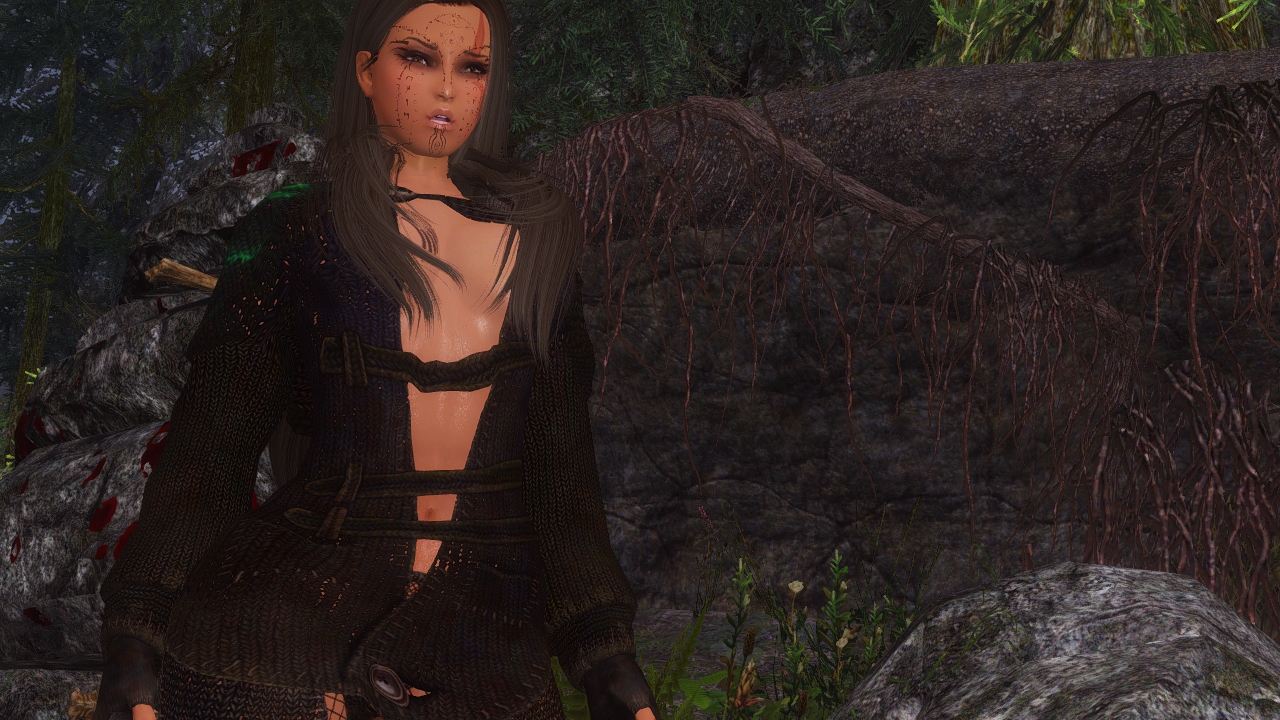 "This isn't like me," she said. She slapped herself in the face and finally felt ready. (Mora huh?) "His hunger for knowledge is unending… Mine has just begun!"


She shot a bolt of lightning at the woman that went wide, a warning shot. However, when Mora's underling flashed a smile at the miss, Nyleine's anger boiled over.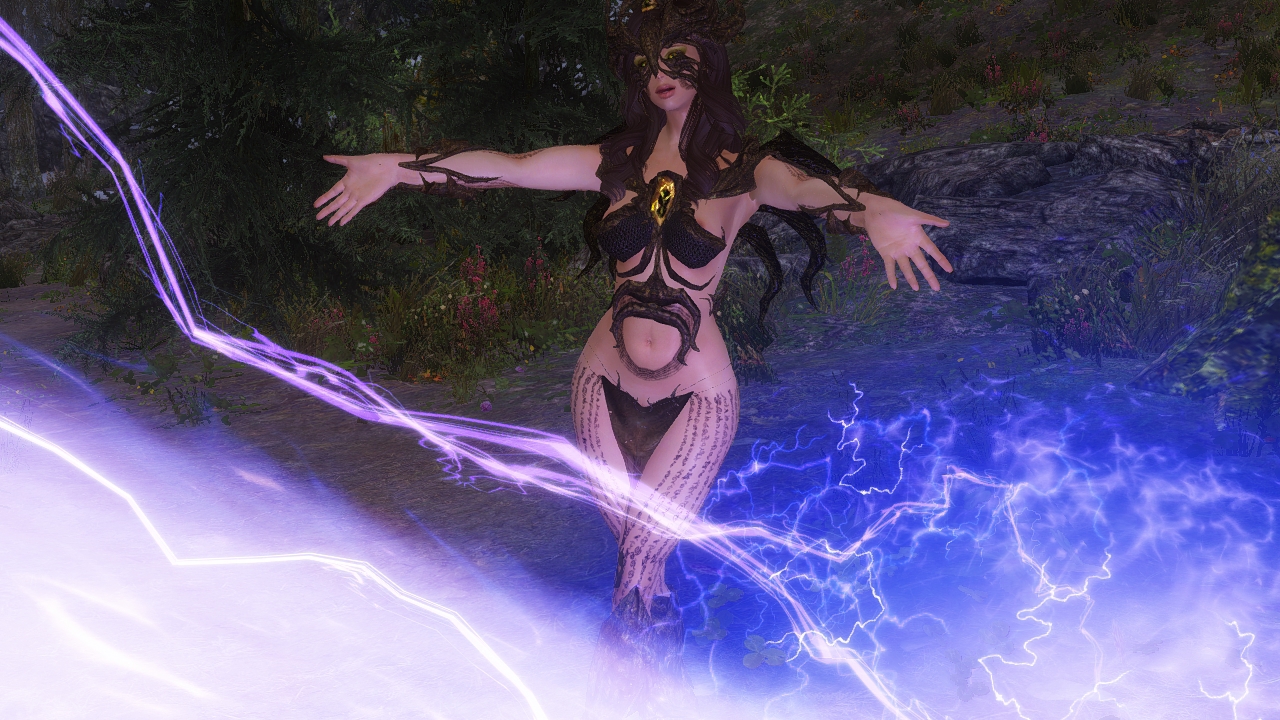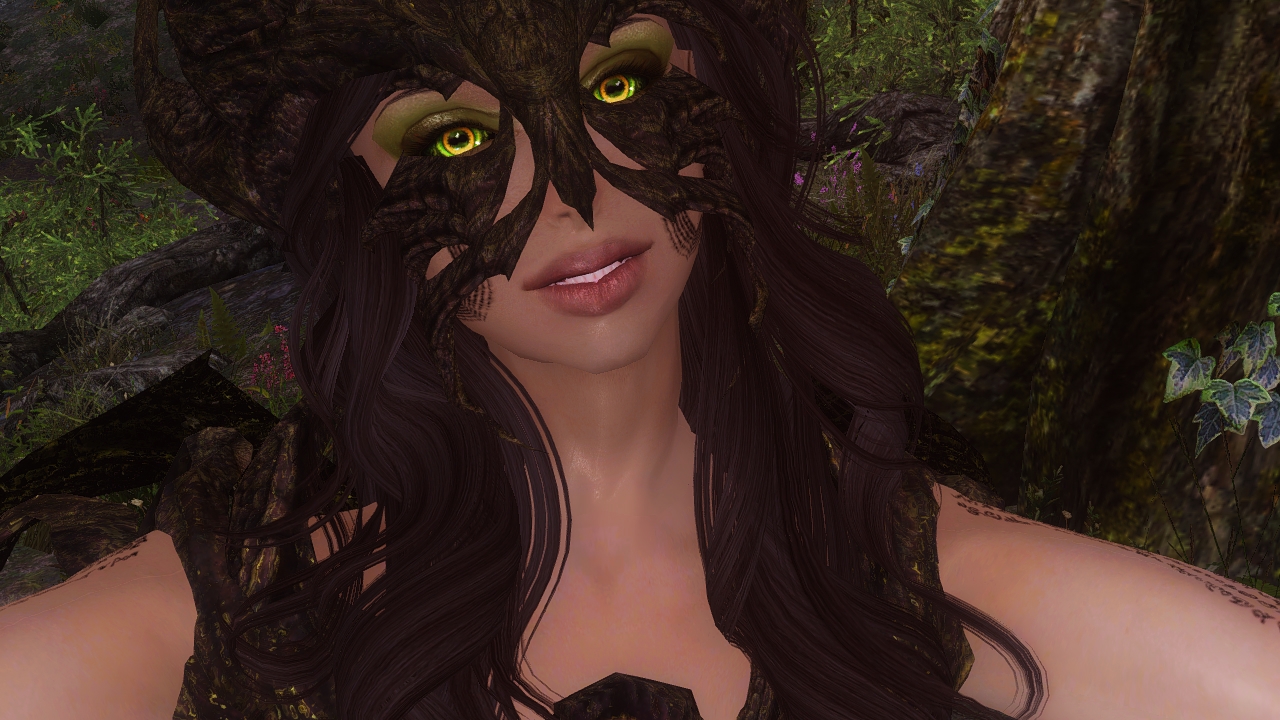 Soon the two women were waged in a fierce battle. Spells and summons were being flung back and forth between them as Orphan Rock became a battlefield once more.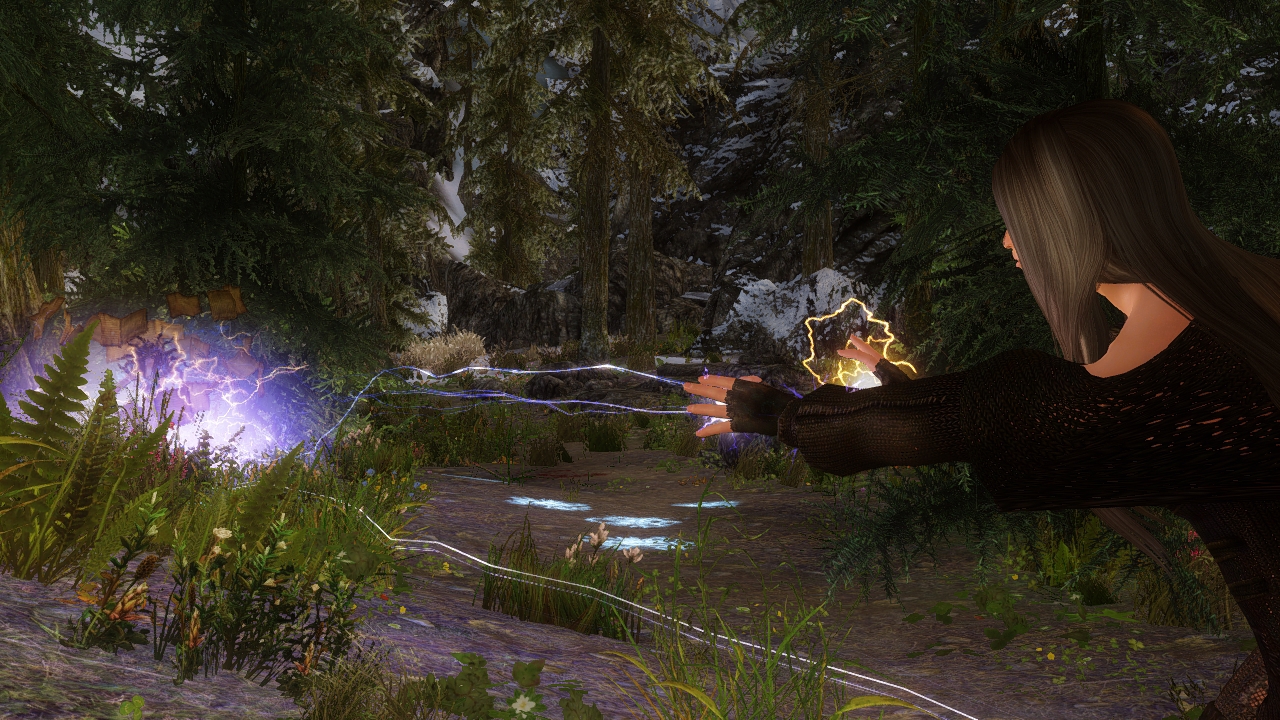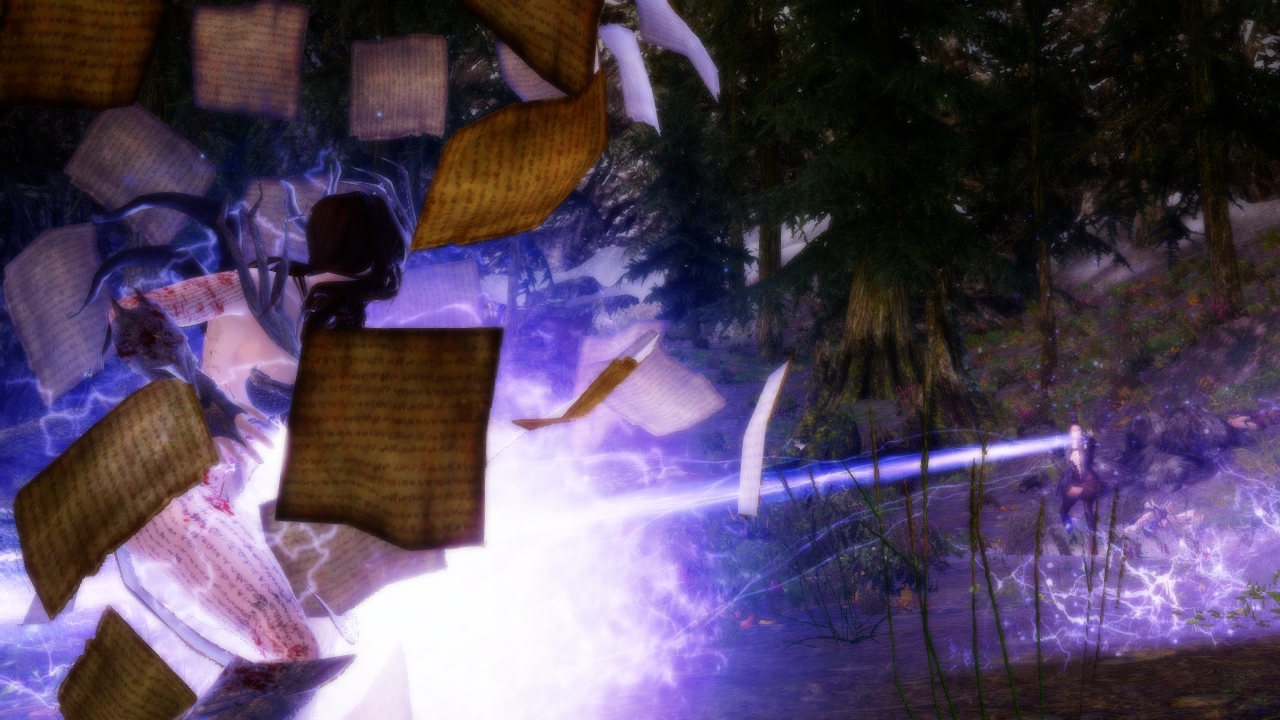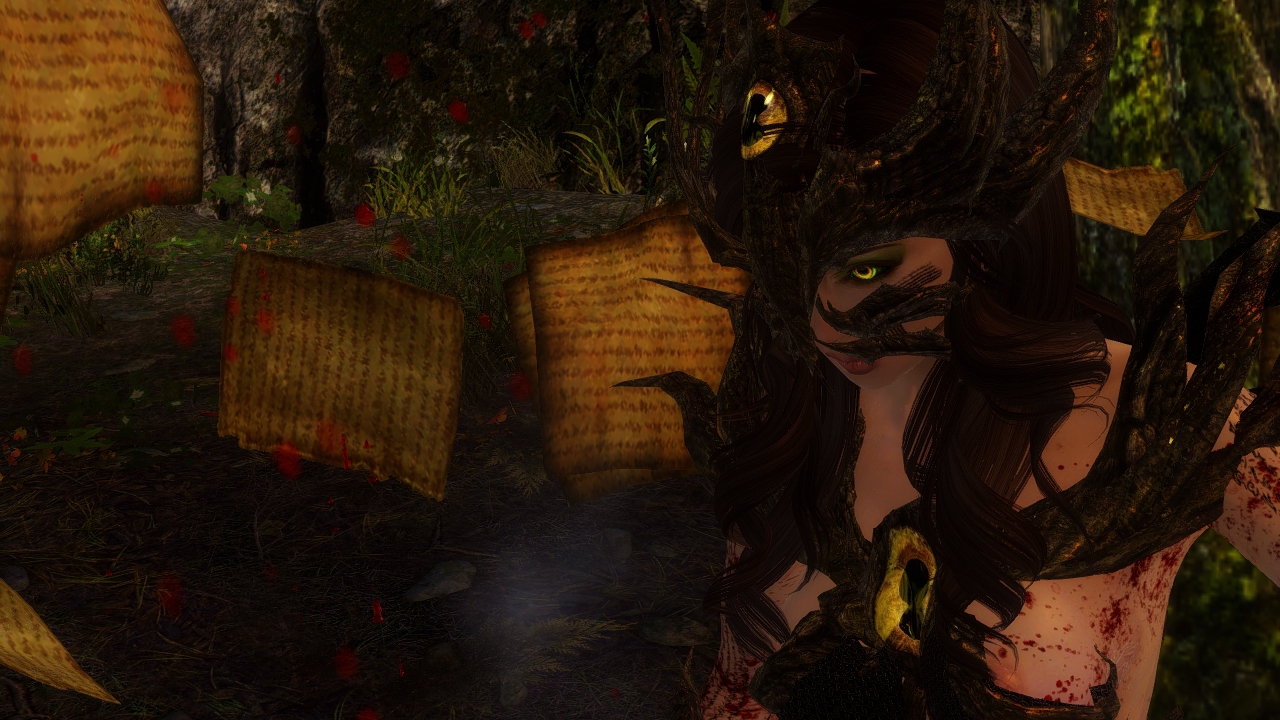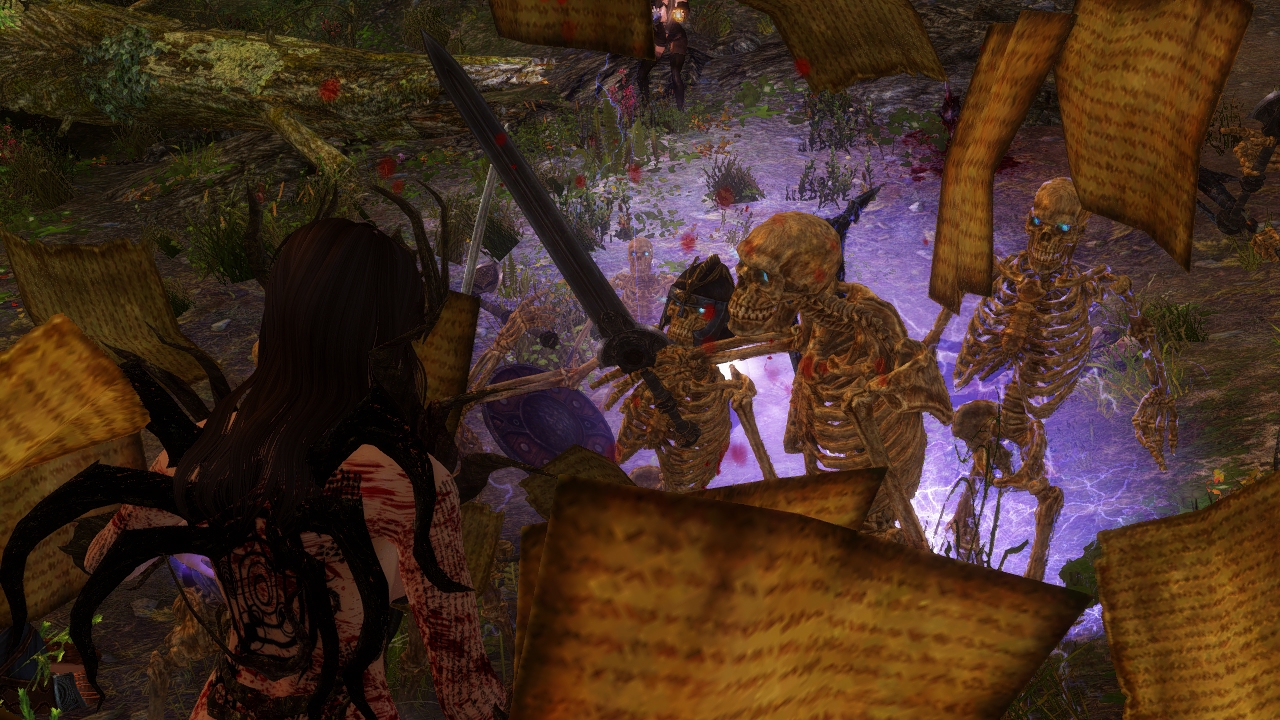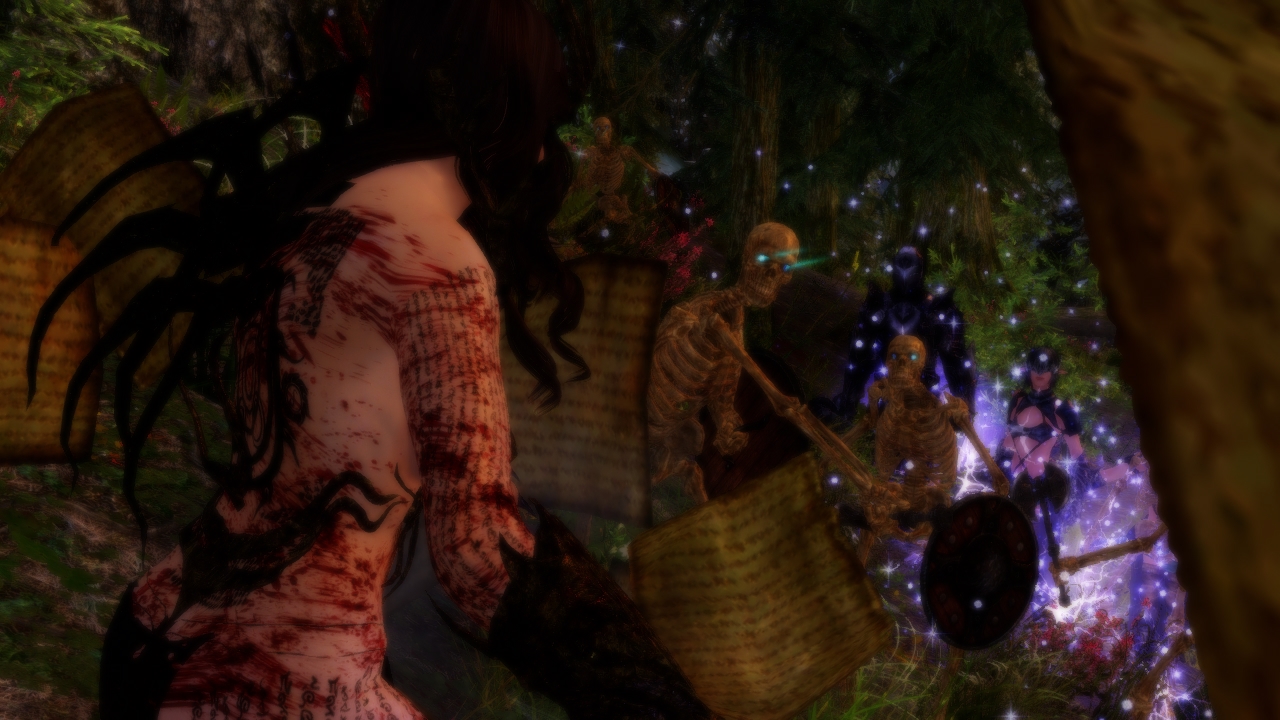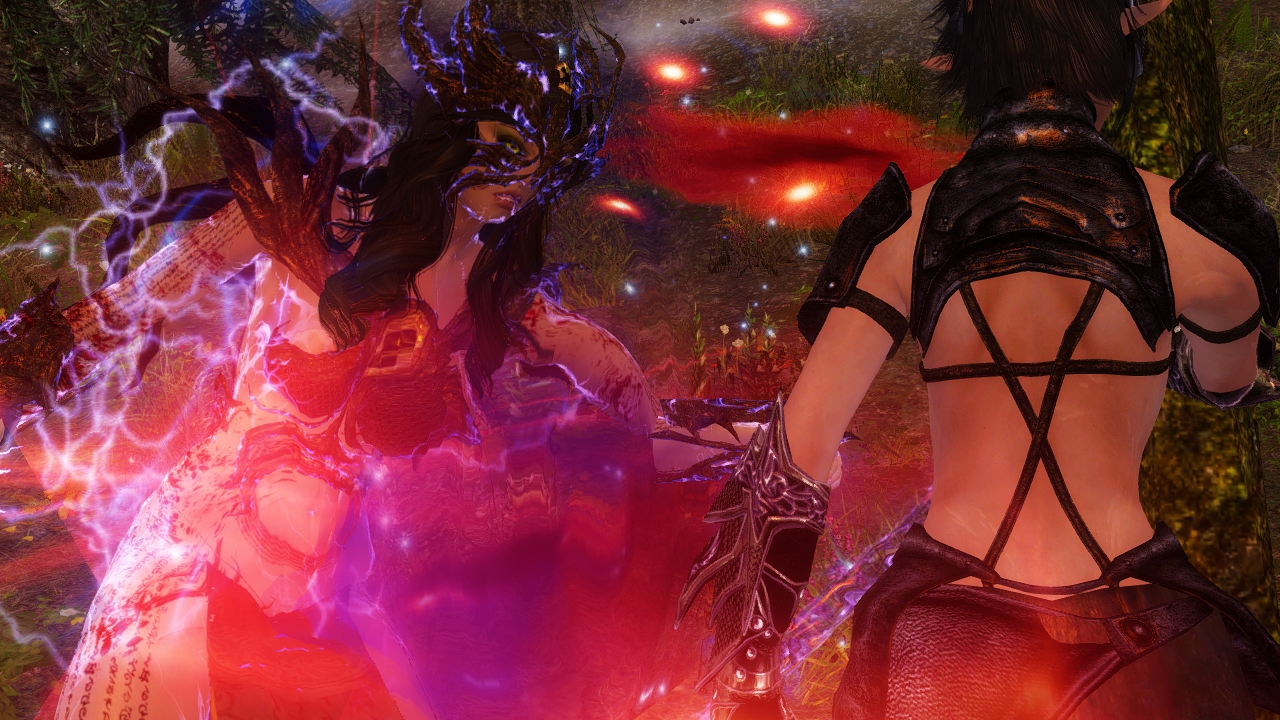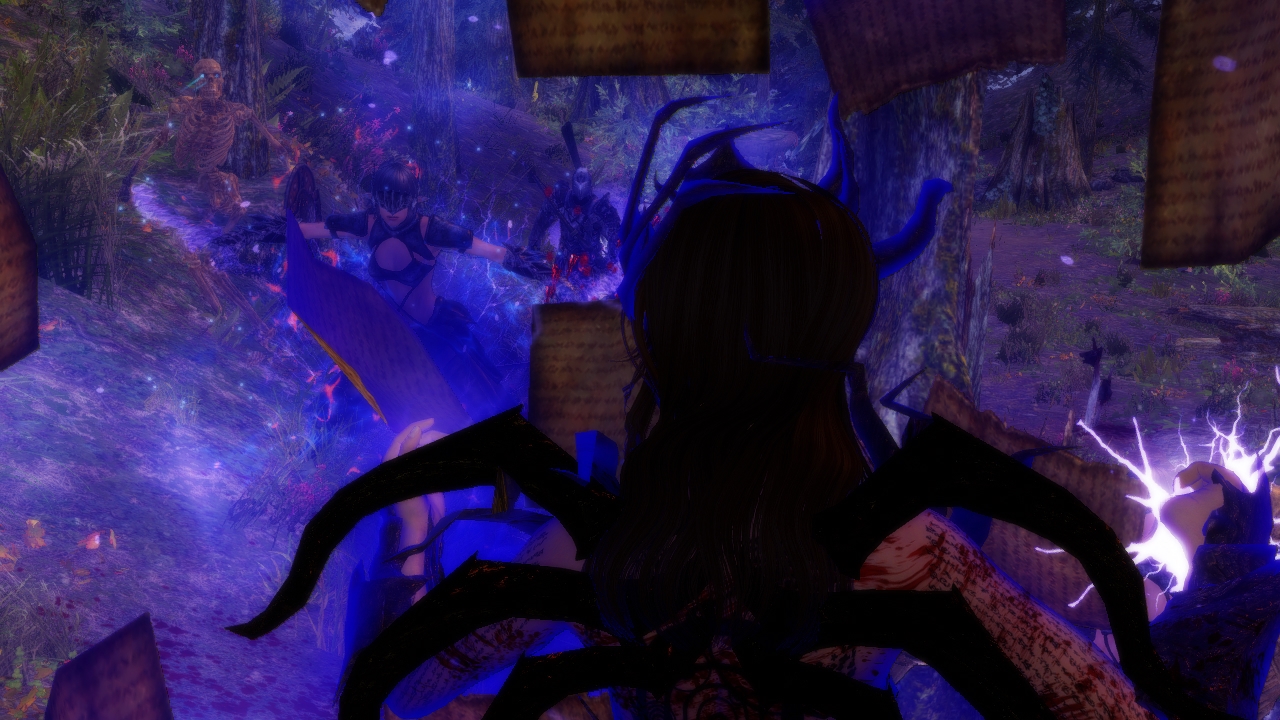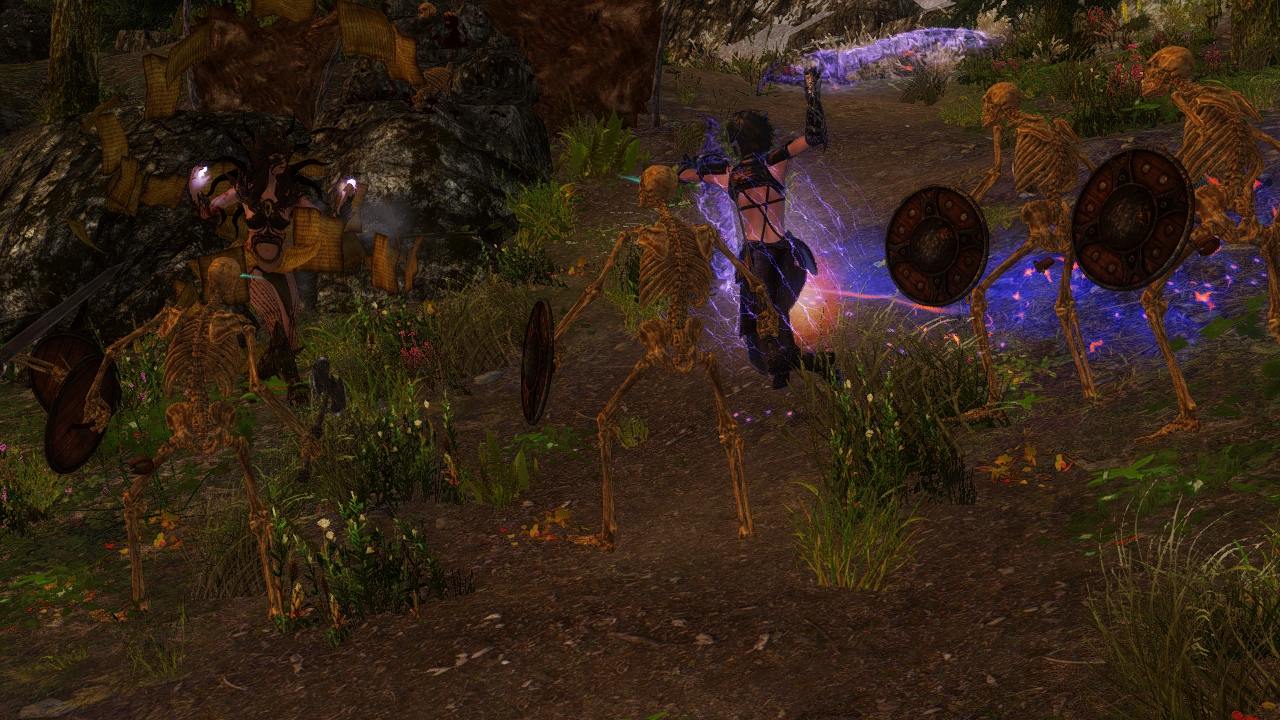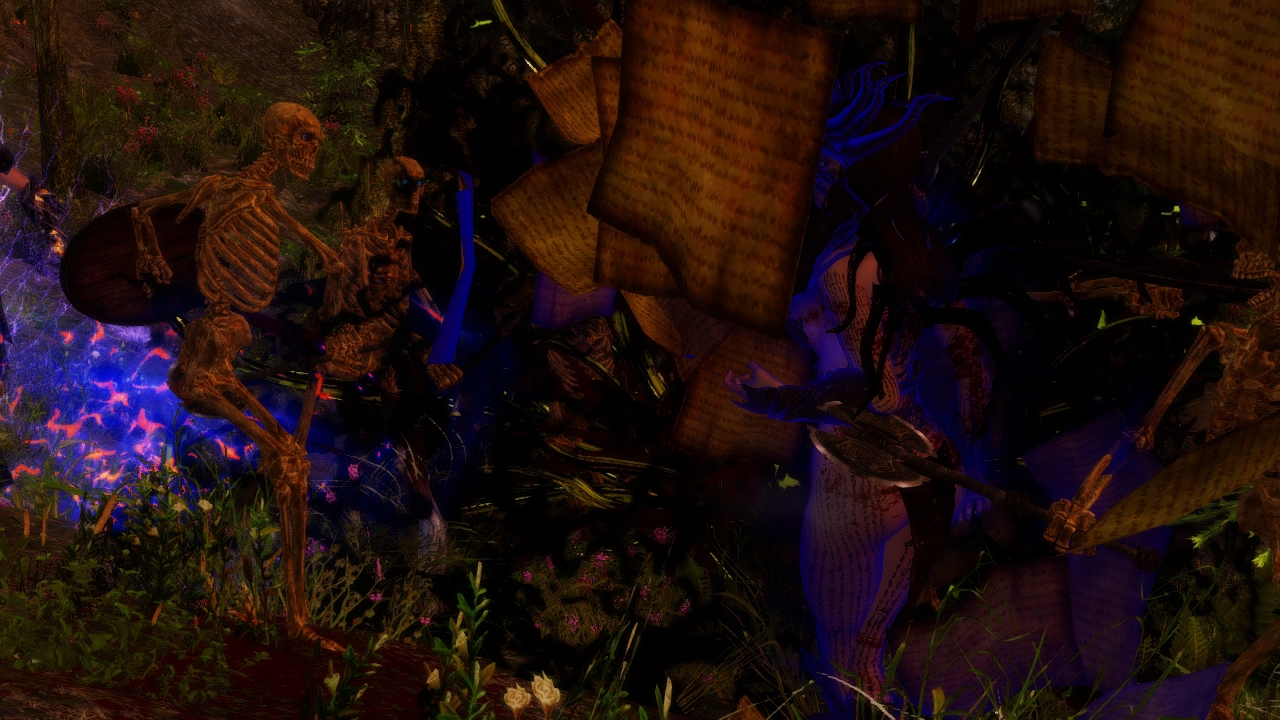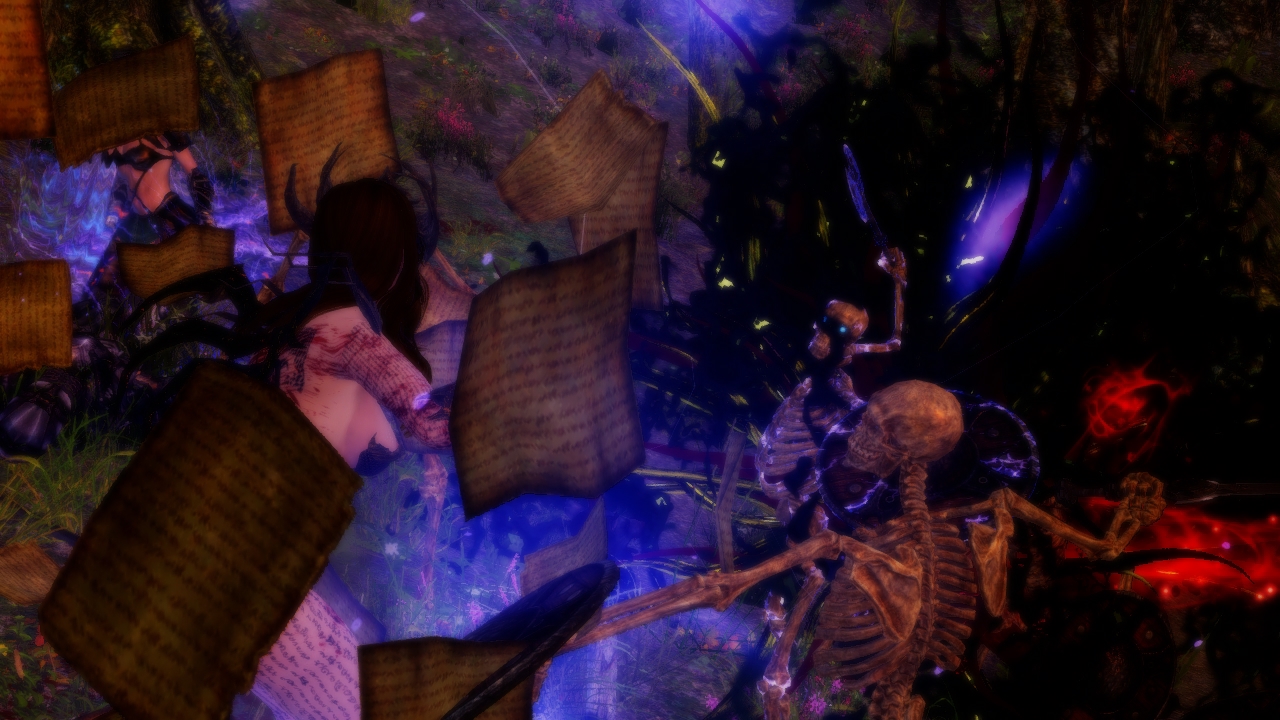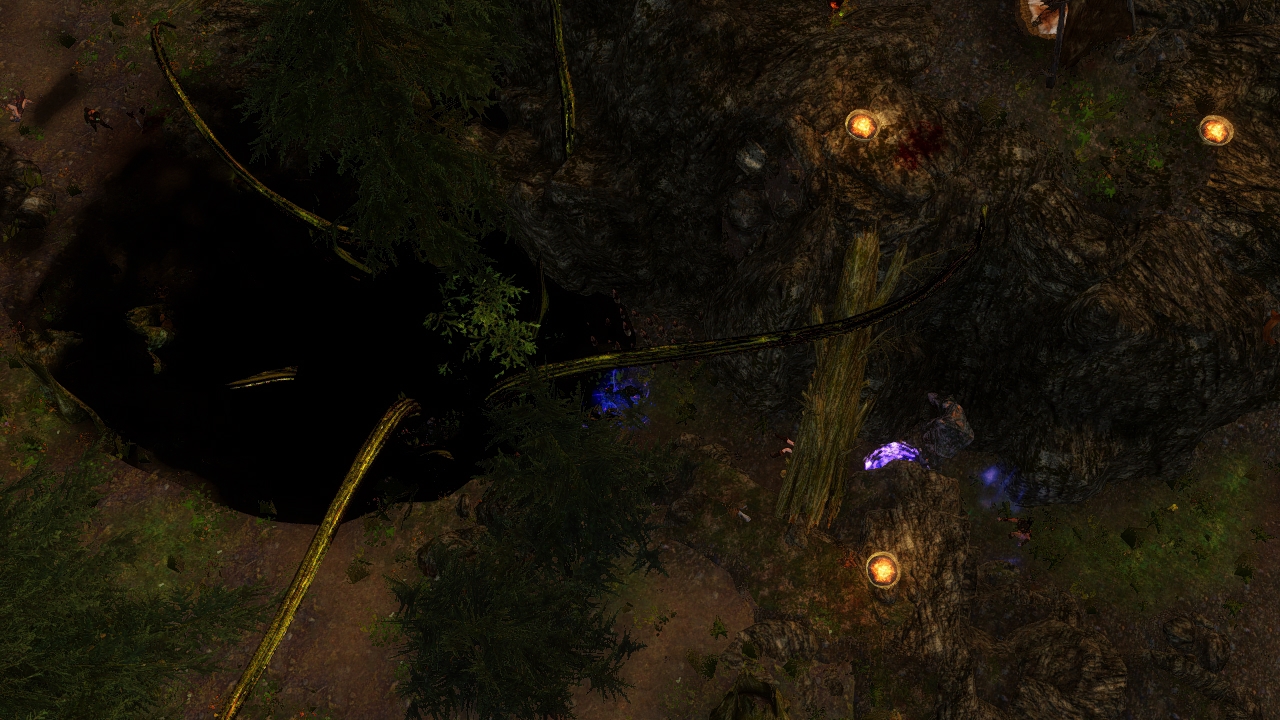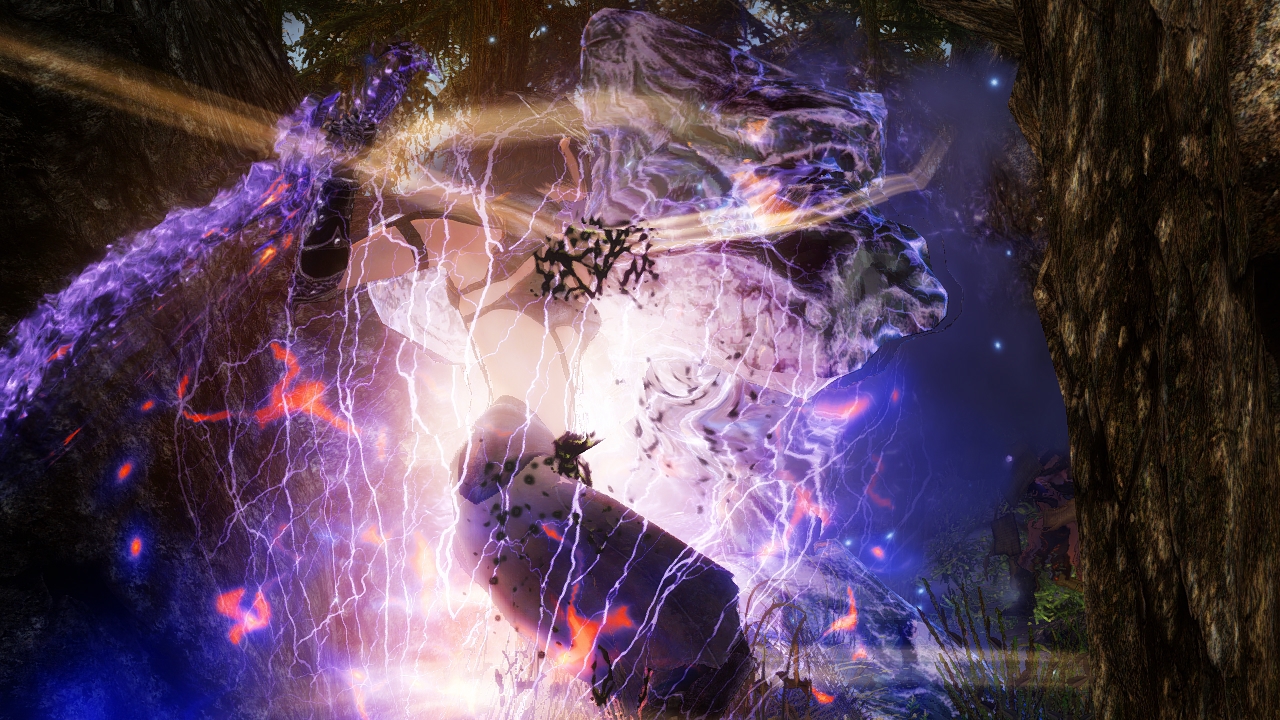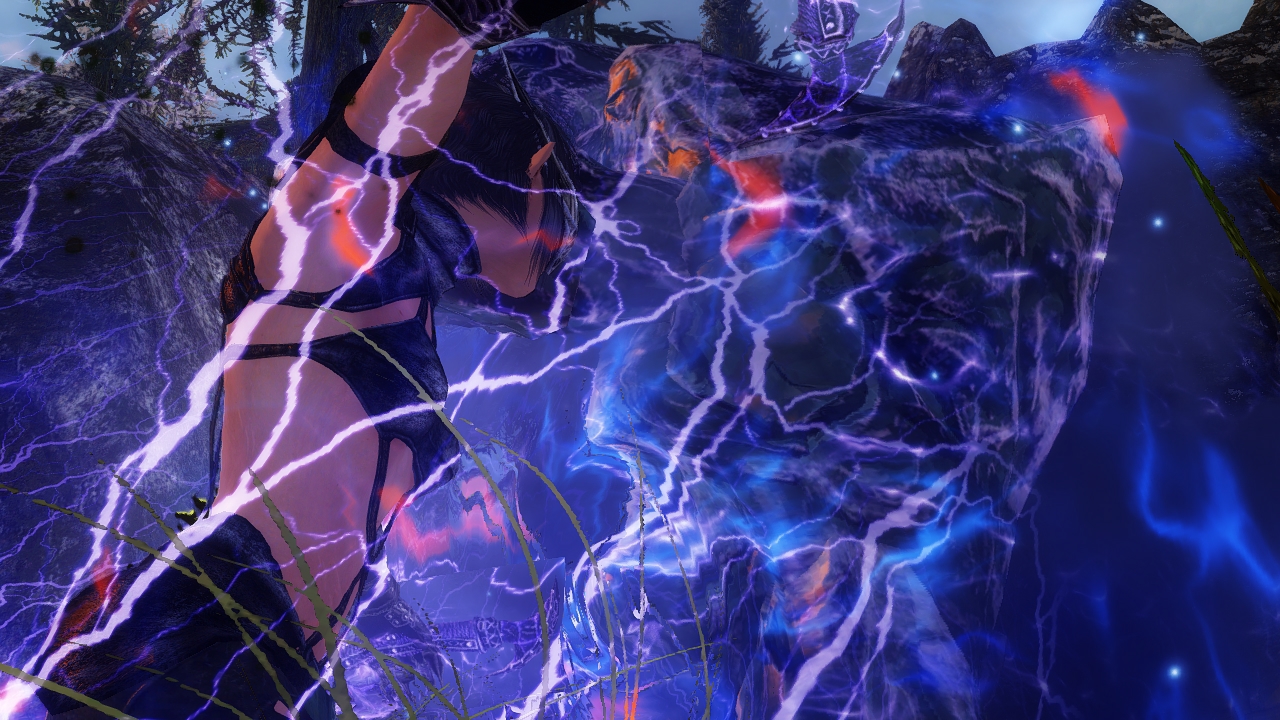 At times Nyleine felt she had the upper hand, at others Mora's minion seemed to be in control. This back and forth went on for a while until a rogue spell hit Mora's minion flinging her across Orphan Rock.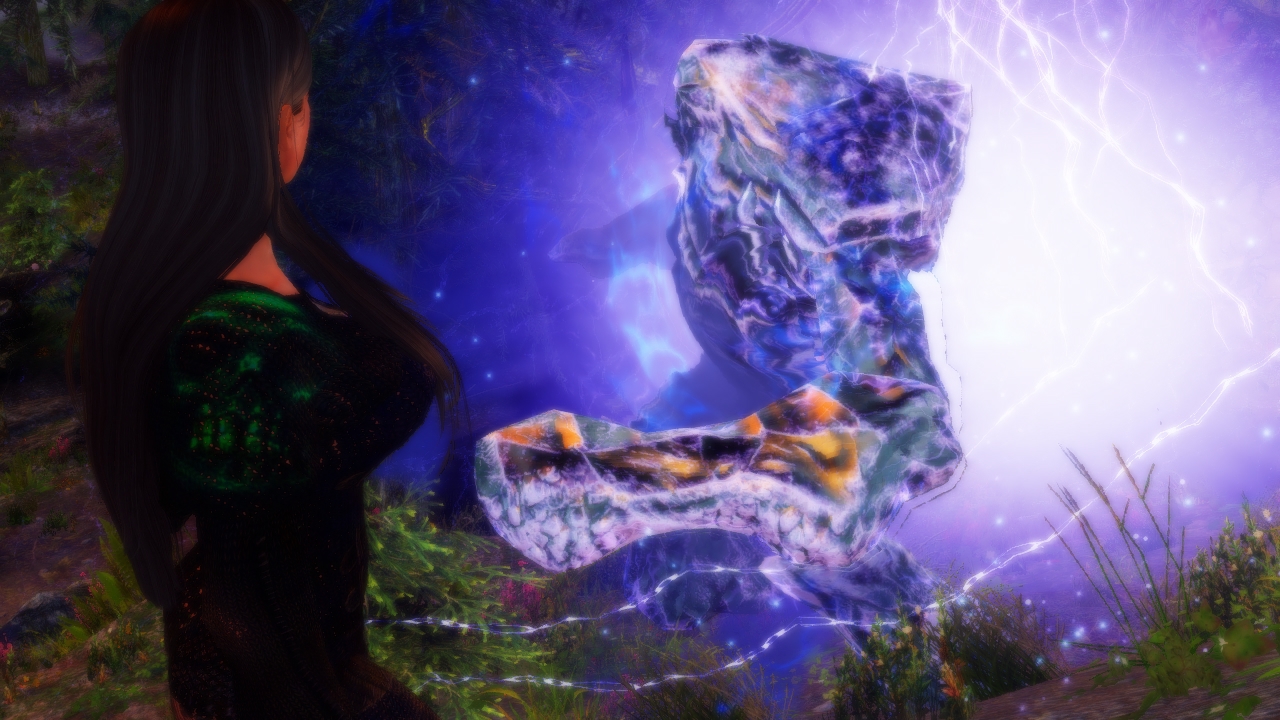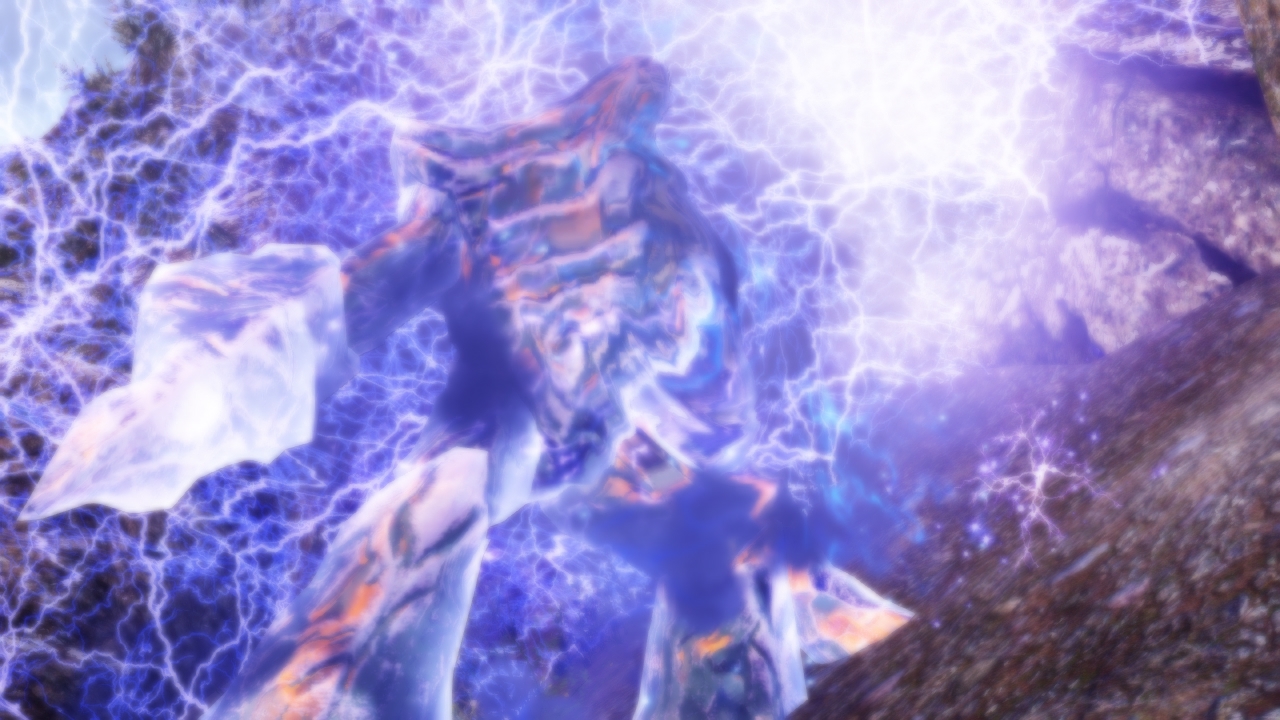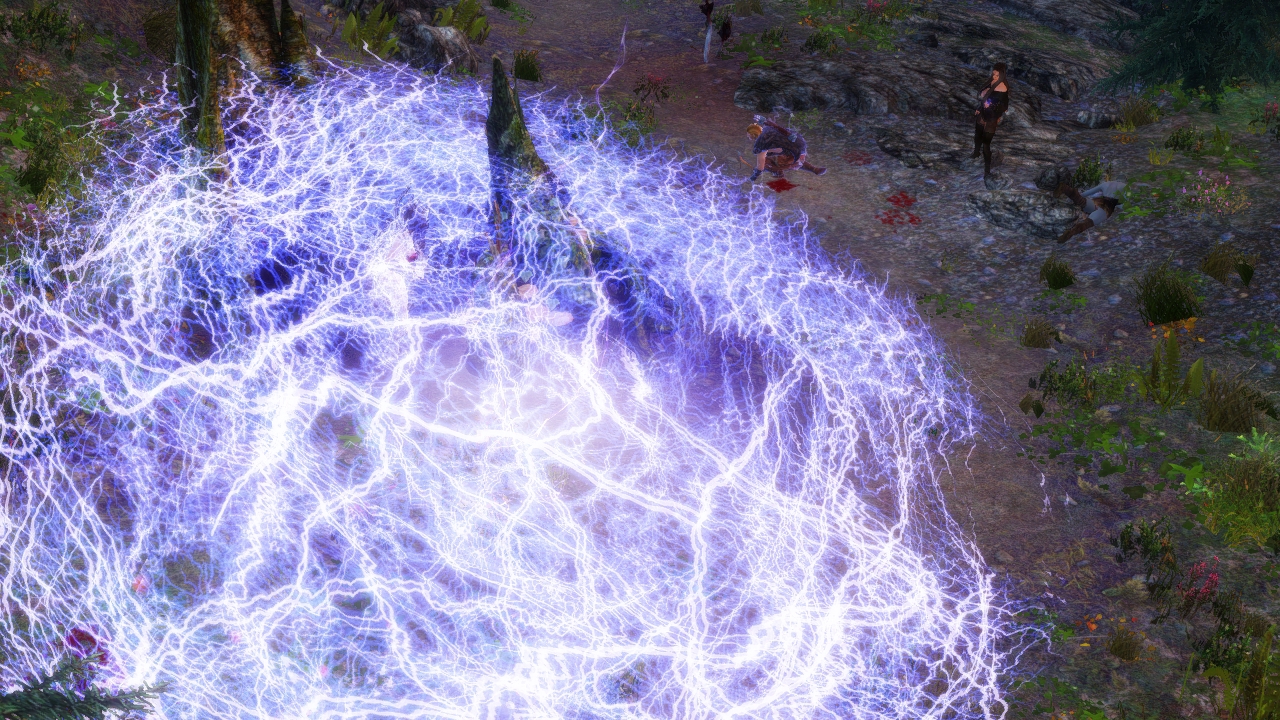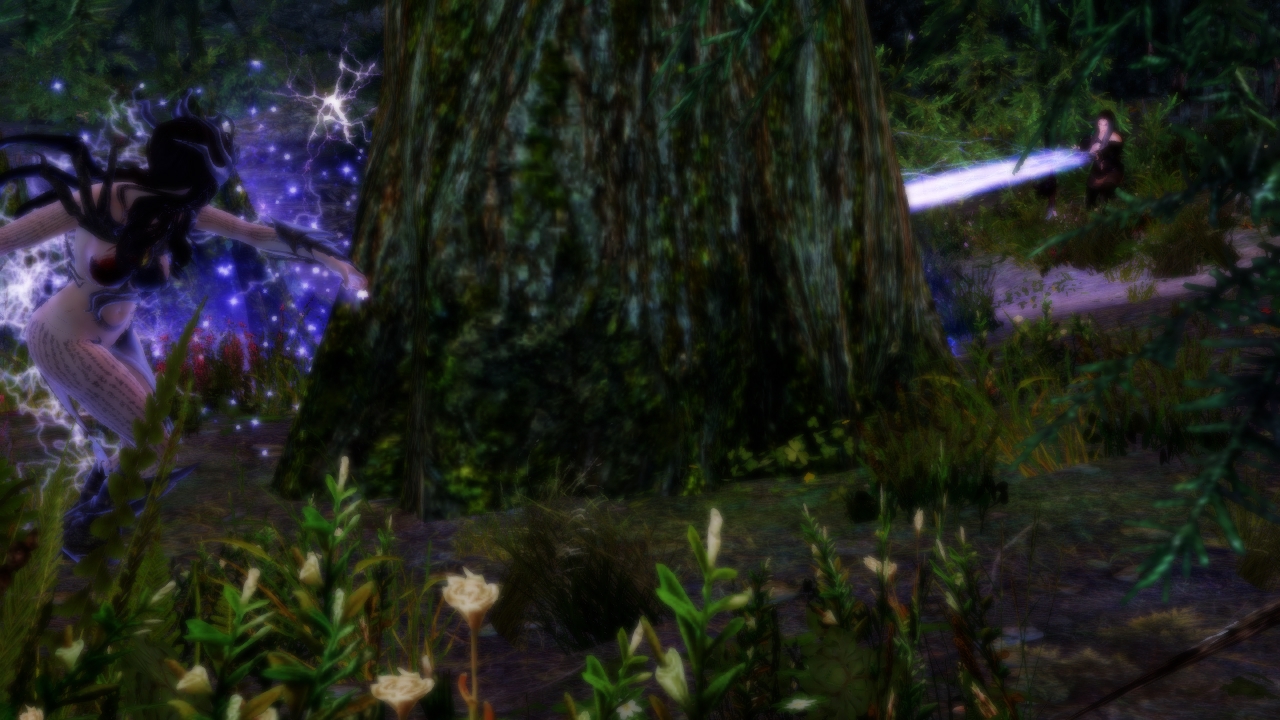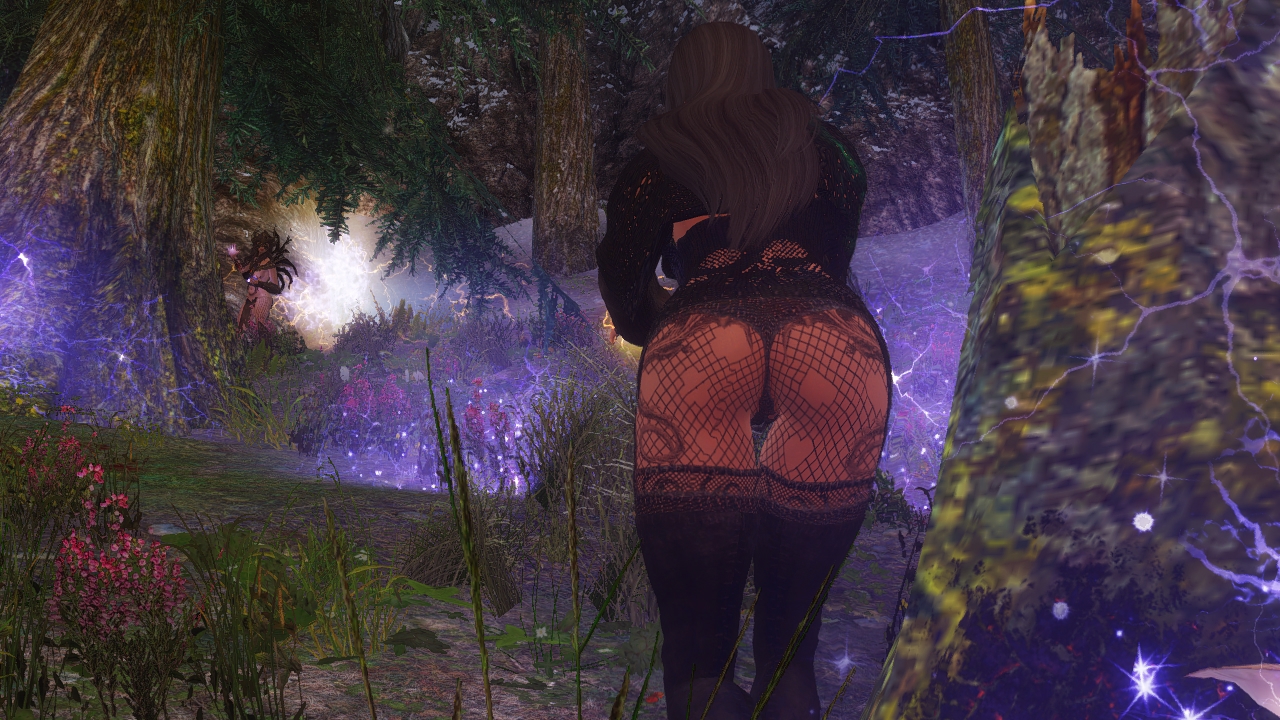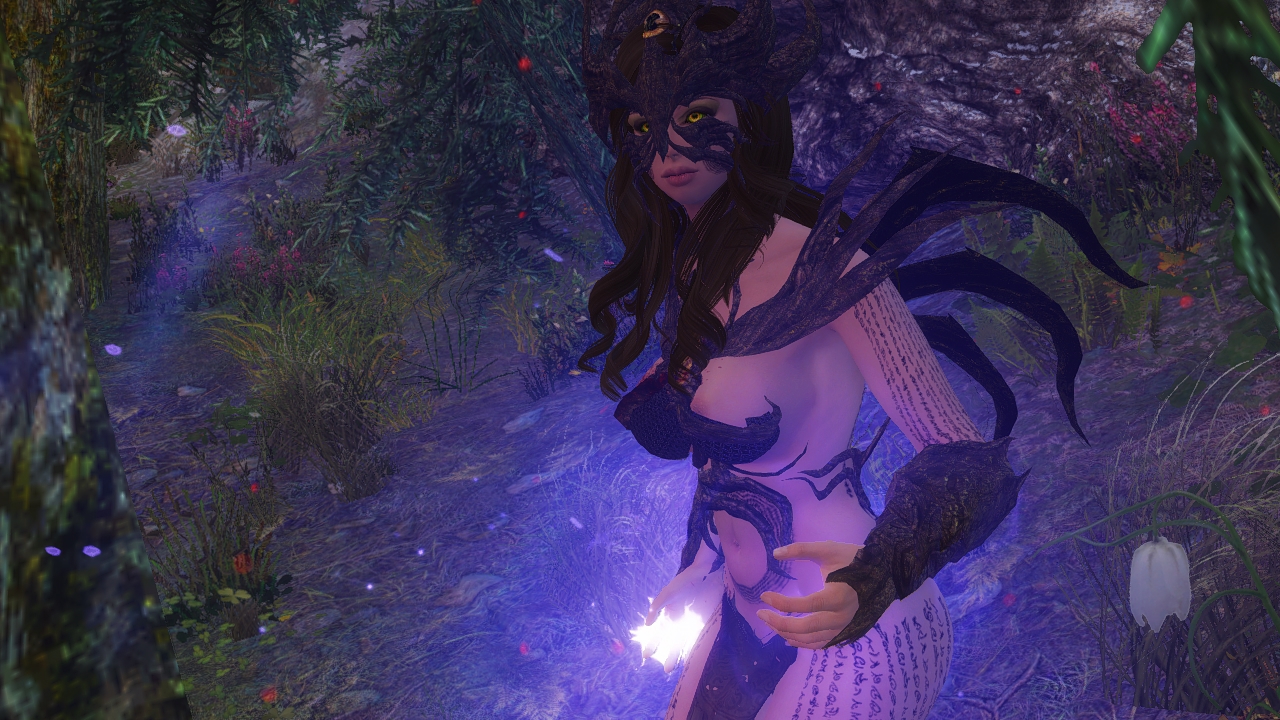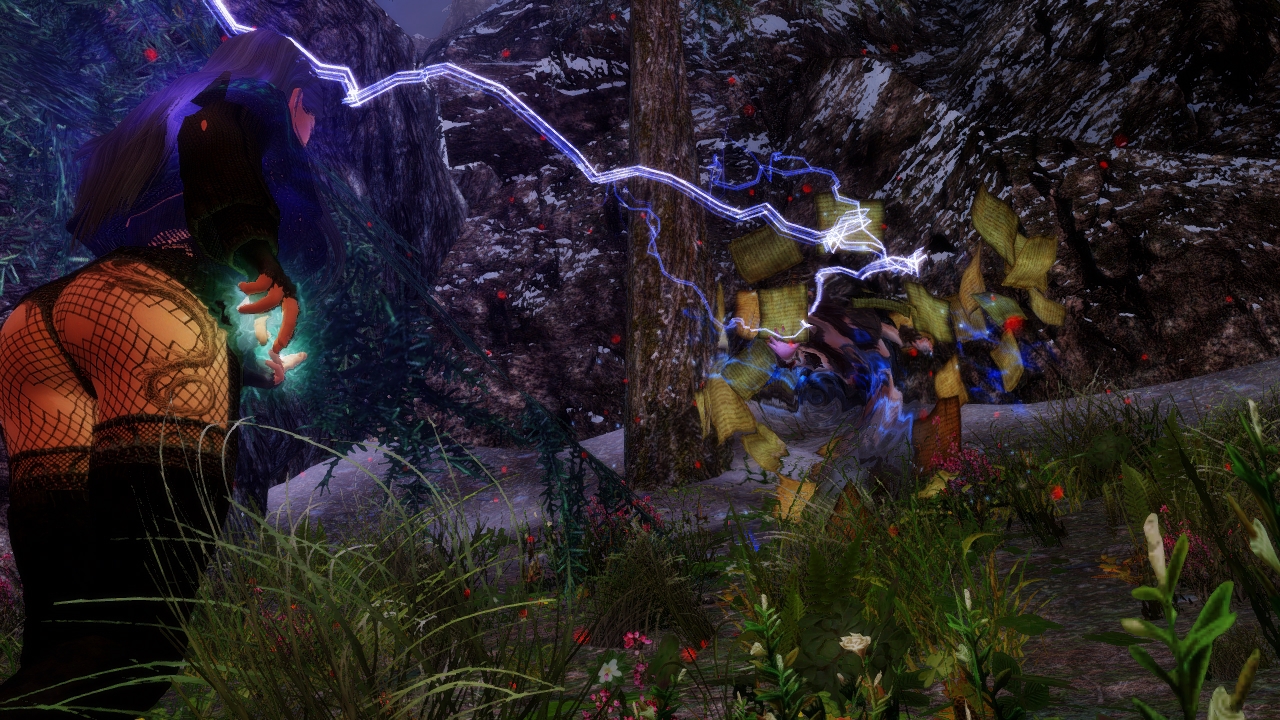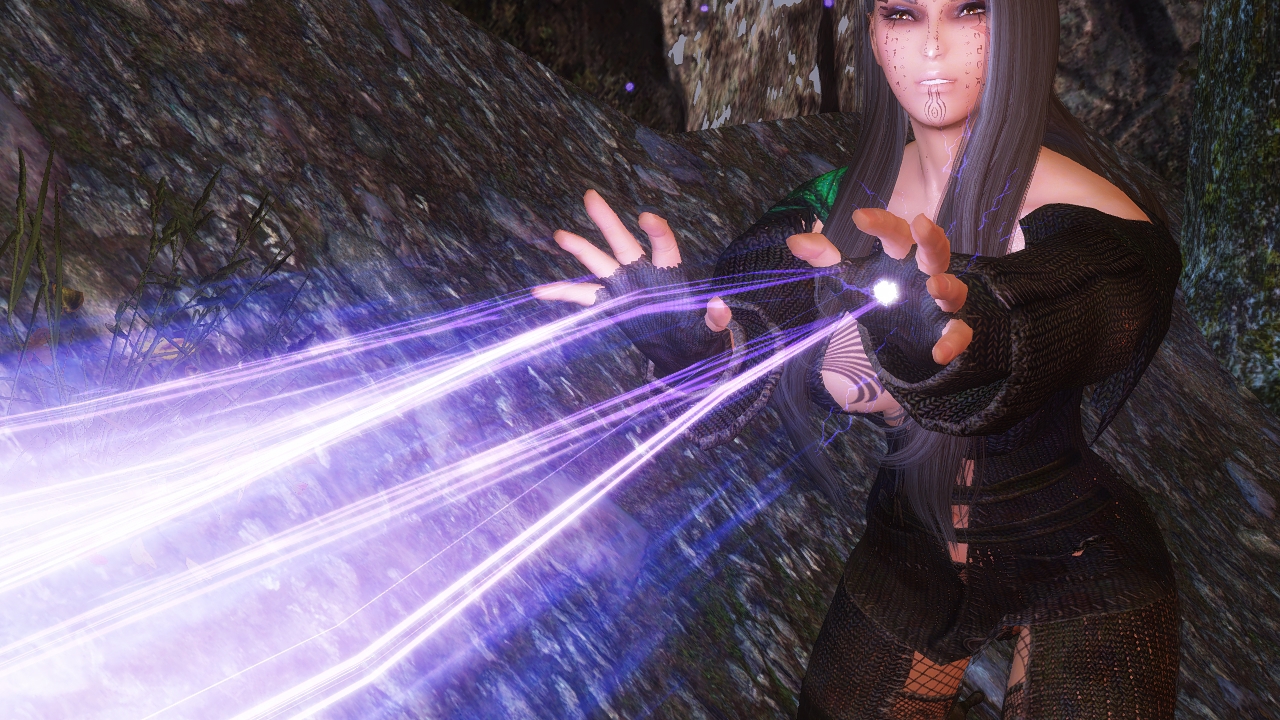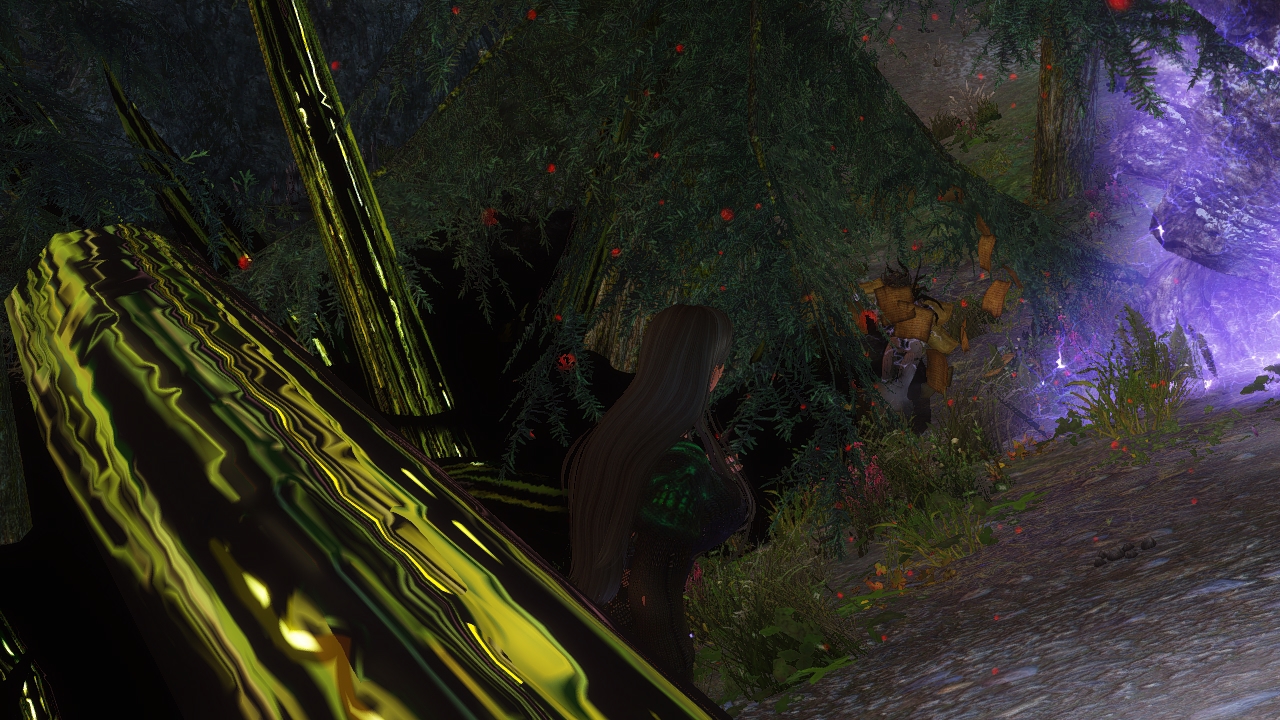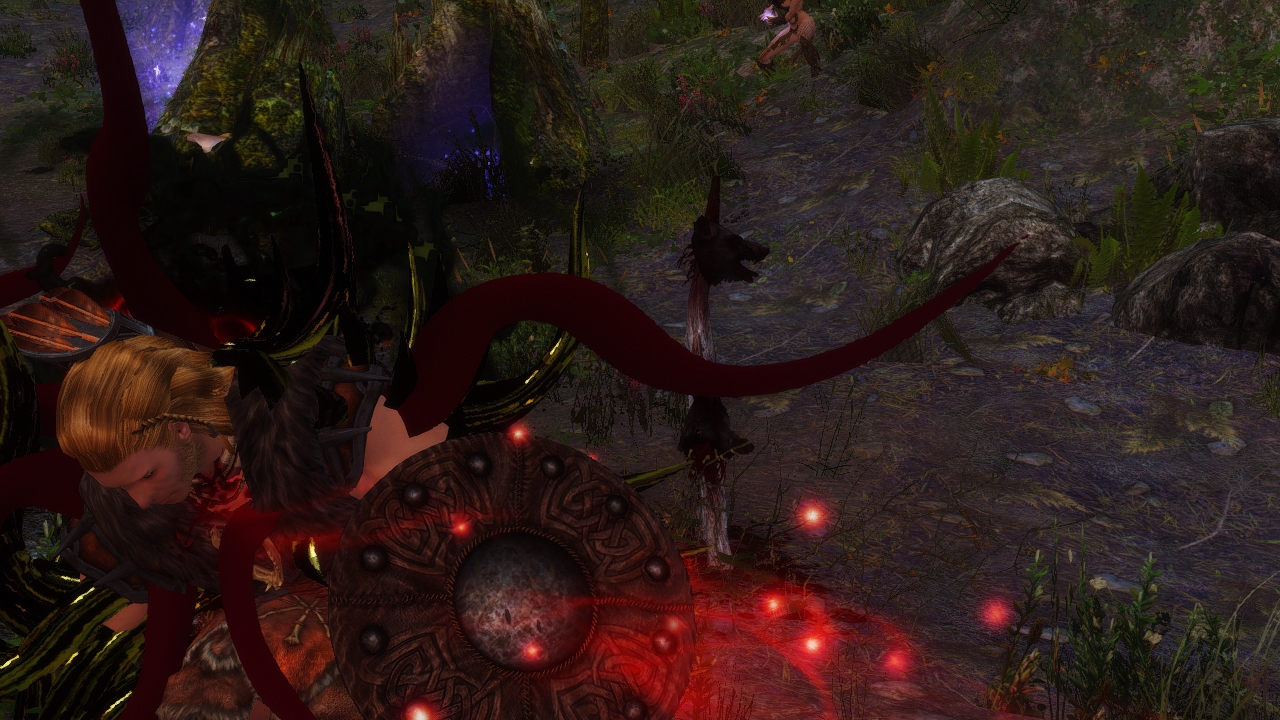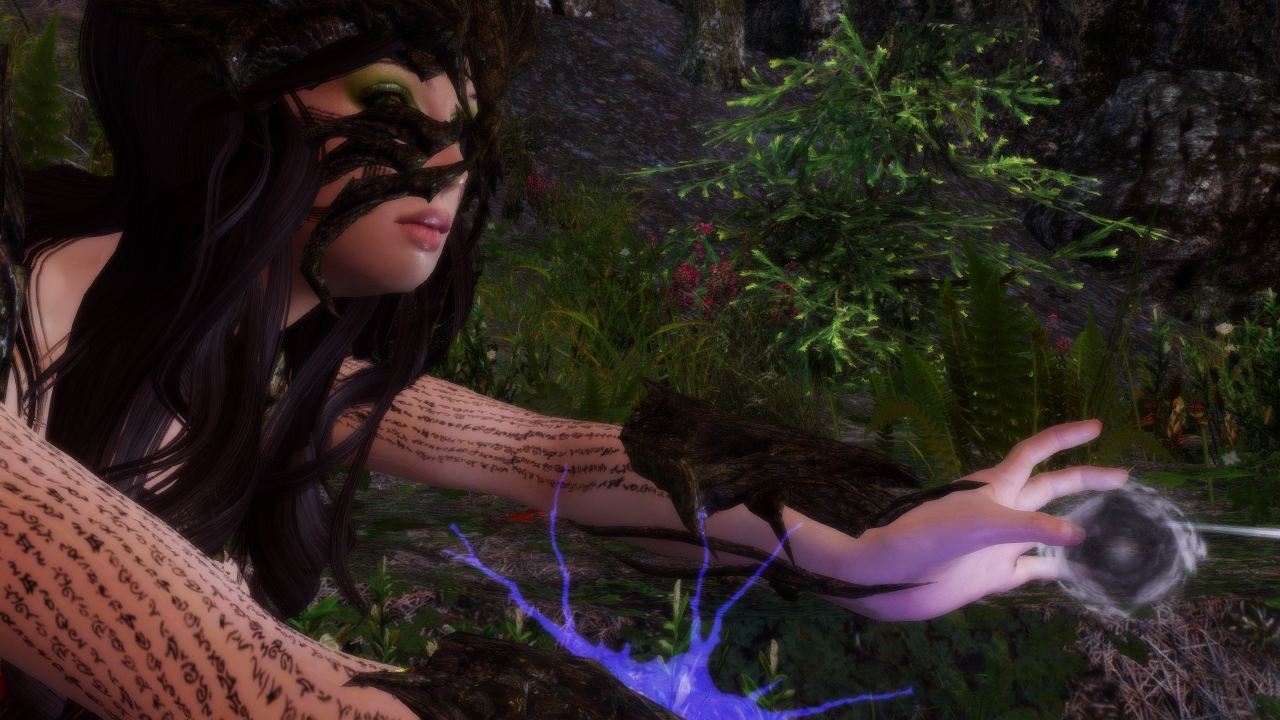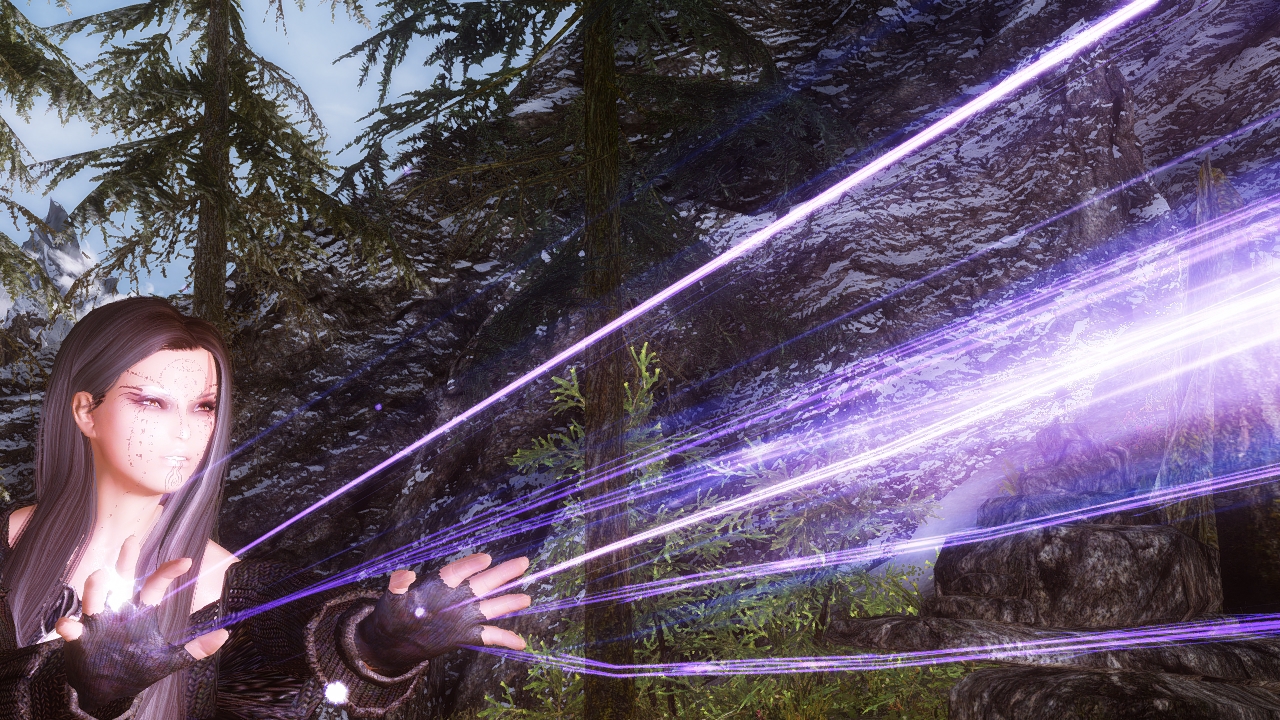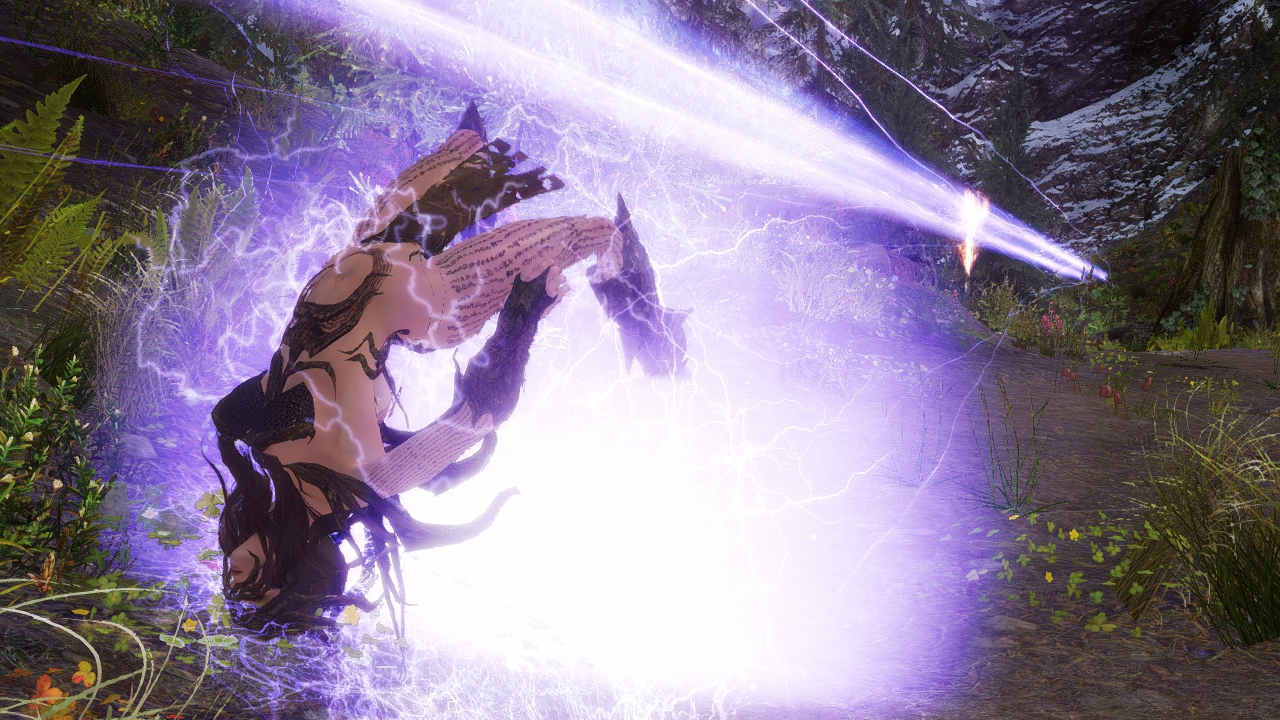 Breathing heavily, Nyleine gripped her arm in pain. (So that's a Champion's power…) She walked over towards Mora's minion and stood over her. "So… is that it?"


"You were… never… this strong before…" Mora's minion said as she tried to catch her breath. She now sounded more like a normal exhausted girl than a powerful champion.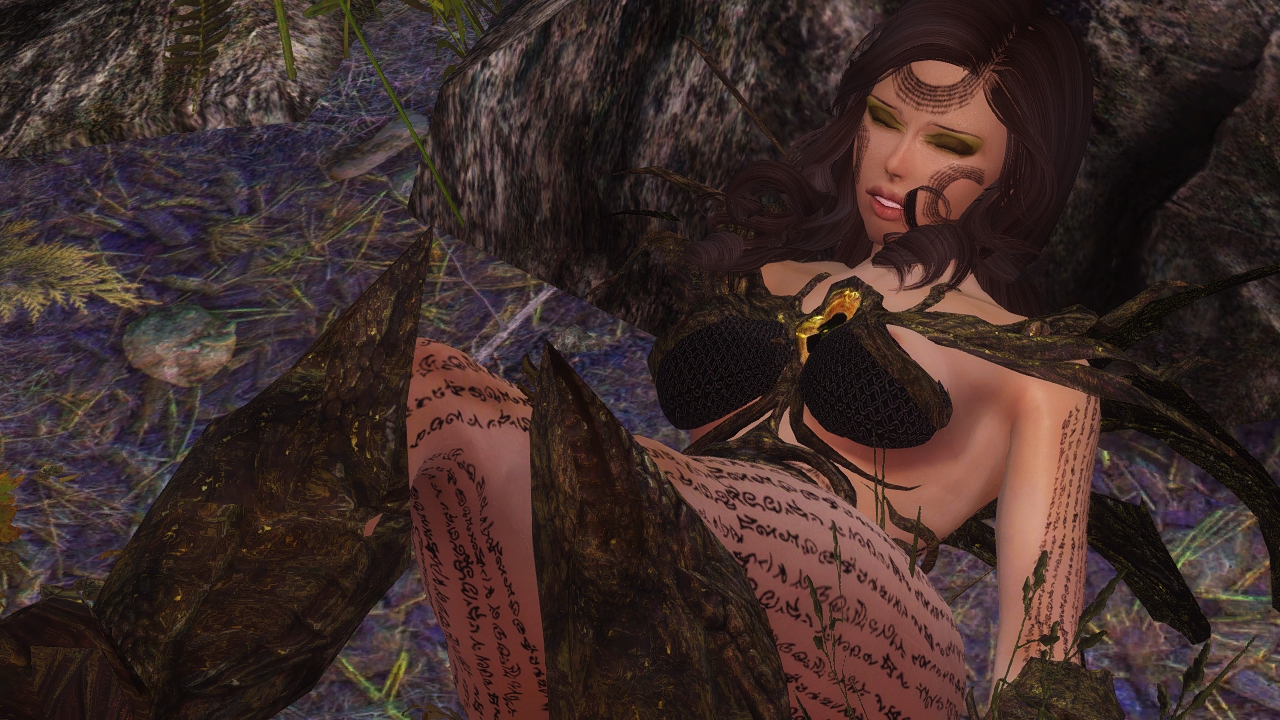 Nyleine blinked. "Before?" Although she didn't want to believe it, Nega's 'Cycle theory' seemed to be getting more and more plausible. These events, her words… "Before you say?"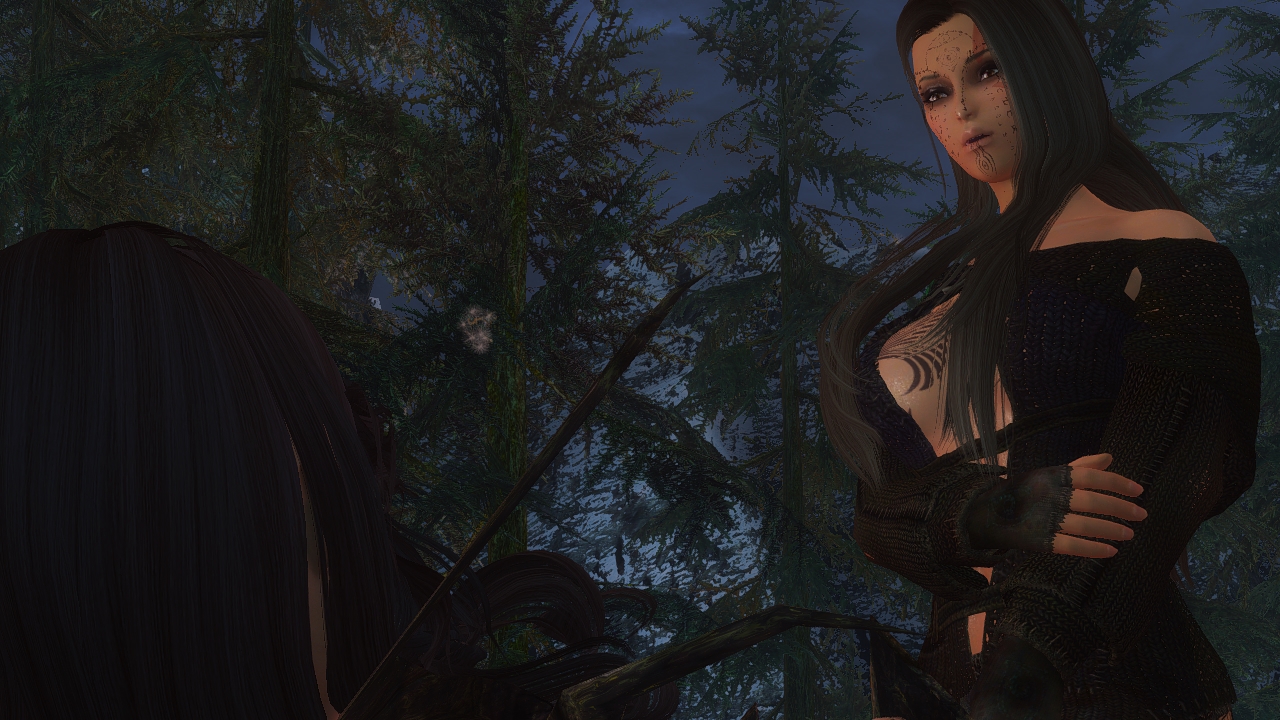 "I've… I've killed you twice… it was simple, clean," The minion sat up and looked Nyleine in the eye, "Hermaeus was right… You may be worthy of his indulgence… sister of the… Dragonborn…" After exhaling deeply, the woman did not take another breath.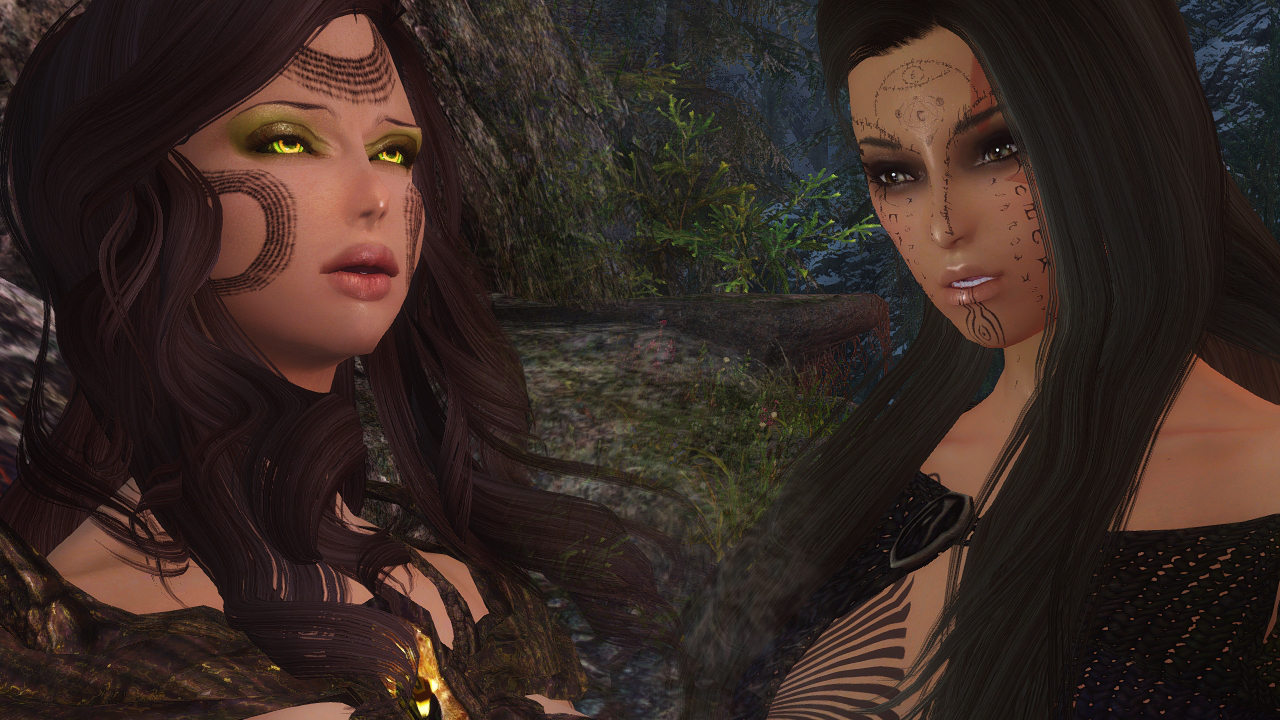 Nyleine's vision blurred and she stumbled backwards almost tripping herself. "How do you, how…" Sister of the… Dragonborn… Sister of the… Dragonborn… It wasn't the words, Nyleine knew that Nega was the Dragonborn, but to be called the 'Sister of the Dragonborn'… (She's killed me twice so she knows… she knew what I was what I a—?!) She knelt down and just stared at her hands. "What… what in Oblivion am I?"