Making of... Clink Clink | A Flash of Inspiration
---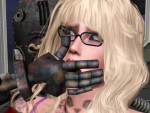 Video link here: http://www.naughtymachinima.com/video/14790/clink-clink
Good er morning?
Since I don't want to spoil my current project I've decided to write about my most recent film -- Clink Clink. This was actually inspired by MaryJane who's cleverness knows no bounds. In the Sims Lab we have a thread in which we post pictures of our Sims in compromising positions. Mary Jane figured out how to give Simbots the male anatomy so they could please our female Sims.

It was truly ingenious.
That's what starts my process -- a flash of inspiration. This can come from anywhere, anyone, or anything.
My immediate thought after that first flash of inspiration was of a young scientist being gangbanged by her discarded robots in a lab at the University.
Lol don't ask me where I get my ideas from, I don't know.
I asked MaryJane to kindly allow her sim, Luna, to star in the film. She agreed and I edited her to give her the look I was going for.
From there, the rest is history. Whenever I'm working on a project, I spend some time thinking about what the viewer will see out of a window, hence why it takes so much time for me to find a world I want to film in, something with a little visual surprise that most people probably don't notice. That's okay! I don't care! But every time you watch it I want you to notice something you didn't notice before.
For Clink Clink, I spent roughly 12 hours developing the "sets" after I decided on the world I wanted to use for the backdrop. Since the film takes place in an underground lab (bet you didn't notice that, huh?) I didn't need a large house above ground. I used an empty lot and built a multi-level basement. The first floor had a lab, a workplace with computers, and a mini kitchenette. The second floor had an indoor pool. I wish I had taken pictures of the development phase but again, I never considered doing a blog...
You'll notice in the beginning that Luna is building her perfect robot in a dorm room. To get the landscape shot, I built a three story rectangular structure above ground, decorated her working space and was done.
I also built a locker room above ground but it has no windows so you can't really tell. For all the viewer knew, the locker room was adjacent to the pool area.
Fun Fact
There's a part in the film where I had to use poses to get the effect I wanted because no animation existed. This is a good alternative if you're trying to create a scene but have no animations to convey it. It's all about editing when using screen shots instead of film.
Why did I waste time with a pool scene when it was over so quickly?
I love watching movies and I have too many favorites. One of my favorites is a film starring the lovely Halle Berry -- Gothika. In the beginning of the film, the director has a scene of her doing laps in the pool. I thought it was a good idea to include...a sort of way for Luna to relax after failing at making her robot.
Let me know in the comments if you have any questions or feel free to send me a message about another of my films.
Enjoy the movie and I hope you found this entry enlightening!
Cheers,
~L