Episode One Possession
I still remember the day it all begun...
I had a quiet life in a farm, not that was happy because really
they were not my Parents...
You se I was adopted more or less, found in some road near a burning wagon,
alone and to young to survive for my own , Some Priests found me and 
brought me to a farm where I stayed and was raised...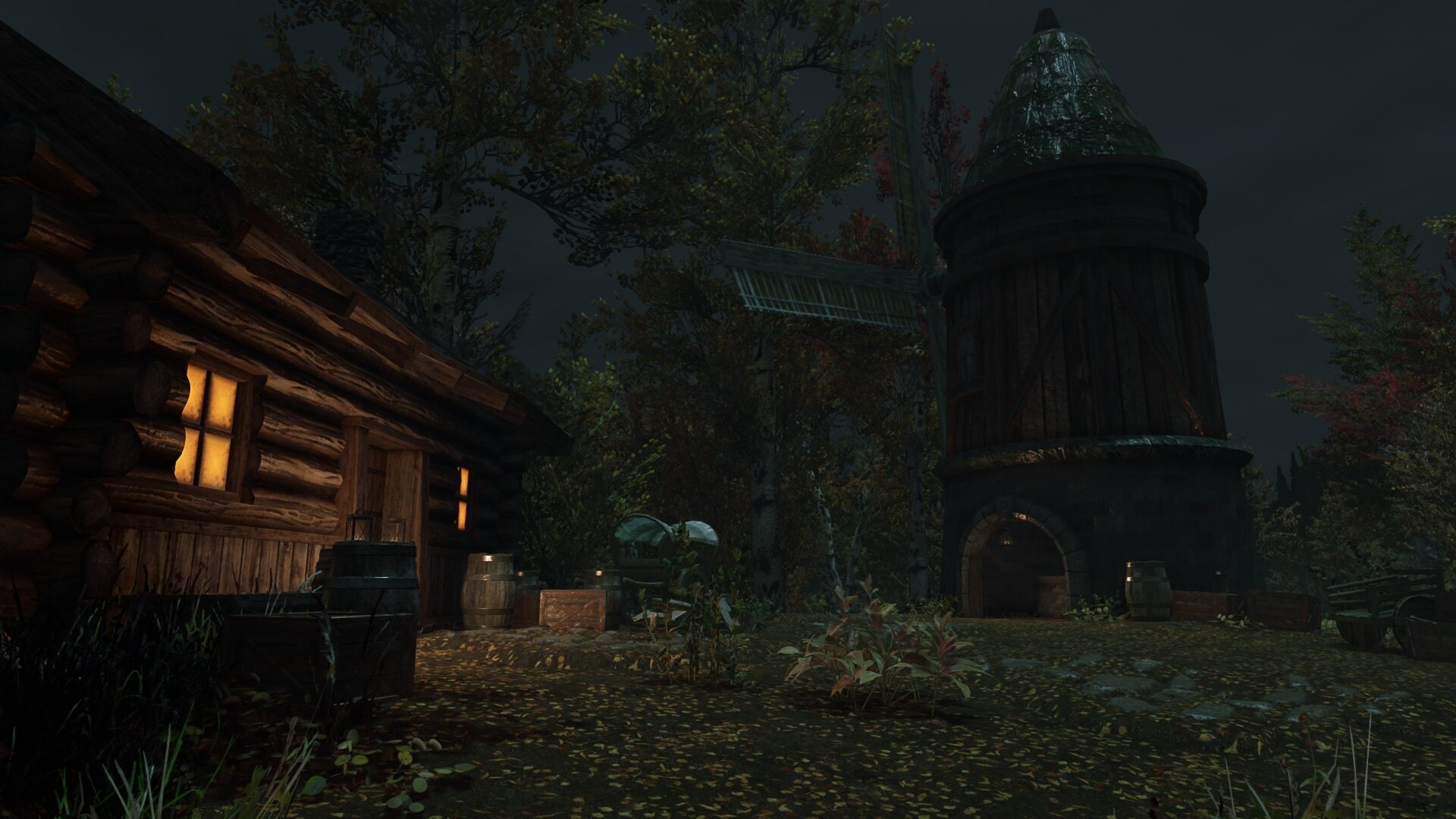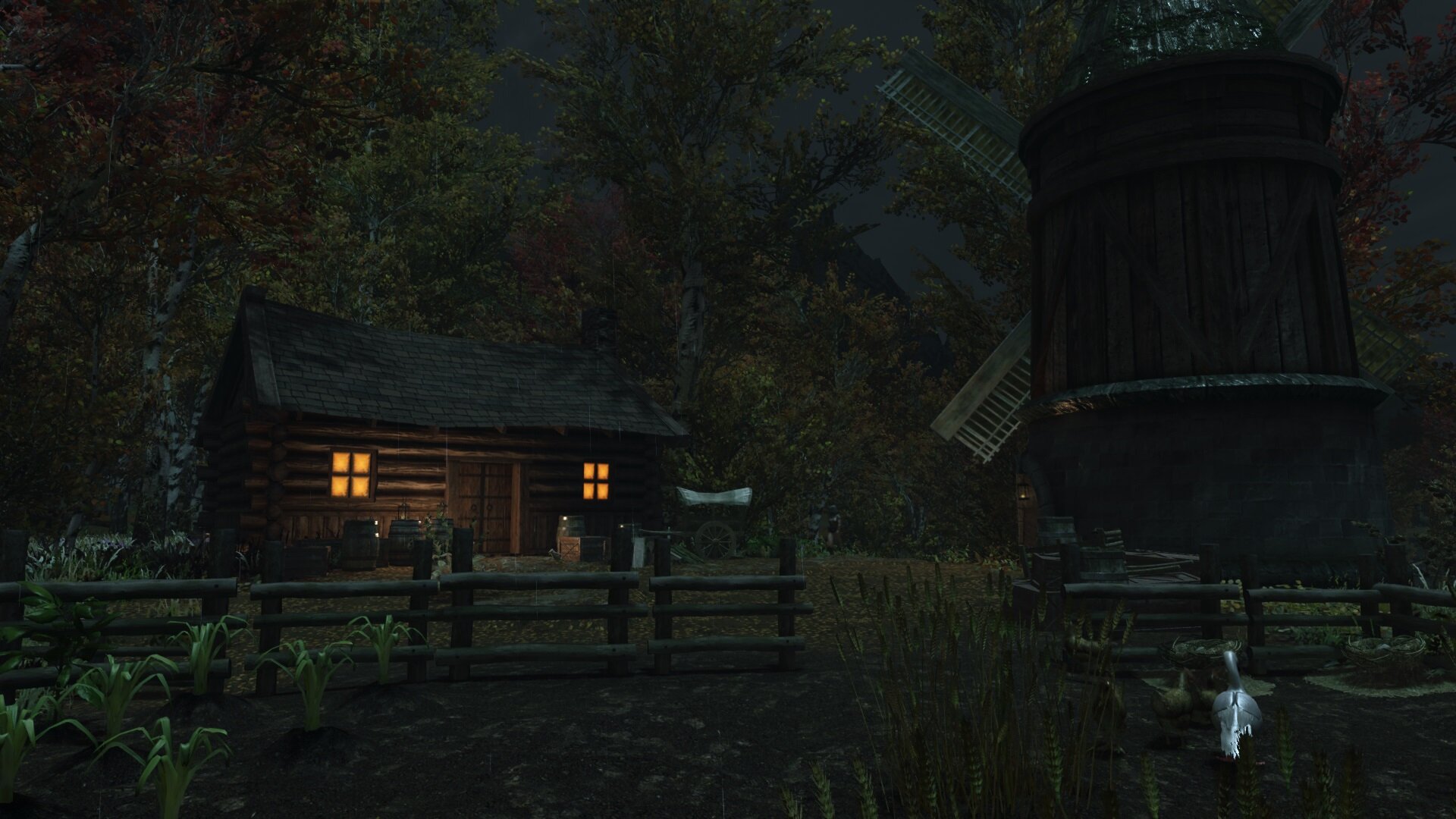 This farmers  really never wanted me , superstitions are the daily base on this country people,
and I was found next to a burning wagon, but with the years passing I was able to fit with hard work,
They even made me a Hay Bed in a corner of the house , next to the Chimney...
The wife was the Religious one , and with that my life was a daily hell of punishments and constant 
diminishing talks...
" You have nowhere to go "
" The Gods do not want you so they didn't blessed you "
" If you want a life you have to obey and work hard "
" You are nothing , a nobody "
" We gave you a life and a reason to live "
There were no limits on how bad I was it seems...
So one day The guards that used to pass in the farm called me ...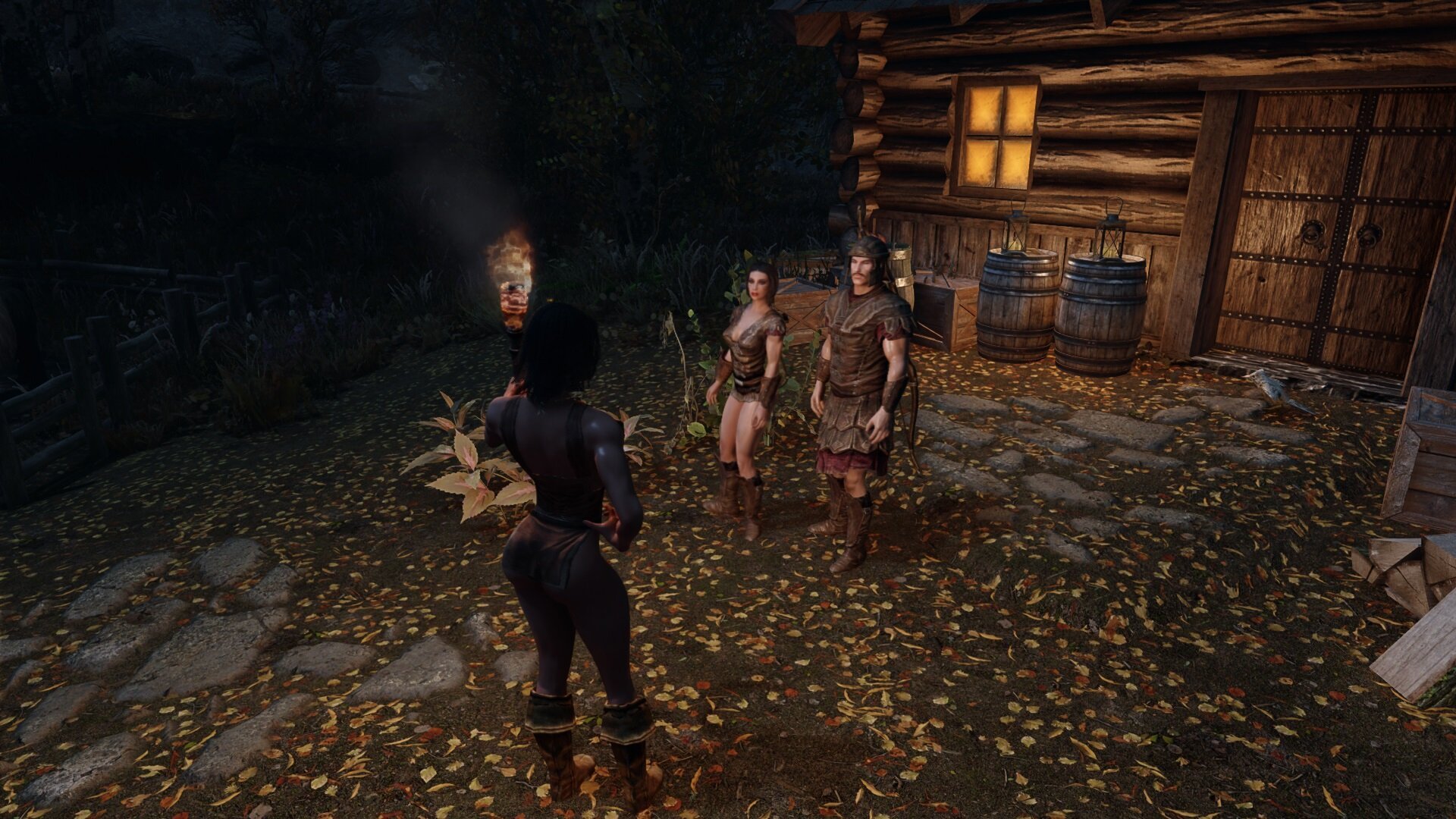 " You have always been polite and nice with us "
" So we can tell you something that might help your life be better"
They said , and after a small talk on why I didn't just leave the farm, They told me 
Why I didn't just enlist the Empire troops and that way start making myself 
some real money that would push my life ahead and forge it to my own needs...
That sparked in my head..." A life on my own  decisions"
So after I ask where could I go they gave me directions of the major Hold 
in the region ...And that would change my life for good !
In the next day I just packed some basic things and left without a word...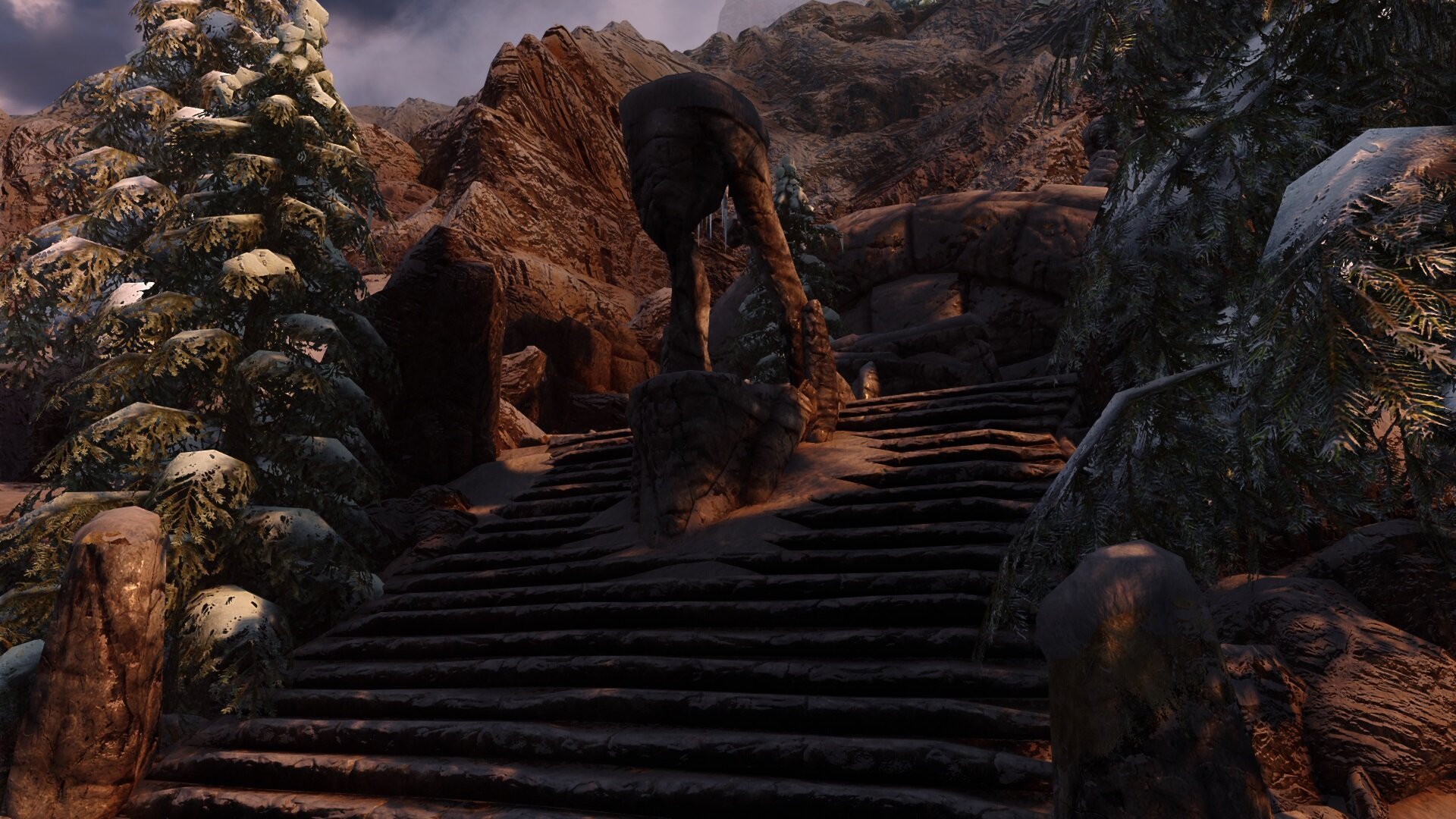 On my way, and days after I left , I realised that somehow I had lost the right road..
Realised I was lost and way far from my main objective ...
After some hours of walking to try and pick the right road I was suppose to follow 
I stopped  in front of a old Nordic Ruin in the middle of nowhere in the dense Pine forest
covered in cold ice and snow...
I was cold , and exhausted , needed a rest and a fire to warm myself ...
So without second thoughts I climbed those Stone steps 
and entered the Nordic Tomb...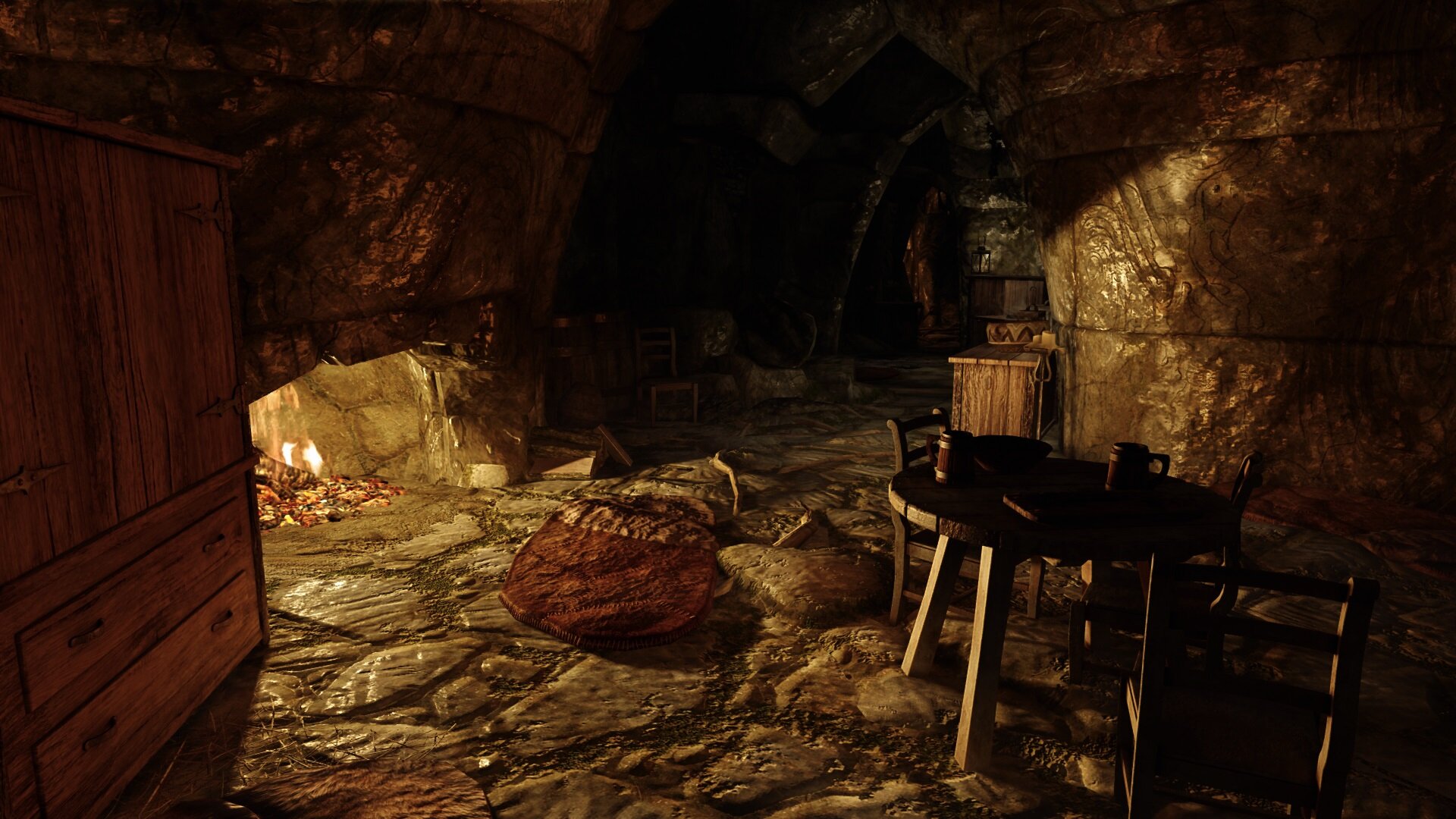 Its funny, but at the time I never asked myself nothing when inside I found no one
and found a room with some furniture a fireplace and some Pelt Bedrols...
Never will understand why in that moment the only thing that invaded my 
brain was happiness of finding all that just prepared for me...
But... I had peace and food and warm fire and a bed to sleep for a long time...
I rested for 2 maybe 3 days in a row...
And that is when after resting , my curiosity started kicking my natural explorer instincts...
Didn't remembered a single more time about the Empire enlisting or any other thing ,
And with a torch started exploring a little of that Tomb everyday...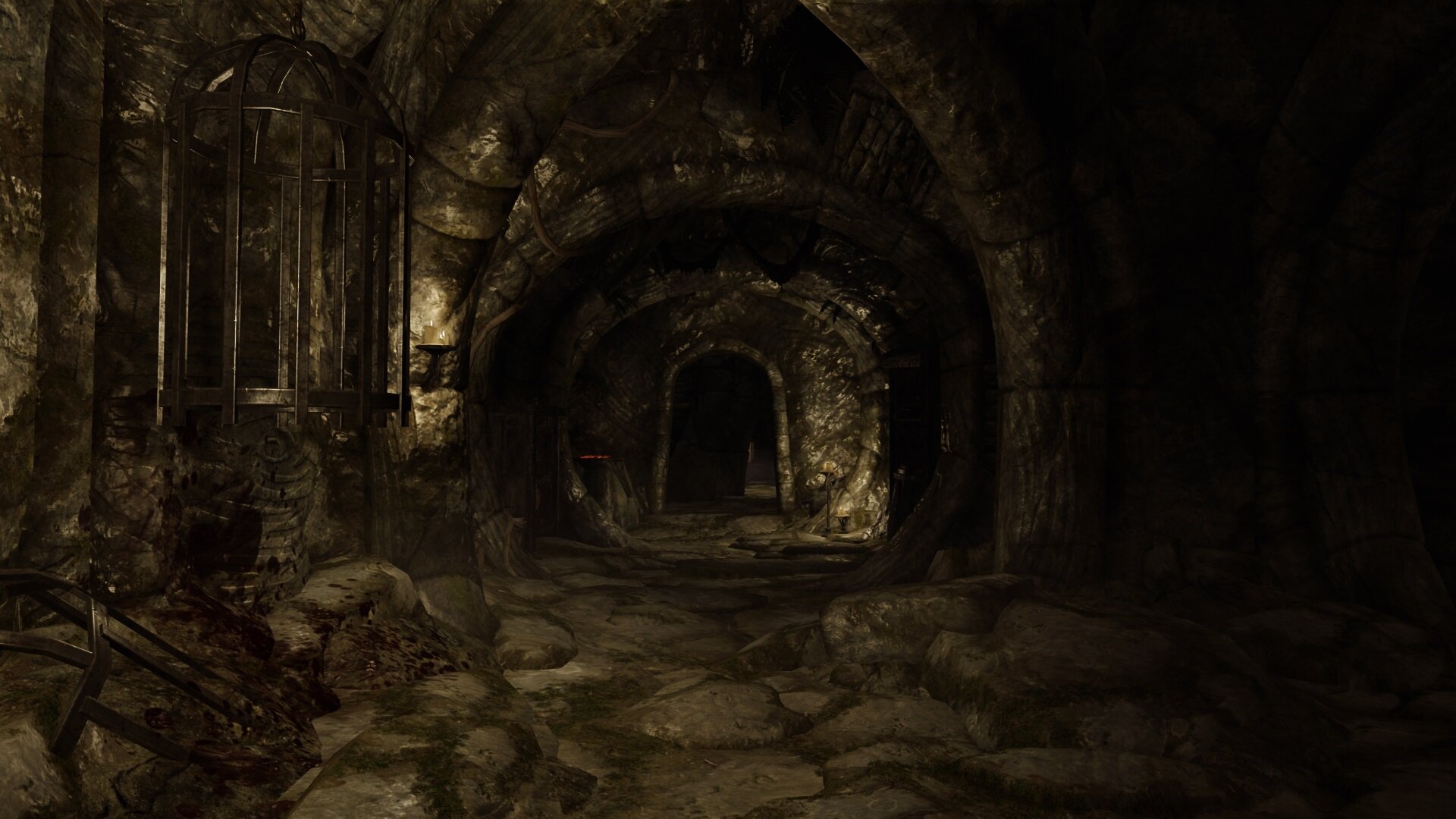 And everyday I discovered more and more weird details about that Tomb..
But never got scared enough to just stop and leave that sinister place...
 Don't know why , but I never left or wanted to leave it ...
So one of this days that I was deep inside the sublevels of the Tomb I must 
accidentally stepped on a opening mechanism of some sort that opened 
A small like door passage on a rock wall...
Without second thoughts , again I ventured into the unknown,
I was confident on the armor parts and  sword I had found days before...
"What harm could it be on a Tomb with thousands of years and Full of dead mummies , right !?"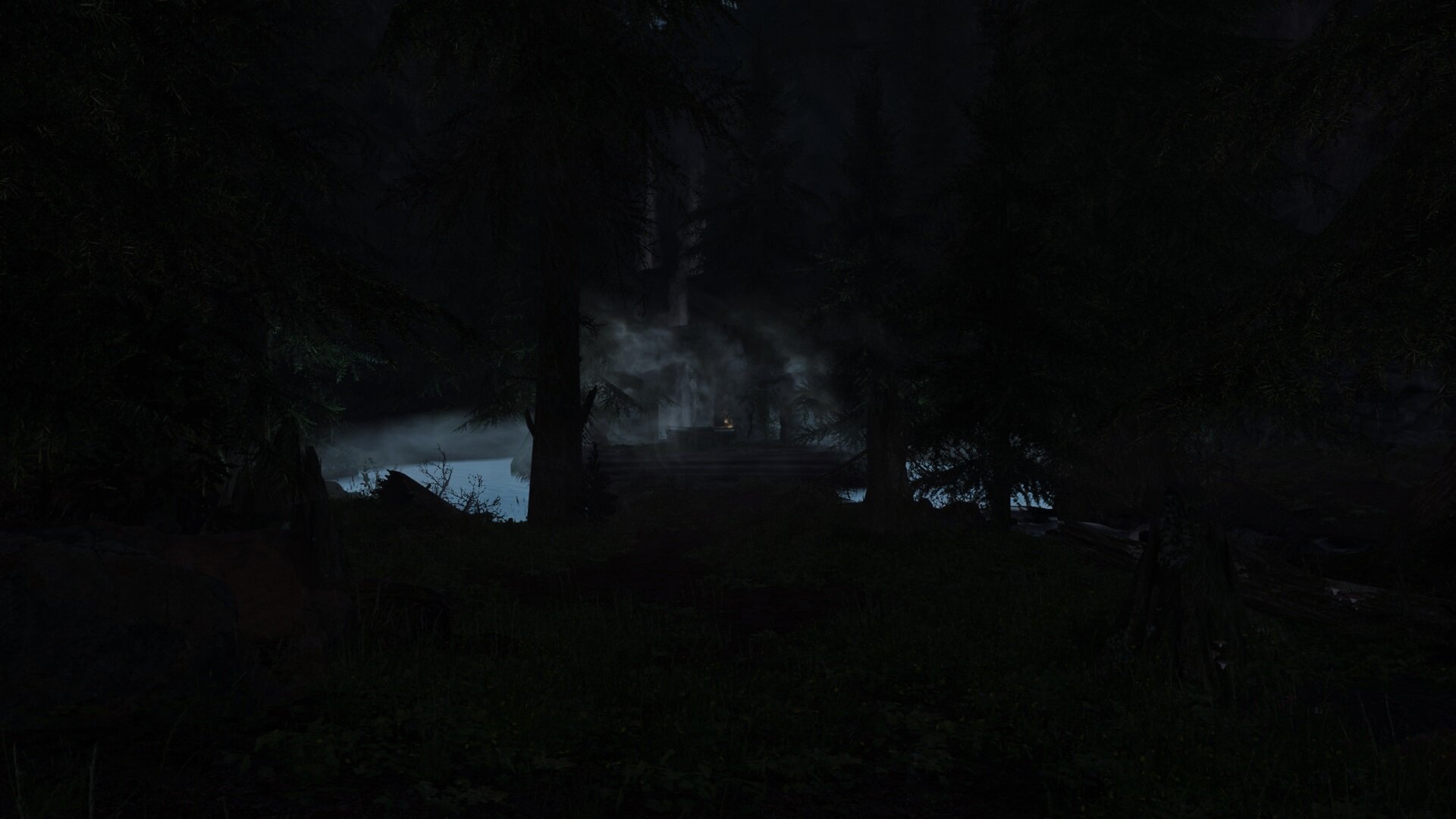 The place was pitch black in darkness, I could feel the trees  and wind , the distant sound of water and a waterfall..
So I got deep and deep into that darkness , until I started seeing some light ahead ..
It was natural light that somehow came into the cave from some entering in the cave sealing,
I could see a kind of an Altar in a center surrounded by a small lake that was filed by a large waterfall that came from the same cave rooftop,
A dim candle light was on the top of that altar...This place smelled Magic and old days...
So I approached slowly, My torch was starting to light out , so maybe that made me speed up that approach a bit more and lose caution..
Caution that was even less when closer to the Altar I spotted a beautiful Bow on top of that stone Altar...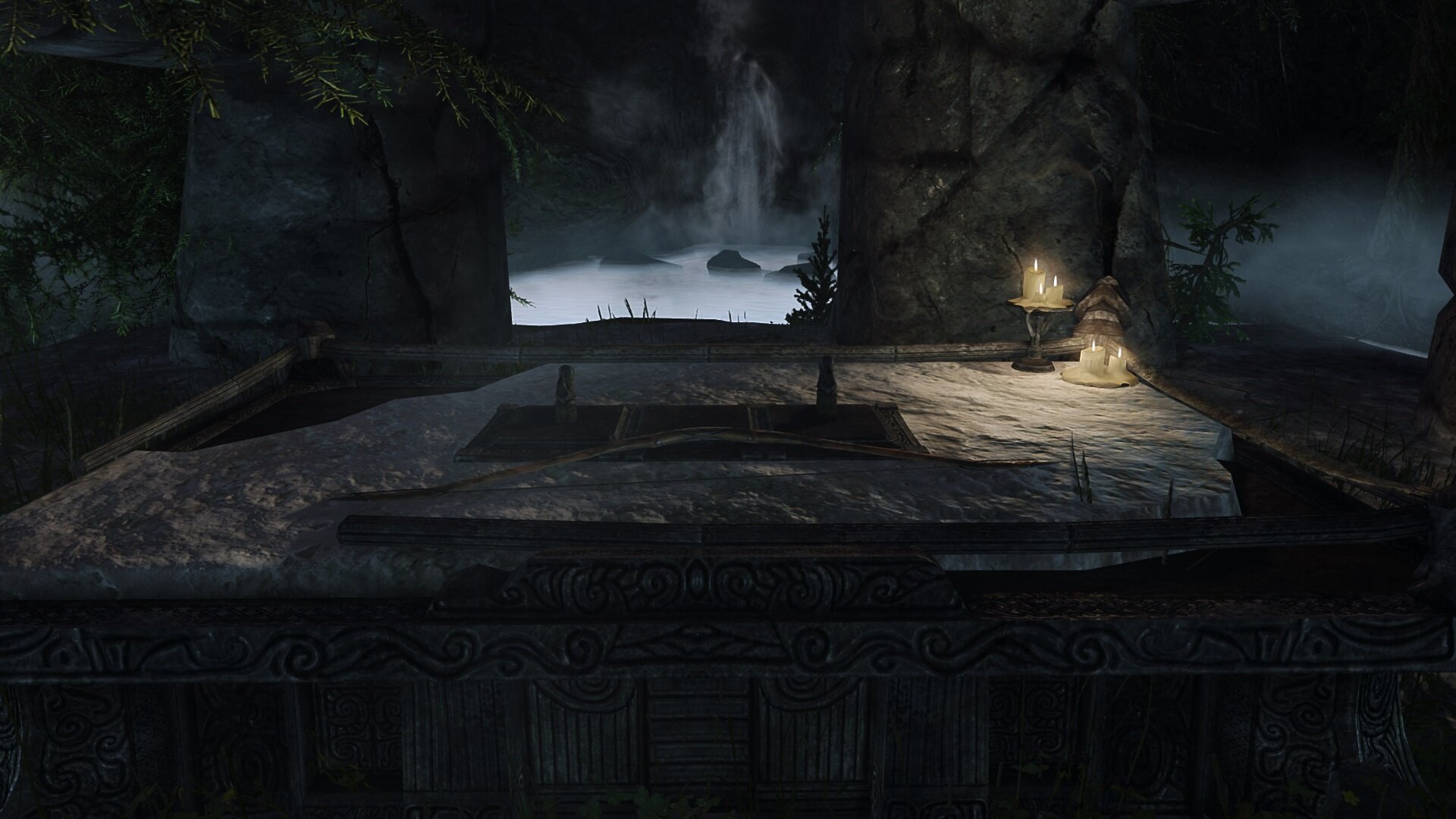 I immediately recognised  the Bow work as an old Elf beautifully crafted longbow...
But then everything changed...
Heard some Wing flapping like the sound an eagle makes landing with her wings..
Looked to the left  and ..
There they were !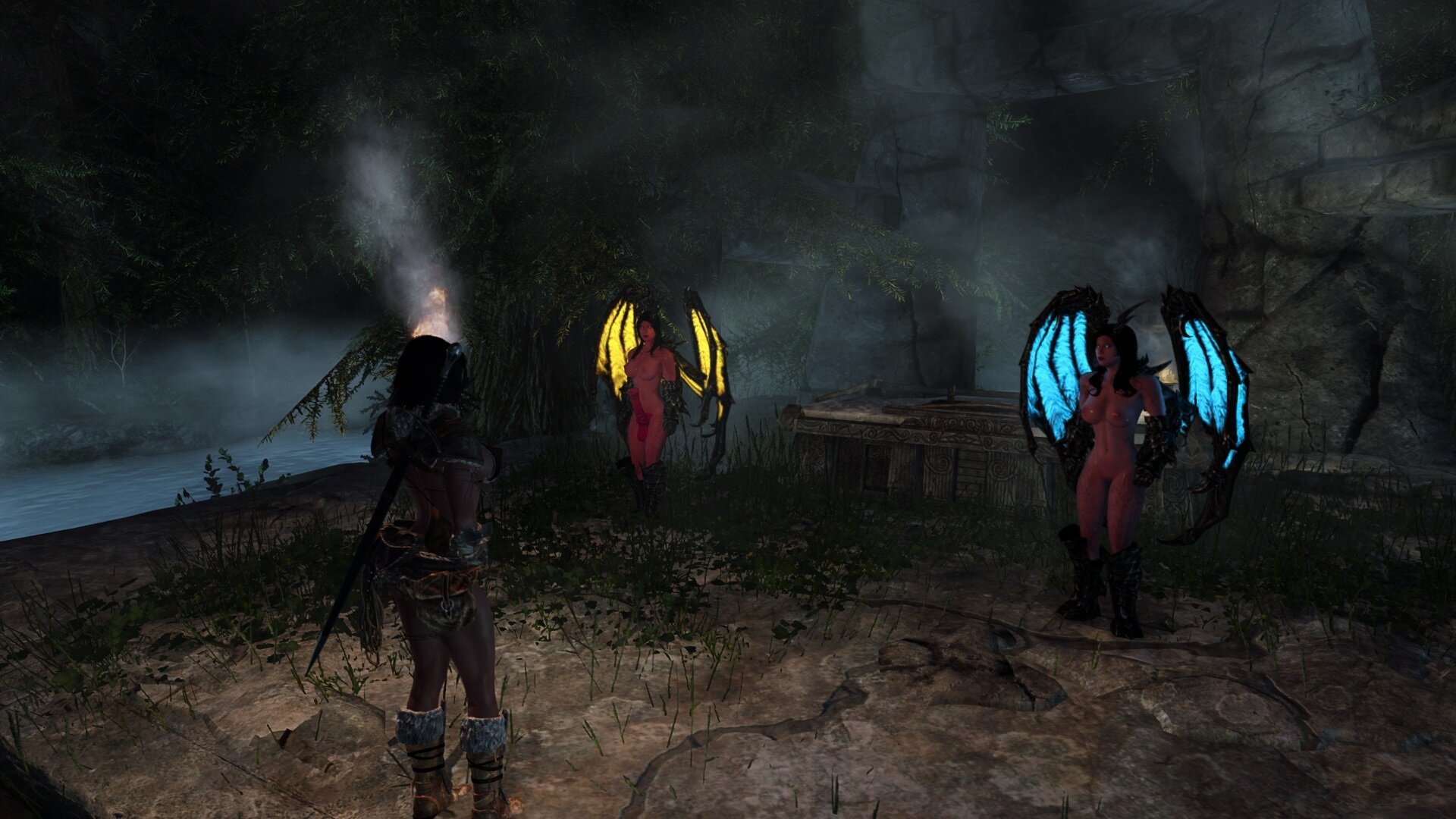 Two creatures that I never have seen before...
They had wings  one yellowish bright wings the other Blue bright wings
and then I realised ...
Me - Demons !
Also realised that I had talked my thoughts loud...
Left Demon - No my beauty not Demons !
Me - What ???...Yes you are demons  !
Right Demon - No sweety, we are guardians !
The creatures were somehow strange , but despite their demon appearance 
I was strangely calm and even started to get  strangely aroused ,
the yellow winged one had a Female body but some huge male Horse  Penis,
What I found strangely attractive in a sculpted beautiful female body..
And the Blue winged one was a Female Goddess of a body very sensual
and with a very attractive voice...
Me - Guardians of what  ?...That Bow ???
Yellow Demon - That is not a simple Bow dear...That is the Bow of The Warrior Princess Azaell
Me - Azaell ?.. Warrior Princess ??...What are you talking about ?
Blue demon - Show some respect Warrior !...
Yellow Demon - Azaell was the Warrior Succubus Princess and daughter of the Goddess Agrat Bat Mahlat..
Azaell was the protector of the shadows And this was her weapon of choice...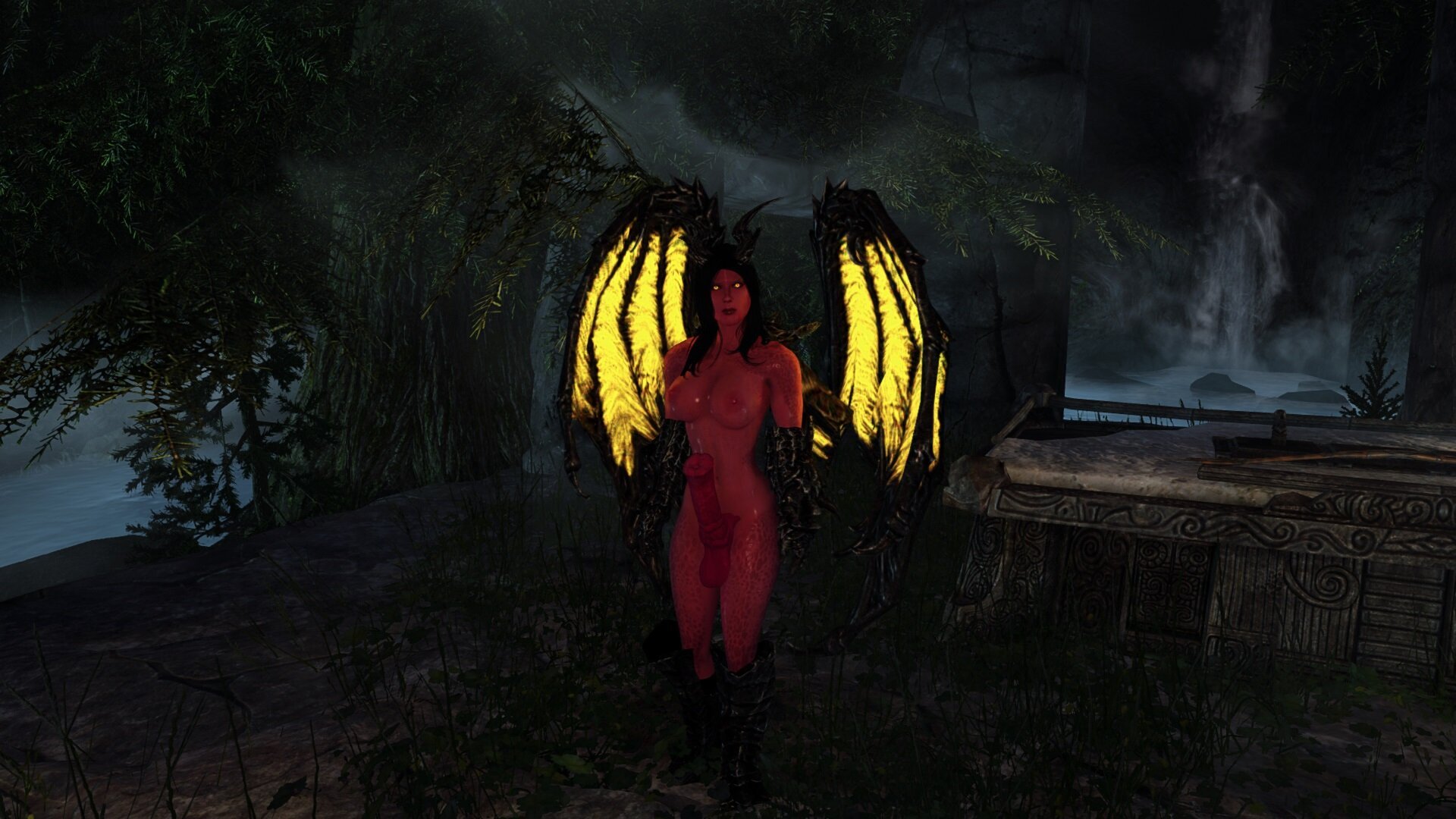 I was not even paying to much attention to their words ...
Somehow Their naked bodys and their eyes were like a Sexual harassment ,
and I was completely aroused  sexualy by them...
Yellow Demon - In order for you to take this Bow you will have to fulfil a small Ritual that
will allow you to know if you are worthy ...
Me - A ritual ?... Some kind of praying ???
Yellow Demon -  No No noble creature , No..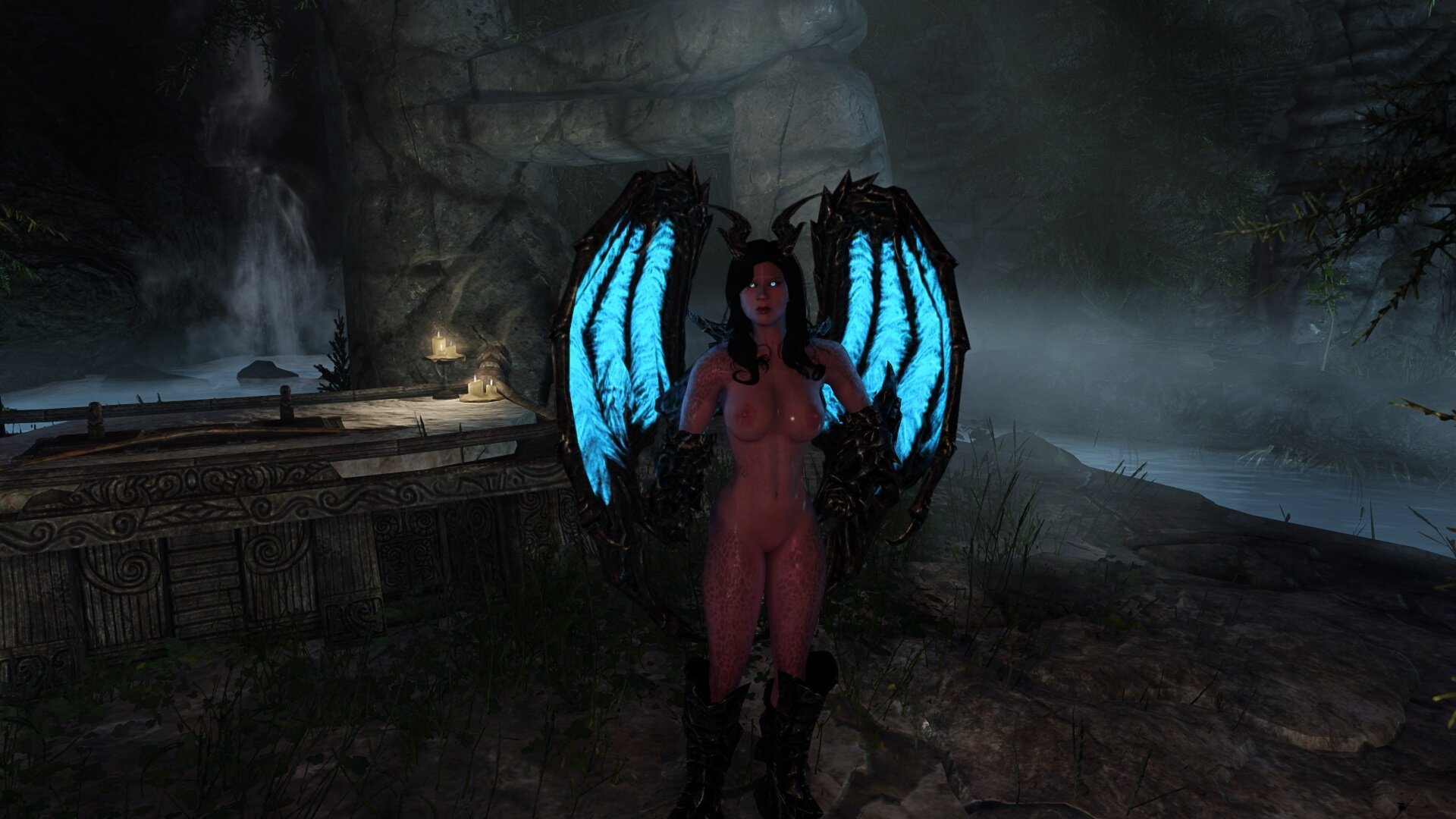 Blue Demon - I'll explain sister...The ritual is a gift to the primal instinct of Succubus Azaell ...
Her Primal instinct was love ...
Me - Love ??
Blue demon - Yes Love my beautiful Creature, Love but carnal Love ...
Me - you mean sex ???
Yellow Demon - Not simple Sex child... Succubus Copulat is a form of testing your inner beauty or soul..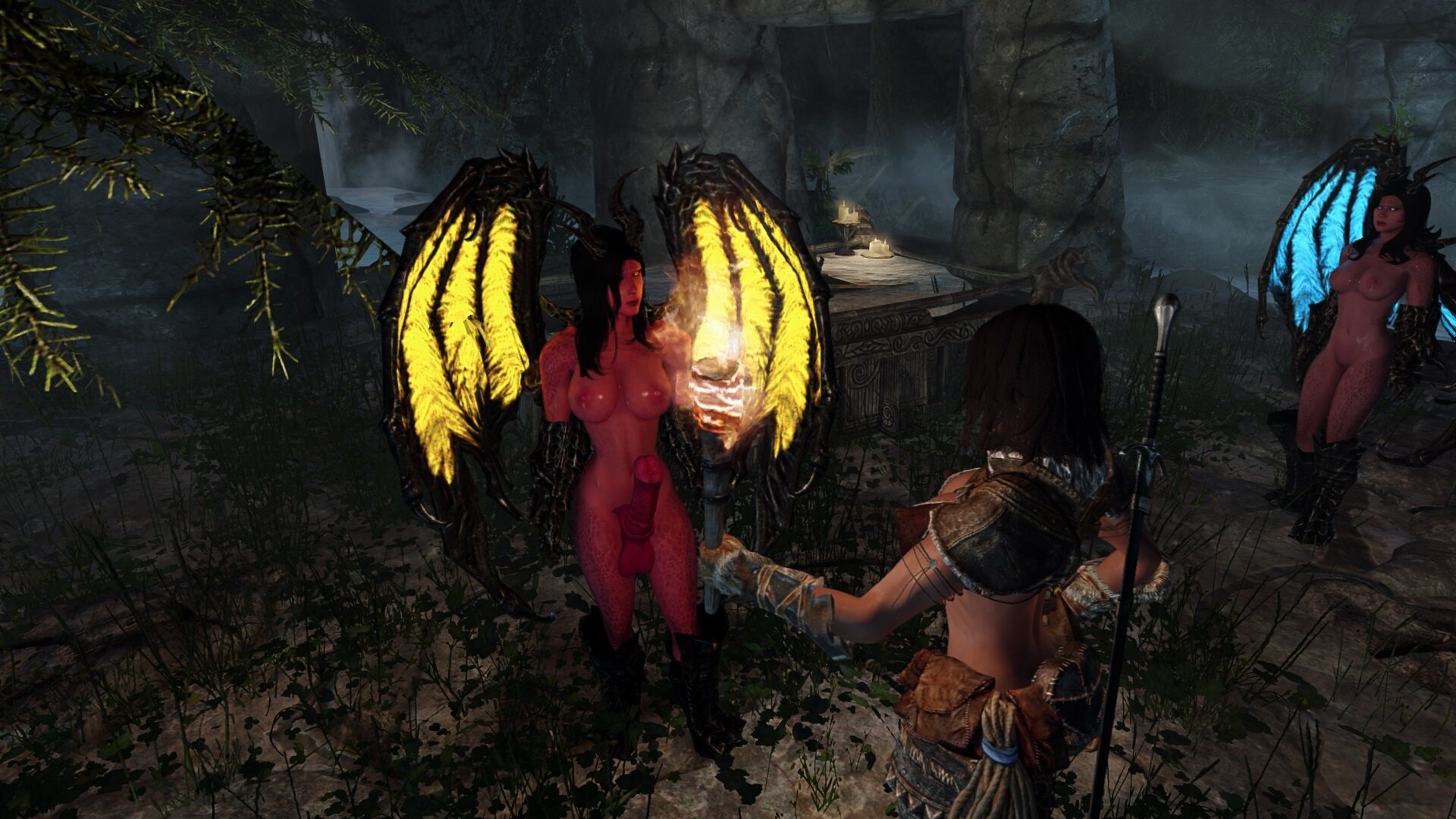 Me - So resuming , I have to fuck you both in a ritual to test if I am worthy to use that Bow ?!
Blue Demon - Hihihihi ...well if you put it that way  Child Of Kin, what for you its just That for us is ecstasy of pleasure,
 its the Flow of our love depicted into body pleasure and The harmony of sensuality..
Yellow Demon -  it is time to introduce ourselves then if you want the bow and to fulfill the ritual !
Me - Yes I will do the Ritual...
( I wanted to feel that huge Horse Cock inside me anyway , and to enter that beautiful blue winged Body )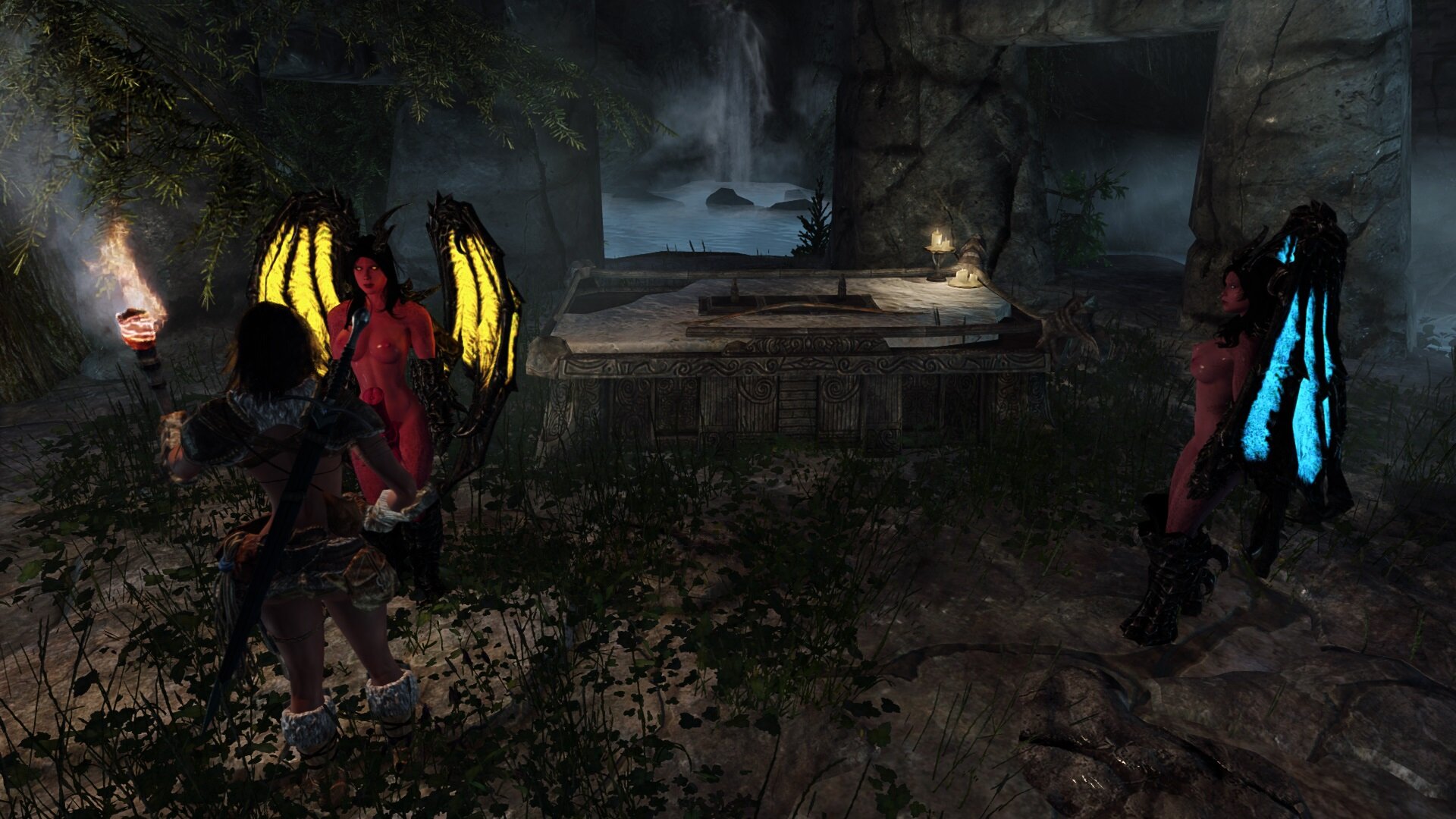 Yellow Demon - Then I present myself as Akarae The guardian of Male shadows...
Blue Demon - I present myself as Hazafel the guardian of the Female shadows...
Me - I am Sonja .... Half Elf and Nordic  Woman warrior...
(This sounded really lame )
Akarae - The Male shadow will penetrate you giving you the pleasure of penetration
and with our bound we will make you stronger and with my seed I will make you immortal with the male shadows...
My seed will fertilise your soul..
Hazafel - The Female shadow will be penetrated by you after you receive the seed of the male shadow, his seed will create 
a male Genital that will be inside me after , and your seed mixed and united with my seed will give you power over wantings,
create pleasure in minds , and give seed where there is none...In the name of Azaell The Princess Warrior and guardian keeper of the Bow..
Me - .................??
Akarae - Did you understood all ???
( I was just wanting to jump on those beauties and fuck them ) 
Me - Oh yes .. yes I did...so lets do it ..The Ritual I mean !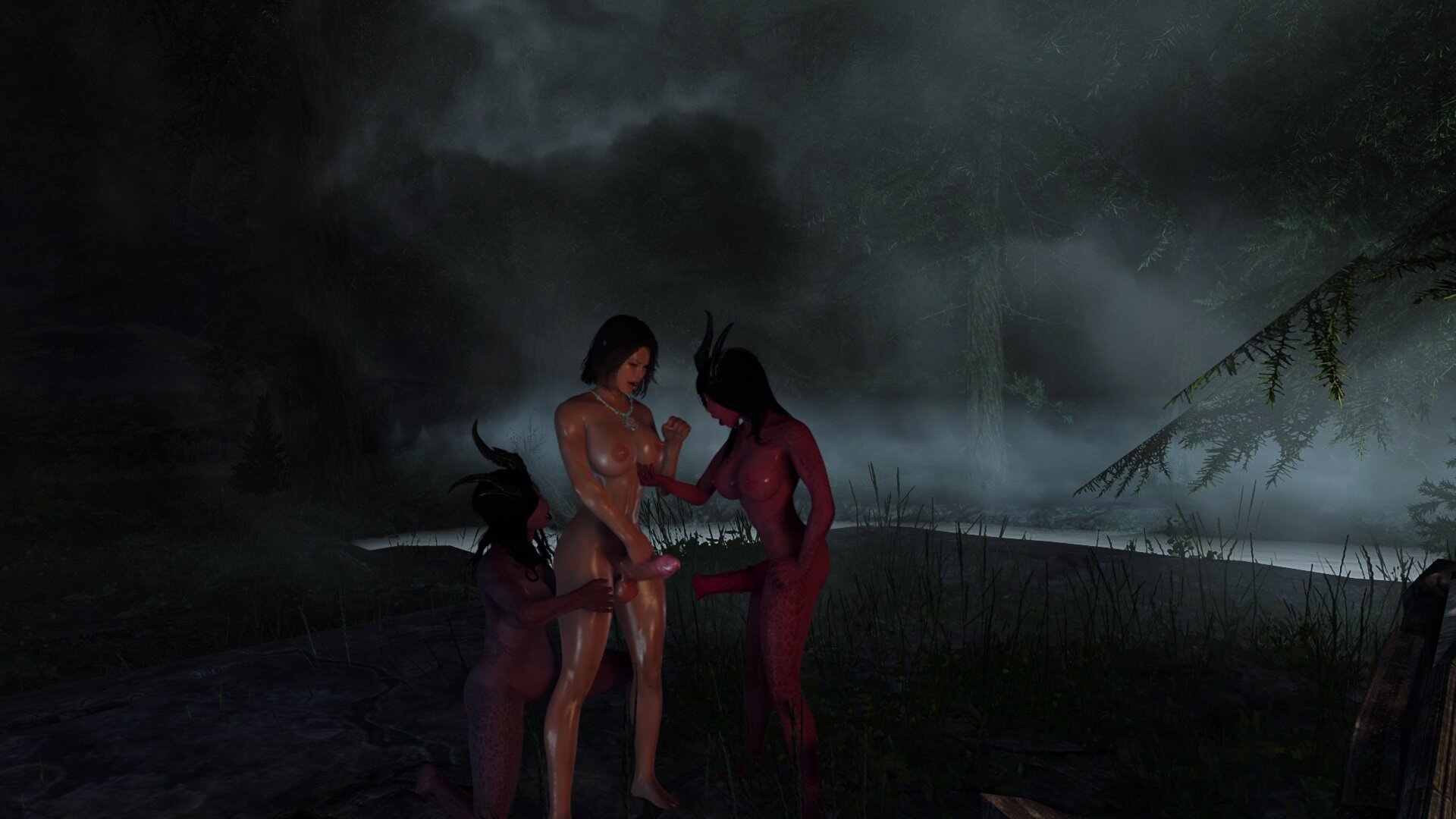 If there was strange things in the world , none was as strange as this one that happened ..
The Male Akarae touched me and my armor just dissolved into a mist and disappeared, then
The second weird thing that not even in my dreams I would think of it, The same mist that took my Armor
into the void surrounded me slowly and from that mist when it dissipated 
 I had a huge Male Penis in my body...
The arousal was almost impossible to bare...
Then it all started...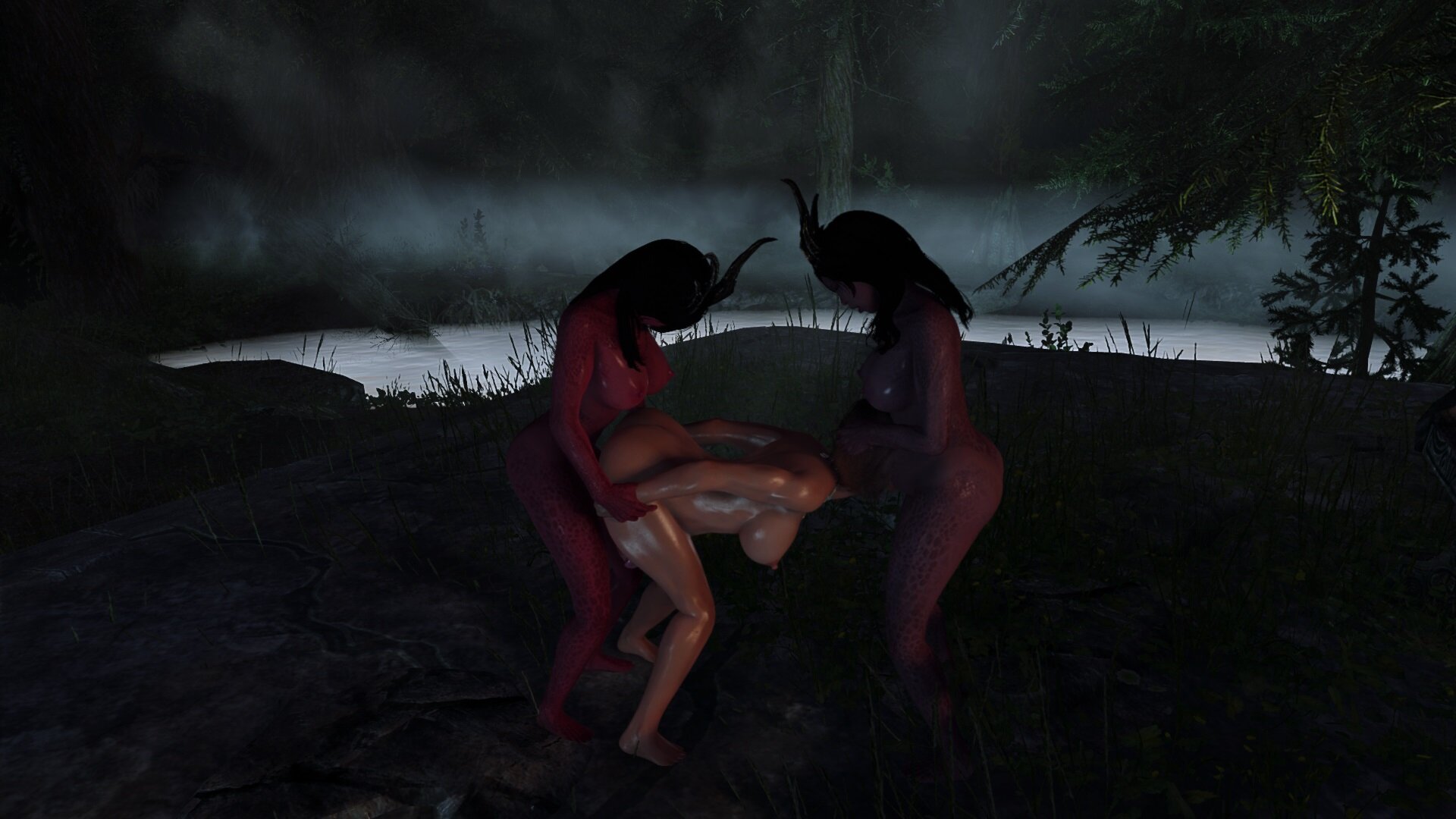 Akarae the male penetrated me with that huge horse cock from behind ,
I felt his seed flowing continuously inside me and my belly inflating 
with the enormous quantities of sperm that huge cock was pumping inside me...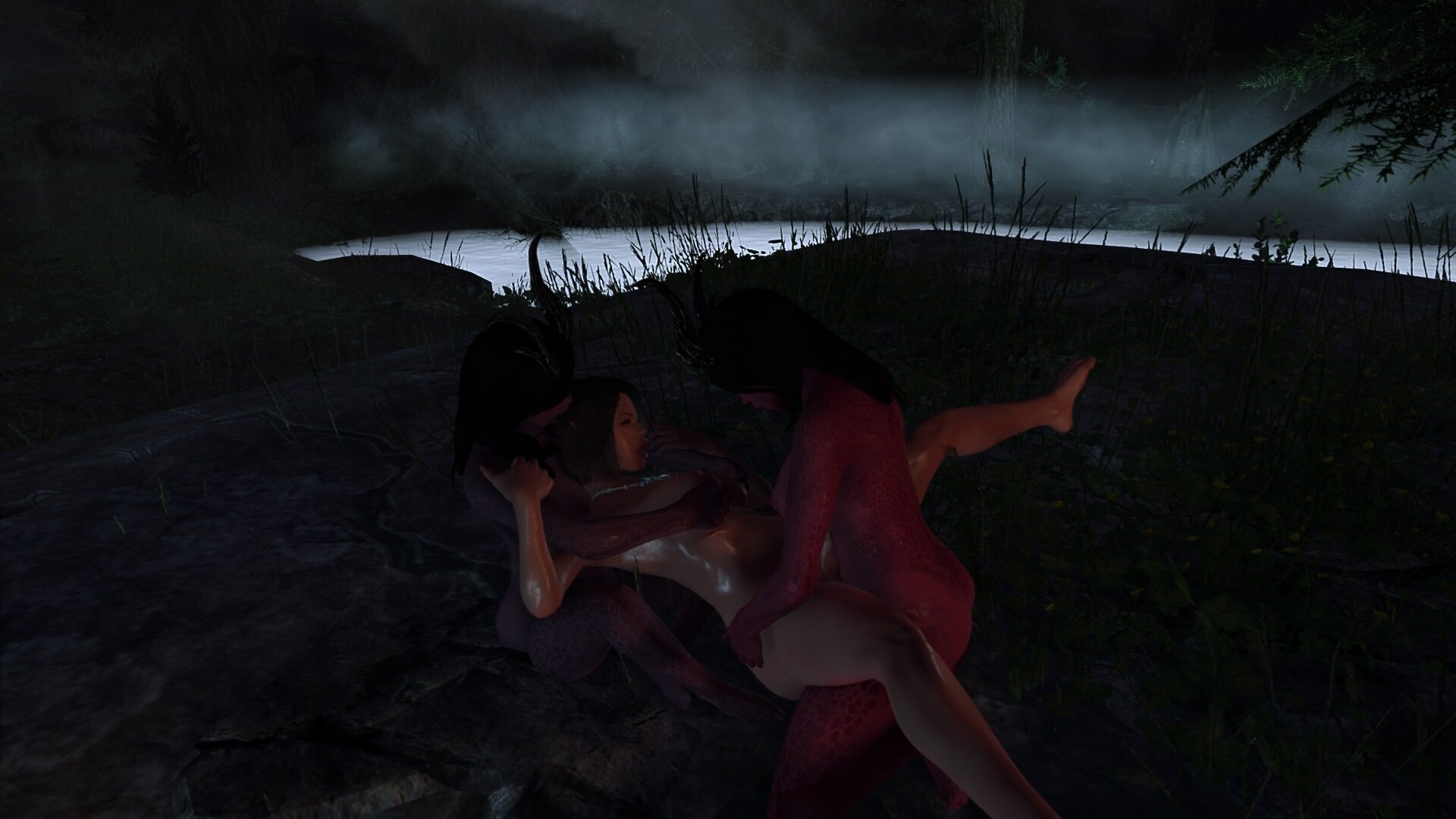 I lost the time...The male fucked me for hours , I am not sure..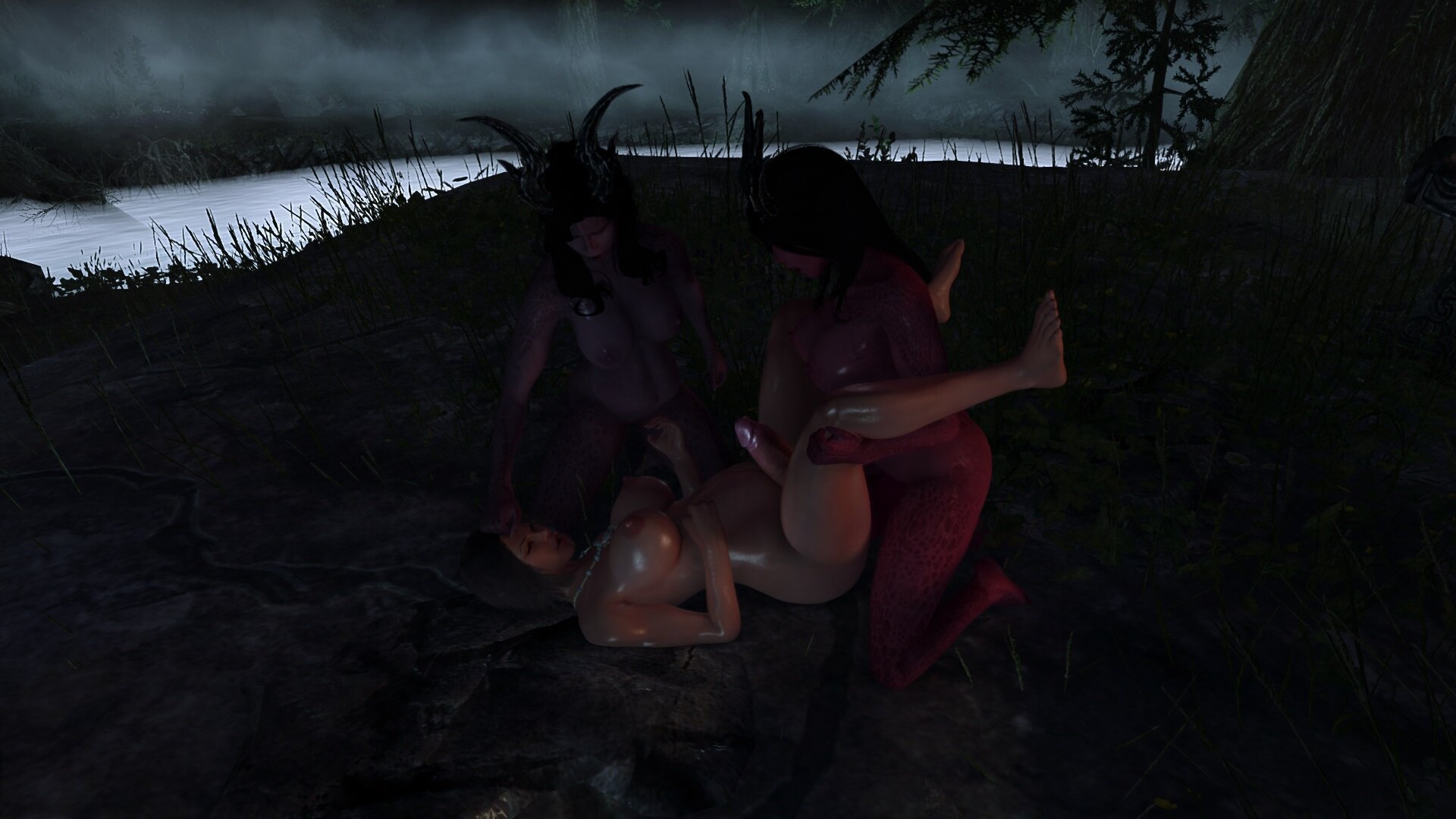 His cock was soft and seemed like adapting to my insides, the Sperm was like a waterflow rushing inside me...
I do not know how much time I was fucked by that cock, but its felt like The Gods were making turns on me...
Then The male took me from behind while I was fucking the Female From behind ...
The Female was pure sexual sensuality, Her moves her voice and moans...
And then in a last Orgasm They stopped and we got back up on our feet...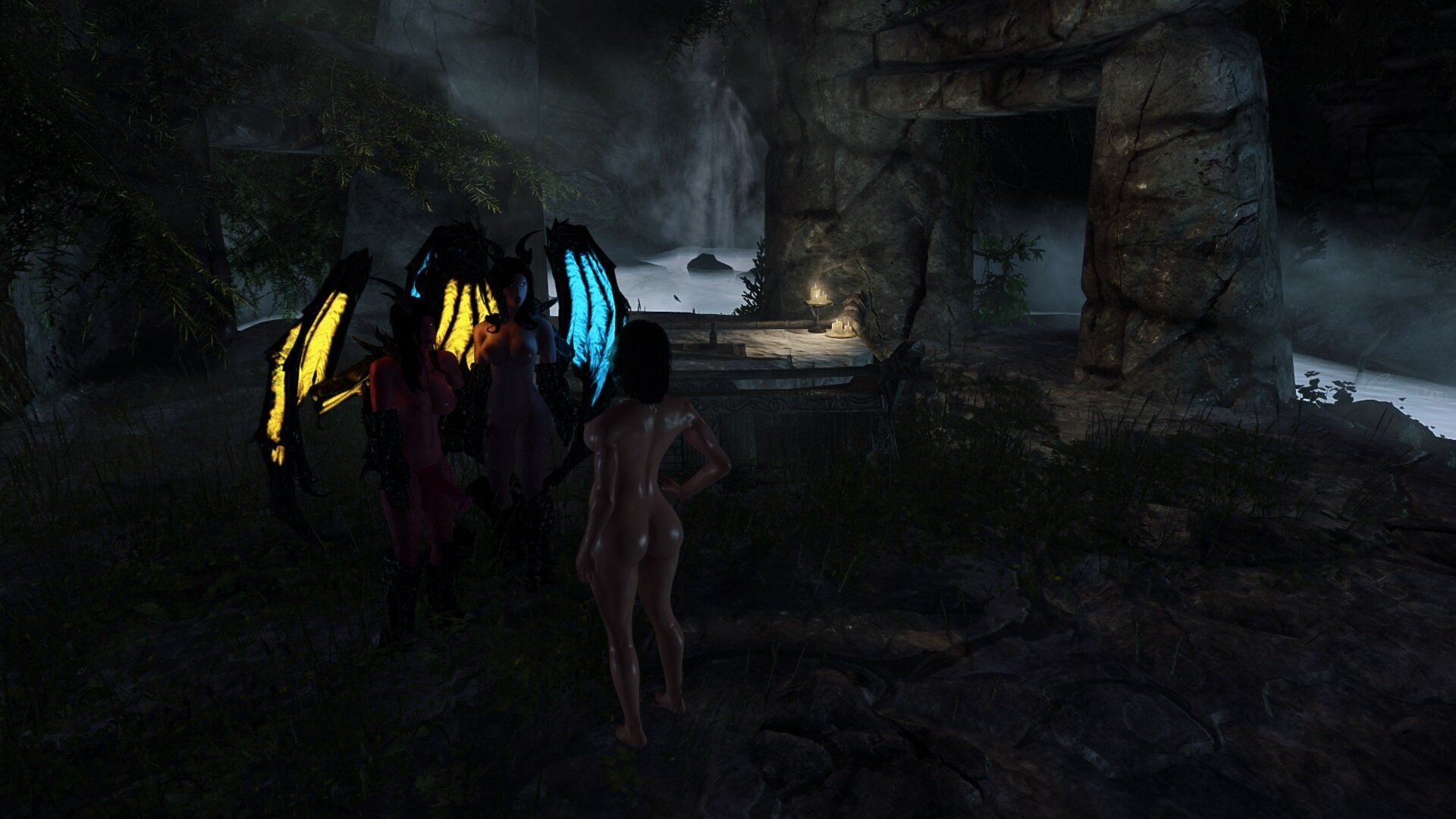 Akarae - We are pleased with you...Was it pleasant to you as well Sweet Child ???
Me - Wow ... I never felt so much pleasure in sex ...
Hazafel - That is the power that Succubus Seed gave you..
Akarae - yes this was a very seductive penetration for me as well,
and you My beauty , you are a Primer creature, your seduction is even bigger then our mother Queen,
You will be a Warrior among us and among Kin..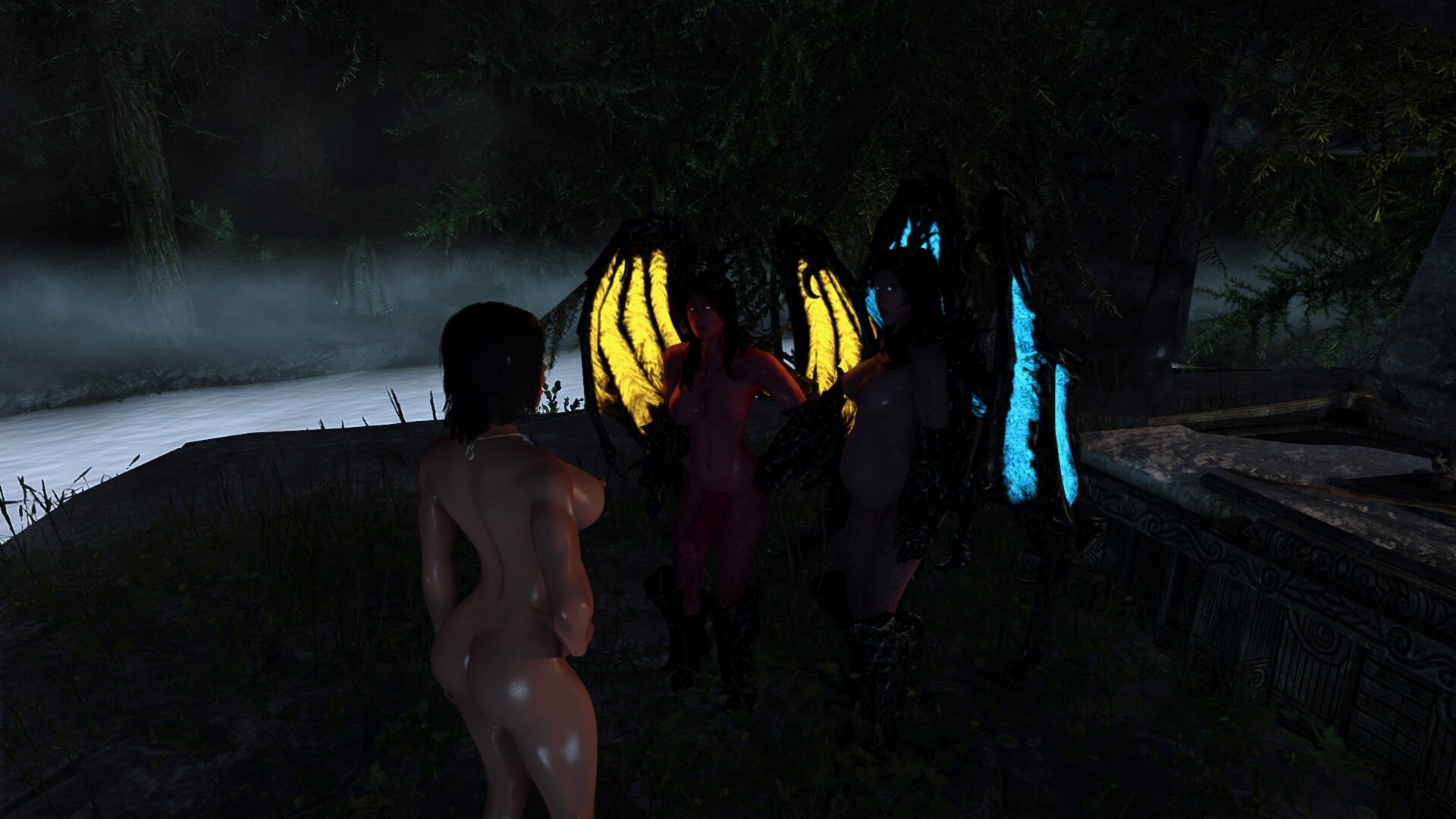 Me - What do you mean I will be among you and Kin ??
Hazafel - Don't you feel it growing on you child ...?
Me - I feel exhausted and strangely Hot  like a fire inside me is burning ...but it doesn't hurt..
Hazafel - That is your Succubus soul growing ...Let it come out Child of Azaell...
Me - Let it come out ...Out ...And this male penis will it go away ???
Akarae - That Is the gift of Succubus that defined your soul as both male and female...
However Azaell was the reunion of many , inside her were the Succubus of Sex, the one of Sensuality,
The one of Carnal pleasure, The one of punishment , The one of Seduction, and the stronger one , the Succubus
Of judgment ... 
Hazafel - Inside you are the spirits of those six Powerful Creatures that formed the Princess Goddess Azaell,
The guardian of Pleasure , Judgment, Sex, Seduction, Sensuality...Those forme the Shadows...
All of a sudden I felt the burning going away ...but that was a mistake ,
it came just moments later even worst and , then ..
It wasn't hot anymore but made fell terribly aroused  and sexy..
A fire Appeared surrounding me ...
 Akarae and Hasafel started Moaning some incoherent words that I didn't understood...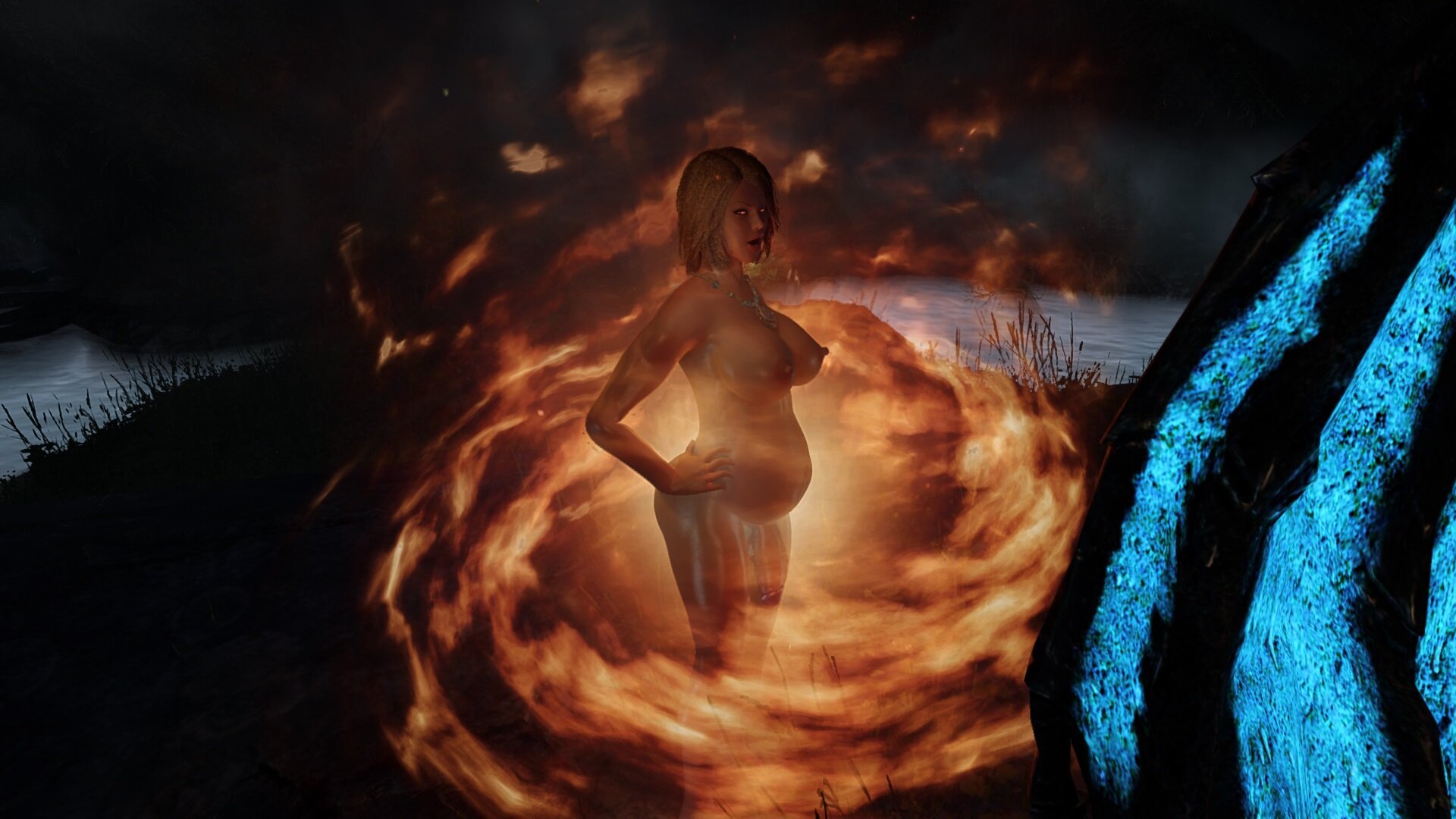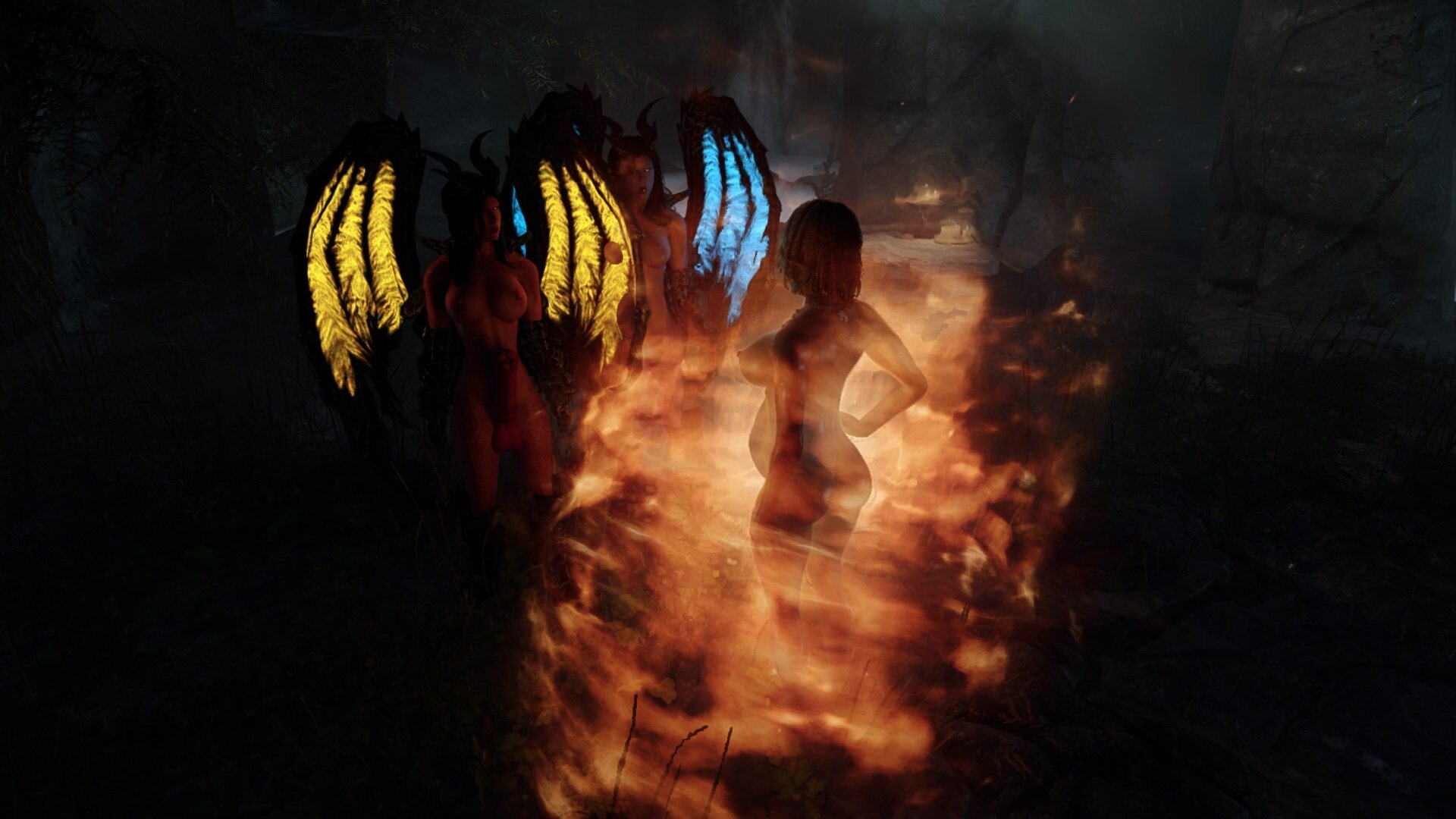 Them - Rise or Succubus Sonja...Rise or child of Azaell daughter of  Agrat Bat Mahlat...
Come Sister of the shadows and Sex, bring your seed to this world...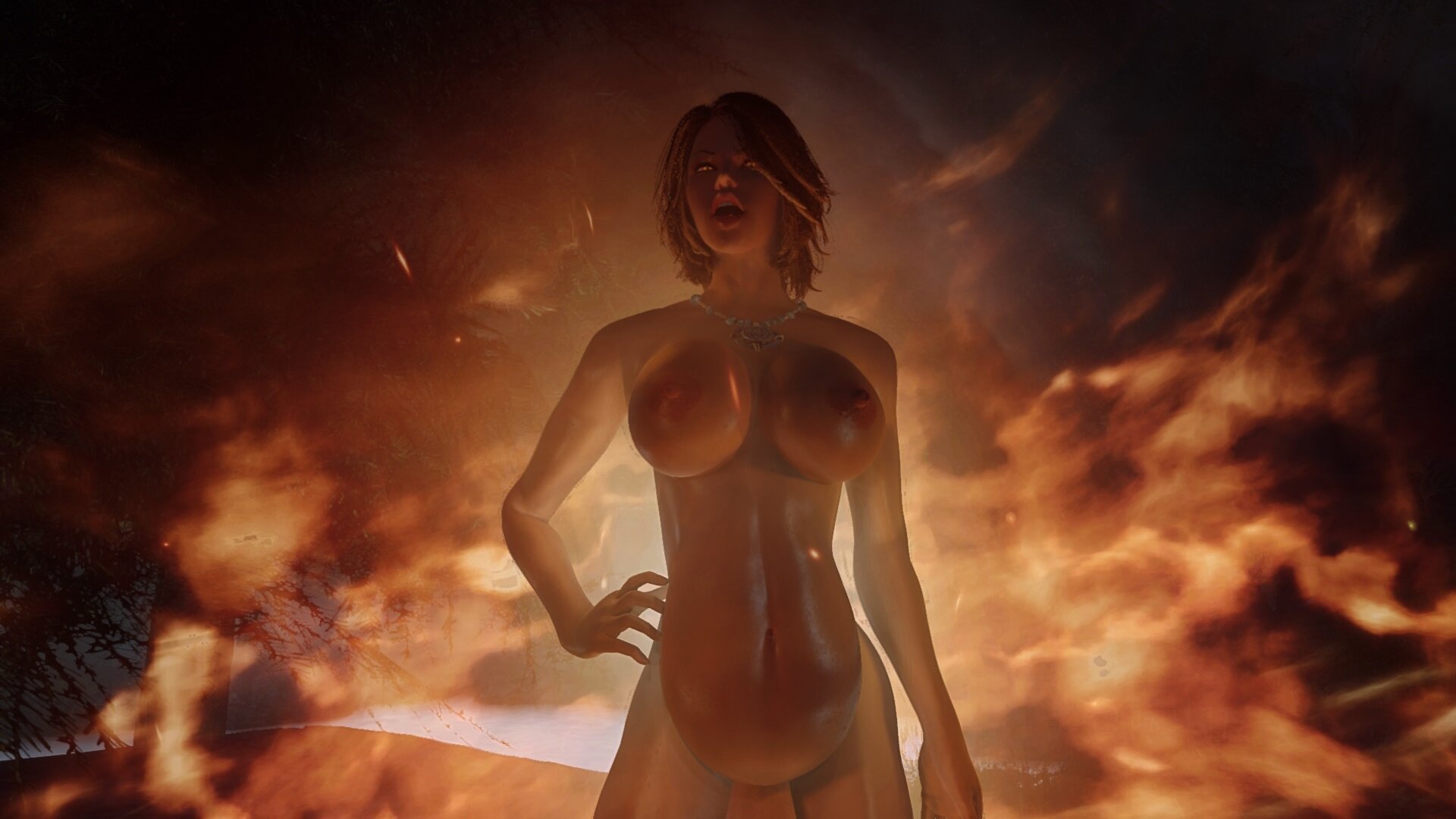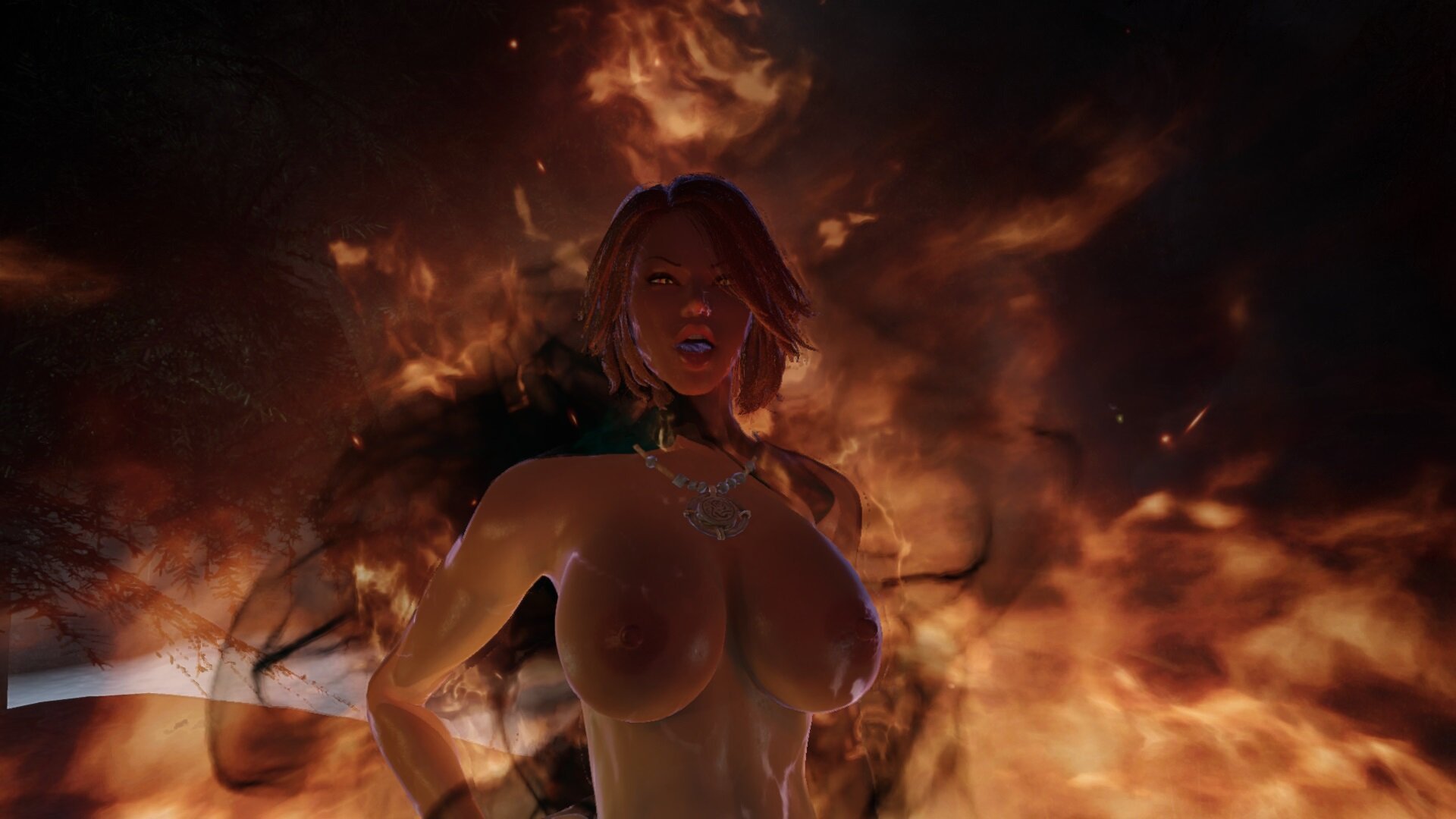 I had an Orgasm ....An endless orgasm...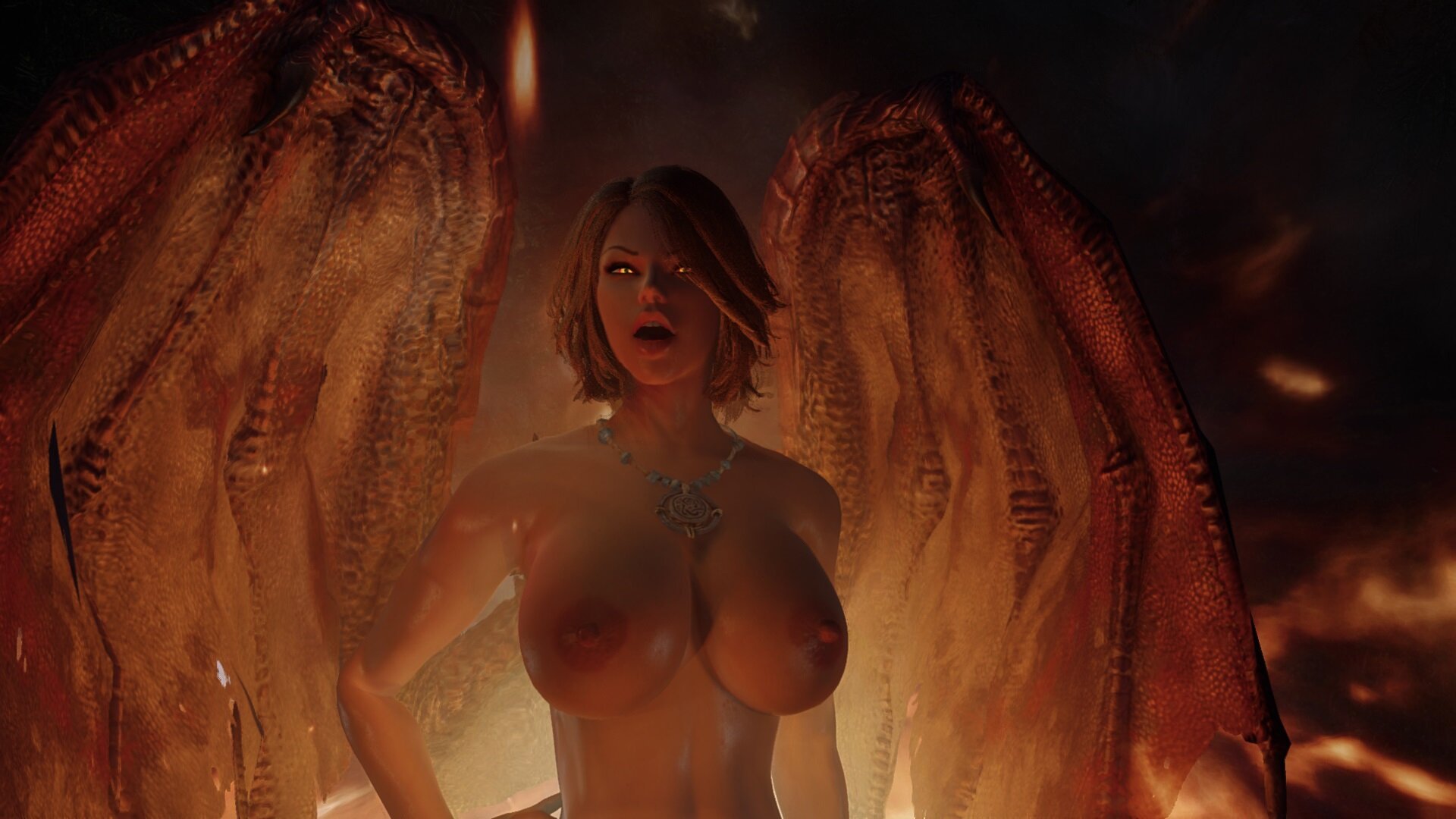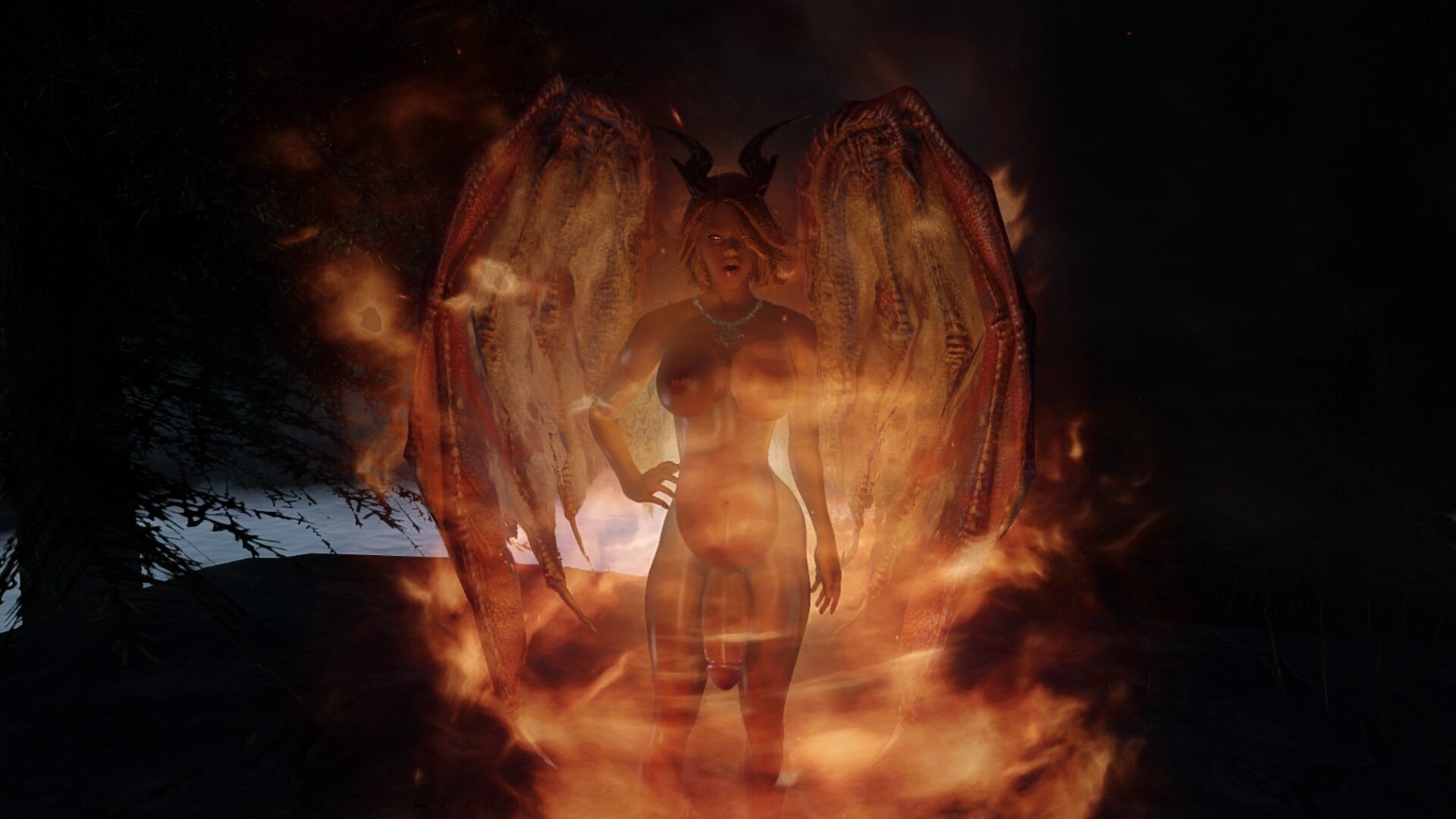 I felt like wanting to Fuck everything around me...
The desire was as intense as the orgasm that looked like never ending ...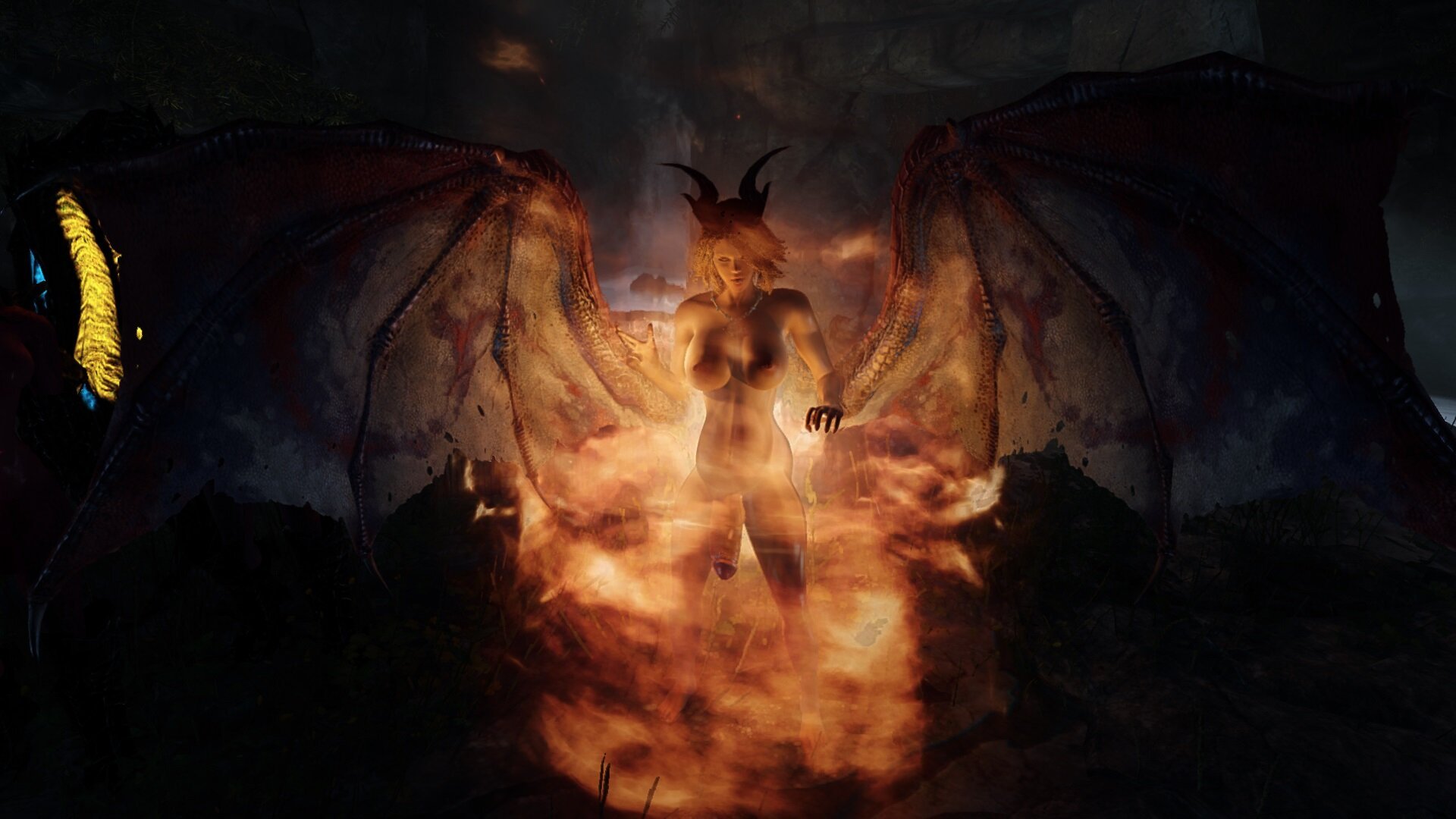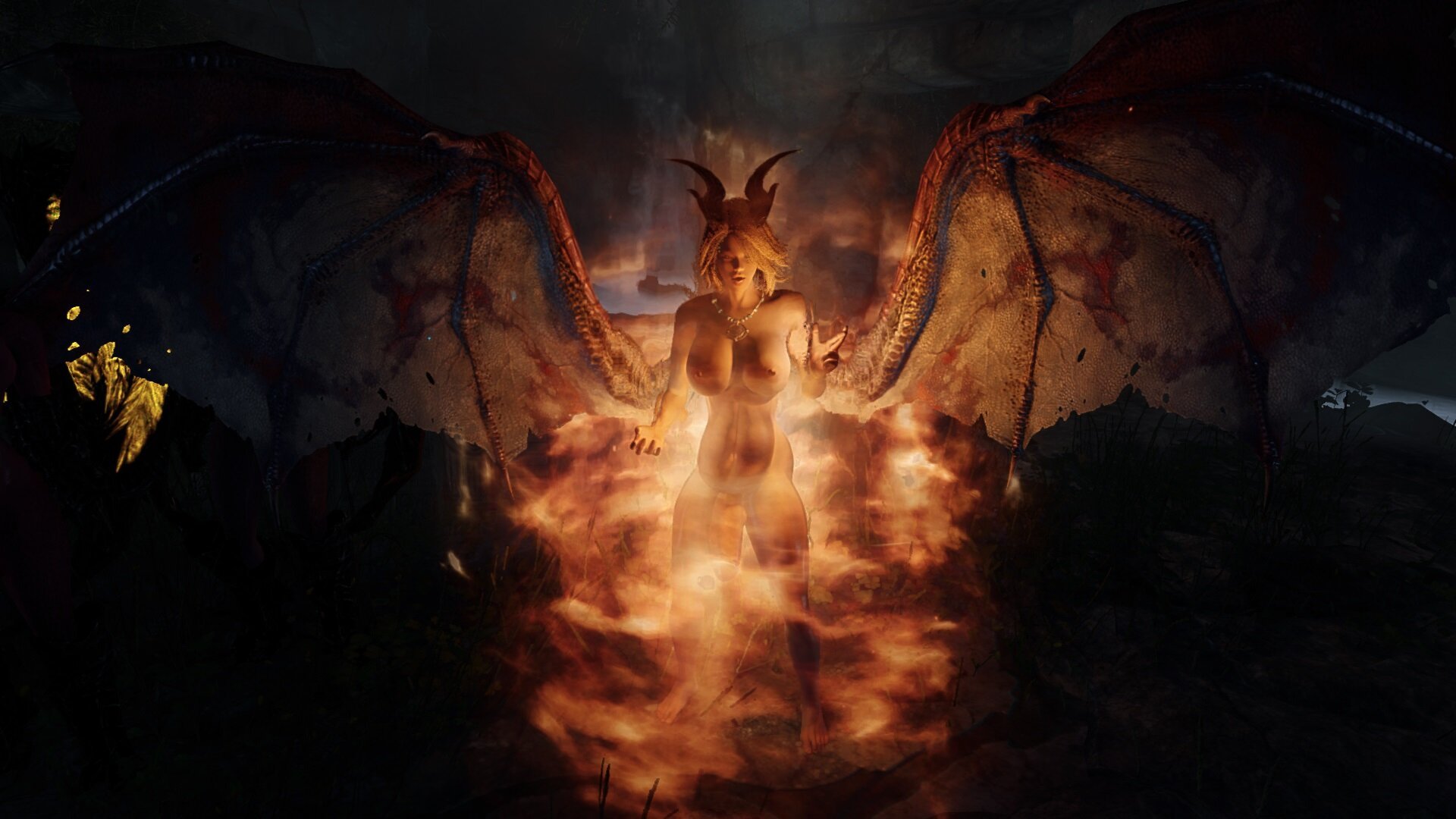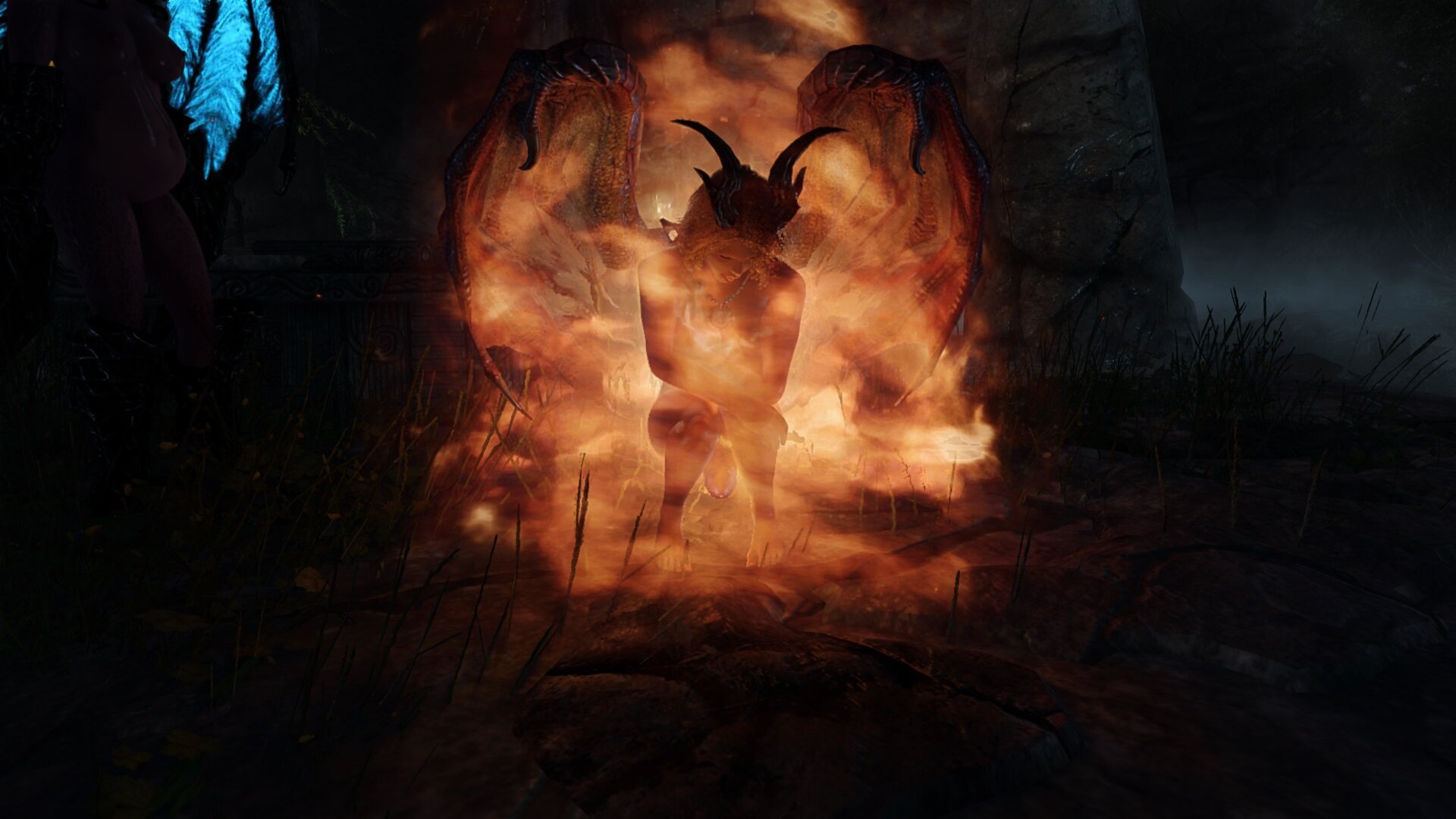 An  orgasm so intense that I felt my legs losing strength ...
I kneeled down exhausted  as the orgasmic sensation just keeps going ...
The arousal also was like a burning desire...
I was like watching myself in a dream...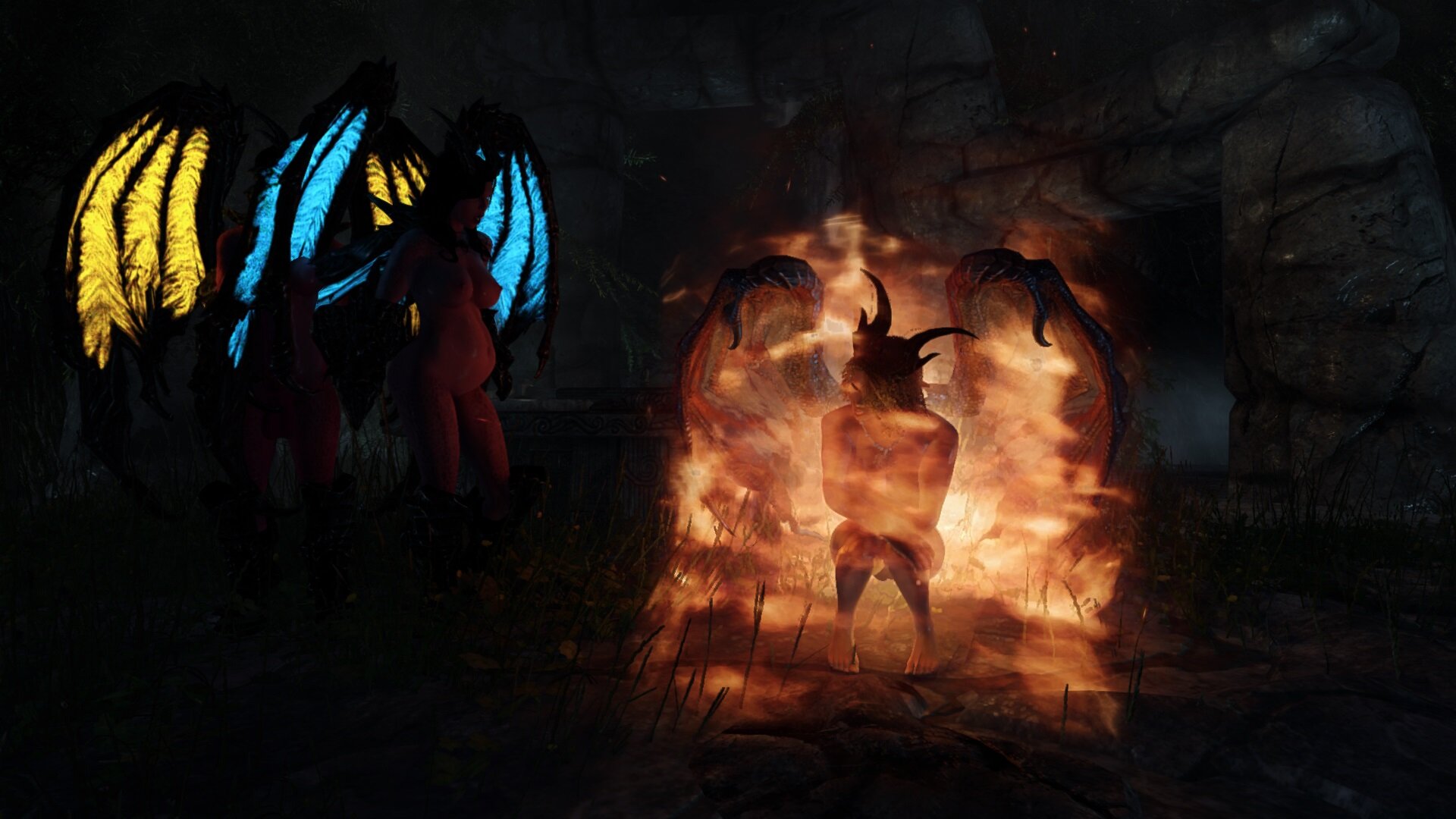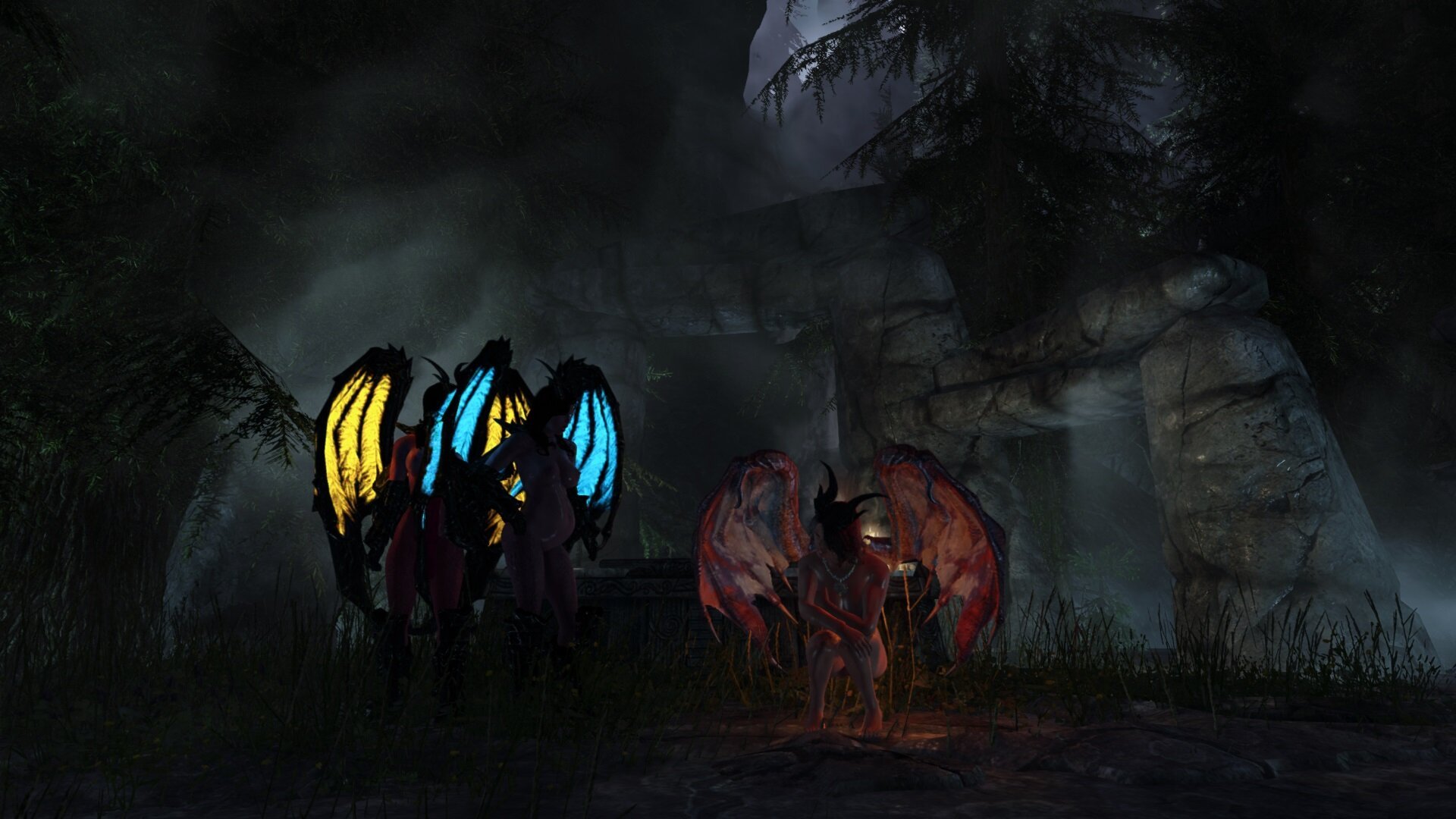 Hazafel - look sister She is like The great Azaell... A Succubus Primer ...
Akarae - For the blessing of Agrat Bat Mahlat, She is the Seed as promised in the Legends...
Me - I have N....Need.. Fu....
Hazafel - Its my Honor to serve you as the deposit of your first seed Succubus Sonja...
Come .. Penetrate me with your huge member..
Fertilise me ...Please fertilise me with your sperm..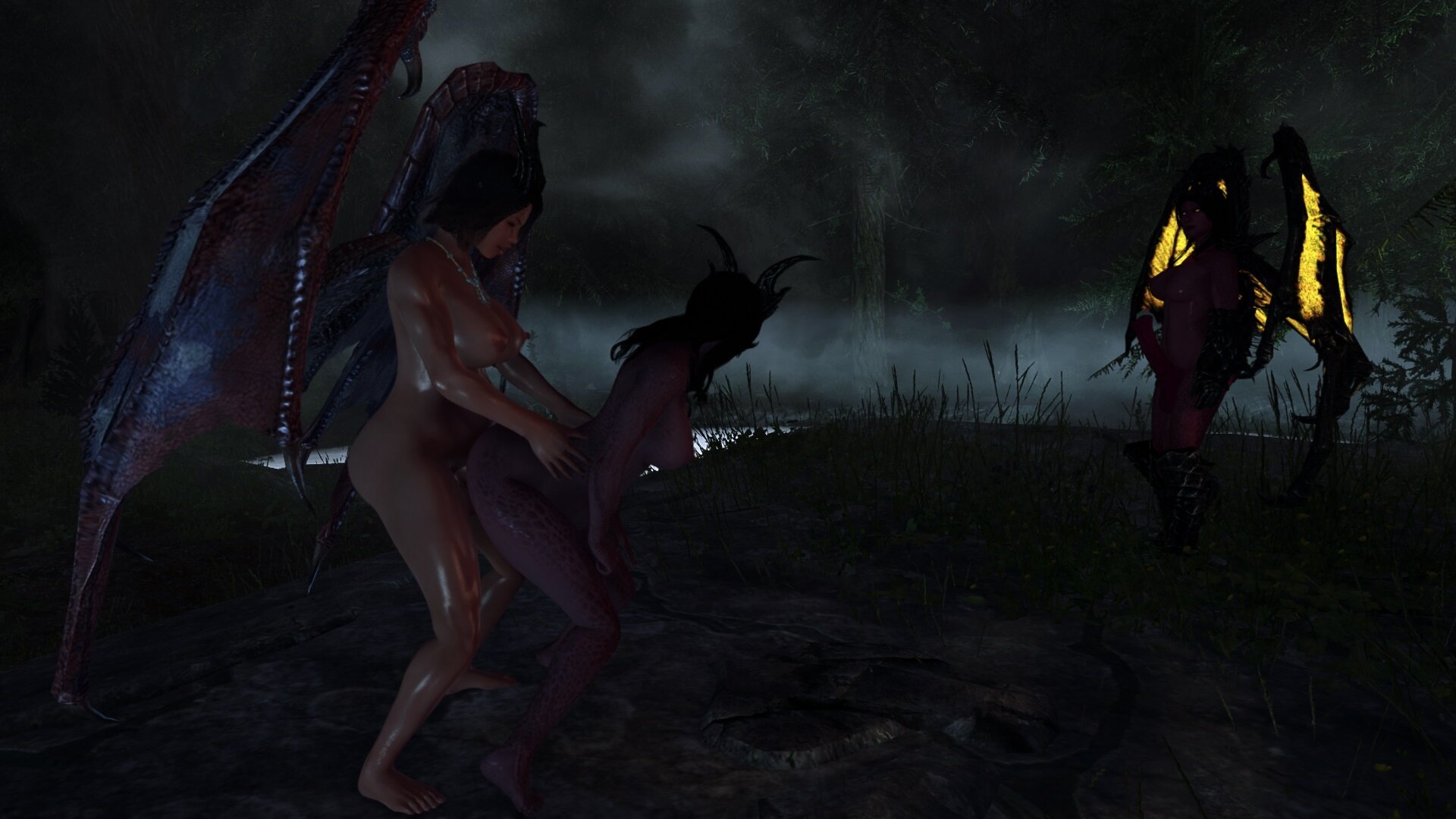 And so I did ...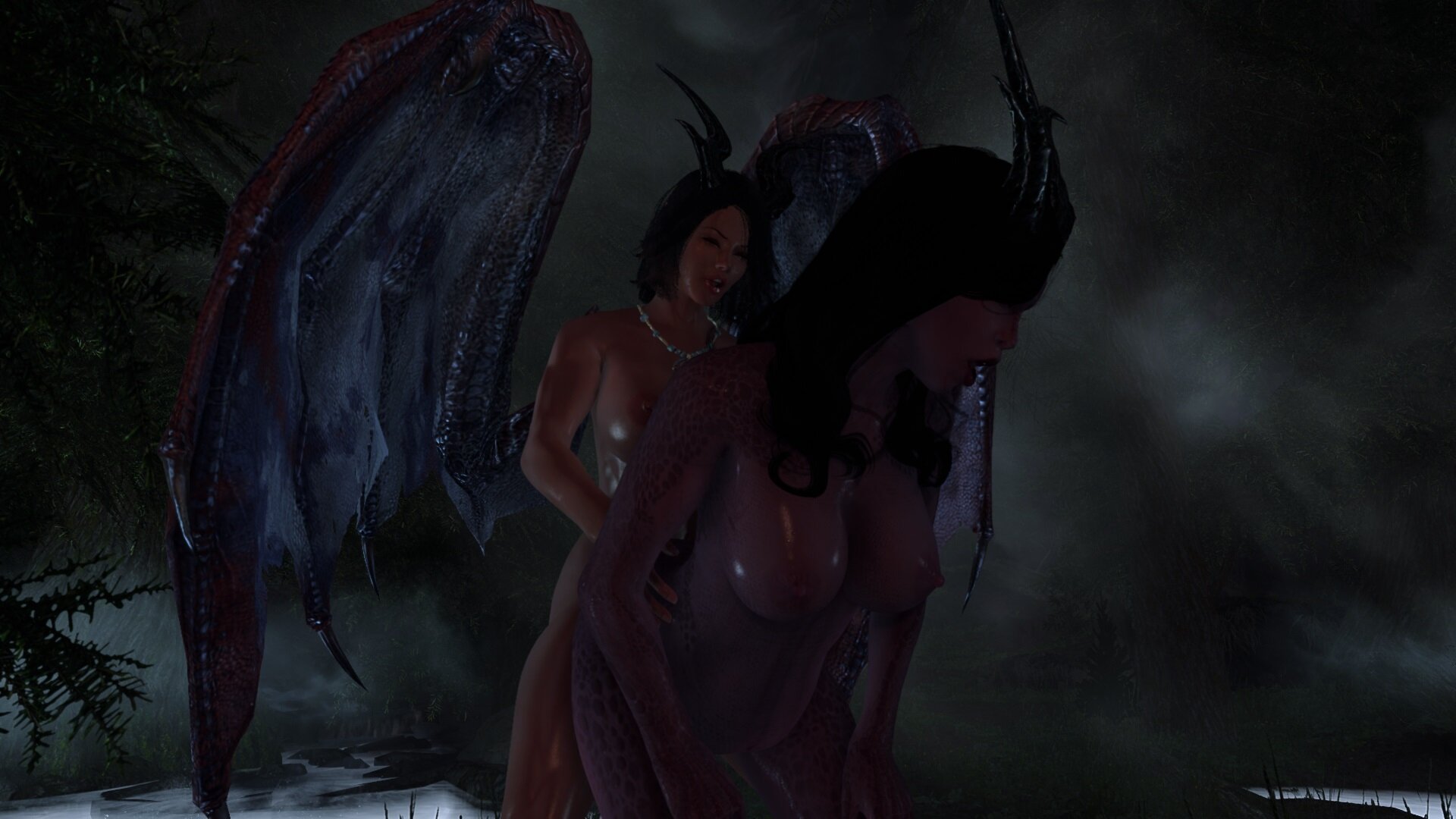 Hazafel - Oh sister , Your tool is the reflection of Azaell merits...Huge , soft like a spirit arrow,
Strong as the seed you carry, Large and thick , Long and hot...
Drop that seed in my Belly Sister...Haaa, please give me the honor of Feeling that milk inside my belly..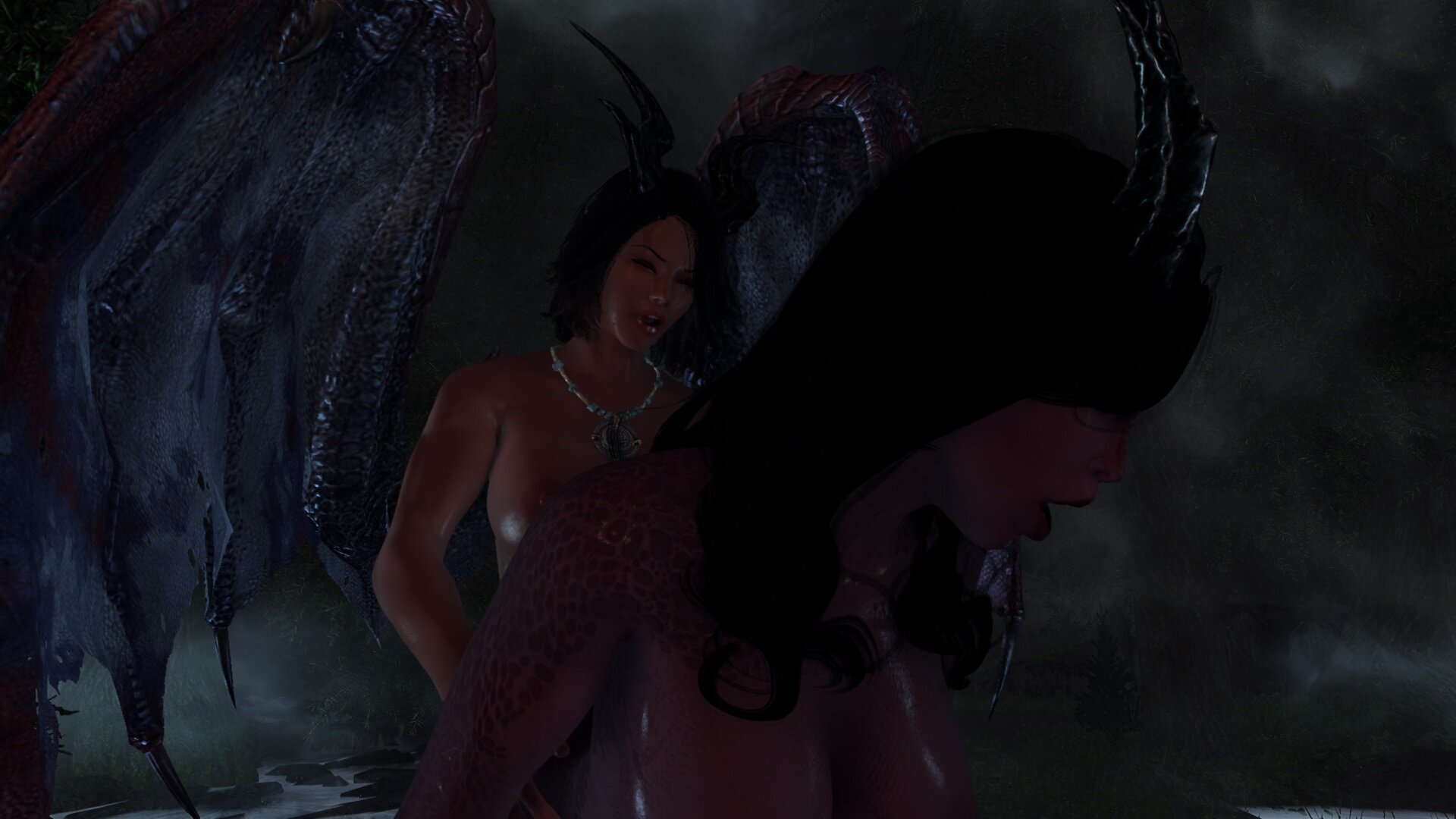 I can not remember how much time I was just fucking her...
But When I awaked in that cavern I was alone  in the top of the cold Altar and naked,
I was still transformed into that Winged beauty..
And the simple thought of returning to my human form made me transform back into it..
I can not understand what I was given...
In time I learned to like it in fact...
I do not even dare to question the reasons that those to creatures decided that I was , what they called me ???
"The Succubus as promised the child of Azaell"
So after that I grabbed the bow..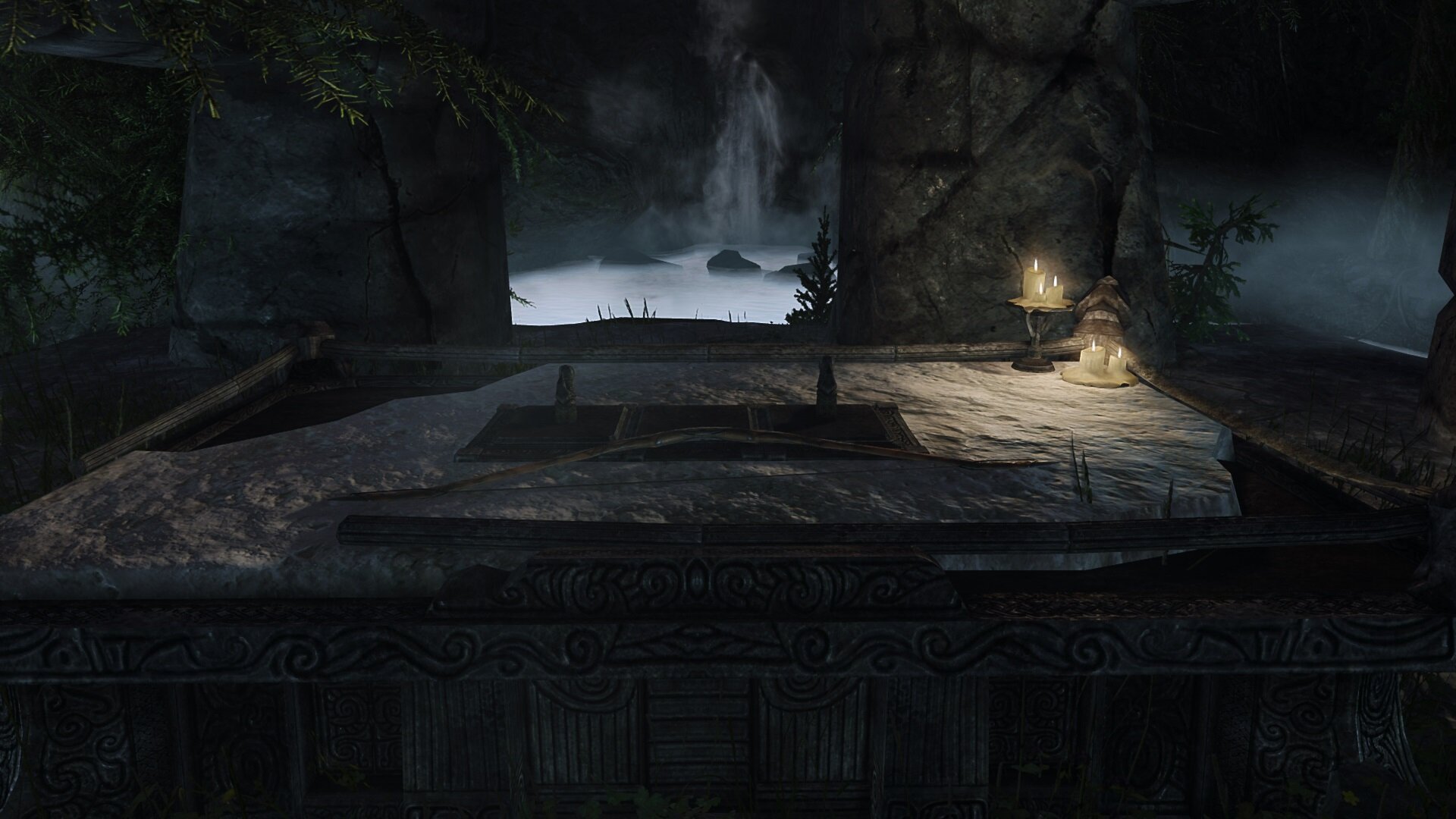 And returned to the farm ...
Just to find that My eyes were different and cause of that My adoptive parents thought I was possessed 
by some demon and just asked me to go away from their farm...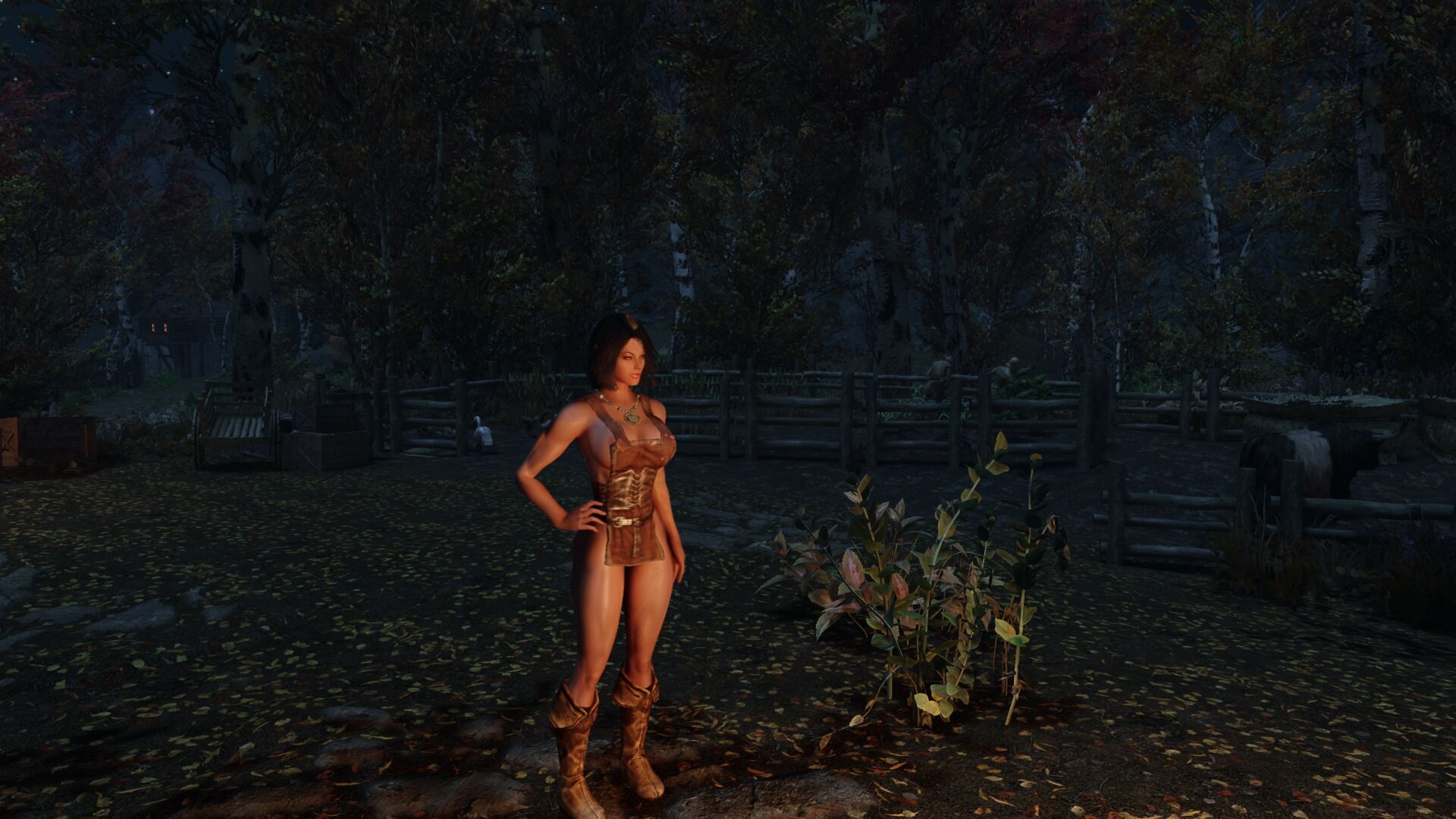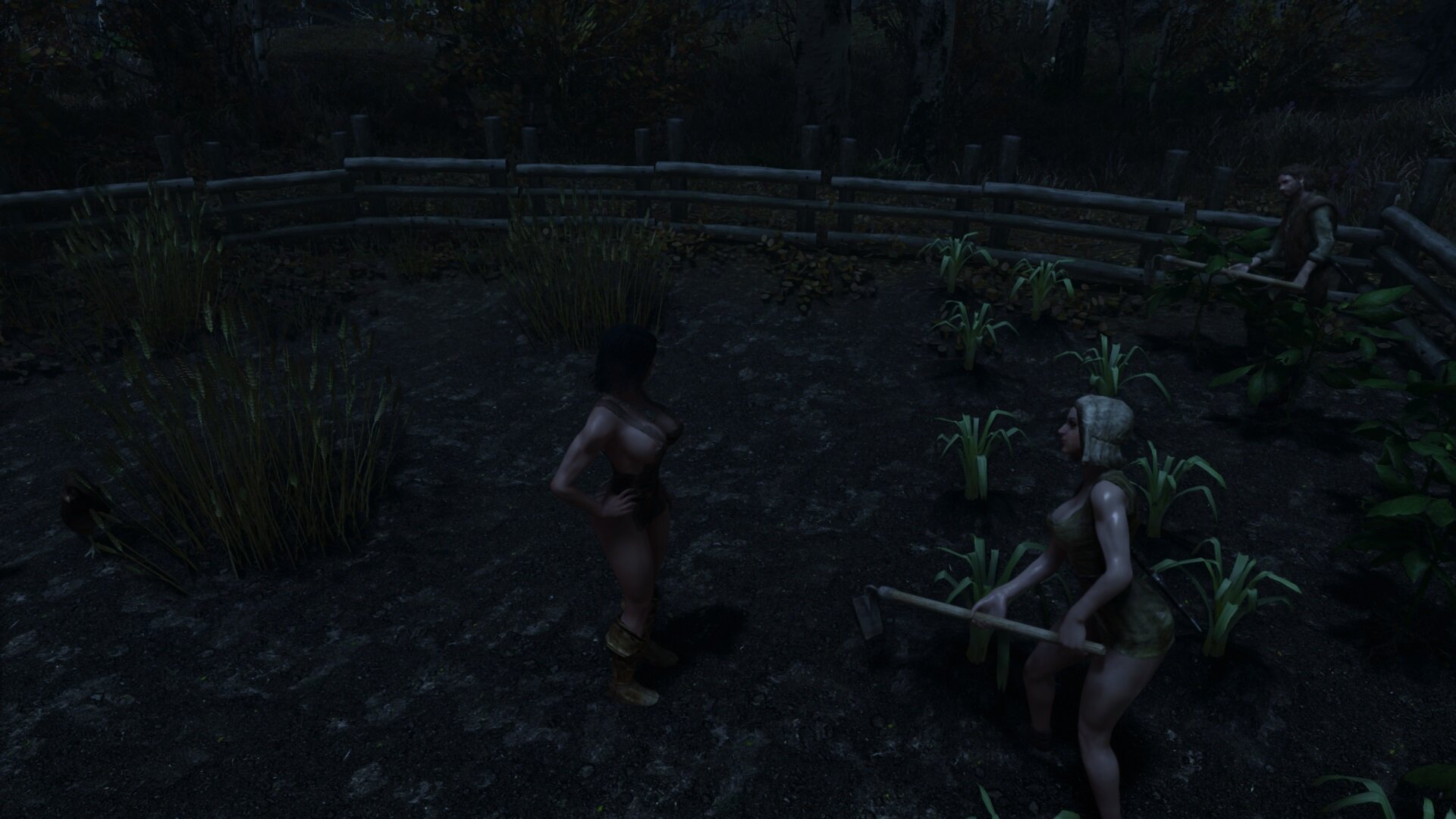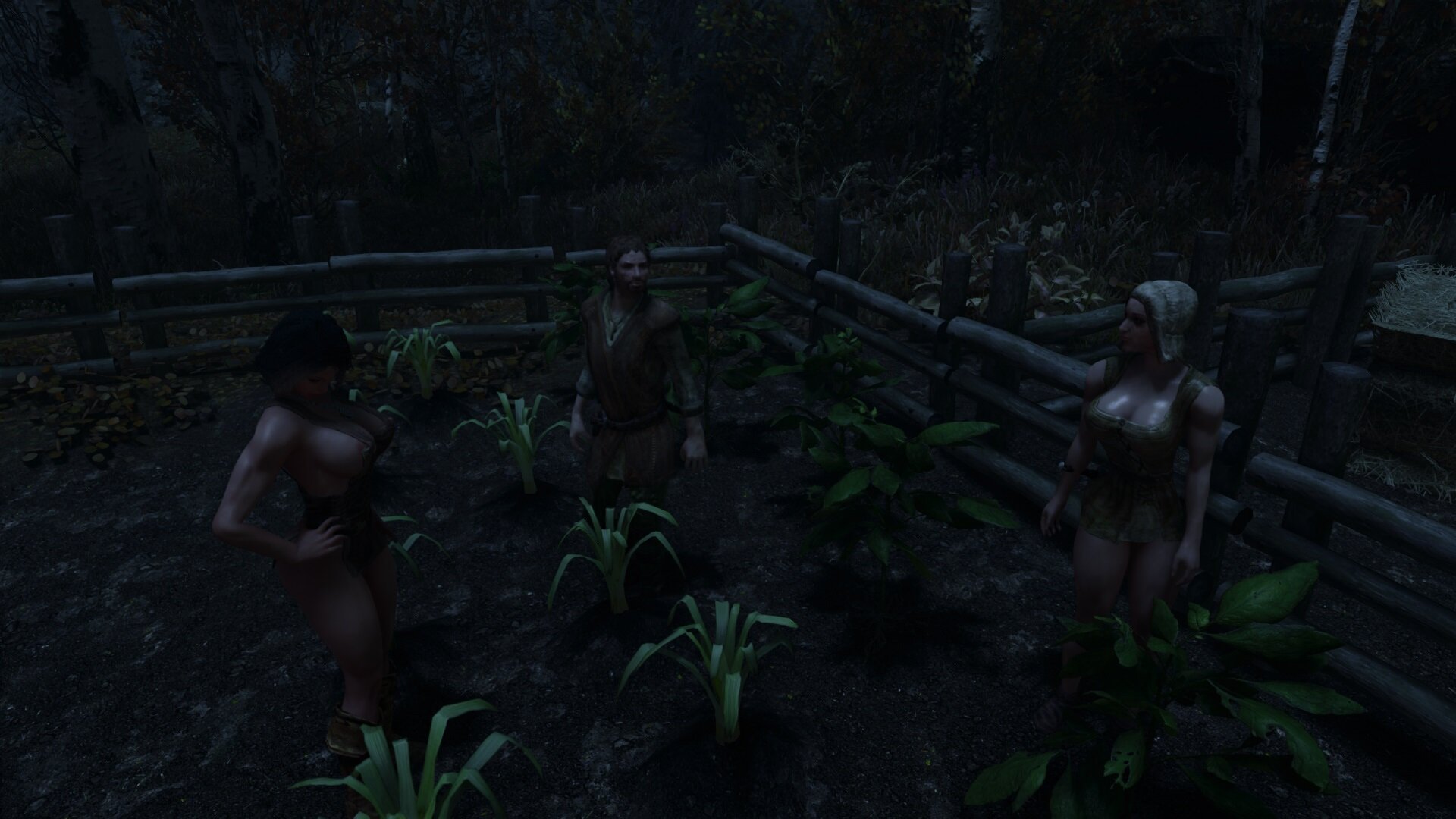 Mother - Do not dare looking at me with those Devil eyes creature...
Father - Go away from this farm Demon...We do not want you here anymore..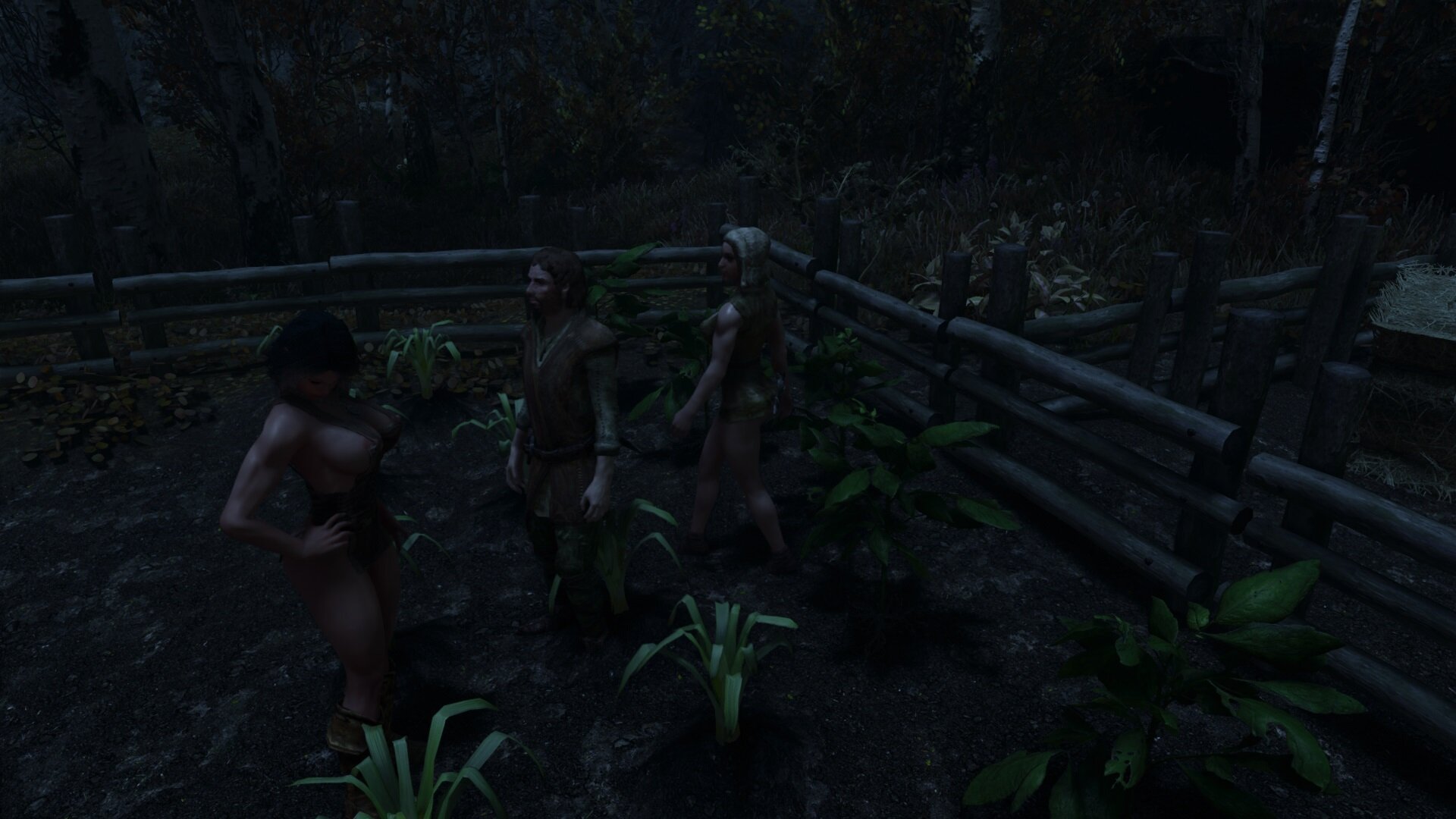 Father - Pack your belongings and leave this place, go to your cave...or we  call the guards..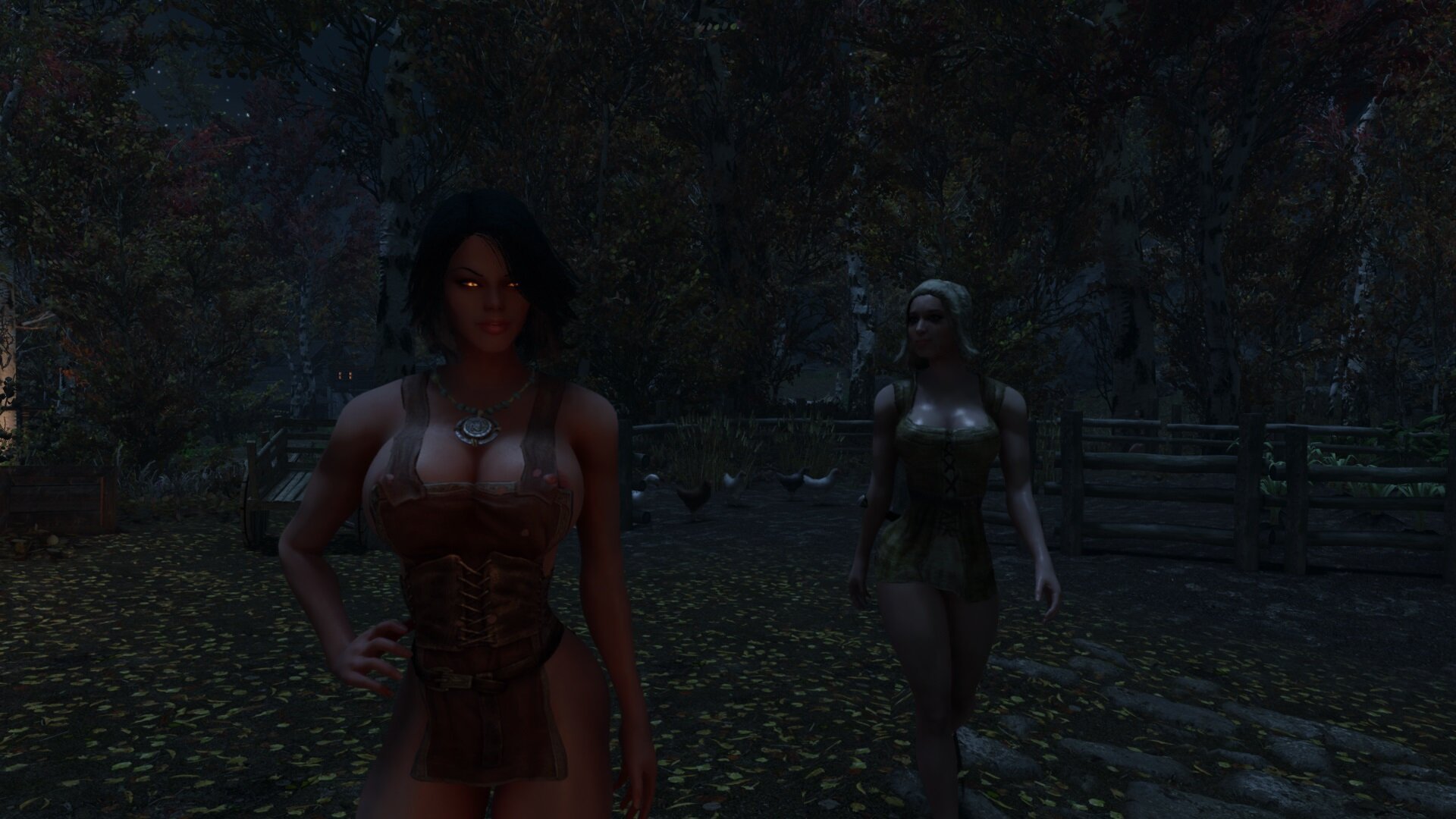 Mother - You should be ashamed , Giving your soul to Demons...Leave this place..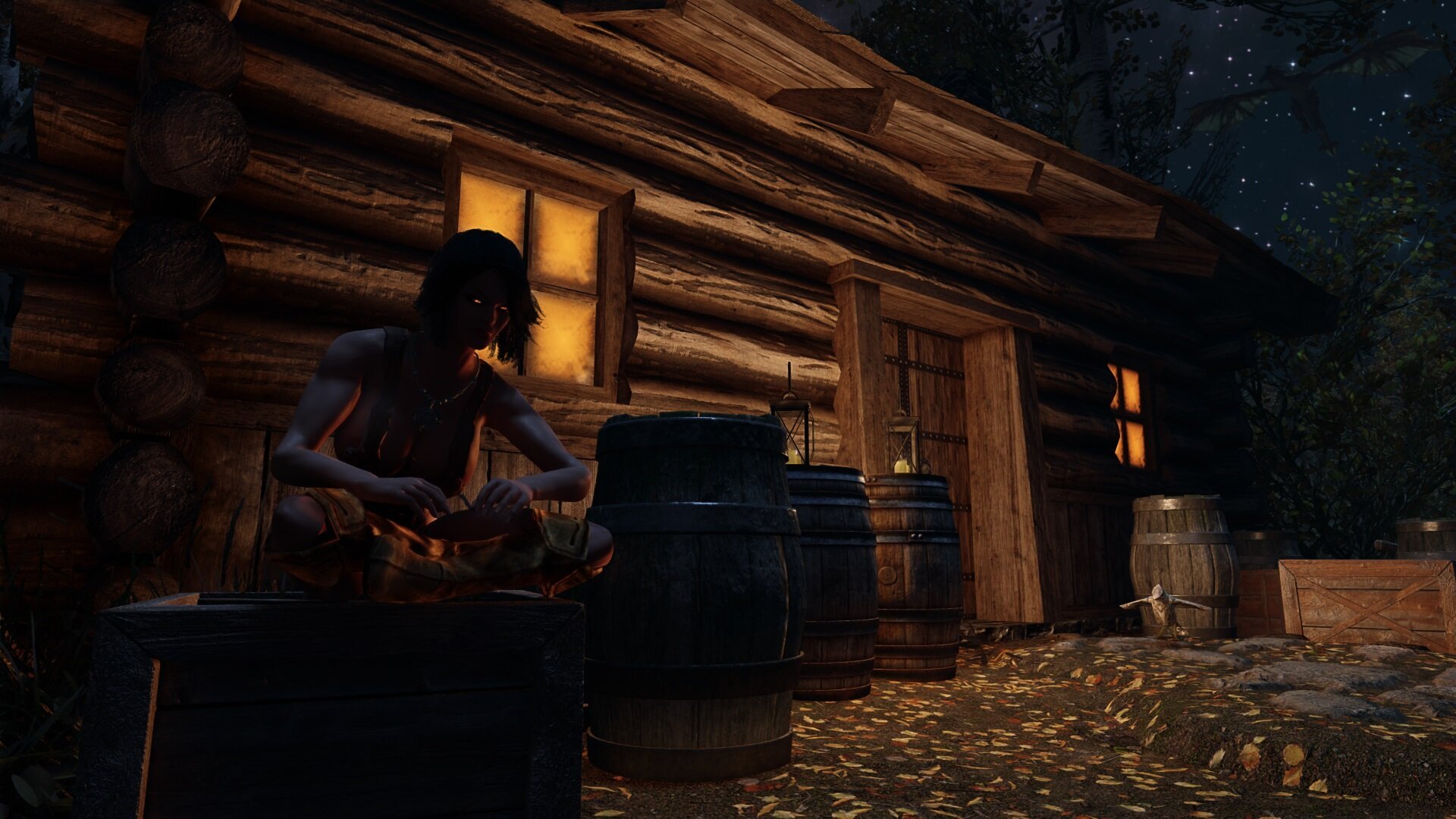 So again...after some meditation on what to do..
I decided to again pack my things and make use of my new found skills ...
I wandered along the kingdoms  of Men, and sex started to be part of
my daily life...Somehow the Succubus in me attracted sex and desire of me..
it was easy , learning that I could even put erotic needs on their minds ,
among other things...Like the new found male Penis that now is part of my Body...
It is my fate...
My destiny...
I can not escape it ...
And I love it !
End of Episode One
Possession
Thank you for reading this ..
Hope you guys love it...
Have fun and thanks for supporting my bloge ..
Bullfye