[S:S] Desperate times call for desperate measures #5 - Final
---
Angela
LULLABY!
Angela
GET OUT HERE!
Lullaby
What is it now? I was sleeping
Angela
You! You.... betrayed me!
Lullaby
Betrayed you? No, you betrayed yourself, you went against everything you stood for, I saved you along with your Sister from doing something far worse. If not for me, you'd be in a far worse situation
Angela
You betrayed my trust!
Lullaby
Look.... Angela, Mercy whatever you are right now, you were out of control of your actions, who knows what you could have done by the end? So we did what we had to, to save you from yourself
Angela
I don't care what you think, you betrayed my trust, our friendship and now you hurt innocents! I can not, will not allow it!
Lullaby
Who... the Priest? I assure you he is well and unharmed, well besides a few ounces of blood and sexually exhausted. Other then that, he lives and breaths, have you seen how happy the old fool is?
Angela
You, are EVIL!
Lullaby
Am I? Really? I'm not the one who wanted to murder two lovers because of my insecurities, I'm not the one who paralyzed an entire household and offered a Vampire feed them, including Children! You went too far!
Angela
You don't get to pretend Lullaby, you are a creature of darkness!
Lullaby
Yes, I am. But what does that make you? You are no Hero, no friend to the Divines. You are a Monster, a creature so full of pity for yourself. Look at what you almost became and look at what you almost destroyed!
Angela
I'll....
Lullaby
Accept the truth, you gave in to your Darkside, and lost control
Angela
You encouraged it!
Lullaby
I was doing as instructed, by your Sister. Your other half thinks herself Evil but shes far more good hearted then you know, at least to you. Perhaps even more then you are
Angela
I know Mercy, and I know you. You are over!
Lullaby
Am I?
Angela
With one hand I could banish you into Oblivion, to the hellish Relm of Dagon, where your flesh will burn while you are alive and on the other I could conjure a Creature of pure evil and it would tear you limb from limb if commanded to.
Lullaby
Thats it? HAHAHAHAHHA
Angela
You laugh at death!
Lullaby
Not death, no I laugh at a scared little girl, you are angry and I understand that. But do not mistake me as someone who cares about such things or your pity threats. I have lived long enough to know you humans better then you know yourself. You walk in the light yet serve the shadows you are afraid!
Angela
I'm not afraid of anything. I do what I must because its RIGHT!
Lullaby
No, you do what you do because you want to. You have killed innocents, you have tortured countess others. Am I really the monster when compared to you?
Angela
I HATE YOU!
Lullaby
Accept it, you made a mistake and move on. Everyone does it, you have to let go!
Angela
I'm going to purge the entire fucking Vampire race!
Lullaby
Hah, thats Impossible!
Angela
Nothing is impossible!
Lullaby
And what would Mercy think of your actions here, you'd murder an innocent creatures. Not every Vampire is Evil, not every mortal is good. You have to choose
Angela
 I don't care what she thinks!
Lullaby
But you do, you love her
Angela
I... Gods...
Lullaby
You should take my advice and learn from it
Angela
I... Lullaby I can't control it!
Lullaby
You've controlled it for decades, why now have you given in?
Angela
Because... something happend
Lullaby
Such as?
Angela
You would not understand
Lullaby
Try me, I've seen a lot of things over my time
Angela
No, you would seriously not understand, because we don't understand it fully
Lullaby
Very well, so what are you going to do to make up for this?
Angela
Anything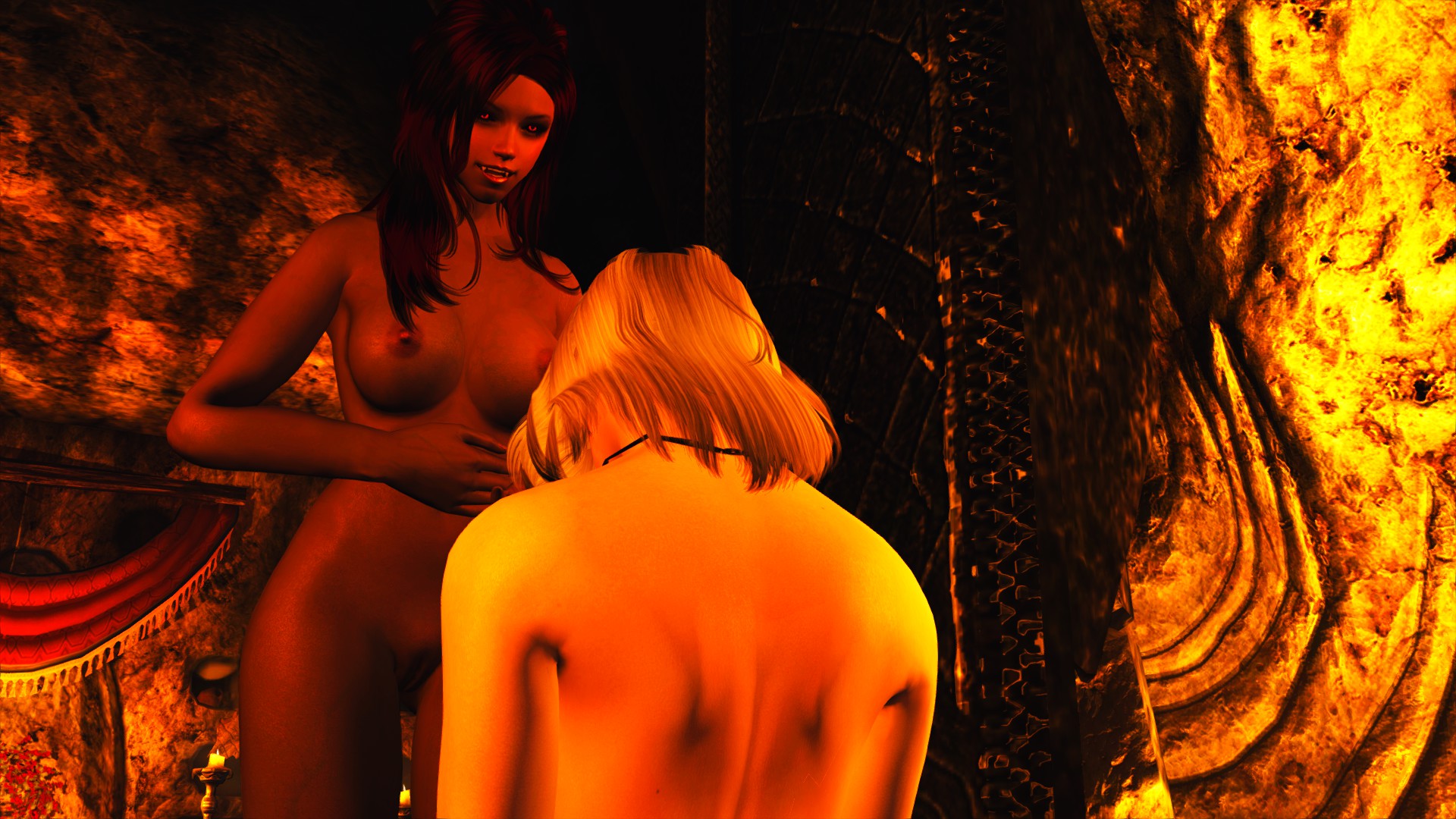 Lullaby
I already fucked you good, I thought you'd have learned from that?
Angela
I did, my neck till aches from your bites
Lullaby
I enjoy feeding on you, your blood is one of the best I have ever tasted. Now, a few moments ago you threatened to kill me, or worse. I'm tempted to "offer" you a night in my coffin with me
Angela
Lullaby, please I'm sorry. I was not thinking, I...
Lullaby
I could have so much fun with you, so much fun. But.... I'm not going to, I'm not going to hurt you, feed on you or anything Angela
Angela
Thank you
Lullaby
As much as I despise the saying, we are after all friends. You have done right by me and for this I shall let this pass, this once
Lullaby
Do not mistake my kindness for weakness. Threaten me again and I will make you regret it Angela. Now, go. Back to Mercy
Angela
I'm sorry, Gods... I can't
Lullaby
You can, you are a... forgiven. No go
Lullaby
And Angela
Angela
Yes?
Lullaby
I want you to tell Mercy, what you did
Angela
I will
Lullaby
Your fate is in her hands
Angela
Thank you
Lullaby
Don't thank me yet, she may send you back to me
Angela
Yeah
Angela
Mercy?
Andurs
It's a nice morning Miss Mercy, I trust you are well?
Mercy
Whatever you say pal, say what are you doing out here?
Andurs
My Mistress does not wish to be disturbed while she rests. I'm here letting folk know the Hall is off limits due to the undead outbreak
Mercy
Ah yes of course.
Andurs
What brings you out here?
Mercy
I needed some air, its stuffy down there, nothing more to it.
The Graveyard's nice
Andurs
Ah yes, I've spent so much time with the dead, I forget what it's like to be around the living. Well, Miss Mercy if you need anything please ask me and I'll try my best to serve you.
Mercy
I might do that, might not, don't care.
Andurs
Okay, well I'm here if you need me
Mercy
So, any trouble?
Andurs
Nothing I have not been able to calm with words
Mercy
Good, we do not wish to be disturbed either, am I clear?
Andurs
Very clear Miss
Mercy
Good, because anyone including you catches us, and I'll give you a smile you can not not forget, understood?
Andurs
Yes, yes of course
Mercy
Good, now be a good boy and stop staring at my chest
Andurs
I'm not though
Mercy
Good
Andurs
I'd never disrespect you Miss Mercy
Mercy
Good boy, keep us safe and I'll help Mistress reward you
Andurs
I'd do anything for my Mistress
Mercy
Good, now back to work pet
Andurs
Yes Miss Mercy
Mercy
Good boy
Andurs
Take care of my Mistress, Miss Mercy she is all I have
Mercy
Oh, I already have taken care of your Mistress pal
Andurs
You have? Good
Mercy
Well, I must say what a pleasant sight to see first thing in the early morning, how are you feeling babe?
Angela
I never slept a wink last night, that is how I'm feeling right now
Mercy
Well, fear not your beauty remains intact
Angela
Heh, thanks but its not my looks thats draining me Mercy
Mercy
Hey, it's over now okay. Everything is back to normal
Angela
No, it is not. I... last night I, wanted to hurt Lullaby. I almost did
Mercy
Hmm, and what stopped you?
Angela
She did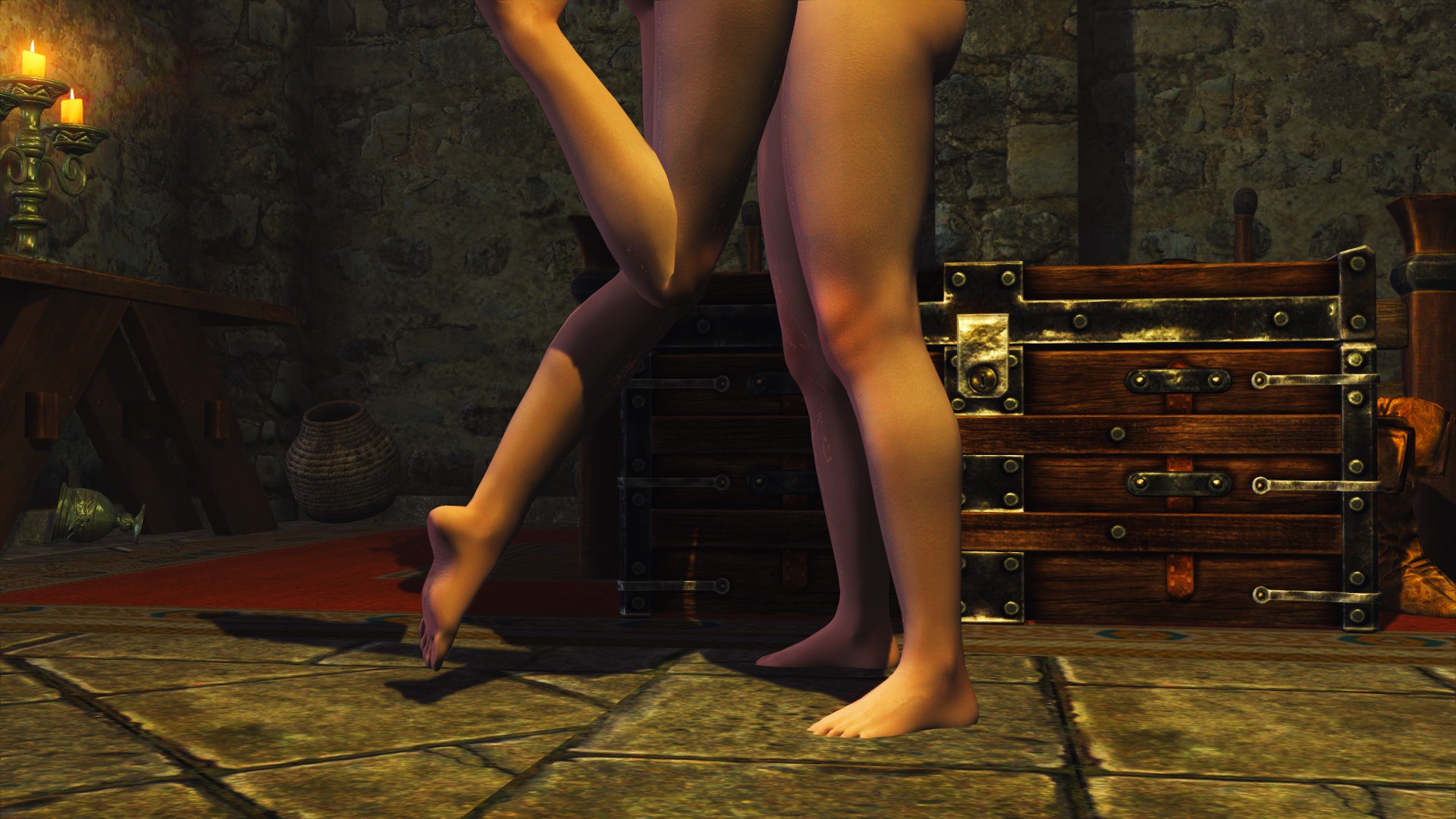 Mercy
Good
Angela
Hey! What are... oh
Mercy
I love you Angela, and I'm so happy your back safe and sound now
Angela
Mercy... I'm
Mercy
Shut up and kiss me damn it!
Angela
Fine
Angela
I'm sorry
Mercy
I know you are
Angela
I almost killed again, Mercy I need help
Mercy
I know, I'm here now. Nothing is going to hurt you I promise
Angela
What if I deserve it though?
Mercy
No one deserves what you are going though, but it will pass. Trust me
Angela
I do, I always have
Mercy
I know you do. Now, come on get dressed we are going home
Angela
You think thats a good idea?
Mercy
Yes, yes I do Angela
A couple days later...
Angela
HAHAHAHHA
Mercy
Shh!
Angela
Sorry its just so funny
Mercy
Yes yes, now hush your distracting me
Angela
Sorry, please continue my love
Mercy
Thank you, now where was I?
Angela
Here <points to the book>
Mercy
Thanks babe
Angela
<Kisses Mercy's shoulder>
Mercy
Ange I'm trying to read here
Angela
Sorry, just showing my affection for you
Mercy
Yeah, well do it later I'm on the good bit here
Angela
Sorry
Mercy
No, your not
Angela
Why do I have to hold it?
Mercy
Because, I say so
Angela
Fine
Mercy
Shh, its just getting good
Angela
How much more of this book is there to read?
Mercy
Shh!
Angela
Your no fun
Mercy
Hush or I'll gag you
Angela
Hmm, I'd welcome it it be funner then this
Mercy
I'm so tempted to do it, now hush!
Angela
There are other ways to silence me
Mercy
I know a few