Welcome to LoversLab
Register now to gain access to all of our features. Once registered and logged in, you will be able to create topics, post replies to existing threads, give reputation to your fellow members, get your own private messenger, post status updates, manage your profile and so much more. If you already have an account,
login here
- otherwise
create an account
for free today!
Submitter
ojanen
View other files from this member
Latest Version:

3.2.8a

Submitted: Jan 20 2014 08:49 AM
Last Updated: Jan 30 2017 03:45 PM
File Size: 10.37MB
Views: 468823
Downloads: 138,579
Requires: v1.60.2 (hotfix 2) , Sexlab Aroused, NiOverride, UIExtensions
Special Edition Compatible : No
Download PSQ PlayerSuccubusQuest for Sexlab 3.2.8a





24 Votes
Succubus
SSL

1309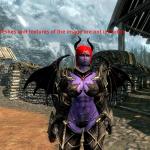 This is a mod that player becomes succubus.
Description
To manage the vampire status of players vanilla as "Player Vampire Quest", this is a mod to add to manage the succubus status of the player "Player Succubus Quest".
Requires
Sexlab Framework 1.60.2, Sexlab Aroused, NiOverride, UIExtensions(from 3.2.7)
Installation
Put PSQ PlayerSuccubusQuest.esm and PSQ PlayerSuccubusQuest.bsa and SEQ Folder in /Skyrim/Data/
Other esps are the plug-in for other mods, so use if you needed.
Update from 2.17 to 3.0
Can not do it. 3.0 and 2.17 has no compatibility.
Be sure to uninstall 2.17, install the 3.0 after you save, or can be used in a new game.
2.17 previous

3.2.8a
Since it was released with the processing for debugging in, it was deleted.
It does not matter if you have not started a new game.
3.2.8
Added Lure
3.2.7a
changed belly scaling math of alternative Belly Scaling option
3.2.7
UIExtensions Required
Changed Succbus Curse effect(Some require racemenu)
Succubus Familiar compatible with EFF
added alternative Belly Scaling option
Changed SexLab Tag Selector
3.2.6
added Succubus Familiar
added tattoo directory (tattoo files needed)
3.2.5a
added forgotten translation files
3.2.5
Added Body Paint Option
3.2.4
Added NiOverride compatibility
Succubus merchant has returned
Changed cum inflation settings - If auto leak checked, same as before, or If not checked, use leak semen power to leak.
Adjusted Succubus fluid - poison to increase arousal or Potion to restore magicka and increase arousal. It does not effect to player. Can be switch in cooking pot.
3.2.2
Added RND & iNeed compatibility
RND: Install PSQ RND.esp and check enable
iNeed: Register iNeed in MCM Maintainance of PSQ
3.2.1
mostly bug fix
Fixed
Destruction spell learning bug
Learning known spells consume energy bug
Jump height is not adequate at the time of loading bug
Jump height during the transformation release does not return bug
Bug to reduce and at low rank efficacy of succubus spell to transform
Added
Energy magnification and lover to be absorbed from the lover I have to be able to set the energy magnification to recover
Now Succubus can entering Soul Cairn
3.2
Added Vanilla like succubus spells
Added Succubus Spell boost during transforming
Added energy consuming for succubus spells
3.1
Added Fortify Destruction, Fortify Magicka
Added Futanari combat bonus
Cum Inflation Effect restore magicka continually
Equipping item with name "Plug" + "Vaginal" or "Set" prevents Cum Inflation decrement
Fixed Animated Dragon Wings bug
Real Flying Wing compatibility
Animated Fairy Wing compatibility
Real Flying Flying compatibility(Real Flying installation required)
Change jump height effect now not related satiation
Wing prevents falling damage 100%
Fixed NPC Energy calculation
Kissing drain power reduced
and maybe something
3.0
many things
2.91A
The necessary experiential value given too much highly was returned
2.91
fixed some bugs and some changes
2.9
A new version not compatible to the previous version.
It'll be beta edition of 3.0, but it's alpha rather than beta. When not understanding well, please don't use it.
2.17
- Very small update
- Foursome compatibility with PSQ Matchmaker
- Added uto equip penis when transform option
- Deleted a dirty record
2.16
- Compatibility with the soul gem pregnancy
- It seems I was doing something else, but it is completely forgotten
2.15
- Fixed Sneak Feed issue
- Added Buff Settings to MCM
- Added Milking
- Other Something
2.15a
- Fixed Succubus Merchant CTD Bug
Screenshots
4,014

Total Files

164

Total Categories

1,329

Total Authors

72,047,305

Total Downloads
Shout Like a Virgin Latest File

VirginMarie

Latest Submitter
PSQ PlayerSuccubusQuest for Sexlab